AMD's latest Ryzen 5000 processors launched back in late 2020; the launch also introduced the Ryzen 9 5950x to the market. Even in the current market, It is still one of the best processors an individual can purchase when building a high-end PC for gaming and editing/rendering. Ryzen 9 5950x is built on the Zen 3 architecture, and it's an absolute beast when it comes to gaming and productivity, with a single-core score of 1651 in Cinebench R23. If you are looking to purchase a Ryzen 9 5950x in 2022, you might have had some trouble looking for the best motherboard for Ryzen 9 5950x due to the range of options. Also, while you are looking to get a Ryzen 9 5950x Chipset, a CPU Cooler for that is highly essential as well.
However, before that, here is a quick run-down of Ryzen 9 5950x's specifications and the type of motherboards it is compatible with.
The Ryzen 9 5950x uses the AM4 socket which was seen in the previous generation, and due to that, it does not support DDR5 ram either. However, that does not mean that the Ryzen 9 5950x is lacking in terms of real-world performance. It uses the same socket as the previous generation, so compatibility with older motherboards should not be an issue. One thing to note here is that some older motherboards will not be able to use the 5950x to their utmost potential. Moreover, you may check our Ryzen 9 5950x RAM Article to get familiarity with its compatibility.
RYZEN 9 5950x Specifications:
Total Cores: 16
Total Threads: 32
Base Clock Speed: 3.4GHz
Boost Speed: 4.9GHZ
Default TDP: 105W
CPU Socket:: AM4
Best Motherboard For Ryzen 9 5950X Detailed
Here are some of the best motherboards for Ryzen 9 5950x.
ASUS TUF GAMING X570-PRO (Wi-Fi 6)
Best Overall Motherboard For the Ryzen 9 5950x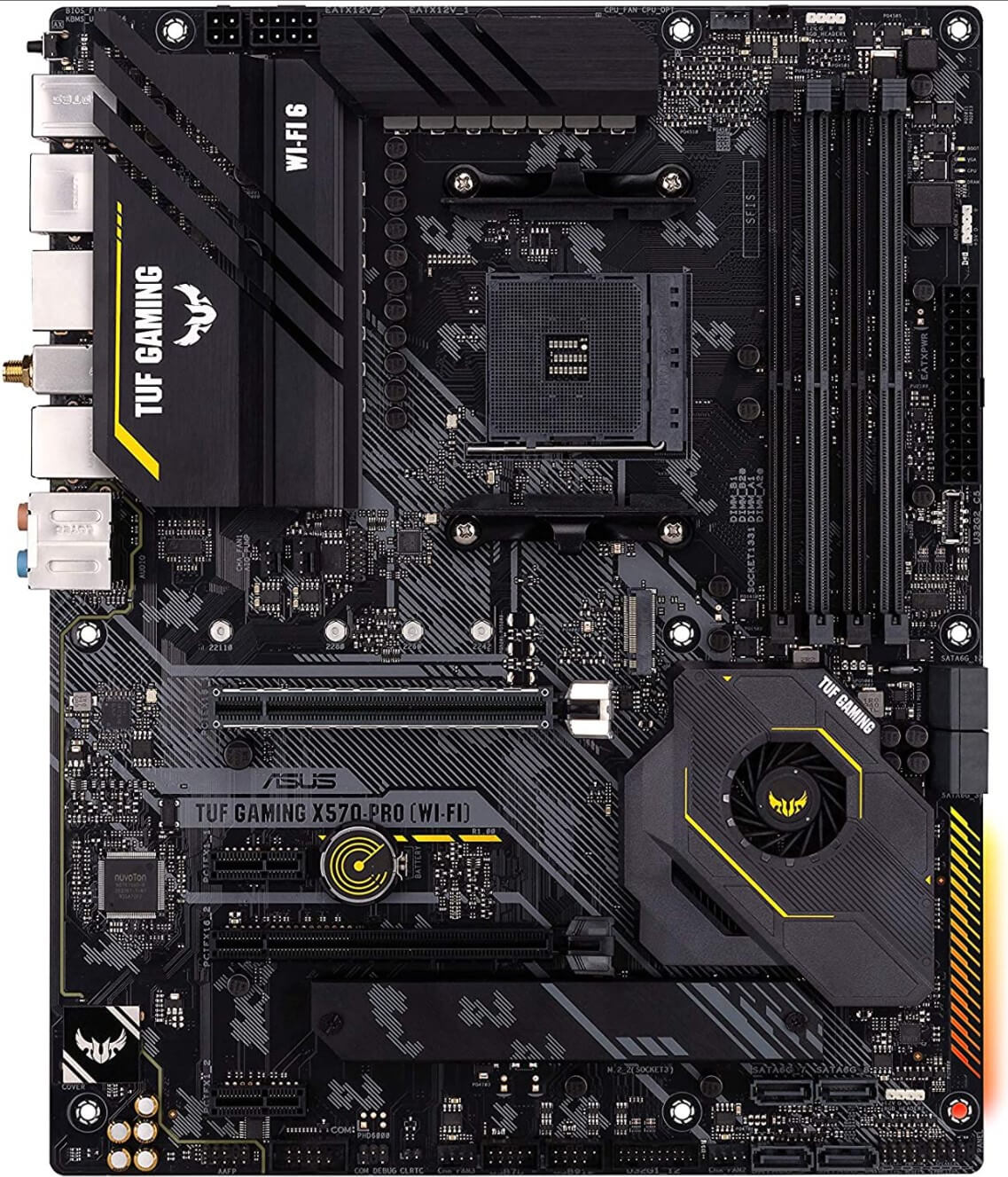 Other Specifications: CHIPSET: AMD X570 | MEMORY: 4 x DIMM, 128GB MAX (DDR4) DISPLAY OUTPUTS: HDMI, DISPLAY PORT | REAR USB PORTS: 4x USB 3.2 gen 1, 2 x USB 3.2 ports, 1x type-C | BLUETOOTH: bluetooth v5.1 | LAN: Intel I225-V 2.5GB | Storage: 8 x SATA 3.0 ports
Pros
Bluetooth v5.1 & WIFI 6

DDR4 Upto 5100MHZ

PCIe 4.0 support
ASUS TUF GAMING X570-PRO is one of the cheaper X570 motherboards for the Ryzen 9 5950x with value for money features; it does have all of the features that could comfortably make use of most of Ryzen 9 5950'x power; moreover, it is even possible to overclock the 5950x on ASUS TUF GAMING X570-PRO. The motherboard also includes WIFI 6 connectivity along with Bluetooth 5.1, which is always a plus, especially in this price category.
One thing that stood out was the fact that it supports RAM speeds up to 5100mhz. Along with that, the ASUS TUF GAMING X570-PRO's CPU VRM delivers 12 Phase 50 A power which should be enough for supporting the Ryzen 9 5950x. Because of the heatsink, the ASUS TUF GAMING X570-PRO manages to maintain stable VRM temperatures even under heavy load.
It has a decent REAR I/O with 4 x USB 3.2 Gen 1 and 3 x USB 3.2 Gen 2.
The motherboard contains a total of 8 SATA 6 Gb/s ports and two PCI Express 4.0 x 16 slots. A total of 6 fan headers are provided, and the fan speed can be controlled in the BIOS.
A Display Port and an HDMI port are also present for integrated graphics, which is always a nice inclusion, especially for an X570 motherboard at this price range.
The motherboard itself looks very clean and simple, which should look nice with most builds, and the heat sinks provide sufficient cooling for the VRMs; as for the RGB, there isn't much of that either, the single strip of RGB trails down the ASUS logo on the heatsink, which looks good when paired with a couple of case fans.
What We Liked
One thing that is apparent right off the bat is the sheer amount of value the motherboard provides, along with powerful VRM. The eight SATA ports were a nice inclusion too; in addition to that, the cooling solution is better than most motherboards of this price range. Support for Integrated graphics is also present, along with an HDMI port and a display port.
What We Disliked
There isn't a lot to dislike about the motherboard, the only real issue that I was able to point out was the small selection of ports found on the REAR I/O, which could have been better if ASUS had paid a bit more attention to the USB side of things.
Who is this for?
Given the price of this motherboard, it is one of the best overall value for money motherboard that you can pick up for the 5950x right now. The TUF GAMING X570 PRO has something for everyone; while some might be overjoyed by the addition of WIFI 6 and Bluetooth, some might buy it for the simple look.
MEG X570 UNIFY
Best High-End Motherboard for the 5950x
Other Specifications: CHIPSET: AMD X570 | MEMORY: 4 x DIMM, 128GB MAX (DDR4) DISPLAY OUTPUTS: – | REAR USB PORTS: 4 x USB 3.0, 2 x USB 2.0 ports, 1 x USB 3.2 Gen 2 Type C port | BLUETOOTH: bluetooth 5 | LAN: Realtek RTL8125, Intel Wi-Fi 6 AX200 | Storage: 6x M.2, 6x SATA
Pros
Bluetooth v5.1 & WIFI 6

DDR4 UP TO 5100MHz

Great VRM

PCIe 4.0 support
The MEG X570 is a 6-PCB layered ATX motherboard, which is exactly something you would want in a PCIe 4.0 motherboard. It is a high-end motherboard and it is clear how much effort MSI has put into engineering this motherboard. It's for people that are looking for the latest and greatest for their CPU.
The highlight of the MEG X570 UNIFY is the cooling solution, a massive heatsink linked with a copper wire for better heat transfer. The cooling solution is made of metal, making it one of the most heat-efficient motherboards available. The VRM implementation on the MEG X570 UNIFY is far better than the ones seen on other MSI motherboards. It's a 12 phase VRM, essentially running as a 6+2, which gets doubled using the doublers on the back to get the 12 phases.
Another thing that is noticeable right off the bat is that the rear I/O does not have ANY video outputs; while that might be a letdown for some people, in all honesty, if you end up going for this motherboard, you are probably going to be using a dedicated video card with its video outputs so that should not be that big of a problem. However, due to the GPU shortage, if you are using integrated graphics, then you should stay away from this pick as there are no video outputs.
There are also a total of 7 fan connectors, one of them being a water pump connector. Having only one water pump connector means you won't be able to use dual custom water-cooling which might be a bummer for some of the enthusiasts interested in this motherboard. A second water pump connection would've been welcomed.
What We Liked
The PCIe 4.0 implementation on this motherboard has been far better than anything MSI has done in the past, with a 6 layered PCB, signal bleeding and interference are prevented. From the fundamentals to the excellent cooling solution, There are a lot of things that MSI did right with this one.
Flaws but not dealbreakers
This motherboard does not have any kind of RGB in it. No PCB RGB, no chipset RGB, no nothing, just a standard high-end motherboard without fancy lighting effects focus of Stealth. The addition of display outputs would have also been a nice feature to see here.
Who is this for?
MSI has done an excellent job with this product with pretty much every feature is included. It provides everything you need no matter which capacity you use it in. Most PC enthusiasts will likely be a fan of this one just because of the number of features it provides in this price range. Regardless, it's the best High-End Motherboard for Ryzen 9 5950x.
ASUS ROG STRIX B550-A
Best White Motherboard For Ryzen 9 5950x

Other Specifications: CHIPSET: AMD B550 | MEMORY: 4 x DIMM, 128GB MAX (DDR4) DISPLAY OUTPUTS: 1 x HDMI 2.1, 1 x DisplayPort 1.2| REAR USB PORTS: 4 x USB 3.2 Gen 1, 2 x USB 3.2 Gen 2, 2 x USB 2.0 | BLUETOOTH: – | LAN: Intel® I225-V 2.5Gb Ethernet | Storage: 2x M.2, 6x SATA
Pros
Aesthetically pleasing

PCIe 4.0 support
Next up on the list is the beautifully designed ASUS ROG STRIX B550-A; with a solid mix of aesthetics and features, the ROG STRIX B550-A is overall one of the best White motherboards For Ryzen 9 5950x based on AM4 chipset, you can buy to date.
ASUS's ROG STRIX B550-A uses the AMD B550 chipset and has a very unique look to it. It's for those looking for an aesthetically pleasing motherboard that matches the color scheme of their build while also doing its job as a high-quality motherboard.
The VRM consists of 12 power stages for the CPU and 2 power stages for the ram, which is decent for overclocking a less power-hungry CPU, but I would not get my hopes up for overclocking a 5950x or even a 5900x using this motherboard. It also includes premium alloy chokes and capacitors, allowing for better tolerance. It has 2 M.2 slots, the first one being PCIe 4.0 while the other one is a PCIe 3.0 which is just perfect.
The rear I/O panel consists of 1 x Display Port, 1 x HDMI port, 2 x USB 2.0, 4 x USB 3.2 GEN 1 Type-A ports, along with a 1 x USB 3.2 Gen2 Type-C port. As far as external connectivity goes, the rear I/O consists of a Wired 2.5 Gigabit LAN.
The lack of WIFI and Bluetooth might throw some people off, but most people should be good with a Gigabit ethernet, and it is priced appropriately, so there should be no complaints regarding that.
For audio, it features built-in ROG supreme fx audio technology with preloaded DTS sound and bound application for a more immersive surround sound experience; furthermore, the audio settings can be tweaked using the sonic studio 3 software.
Best Features
The gorgeous black and white finish of this motherboard is the one thing that stands out the most. You get a motherboard that is fully capable of supporting the Ryzen 9 5950x while also maintaining the look and aesthetic of your overall build.
Minor Flaws
Unlike their competition, ASUS decided to ditch the front USB 3.2 type c headers, which might be a big problem for some buyers; furthermore, WIFI and Bluetooth are also not present on this motherboard. Most motherboards in this price category, especially B550 motherboards have built-in WIFI connectivity which we would have loved to see here too.
Who is this for?
Overall, you can pair this White motherboard with a Ryzen 9 5950x and enjoy your time with it without any major issues; however, do keep in mind that overclocking might be an issue with the Ryzen 9 5950x due to the amount of power it consumes.
MSI MAG B550 TOMAHAWK Gaming
Best B550 Motherboard For Ryzen 9 5950x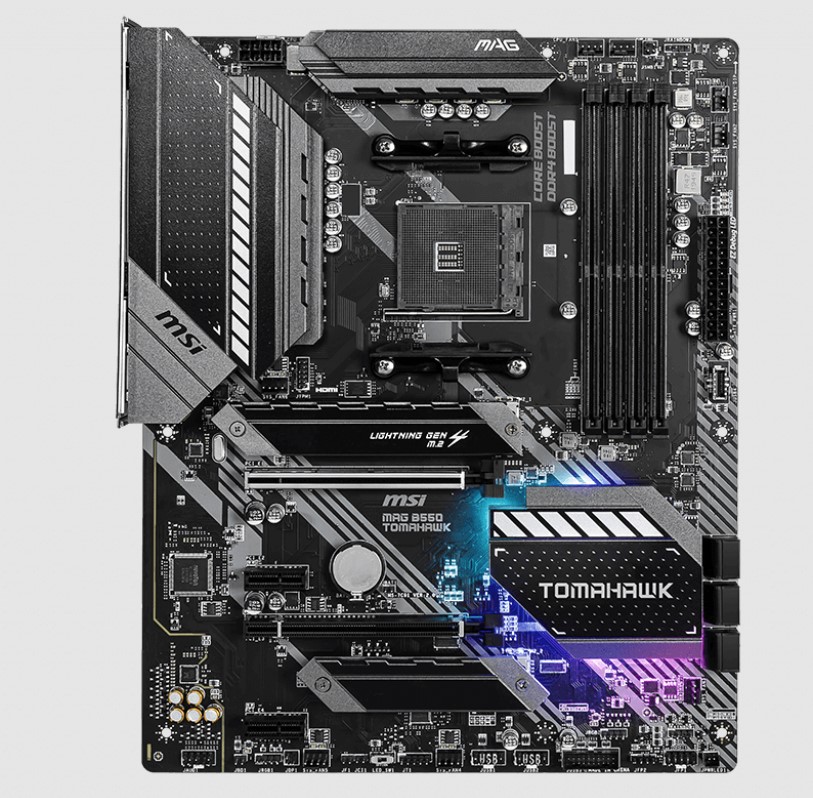 Other Specifications: CHIPSET: AMD B550 | MEMORY: 4 x DIMM, 128GB MAX (DDR4) DISPLAY OUTPUTS: DisplayPort, HDMI| REAR USB PORTS: 2 x USB 3.2 Gen 1, 2 x USB 3.2 Gen 2, 2 x USB 2.0 | BLUETOOTH: – | LAN: Intel® I225-V 2.5Gb Ethernet | Storage: 3x M.2, 4x SATA
Pros
10+2+1 Phase Power Design

Great Value

PCIe 4.0 support
Like its predecessor, the MSI B450 tomahawk max, the B550 tomahawk Max from MSI also provides the best features for the chipset it supports, which is why it has been listed as the best B550 motherboard you can currently buy for the 5950x.
The B550 tomahawk max gaming is an excellent pick for a value B550 motherboard. It features a 10+2+1 phase power design which is an upgrade from the previous generations, the heatsinks over the power delivery extend over the I/O area which not only makes them effective but also add a lot to the design of the motherboard. The extended heatsink is also one of the main reasons this motherboard provides such excellent value in this price category. The VRM is exceptionally good, considering this is in the B550 range.With a 10 phase, 60A power output, and a beefy heatsink, it stays cool even under stress.
With the inclusion of PCIe gen 4, this is a huge step up from the previous generation of this motherboard, particularly when it comes to storage. The rear I/O has an excellent selection of ports with 2 x USB 3.2 gen 1 ports and 2 USB 3.2 gen 2 ports, which are always nice. Along with that, it has a 2.5 Gigabit Ethernet port and another 1 Gigabit Ethernet port. While the inclusion of 2 LAN ports doesn't make sense here, any additional ports are always welcome. That's about it for the rear I/O.
Another thing to note here is that the ram frequencies will start to decrease as you add more sticks to it. MSI themselves have mentioned this on their official website. As for the storage, there are 6 SATA ports included.
The MSI MAG B550 TOMAHAWK does not support the Ryzen 3000 APUs they are built around the zen 2 architecture, which means that the display port and the HDMI will only be used with the current generation of Ryzen APUs.
There is no built-in WIFI or Bluetooth which would have been nice to see in this price range; ditching the second 1 Gigabit LAN port for a WIFI would have made more sense in my opinion. Moving on to the RGB side of things, we don't get to see much of it in this one either. It's only on the motherboard's heatsink, which can be turned off directly from the switch included on the motherboard.
Overall, this motherboard brings amazing value while delivering solid performance as a B550 based motherboard, a definite step-up from the previous tomahawk motherboard, and is capable of running the Ryzen 9 5950x flawlessly.
Why You Should Get This?
A feature that we love is that the four lanes that go in the top lighting M.2 slot give a high-speed NVMe PCIe gen 4 drive, so you get full bandwidth support. The Ethernet speed is 2 ( 2.5Gbps & 1Gbps), unlike any of its competitors, which rest in this price range. This provides incredible high bandwidth with low latency, perfect for gaming or transferring data. It also offers two 10Gbps USB 3.2 Gen 2 ports on its rear I/O plate that is permanently attached which makes it easier to install in the case.
Things We Disliked
The unavailability of WIFI and Bluetooth serves as a minor letdown. It would even make it prominent among expensive motherboards. Its RGB is also very limited to only the chipset and could have been improved by spreading through multiple components of the motherboard.
Who is this for?
Wrapping up, it stays as one of the best motherboards for value. It is a great choice for future-proofing and a quintessential option for gaming. However, having a WIFI 6.0 and Bluetooth would be feasible, but it's mainly designed for gaming, so it's disregarded. It is, ultimately, a mid-range motherboard that offers most of the features of a high-end one, so some of its flaws are to be ignored.
ASUS ROG Crosshair VIII Dark Hero
Best Motherboard for Overclocking Ryzen 9 5950x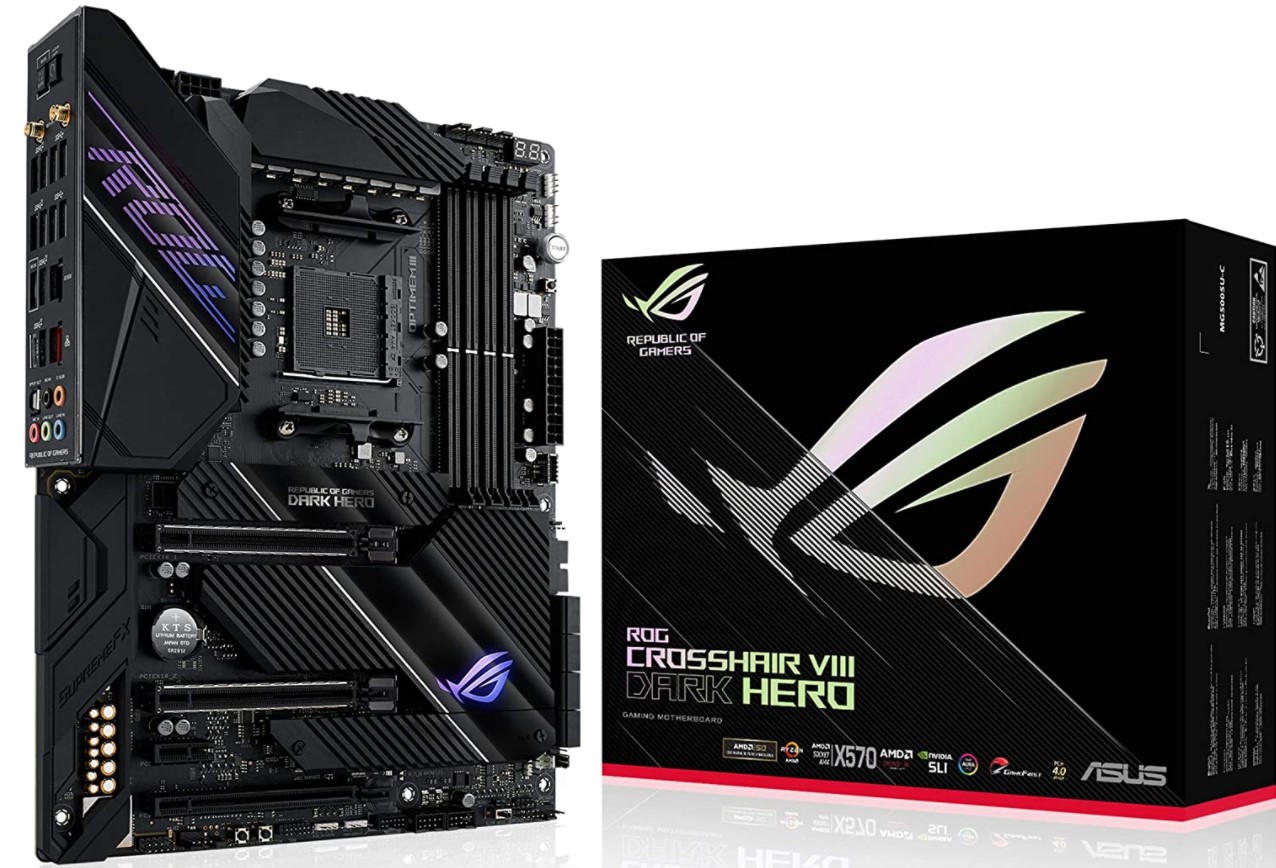 Other Specifications: CHIPSET: AMD X570| MEMORY: 4 x DIMM, 128GB MAX (DDR4) DISPLAY OUTPUTS: DisplayPort, HDMI| REAR USB PORTS: 8 x USB 3.2 Gen 2, 4 x USB 3.2 Gen 1, | BLUETOOTH: Bluetooth 5.1 | LAN: Intel® I211-AT Gb LAN | Storage: 2x M.2, 8x SATA
Pros
14 + 2 VRM with 90 amp power stage

PCIe 4.0 support

Great selection of rear I/O ports.
Next up on the list is ASUS ROG Crosshair VIII Dark Hero; while the name is a bit of a stretch, it is a premium motherboard that is compatible with the Ryzen 5000 series right out of the box.
There's a massive heatsink on top of the motherboard. There's also another heatsink underneath the I/O shield. Both of the heatsinks are connected with a heat pipe to help with dissipation and ASUS has also used a thermal pad which helps in further lowering the temperatures. The power delivery was the main focus for this motherboard; with the dark hero, ASUS has improved the power delivery while maintaining low temperatures, which results in better overclocking. The dark hero has a 14 + 2 VRM with 90 amp power stages.
The addition of good cooling with a great power delivery makes this motherboard perfect for overclocking. This feature-packed motherboard is best suited for overclocking and will mostly support anything that you throw at it.
The rear I/O has everything that you would need, perhaps even more than what an average PC user makes use of. The rear I/O consists of 12 USB ports, which is a staggering amount even for a premium motherboard, for of which are USB 3.2 gen 1 ports and 8 USB 3.2 gen 2 ports. There are also 2 LAN ports on the rear I/O, the first one being 2.5 gigabits per second while the second port is 1 gigabit per second.
As for the design of the motherboard, it's an all-black finish which will go well with most of the builds. The design and aesthetic aren't lacking in any way here, it is clear that ASUS has put a lot of effort here. The motherboard also has WIFI 6 and Bluetooth 5.1 connectivity. There are also 8 SATA Connectors found on the motherboard, along with all of the USB headers you'll need.
Things We Liked
There is too much to begin with. This thing was designed to be overclocked to the core. The availability of the extra 4 pins along with the 8 pin power cable gives you the choice of going all in. There's a 4 pin water pump and water heaters available for additional cooling. The AS-902P is for high-end headphones. There's a giant heatsink at the bottom replacing the normally present fan. This reduces the noise from the system. The I/O is fully stacked up with loads of USB ports, including USB type C, and the whole I/O is covered with a protective shield. The power delivery is extraordinary, offering more headroom for overclocking to its utmost potential, suitable for gaming.
Flaws But Not Dealbreakers
A few periodic issues for this motherboard are common among several users. Users have complained that their PC does not startup while it boots up normally other times. There are also frequent crashes faced by users, sometimes there's the blue screen or sometimes the game shuts down. However, these are caused mainly by the overclocking settings, and apparently, everything runs fine on normal settings. The design, despite its name, is not as dark as its predecessor Asus ROG Crosshair VIII Hero, apart from the shiny silver metal on a few parts. The RGB is very subtle and almost limited. It does not appear as a high-end motherboard in the dark as it is. The expensive price is a key factor one might not opt for.
Who is this for?
For a high-end motherboard, you are getting everything you need. The power, the cooling system, and the dozens of USB ports, it has it all. However, it does not come cheap. Nonetheless, this is a true beast and a perfect tool that offers the opportunity for any gamer to explore their limits of overclocking.
GIGABYTE X570 I AORUS PRO WIFI
Best Mini-Itx Motherboard For the 5950x

Other Specifications: CHIPSET: AMD X570| MEMORY: 2 x DIMM, 64GB MAX (DDR4) DISPLAY OUTPUTS: 1 x DisplayPort 1.2, 2 x HDMI 2.0| REAR USB PORTS: 1 x USB 3.1, 1 x USB 2.0 | BLUETOOTH: Bluetooth 5.1 | LAN: Intel i211AT Gigabit
Pros
Great VRM Design

WIFI 6/Bluetooth 5.0
Our last pick for the best motherboards for Ryzen 9 5950x is the Gigabyte X570 I AORUS pro mini itx, this one is a bit unique because of its small mini itx form factor. It packs all the power of your standard X570 motherboard into a small form factor motherboard for those who want to fit this into their mini build.
Saying that it's as good as the previously mentioned X570 motherboard might be a bit of an overstatement; however, with a size of 17x17cm, there is a nice balance between size, power, design, and overall features.
As for the VRM, it has 8 direct phases (6+2); these are 70 amps phases which means the power delivery should be more than enough even for the most demanding CPUs like the Ryzen 9 5950x, it should also be able to overclock it to some extent. To be able to run a CPU of this caliber with a form factor like this is what makes this different from other mini itx motherboards.
The 8 layered PCB allows for great heat dissipation, along with a massive heatsink which should be enough to keep the entire motherboard cool, even with an overclocked Ryzen 9 5950x. The design and engineering on this motherboard are amazing and the real-world performance is no different from any other normal-sized ATX motherboard. There are 2 m.2 slots, one on the front and the other one on the back of the motherboard.
The rear I/O, as expected, is a bit lacking but that is what you should expect from a mini itx motherboard. It consists of 3 video outputs, which doesn't make sense here. I would've loved to see more USB ports instead of the video outputs here. Aside from the video outputs, the rear I/O has 4 USB 3.2 ports, 2 USB 3.2 gen 1 ports, and a LAN port.
The GIGABYTE X570 I AORUS PRO is a well-built motherboard, with great cooling and amazing compatibility. Its ability to overclock even the Ryzen 9 5950x is impressive, making this the best mini itx motherboard for the Ryzen 9 5950x.
Things We Liked
There is a lot to like about the GIGABYTE x570 AORUS PRO. The VRM even exceeds the performance of some of the most capable ATX motherboards which was a delight to see here. Its ability to overclock even the best processors currently available while also maintaining decent temperatures is shocking. We were amazed to see how well the motherboard performs even with an overclocked processor.
Features We Disliked
An absurd amount of display ports were not needed, especially for a motherboard of this size where the addition of a single port can draw the line between being operable or being a complete disaster. GIGABYTE should have gone with more USB ports instead of the display ports.
Who is this for?
This motherboard, without a doubt, is one of the most capable motherboards that you can buy in this price range. It has been masterfully engineered and brilliantly put together. One of the best performing motherboards that you can buy to this date.
Ryzen 9 5950x Motherboard Compatibility
Before purchasing a motherboard, you need to ensure that the motherboard you end up going with is compatible with your CPU. Choosing a decent motherboard for your CPU is crucial when building a PC. The Ryzen 9 5950x is built on the Zen 3 architecture, it is compatible with any motherboard with the AMD AM4 socket and it supports a wide range of chipsets. Some of the most notable of these chipsets are, X470, B550, X570.
It is even compatible with the older B450 chipsets, all you need is a quick bios update for it to work with older B450 or X470 motherboards. Going for a more premium board based on the X570 or B550 chipset will always be better for the Ryzen 9 5950x, providing more features and better performance. The Ryzen 9 5950x has a TDP of 105W, which is not a lot but you need to ensure you buy a motherboard with an efficient VRM. In the end, it all boils down to preference, budget, and requirements. Some things you need to consider when buying a motherboard for the 5950x are the VRM, connectivity, design, and form factor.
X570 VS B550 – Which One Is Better For Ryzen 9 5950x
The B550 chipset is the successor to the previous generation B450 chipset. Being the cheaper chipset between the two, the B550 offers fewer features than the X570 chipset.
PCIE Connectivity
B550 connects the CPU using PCIe 3.0 while the motherboards supporting the X570 chipset connect the CPU using PCIe 4.0 lanes; However, there might be some exceptions to this. Before getting a motherboard, knowing the difference Between B550 and X570 is highly important. Although, you can read our in-depth article. Notwithstanding, here are basic differences.
Compatibility
The X570 chipset supports older Ryzen 2000 series CPUs and the newer Ryzen 3000 APUs which the B550 does not support.
While this might not be a deal breaker for some, it is definitely worth mentioning.
Connectivity
Aside from the PCIe lane connectivity, X570 boards support 5G/10G LAN, while the B550 boards only support the 1G/2.5G LAN ports.
Most X570 boards also have built-in cooling that helps in reducing the overall temperature of the CPU, resulting in better overclocking.
X570 boards also provide better SATA and USB connectivity, offering more ports in general.
Price
For people looking to build a PC only for gaming, X570 should not be necessary, saving money on a B550 chipset would be a better bet.
All things considered, the X570 is a better chipset, However; that doesn't come without a massive price bump. X570 boards can cost two or three times more than the B550 ones..
Future-Proofing
Since both the X570 and B550 are built around the AM4 socket, none of them can be called Future-proof. AMD will soon start using the AM5 socket for their Ryzen 6000 series processors, however, both of these chipsets are enough to support the current Ryzen 5000 series processors.
How We Choose the Best Motherboard for Ryzen 9 5950x
Some things that we took into account while choosing the best motherboards for Ryzen 9 5950x were:
Chipsets
The chipsets for the AM4 socket are the first thing you need to consider when buying a motherboard for your CPU. The AM4 socket has been deemed the most flexible socket in x86 history, so it should not be difficult to choose a chipset with the perfect upgrade path as it supports multiple Chipsets like A520, B550, and X570. After you ascertain the chipset of the motherboard you're going to move on to the next point on our list.
Form Factor
Motherboards of every chipset are always available in different form factors, be it mini itx, micro itx, E-ATX or standard ATX; the form factor you choose is going to depend upon the casing you end up going with, if it's small, go with a mini itx, if it's a normal-sized case, go with a standard-ATX. Going for a smaller case means fewer features, smaller REAR I/O port selection, and every feature is going to be cut down, which isn't ideal for a beginner.
VRM
Another thing you should be wary of is the VRM of the motherboard. The VRM or the Voltage Regulator Module is an important component of a motherboard that supplies and controls the voltage throughout the motherboard. VRM directly impact the overclocking of the CPU, a stable power supply is a must for overclocking which is why you must make sure that the motherboard you end up going with has decent VRMs
Cooling
Most motherboards have a heatsink that keeps the temperatures low and tries to avoid thermal throttling. You need to make sure the components remain under a certain temperature threshold even under heavy load. Thermal throttling is experienced when the high temperatures make the components run slower to lower the load and overall temperature. Make sure you choose a motherboard with a somewhat beefy cooling system to prevent this.
Related Reads: Best Motherboard For Ryzen 5 5600x
RAM, Connectivity, Expansion Slots
Once you've narrowed down the options, you're going to have to keep an eye out for how much RAM the motherboard supports, The ideal maximum ram capacity for a motherboard is 128GB which allows for future upgradability too.
Another important factor that you need to look out for are the ports and the headers. The rear I/O should have all of the ports you need, which can range from USB 3.2 ports to LAN ports or even display outputs for troubleshooting.
There are a lot of things that can be later upgraded after you are done with your build; this is why a good motherboard should have multiple expansion slots. This allows the user to add a few extra components without buying a completely new motherboard.
PCIe slots are one of the most important slots on your motherboard and, multiple PCIe ports should be present, as your GPU will already be occupying at least one of the PCIe x 16 slot.
Most users also add more storage to their system and continue to do so for a long time. The most common storage connection ports present are SATA 3 ports, which allow you to connect most HDDs and SSDs. The speed of these ports depends upon the variation of the SATA ports your motherboard supports.
Design and Aesthetic
You should never completely disregard the look of your motherboard, it can either completely ruin your build or make it look 5 times better. When looking at a tempered-glass case, the motherboard stands out more than the rest of the components so you should opt for a decent-looking motherboard if you somewhat care about the look of your build.
Comparison of
Ryzen 9 5900x Vs Ryzen 9 5950x
A lot of people while purchasing motherboards wonder whether it is worth going for the 5950x instead of the 5900x. On paper the 5950x wins by a huge margin but, technically, it is completely dependent upon your use case and budget; however, if we were to set those aside for a moment here, there are a lot of things that the 5950x offers that the 5900x doesn't.
Firstly, the increase in cores/threads going from the 5900x to the 5950x is the most obvious change 12 Cores & 24 Threads vs 16 Cores & 32 Threads. The extra cores will always help productivity, but for gamers, most games don't usually take advantage of the extra cores present in the 5950x so if your main focus is gaming, you should consider going for a 5900x. If you decide to go with Ryzen 9 5900x, make sure to read our article.
The base clock speed of the 5950x is 3.7GHz, while the 5900x has a base clock speed of 3.4GHz, which is not a huge difference considering the fact that base clock speeds don't amount to much aside from a slight increase in performance.
Overall, for productivity users, they should go for the 5950x if their budget allows them to, if not, then the 5900x is a perfect option for long run!
Ryzen 7 5950x Vs Intel Core i9-12900k
Intel's latest 12th generation Alder lake desktop processors, along with the Z690 chipset launched back in late 2021 and have been dominating the market ever since.
Comparing the Intel i9 12900k from Blue vs Ryzen 9 5950x from Red camp head to head against each other produces an interesting outcome. Both of the processors have 16 cores, but Intel's newer cores and threads are based on a hybrid design with Performance and Power saving cores; that's why i9 12900k is equipped with only 24 threads. However, having more cores doesn't necessarily result in better performance and that is the case with the 5950x too. Our guide on Intel Core i9-12900k can be found here.
While the Ryzen 9 5950x only supports DDR4 memory, Intel's new CPUs step it up a notch by adding DDR5 support to their CPUs and motherboards; furthermore, their 12900k is also cheaper than the 5950x, providing better value.
Due to the Ryzen 9 5950x being an older CPU, 12th generation's new architecture seems to provide an overall ideal experience. When tested with Cinebench r23 the 12900k seems to have a decent lead against the 5950x. On the other hand, Ryzen 9 5900x vs Core i9-12900k is a different story.
Common Questions About Ryzen 9 5950x
What motherboard is compatible with the Ryzen 9 5950x?
Any motherboard that has an AM4 socket will be compatible with the Ryzen 9 5950x, even older chipsets like the X470 and B450 should be compatible with a BIOS update.
Does the 5950x have integrated graphics?
No, the Ryzen 9 5950x does not have an integrated GPU just like most Ryzen 9 5000 series CPUs.
What motherboard should I get for the Ryzen 9 5950x?
The best overall motherboard for the 5950x is the ASUS TUF GAMING X570-PRO. It should provide a seamless experience with decent Overclocking.
What chipset is the Ryzen 9 5950x?
The Ryzen 9 5950x is compatible with the B550, B570, and A520 chipsets, other than that it is also backward compatible with some of the older generation chipsets like the X470 and B450 chipsets, all you need is a quick BIOS update and you are good to go.
Is 5950x worth it over the 5900x?
The 5950x is a step up from the 5900x, offering more cores and more thread. It is worth over the 5900x.
What gen is Ryzen 9 5950x?
The Ryzen 9 5950x is a 4th gen AMD processor based on the Zen 3 architecture.