The Ryzen 9 5950x launched back in late 2020, along with the other 5000 series processors, and it continues to deliver outstanding performance even in early 2023. It's an excellent high-end gaming CPU, built on the 7nm Zen 3 architecture. The 5950x has 16 cores and 32 threads, with a base clock speed of 3.4 GHz and a boost clock speed of 4.9 GHz. It has a default TDP of 105 Watts. Even in the current market, It is still one of the best processors an individual can purchase when building a pc. It delivers solid performance for both gaming and productivity. We highly recommend first getting a suitable Motherboard For Ryzen 9 5950x, before jumping straight to CPU Coolers. The factor of compatibility and budget highly matters.
Even after the launch of Intel's 12th generation Alder Lake CPUs, it still manages to hold its own, trading blows with some of the best Intel CPUs currently available. As of writing this article, the price of the 5950x has dropped $200 below MSRP, which is its lowest price ever. With this price, the 5950x is no less than a bargain.
With this amount of power, you will have to pair it with a good cooler to use the 5950x to its utmost potential. Speaking of coolers, the Ryzen 5950x does not come with a stock cooler, so you will have to buy an aftermarket cooler for your CPU; choosing one might not be as easy for everyone but fear not because we are here to help you pick the best cooler for the Ryzen 9 5950x.
RYZEN 9 5950x Specifications:
Total Cores: 16
Total Threads: 32
Base Clock Speed: 3.4GHz
Boost Speed: 4.9GHZ
Default TDP: 105W
CPU Socket:: AM4
Best CPU Coolers For Ryzen 5 5950x
Cooler
Liquid Freezer II 240 A-RGB
ASUS ROG Strix LC II 240 ARGB
Dimensions
160 mm (H) 150 mm (W) 135 mm (D)
129 mm × 138 mm × 160 mm | Fan: 2 x 120mm
Fan
2x Arctic P12 PWM RGB 120mm
2 x ROG FAN MODEL 12 ARGB 120mm
Best Feature
Beautiful RGB & Convenient Installation
Low Noise, Neat Design & Installation
Compact Size, Easy Installation & Top Performance
Affordable, Compact, Good Compatibility & Decent Performance
Last update on 2023-12-11
The following are the Best CPU Coolers For Ryzen 5 5950x in 2023
Liquid Freezer II 240 A-RGB

ASUS ROG Strix LC II 240 ARGB

Noctua NH-D15S

DEEPCOOL AK620

EK-AIO Elite 360 D-RGB

Noctua NH-L9a-AM4
Liquid Freezer II 240 A-RGB
Best 240mm AIO Liquid Cooler for the Ryzen 9 5950x
Specifications : Type: 240mm AIO Liquid Cooler | TDP: 250W |RGB: RGB backlighting | Dimensions: 120 mm x 120 mm x 25 mm | Fan: 2x Arctic P12 PWM RGB 120mm | Fan Speed: 200–1800 RPM | Socket Support: LGA-1200, LGA-115X, LGA 2011-v3, R4 LGA-2066, and AM4
Cons
No ARGB Controller
No user manual included
The Liquid Freezer II is a budget-friendly AIO liquid cooler that brings forth all the features you need in an attractive price range. Arctic is back with another cooler, this time introducing one of the best AIO liquid coolers currently available For Ryzen 9 5950x.
The Liquid Freezer II comes equipped with two pre-attached addressable RGB Fans, which is surprising coming from a brand like Arctic. However, RGB is always a nice inclusion. The cooler comes with a standard A-RGB connector, making the installation process nice and straightforward.
The Liquid Freezer II 240 comes with a 240mm aluminum radiator, with a thickness of 38 millimeters. The Pump unit includes a 40mm VRM fan, with a speed ranging from 1000 to 3000 RPM. Even with these high speeds, it's almost inaudible; however, it can easily be unplugged from the bottom for those interested in removing the fan. Arctic has made the pump incredibly silent, with a noise output of 36.4 DBA, which can be helpful for someone working in a quiet environment.
Furthermore, te Liquid Freezer II 240 supports a wide range of sockets, ranging from intel's EXTREME lineup to the AMD AM4 socket. On the other hand, the tubing has a length of 450mm, with plastic fittings on both the pump and the radiator.
With a TDP of over 200, the Liquid Freezer II 240 is capable of overclocking the Ryzen 9 5950x. It can easily handle anything you throw at it.
Things We Liked
The well-built structure of the entire cooler coupled with the fancy RGB lighting, the Liquid Freezer II 240 A-RGB does not fail to stand out from the crowd. The installation process is relatively straightforward, making it easier for beginners to mount the cooler properly.
It is clear that there was a huge focus on the noise levels; the fans tend to remain silent even at high speeds. The radiator is on the thicker side, which helps in improving the overall cooling performance.
It's outrageous how silent the VRM fan gets even when operating at high speeds. Most people won't even feel the need to remove it, although the removable fan is a plus in my books.
Related Reads: Best CPU Cooler For Ryzen 9 5900x
Flaws
With the number of features the Liquid Freezer II 240 provides at this price, it doesn't leave much room to complain; however, the lack of a simple A-RGB controller in the box is a bit disappointing; in addition, Arctic has not provided a manual for the cooler at all, your only choice is to download the manual directly from their website.
Verdict
The cooling performance of the Liquid Freezer II is incredible; not only is it one of the best 240mm coolers For Ryzen 9 5950x that you can currently purchase, it also rivals some of the 360mm coolers in terms of cooling performance.
Other than the cooling performance, the Arctic Liquid Freezer II 240 manages to stay silent even under heavy workloads, with minimal fan and pump noise.
The attractive pricing, fantastic cooling solutions, and easy installation make this a phenomenal pick for the best 240mm AIO Liquid Cooler for the Ryzen 9 5950x.
For full details – Read our Arctic Liquid Freezer II 240 Review.
ASUS ROG Strix LC II 240 ARGB
Best RGB cooler for the Ryzen 9 5950x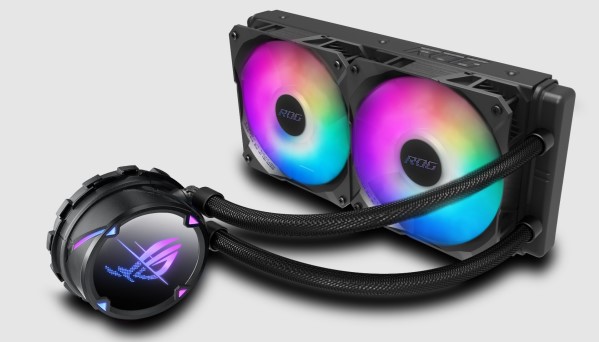 Specifications : Type: 240mm AIO Liquid Cooler | RGB: RGB backlighting | Radiator Dimension: 121 x 272 x 27 mm | Fan: 2 x ROG FAN MODEL 12 ARGB 120mm| Fan Speed: 800 – 2500 RPM | Socket Support: Intel: LGA 1700, 1200, 115x, 2011, 2011-3, 2066 | AMD: AM4, TR4*
Pros
Good RGB Setup
Easy Installation
Next up on the list is the ASUS ROG Strix LC II 240. With its excellent aesthetics and amazing RGB, it has been chosen as the Best RGB CPU Cooler for the Ryzen 9 5950x. This generation of ASUS ROG Strix coolers offers wider compatibility, supporting most Intel and AMD sockets.
The ASUS ROG Strix LC II 240 comes equipped with a 240mm radiator as the name suggests, it provides sufficient cooling for the 5950x along with a fantastic design and remarkable RGB lighting.
Like most ASUS Coolers, the ASUS ROG Strix LC II 240 also has a premium feel to it. The RGB on the fans is perfectly compatible with Aura Sync Software and the fans can rump up to a speed of 2500 RPM under heavy load. The radiator tube has a length of 380mm which should be enough for the most part.
The box itself comes with 2 x 120 mm ARGB Radiator fans, 1-2 fan splitter cable, a USB cable for software control, 1-4 ARGB splitter cable, and the usual accessory Pack with all the stuff you would need to properly install the cooler.
The overall performance in real-world tests with the 5950x is great. It even competes with some of the more premium options out there. The ASUS ROG Strix LC II 240 maintains a good balance between the CPU clocks and the temperatures. The fans don't seem to get too loud even when operating at maximum speeds; the noise levels manage to stay just below 37.6 dBA
Best Features
ASUS has done a wonderfully good job with the RGB lighting on the ROG Strix LC II 240, and synchronization using the Aura Sync Software makes it better.
The installation process is easy to follow, thanks to the instructions provided in the packaging. The broad range of compatible options is also a big plus. The required brackets for each socket have also been provided in the packaging.
Flaws but not dealbreakers
Unlike the previous one, the ASUS ROG Strix LC II 240 is not a cheap cooler that might turn some people away.
Also, the small length of the fan cable leaves no room for adjusting the AIO on the top which can be a big concern for someone building a Custom PC.
Other than that, there isn't much to dislike about the ASUS ROG Strix LC II 240.
Verdict
The ASUS ROG Strix LC II 240 is capable of handling the Ryzen 9 5950x, even at maximum load. However, you can exceed 90 degrees even with the slightest overclock.
The attractive design and the premium build quality coupled with striking RGB make this an excellent choice for people looking for reasonable cooling solutions. The performance was surprisingly impressive.
Noctua NH-D15S Chromax
Best Air Cooler For the Ryzen 9 5950x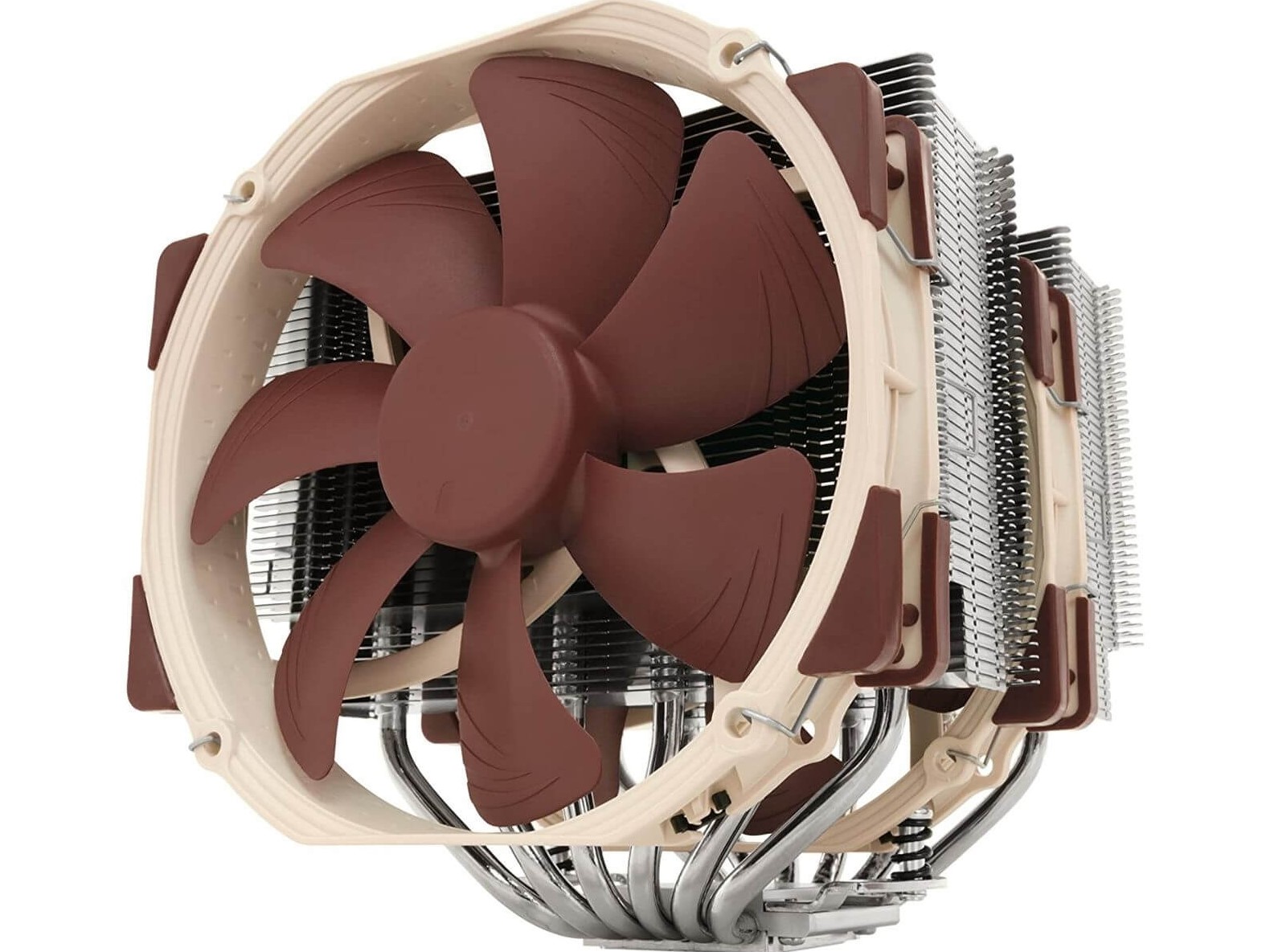 Specifications : Type: Dual-Tower Air Cooler | TDP: 200W RGB: None | Dimensions: 160 mm (H) 150 mm (W) 135 mm (D) | Fan: | Fan Speed: 300 – 1500 RPM | Socket Support: Intel LGA1200, LGA1156, LGA1155, LGA1151, LGA1150, LGA1700LGA2011-0 & LGA2011-3 & AMD AM2, AM2+, AM3, AM3+, FM1, FM2, FM2+, AM4
Pros
Clean twin-tower design
Easy Installation
Low noise
Noctua is famous for making brilliant coolers that provide amazing performance. The NH-D15S chromax black is the new and improved version of the NH-D15, which offers better clearance with lower noise outputs.
The Noctua NH-D15S is among the Best CPU Cooler For Ryzen 9 5950x; the chromax black variant is a treat to look at. The black coating on everything but the heatsink gives this cooler a nice look. Both the NH-D15S and the NH-D15 have the same twin-tower design. The only significant difference is the space between the heatsink and the GPU, which might help with the overall airflow of the case. Another thing that the NH-D15S does better than its non-s variant is the operating noise; there is a considerable difference when you compare them against each other.
Apart from the overall look of the Noctua NH-D15S, the Noctua NH-D15S uses six copper heat pipes, with a diameter of 6 millimeters, soldered to the baseplate. The smooth base plate allows for better thermal compound spread, which results in better performance.
With the Maximum fan speed of 1500 RPM, the NH-D15S reached a noise output of 34 DBA. The single fan configuration helps in lowering the overall noise levels. Speaking of the fan configuration, the Noctua DH-D15S uses the Noctua nfa15 PWM, a 140mm fan found in most Noctua coolers. With included rubber pads on both sides and all the other standard features to minimize sound. The offset in the heatsink improves the compatibility of the cooler with most ATX motherboards, with more space for the ram and PCIe slots.
What We Liked
The Asymmetrical twin-tower design looks clean when installed, and the Noctua NH-D15S offers excellent RAM, case, and PCIe compatibility.
It sits at around 160 millimeters in height, and it fits perfectly in most cases. The inclusion of a low-speed adapter means that you can reduce fan speeds to 1200 RPM, making it even quieter than before. The RAM modules also get plenty of space which helps in the general cooling of the entire case. The Noctua NH-D15S can also be used in a dual fan configuration, increasing the performance of the cooler while also maintaining the design and providing enough space for other components. You must read our Ram For Ryzen 9 5950x article to get more familiar.
What We Disliked
With only one fan, the Noctua NH-D15S's cooling does seem to take a hit when compared with other dual-fan coolers. Adding another fan is possible but the noise level with two fans increases by a significant margin. Another thing to note here is the lack of RGB. The cooler comes with no RGB whatsoever, which might be a bummer for people looking to build a flashy computer; However, it's all up to preference in the end.
Verdict
The NH-D15S looks stunning with the all-black finish, which helps in enhancing the overall look of the case. With the NH-D15S, there are almost no clearance problems because of the well-structured dual tower design. Even with just a single fan, it manages to keep the temperatures low. The Noctua NH-D15S, without a doubt, is the Best Air Cooler for the Ryzen 9 5950x. However, going for an AIO Liquid cooler will always result in better performance.
DeepCool AK620
Best Budget Cooler for Ryzen 5950X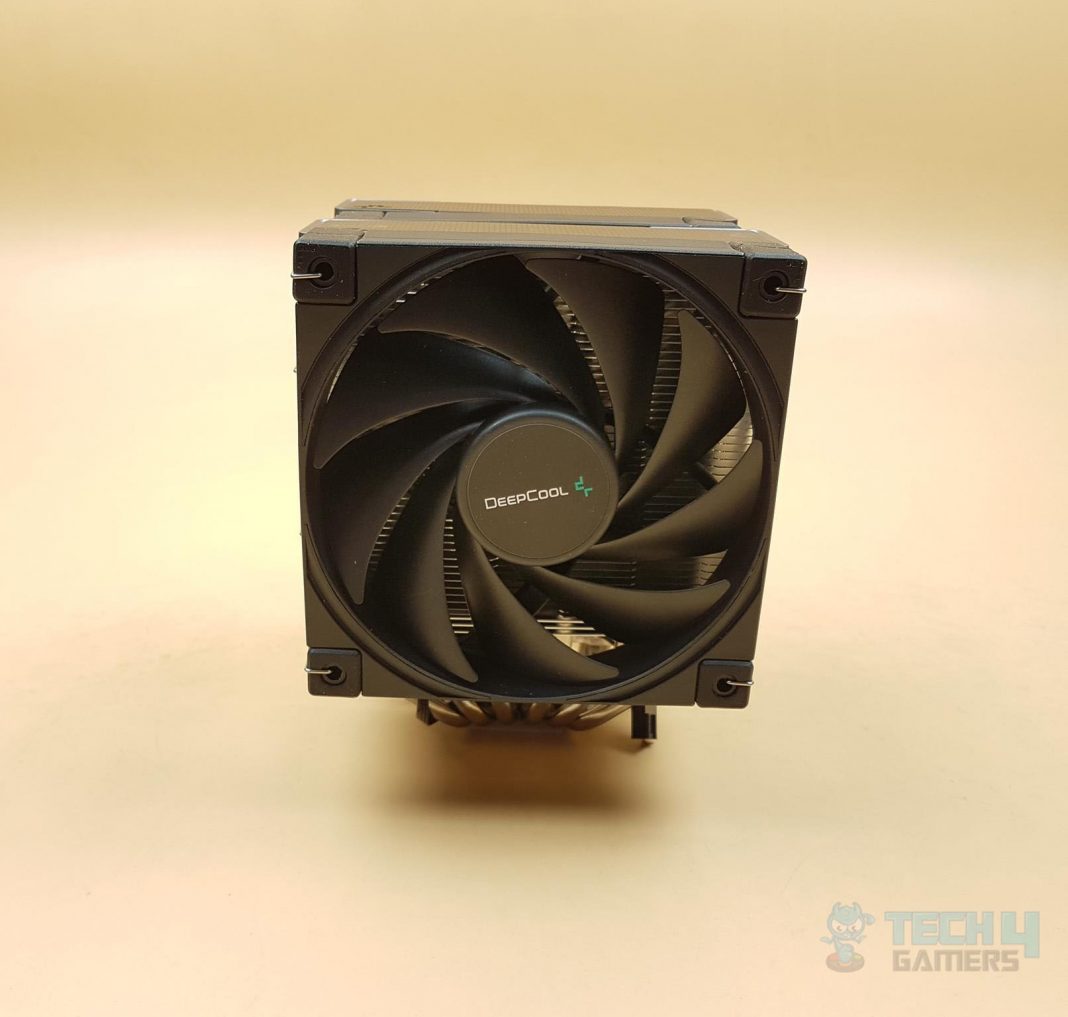 Specifications : Type: Twin-Tower Air Cooler | TDP: 260W | Heat Pipes: 6x 6mm | RGB: None | Dimensions: 129 mm × 138 mm × 160 mm | Fan: 2 x 120mm DeepCool FDB PWM Fans | Fan Speed: 500-1850 RPM | Socket Support: LGA 2066, LGA 2011-v3, LGA 2011, LGA 1700, LGA 1200, LGA 1151, LGA 1150, LGA 1155 and AM4
Pros
Compact size
Easy Installation
Powerful cooling performance
DeepCool is back with another CPU cooler which, like its name, is for maximum cooling and avoiding any thermal throttling in your new Ryzen 5950X. This time they have astonished their customers by providing them a powerful high-end product but at a relatively less price, presenting you the DeepCool AK620.
Each of the heatsink towers is capped and it has a sleek and minimalistic design on it with the DeepCool logo on it. Coming up from the base of the cooler we have six 6mm thick copper heat pipes that branch up into each of the heatsink towers. The base of the cooler is very extensive, thick, and is made of copper. Taking a closer look at the bottom, we see we have an immaculate finish. It also gives a subtle neo chrome effect when it is rotated at different angles.
This stands 160mm tall with dimensions 129 mm ×138 mm ×160 mm which means it can easily fit in any mid towers out there. Most mid-towers have a max height of 165mm so you fit nicely right under it. The DeepCool AK620 features two identical 120mm cooling fans, these PWM (Pulse Width Modulation) fans feature a fluid dynamic bearing that offers low noise operation without losing cooling output.
You Might be interested in: Best CPU Cooler For Ryzen 7 3700x
The speed of the fan ranges from 500 to 1850 RPM and the noise level at full load is 28 dba with a rated lifespan of 50,000 hours of usage. They went for 120mm fans instead of 140mm, which makes it all the more compact than other high-end coolers that require a large amount of space.
The fans are attached to both the heatsink towers using the typical fan clips, so you have one fan on the front of the cooler and then another in the center. Since it is a dual tower cooler, we have dual aluminum heatsink towers. These towers use a dense matrix fix array.
What We Liked
One thing that stands out is that the DeepCool AK620 is relatively smaller than most coolers, so it can fit in any case. Due to its compact size, it can be easily installed while the motherboard rests inside the case. It produces better performance than the ones with the 140mm fan, and the noise is barely noticeable. How can we forget about the best part of it? The design.
I highly admire this design without any RGB lighting, which are quite flashy and they take away the charm of the cooler itself. The DeepCool AK620's cap sports a subtle mosaic pattern with a glossy texture which adds to its sleek look. To top it all off, they have made the top charcoal gray which complements the teal in the DeepCool Logo that is engraved at the bottom of the cap. All of this provides a delightful outlook when viewed from the case.
What We Disliked
With an all-rounder cooler like the DeepCool AK620, there's not much to dislike. However, there are machining marks slightly visible on the copper base of the cooler. The fan overhangs and almost hides the overview of the memory sticks due to its size, so you might want to avoid getting RGB RAM, but there is still more than enough clearance for standard size memory. Due to the fan being 120mm, it makes a little bit more noise than if it had 140mm. Other than that, it has way more benefits than a few ignorable flaws.
Verdict
To sum all things up, the DeepCool AK620 is the Best Budget CPU Cooler For Ryzen 9 5950X. It provides a little bit better performance with slightly more noise as compared to its competitors. But the noise is barely noticeable since some stock coolers are very loud when you put full load on your system.
This is not a loud cooler whatsoever. Notably, it would have been nice if DeepCool included a third set of fan clips so you could buy another fan if you wanted to acquire even more performance. These are easily disregarded since it's so well-priced, keeping in mind that numerous other high-end coolers fall on the expensive end. All of this makes the DeepCool AK620 a viable option for the Ryzen 5950X.
EK AIO Elite D-RGB 360
Best 360mm AIO cooler for Ryzen 5950X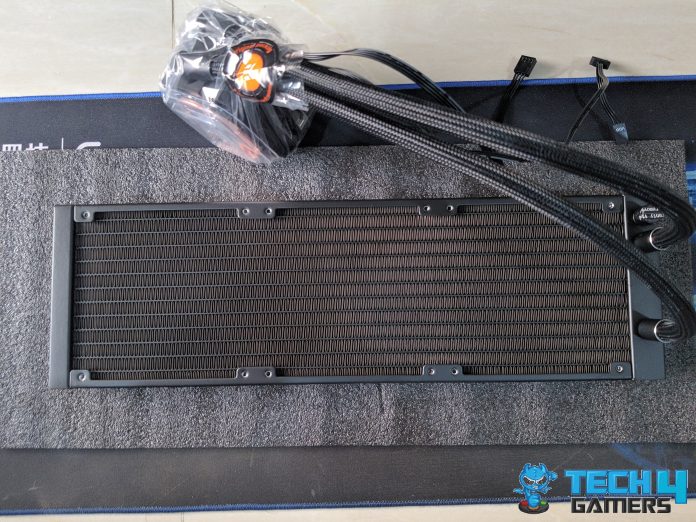 Specifications : Type: 360mm AIO Liquid Cooler | RGB: Yes | Radiator Dimensions: 395 x 120 x 27 mm | Fan: 6 x 120mm EK Vardar S PWM aRGB | Fan Speed: 550 – 2200 RPM | Socket Support: 1150, 1151, 1155, 1156, 1200, 2011, 2011-3, 2066, 1200 and AM4
Pros
Additional 3 x 120mm fans
5 year warranty
EK is a company that provides cooling solutions, and it has been pushing a lot of AIOs currently. This time it has produced a top-of-the-line model, an improvement from all their preceding models: EK AIO Elite 360 D-RGB. EK AIO Elite 360 d-RGB is the top model with six translucent EK Vardar S 120mm addressable RGB fans. It also has a slightly better pump speed range of 1000 – 3000 RPM.
The EK AIO Elite 360mm comes with extra free fans, so if your case doesn't allow you to have the space for all six fans in a push+pull configuration, you could use three and then use the other three fans as case fans, giving you better value for money. These fans are to be positioned on its standard aluminum radiator.
The fans produce roughly 36.4 dba at maximum speed, which can be moderately noisy. The pump is massive and bulky, which would fit in your entire palm. The CPU block is slightly taller, The CPU base consists of a gleamy copper plate with screws bolted around its edge, and it arrives with a pre-applied thermal compound patched at its center. However, they have also included the EK-TIM Ecotherm compound syringe. Apart from that, it does come with a surprise, and that is loads of cable to work with.
Now you must be wondering what to do with all these cables, wouldn't it look messier? EK was aware of the odd number of wires, so they included a portable device with the EK AIO Elite 360 d-RGB, the EK hub, which solves the problem for you.
The EK hub controller has seven connections instead of six on each side, so seven for aRGB lighting header and seven for a 4-pin PWM for your fan speeds to connect everything to this hub. It is magnetic, so you can place it on the motherboard, but if you prefer it to be fixed, it also has four screws to attach to your SSD mounting.
The design is very sleek, with only the EK AIO logo on the bottom left lighting up with RGB while the remaining top stays in black nickel and the middle part shines in chrome, giving it a minimalistic look. This was an upgrade from its previous variants, which only included a translucent plastic cover for the pump with RGB spreading across, which looked untidy. The black nylon braided tubes attached have rotating fittings, so you can quickly pivot it around to re-orient the EK logo. The EK hub has a transparent top on it with the polished chrome EK logo inside its cover, which also lights up with RGB when plugged in.
What We Liked
This item is loaded with attributes, but we will start from the thing that takes up the most space, its fans. Since it has six fans and only three are generally used, utilizing the other massive 360mm three fans and placing them in the case saves is a huge plus point as it allows you to operate one set of fans with a push configuration and a pull with the other set. Another key selling point of the EK AIOs, apart from their outstanding performance, is that they all come with a five-year limited international warranty which is a lovely improvement because it wasn't all that long ago that AIO coolers only really came with a two to three-year warranty.
The EK hub is a great solution to improve cable management and further enhance the overall system's look. The best part about it has to be its user manual which eases the installation procedure, breaking down each process in practical steps and guiding us effectively, unlike many other AIO cooling manuals. Finally, the elite design is an impressive upgrade from its preceding versions with the reflective black nickel.
Also read this: Best CPU Cooler For Ryzen 5 5600x
What We Dislike
The monstrous EK AIO Elite 360 d-RGB AIO cooler is hard to dislike. But if we were to look at its flaws, the stack of cables would be one top. These cables look tortuous even after installing if it is not done the right way. Using the EK hub effectively by hiding it well inside the motherboard is recommended, which solves this problem quite effectively. Although, some cables might still be present. The enormous size of the pump is why you might want to opt for a roomy PC case, or it may look a bit cluttered. Finally, it gets noisy when fans are operating at their full speed.
Verdict
Ultimately, the EK AIO Elite 360 d-RGB is the Best 360mm AIO Liquid Cooler for the Ryzen 9 5950x. Nonetheless, I must point out a few things beforehand. Due to its glossy appearance, it's pretty easy to get fingerprints on it, so using a cloth to gently wipe the top of the pump after installation is recommended for a neater look. Furthermore, while installing the pump, it is recommended to use the pre-applied thermal compound since it works efficiently without using an additional thermal paste.
The design sealed the deal, but the addition of a small LCD panel would have been a great addition to the pump. Overall, it is an excellent value for money, considering it arrives with three supplementary EK Vardar S 120mm fans, which do not come cheap if bought separately.
Noctua NH-L9a AM4
Best Low Profile cooler for the 5950x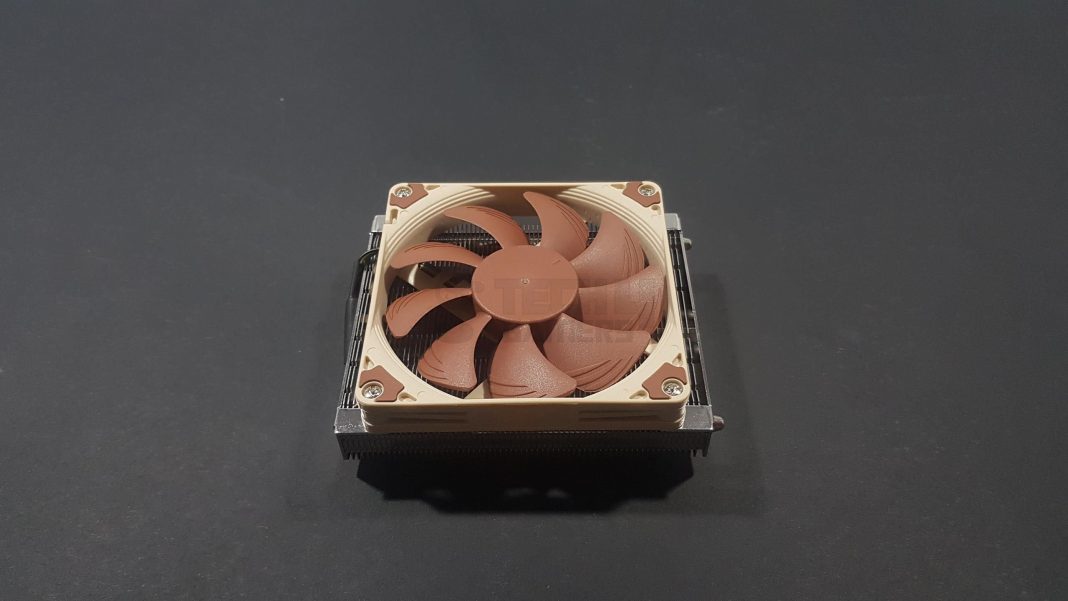 Specifications – Type: Low Profile Air Cooler | TDP: 95W | RGB: None| Dimensions: 114mm x 92mm x 37mm| Fan: | Fan Speed: 6 | Socket: AM4
Pros
Small form factor
Extremely Quiet
Cheap
100% GPU and Ram compatibility
If you are in the market for a slim and lightweight cooler that provides good cooling, then the Noctua NH L9a is the way to go. It is our pick for the best low-profile cooler for the Ryzen 9 5950x.
The chromax black version of this cooler is relatively new, providing all the features of the original version but with a better look.
The Noctua NH L9a is a 37mm low-profile cooler that provides 100 percent ram and PCIe compatibility, so it should fit perfectly in most ITX boards without taking up much space.
In addition to the already low noise levels, Noctua has included a low noise adapter which lowers the fan speeds by a significant margin. With a height of 37mm, the Noctua LH 9a can fit in almost ANY case you throw it in. The base plate is made out of nickel-plated copper, with two heat pipes connected to it.
The Noctua NH L9a is exceptionally compact, with a 23mm heatsink and a 14mm low profile, while the cooler itself is 37mm tall. The Noctua NH L9a has a TDP of 95W, making it ill-suited for any type of overclocking.
Noctua has used their NF 9 x 14 HS PWM fan for this cooler, which has a fan speed ranging from 500 up to 1500 RPM. The slim 14mm fan does an excellent job in reducing the overall height of the cooler. The fan is extremely quiet. The fan reached a maximum noise output of 23.6 DBA.
The Noctua NH-L9a is significantly better than the AMD stock cooler, so upgrading from a stock cooler should not be a problem. Unlike most small form factor coolers, this one is straightforward to install, no matter which capacity you install it in. Noctua also provides six years warranty for the cooler; it has an MTTF rating of more than 150,000 hours.
Other AMD Guides: Best CPU Cooler For Ryzen 5 3600
What We Liked
Even at 100 percent fan speed, the Noctua NH-L9a is extremely quiet.
The small form factor means that it should fit in any motherboard or case you throw it in; while also providing 100 percent compatibility with the GPU and RAM. It offers amazing value for the price. While the cooling performance is not that great, it still far exceeds that of the stock AMD cooler, which is a big deal for a cooler of this size.
Noctua has done a brilliant job with the design of this cooler. This is the way to go if you are thinking of building a small form factor PC.
What We Disliked
While the Noctua L9a provides excellent value for the price with amazing features, its cooling performance might be a bit lacking for the Ryzen 9 5950x. The CPU is bound to get warm, especially with the CPU at full load. This is something you should take into account while purchasing this cooler.
Verdict
The Noctua LH 9a is by no means an expensive cooler, coming in at around 50 dollars. It provides amazing performance for its price while also maintaining decent temperatures. It provides 100 percent compatibility with the GPU, and the RAM, perfect for ITX builds, and for this price, there is nothing to complain about this Ryzen 9 5950x cooler.
Who should get these
All of the above-mentioned coolers should work best with the Ryzen 9 5950x. Anyone in the market for a cooler for their brand new Ryzen 9 5950x should find this guide helpful. As mentioned previously, the Ryzen 9 5950x does not come with a stock cooler. Going through this list once should prove helpful to anyone new to building computers.
Why should you trust Tech4Gamers?
Tech4Gamers was founded by tech experts with over 12 years of experience in the tech industry. It consists of hard-working individuals that provide accurate information through extensive research and testing. We picked these CPU Coolers For Ryzen 9 5950x after hours of benchmarks, comparisons, and testings. You can read our individual review for each cooler as well, and get an idea of how they perform on different levels. No Ryzen 9 5950x cooler mentioned in this article was picked without following the criteria or going through in-depth analysis.
Well-known brands, such as MSI, Gigabyte, Asus, DeepCool have all acknowledged Tech4Gamers as an authentic source for reviews.
How We Picked The Best Coolers for Ryzen 9 5950x
The following criteria was considered while picking these CPU Coolers For Ryzen 9 5950x.
Type
CPU coolers are available in many different forms, the most notable of these forms being Air coolers, AIO Coolers, Custom water loops, submerged cooling. Air coolers are the most common ones. Most CPUs come with a stock air cooler which might be more than enough for most low-end CPUs. However, the Ryzen 9 5950x does not come with a stock cooler. Liquid and air coolers like those listed above are exactly what you should be looking for when purchasing a cooler for the Ryzen 9 5950x.
Performance
There are a lot of variables that need to be considered when judging the performance of a cooler. Some of them being its size, form factor, heatsinks, and type. The CPU cooler that you end up going with should keep your temperatures under a certain threshold even at maximum load.
Size
The cooling performance varies significantly from size to size; a good cooler should offer the best size to performance ratio. You also need to ensure that it perfectly fits inside your case while also providing compatibility for the GPU and RAM.
Noise
Noise is another important factor that you need to be wary of. Most people operating in quiet environments prefer quieter coolers. Low-profile coolers have the lowest noise output, making them great for such cases.
Budget
Most AIO coolers are much pricier than air coolers; however, AIO coolers provide better cooling. If your budget allows you to, you should opt for an AIO cooler, especially for the Ryzen 9 5950x. On the other hand, some of the air coolers mentioned in the list can provide enough cooling for the Ryzen 9 5950x even at maximum load, at a much lower price.
Compatibility
Many coolers have different mounting brackets and support different sockets; the Ryzen 9 5950x uses the AM4 socket. Improper socket placement can result in performance issues. You will also need a cooler that exceeds the TDP of the Ryzen 9 5950x for a better overall experience.
Frequently Asked Questions
Does the Ryzen 9 5950x come with a CPU Cooler?
The Ryzen 9 5950x does not come with a stock cooler; you will have to buy an aftermarket one.
Does the Ryzen 9 5950x overheat?
No, the Ryzen 9 5950x does not overheat when paired with a decent cooler. However, it can overheat when paired with an inefficient cooler.
Are aftermarket CPU coolers for the Ryzen 9 5950x worth it?
Aftermarket coolers are worth every penny. It's a must to pair an aftermarket cooler with the Ryzen 9 5950x.
What type of cooler is best for the Ryzen 9 5950x?
AIOs and air coolers both provide good performance, they both have their drawbacks. An AIO cooler will provide outstanding performance with an increased price. In contrast, an air cooler provides decent performance at a lower price. In the end, it just boils down to budget and preference.
Was our article helpful? 👨‍💻
Thank you! Please share your positive feedback. 🔋
How could we improve this post? Please Help us. 😔
[CPU Coolers & RAM Expert]
Hayyan Serwer is a tech enthusiast, with a love for PC building and article writing. Hayyan specializes in writing about CPU coolers and RAM kits. Hayyan has been familiar with the tech industry for over half a decade now, and has now stepped into providing quality reviews for the latest and greatest tech.