If you're thinking of buying the flagship processor, you might be looking for the best CPU cooler for i9 12900K. After a long wait, Intel has finally launched their 12th Generation of the Core series of desktop processors. These 12th generation chips are codenamed Alder Lake, and they bring a lot of impressive stuff to the table. For instance, DDR5 Ram is the newest platform that is fully supported by these processors. DDR5 does not just boast higher frequencies, but it can achieve those frequencies with a lower power draw. We already have listed the Best Motherboards For i9-12900k, so check that out as well.
Other than that, Alder Lake is a brand new architecture as well. Intel has introduced performance and efficiency cores, which they are calling P-cores and E-cores, respectively. To put it simply, the E-cores are more efficient but less powerful, as the name suggests. The P-Cores are more power-hungry and can hit higher frequencies with more cache.
You might be asking yourself, why does all of this matter to me? Well, that's because this has resulted in one of Intel's best flagship processors in recent memory, the Core i9 12900K. With 8 performance cores, 8 efficiency cores, and overall 24 threads, this thing is quite the powerhouse. However, it might put potential buyers into a tough predicament. This authoritative flagship processor is notoriously difficult to cool.
The Power Draw Situation
We have already written a few articles that relate to the 12900K, such as the best RAM for i9 12900K, and the Z690 motherboards. However, this one is proving to be quite a bit trickier. If you are fully pushing the 12900K to its limit, it can consume up to around 240W of power. Needless to say, that is several times higher than anything we've seen in recent memory.
This explains why the 12900K is so hard to cool, and just goes to show where all those performance gains are coming from. So, while Intel is more efficient in day-to-day tasks and gaming, they are pushing the boundaries when it comes to power draw during production-related tasks.
So, before we get into our list of the CPU coolers for the i9-12900K, there are a few shopping tips and things you should look out for. Also here is how all the top CPU Coolers we picked compare.
Award
Best CPU Cooler For i9 12900k
Best Budget Liquid Cooler For i9 12900K
Best Designed CPU Cooler For i9 12900K
High-Performance Air Cooler For i9 12900K
Best Looking CPU Cooler For i9 12900K
Cooler
Noctua NH-D15 Chromax.Black
Corsair H115i Elite Capillex
What We Liked
Great Performance and acoustic
Outperforms larger coolers
Clever design, such as using thumbscrews on the fan
Top Performance And Easy Installation
ML140 Fans Perform Well & Excellent RGB
What We Disliked
issue fitting in cases on the smaller side
A bit of a pain to install
Cable management is all over the place
Noisier than other Corsair coolers
Dimensions
160.00 x 150.00 x 135.00mm
Last update on 2023-03-20
Things You Must Know
While the 12th generation processors are definitely quite competitive, they may prove to be a bit of a hard bargain for some people. This is due to high prices because of the chip shortage, the fact that DDR5 memory is quite expensive right now, and other factors including logistics issues, and unavailability of parts. It's not exactly the best time to build a PC.
However, if you can manage to afford a 12900K, a Z690 motherboard, and a DDR5 memory kit right now, more power to you. The only thing left is a great cooler, and this is not an area you want to skimp out on. We explained why above.
Shopping Tips
With all of that said, here are some key points that stuck out to me as of writing this guide. Think of these as shopping tips for our readers.
Air Cooling Vs Liquid Cooling
This is a long-running debate that is common in newcomers, veteran builders, and hardware enthusiasts alike. However, it has never been more relevant than with the 12900K. While it would certainly make the most sense to go with an extremely beefy 360mm AIO liquid cooler, a few air coolers will work quite well with the 12900K.
Of course, most people would prefer to go the AIO route either way, since a lot of people prefer the looks of them as well. Personally, I prefer the look of a good air cooler, such as the Cryorig R1, Dark Rock Pro 4, etc. Those beefy air coolers are the only sort that I would put on the 12900K though. If I were to buy a flagship Intel processor, I would definitely push it to its limit.
You can also get away with a 240mm AIO as well. Two 120mm fans should be more than enough to handle the 12900K. Of course, all of this depends on the cooler's performance, and if you are going to do any sort of overclocking (there is no real need here).
Compatibility of I9-12900k
This is a tough one right now. Since you need a powerful cooler for this demanding chip, compatibility with cases could be an issue. For example, if you like to build in mid-tower or smaller cases, then fitting a huge dual-tower air cooler will be quite a difficult task. So, make all your purchasing decisions wisely.
Other than that, the Alder Lake architecture is based on the new 10nm process. Due to which it uses a new socket, known as LGA 1700. A lot of manufacturers are updating their coolers to include mounting brackets for LGA 1700 in the packaging. This should be a smaller problem when you're eventually reading this, but be sure to double-check this when purchasing. You can also read our Best LGA 1700 CPU Coolers for a generic view.
Aesthetics
Some people care about aesthetics, while others are fine with just focusing on pure performance. This is something you need to keep in mind before buying a CPU cooler for the 12900K. Most beefy air coolers look impressive, but not a lot of them have any flashy RGB lighting if that is your jam. AIOs will be more versatile in that regard. Of course, the better the design, the higher the price, for the most part.
Here are the 12 Best CPU Coolers for i9-12900k in 2023.
Noctua NH-D15 Chromax.Black
EKWB EK AIO Elite D-RGB 360mm
Arctic Liquid Freezer II
Cooler Master ML360R RGB
Deepcool Assassin III
Corsair H115i Elite Capillex
Noctua NH-U12S
Lian Li GALAHAD AIO 360 RGB
NZXT Kraken Z73 360mm
DeepCool AS500 Plus White
GAMDIAS CHIONE M3 240
DeepCool AK620
Best CPU Coolers For i9-12900K
Enough dancing around the topic, let's get to business. If you're feeling like you want to bite the bullet and build a high-end Alder Lake gaming PC, then these are the best CPU coolers for i9-2900K. All of these options are great, and we implore you not to get too confused, as there are plenty of other coolers out there.
Picking just a handful of coolers out of the plethora of options available was no easy task. However, we cherry-picked the products that were great all around, and some that stood out in one or more aspects. Let's take a look at the list.
Noctua NH-D15 Chromax.Black
Best CPU Cooler For i9-12900k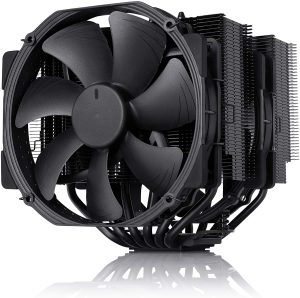 Specifications="Type: Dual-Tower Air Cooler | TDP: 220W | Heat Pipes: 6 | Lighting: None | Dimensions: 160.00 x 150.00 x 135.00mm"]
Pros
Beastly performance
Impressive acoustic performance for the size
Lots of thermal headroom
Sleek and sophisticated design
Installation is a breeze
Extremely reliable and stands the test of time
Cons
Might have issue fitting in cases on the smaller side of the scale
At this point, it is extremely difficult to put together a list of the best CPU coolers for any processor, and not include the Noctua NH-D15. This is without a doubt, a classic choice for many enthusiasts and veteran builders. Noctua is extremely popular for cooling products and accessories such as case fans, thermal paste, CPU coolers, and more. Thanks to a fresh coat of paint, the NHD15 Chromax Black is accessible to more people than ever.
The D15 is a gargantuan cooler, and this chromax black edition is mostly just a new paint job for the iconic product. This sleek and stealthy look is a sight to behold, and it should fit into most color schemes with ease. Noctua has paid attention to detail here, as the fin arrays, heat pipes, fans, and even fan clips are all black. They also decided to go with a matte texture, which adds to the covert aesthetics.
Moving on, this cooler uses 6mm copper heat pipes, a dual-tower design, and aluminum fin stacks that are 150mm wide. It also comes with Noctua's excellent NF-A15 PWM fans. These fans use high-quality SSO2 bearings as well, that are lubricated and use magnetic stabilizers. The fans can spin up to 1500 RPM, and they are not as loud as others on the market either.
All of this clever design language comes together to produce a cooler that is significantly head and shoulders above the competition, at least when it comes to air coolers. Installation is also quite easy, thanks to their patented SecuFirm 2 mounting system. It is incredibly intuitive, and Noctua has great instructions both in their manual and in the form of youtube videos.
Performance is as excellent as you'd expect from Noctua. This beefy dual-tower cooler proves to be very powerful, while also being quieter than other dual-tower coolers out there. In fact, the NH-D15 can compete with many AIOs out there as well.
To Sum up, the Noctua NH-D15 is the Best CPU Cooler for i9 12900k In 2023. Noctua has finally managed to make a cooler that appeals to the masses. This is thanks to the great performance we expect from Noctua and the clean black design. You may also check our Unboxing video of the Noctua D15s Chromax Black.
EKWB EK AIO Elite D-RGB 360mm
Best Liquid Cooler For i9-12900K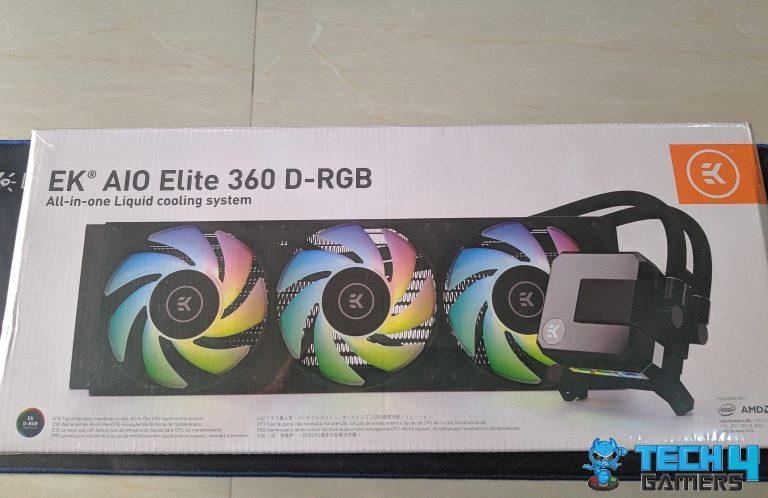 Specifications="Type: Triple Fan AIO | TDP: 220-240W | Radiator Size: 360mm | Lighting: RGB | Radiator Dimensions: 395 x 120 x 27 mm"]
Pros
Impressive pump design
RGB provides an alluring yet soft flow
High-quality EK Vardar S fans
Dense fin stack provides great heat dissipation
Useful refill port
Incredible Performance
Cons
Installation could be easier
Yes, this cooler is just as ridiculous as its naming convention. While the EK Elite AIO is overkill for many builders out there, it just might be the perfect closed-loop solution for the 12900K. Thanks to the incredible cooling performance, we have no problem with dubbing this as one of the best CPU coolers for the i9 12900K. EKWB has been at it for a while, and this Slovenian company has quite the hit with this product.
EK offers the EK AIO D-RGB series of coolers in 120mm, 240mm, and 360mm variations. We recommend people to go with the 360mm, especially considering that we are trying to cool the power-hungry i9 12900K. While the price is on the higher-end, it makes up for it thanks to the fantastic design and cooling performance. There is quite a lot to cover here, but we will try to keep it relatively brief. Let's start with the radiator.
This cooler uses a 360mm radiator which is constructed out of aluminum. The material solidifies the integrity of this cooler, while also keeping the weight as low as possible for its size. It has a thickness of 27mm and the width is 120mm. It can support three 120mm fans, and they sit right next to each other improving the overall static pressure. The radiator has a small fill port as well, which is becoming common these days in higher-end CPU coolers.
Furthermore, the fin density is also quite good here as the fins are stacked quite close to each other. This provides us with a larger surface area for heat dissipation. Finally, the pump/block is perhaps the most interesting part here, as EK has developed their own solution, rather than going with the standard Asetek pump. The pump/block combo is quite heavy, and the entire housing is made out of nickel.
There is a small EK logo on the bottom right, and when combined with the aRGB LEDs, it looks visually stunning. Last but not least, the tubing is also of very high quality, as is to be expected from EK. The package also includes six EK Vardar S 120mm fans, meaning this can be configured for a push/pull configuration as well.
Overall, the EKWB EK AIO Elite D-RGB 360mm is the Best Liquid Cooler for i9 12900k. It is quite a beefy liquid cooler and stands out from the crowd.
The large radiator and the massive pump combo make this an excellent pairing for the i9 12900K. It performs well while also looking at the part. We highly recommend it, even considering the high price.
Read Our Full Review Of The EK-AIO Elite 360 D-RGB
Arctic Liquid Freezer II
Best Budget Liquid Cooler For i9-12900K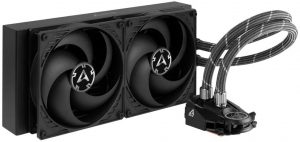 Specifications="Type: Dual-fan AIO | TDP: 220-240W | Radiator Size: 280mm | Lighting: RGB | Dimensions: 277 mm x 120 mm x 38 mm"]
Pros
Unique pump design
The integrated fan on the pump is a nice touch
Enticing value for money
Outperforms larger coolers
Thicker radiator provides great heat dissipation
Cons
No RGB
A bit of a pain to install
It was tough picking between the Arctic Liquid Freezer II and the EK AIO Elite liquid coolers. Eventually, I decided that the value of the Liquid Freezer II 280mm was too good to be overlooked. You are likely already familiar with Arctic, as they are the makers of the MX-4 thermal paste. This Freezer II CPU cooler from them has become quite popular, mostly due to its unique design and incredible value.
The company decided to go with its custom design for the pump. A lot of manufacturers are doing this so that they do not have to rely on Asetek for the pump designs. In the end, the results pay off, as this is quite a surprise hit. This pump has an almost futuristic and outlandish design. It has an integrated cooling fan to circulate air over the CPU block. It also helps cool down the motherboard heatsinks and memory modules a bit.
Moving on, the cold plate here uses copper. Mounting it can be a bit of a hassle, as the pump is quite large. This is the only downside so far though. The radiator here is 38mm thick, and it is constructed out of aluminum. This thickness is more than most coolers out there, and that's one of the reasons why the performance is so good. As for the fans, they are Arctic P14 fans that use dynamic fluid bearings. They are rated for a speed of up to 1700 RPM. These fans sit quite close to each other, and that improves the overall static pressure.
As for the performance, this is where things get interesting. It's surprising that this cooler can take on a lot of 360mm AIOs, and it does it with ease. While some might have thought you would need at least a 360mm AIO for the 12900K, the Freezer II 280 gets the job done quite well. Considering the overall bargain it brings to the table, this is a no-brainer if you can look past the generic looks and short cables. If you are looking for a Budget Cooler for i9 12900k, the Liquid Freezer II is the choice of purchasing.
Cooler Master ML360R RGB
Best Designed CPU Cooler For i9 12900K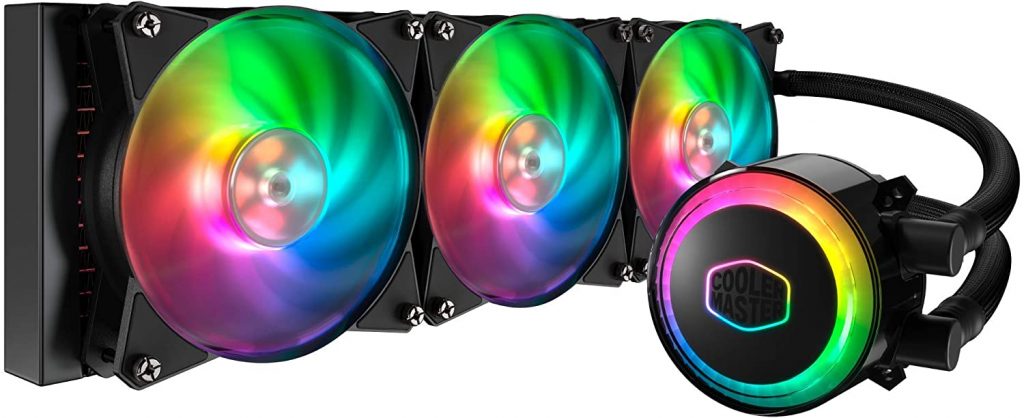 Specifications="Type: Triple Fan AIO | TDP: 220W | Radiator Size: 360mm | Lighting: RGB | Dimensions: 277 mm x 120 mm x 38 mm"]
Pros
A very elegant design language
RGB on the pump is a great addition
Nylon braiding on the tubing
Clever design, such as using thumbscrews on the fan
Will stand out in any build
Cons
Cable management is all over the place
Installation instructions are not the best
The ML360R RGB cooler from Cooler Master has been one of our favorite coolers for a long time. There are many reasons as to why that is: excellent performance, great looks, and overall durability, just to name a few. It supports a lot of processors and comes with mounting accessories for several different generations of AMD and Intel CPUs.
In fact, it comes with almost too many accessories, including mounting brackets, several different cables, an RGB/fan controller, a USB connectivity cable, and a syringe of thermal compound. Connecting the USB cable will allow you to control the lighting of this cooler through Cooler Master's software. The cooler is 25.1mm thick, and the pump is also quite tall at 52.9mm.
The RGB controller module is a nice touch. However, you should stay mentally prepared to deal with a tonne of cables required to get the full functionality out of the lighting. This module also uses a magnetic base to attach it to the inside of any case. The pump itself is sleek and uses a rounded design. Lighting effects on the pump are discrete and elegant. Furthermore, the rubber tubing is protected by nylon braiding, which adds more flair to the premium design.
Once again, this is another cooler that uses an aluminum radiator that has good fin density. The fans are MF120R aRGB. They push out a lot of air and look great doing so. Oh, and they use thumbscrews instead of regular screws, which is a nice touch. Overall, this is quite a beautiful cooler, and the subtle RGB glow of the fans and the pump will make any build stand out.
When it comes to performance, the ML360R surpassed our expectations. Despite the radiator being on the thinner side by today's standards, it can still handle most high-end processors, with decent room for overclocking. It's another great addition to this list and our choice when it comes to Best Designed CPU Cooler for i9 12900K.
Deepcool Assassin III
High-Performance Air Cooler For i9-12900K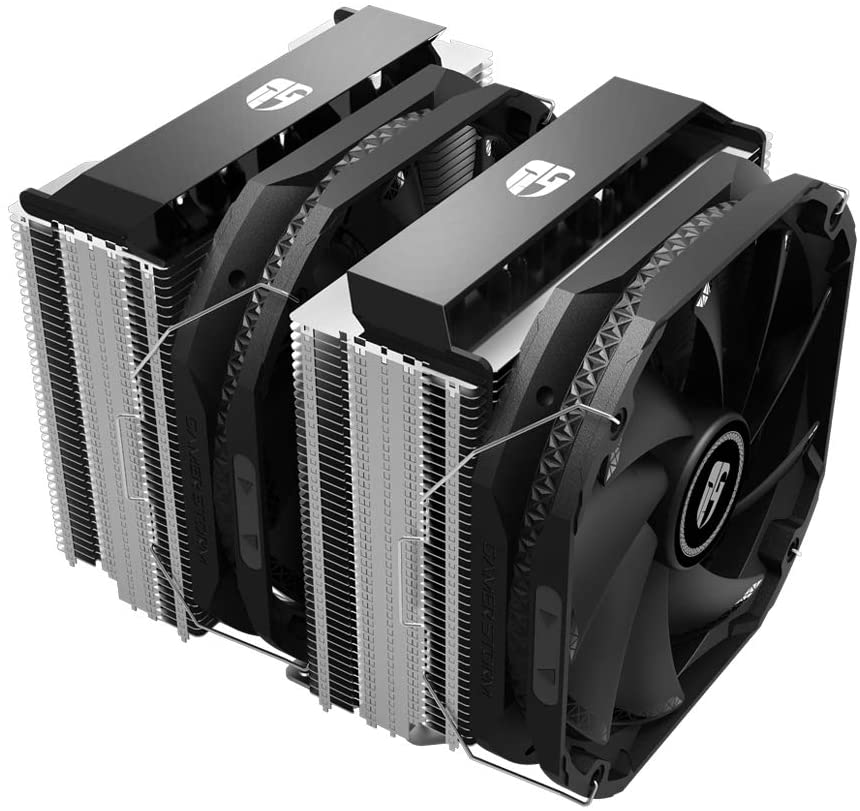 Specifications="Type: Dual-Tower Air Cooler | TDP: 280W | Heat Pipes: 7 | Lighting: None | Dimensions: 161 x 138 x 165mm"]
Pros
Jaw-dropping performance
Excellent engineering all around
Custom TF series of fans
Easy to install
Cons
Can be a bit noisy
Some might find the design a bit generic
As we talked about earlier, it's not essential to go with an AIO for your brand new 12900K. Some beefy air coolers can easily get the job done, and leave a lot of thermal headroom. The excellent Deepcool Assassin III is one of these excellent air coolers. Deepcool is a brand that has started to gain more recognition thanks to its excellent coolers, PC cases, and more.
Read Deepcool Assassin III Review.
However, this product of theirs certainly stands out. This is a monstrous cooler that goes head to head with Noctua NH-D15 and Cryorig R1. The Assassin III is efficient, stylish, and has great acoustics. It makes some improvements over its predecessor, the Assassin II. It has 7 heat pipes and a bigger surface for better heat dissipation. This dual tower behemoth uses 2 140mm fans that have great airflow and generate a lot of pressure.
It uses a copper base with a mirror-style nickel coating for the finish. Deepcool is using customized variants of their TF series of fans for better cooling performance. Overall dimensions are 161x140x165mm, so it is quite big. The top of the cooler has a shiny black coating, which gives it an obsidian-like look. When visible from outside the case, this cooler looks like business.
The entire heatsink itself is also nickel-coated, and the black accents here and there add to the overall sleek look. Its fin stack is also quite dense, and that helps to move air flow through the heatsink. Combine this with the excellent fans, and we have ourselves a killer package. The speed of the fans top out at 1400 RPM, and it has a TDP rating of 280W. More than enough for the 12900K.
You'll have to make sure that your RAMs and chassis don't interfere with this cooler. Sure, it brings a lot of performance to the table, but it's undeniably gigantic. RAM clearance shouldn't be too much of an issue unless you have unusually tall modules. Make sure the dimensions won't be an issue on either purchase. If you want to Overclock i9-12900k, then the Deepcool Assassin III is what you should get- our review concludes, this is the Best Performance Cooler for i9 12900k.
Considering the MSRP of the cooler, it presents itself as a great bargain. It is one of those coolers that you buy and forget about for a while. It has excellent performance, durability, and an industrial design language. The NH-D15 has an upper hand because of the noise-to-performance ratio, but you can go either way and still be happy.
Corsair H115i Elite Capillex
Best Looking CPU Cooler For i9-12900K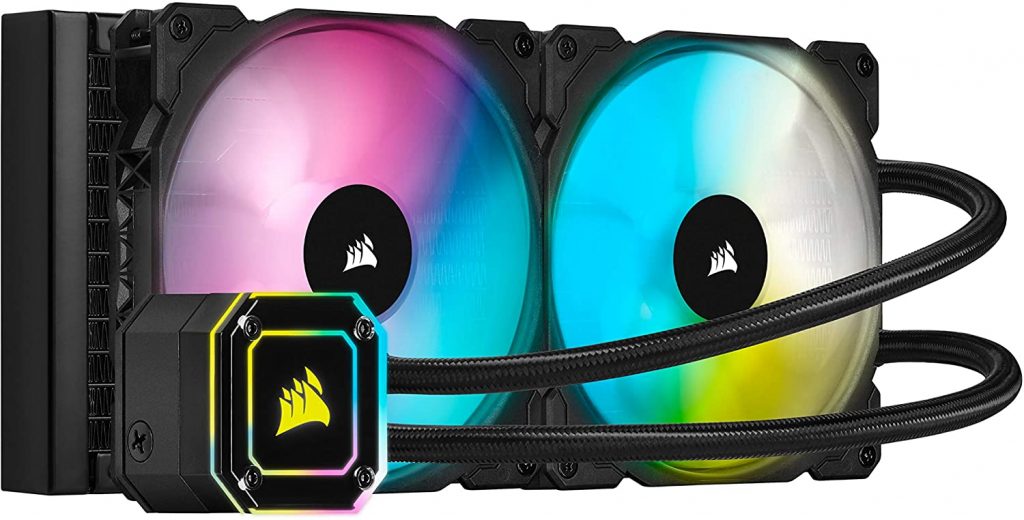 Specifications="Type: Dual-Fan AIO | TDP: 220-240W | Radiator Size: 280mm | Lighting: RGB | Dimensions: 238 mm x 120 mm x 28 mm"]
Pros
A sight to behold in terms of design
Easy to install
iCUE software works quite well
The ML140 fans perform well
Cons
Slightly expensive than its competitors
Noisier than other Corsair coolers
We wouldn't do justice to this list if we did not include a Corsair AIO liquid cooler in here. Corsair has done quite well for itself, as their H-series of liquid coolers are all the rage. We commonly see them in a lot of builds globally. The H150 as seen in our Review uses 360mm radiators, the H100 uses 240mm, and the H115 series uses 280mm radiators. Right now, we're taking a look at the H115i Elite Capillex.
This cooler differs from other variants as it uses Corsair's 140mm ML140 fans. These are quieter than others and are the same ones found in the RGB platinum version of this cooler. The "i" in this cooler represents Corsair's iCue software. You can change the colors of the RGB lighting via this utility, and even control the performance of the pump and fans. Straight out of the box, the default fan profile proves to be louder than on the platinum.
However, it makes up for this as the Elite Capillex is one of the best in terms of performance when it comes to 280mm coolers. The Capillex pump on here is revamped, and it does a great job when tested for performance. Furthermore, the LEDs on here are also smaller, brighter, and more efficient than the previous version. Talk about improvements to an already excellent design.
While for many people, the RGB platinum version might be the better choice, we're talking about cooling the 12900K here. We need all the performance we can get out of a 280 cooler, and the H115i Elite Capellix delivers in that regard. You also get the Commander Core RGB control box. It will allow you to connect six PWM fans and six Corsair RGB connections. It connects to the computer via USB 2.0. With Such RGB Integration, and everything, we recommend Corsair H115i Elite Capillex as the Best RGB Cooler For i9-12900k.
Finally, the iCue software is also quite polished and works well. You get a lot of room to play around with customizations, and the bug issues that Corsair used to have prior are now gone. Corsair has come a long way from those days, and reliability is not going to be an issue down the line.
All in all, this is a great cooler, and there is a reason why Corsair's coolers are so popular among mid-range and high-end PC builds.
Noctua
NH-U12S
Best Air Cooler for i9-12900k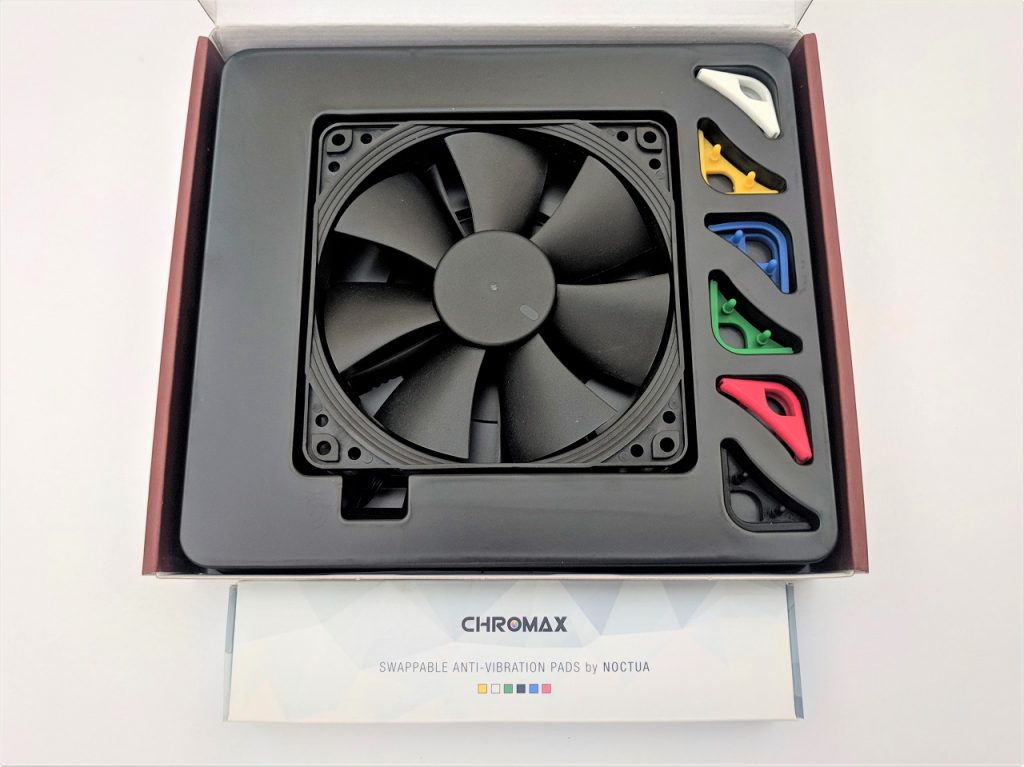 Specifications=" Type: Slim Single Fan Air Cooler | Lighting: None | Dimensions: 158mm x 125mm x 71mm"]
Pros
Easy Installation.

Slim design.

Extremely quiet.

Great build quality.

It comes with the option to add a second fan.

Top-tier cooling.

Six years warranty
Cons
The color scheme isn't that impressive.

A bit pricy.
Undoubtedly, Noctua has proved to be a trustworthy CPU Cooler manufacturer considering its long history of excellence and quality products all across the board. NH-U12S is another CPU Cooler for i9-12900k from Noctua's award-winning NH-U12 series of CPU coolers. NH-U12S is a slim cooler based on a classic 120mm tower size for excellent overall compatibility and a height of 158mm, making it fittable in almost any case.
NH-U12S cooler uses copper base and heat pipes, aluminum cooling fins with soldered joints, and nickel plating; moreover, it comes with Noctua's premium quality NF-F12 120mm fan to provide the best possible performance in a small package. The NF-F12 fan can rotate at a maximum speed of 1500 RPM, lowered to just 300 RPM. The NF-F12 fan supports PWM (Pulse Width Modulation) for convenient speed control and is also equipped with a low noise adapter for quiet operations, making this fan almost impossible to hear at lower speeds.
NH-U12S also includes fan clips and anti-vibration pads for those who want to add a second fan for even better performance. The anti-vibration pads reduce the noise level in the dual-fan mode.
With its robust design, Noctua NH-U12S is very easy to install and is compatible with modern and older sockets, including LGA 1700, which i9-12900k uses, and its mounting mechanism provides perfect contact pressure and will survive even under heavy use. Thanks to its slim design, NH-12S will not overhang the RAM slots even with two fans, which will give you full access to memory modules.
If you are looking for an air cooler with good cooling performance and extremely low noise levels, this cooler is definitely for you. At stock clocks, Noctua NH-U12S CPU cooler is fantastic at its job, beating its competitors by miles, such as Corsair H90, while at the same time, it is silent; even with two fans, the noise levels are extremely low. Noctua also provides six years of manufacturer's warranty, so you can get another free of charge if your fan stops working. These great traits make it the only contender for Best Air Cooler for i9-12900k.
Lian Li GALAHAD AIO 360 RGB
Best AIO Cooler for i9-12900k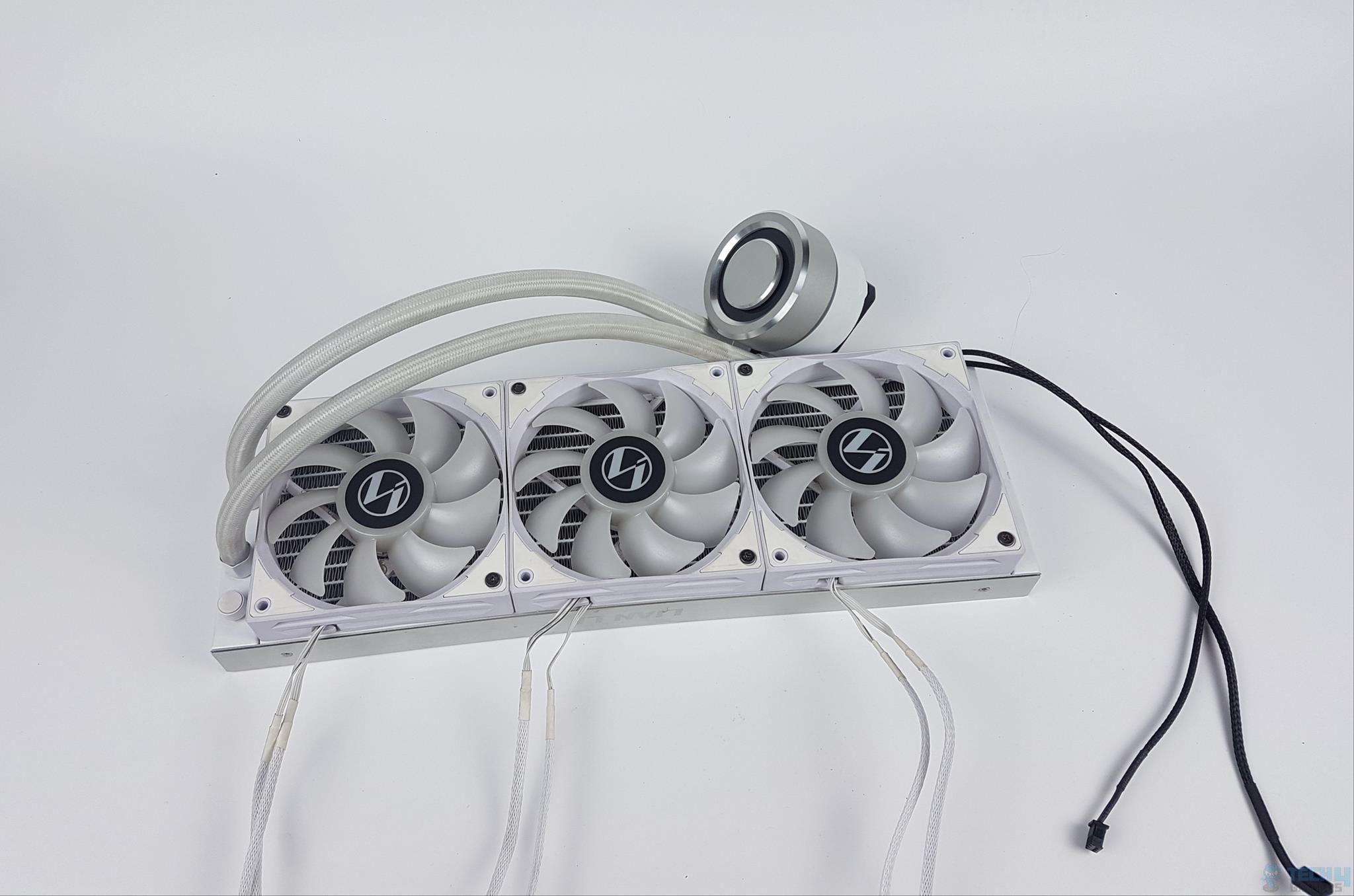 Specifications=" Type: Closed Looped triple fan AIO | Radiator Size: 360mm | Lighting: RGB | Dimensions: 397.5mm x 123.5mm x 27mm"]
Pros
Customizable RGB lighting.

High-quality fans.

Fans are relatively quiet.

Removable magnetic aluminum cap.

Efficient cooling.

Value for money.
Cons
The idle noise could have been lower.
If you ever got the chance to buy a CPU cooler or a PC casing, it's almost impossible that you wouldn't have heard Lian Li's name. Lian Li has made its mark in the industry by providing its customers with the best CPU coolers, power supplies, and other accessories at great prices, giving tough competition to its competitors. Just as its name sounds, Lian Li Galahad is a beast of an air cooler consisting of triple-fan closed-loop AIO, which might just be right for your Alder Lake processor. It has incredible cooling capabilities, which won't let your system heat up even under heavy use. It wouldn't be fair not to include Galahad in this list as it is the AIO CPU Cooler for i9-12900k.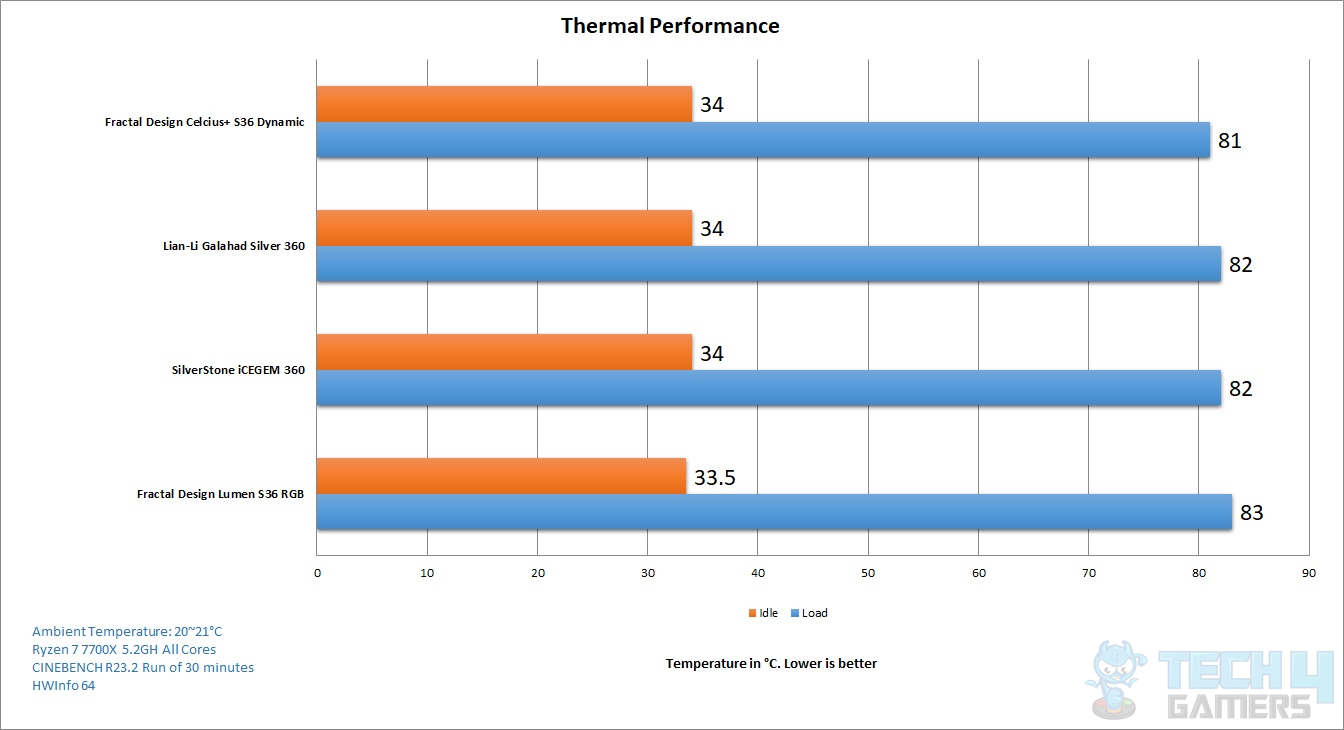 Lian Li Galahad comes in two sizes: a 240 mm and a 360 mm; 360 mm is best for i9-12900k as it is a power-hungry processor. Although it is expensive, its performance and aesthetics are second to none. The RGB lighting can switch between 17 different effects for multiple themes, which can be changed with the included controller, providing a great look to the whole setup.
The Lian Li GALAHAD AIO 360 RGB uses a 360mm radiator with aluminum shields on both sides, increasing the radiator's durability and making it elegant and aesthetically pleasing. Additionally, it has a thickness of 27mm and a width of 123.5mm.
Galahad's fans support PWM for efficient speed control, operating as fast as 1900 RPM and as low as 800 RPM. Furthermore, it uses three high static pressure fans rotated by an industrial-grade motor that enables the fans to rotate at full speed while maintaining low noise. At the same time, its fans can reach a maximum static pressure of 2.6mm H20 and have a rated airflow of 69.17 CFM. These traits make it the Best CPU Cooler for i9-12900k.
The Galahad AIO is compatible with most mainstream CPU sockets; the release of Intel 12th gen processors now comes with the LGA 1700 bracket to be easily mounted on intel i9-12900k. Moreover, it is relatively easy to install and does not require much of the user's time for its installation. The Lian Li company provides a five-year warranty for the Galahad AIO to be repaired or replaced in case of any mishaps.
Read our full review of Lian Li Galahad 360 RGB.
NZXT Kraken Z73 360mm
Best 360mm Cooler for i9-12900k

Specifications=" Type: Closed Looped triple fan AIO | Radiator Size: 360mm | Lighting: RGB | Dimensions: 394mm x 121mm x 27mm"]
Pros
Stunning visuals.

Customizable LCD screen.

Extraordinary Cooling performance.

Quiet fans at lower speeds.

Premium quality fans.
Cons
Lack of RGB lighting.

Loud fan noise at maximum speed.

Installation could be easier.
NZXT is a PC geek's paradise with pre-built PCs, PC cases, motherboards, peripherals like keyboards and mice, headsets, and CPU coolers under their radar. The company manufactures high-end CPU coolers that are one of the most expensive but justify their price. NZXT is known for its liquid coolers, and now they have come up with a bang comprising a new liquid cooler, the Kraken Z73. NZXT Kraken Z73 360mm cooler is truly a monster; with its striking visuals and top-tier cooling capabilities, Kraken Z73 is a force to be reckoned with. Kraken Z73 is an All-in-One liquid cooler that delivers extraordinary cooling potential. It may be overkill for many systems, but for Intel i9-12900k, it's just perfect. It is an expensive cooler, but the performance it delivers is worth the price. NZXT Kraken Z73 is one of the Best CPU Cooler for i9-12900k the money can buy.
Kraken Z73 uses a 360 mm radiator with an aluminum fin and tube design, which is quite popular and effective in the AIOs, fitted with not one, not two, but three Aer P 120mm high static pressure fans for the best possible performance. Kraken Z73 is 121mm in width and has a height of 27mm, which places it on the thin side. Its fans can propel at a maximum speed of 2000 RPM and can be lowered to 500 RPM. The Kraken Z73 also uses the 7th gen Asetek pump housing design to provide better cooling and quieter working. Z73 provides a sleek look with the rubber tubing containing braided nylon sleeves. Kraken K73 dominates the Best 360mm Cooler for i9-12900k category with its gleaming looks and over-the-chart performance.
Kraken Z73 has RGB lighting on the connectors, but sadly its fans do not have RGB lighting; however, it overcomes this with a 2.36 inches LCD screen, capable of displaying 24-bit colors. You can use this screen to display real-time CPU / GPU temperatures, or it can be customized with GIFs, providing a unique look to your setup.
The Kraken Z73 is also compatible with almost all newer and older CPUs, including the Alder Lake CPUs containing the LGA 1700 bracket. It comes with six years of manufacturer's warranty, so if it stops working, you can always replace it.
Though its cooling capabilities are extremely efficient, its fans tend to make some noise at full speeds. But you don't always need to run the fans at maximum speed; at the lower speed, it is rather quiet.
Competition
DeepCool AS500 Plus White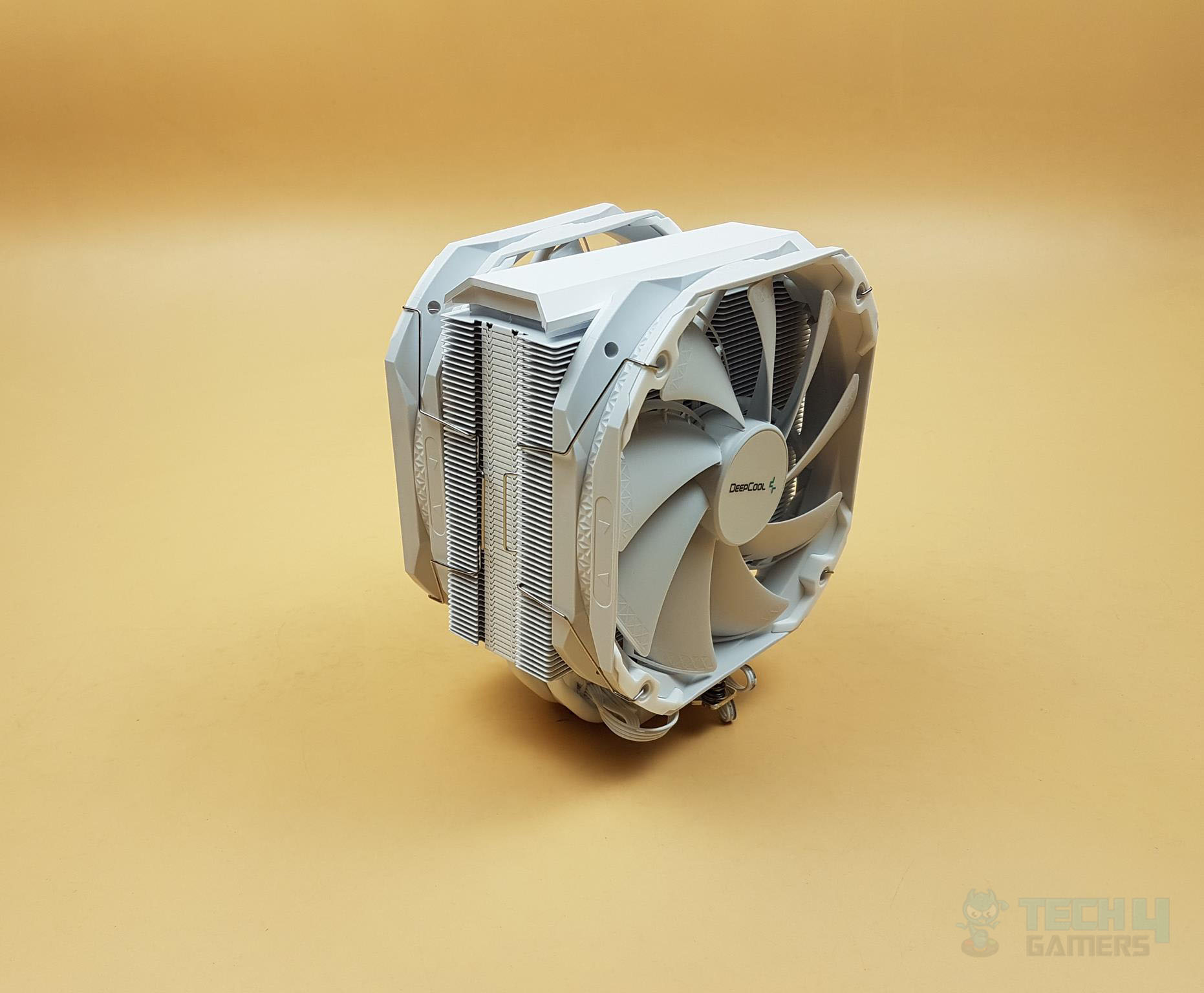 DeepCool's AS500 showed impressive results in our previous review. That also remains true for the updated DeepCool AS500 Plus White. DeepCool has improved on their already well-received AS500 cooler; it now comes with a much cleaner white look with 5 heat pipes.
The DeepCool AS500 Plus is also available in black; however, its White version looks incredible. It comes with a 5 heat pipe design and a dense aluminum fin stack with a clean white finish.
Furthermore, DeepCool has used their TF140S fans with the cooler, which use fluid dynamic bearings. The fan has a maximum speed of 1200 RPM and airflow of 70.81 CFM.
One thing that truly stands out about the DeepCool AS500 Plus White is its slim design which is surprising given the amount of cooling it can deliver. It provides excellent RAM clearance and can fit into almost any mid-tower PC case.
To learn more about the DeepCool AS500 Plus White, you can read our review, which also includes benchmark results.
GAMDIAS CHIONE M3 240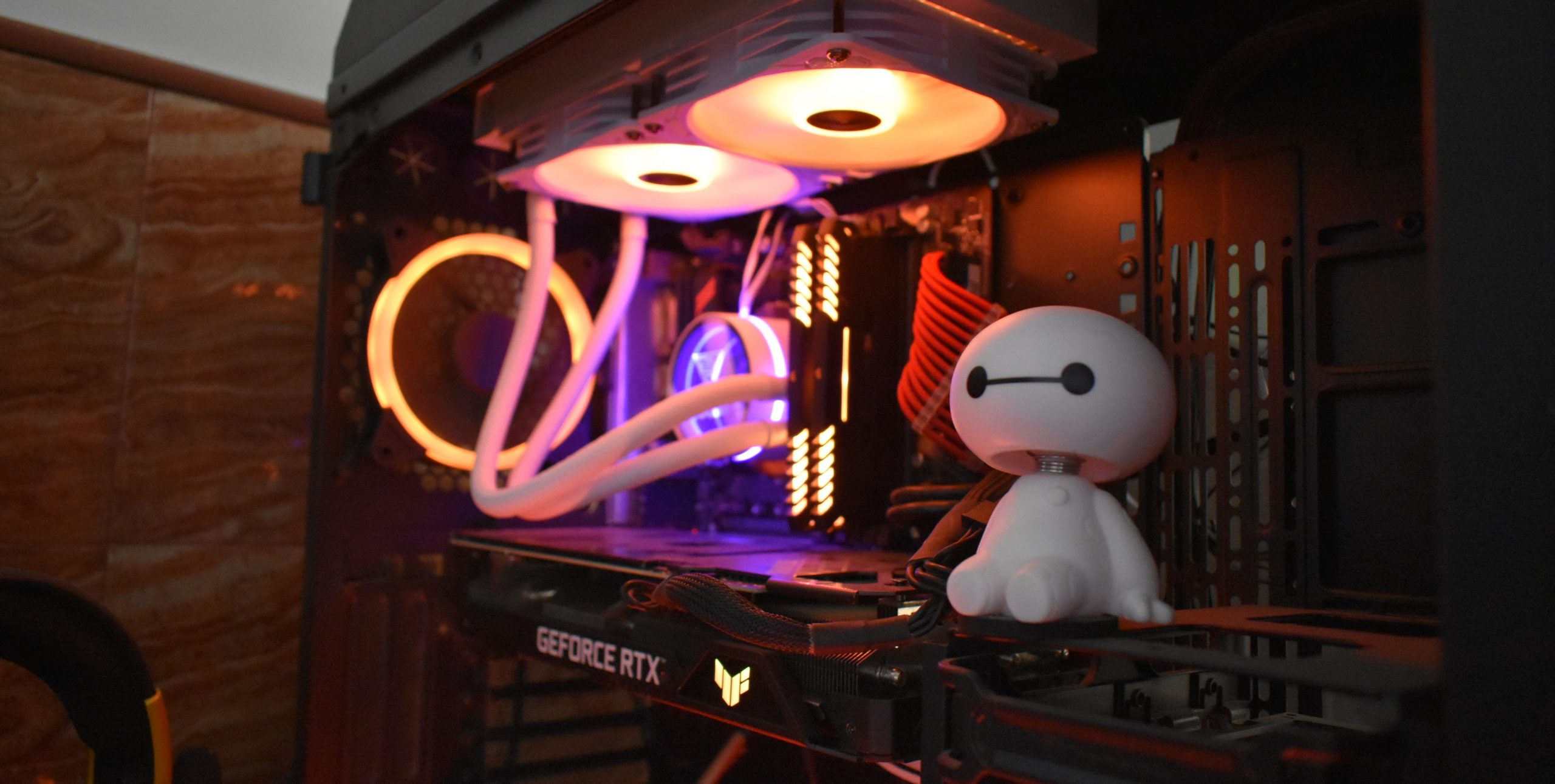 The CHIONE M3 240 from GAMDIAS is a 240mm liquid cooler that provides excellent thermal performance. The Cooler is available in black and white; it has a unique design and is loaded with RGB.
The CHIONE M3 240 features an "Infinity Mirror Finish" on the water pump, giving the pump a mirrored look. It also comes with two 120mm ARGB fans that can be controlled using a controller that is included in the box.
The fans have a speed ranging from 800-2000 RPM, with an airflow of 70.2 CFM and maximum air pressure of 2.7mm H2O. The fans have a maximum noise level of 31 dBA.
The pump is connected to the radiator using a sleeved tube. The radiator is well-built with a clean aluminum finish. You can check out the full review of the GAMDIAS CHIONE M3 240 CPU Liquid Cooler, for more information about the cooler.
DeepCool AK620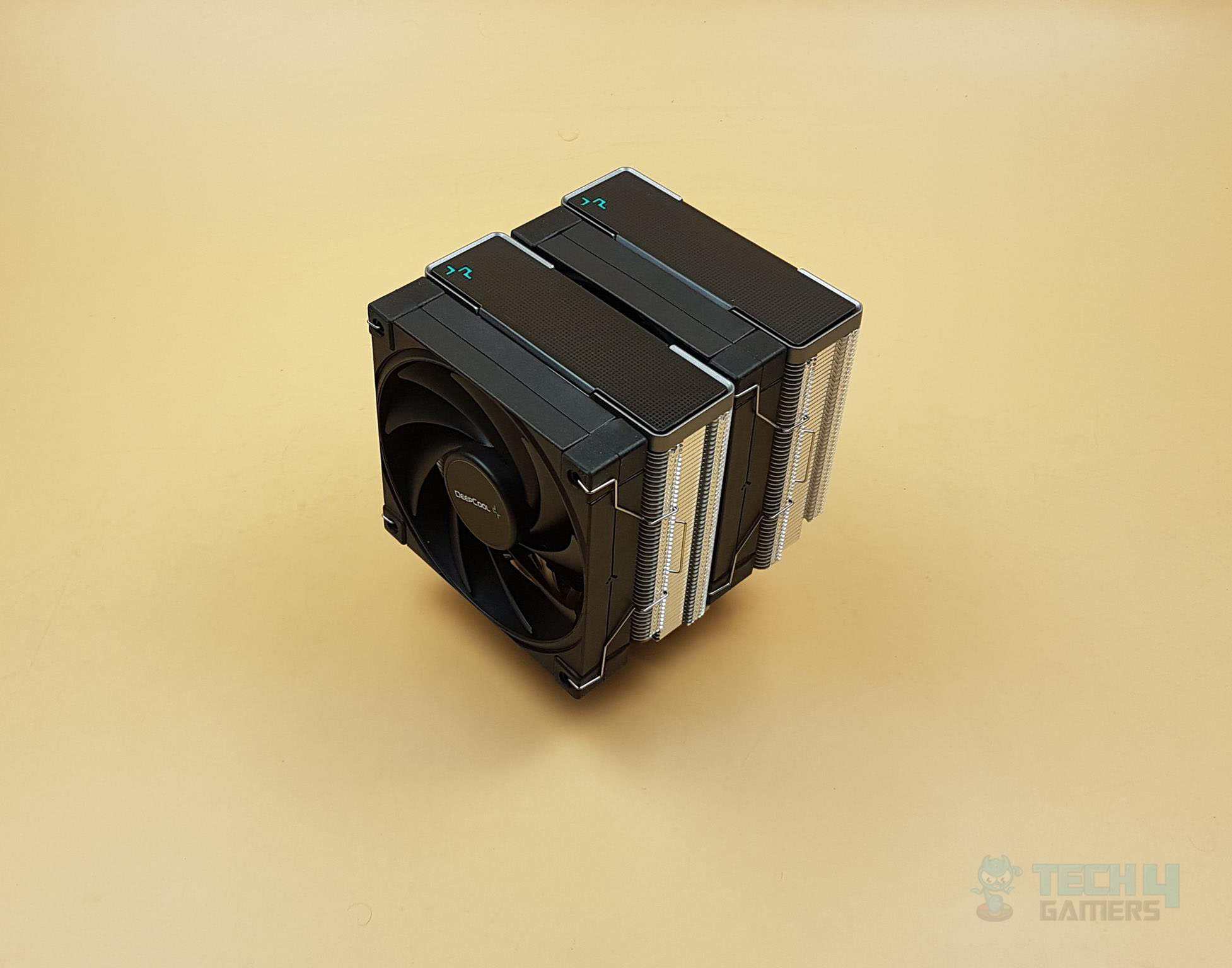 DeepCool continues to dominate the market with their impressive lineup of CPU coolers. Much like the rest of the coolers from DeepCool, the AK620 has also managed to exceed all expectations we had for the cooler.
The DeepCool AK620 features impressive specifications on paper, with a PWM fan capable of spinning at a maximum speed of 1850 RPM and a dual tower design comprising six copper heat pipes.
The fan has a maximum airflow of 68.99 CFM and an air pressure of 2.19 mm AQ. Moreover, it can maintain noise levels as low as 28 dBA even under load.
With a TDP of 260W, the DeepCool AK620 is undoubtedly one of the best air coolers you can currently buy. Check out our review on the DeepCool AK620 for further details.
How We Choose The Best CPU Cooler For i9-12900K
Picking the best CPU cooler for the i9 12900K is serious business. We want to recommend the best of the best, and would not want to misguide any of our readers. After all, who would want to see their shiny new 12900K being limited because of thermal throttling? Taking that idea into account, there were a lot of things that we had to go over, and this list was revised several times for the final version in front of you now.
Seeing as any buyer of the flagship 12900K processor will care a lot about performance, it is important to take that into consideration. For this reason, some of the coolers on here are pricier than others. You can get away with a mid-tier cooler for almost any processor, but not for the 12900K. This is why going for performance over anything else was important for this guide, and it reflects that thought process perfectly.
For example, we might have gotten away with not including the NH-D15 Chromax Black or the Deepcool Assassin III. However, these are beefy air coolers that give the high-end AIOs a run for their money. While some might prefer the look of a liquid cooler, it is hard to ignore the performance some air coolers can bring to the table, especially at a lower price.
So, picking out these two air coolers wasn't done just for the sake of versatility. This was done because there are two of the few air coolers we would feel comfortable using on a Core i9 12900K. With that said, our picks for the i9 12900K CPU Cooler roundup were not done based only on performance. Coolers like the H115I Elite Capillex and the ML360R perform well, but look arguably better than anything on this list while doing so. Of course, aesthetic appeal is completely subjective.
Should You Build A Core i9-12900K Gaming PC?
Now that we've talked a bit about the CPU Coolers For i9 12900K, you might be wondering if putting together a build for it is a great idea at all. Well, under normal circumstances, we would have advised our readers to for it if money is not a problem. However, we were not aware that there would be bigger issues ahead of us.
For example, the graphics card shortage is something that we can not ignore. Getting a hold of the best CPU Cooler for i9 12900K might be easy, grabbing a GPU is not. So, if you are putting together a new build, proceed with caution. On the other hand, for people that already have a powerful GPU, and don't mind splurging on the Intel Core i9 12900K, it should be a no-brainer.
The Alder Lake lineup is certainly for the early adopters, considering the barrier to entry is quite expensive, even with the graphics card shortage put to the side. With that said, the times ahead are certainly intriguing.
Summary of Review
All in all, that's what we have to say about the CPU cooler for i9 12900K. Putting together this roundup was an interesting experience, as we had to take many things into account. Performance is the top priority, but price and design are crucial aspects to consider as well. This is why we tried to keep the list as versatile as possible.
For example, many people might decide to go with our first pick, the Noctua NH-D15, and call it a day. Others might feel more adventurous and go with the Arctic Liquid Freezer II. For those who want good-looking liquid coolers, the Cooler Master ML360R and Corsair H115i Elite Capillex are impressive as well. Finally, the EK liquid cooler and the Deepcool Assassin III are phenomenal in terms of performance.
What we're trying to tell you is that you have a lot of options to pick from in our CPU cooler for Intel Core i9-12900K roundup. Of course, you will want to go with the one that fits your needs best. For that, have a look at the buying tips we wrote at the beginning of the article. We hope you found this guide informative as well, and you can check out related articles like the best Z690 motherboards.
Frequently Asked Questions
Do I need a CPU Cooler For i9-12900k?
Yes, you will absolutely need a CPU cooler for any processor, let alone an Intel Core i9-12900K. While some lower-end processors come bundled with a stock cooler, they are not the best to get the most out of your shiny new CPU. Getting a decent cooler for any processor is important for better performance and even overclocking.
Which type of cooler is best for I9-12900k?
CPU Coolers can be broken down into two main types: liquid coolers and air coolers. Both have their benefits, as air coolers are more reliable and simple, while liquid coolers are preferred by many for better performance in some cases. Of course, this is not as simple as one being better than the other, as that depends directly on the exact cooler itself
Do I need an AIO Cooler?
For people who expect high temperatures and want better overclocking headroom, we recommend getting an AIO. Others might also prefer AIOs for their looks, and they are generally a more popular choice these days. With that said coolers like the NH-D15 and Cryorig R1 perform quite well for being air coolers.
Should you water-cool your PC?
For the average builder, going with a custom loop is not that great of an idea. You will need to factor in maintenance, and building a custom water loop requires some patience. This is why many people just go with an AIO. With that said, it can be an enjoyable hobby and a fun weekend project for many.
Was our article helpful? 👨‍💻
Thank you! Please share your positive feedback. 🔋
How could we improve this post? Please Help us. 😔