Best Air Cooler?
Review Summary
DeepCool means business and, dare I say, some serious business with Assassin IV rolling out in the market. This cooler has quite some looks to it with its concealed design which is well synchronized and it has a top-tier performance while remaining highly competitive in the price point.

Quality -

9/10

Design -

9/10

Performance -

9.5/10

Features -

9.5/10

Value -

9/10
Pros
Excellent Performance
Universal RAM Clearance
Cooler Shroud
Magnetic Handling
Fan Bracket
Intel LGA1700 support
AMD AM5 support
Simplified Mounting Mechansim
Warranty
Price
Cons
Plastic shroud easily bends
Fans are customized for this cooler
Bit noisy at full speed
The Assassin series of CPU air coolers is a flagship offer from DeepCool. Many would think that AK620 is the flagship cooler, which may not be true as it is a mainstream, high-end cooling solution from DeepCool.
Why you can trust Tech4Gamers:

We understand the importance of making informed decisions. That's why our team spends significant time testing every product we review.

Find out more about how we test.
DeepCool is back with its new flagship cooler named Assassin IV. Under the hood, we still have dual heatsinks that are double black color coated and packed 7x 6mm copper heat pipes with convex nickel plate copper base.
On the outside, this cooler is a new story altogether. There is a cooler shroud that hides the heatsink and middle fan. This cooler also comes with a built-in PWM controller. DeepCool has bundled its industrial-grade thermal paste with this cooler. Everything seems to be perfect on the paper.
DeepCool has sent me Assassin IV Black for review. Here are the salient features of the cooler:
Elegant Cooler Shroud
Snap-in relocatable 120mm fan frame (two height levels)
120mm true FDB Fan
140mm true FDB Fan
Mode Selector
Dual Black Coated Fin Towers
Optional 3rd fan bracket included (multiple height adjustability)
Industrial-grade thermal paste
---
Key Takeaways
Performance Dominance: The DeepCool Assassin IV showcases exceptional cooling performance, surpassing even the renowned Noctua NH-D15 by over 2 degrees Celsius, though it can be noisier.
Universal Clearance and Innovative Design: The cooler's design includes a shroud that hides the heatsink and middle fan, offering an innovative approach to cooling. Plus, the clearance is basically universal, so no issues there.
Value and Considerations: While the Assassin IV is a high-performing cooler, it may be overkill for mid-tier CPUs, and budget-conscious users might find the price tag of $99.99 a bit steep.
---
Take a look at the specifications: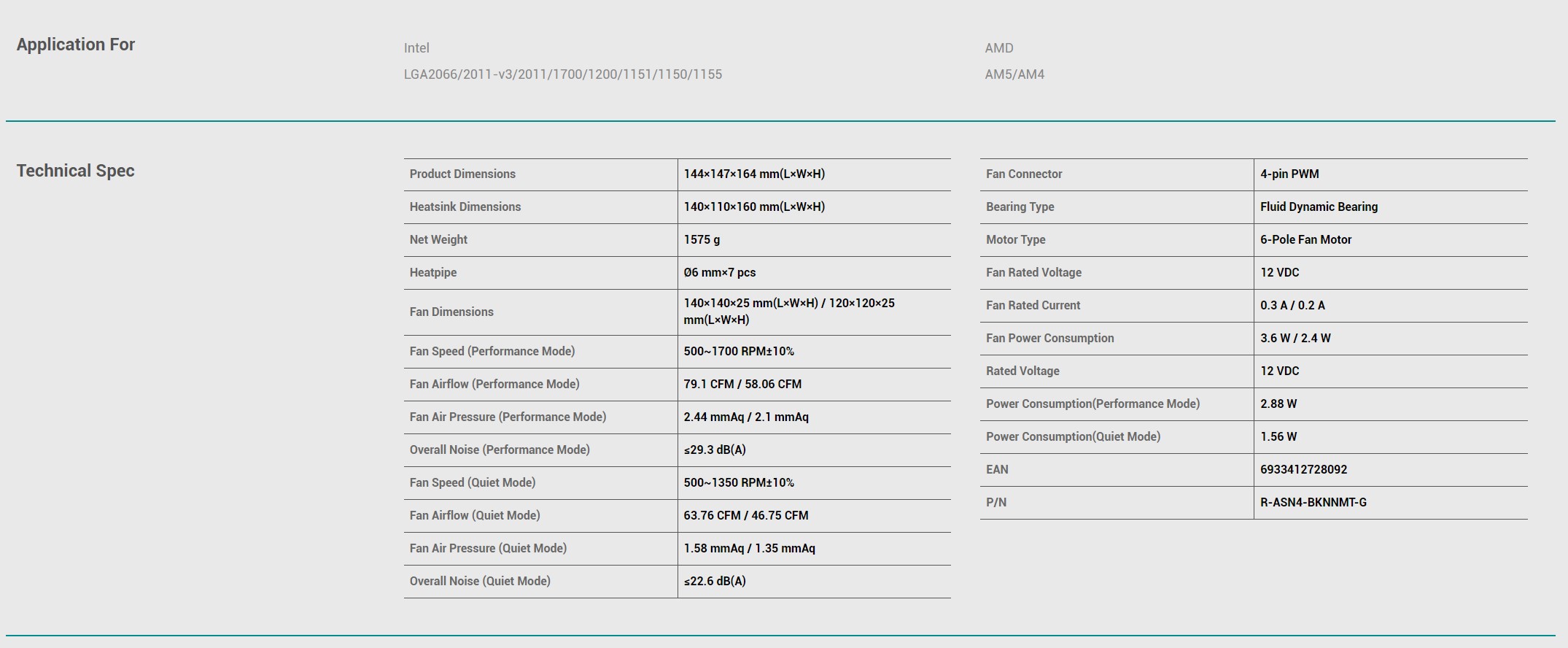 Packaging and Unboxing
DeepCool has used a similar styling and paperboard plus cardboard board materials for the packaging of this cooler.
The cooler is placed inside a cardboard box. All accessories are provided in a separate brown color box. DeepCool has provided the following:
1x Cooler
1x Inte backplate
2x Intel Brackets
2x AMD Brackets
4x Intel LGA 20XX standoffs
4x Screw Bolts for Intel
4x Screw Bolts for AMD
4x Metal Nuts
1x Thermal Paste
1x Cleaner
1x Screwdriver
1x Fan Bracket
Design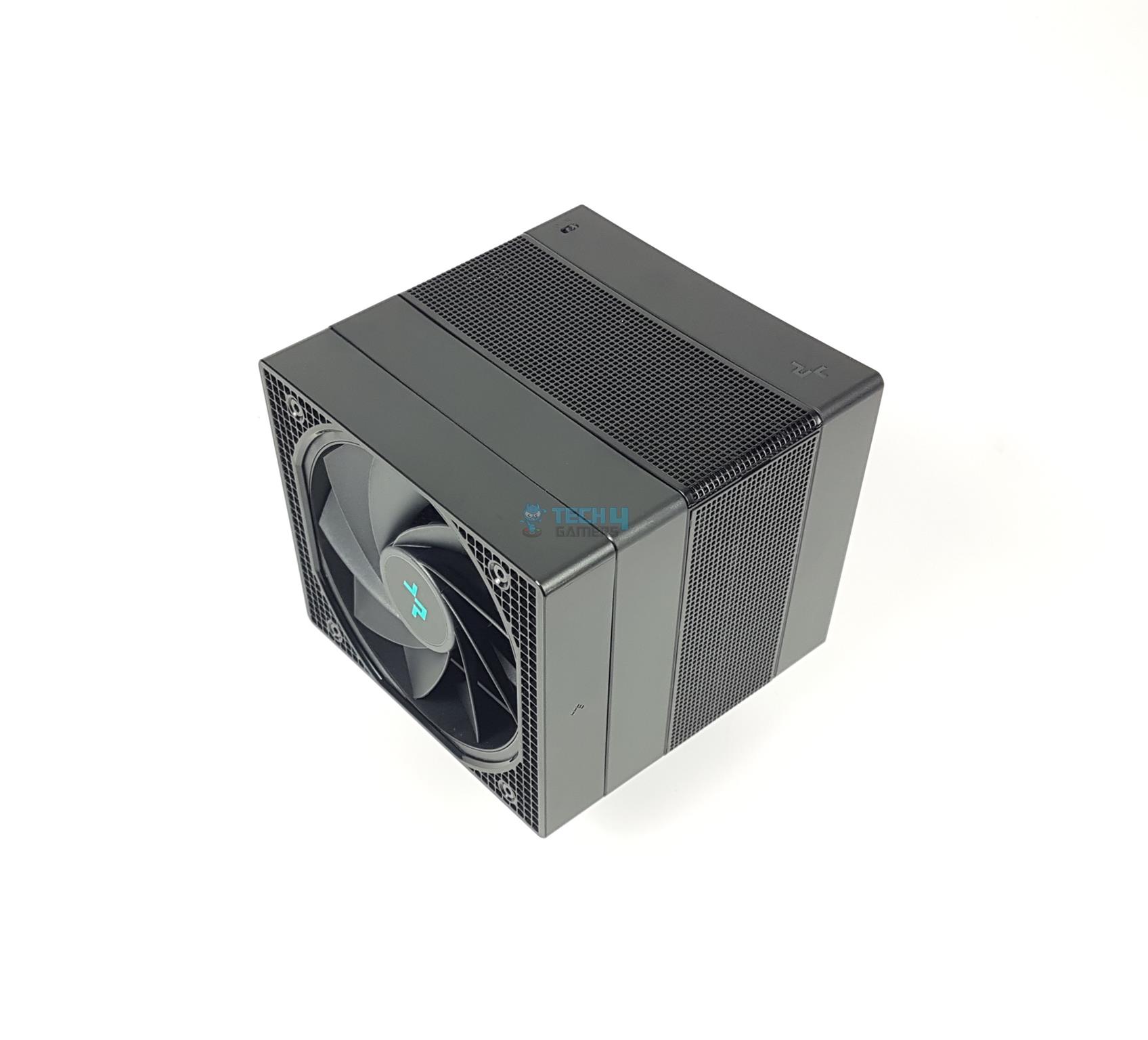 Say hello to a new outlook on the premium cooling solution from DeepCool. The new Assassin IV is on a mission to assassinate the other coolers in this category. This is an interesting time as many other brands are releasing or have also released their flagship coolers.
We must still see how Assassin IV would fair against the new coolers. With its new outlook and stealth design, it surely appears to dominate the design department. The overall dimension of this cooler is 144x147x164mm (LxWxH). The heatsink has a dimension of 140x110x160mm (LxWxH). This cooler weighs around 1575g.
The Cooler Shroud
Let's talk about the exterior of this cooler first. There is a plastic-made shroud that covers the heatsink and the middle fan. This gives a new life to the cooler.
This is not a design concept, as we have seen ARCTIC and PCCOOLER taking this approach with their offers, but DeepCool has perfected the idea by removing the observations or issues in the early designs and making this shroud easier to handle.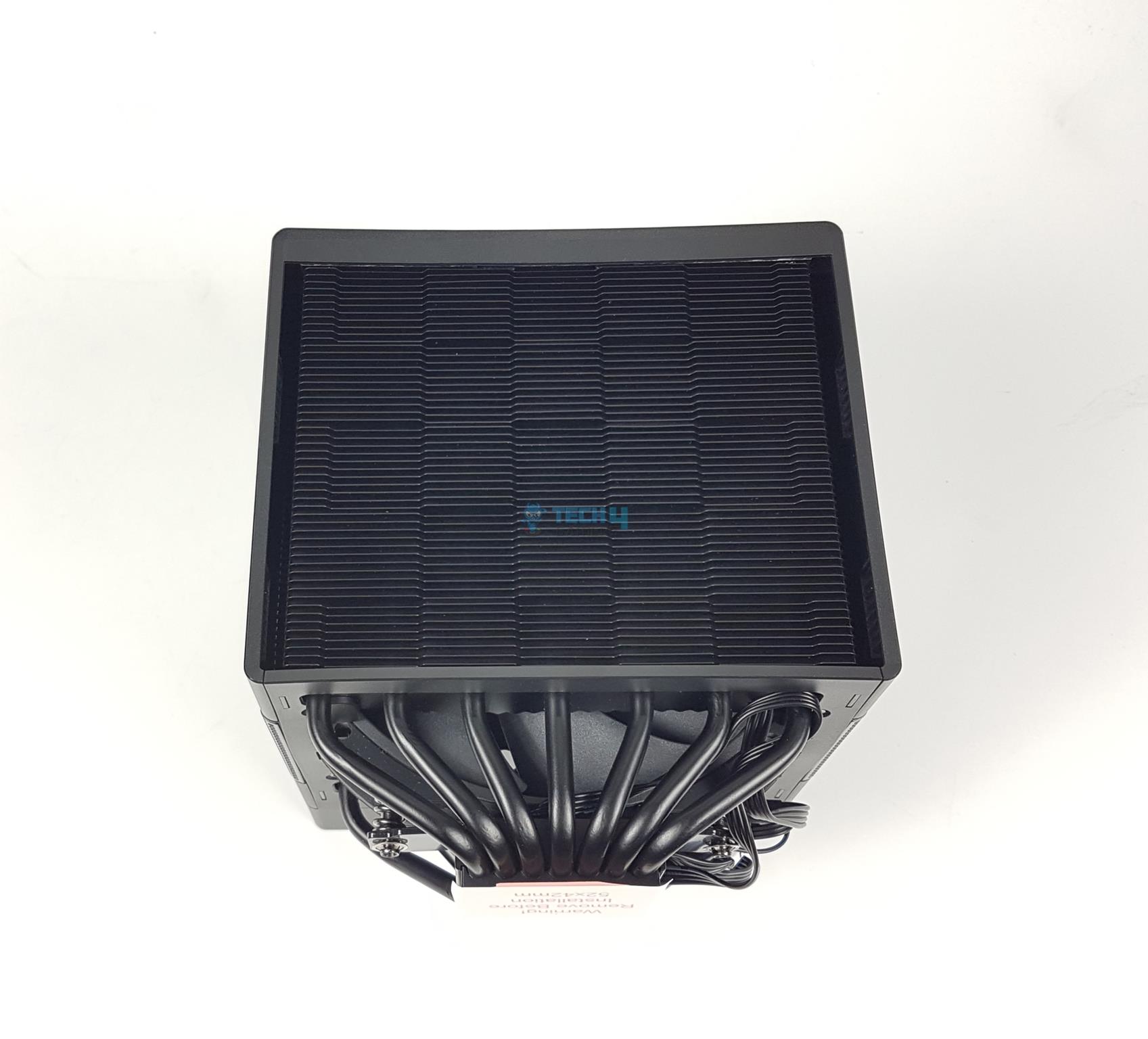 The front of this cooler has no fan out of the box. This is an unorthodox design from DeepCool since the regular air coolers have a fan on the front and a middle fan, depending on the model and configuration. DeepCool has taken a different approach.
There is no front-mounted fan. We can see the same famous fin-array design that provides more surface area and airflow through the fins. There are 56 fins on this tower. This approach has given universal DIMM clearance on this cooler.
This cooler does not obstruct the DIMM slot on modern Intel and AMD platforms. However, on the Intel 20xx socket, the RAM still has a 63mm clearance.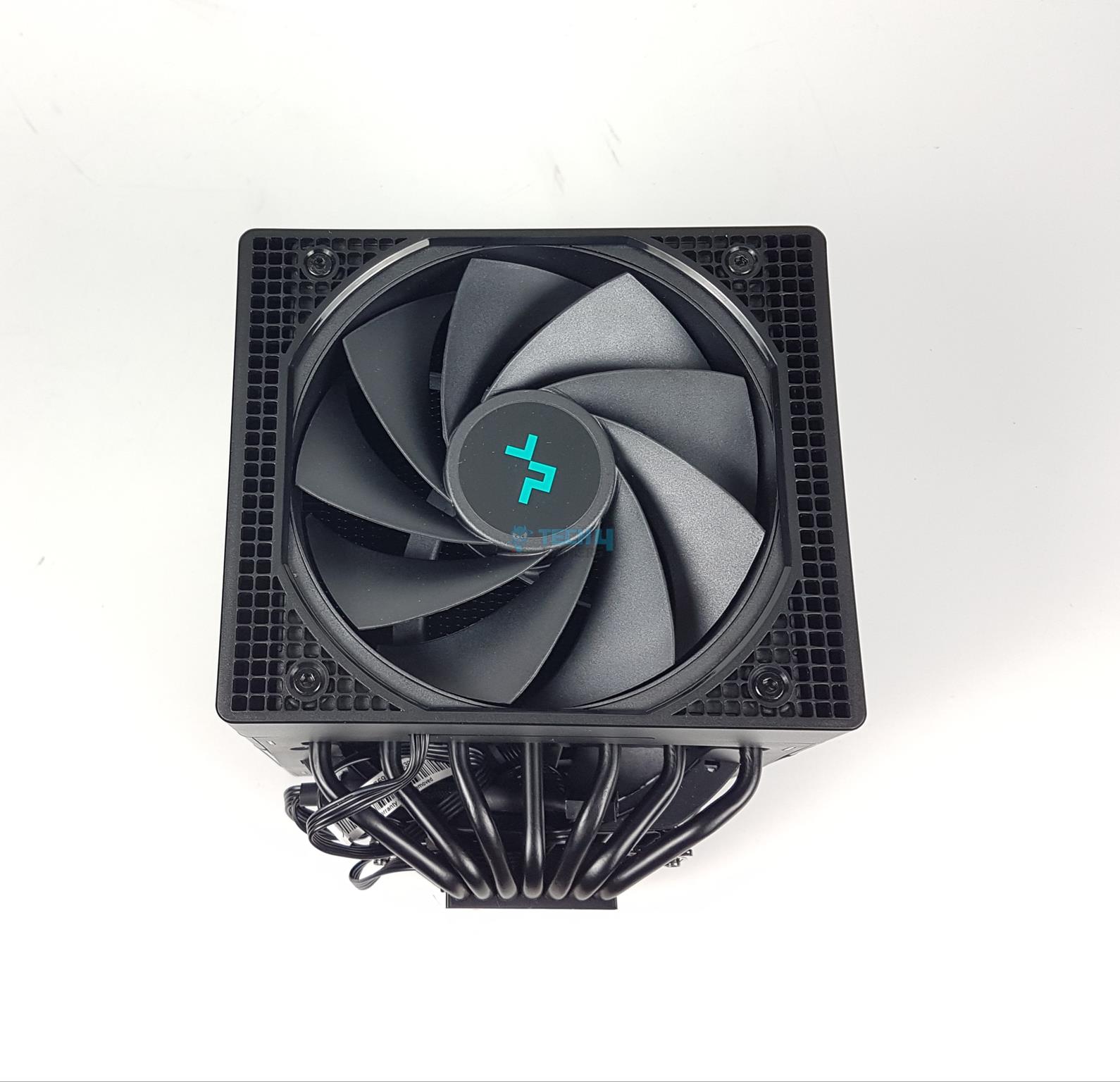 There is a 120mm inverted blade fan on the rear. Yes, this cooler has a second fan on the rear, so we have the utmost clearance for the DIMM slots—a fan bracket on the rear where the 120mm fan is installed. When I say inversed, I mean the fan is still showing the blade side, which may look like the front of the fan, but it is actually the rear side of the fan.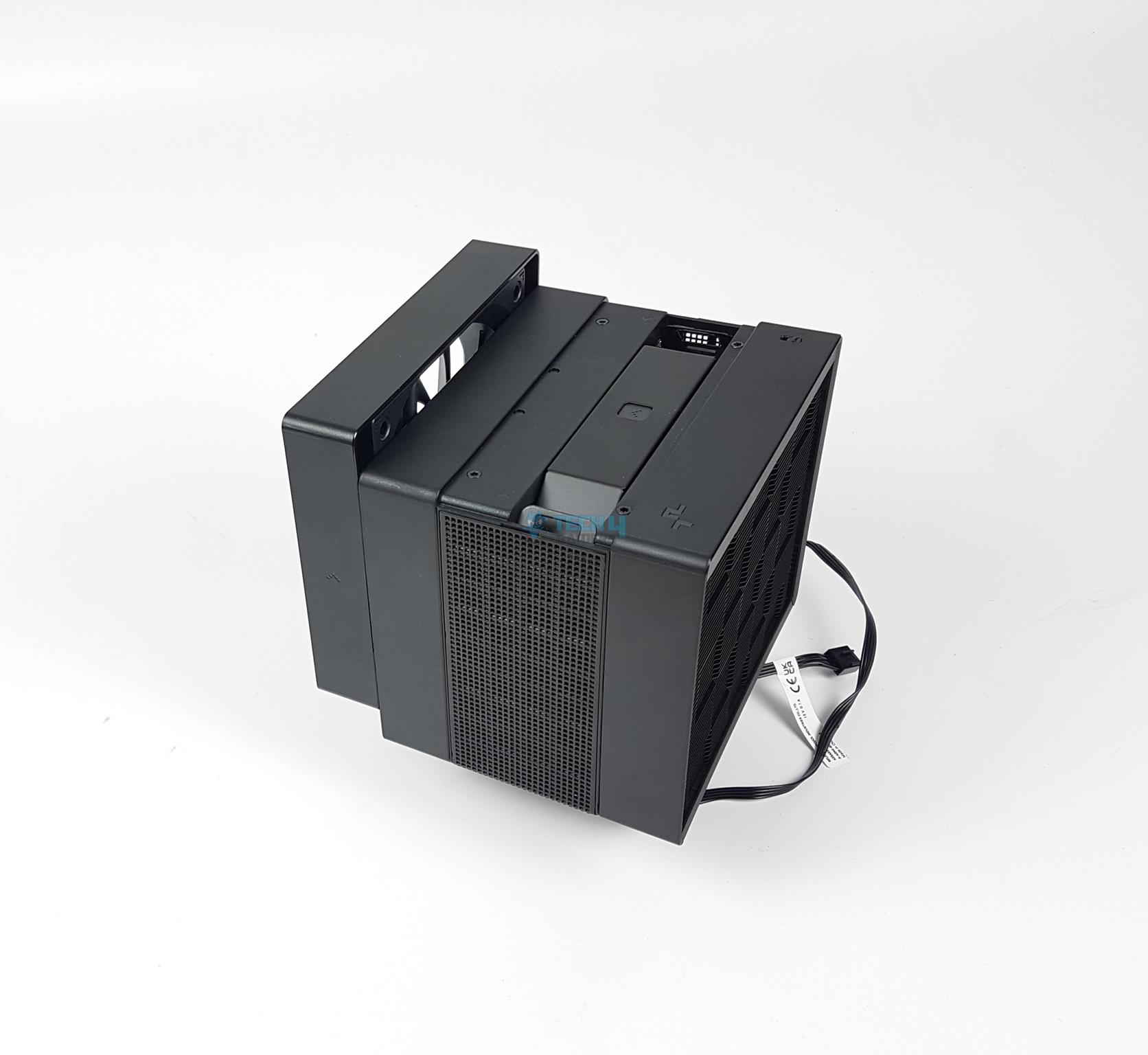 The fan bracket on the rear can be adjusted in two possible locations. The second position results in more clearance for the LGA20xx socket but would increase the cooler's height.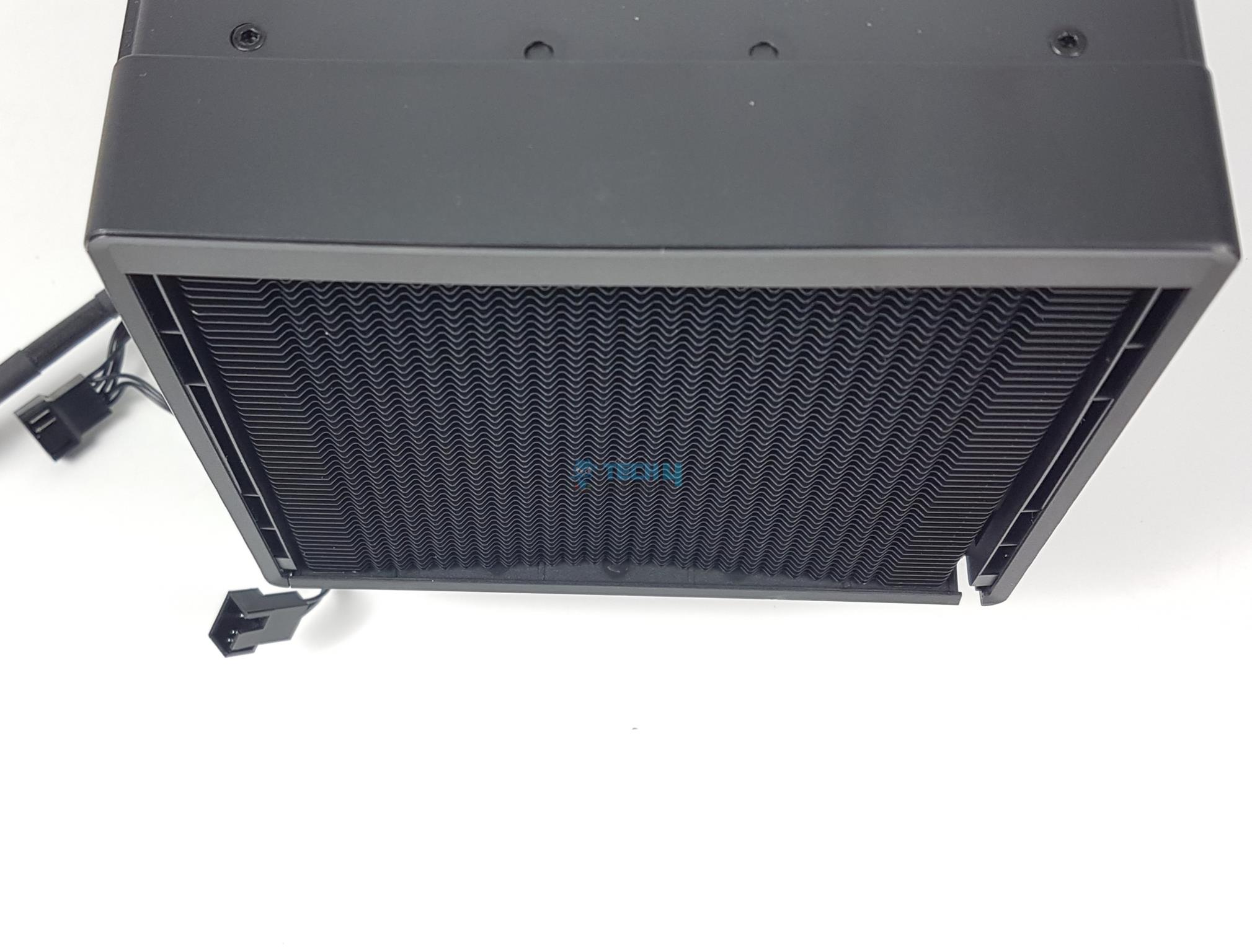 I have removed the rear fan. We can see a triangle-style fins design over here. This design helps reduce air resistance and increases the airflow.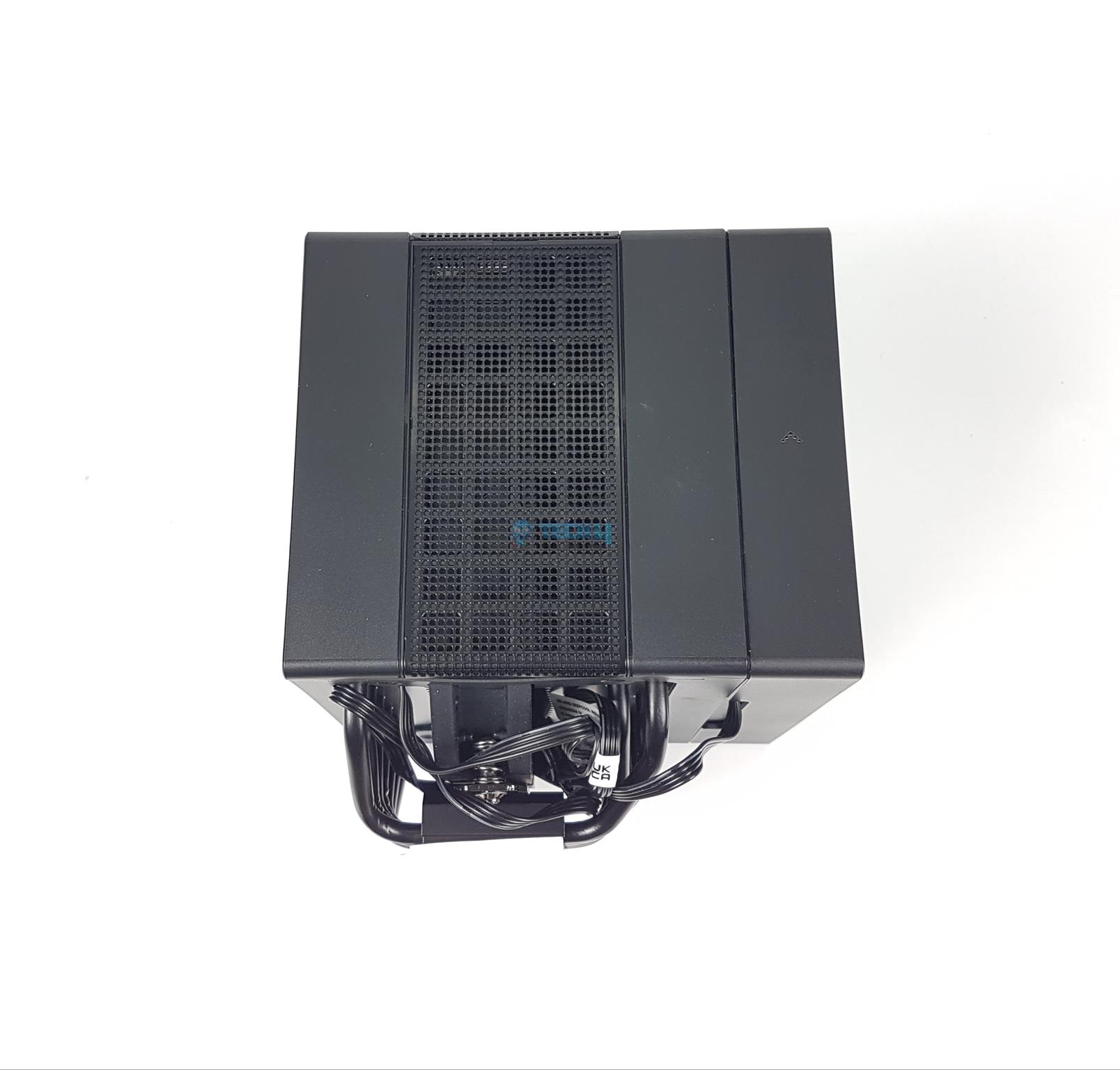 The left and right sides of the cooler are alike. There are vented or perforated mesh covers running on the top and on both sides. It provides air inflow for the middle 140mm fan. The arrow direction on the front indicates where the blades of 140mm fans would spin.
The Top Fun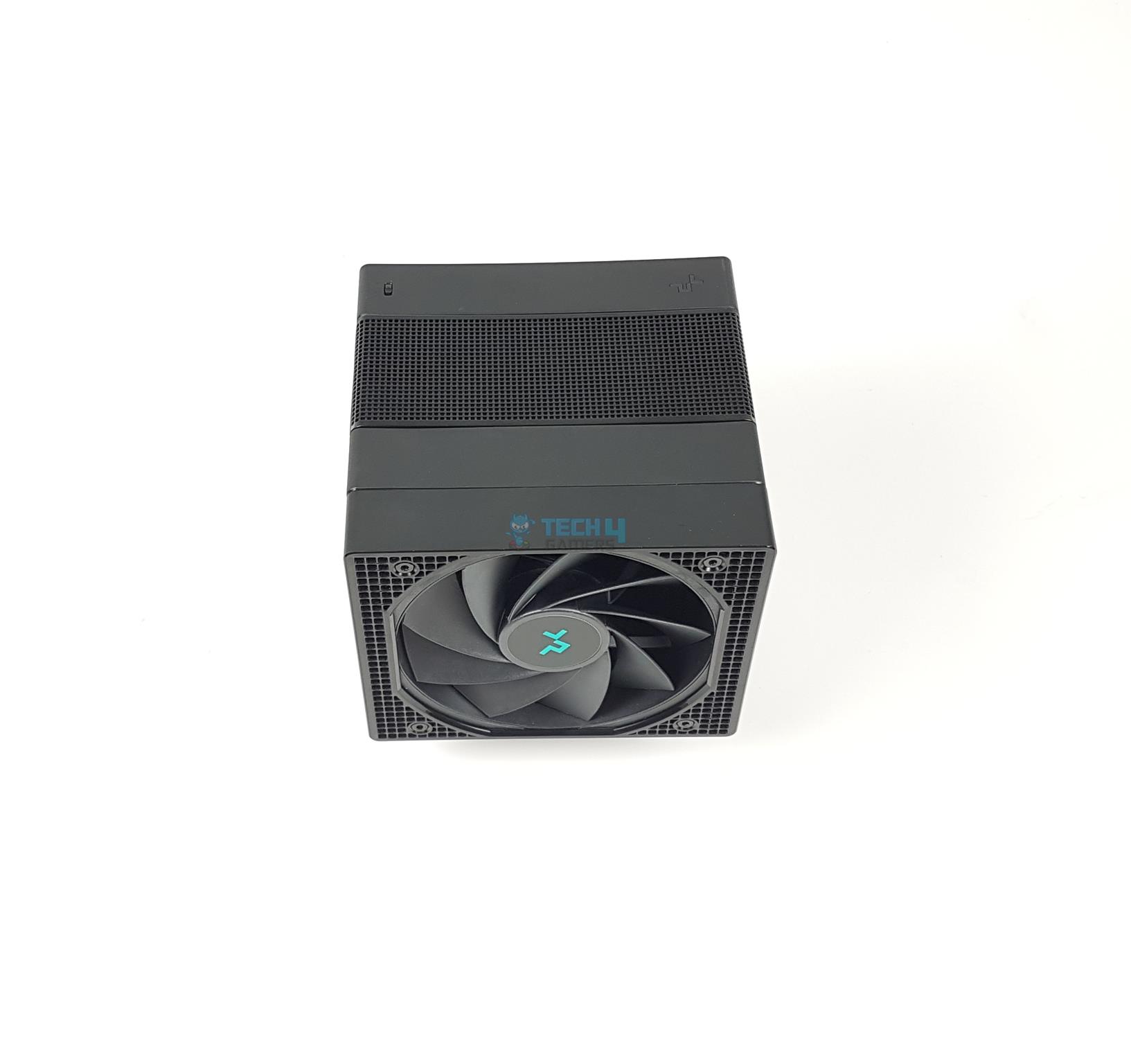 There is more on the top of this shroud than meets the eye. The middle mesh cover has a magnetic attachment to the main housing, making its handling convenient. There is a slide button to switch between the quiet and high-performance modes for the installed fans. For this purpose, there is an integrated fan controller. This controller also powers the LEDs on DeepCool branding over the top.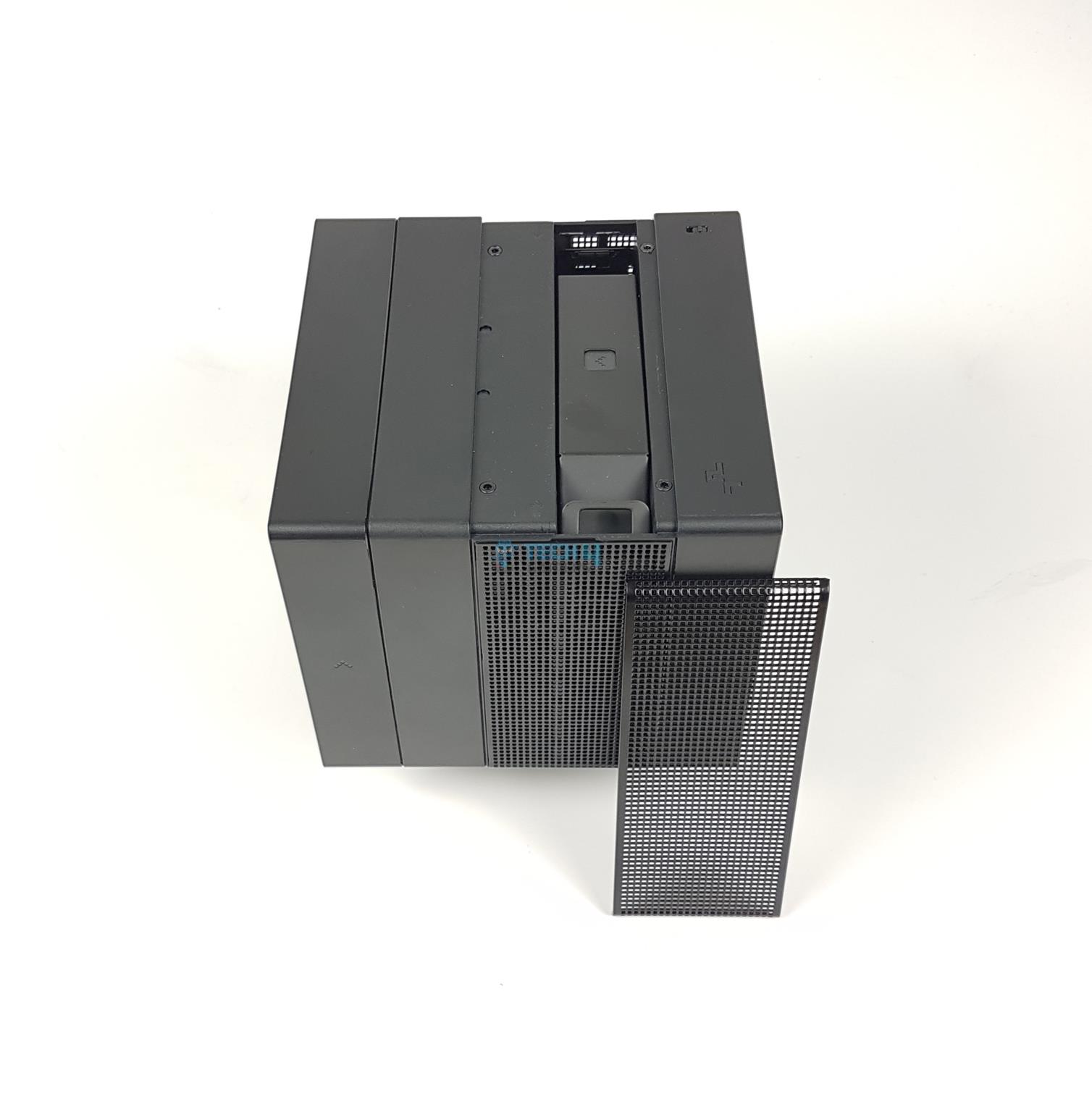 I have removed the middle mesh cover. Now, we can see the middle 140mm fan, which is snapped in there.
What's Inside?
There are two towers connected with each other using 7x copper heat pipes. These pipes have a 6mm thickness.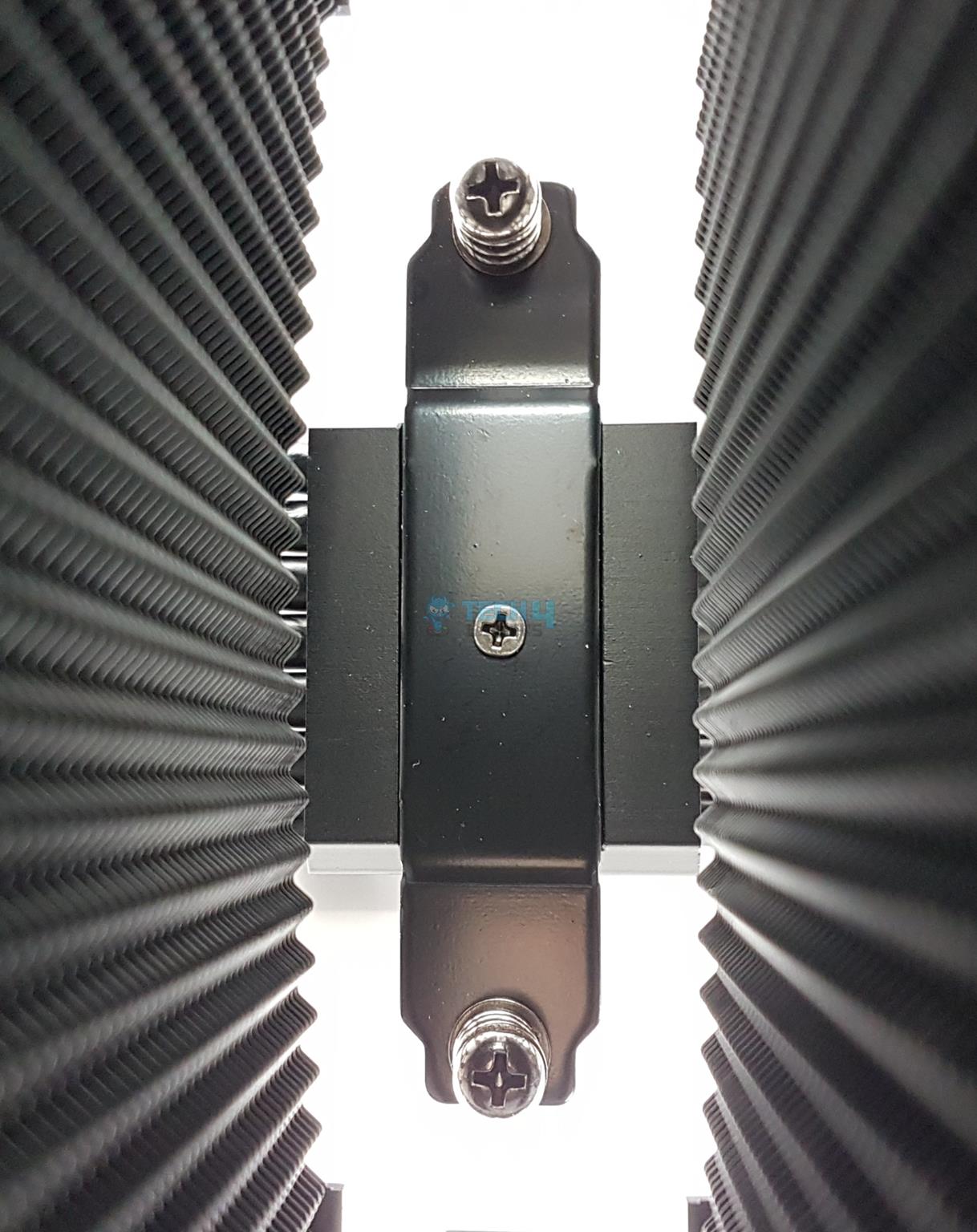 The inner sides of both towers have a triangle-shaped fin design. The same design is on the rear of one tower. DeepCool has wisely used the combination of the fin-array and triangle-shaped fins for enhanced airflow and addressing the resistance to airflow. The mounting plate is pre-installed. It has two spring-loaded screws to install this cooler over the CPU.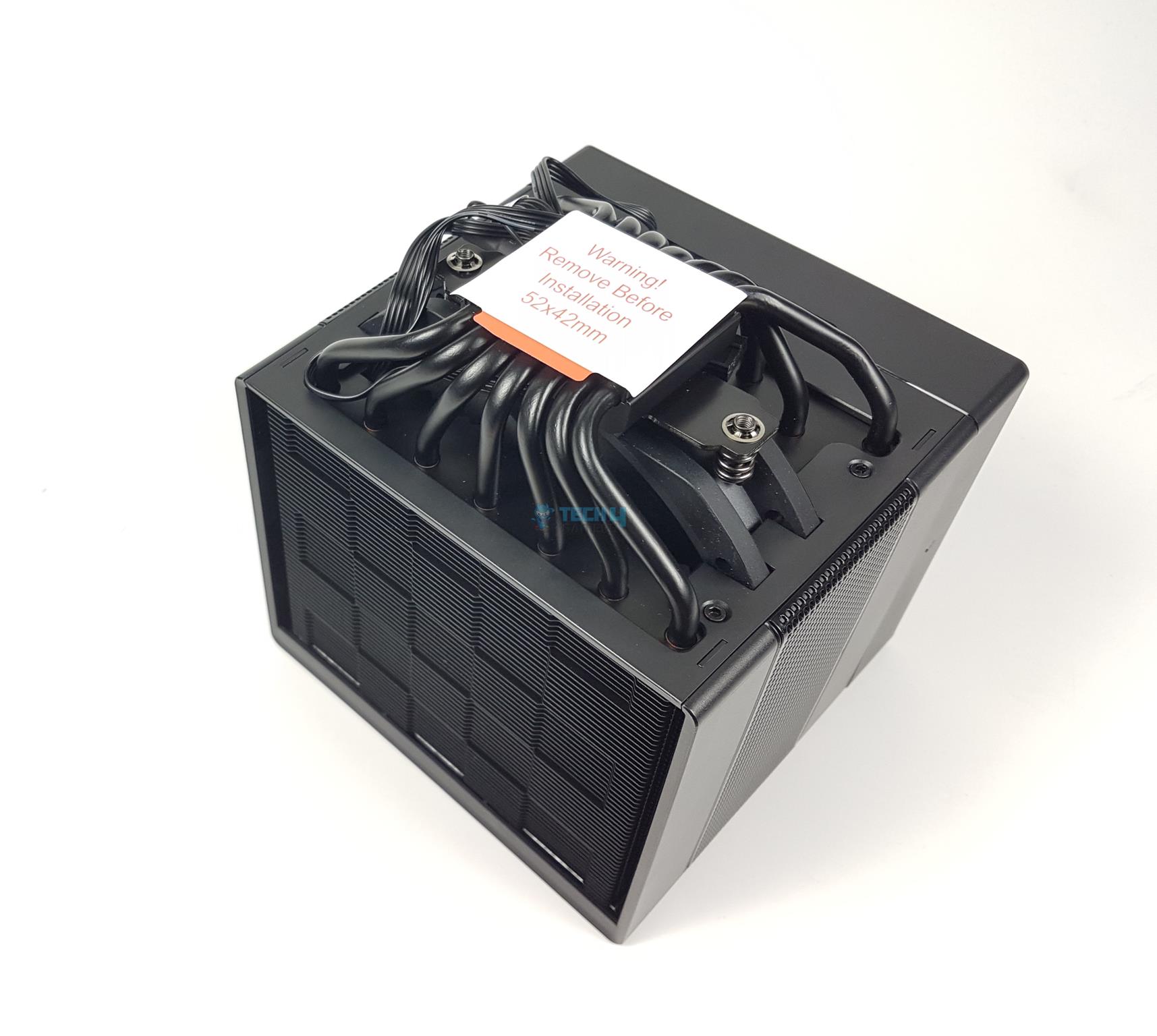 I am showing the picture of the cooler with a focus on the heatpipes. There are 7x 6mm heatpipes that are also black color coated. There is a wider stack, and 7x heatpipes are making a point of contact with the fins at a regular distance, enabling the assembly to have more surface area and providing better heat dissipation.
The complete assembly seems to be soldered, and it is double black color coated. There is a white color protective cover over the base for protection.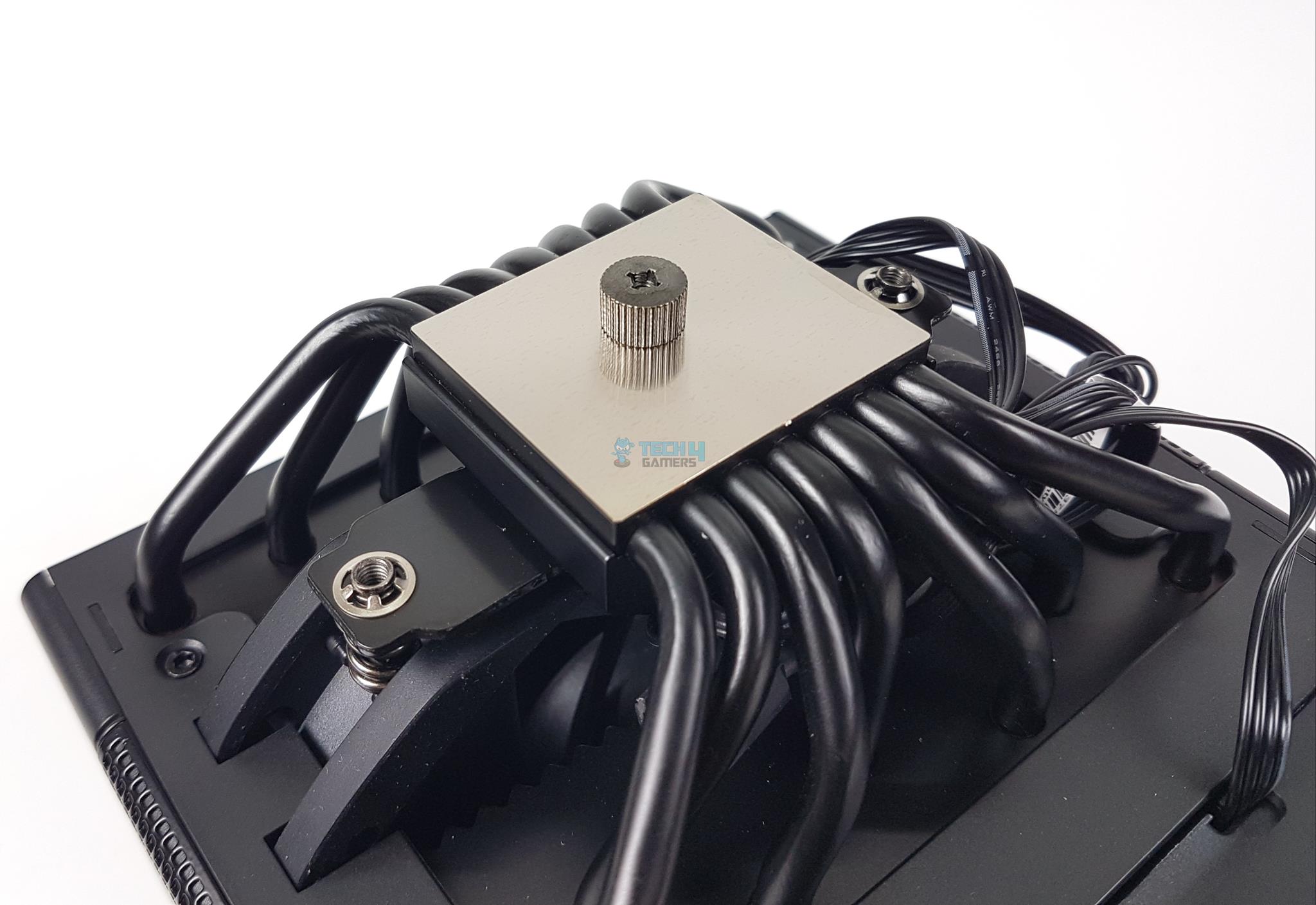 There is a 50x44mm sized (approximately) copper base. It is nickel-plated and has a mirror finish. This base is convex in design to make proper contact with the CPU.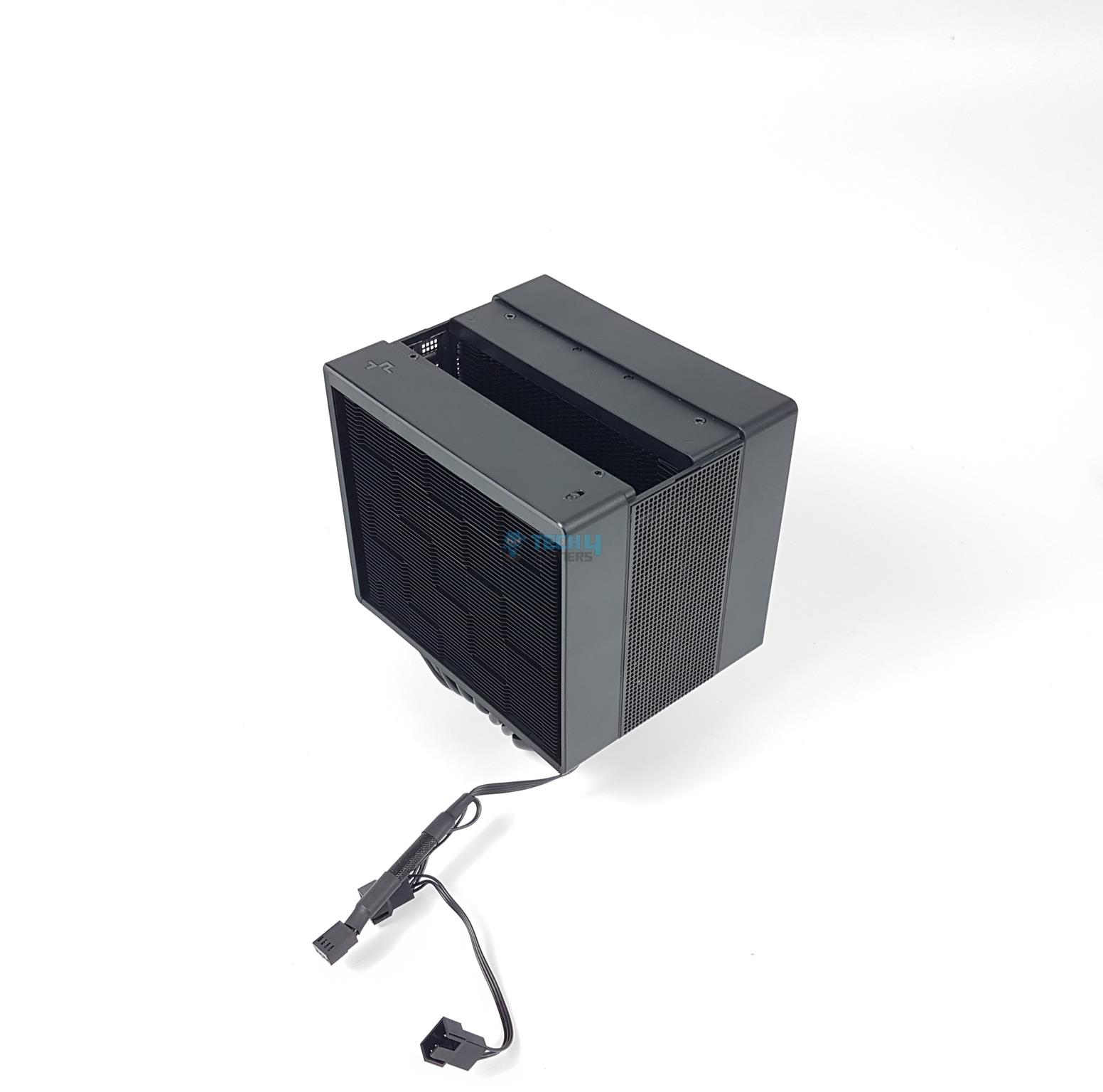 I have removed both fans and showing the rest of the assembly in the above picture.
What About The Fans?
DeepCool has provided a 140mm fan and a 120mm reversed fan with this cooler. These fans come pre-installed on the cooler. The 140mm fan has a snap-in mounting, which makes its handling convenient.
The 120mm fan is installed on the fan bracket and on the rear of the cooler. Each fan has 9x blades placed in a particular manner, generating more airflow at a speed. These fans are also in black color finishing.
There is a DeepCool branding in the center of these fans. These fans are using 4-pin PWM connectors. These fans use fluid dynamic bearings; their airflow rating is 79.1CFM and 58.06 CFM at 12VDC.
The static pressure rating is 2.44 mmAq and 2.1 mmAq. Arrow markings on the frame of these fans show the direction in which the blades spin. The key feature is that DeepCool has used a 6-pole, 3-phase motor design for these fans, making them efficient.
Fan Bracket
Deepcool has provided a fan bracket in the accessory box. This is to install a third fan on the Assassin IV. This bracket can house a 120mm fan, and DeepCool has provided 4x self-tapping screws for this installation.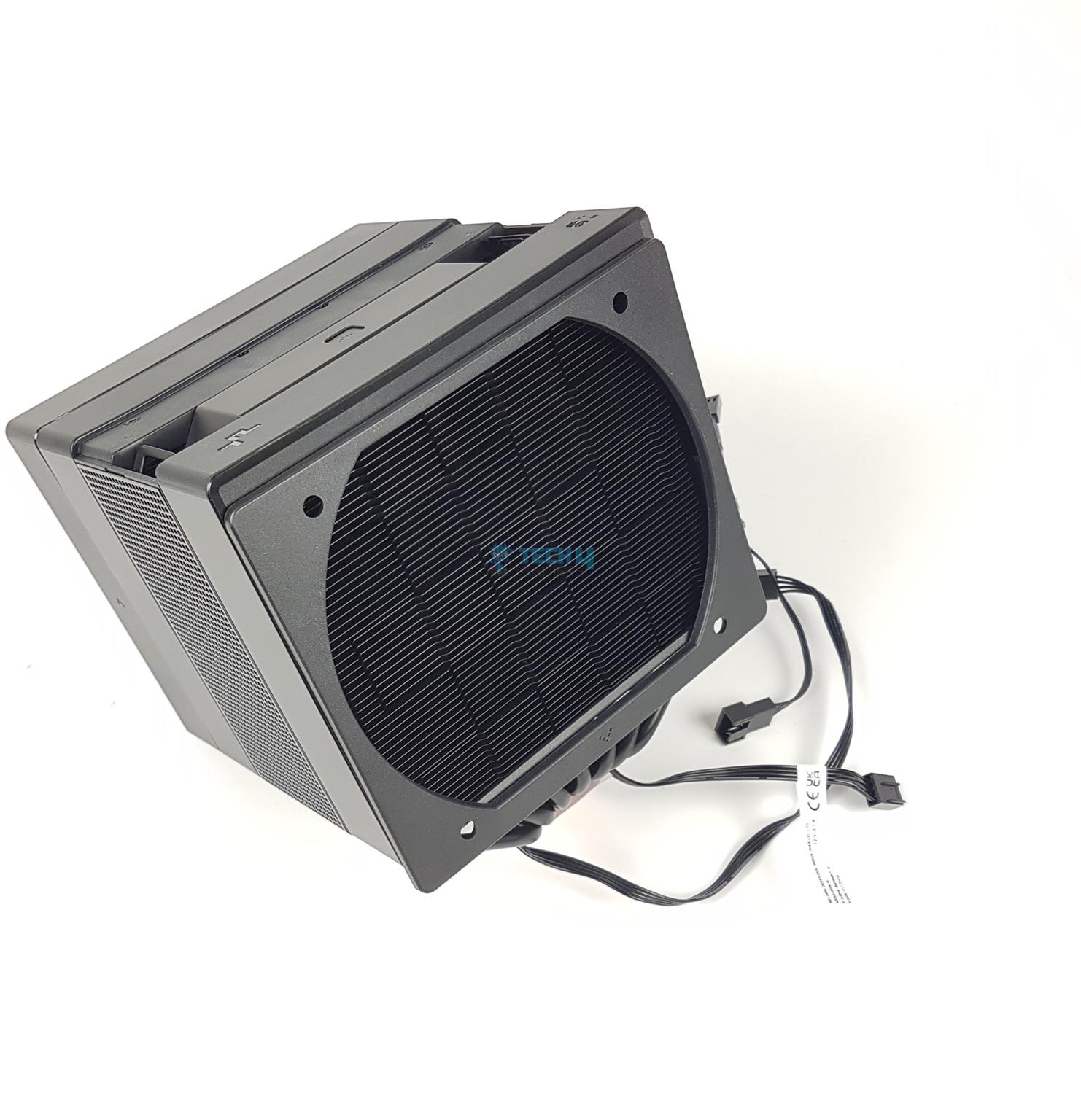 I have installed the optional fan bracket on the front side of this cooler; I am just trying to show the possible manner of using 3x fans on Assassin IV. However, remember that adding 3x fans would increase the overall sound output, though nothing drastic.
Installation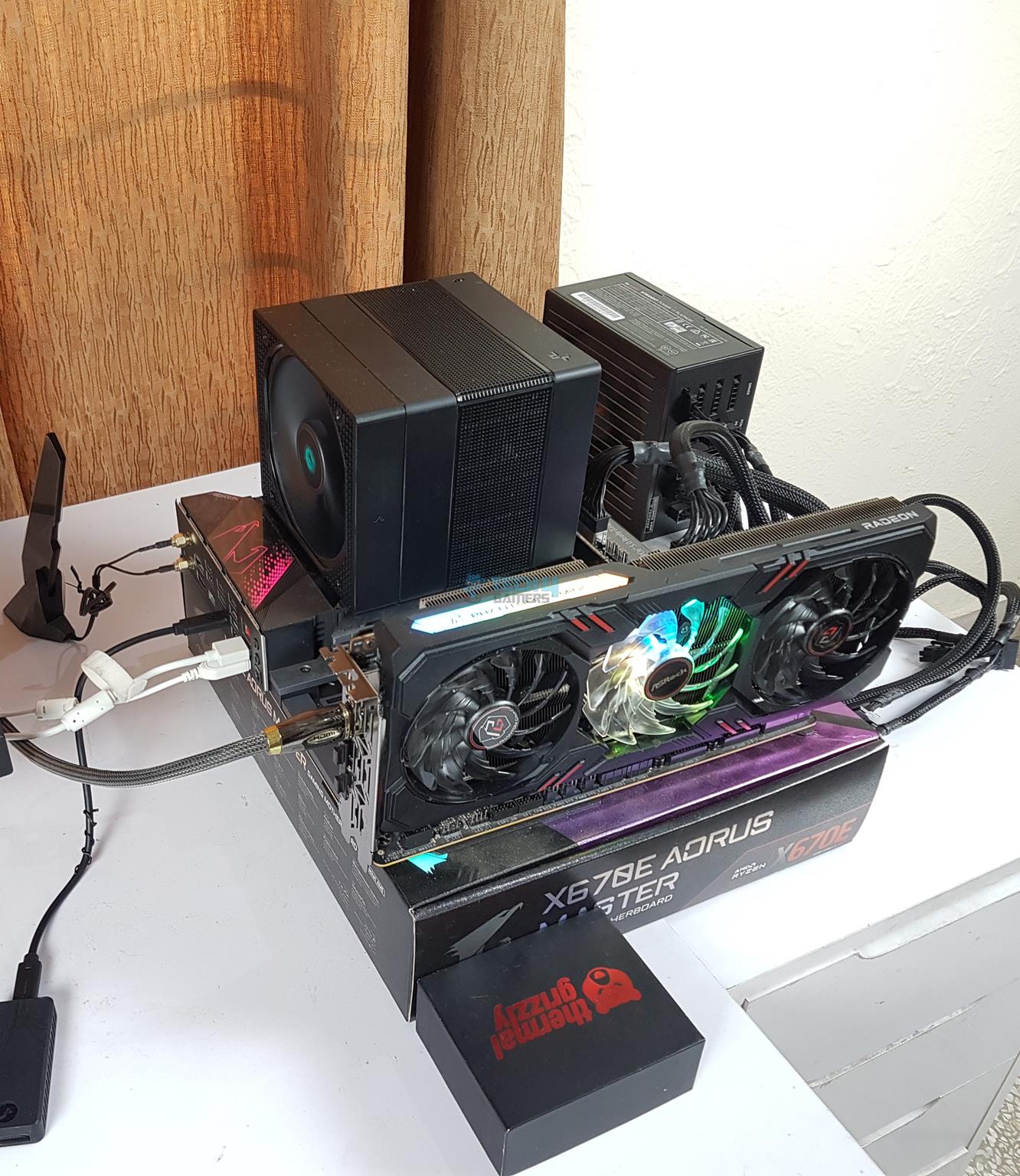 I have tested this cooler on the AMD AM5 platform. The cooler was installed on the GIGABYTE X670E AORUS MASTER motherboard, cooling the mid-range SKU Ryzen 7 7700X. The installation is a simple walkthrough on this cooler, as you would need only 4x AMD standoff screws and 2x mounting brackets. This is it.
You can refer to the user manual for complete details of the installation. I did not make any particular observation during installation to report here other than removing the 140mm fan before and putting it back on after the installation.
Clearance
Standing at 144x147x164mm (LxWxH), this massive cooler does not obstruct the DIMM slots on new platforms like Intel 12 and 13th gen and AMD AM5. However, it has a limitation of 63mm on the Intel socket 20xx.
This heatsink has no clearance issue for the first x16 PCIe slot, the rear of the motherboard, and the top of the motherboard. Overall, DeepCool has done a fantastic job in the clearance department. Due to differences in motherboard layouts, the following motherboards are not compatible with the ASSASSIN IV:
ROG STRIX Z790-H GAMING WIFI
ROG STRIX Z690-E GAMING WIFI
MSI MEG X570 GODLIKE
MSI B650M APE WIFI
ROG CROSSHAIR X670E GENE
MSI MEG Z790 ACE
Thermal Testing
I have used the mentioned configuration to test the performance of this cooler: –
Here is the settings table for testing:
| | |
| --- | --- |
| All Cores | Auto |
| VCore (V) | Auto |
| PBO | Advanced |
| Thermal Control | 85ᵒC |
| PPT | 110W |
| Efficiency Curve | -30mV on all cores |
| Thermal Paste | Noctua NT-H1 |
| Test Run Time | 30 minutes CINEBENCH R23.2 |
| Idle Time | 10 minutes |
| Fan/Pump Speed | 100% PWM Duty Cycle |
| Monitoring Software | HWInfo64 |
Disclaimer:
Every silicon is different; hence, no two SKUs will likely take the same voltage to yield the same performance at the same thermals per se, but the margin would be close.
Not every stress test run may yield the same result, which could be due to various reasons like thermal paste application, ambient temperature variation, the mounting pressure of the cooler, etc. This is why we have listed our variables and their settings. Variables not mentioned are on the Auto setting.
Result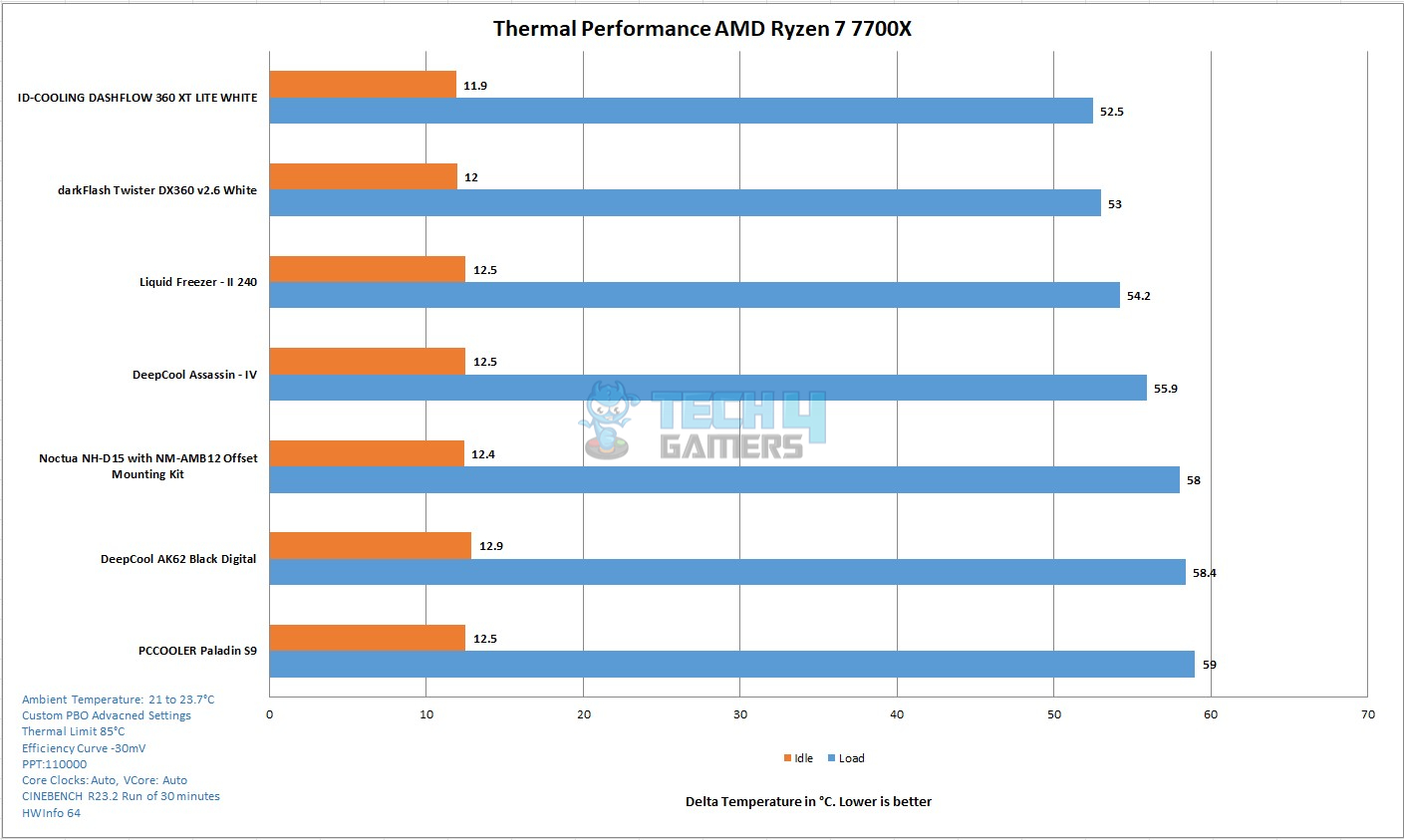 We have added Noctua NH-D15 with its new offset mounting brackets that are supposed to give this cooler some advantage as a main competitor to the DeepCool Assassin IV. We have also tested DeepCool AK620 Digital, PCCOOLER Paladin S9, and AIO coolers.
The DeepCool Assassin IV has taken the ring from the king with over 2ᵒC difference, though remember that this cooler is more noisy than the Noctua cooler. I did not perform a noise normalized test that may have reduced this gap, but one thing is for sure: the competition has reached or crossed Noctua's current flagship cooler level of performance.
Should You Buy It?
Buy It If
You are an enthusiast who wants the best bang CPU Air Cooler with sheer raw performance for the buck: DeepCool Assassin IV is a flagship cooler offering a top-tier performance in which it has surpassed the performance level of Noctua NH-D15 with over 2ᵒC margin, albeit at higher noise output. This cooler also has a built-in controller to regulate the speed of fans in two modes, making it convenient for the user.
Universal clearance for the RAM and PCIe slot: Thanks to the cooler shroud and its design in which the second fan is installed on the rear, the DeepCool Assassin IV has ultimate RAM clearance as it does not overhand the DIMM slots on the modern motherboards. However, it has a 63mm clearance on the Intel LGA20xx Socket.
Don't Buy It If
You are using a mid-tier CPU: Being a flagship cooler, this cooler is aimed at high-end CPU SKUs from Intel and AMD. Yes, you can use it on any CPU in the supported sockets, but using a top-tier performance cooler on a mid-range CPU may be an overkill. Also, the ARCTIC Liquid Freezer II – 240 retails at approximately $99 USD, and it is a better option, in my opinion.
You are on a budget: The DeepCool Assassin IV has a price tag of USD 99.99. If this sounds too much, you can look at other compelling options mentioned above. You can probably look for AK620 or AK500 from DeepCool, among other candidates, for this purpose.
Summary
The DeepCool Assassin IV has a price tag of USD 99.99 and a 6-year warranty from the manufacturer. DeepCool has done almost everything right with this cooler. It looks good and provides universal clearance for RAM on modern platforms and up to 63mm clearance on the Intel LGA20xx socket.
This utmost clearance and good looks are coupled with a sheer raw performance of this cooler, as I have seen this cooler sitting on top of all the air coolers I have tested for this review. The only letdown would be a bending plastic on the shroud.
Was our article helpful? 👨‍💻
Thank you! Please share your positive feedback. 🔋
How could we improve this post? Please Help us. 😔
[Hardware Reviewer & Editor]
Meet Nauman Siddique, a highly experienced computer science graduate with more than 15 years of knowledge in technology. Nauman is an expert in the field known for his deep understanding of computer hardware.
As a tech tester, insightful reviewer, and skilled hardware editor, Nauman carefully breaks down important parts like motherboards, graphics cards, processors, PC cases, CPU coolers, and more.
15+ years of PC Building Experience
10+ years of first-hand knowledge of technology
7+ years of doing in-depth testing of PC Hardware
A motivated individual with a keen interest in tech testing from multiple angles.
I majored in Computer Science with a Masters in Marketing
Previously worked at eXputer, EnosTech, and Appuals.