ASRock RX 7600 Phantom Gaming 8GB OC Review
The Best RX 7600 Variant?
ASRock Radeon RX 7600 Phantom Gaming 8GC OC packs performance in its price range, despite being on the lower end of RDNA 3 architecture. ASRock delivers excellent features, but the PCIe x8 is a letdown, in my opinion. It's the ideal choice for budget gamers seeking a top-notch 1080p gaming card with robust cooling and eye-catching D-RGB lighting.
Performance -

9/10

Design -

9/10

Features -

9/10

Value -

9/10
Pros
Excellent Performance
FSR Performance Enhancement
Overclocking
Digital RGB
Excellent Cooling
Adequate Noise Output
DisplayPort 2.1
HDMI 2.1
Warranty
Digital RGB Lighting
Metallic Backplate
Price
I was taken by surprise when ASRock introduced the RX 7600 Phantom Gaming 8GB OC with its triple fan cooling solution for what seemed like a no-frills 1080P gaming card. This graphics card is based on AMD's RDNA 3, where AMD has taken the same approach that they did with their Ryzen series CPUs, i.e., we would get a chipset. You can read all about it on the AMD website on many other media sites. The crux is that the Graphics Compute Die (GCD) is not alone anymore, as it is also accompanied by the Memory Cache.
---
Key Takeaways
Solid 1080p card: The ASRock RX 7600 Phantom Gaming 8GB OC performs well at 1080p.
Capable cooling solution: Throughout our tests, the ASRock RX 7600 Phantom Gaming maintained reasonable temperatures.
Low noise levels: The ASRock RX 7600 Phantom Gaming ensures lower noise levels, even under load.
---
Why you can trust Tech4Gamers:

We understand the importance of making informed decisions. That's why our team spends significant time testing every product we review.

Find out more about how we test.
Here are the key specifications of the AMD Radeon RX 7600 Phantom Gaming OC.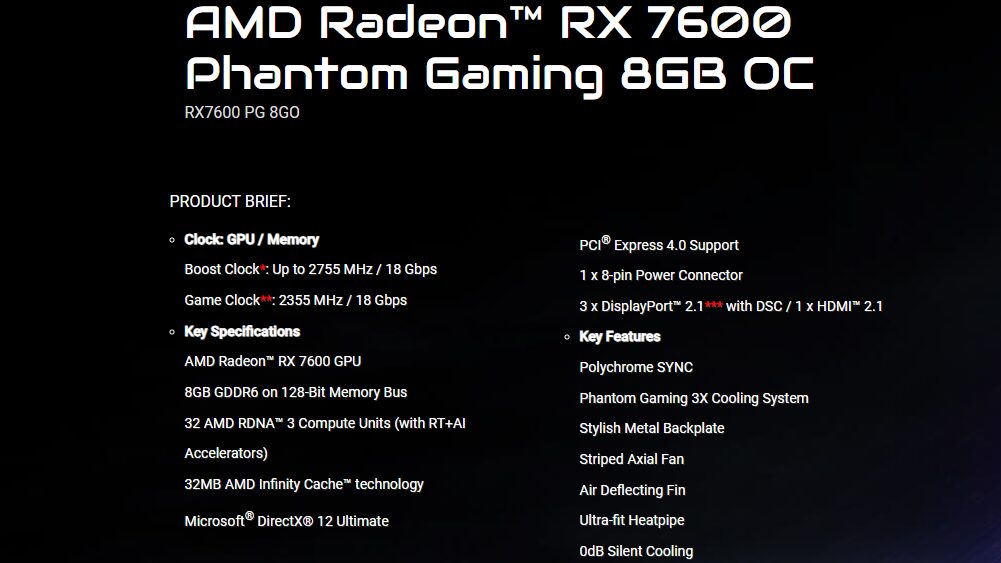 Make Sure To Also Read: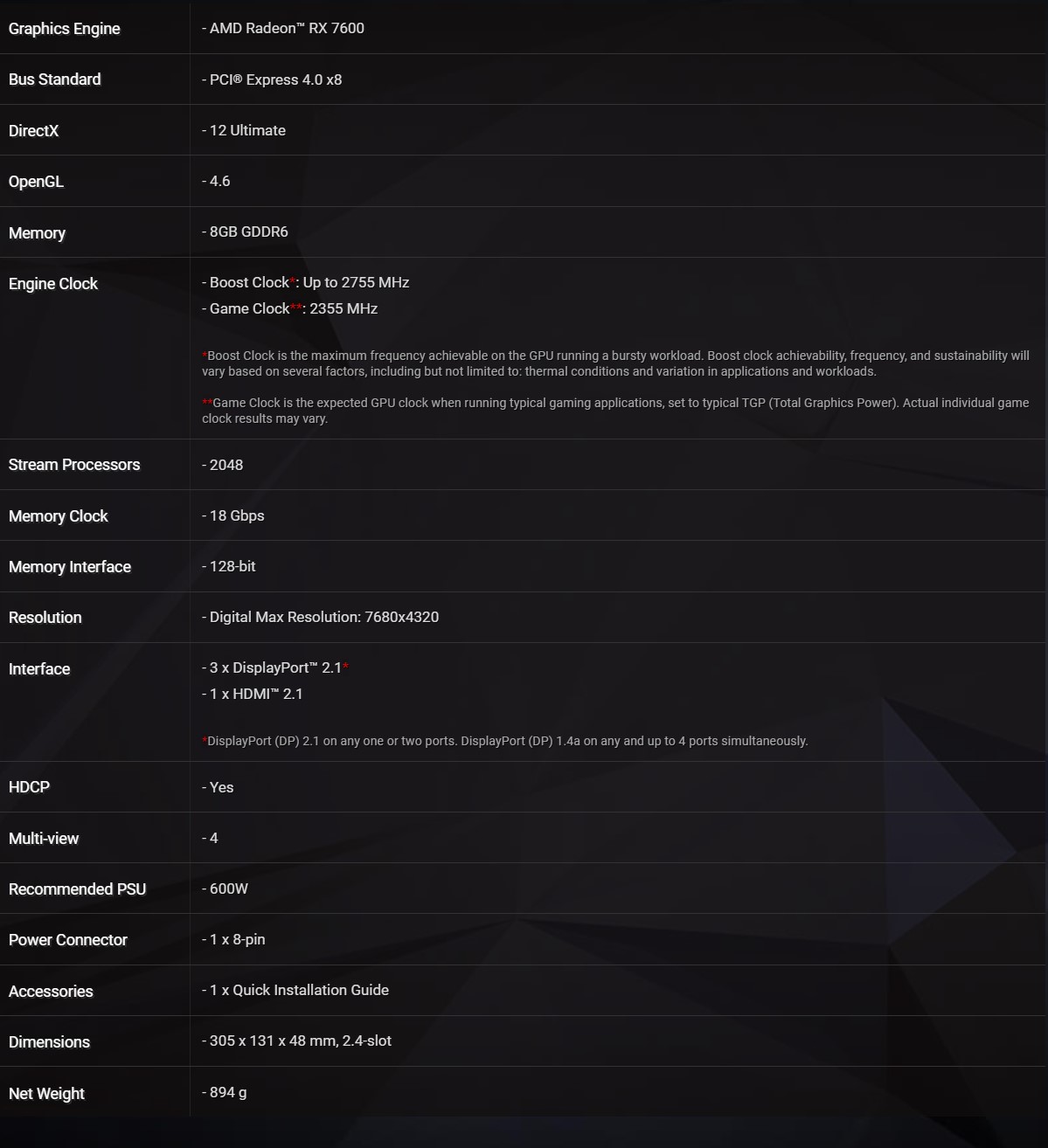 The above picture is taken from the ASRock website. We can see that this graphics card has three DisplayPort 2.1 ports and a single HDMI 2.1 port. This is impressive. The 2.1 interface is coming from RDNA 3 architecture.
Packing Box
Here is the complete unboxing experience of the ASRock RX 7600 Phantom Gaming.
Design
This card GPU or Chiplet packs 13300M transistors, 64 ROPs, and 128 TMUs. The AMD card has a PCIe Gen4 x8 interface, which is half the usual bandwidth. It features 2048 shader units, offering 176.3 GPixel/s Pixel Fill Rate and 352.5 GTexel/s Texture Fill Rate. The 8GB GDDR6 VRAM has a 128-bit bus and 288 GB/s bandwidth, with a memory clock of 18 Gbps. The boost clock can reach up to 2755MHz.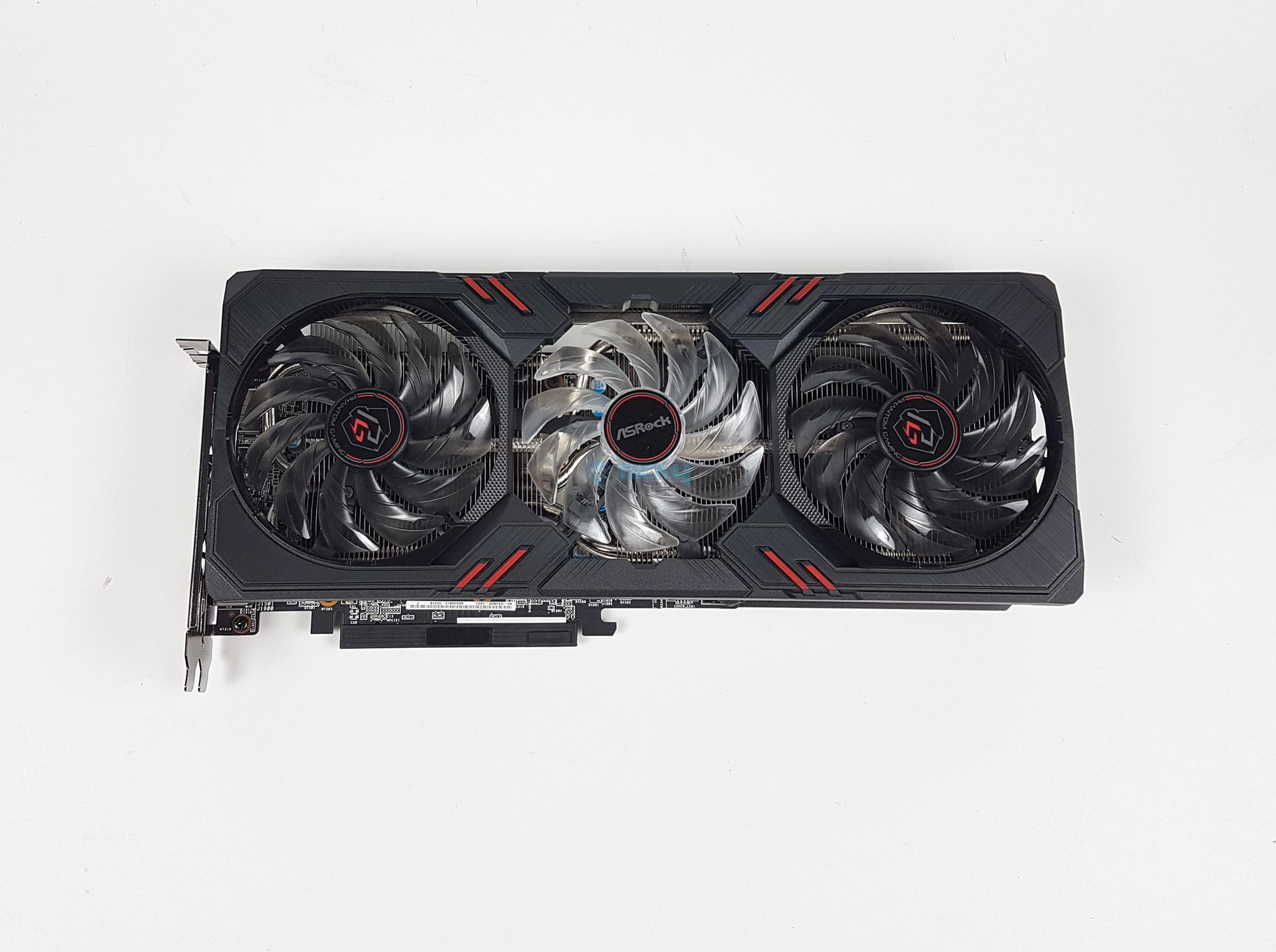 The card rocks a sleek black and gray textured design with three 90mm fans. The outer fans are dark, the middle one's transparent, sporting logos (Phantom Gaming on the outer, ASRock in the middle). These are axial fans with a clever striped design for better airflow – polished underneath and stripes on top.
Red stripes on the shroud top and bottom add to the Phantom gaming aesthetics. The card measures 305x131x48mm, with a 305mm length, 48mm height, and 131mm thickness. It's a 2.4-slot design, weighing in at 894 grams.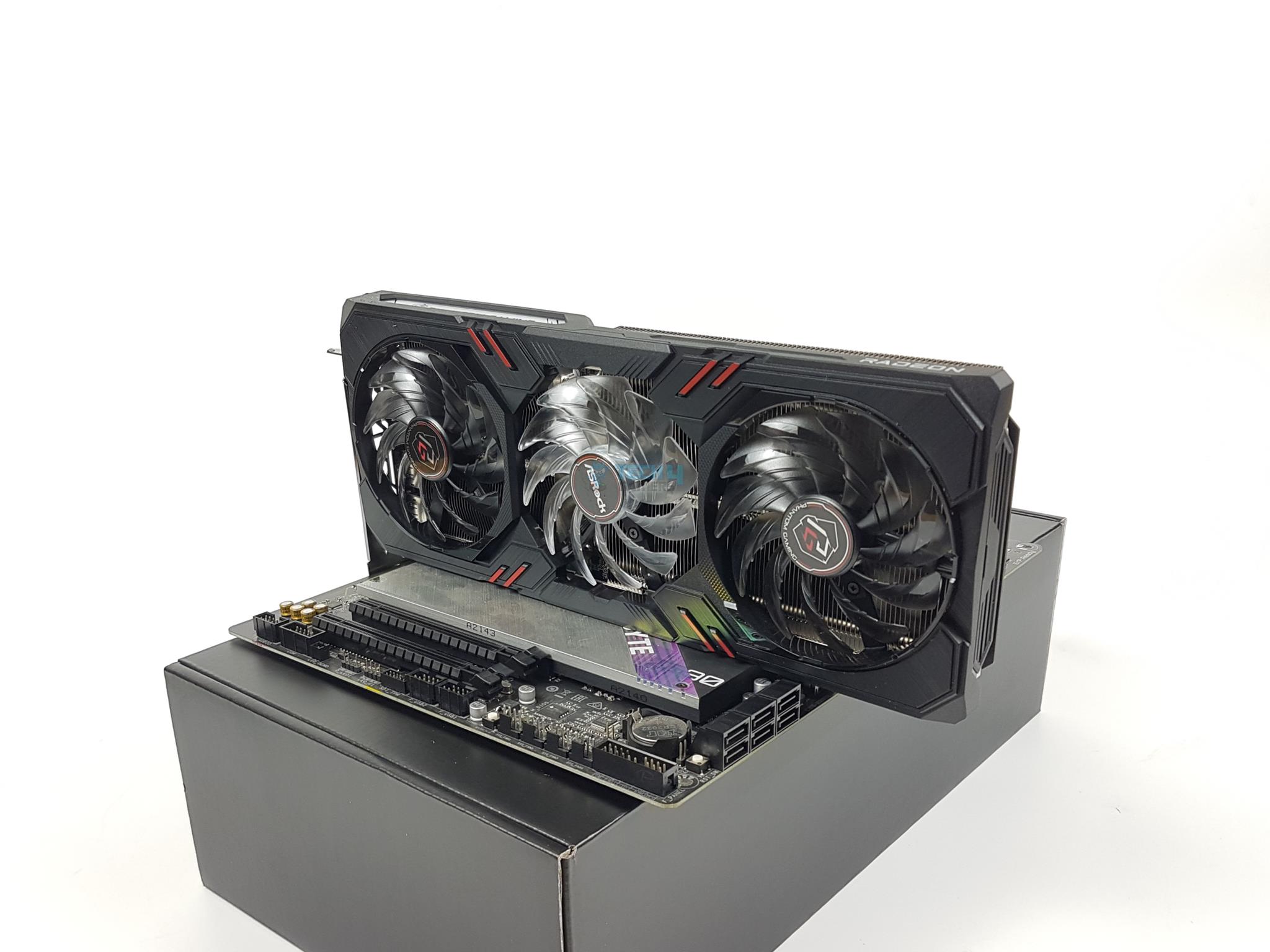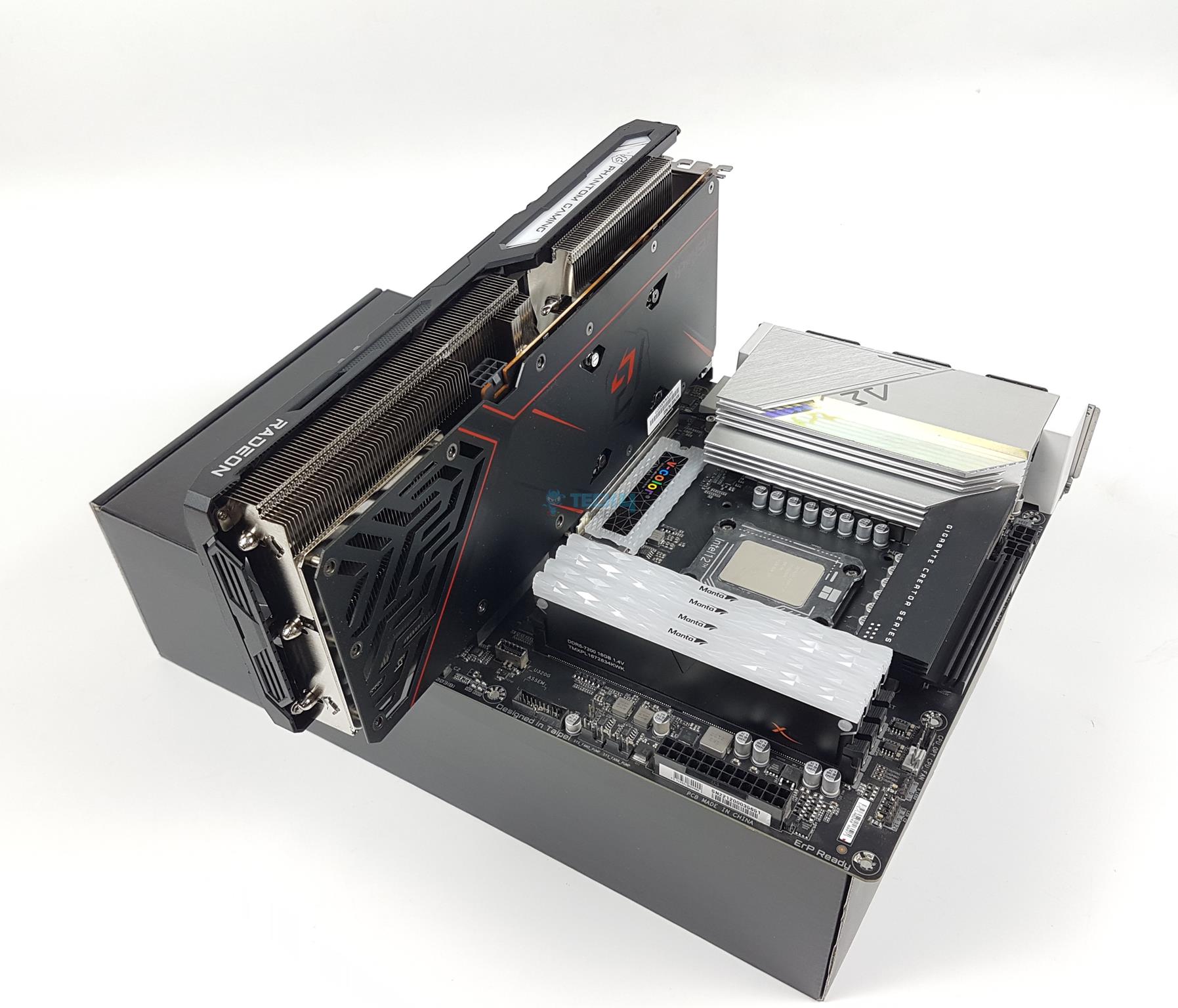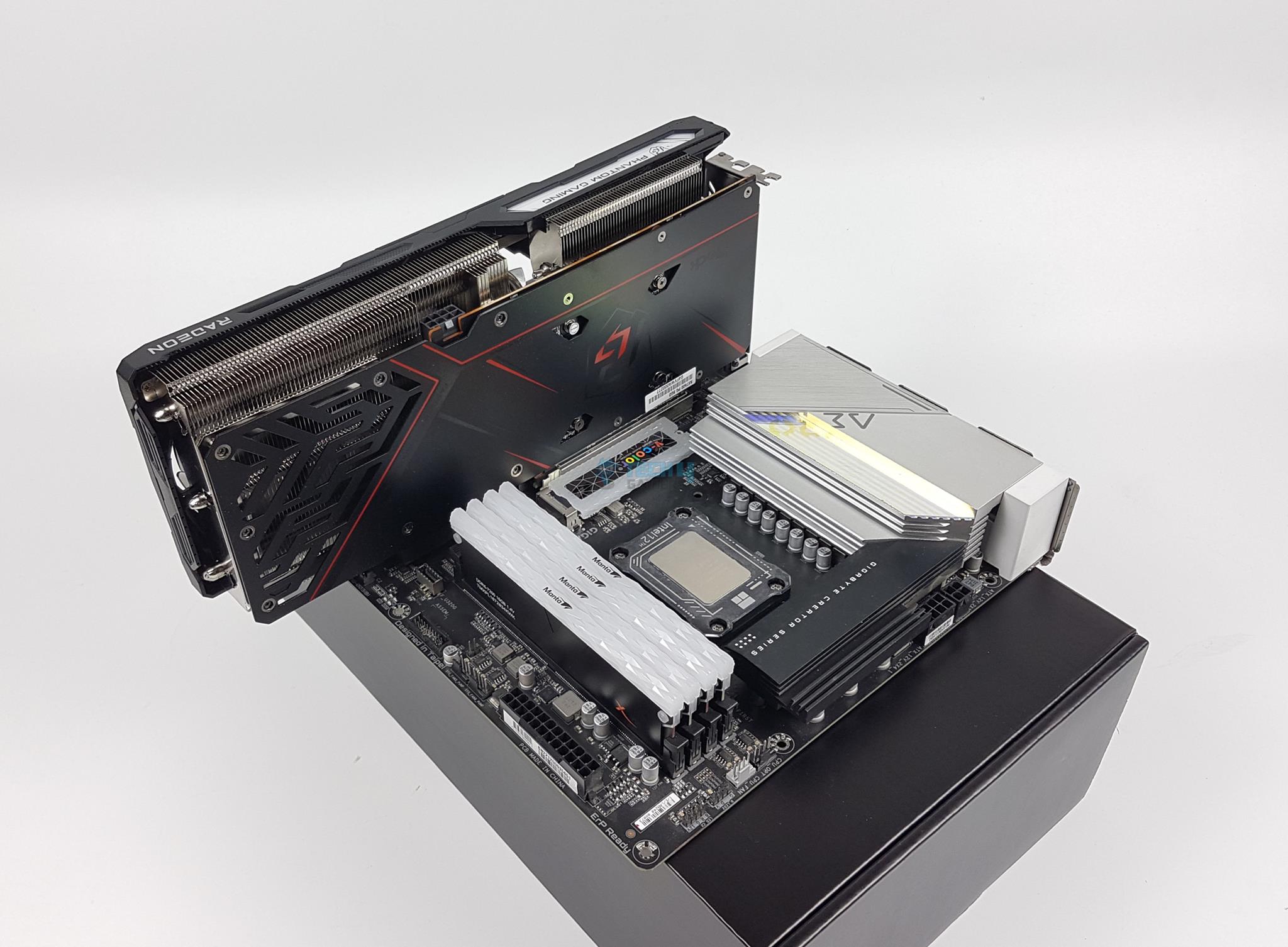 The card's length and 2.4-slot design are crucial considerations for your PC case. Proper clearance matters.
ASRock touts "0dB Silent Cooling" for the fans, meaning they stay still as long as the card stays cool. Once it heats up, they kick in, emitting a pleasant whining sound, although there's a touch of coil whine, which seems to be a common issue. The middle fan is transparent because of the beautiful digital RGB lighting on the card. Looks great in person.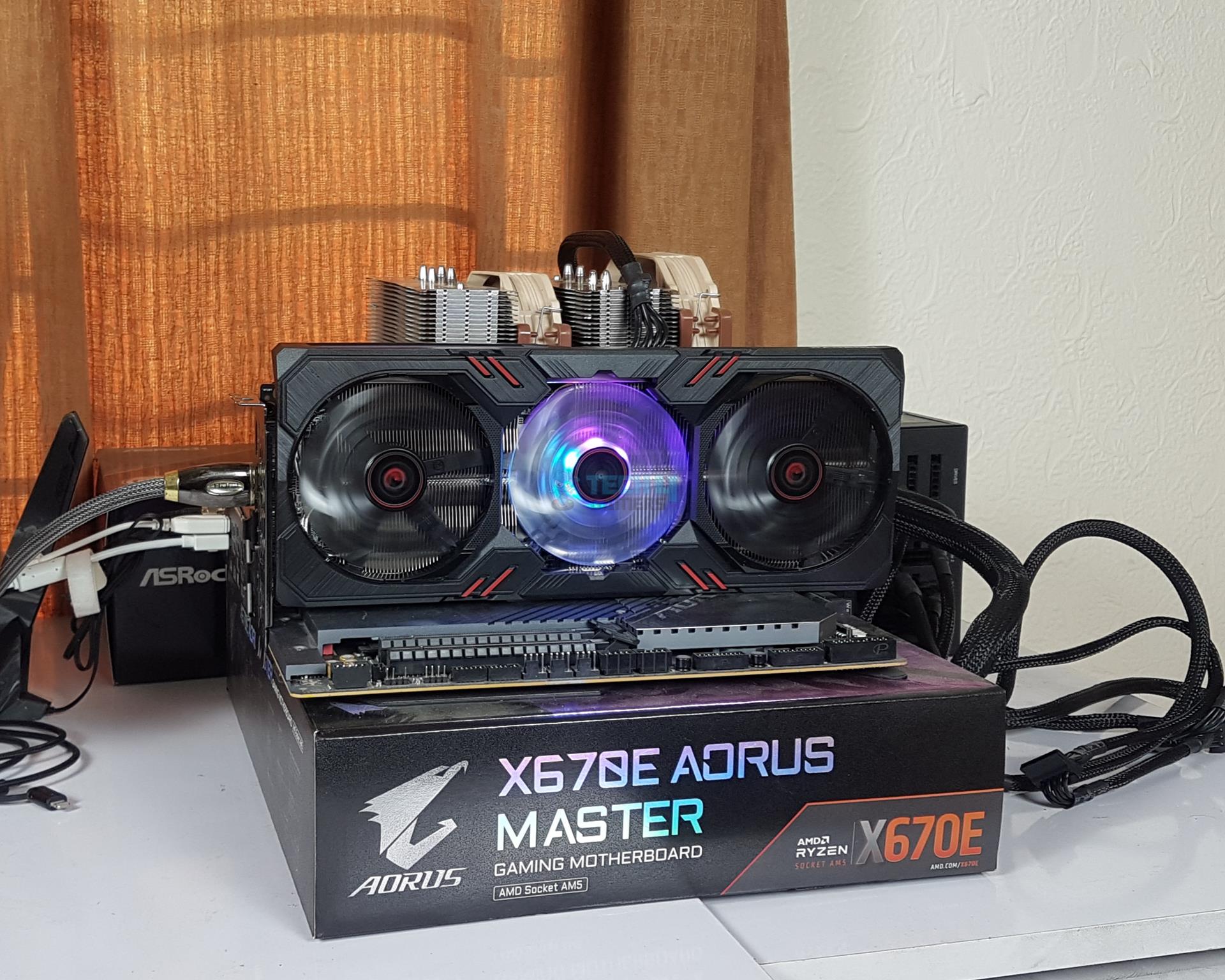 The above picture shows the diffuser with RGB lighting on the fan.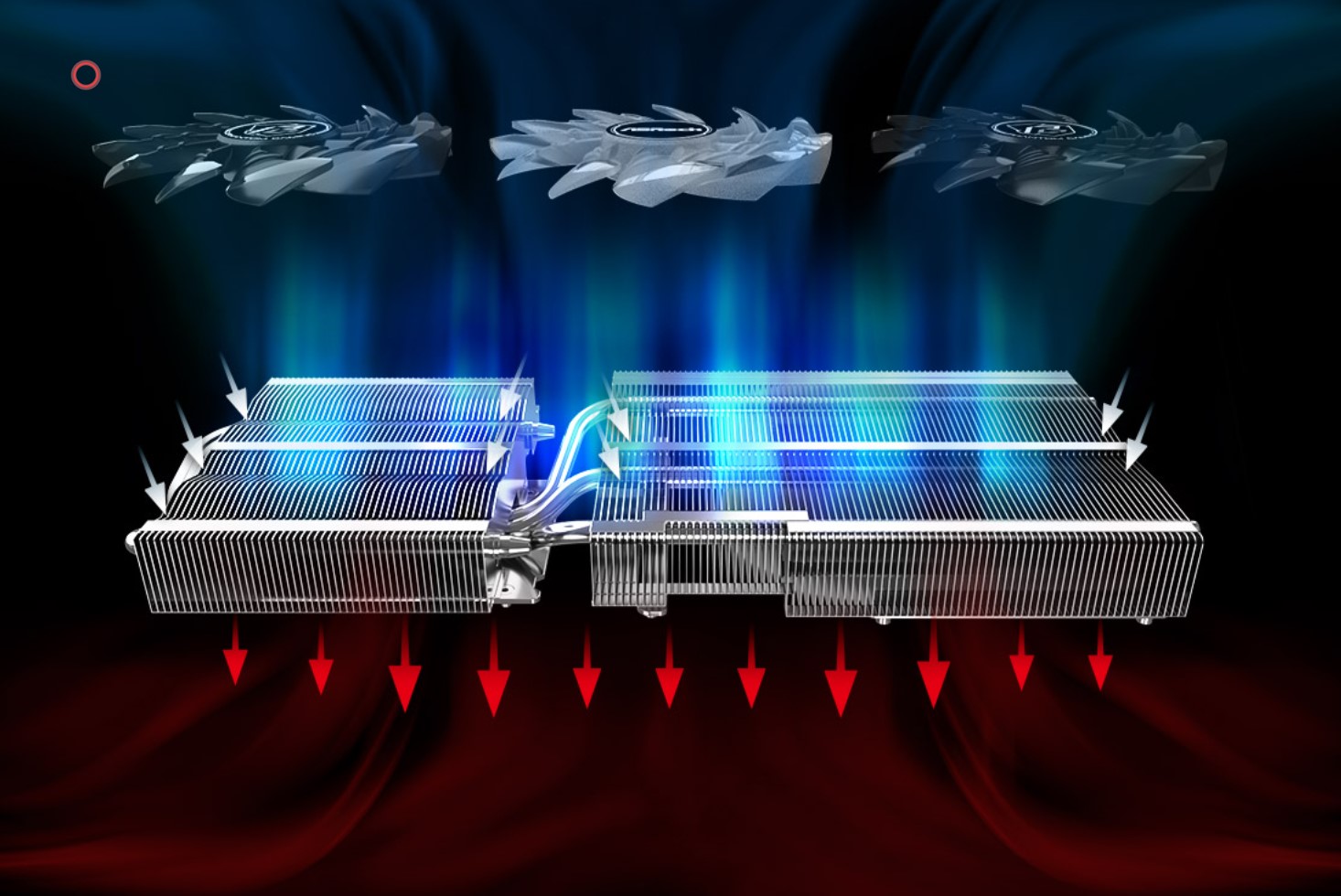 The above picture is taken from the ASRock website. It shows the main cooling components that ASRock has employed on this graphics card. I must say, this is quite a beefy cooling for such a chiplet.
We have 3 axial fans spinning air through a dual-style dense heatsink comprising 3 copper heat pipes and aluminum fins. There are two heat sinks which are joined by the heat pipes. The small size heat sink has a copper plate which makes contact with the GPU die.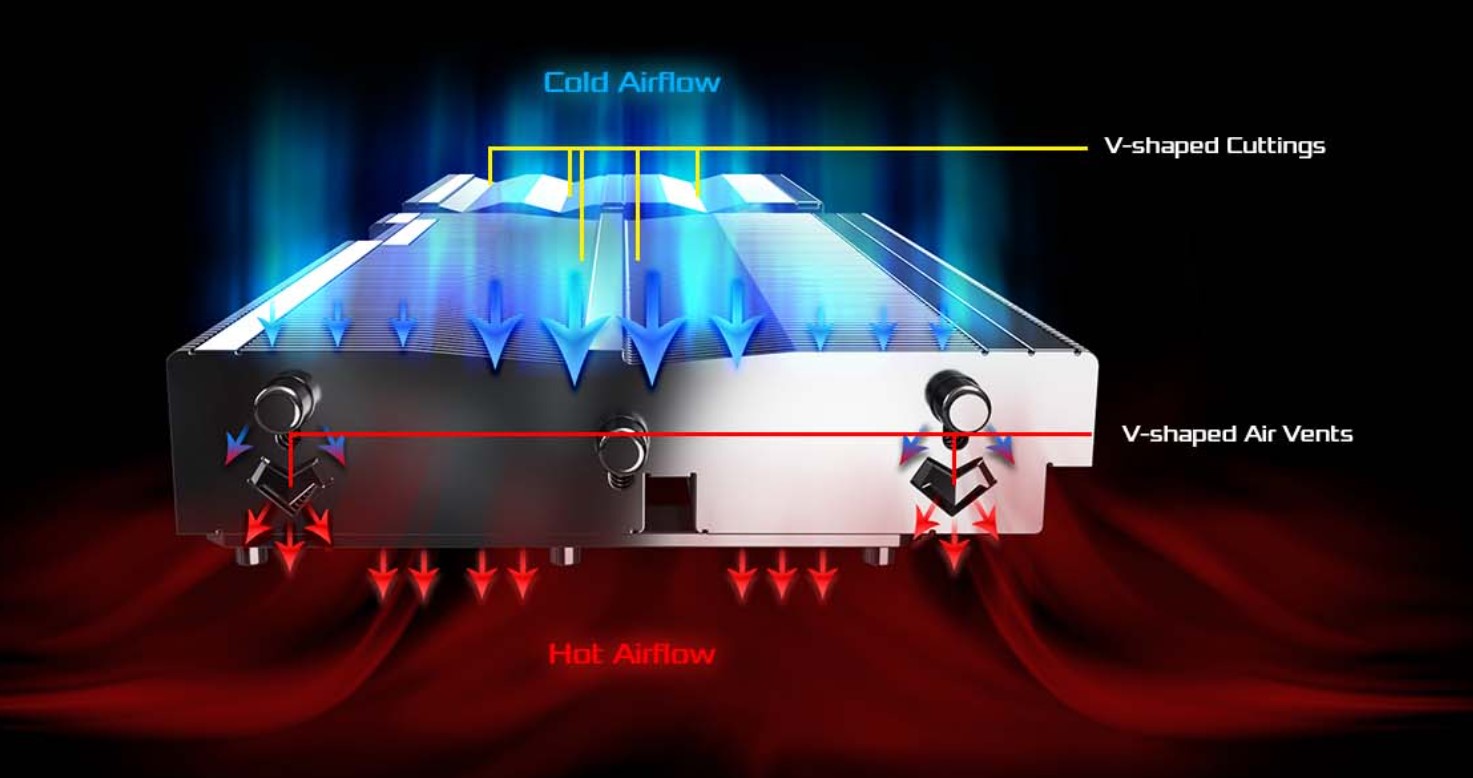 The heatsink is designed such that it has V-shaped cuttings throughout the fin stacking and then there are air vents towards the front side for effective heat dissipation. This also shows us that ASRock has used three thicker heat pipes.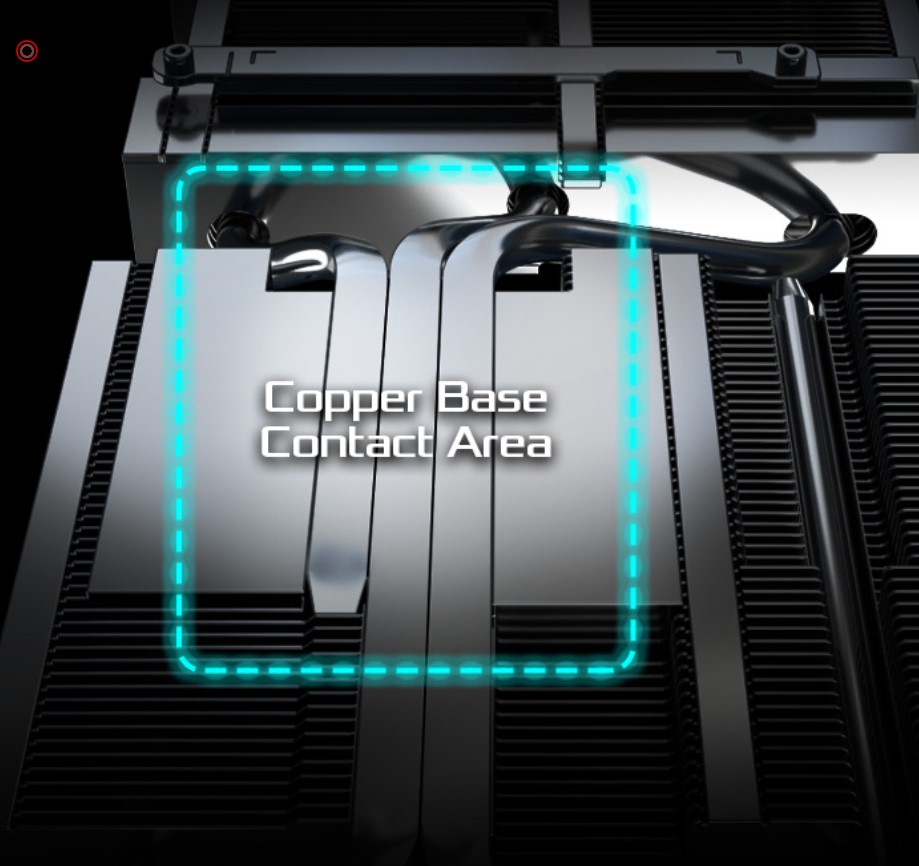 The heatpipes are organized and placed or routed in such a way that they make maximum contact with the copper base plate of the graphics card. This is done to help transfer the heat from the chiplet as quickly as possible. However, please note that these heatpipes are not making direct contact with the die.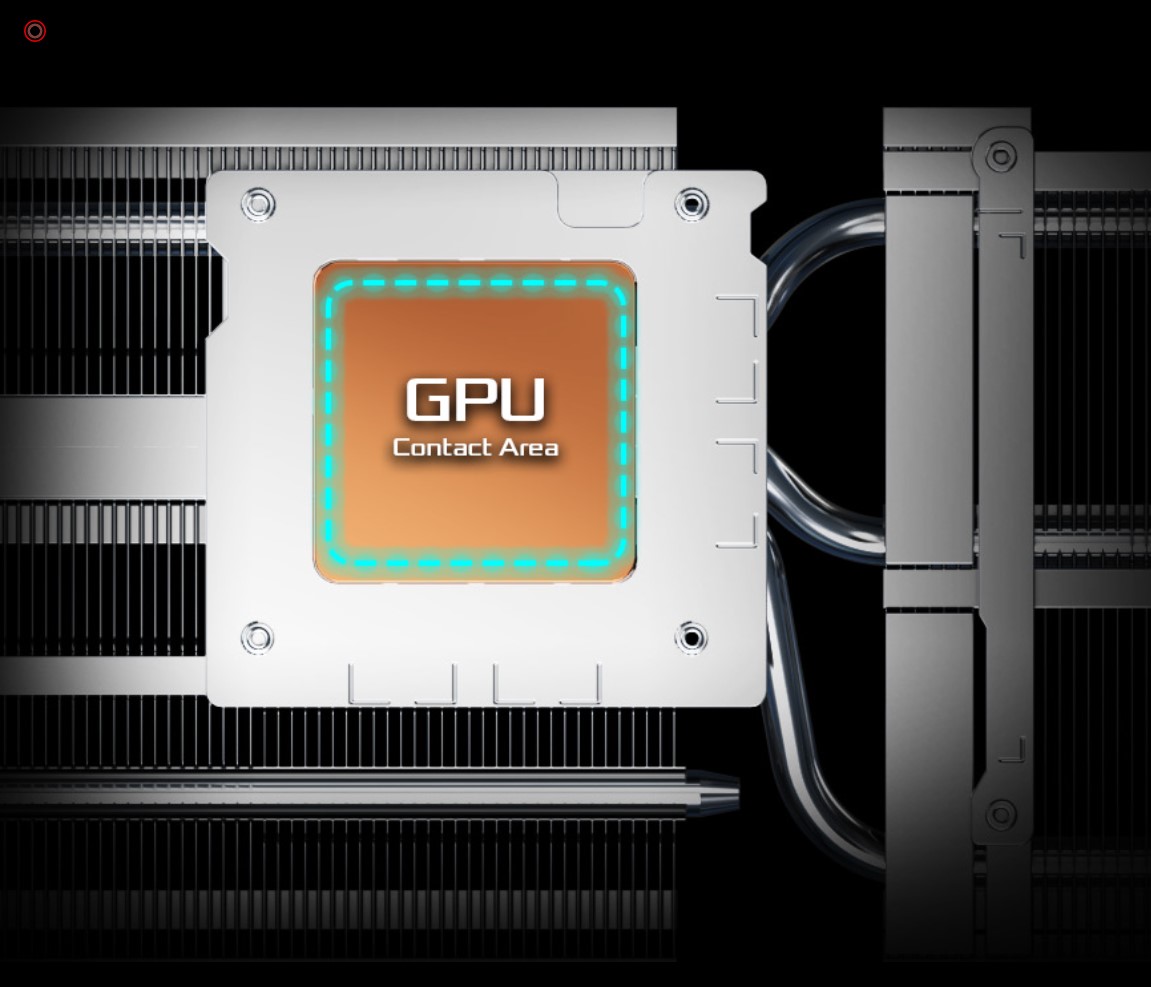 There is a copper base plate that makes contact with the GPU die for heat transfer. Heat is transferred to this copper plate which is then transferred via the heatpipes to the heatsink, and the fans do the rest of the job.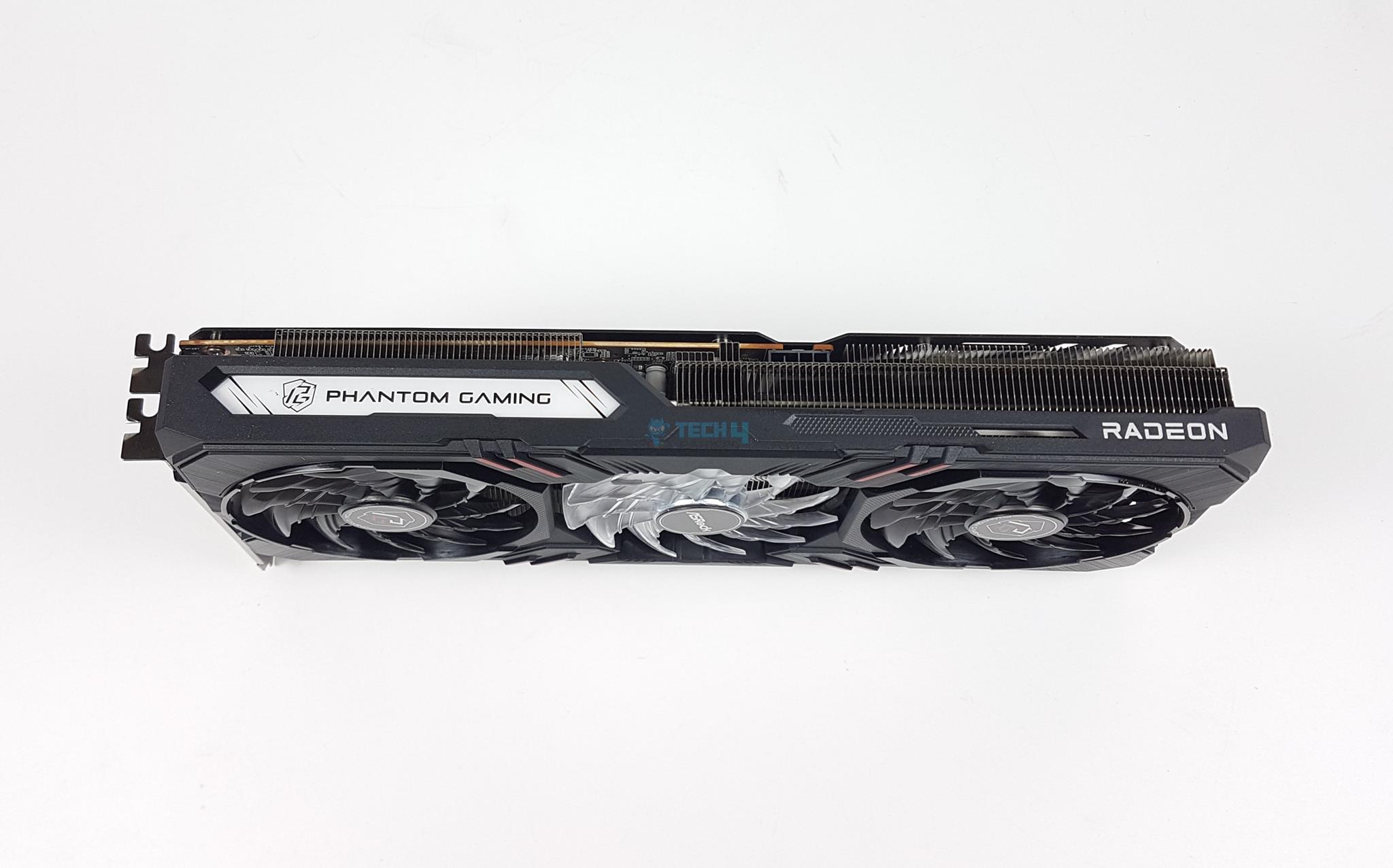 We are now looking at the top of the graphics card. There is a white color Phantom Gaming label on the left side. This is a second D-RGB zone which is backlit and can be controlled using Polychrome sync. A maximum area is exposed over here, which is understandable as we would want maximum air ventilation to keep the temperatures at bay.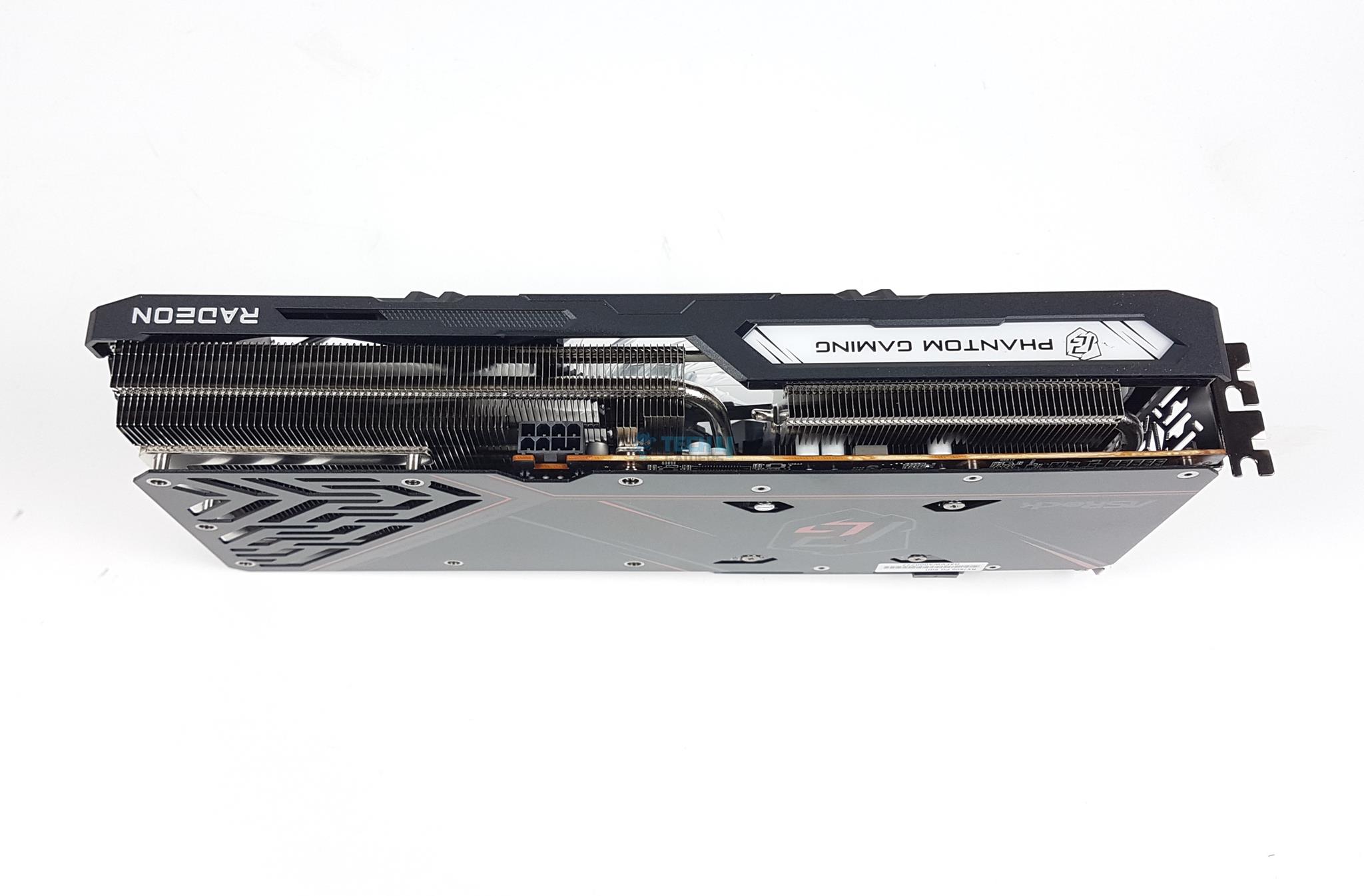 Now, we are looking at the top from the opposite angle. There is a single 8-pin power connector on a thick-looking PCB. The PCB is black in color.
ASRock has mentioned that they have selected copper materials for PCB layers; 2 oz Copper PCB delivers lower temperature and higher energy efficiency for overclocking. There is a new mysterious matte black and copper color scheme to match the prestigious components on ASRock's high-end graphics card.
This is not all since a High-Density Glass Fabric PCB design is ensured to reduce the gaps between the PCB layers. This would protect the graphics card against electrical shorts caused by humidity.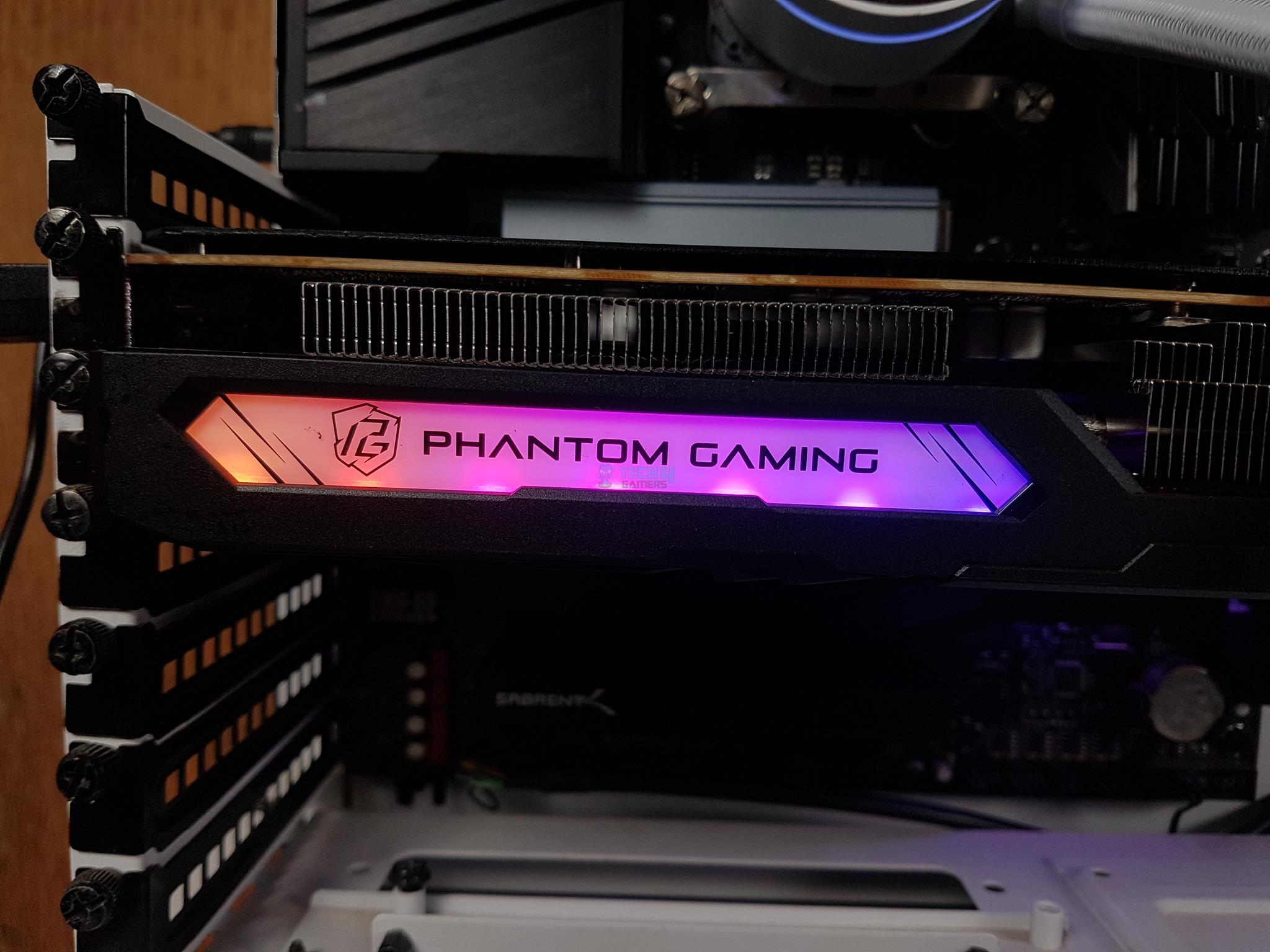 The above picture shows the Phantom Gaming zone with backlighting.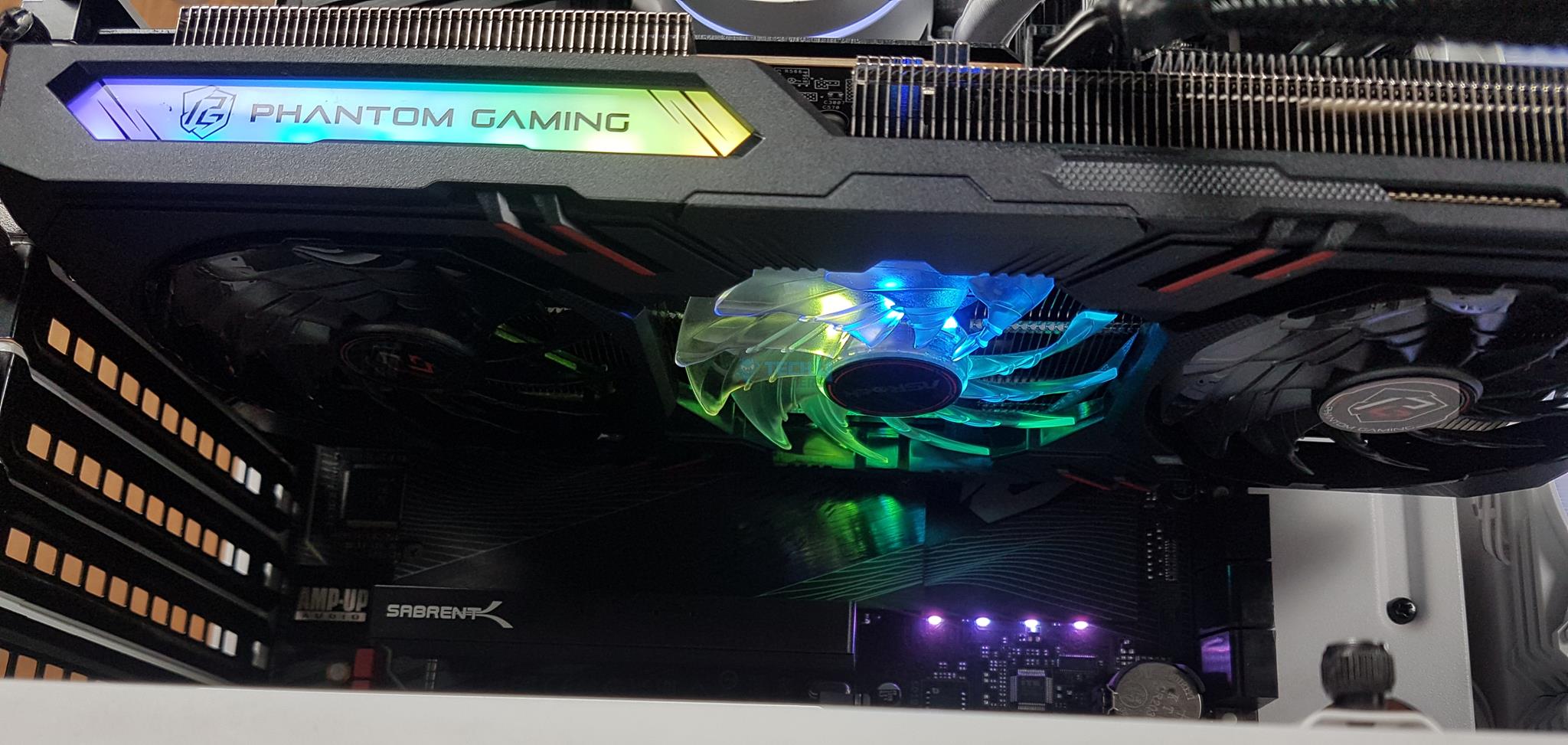 The above picture shows both zones with backlighting.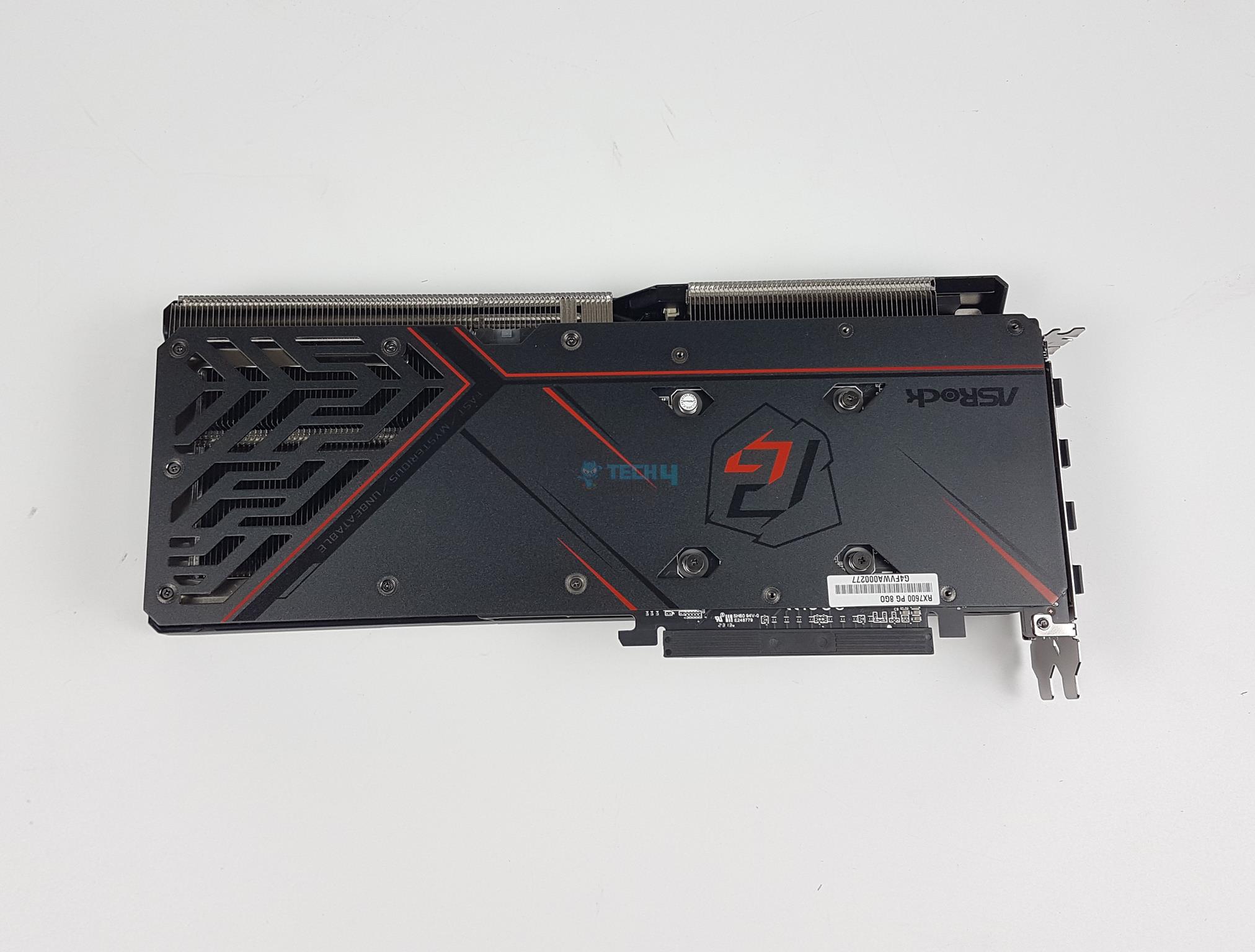 ASRock has provided a stylish metal backplate on the graphics card. This adds rigidity to the design and helps dissipate heat to some extent. I am surprised that ASRock has gone all out on the design with such an exhaustive list of features for the lower end of spectrum GPU die.
There is a Phantom Gaming brand logo. One of the spring-loaded screws has a white sticker, tearing, which would void the warranty. This is beyond me why brands do these things. The far end of the metal backplate has cutouts in a pattern for air ventilation.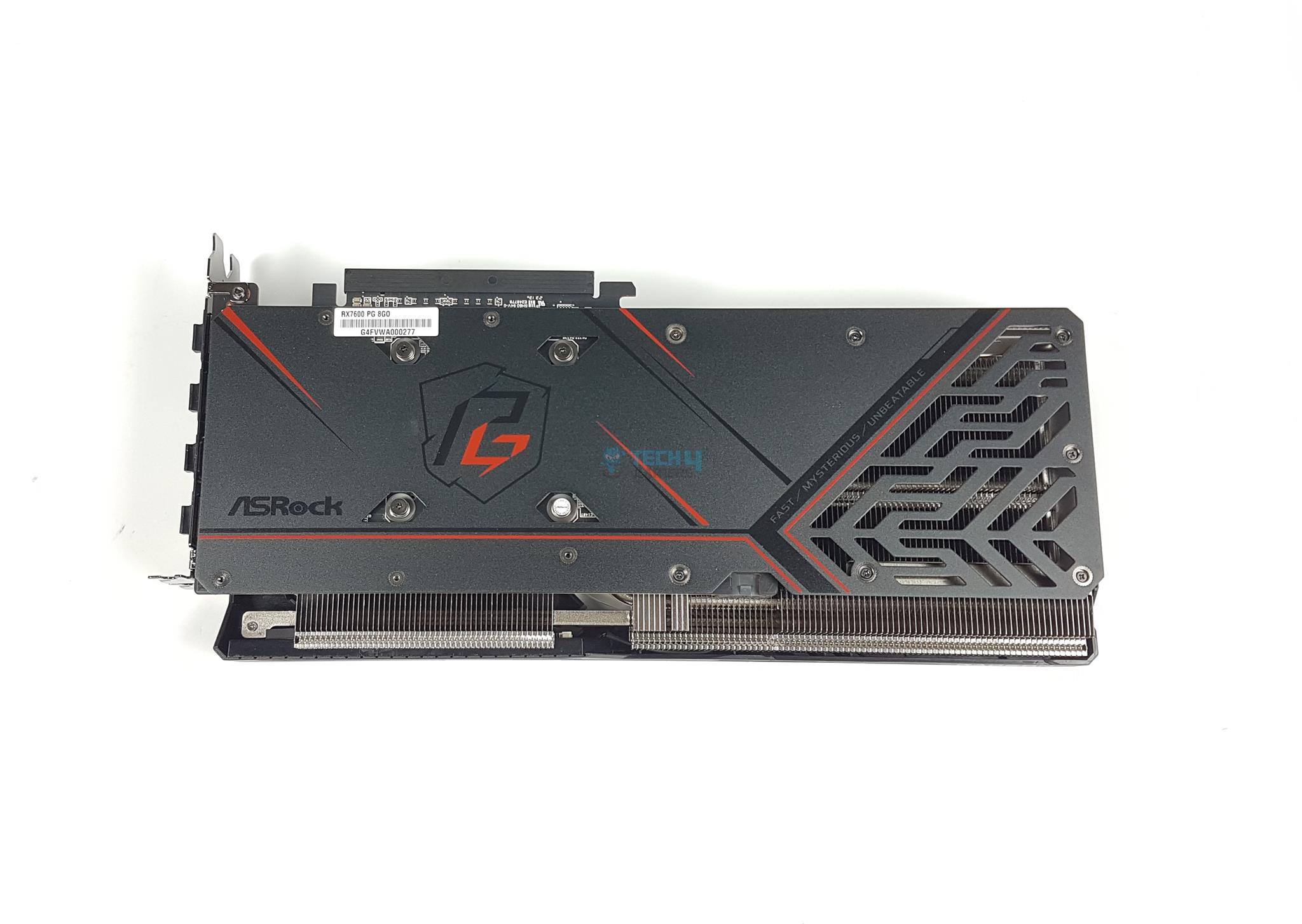 We can see that the backplate is not covering the entire height of the card, and a certain portion of the heatsink is exposed towards the upper side. Again, this is a part of the overall cooling design where the air ventilation scheme plays its role.
Looking at the base, we can see two connectors. The rightmost is the fan connector and header, whereas the left one is the D-RGB header and connector. The angle of the picture is such that it gives the impression that the card is bending.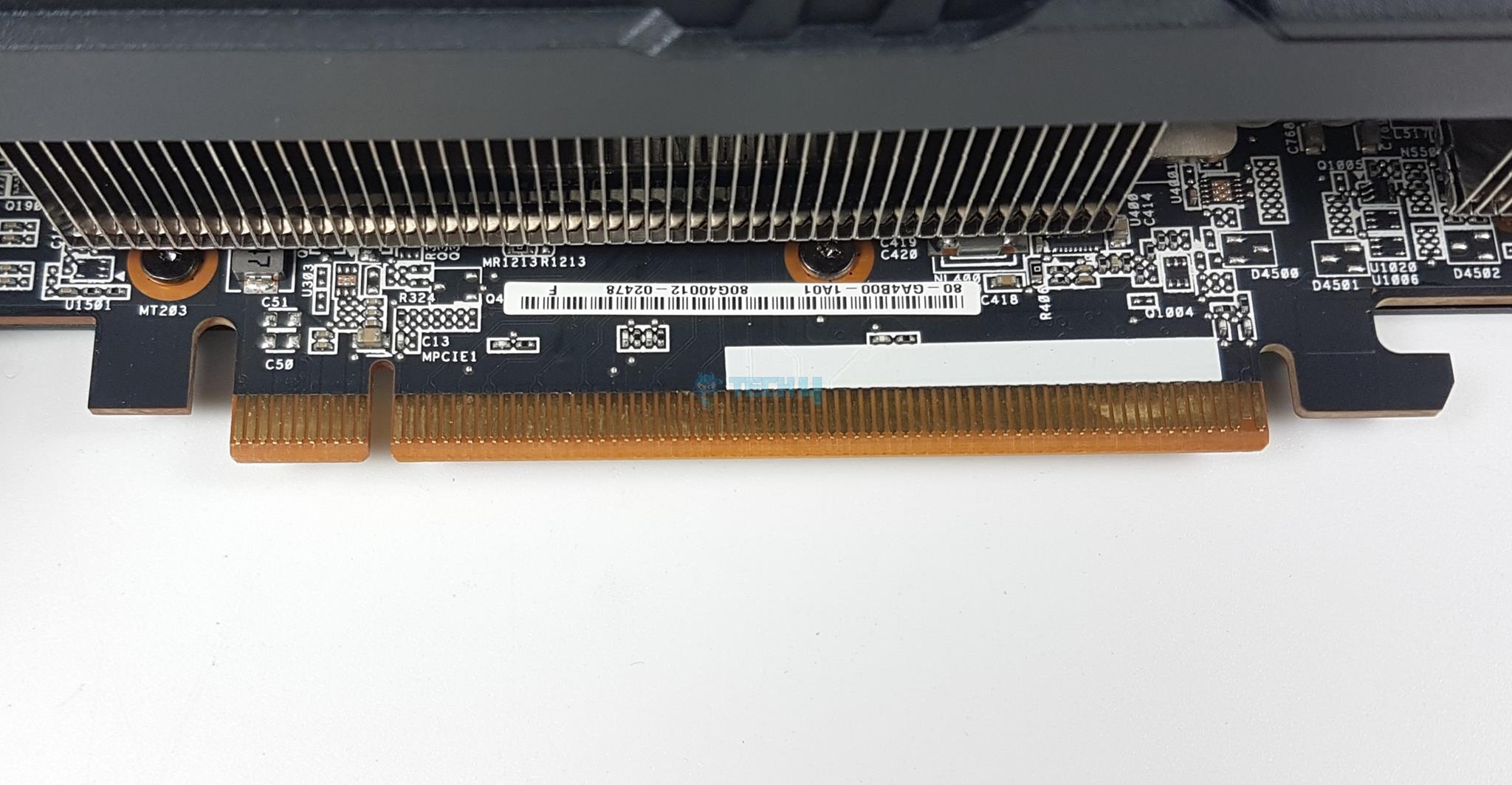 We forgot to take off the PCIe cover in the last picture, so take a look at the connector itself. It will make the card operate at x8 speed.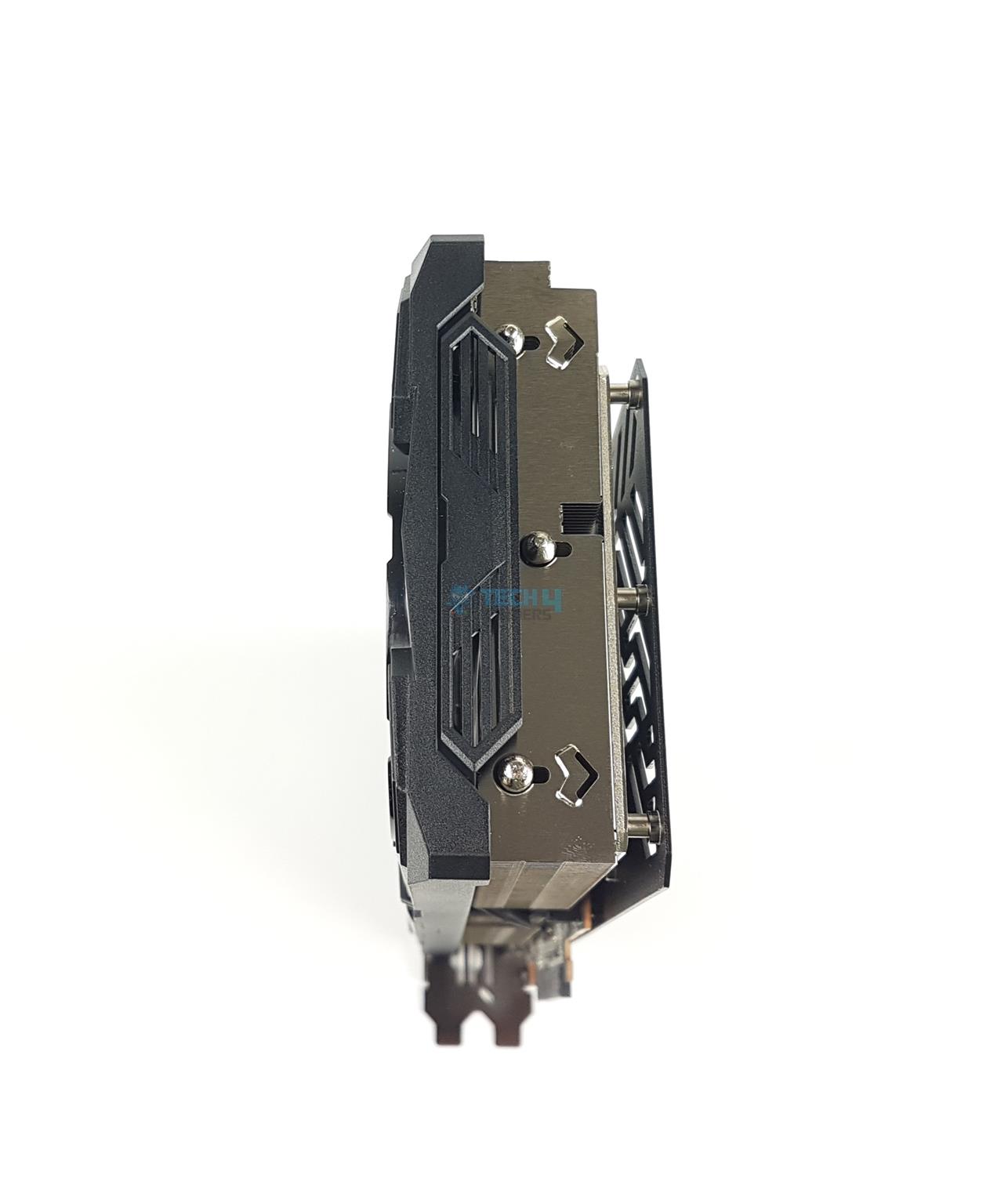 Looking at the far front view of the graphics card, we can see that the shroud has extended over the heatsink and is terminated in a straight line pattern. We can also see the V shape of vents and the terminating tips of the heatpipes.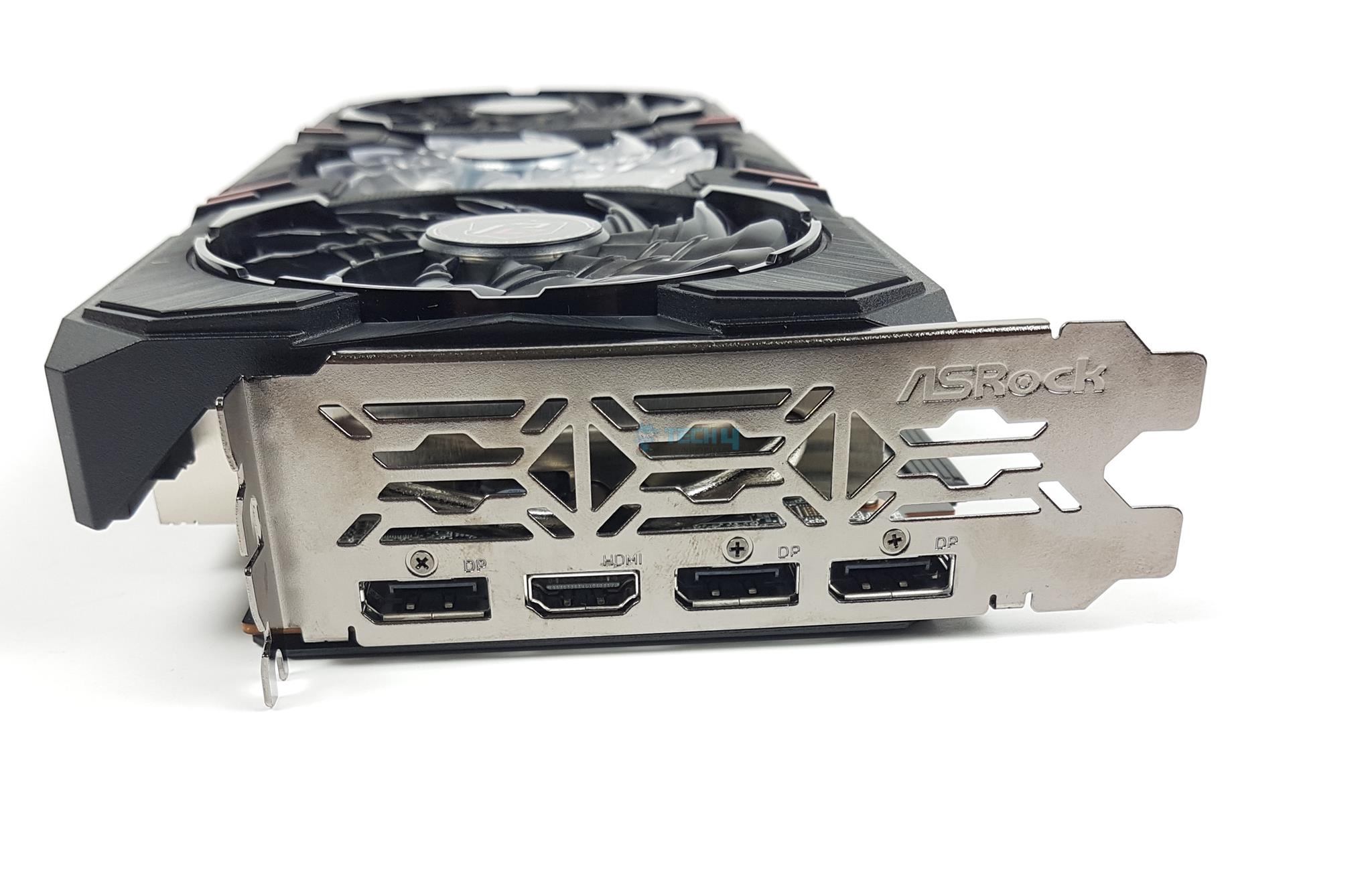 The following connectivity options are available at the user's disposal:
1x HDMI port 2.1
3x DP ports 2.1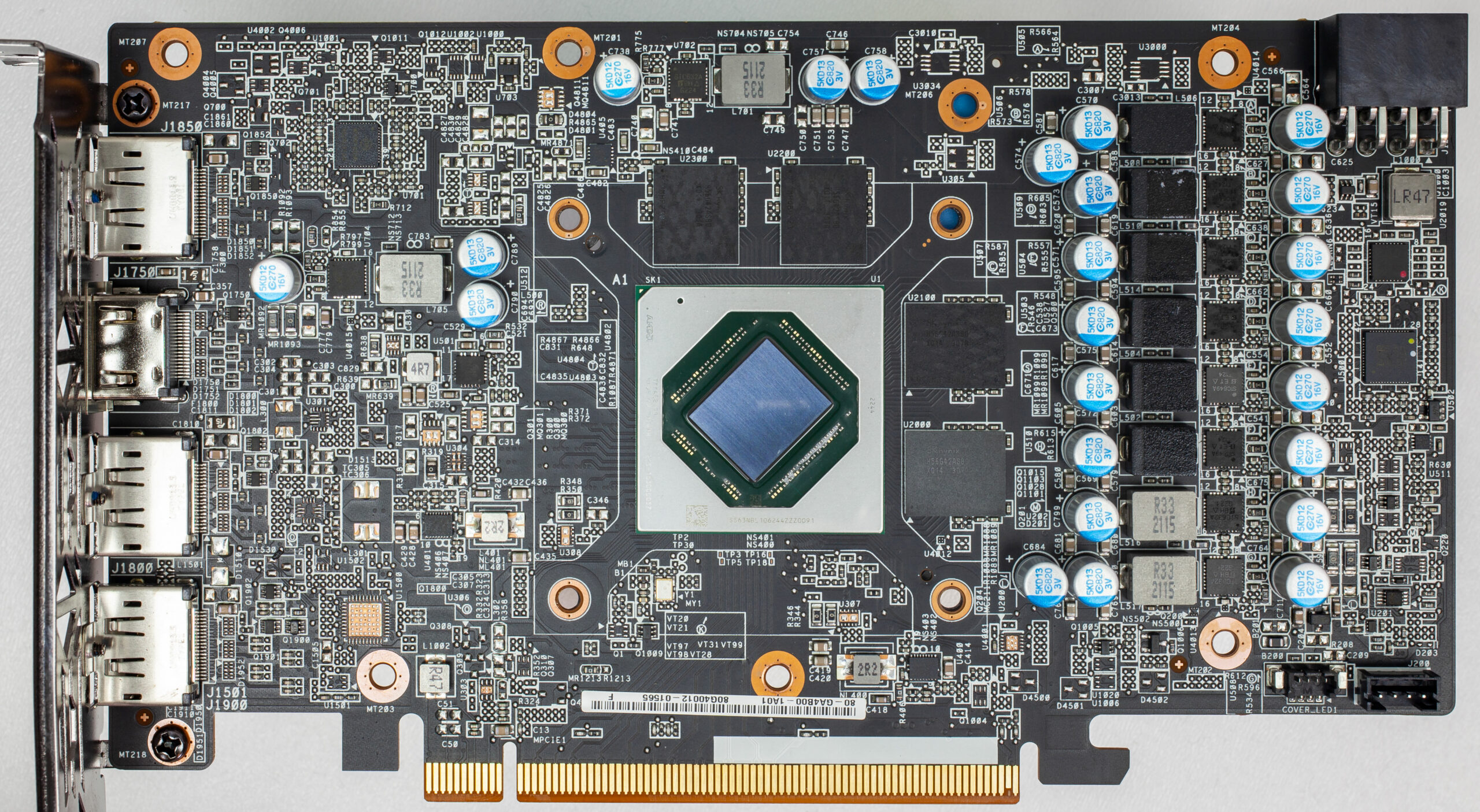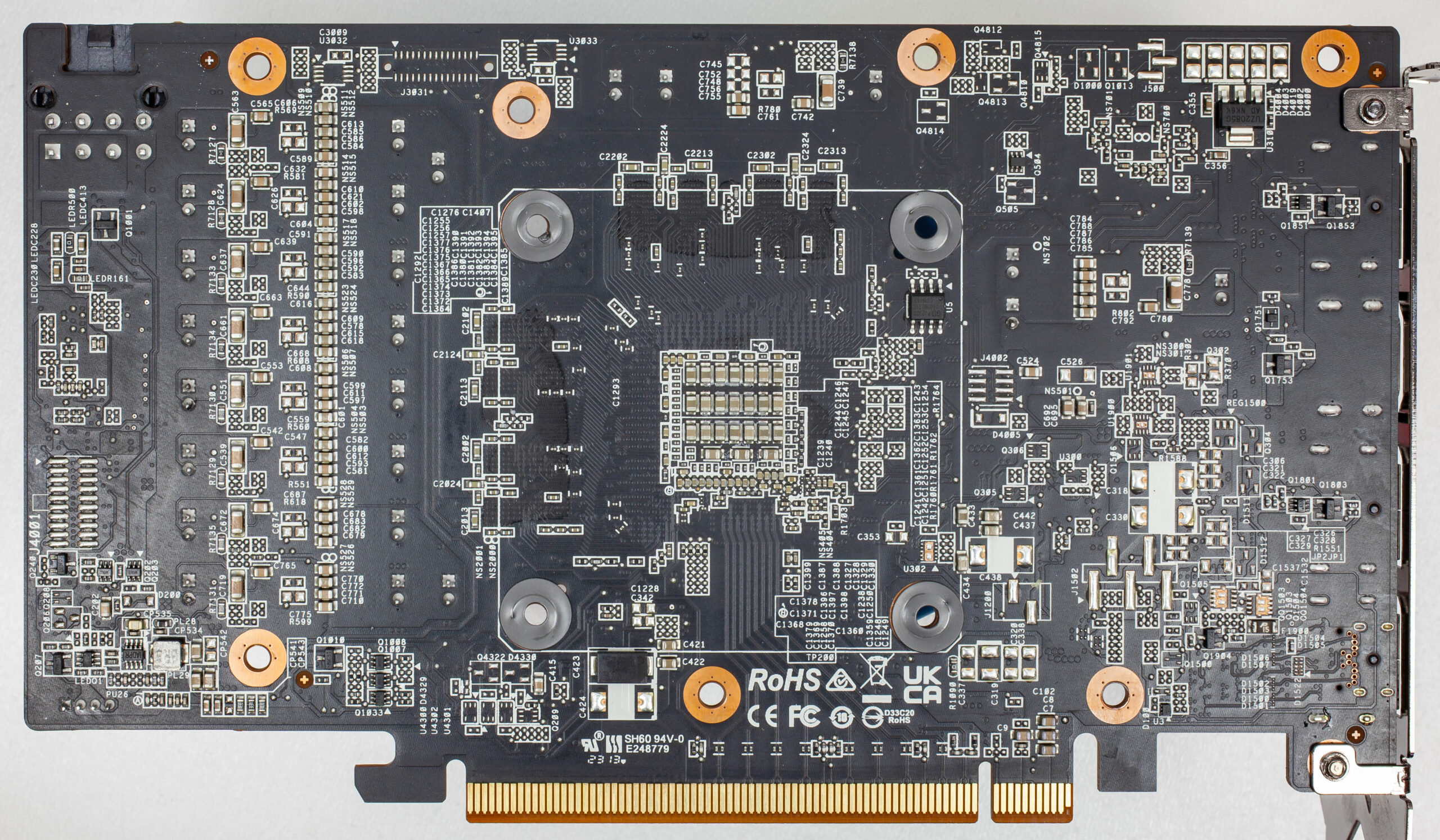 I could have opened the graphics card, but my run of poor health did not allow me to go to this length. Thanks to good peeps over TechPowerUp for allowing us to share the high-resolution pictures of the graphics card's PCB; we are showing the pictures here. Click here to check them out. This graphics card is using 8+2 power phases (GPU+Memory).
With regard to the power section of the graphics card, ASRock has used Dr.MOS as the integrated power stage solution, which is optimized for synchronous buck-set-down voltage applications! Intelligently delivering higher current and driving up to 50A continuous current for each phase. ASRock is using 90A rated power chokes that effectively make the saturation current up to three times better, thus providing enhanced and improved Vcore voltage to the graphics card.
What We Tested
We have used the below-mentioned test build for this particular test:
Drivers
Nvidia driver 528.49 [For RTX 3090 and 4090]
Nvidia driver 537.34 [For RTX 3070]
Adrenalin 23.9.2 for RX 7600
Monitoring Software
MSI Afterburner 4.64 was used to monitor and record the FPS for the games that don't have built-in benchmarks.
Our testing includes the Ray Tracing and FRS tests as well. FRS stands for AMD FidelityFX Super Resolution. Throughout the testing, we have used the FRS Balanced profile in every game in which FRS was used. We will start with synthetic benchmarks first.
Benchmarks
Let's go over the benchmarks!
Synthetic Benchmarks
Gaming Benchmarks
We have tested the ASRock Radeon RX 7600 Phantom Gaming 8GB OC on 1080P and 1440P resolutions. Testing this card on 4K would not be wise as it is not designed for 4K gaming with 8GB VRAM and running half the PCIe speed link.
GPU Compute Benchmarks
We also use a few benchmarking tools to measure the compute performance of the graphics cards. Let's see how this RX 7600 fares in those benchmarks.
Boost Clocks
Now that we have checked the gaming and computing performance of the ASRoc Radeon RX 7600 Phantom Gaming 8GB OC, it is time to check the clock's behaviors. This graphics card has a base clock of 2355MHz and a boost clock of 2755MHz. It is more like up to 2755MHz, depending on the thermal headroom and type of load.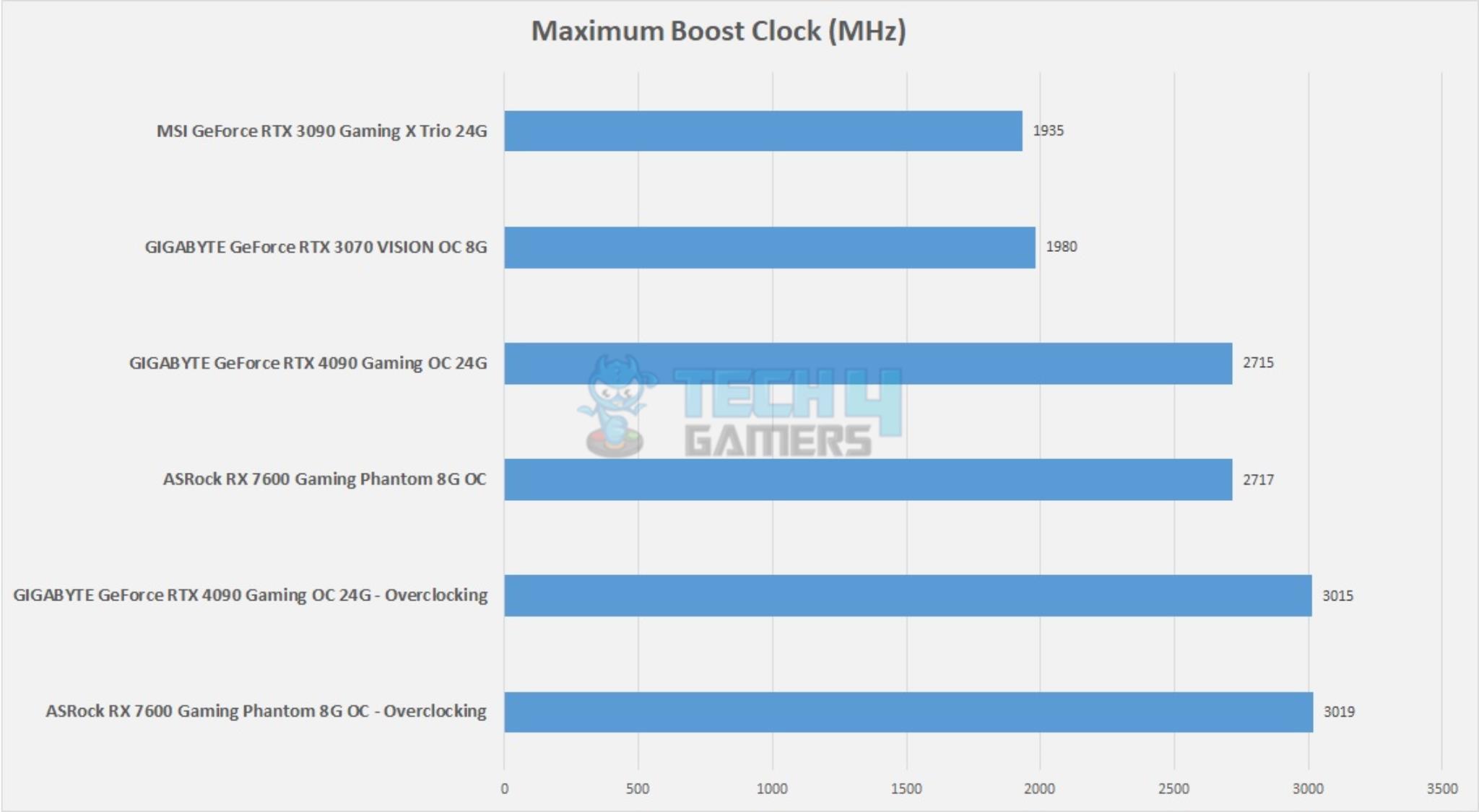 During gaming, this graphics card reached 2717MHz many times, though most of the time, it was doing 2695MHz. This card managed to go beyond the 3000MHz during our overclocking session.
Thermals
The ambient temperature was between 30°C. All the testing was done on stock settings with fans running of factory settings (no user-defined fan curve). We have used HWInfo64 sensors to record the values over time after gameplay of Hogwarts Legacy at 4K, Ultra settings.
The maximum GPU temperature was 57°C, which is quite impressive, particularly on the default factory settings, where we did not tweak the fans to generate more airflow for better cooling. This is because it would violate the idea of stock testing, and the noise output would be of high decibels.
Noise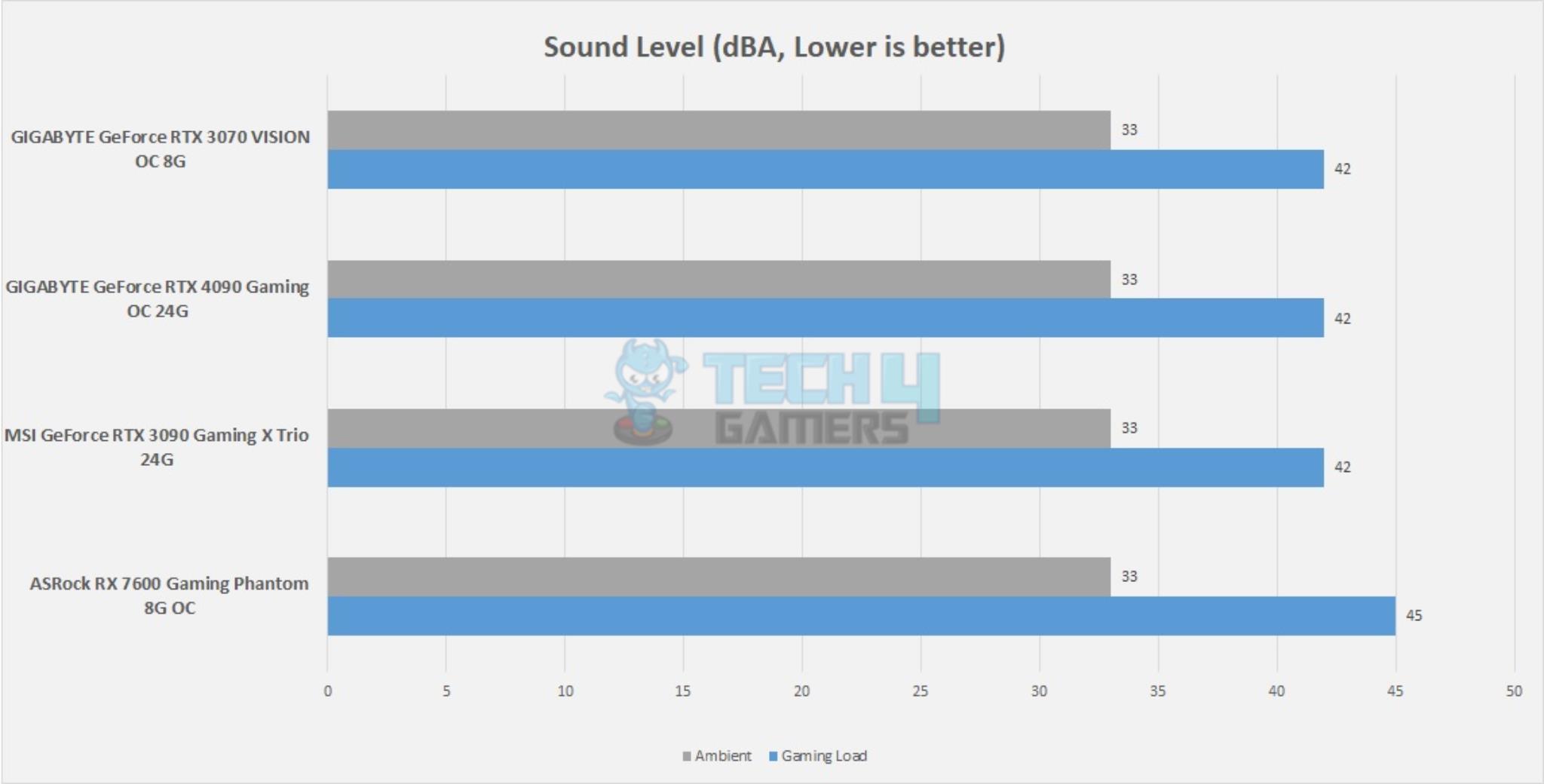 The ambient noise level was 32 to 33 dB(A). A coil whine is heard from this graphics card. It was operating at 45 dB(A) which is still a decent noise output. I would not complain about it.
Overclocking and Power Consumption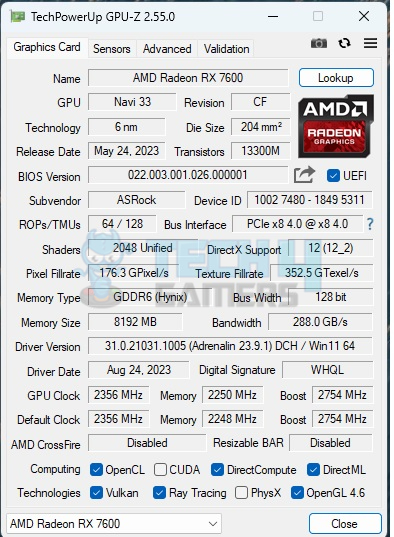 The above is a picture of GPU-Z on stock settings from the graphics card. ASRock has provided a tweaking utility named ASRock Tweak 2.0. We did not use that as we have been using MSI Afterburner for that. For overclocking, you need to set the power slider, core clock slider, and memory slider to their maximum.
The maximum voltage on this graphics card is 1.20V. Now comes the challenging or cumbersome part. Start reducing voltage and checking for stability till you start to get crashes, freezing, restarts, or artifacts.
This is easier to say than do and takes more time. I was settled at 1.040V. Though it could go to 1.015V at that voltage, the synthetic benchmark would run completely and successfully, but games were crashing; hence it was not stable. We managed to push to 3019MHz.
Should You Buy It?
Our extensive testing of the ASRock RX 7600 Phantom Gaming has given us a great idea about the card's positives and negatives. Here are a few points to keep in mind when considering this card.
Buy It If:
You want to game at 1080p: Throughout our tests, the ASRock RX 7600 Phantom Gaming performed well at 1080p.
You mainly play competitive shooters: In my experience, the ASRock Radeon RX 7600 Phantom Gaming proved to be more than capable of providing a high refresh rate experience in competitive games.
You want a value-oriented card: Anyone looking for a value-oriented option is bound to be satisfied with the ASRock RX 7600 Phantom Gaming's decent gaming performance.
You prefer an energy-efficient GPU: In our tests, we were impressed by the card's lower power consumption.
Don't Buy It If:
You prefer to game at higher resolutions: The ASRock RX 7600 Phantom Gaming lacks the GPU horsepower to game at higher resolutions.
You want a future-proof card: Unfortunately, the ASRock RX 7600 Phantom Gaming's limited capabilities stop it from being a future-proof card.
You want to play ray-traced titles: The ASRock RX 7600 Phantom Gaming falls short when it comes to ray-tracing capabiltiies.
You expect full PCIe x16 performance: The RX 7600's PCIe x8 interface may fall short for users who demand the full x16 bandwidth.
Conclusion
ASRock surprised me with this GPU. It's a 2.4 slot design, 305mm long, with triple 90mm fans and robust cooling. Stylish with digital RGB lighting and Polychrome Sync control. Under the hood, it's powered by Navi 33 on a 6nm node, with 8GB GDDR6 VRAM. The PCIe Gen4 x8 is a bit of a letdown, though.
I couldn't find an RTX 3070 or 3060 for comparison, so the RX 7600 ends up at the bottom of the charts. But don't be fooled; it's a solid performer, especially at 1080p. We ran tests at 1080p and 1440p, and the RX 7600 averaged 118 FPS in 1080p and 82 FPS in 1440p – impressive, in my book.
Notably, we didn't even use AMD's FidelityFX Super Resolution (FSR), which can give you a free performance boost in supported games without extra hardware costs. When we did test it with the Balanced preset, the performance improvement was quite noticeable. And it's all thanks to driver enhancements, making it a free bonus.
| | | |
| --- | --- | --- |
| | 100+ FPS | 60+ FPS |
| 1080P Gaming | 7 | 6 |
| 1440P Gaming | 3* | 8* |
*There were 2 titles where numbers were below 60 FPS.
The above table sums it up pretty well. On 1080P, the RX 7600 has a solid performance, and on 1440P gaming, it was performing 60+ in 8 games and 100+ in 3 games. All this on an IPS panel with a 165Hz refresh rate, which was active. We are impressed by this graphics card, which is why we called it a little monster that can handle on its own.
Under full 1440p gaming load at 30ᵒC ambient temperature, the card hit 57ᵒC while drawing 277W. Overclocking boosted the clocks to 3019MHz, resulting in a 3 FPS improvement in Shadow of the Tomb Raider at 1080P Highest preset and a 9% performance gain in 3DMARK Time Spy Extreme. With overclocking, the temperature rose to 62ᵒC.
The ASRock Radeon RX 7600 Phantom Gaming 8GB OC is listed at a great price of USD 269.99 on NewEgg. It's a full-fledged graphics card with everything you'd expect from a high-end one, except for dual BIOS. ASRock has gone all out, delivering impressive performance for 1080P high-refresh-rate gaming and decent 1440P gaming, with low temperatures and reasonable noise levels (though there's some coil whine). Plus, it comes with a 3-year warranty.
Awards Received By ASRock RX 7600 Phantom Gaming
The ASRock RX 7600 Phantom Gaming has won the following awards:
Recent Updates
---
September 4, 2023: Few text changes to improve readability. No products were changed.
---
Was our article helpful? 👨‍💻
Thank you! Please share your positive feedback. 🔋
How could we improve this post? Please Help us. 😔
[Hardware Reviewer & Editor]
Meet Nauman Siddique, a highly experienced computer science graduate with more than 15 years of knowledge in technology. Nauman is an expert in the field known for his deep understanding of computer hardware.
As a tech tester, insightful reviewer, and skilled hardware editor, Nauman carefully breaks down important parts like motherboards, graphics cards, processors, PC cases, CPU coolers, and more.
15+ years of PC Building Experience
10+ years of first-hand knowledge of technology
7+ years of doing in-depth testing of PC Hardware
A motivated individual with a keen interest in tech testing from multiple angles.
I majored in Computer Science with a Masters in Marketing
Previously worked at eXputer, EnosTech, and Appuals.