Intel's 12th Generation Lineup of CPUs codenamed the Alder Lake processors initially dented AMD's AM4 Platform and its supplementary Series of Ryzen 5000 CPUs in terms of market share, sales figures, and overall popularity. However, AMD bit back with an aggressively discounted pricing strategy, which oversaw the Ryzen-equivalents of Alder Lake CPUs drop up to $250 in price, in addition to complementary AM4 components witnessing a vertiginous decline in terms of price points, with regards to compatible motherboards, CPU Coolers, and RAM Kits (since all AMD Processors up to Ryzen Series 5000/Zen 3) solely rely on the now-ageing DDR4 Memory Standard.
Nevertheless, Intel's 13th Generation Raptor Lake Processors have been heavily rumoured and hyped to offer much better performance-per-watt ratios, and AMD's expensive AM5 pricing (in terms of components including, but not limited to CPUs, Motherboards, CPU Coolers, and DDR5 RAM, to name a few) will only exist to serve Intel's hotly-awaited processors in their best interests.
Notwithstanding, AMD is yet to exhibit the best of the Ryzen 7000 Series CPU Lineup regarding their 3D V-Cache Processors. At the time of writing, only the Ryzen 7 5800X3D utilizes the innovative L3 Cache stacking technology to market itself as the Best Gaming Processor in 2022, despite the newer AM5-based Ryzen CPUs, from an overall aspect (judged on the basis of present affordability and Platform Compatibility with older and cheaper AM4 components).
Consequently, two CPUs, namely the Ryzen 7 7800X3D and the Ryzen 9 7950X3D, are primed for an early launch next year (in the first quarter) in an attempt to trade blows with Intel's upcoming Raptor Lake Processors, striving to cement the Ryzen 7000 'X3D' Series as the Best CPU Lineup for Competitive Gaming.
That said, let's make do with what we have on our hands at the moment, which would be the Ryzen 9 7950X, currently championing the AM5 CPU hierarchy, with AMD's X670E Chipset acting as the best of the best in the motherboard department.
Best X670E Motherboards
Motherboard
ASUS ROG Crosshair X670E HERO
GIGABYTE X670E AORUS Master
ASUS ROG STRIX X670E-I GAMING WiFi
ASUS PRIME X670E-PRO WiFi
Looks
Memory Slots
4x DIMM, 128GB, DDR5-6400
4x DIMM, 128GB, DDR5-6600
4x DIMM, 128GB, DDR5-6666+
2x DIMM, 64GB, DDR5-6400+
4x DIMM, 128GB, DDR5-6666+
4x DIMM, 128GB, DDR5-6400+
USB Ports
12x Rear USB, 11x Front USB
12x Rear USB, 9x Front USB
9x Rear USB, 10x Front USB
10x Rear USB, 3x Front USB
10x Rear USB, 9x Front USB
10x Rear USB, 9x Front USB
Network
1 x Intel® 2.5Gb Ethernet, Wi-Fi 6E
1x Intel® 2.5GbE LAN chip, Intel® Wi-Fi 6E AX210
1x Marvell® AQC113-B1-C 10Gbps LAN, 1x Intel® I225V 2.5Gbps LAN, AMD WiFi 6E
1x Intel® 2.5Gb Ethernet, WiFi 6E
1x Realtek® RTL8125BG 2.5Gbps LAN, AMD WiFi 6E
1 x Realtek 2.5Gb Ethernet, Wi-Fi 6E
Motherboard
ASUS ROG Crosshair X670E HERO
Looks
Memory Slots
4x DIMM, 128GB, DDR5-6400
USB Ports
12x Rear USB, 11x Front USB
Network
1 x Intel® 2.5Gb Ethernet, Wi-Fi 6E
Motherboard
GIGABYTE X670E AORUS Master
Looks
Memory Slots
4x DIMM, 128GB, DDR5-6600
USB Ports
12x Rear USB, 9x Front USB
Network
1x Intel® 2.5GbE LAN chip, Intel® Wi-Fi 6E AX210
Looks
Memory Slots
4x DIMM, 128GB, DDR5-6666+
USB Ports
9x Rear USB, 10x Front USB
Network
1x Marvell® AQC113-B1-C 10Gbps LAN, 1x Intel® I225V 2.5Gbps LAN, AMD WiFi 6E
Motherboard
ASUS ROG STRIX X670E-I GAMING WiFi
Looks
Memory Slots
2x DIMM, 64GB, DDR5-6400+
USB Ports
10x Rear USB, 3x Front USB
Network
1x Intel® 2.5Gb Ethernet, WiFi 6E
Looks
Memory Slots
4x DIMM, 128GB, DDR5-6666+
USB Ports
10x Rear USB, 9x Front USB
Network
1x Realtek® RTL8125BG 2.5Gbps LAN, AMD WiFi 6E
Motherboard
ASUS PRIME X670E-PRO WiFi
Looks
Memory Slots
4x DIMM, 128GB, DDR5-6400+
USB Ports
10x Rear USB, 9x Front USB
Network
1 x Realtek 2.5Gb Ethernet, Wi-Fi 6E
Last update on 2023-03-31
Without any further ado, let's head on towards our exclusive selection of the Best X670E Motherboards in 2023, with our desired pick highlighted in accordance with every possible mainstream/prosumer need/category, which also happens to serve a dual-purpose as the Best AM5 Motherboards for Overclocking, Gaming, Value, Aesthetics, Mini-ITX (Small Form Factor) use-case scenarios, and of course, the Best Overall and High-End X670E Motherboards we had the pleasure of researching and proprietarily certifying. Above, we have added a comparison table, and below you can find in-depth review of each X670E Motherboard.
ASUS ROG Crosshair X670E HERO
Best Overall X670E Motherboard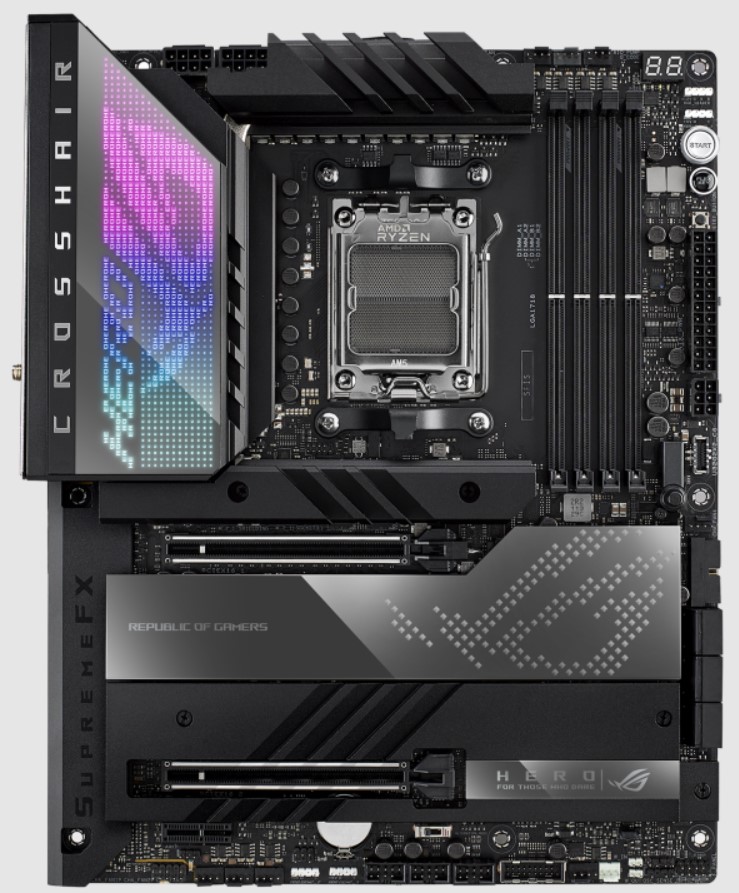 Specifications: Chipset: AMD X670 | Memory: 4x DIMM, 128GB, DDR5-6400 | USB Ports: 12x Rear USB, 11x Front USB | Network: 1 x Intel® 2.5Gb Ethernet, Wi-Fi 6E | Storage: 5x M.2, 6x SATA
Pros
Robust 18+2 VRM design.

3x M.2 heatsinks to keep them cool.
ASUS is one of the biggest giants in the tech industry and a go-to brand for anybody looking to get their hands on high-end gaming equipment. They have cornered a substantial chunk of the industry and repeatedly shown their mettle with various aggressive and cutting-edge products. The ASUS ROG Crosshair X670E HERO is a perfect example of ASUS' capabilities, and that's why we have considered it a contender for the Best X670E Motherboard.
The ROG Crosshair X670E packs a rich VRM design to meet the grueling demands of the latest Ryzen processors. It features a teamed 18+2 110A- stage power solution, giving it massive headroom, which paves the way for extraordinary overclocking potential. The power stages have low RDSON to lower switching and conduction losses, improving total thermal headroom. The strong VRM requires good cooling, for which an integrated heat pipe connects a VRM heatsink on the MOSFETs and chokes to the aluminum I/O cover and offers an increased surface area for heat dissipation. Between the power stages and the heatsink, a premium thermal pad is used to enhance heat transmission and lower VRM operating temperatures. ASUS is also kind enough to offer a spare thermal pad in the product packaging for future maintenance and repair.
The ROG Crosshair uses high-quality components to ensure its longevity and resistance against voltage fluctuations. 8+8 pins ProCool II power connectors ensure a steady connection with the EPS 12V power lines. Each power stage is accompanied by micro-fine alloy core chokes rated to withstand currents of 45A. On top of that, ten thousand metallic capacitors capable of withstanding high temperatures provide input and output filtering.
The ROG Crosshair X670E HERO offers impressive RAM compatibility, with support for up to 128 GB of ultra-fast DDR5 memory modules having a maximum frequency of 6400+(O.C). The ROG Crosshair X670E allows you to take even your entry-level memory modules to their absolute limit, thanks to the ASUS Enhanced Memory Profile (AEMP), which can automatically detect your memory chip and present you with optimized frequencies and voltage profiles that you can apply effortlessly.
The ROG Crosshair X670E HERO includes 4x M.2 slots, two of which are PCIe 5.0, offering 16 GB/s transfer speeds, while the other two M.2 slots are PCIe 4.0 and deliver transfer speeds of 8 GB/s. The M.2 drives are cooled by three dedicated heatsinks that keep them at an optimum temperature not to compromise their performance. ASUS also offers a PCIe 5.0 M.2 card for housing an additional PCIe 5.0 M.2 SSD. Moreover, X670E HERO has two x16 expansion slots, each PCIe 5.0 ready and capable of delivering incredible speeds of up to 64 GB/s. The safeslot retention brackets support the weight of bulky graphic cards and protect them from snapping.
Regarding connectivity, ROG Crosshair X670E HERO features 2x USB 3.2 Gen 2×2 Type-C ports up to 20 Gbps. With Quick Charge 4+ technology, these ports can charge any device with up to 60W. It also has 2x USB 4 Type-C ports that deliver speeds of up to 40 Gbps; you can use one for connecting external displays of up to 8K resolution. The Crosshair X670E HERO has 12x USB ports on the rear panel and 11x on the front panel.
The ROG Crosshair X670E HERO sports Wifi 6E and Intel 2.5 Gbps Ethernet for lightning-fast networking. When it comes to audio, you wouldn't be disappointed at all; ROG SupremeFX audio technology delivers an exceptional audio experience with the SupremeFX ALC4082 codec. Virtual surround is supported by Sonic Studio for headsets, creating an immersive auditory environment. The ROG Crosshair X670E Hero also surrounds you in high-quality audio using the pre-installed DTS Sound Unbound app.
What We Liked
The ASUS ROG Crosshair X670E HERO is one hell of a motherboard that aims to wow us with its beauty and performance. It's a crazy package that includes one of the greatest VRM designs with 18+2 power stages and outstanding cooling features. It is one of the top-level recommended X670E Motherboard thanks to its 4x M.2 slots combined with an additional PCIe 5.0 expansion card right out of the box, DDR5 memory operating at a frequency of 6400+ MHz, the latest USB 4 port and newest PCIe Gen 5 x16 interface.
What We Disliked
Feature-wise there's nothing to complain about ROG Crosshair X670E HERO, with everything built to perfection to cater to the needs of the majority of the audience, but all of that comes at a hefty price tag. At around 700$, the Crosshair X670E will dent your wallet.
Verdict
The ASUS ROG Crosshair X670E HERO is undoubtedly the Best Overall X670E Motherboard since it packs impressive specifications to back it up. Any performance lover who needs a high-end motherboard at a reasonable price with stock support for memory overclocking can pick the ROG Crosshair X670E HERO without a second thought.
GIGABYTE X670E AORUS Master
Best High-End X670E Motherboard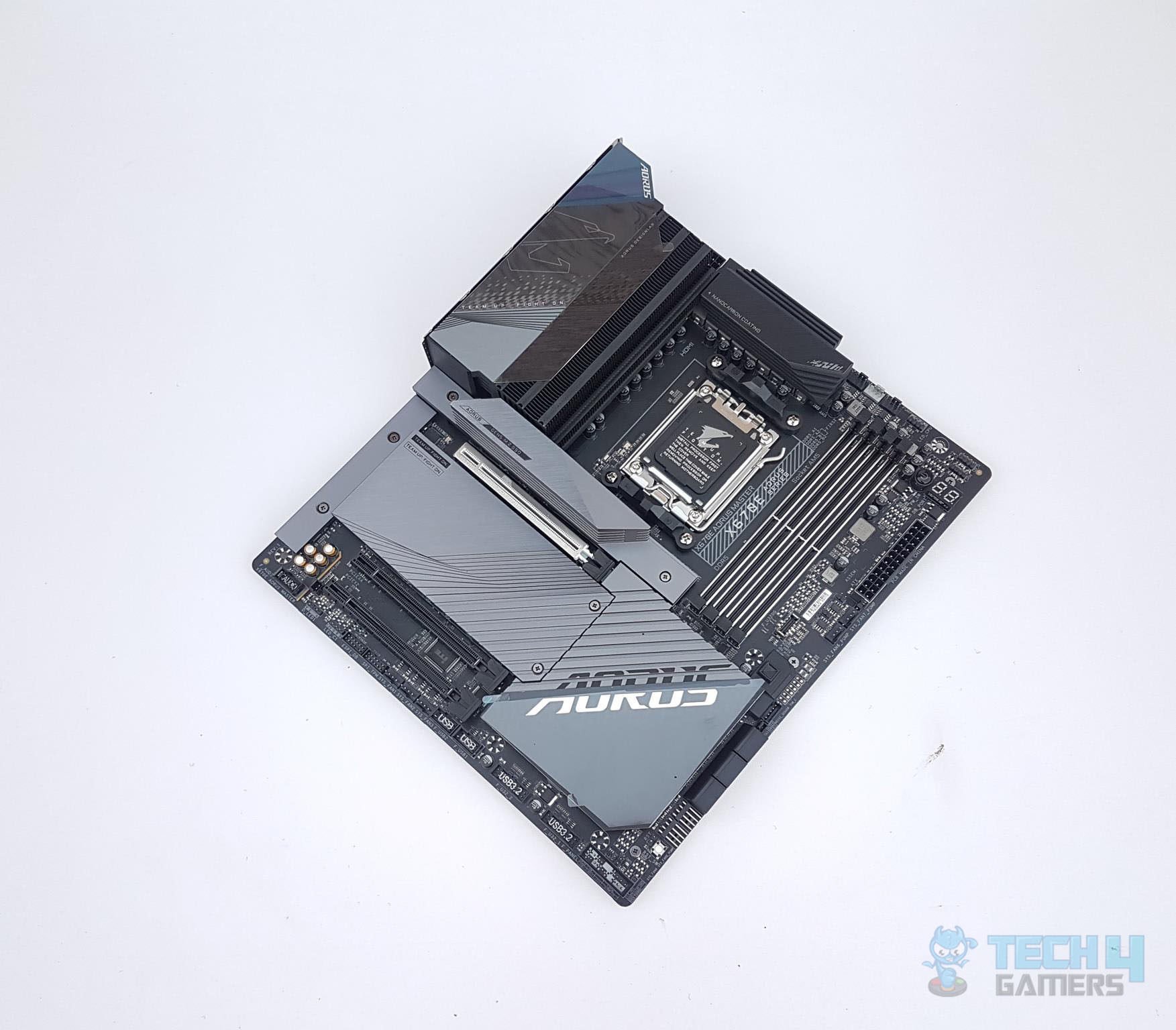 Specifications: Chipset: AMD X670 | Memory: 4x DIMM, 128GB, DDR5-6600 | USB Ports: 12x Rear USB, 9x Front USB | Network: 1x Intel® 2.5GbE LAN chip, Intel® Wi-Fi 6E AX210 | Storage: 4x M.2, 6x SATA
Pros
16+2+2 Digital VRM design.

M.2 Thermal Guard II and Nanocarbon VRM heatsink for cooling.

Up to 6600 MHz RAM support.

Good overclocking range.
Since GIGABYTE has long dominated the PC business, no PC maker is unfamiliar with the brand. Their commitment to producing top-notch goods for consumers worldwide has marked their place in the hearts of their customers. Top-of-the-line laptops, desktops, graphics cards, and motherboards are some of GIGABYTE's best-known products. Staying true to their name, GIGABYTE has once again amazed us with the GIGABYTE X670E AORUS Master, which strives to be the a decent X670E Motherboard.
GIGABYTE 670E AORUS Master features one of the best VRM designs ever built; it has a twin 16+2+2 Digital VRM Design with 105A Smart Power Stages on an 8-layer 2x copper PCB. 16 VCore Phases exploit the full potential of multi-core CPU performance, whereas 2 SOC phases are for CPU-integrated GPU performance and memory control, and the final 2 MISC lanes are there for a stable power supply to the CPU-featured PCIe lanes. VRM modules heat up more in extreme performance conditions as CPU power increases; the VRM heatsink is covered with nanocarbon to improve thermal radiation and hasten heat dissipation to counter this heat issue.
The GIGABYTE X670E AORUS Master offers extensive ultra-fast storage options; it has 4x M.2 slots, of which two are PCIe 5.0 x4 slots, whereas the other two support PCIe 4.0. Moreover, the PCIe 5.0 M.2 connectors are reinforced with metal shielding, enhancing their strength and durability. Aside from M.2 slots, you can also expand your storage with 6x SATA connectors. The X670E AORUS Master also boasts a PCIe 5.0 x16 slot (PCIEX16) for the latest and fastest GPUs; if you need to install only one GPU, make sure to install it in this slot. Otherwise, 1x PCIe 4.0 x16 (PCIEX4) and 1x PCIe 3.0 x16 (PCIEX2) slots are also available; however, the PCIEX2 slot and SATA 4 and SATA 5 connectors share the same bandwidth, so if you install a device in the PCIEX2 slot, it will render the SATA 4, and SATA 5 connectors unusable.
To keep the M.2 drives operating at maximum performance, the X670E AORUS Master enforces M.2 Thermal Guard III to minimize throttling and bottlenecking of high-speed PCIe 5.0 M.2 SSDs, especially under a severe workload.
X670E AORUS Master can accommodate four DDR5 memory modules of up to 128GB with a maximum of 6600 MHz frequency. Furthermore, AORUS offers a platform for memory overclocking up to 6600 MHz; all you need to do is make sure the memory modules you purchase are AMD EXPO/ Intel XMP capable.
The GIGABYTE X670E AORUS Master offers the latest networking solution with WiFi 6E 802.11ax for wireless networking and 2.5G LAN that offers up to 2.5 GbE network connectivity providing smooth video streaming and a better gaming experience. AORUS Master also excels in USB connectivity; it has 12x USB ports on the pack and 9x USB ports through the internal headers.
Regarding audio enhancements, the X670E AORUS Master impresses us with its premium Realtek ALC1220 Codec. On top of that, it utilizes WIMA and Fine Gold capacitors to power the entire system. The DTS X Ultra offers a studio-quality experience and a realistic, spatially precise 3D audio environment for gaming on any headphones or speakers.
What We Liked
GIGABYTE did a fantastic job by including a PCIe 5.0 x16 slots on the X670E AORUS Master, so you may utilize the newest Graphics Cards as you like. Storage options are also great with 4x M.2 slots, of which two are the latest PCIe 5.0. For overclocking fanatics, the 16+2+2 power stages VRM architecture of the X670E AORUS Master is astounding and mind-blowing, but for most ordinary users, it could be overkill. But after thoroughly reviewing its specs, we can surely credit it as the Performance X670E Motherboard you can get your hands on.
What We Disliked
The strong VRM design may be too much, which means that it is more than sufficient for only Memory OC and is undoubtedly overkill for most individuals who may not need it. You might argue that this motherboard is intended for users who want the best possible overclocking potential. Also, it comes with a hefty price tag of around 500$, so be prepared to loosen your pocket strings.
Verdict
The GIGABYTE X670E AORUS Master is one of the few X670E motherboards to feature such massive VRM designs, which makes it a dream come true for enthusiastic overclockers. For this reason, we can easily crown the X670E AORUS Master with the Best High-End X670E Motherboard. Our in-depth review of GIGABYTE X670E can be read here.
MSI MEG X670E GODLIKE
Best OverClocking X670E Motherboard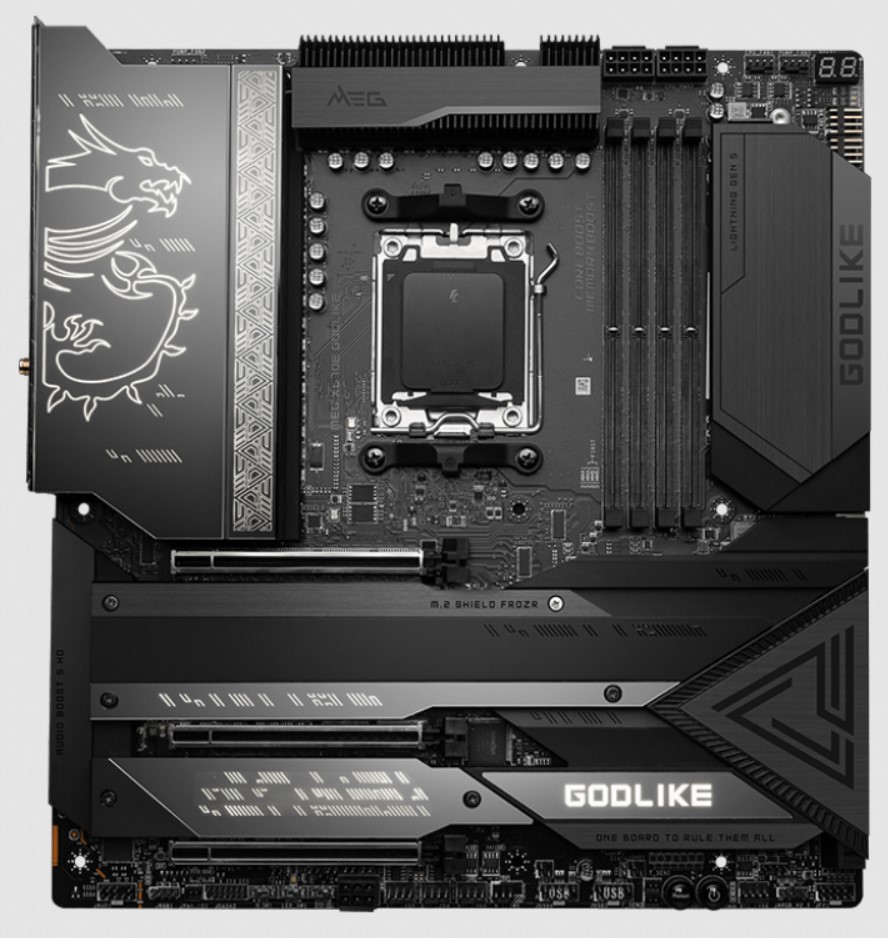 Specifications: Chipset: AMD X670 | Memory: 4x DIMM, 128GB, DDR5-6666+ | USB Ports: 9x Rear USB, 10x Front USB | Network: 1x Marvell® AQC113-B1-C 10Gbps LAN, 1x Intel® I225V 2.5Gbps LAN, AMD WiFi 6E | Storage: 6x M.2, 8x SATA
Pros
Top-of-the-line 24+2+1 Digital VRM design.

6x M.2 connectors, with 6x PCIe 5.0 compatible.

M.2 Shield Frozr and a bunch of heatsinks ensure effective cooling.

10Gbps Super LAN.
Cons
Only for enthusiastic overclockers.

Too heavy on the budget.
For a very long time, MSI has consistently astounded its audience with its incredible innovative products. MSI is an all-in-one place where you can get everything you need for your dream build. But let's start with MSI MEG X670E GODLIKE, which has everything it takes to be included in this X670E Motherboard. The MEG X670E GODLIKE comprises a massive, black heatsink that boasts a dark mirror and time-carving design in pale gold lighting.
With the newest DDR5 memory, take a huge leap towards improving memory performance.; the MEG X670E GODLIKE lets you put together 4x DDR5 memory modules of up to 128 GB with a maximum frequency of 6600+ MHz. The MEG X670E GODLIKE is prepared to provide top-tier memory performance thanks to the unique SMT welding process and MSI memory boost technology.
The MEG X670E GODLIKE supports the newest and fastest PCI-e 5.0 solution that can reach 128GB/s of transfer bandwidth of an x16 interface for the latest and greatest graphics cards about to come to the market. On top of that, you can now experience next-generation gadgets without any compromises thanks to the Steel Armor design and server-grade PCB.
The MEG X670E GODLIKE features 4x M.2 connectors to offer the PCIe 5.0-ready maximum storage performance. On top of that, the exclusive PCIe card, M.2 XPANDER-Z Gen5 Dual, allows you to install two extra PCIe 5.0 M.2 drives which are cooled with MSI's smart fan cooling solution to give you the best possible storage performance. With a total of 6x M.2 connectors, you get a lot of storage options with extreme transfer speeds; what else can you ask for? On top of that, the smart fan function also features an auto-detect function to access and maintain M.2 temperatures.
Moreover, M.2 SSDs are protected on both sides by the M.2 Shield Frozr, making them lightning-fast by preventing thermal throttling. The screwless M.2 unique design offers the simplest method for M.2 installation by allowing you to put your M.2 and Shield Frozr without the headache of screws.
The heat dissipation module is one of the key components in keeping GODLIKE effective and cool. With the aluminum cover, wavy fin design, 7W/mK thermal pad, MOSFET baseplate, and direct-touch cross-heat pipe, the thermal solution of MEG X670E GODLIKE is impenetrable.
The MSI MEG X670E GODLIKE incorporates an exceptional 24+2+1 Digital VRM design with 105A Smart Power Stages on a superior layout and an advanced PCB design, with dual 8-pin power connectors to ensure a steady supply of power to the entire motherboard.
In X670E GODLIKE, a Marvell AQC113-B1-C 10Gbps Super LAN and Intel I225V 2.5Gbps LAN offer top-of-the-line wired connectivity; whereas AMD WiFi 6E comes in hand for wireless networking to deliver the best online experience. The onboard audio system gets powered by Realtek ALC4082 Codec and ESS ES9280AQ Combo DAC/HPA. The MEG X670E GODLIKE also offers many connectivity options; including the USB 3.2 Gen 2×2 (20 Gbps) Type-C ports; you get a total of 9x USB ports on the rear panel, while 10x USB ports on the front.
MSI also includes M.2-Vision Dashboard with the packaging; this 4.5-inch full-color, touch-sensitive IPS LCD screen not only shows the state of your gaming setup by combining a hardware monitor and debug function but also enables touch control for system management and customization.
What We Liked
Everything about MSI MEG X670E GODLIKE pulls us towards it, from 6x M.2 slots to a rocking 24+2+1 VRM design, PCIe 5.0 x16 slot for the latest GPUs, 10 Gbps Super LAN, and a bunch of cooling features, all working in harmony.
What We Disliked
The MSI MEG X670E is probably the only motherboard which such a gigantic VRM design that would seem heaven for avid overclockers. But, for most people, it'll just be overkill, as all that overclocking potential will go to waste with them. With a price tag of about $1300, this is probably the most expensive X670E motherboard.
Verdict
If you are an extreme overclocker looking for the Best Overclocking X670E Motherboard, then you have come to the right place; this beast of the motherboard is just the right thing for enthusiastic overclockers like you.
ASUS ROG STRIX X670E-I GAMING WiFi
Best Mini-ITX X670E Motherboard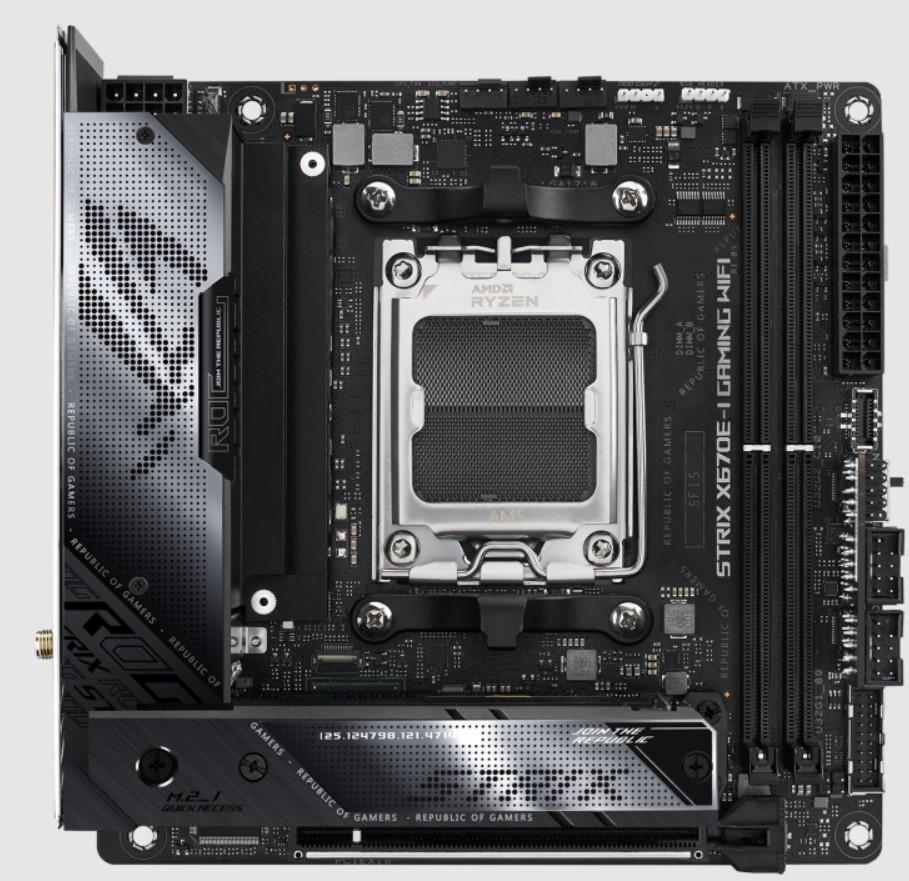 Specifications: Chipset: AMD X670 | Memory: 2x DIMM, 64GB, DDR5-6400+ | USB Ports: 10x Rear USB, 3x Front USB | Network: 1x Intel® 2.5Gb Ethernet, WiFi 6E | Storage: 2x M.2, 2x SATA
Pros
Decent 10+2 phases Digi+ VRM design.

Included ROG FPS-II card.

Included ROG Strix Hive.

10-layer PCB.
ASUS appears to go all out despite Mini-ITX setups being tiny, and it is difficult to attain top performance in such a small package. The ASUS ROG Strix X670E-I Gaming WiFi Mini-ITX motherboard makes every effort to minimize the size while delivering the best possible performance, which is it deserves a spot on the throne of X670E Motherboard List.
The revolutionary design features of the ROG STRIX X670E-I guarantee that you get the performance and functionality you need even while working inside the restricted space of a Mini-ITX chassis. The I/O shield and M.2 heatsink design, together with the ROG STRIX logo, give the board a glossy appearance while having an overall matte black surface with hints of silver at some parts.
The I/O shield is pre-mounted on the ROG STRIX X670E-I for easier installation and a cleaner fit around the rear ports. Additionally, it has a PCIe 5.0 x16 port ready for any modern graphics card and two M.2 slots, one for PCIe 5.0 and the other for PCIe 4.0. The same heatsink cools the chipset and PCIe 5.0 M.2 slot. A ten-layer PCB design efficiently dissipates heat around the voltage regulators to increase overall system stability.
ROG STRIX X670E-I has a decent VRM design for a Mini-ITX motherboard; 10+2 power stages team up to carry the latest Ryzen 7000 processors through any workload. Though a VRM like this should be pretty decent for normal tasks, it doesn't provide much headroom for overclocking. On top of that, high-end chokes and durable capacitors come in handy to withstand high temperatures and deliver top-notch performance. A thermal pad directs heat away from the capacitors while the big backplate stabilizes the VRM temperatures.
For reliable power delivery, ROG STRIX X670E-I utilizes ProCool II power connectors to ensure direct contact with PSU power lines. Moreover, with real-time control over voltage drop, switching frequency, and power-efficiency settings, the Digi+ VRM enables you to fine-tune CPU voltage regulation for the highest performance and stability.
The ROG Strix X670E-I might seem outrageously little for what it delivers; two DDR5 DIMM slots are available, each holding up to 64GB of RAM modules with a maximum frequency of 6400+ MHz. In addition, the ROG STRIX X670E-small I's ROG FPS-II card provides rapid access to headers for clearing the CMOS and enabling CPU overvoltage, two SATA ports, and a PCIe mode switch for older expansion cards.
But the main highlight of ROG Strix X670E-I and what sets it apart from other Mini-ITX motherboards is the all-new ROG Strix Hive. The ROG Strix Hive is an external control interface that expertly handles problems that PC builders usually encounter while installing a compact Mini-ITX PC. It also goes a step further by giving you access to several motherboard gaming features that mini-ITX motherboards struggle to incorporate because of their small size.
The ROG Strix Hive makes it possible to fine-tune PBO profiles and do OS-based overclocking without entering the BIOS. It also has an optical S/PDIF that you can regulate with a volume slider, a 3.5mm headphone and microphone jack, an ESS Sabre 9260Q DAC, and the ALC4050 codec. It also offers an additional USB 3.2 Gen 2 Type-C port and a quick-problem Q-LED diagnostic.
What We Liked
It is good to see the ASUS ROG STRIX X670E-I motherboard featuring a PCIe 5.0 x16 socket for modern GPUs and can deliver DDR5 memory at 6400+ MHz frequency. To provide a robust power interface and provide some opportunity for RAM overclocking in such a compact footprint, ASUS has tried to enforce a decent VRM design. The ROG STRIX X670E-I uses an 8-layer PCB and big VRM Heatsinks to absorb more heat from the board and keep it at the right temperature.
What We Disliked
Like every other product on this listing, the ASUS ROG STRIX X670E-I has its shortcomings. Due to its small size, the board only has 2 DIMM slots, which is not that big of a deal; it also supports only 2 SATA and M.2 ports, which might be problematic for those looking for vast storage options. Also, the VRM design of this motherboard, although pretty decent, still isn't much to push this motherboard too much, so we wouldn't recommend overclocking on it; just keep an eye on temps if you do it.
Verdict
The ASUS ROG STRIX X670E-I motherboard offers excellent performance in a small form factor. With decent VRM design, PCIe 5.0 compatibility, and DDR5 running at a scorching 6400+MHz, it is one of the finest boards in the Mini-ITX league and forces us to name it the Best Mini-ITX X670E Motherboard.
MSI MPG X670E Carbon
Best Value X670E Motherboard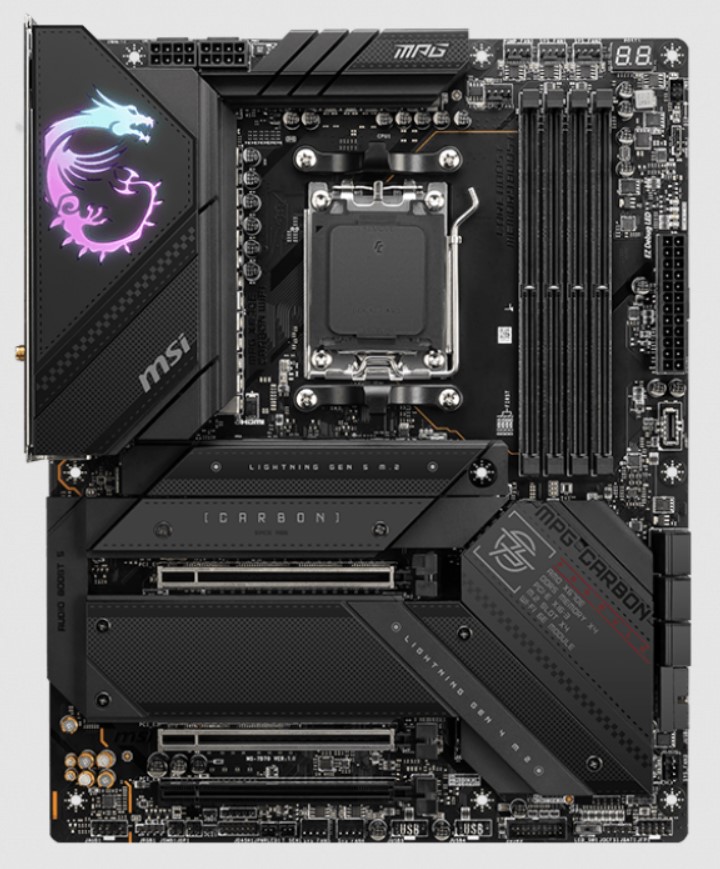 Specifications: Chipset: AMD X670 | Memory: 4x DIMM, 128GB, DDR5-6666+ | USB Ports: 10x Rear USB, 9x Front USB | Network: 1x Realtek® RTL8125BG 2.5Gbps LAN, AMD WiFi 6E | Storage: 4x M.2, 6x SATA
Pros
M.2 Shield Frozr and extended heatsink offers efficient cooling.

18+2+1 Duet Rail Power System.

Value for money.

Upto 6666+ supported RAM frequency.
Cons
It could use a 10GB ethernet port.
MSI is one of the few companies you can easily feature in a competitive listing more than once. They have been manufacturing outstanding motherboards for a long time, and recently their upcoming MSI MPG X670E Carbon checks all the right things to be included here.
The MSI MPG X670E CARBON employs an RGB lighting setup and carbon black color scheme to showcase magnificent aesthetics, combining performance with a unique touch of style.
The MSI MPG X670E Carbon allows you to install up to 4 high-speed SSDs, thanks to the 4x onboard M.2 slots; 2x of which support the latest and fastest PCIe 5.0 for ultimate transfer speeds while the other two support PCIe 4.0. On top of that, you also get 6x SATA connectors for much more storage capacity. Moreover, the user-friendly design of the MPG X670E Carbon allows you to install M.2 drives and Shield Frozr without the use of any screws, making the installation process a lot more convenient.
Proper cooling solutions for M.2 drives are now more important than ever due to the increasing power needs of the PCIe gen 5.0 SSDs. M.2 Shield Frozr and the expanded heatsink design make M.2 SSDs quicker while preserving their integrity and avoiding thermal throttling. The larger heatsink design maintains great heat dissipation while reducing dust and noise.
With MSI MPG X670E Carbon, a superior VRM design built with a total of 18+2+1 Duet Rail Power System will enable you to unleash and maintain the highest performance. Its top-of-the-line VRM design, combined with dual power connectors, makes sure it gets a steady power supply all the time. A strong VRM design requires a good cooling solution to keep the temperatures under control even when overclocked. The extended heatsink offers a larger surface area for heat dissipation; a direct touch heat pipe connects the two MOS heatsinks for even more surface area; high-quality 7W/mK MOSFET thermals pads, and extra choke thermal pads, all make sure your high-end processor runs at its full potential. On top of that, the enhanced PCB design provides more bandwidth and quicker transfer rates, which helps in reliable circuit transmission.
MSI's premium network solution offers exceptional data transmission speeds for demanding users with Realtek RTL8125BG 2.5Gbps LAN and AMD Wi-Fi 6E for wireless and wired connections, respectively. You also get about 10x Rear USB ports, and 9x Front USB ports including USB 3.2 Gen2x2 Type C ports, giving you extensive USB connectivity. Furthermore, the high-performance ALC4080 audio processor combined with high-quality audio capacitors, isolated audio signal, and de-pop protection offers an immersive distortion-free audio experience that will drown you into the sound.
With MSI Game Boost, you can get the performance boost you need to gain more frames per second, which allows one-second overclocking. With just one click, you can control multiple hardware and set up different functions in the BIOS for Safe Boot, Reset Computer, Turbo Fan, and EZ LED control.
What We Liked
When talking about the Best X670E Motherboard, we expect a lot from it. The performance, connectivity, dependability, aesthetics, and cooling are perfect for everything about the MSI MPG X670E Carbon. When it debuts on the market, the MSI MPG X670E Carbon motherboard with a carbon mainframe will undoubtedly be one of the most sought-after motherboards.
What We Disliked
There is not much to complain about the MSI MPG X670E Carbon; the only thing we could point out is the unimpressive Ethernet connectivity. The package includes a rudimentary 2.5GB Ethernet support, which would have been much more appealing if MSI had provided a 10GB connection.
Verdict
The MSI MPG X670E Carbon is one of the most reliable X670E motherboards anticipated to enter the market because of its overall performance, build quality, design features, price-to-performance ratio, and great transfer speeds. Considering its features, we can easily recommend it as the Best Value X670E Motherboard.
ASUS PRIME X670E-PRO WiFi
Best White X670E Motherboard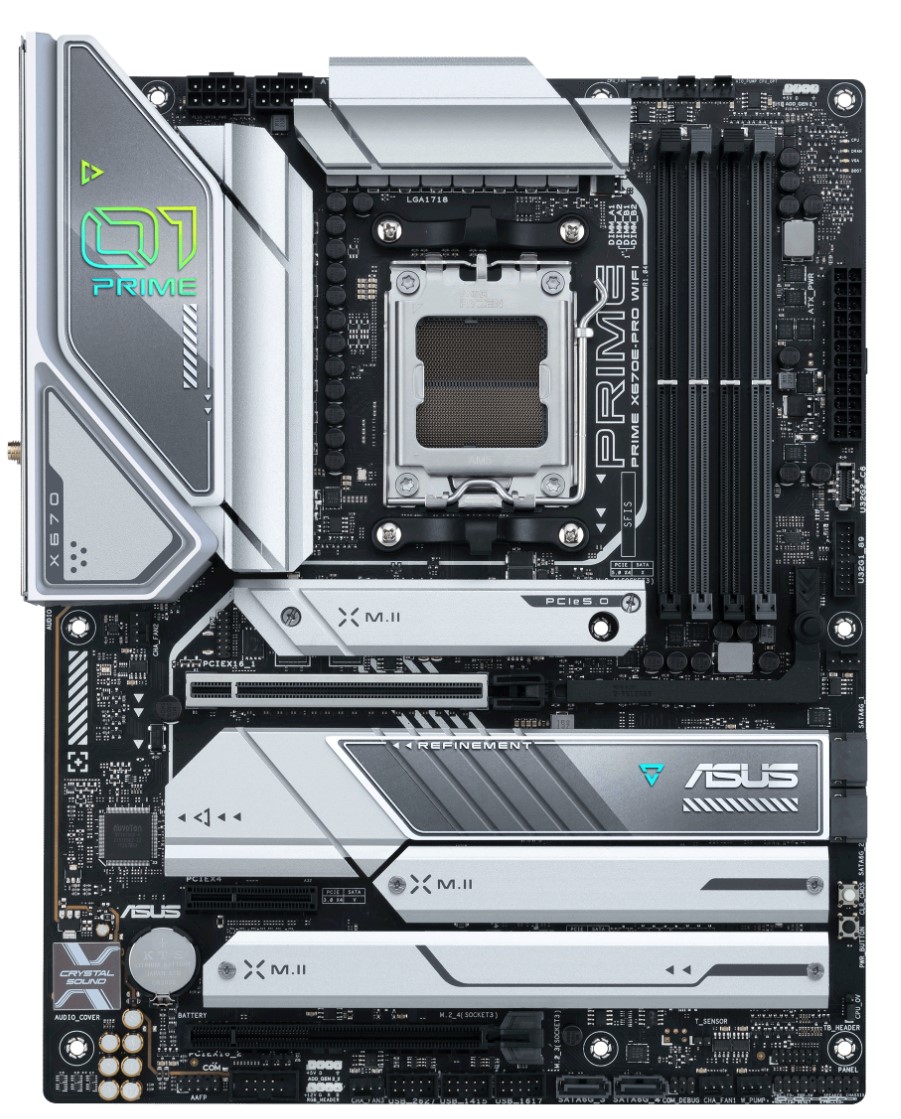 Specifications: Chipset: AMD X670 | Memory: 4x DIMM, 128GB, DDR5-6400+ | USB Ports: 10x Rear USB, 9x Front USB | Network: 1 x Realtek 2.5Gb Ethernet, Wi-Fi 6E | Storage: 4x M.2, 4x SATA
Pros
Great aesthetics.

Two VRM heatsinks.
Cons
Only one PCIe 5.0 M.2 slot.

VRM design could be better.
On par with MSI, ASUS surely knows a thing or two about motherboards; why else would they be featured the third time? The ASUS PRIME X670E-PRO WiFi is another one of their amazing motherboard, designed especially for our white lover audience, and after reviewing all of its specs, we can surely nominate it.
ASUS PRIME X670E is one of the most unique-looking motherboards out there. It's not complete white per se, but it displays a sleek futuristic-looking design, with a silver-toned chipset cover and nameplate, while the rest of the board encapsulates in black.
ASUS PRIME X670E-PRO Wifi offers a decent 14+2 VRM design with teamed power stages and combines the high and low-side MOSFETs into packages rated for 70A, delivering efficiency, power, performance, and stability required for the latest AMD's 7000 processors. In addition to that, 8+8 pin ProCool power connectors supply 12 volts of steady power directly to the processors. ASUS uses solid pins in each jack instead of hollow-pin connectors that enable them to handle more currents.
To ensure smooth functioning even under heavy loads, two VRM heatsinks, which are significantly larger than last-gen motherboards, combined with the thermal pads, improve the heat dissipation from chokes and MOSFETs, so they remain cool at all times. Moreover, the PRIME X670E-PRO WIFI motherboard also features an array of fan headers and multiple heatsinks that allow convenient cooling controls via Fan Xpert 4 software or the UEFI BIOS. Each header can dynamically refer to three thermal sensors. With the help of Fan Xpert 4, you may map the temperature of ASUS graphics cards that are compatible with improving cooling for CPU and GPU-demanding workloads.
The PRIME X670E-PRO WiFi can house up to four M.2 slots that support up to 22110 devices. But, only one of these M.2 slots supports the latest PCIe 5.0 configuration, whereas two have their basis on PCIe 4.0, and the last one on much older PCIe 3.0. The PCIe 5.0 M.2 slot offers data transfer speeds of up to 128 Gbps, speeding up file management and operating system boot-up. 3x M.2 heatsinks cover all four M.2 slots to keep these lightning-fast M.2 drives cool and breezy, severely reducing the chances of thermal throttling during prolonged high-speed file transfers.
The ASUS PRIME X670E-PRO also features a single PCIe 5.0 x16 slot for the latest GPUs; if you are only looking to install one dedicated graphic card, we recommend GPU installation in this slot as PCIe 5.0 offers twice the data transfer speeds as compared to PCIe 4.0. Aside from that, it also sports 1x PCIe 4.0 x16 slot and 1x PCIe 4.0 x4 slot.
The PRIME X670E-PRO gives you 4x DIMM slots, each capable of housing up to 6400+ MHz frequency DDR5 memory modules. ASUS PRIME motherboards are built on a foundation of extensive memory tweaking capabilities. Those who want to take their DDR5 memory speed to the next level will be happy to know that PRIME X670E also supports AMD Extended Profiles for Overclocking, also known as EXPO.
The ASUS PRIME X670E-PRO WiFi features 19x USB ports, including front and rear USB Type-C connections with superfast USB 3.2 Gen 2×2 for transfer speeds of up to 20 Gbps to handle high-end rigs stacked with accessories. On top of that, Realtek 2.5 Gb Ethernet lowers CPU overhead and provides quicker, more fluid data transfers; the onboard WiFi 6E technology uses the 6 GHz band for the fastest wireless networking. ASUS PRIME combines the S1220A audio codec, created in close collaboration with Realtek, with the DTS X Ultra for crystal-clear audio through speakers and headphones.
What We Liked
The luxury design and distinctive color palette of the ASUS PRIME X670E-PRO WiFi immediately caught our eye. The motherboard has a premium appearance thanks to the industrial design, the white color gradation, and the distinctive heat sink; the motherboard looks good and performs remarkably; this added up to make the ASUS PRIME X670E-PRO WiFi the Best X670E Motherboard.
What We Disliked
The PRIME X670E-PRO offers a lot of handy features, thanks to ASUS. On a mid-range motherboard, you would expect a few cost-cutting measures, but thankfully we couldn't find much on this board. Although we feel like the VRM design could have been better, and there is only one PCIe 5.0 M.2 slot in this category, this is not much of a deal breaker.
Verdict
Nobody can deny that the motherboard wins considerably when the price is considered together with its pros and cons. A decent VRM design, top-tier transfer speeds, PCIe M.2 slot, and all other minor details combined with its unique aesthetics make it the Best White X670E Motherboard.
DDR5 vs. DDR4: Does the former live up to its hype?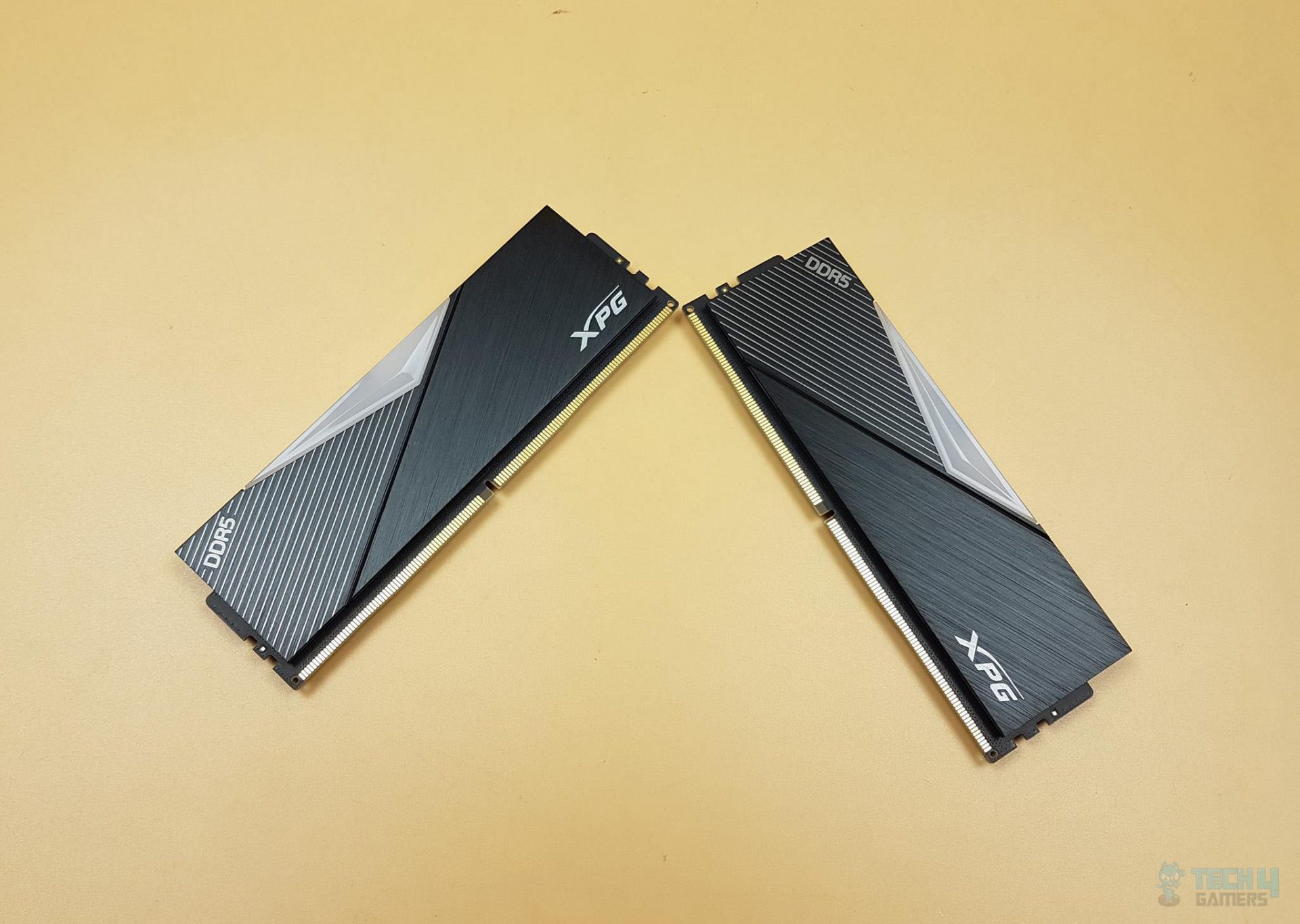 As far as the spec sheet is concerned, DDR5 downright horsewhips DDR4 Memory in terms of pure RAM frequencies, with even the slowest and cheapest DDR5 Memory Modules offering stock speeds of at least 4800-5600 MHz with overclocking potential all set to transcend the 8000 MHz barrier, in theory, as compared to DDR4 RAM Kits which range between 2400-4266 MHz as far as stock speeds are concerned, with maximal custom/manual overclocking stretching these frequencies to a capped threshold of 5500 MHz, at best. That said, the (approximately) 50% difference in RAM speeds doesn't automatically translate to improved PC Gaming performance in real-world scenarios.
The very ideology regarding DDR5 Memory at this point in time seems to induce a certain degree of boredom as soon as we begin to discuss CAS (Column Address Strobe) Latencies and RAM Timings. That's because DDR5, courtesy of its presence as a recently introduced and comparably new technological standard, completely fails to match, let alone outperform DDR4 RAM modules in terms of latencies and timings, with even the fastest and most expensive DDR5 Kit struggling intensely to fetch a CL (CAS Latency) number below 30. Relatively cheaper, entry-level/budget-oriented DDR5 RAM modules like the Samsung DDR5-4800 Kit struggle to achieve better RAM Timings than 36-36-36-76, even after considerable manual overclocking.
On the other hand, mainstream DDR4 RAM easily achieves CAS Latencies varying between a range of CL 14-18, with factory-default RAM Timings hovering around 14-14-14-34, equating to a 50-75% difference in these two variables when compared to generic DDR5 RAM Kits. As such, the vast advantage with respect to DDR5 frequencies is negated by the equally, if not worse, difference in RAM Latencies and Timings. Therefore, gamers can expect zero-to-slight improvement in real-world performance as far as gaming and overclocking scenarios are concerned and may even experience a performance dip relative to DDR4 RAM due to the latency issues spotlighted above when undertaking systematically taxing workflows.
Notwithstanding, it's not all over for DDR5 yet. DDR5 RAM modules boast lower power consumption (1.1V vs. 1.2V for DDR4), with all DDR5 RAM Kits sporting built-in, on-die ECC (Error Correction Code). This advanced feature used to be typically reserved for server-grade, buffered DDR4 RAM, where system stability was of the utmost importance. Furthermore, DDR5 brings higher density per module, with a theoretical maximum support of 256 GB, compared to 64 GB for DDR4. As a result, we can expect to see consumer-grade Intel and AMD CPUs support a maximum of 256 GB very soon (up from 128 GB at the time of writing), with a potential to enable support for a staggering theoretical maximum of 512 GB – 1 TB of DDR5 RAM.
Alas, DDR4 still lives on to see the daylight. DDR5's exorbitant price point proved to be the final nail in its coffin (for now). Enthusiasts can easily pick up 32 GB (16×2) of 3200 MHz CL16 DDR4 RAM for under $85, whereas you'd need to spend at least $120-170 to get your hands on the same quantity of DDR5 RAM with far worse RAM Timings and CAS Latencies.
With Intel primed to support good ol' DDR4 RAM for at least another 1 year, there's no logical reason to splurge on some fancy DDR5 RAM Kit which will yield your net performance gain null and void. The only exception to this statement is if you plan to upgrade to AMD's brand-new lineup of Ryzen 7000 Series CPUs (which, we're sure, is the reason you're currently pondering upon this article) and AM5 Motherboards, which only support DDR5.
All in all, retro-gamers will be able to relate these events to the DDR4 vs. DDR3 era, where the initial DDR4 offerings proved themselves to be a waste of money due to much higher latencies and stability issues, unlike the tried-and-tested DDR3 1600-2133 MHz kits with much lower CL figures and an equally lower price tag.
However, just like DDR4 in the yesteryears, DDR5 RAM will considerably improve in all aspects, with manufacturers vying with each other to reduce latencies as much as possible, promoting healthy competition, and ultimately, buying a DDR5-equipped system will be a no-brainer thanks to much higher gaming and productive performance, as well as low-cost prices due to voluminous production scales. However, that time is still a few years away. Still, DDR5 RAM Kits with sub-CL 30 figures are now starting to hit the marketplaces. Innovation has never been faster.
How We Picked
Choosing the Best X670E Motherboards is a time-consuming job not well-suited for the faint-hearted since you'll need to account for several factors. Nonetheless, you're the one who has to make the decision ultimately. Therefore, for your convenience, we've explained several vital elements to pay the utmost attention to whilst attempting to select the Best Overall X670E Motherboard that optimally aligns with your uniquely customized workflows.
How We Tested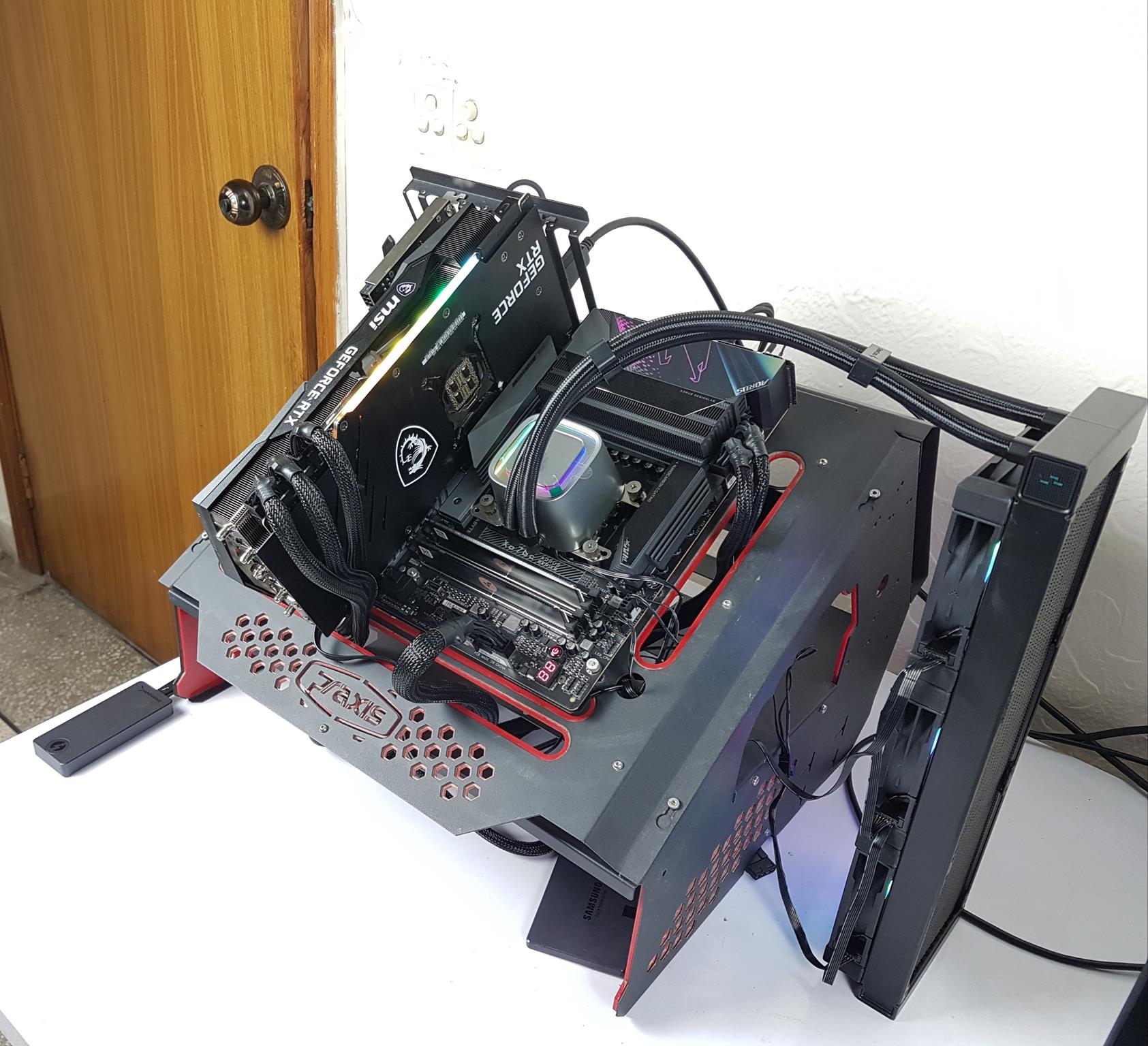 All of our unbiased selections for the Best X670E Motherboards in 2023 undergo extensive research here at Tech4Gamers, after which we take into consideration our proficient analytics, combined with in-house reviewing and testing (if viable). We also compare real-world performance benchmarks under idle, typical, and heavy gaming/overclocking workflows.
Not to forget, we crossmatch relative performance to deduce the Best X670E Motherboards for multiple unique scenarios and form factors, such as overclocking, gaming, and the Best Overall X670E Motherboard, for which we specifically highlight the compatibility of every particular CPU, which, in this case, would correspond to AMD's entire lineup of Ryzen 7000 Series Processors.
Chipset/Socket
It's essential to ensure that the CPU you're planning on using has a socket that complements the Best X670E Motherboard you've chosen for yourself. As far as the Ryzen 7000 Series Processors are concerned, they're based on AMD's new AM5 Mounting Socket, which uses the modernized Zen 4 architecture, and as such, only support AMD 600-Series Chipsets.
To put this into perspective, Intel's latest 12th Generation Alder Lake processors sport an LGA 1700 socket that is only supported by Intel's 600 Series chipsets, i.e., the H610, H670, B660, and Z690.
Round the AMD front, the immensely successful and long-standing AM4 CPU platform has finally reached the peak of its zenith, with the Ryzen 7 5800X3D being the last processor to be constructed on the Zen 3 architecture of the reputable AM4 socket. AMD's AM4 socket is also compatible with a complete suite of various Ryzen processors, ranging from Ryzen 1000, 2000, and 3000 to the now last-generation and subsequently retired Ryzen 5000 Series Desktop CPUs.
Even so, the latest Ryzen 5000 Series processors are compatible with just about all the recent AMD motherboards on the market, starting with the much older A320, B350, and X370 to the B450, X470, A520, B550, and finally, the X570 motherboards, which champions the hierarchy in AMD's AM4 chipsets.
That being said, it's pertinent to mention you'll want to stay away from lower-end motherboards such as the H610 for Intel's 12th Gen CPUs and the A320/A520 for the Ryzen 5xxx Series processors since these entry-level chipsets tend to emphasize monetary savings, consequently cutting back on VRMs and thermal efficiency amongst other limitations, which restricts gamers from eking out the full potential of their respective processors.
Notwithstanding, this article primarily focuses on Ryzen 7000 Series Processors, which are only complementary to the brand-new AMD AM5 CPU Platform and corresponding 600-Series Chipsets, namely the B650, B650E, X670, and X670E, at the time of writing, so most probably, you won't be hunting down the Best AM4 Motherboards or Best H610, H670, B660, and Z690 Motherboards (for Intel Alder Lake Processors) either way.
VRM and Overclocking Potential
A VRM (Voltage Regulator Module) is one of the essential components of a motherboard, as it is solely responsible for controlling the voltage delivered to all the electrical components of your gaming PC, adjusting the voltage accordingly to make sure no part of your PC is operating at a dangerously high voltage, which would put the particular components at risk of damage, shortening their lifespan.
Beefy VRMs are essential for CPU and GPU overclocking scenarios and general optimal performance. As such, it's necessary to keep a keen eye out since inefficient VRMs would result in your Ryzen CPU and GPU bottlenecking, i.e., your AMD-based PC would undergo thermal throttling, rendering it incapable of delivering its theoretical potential power, thanks to an incompetent VRM design.
Moreover, a faulty/defective VRM algorithm will also provide unstable power, putting your entire X670E motherboard, along with the CPU, GPU, and RAM, to name a few essential electrical components, at risk.
It is also worth noting that some of the Best X670E Motherboards in 2023 also offer active fans paired with positively oversized passive heatsinks to cool down the VRMs on your motherboard, which is something you'll want to keep in mind if you're looking for the Best X670E Gaming or Overclocking Motherboards. Resultantly, an effective heat transfer is conducted consistently, reducing thermal throttling and allowing for beefier CPU and GPU performance.
Primary Budget and Comparative Affordability
While building an AMD-based AM5 gaming PC, it's best to stick with full-sized ATX or E-ATX motherboards if you're looking to save some money, as manufacturers offer a variety of motherboards in these form factors. At the same time, holding your horses while choosing from the flagship E-ATX motherboards is essential since these boards tend to overcharge you for features you'll probably never use in a lifetime, like overclocking.
For the SFF fans out there, we hate to say this, but you'll encounter some trouble, generally speaking, when it comes to snagging a competent Mini-ITX X670E Motherboard since the AM5 Chipset itself typically requires a certain amount of room, i.e., a physically larger footprint in order to showcase its full potential in terms of overclocking headroom, PCIe Gen 5.0 connectivity, and super-fast USB 3.2 Gen 2×2 Type-C Ports, to name a few bonuses.
Suppose you aren't going to pursue rigorous overclocking sessions or stress your Ryzen 7000 Series CPU in any way. In that case, there's no need to splurge on the Best Overclocking X670E Motherboard in 2023 with massive, thermally optimized VRMs since these top-of-the-line motherboards will undoubtedly make a noticeable and, more importantly, unnecessary monetary impact on your wallet.
That being said, an X670E Motherboard itself isn't what we would term a reasonable choice if you're someone who's looking to comply with a restricted monetary cap. Instead, we'd recommend checking out the Best B650, B650E, and X670 Motherboards, all of which pale in comparison to the X670E as far as pure performance is concerned but, nevertheless, outshine the latter for their value orientation, i.e., their price-to-performance ratio.
Expansion Slots/Connectivity
Each motherboard varies in terms of the expansion slots and connectivity it offers. Some motherboards may offer multiple PCI-e 4.0×16 slots, which the latest GPUs in our world can utilize, courtesy of Nvidia SLi or AMD CrossFire coupling technologies. At the same time, some miniature motherboards will only provide a solitary PCI-e 4th Gen (x16) slot. Motherboards on a budget would probably forgo the opportunity of adding extra PCIe 5.0 Lanes, instead sticking with good ol' PCIe Gen 4.0. If you're in the mood to connect more than one M.2 SSD, you must select a motherboard with at least two or more M.2 SSD slots for utilization.
But with AMD's Zen 4 Raphael CPUs, PCIe 4.0 seems to be a thing of the past, at least as far as the X670 and especially the X670E Chipsets are concerned. Sporting PCIe Gen 5.0 connectivity for both the GPU and multiple M.2 SSDs (in the case of the X670E), Ryzen 7000 Series Processors are armed and fabulous (Miss Congeniality Pun intended) and ready to go head-to-head with Intel's 12th Generation Alder Lake and even their hotly-awaited 13th Generation Raptor Lake CPUs, since both of these product lines sport PCIe Gen 5.0 expandability.
Notwithstanding, even though PCIe 5.0 support ensues for the latest Intel CPUs, you'll need to watch for higher-end Intel motherboards, such as the Best Z690 or B660 motherboards, since these pricier features will be reserved for premium motherboard offerings. However, regardless of whether you intend on pursuing an AMD-based or Intel-based system, the benefits of PCIe Gen 5.0 are unnoteworthy, best-case scenario, at the time of writing, due to limited/negligible support in terms of compatible peripherals.
As far as connectivity is concerned, we're glad to assure you that even the Cheapest X670E Motherboards present vast options for connectivity without breaking the bank. Nevertheless, you should have an estimated idea of how many and which type of USB ports you'd like to utilize, such as USB 2.0, USB 3.2 Gen 1×1, USB 3.2 Gen 2×1 and USB 3.2 Gen 2×2 (Type-C) since a few of the Best Budget X670E Motherboards will cut down on the relatively faster USB connections to drive prices down.
Also, every X670E motherboard contains a different selection of USB ports, so it is crucial to crosscheck the number of I/O connections available with your needs. Don't forget to keep an eye out for the type and number of audio ports you'd like to use as well.
Heatsink/PCB Layers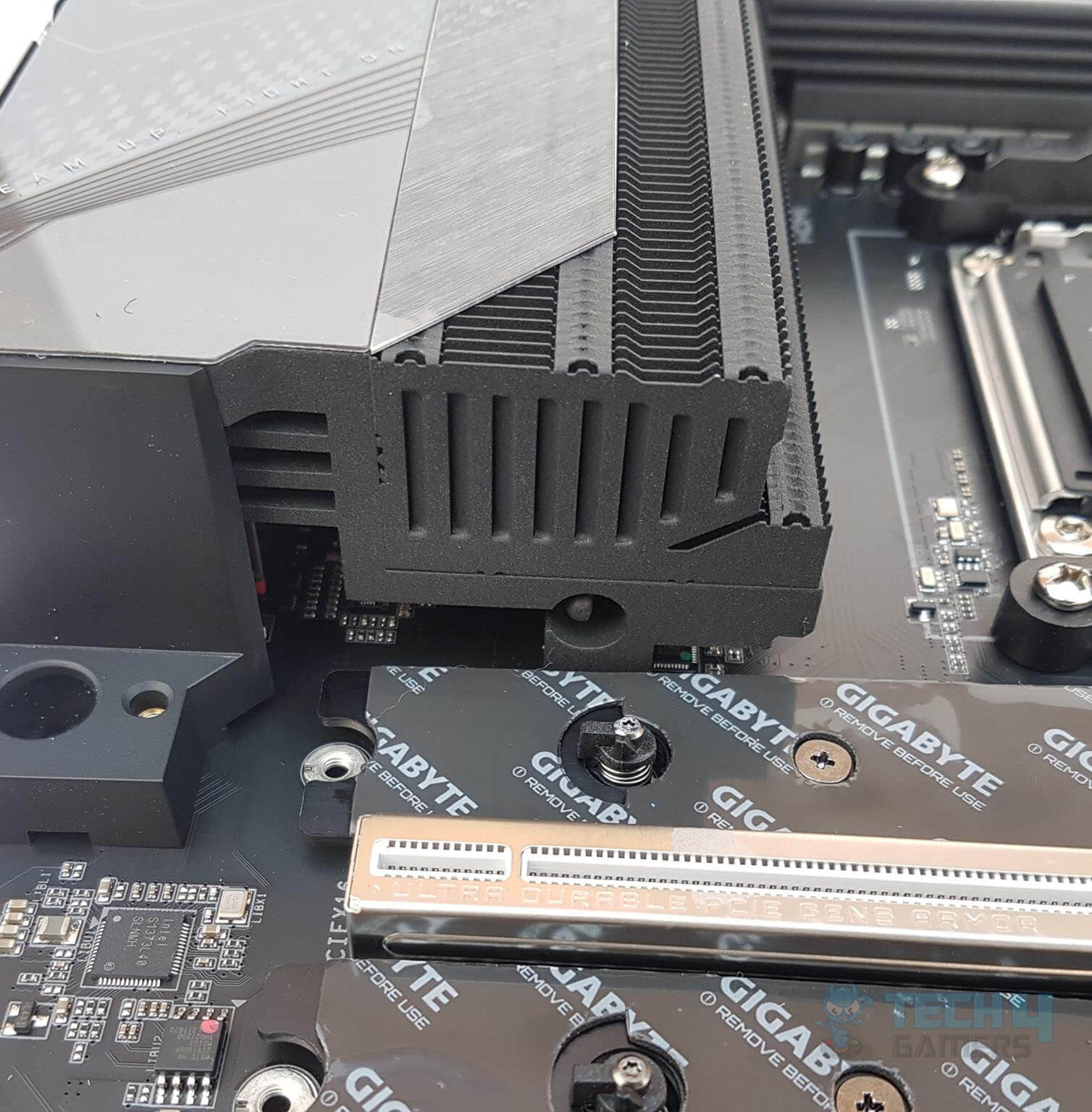 Heatsinks are one of the most important aspects of an X670E motherboard since they can reduce or boost your CPU, GPU, and overall performance depending on how well they conduct a perfect heat transfer. They will also determine whether your PC would undergo a case of thermal throttling to keep temperatures down or perform consistently.
The general rule of thumb is to choose one of the Best X670E Motherboards with advanced heat dissipation while ideally incorporating multiple heatsinks for optimal heat radiation away from your motherboard's components.
Adding on, the thicker your motherboard's PCBs (Printed Circuit Boards), the lower your temps. Your X670E motherboard comprises multiple PCBs sandwiched together, which generally produces excessive heat, so unless your PCBs are sizeably thick with several layers, your PC will struggle with heat conductance, eventually leading to thermal throttling and bottlenecked performance. Therefore, you'll find that a majority of the flagship X670E Motherboards comprise an 8-Layer PCB built out of twice the usual amount of copper for adequate thermal sustenance
Form Factor and Compatibility
X670E Motherboards are typically manufactured in four sizes; ATX, E-ATX, Micro-ATX, and Mini-ITX. Generally speaking, ATX and E-ATX motherboards are the biggest of the bunch, featuring several massive heatsinks with comparatively thicker PCB layers, commonly offering the most features alongside plentiful expansion slots and ports for unimaginable connectivity.
As a side effect, the ATX and E-ATX motherboards towards the high-end spectrum will unsurprisingly be the most expensive motherboards on the market, and you often end up paying excessively for over-the-top perks you will never use.
On the contrary, Micro-ATX and, specifically, Mini-ITX will be the smallest motherboards you can find on the planet, paving the way for miniature gaming PC builds. These X670E Motherboards will usually sacrifice a few over-the-top features and have slightly worse results in terms of heat dissipation.
However, manufacturers are constantly working hard to bridge this gap between the four form factors. Micro-ATX and Mini-ITX X670E Motherboards would also typically have fewer expansion slots since there isn't a lot of space to utilize, offering limited connectivity.
Nonetheless, Mini-ITX X670E Motherboards will also stage themselves at jaw-dropping prices since these boards, while making certain compromises, still manage to provide you with the same power and capabilities as a monstrous gaming tower would.
AM5 Platform: What's New?

Right off the bat, let's discuss power consumption. AM4-based CPUs, including, but not limited to, the Ryzen 5000, 3000, 2000, and 1000 Series Processors' Lineup, were limited to a maximum power draw of 142W from the CPU socket, which has now been upped to a staggering (and electric-bill blowing) 230W for the AM5 CPU Platform and the corresponding Ryzen 7000 Series Processors (codenamed Raphael), based on AMD's Zen 4 architecture. Subsequently, enthusiasts will be pleased to discover, manipulate, and exploit the massive addition of 88W of overclocking clearance they've just been awarded.
Needless to say, as we're sure you're already well aware, AMD has ferociously initiated the propagation of an industrial shift to DDR5 Memory for all PCs, regardless of whether users intend to pursue productivity-based workflows or indulge in eSports Gaming Sessions. While that's good news for the future-proofing-conscious buyers out there, DDR5 technology is still in its infancy, relatively speaking, as explained in another segment of this article later on. The combination of comparably worse CAS Latencies and RAM Timings practically negates DDR5's advantage in terms of pure RAM clock speeds. DDR5 RAM also doesn't sell cheap and is somewhat hard to come by.
Moving on, AMD has graciously ensured backwards compatibility as far as CPU Coolers are concerned, so AM4 users will find themselves in a sweet spot, courtesy of the granted ability to re-use/buy comparatively cheaper AM4 CPU Coolers for their Ryzen 7000 Series CPUs and the complementary AM5 CPU Socket.
That said, potential buyers should still remain wary of the fact that while the newest Zen 4 Raphael Processors are still much more thermally efficient than their Intel Alder Lake counterparts, thermal throttling is still a possibility since the newer AM5 CPUs exhibit a marked increase with respect to power consumption, as compared to the now last-generation Ryzen 5000 Series (codenamed Vermeer) Processors.
Unsurprisingly, but pleasant nonetheless, the AM5 Platform also introduces PCIe Gen 5.0 support for Ryzen-based PCs as part of AMD's agenda to match and, thus, nullify Intel's preliminary advantage with Alder Lake CPUs. However, we're yet to witness the real-world supremacy of PCIe 5.0 devices, which, for now, includes, but is not limited to, SSDs and GPUs.
Regardless, AMD is assertively moving towards next-gen tech from all aspects. While the adoption price points will be exorbitant (as is always the case with new technological standards), the future appears to be bright from a theoretical standpoint.
Furthermore, the AM5 Socketing System also signifies AMD's attempt to switch from a PGA (Pins Grid Array) package to a structure based on LGA (Land Grid Array). Where AM4 had 1331x pins in a PGA format, the AM5 CPU Socket now evinces 1718x pins in an LGA format, with the main difference between PGA vs. LGA arising with regards to the fact that PGA-based systems would feature the pins integrated into the AMD AM4 CPUs themselves and compatible motherboards would have integrated holes for these pins to 'slot' in. A Detailed comparison of AM4 vs AM5 can be read here.
In contrast, with Ryzen 7000 Series and all future AM5-based processors, the AM5 Mounting Socket on the motherboard itself houses all the pins, and the CPUs possess the empty holes for the pins to fit in, i.e., vice versa to the former methodology.
Trivially speaking, Intel CPUs have been using the LGA format for more than 15 years.
Last but not least, AMD promised at least 4x years of support for the AM4 Socket when it was launched back in 2016. Holding true to its claims, the AM4 Platform witnessed the monstrous reign of AMD CPUs, overseeing the evolution through a variety of different architectures, from Zen+ (Pinnacle Ridge) to Zen 3 (Vermeer) Processors, with AMD going above and beyond, courtesy of the AM4 Network being fully supported until Late 2022, at which point, Ryzen 7000 Series Processors and their subsequently matching AM5 Socket took over.
As such, AMD has also promised support for the AM5 Platform until the end of 2025, at the very least, although we wouldn't be surprised to see the AM5 CPU Socket ride on until 2026-2027. Intel can only dream of matching AMD when it comes to Socket/Platform Support since the former company has a notorious track record for substituting in new LGA sockets almost every other year. If you are interested more in AM5, Read Our Everything to Know About AMD AM5 article.
Chipset Wars: X670E vs. X670
The X670 and X670E symbolize AMD's highest-end AM5 Motherboard offerings, whereas the relatively midrange B650 and B650E Chipsets should witness mainstream online and offline market launches within this very month. But let's not kid ourselves; you've got some serious money to mint, ergo the reason you're reading this article, and long story short, you want the absolute best AMD has to offer. For B650 & X670 Comparison, read our separate guide.
In that case, let's discuss whether it's worth picking an X670E Motherboard, which, at first glance, appears to be identical to the X670, save for a few vital differences. As far as the spec sheet is concerned, the X670E poses a lamentable bargain since it seemingly offers just a few extra PCIe Gen 5.0 Lanes compared to the vanilla X670 Chipset.
The reality is slightly less off-putting. The X670E offers up to 24x PCIe 5.0 Lanes, whereas the plain X670 integrates a total of 4x PCIe 5.0 Lanes only. As such, X670E Motherboards can effectively utilize PCIe Gen 5.0 GPUs (x16 slot) and PCIe 5.0 SSDs (x4 slot), although PCIe Gen 5.0 hasn't really taken off yet, collectively speaking.
X670E Motherboards will also nurture a tendency to incorporate a higher number of M.2 SSDs and SATA III (6 Gb/s) ports for vastly expandable storage media connectivity options, regardless of whether you intend on installing PCIe NVMe SSDs or 2.5"/3.5" HDDs/SSDs. It's the same story with I/O connectivity, where a typical X670E package will boast relatively numerous faster USB ports, namely USB 3.2 Gen 2×2 Type-C and USB 3.2 Gen 2×1 Type-A ports.
Moreover, the Best Overclocking AM5 Motherboards will generally be manufactured on the basis of the flagship X670E Chipset for now, at least. Therefore, the Best X670E Motherboards will showcase comparatively powerful and extensive power delivery mechanisms, often using up to 25x Power Phases or even more.
With great power comes great responsibility. Consequently, the Best X670E Motherboards implement advanced thermal dissipation algorithms bolstered by bigger heatsinks and high-conductivity thermal pads.
By comparison, X670E Motherboards also bear a tendency to be manufactured in physically larger form factors, such as E-ATX and ATX. Henceforth, the flagship X670E Chipset will typically sport enhanced thermal performance to output higher overclocking headroom for your AM5 Processor, in addition to extensive support for Custom Water Cooling Kits and Loops.
Keeping all of the factors mentioned above in mind, it's pertinent to note that while an X670E Motherboard is ideal for a high-performance Ryzen 7000 Series CPU, such as the Ryzen 9 7900X or 7950X, it is equally undesirable when it comes to getting the most bang for your buck. Long story short, when it comes to a value-oriented proposition, it's safe to declare that the vanilla X670 Chipset is in a better position to serve consumers from an all-rounded perspective, provided that potential buyers aren't too worried about missing on additional PCIe Gen 5.0 connectivity.
Why Should You Trust Our Judgement
With over twelve years of experience in the technology and gaming industry, our stalwart team has been refined recurrently to produce a potent group of cultivated individuals who are known to relay the most accurate information to our valued consumers, thanks to the extensive research and thorough reviewing we conduct before we publish every piece of journalism.
In addition, we have been explicitly featured on most industry-leading gaming and tech brands, such as Gigabyte, MSI, Asus, and DeepCool, to name a few, as reliable and trusted sources for Hardware and Technology. These and other reputed manufacturers such as Noctua, Thermaltake, Xigmatek, Corsair, EKWB, Cooler Master, Antec, and many others regularly send samples to us, based on which we formulate unbiased reviews to give our readers a genuine representation of the product from an objective perspective.
Subsequently, we instill confidence in our esteemed audience, which may rely on us to disseminate the best advice for building, customizing, and modifying their personal gaming computers.
Frequently Asked Questions
What motherboard can support Ryzen 7000 Series Processors?
Only AMD's newest lineup of 600-Series Chipsets, i.e., the B650, B650E, X670, and X670E Motherboards, are capable of supporting the entire Series of Ryzen 7000 CPUs since these processors are based on the unique AM5 Mounting Platform.
Do AM5 Motherboards support DDR4?
As part of AMD's aggressive move to compel the industry towards focusing on DDR5-based consumer/workstation PCs, none of the current (600-Series) and future AM5 Motherboards will feature support for DDR4.
Which Chipset offers a superior value proposition; the X670E or the X670?
At the time of writing, we're yet to witness real-world pricing trends for AMD's entire lineup of 600-Series AM5 Chipsets, collectively speaking. Nevertheless, based on what we've seen in the past with AMD 500-Series and relatively older motherboards, as well as taking into consideration the fact that all AM5 Motherboards only support DDR5 RAM (alongside PCIe 5.0 connectivity), it's safe to assume that users finding themselves geared towards the higher-end segment of the mainstream/all-rounder consumer portion will find an X670 Motherboard perfectly suitable, at a comparably affordable price.
Does the X670E come with an active cooling mechanism?
Courtesy of an innovative daisy-chaining methodology where AMD has split the primary Chipset into two smaller ones to halve the power draw from 15W on a single chipset to 7.5W on the two sub-chipsets, which paves the way for a monumental advancement in thermal efficiency sustenance as far as the X670E Motherboard itself is concerned. Resultantly, numerous manufacturers will completely eliminate active chipset cooling fans, which will also help slightly drive down production prices and improve the motherboard's Acoustic Profile.
Was our article helpful? 👨‍💻
Thank you! Please share your positive feedback. 🔋
How could we improve this post? Please Help us. 😔