The Intel i7-12700K is a powerful CPU that is recommended for AAA PC games. If you are looking for ways to keep your CPU cool under heavy load, this article will help you find the Best CPU Cooler for i7-12700K that works best. If you are not very good at PC games or are not involved in programming and mining, a mid-tier processor is probably not enough. However, if you are a player who spends an important part of your daily life in the game and is focused on his goal of earning high ranks, you will not compromise on PC's performance, and that is for sure. Not all processors are suitable for every user; a non-gamer and programmer can easily settle for a mid-range processor, but for competing for gaming, Intel has a new series of processors. This list includes the fastest Intel Core i7-12700K coolers and improves the performance of the CPU. Make sure to also get the Best Motherboard For i7-12700k, before going for a Cooler. Aside from that, you must also get RAM For i7-12700k.
Here is a comparison of all Intel Core i7-12700k CPU Coolers that we have picked so far:
CPU Cooler
Deepcool Castle 240mm RGB
Corsair Hydro Series H150i Pro
Looks
Award
Best Performance CPU Cooler For i7-12700k
Best Overall CPU Cooler for i7-12700K
Best Silent CPU Cooler For i7-12700k
Best Budget CPU Cooler For i7-12700k
Best Low-Profile CPU Cooler For i7-12700k
Best RGB Cooler For i7-12700k
TDP
Adjusted between 60 W & 340 W
Looks
Award
Best Performance CPU Cooler For i7-12700k
CPU Cooler
Deepcool Castle 240mm RGB
Looks
Award
Best Overall CPU Cooler for i7-12700K
Looks
Award
Best Silent CPU Cooler For i7-12700k
Looks
Award
Best Budget CPU Cooler For i7-12700k
Looks
Award
Best Low-Profile CPU Cooler For i7-12700k
CPU Cooler
Corsair Hydro Series H150i Pro
Looks
Award
Best RGB Cooler For i7-12700k
TDP
Adjusted between 60 W & 340 W
Last update on 2023-09-21
When you use the system, it will heat up, which reduces the system's performance. Even if you have a low-TDP rating cooler for your PC, you will need enough to cool your CPU. One clean way to verify that is to check the fan diameter of your CPU cooler because a 125 mm fan is big enough; it will likely provide higher performance than a single 60 mm.
All parts of your PC work continuously and compactly to keep up with the high-speed and efficient Intel Core i7-12700K. Now, this digestion and operation lead to greater heat production and if your processor becomes more sensitive to this heat, it will inevitably be damaged or even lead to sudden crashes or other problems related to stability.
If you are in the market for a new I7-12700k CPU Cooler to pair with and you do not know where to start, this CPU Cooler article will help you clarify your decision. AIO coolers are great when they fit your budget and needs, but be sure to do some research before you buy so you can make an informed choice. We recommend that you research different types of air conditioning solutions because there is no better option for cooling needs.
Specifications of Intel Core i7-12700K
Cores: 12
Threads: 20
Frequency: 3.60 GHz
Turbo (single-core): 5.0 GHz
Turbo (All Cores): 4.90 GHz
Core architecture: Hybrid
Hyperthreading: Available
Overclocking: Available
Memory: DDR4-3200, DDR5-4800
Memory Channels: 2
L2 Cache: 12 MB
L3 Cache: 25MB
PCIe version: 5.0
PCIe lanes: 20
Best CPU Coolers For i7-12700k
The Core i7-12700K is more powerful in the future as it already supports the latest PCIe 5.0 and DDR5 technologies, making it an excellent choice to get started by building your PC or upgrading previous generations. However, this CPU has 125W TDP, so it usually produces a lot of heat. So, if you are a hassle-free gaming lover and want a good and reliable I7-12700k Cooler to keep your Intel Core i7 processor cool, here are some of the Best CPU Coolers For i7-12700k.
Note: If the cooler doesn't come with LGA 1700 compatibility, you can buy an exclusive LGA 1700 support bracket kit from different manufacturers. Also, read our CPU Coolers For LGA 1700 article for more information on this.
Thermaltake Frio Extreme
Best Performance CPU Cooler For i7-12700k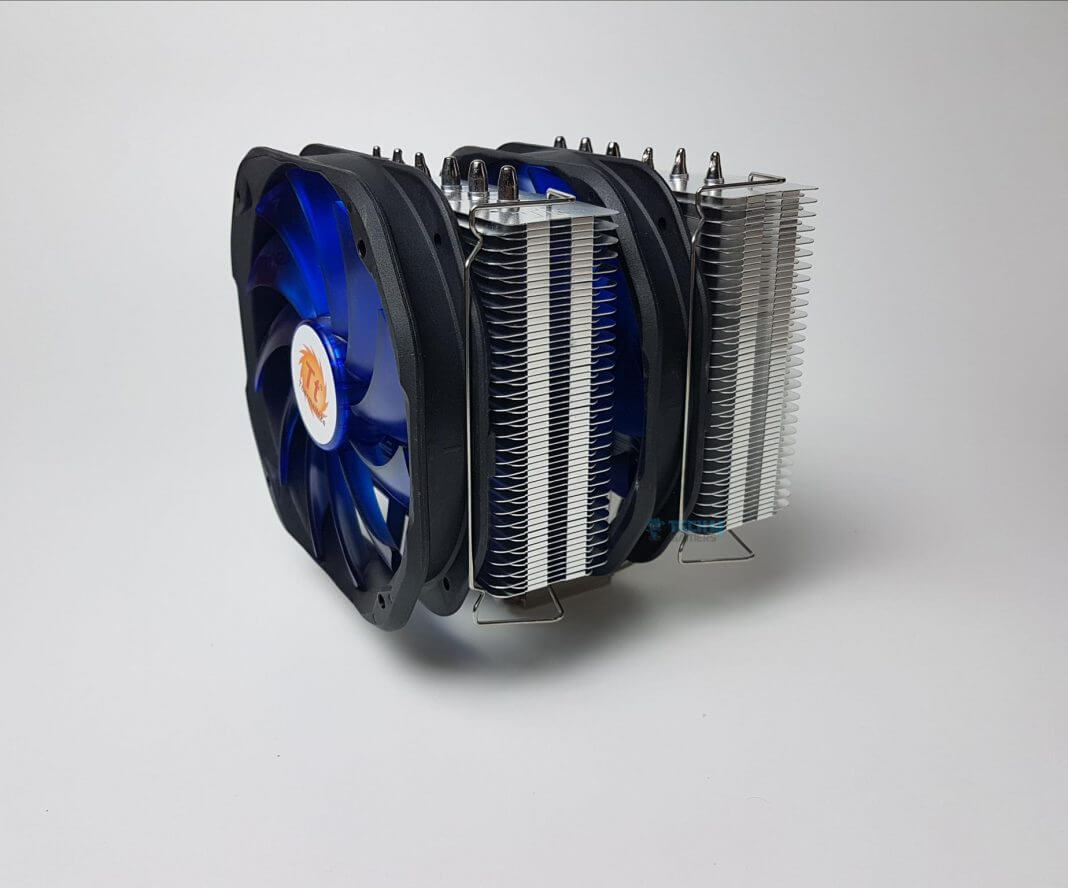 Specification Fans: 2 x 140 mm | Fans Speed: 1500 RPM | TDP: 250 W | Height: 8.75 in | Width: 7.5 in | Length: 8.75 in | Weight: 3 pounds | Socket Compatibility: Intel Socket 2011, 1156, 1366, 1155, 775 and AMD Socket AM3+, AM2+, AM2 and FM1.| Model: CLP0587 | RGB Fans: No
Thermaltake is a world-renowned leader in the production of PC hardware and services. Thermaltake has an impressive catalog of products ranging from PC cases and power supplies to fans, CPU coolers, and utilities. Thermaltake has introduced a variety of products targeted at flexible and enthusiastic communities. Thermaltake is about providing users with the best quality hardware while ensuring that it is customized easily.
Read Thermaltake Frio Full Review.
Let's start with our first Core i7-12700k CPU Cooler; the Thermaltake Frio Extreme is a performance CPU Cooler for Core i7-12700K. This is the perfect choice for a professional who just wants to make its system cool and hassle-free. The inclusion of the LGA 1151 bracket support system working in stock settings Frio Extreme is closely linked to the initial configuration of the Noctua NH-D14.
The Frio Extreme is has a blue fan in a black closure combined with a metallic heatsink with it. The front of the box gives us a nice view of the cooler itself and a brief description of some of the features included, such as two 140x140mm fans, 6 heat pipes each with 6mm thickness, and support for Intel's CPU socket LGA 1700 with exclusive support bracket.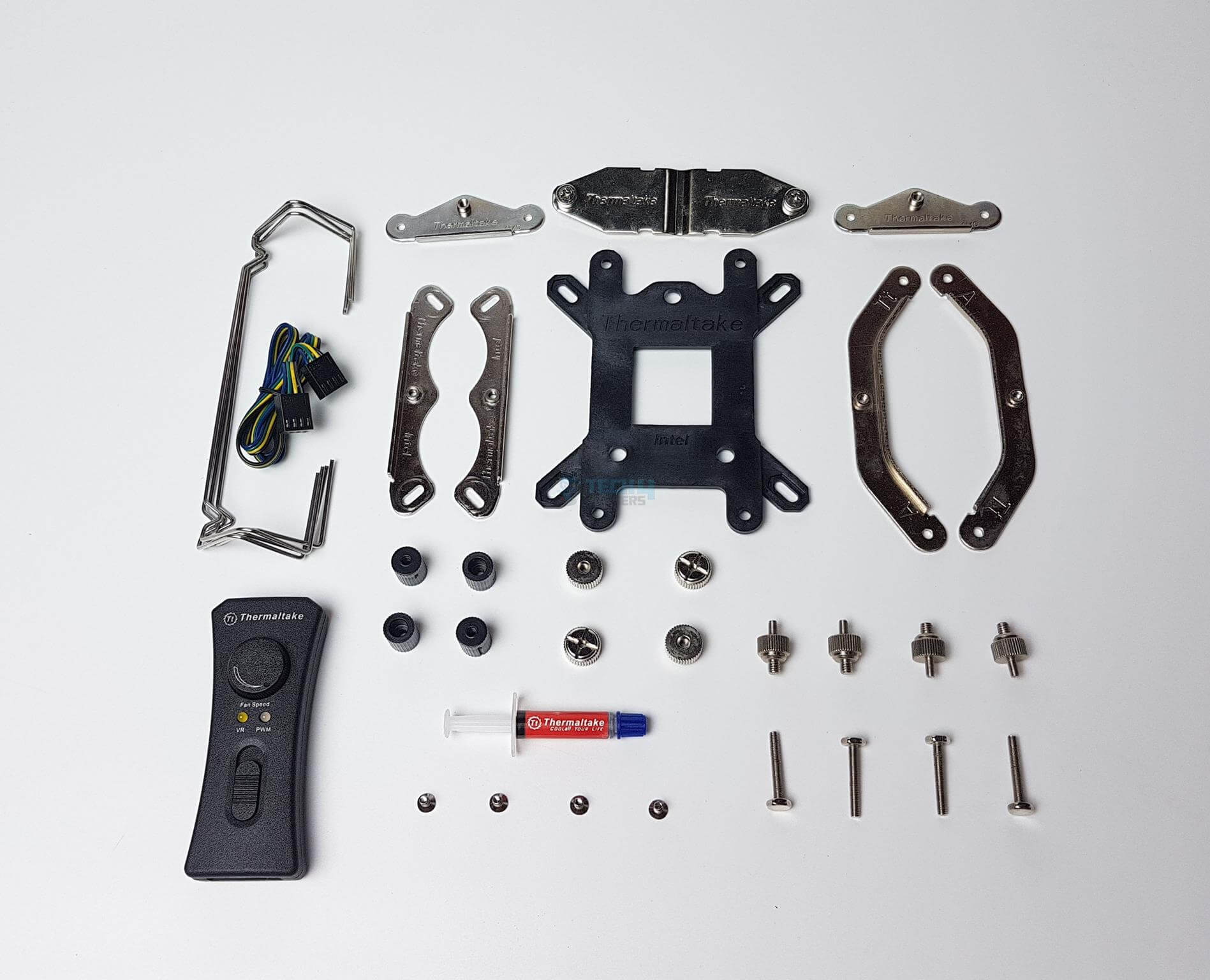 When you know the space requirements and size of the Thermaltake Frio Extreme cooler, you will find that it covers about the top half of the motherboard. The gaming person needs to pay attention to details when choosing components such as these as they tend to disrupt DRAM with long heat transmitters.
Frio Extreme will provide you with the performance of the Thermaltake fan paired with a robust heatsink. They are not as compact as the Noctua cooler. That will draw some users to favor this model of Frio Extreme because some people do not like the RGB lights and cannot spend too much on a cooler. We do not recommend this cooler for i7-12700k under small form factors in cases, so it does not bother you in any way or otherwise. Another great feature of Frio Extreme is Thermaltake comes with a warranty of 10-years.
Pros
Material quality is remarkable
TDP and Cooling performance are much appreciated
Quite affordable
Cons
Make extremely loud noise when speed is at high
No RGB
Deepcool Castle 240mm RGB
Best Overall CPU Cooler for i7-12700K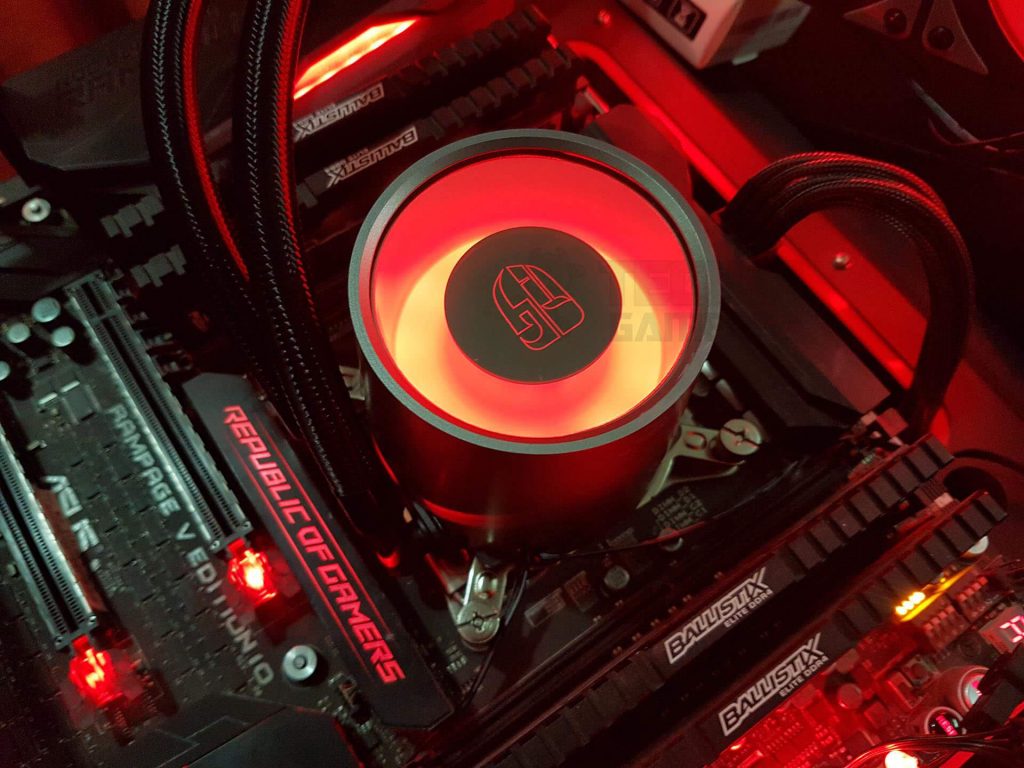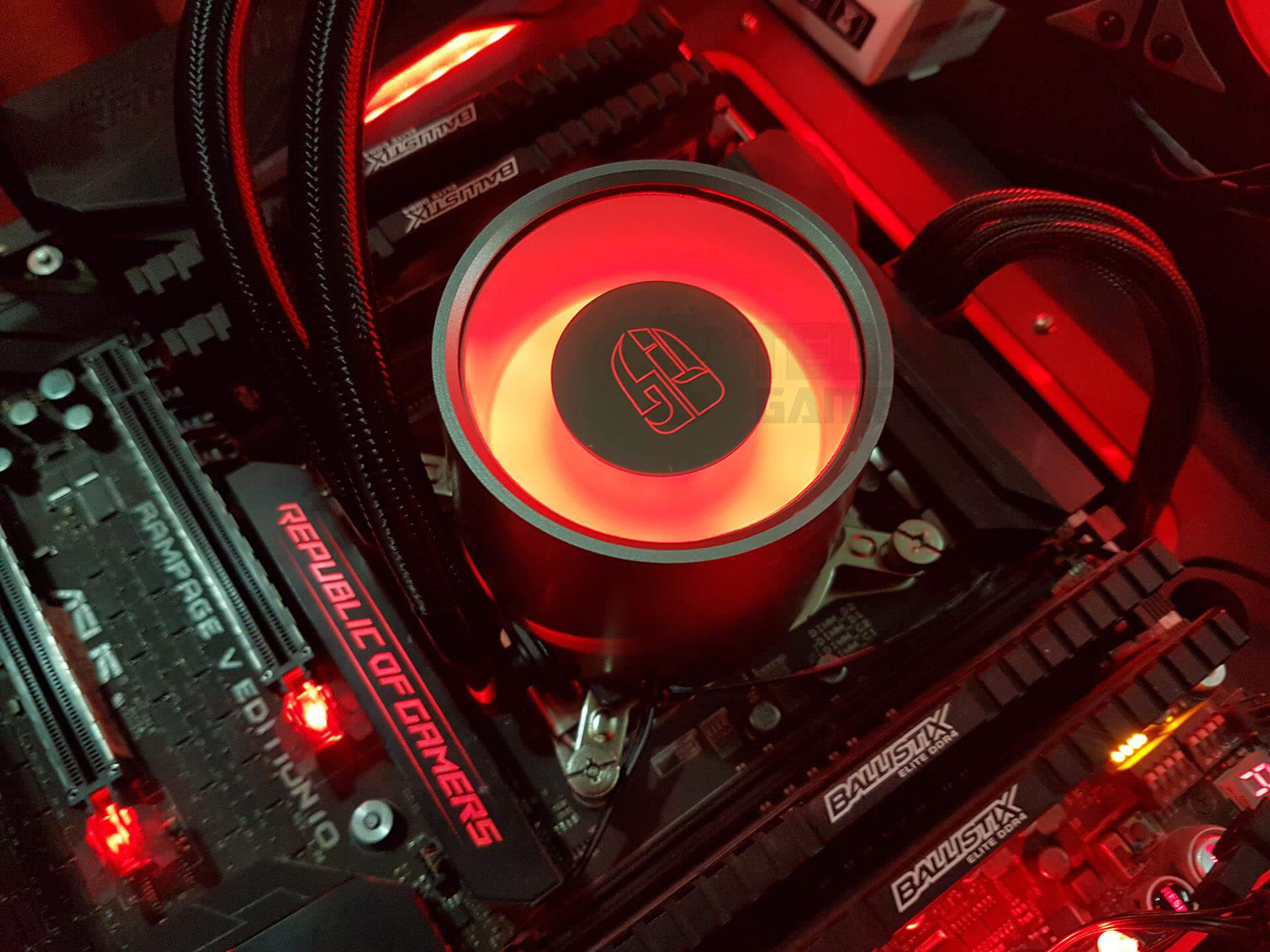 Specification Fans: 2 x 120 mm | Fans Speed: 1500 RPM | TDP: 204 W | Height: 1.06 in | Width: 4.72 in | Length: 11.1 in | Weight: 3 pounds | Socket Compatibility: Intel Socket LGA20XX, LGA 1366, LGA 115X, and Sockets of all AMD series | Noice level: 17.8 dB | RGB Fans: Yes
Deepcool is a well-established and recognized brand that is gaining more popularity when it comes to enthusiast-grade PC components. The company is focused on providing better thermal solutions in the form of air and liquid coolers. The Deepcool Castle 240 RGB is a 240mm CLC cooling solution and also the Best CPU Cooler for Core i7-12700K.
It has a 240mm radiator with two CF120 addressable RGB 120mm fans. The Deepcool Castle series of coolers is a new breed from the company, and it has a digital RGB LED lighting solution on it which looks very impressive in person. We have stunning double window panes on the CPU block for the infinity mirror effect, and it does look dope when in action. The overall impression is much more attractive with CF120 RGB LED fans.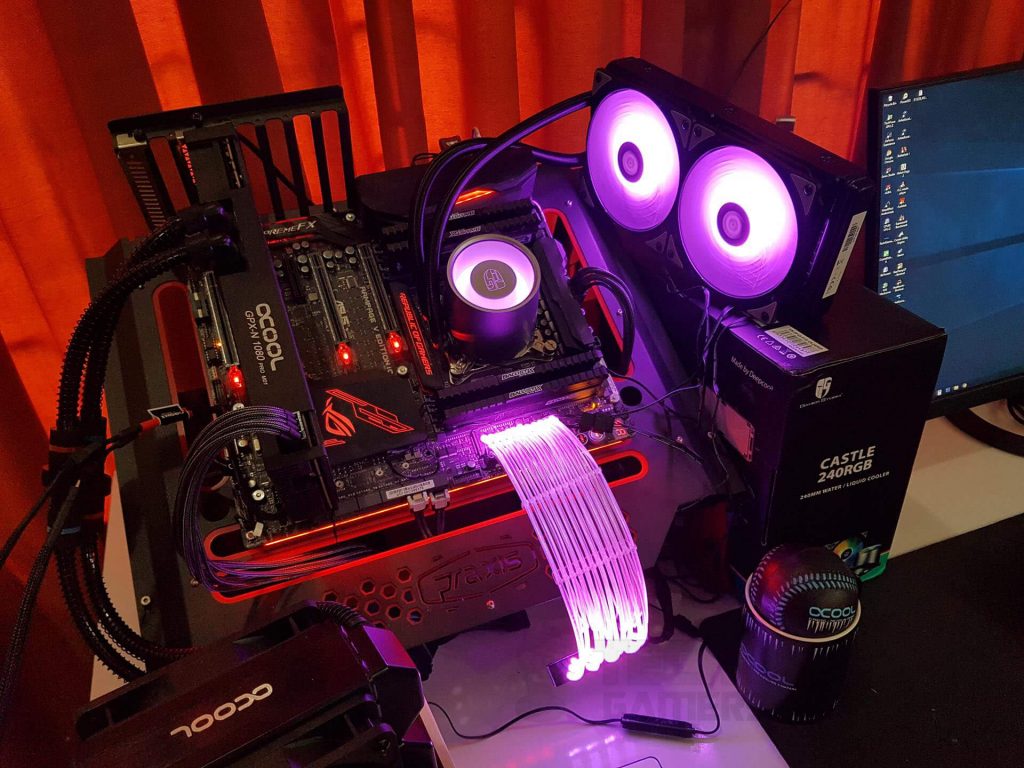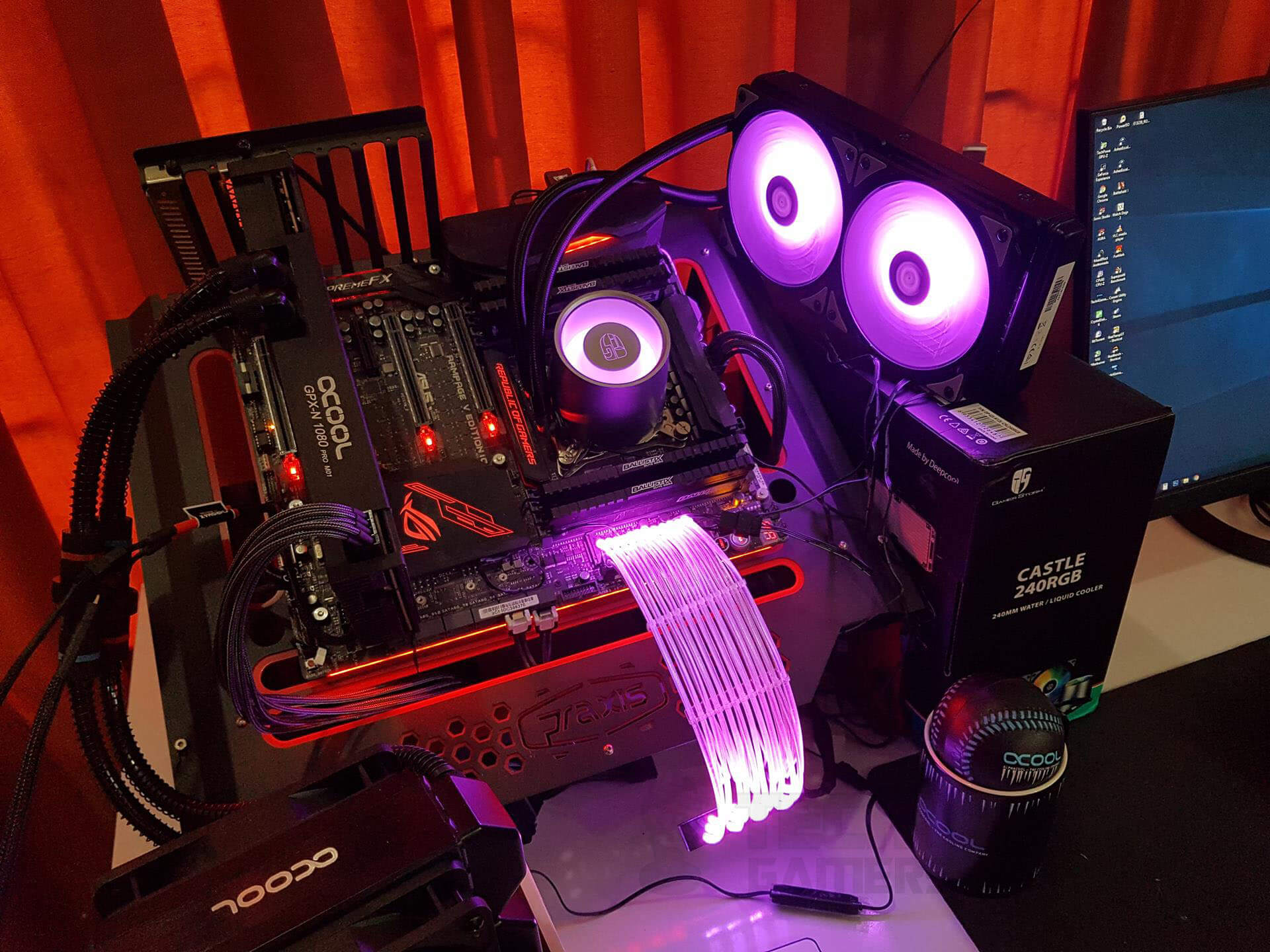 The distinct design of Deepcool Castle 240 unit comes from the block itself. The CPU block is the real center of attention in its overall design. What makes this block stand out is its extra-large size and double window panes with infinity mirror lighting effect for pure immersion? The tubes are firmly fitted on the radiator assembly and the pump housing. There is one striking difference from what we have seen on the other AIOs (excluding Alphacool's) on our test bench regarding tube fitting on the barbs. The majority of the AIOs have heat spreaders covering the point where tubes are fitted onto the barbs.
Two cables are coming out of the pump housing. One is the flat 3-pin power cable, and the other one is the flat 3-pin addressable RGB cable. The base is made of copper and is a polished finish but not mirror-like. The base measures 55x55mm. This extra size has made the Intel Core i7-12700k CPU Cooler compatible with the LGA 1700 socket. The backside is where the tubes are implemented in a 90-degree rotary position, approximately bulging the block by 18mm. The top of the pump is protected by some additional plastic and has an interesting artifact on it. DeepCool has designed the top of the pump to be able to rotate depending on your specific install; this allows the DeepCool logo to be in the correct position no matter which way you install the pump.
The cooling fan version provided with Deepcool Castle 240mm RGB cooler is enhanced over the regular CF120, with the difference coming in the speed, airflow, and static pressure ratings. These fans are rated at 12VDC with a rated current of 0.17±10%A with a power of 2.04W. Deepcool has provided an RGB controller, which can be used to control up to 4 RGB-enabled devices at a time. It has three buttons on it. The top button is used to load the next lighting mode out of the 36 pre-defined modes. The middle button is used for brightness control. The bottom button is used to load the previous lighting mode. This is not all, as Deepcool has also provided an excess of ADD-RGB cables with Deepcool Castle cooler.
Read Our Deepcool Castle 240mm RGB Liquid Cooler Review.
Pros
The artistic design emphasizes its worth
It comes with RGB Fans
Good for the Latest modern CPUs
Great TDP rating
Deepcool Assassin II
Best Silent CPU Cooler For i7-12700k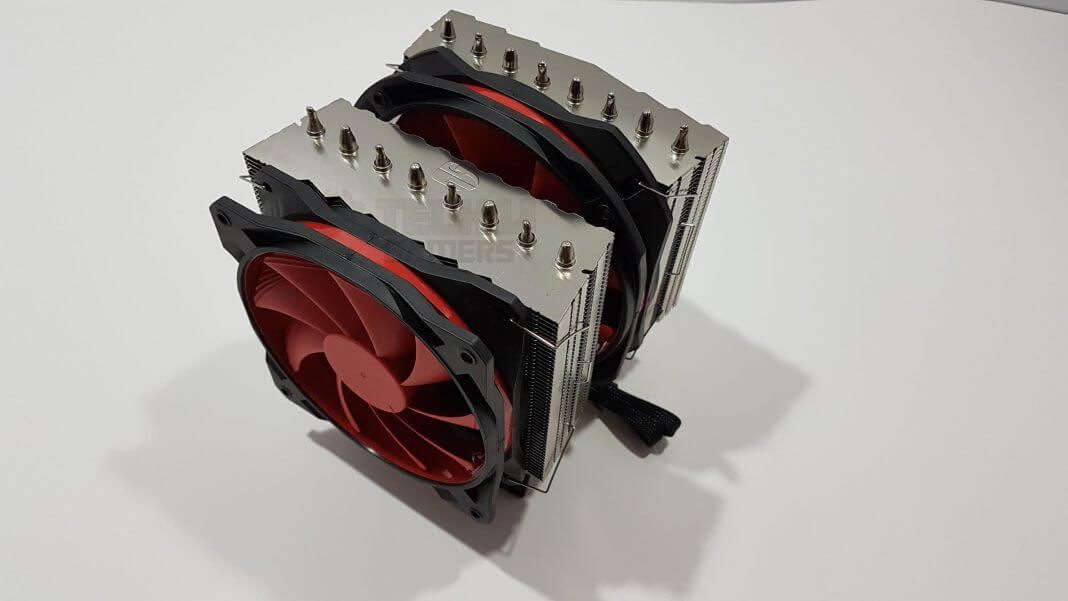 Specification Fans: 1x 140 mm & 1x 120 mm | Fans Speed: 1400 RPM | TDP: 204 W | Height: 167 mm | Width: 158 mm | Length: 143 mm | Weight: 1479g | Socket: Intel: LGA2011, LGA1156, LGA1011v-3, LGA1366, LGA1155, LGA775, LGA1150, and AMD Sockets of All series | Base Material: Coppper | RGB Fans: No
ASSASSIN II model of Deepcool line of cooler includes a duo tower design, dual cooling fans 120mm and 140mm, 8 nickel-copper heat pipes, and a 4-fan hub. Could this air cooler be the same as the two previous generations of Deepcool in their time? We'll find out soon. The new generation of ASSASSIN air coolers has retained some of the most important features as well as the excellent heat dissipation of ASSASSIN: a nickel-filled heatsink, 8 efficient heat pipes, and a highly polished copper base. ASSASSIN II also incorporates improvements from the original ASSASSIN cooler, including an unbalanced twin-tower design and the latest GF140 fan for improved performance and silent operations. A special PWM dimmer achieves success with a minimum speed of 300 RPM; we find this cooler for i7-12700k performing under great stealth. ASSASSIN II is the next generation of the Best Quiet CPU Cooler For i7-12700k.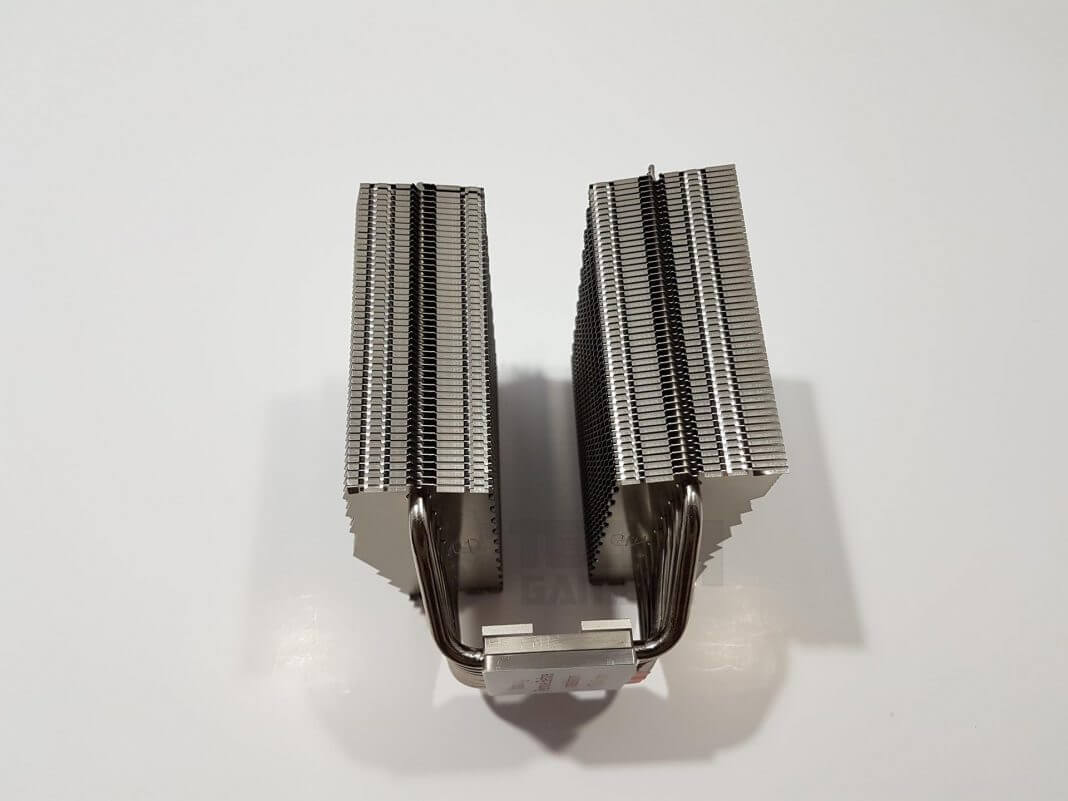 It comes with All modern supported sockets, and Deepcool Assassin II's growing hardware is straightforward. AMD and Intel brackets are included. The fan 120mm PWM can be turned up to a rate per minute of 1400 rotation to produce a flow of air 68.06CFM with the sound intensity of 27.3dBA, while the 140mm PWM fan can turn up to 1200RPM to produce 70.08CF5 airflow with 26 noise. The heat sink contains 6cm copper nickel-plated heat pies each.
When we come to the installation of ASSASSIN II CPU Cooler of its size should create a hassle for you, but Deepcool does well to keep the whole process as painless as possible. The mounted computer hardware for most sockets of both AMD and Intel is provided, and on the LGA 1150, a gradually manual was straightforward to follow. One can easily follow the guide to install this efficient cooler without misery.
Deepcool's Gamer Storm Assassin II comes at a low enough price to make it a much better price. Some users will think it looks better, and the extra 0.6″ of space-saving on both sides of the front and backside and side will certainly help it fit into most of the board/case combinations. Yet a better value alone is enough to win some kind of prize. You can read our full ASSASSIN 22 Review.
Pros
Great Thermal performance
It creates low noise
Price is budget-friendly
Dual tower heatsink design
8 nickel-copper heat pipes
Antec Kuhler H2o K240
Best Compact AIO Cooler For i7-12700k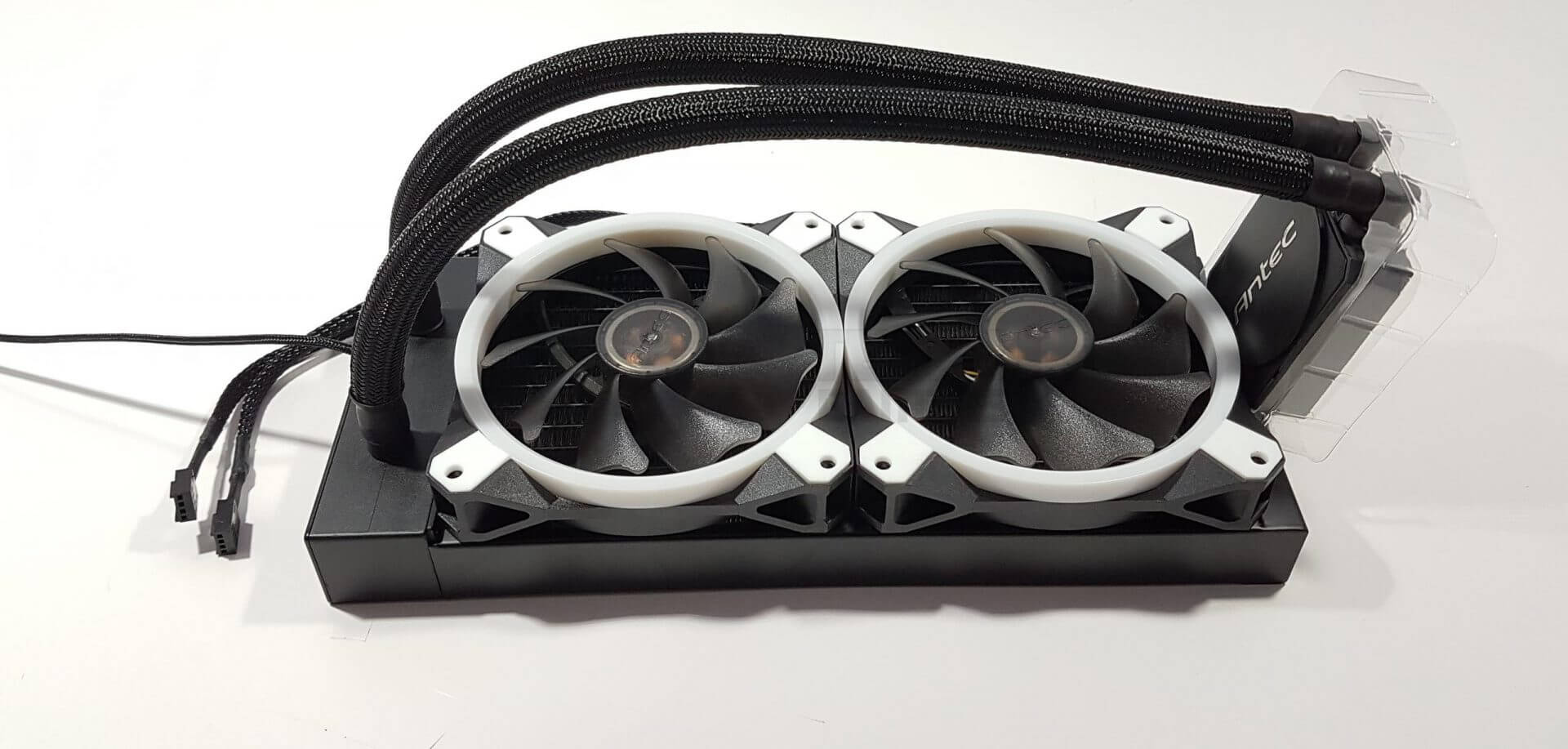 Specification Fans: 2 X 120 mm | Fans Speed: 2000 RPM | Height: 9.3 in | Width: 6.2 in | Length: 11.2 in | Flow Rate: 1.5L/Min | Socket: LGA 2066, 2011-V3, LGA2011, LGA1366, LGA1156, 1155, 1151, 1150, 775, AM4, AM3+, AM3, AM2+, AM2, FM2+, FM2, FM1 | Noise Level: 36dBA | RGB Fans: Yes
Antec Kuhler H₂O K240 is a 240mm liquid CPU cooler with a 240mm radiator that is the Best Compact AIO CPU Cooler for Core i7-12700K processors. This is not an Asetek design as the pump for this unit is integrated inside the radiator housing, making the block smaller in size and weight. Antec included two 120mm Blue LED fans in the package. Antec Kuhler H₂O K240 is a 240mm cooling solution and it seems that these are their designs as the pump is integrated with the radiator housing, which avoids Asetek copyright in AIO designs.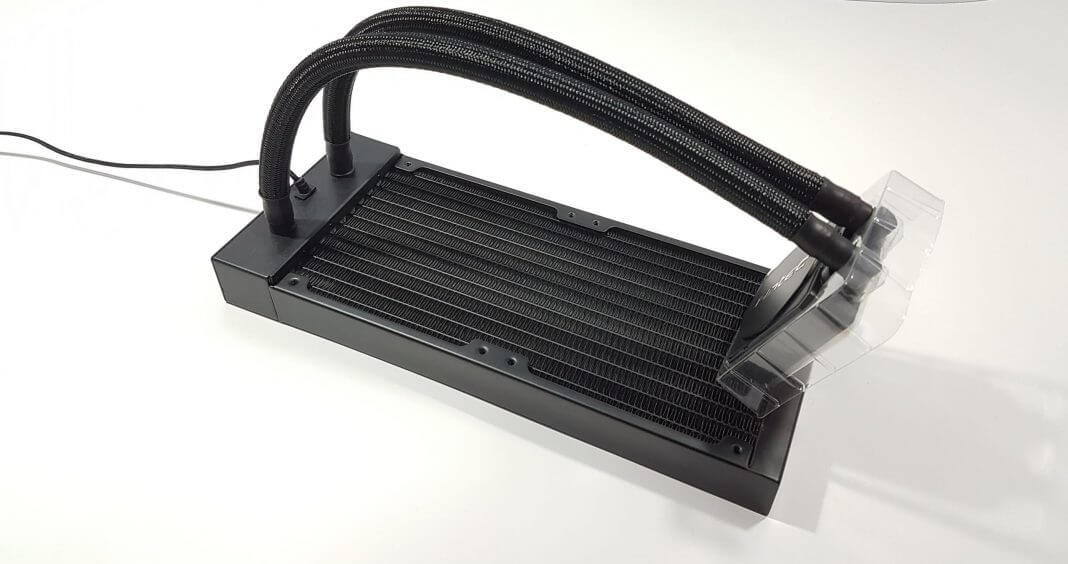 Avoiding following the Asetek design, the pump is not inside the block unit but is integrated inside the radiator housing. This is a different design method that will remove the vibration element from the block and move it to the radiator itself. The radiator itself is compact in design with no rounded corners made of aluminum material. This is the typical AIO implementation we see on the market, with only a copper object coming to the base of the CPU block and a radiator made of aluminum. The Fins Per Inch number is 17 and appears as a tight fin stack where fans of high static pressure can fit. The edges of the radiator house are not round but flat, and everyone adores this design as it looks really attractive and unique.
Each fan has 9 impellers. These impellers vary in color. There is an Antec brand name printed on the CPU block hub. The impeller tips have an uneven design. There is a white ring around the impels. This ring is designed for the fan base. The ring has RGB LEDs on it that illuminate the perfect ring to create a beautiful look. The base of the block is made of copper. Thermal Paste will be applied to the front of the base. Thermal Paste uses polymer materials. There is a silver color of Antec branding attached to the top of the block to make it look good.
At 3.6GHz, the Antec Kuhler H2o K240 AIO cooler worked better than all the other 240mm coolers tested on our test bench so far. It produced a delta temperature of 22.83 ° C under load. Antec Kuhler, H₂O K240 CPU liquid cooler, is a 240mm All-In-One cooling solution from their coolers' Kuhler series. Considering the price of an AIO, this particular unit has a larger value written on its surface than anything else. We cannot see a style or rich features more closely related to beauty than performance but Antec did not exceed the functional aspect, and this unit takes very good care of the needs of budget users in the market, looking for an affordable but reliable cooling solution. Read our Antec Kuhler H₂O K240 Review.
Pros
Fan noise is almost quiet
Design is unique and attractive
Installation is easy and hassle-free
Compact CPU block and radiator
Good for smaller form factors
Cons
Overlocking performance is not that good
Arctic Freezer 34
Best Budget CPU Cooler For i7-12700k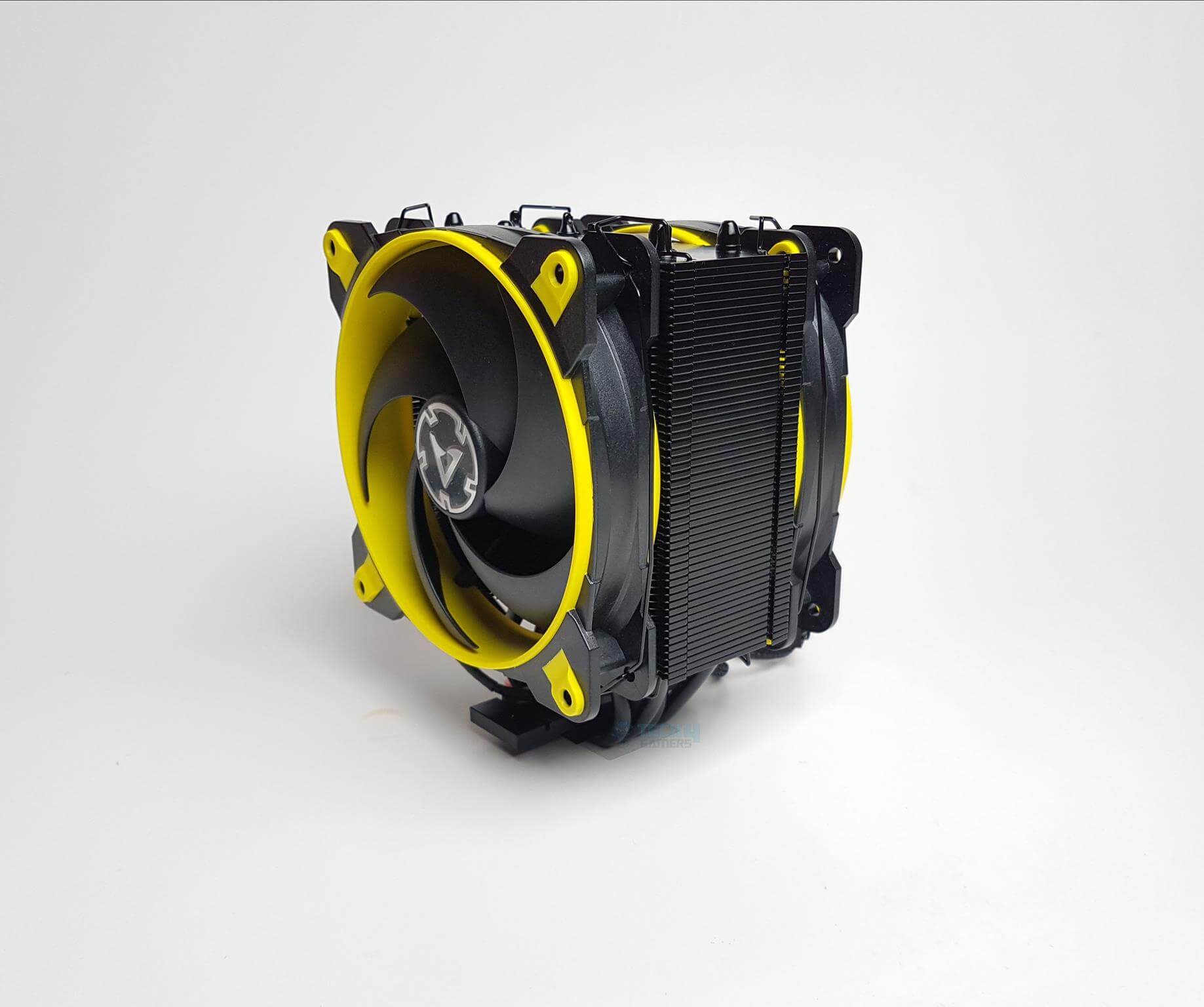 Specification Fans: 2 X 120 mm | Fans Speed: 2100 RPM | Height: 6.18 in | Width: 4.06 in | Length: 4.88 in | Air Flow: 67.56 CFM | Socket Compatibility: Intel LGA1151, 1150, 1155, 1156, 2066, 2011(-3) | AMD: Socket AM4| TDP Level: 210W | Noise: 28 dBA| RGB Fans: No
The Arctic freezer 34 cooler is available in Red, Green, Yellow, Black, White, and Full white and is an additional feature of their popular Freezer 34 and the Best Budget CPU Cooler for Core i7-12700K on our list. The Arctic freezer 34 is a 120mm single heatsink tower solution that comes with 2x power BioniX P120 fans in push/pull. The Arctic is exploding its new Freezer 34 in the heat exchange market with a sharp, aggressive style and a few tricks in the form of disruptive pricing and amazing performance. The Freezer 34 is compatible with all similar platforms and predecessors, with Intel covered on LGA 115X LGA 2011 and v3, as well as LGA 2066. However, if you have an AMD processor for cooling, you will need to opt out of -Socket AM4 to use this tower. On average, the cool area is now 157mm long but remains 124mm wide and 103mm from the edge of the front leg to the edges of the rear leg.
The heat pipes are evenly removed and assembled in a compact area to allow the Freezer 34 to stay in the center of your CPU no matter where it is cool. Other changes include a separate high-end plate in the heatsink, an improved mounting system, and the use of a single BioniX P120 fan. The base of the cooler has a direct touch design, and four heat pipes, as mentioned earlier, which are part of the base plate and will have direct contact with the CPU area. Although the direct contact design is ideal for heat dissipation, a smooth base plate is better, due to the full and smooth coverage of the CPU Die area.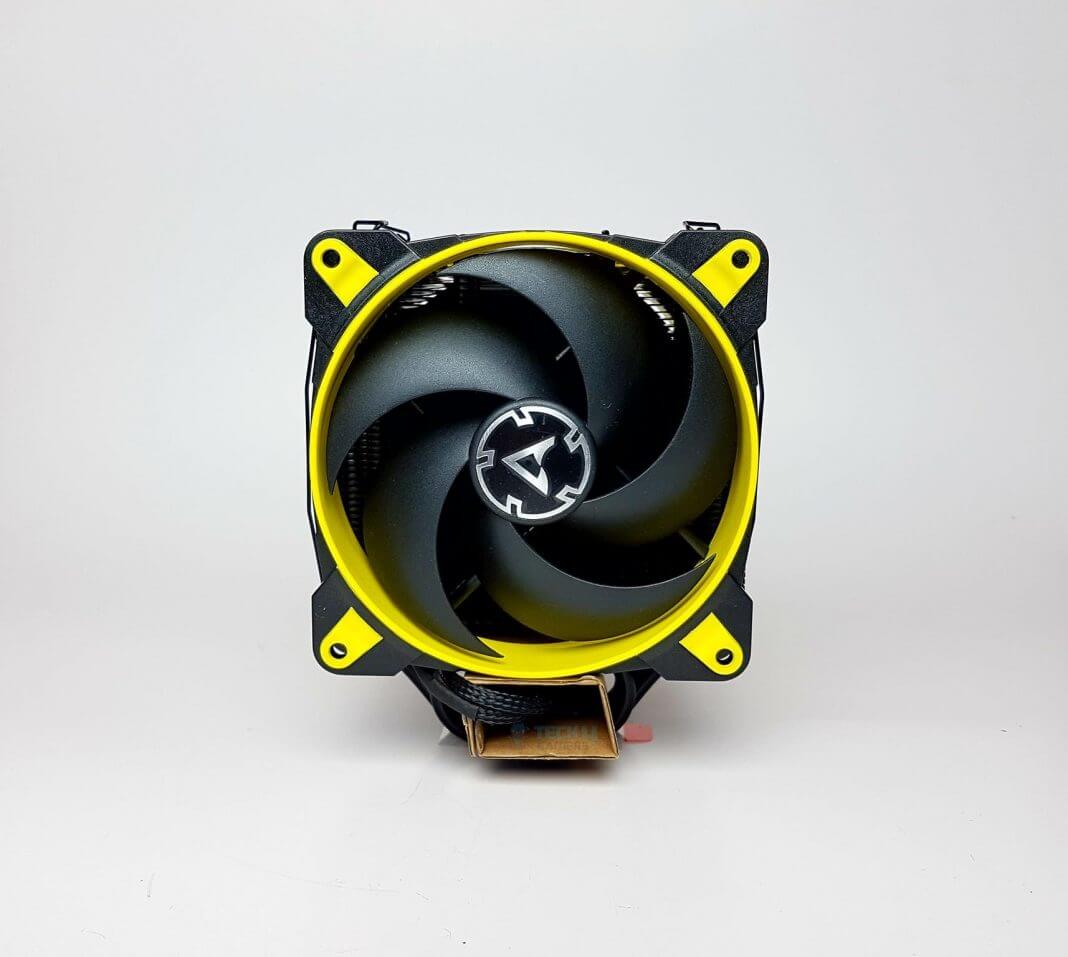 The specification is very good, due to the small heatsink. The fan does not cover the RAM space of the motherboard, and even if it does cover itself, the fan is long enough to work with most medium-sized RAMs. Signs of change are only the density of the wings behind the fan and the slightly different curve in the underground heating pipes. However, we were a fan of matte black and bright yellow finishing when we first saw it, and we still think it looks just as good as it is today. The difference between Freezer 33 and Freezer 34 is 2 degrees Celsius in terms of cooling. It is not surprising as these two coolers use what the same heatsink is. The slight temperature difference can be due to a better mounting system or to a new BioniX fan. The same can be said of the sound; when the Freezer 34 One will reach a height of 30 decibels, the new Freezer 34 will reach a peak of 32 decibels.
ARCTIC FREEZER 34 packs 54 aluminum wings with 4x 6mm copper heat pipes. The whole assembly is a dark thermal coated color. Hot coats create micro-turbulences with a special local structure. Combined with offset heat pipes, this leads to a loss of optimized heat loss for better cooling performance. The Arctic freezer 34 CPU cooler is affordable and offers good cooling out of the box, with its size and price. The new mounting system is an improvement, and the BioniX fan provides excellent airflow. For more details, read our Arctic Freezer 34 Full Review.
Pros
It comes with great cooling performance
Design is stylish
It has a very low noise level
Cons
There are no RGB lighting effects
It has limited Sockets options
Noctua NH-L9i
Best Low-Profile CPU Cooler For i7-12700k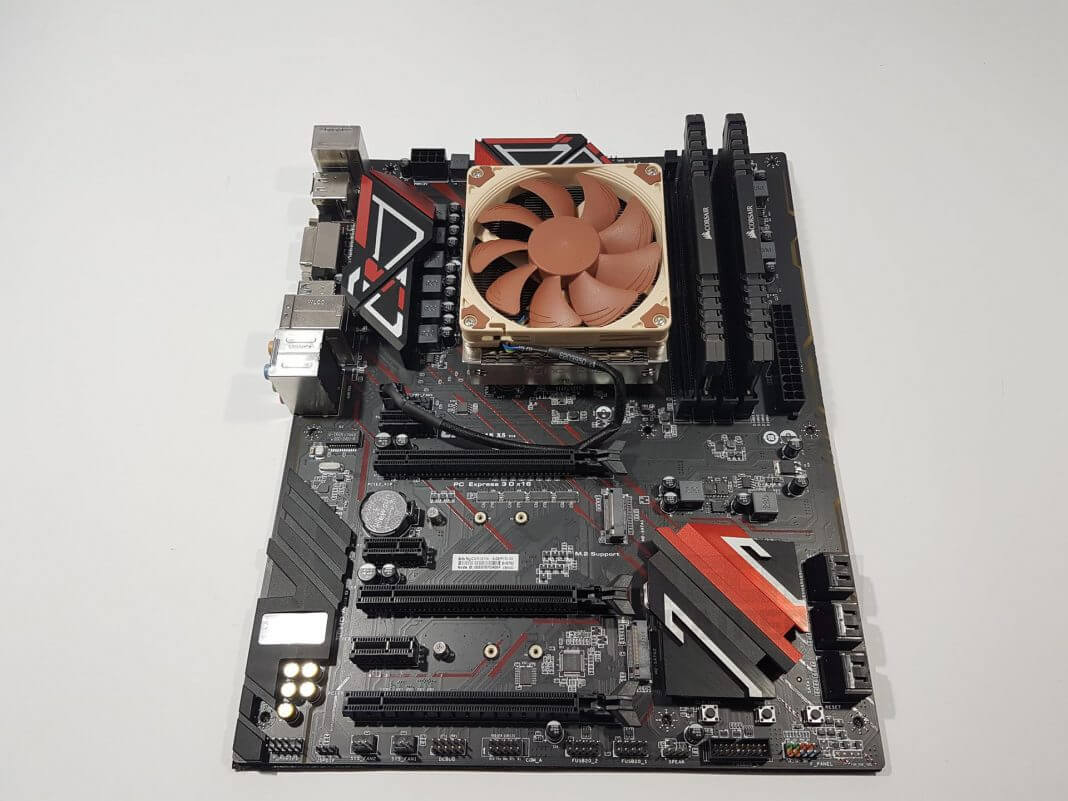 Specification Fans: 1x 92 mm | Fans Speed: 2500 RPM | Height: 1.46 in | Width: 4.49 in | Length: 3.62 in | Air Flow: 67.56 CFM | Socket Compatibility: Intel LGA1150, LGA1151, LGA1155, LGA1156, LGA1200 | Weight: 465g
Noctua is a well-reputed and respected manufacturer in the globe of competitive CPU coolers and offers you devices designed for high efficiency, and low noise. The Noctua NH-L9i is a very small and in fact built-in low-profile design, making it suitable for even the smallest computer cases. It measures just 37mm in height, which includes a 23mm-thick heatsink and an NF-A9x14 low profile fan of 14mm. With a small heatsink foot, there is nothing more than a heatsink or fan over RAM spaces, giving you more options and greater flexibility in the choice of RAM module. The copper base heat sink of this model cooler, aluminum cooling wings, heat pipes, and sold joints as well as nickel inserts. The cooler weighs only 465g with a fan installed.
The NH-L9a air cooling unit from Noctua is usually designed of low profile to withstand brain function. It comes with a fan of 92mm, a shape of radiator between the base plate and the fan, and nickel-plated heat pipes. The user must first remove the stock backplate from the Intel motherboard to install Noctua NH-L9i CPU air cooler. Once, the stock backplate has been removed, place the provided backplate and cooler on the motherboard. Pretend that the backplate insulation side is facing the motherboard.
There is enough permission for the first PCIe slot to insert any graphics card into it. In particular ITX boards are tightly packed which makes large heatsinks cover the area of ​​the socket making it difficult or impossible to access adjacent socket parts but the i7-12700k CPU cooler, due to its size, has no such limit and adjacent socket parts are accessible even after installation. The only Low-Noise Adapter can minimize the maximum PWM fan speed to 1800 rpm. Therefore, proximity settings using CPUs below 65W TDP can be achieved. During the testing of PWM testing of which fan we connected to this cooler model, both devices reached their maximum speed. It's not a big deal as Noctua fans don't make a sound compared to your regular fans of the same measurement.
The Noctua NH-L9i is a new update to their popular NH-L9i CPU Cooler for Intel CPUs. This update is for the LGA 1200 socket making this i7-12700k CPU cooler work with Intel CPU only. Noctua NH-L9i is a thick, low-profile air cooler with a length of 37mm and a filter. This cooling system is specifically designed to meet the needs of locally constructed buildings based on the Intel platform. With this model design team launching Intel's NH-L9a in the past, they introduced another well-performed product for Ryzen processors earlier this year, and this was another exclusive variant of this I7-12700k CPU cooler. There is always consistency in optical drives, bays of hard drive, graphic card selection, PCle Slots, and a good CPU when creating a minimal layout. If you want the Best Low Profile CPU Cooler For i7-12700k, then NH-L9a should be your ideal choice. You can read our Full Review of Noctua NH-L9i Chromax.Black. Similarly, if you are into videos, we also have a video review of it featuring unboxing mostly.
Pros
Build quality is superb
It has an extremely low-profile
The noise level is very low
Lightweight
Corsair Hydro Series H150i Pro

Best RGB Cooler For i7-12700k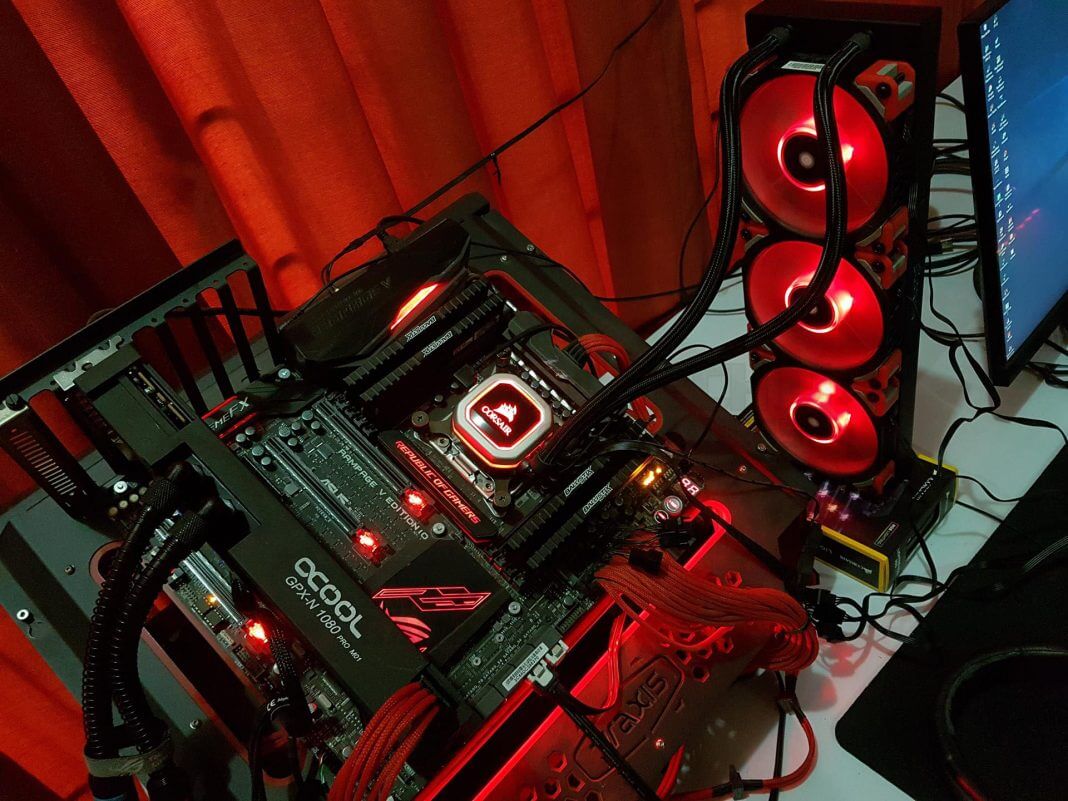 Specification Fans Speed: 1600 RPM | Height: 7.28 in | Width: 5.75 in | Length: 18.66 in | Air Flow: 47.3 CFM | Socket Compatibility: Intel 1200, 1150, 1151, 1155, 1156, 1366, 2011, 2066, AMD AM4, AM3, AM2, sTRX4*, sTR4*| Noise level: 25 dBA
The new Hydro Series CPU liquid Cooler H150i Pro RGB is a 360mm cooling solution from Corsair with Asetek 6th Generation pump with a cold plate that is reportedly small in size than its previous models. This overall AIO CPU cooler is recommended in our Core i7-12700K list. Corsair has been marketing its new Pro coolers to improve the sound or in other words cool down. Corsair's H150i Pro, like many other water-powered units before it, uses an aluminum radiator. It has a good number of total fin per inch (FPI), and doing more in that area requires fans of constant pressure or fans of high RPM. Other than that, it is about the same (27 mm thick) 360 mm radiator.
While we talk about designing and building quality with beauty, the Hydro H150i Pro RGB is a completely different beast from the "old-school" H100i that you are familiar with and endorsed. The H150i Pro black and gray color scheme make for a clean and comfortable cooling solution. Although it has RGB LEDs built into the pump block, it can be closed with software to keep things down. If you want more openness, you are free to choose any color you want. Design, bezel, fans, and lighting are all redesigned from the ground up next to Corsair's (and the rest of the industry) new RGB info.
Corsair is integrated with the unit. The aluminum-flecked logo embedded on the rad side, the thread that covers the tube between the block and the radiator, or the illuminated RGB block itself combine to make a piece of hardware look incredibly clean. Speaking of fans, Corsair has finally decided to use their ML series fans with a magnetic carrying design. They include a PWM RPM range of 400-1600 and a high CFM of 47.3.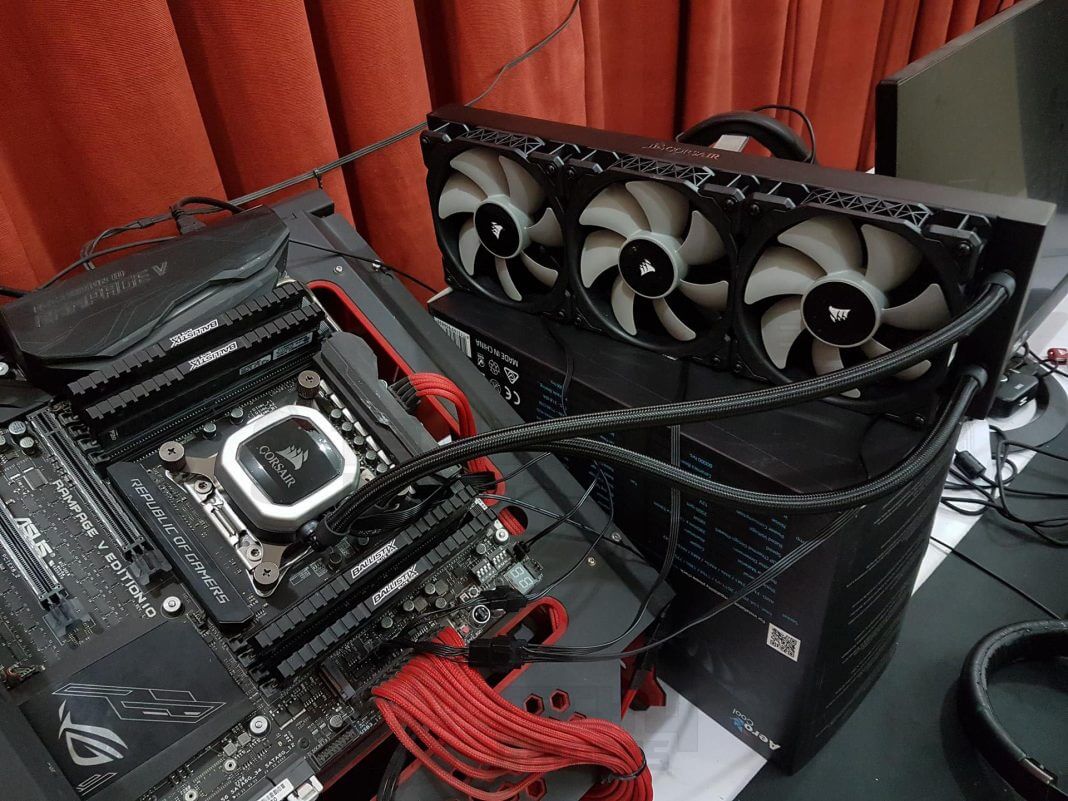 The coolers of this model include the Asetek 6th generation pump and PCB. The first coolers may have Asetek 6th gen technology, although we are not sure about that. Corsair has been marketing these coolers to be designed for reducing noise, and give the quality cooling performance and bold style with the head pump of RGB LED with the "Be Seen, Not Heard" tag line.
Corsair's Hydro H150i Pro RGB is a great addition to this great company's arsenal. Just that a CPU block will differentiate a lot, especially among people who prefer smooth, professional designs associated with a series of Corsair's Graphite cases and more. What we would like to see in the future is how to replace that bezel with different colored frames, or perhaps a more delicate block, combining Corsair's love with RGB talent, while maintaining deep Graphite supremacy.
The quality of construction is good without any obvious problems or mistakes that can be addressed according to CLC. At the same time, fans of the ML series provide good airflow with minimal noise, caused by magnetic levitation bearings that do not create the noise I can see. Add it all up and pair it with a solid five-year warranty and you will be the winner. We have three adjacent features; Performance, Sound, Price.
This I7-12700k CPU cooler is not a priced product as it is an expensive solution given the level of performance we offer but it is a clear winner in terms of low noise performance. It is clear that with this cool item, you can go to quiet jobs or high performance but not both at the same time. Our Verdict: We Recommend Hydro H150i as the Best RGB CPU Cooler For i7-12700k. Also, read our full review of Corsair Hydro H510i.
Pros
Performance-wise the best cooler for Core i7-12700K
Installation is very easy
Build quality is impressive
Quite affordable
It comes with magnetic levitation fans
Cons
Pump performance is not that good
XIGMATEK Aurora 360

Best 360mm AIO Cooler For i7-12700k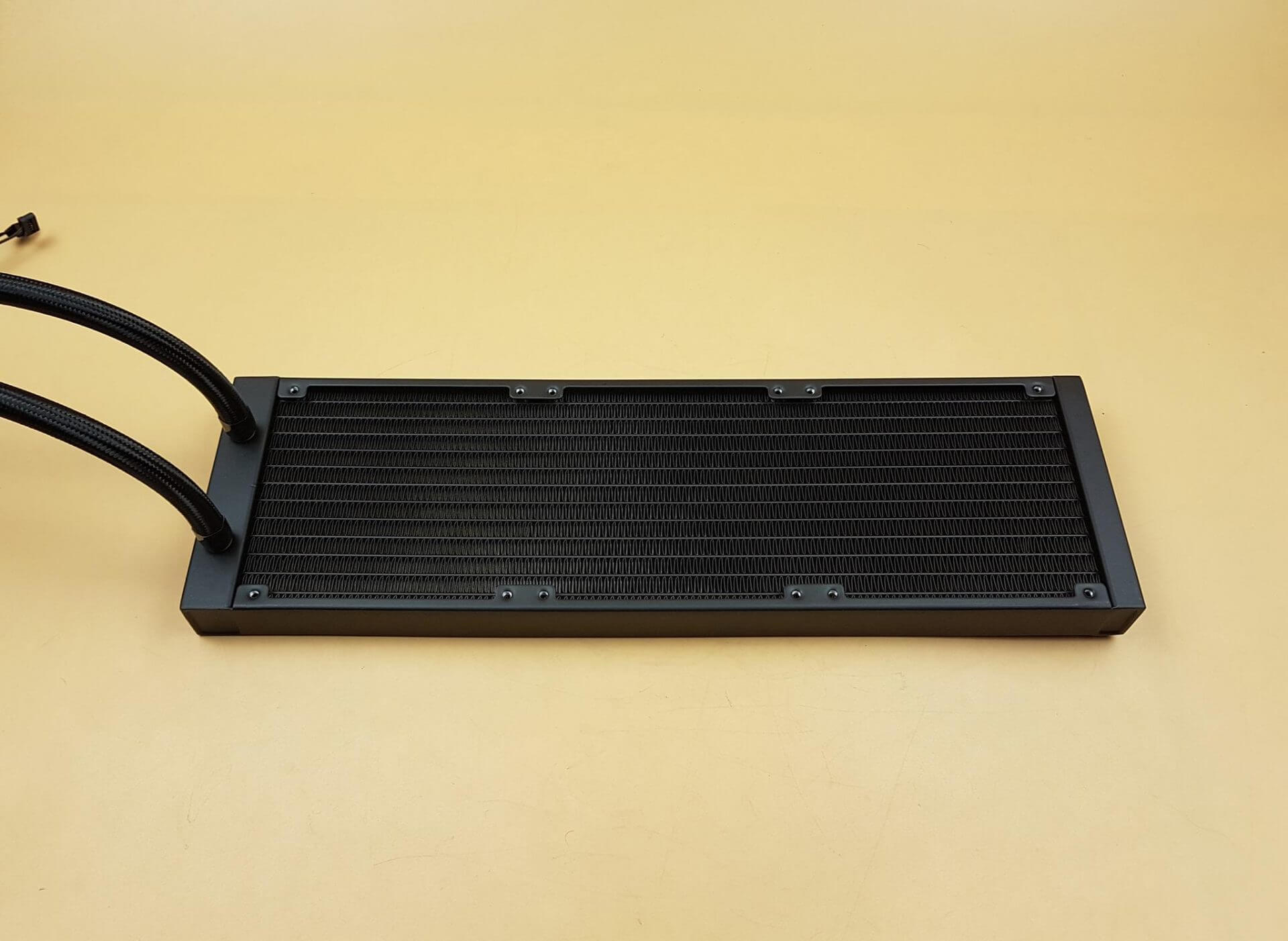 Specification Fans Speed: 3x 120 mm| RPM: 1800 RPM | Height: 14 cm | Width: 25 cm | Length: 46.2 cm | Air Flow: 58.5 CFM | Socket Compatibility: Intel: LGA: 1366, 115x, 2011, 2011-3, 2066 AMD: TR4, AM4, | RGB: Yes
Xigmatek is a relatively new company, founded in 2005, gradually gaining prominence with its new products and creative viewpoint. They produce essentials like PC chairs, PC chassis, PSU, and good RGB AIO. Start with what XIGMATEK says about cool. "Aurora", the natural phenomenon of brightly colored light in the sky, is often seen in the highlands around the Arctic and Antarctic.
The radiator is made of aluminum and is very lightweight. Even the fluid inside, its lightweight fans amazed us. It comes with a full 360 radiator design, which means 3x 120mm fans can fight on each side. Like most other active AIOs, FPI (fines per inch) is expected to be between 8 and 12. The extra FPI will equate to solid airflow, although too much and the energy required from your fans starts to exceed the cooling efficiency.
The pump is probably one of the best pump blocks we've ever seen, with an endless RGB emission. Add the most beautiful effect of the colored rings that go down to the black abyss with the Xigmateks X logo shining in the middle. The pump housing itself is centered and right above the brass plate. The block is 78.59 × 70.52x43mm in size. The pump head has an endless mirror design. There is a XIGMATEK logo lit up in the back in the middle. The logo is in a fixed location. Keep that in mind when you put the cooler in the case. There is a protective sheet in the base that needs to be removed before installation. The base part of the frame has extended legs with ascending holes. This is where the mounting brackets are mounted.
These 120mm fans can hit speeds of 1800rpm, but they push tons of air because of their unique fan design. They are rated at 58.CFM with a vertical pressure of 2.39mm. We should expect moderately temperate temperatures and perhaps even higher summer temperatures during the cooler seasons. With a unique fan design, it comes with Xigmateks, its fan-friendly connection, which is a 6pin structure that will never automatically connect to your motherboard. The whole frame is a circle with inserts that are specially designed. Fans have a much larger understandable range as it stays with ARGB LEDs. Each mounted corner has an anti-vibration pad attached to it. These fans use Hydro Bearings.
The Xigmateks Aurora 360 is an AIO designed to enhance aesthetic appeal. It has the ultimate RGB capabilities and is an easy way to choose any desired color setting. Most will find using motherboard synchronization more in their preferred way than pre-loaded color themes. For those who want a more colorful color but do not plan to get crazy about work, this can be just for you. Installation is easy on the whole, although a careful eye is still needed when tightening screws, as excessive tightening has a greater chance of causing some problems as the cables appear a little weaker. Not all stress tests can produce the same result. This may be due to several factors such as increased pressure, heat attachment, different ambient temperature. Not to mention the different silicon even within the same category of chips. Therefore, it is appropriate to mention the test method and specific details.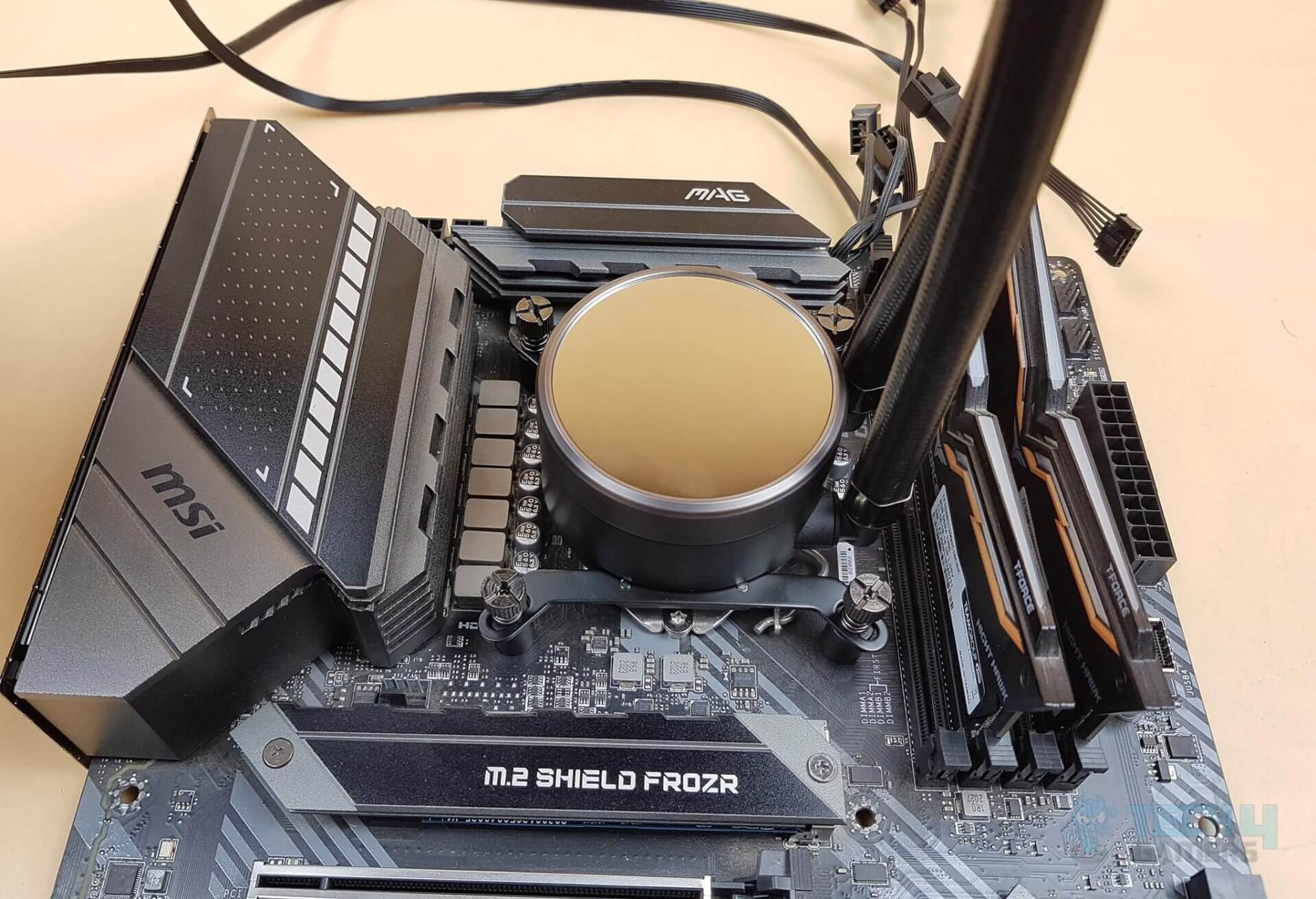 XIGMATEK has provided a powerful MOLEX control box for this purpose. The user has no control/control of PWM for these fans. In my opinion, XIGMATEK should reconsider this design as we rely entirely on the control box for all types of applications. If the control box creates an error, the full unit will be useless. For the same reasons, making RAM a whole unit because of a faulty control box sounds ridiculous (if XIGMATEK follows this method). We like the solution with 4 PWM fan connectors and standard connectors for A-RGB / RGB devices. All the noise from the AIO is quiet, with a slight rumble. We felt the fans of my vigil more than all the other fans "at full speed".
Finding fan speed or pump speed was very frustrating, as the reported speed was over 5000rpm. Perhaps in the future, Xigmatek will install different fan settings by pressing each button in their fan controller. All in all, XIGMATEK Aurora 360mm is one of the Best CPU Cooler For i7-12700k. You can read our XIGMATEK Aurora 360 Review.
Pros
The thermal performance of this cooler is brilliant
Design is elegant
360mm design
Cons
Little pricier than it should be
How We Chose CPU Coolers For Intel Core i7-12700k
The Intel Core i7-12700K is a worthy processor for gaming and home use. It is an aggressive upgrade from its predecessor, the 11th Gen Alder Lake-S chip. Before you start your journey and start analyzing products to get the Best CPU Cooler For i7-12700k, you must consider some factors. You need to be careful about your budget to avoid the effort to find the right product and not buy it. To increase your knowledge of this processor, you should get the most of these recommended CPU coolers to keep it running at high speeds without overheating. Other factors to consider are the type of fans, the type of socket, the size of the coolers, the noise they emit, the power of the hot design, and most importantly, the compatibility.
TDP
Thermal design capabilities are one of the most important things you should consider before choosing a CPU cooler for your system. This determines the power of your cooler, and how much pressure the maximum heat production capacity can cause your bear to cool down or collapse so that the processor can continue to operate without any obstacle, even under the most extreme work. The combination of your processor and your cooler is essential here. It will be beneficial if you choose something cool with the same or higher TDP level compared to your processor. A higher TDP results in greater cooling in size and having more cooling fins but also provides more results than human satisfaction.
Size of Fan
Fan size is a very important factor that goes around and takes up space in the CPU. Mostly 120mm and 140mm fans are used so fan cooling is required. For example, games and planning require more energy than a heating system. In this case, you need a cooling fan that controls the temperature of the system and avoids it by heating and slowing it down again.
Type of Fan
There are several types of fans to choose from: you can prefer an air cooler or a liquid cooler. The difference between the two categories is that one uses cooling fans and heatsinks to clear the CPU of the heat form while the liquid cooler uses water blocks as the name suggests. Although, air conditioners are very effective in the work they do; however, the problem with air coolers is that fans dissipate heat back into the system, which can cause a slight increase in temperature. Liquid coolers, on the other hand, transport the same heat but take you out of the system.
Compatibility of Socket
Another thing to consider when buying a leading CPU Cooler is its compatibility with your motherboard socket. Core i7-12700K compatible motherboards include LGA 1700 socket, so be sure to pay attention to this information, otherwise, you will not be able to install the product later after opening the package because not all compatible with all Intel socket types. However, all the CPU coolers included in this guide support the latest LGA 1700 socket so you don't have to worry about performance issues here. If the cooler doesn't come with LGA 1700 compatibility, you can buy an exclusive LGA 1700 support bracket kit from different manufacturers.
Noise
To most CPU coolers, there is this annoying sound produced by the fans when they work fast. This sound is pleasing not only to the user himself but also to those around him. Therefore, be sure to check the list of cooler's descriptions to check the audio levels specified. Additional features that you should always know about your PC usage level. If your usage level is high, you will be a strong and durable cooler. A competitive player needs a top Cooler as the gaming machine is heavily loaded. In addition to the compatibility of the socket with the TDP, you should make sure that your cooler is at the right level to mark all the details of the motherboard.
Clearance of RAM
RAM specification is another factor to consider when choosing a CPU Cooler. Make sure the product you choose has no RAM overhead problems, especially if your PC comes with high-profile memory modules or heatsinks on top of it. If the cooler is too long, it may clash with RAM, making it impossible to install it all on your motherboard.
How We Tested
All of the chosen Best i7-12700K CPU Coolers undergo comprehensive research here at Tech4Gamers, after which we take into account our proficient analytics, combined with in-house reviewing and testing (if possible). We also compare real-world performance benchmarks under idle, typical, and heavy/gaming/overclocking workloads. Not to forget, we cross-match noise levels to present a completely objective perspective of each i7-12700K cooler in every aspect.
How We Picked These CPU Coolers
Choosing the Best i7-12700K CPU Coolers isn't a job well-suited for the faint-hearted since you'll need to evaluate and accordingly prioritize numerous factors. Nevertheless, you're the one who has to make the decision ultimately. For your convenience, we've gone ahead and explained a couple of essential points to brood over while attempting to complete your quest for handpicking the Best i7-12700K CPU Cooler to supplement your specific and unique workflows. Our CPU Coolers For i7-12700k were picked after hands-on experience, proper evaluation, benchmarks, and our expert's review.
Budget
Every i7-12700K CPU Cooler will unveil itself at a distinguishable price point, determined by its relative cooling performance, build quality as well as its overall design and aesthetics (including RGB capabilities, if present), not to forget the individual manufacturer support and bundled accessories which will vary amongst even the Best i7-12700K CPU Coolers. Therefore, it's essential to make your decision based on a specific budget. That way, you'll know whether it's feasible for you to splurge on some of the exotic Best i7-12700K coolers in the market or compromise on a few areas such as RGB lighting, gunning for a more practical approach to end up with a high-performance i7-12700K CPU cooler instead.
Performance
Generally speaking, performance would be one of the essential aspects of an i7-12700K cooler since you don't want your CPU cooler to be struggling and pave the way for thermal throttling induction in order to keep temperatures in check, which would eventually result in negatively impacted performance.
If you're on the lookout for a conventional air cooler, the fan's specifications, including the maximum RPMs alongside the amount of airflow it produces, are of utmost importance, not to mention the size of the heatsink and the FPI (Fins Per Inch) count (the higher, the better), which help to enhance heat dissipation.
As far as a modern AIO (All-in-One) CPU cooling solution is concerned, the pump speed is directly proportional to cooling performance. Some of the Best 120mm, 240mm, and 360mm AIOs will even feature smaller dedicated fans for keeping the VRMs (Voltage Regulator Module) on your motherboards cool, which will positively correlate with thermal dissipation under heavy gaming/overclocking scenarios.
Efficiency
Even the Best i7-12700K CPU Coolers will differentiate from each other in terms of operational efficiency. That's why it's crucial to select a CPU Cooler with the capacity (and some extra headroom) to capably cool down your precious processor without needing to throttle CPU performance.
For example, the Intel Core i7-12700K is rated at a TDP (Thermal Design Process) of 125W. Assuming you're on the lookout for the Best i7-12700K CPU Coolers, you should be seeking a cooler which would ideally bear a higher TDP of 150W+ to give you moderate overclocking clearance as well should the time ever arise for that.
Noise
Smaller fans have a tendency to be noisier since they're forced to spin at comparatively higher RPMs to produce the same amount of airflow as a larger fan at slower RPMs. That's why it's advisable to stick with one of our Best i7-12700K CPU Coolers, which incorporate bigger fans if noise is much of an issue to you.
Aesthetics and Build Quality
Manufacturers prefer separating their respective offerings for the Best i7-12700K Coolers in the market by offering their unique take on the cooler's aesthetics and build quality. Some brands might opt for more premium construction and dazzling RGB capabilities, which, in turn, leads to a higher price tag. In contrast, others may favour a slightly dreary or more practical approach, sacrificing their design flair for perhaps improvised cooling performance and, with luck, a lower cost price.
Compatibility
Fortunately for you, all of the Best i7-12700K CPU Coolers enlisted in this CPU Cooler article are compatible with the LGA 1700 socket that complements Intel's 12th Generation Alder Lake CPUs. Manufacturers will either include the LGA 1700 mounting kit in the box or provide it to you (usually free of charge) if you reach out to them separately with proof of purchase of an Alder Lake processor.
However, if you're on the lookout for alternate CPU coolers, it's essential to cross-match socket support for your required CPU, which, in this case, would be the Core i7-12700K.
Manufacturer Support
We make it a habit of closely scrutinizing each of the Best i7-12700K CPU Coolers highlighted in terms of aft6er-sales customer service care provided by each manufacturer, keeping in mind past experiences and track records while also inspecting the MTTF (Mean Time To Failure) of individual components such as the fan, pump (if any), and the entire unit itself. Of course, we don't let warranty periods slide by, actively encouraging manufacturers to back up their products for an extended period of time, often up to 6-years.
Why You Should Trust Our Judgement
With over twelve years of experience in the tech and gaming industry, our dedicated team has been refined consistently to produce a potent group of knowledgeable individuals who are known to relay the most accurate information to our valued consumers, thanks to the extensive research and reviewing we conduct before we publish every piece of journalism.
In addition to this, we have been explicitly featured on a majority of the top-notch gaming and tech brands, such as Gigabyte, MSI, Asus, and DeepCool, just to name a few, as reliable and trusted sources for Hardware and Technology.
Subsequently, we instill confidence in our esteemed consumers, who may rely on us to give them the best advice for building, customizing, and modifying their personal gaming computers.
Final Thoughts
The Intel Core i7-12700K carries the crown of being the most brilliant product, an operating desktop processor that encrypts every single function that the user assigns it. With high quality and excellent construction quality, this product combines twelve cores and twenty performance threads. Its power testifies to the fact that it is one of the most popular desktop processors ever produced by any company. When you pair a sturdy motherboard with a high-quality cooler, its performance drastically improves. But all that effort and labor leads to excessive use of energy as well as heat production as well.
We found that the Corsair Hydro Series H150i Pro not only offers superior performance but also looks great. We have encountered many customization options with the CORSAIR software. The quality of the construction is also commendable. The Corsair Hydro Series H150i Pro has inspected all the boxes. So, even if it is expensive, the Corsair Hydro Series H150i Pro is undoubtedly worth every coin and the best CPU Cooler For i7-12700k.
Frequently Asked Questions
Does the i7-12700K come with a Stock Cooler?
Thanks to a rather high TDP of 125W, the i7-12700K tends to overheat when put through its paces in power-hungry workflows.
Does the i7-12700K overheat?
No, since Intel correctly assumes consumers will prefer to buy high-performance aftermarket CPU coolers, the i7-12700K doesn't include a stock cooler.
Should I get a CPU Cooler for the i7-12700K?
Yes, the i7-12700K commands a significantly higher TDP of 125W compared to its relatively thermally efficient Core i3 and Core i5 siblings. Consequently, you cannot make do with just passive cooling since you'll run into overheating and throttling issues which will negatively stagnate overall gaming performance.
Which Type of Cooler Is Best For i7-12700K?
Liquid or AIO Coolers will generally net you enhanced cooling results than a conventional air cooler depending on the size of the AIO's radiator and the number of fans. Complemented by ample clearance for overclocking, AIOs pose a reasonable bargain. However, air coolers generally prove superiority in terms of cost efficiency since even a top-of-the-line air cooler from the likes of Noctua or BeQuiet! will almost always be cheaper than a decent 120mm AIO. You also don't have to worry about fluid leakages or pump failures with air coolers. Ultimately, the decision rests with you, depending upon whether you'd gamble performance and aesthetics for a better price-to-performance ratio and componential longevity or vice versa.
Liquid Cooler Or Air Cooler: Which one is Better?
The Intel Core i7-12700K is an amazing rig ad due to the hard work of the CPU or a solid CPU gaming, that can overheat and damage or malfunction. Therefore, air cooling may not be necessary because as stated in the purchase guide above, you should consider Thermal Design Power and, below, air conditioning. However, note that the i7-12700K has 6 cores which makes the CPU able to handle more work than any other CPU on the market currently available. So, if you do not do any heavy sports or many other activities, air coolers work well. Ultimately, it all depends on you and the tasks you perform on your PC.
Which Cooler is Best for Core i7-12700K?
Ever since Team Blue introduced the Alder Lake processors, it has been an hour's need. The i7-12700K among them makes sure that the user gets everything he ever dreamed of in his favorite CPU. It is an excellent Processor that keeps the content of overclockers and their functionality. But when the user adjusts the settings to go beyond the system, the temperature often goes beyond the control. But don't worry, friend, as a cool CPU cooling solution like the Corsair Hydro Series H150i Pro can take the game into its own hands and let you sit down and run your tasks comfortably.
What is the recommended Size for a Cooler?
First, read the specifications carefully to determine which sink size or radiator size would be best. Manufacturers often specify the height of their cooler or the size of the radiator. You also need to make sure that the coolant you are going to buy allows enough space to clear over the motherboard to get your memory and adequate clearance under the RAM heat spreader. Although in liquid cooling, an important factor in determining the suitability will be the number of radiators and how large the radiators can be. This is not a problem either as manufacturers specify the location of the radiators and their size. Some radiators are installed at the top, which can be a problem as it may interfere with your motherboard.
Was our article helpful? 👨‍💻
Thank you! Please share your positive feedback. 🔋
How could we improve this post? Please Help us. 😔