Intel Core i7 has always been a choice of enthusiastic PC gamers and digital production users. Intel provides additional attributes to Intel Core i7 as compared to Intel Core i5. The Core i7 division is basically a more Core/Thread bonus over the Core i5 and Core i3 chips. Also, you might be here for the Best Motherboards For I7-12700k that we promised, but before we get into that, it's very imperative that you first study and get to know everything about Intel Core I7-12700k and its motherboards. By the way, if you haven't picked your CPU Cooler yet, then you are lucky, because we have already done CPU Coolers for i7-12700k, so make sure to get them as well.
Previously, the Core i7 11700K (11th Gen) had a thriving pair of 8 core and 12 threads, which was already more than enough for high-end tasks, now this time in Alder Lake (12th Gen), the Core i7 12700K is getting even more beefier and even more thriving as new processors is equipped with 8 cores / 16 threads P-Core and 4 cores / 4 threads E-Core (12 cores / 20 threads in total), 25 MB L3 cache, as well as a dual-channel DDR4-3200 / DDR5-4800 memory controller. The system is distinguished by an unlocked multiplier, thanks to which it can be additionally turned up (it is worth having good cooling here – the TDP coefficient was estimated at 125 W). This year, Intel is clearly getting a head start over the AMD DDR4 compatible CPUs.
Memory manufacturers have prepared premium DDR5 memory to accompany the new Alder Lake CPUs. Although it is still limited to the Z690 board with an Intel Alder Lake (LGA 1700 Socket) processor at least for time being. In the future, DDR memory speed will reach the DDR5 5600 standard, not the overclocked version but the standard memory speed. DDR5 Overclock increased more than DDR5-7000. DDR5 4800 by 2022, about half of DDR5 memory will use the speed of the first generation. Notebooks have models with LPDDR5 and DDR5. AMD is yet to prepare rebranded processors that support DDR5. Here is the comparison of i7-12700k Motherboards that we will look at today.
Motherboard
GIGABYTE Z690 AORUS Tachyon
MSI Z690 Force WiFi Gaming Motherboard
ASUS ROG Strix Z690-F Gaming
ASUS TUF Gaming Z690-Plus
Award
Best Overclocking Motherboard For I7-12700k
Best Value Motherboard For I7-12700k
Best White Motherboard For i7-12700k
Best Motherboard For I7-12700k In 2022
Best Budget Motherboard For Core i7-12700K
Last update on 2022-01-23 / Affiliate links / Images from Amazon Product Advertising API
The DDR5 Ram is undoubtedly a great upgrade for long run, to sustain this speed, an equivalent powerful CPU is also required to skyrocket the throughput. Prior to the surprised DDR5 RAM, the PCIe 5.0 compatibility comes also into action. The PCIe 5.0 deals in controlling the unravel bandwidth of DDR5 RAM and Alder Lake's gigantic Core/Thread count. Cores are the logical divisions of the CPU which are responsible for dealing with multiple tasks more efficiently. More core count means more performance.
Specifications of Intel Core i7 12700K
Max Turbo Frequency: 5.00 GHz
Performance-core Max Turbo Frequency: 4.90 GHz
Efficient-core Max Turbo Frequency: 3.80 GHz
Performance-core Base Frequency: 3.60 GHz
Efficient-core Base Frequency: 2.70 GHz
Total Cores: 12
Number of Performance-cores: 8
Number of Efficient-cores: 4
Total Threads: 20
Total L2 Cache: 12 MB
Max TDP: 125 W
Max Memory Support: 128 GB
Memory Types: Up to DDR5 4800 MHz, Up to DDR4 3200 MHz
Best Motherboards for  Core i7-12700K
The number of cores and their frequencies are also directly proportional to the power being drawn from the power supply, AMD has been working against this theory and providing mining TDP rating with more cores/threads count. The Alder Lake with a bigger core count has a huge TDP of 125W. With such a big TDP rating we recommend using CPU cooler for Core i7 12700K to maintain good thermal results and also avoid any damage and performance spike. The Core i7 12700K comes lacking a CPU cooler as traditional, so you should have to buy an LGA 1700 CPU cooler to fit on your motherboard and keep cooling the CPU under idle and intense loads. All things aside, these are the 5 Best Motherboards For I7-12700k for 2022 and beyond.
Gigabyte Z690 AORUS Tachyon

Best Overclocking Motherboard For I7-12700k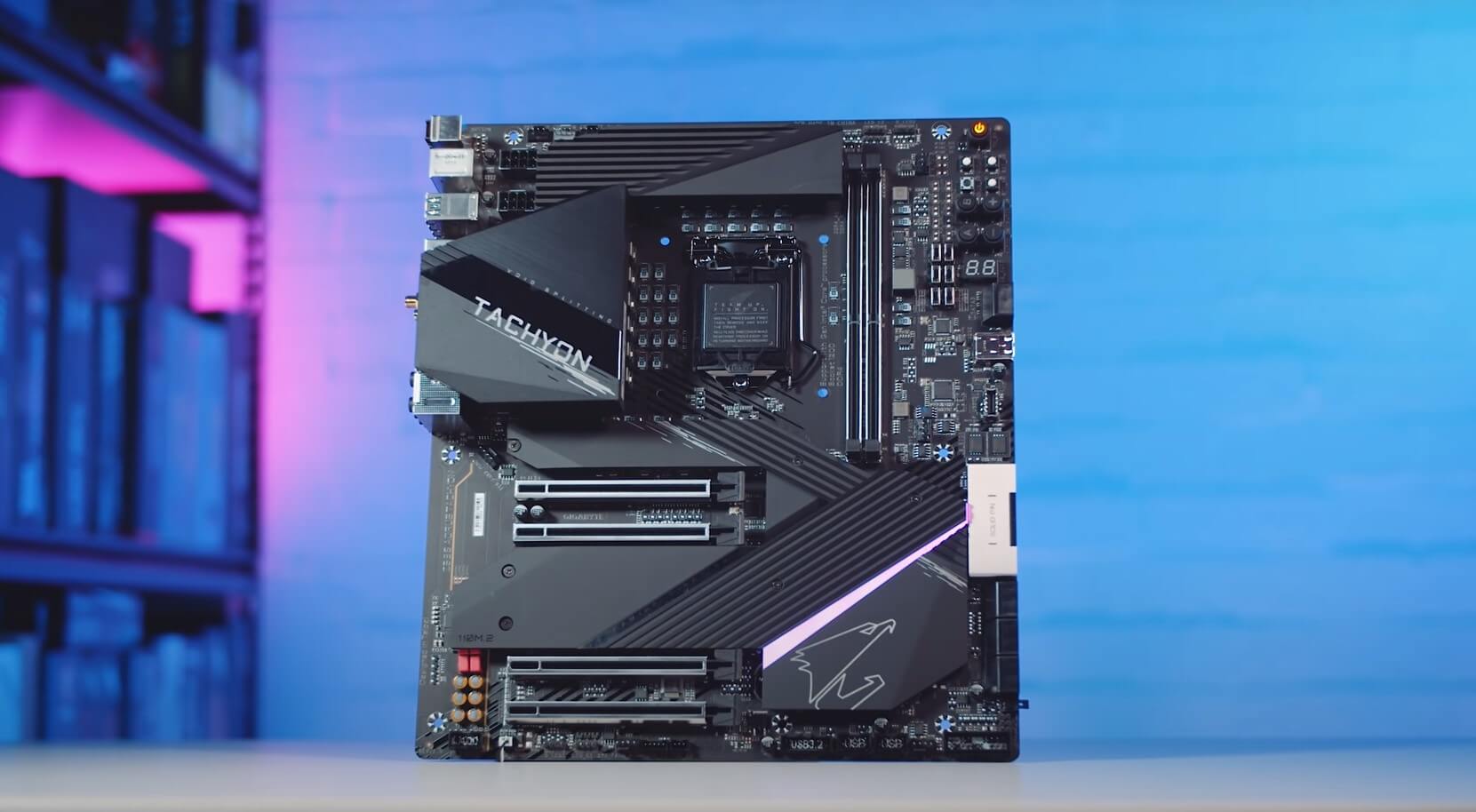 Specifications=Chipset: Z690 | Memory: 2x DIMM, 64GB, DDR5-8300 | Video Outputs: HDMI | Network: WiFi 6E, Bluetooth 5.2, Intel® 2.5GbE LAN chip | USB Ports: 12x rear IO | Storage: 4x M.2, 6x SATA
Pros
Incredible overclocking potential
Great VRM
Durable PCB
WiFi extender
Cons
Expensive
Only 2 RAM slots
First In our I7-12700k Motherboard list is the Gigabyte Aorus Tachyon Motherboard – a motherboard designed for extreme overclocking – the design will appeal to enthusiasts and overclockers, who are passionate about breaking performance records. The Gigabyte Z690 Aorus Tachyon model supports Intel Alder Lake-S processors for the LGA 1700 socket and dual-channel DDR5 memory sets (the manufacturer has provided only two slots, which translates into better OC potential). and it can skyrocket the memory frequency up to 8,3000 MHz.
Gigabyte Z690 Aorus Tachyon enables LN2 overclocking, which means this specific board is designed to withstand record-breaking overclocking potential and it is mainly designed to deliver such adrenaline overclocking without breaking the hazards.
The LN2 overclocking means that Gigabyte Aorus Tachyon is designed to mode according to the nature of Liquid Nitrogen cooling. Basically, liquid nitrogen needs an evaporator to work on the CPU, so there is a dedicated design on Gigabyte Aorus Tachyon for this particular stunt. And good thing is, everything is on a safe placement on Gigabyte Aorus Tachyon Motherboard for the method.
Gigabyte Z690 Aorus Tachyon has the same allocation of features as we saw in its predecessor (Gigabyte Z590 Aorus Tachyon). The series is not quite old in the market, yet it provides LN2 OC brought straight to consumers. Despite its extreme intended design, the Gigabyte Aorus Tachyon can be used for all other purposes as well like gaming, productivity, and seamless clock speeds.
The Gigabyte Z690 AORUS Tachyon has something much different from any other kind of motherboard, which is the control panel consisting of diagnosis LED, OC switches, power switch, and other dipswitches for clock ratio, etc. This certain control panel is located on the missing 2 RAM slots where it can be operated without even being mounted inside a chassis.
Achieving the best overclocking motherboard for I7-12700k, the Gigabyte Z690 Aorus Tachyon PCB entirely shielded that makes it immune against thermal gains and avoids the exposure of sensitive components to LN2 mist so that the overall performance is safe and worth it. The 15+1+2 Phases Direct VRM Design with 105A power stage tells about the internal build quality to sustain extreme overclocking. On top of its VRM design, the 2Oz PCB around the CPU zone protects it from LN2 impacts.
MSI MAG Z690 Tomahawk WIFI DDR4
Best Value Motherboard For I7-12700k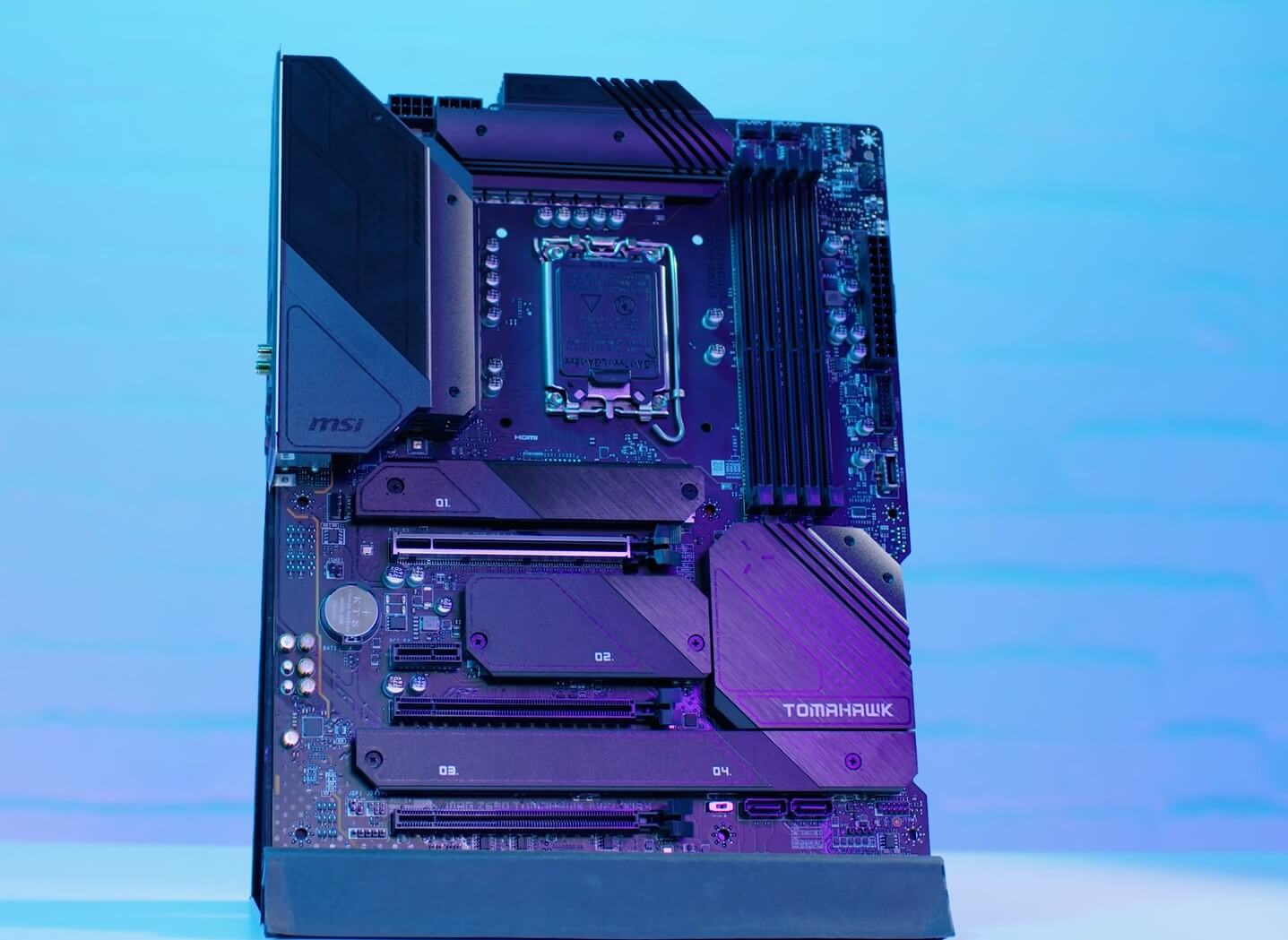 Specifications=Chipset: Z690 | Memory: 4x DIMM, 128GB, DDR4-5200 | Video Outputs: DisplayPort 1.4, HDMI 2.1| Network: WiFi 6E, Bluetooth 5.2, Intel 2.5GbE LAN chip | USB Ports: 8x rear IO | Storage: 4x M.2, 6x SATA
Pros
PCIe 5.0 supported
Good OC potential
Affordable
WiFi support
MSI MAG Z690 Tomahawk WIFI Motherboard is the successor to the popular MAG Z590 Tomahawk WIFI model – the design has been kept in a modern style and will support even the most powerful processors (the manufacturer used a 16 + 1 + 1 @ 70 A power section here). Two versions of the board are available for sale – the standard MAG Z690 Tomahawk WIFI model supports DDR5 memory, and the MAG Z690 Tomahawk WIFI DDR4 Motherboard supports older DDR4 modules. MSI Mag Tomahawk is the combination of military class components and cutting-edge features all together in one package. The motherboard arrangement is quite straightforward and elegant. All the SATA ports are placed perpendicular for easier installation of storage devices.
The fore-side of the motherboard has partly uncovered PCB with mostly IPC sheltered under metallic shielding. The M.2 slots are also shielded with continuing covered design all over the lower side of the mainboard. The backside of the motherboard is however exposed and not covered with any kind of backplate for further cooling. The MSI MAG Z690 Tomahawk WIFI doesn't need excessive cooling, because it runs cool overall with the level of performance it is intended to offer.
As the Alder Lake processors can draw quite a bit of power, the 2x 8-pin EPS power connectors are a nice fore sought to add up. We do believe that an 8+4-pin configuration would probably suffice, but we guess it's better to have a seat on the safe side, especially when power is involved. 16 Duet Rail Power System and 6 layer PCB with 2oz thickened copper doesn't let the quality of this motherboard be miscalculated.
The VRM heatsinks above and alongside the CPU housing aren't connected with any heat pipe, which is basically the standard at this price range. MSI has obviously designated a cleaner look with the MSI MAG Z690 Tomahawk WiFi Motherboard, and we would say they generally nailed it. The grey-shaded overall color scheme and moderate design resemble the MEG UNIFY series of motherboards, rather than the really striking plan of the predecessor (MAG Z590 Tomahawk WiFi).
The heat sink design is matte black which makes the overall motherboard appearance more attractive and closer to elegance. If you are planning for a black build, the MSI MAG Z690 Tomahawk WIFI DDR4 is your best gig.
Verdict: We certainly praise MSI for offering an exceptional glance as in the best value motherboard for I7-12700k, also in the top-tier MSI lineup.
MSI Z690 Force WiFi Gaming
Best White Motherboard For i7-12700k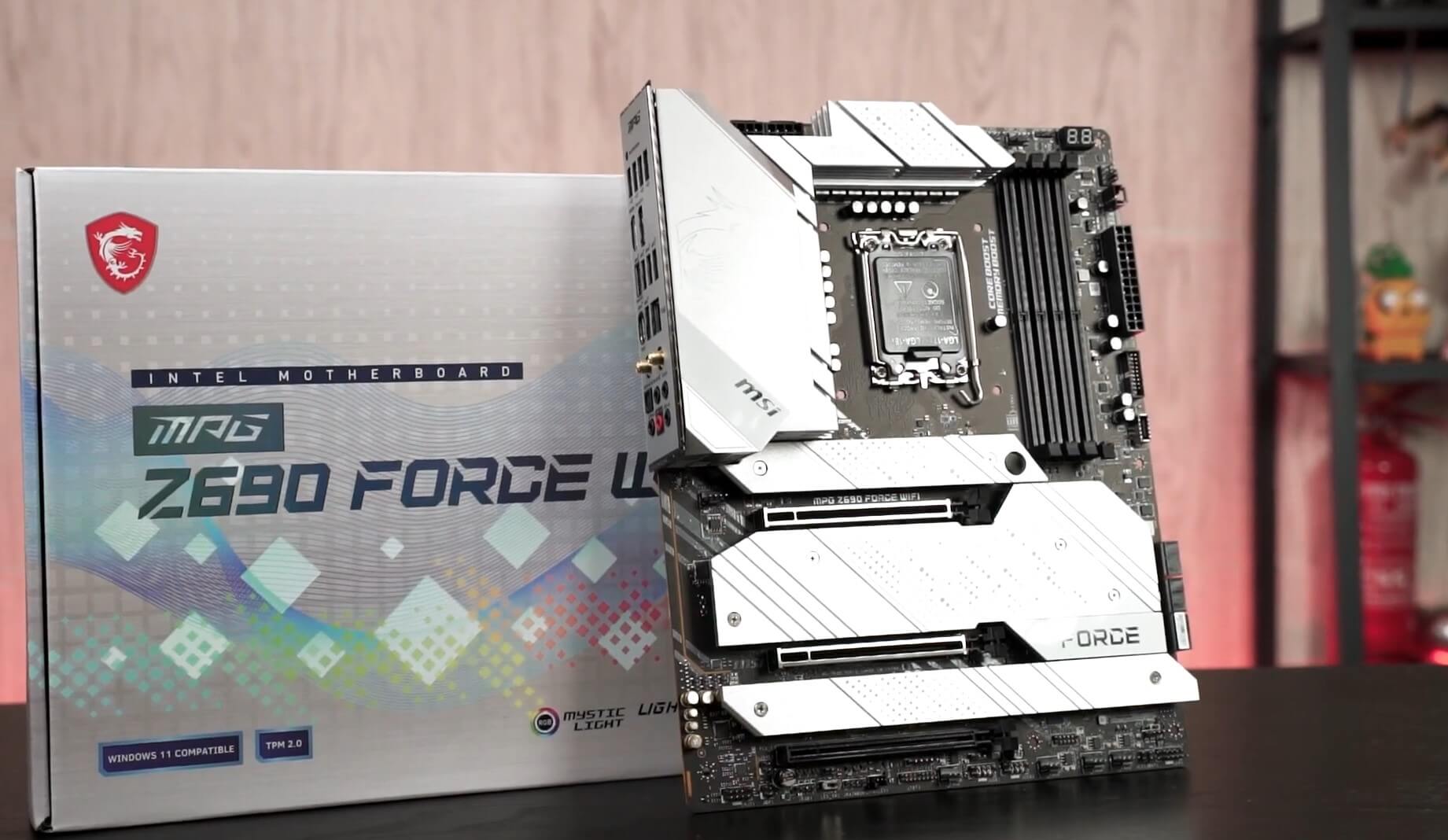 Specifications=Chipset: Z690 | Memory: 4x DIMM, 128GB, DDR5-6666 | Video Outputs: DisplayPort 1.4, HDMI 2.1| Network: WiFi 6, Intel® 2.5GbE LAN chip | USB Ports: 8x rear IO | Storage: 5x M.2, 6x SATA
Pros
Q-code debug LED
Great for white/bright builds
Good OC potential
WiFi supported
Third in our Best I7-12700k Motherboard List is the MSI MPG Z690 Force – A WIFI Motherboard actually the same motherboard as MSI MPG Z690 Carbon WIFI, but in a silver and black color – the proposal should appeal to enthusiasts and modders who build a special set in bright colors or white build. The MSI Z690 Force WiFi Gaming motherboard is a silent yet decent motherboard made with the finest material and PCB, dipped in perfect black and white finishing.
The MSI Z690 Force WiFi Gaming Motherboard has four RAM slots driven by DDR5 support and it is proficient in sustaining 6,666MHz memory frequency out of the box with a limit of up to 128 GB. The center of attention is the MSI trademark (Dragon) embossed on the I/O panel shielding.
Taking a note of the PCIe support, the MSI MPG Z690 Force WIFI integrates 2x full-length PCIe 5.0 interface slots that can work at x8/x8 with a full-length PCIe 3.0 x4 space or x16 mode. Encircling the PCIe surroundings and completely covered by M.2 heatsinks, there are four PCIe 4.0 x4 M.2 expansion slots, with an additional 5th PCI 3.0 x4/SATA slot just in case.
In the power department, the MSI Z690 Force WiFi Gaming Motherboard is not less than any top-tier motherboard. It has an aggressive digital VRM power design with digital PWM IC and a direct 18 phases power system to fulfill all your power needs. Further, the 8-layer PCB backs up the consequences of heating and withstand extreme performance for the long term. If you are looking for a WiFi Motherboard For I7-12700k, The MSI MPG Z690 WiFi Motherboard Is a very good choice.
ASUS ROG Strix Z690-F Gaming
The Best Motherboard For I7-12700k In 2022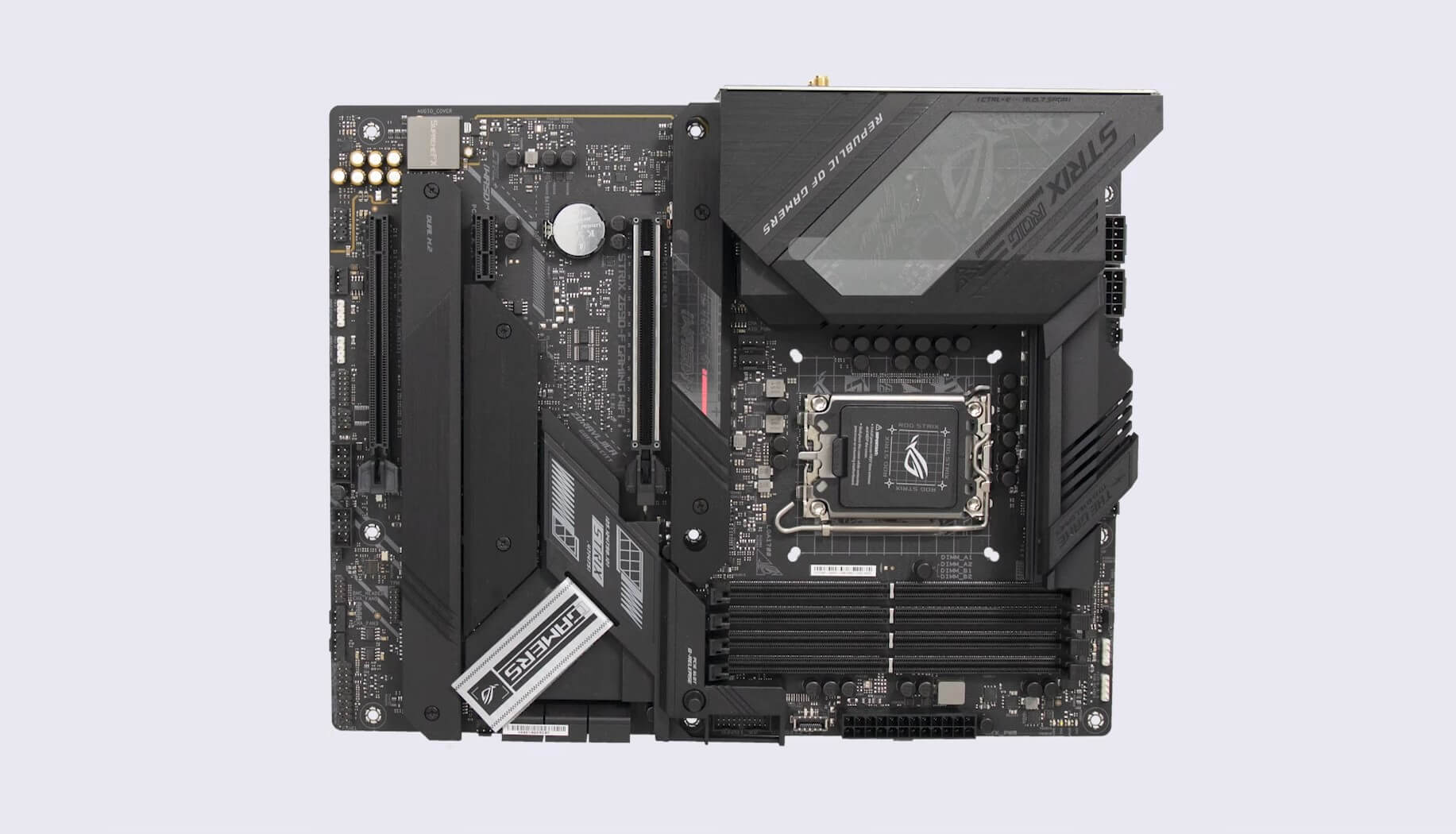 Specifications=Chipset: Z690 | Memory: 4x DIMM, 128GB, DDR5-6400 | Video Outputs: DisplayPort 1.4, HDMI 2.1| Network: WiFi 6, Bluetooth 5.2, Intel® 2.5GbE LAN chip | USB Ports: 10x rear IO | Storage: 4x M.2, 6x SATA
Pros
DDR5 supported
WiFi support
PCIe 5.0 supported
Great design
Good OC potential
The ASUS ROG Strix F Gaming Motherboard alliance is all about performance with bold design. This very much assignment can be seen while observing the latest ASUS ROG Strix Z690-F Gaming motherboard. The top-down view of this motherboard gives enough impression to be called the best overall motherboard for the Core i7 12700K.
The black PCB with mostly exposed IPC doesn't feel old because the overall arrangement of shielding and heatsinks make it stand out as more enthusiastic. Asus really did a great job at taking care of this and improvising the overall impression.
The I/O shield consists of ASUS ROG's signature eye with possible RGB illuminations. The chipset is also well covered with brushed black shields. There are a total of 4 RAM slots powered by the DDR5 standard capable of carrying a total of 128GB of storage @ 6,400MHz.
The VRM looks and performs pretty solid, as we can see there is a 2x 8-pin EPS power connectors arrangement for all the OC and 125W of TDP power draw. 16+1 power stages ensure you to be in a safe hand while boosting your CPU to reach new heights. Although the 8+4pin would be enough but ASUS never settles while providing a greater headroom for overclocking in their motherboards.
The ASUS ROG Strix Z690-F Gaming WIFI model motherboard is distinguished by an effective design, and at the same time offers good functionality – the manufacturer has provided 2.5G LAN and Wi-Fi 6E network were made available. Enthusiasts will be interested in the possibility of overclocking processors (versions with an unlocked multiplier). This also helps us wrap our Fourth entry in Best Motherboard For I7-12700k List.
Asus TUF Gaming Z690 Plus WIFI D4
Best Budget Motherboard For Core i7-12700K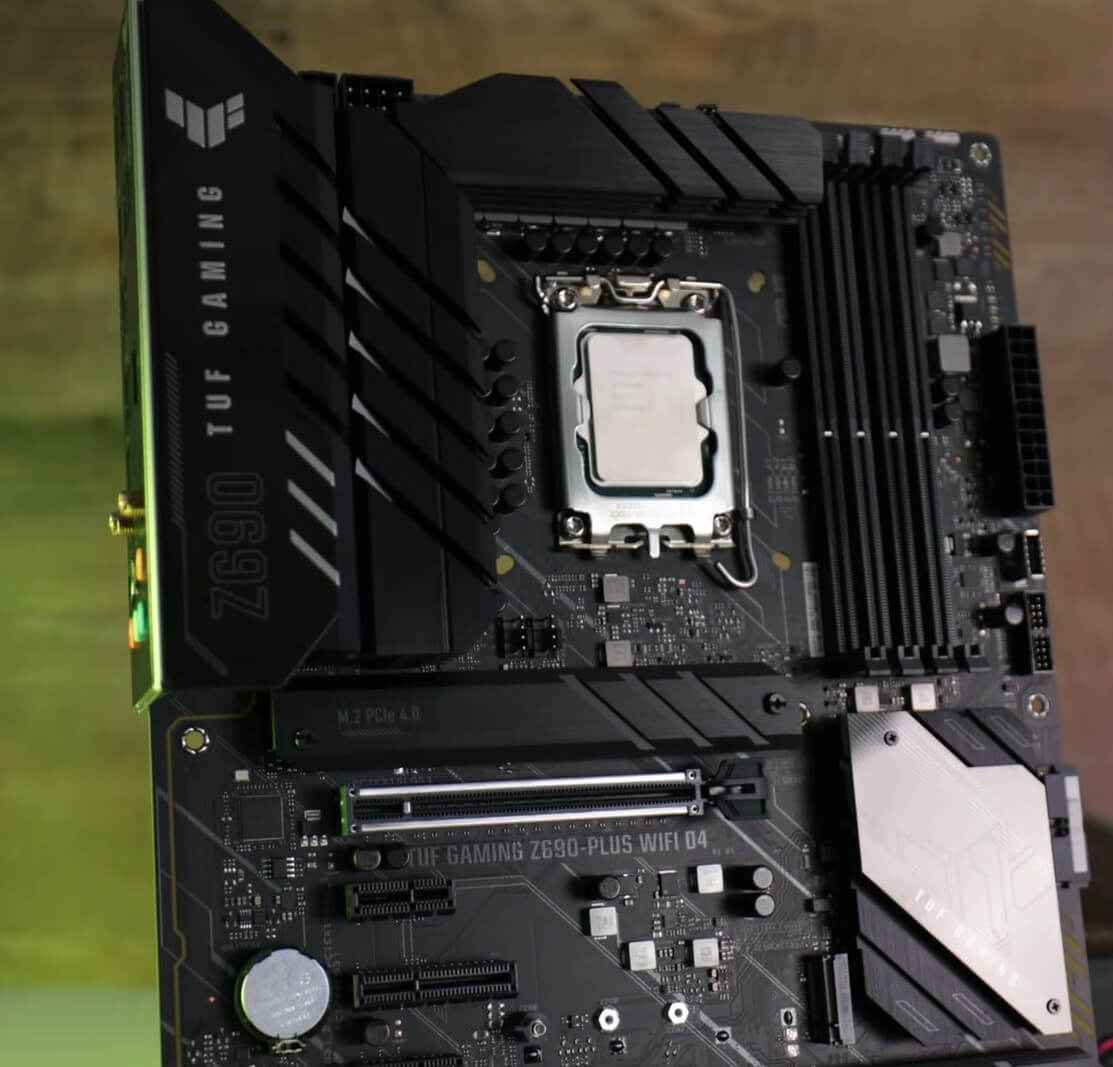 Specifications=Chipset: Z690 | Memory: 4x DIMM, 128GB, DDR4-5333 | Video Outputs: DisplayPort 1.4, HDMI 2.1| Network: WiFi 6, Bluetooth 5.2, Intel 2.5GbE LAN chip | USB Ports: 8x rear IO | Storage: 4x M.2, 4x SATA
Pros
WiFi support
PCIe 5.0 supported
Good OC potential
Budget Friendly
Cons
No DDR5 support
Decent design with exposed PCB
ASUS TUF Gaming Z690-Plus WIFI D4 is one of those best motherboards for i7-12700k that should attract players with light wallet – the design supports Intel processors under the LGA 1700 socket and supports older DDR4 RAM memories. Asus TUF alliance is known for solid build quality with high-end features in one package. Asus TUF is providing E-Sports grade peripherals including gaming monitors, mice, motherboard, chassis, and even AIO liquid coolers. With almost half a decade of trust, TUF Gaming has been a trustworthy option when you are looking for long-lasting components with good performance as well.
Asus TUF Gaming Z690 Plus WIFI is a standard ATX format motherboard with all the action-packed within. Apparently, it is not so much attractive as compared to the ROG Strix variant, still, it exhibits enough RGB spectrums across the PCB and shields couped with good VRM. The whole black PCB and black shields/heatsinks give it a uniform look, plus the orange and grey artifacts make it indulge into the TUF gaming alliance.
There are 4x RAM slots powered by the good old DDR4 standard with a whooping 5,333MHz frequency reach and give you hold of up to 128GB of RAM. Although there is no DDR5 support, which makes it less costly. Within the low-cost bracket, Asus TUF Gaming Z690 Plus WIFI still gives you the full potential of PCIe Gen 5. The decent DDR4 RAM speed and PCIe Gen 5 support make Asus TUF Gaming Z690 Plus WIFI the best budget motherboard for Core i7-12700K.
The Asus TUF Gaming Z690 Plus WIFI is equipped with a 15-stage DrMOS power, with 14 stages devoted to Vcore. Power comes from the EPS connector(s) to an ASP2100 PWM regulator. Asus utilizes a joined arrangement parting the energy without a stage doubler between two stages. This arrangement yields 1,120 Amps for the CPU. This whole power center worked out fine and was excellent to empower a Core i9-12900K at stock. The larger than usual heatsinks additionally kept things running great inside the chassis without any thermal disturbance. The 6 layers of PCB is another big deal with this motherboard. Also, you can check out our Best I9-12900k Motherboards for additional guidance.
Moving right into the center of the board, there are the PCIe slots and M.2 slots. There are two full-length and two x1 size PCIe slots and one x4. The base full-length PCIe slot is associated through the chipset and runs at PCIe 3.0 x4 speeds. The x4 and x1 size spaces additionally source their paths from the chipset and run PCIe 4.0 x4 and x1, separately. The essential GPU slot, at the top, runs at the PCIe 5.0 x16 interface and sources its paths from the CPU.
The Asus TUF Gaming Z690 Plus WIFI Motherboard brings a couple of extra attachments, for example, SATA links, the Wi-Fi receiving wire, a driver/utility plate, and an extensive and easy to understand manual.  The Asus TUF Gaming Z690-PLUS WIFI D4 motherboard is enough for a gamer and power user. It empowers the users to get all the advantages from the Alder Lake CPUs without having a second thought about the missing DDR5 modules support.
What's new in Z690 Motherboard Chipset?
Now that we are done with the Best Motherboards For I7-12700k, let's jump into the Z690 Chipset, and why it's so important.
DDR5
DDR5 is the most recent age of PC memory, likewise ordinarily known as RAM. It is the 5th Gen of DDR SDRAM (Double Data Rate Synchronous Dynamic Random-Access Memory), it is an essential section of PC equipment that is known for running games and running applications faster also reducing load times. As a generational overhaul, it brings key enhancements throughout the last age as far as memory transfer speed, limit, and power utilization compared with the previous cutting edge DDR4 memory.
First of all, the base DDR5 data transmission skyrocketed by large from DDR4's 3,200 MT/s to DDR5's 4,800 MT/s. There's much advanced potential coming with time, with data transmission ready to top at 8,400 MT/s once the unit with better frequency shows up. Obviously, there are as of now DDR4 modules that go up to 5,333 MT/s, yet those are overclocked past the average furthest reaches of DDR4. DDR5 overclocks will get us past that highest possible peak frequency not long from now. However, in the short term, there's doesn't cost less because of being a very remarkable speedster leap between the two generations at DDR RAM. With the passage of time, we will see as DDR5 develops, the speeds are pushed a lot higher.
DDR5 gives a major improvement to the capacity limit also. With DDR4, the maximum limit with regards to one stick (otherwise known as one DIMM) was only 64GB, with 32GB being the most usually accessible best unit. DDR5 takes this up to 128GB per unit. Despite the element that makers will undeniably make low-speed DDR5 RAM sticks also for budget users, we can surely anticipate that this new generation should expand the common limit we see in newer motherboards powered by AMD or Intel chipsets.
PCIe 5.0
With the primer detail reported in 2017, PCIe 5 is a fast and long-lasting PC extension transport standard that moves information at a high transfer speed between different parts of the PC components. The PCIe 5.0 determination was officially delivered in May of 2019.
You may be asking why another PCI Express standard like PCIe 5 is required. Indeed, PCIe 5 offers double the information move pace of its PCIe 4 standard, a transmission of 32GT/s versus 16GT/s. This speed increment is basic to help new AI/ML applications.
Nothing unexpected, PCIe 5 is the quickest PCI Express of all time. While the speed overhaul makes the utilization of currently available hardware pointless, especially exciting that PCIe 5 is empowering new applications in business sectors like AI/ML and circulated computing. Artificial intelligence applications produce, move, and cycle gigantic measures of information at constant paces. PCIe 5.0 is a great carrier that can produce as much as terabytes of information each day!
LGA 1700
Intel's new LGA 1700 CPU socket is the spinoff version of the previous LGA 1200 intel CPU socket that was operated for Intel 11th and 10th Gen CPUs. There have been a lot of various CPU sockets used throughout the long term, yet this change brings an unusual advancement.
The LGA 1700 CPU socket is taller with an unstable CPU geometry. That implies the older CPUs won't work with the LGA 1700 CPU socket by any means, and the new 12th Gen Alder Lake CPUs won't work with more established CPU sockets (like the LGA 1200 CPU socket). Since you can't trade out the CPU socket on a board, you're probably taking a look at a replacement in case you're moving up to a 12th Gen Intel CPU.
The socket update additionally implies most CPU coolers planned to work for past Intel chips won't work as expected with the new equipment. You may luck out and observe an LGA 1700 connector pack for your particular cooler. Outstandingly, Noctua was one of the CPU coolers manufacturers that has reached out sooner to provide the LGA 1700 support kit and standalone coolers for LGA 1700 CPUs.
What to Look for in a Motherboard? [Buying Guide]
Chipset
A chipset is the collection of circuits that supports and allows communication between the processor and all other components. In fact, the chipset holds all the information and drivers of the CPU architecture. Apparently, all the motherboards might look the same and alike but their chipset might be different. Look out for chipset compatibility with the processor you are buying. For example, the Z690 chipset is only supported with Intel 12th Gen Alder Lake CPUs, there might be some other chipset coming later as well. Look out for supported CPUs on the back of the motherboard box to avoid any inconvenience.
CPU Socket
We insert the CPU in a housing located on the motherboard which is called the CPU socket. A CPU socket has different types and alignment of pins according to the chipset family it has. For example, the LGA 1700 socket with Z690 chipset motherboard has only the capability to house and support the 12th Gen Intel Core processors. Any incompatible socket either won't let any unsupported CPU to fit in or if it does, it will not be working. Look out for the CPU's socket manual before selecting a motherboard.
Form Factor
Form Factor is the standard dimensions of a motherboard. There are ATX, E-ATX, ITX, etc form factors. The form factors are categorized on the basis of the size of the whole PC unit. All other components are further categorized to sit and fit well with the certain form factor and it helps to select supported components much easier. Refer to your Chassis' form factor type before housing it in a motherboard.
VRM
VRM is also known as Voltage Regulator Module and is a central and most critical part of a motherboard. It determines the compatibility with the CPU in power aspects. VRM also plays an important role in overclocking onboard components. Determine the VRM nature of a motherboard before pairing it with a powerful CPU.
PCB Layers
A motherboard is kind of a silicon wafer that has a lot of layers. Like any other circuitry, the motherboard has PCB layers which is the foundation of its durability factor. More layer means more quality. 6 Layers of PCB are ideal for a long-term run with overclocked configuration. We highly recommend looking out for PCB layers to determine the build quality of the board.
RAM Slots
One cannot deny the importance of RAM. RAM sticks are bought in quantity to work simultaneously to perform heavier tasks. There are a number of RAM slots on the top right side of the motherboard and you have to determine the number of slots on it. Also, there are the RAM standards like DDR4 and DDR5. You cannot insert DDR4 RAM on a DDR5 compatible motherboard and vice versa. The ideal number of slots on a motherboard is 4 and the latest RAM type is DDR5. Look for the number of slots if you want to expand your total memory up to 128GB.
M.2 Slots
M.2 slots are the fastest mode of storage nowadays. We have seen MB/s of data transmission in SATA SSDs, the M.2 SSDs are capable of delivering GBs of information in seconds via the M.2 links. M.2 links are directly linked with the CPU through dedicated lanes. The ideal number of M.2 slots is 4 and Gen 4 is recommended for PCIe M.2. Look out for the number of M.2 slots on the motherboard if you are going to expand the fastest storage of your PC.
PCIe Slots
PCIe slots are the sweet spot of a motherboard to pass through the largest bandwidth of the whole PC, the graphics card link. To link your graphics card on a PCIe slot, determine the generation of the PCIe interface. The ideal PCIe interface is PCIe Gen 5 (PCIe 5.0) which is capable of transferring 32GT/s of information. Data miners and PC gamers should be concerned about the PCIe generation to avoid any lag during gameplay with top of the line graphics card.
RGB
RGB is the bonus feature and more RGB never means more performance. RGB lights are a cherry on top of other described features. Look out for features more than the RGB spectrums. Keep in mind that "All that glitters, is not gold!"
Color scheme
Motherboard's PCB, shields, and heatsinks are the real center of attention inside the transparent PC chassis. Most people prefer themed PC builds, so all the components are uniform in color schemes. In this specific case, check the color scheme of the motherboard's various components to make it stand out most inside the PC case.
How We Chose The Best Motherboard for I7 12700K
Our recommendations are based on facts and figures. We try to take all motherboards into account which are of course compatible yet they create so many questions in our mind For example: whether the motherboard is overkill or not, whether the motherboard supports latest techy features, whether the motherboard fits inside the PC case and have equivalent enthusiastic features that your PC could pair up with.
Our first priority is to mention the top motherboards with the best VRM ratings. The VRM is a vital part of any runner-up motherboard in our list. There should be no compromise on the power section of any motherboard this thing is our first priority to take care of.
Secondly, the PCB layers should be taken into account. The number of layers in the PCB wafer is a must to determine the quality and durability of a motherboard. We strongly mention the PCB layers of any motherboard we mentioned so there may remain no chance for us to explain an inferior piece of tech for your convenience.
Later the durability and power course, we recommend motherboards on the basis of their specs and brand. The motherboard manufacturers have a standard and all the series/alliances of a brand come with the pre-defined allocation of features which we again disclose to our viewers so that they don't need to guess the changes a motherboard had as compared to its predecessor unit.
The specs are the only thing many people see before selecting a motherboard from a pile of many, but we strongly recommend looking out for their PCB layers and VRM build quality to ensure efficient shopping.
Why You Should Trust Us
Tech4Gamers has been a pinnacle of hardware and gaming catalogs. We at Tech4Gamers have been covering all the aspects of PC, Consoles, Technology, and Entertainment for over a decade now. We have developed a firm and experienced staff filled with a passion for technology and gaming. In pursuit of daily blogging, we have gone so far in making this platform convenient for consumers to pay a visit and have all the solutions for free.
Tech4Gamers is a group of remarkable individuals and they are all keen to hear your problems and give the best solution possible. We run down the world wide web to look for what is necessary to discuss and provide briefed and authentic information. We have all the testimonials of reputed manufacturers and distributors for the credibility of our content and material.
Core i7-12700K vs Core i5-12600K
The Core i5-12600K has surpassed its predecessors even the predecessors of Core i7 in benchmarks and also in gaming performance. But the real bone between these two 12th gen CPUs has been a real center of attention for many consumers who want to buy one of these considering the gaming and overall performance difference.
Let's first look at the technical specifications of these two contestants:
Specifications of Core i7 12700K
Max Turbo Frequency: 5.00 GHz
Performance-core Max Turbo Frequency: 4.90 GHz
Efficient-core Max Turbo Frequency: 3.80 GHz
Performance-core Base Frequency: 3.60 GHz
Efficient-core Base Frequency: 2.70 GHz
Total Cores: 12
Number of Performance-cores: 8
Number of Efficient-cores: 4
Total Threads: 20
Total L2 Cache: 12 MB
Max TDP: 125 W
Max Memory Support: 128 GB
Memory Types: Up to DDR5 4800 MHz, Up to DDR4 3200 MHz
Specifications of Core i5 12600K
Max Turbo Frequency: 4.90 GHz
Performance-core Max Turbo Frequency: 4.90 GHz
Efficient-core Max Turbo Frequency: 3.60 GHz
Performance-core Base Frequency: 3.70 GHz
Efficient-core Base Frequency: 2.80 GHz
Total Cores: 10
Number of Performance-cores: 6
Number of Efficient-cores: 4
Total Threads: 16
Total L2 Cache: 9.5 MB
Max TDP: 125 W
Max Memory Support: 128 GB
Memory Types: Up to DDR5 4800 MHz, Up to DDR4 3200 MHz
The number of Cores in Core i7-12700K is obviously more than the Core i5's traditionally but the 12700K doesn't justify the cost per frame factor when it comes to reliability with all the calculations of price to performance ratios.
We highly recommend you to buy Core i5-12600K if you only want to play AAA games on your PC. Core i7-12700K is only recommended when you intend to perform multi-tasking and power user stuff.
Frequently Asked Questions
What is the best budget motherboard for 12700K?
Asus TUF Gaming Z690 Plus WIFI is an ideal choice for budget users. The Asus TUF Gaming Z690 Plus WIFI has all the power to push all the limits with Alder Lake's full potential. Although it is a DDR4 motherboard, but it has enough memory speed closed to DDR5 starter speed.
Is Intel Core i7 12700K an overkill for gaming?
Core i7 12700K comes with a configuration of 12 cores and 20 threads. Nowadays an ideal core and thread count for gaming is 8 cores and 16 threads. So it is somehow an overkill for gaming. It might be enough for power tasks like video rendering due to its polished Quicksync feature.
Does Intel Core i7-12700K Overheat?
With the courtesy of 125W of TDP rating, the 12700K runs hotter. Although there are credible CPU coolers in the market to catch up with Alder Lake CPUs.
Should you upgrade to DDR5?
The new DDR5 standard is primarily an increase in bandwidth – this will increase from 3200 Mbps in the case of DDR4 modules to 4800 Mbps (although in theory, it is possible to get up to 8400 Mbps). Moreover, DDR5 modules will also enjoy an increase in capacity ranging from 8 – 64 GB, yes! 64 GB DIMMs.