Intel has launched their 12th Generation Core CPUs codenamed Alder Lake, but choosing the best Z690 motherboards for your shiny new CPU might not be a straightforward task. The three new CPU SKUs that have been unveiled as of the time of writing include the flagship Intel Core i9-12900K and 12900KF, along with the Core i7-12700K and 12700KF. The Core i5-12600K and 12600KF make up the midrange offerings from Intel on the new platform. The socket has been changed to LGA 1700 from last gen's LGA 1200, so that removes any backward or forwards compatibility for the Z690 motherboards and 11th Gen Core processors.
You might be wondering what makes the new platform so exciting. Well, after constant pressure from AMD and their brilliant Ryzen CPUs, Intel has come back swinging with a host of brilliant features in the Alder Lake CPUs and the Z690 chipset. For the first time, we have DDR5 RAM memory support on a consumer desktop platform, along with the standard DDR4 support. The new Intel platform also introduces a significant performance improvement, and also offers much better functionality. Unfortunately, it will be paid at much higher prices. People planning to modernize a computer will feel the most – they will have to buy a processor and a new motherboard for the LGA 1700 and new DDR5 RAMs, though some Z690 moth. However, also support DDR4 ram. Well, I guess we have to get used to the fact that the new generation of equipment brings improved performance and higher prices.
You will have to choose which memory platform you want since you can't use both simultaneously. Furthermore, Intel has also included PCIe Gen 5 support on Z690 motherboards, although there is currently no device out there that can take advantage of this technology right now. Still, Intel has provided a pretty solid upgrade here with the Z690 and Alder Lake platform. You can also check out different types of Motherboards For I9-12900k.
Best Z690 Motherboards
If you have decided to get onboard the Alder Lake train, you will need a Z690 motherboard that can perfectly suit your needs. This is why you will need our reviews today, primarily because picking the best Z690 motherboard out of the dozens of available options on the market is not an easy task.
The high-end CPUs in the Alder Lake lineup, especially the Core i9 parts, need a lot of stable power so the VRM performance is absolutely key here. We should also take into consideration whether the board is DDR4 or DDR5 since there are different variants of each motherboard depending on the memory type. We have already done a DDR5 and DDR5 Rams for Intel 12th Generation – Alder Lake, so must check that out.
With that out of the way, as per our reviews – here are all the recommended Z690 motherboards for your next upgrade.
ASUS ROG Maximus Z690 Hero
Best Overall Z690 Motherboard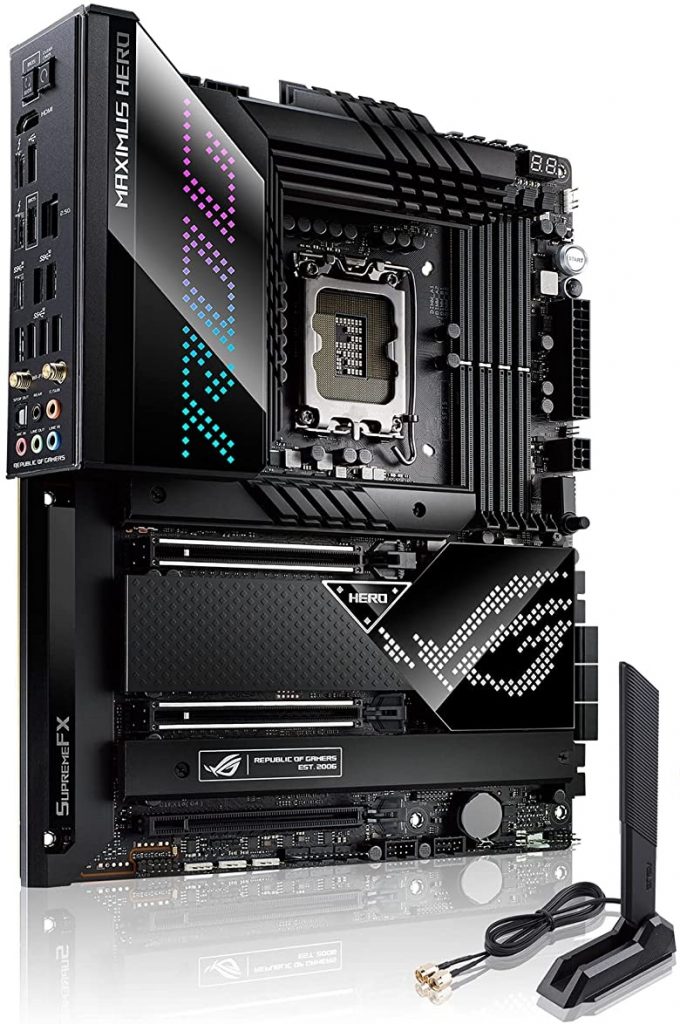 Specifications="Chipset: Z690 | Memory: 4x DIMM, 128GB, DDR5-6400 | Video Outputs: HDMI | WiFi | USB Ports: 11x rear IO, 9x internal | Network: 1x 2.5 GbE LAN, 1x Wi-Fi 6E | Storage: 5x M.2, 6x SATA"]
Pros
Top Of The Line Z690 Motherboard
Excellent Connectivity Options
2x Thunderbolt 4 Ports
20Gbps USB-C port
Nice Aesthetics
Excellent Power Delivery
Cons
Very Expensive Z690 Motherboard
Any enthusiast-grade motherboard tier list would be incomplete without mentioning the ROG Maximus series from ASUS. This is the high-end motherboard category from ASUS that falls under the ROG banner, and for the Z690 versions, ASUS has done away with confusing Roman numerals. Instead, they opted for the name of the chipset in the name of the product, what an ingenious thought. Still, the ROG Maximus Z690 lineup of boards is among the best you will ever find on this chipset, and the Hero variant is the one we are particularly interested in.
Packing a monstrous 20+1 VRM design with 90A power stages, the Maximus Z690 Hero is more than enough for any Alder Lake CPU you can throw at it, even at overclocked settings. In fact, we would recommend the Maximus Z690 Hero for any potential buyers of the Core i9 12900K and the 12900KF, since those CPUs have lots of overclocking potential that can be achieved using this fantastic z690 motherboard. The VRM is also cooled effectively by large heatsinks, so temperatures should be perfectly sound. The board also supports DDR5 memory at up to 6400MHz speeds, but time will tell if investing in DDR5 right now is a good idea.
Aesthetically, the board looks really impressive as you would expect from a Maximus series board. ASUS has gone for a sort of modernized look with the pixelated ROG script on the I/O cover and the ROG eye on the chipset heatsink which is also pixelated. These surfaces are finished in a glossy material so fingerprints would be quite visible. There is not much to comment on in terms of aesthetics since the board is mostly matte black and covered with heat spreaders, so there is barely any PCB visible. The I/O shield is built-in, which is an excellent feature that is being standardized now.
There is not much to complain about in terms of features with the Maximus Z690 Hero. The board brings absolutely everything you could want from a premium board on the bleeding edge. The 2x Thunderbolt 4 ports on the rear I/O stand out immediately, and they are an excellent addition to the I/O of this board. The board also supports 5 M.2 devices at the same time, if you install the included PCIe M.2 expansion card as well. PCIe Gen 5 is also supported, but that is limited to the PCIe 16x slots, which is not really important right now. The board also has a 2.5 GbE LAN port and WiFi 6E for connectivity.
What sets the Asus ROG Maximus Z690 Hero apart from its competitors
Asus has blitzed the entire manage competition with its best-in-class ROG Maximum Z690 Hero, based on a fully-fledged ATX form factor which enables Asus to incorporate state-of-the-art technologies such as 2x Thunderbolt 4 ports supplemented by a staggering 5 M.2 SSD slots (through the use of the ROG Hyper M.2 Card which enables 1 of the 3 added-on M.2 slots to be compatible with PCIe Gen 5.0 if you're not using the PCIe Gen 5.0 capabilities of the PCIe x16 slot, normally dedicated to the GPU. These vast storage capabilities are paired with another 6x SATA III ports for connecting conventional means of storage.
Still not braking, the ROG Maximus Z690 Hero sports an outstanding 20+1 power stage design rated at 90A of current, complemented by proprietary 'ProCool II' power connectors and Microfine Alloy Chokes, not to forget the premium metallic capacitors. Moving on, the Asus Z690 Hero features spacious VRM heatsinks coupled with a high-conductivity thermal pad, as well as triple heatsinks for five of the M.2 SSD slots, effectively hiding three of the five M.2 slots, rounded off by the ROG Water-Cooling Zone enabling you to overclock your Alder Lake CPU to the max without fear of thermal limitations, preferably at least an i9-12900K or i7-12700K so as to yield the absolute potential the Asus ROG Maximus Z690 Hero is designed to offer.
Furthermore, the Asus ROG Maximus Z690 Hero offers integrated WiFi 6E for the fastest wireless networking speed among the competition. However, it does fall flat with *just* 2.5 Gb Intel Ethernet since competitors are sporting 10 Gb of Ethernet speeds. That being said, your ISP (Internet Service Provider) will play a prominent role in whether this 4x difference will be a big deal or not, and it's safe to say that the majority of our users will be unbothered.
Asus manages to stuff 6x USB 3.0 Type-A ports with 3x USB Type-C (2 of which are the aforementioned Thunderbolt 4) alongside 2x USB 2.0 legacy ports, one of which works with Asus' BIOS FlashBack feature, for which there's a dedicated button on the rear I/O, enabling you to install a new BIOS from a USB Type-A drive, should the need ever arise. As far as memory is concerned, the Z690 keeps up with traditions, supporting a maximum of 128 GB of DDR5 memory at a potential top speed of 6400 MHz with support for possibly further RAM overclocking.
Asus uses its outstanding ROG SupremeFX technology on the audio front with the Realtek ALC4082 Codec with ESS (Electrostatic Sound System) paired with an ES901Q82C DAC (Digital-to-Analogue Converter). What this means for you, in simple words, is that you'll be treated to high-fidelity audio with a wide soundstage to appeal to the audiophiles and gamers out there with pristine audio quality.
The ROG Maximus Z690 Hero has a never-ending list of features, such as its I/O cover with 'Polymo Lighting,' which comprises a couple of RGB LEDs that light up to show the instantly recognizable ROG logo and the famous ROG eye in a pixelated format. Asus includes a sole RGB header and 3x addressable RGB Gen 2 headers should you want to step it up as far as colour schemes go.
The Z690 Hero is fortified with Asus's host of exclusive revolutionary technologies such as the PCIe Slot-Q release, ROG GPU Holder, and SafeSlot, all of which reinforce the ROG Maximus Z690 Heros' PCIe x16 slot, making it easier to release the GPUs by simply pressing a button, while securing it at the same time. Asus is also utilizing a screwless design for adding M.2 SSDs. You'll still need to unscrew the heat spreaders but can easily mount the SSD itself by turning back a nifty locking device dubbed the M.2 Q-Latch, making M.2 SSDs enjoyable to install.
Finally, Asus bundles a 1-year subscription of AIDA64 Extreme for benchmarking and diagnosing your gaming PC as well as staying up-to-date on your system specs and software-related information. Also, the Z690 Hero has integrated the MemTest 86 in the user-friendly UEFI BIOS dashboard, which helps inspect RAM stability and performance. Asus stamps on a 3-year warranty for the Z690 Hero Motherboard, which could've been improved considering the exorbitant price. Nevertheless, the Asus ROG Maximus Z690 Hero uniquely separates itself from the competition as the Best Overall Z690 Motherboard.
All in all, you can't really go wrong with the Maximus Z690 Hero for the brand new Alder Lake platform, and that's why it is our pick for the best overall Z690 motherboard. It has one of the best power delivery systems of any motherboard available on the market and combines that with a premium feature-set that doesn't really lack anything of note. The price is hefty, understandably, but it might be worth it in the long run if you plan to keep a premium Alder Lake system with you for years down the line.
Gigabyte Z690 AORUS Master
Best High-end Z690 Motherboard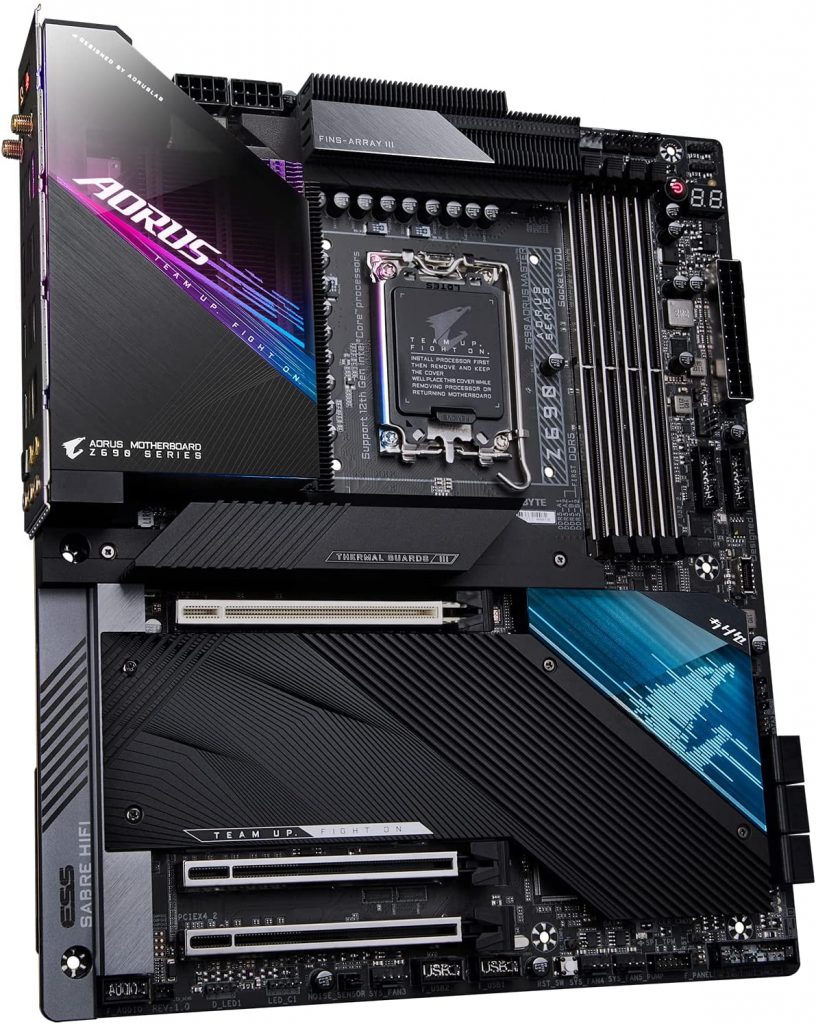 Specifications="Chipset: Z690 | Memory: 4x DIMM, 128GB, DDR5-6400 | Video Outputs: DisplayPort | WiFi | USB Ports: 11x rear IO, 9x internal | Network: 1x 10 GbE LAN, 1x Wi-Fi 6E | Storage: 4x M.2, 6x SATA"]
Pros
Z690 Motherboard With Unrivalled VRM Design
10 GbE LAN
Several Storage Options
20Gbps USB-C port
Attractive Design
High-End Performance
Gigabyte's high-end AORUS motherboards recently have been absolutely fantastic for both platforms, so it is no surprise that the Gigabyte Z690 AORUS Master ends up as our pick for the best high-end Z690 motherboard. It has an excellent power delivery system that is almost a necessity for the new Alder Lake CPUs, but it also has an excellent feature set that is comparable with some of the most expensive Z690 motherboards out there. The AORUS Master itself isn't cheap by any stretch of the imagination, but its pricing is not outrageous in view of what it brings to the table.
Starting off with the highlight of this board, the extremely overbuilt VRM. It consists of a staggering 22 phases, out of which 19 supply the CPU with 105A of power. This is an insane VRM setup that will almost never be completely utilized, even by a fully overclocked 12900K running 24/7. This VRM design is truly ahead of its time due to the fact that any Alder Lake CPU and even possibly the next upcoming Intel 13th Gen flagship is probably not enough to saturate the VRM of this Z690 motherboard. The VRM heatsinks are also quite sizeable so the board should have no problems dissipating the heat that is coming out of those VRMs.
As far as looks are concerned, the AORUS Master is certainly one of the most over-the-top boards out there. It doesn't have any fancy gold accents, but it has massive heatsinks and heat shields that cover up around 95% of the PCB itself. The I/O cover has a large RGB AORUS logo and some lighting accents which look cool, and a similar style continues down to the chipset heatsink, which has a "glitched" AORUS logo. This modern design language seems to be rampant in the Z690 motherboards. Speaking of the heatsink, the chipset heatsink sort of extends over the entire bottom half of the PCB and serves as the heatsink for the M.2 drives as well. This is a very ingenious implementation.
We really have no reason to doubt the AORUS Master Z690 motherboard when it comes to features. It is absolutely jam-packed with top-of-the-line features such as the DDR5 memory support for up to 6400MHz DIMMs. There are 11 USB ports on the I/O, including two USB-C ones. However, the main feature is the 10 GbE LAN port on the back from Aquantia. This, paired with the two WiFi 6E antennas adjacent to it, means that you will be absolutely spoiled by choice when it comes to connectivity. PCIe Gen 5 is also supported, and the board has four M.2 drives as well for your storage needs. Clearly, AORUS understands what kind of user is looking to buy this Z690 motherboard at this price point. Speaking of M.2 drives, you might also be interested in our review of the XPG Gammix S50 Lite PCIe Gen 4 SSD.
What sets the Gigabyte Z690 Aorus Master apart from its competitors
Gigabyte distinguishes the Z690 Aorus Master from rival offerings through several hallmark features. To begin with, the Z690 Aorus Master sports a best-in-class 19+1+2 digital power phase design. 19 of these power stages manage to deliver an unparalleled 105A of current to the CPU's cores for unlimited overclocking potential with Gigabyte's Hybrid Core Optimization, which can't be fully utilized by even top-of-the-line Alder Lake processors such as the top-notch i9-12900KS.
Gigabyte has implemented a Low Signal Loss 8-layer PCB design, built from the ground up with advanced thermal efficiency thanks to an 8mm heatpipe that makes direct contact for an optimal heat transfer away from the MOSFETs on the motherboard. Gigabyte has also provided double-sided M.2 heatsinks to prevent thermal throttling in bigger and faster PCIe 4.0 M.2 SSDs. The Z690 Aorus Master boasts maximum heat dissipation thanks to the 1.5mm thick thermal conductivity pads and the new 'Fins-Array III,' which consists of enlarged irregular fins in a parallel stacked design which helps to increase surface area by up to a mind-blowing 900% and optimize airflow. Simply put, the overall VRM design of the Gigabyte Z690 Aorus Master is unbeatable.
Furthermore, the Z690 Aorus Master supports 128 GB of dual-channel DDR5 RAM @6400 MHz via 4x DIMM slots, with overclocking possibilities beyond that, thanks to XMP 3.0 (Extreme Memory Profile). The vast overclocking potential is due to the unlocked DDR5 voltage where Gigabyte utilizes an exclusive design to unlock native DDR5's PMIC (Power Management Integrated Circuit) secure mode into programmable code where users can control the RAM's voltage manually. Additionally, Gigabyte has implemented Shielded Memory Routing, using a large ground layer to shield the entire memory routing underneath the PCB's inner layer to protect from external interference, guaranteeing stabilized RAM performance.
Moreover, the Gigabyte Z690 Aorus Master sports 4x M.2 SSD slots, ensuring you won't have to fret over a lack of super-fast Solid State Storage. The Z690 Aorus Master boasts an unrivalled proprietary 10 GbE as far as LAN is concerned, dubbed 'Aquantia.' Even though we're sure you'll never utilize the full potential of the blisteringly fast Aquantia Ethernet, it's nice to know you have it if the need ever arises.
Conclusively, the AORUS Master Z690 is one of the best premium motherboards for the Z690 chipset out there right now. It has more features than you can shake a stick at, and it pairs them well with a top-of-the-line VRM setup that is clearly more than you could ever need. All of this does come at a price, but just like the Maximus Z690 from ASUS, it could be worth it in the long run.
MSI MPG Z690 Carbon WiFi
Best Overclocking Z690 Motherboard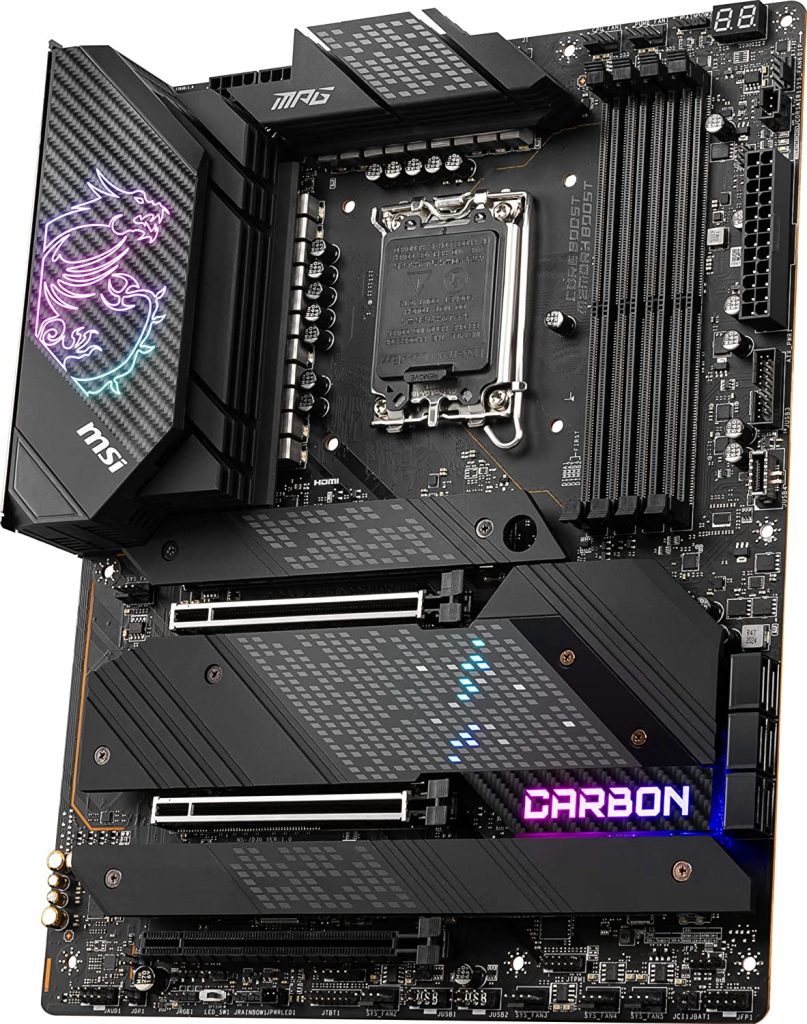 Specifications="Chipset: Z690 | Memory: 4x DIMM, 128GB, DDR5-6666 | Video Outputs: HDMI and DisplayPort | WiFi | USB Ports: 9x rear IO, 7x internal | Network: 1x 2.5 GbE LAN, 1x Wi-Fi 6E | Storage: 5x M.2, 6x SATA"]
Pros
Great VRM For Overclocking on Z690
5 M.2 Slots For Storage
Attractive Aesthetics
Attractive Design
High-End Performance
Cons
Not Affordable For Regular Gamers
MSI has made some excellent boards over the past few years, especially for the AMD chipsets, but they have not exactly ignored Intel either. MSI's MPG series, which stands for MSI Performance Gaming, packs some of the most overbuilt and premium motherboards out there for any chipset, be it Intel or AMD. Continuing this trend for the new Alder Lake platform, we have the MSI MPG Z690 Carbon WiFi, a fantastic high-end motherboard on the Z690 platform that is quite possibly the best overclocking Z690 motherboard on our list. It certainly rivals our two top picks in terms of VRM design and features.
Speaking of the power delivery, MSI has hit the nail on the head with an 18+1+1 phase VRM design with 75A power stages, which is excellent for overclocking pretty much any modern CPU you can put in it. Particularly, the Core i9 12900K would be a great match for this Z690 motherboard since you can completely max out the overclock on the flagship Alder Lake CPU without taxing the VRMs too much. In terms of heat dissipation, MSI has provided massive VRM heatsinks that are actually finned to increase the metal's surface area, aiding in dissipation. The board supports DDR5 memory up to a whopping 6666 MHz, which sounds really fast by today's standards, but time will tell if speeds like this are normalized.
The MSI MPG Z690 Carbon WiFi motherboard is also one of the finest-looking motherboards you can find on this platform. Sure, it is a fairly expensive board, but the looks are a huge selling point, especially in today's market, and MSI has also nailed that aspect. The board is covered with huge heatsinks that are basically the extension of the chipset heatsink when it comes to the lower half of the PCB. The I/O cover has a really cool MSI dragon that illuminates in every color of the rainbow as one would expect. The whole board has this really unique, angular pattern that is definitely in tune with the 2022 design language. The looks of the board will certainly not disappoint you unless you have a particular issue with dragons.
When it comes to features, there is not a lot to say really. All of these high-end Z690 motherboards are absolutely jam-packed with fantastic features such as PCIe Gen 5 support and DDR5 memory support, so the Z690 Carbon is no different in this regard. Connectivity is handled by a 2.5 GbE LAN port or WiFi 6E, both of which are excellent options. The Z690 Carbon also has 4 M.2 ports running at PCIe Gen 4 speeds, which is more than enough for any normal user today. Realistically, this board has everything you will ever need for a few years to come, and maybe even more.
Overall, the MSI MPG Z690 Carbon is an extremely competent Z690 motherboard from MSI for the Z690 platform. It trades blows with the premium AORUS Master and Maximus Z690 Hero motherboards but is slightly cheaper while offering similar VRM performance, therefore it is our preferred choice for high-end overclocking. The price is still not cheap by any means, but it is competitive in the context of the features that it offers.
ASUS ROG Strix Z690-A
Best Looking Z690 Motherboard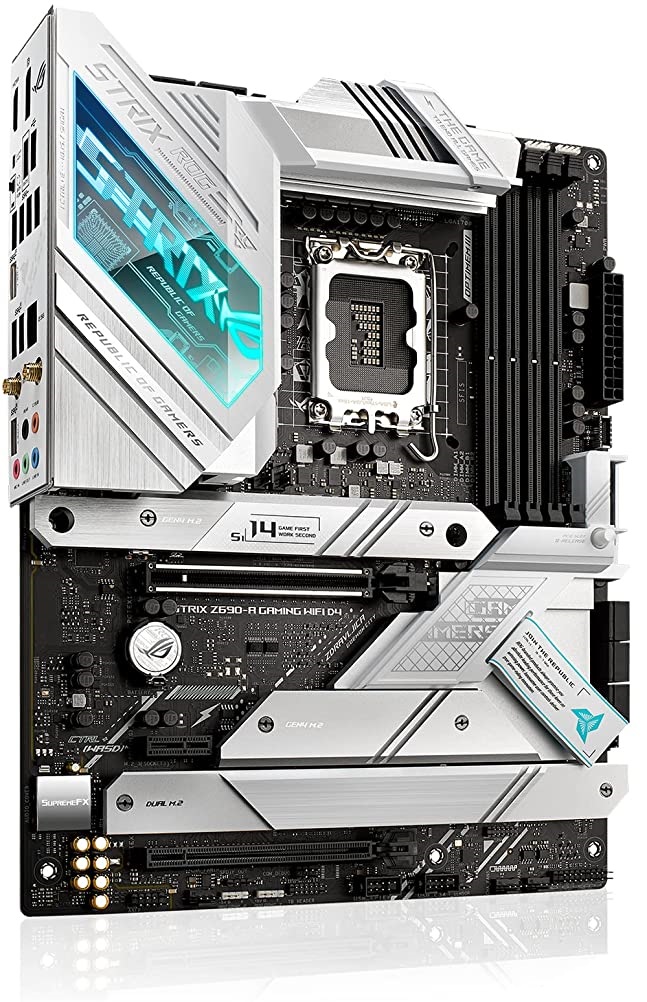 Specifications="Chipset: Z690 | Memory: 4x DIMM, 128GB, DDR5-5333 | Video Outputs: HDMI and DisplayPort | WiFi | USB Ports: 10x rear IO, 7x internal | Network: 1x 2.5 GbE LAN, 1x Wi-Fi 6 | Storage: 4x M.2, 6x SATA"]
Pros
Decent Power Delivery System
Best Looking Z690 Motherboard
An Affordable Z690 Motherboard Option
Cons
Not Suitable For Core i9 Overclocking
Slightly Lower DDR5 Memory Compatibility
Since the Maximus series is not something that everyone can or should buy, ASUS has also released several mid-range and entry-level motherboards on the Z690 platform. The ASUS ROG Strix Z690-A is one of the more mid-range boards that also has lots of great features and a pretty decent VRM design. The standard ROG series also comes with a choice among DDR5 and DDR4 memory configurations, so be sure to purchase the board that supports the specific memory type that you plan to run.
The power delivery system of the ASUS ROG Strix Z690-A is certainly not on the same level as the ones mentioned before, but that does not mean that it is bad by any stretch. ASUS has packed a 16+1 phase VRM for the Z690-A, which is pretty decent by modern standards. This VRM should be capable of overclocking an i7 12700K comfortably, while it should also be able to achieve some degree of overclocking on the i9 12900K. The VRM cooling is also adequate as ASUS has provided quite large VRM heatsinks with diagonal fins to maximize heat dissipation.
Perhaps the most attractive feature of the ASUS ROG Strix Z690-A is its design and appearance. Thanks to its sizeable white heatsinks and I/O cover, the board is clad beautifully in white. The RGB design and the Strix script on the I/O cover are absolutely sublime, giving a glassy appearance that would go perfectly in many RGB systems. The chipset heatsink is also white, and it extends over the PCIe Gen 4 M.2 drive slots as well to a certain extent. You can see a bit of the black PCB, but that still doesn't take anything away from the looks of this board. The Z690-A from ASUS is our pick for the best looking Z690 motherboard out there.
The Z690-A is not all form over function, however, as it also packs a pretty serious feature set. The PCIe Gen 5 support is standard across all Z690 boards so that also makes an appearance here, along with DDR5 memory support of up to 5333MHz. There are four M.2 slots that support PCIe Gen 4 functionality, which is pretty standard stuff in Z690 motherboards. Furthermore, connectivity is handled by a 2.5 GbE LAN port and WiFi 6. Several high-speed USB ports are also present on the rear I/O with different speed characteristics.
All in all, you can't really go wrong with the midrange pick of the ASUS ROG Strix Z690-A if you are building a midrange modern gaming PC. Pair this Z690 motherboard with an i7 12700K or an i5 12600K and you will have yourself a really competent gaming platform that will easily serve you for several years to come. Sure, it is not as jam-packed with features as the high-end boards, but it gets the job done while being a bit lighter on your wallet.
MSI Pro Z690-A WiFi
Best Value Z690 Motherboard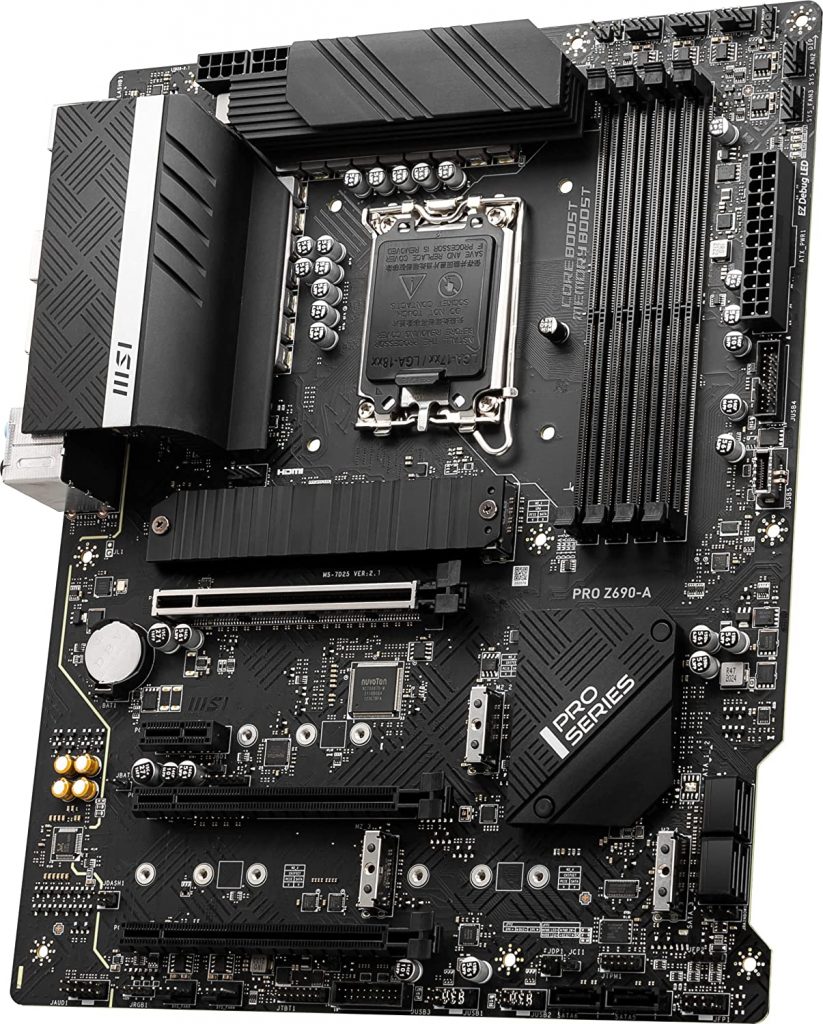 Specifications="Chipset: Z690 | Memory: 4x DIMM, 128GB, DDR5-6400 | Video Outputs: HDMI and DisplayPort | WiFi | USB Ports: 6x rear IO, 9x internal | Network: 1x 2.5 GbE LAN, 1x Wi-Fi 6E | Storage: 4x M.2, 6x SATA"]
Pros
Relatively Affordable
Solid Connectivity
Great Storage Options
Cons
Poor Design
Mediocre VRM Design
MSI's Pro series of motherboards has been synonymous with value for a while now, and the trend carries on with the MSI Pro Z690-A motherboards. There are actually 4 different motherboards under the same name, but all 4 of them are the same PCB differentiated only by the two variables of WiFi and DDR generation. In this particular roundup, we recommend the MSI Pro Z690-A DDR5 WiFi motherboard as it still offers a great price-to-performance ratio despite having a higher price than the DDR4 and non-WiFi variants.
When we talk about value-oriented motherboards, we have to be reasonable with our expectations when it comes to power delivery and VRM design. The MSI Pro Z690-A motherboard packs a decent 8+4 phase VRM that will be great for most regular users buying a motherboard in this price bracket. The VRM should be able to handle a Core i5 12600K at its highest overclock, but it should also be able to handle some light overclocking on its Core i7 brother. We wouldn't recommend putting a Core i9 part in this Z690 motherboard as those CPUs need a lot of clean, stable power when they are operating even under stock conditions, so that is one pairing we would advise against.
When it comes to looks, the MSI Pro Z690-A is as basic as they come. It is just a massive chunk of black PCB with black heatsinks in various places. This is one area where MSI has disappointed us since several boards are cheaper than this one that look way better than the Pro Z690-A. MSI has also not included any RGB lighting on the board, which is a bummer if you build a PC in 2022. However, the plus side to this design language is that you don't have to install any RGB bloatware for the motherboard, and this board will go nicely in a stealthy black-themed PC.
The feature-set of the MSI Pro Z690-A is nothing to scoff at. It is not as feature-rich as some of the other boards on this list, understandably, but it has everything a regular gamer might want from a Z690 motherboard. The support for DDR5 and PCIe Gen 5 comes standard with the Z690 chipset, and the Pro Z690-A also has 4 M.2 slots with PCIe Gen 4 capability. There is no built-in I/O shield, but the rear I/O itself is decent with a nice selection of USB ports and a 2.5 GbE LAN port along with WiFi capability if you choose that particular motherboard variant.
Conclusively, the MSI Pro Z690-A is certainly one of the more value-oriented motherboards on the market and one that puts the price-to-performance ratio as first priority. It is for this reason that the MSI Pro Z690-A is our pick for the best value Z690 motherboard out there. It just does everything you would want from a Z690 motherboard on the Alder Lake platform, and it does it at a cheaper price than most competitors. It does have its flaws, but that is to be expected given the price point.
ASUS ROG Strix Z690-I
Best Mini-ITX Z690 Motherboard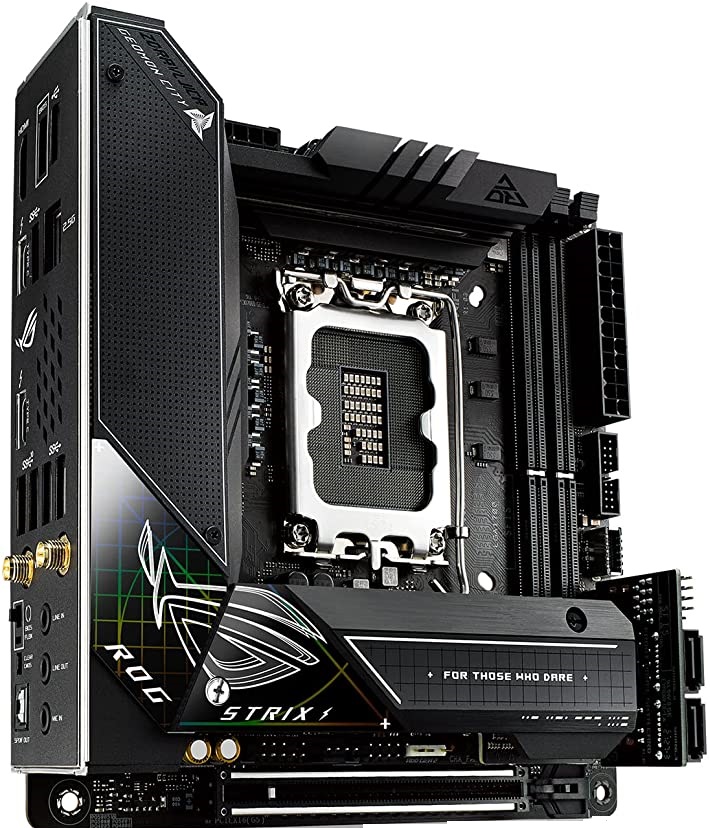 Specifications="Chipset: Z690 | Memory: 2x DIMM, 128GB, DDR5-6400 | Video Outputs: HDMI | WiFi | USB Ports: 9x rear IO, 5x internal | Network: 1x 2.5 GbE LAN, 1x Wi-Fi 6E | Storage: 2x M.2, 4x SATA"]
Pros
Solid Power Delivery
Great For Compact Builds
Impressive Connectivity
Cons
Only 2 DIMM Slots
Expensive
The market for compact gaming PCs has become really popular over the past few years as more and more enthusiasts are jumping ship over to smaller computers. Not only does a small form factor PC save a lot of space on your setup, but it is also easier to carry around from one place to another should you fancy doing so. Consequently, the mini-ITX motherboards are becoming better and better as well, and the ASUS ROG Strix Z690-I is an example of one of the best mini-ITX motherboards around. The Z690-I is the answer from ASUS for all the small form factor enthusiasts that want to enjoy the features of the full-sized Z690 motherboards in a smaller package.
Starting off with the VRM design and power delivery, there is not a lot to complain about here. Obviously, ASUS has downgraded the VRM a little in order to adapt to the size constraints, but the 10+1 phase VRM with 105 amp power stages should not have any major problems overclocking the 12700K or even the 12900K. A sizeable finned heatsink also cools the VRM, so temperatures should be reasonable. The Z690-I also supports DDR5 memory at up to 6400 MHz speeds, which is a welcome feature as always.
The design of the ASUS ROG Strix Z690-I is quite interesting and also quite daring. The PCB itself is quite small as you would expect from a mini-ITX Z690 motherboard, but these gigantic heatsinks and I/O cover absolutely dwarf it. The main I/O cover also extends laterally over the M.2 drive slots and serves as a heatsink by making an L-shape over the PCB. Of course, being a ROG board, the Z690-I also has a healthy share of RGB on the lower-left corner of the I/O cover in the form of the ROG eye that glows up in every color of the rainbow. All in all, a very nice-looking board for its compact size.
ASUS has definitely not skimped on the feature-set despite it being a mini-ITX Z690 motherboard. Thanks to a 2.5 GbE LAN port and WiFi 6E capability, the board's connectivity is impressive. There are also two M.2 slots wired for PCIe Gen 4 connectivity, while the main PCIe Gen 5 slot is the full-sized PCIe 16x slot. There are also plenty of other cool features such as BIOS flashback, Clear CMOS button, RGB and aRGB headers, 4 SATA ports, and two additional PCBs for certain components that come with the package. A solid feature-set for a mini-ITX motherboard, no doubt.
Therefore, it can be said that the ASUS ROG Strix Z690-I is the absolute best mini-ITX Z690 motherboard on the market right now. Its great power delivery system and a robust feature set make it an excellent choice for enthusiasts building a compact gaming PC on the Alder Lake platform. It does not come cheap, but it seems to be worth it for the specific use cases that it's designed for.
ASUS PRIME Z690-A
Best Budget Z690 Motherboard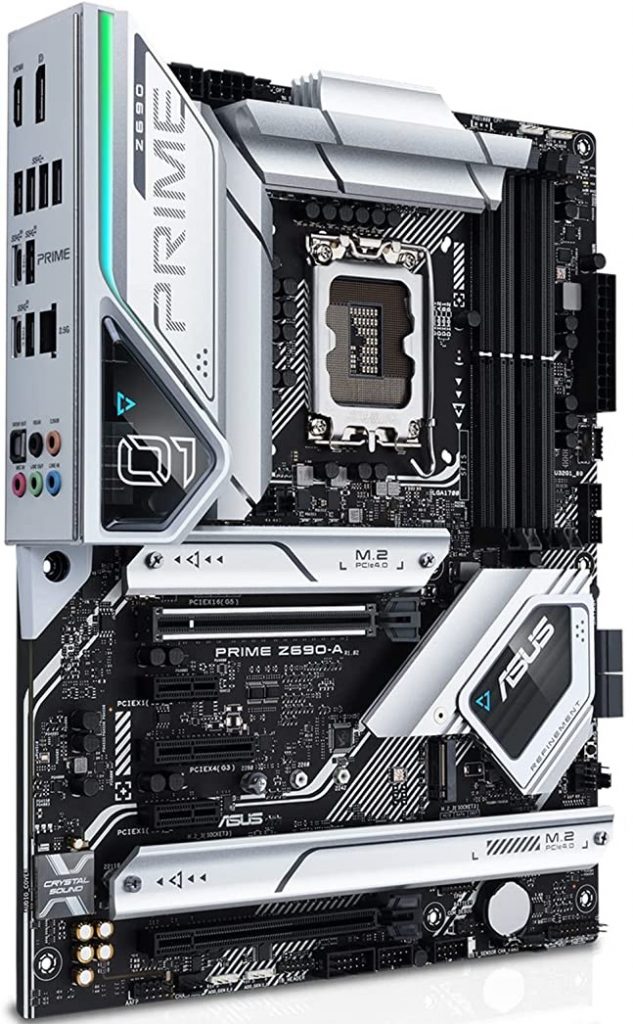 Specifications="Chipset: Z690 | Memory: 4x DIMM, 128GB, DDR4-6000 | Video Outputs: HDMI and DisplayPort | WiFi | USB Ports: 8x rear IO, 7x internal | Network: 1x 2.5 GbE LAN | Storage: 4x M.2, 4x SATA"]
Pros
Budget Z690 Motherboard
Impressive Looks
Cons
No WiFi
Mediocre VRM Design
Few SATA Ports
Sure, Z690 is the flagship chipset for the Alder Lake platform, but there are undoubtedly budget-oriented options in this lineup as well. One of them is the ASUS PRIME Z690-A, a motherboard that aims to provide the basic features you can expect from the Z690 platform at a reasonable price. It is nothing fancy, but it should be perfect if you want a decent value z690 motherboard to get your Alder Lake system up and running.
One of the areas where you definitely compromise when buying a budget motherboard is the power delivery system. Thankfully, ASUS has not downgraded the VRM design too much and provided a totally acceptable VRM for the price point. The board has a 16+1 phase VRM design with decent cooling that is provided by large heatsinks that are also finned. One should be able to overclock the Core i5 12600K fairly comfortably on this board. However, you should avoid overclocking any Core i7 or Core i9 parts on this board. DDR5 memory is also supported with speeds up to 6000 MHz.
Aesthetically, the PRIME Z690-A is actually one of the better-looking Z690 boards out there. It looks extremely similar to the Z690-A from the ROG Strix lineup that we mentioned earlier. It has the same white accents as that board, although it is a little bit downgraded in terms of the heatsink area. There is a nice RGB implementation over the I/O cover with the word PRIME written in big block letters as well. M.2 heatsinks are independent of the chipset heatsinks, which is something not common in the Z690 boards we have already seen. All in all, a very attractive motherboard.
The feature-set of the PRIME Z690-A is acceptable, although it is a little lacking compared to the high-end boards on this list. The board supports PCIe Gen 5 as standard through the main 16x PCIe slot, and there is Thunderbolt 4 support on this board. There is also a 2.5 GbE LAN port for connectivity, although WiFi is missing from the board which can be a bit of a downer for some users. ASUS has included 4 PCIe Gen 4 M.2 slots on the board, which make for a great storage setup on a budget.
The PRIME Z690-A might not be the most premium board out there in terms of VRM performance or features, but it is one of the best Z690 motherboards in terms of value. It might just be the best budget Z690 motherboard on the market thanks to its decent power delivery system and a versatile feature set. Quite frankly, this is all a typical gamer needs to get up and running with their new Alder Lake CPU.
The Competition
If the previously chosen Best Z690 Motherboards did not live up to your high standards, we've generously highlighted all the units that couldn't make it to our rigorously selective list of the Best Z690 Motherboards but maintain their dignity as respectable alternatives. The cherry on top, we'll continuously refine the following list as time goes on and worthy candidates appear.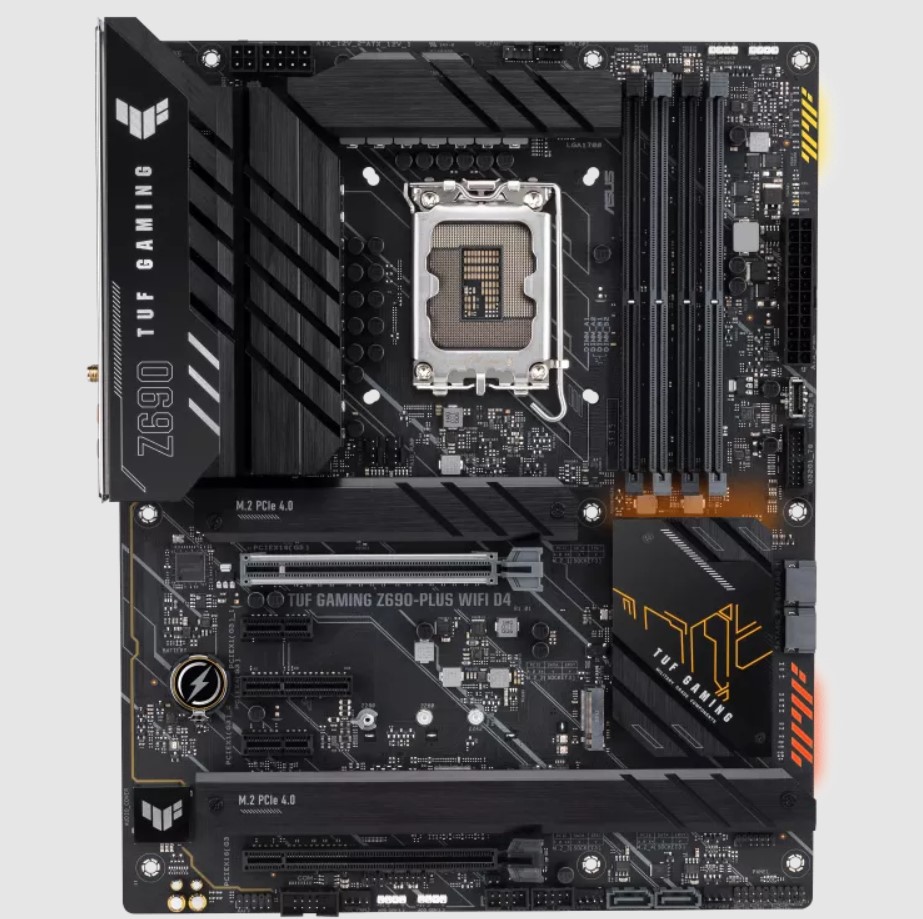 Asus is aiming for the Best Budget Z690 Motherboard, and it's safe to say they've come up with a worthy alternative in the form of the TUF Gaming Z690-Plus WiFi D4. As the name notably suggests, the Asus TUF Gaming Z690-Plus WiFi D4 supports a maximum of 128 GB of dual-channel DDR4 RAM as a cost-cutting measure. However, it makes up for the older tech by offering potentially overclocked speeds of blisteringly fast 5333 MHz via utilization of Intel's XMP and Asus' OptiMem II technology which shields RAM modules from external interference and reduces path distances for memory signal transfers.
Moving on, the TUF Gaming Z690-Plus boasts a 14+1 DrMOS (Driver and MOSFET module) power stage design, with all 15 power phases capable of delivering 80A of current to the CPU's cores for stable and efficient CPU performance while allowing you to moderately overclock Alder Lake CPUs such as the i7-12700K or i9-12900K provided you keep the clocks below 5.5 GHz. Asus further fortifies the power delivery with its Digi+ VRM design, which combines with the 6-layer PCB, 'ProCool' E-ATX (Extended ATX) 8-pin and 4-pin connectors alongside military-grade TUF power chokes and proprietary capacitors to ultimately deliver ultra-smooth and stabilized power to your Alder Lake CPU, substantially enhancing componential longevity.
Adding on, Asus has blessed the TUF Gaming Z690-Plus WiFi D4 with 4x M.2 slots, 3 of which have individual heatsinks to sustain peak SSD performance. Furthermore, Asus has expanded the passive heatsinks' surface area to sufficiently cool the motherboard's VRMs and the area surrounding the CPU socket, so you never have to mull over the dull possibilities of thermal throttling and overheating.
As far as connectivity goes, the TUF Gaming Z690-Plus has a solitary USB 3.2 Gen 2 Type-C connector on the front, bringing up the rear with a total of 8x USB ports, 5 of which are USB 3.2 Gen 1 (4x Type-A & 1x Type-C), 2 of which are USB 3.2 Gen 2 Type-A, with the last one a blazing fast USB 3.2 Gen 2×2 Type-C port rated at a maximum speed of 20 Gbps. The TUF Z690-Plus even features Thunderbolt 4 support via an internal header for theoretical data transfer speeds of up to 40 Gbps!
For networking, Asus has allotted users a choice of either Intel's slightly older WiFi 6, which is compatible with the 802.11ax standard for potential bandwidth of up to 2.4 Gbps. Alternatively, gamers may opt to utilize Intel's 2.5 Gb Ethernet, which is onboard the TUF Z690-Plus as well, strengthened by the TUF LANGuard, which incorporates advanced signal-coupling techniques with high-quality surface-mounted capacitors to improve networking throughput while safeguarding the motherboard from natural calamities such as a lightning strike, or even static electricity, which is more dangerous than it sounds.
Furthermore, Asus is hoping to appeal to the audiophiles out there since the TUF Z690-Plus sports Asus' Two-Way AI Noise Cancellation technology, which utilizes a vast deep-learning database to actively reduce background noise while transmitting your voice through your microphone, as well as shielding incoming audio from environmental noise. The TUF Z690-Plus offers users the choice of two Realtek 7.1 Surround Sound HD Audio Codecs, i.e., the ALC887 or the ALC897.
Also, the TUF Gaming Z690-Plus WiFi D4 will attract gamers via its high-fidelity audio thanks to dedicated and electrically shielded Audio PCB layers, which use Asus' premium audio capacitors. DTS Audio Processing is on display as well, which helps to provide deeper bass for music and gaming sound effects while simultaneously reducing distortion and allowing users to customize audio settings to match their personal preferences for an ideal listening experience.
Last but not least, the TUF Z690-Plus has integrated RGB LEDs on the heatsink, which are customizable via Asus' Aura Sync software. Asus also outfits the TUF Z690-Plus with 3x addressable Gen 2 headers and a single RGB header dedicated to Aura Sync.
Asus rounds off the motherboard with numerous built-in safeguarding precautionary measures such as SafeSlot, SafeDIMM, ESD Guards (Electrostatic Damage), overvoltage protection, and a stainless-steel rear I/O panel to protect the TUF Z690-Plus from voltage spikes and overcurrent, as well as to ensure the safety of your connected peripherals such as the GPU and RAM modules as well as USB devices paired via the I/O.
All in all, it's pretty clear that Asus almost had a winner on their hands with the Asus TUF Gaming Z690-Plus WiFi D4 as the Best Budget Z690 Motherboard; alas, only to be bested by its own sibling, the Asus Prime Z690-A.
How We Choose The Best Z690 Motherboard
Since the motherboard is the basic building block of any computer, we are very careful in our recommendations when we select Z690 motherboards for our roundups. A particular board has to satisfy several standards for it to be considered in our tier lists. The VRM design and power delivery of the board take the utmost priority for us as enthusiasts, and it is also the parameter that can overpower other characteristics of the board when it comes to recommendations. A board can have a great design and excellent features, but if the VRM is below par then it is hard for us to recommend that board.
Furthermore, we also pay close attention to the feature set of the board. Many Z690 motherboards skimp on some particular features such as WiFi or Ethernet connectivity, which were carefully examined and mentioned in these roundups. The general aesthetics and design of the motherboard are also something that we take into account, although not to an extent where it might seem more important than the actual features and specs of the board. Finally, the price tag and value proposition are what really drive our recommendations. In the modern-day, there are no bad products, only bad prices. This mantra also applies to the products in these roundups, so our selection is driven strongly by the value that these products offer.
Chipset/Socket
Intel 12th Generation Alder Lake CPUs require an LGA 1700 CPU socket, supported by Intel 600 Series chipsets such as the H610 being the entry-level choice. In contrast, the H670 and B660 pose as upper-midrange competitors, championed by the top-of-the-line Best Z690 motherboards, offering the best variety of features such as sophisticated, active cooling in the form of massive heatsinks and VRMs, along with ample potential for CPU, GPU, and RAM overclocking.
Therefore, it's essential to keep an eye out so you don't accidentally end up with the last-gen 500 Series Chipsets such as the Z590, which is still pretty competitive even today in terms of pure performance, but sports an LGA 1200 socket supported by an Intel 10th Gen (Comet Lake) or 11th Generation (Rocket Lake) processor only, meaning you won't be able to use it with your brand new 12th Generation Alder Lake CPU.
VRM
A VRM (Voltage Regulator Module) is one of the essential components of a motherboard, as it is solely responsible for controlling the voltage delivered to all the electrical components of your gaming PC, adjusting the voltage accordingly to make sure no part of your PC is operating at a dangerously high voltage, which would put the particular components at risk of damage, shortening their lifespan. A good VRM is essential for CPU and GPU overclocking scenarios and general optimal performance.
Thus, it's necessary to keep a keen eye out since an inefficient VRM would result in your CPU and GPU bottlenecking, i.e., your PC would experience thermal throttling, unable to deliver the potential power it is capable of, thanks to an incapable VRM. A faulty VRM will also provide unstable power, putting your entire motherboard, along with the CPU, GPU, and RAM, to name a few essential electrical components, at risk.
It's also worth noting that some of the Best Z690 Motherboards also offer active fans paired with spacious passive heatsinks to cool down the VRMs on your motherboard. An effective heat transfer is conducted consistently, reducing the chances of thermal throttling occurring, allowing for beefier CPU and GPU performance.
Expansion Slots/Connectivity
Each motherboard varies in terms of the expansion slots and connectivity it offers. Some motherboards may offer PCI-e 5.0×16 slots, which, sadly, the latest GPUs in our world can only partially utilize due to PCIe Gen 5.0 being a relatively new technology. On the contrary, some motherboards may choose to forgo PCIe 5.0 altogether and only provide PCIe 4.0 slots for GPUs and M.2 SSDs.
Motherboards on a budget would probably forgo these 4th Gen PCI-e slots altogether, only offering you PCI-e 3.0×16 slots (3rd Gen), resulting in reduced speeds. We're pleased to inform you that even most of the Best Budget Z690 Motherboards will have plenty of PCIe 4.0 slots if not Gen 5.0, saving you the need of having to worry about going back to the evergreen PCIe Gen 3.0. Also, if you're in the mood to connect more than two M.2 SSDs, you would need to select a motherboard that has at least two or more M.2 SSD slots for utilization, which majority, if not all, the Best Z690 Motherboards will have.
As far as connectivity is concerned, we're glad to assure you that even the cheapest Z690 motherboards present vast options for connectivity without breaking the bank. That being said, you should have an approximate idea of how many and which type of USB ports you'd like to utilize, such as USB 2.0, USB 3.2 Gen 1×1, USB 3.2 Gen 2×1, USB 3.2 Gen 2×2, since even some of the Best Z690 Motherboards won't have USB 3.2 Gen 2×2 ports at all, an omission to be wary of if you want the fastest data transfers and USB speeds possible.
Also, every motherboard contains a different assortment of USB ports, so it is crucial to crossmatch the number of ports available with your needs. That being said, keep an eye out for the type and number of audio ports you'd like to use as well.
Heatsink/PCB Layers
Heatsinks are one of the most important aspects of a motherboard since they can reduce or boost your CPU, GPU, and overall performance depending on how well they conduct a perfect heat transfer. They will also determine whether your PC would undergo a case of thermal throttling to keep temperatures down or perform consistently.
The general rule of thumb is to choose a motherboard that features advanced heat dissipation while ideally incorporating multiple heatsinks for optimal heat dissipation, away from your motherboard's components.
Adding on, the thicker your motherboard's PCBs (Printed Circuit Boards), the lower your temps. Your motherboard comprises multiple PCBs sandwiched together, which generally produces excessive heat, so unless your PCBs are sizeably thick with several layers, your PC will struggle with heat conductance, eventually leading to thermal throttling and bottlenecked performance.
Form Factor
Motherboards are typically manufactured in four sizes; ATX, E-ATX, Micro-ATX, and Mini-ITX. Generally speaking, ATX and E-ATX motherboards are the biggest of the bunch, featuring several massive heatsinks with comparatively thicker PCB layers, commonly offering the most features, alongside plentiful expansion slots and ports for unimaginable connectivity. As a side effect, the ATX and E-ATX motherboards towards the high-end spectrum will unsurprisingly be the most expensive motherboards on the market, and you often end up paying excessively for features you will never use.
On the contrary, Micro-ATX and specifically Mini-ITX will be the smallest motherboards you can find on the planet, paving the way for miniature gaming PC builds. These motherboards will usually sacrifice a few over-the-top features and have slightly worse results in terms of heat dissipation.
However, manufacturers are constantly working hard to bridge this gap between the four form factors. Micro-ATX and Mini-ITX motherboards would also typically have fewer expansion slots since there isn't a lot of space to utilize, offering limited connectivity.
Nonetheless, Mini-ITX motherboards will also stage themselves at jaw-dropping prices since these boards, while making certain compromises, still manage to provide you with the same power and capabilities as a monstrous gaming tower would.
Budget
While building a gaming PC, it's best to stick with full-sized ATX or E-ATX motherboards if you're looking to save some money, as manufacturers offer a variety of motherboards in these form factors. It's also important to control yourself while choosing from the top-of-the-line ATX motherboards since these boards tend to overcharge you for features you'll probably never use in a lifetime, like 10 Gigabit Ethernet. If you aren't going to pursue CPU or RAM overclocking, there's no need to overspend on the Best Z690 Motherboards with advanced thermal efficiencies and heat dissipation techniques since you won't be able to eke out the most value for your money.
Sidenote: Please feel free to look at our other articles where we highlight the Best B660, H670, and H610 Motherboards, if you're looking for something more budget-oriented to accommodate a 12th Gen Build.
PCIe Gen 5
The new Z690 platform brings with it support for the latest and greatest in PCIe protocols, the PCIe Gen 5. Now this generation does bring huge advantages in terms of bandwidth and link speeds, but only on paper for the time being. Currently, as of the time of writing, there are no devices out there for consumers that make use of PCIe Gen 5 technology. It is also important to note that the PCIe Gen 5 link is only supported by the full-size PCIe 16x GPU slot(s) in Z690 motherboards, not the PCIe x4 slots that the M.2 devices use. The SSDs are still limited to PCIe Gen 4 operation.
PCIe Gen 4 is still far from being saturated when it comes to storage media such as the superfast PCIe Gen 4 NVMe SSDs that are becoming more and more mainstream. Graphics cards that use PCIe Gen 4 technology such as the RTX 3000 series are not bothered at all by the difference between PCIe Gen 4 and PCIe Gen 3. So it is hard to see PCIe Gen 5 making a substantial difference to anyone's day-to-day experience on Z690. However, it is a welcome and forward-looking addition by Intel and the motherboard manufacturers so there's nothing particularly negative to say about it.
DDR4 vs. DDR5
The choice between DDR4 and DDR5 is an important one that you have to consider when purchasing the best Z690 motherboard for you. Firstly, you have to choose one of the two memory generations to run, since there are different motherboard variants that support different memory types. You can make the choice between two different RAM generations, but you can't run both of them on the same motherboard. Since DDR4 and DDR5 modules are also physically different, it would be impossible to insert one RAM stick into the DIMM slot of the other, unless you go for some slightly unconventional methods.
The DDR4 variants of the Z690 motherboards are far cheaper than the DDR5 variants of the same motherboards. It is also to be noted that DDR5 memory is extremely expensive right now and offers little-to-no benefit in terms of performance over DDR4, so you should evaluate your choice carefully. If you choose a DDR4 motherboard now and plan to upgrade to DDR5 later, you will have to change out your entire motherboard as well which can be a bit of a hassle. The bottom line is that DDR5 variants of the Z690 motherboards are better for future-proofing, while DDR4 variants should be your choice if you want to maximize the value proposition.
How We Tested
All of the handpicked Best Z690 Motherboards undergo extensive research here at Tech4Gamers, after which we take into consideration our proficient analytics, combined with in-house reviewing and testing (if possible). We also compare real-world performance benchmarks under idle, typical, and heavy gaming/overclocking workflows. Not to forget, we crossmatch relative performance to deduce the Best Overall Z690 Motherboard, for which we personally ensure 100% compatibility.
Why Should You Trust Our Judgement
With over twelve years of expertise in the tech and gaming industry, our dedicated team has been refined consistently to produce a potent group of knowledgeable individuals who are known to relay the most accurate information to our valued consumers, thanks to the extensive research and reviewing we conduct before we publish every piece of journalism.
In addition to this, we have been explicitly featured on a majority of the top-notch gaming and tech brands, such as Gigabyte, MSI, Asus, and DeepCool, just to name a few, as reliable and trusted sources for Hardware and Technology. These and other reputed manufacturers such as Noctua, Thermaltake, Xigmatek, and many others regularly send samples to us, on the basis of which we formulate unbiased reviews to give our readers a genuine representation of the product from an objective perspective.
Subsequently, we instill confidence in our esteemed consumers, who may rely on us to give them the best advice for building, customizing, and modifying their personal gaming computers.
Frequently Asked Questions
Is Z690 compatible with i9 12900K?
Yes, the Z690 motherboards are compatible with all the new Intel 12th Gen CPUs on the Alder Lake architecture including the top range Intel Core i9 12900K. The i9 12900K is a premium CPU with 8 Performance Cores and 8 Efficiency Cores with a total of 24 threads, so it would need a pretty premium power delivery system to be functioning at peak capacity. Fortunately, most Z690 motherboards do have overbuilt robust VRM designs, so they should be able to handle a 12900K fairly easily. Other CPUs that support the Z690 chipset as of the time of writing include the i9 12900KF, the i7 12700K and 12700KF, and the i5 12600K and 12600KF.
What socket is Z690?
The Z690 motherboards have the LGA 1700 socket which supports the new Intel Core 12th Gen processors on the Alder Lake architecture. The socket is physically different from the older Z590 motherboards that supported the LGA 1200 socket compatible with 11th Gen Rocket Lake processors. This means that you cannot install an 11th Gen CPU on a 12th Gen motherboard or vice versa, since they are both physically different sockets. Forcefully doing so can lead to some unwanted consequences.
Does Z690 support PCIe 5.0?
Yes indeed, the Z690 motherboards do support PCIe Gen 5 capability. However, this new protocol does not have any real-life advantages as of the time of writing since there is no consumer PCIe Gen 5 devices available to us right now. The PCIe lanes are also all linked to the first 16x PCIe slot, so the only devices that can take the benefit of the PCIe Gen 5 technology would be the graphics cards. There are no M.2 slots with PCIe Gen 5 capability yet in the Z690 motherboards.
Can I use 11900K with Z690?
No, the Z690 platform is an entirely new platform that is not compatible with any previous Intel CPUs. The Core i9 11900K is a Rocket Lake 11th Gen CPU that is compatible with an LGA 1200 socket on the Z590 platform, among other chipsets. The new Z690 motherboards use the LGA 1700 socket which is physically different from the older LGA sockets, so the CPU would not even fit in the new socket. You would need either a Z590 motherboard or a B560 or similar board for the older 11th Gen CPU.
Does Z690 support DDR5?
Yes, the Z690 platform does officially support DDR5 memory. To use DDR5 RAM, you would need to have a motherboard that is compatible with DDR5 memory, since the memory sticks are physically different from DDR4. Z690 motherboards are offered in both DDR5 and DDR4 memory configurations, so you have to be careful about which memory type you want to buy when it comes to motherboard selection. The Alder Lake 12th Gen CPUs also support both DDR5 and DDR4 memory.