On the lookout for one of the cheapest yet Best H610 motherboards that will support your 12th Generation Alder Lake CPU? There is nothing to worry about; Intel has your back with their H610 motherboards, the entry-level budget chipset amongst the entire 600 Series Chipset lineup. Let's look and discuss the spec sheet of the new H610 chipset, explaining the latest features and the areas where Intel has cut back.
For starters, the H610 chipset does not support CPU or RAM overclocking. CPU overclocking is limited to the premium Z690 chipset, while memory overclocking is only available on the B660 and H670 motherboards. Moving on, the H610 sports a maximum of 10 USB ports only, which is a much lower number compared to its more expensive counterparts, supporting up to 2 USB 3.2 Gen 2×1, 4 USB 3.2 Gen 1×1, and 10 USB 2.0 ports. In addition, the H610 doesn't provide RAID configuration capabilities, translating to reduced speeds for your storage media. Our Articles on B660, and H670 Motherboards can be checked here.
Moving on, the H610 has 4 DMI 4.0 (Direct Media Interface) lanes alongside a numbered 12 PCI Express Lanes, limiting connectivity to some extent. The available configurations for PCI-e lanes are x1, x2, and x4. Intel hasn't introduced PCI-e 4.0 slots for the H610 chipset, so you'll be stuck with PCI-e 3rd Gen. However, the chances are you're planning for a budget gaming build, so the lack of PCI-e 4th Gen won't disappoint you since support for PCI-e 4.0 is for high-end GPUs and SSDs only. Delightedly speaking, the H610 uses Intel's latest and greatest WiFi 6E AX211 (Gig+) technology for the fastest internet speeds across the board. Similar to all other standard motherboards these days, the H610 chipset supports a maximum of 3 external displays.
Unfortunately, H610 motherboards won't be able to use Intel's vPro platform, although that is only useful for enterprise workspaces, so this omission shouldn't affect you at all. Other than this, you won't be able to use Intel Optane Memory due to a lack of support from the manufacturer, although, again, this shouldn't affect you since Intel Optane Memory comes at a pretty steep price point. Moreover, we would like to highlight the absence of any RAID configurations, which will undoubtedly affect you if you're fond of the mechanism. It will also translate to a decrease in data transfer speeds. Notably speaking, Intel Trusted Execution Technology wouldn't be present on any H610 motherboard, weakening security parameters making your gaming PC more susceptible to ransomware attacks and software corruption.
Best H610 Motherboards
Last but not least, Intel has rated the TDP (Thermal Design Power) of the reference H610 chipset at a nimble 6W. In contrast, the reference package size stands at 28mm x 25mm, but this will vary greatly depending on the form factor of the motherboard that manufacturers choose to produce. As far as the basic roundup and features for the H610 chipset go, along with essential omissions, that's about it. Without any further impedance, let's head onwards to our selection of the Best H610 motherboards, suited to your very own requirements.
MSI Pro H610M-G DDR4
Best Budget H610 Motherboard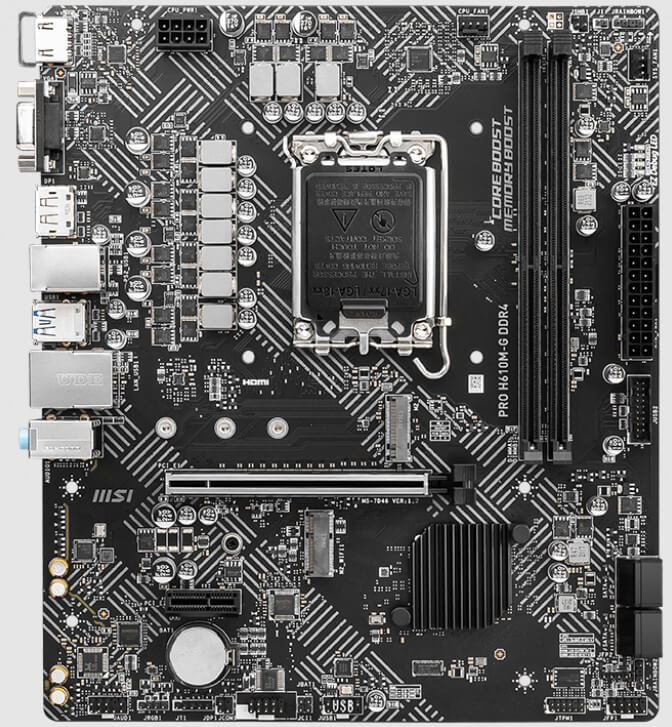 Specifications: Chipset: H610 | Memory: DDR4 @3200 MHz, 64 GB | Video Outputs: HDMI, DisplayPort, VGA | USB Ports: 4x USB 3.2 Gen 1, 6x USB 2.0 | Network: Intel Gigabit Ethernet | Storage: 1x M.2, 4x SATA III
Pros
Easy on the wallet
Decent amount of ports
Memory & Core Boost
Customizable Software
Great build quality
Cons
Single M.2 slot
No built-in WiFi/Bluetooth
Thermals worrisome
MSI is recognized for coming up with some of the highest-end gaming motherboards, laptops, and GPUs, to name a few of the areas in which they have an established presence. However, this time, they have decided to venture into the budget-friendly department, vying for the Best Budget H610 Motherboard title with their MSI Pro H610M-G DDR4. MSI promises to hand over more real-time control to users than ever before with a couple of proprietary software applications, as well as a Secure Boot feature which allows the PC to start only when the firmware authenticates the signatures of each of the pieces of the boot software, including, but not limited to the UEFI firmware drivers and of course, the operating system itself. Putting this aside, the MSI Pro H610M-G DDR4 comes in a Micro-ATX form factor bearing a black and white PCB design.
Taking a closer look at the power delivery design, the Pro H610M-G DDR4 uses a 24-pin ATX main power connector and an 8-pin ATX 12V power connector to connect the motherboard to the rest of the PC as well as the peripherals such as the GPU. MSI uses a 'Core Boost' technology to supplement the optimized power design, allowing for efficient and undistorted current delivery to your Alder Lake CPU with extreme precision. MSI has included four onboard 'EZ Debug LEDs,' which will indicate potential problems by displaying different lighting patterns. Speaking of lights, there is a 4-pin RGB LED and 2x 3-pin Rainbow LED connectors for installing external RGB accessories to create a light show of your own choice.
Moving on to memory, the MSI Pro H610M-G DDR4 supports a maximum of 64 GB DDR4 RAM, running at a top speed of 3200 MHz. The motherboard utilizes dual-channel memory in two separate DIMM slots to achieve this feat. Complementing these RAM modules is MSI's Memory Boost technology. MSI guarantees you the best stability and compatibility, thanks to MSI pre-testing RAM kits from all the leading memory partners in the industry. The DDR circuit is also fully isolated from a contact of other electrical components present on the motherboard to deliver uninterrupted data signals for the best gaming performance.
For expansion, there are two slots, a PCIe 4.0 x16 and a PCIe 3.0 x1 slot. The PCIe 4.0 x16 slot uses MSI's Lightning Gen 4 PCIe, offering 64 GB/s of transfer bandwidth. These PCIe slots are reinforced with MSI PCIe Steel Armor, which secures both the expansion slots to the Pro H610M-G DDR4 with extra solder points, which help support the heavyweight GPUs, preventing them from bending. Steel Armor also shields every point of contact from electromagnetic interference.
The M.2 slot can run SSDs that use either PCIe 3.0 x4 or SATA III (6 Gb/s) interfaces if we talk about storage alone. It is essential to note that using an M.2 SSD with the PCIe 3.0 x4 interface could theoretically net you up to a data transfer speed of 32 Gbps. Accompanying the M.2 SSD, you can use the slot's E-Key to utilize an external PCIe WiFI module since the MSI Pro H610M-G DDR4 misses out on integrated WiFi capabilities. If you feel the need to bump up your storage capacity, MSI has you covered with 4x SATA III ports running at Gb/s to connect conventional HDDs and SSDs. Meanwhile, you can choose from any of the (total) three HDMI 2.1, VGA, and DisplayPort for output. It's also possible to run three monitors simultaneously, though you must check for specific CPU and graphics support.
Let's suppose you chose to forgo the above-mentioned Key-E slot for installing a WiFi module. Rest assured, Intel's Gigabit Ethernet is here to save the day, using the I219-V Ethernet controller to deliver you stabilized 1 Gbps Ethernet for all the competitive gaming you're keen on the undertaking. MSI LAN Manager comes into play here since it automatically classifies and prioritizes gaming applications sensitive to even minor changes in latency. It also allows you to change the traffic priority of these applications yourself, giving you the controls to set custom bandwidths for each of these apps.
Next up, the Pro H610M-G DDR4 uses a dedicated HD audio processor connected to premium audio capacitors, ensuing a high fidelity sound experience. It's possible thanks to the audio circuit being laid out on a reserved section of the motherboard, electrically isolating it, just like a dedicated sound card. Moreover, the audio layers are separated at the PCB level for a distortion-free listening experience. Supporting this is the integrated De-Pop protection, which helps to eliminate the irritating distorted sound produced when you plug/unplug your gaming headphones and USB peripherals. On top of that, you get to choose from either of the Realtek ALC892/ALC897 audio codecs for 7.1 Channel High-Definition Sound.
Don't worry; we haven't forgotten the cooling tricks of the MSI Pro H610M-G DDR4. 'Frozr AI Cooling' comes built-in, automatically detecting CPU and GPU temperatures to optimize fan speeds intelligently. It also offers users the choice of three different modes; performance, silent and manual. Users can also set up to four temperature targets for the CPU, for which the motherboard will accordingly adjust fan speeds. Automation of this kind is possible thanks to the Fan Center built into the all-new MSI Center, which unifies several other MSI utilities into a singular application. 'True Color' for adjusting your monitor's brightness and color temperature, 'Live Update' for keeping your BIOS and drivers up-to-date, the ability to set different user scenarios, automatic hardware monitoring along with the Fan Center is all part of the MSI Center.
The MSI Pro H610M-G DDR4 also uses the new 'Click BIOS 5', which offers an 'EZ mode' and an 'advanced mode.' It includes the Resizable BAR feature, which is an advanced PCIe feature. Essentially speaking, it enables the CPU to access the entire GPU frame buffer at once, instantly improving performance. However, it is worth noting that this functionality may vary from PC to PC due to a difference in the version of BIOS you're using. Finally, MSI stamps on a 3-year warranty for after-sales support and services.
What We Liked:
The MSI Pro H610M-G DDR4 offers a lot while preventing you from breaking into a bank. Boasting a total of 10 USB ports, coupled with two PCIe expansion slots protected by MSI's Steel Armor, alongside MSI's comprehensive proprietary software such as the MSI Center, Frozr AI Cooling, MSI Lan Manager, Click BIOS 5, the list goes on endlessly. There's a lot on offer here and not much to complain about.
What We Disliked:
First things first, we would've liked built-in WiFi, even though the Gigabit LAN and Key-E slot does somewhat compensate for it. A second M.2 slot would've also been highly appreciated. As for thermals, we notice the absence of a specialized VRM design, coupled with the fact there seems to be a lack of emphasis on heat dissipation, with no such thought towards heatsinks and passive cooling.
Verdict:
Chances are, you aren't aiming to set world records in the performance department. If that's the case, you shouldn't have to worry about the lack of emphasis placed on cooling. Assuming you'll purchase a WiFi module separately or utilize the extensive LAN capabilities, we recommend the MSI Pro H610M-G DDR4 with its comprehensive software backing it up as the Best Budget H610 Motherboard. MSI has outshined itself with the Core and Memory Boost technologies while ensuring a premium listening experience to audiophiles, remaining, for the large part, uncompromised on connectivity, offering comparatively high data transfer speeds and strengthened PCIe slots for expandability, managing to fit it all into a Micro ATX form factor.
ASUS Prime H610M-A D4
Best Overall H610 Motherboard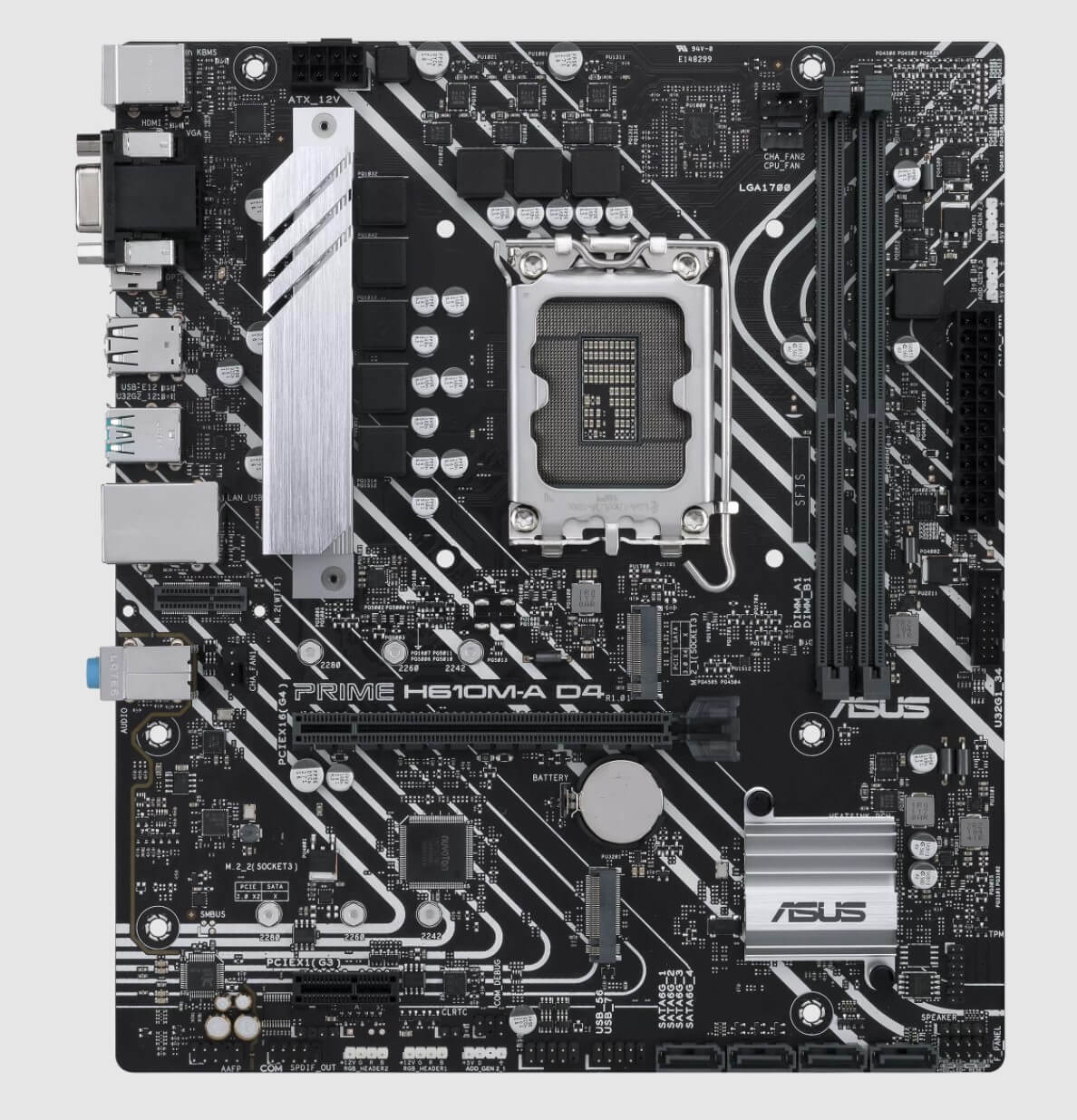 Specifications: Chipset: H610 | Memory: DDR4 @3200 MHz, 64 GB | Video Outputs: HDMI, DisplayPort, D-Sub | USB Ports: 2x USB 3.2 Gen 2, 2x USB 3.2 Gen 1, 7x USB 2.0 | Network: Intel Gigabit Ethernet Storage: 2x M.2, 4x SATA III
Pros
Dual M.2 Slots
Excellent thermal cooling
Digi+ VRM Control
Q-LED Core Display
Spectacular build quality
RGB Headers
Cons
No built-in Wi-Fi/Bluetooth
No DDR5 support
Scarcely available
Asus is renowned for coming up with state-of-the-art gaming laptops, GPUs, motherboards, and PC casings, amongst other components, which is why it's no surprise at all that the Asus Prime H610M-A D4 crops up on our list of Best H610 Motherboards. Specially optimized for Windows 11 and Alder Lake CPUs, paired with a PCIe 4.0 slot for the latest GPUs while bearing a Micro ATX form factor, followed by some of the best passive cooling solutions with advanced customization modes, the Asus Prime H610M-A D4 impresses at first sight.
Delving into the details, we would like to bring your attention to the outstanding control offered by Asus's Digi+ VRM design. It automatically switches the frequencies of the CPU and the power efficiency settings while also enabling users to gain access to real-time control over the amount of voltage delivered to produce stabilized performance. This is part of the new Energy Processing Unit (EPU) which optimizes power consumption, minimizing energy expenditure with an 'Away' mode, an intelligent setting that shuts down unused I/O controllers. When paired with ASUS's legendary UEFI BIOS, all the tools necessary for tweaking and configuring your entire system will be at your disposal, including two differentiating modes of operation, a simplified one for novices and an advanced mode with a host of extensive customization options for experienced gamers. The advanced mode offers a search function and the ability to create different user profiles to transfer configuration settings between different BIOS versions or share your custom settings with friends and family. The EZ mode displays vital systematic stats, capable of creating a custom fan curve by just dragging your mouse, amongst other simplistic controls, e.g., using XMP (Extreme Memory Profile) to increase RAM performance instantly.
Moving onwards to the I/O discussion, the Asus Prime H610M-A D4 offers an excellent variety of ports, including 2x USB 3.2 Gen 2, 2x USB 3.2 Gen 1, and 7 USB 2.0 ports. Sadly, all are Type-A ports, indicating a lack of any Type-C ports. Dismissing this omission, Asus has included a PCIe 4.0 x16 slot for connecting the latest RTX and RX Series GPUs from Nvidia and AMD, respectively. This PCIe slot is protected by Asus's SafeSlot core technology, which features a strengthened design attached to the Prime H610M-A D4 by a proprietary hook boasting 1.6x higher retention and 1.3x greater shearing resistance as compared to standard expansion slots. The Asus Prime H610M-A D4 has structurally stronger solder points around all PCIe and DIMM pins, which, in essential words, means that you don't ever have to worry about the integrity of your expansion or DIMM slots.
We're happy to report that Asus has blessed the Prime H610M-A D4 with Dual M.2 slots for your SSDs, which, theoretically speaking, can run at a maximum speed of 32 Gbps, alongside a PCIe 3.0 slot. This addition, coupled with the 4x SATA III ports, means you won't have to compromise on your storage. The H610M-A D4 utilizes dual-channel DDR4 RAM in two separate DIMM slots at a max speed of 3200 MHz, which is pretty usual, if not slightly disappointing, as per today's standards. The motherboard does possess DRAM overcurrent protection, which comprises onboard resettable fuses to prevent any electrical damage, increase the durability and longevity of your RAM modules, and safeguard any connected peripherals.
Regretfully, Asus hasn't implemented a built-in WiFi/Bluetooth module which means you'll have to use the V-M.2 (Key-E) slot if you prefer wireless networking over the usual Intel Gigabit Ethernet that comes built-in within the Asus Prime H610M-A D4 itself. Underestimating the LAN capabilities would be an unwise choice since Asus has supplemented the I219-V Ethernet Controller with its own 'LANGuard,' which is essentially speaking a network protection feature at the hardware level which uses a combination of advanced signal-coupling technology and high-end anti-EMI (electromagnetic interference e) capacitors to ramp up throughput to maintain a more reliable internet connection. Still not content, Asus went ahead to incorporate a specialized circuit design that utilizes built-in voltage regulators to protect the H610M-A D4 against any potential damage caused by sudden surges of unstable or substandard quality power.
Speaking of power surges, we guarantee you won't have an issue running your Alder Lake CPU at the highest frequencies possible because the Asus H610M-A D4 has a highly comprehensive passive cooling design, comprising of multiple onboard heatsinks, including a VRM heatsink, next to an array of numerous fan headers for connecting several fans in conjunction, and even a water cooler. A thermal pad is also used to improve heat conductance between important electrical components (transistors and chokes) for enhanced cooling performance. Furthermore, each of the fan headers on the Prime H610M-A D4 can extract readings from up to three thermal sensors, i.e., the CPU, GPU, and an ambient temperature sensor, even going as far to allow you to map the temperature of supported ASUS GPUs using Asus's Fan Xpert 2+ software, resulting in optimal and silent cooling for heavy workloads. All the fan headers will even auto-detect any 4-pin PWM or DC (direct current) fan you attach, monitoring temperatures and fan speeds without you having to do anything. Asus going overboard, to our delight, improvised to create an integrated circuit whose dedicated function is to protect each fan header from overheating and any power surges.
Audiophiles don't need to worry since Asus caters to them by including 3 audio jacks in the chassis, which use a Realtek 7.1 Surround Sound HD codec to provide the best sound to your ears. Asus claims it supports up to 24-Bit/192 kHz playback, ensuring a higher bitrate which translates to better sound quality. 'Audio Shielding' is in effect when. Thecated audio PCB layers are separated from the other electrical components on the Asus Prime H610M-A D4, which attempts when coupled with Asus's premium audio capacitors to provide the ultimate listening experience with reduced noise and interference.
For output, Asus has chosen a DisplayPort, HDMI, and a D-Sub port to provide a healthy choice of connectors from which to output graphics to your monitor. The rear I/O panels are constructed using stainless steel bonded with chromium oxide to increase longevity by up to 3x, as a side effect of being resistant to corrosion, in contrast to ordinary panels.
Asus decided to go all out with the Prime H610M-A D4, as it's managed to cram in three addressable Gen 2 Headers, which, when utilized, and combined with Asus's Aura Sync software, make for an enthralling showcase of different lighting effects and combinations customized to your liking. Last but not least, a Q-LED Core display is present as well, which produces different lighting patterns during the POST (Power-On-Self-Test) part of the bootup, which may help users troubleshoot systematic issues, should they ever occur. Last but not least, Asus bundles the Prime H610M-A D4 with 2x SATA 6 Gb/s cables, an I/O shield, an M.2 SSD installation (screw) kit, a support DVD as a detailed user guide, rounding off the whole package with a 3 year warranty.
What We Liked:
If you can't tell already, we're simply head over heels for the Asus Prime H610M-A D4. Consisting of a comprehensive set of customizable software for tweaking and managing your CPU, GPU, fans, RGB lighting, paired with the fortified SafeSlot Core design for protecting the structural integrity of your motherboard, improvised audio capabilities as well as a dedicated Q-Led Core display to simplify potential troubleshooting, amongst dual M.2 SSD slots and a top-of-the-line thermal cooling design, all managed within a nimble Micro-ATX form factor, what's not to love about the Asus Prime H610M-A D4?
What We Disliked:
Our evident fondness of the Prime H610M-A D4 put aside; we would have fawned over it, even more, had there been support for DDR5 RAM, though, at this price, you really can't complain. That being said, we feel the lack of built-in WiFi and Bluetooth. The Prime H610M-A D4 is pretty hard to come by too, which isn't a massive shock considering it's a relatively recent release.
Verdict:
Excluding all the technical jargon, the Asus Prime H610M-A D4 gives you everything you'd need, and then so, going over the top by including a Q-LED Core Display, built-in addressable Gen 2 RGB Headers, paired with unmatched passive cooling to reduce thermal throttling. If you're okay with purchasing a WiFi module separately or depending solely on LAN, being confined to DDR4 RAM, and if you manage to get a hold of the product itself, the Asus Prime H610M-A D4 has it all, and even more. Not to mention, the H610M-A D4 looks pretty snazzy with a dual-tone black and white design, fitted to relatively compact dimensions. To conclude, it doesn't take a genius to figure out why we officially crown the Asus Prime H610M-A D4 as the Best Overall H610 Motherboard.
ASRock H610M-HDV/M.2
Best Value H610 Motherboard
Specifications: Chipset: H610 | Memory: DDR4 @3200 MHz, 64 GB | Video Outputs: HDMI, DisplayPort, D-Sub | USB Ports: 4x USB 3.2 Gen 1, 5 USB 2.0 | Network: Intel Gigabit Ethernet | Storage: 1x M.2, 4x SATA III
Pros
Under-the-radar dark aesthetic
Two Audio Codecs offered
1x PCIe 4.0 slot
Max 64 GB RAM
Great price-to-performance ratio
Cons
Lack of built-in WiFi or Bluetooth
Only 1 M.2 slot
No USB 3.2 Gen2 Ports
ASRock's name is not new for our audience since the Taiwanese company has been manufacturing motherboards at highly competitive prices, and they're back at it, with the recently released ASRock H610M-HDV/M.2. Based on the entry-level H610 chipset for Intel, ASRock intends to provide the best bang for the buck to users looking to eke out the best value for money out of their 12th Generation Alder Lake CPUs. Sporting an LGA 1700 socket, the ASRock H610M-HDV/M.2 is prepared to threaten CPU offerings from AMD's lineup of Ryzen processors.
To begin with, ASRock produces the H610M-HDV/M.2 in a Micro ATX form factor, which is a highly appreciated move since it translates to smaller sizes in terms of gaming builds, freeing up your workspace. ASRock uses a 6 Phase Power Design as part of a proprietary Digi Power VRM Design. Simply, unlike conventional motherboards, which use analog power, the ASRock H610M-HDV/M.2 uses a next-generation digital PWM (Pulse-Width Modulation) design that provides efficient and stabilized stability voltage to all the physical cores of your Alder Lake CPU. The digital PWM design enhances the motherboard's lifespan while also ensuring that thermal dissipation goes about swimmingly without being interrupted by unstable or excessive voltage surges.
Regarding this matter, ASRock has implemented the use of premium power chokes that work more efficiently than traditional chokes, making the saturation current up to three times better, which, in turn, further improves the core voltage delivered to the H610M-HDV/M.2. Not stopping here, ASRock has strengthened the H610M-HDV/M.2 with its Full Spike Protection, which, within itself, utilizes various technologies to collectively prevent the sensitive digital components on your motherboard from being damaged by any power surges or voltage spikes, should they occur. On top of this, ASRock has chosen a high-density PCB design made out of glass fabric which reduces the gaps between the PCB layers to protect the motherboard against electrical short circuits caused by humidity common in the Asian regions of the world.
Moving on, ASRock is offering dual-channel memory with 2 RAM slots for the H610M-HDV/M.2, capable of running DDR4 memory at a maximum speed of 3200 MHz, which, unfortunately, is not overclockable due to hardware limitations from Intel regarding the H610 chipset. Fortunately, you can install a healthy total of 64 GB RAM (32×2), a fact the power users in our audience will be glad to hear.
As far as your storage concerns go, you will be slightly disappointed to hear that the ASRock H610M/HDV-M.2 only bears a solitary M.2 slot for your SSDs. However, ASRock has branded it as an "Ultra M.2 slot", capable of running at 32 Gb/s while the slot itself can support both PCIe Gen3 x4 and M.2 SSDs, which use the SATA III interface (running at 6 Gb/s). There are 4 SATA 3 ports for connecting conventional forms of storage media such as 2.5" and 3.5" HDDs and SSDs. Don't forget; you won't be able to use any RAID configurations, as stated in the overview of the H610 chipset, since Intel hasn't provided support for the capability.
Speaking about connectivity and expansion, we're delighted to inform you that the ASRock H610M-HDV/M.2 has three options for graphics outputs, providing a combination of the three types of frequently used connectors: D-Sub, DisplayPort, and HDMI. It's worth noting that a three-way monitor setup, in this case, is generally supported with processors having integrated graphics; however, feel free to check out the CPU support list from the motherboard webpage. Accompanying these three graphical output connectors are a total of 9 USB ports, of which 5 are USB 2.0, and 4 are USB 3.2 Gen1, all of which are Type-A, signifying the absence of a USB 3.2 Gen 2×2 Type-C port.
Moreover, ASRock is going ahead with Intel's proprietary Gigabit LAN, claiming to provide the best throughout performance while reducing CPU utilization and enhancing stability to deliver an articulate network experience to our gamers ultimately. If you prefer WiFi over LAN, we regret to inform you that a WiFi module is not built-in with the H610M-HDV/M.2. Nonetheless, ASRock has provided an M.2 Key-E slot for adding an 802.11ac wireless connection via an external WiFi module. Other than this, we definitely can't forget to highlight the lone PCIe 4.0 x16 slot and the pair of PCIe 3.0 x1 slots; a decent selection of slots for a motherboard that stages itself at such a value-incentivized price point.
Last but not least, we're eager to inform the audiophilic portion of our community that ASRock has offered two Audio Codecs at the same time for listening to 7.1 Channel High-Definition Audio through either of the Realtek ALC887 and ALC897 audio codecs, giving users added versatility to bless their ears via a codec of their preference. ASRock combines this with the new Sapphire Black PCB (which, in reality, is more of a black and grey combination) to round off the H610M-HDV/M.2 with an understated, toned-down exterior, but one that exudes ambidexterity and stealth.
What We Liked:
ASRock has made its mark with the H610M-HDV/M.2, supporting a maximum of 64 gigs of dual-channel DDR4 RAM @3200 MHz, whilst implementing a 6 Phase Digi Power VRM Design paired with ASRock's Full Spike protection and premium power chokes to provide the CPU with optimum voltage consistently, at the same time, safeguarding against any unexpected power surges or electrical failures. We're thankful for the Ultra M.2 slot, which delightedly supports both PCIe Gen3 x4 SSDs and those that use the old school SATA III interface. To customize the sounds and music we hear to our liking; the ability to choose any of the Realtek ALC887/897 audio codecs as per our preference doesn't go unnoticed.
The variety of three connectors to choose from for graphical output doesn't go amiss, and the all-new Sapphire Black PCB constructed from a high-density glass fabric design protects the H610M-HDV/M.2 against electrical problems posed by humidity while maintaining a sleek appearance that oozes with elegance. All of this, bundled up in a Micro ATX form factor to reduce the package size, especially at this price point, is rare, if possible at all, to find in offerings from rivals.
What We Disliked:
First off, the absence of a built-in WiFi+Bluetooth module didn't go unnoticed, especially in today's era, where all the talks are about the latest and greatest networking technologies such as 5G, 6G, and WiFi 6E. In addition, we would've preferred a second M.2 slot for installing another SSD, increasing the amount of storage available. Also, we would've dearly liked at least one USB 3.2 Gen2x2 Type-C port to accompany the remaining mix of 9 USB 3.2 Gen1 and USB 2.0 Type-A ports since the world is trying to switch to Type-C ports altogether. Under the motto, "One cable for everything." Before we conclude, we also need to mention that thermal throttling did not seem to concern ASRock much since the H610M-HDV/M.2 doesn't appear to give VRM temperatures thermal dissipation a lot of importance, coupled with a lack of heatsinks on the motherboard itself. That being said, ASRock does provide the necessary connectors for installing even an AIO (All-in-One) cooler, should you feel the need to, so this might turn out to be just a minor nitpick.
Verdict:
ASRock has created a gap for itself in the market with the H610M-HDV/M.2, offering a total of 9 USB ports, with Intel's proprietary Gigabit LAN, a choice of any two Realtek Audio Codecs for usage, 1x PCIe 4.0 x16 and 2x PCIe 3.0 x1 slots. Coupled with the three graphical output options and ASRock's proprietary 6 Phase Digi Power VRM design paired with their Sapphire Black PCB design, it's safe to say you'll rarely experience an electrical failure on your beauty of a motherboard. Comprising such a versatile motherboard in a Micro ATX form factor with a comparatively low price tag is a recipe for success, which is why we have no trouble at all recommending the ASRock H610M-HDV/M.2 as the Best Value H610 Motherboard.
Gigabyte H610I DDR4
Best Mini-ITX H610 Motherboard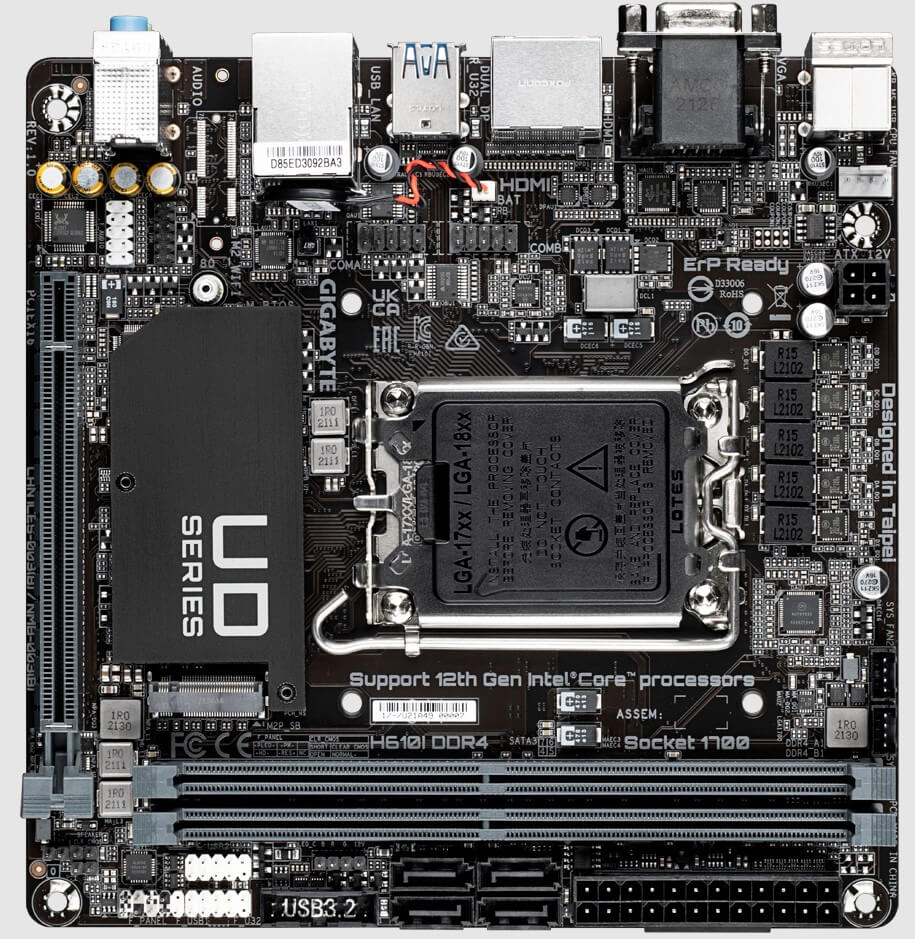 Specifications: Chipset: H610 | Memory: DDR4 @3200 MHz, 64 GB | Video Outputs: HDMI, DisplayPort, D-Sub | USB Ports: 4x USB 3.2, 8x USB 2.0 | Network: Intel Gigabit Ethernet | Storage: 1x M.2, 4x SATA III
Pros
Plentiful ports for such a small size
3x Graphics Outputs
Marvelous software support
Decent thermals
Cons
Expensive
Only 1x RGB Header
No Key-E in M.2 slot for adding WiFi module
Only one PCIe slot
The name of Gigabyte needs no introduction at all. Prone to creating some of the best motherboards, GPUs, and PC cases; they're loved all over the globe, and for a good reason. Gigabyte is trying to reign supreme once again, releasing the Gigabyte H610I DDR4 in a much-acclaimed Mini-ITX form factor to run the latest and most excellent Alder Lake CPUs from Intel. However, the H610I DDR4 does command a hefty price tag for all the features it offers in such a tiny packaging size. Let's dive deep into the Gigabyte H610I DDR4 to see if it manages to justify its price tag.
Starting with the 4+1+1 Phases Hybrid Power Design, it uses DrMOS (Driver for MOSFET) to ensure consistent delivery of constant voltage to the processor's cores. Gigabyte promises smoother and more efficient power delivery to the CPU via solid capacitors to improve the response time. The Gigabyte H610I DDR4 also uses solid plated ATX 24 pin & ATX 12V 4-pin power connectors to provide stable power even under the most demanding workloads. The reliable pin power connectors increase the contact area for electricity to pass through while also increasing the metal quantity to sustain increased power and the heat generated due to such power. All of this ultimately translates to an ultra-durable design with a longer lifespan, thanks to the entire Digital VRM Design. Gigabyte has also designed the onboard resistors to be resistant to corrosion from all sulfur compounds (mainly Silver Sulfide) present in the air, greatly enhancing the durability and longevity of the H610I DDR4. Also worth mentioning is the 8-layer Black and White PCB design Gigabyte has gone with for the H610I DDR4, which contributes to the excellent passive cooling of the motherboard.
As far as memory is concerned, the Gigabyte H610I DDR4 rocks the same setup as most of the other H610 motherboards on the market, i.e., to say, it has dual DIMM slots for running a max 64 GB of RAM @3200 MHz in dual-channel configuration. Thanks to the new Intel Hybrid Technology, Gigabyte has exclusively created two new 'CPU upgrade' modes in the BIOS to optimize performance according to users' specific needs. You can deactivate all the efficiency cores to produce the most frames for maximum gaming performance while sipping up to 20% lower CPU package power and reducing CPU temperatures by up to 5%. If you ever have to crunch worksheets and prioritize productivity, you can activate all the Performance and Efficiency cores to maximize multi-core performance for your spreadsheets. Gigabyte has branded these unique modes as part of their 'Hybrid Core Optimization' technology.
Expansion is limited to the Gigabyte H610I DDR4 due to space constraints. Even so, the lone PCIe x16 slot is a 4th Generation one, somewhat softening the blow. Accompanying the PCIe 4.0 x16 slot is a PCIe 3.0 x4 M.2 slot, capable of running SSDs which support the Type 2280 PCIe 3.0 x4/x2 interface. We regret to inform you that this M.2 slot doesn't have the Key-E space to connect a WiFi module (since there is no onboard WiFi functionality). Thankfully, Gigabyte has still given the H610I DDR4 4x SATA III ports for connecting conventional storage media. Putting that aside, there are 2x USB 3.2 Gen 1 and 4x USB 2.0 ports built-in, with an additional 6 USB 3.2 Gen 1 and USB 2.0 ports available if you utilize the internal USB headers, which is commendable for a motherboard so tiny.
As mentioned before, the Gigabyte H610I DDR4 doesn't have integrated WiFi nor a Key-E slot for installing an external WiFi module. You'll have to make do with Intel's Gigabit Ethernet, which uses the I219-V controller. However, it features 'cFosSpeed,' a network traffic management application designed to reduce network latency and deliver sustained low ping times for the ultimate gaming experience, whether a packed LAN environment or a solo-gaming session. Such gaming sessions would be futile if you didn't have a decent listening experience. That's precisely why Gigabyte has used high-end audio capacitors here, which, when paired with a Realtek 7.1 Channel HD Audio codec, produces the best possible sound quality, supported by an 'Audio Noise Guard' which helps to reduce distortion.
If we move on and speak, once again, about cooling, then it has to be said; Gigabyte outshone itself in the fan control department. First of all, the H610I DDR4 offers 3 PWM/DC Fan Headers and 4 internal temperature sensors. These fan headers can support even a water-cooling pump, with up to 24W (12Vx2A) of power, exhibiting over-current protection to safeguard the fan headers from electrical failure. Using Gigabyte's in-house designed software, i.e., 'Smart Fan 6' will hand over the ability for multiple customizations, such as setting up to 7 different temperature and fan speed control points to result in a precise fan curve, even offering a dual curve mode where each curve is suited to a specific workload and user scenario. Complementing these specialized features is 'Fan Stop,' which automatically brings fan speeds down to zero RPM once the user-specified temperature target is reached. It's possible to map any of the three fans to stop entirely according to different temperature thresholds set as per your preference.
Part of the Smart Fan 6's User-Interface is an option for manual input, where advanced users can alter fan RPMs to specific values of their liking. On the contrary, an 'EZ Tuning' option is also available where less-experienced users can place 4 points at an approximated temperature/fan speed. Smart Fan 6 will automatically generate a fan curve. These fan curves can be saved as different profiles in the BIOS ROM, but you need to update your BIOS. If you'd like to spice up your motherboard with some RGB, Gigabyte manages to allow you a single RGB header on the H610I DDR4 for connecting RGB accessories.
As for the remaining software, Gigabyte has redesigned the BIOS to create a more user-friendly interface for a better user experience during the initial setup. Gigabyte's App Center is paired with the BIOS, one unified app containing all Gigabyte motherboard utilities and drivers, helping you stay up-to-date. The software front is further strengthened by Gigabyte's EasyTune, which presents a simple UI that allows users to refine system settings and adjust memory clocks and voltages with one click. Rounding off the software suite is Gigabyte's System Information Viewer, which provides you with access to your current system statistics and the ability to monitor essential components such as your CPU/RAM clocks. It also allows you to choose any of your preferred fan speed profiles while sending out alerts when temperatures exceed user-specified thresholds. Lastly, it's also able to record the behavior of your system should it get erratic for bug reporting and further diagnostics.
What We Liked:
What's not to like about the Gigabyte H610I DDR4? It has a state-of-the-art cooling design, optimized for the most efficient power delivery, with protection against any power/voltage spikes. Despite its small size, it packs in 6x USB ports with support for another 6x. The motherboard allows you to use any 1x D-Sub, 1x HDMI, and 1x DisplayPort for graphics output. Sporting Gigabyte's Hybrid Core Optimization and all the tricks Smart Fan 6 has up its sleeves, the Gigabyte H610I DDR4 ensures you won't have to compromise on frames and graphical quality for your games. You won't ever have to endure a case of thermal throttling either, thanks to the 8-layer PCB and automatic fan speed optimization.
What We Disliked:
Despite all the bells and whistles, we wish the Gigabyte H610I DDR4 had included more RGB headers for better Lightworks. The number of built-in ports is lower than we'd have liked, but that's to be expected from a motherboard so tiny. Again, we signify the absence of integrated WiFi, especially when you consider that Gigabyte hasn't included a Key-E M.2 slot for installing a separate WiFi module. As for the price of the H610I DDR4, it's expected to be expensive, considering what's on offer here. Gigabyte would've blown it out of the ballpark with a second M.2 slot, but we understand it was unfeasible due to space confinement. However, the presence of only one PCIe slot does feel lacking.
Verdict:
Considering you can snag a good deal and make do with the lack of integrated WiFi and expansion slots, the Gigabyte H610I DDR4 boasts a lot for its size. We are incorporating a 4+1+1 Phase Hybrid Power Digital VRM design, combined with anti-sulfur protection, bundled with Gigabyte's Smart Fan 6 and Hybrid Optimization Technology. With the most comprehensive software suite we've ever had the pleasure of viewing, it's safe to say the Gigabyte H610I DDR4 does it all while staying cool in such a small design. Gigabyte stands by the H610I DDR4 with a 3-year warranty, and with that, we near the end. All in all, we're sure you can guess why the Gigabyte H610I DDR4 takes the spot for the Best Mini-ITX H610 Motherboard on our coveted list.
Gigabyte H610M HD3P DDR5
Best High-End H610 Motherboard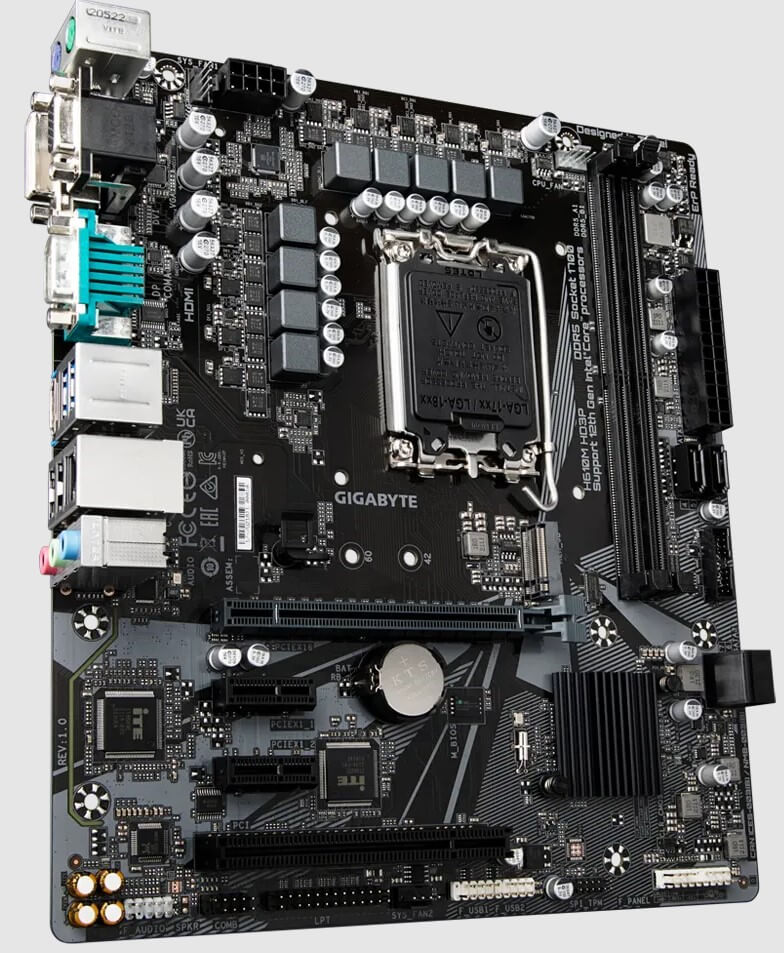 Specifications: Chipset: H610 | Memory: DDR5 @4800 MHz, 64 GB | Video Outputs: HDMI, DisplayPort, D-Sub, DVI-D | USB Ports: 4x USB 3.2 Gen 1, 6x USB 2.0 | Network: Intel Gigabit Ethernet | Storage: 1x M.2, 4x SATA III
Pros
DDR5 RAM
RAM programmable mode
4x expansion slots
Smart Fan 6
Decent thermals
Cons
Single M.2 slot
No integrated WiFi or Key-E slot
No RGB headers
Expensive
Gigabyte wasn't content with making the Best Mini-ITX H610 Motherboard. They decided to compete for the Best High-End H610 Motherboard's title, which is why we are presently discussing the Gigabyte H610M H3DP DDR5. Offering no less than 4x PCIe slots (yes, you heard that right), alongside a choice of 4x Graphics Output, together with Gigabyte's proven Smart Fan 6 software and Hybrid Core optimization, which we discussed previously. Combined with support for DDR5 RAM, the Gigabyte H610M H3DP DDR5 is undoubtedly aiming for the skies. Let's see if it lives up to its claims.
Beginning with the 6+2+1 Phases Hybrid Power Design, Gigabyte uses Low RDS (Resistance from drain to source) on the MOSFETs to minimize energy wastage while improving the power delivery response under even the most demanding CPU loads. The Gigabyte H610M H3DP DDR5 uses a 24-pin ATX main connector for delivering power to the motherboard, while an 8-pin ATX 12V power connector is being used for the CPU. The 8-pin connector is made out of solid pins. As discussed previously, it increases the contact area for electricity to pass through while also increasing the amount of metal available for sustaining the heat generated due to maintaining high power. All the resistors present on the H610M H3DP DDR5 have an anti-sulfur coating to prevent corrosion from Silver Sulfide. Collectively speaking, the specialized design ultimately contributes to a durable and comparatively longer lifespan.
The Gigabyte H610M H3DP DDR5 breaks the norm, as the name would suggest, by offering support for DDR5 RAM modules at a maximum rated speed of 4800 MHz. Dual-channel memory comes into effect here with the help of the two DIMM slots, which support a maximum of 64 gigs of RAM. Gigabyte uses an exclusive design that unlocks a programmable mode. You're enabled to control the voltage of native DDR5 memory with a wide range, thanks to the PMIC (Power Management Integrated Circuit) Secure Mode being unlocked. Gigabyte assures us it will be compatible with all DDR5 modules up to a speed of 4800 MHz, stating they've conducted a series of tests themselves for the best results, no matter what vendor's RAM you use. Not stopping here, Gigabyte has shifted all the memory routing to the underside of the PCB's inner layer, shielded by a large ground layer, protecting the RAM modules from external interference. Thanks to such a well-thought-out design, the Gigabyte H610M H3DP DDR5 strives to attain a lower CAS (Column Address Strobe) latency while maintaining RAM speeds at the highest frequencies possible.
As for storage, Gigabyte included just the one M.2 slot, which supports M.2 SSDs of the Type 2242, 2260, 2280 SATA and in the PCIe 3.0 x4/x2 format. A standard 4x SATA III port (6 Gb/s) connects conventional means of storage media. Gigabyte chose to dedicate all the space to expansion slots, seeing as how they've managed to cram in 4 PCIe slots, 1x PCIe 4.0 x16, 2x PCIe 3.0 x1, and 1x PCI slot, in a Micro-ATX form factor.
Regarding I/O, Gigabyte has included 2x USB 3.2 Gen 1 and 4x USB 2.0 ports onboard the Gigabyte H610M H3DP DDR5. Via utilization of the internal, 1x USB 3.2 Gen 1 header and the 2x USB 2.0 headers, the total number of ports can be increased to 12. Even so, we'd have liked to see at least 4 USB 3.2 Gen 1 ports built-in. Gigabyte tries to make up in the output department, where it offers you the choice of 4 connectors for graphical output with support to run up to 3 displays simultaneously. These 4 connectors are D-Sub, DVI-D, HDMI, and DisplayPort, providing a decent assortment of the most frequently used connectors to choose from for your convenience.
Moreover, Gigabyte went with the Realtek 7.1 Channel High-Definition Audio Codec in the audio department. The H610M HD3P DDR5 uses high-end audio capacitors that help to deliver high-fidelity audio while maintaining realism. Fortified with Gigabyte's Audio Noise Guard, the analog audio components on the H610M HD3P DDR5 are electrically isolated at the PCB level to greatly minimize distortion, helping to deliver pristine sound quality to your ears. Since the Gigabyte H610M HD3P DDR5 doesn't have integrated WiFi or a Key-E slot for adding a WiFi module, you'll have to make do with Intel's Gigabit Ethernet, which uses the same I219-V controller similar to many rivals. Reinforced with 'cFosSpeed,' which helps to accelerate network bandwidth for your games by automatically prioritizing bandwidth for essential apps over inessential ones, LAN is one thing you won't have to worry about.
We discussed Smart Fan 6 and Gigabyte's Hybrid Core Optimization in complete detail previously, which is why we're delighted to inform you the Gigabyte H610M HD3P DDR5 excels, once again, in the cooling and performance department. Smart Fan 6 can automatically adjust fan speeds for different user scenarios using the 3 PWM/DC fan headers. The number of points on the fan curve has increased from 4 to 6, resulting in a more precise fan curve of your liking. At the same time, Gigabyte's Hybrid Core Optimization gives you the ability to deactivate the efficiency cores of your CPU to prioritize gaming performance or activate all performance and efficiency cores when the time comes for productivity.
The Gigabyte H610M HD3P DDR5 comes bundled with the same suite of software, including Gigabyte's redesigned BIOS, the App Center, Gigabyte's proprietary EasyTune software, and the standard System Information Viewer. Automation plays a significant role in the H610M HD3P DDR5 since the motherboard can control just about everything on its own, ranging from fan speeds to memory clocks and CPU voltage to make sure no electrical component is damaged due to over-current or over-voltage, and sustain optimal performance. Gigabyte stands by the H610M HD3P DDR5 with a 3-year warranty.
What We Liked:
There's a lot to love about the Gigabyte H610M HD3P DDR5. With a 6+2+1 Phases Hybrid Power Design, a heatsink for enhanced cooling, and Smart Fan 6's intelligence, Gigabyte's got you covered thermally speaking. The H610M HD3P DDR5 is no slouch since it can support 64 GB of DDR5 RAM @4800 MHz while allowing you to play with even the voltage provided to the RAM modules. Gigabyte's Hybrid Core Optimization ensures you can game and maintain productivity simultaneously, making both case scenarios a walk in the park. Offering 4x expansion slots and 4x graphics output, we roar our approval for the Gigabyte H610M HD3P's vast connectivity prospects.
What We Disliked:
Laud and praises aside, we still found a few quirks with the Gigabyte H610M HD3P DDR5. First off, if we're being sincere, we wouldn't have minded the addition of a second M.2 slot in exchange for one of the expansion slots. Next up, not only does the H610M HD3P DDR5 not have integrated WiFi, it doesn't offer a Key-E slot either, forcing you to rely on the onboard LAN or search for alternatives. Furthermore, the absence of RGB headers seems odd in today's world. The PC gaming industry is supposedly heading towards a world filled with exorbitant cases exhibiting a myriad of RGB lighting. Last but not least, the price point of the H610M HD3P DDR5 is one to watch out for; given the fact it supports DDR5 RAM within an H610 chipset, it certainly won't come cheap.
Verdict:
Boasting the support of DDR5 RAM with shielded memory routing, aided by Gigabyte's outstanding, if not award-winning, Smart Fan 6 and Hybrid Core Optimization, the Gigabyte H610M HD3P DDR5 will hold its own in terms of performance. Further supplemented by Hi-Fi Audio, improved by an Audio Noise Guard, put together with the 4x expansion slots and 4x Graphics Output, Gigabyte makes sure you're able to blow up aliens on up to three different displays simultaneously using connectors of your convenience, delivering realistic sound effects to your ears. We also can't praise Gigabyte's software support enough, as we're sure you can tell. Let's assume you can forgive a few omissions of the H610M HD3P DDR5, such as the lack of any RGB headers and integrated WiFi/Key-E slot, coupled with a solitary M.2 slot. If you can digest the price tag as well, there's no reason to linger on. That's right, go ahead and purchase one if you're feeling up for it since we bestow the Gigabyte H610M HD3P DDR5 with the honor of being the Best High-End H610 Motherboard in 2022.
Our Criteria For Selecting These H610 Motherboards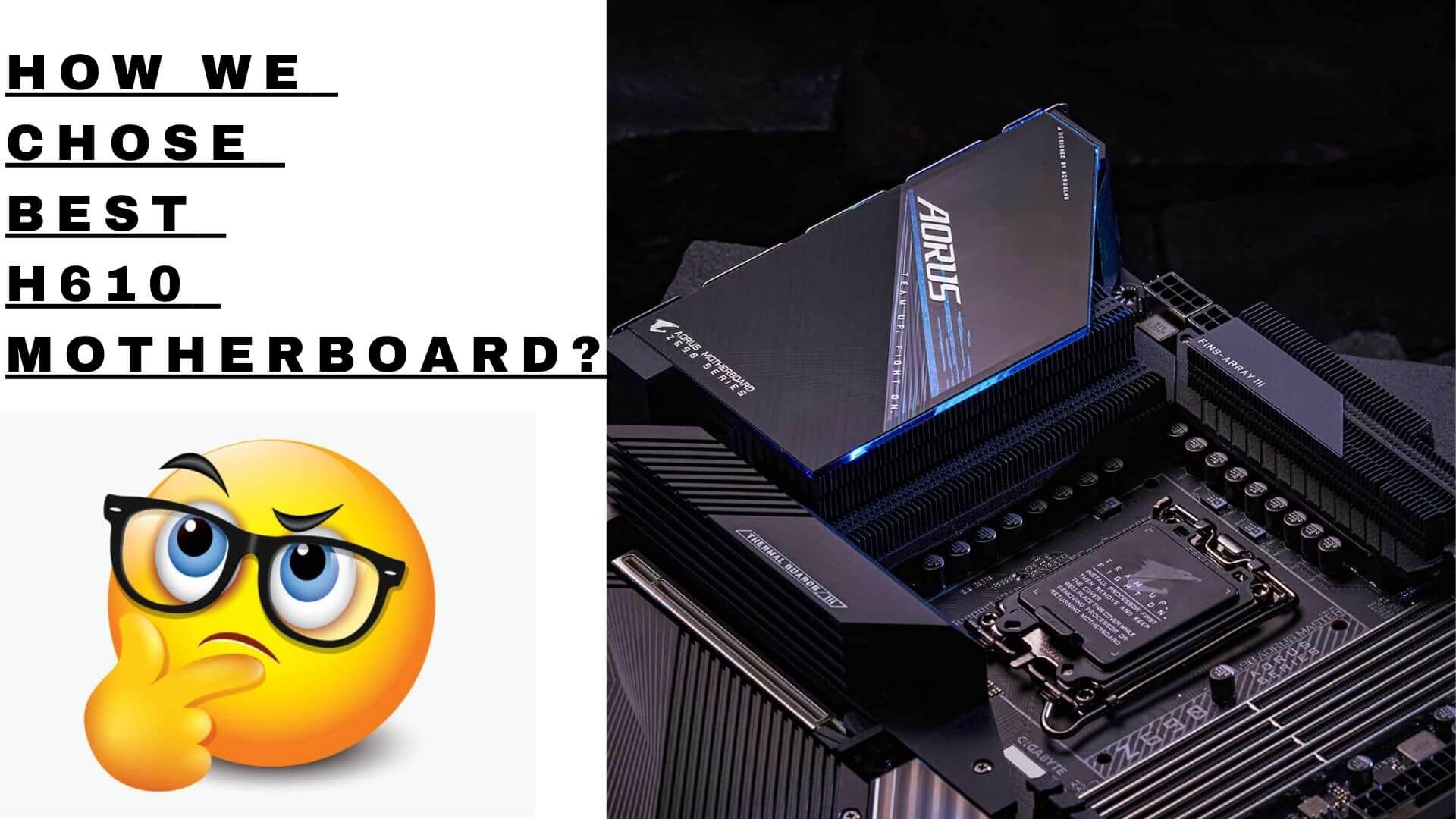 Rounding up a selection of the Best H610 Motherboards isn't an easy task since numerous manufacturers have come up with their variants, vying for the worthy title of the Best H610 motherboards, which makes deciding on one particular motherboard even more difficult due to a variety of various options. However, we have conducted extensive research and analysis to present you with our handpicked list to choose one of the Best H610 Motherboards for yourself, according to your personalized needs. That being said, there are a few key factors to keep in mind, all of which have been mentioned and explained below for your convenience while selecting the best H610 motherboard for your gaming build.
Chipset/Socket:
Intel 12th Gen Alder Lake CPUs require an LGA1700 CPU socket supported by 600 Series chipsets such as H610, H670, B660, and Z690. Cross-matching your CPU's socket needed with the chipset that your preferred motherboard offers is the most vital part of your hunt for one of the Best H610 Motherboards since a motherboard won't be of any use, despite all its bells and whistles, if it can't utilize your processor due to a mismatch within the socket.
VRM:
A VRM (Voltage Regulator Module) is one of the essential components of a motherboard, as it is solely responsible for controlling the voltage delivered to all the electrical components of your gaming PC, adjusting the voltage accordingly to make sure no part of your PC is operating at a dangerously high voltage, which would put the particular components at risk of damage, shortening their lifespan. A good VRM is essential for CPU and GPU overclocking scenarios and general optimal performance. This is why it's necessary to keep a keen eye out since an inefficient VRM would result in your CPU and GPU bottlenecking, i.e., your PC would experience thermal throttling, being unable to deliver the potential power it is capable of, thanks to an incapable VRM. A faulty VRM will also provide unstable power, putting your entire motherboard, along with the CPU, GPU, RAM, to name a few essential electrical components, at risk.
It is also worth noting that some motherboards also offer active fans to cool down the VRMs on your H610 motherboard or design the VRMs placement. An effective heat transfer is conducted consistently, reducing the chances of thermal throttling occurring, allowing for beefier CPU and GPU performance.
Expansion Slots/Connectivity:
Each motherboard varies in terms of the expansion slots and connectivity it offers. Some motherboards may offer multiple PCI-e 4.0×16 slots, which the latest GPUs in our world can utilize, while some would only provide a solitary PCI-e 4th Gen slot. Motherboards on a budget would probably forgo these 4th Gen PCI-e slots altogether, only offering you PCI-e 3.0×16 slots (3rd Gen), resulting in reduced speeds. If you're in the mood to connect more than one M.2 SSDs, you would need to select a motherboard that has at least two or more M.2 SSD slots for utilization.
As far as connectivity is concerned, we're glad to assure you that even the cheapest motherboards present vast options for connectivity without breaking the bank. That being said, you should have an approximate idea of how many and which type of USB ports you'd like to utilize, such as USB 2.0, USB 3.2 Gen 1×1, USB 3.2 Gen 2×1, USB 3.2 Gen 2×2, since a few budget motherboards like the H610 do not possess any USB 3.2 Gen 2×2 ports at all, an omission to be wary of if you want the fastest data transfers and USB speeds possible. Also, every motherboard contains a different assortment of USB ports, so it is crucial to crossmatch the number of ports available with your needs. That being said, keep an eye out for the type and number of audio ports you'd like to use as well.
Heatsink/PCB Layers:
Heatsinks are one of the most important aspects of a motherboard since they can reduce or boost your CPU, GPU, and overall performance depending on how well they conduct a perfect heat transfer. They will also determine whether your PC would undergo a case of thermal throttling to keep temperatures down or perform consistently.
The general rule of thumb is to choose a motherboard that features advanced heat dissipation while ideally incorporating multiple heatsinks for optimal heat dissipation, away from your motherboard's components. Adding on, the thicker your motherboard's PCBs (Printed Circuit Boards), the lower your temps. Your motherboard comprises multiple PCBs sandwiched together, which generally produces excessive heat, so unless your PCBs are sizeably thick with several layers, your PC will struggle with heat conductance, eventually leading to thermal throttling and bottlenecked performance.
Form Factor:
Motherboards are typically manufactured in four sizes; ATX, E-ATX, Micro-ATX, and Mini-ITX. Generally speaking, ATX and E-ATX motherboards are the biggest of the bunch, featuring several massive heatsinks with comparatively thicker PCB layers, commonly offering the most features, alongside plentiful expansion slots and ports for unimaginable connectivity. As a side effect, the ATX and E-ATX motherboards towards the high-end spectrum will unsurprisingly be the most expensive motherboards on the market, and you often end up paying excessively for features you will never use.
On the contrary, Micro-ATX and specifically Mini-ITX will be the smallest motherboards you can find on the planet, paving the way for miniature gaming PC builds. These motherboards will usually sacrifice a few over-the-top features and have slightly worse results in terms of heat dissipation. However, manufacturers are constantly working hard to bridge this gap between the four form factors. Micro-ATX and Mini-ITX motherboards would also typically have fewer expansion slots since there isn't a lot of space to utilize, offering limited connectivity. Nonetheless, Mini-ITX motherboards will also stage themselves at jaw-dropping prices since these boards, while making certain compromises, still manage to provide you with the same power and capabilities as a monstrous gaming tower would.
Budget:
While building a gaming PC, it's best to stick with full-sized ATX or E-ATX motherboards if you're looking to save some money, as manufacturers offer a variety of motherboards in these form factors. It's also important to control yourself while choosing from the top-of-the-line ATX motherboards since these boards tend to overcharge you for features you'll probably never use in a lifetime, like Overclocking. If you aren't going to overclock your processor, then there is no need to spend too much on the motherboard with a huge amount of VRM, though in the H610 case, there is no support of CPU overclocking.
B660 vs. H610 vs. H510
To begin with, B660 and H610 are chipsets launched for Intel's recently released 12th Generation Alder Lake CPUs. These chipsets possess an LGA 1700 socket (Check out the Best LGA 1700 Coolers), complimentary to any Alder Lake CPU. The main difference between the B660 and the H610 is that the B660 tends to capture the low-to-mid budget chipset market, whereas the H610 is the entry-level chipset necessary to run an Alder Lake CPU. On the contrary, the H510 chipset bears an LGA 1200 socket compatible with Intel's 10th Gen (Comet Lake) and 11th Gen (Tiger Lake) CPUs. The H610 is the main successor to the H510, while the B660 aims to one-up the H610 in just about every category.
Moving on, the B660 has 6 PCIe 4.0 lanes while the H610 and H510 have nil, only sporting 8 and 6 PCIe 3.0 lanes, respectively, matching the B660's 8 PCIe 3.0 lanes. Disappointingly, Intel didn't give the H610 and H510 even a single USB 3.2 Gen 2×2 port, whereas the B660 has a measly, but still, 2x USB 3.2 Gen 2×2 ports.
Furthermore, speaking about memory, the H510 only supports a maximum of 64 GB DDR4 RAM. On the other hand, both the H610 and the B660 support DDR5 RAM, where the H610 is limited to a maximum speed of 4800 MHz. We're excited to inform you that B660 blows this threshold out of the ballpark thanks to having the ability to overclock RAM modules up to 7200 MHz for a potential 50% jump in RAM frequency. The H610 and H510 chipsets have a single DIMM slot per channel, but the B660 can support double the number at 2 DIMMs per channel.
Moreover, if we speak about graphics output, there is a notable variance between all three chipsets with the H510, H610, and H510, H610, and B660 supporting the ability to run a maximum of 2, 3, and 4. The B660 and H610 sadly cannot unlock performance and efficiency cores, so CPU overclocking won't be possible, joining the H510 in a minute of silence.
Another notable differentiating factor is that the B660 supports RAID configurations, unlike the H610 and H510. RAID (Redundant Array of Independent Disks) is a virtualization technology that combines multiple physical hard drives or SSDs into one virtual disk drive, significantly improving data transfer speeds while enhancing data protection and minimizing the risk of data loss in case of a drive failure, for example. Enthusiasts will also be pleased to know that the B660 supports the blazing-fast Intel Optane Memory for acting as a cache bridge between your RAM and storage media, resulting in faster data transfers between the RAM and storage and CPU. If it wasn't already clear, the H610 and H510 do not support Intel Optane Memory.
Last but not least, all three chipsets are rated at the same TDP of 6W for the reference models from Intel.
To conclude, you should only get an H510 if you want to stick to DDR4 RAM and 10th or 11th Generation Intel Processors. If you'd like to jump on the bandwagon of the new Alder Lake CPUs and have some fun with DDR5 RAM while not being too serious about gaming, connectivity, or performance, you should go for the H610. Gamers and power users would be wise to stick to the B660 chipset since those offer USB 3.2 Gen 2×2 ports, RAID configurations, 2 DIMMs per memory channel, memory overclocking, and the ability to run a four-way monitor setup simultaneously.
H570 vs. H610
H570 has the upper hands feature-wise since it has 2 RAM DIMMs per channel, sports a maximum of 20 PCI Express Lanes, can be configured with up to 14 USB ports, including 2 USB 3.2 Gen 2×2, 4 USB 3.2 Gen 2×1, and 8 USB 3.2 Gen 1×1 ports. Asides from this, it possesses a max number of 6 SATA 6.0 Gb/s ports. Furthermore, it supports the SATA RAID 0, 1, 5, and 10 configurations for running your storage media at full speeds. Intel is is still not ready to put on the brakes, considering they glorified the H570 chipset with the support to utilize Intel's extremely high-speed Optane memory. However, the H570 chipset can only run CPUs with an LGA1200 socket, i.e., 11th Generation Alder Lake CPUs.
Compared to the new H610 chipset, which only has a single DIMM slot per memory channel, a maximum number of 12 PCI Express Lanes, up to 10 total USB ports which mark the absence of even a single USB 3.2 Gen 2×2 port, having only up to 2 USB 3.2 Gen 2×1, 4 USB 3.2 Gen 1×1, and support for 10 USB 2.0 ports. Besides this, the H610 only has 4 SATA 6.0 Gb/s ports, with no support for any RAID configurations. Also, the H610 does not support Intel Optane memory while also unable to utilize Intel's vPro platform in terms of additional features. Even so, the H610 does surpass the H570 in the WiFi department since the H610 can use the latest and greatest WiFi 6E technology, delivering unmatched bandwidth and internet speeds.
Last but not least, the most significant differentiating factor between the H570 and the H610 is that the latter chipset runs processors which possess an LGA1700 socket, i.e., the recently launched 12th Generation Alder Lake CPUs, so no matter how far ahead the H570 is spec-wise, it can't run the latest CPUs from Intel meaning the H610 will almost certainly outperform in that department.
That being said, the H610 does drop support for pretty essential features such as RAID configurations for your storage components, Intel Optane Memory, vPro management, alongside a sharply reduced number of USB ports, SATA ports, and half the number of DIMM slots per memory channel. Depending on your requirements, the H570 might just be the right fit for you, presuming you don't feel the need to splurge on the newest Alder Lake CPUs, especially when you consider the fact that H570 motherboards are now being sold at reduced prices, making your decision even more difficult.
Why Trust Our Judgement?
With over twelve years of experience in the tech and gaming industry, our dedicated team has been refined consistently to produce a potent group of knowledgeable individuals who are known to relay the most accurate information to our valued consumers, thanks to the extensive research and reviewing we conduct before we publish every piece of journalism.
In addition to this, we have been featured specifically on a majority of the top-notch gaming and tech brands, such as Gigabyte, MSI, Asus, DeepCool, just to name a few, as reliable and trusted sources for Hardware and Technology.
Subsequently, we instill confidence in our esteemed consumers, who may rely on us to give them the best advice for building, customizing, and modifying their personal gaming computers.
Frequently Asked Questions
Does the H610 support DDR4?
Yes, the H610 motherboard can use standardized DDR4 RAM modules at a maximum rated speed of 3200 MHz.
Does the H610 support overclocking?
Unfortunately, the H610 motherboard does not support CPU overclocking. In terms of memory, overclocking is the same story since it is stuck with Intel's official supported data rates, i.e., 4800 MHz for DDR5 and 3200 MHz for DDR4.