AMD has made a strong comeback in the CPU market with the introduction of their Ryzen series CPUs and chipsets. Ryzen is altogether a new architecture which has proven its worth and it clearly has troubled the Intel. Responding to this threat, Intel was quick to announce their X299 with Core X series of CPUs though they are aimed towards the Prosumer category. Today we will taking on Asus ROG Maximus X Hero Review.
Asus ROG Maximus X Hero Review

Kabylake was still a strong contender when it comes to powerful but few cores with more IPCs and gaming performance has proven it. Yet, Intel released their 8th generation series of the Chipset and the CPUs named under CoffeeLake. The Intel® Z370 chipset supports 8th Generation Intel® Core™ processors. It provides improved performance by utilizing serial point-to-point links, allowing increased bandwidth and stability.
Additionally, the Z370 provides a maximum of 10 USB 3.1 Gen 1 ports, six SATA 6Gbps ports, and 32Gbps M.2 and PCIe 3.0 lane speed support, for faster data retrieval. Intel Z370 also supports integrated-graphics.
When it comes to PC Components, AsusTek is among one of the best names we have in the market. It was founded in 1989 in Taiwan. Ever since its foundation, Asus has seen a phenomenal growth and diversity in its business line. When it comes to Asus, the first associated name that comes to mind is ROG or Republic of Gamers.
ROG brand was introduced in 2006 and it focuses on mainstream gamers/enthusiasts with products ranging from Motherboards, Graphics Cards to Peripherals. ROG is now mainstream, the premium brand from Asus. ROG Motherboards have always been the center of attraction for the enthusiast cum gamers. Their Formula lineup is among the best ROG products out there.
Maximus X Hero asus rog maximus x hero review motherboard falls under their premium brand of ROG (Republic of Gamers) though it is the first motherboard in the ROG lineup. The Maximus X Hero has Intel Z370 chipset and supports Intel 14nm CPUs under CoffeeLake. This chipset is not backward compatible with the Kabylake/Skylake CPUs.
This asus rog maximus x hero review motherboard has out of the box support for high-speed Non-ECC, Un-buffered RAM of up to 4133MHz (O.C). It supports Nvidia 2—Way SLI and AMD 3-Way CrossFireX. It features Intel 1219V NIC. It has ROG SupremeFX 8-Channel High Definition Audio Codec S1220. The IO Shield is pre-mounted. We will cover the design aspect in detail.
Asus ROG Maximus X Hero Packaging and Unboxing
The motherboard comes in a very attractively designed cardboard box in red and black color. The top cover has ROG Maximus X Hero printed in reflective silver color. Asus is printed on the bottom left side. Republic of Gamers brand name and logo are printed on the top right side. Labels highlighting the salient features of the board are printed on the bottom right side.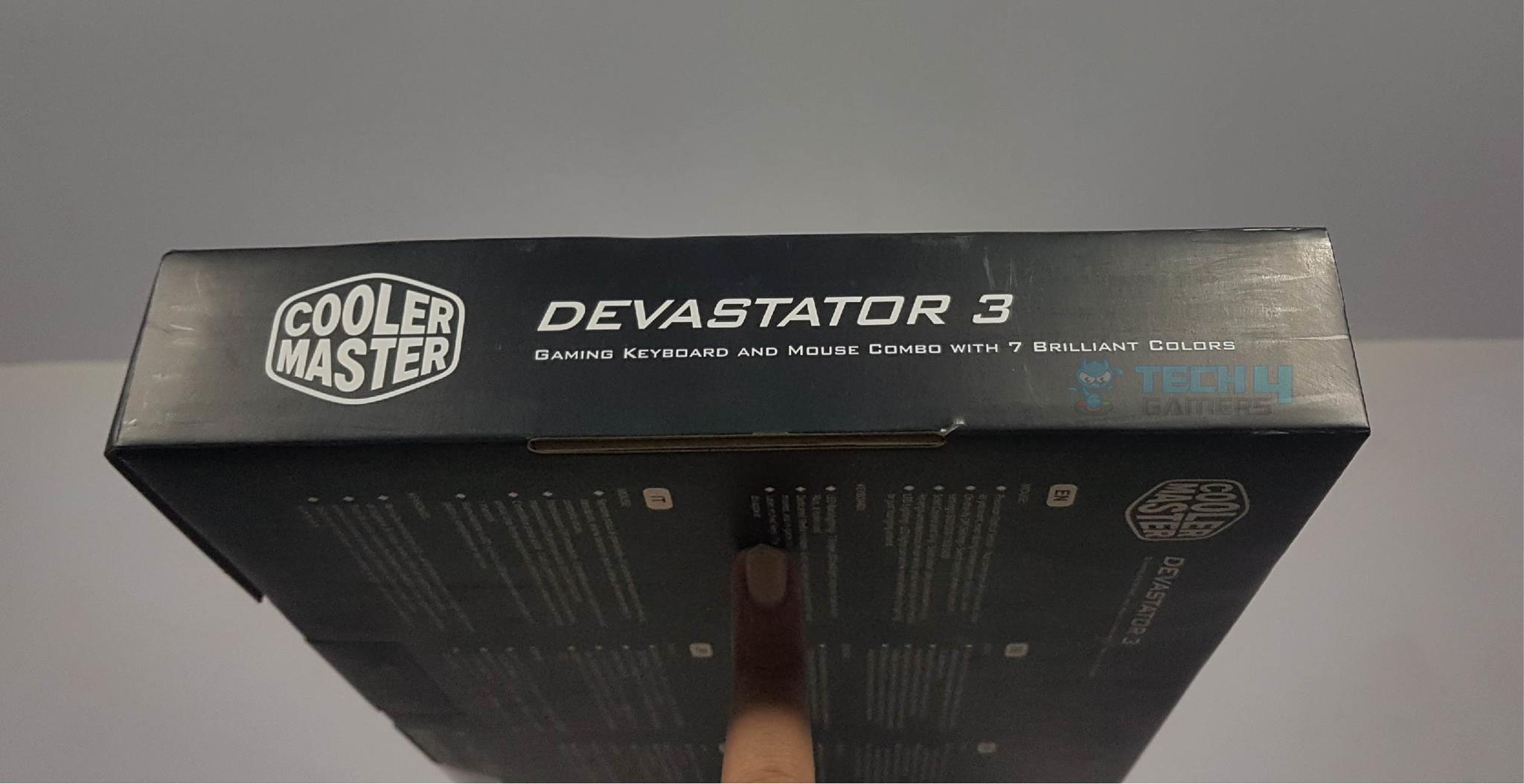 On the backside, there is a motherboard picture printed on the center. Major specifications of the motherboard are printed on the left and the right side of the picture. On the top side, there are 4 pictures showing onboard components like SupremeFX S 1220 Codec, Addressable header and AURA header, Pre-mounted I/O shield and M.2 heatsink.
The motherboard's model name is printed on the topmost. Company's contact info is printed in the bottom section. There is a CableMod coupon of 20% off included in the motherboard which the buyer can use to buy CableMod PSU cables with 20% discount.
The left side of the packing box has salient features of the board printed in 13 different languages. There is an info label pasted on the top right side with the serial no, UPC and EAN codes.
The right and the rear sides of the box has the ROG brand name and logo printed on the left. ROG Maximus X Hero is printed in the middle section and the Asus is printed in the right section.
The opening side of the packing box has the Choice of the Champions printed in the red color on the black background.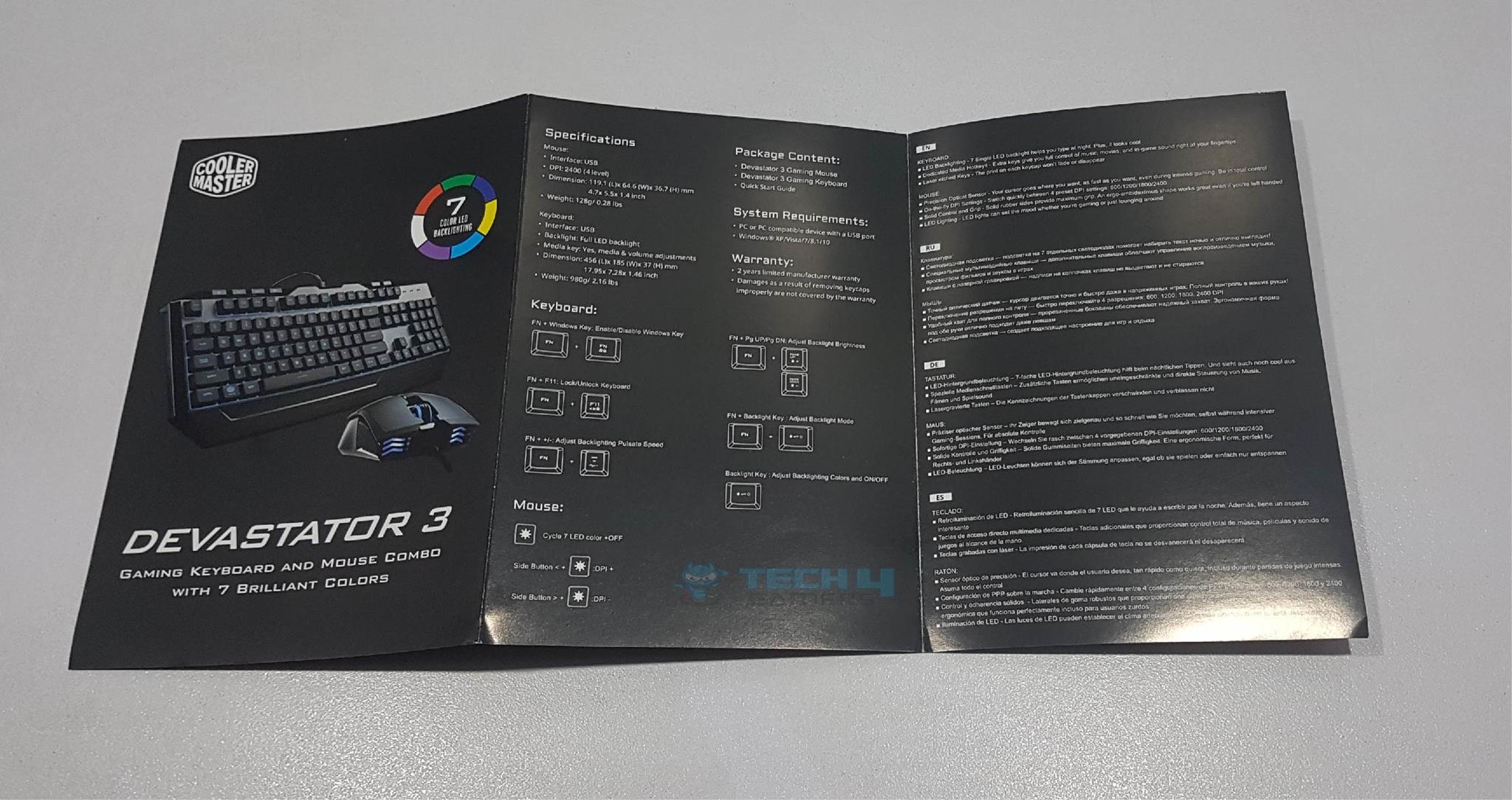 To access the contents, slide open the cover of the packing box. There is a stylish black color inset inside the opening cover with the text "Welcome to the Republic" printed in the red color. There is an Asus ROG logo printed above the text.
The motherboard is placed inside another container with a transparent plastic cover placed on top for better aesthetics and safety. Removing the motherboard container box would reveal the accessories provided with the motherboard.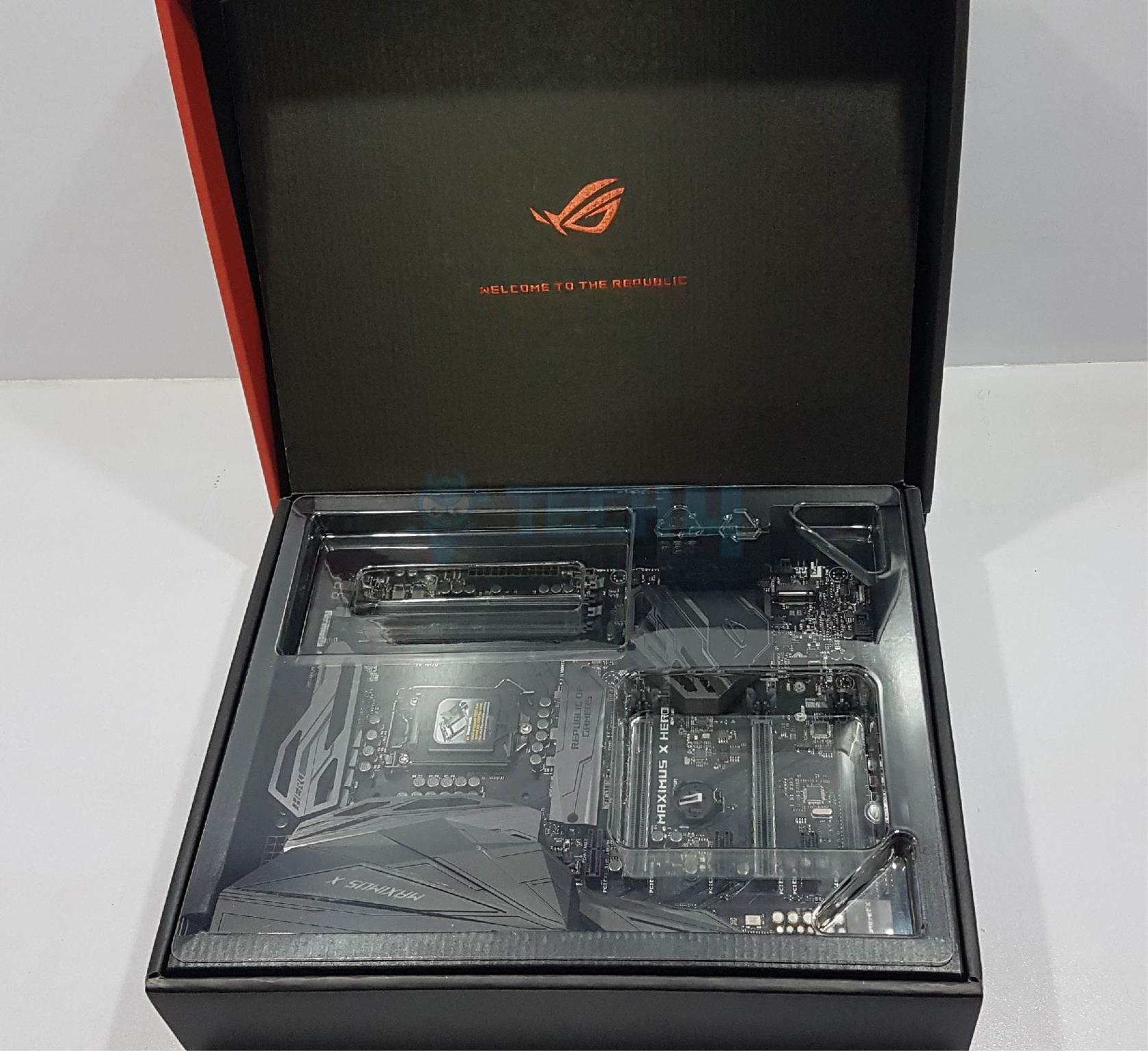 Maximus x Hero Review

Accessories
The accessories included with the motherboard are:-
User's manual
4 x SATA 6Gb/s cable(s) in black color
2 x 3D Printing Mounts
Asus Fan Holder
1 x CPU installation tool
1 x Supporting DVD
1 x SLI HB BRIDGE(2-WAY-M)
1 x Q-Connector
1 x 10-in-1 ROG cable label
2 x Extension Cables for RGB strips (80 cm) [One for addressable
1 x ROG coaster
1x ROGG Badge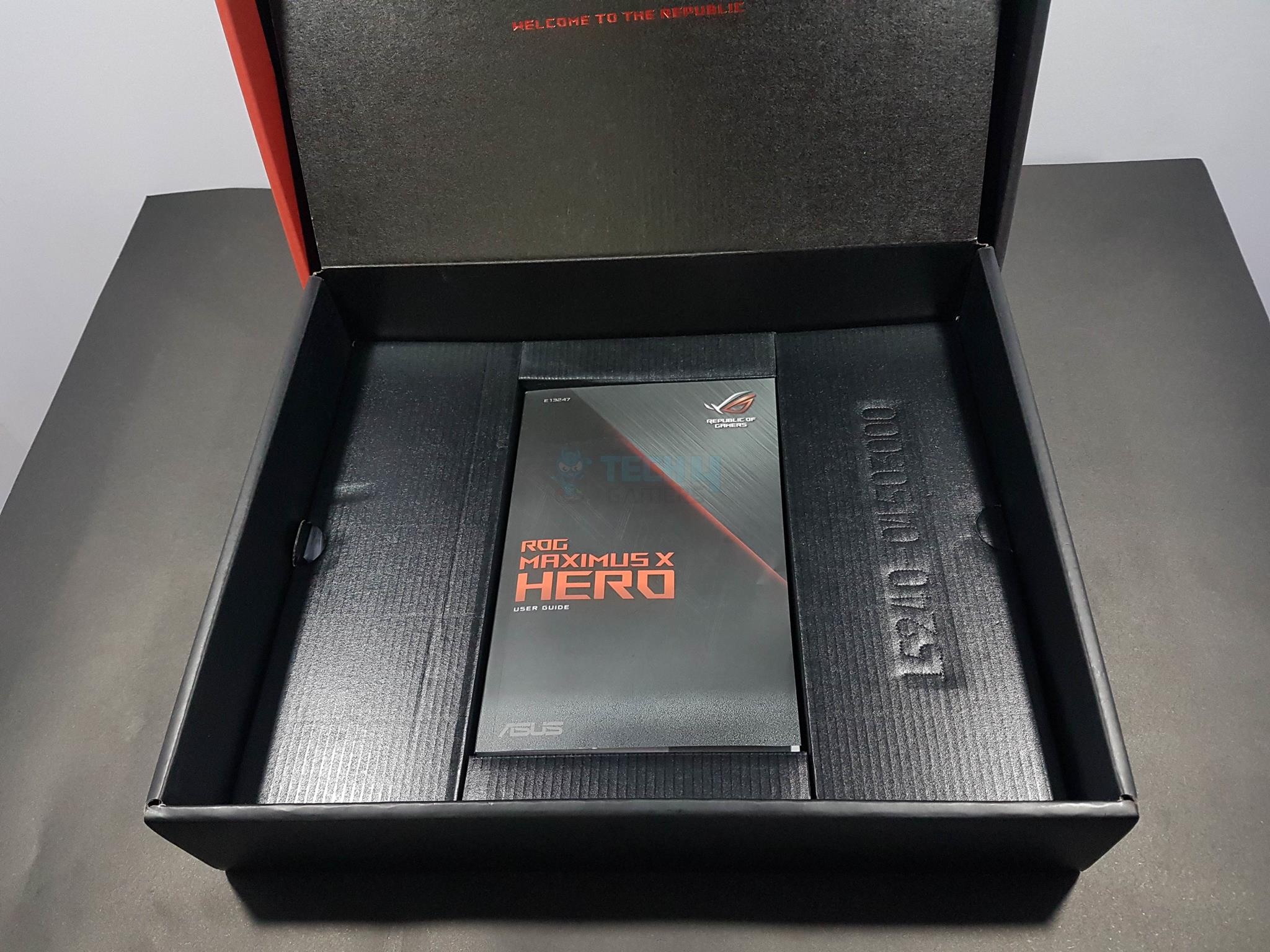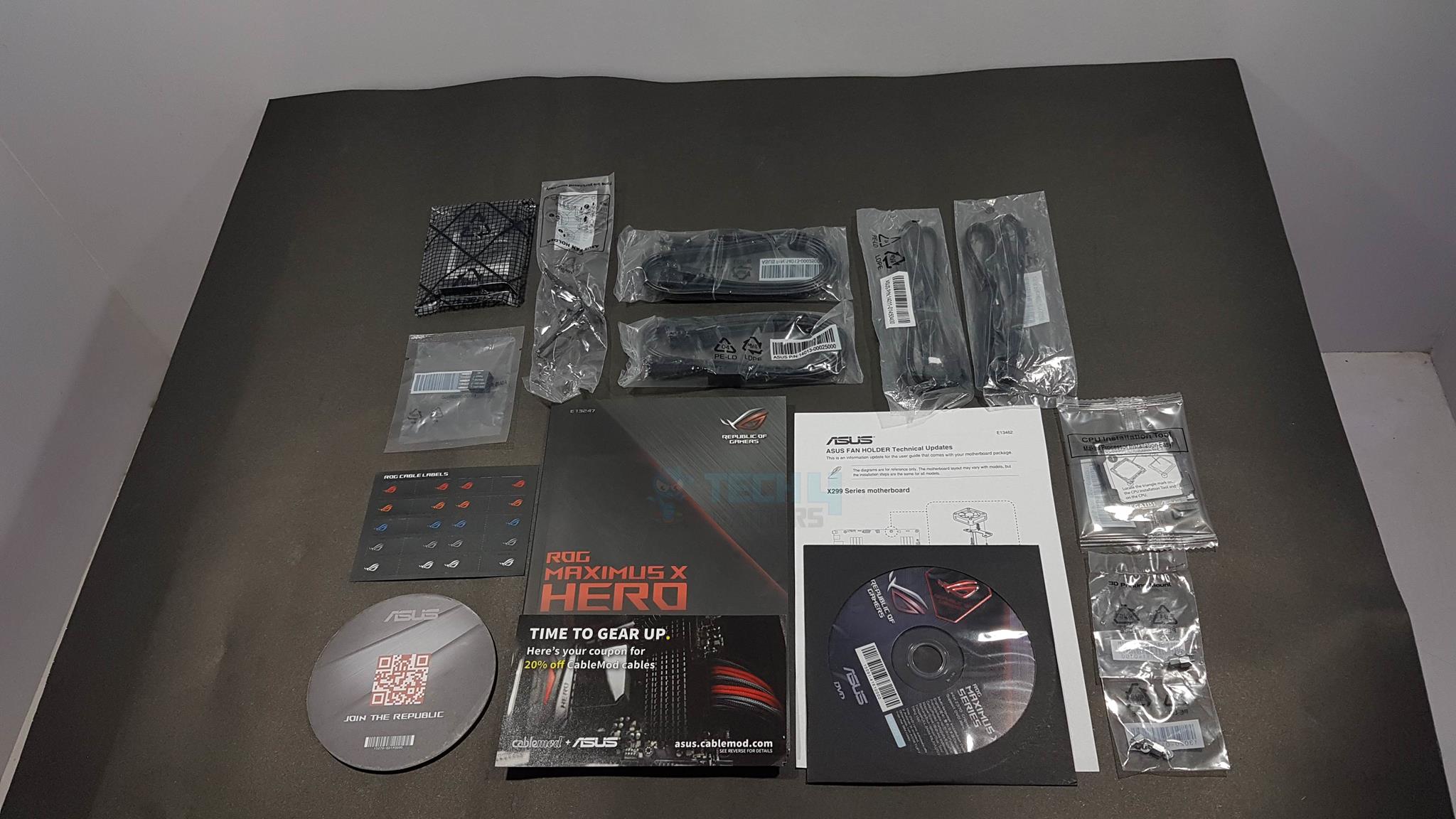 Asus ROG Maximus X Hero Features
Before digging into a design and layout of the motherboard, let's have a look at salient features of the motherboard which should be highlighted.
USB 3.1 Gen 2 Header
Manufacturers have implemented USB 3.1 header for front panel USB 3.1 on the chassis. Though, we've yet to see more chassis with USB 3.1 on the front panel, this is definitely a good move coming from the times of the USB 2.0 then USB 3.0 all with backward compatibility. Asus has implemented USB 3.1 Gen 2 header using 3 PCIe Gen 3 lanes. Maximum bandwidth that can be having through this connector would be 2GB/s.
AURA
As the name indicates, this technology has everything to do with the lighting on the board; not just lighting but RGB goodness. Main sections of the motherboard like heatsink cover on the back I/O ports, heatsink cover on the chipset have LEDs beneath them. Asus has provided software to control all the lighting effects. Next, Asus has implemented Aura headers.
Users now can connect their LED strips specially designed for these headers with the motherboard and can have all the lighting of the chassis coordinated with the motherboard's lighting effect. CableMod have designed many such strips for the AURA headers. Anyone can do that by fulfilling the requirement which are 5050 RGB Multicolor LED Strips (12V/R/G/B) with maximum power rating of 2A and no longer than 2m. I've one such designed LED strip with me as well for testing purpose. This board also has an addressable RGB LED header.
This does not end here. Next up is AURA Sync. Asus has introduced the AURA Sync in which all components like the motherboard, the graphics cards, the peripherals and the LED strips can be synced with same color effect. This is a great feature to have for sure.
SupremeFX
SupremeFX is the name of the on-board Audio solution from the Asus on their ROG line up motherboards. Asus has added a low-dropout regulator for cleaner power delivery to the SupremeFX S1220 codec, an ESS® Sabre Hi-Fi ES9023P digital-to-analog converter for superior front-panel output, and a Texas Instruments® RC4580 op-amp for high gain with low distortion — which all adds up to audio that envelops you as never before.
Using SupremeFX S1220, we've 10 DAC Channels, simultaneous 7.1 channel playback, independent 2.0 channel, multiple-stream stereo to front-panel outputs. Delivering all this power are Nichicon capacitors with high precision clock source and switching Mosfets. We've RC 4580 buffer which provides excellent voltage and current for perfect true-to-life tonality and sound imaging.
Hadrware is backed up by the comprehensive software suite in the form of Sonic Suite III and Sonic Radar III. These software allows the user to custom tailor the sound according to their needs with later software helps the users in identifying the position of the enemy while gaming.
Gaming Network
Asus ROG Maximus X Hero features the very latest Intel® Ethernet (I219-V) for faster, smoother gaming. Intel's LAN has the serious double advantage of reducing CPU overhead and offering exceptionally high TCP and UDP throughput. Asus has implemented LANGaurd. This helps to ensure the safer, more reliable connections for your gaming sessions.
Advanced signal-coupling technology and premium surface-mounting processes join forces to protect Maximus X Hero motherboard's connection, plus electrostatically guarded and surge-protected components (ESD Guards) for 1.9x greater tolerance to static electricity and 2.5x greater protection (up to 15kV) against surges.
In addition to the Intel Ethernet, Asus has implemented next-level 802.11ac Wi-Fi with 2×2 dual-band 2.4/5GHz antennas for up to 867 Mbps* transfer speeds — and the very latest Multi-User Multiple In Multiple Out (MU-MIMO) technology to ensure that every connected user experiences the best wireless and online speeds.
Backing all this up is GameFirst IV application which optimizes network traffic for faster, lag-free online gaming — and now it supports Multi-Gate Teaming to team up to 4 networks for maximum bandwidth and smooth gameplay. Intelligent mode automatically compiles a database by parsing new app data to ensure that every game is optimized for the best performance. In addition to that, Asus has provided Bluetooth v 4.1.
3D Printing
Friendly
Asus with the release of the Kabylake series motherboards introduced a new feature known as 3D Printable Accessories. They have carried this design feature ever since with all the major releases and CoffeeLake based motherboards are no exception to that. Now, users can customize the appearance of their builds using these 3D printable accessories. At the moment, 3d designs of these categories can be downloaded from the Asus website:
2-Way HB Bridge Cover
Fan Grills
Cable Combs
ROG Fonts (Would come handy for Apex users)
ROG Keychain
Users can download the 3d files from their website, customize it as per the requirements and can take the 3D Prints from their local vendors or printing shops.
OC Design
A dedicated base-clock (BCLK) generator that extends CPU and memory overclocking margins. This custom solution works in tandem with the TPU to enhance voltage and base-clock overclocking control, providing the flexibility to extract every ounce of performance from 8th Generation Intel® processors.
With support for DDR4 memory users are able to drive memory frequencies to 4133MHz (and beyond when overclocked)! ASUS-exclusive T-Topology circuit design plus OC Socket provides superb memory-overclocking capability to unleash the full power of DDR4 by minimizing coupling noise and signal reflection. With innovative equidistant memory channels, it delivers the most balanced control and powerful overclocking compatibility.
Water Cooling Zone
Asus has provided plethora of water cooling monitoring features on this asus rog maximus x hero review board. We've a Water Pump header designated as W_PUMP+. Same can be used for an AIO pump in which case it can be referred to as AIO_PUMP. Next up is the water flow sensor indicated by W_Flow. To add more functionality to these headers, Asus has broadly implemented them in DC/PWM modes and user can change the settings in the BIOS.
Asus rog maximus x hero review is equipped with a stylish, angular M.2 heatsink that keeps your SSD cool. By efficiently dissipating heat away from the M.2 area, ROG Maximus X Hero minimizes the possibility of the performance-sapping throttling that can happen when drives become too warm. The heatsink's angular design adds an eye-catching touch to any build, while the T-sensor detects temperatures in the vital M.2 area for instant monitoring.
Asus has provided 5 control sources to base the monitoring of the fan and pump headers on. These are: –
CPU
Motherboard
PCH
T-Sensor1
Ext-Sensor (1 to 3)
Multiple Sources
Please note that in order to set the control source based on Ext sensors, you would need to setup T-Probe sensors on the areas of interest without which these settings would not work.
Asus has provided 6 PWM/DC based fan headers. In addition to that, should there be a requirement of connecting more fans, one can buy Fan Extension accessory from the Asus and it can be connected on the Extension header. Upto three fans can be connected on the fan extension module. 3 probes can also be connected with it. User will have the control of individual fan in the BIOS. This is simply an amazing detail to the attention from the Asus.
Asus ROG Maximus X Hero Design
The Maximus X Hero being a Republic of Gamer lineup of the item carries a bold design with plethora of features suitable for gamers and enthusiasts alike. The overall design of this asus rog maximus x hero review motherboard is exactly what we saw on the Maximus X Hero motherboard with few differences like this motherboard has a stylish heatsink cover over the M.2 port right under the CPU socket. The I/O shield is pre-mounted on this board. There are two 3D mounts positions on this board for which Asus has provided two 3D Mount accessories and a 3D Fan mount clip.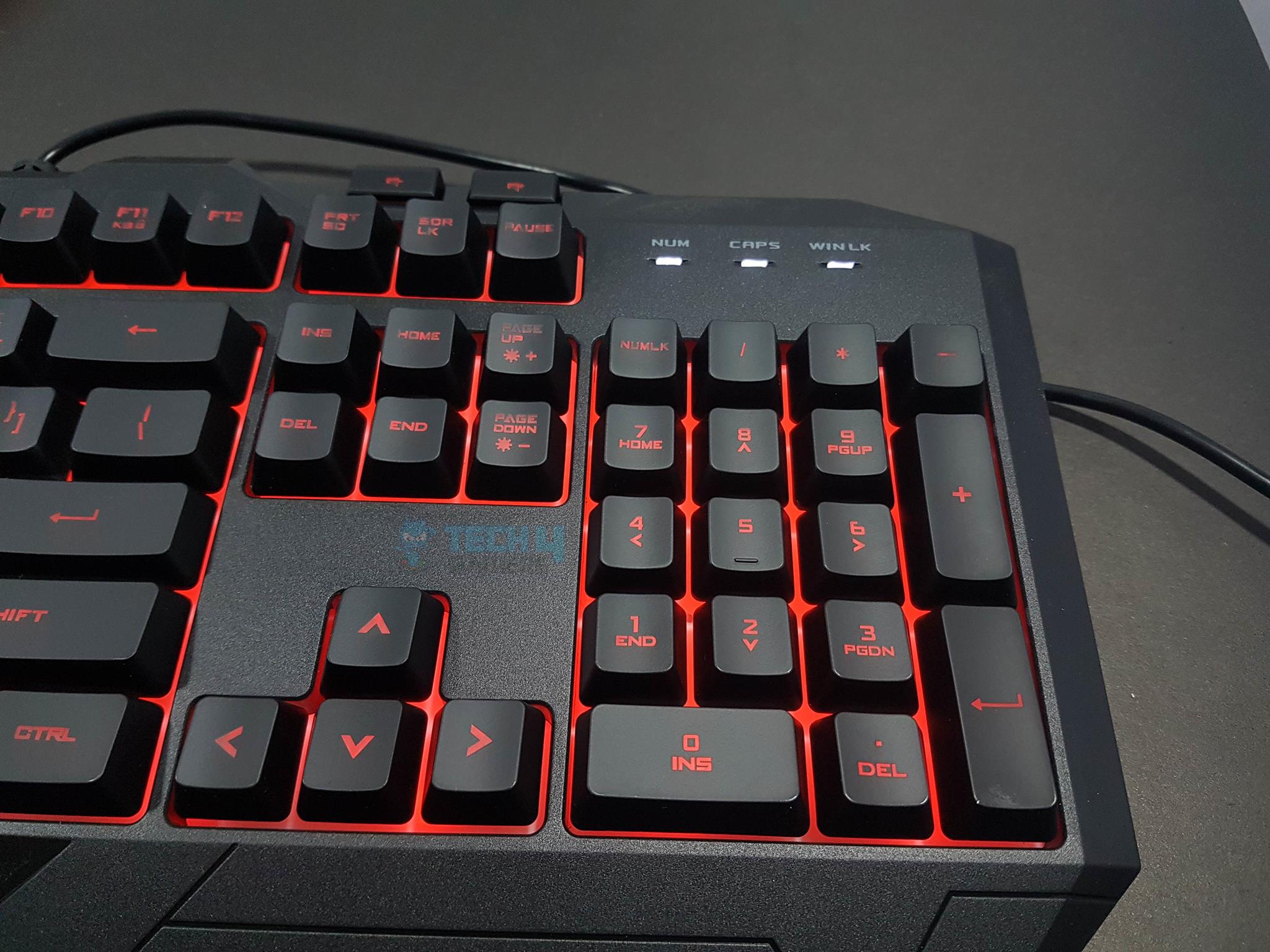 Let's take a look at the design and corresponding features of this board. It is a standard ATX size PCB in black color. On the left side, there is a single, shroud cover extending from the top of the PCB going all the way down towards the Audio hardware. It is made of plastic and is grayed.
The large bulk head side is covering the I/O ports. MAXIMUS X is etched on its top surface and it has RGB LED underneath it. SupremeFX is embossed on the lower side. This shroud is secured using 3 screws from the backside of the PCB. It can be taken off by removing those three screws.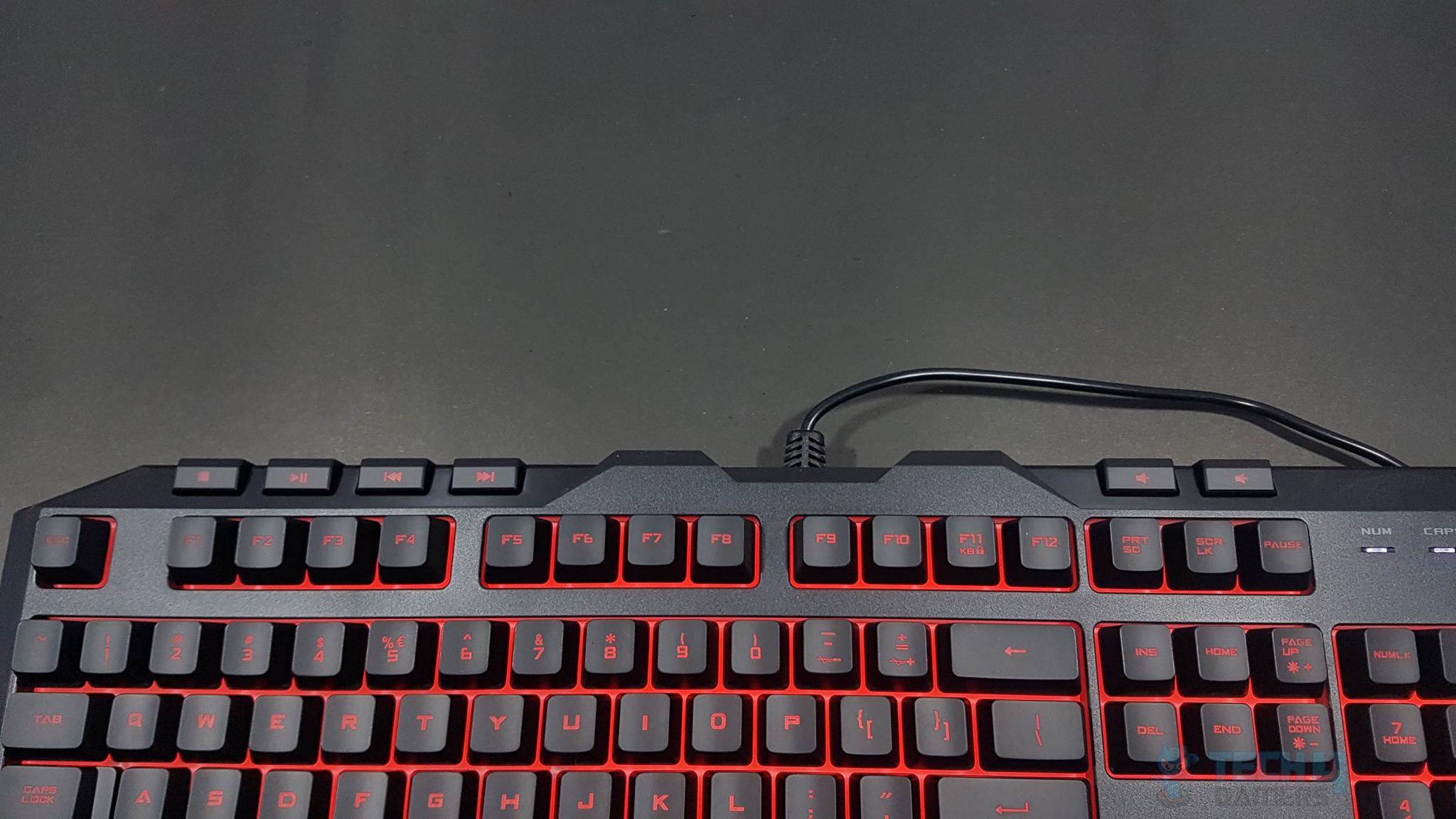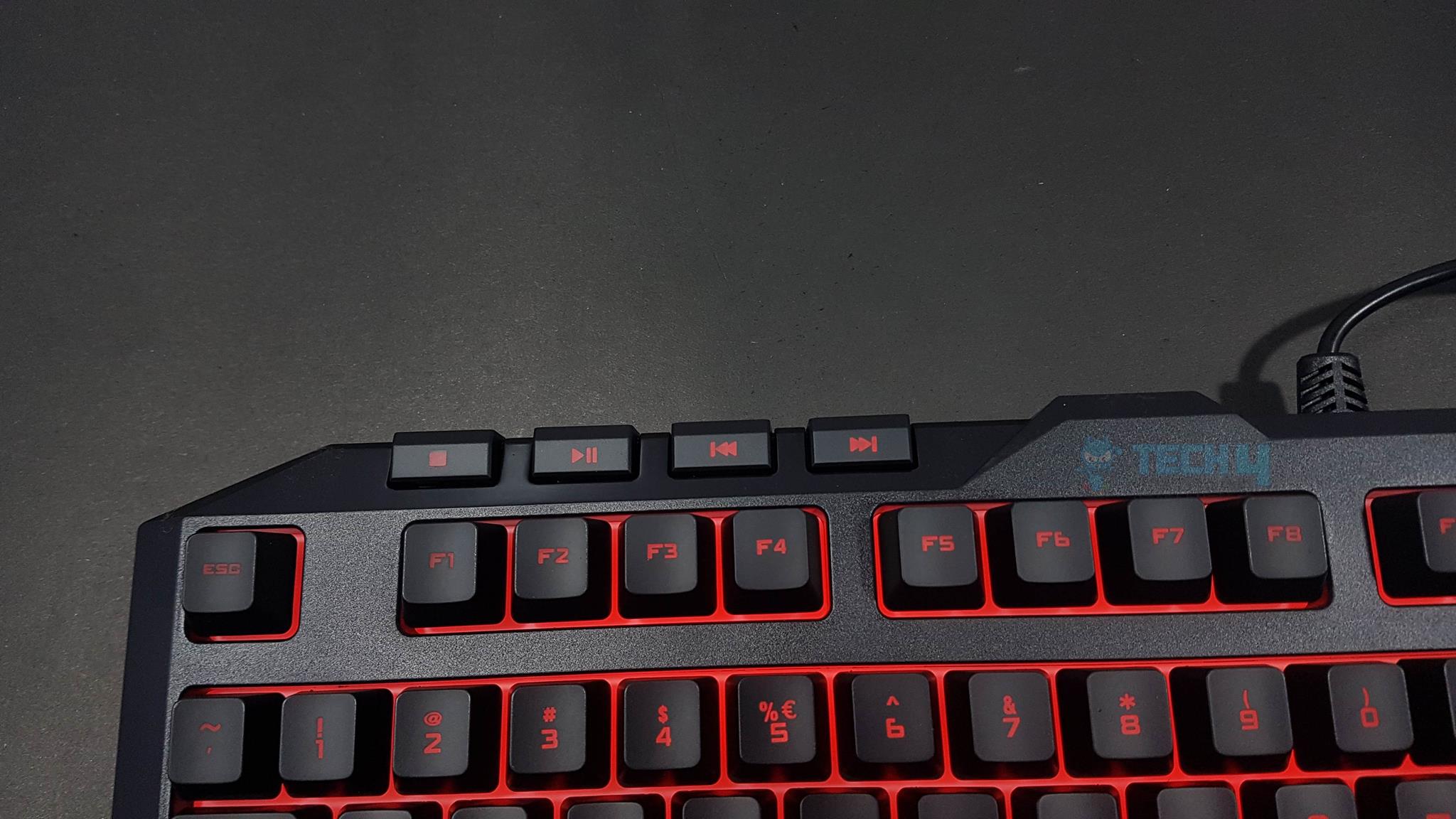 Right next to this asus rog maximus x hero review shroud there is an aluminum based heatsink covering the VRMs. It has a gray color thermal pad for heat conductivity. Its design depicts that of the Asus ROG concept. Similarly there is another aluminum based heatsink right on the top side of the CPU socket. It has HERO printed on it in an elegant manner. There are black lines on its top grayish surface. It is also covering the VRMs and has thermal pad underneath it.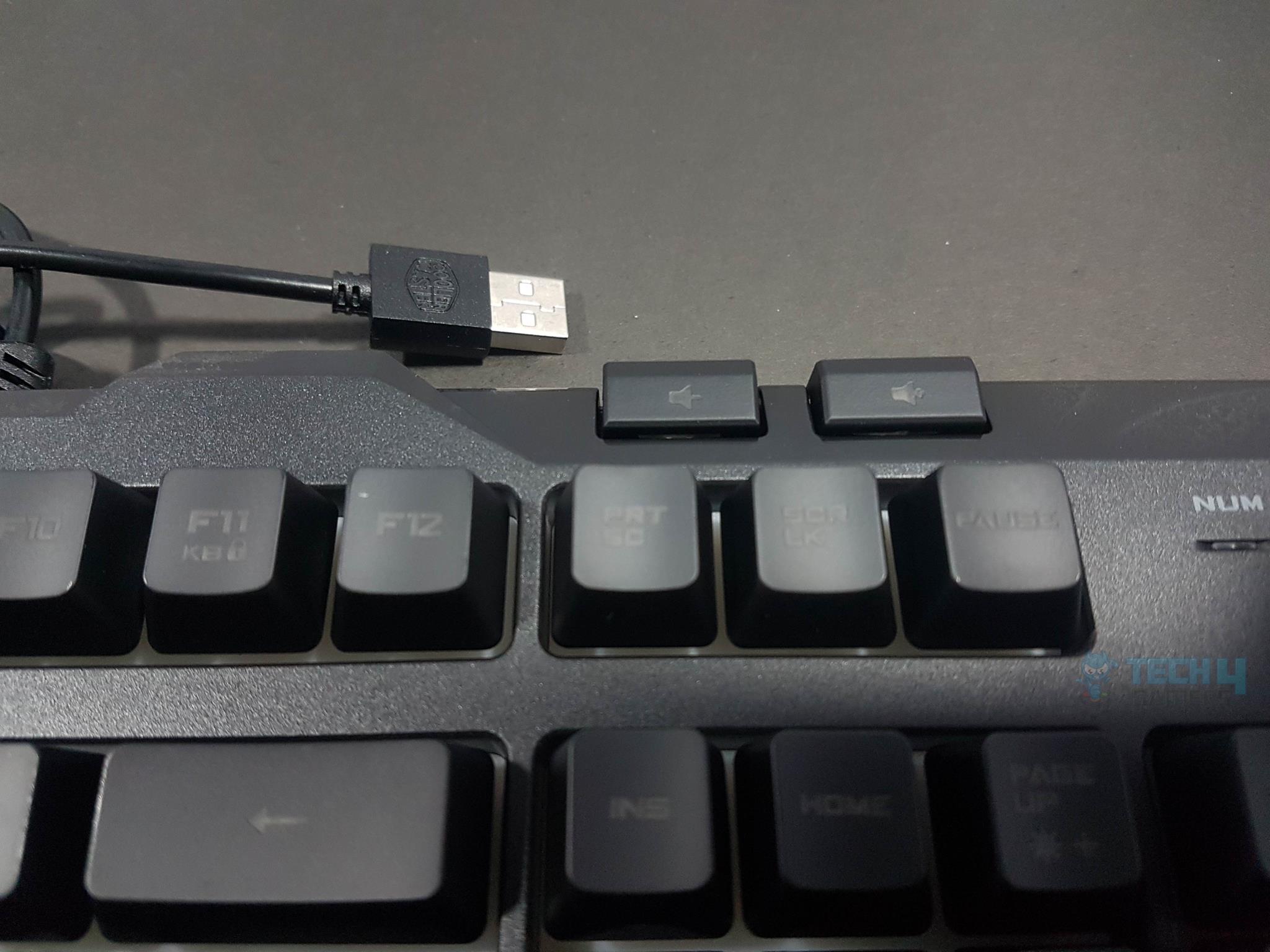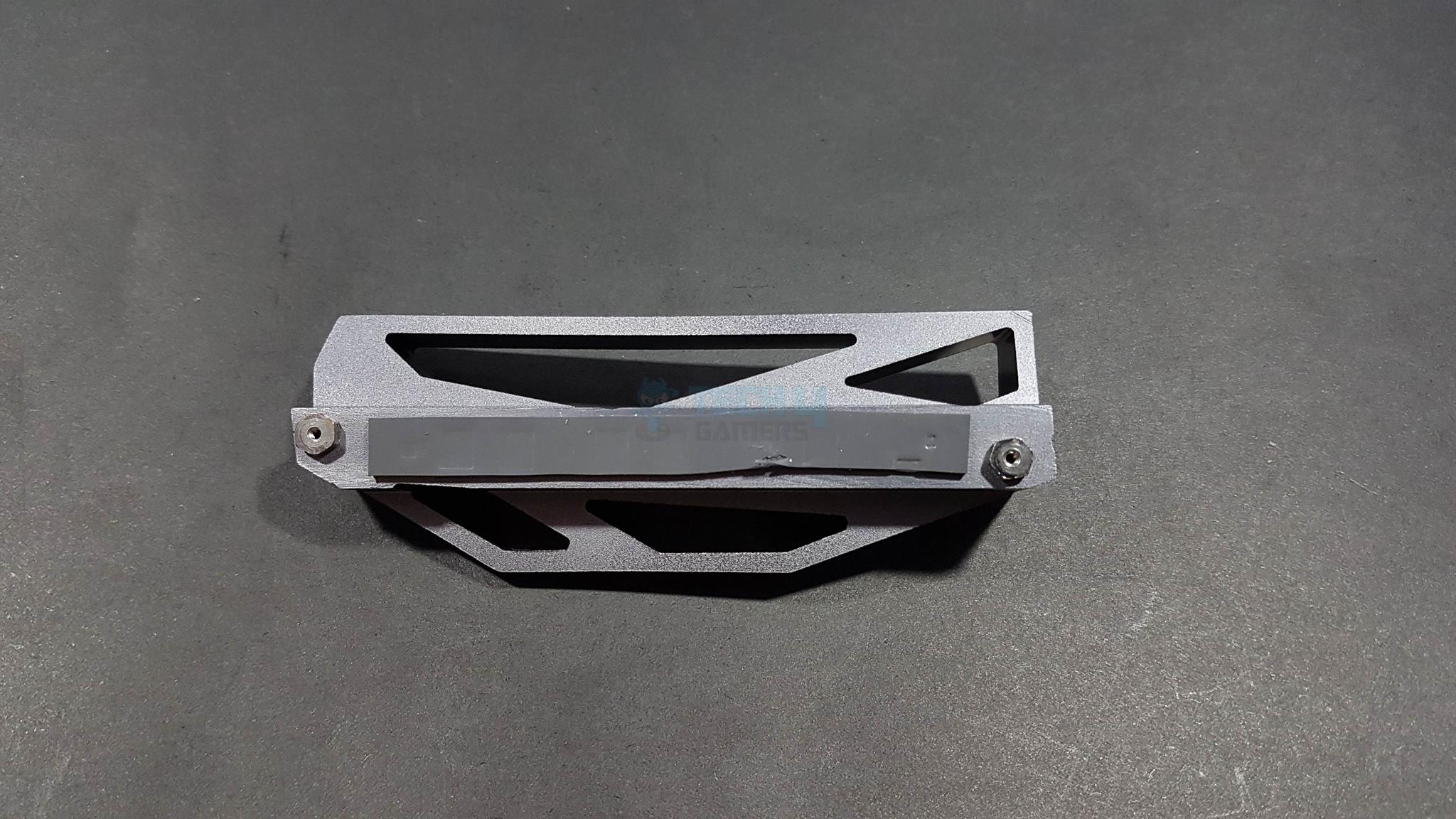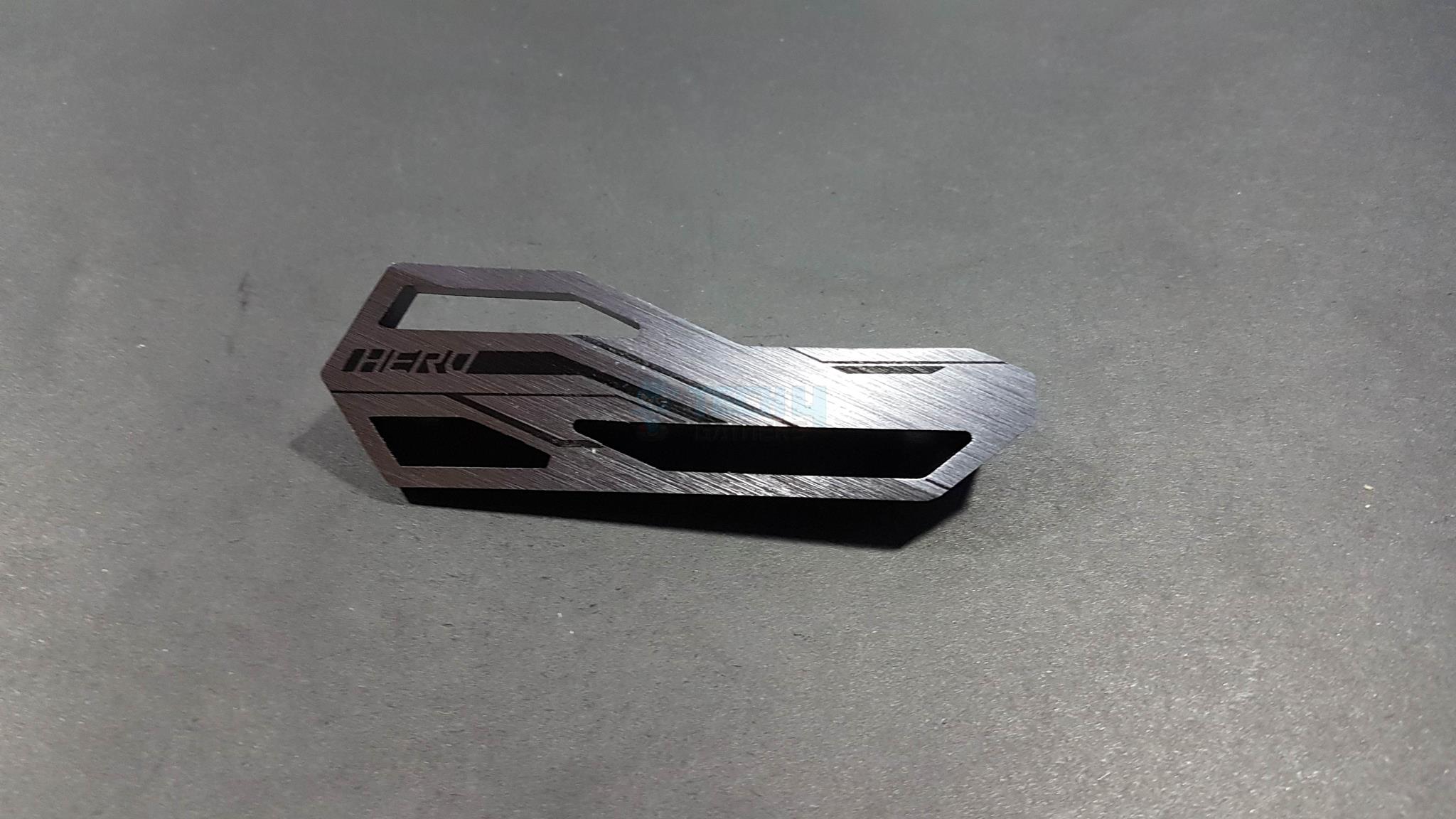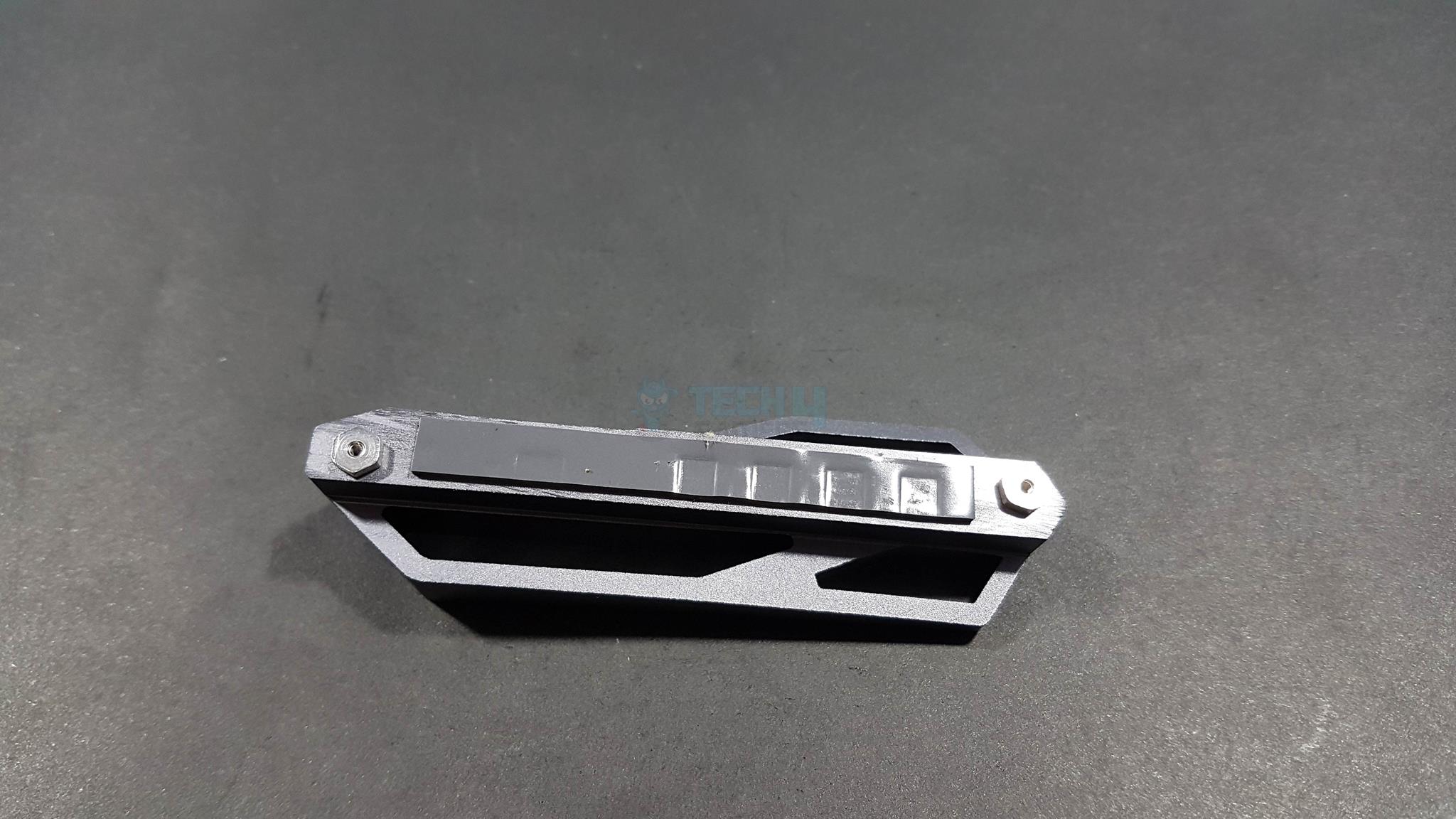 The I/O shield is pre-mounted on the motherboard. ROG's patent-pending I/O shield is capable of withstanding electrostatic discharge up to 12kV. Its sleek new design looks as good as it performs. Let's take a look at the connectivity options on the I/O side.
1 x DisplayPort
1 x HDMI
1 x LAN (RJ45) port(s)
2 x USB 3.1 Gen 2 Type-A + USB Type-CTM
4 x USB 3.1 Gen 1 (blue)
2 x USB 2.0
1 x Optical S/PDIF out
1 x Clear CMOS button(s)
1 x USB BIOS Flashback Button(s)
5 x Gold-plated audio jacks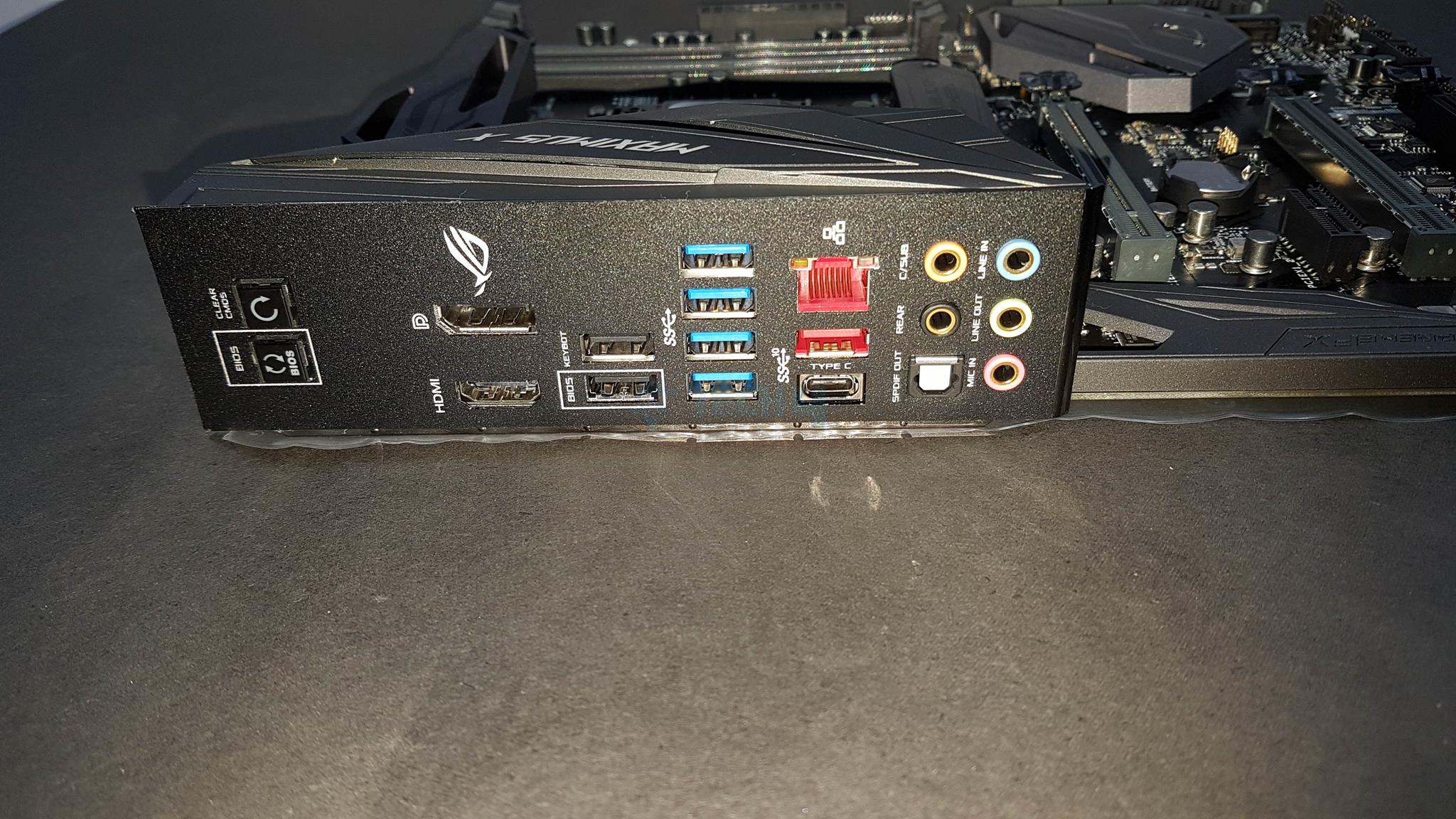 Let's take a look on the top side of the motherboard. On the far left, there is a EATX12V power connector for the 8-pin CPU power cable. Next, we have three 4-pin PWM fan headers. Starting from the left side, first one is AIO_PUMP header. Connect your CLC/AIO's pump power cable on this header or you may also use CPU_FAN header for this purpose as well. The middle header is a 4-pin PWM CPU_OPT header followed by the 4-pin PWM CPU_FAN header.
Location of these headers is convenient and would help in cable management. Next up is the AURA RGB Header2. Connect any supportive RGB LED Strip to this header and control the lighting right from the Aura software. Q-Code Debug LED is located on the top right side. It is multicolored Q-LED which reports 2 digit codes and comes handy in troubleshooting any issue.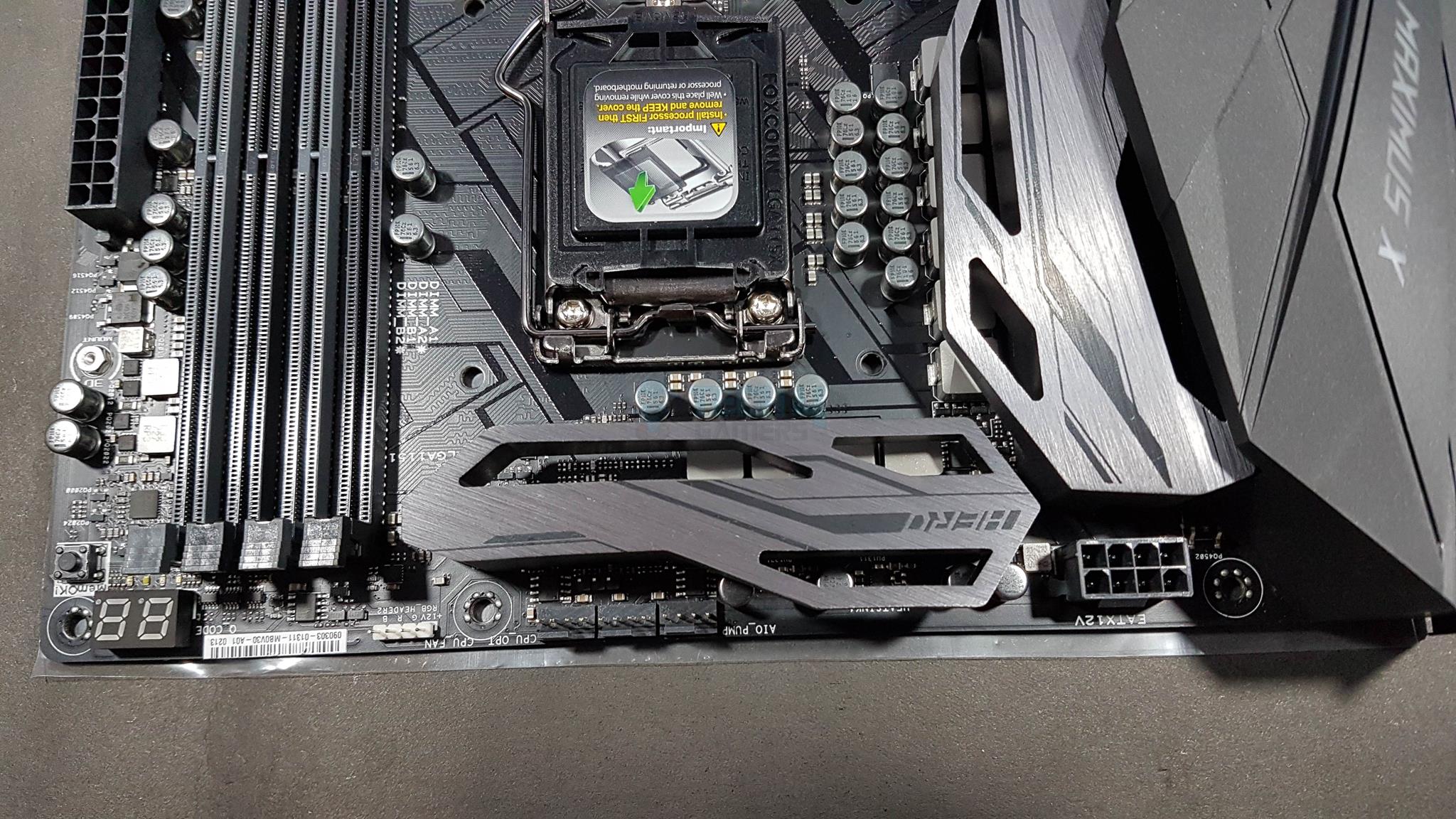 This asus rog maximus x hero review board features the Intel LGA-1151 socket. Don't be confused with the socket type as you can't use Skylake/Kabylake based CPUs on the 8th generation motherboards. Though the no of pins are same but their specific operation is not. Right next to these is the CPU Socket. It is well designed with clearance in mind for large CPU coolers. Foxcon LGA115X is printed on the CPU socket cover.
Important instructions are printed on the top of socket cover. This cover needs to be placed somewhere safe after installing the CPU. I prefer to keep such items in the motherboard's box for ease of access later on. As a general rule of thumb, always keep CPU socket covered. 23 capacitors are visible around the CPU Socket.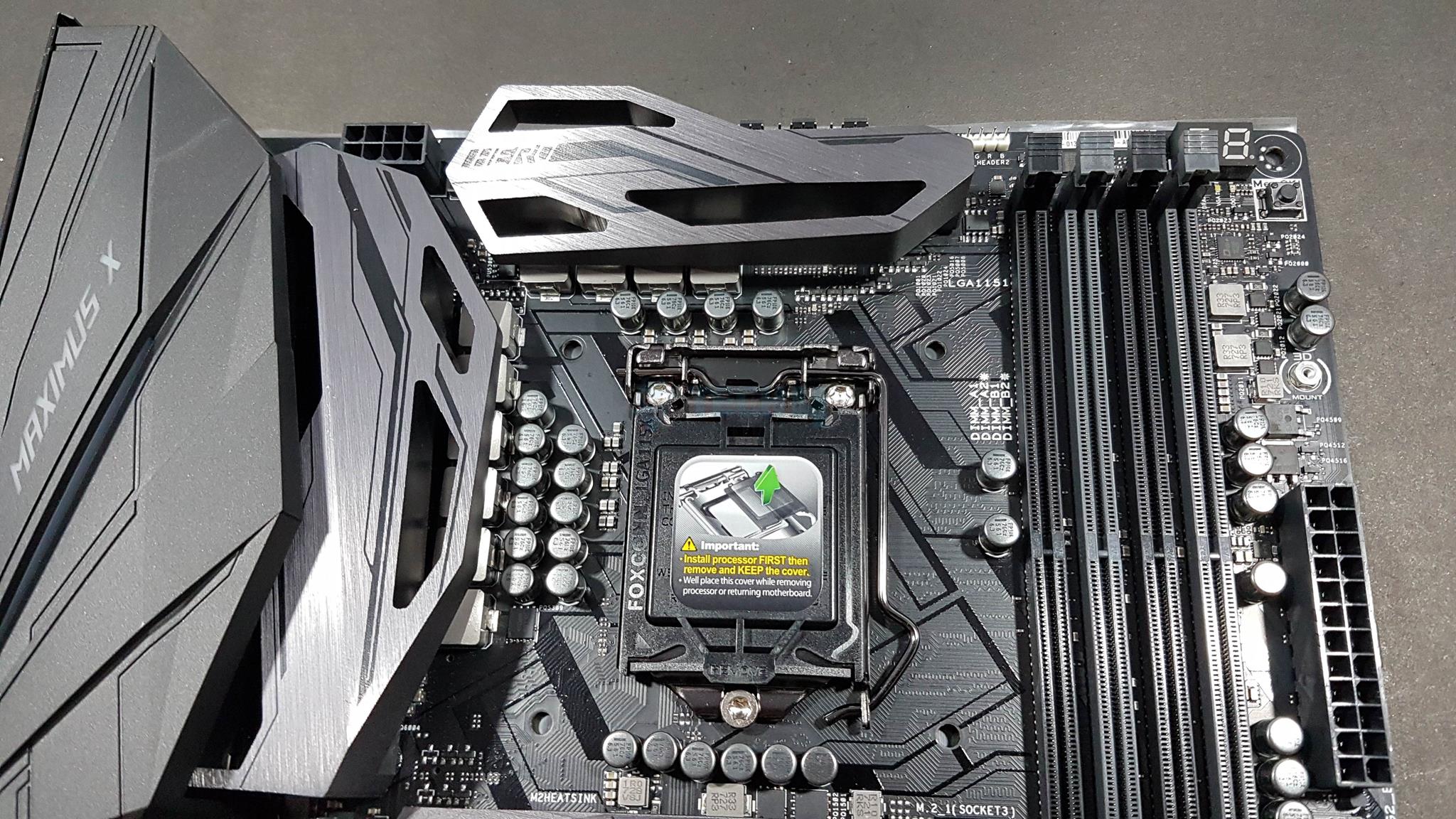 Right below the CPU socket there is another gray shade heatsink with Republic of Gamers printed on it. It has Aura RGB LED underneath it. It is a smart implementation by the Asus as this heatsink is covering the first M.2 socket. There is a thermal pad underneath the heatsink to provide ultimate cooling to the M.2 SSDs during operation.
This M.2 Socket type supports PCIe 3.0 x4 and SATA mode M Key design and type 2242 / 2260 / 2280 PCIe storage devices. To install the M.2 SSD, you would have to remove the heatsink by taking off the two black color screws of it. Before placing the heatsink back on, don't forget to peel off the cover from the thermal pad.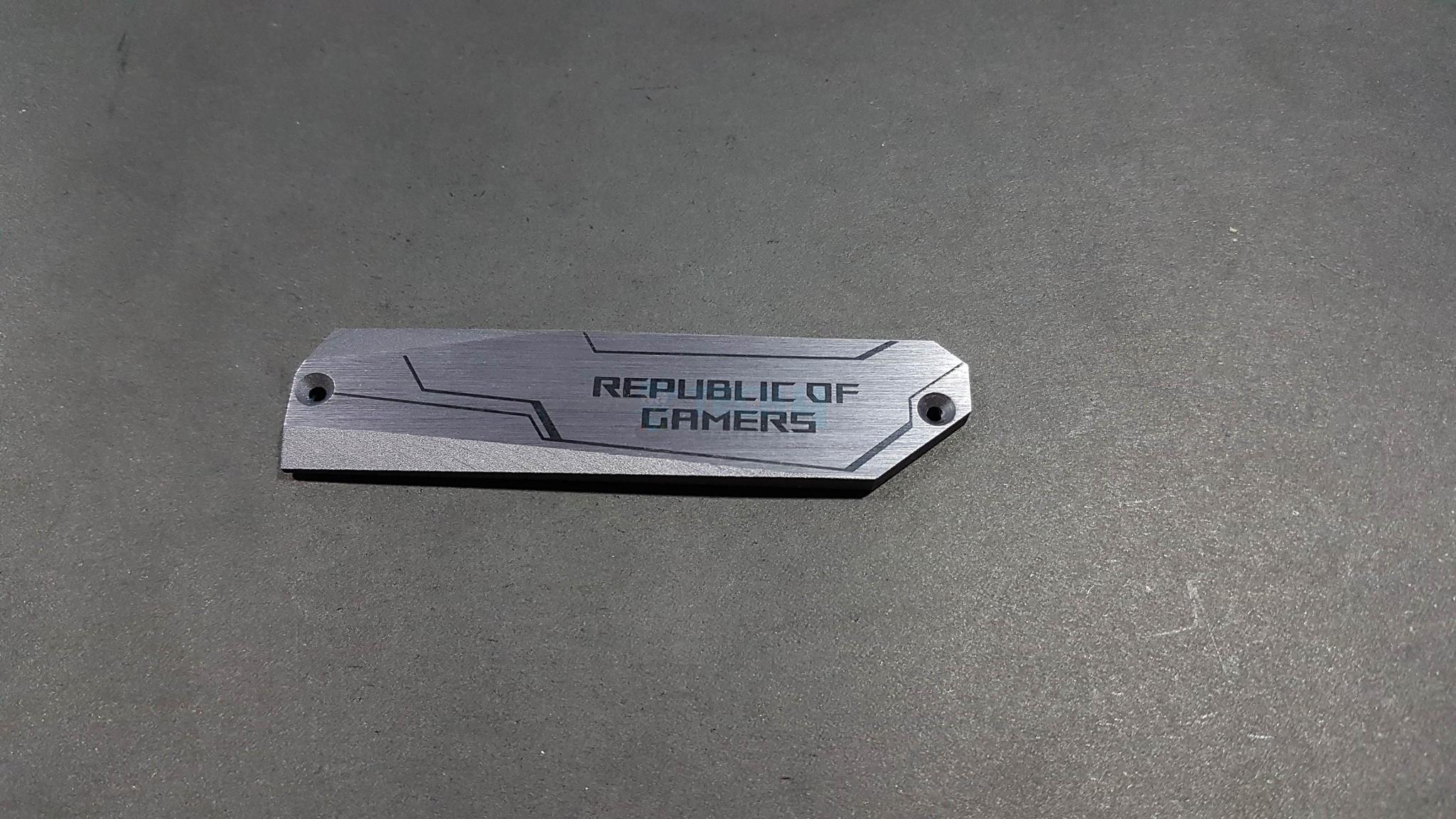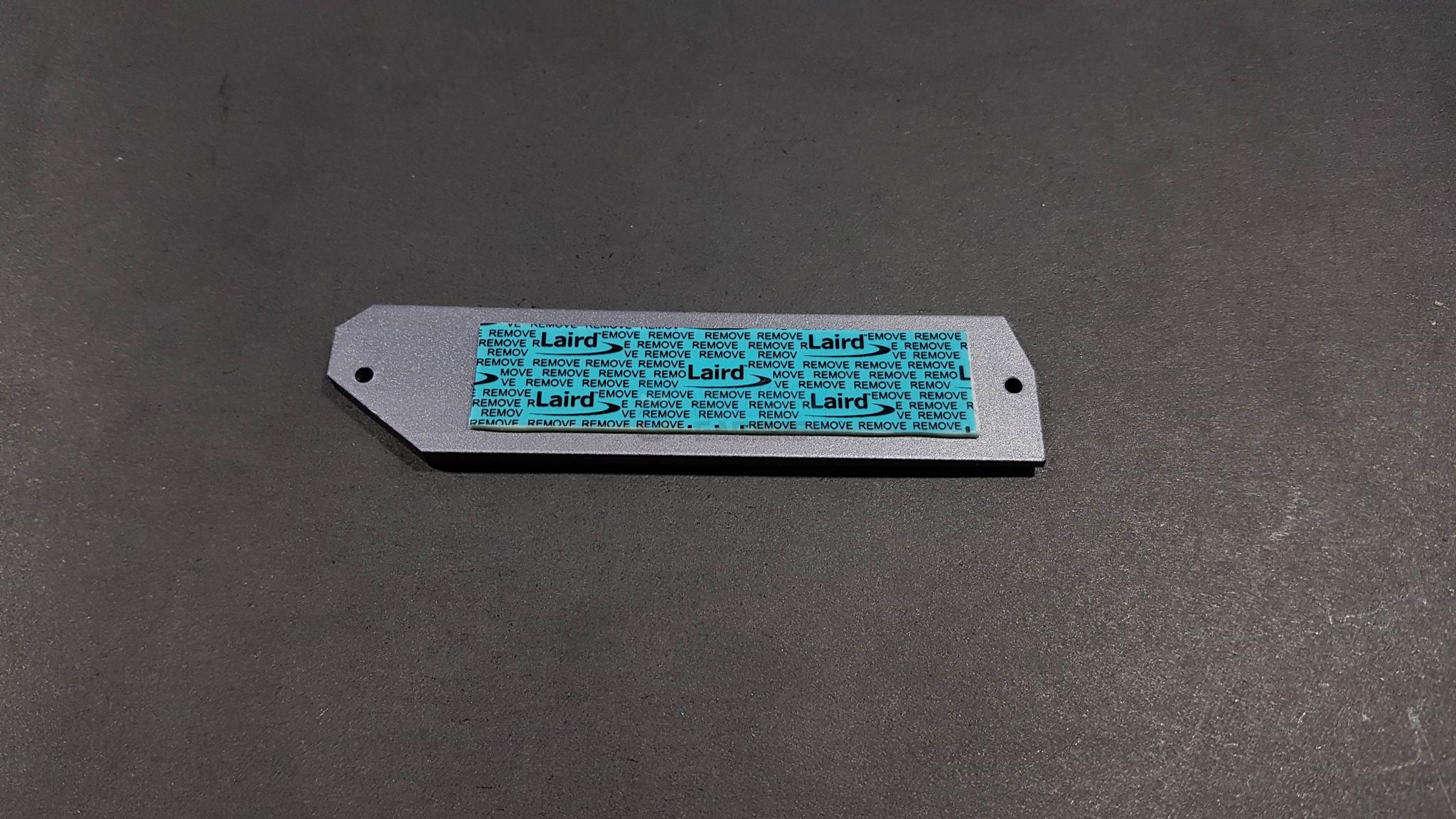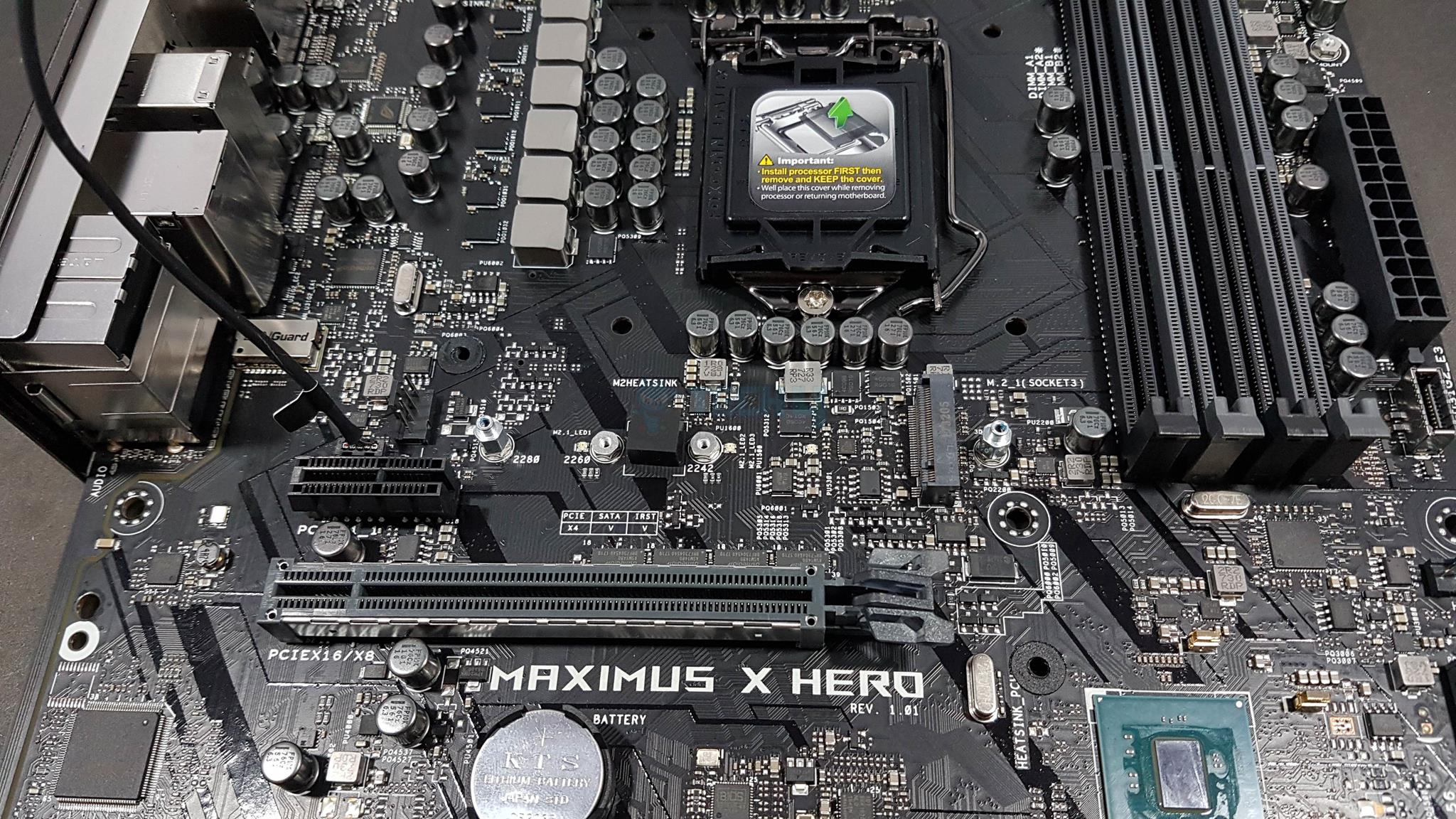 On the left side of this asus rog maximus x hero review heatsink, there is a 4-pin PWM fan header titled CHA_FAN1. Right next to this header is a LED_CON1 header on which the power cable is connected. This cable is coming from the plastic shroud on the I/O ports. The MAXIMUS X gets light up from the underneath Aura RGB LED being powered by this cable.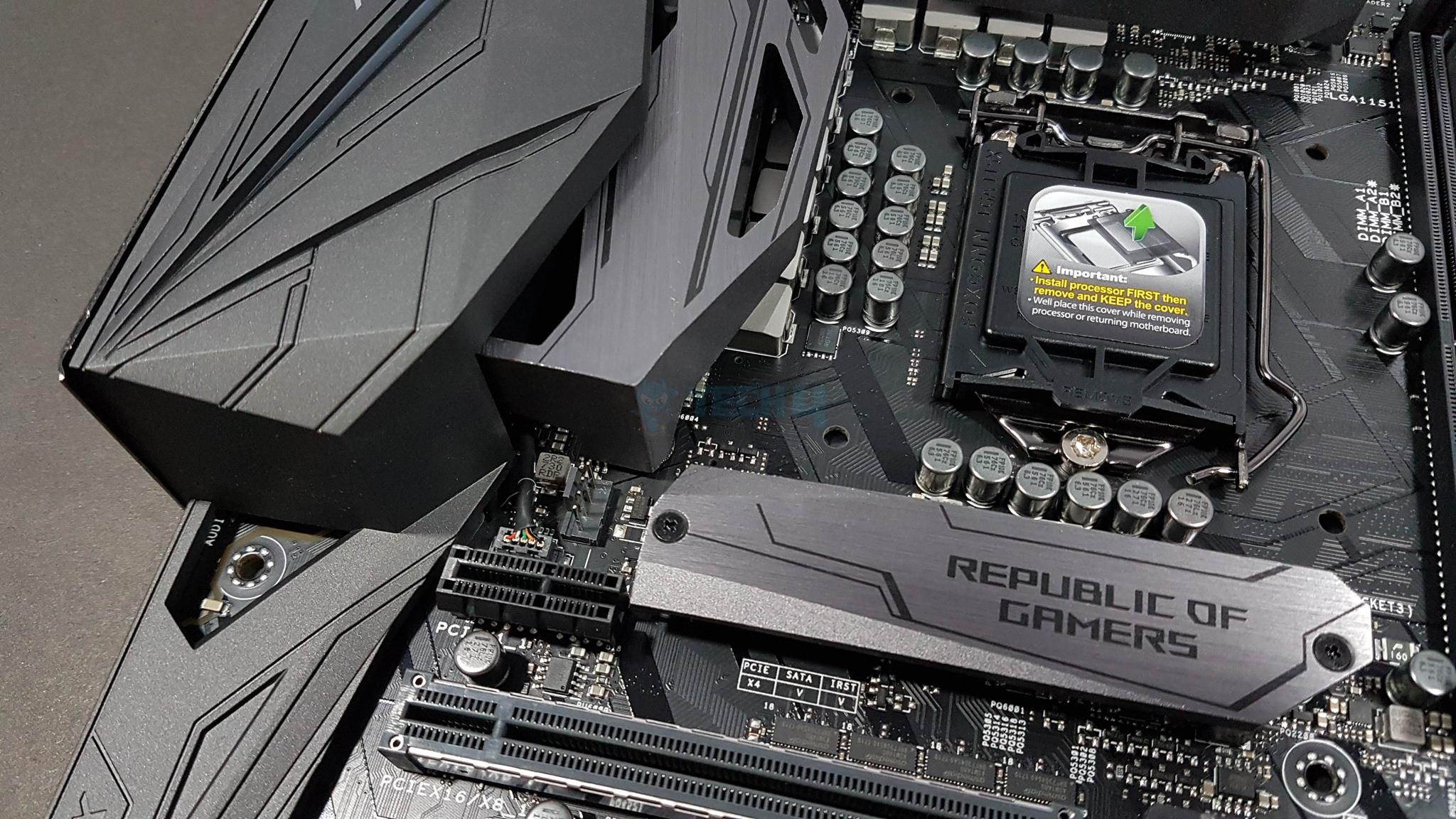 DIMMs are implemented on the right side of the CPU socket. Clearance is good enough between the CPU socket and the DIMM slots. Asus uses a notion of Q when it comes to implementing various features on the board. DIMM slots are also known as Q-DIMMs.
The end of these DIMMs towards the PCIe slots is fixed while the other end is a latch which gets locked once RAM is installed. To remove the RAM, simply push that latch away from the RAM and pull out the RAM.
Maximum of 4 DIMMs can be installed at a time with maximum capacity of 64 GB. These are DDR4 type with 288 pins. DDR4 speed is 2400MHz as per JEDEC specification. Maximum supported speed on this motherboard is 4133 (OC). Other supported speeds are already mentioned in the specification section of the review. Memory type is DDR4, Non-ECC, un-buffered with Dual Channel architecture. It supports Intel® Extreme Memory Profile (XMP).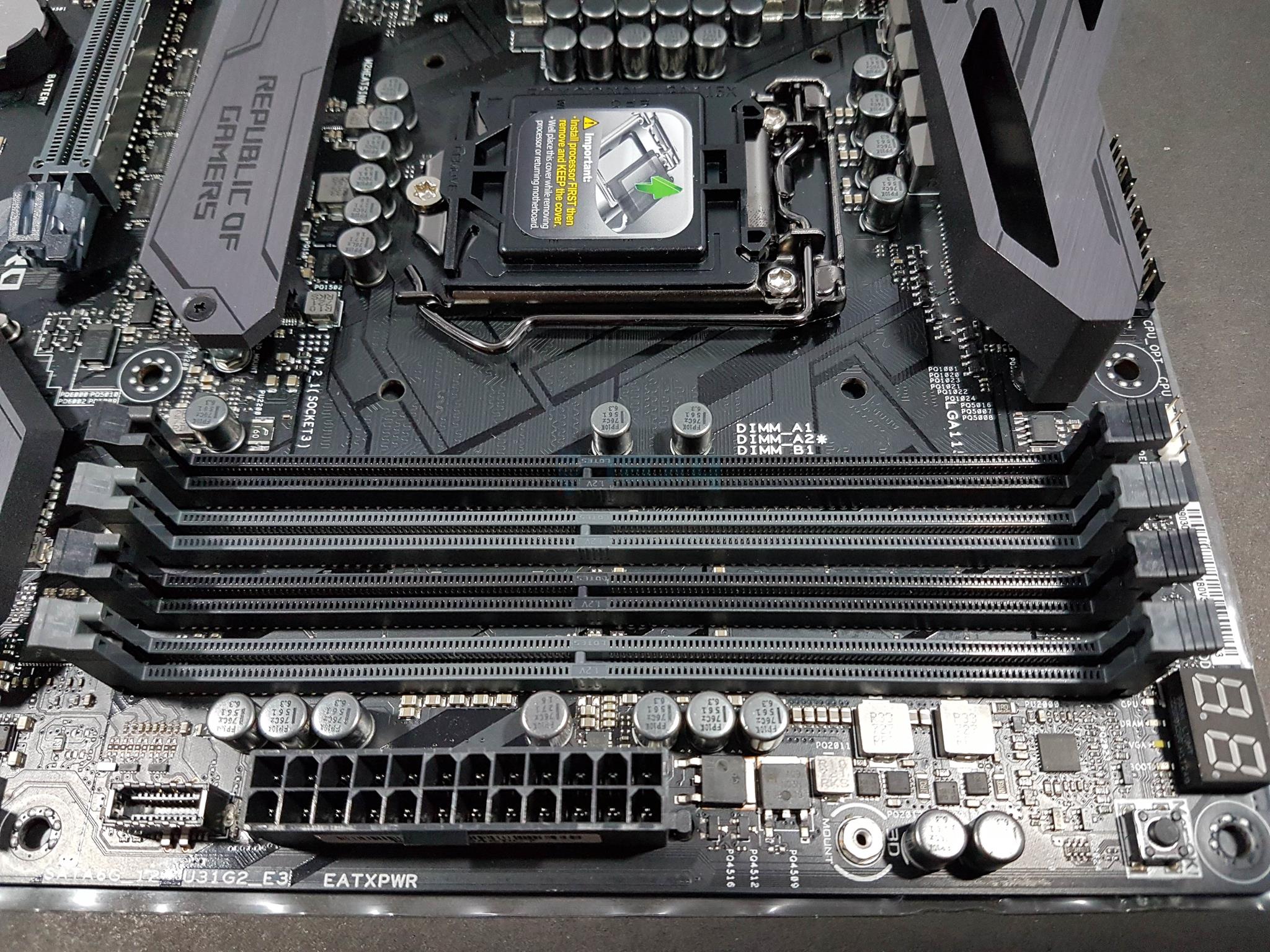 Asus has provided further protection for the DIMM slots by implementing resettable fuse that protects connection ports and DRAM against overcurrent and short-circuit damage.
Right next to DIMM slots from the top side, there are 4 indicator LEDs labeled as CPU, DRAM, VGA and BOOT in that order. In case of any issue with the corresponding component, the LED will continuously light up. Each LED has different color.
Red for CPU
Yellow for DRAM
White for VGA
Yellow Green for BOOT
Next is the Mem OK button which comes handy when there is incompatibility between the DRAM and the motherboard. If the DRAM_LED lights continuously then press and hold this button until DRAM_LED starts blinking. This will attempt to put the system in the compatible mode with the DRAM where possible and to give user a successful boot.
Please note that this is a tuning process and system will try with different failsafe settings of the DRAM which can take some time and during this process, blinking speed of the DRAM_LED increases. Give the system time to fine tune itself. This button does not work under Windows. Below the Mem OK button there is a 3D Mount point. Below it is a 24-pin EATXPWR header. On its left side, there is a USB 3.1 Gen 2 header for front panel USB 3.1 connectivity.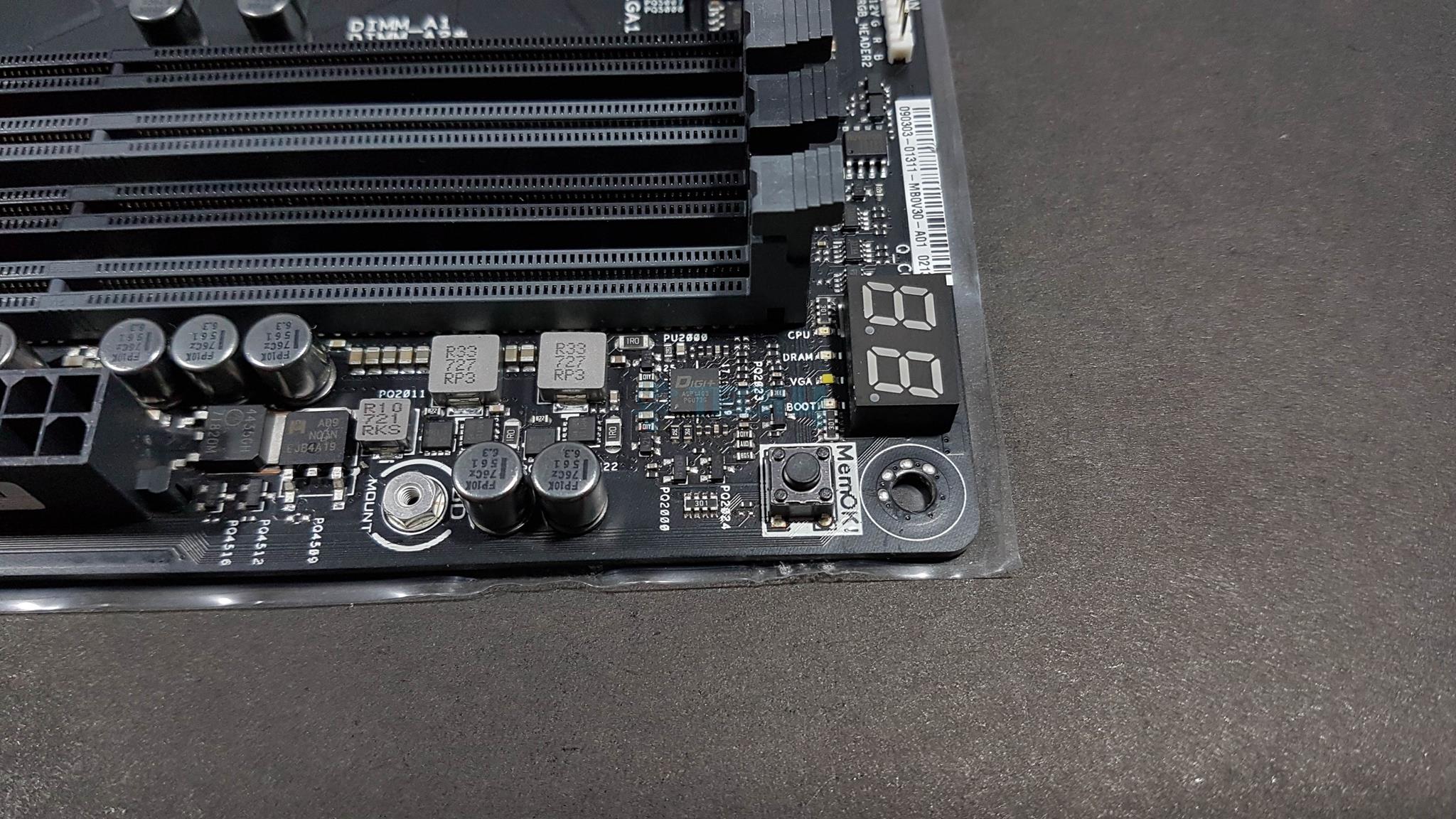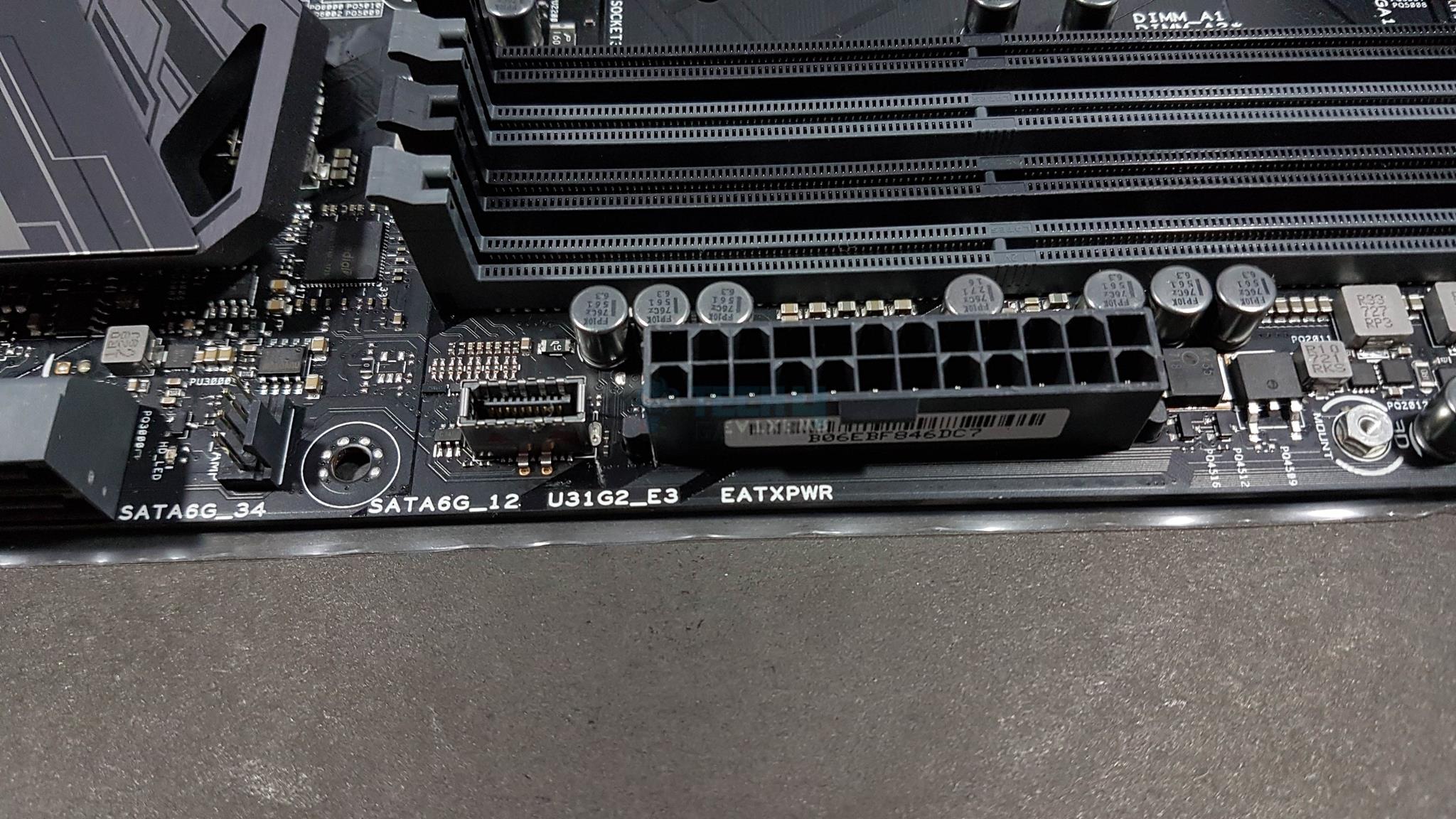 Further down the road there is a 4-Pin Hi-Amp PWM fan header which is rated at 3A whereas the other fan headers are rated at 1A. Below it is a Hard Drive LED indicator. Then we have 6 SATA 6G ports. User can create a RAID 0, 1, 5 and 10 configurations with the Intel Rapid Storage Technology. These connectors are set to AHCI mode by default. Settings can be changed from the BIOS. Then we have 4-pin PWM CHA_FAN2 header followed by the W_PUMP+ header which is rated at 3A. Then there is a Water Flow header in the white color.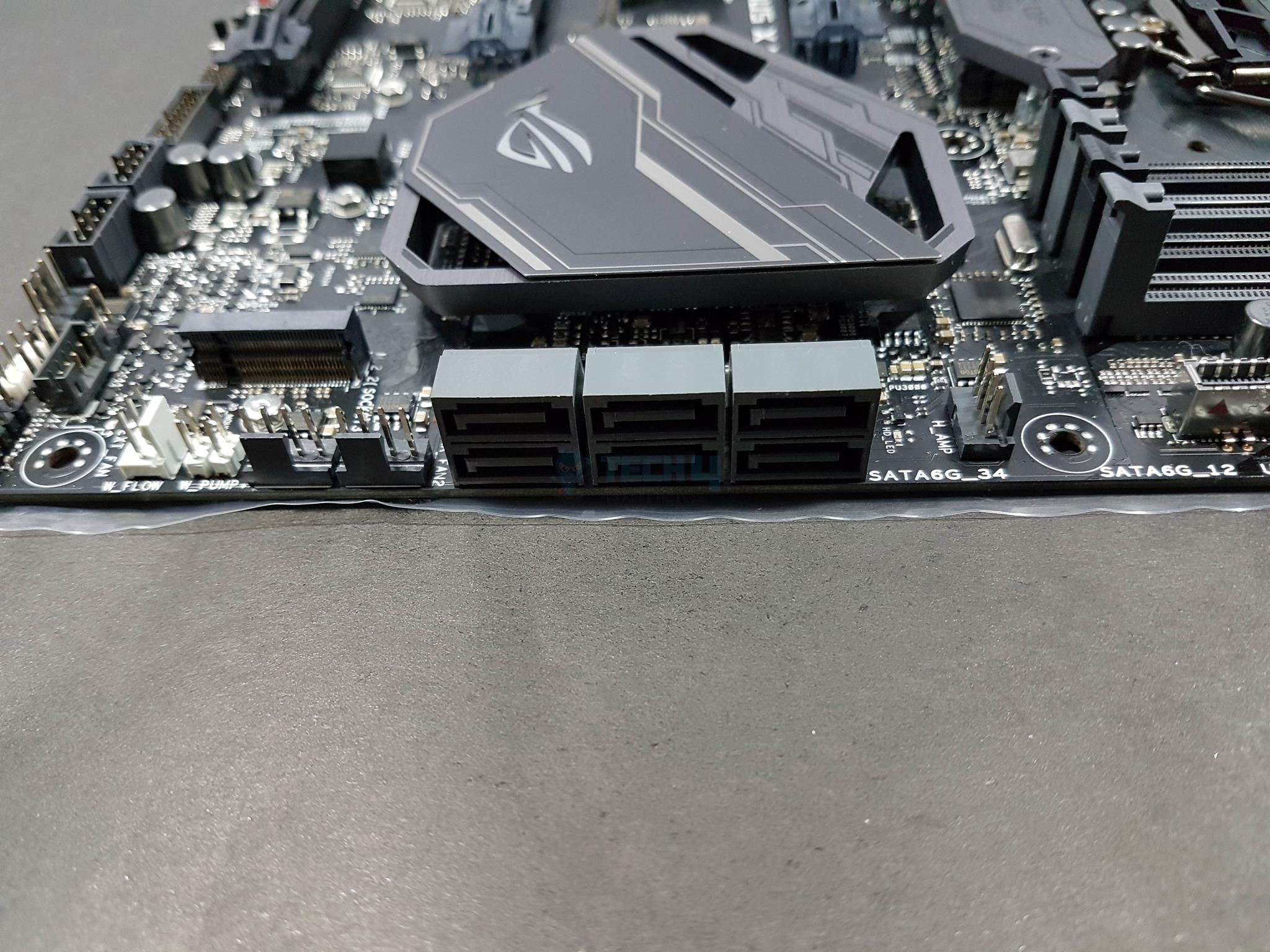 There is a second M.2 socket on the left side of the W_FLOW header. This socket supports PCIe 3.0 x4 M key design and type 2242 / 2260 / 2280 PCIe storage devices. On top of it we have another beautiful two toned heatsink cover for the chipset itself. It has Aura RGGB LEDs underneath it and thermal pad for effective heat dissipation from the chipset. There is a silver colored ROG Eye logo on the bottom side of the chipset which light up as well.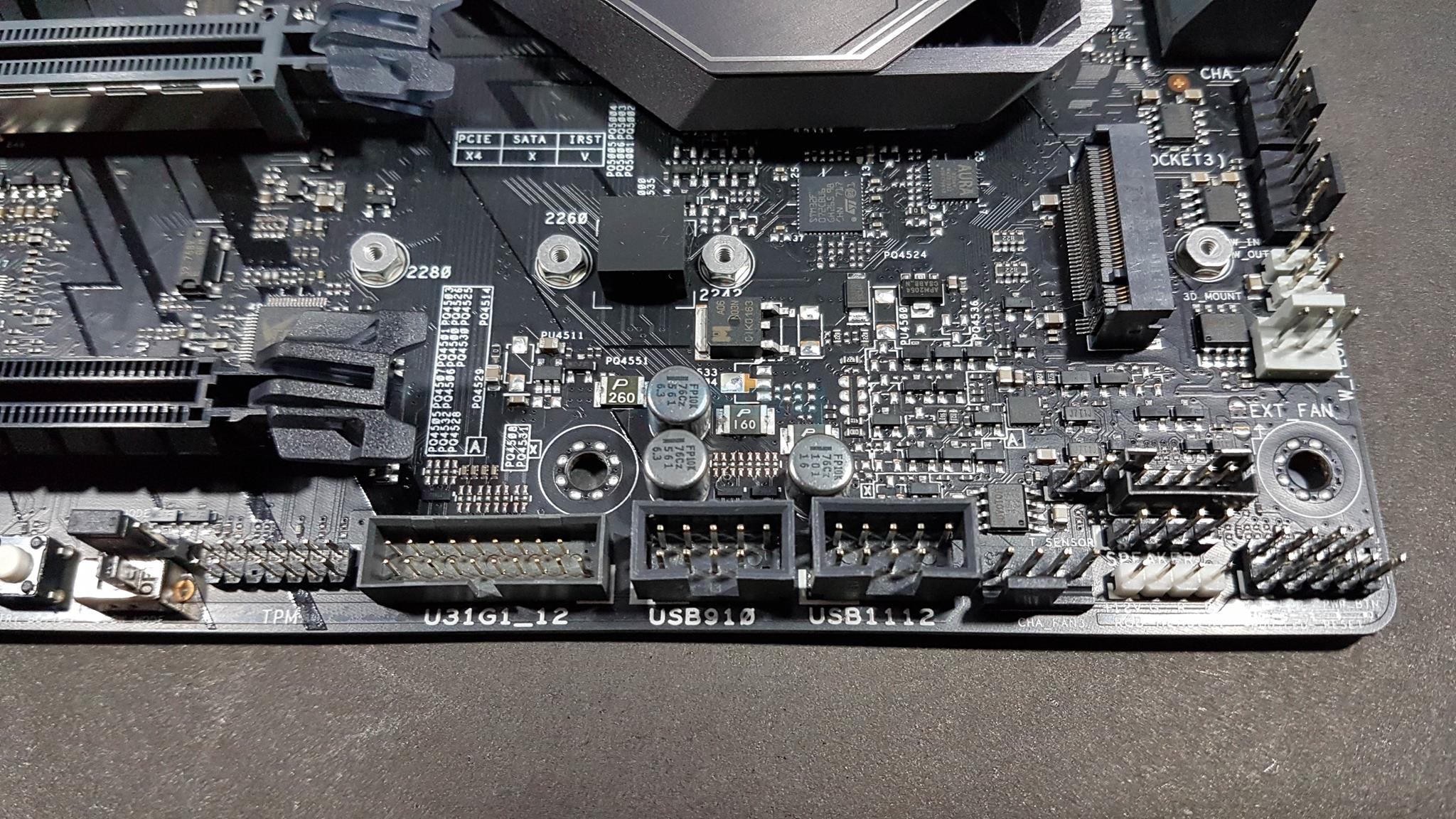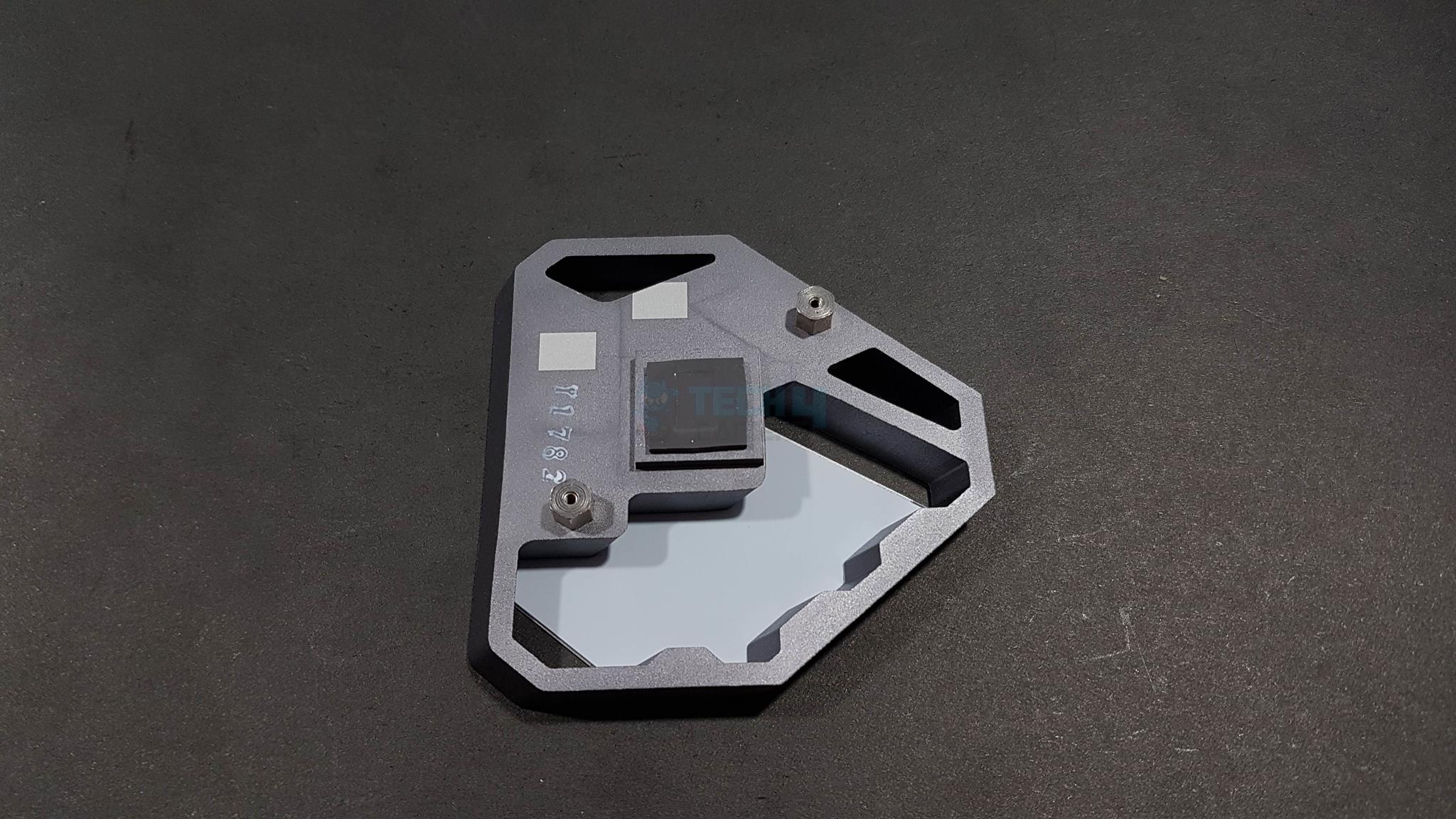 Let's take a look at the PCIe slots. This asus rog maximus x hero review board has total 6 PCIe slots. Slots no 1, 3 and 5 from the top are PCIe Gen 3.0/2.0 x1. The second slot is PCIe Gen 3.0/2.0 x16. This slot is electrically x16 implemented and connected with the CPU. This is an only slot with x16 speed on the board. The fourth slot is PCIe Gen 3.0/2.0 x8. The sixth slot is PCIe Gen 3.0/2.0 x4 and is taking PCIe lanes from the chipset. Please note that in the case of two SLI or CF, slot no 2 and 4 will operate at x8/x8 speeds.
These slots have been designated as: –
| | |
| --- | --- |
| Slot No | Description |
| 1 | PCIEX1_1 |
| 2 | PCIEX16/x8_1 |
| 3 | PCIEX1_2 |
| 4 | PCIEX8_2 |
| 5 | PCIEX1_3 |
| 6 | PCIEX4_3 |
We've already covered the on-board audio solution in the Key Features section above. Audio hardware is implemented to the left side of the PCIe slots and extending towards the bottom of the PCB. Now, let's take a look at the bottom side of the motherboard. Starting from the right side, we have a Front Panel connector for connecting PC Chassis Power/Reset Buttons with the motherboard and HDD light indicator.
On its left side we have second Aura RGB Header in the format +12V GRB. It is using 5050 format with 2A for the strip length of up to 2m. On top of it there is a Fan Extension connector. Fan Extension module can be bought separately from the Asus and up to 3 fans can be connected using this connector. As described earlier, user would get individual control of all those 3 fans. Next is a two pin thermal sensor header for which the thermal probe needs to be bought separately.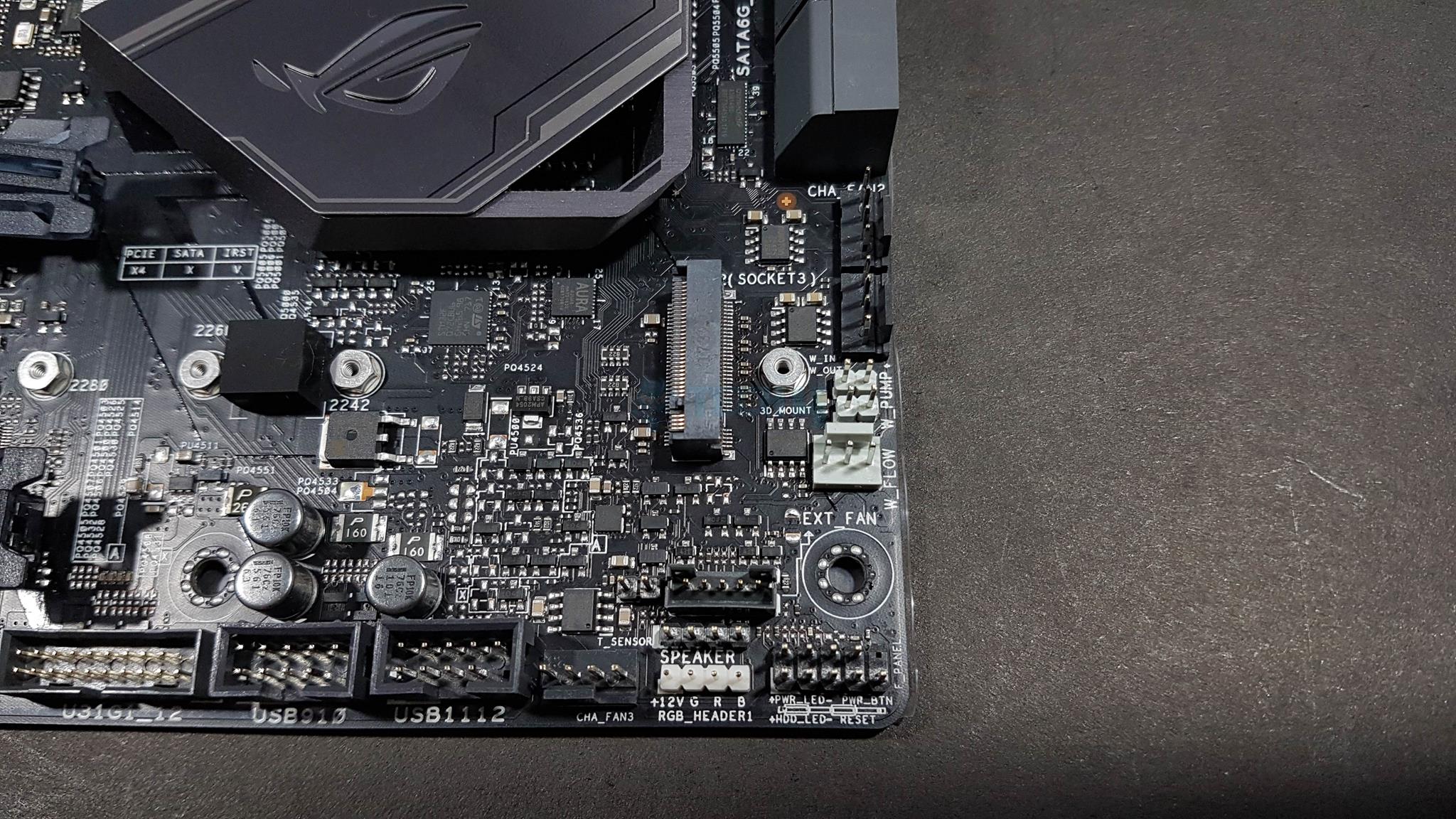 Next, we have 4-pin PWM CHA_FAN3 header. Next we have two USB 2.0 ports. Next is USB 3.1 Gen 1 port. Next up is a TPM connector. This connector supports Trusted Platform Module system. This system stores keys, digital certificates, passwords and data. TPM module can be bought separately. Next up is a SLOW_MODE switch. It is disabled by default. It is used when LN2 mode is on and LN2 based cooling is being employed.
The system may crash due to CPU being unstable when using extreme overclocking. Enabling this button will lower the CPU frequency and helps improving the system stability. We've LN2 jumper above this header which is disabled by default. Asus has provided the built-in provision to combat the cold boot during LN2 overclocking for which this jumper needs to be set to active the LN2 mode.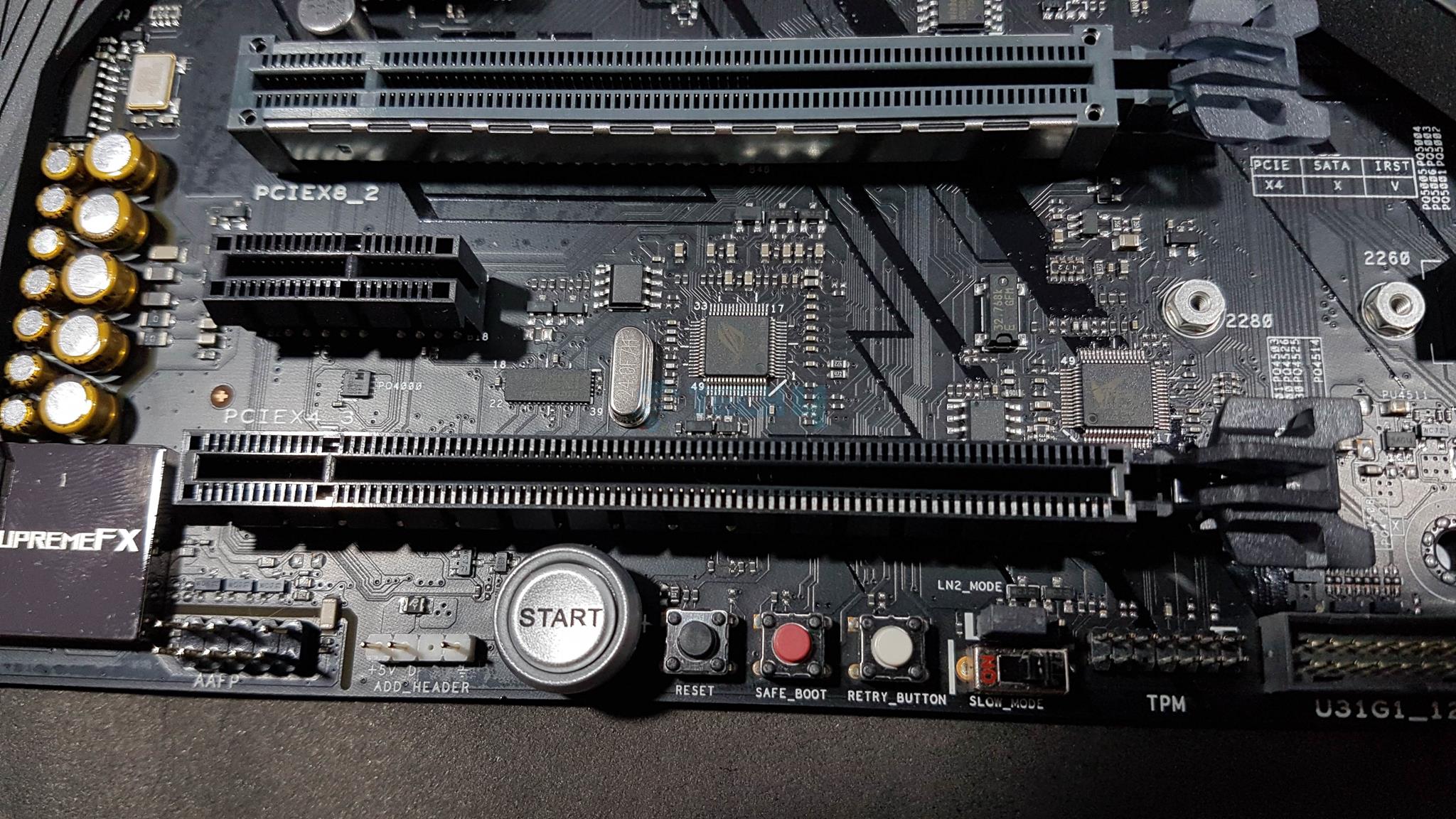 Next up is the ReTry button. It is also beneficial to the overclockers. If during extreme tuning, Reset button becomes useless, RETRY_BUTTON would force the system to reboot itself while retaining the settings. Next up is SAFE_BOOT button. It can be pressed any time to force the system boot into the BIOS safe mode. This would help retain the previous BIOS settings and comes handy during overclocking.
Next up are Reset and Start buttons. Reset is used to restart the PC in case it becomes nonresponsive. Start button is there to power on the PC. This implementation is definitely convenient particularly for the reviewers who are using open test bench setup without any Power and Reset buttons functionality of the PC Chassis. Next is the Aura Addressable RGB LED header which is a 3-pin header in white color. Next up is the Front Panel HD Audio connector.
Asus ROG Maximus X Hero Benchmarks
Asus rog maximus x hero review has been using Digi+ technology for quite some time. I did not include this feature in Key Features section deliberately as I intended to cover this feature along with VRM/MOSFET for the power delivery system of the board in the Design section. Asus ROG Maximus X Hero is equipped with ASUS Digi+ Power Control for maxed-out overclocking potential, enhanced system stability and superb power efficiency.
Digi+ Power Control is the industry's leading digital power controller (ASP1400BT A1728A) and it's fully compliant with Intel's IMVP8 specifications, for smoother, safer power. We have a PWM controller handling 10 power phases. There are 8+2 Power phases on the Asus Maximus X Hero. We've more than adequate phases for stable power delivery to the motherboard and various components. This also helps in stable overclocking.
Here are the pictures of the PCB with all heatsink and cover removed and the backside as well.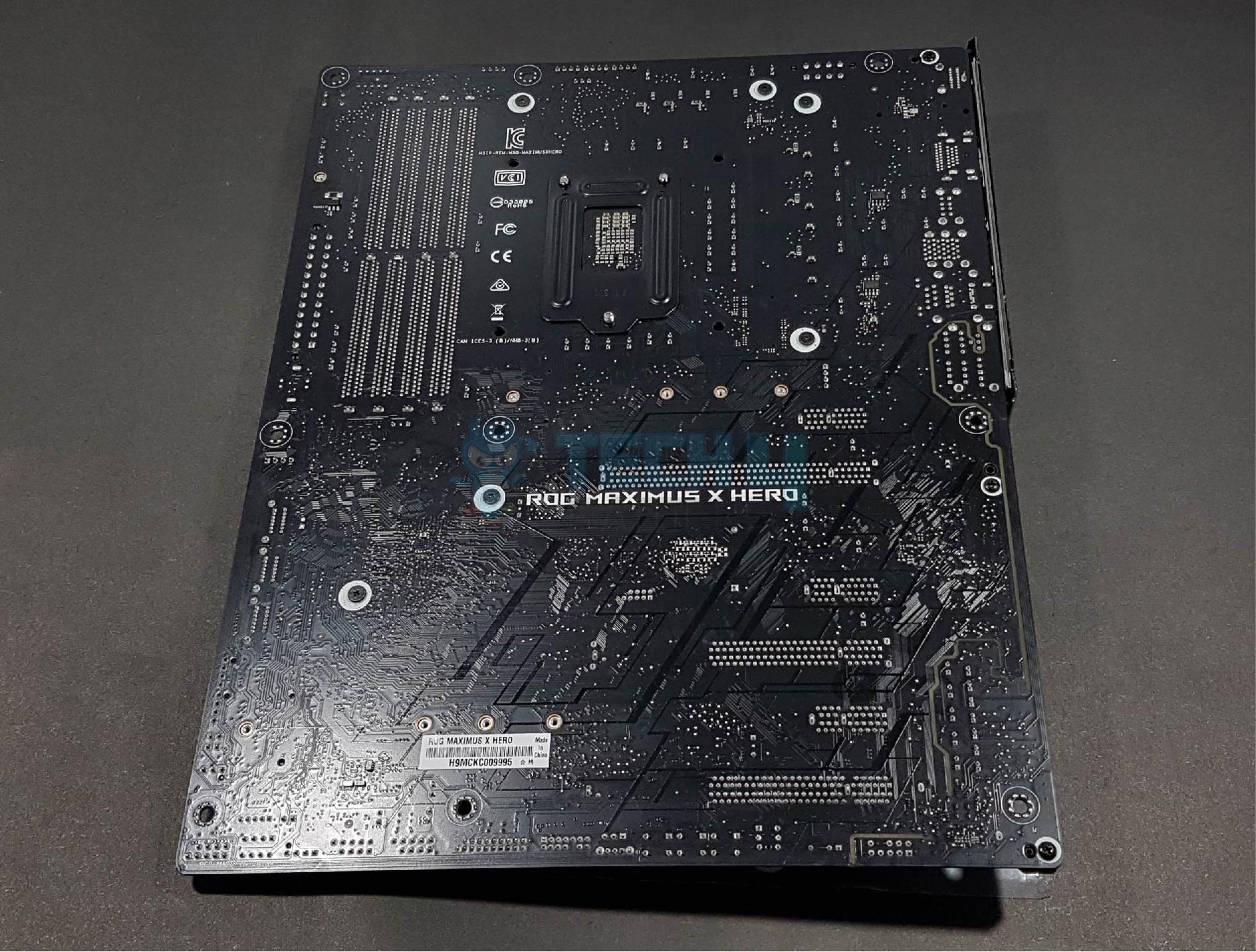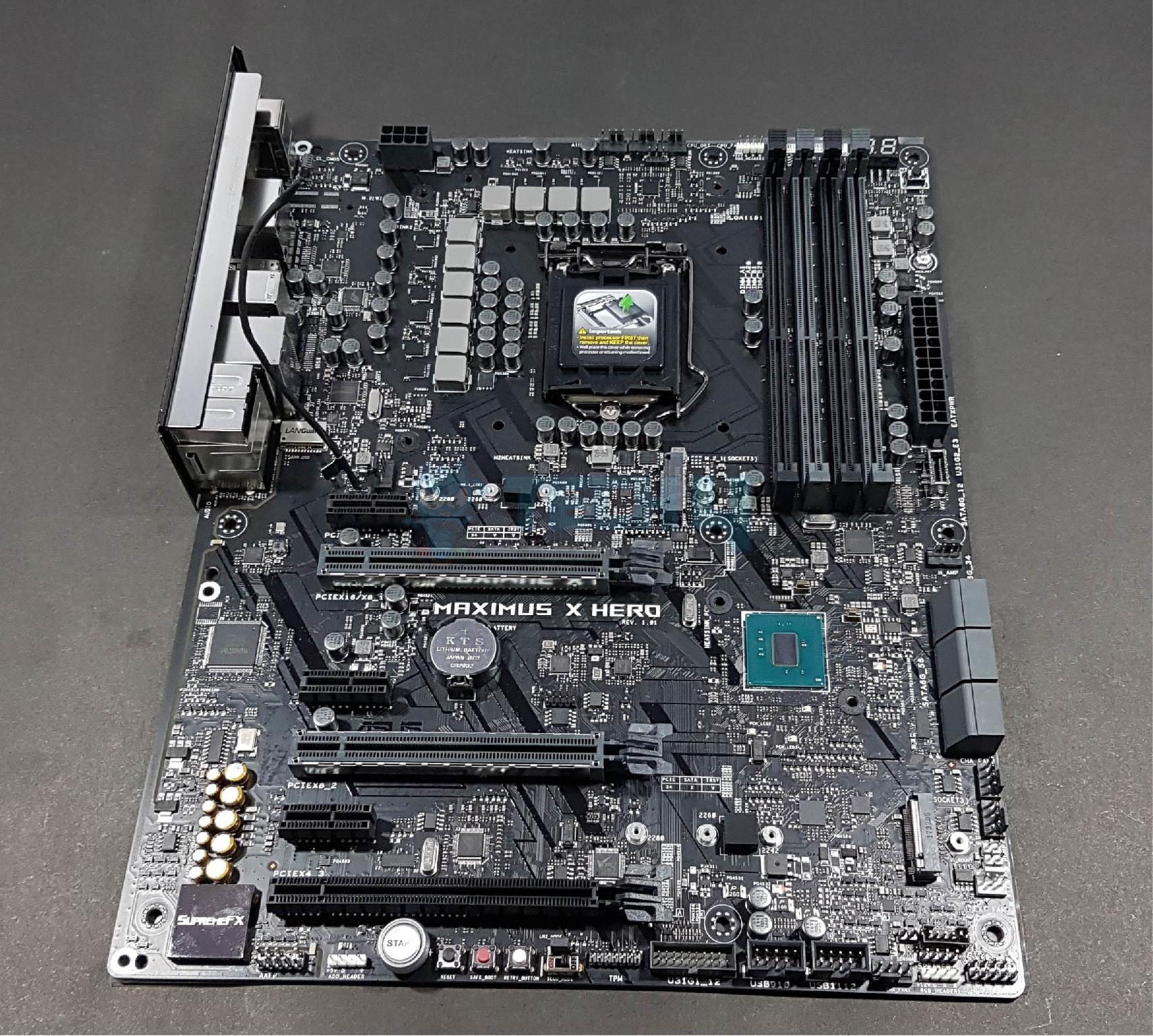 Asus Hero X

Testing System
Following system was used to test the functionality and the performance of the Motherboard:
Intel i7 8700k
Asus Maximus X Hero
Nvidia GTX 1080 FE
Ballistix Elite 4x4GB @ 3000MHz
Noctua NH-D15
Hyper X 120GB SSD
Samsungg 840 EVO 1TB
Western Digital 6TB Black HDD
ThermalTake Tough Power DPS-G RGB 750W PSU
Microsoft Windows 10 x64 Pro was used for all the testing. Nvidia 388.13 drivers were used for graphics card testing. Following software were used for performance evaluation: –
Storage Drive Tests:
AS SSD
ATTO
Crystal Disk Mark
CPU Tests:
Cinebench R15
GeekBench 4.0.3
7-Zip
Fritz Chess
SiSandra CPU
Memory Tests:
AIDA64 Extreme
SiSandra Memory
SuperPi
Overall System Tests:
For gaming and synthetic bench of the graphics card following software were used:-
3dMark
Grand Theft Auto – V
BattleField 1
Metro Last Light Redux
Assassin's Creed Origin
Ashes of the Singularity – Escalation
Asus ROG Maximus X Hero BIOS
Before discussing the performance of the test build, let's have a look at the BIOS of the Maximus X Hero. Asus has provided a ton of options in their media acclaimed UEFI BIOS. The graphical interface is easy to navigate through using the mouse and the keyboard. When loaded, Advanced Mode will be enabled. This mode is for the experienced users.
For novice users, pressing F7 would load EZ Mode. Extreme Tweaker Menu is loaded on the BIOS startup. It shows the CPU and Memory related critical info like Temps, Clocks, Ratio etc on the right side. On the left side, we've to overclock related options. XMP can be loaded from the Ai Overclocker Tuner option.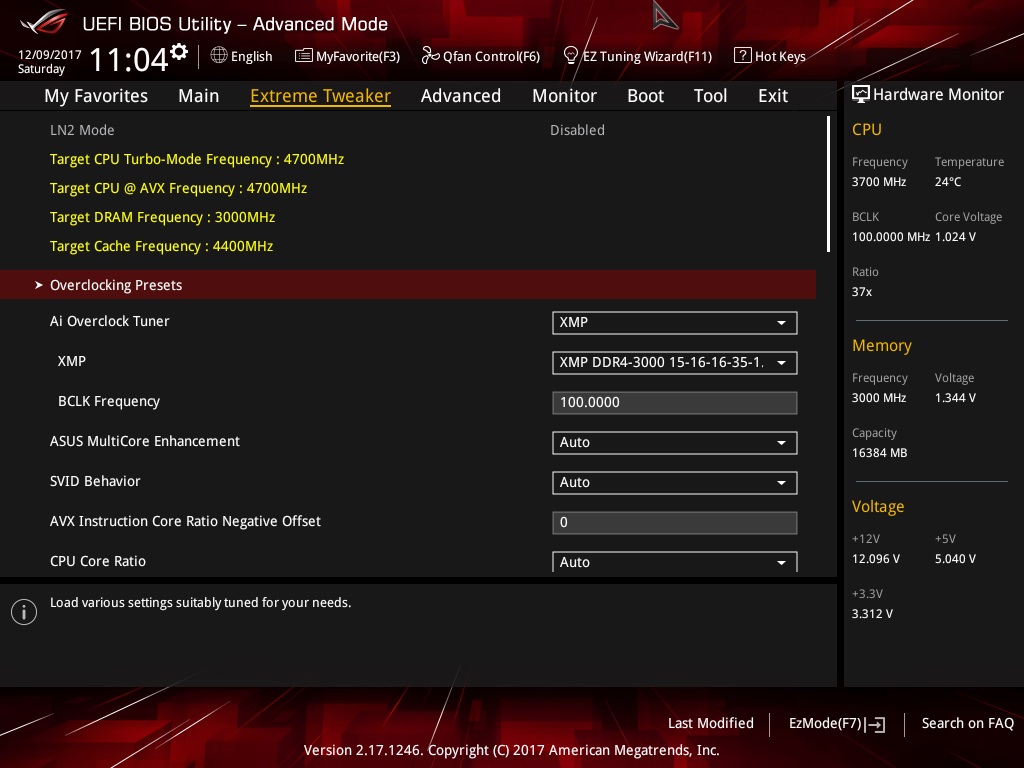 Main Page shows the BIOS and the CPU information.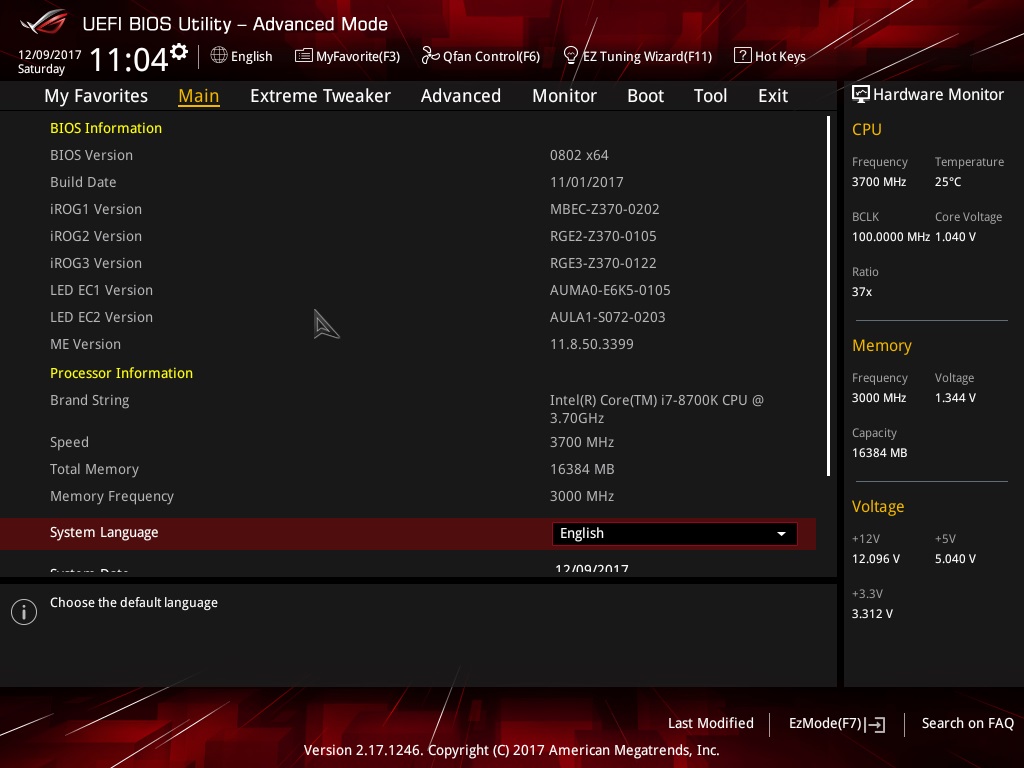 The advanced menu has CPU, PCIe, USB, Storage, Power related settings.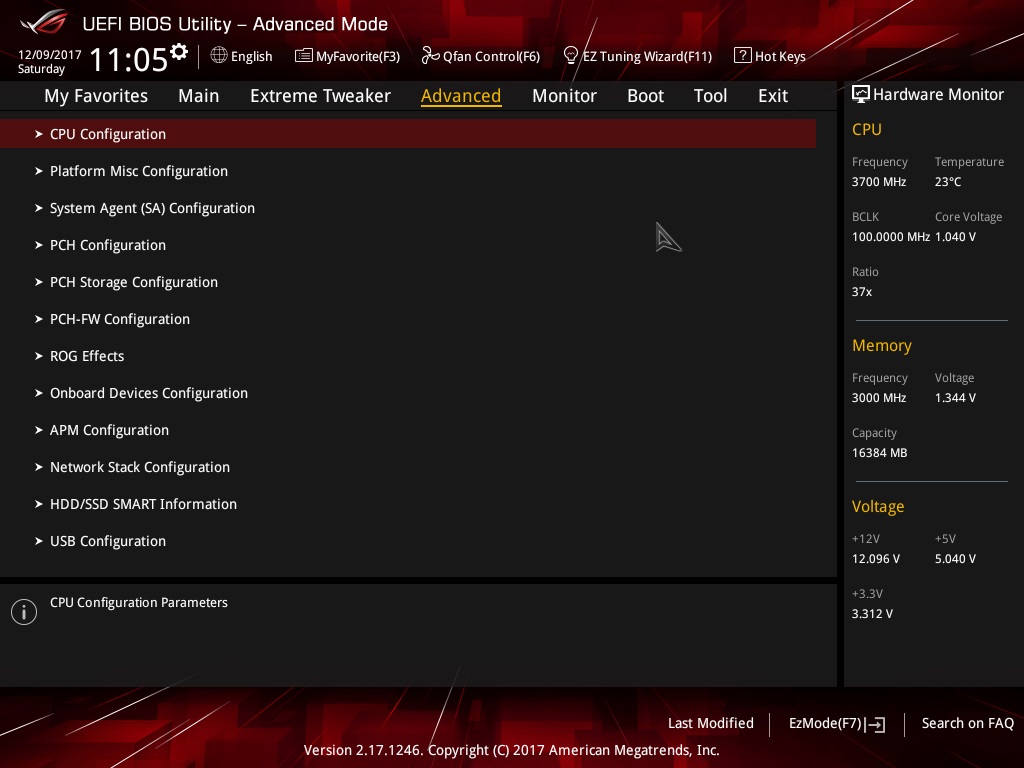 Monitor menu has the temperature monitoring of CPU and other areas of the motherboard. Fan speeds are also reported here. In addition, we've settings to control individual fans.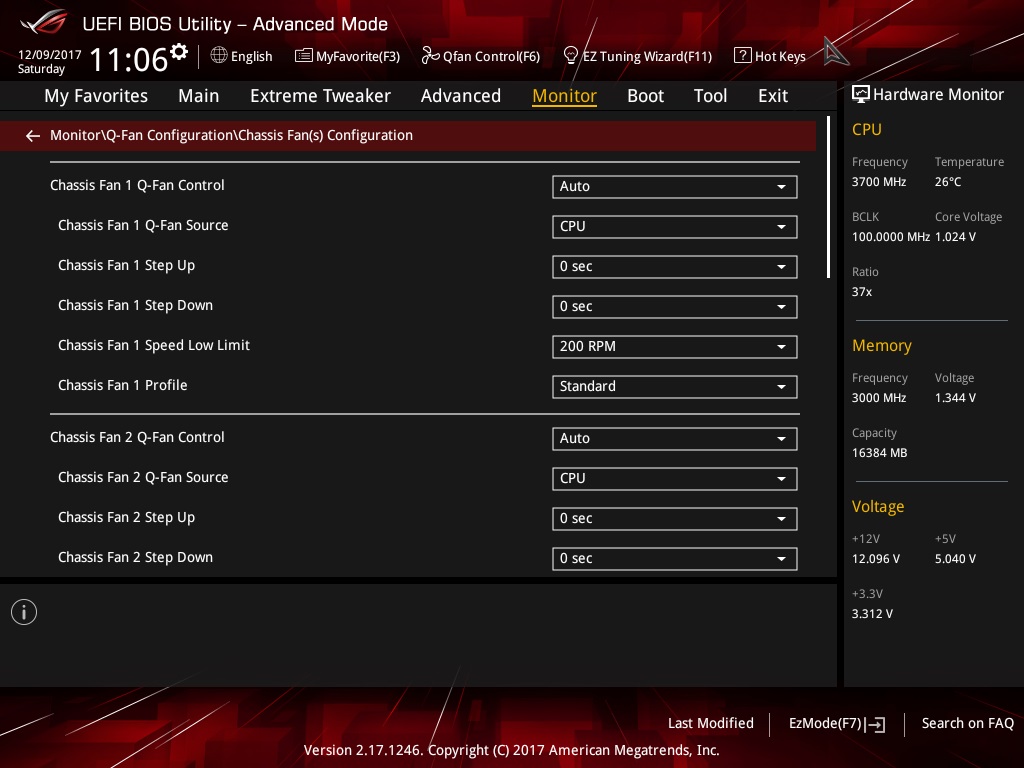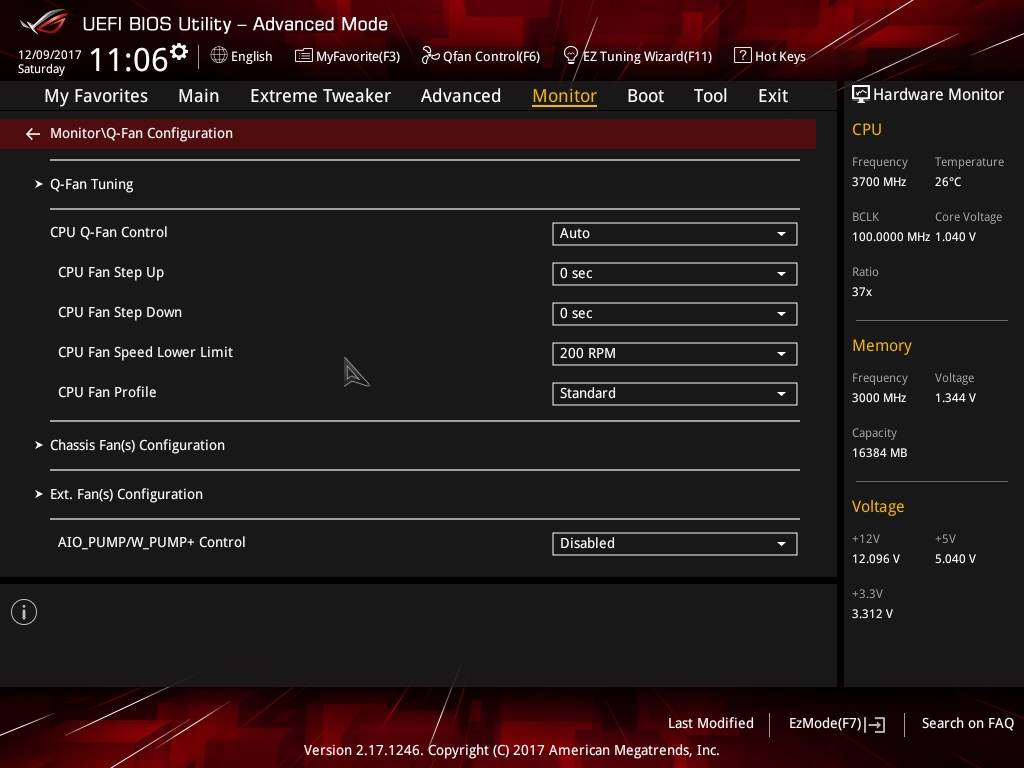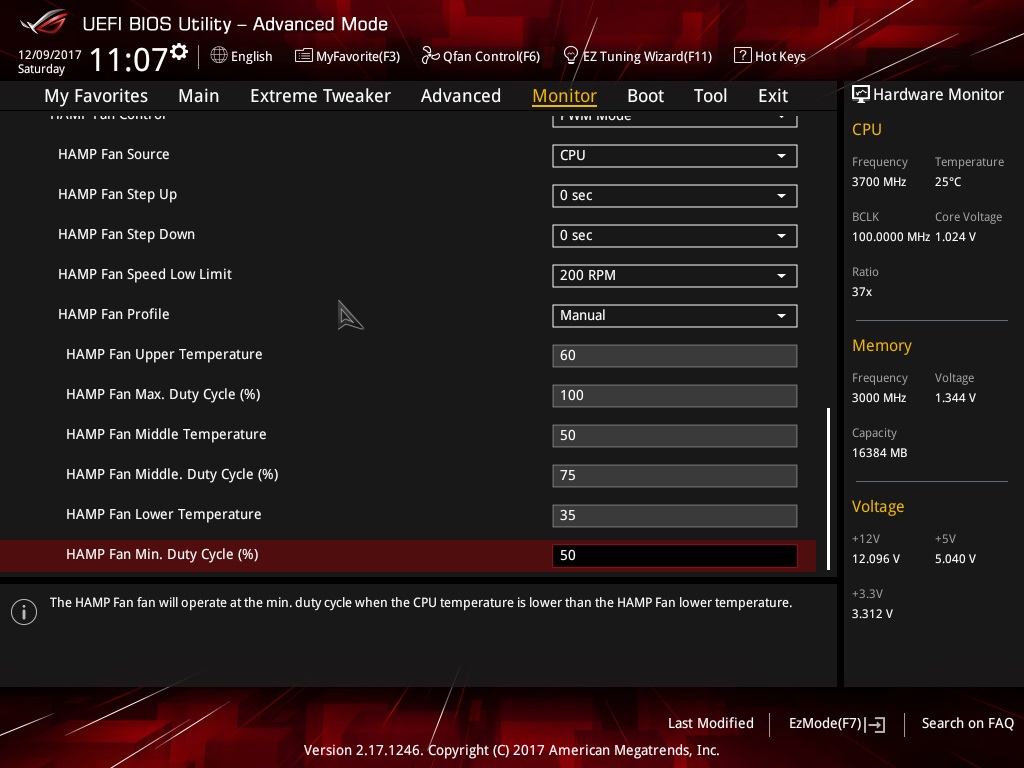 Boot Menu contains settings for Fast Boot, Storage drives priority, Boot media etc.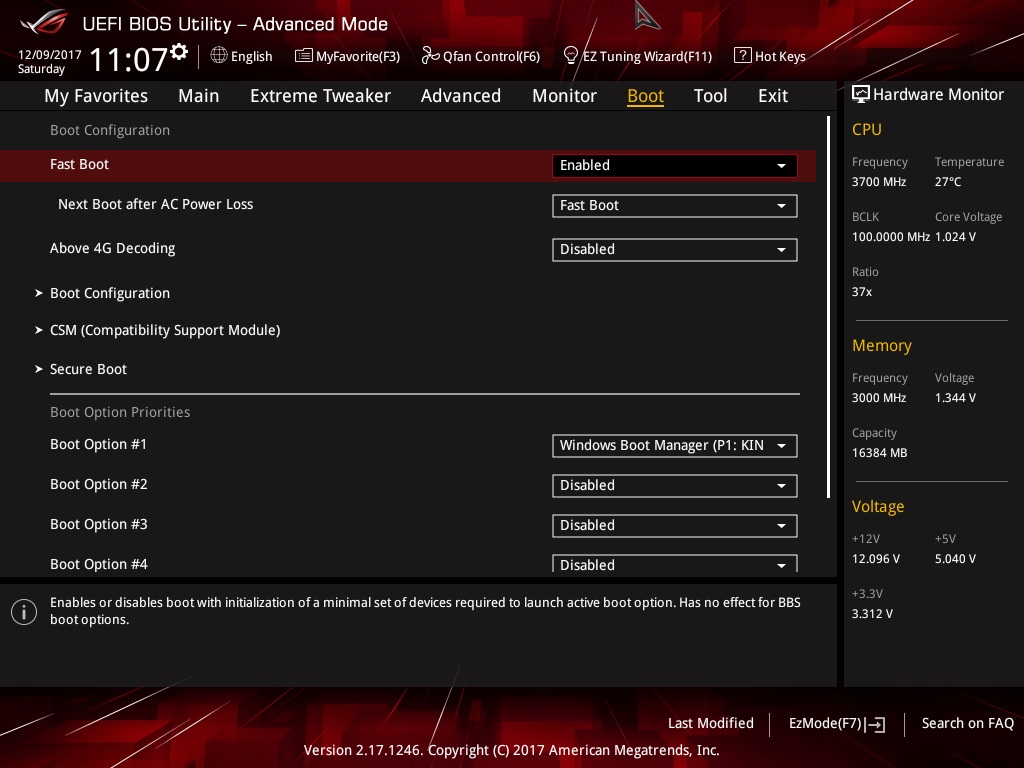 Tool menu has BIOS EZ Flash Utility 3, Secure Erase, Overclocking profile, SPD Info, Graphics Card info.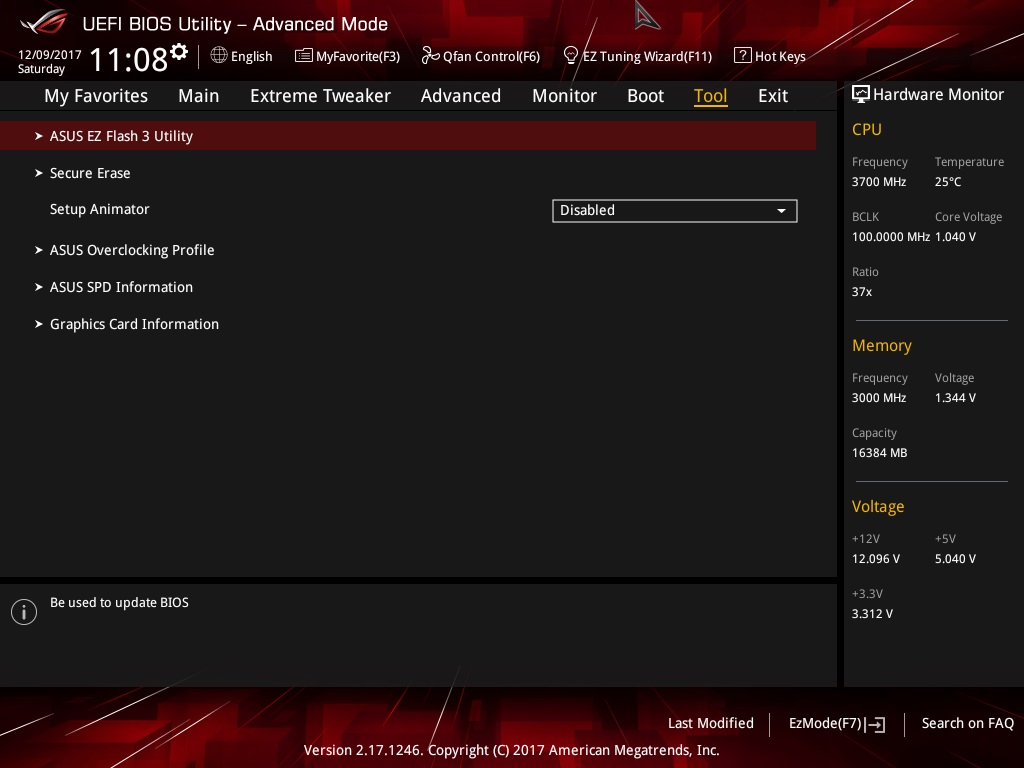 There are multiple ways to update the BIOS on this asus rog maximus x hero review board. On the back I/O port we've USB BIOS Flashback port. Bottom USB 2.0 port is designated for this purpose. Download the BIOS file from the Asus website. Rename it M10H.CAP. Copy that file to the root directory of the FAT32 formatted flash drive.
Connect the flash drive to the designated port and press and hold the BIOS flashback button (Button with BIOS text on I/O Port) until flashing light appears. The light will continue to flash until the process is done successfully. Do this process with the system powered off. Once the light goes out, press the BIOS Reset button and power on the system.
Another way around is to use the AZ Flash utility in the BIOS. It can even download the BIOS file from the internet and update the BIOS. Updating the BIOS is a risky process and as such should only be done when encountered any issue whose resolution is in updated BIOS.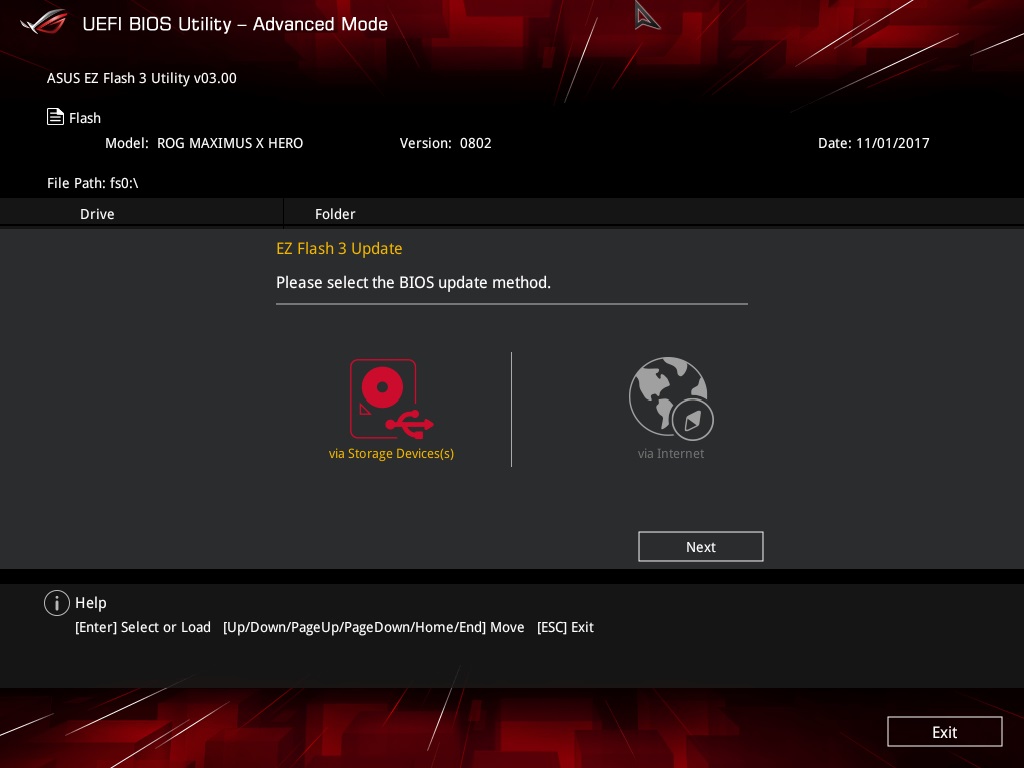 A third way of updating the BIOS is through EZ Update software when in Windows environment. Secure Erase is used to erase the SSD contents and to restore the SSD to factory default.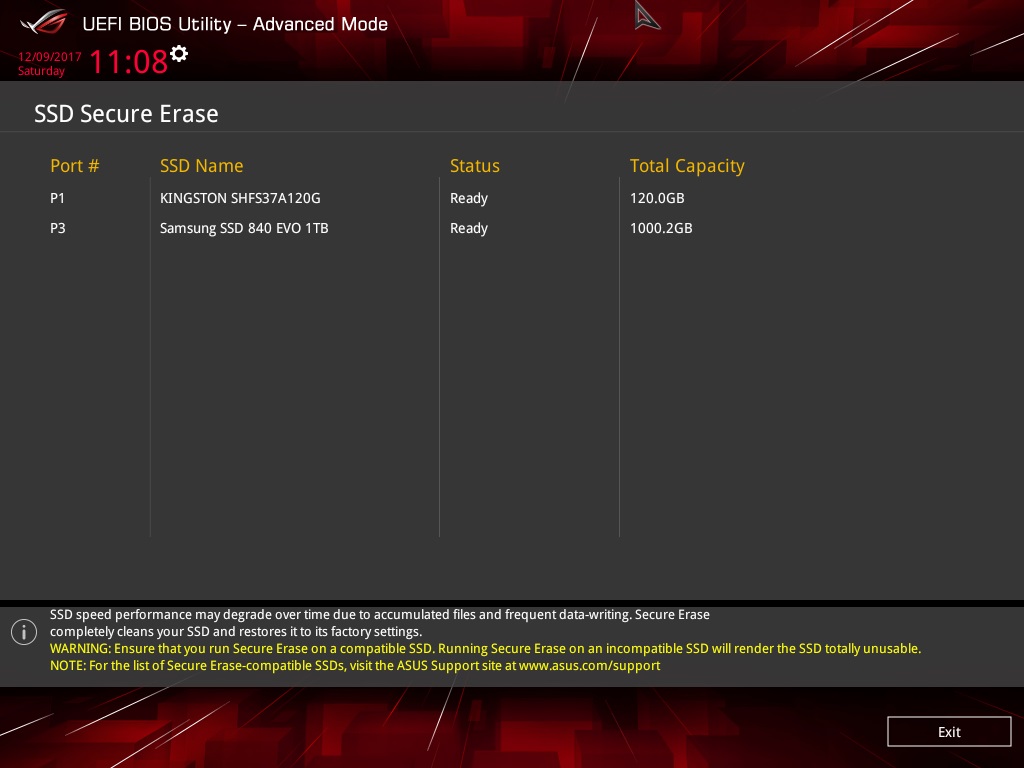 Overclocking Profile helps the user to save several profiles with different settings and to load the saved profile when needed. Up to 8 profiles can be saved.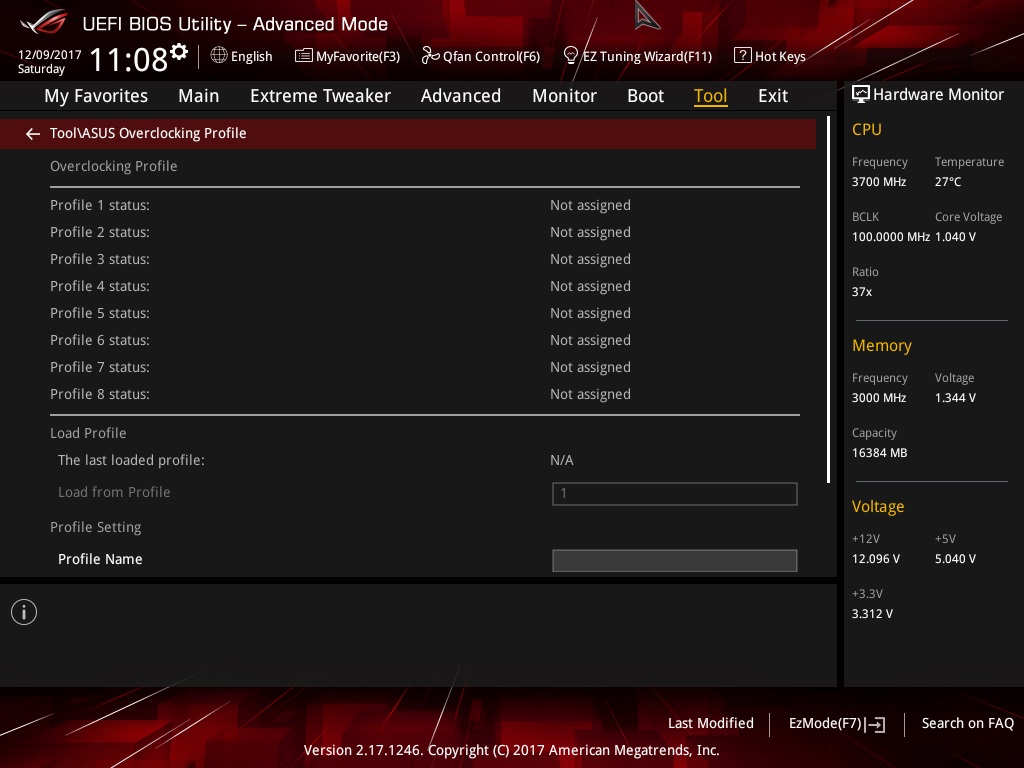 Asus SPD Information shows the DRAM info.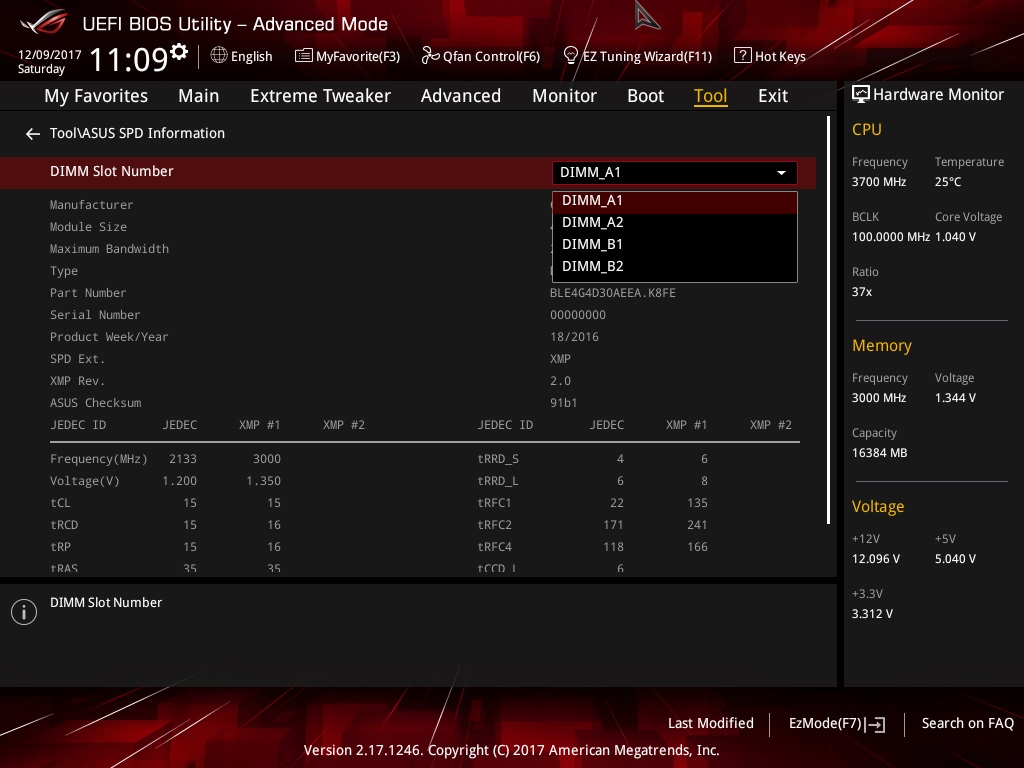 Graphics Card Information shows the info of the installed graphics card. GPU Post will show the graphical interface of the PCIe slots with info on the installed graphics card(s).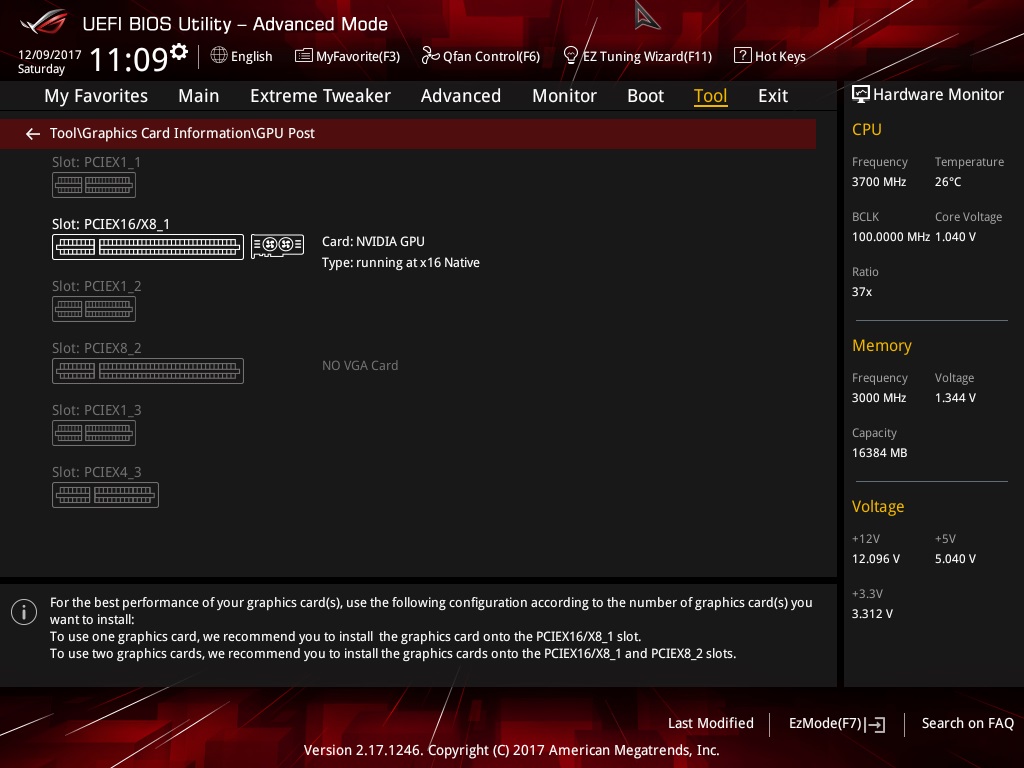 Exit Menu has related options like Exit without saving, Exit with saving, Load optimized Defaults etc.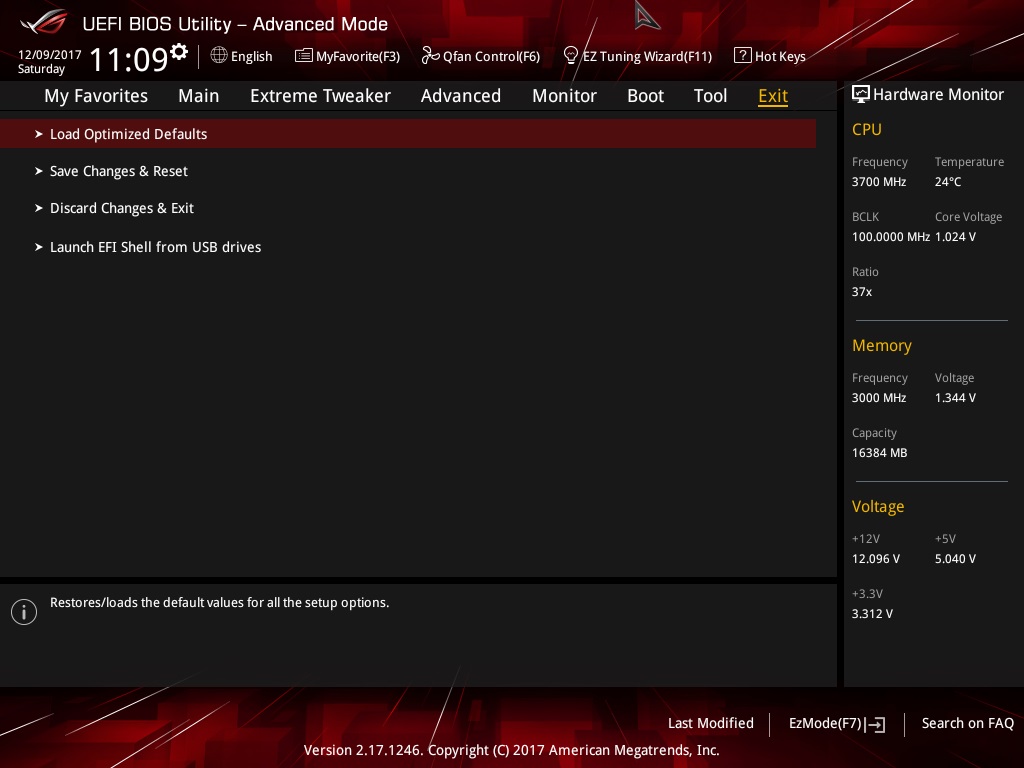 Pressing F3 will load the Favorites menu where the user can save the most frequently used settings for ease of accessing.
Pressing F6 will load Q-Fan Control. The user can create custom fan curve on each fan or group of fans depending upon the implementation of fan headers on the motherboard.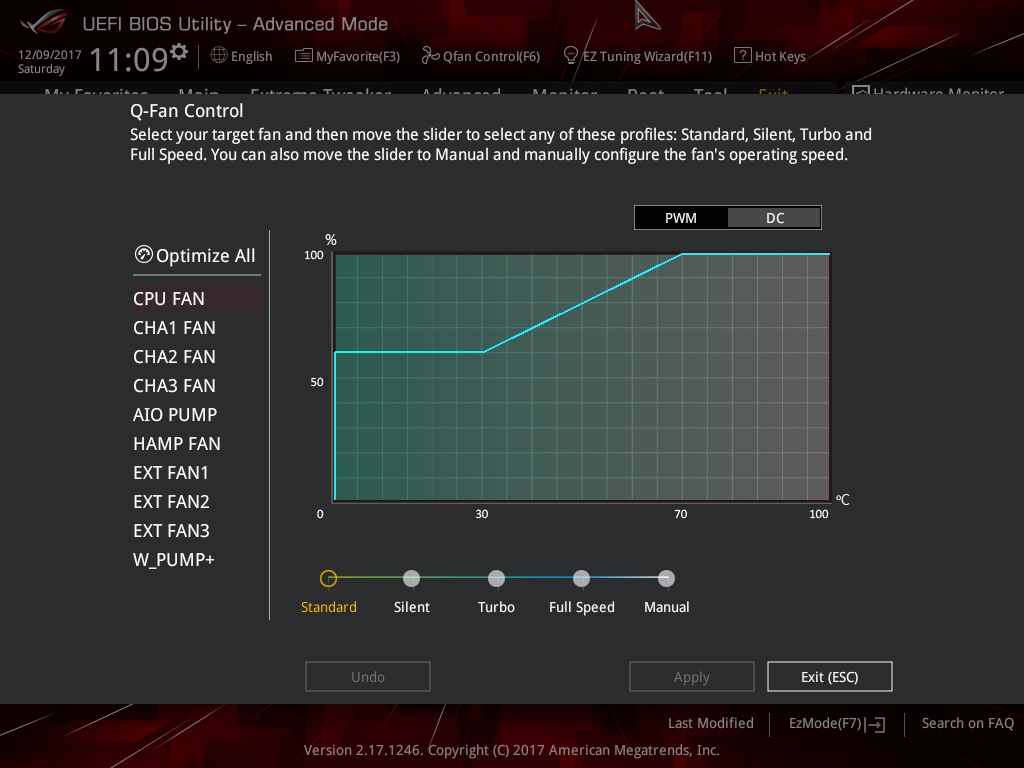 Pressing F7 would load the EZ Mode. EX Tuning wizard can be used to maximize the performance of the PC depending on the cooling solution being used.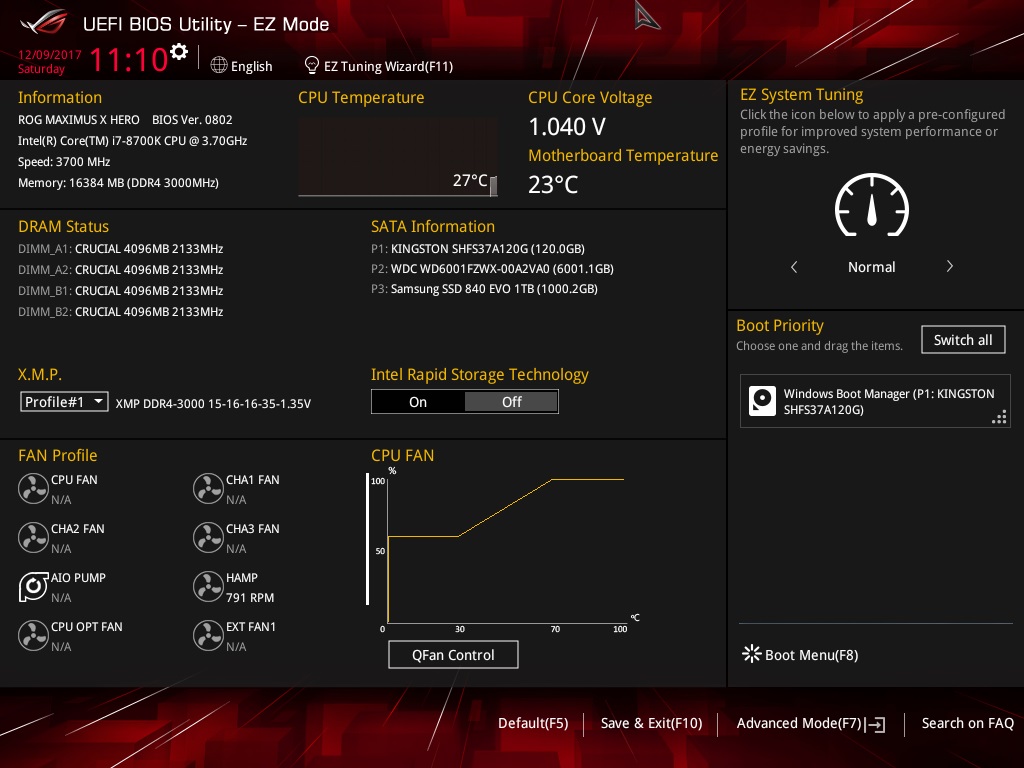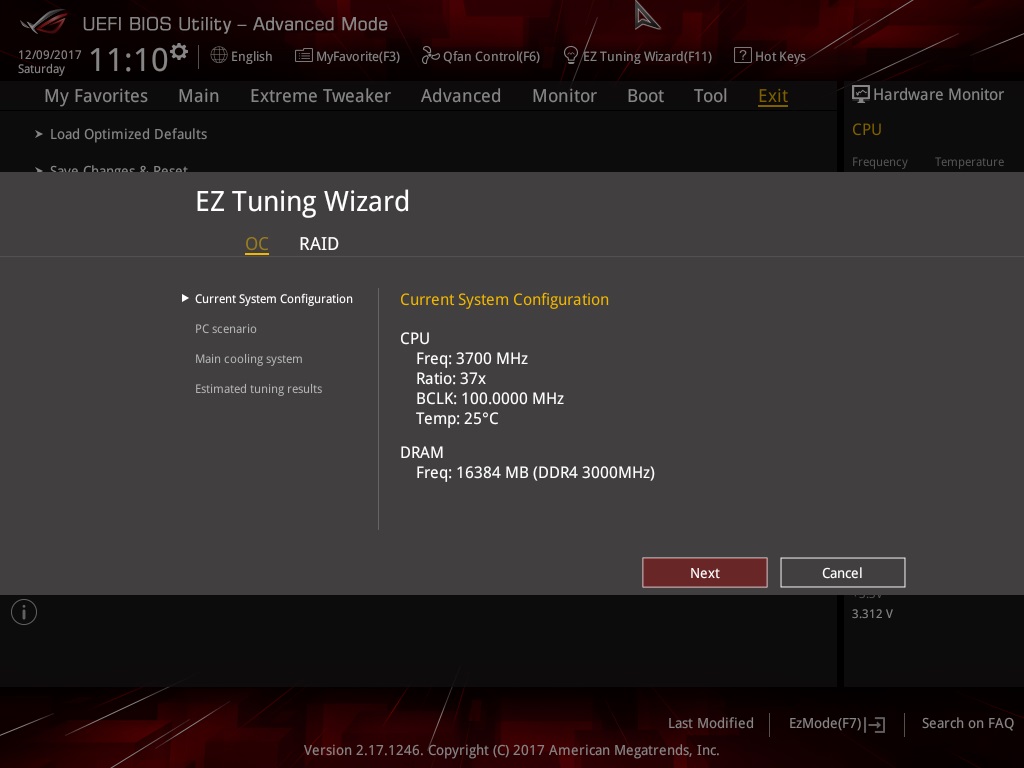 Asus Maximus X Hero wifi

Test Results
PCMark is a comprehensive application suite to measure the overall performance of the system and the storage devices. Our test build performs relatively well.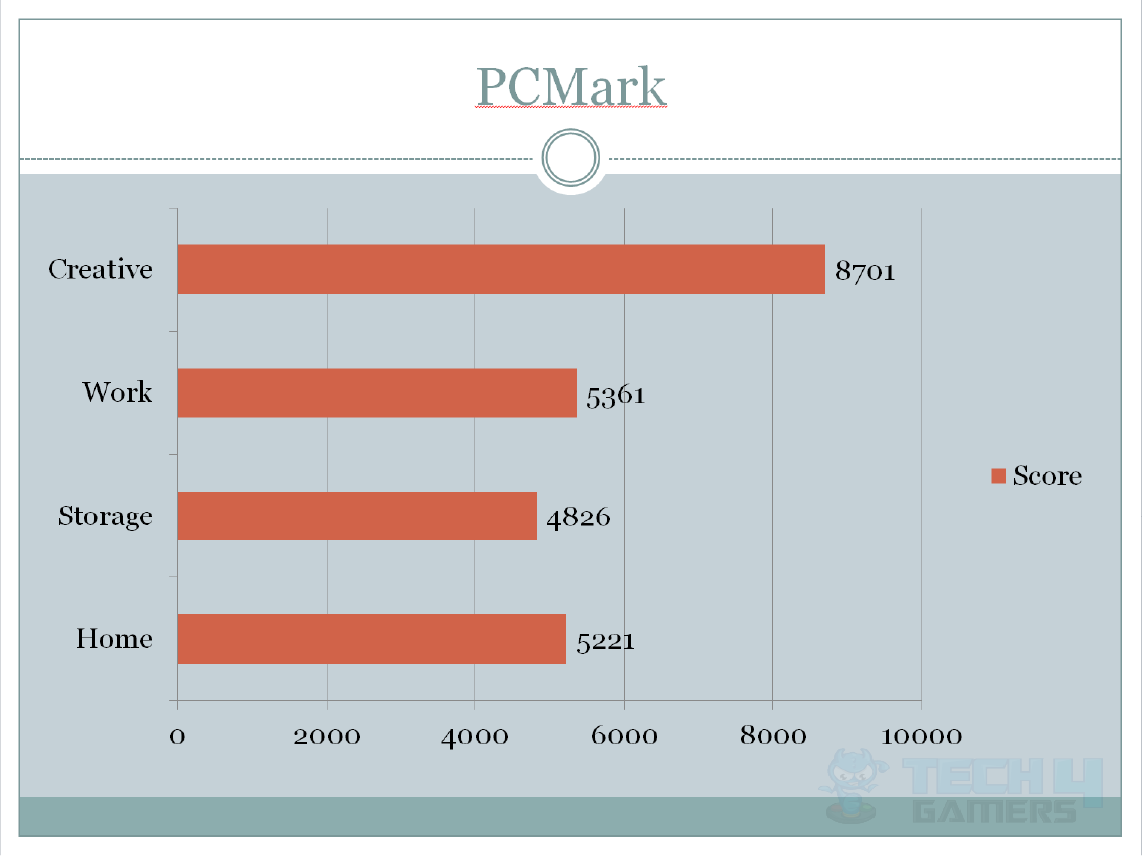 Performance Test or pTest is another comprehensive suite which measures the overall performance of the PC along with detailed tests for each component. I used it to measure the performance of the CPU and the Memory. Scores fall in 94-99% percentile which is a good indication of the performance.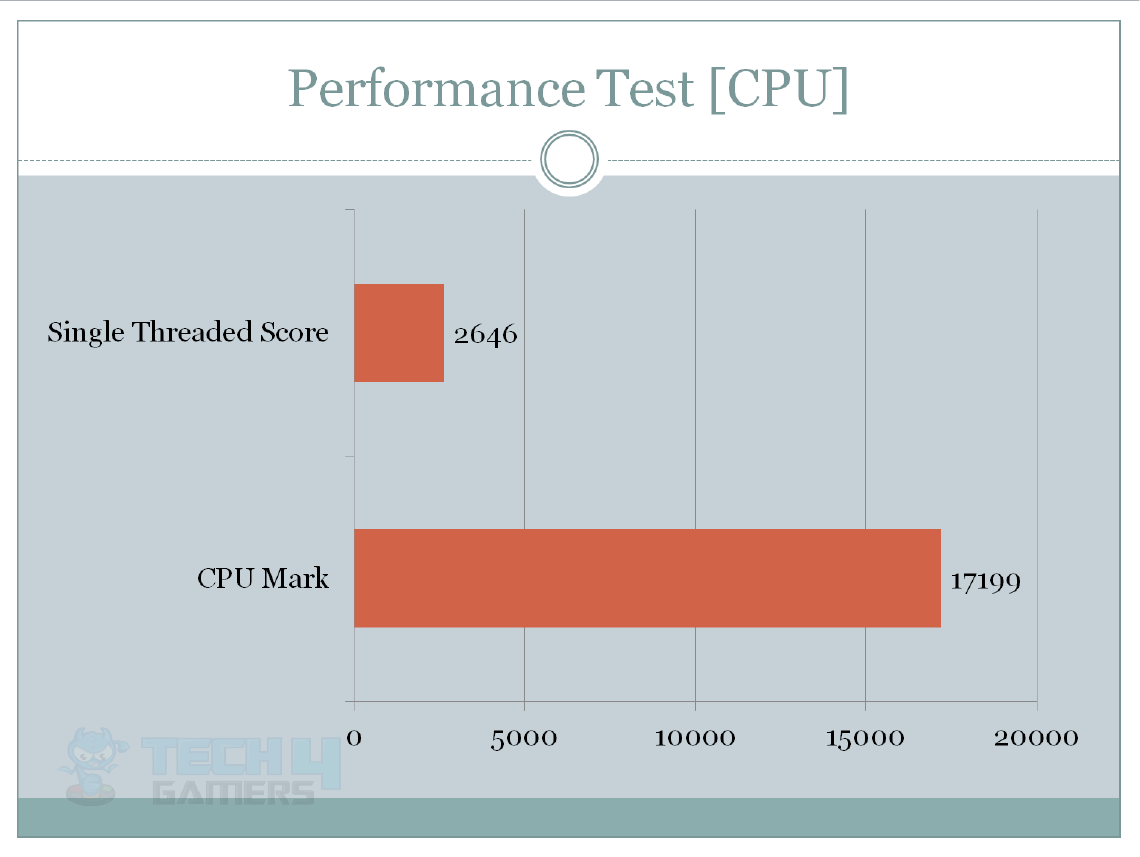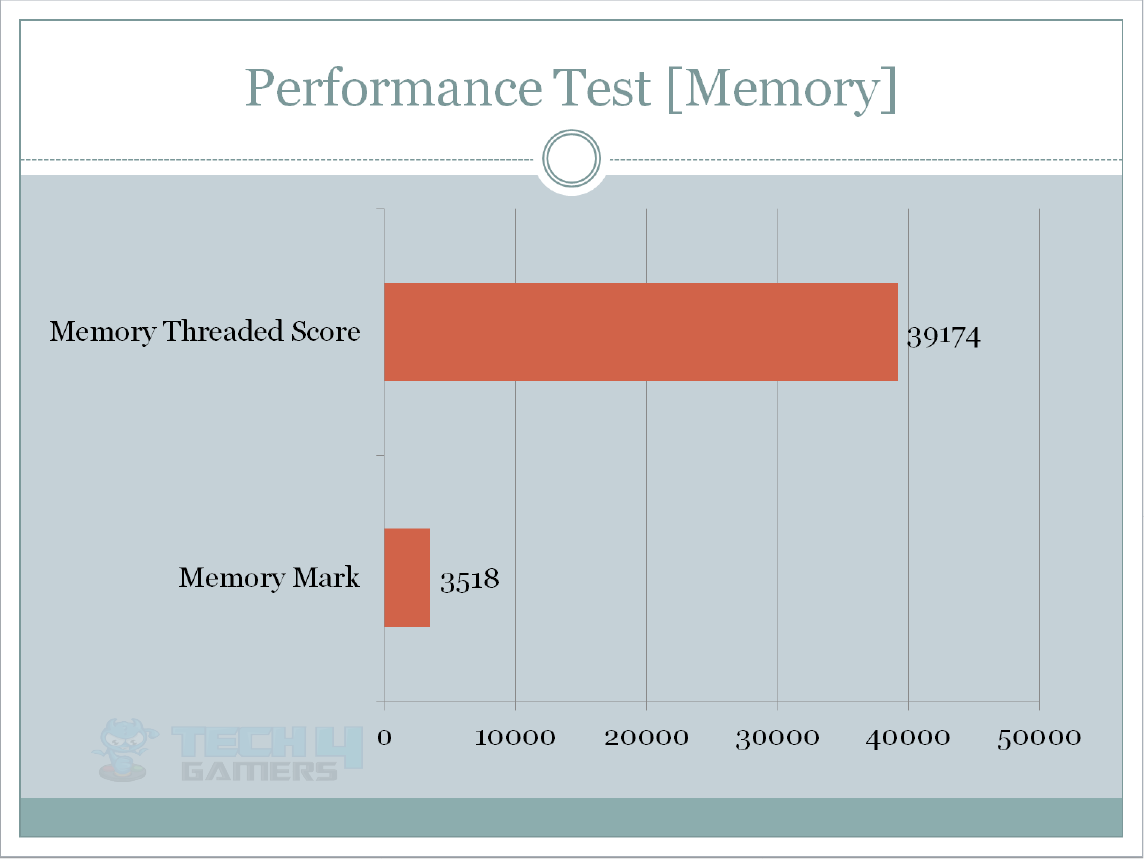 Cinebench is a real-world cross platform test suite that evaluates your computer's performance capabilities. CINEBENCH is based on MAXON's award-winning animation software Cinema 4D, which is used extensively by studios and production houses worldwide for 3D content creation.
MAXON software has been used in blockbuster movies such as Iron Man 3, Oblivion, Life of Pi or Prometheus and much more. CINEBENCH is the perfect tool to compare CPU and graphics performance across various systems and platforms (Windows and OS X).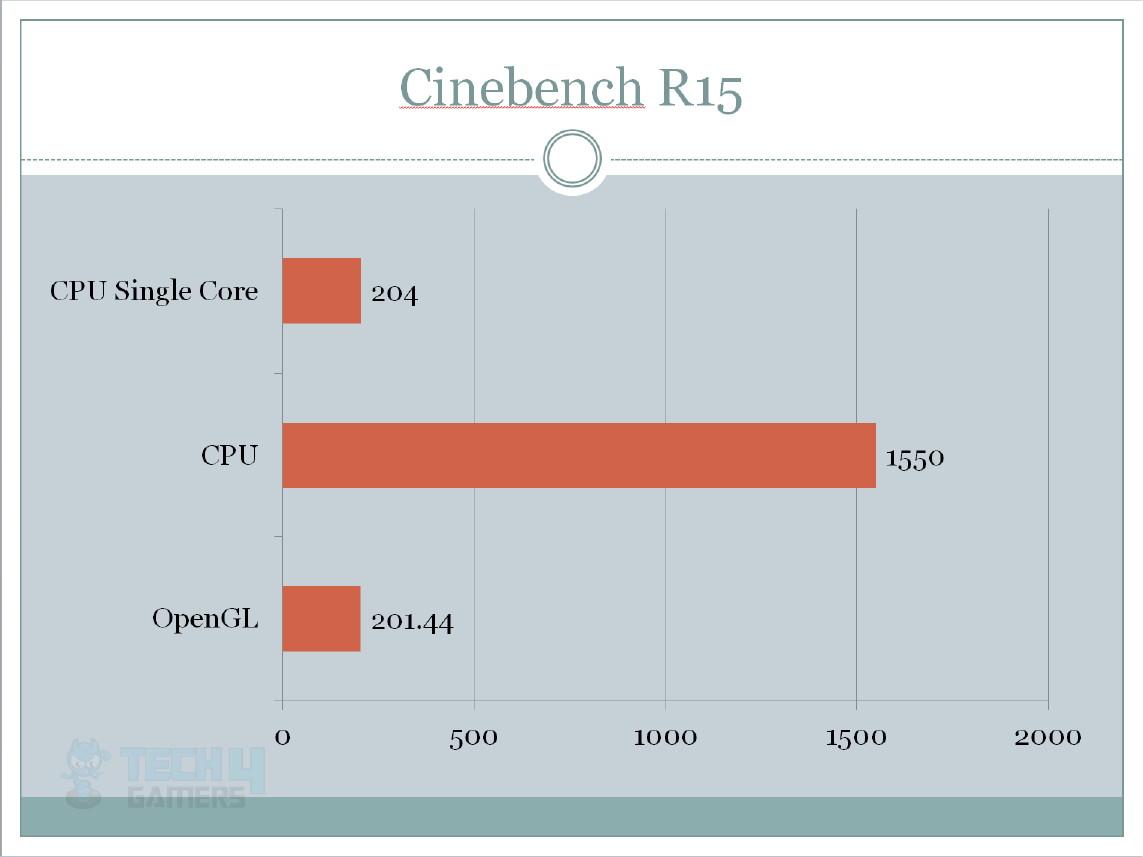 Geekbench 4 measures system's performance across multiple platforms. Our system performs very well under this test.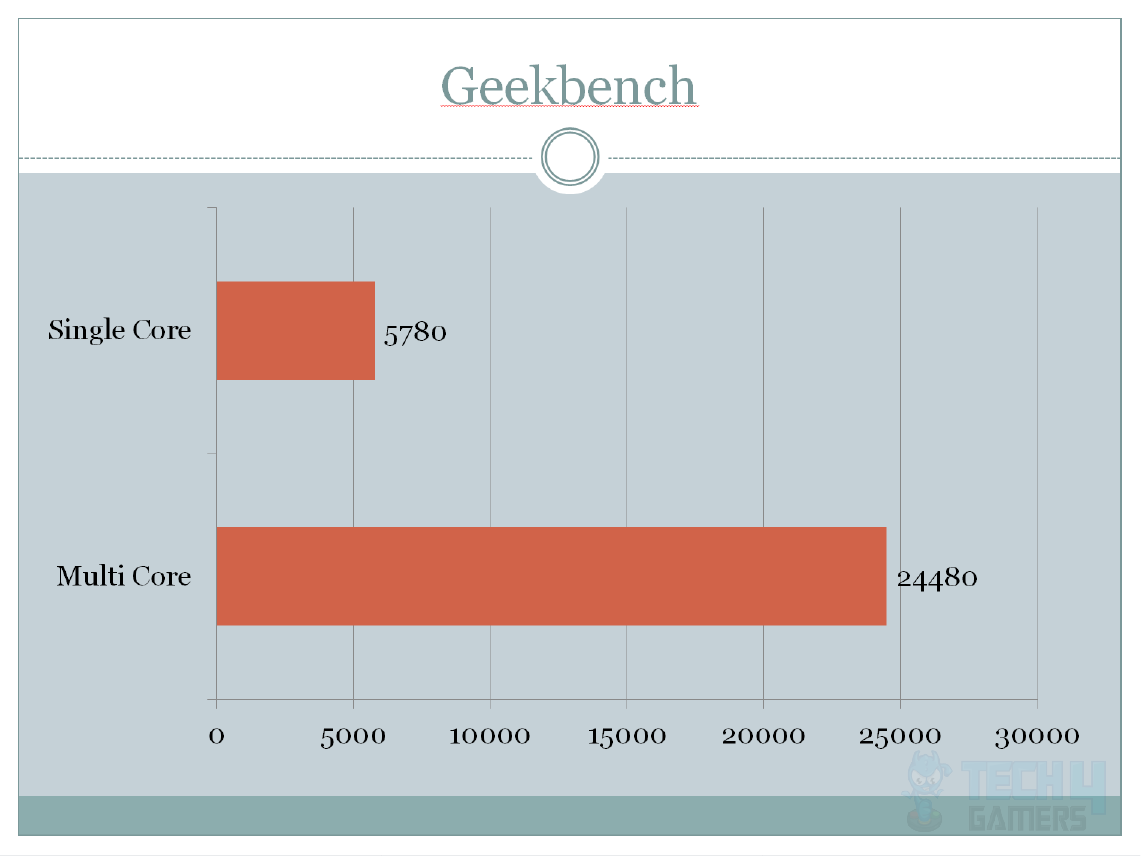 Frtiz Chess Benchmark is a CPU Performance test. It puts the CPU at 100% utilization and scales among the cores and the threads. The score is recorded as Kilo Nodes per Second and Relative speed.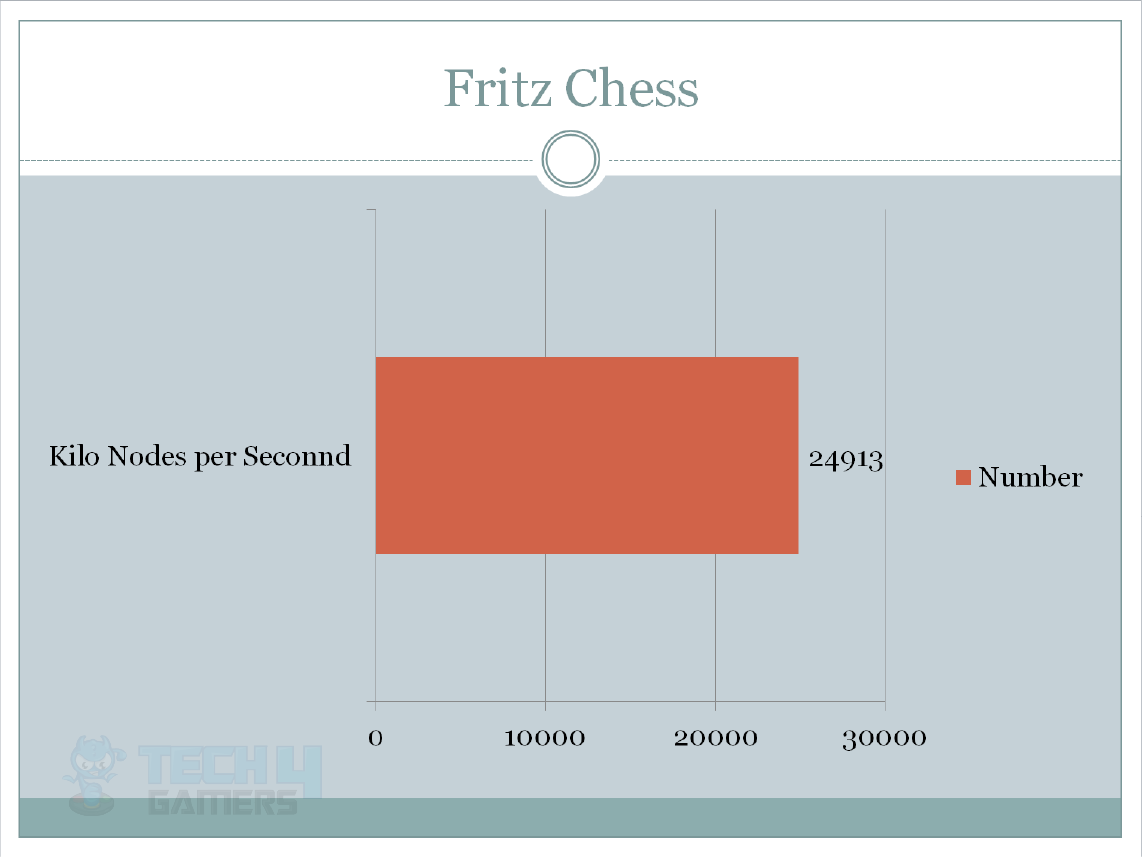 7-Zip is a compression benchmark which utilizes the Memory bandwidth and CPU Cores to measure the performance which is relative.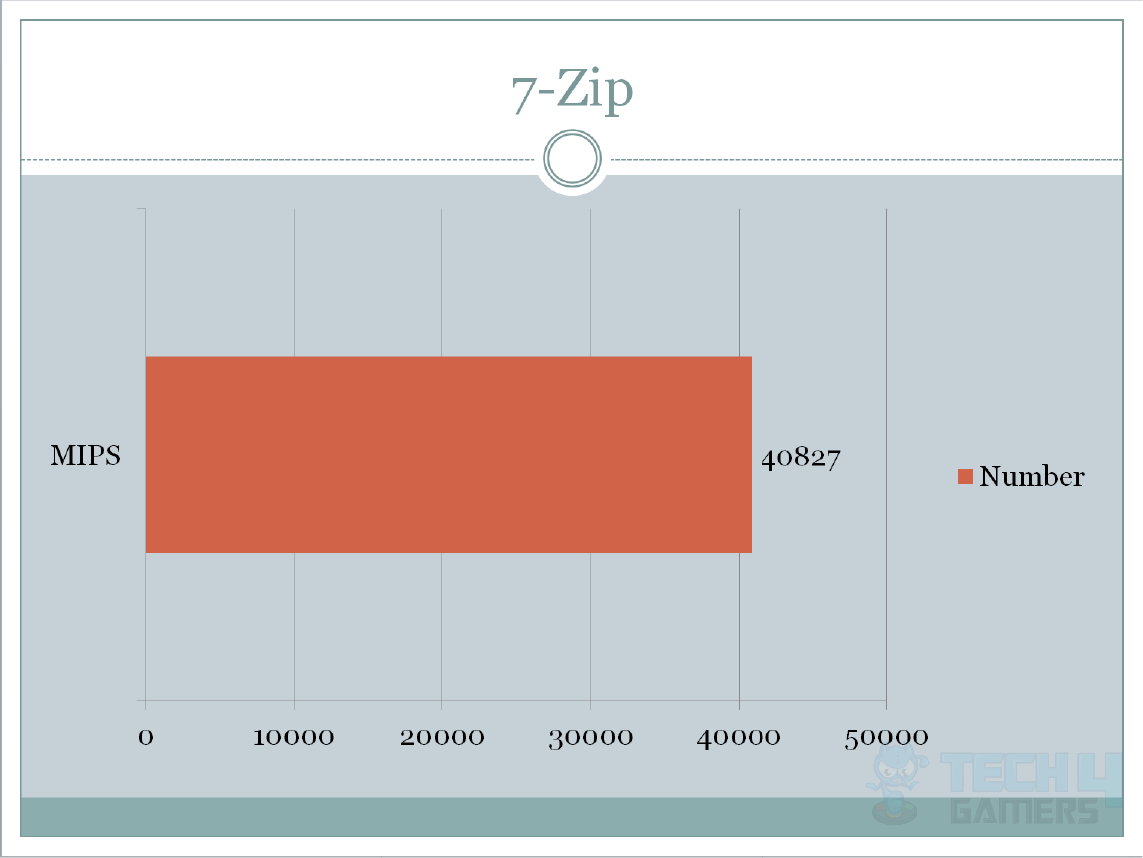 Super PI is a single threaded benchmark ideal for testing pure, single threaded x86 floating point performance and while most of the computing market has shifted towards multi-threaded applications and more modern instruction sets, Super PI still remains quite indicative of CPU capability in specific applications such as computer gaming. The lesser the time is preferable.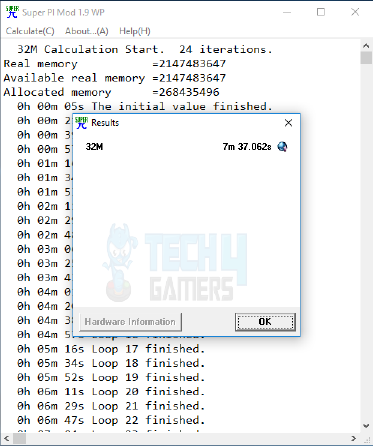 AIDA64 is another extensive application suite to measure the performance and testing the system's stability. I used it to measure the Memory bandwidth.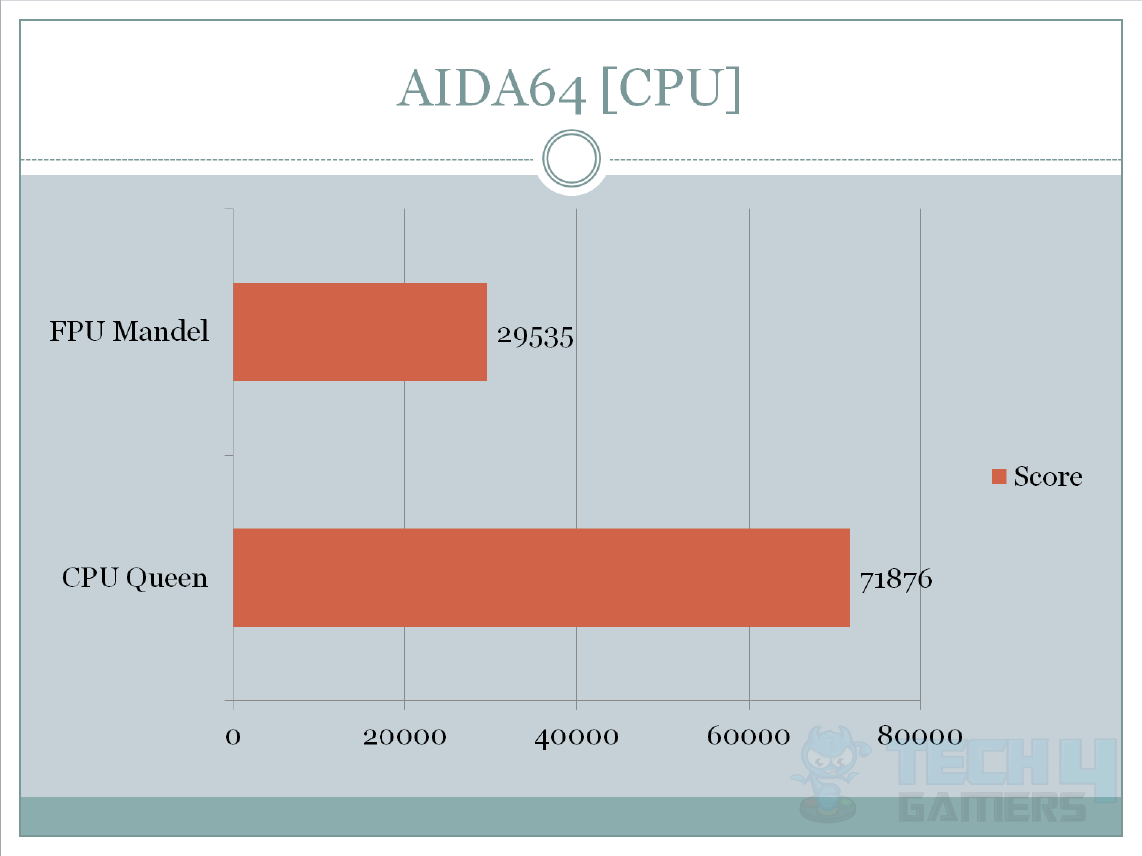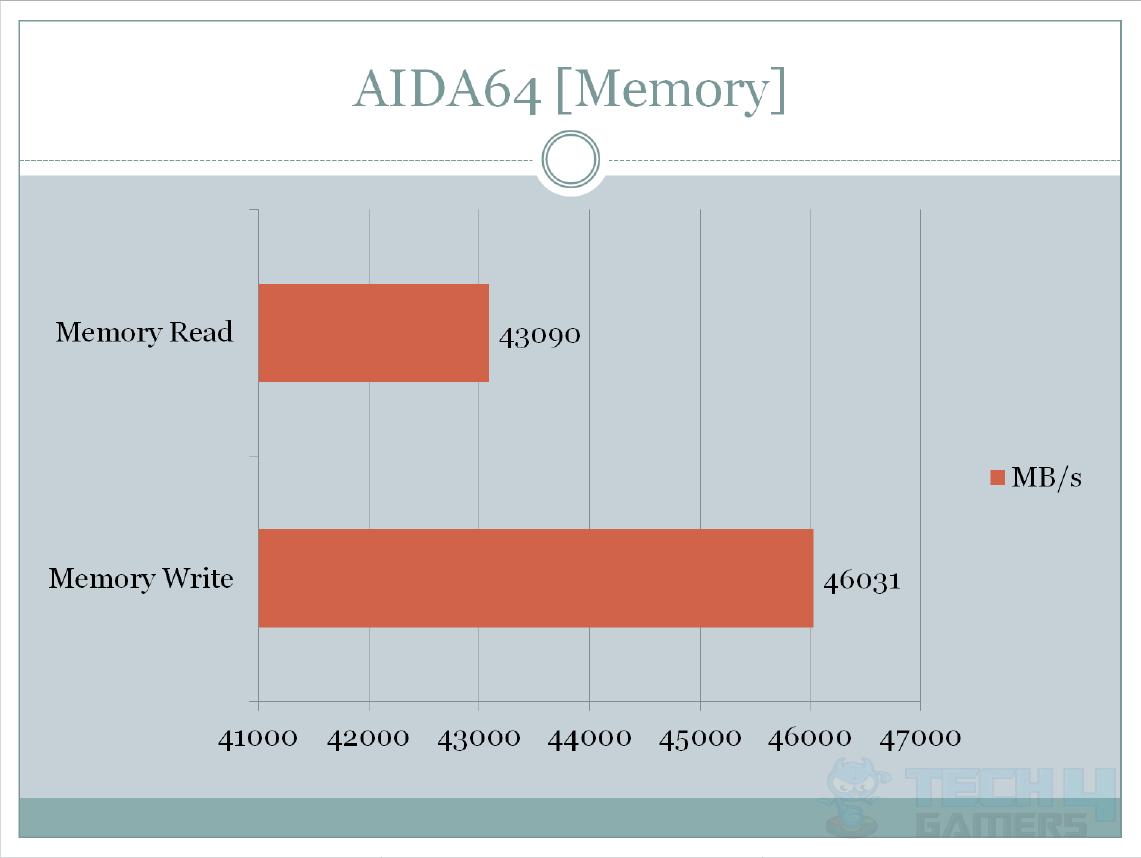 SiSandra is another comprehensive application suite to measure the performance of the various components of the PC and to check for any reported issues with them. It uses a graphical representation as well as the performance measure. I used it for CPU and Memory testing.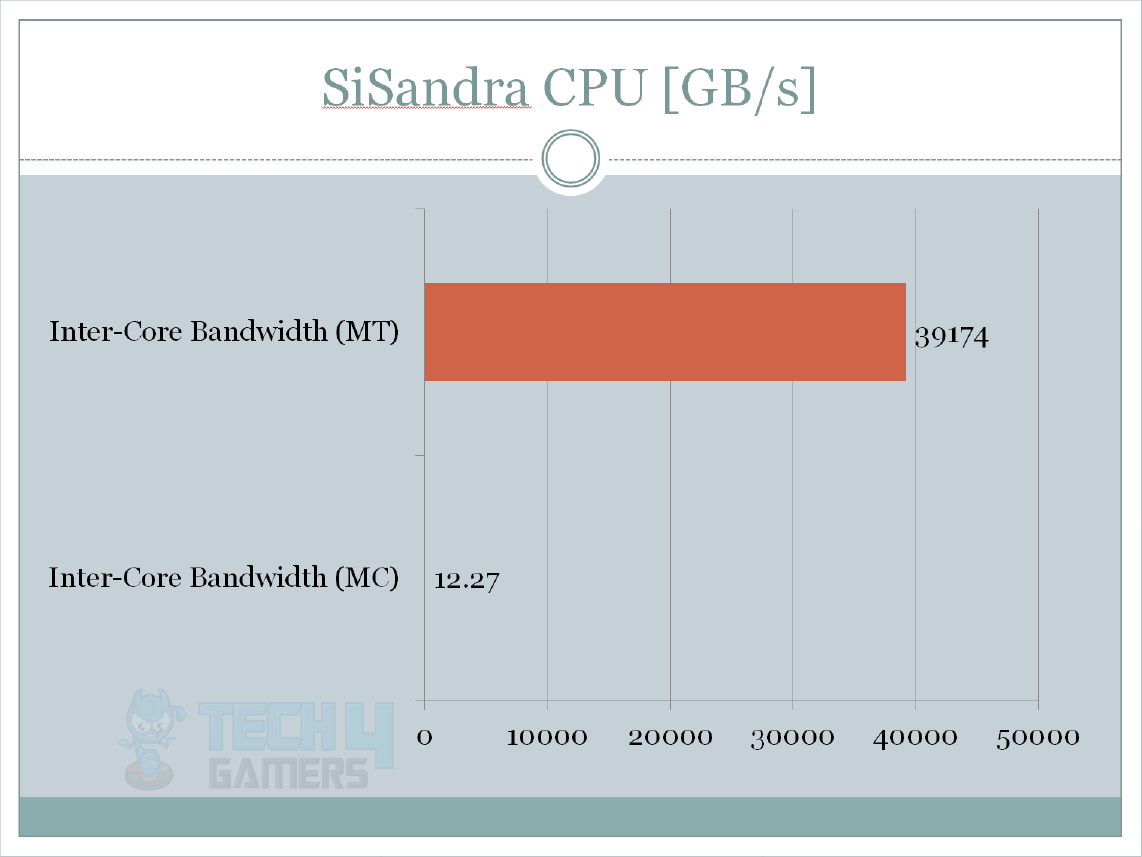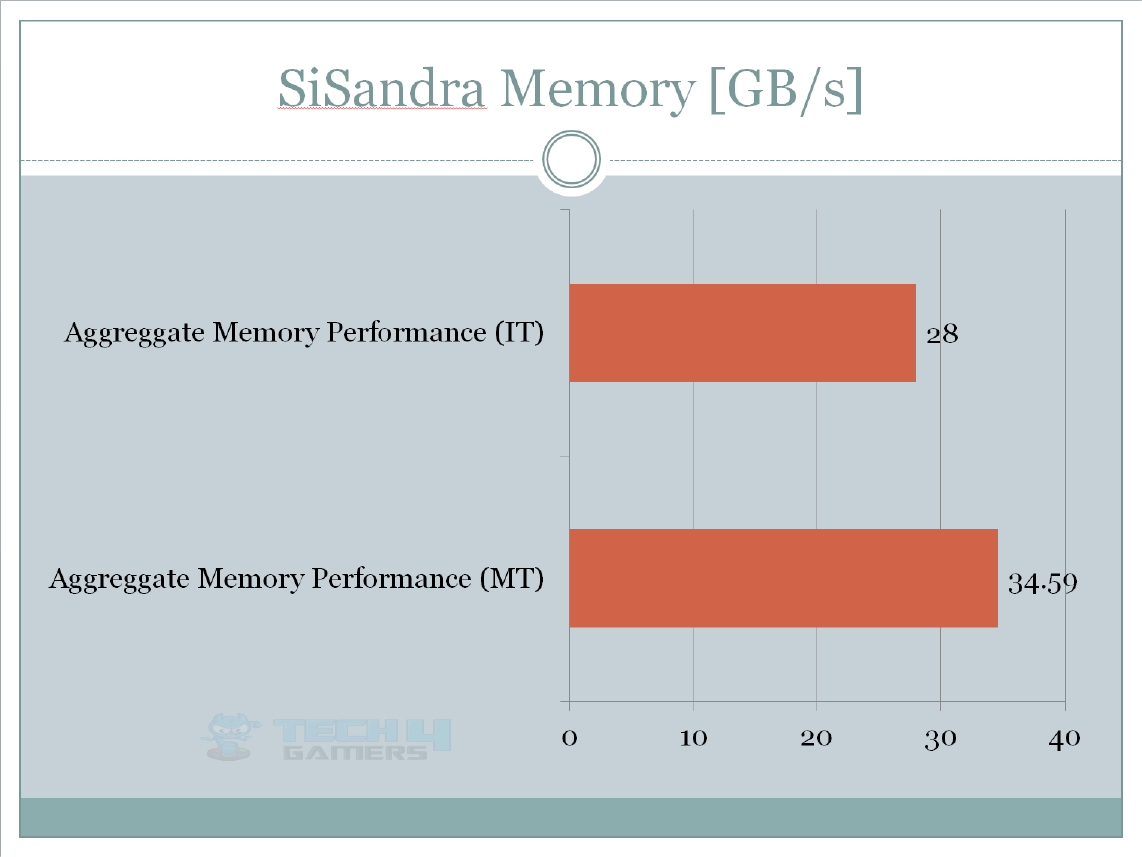 CrystalDiskMark is a popular tool to measure the sequential and Random Read and Write speeds of the storage drive(s).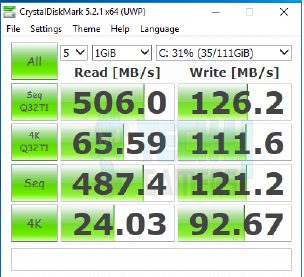 ATTO has created a widely-accepted Disk Benchmark freeware software to help measure storage system performance. As one of the top tools utilized in the industry, Disk Benchmark identifies performance in hard drives, solid state drives, RAID arrays as well as the host connection to attached storage.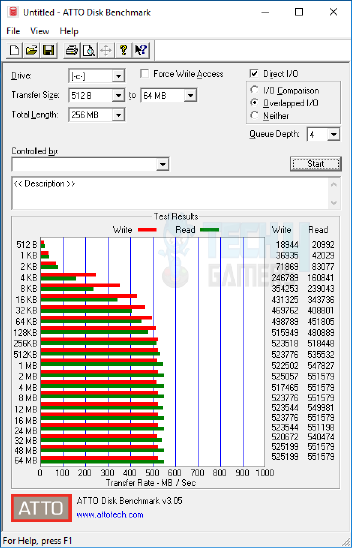 AS SSD software tests the sequential or random read/write performance of the storage drive(s) without using the cache. AS SSD Benchmark reads/writes a 1 GByte file as well as randomly chosen 4K blocks. Additionally, it performs the tests using 1 or 64 threads and it determines the SSD's access time.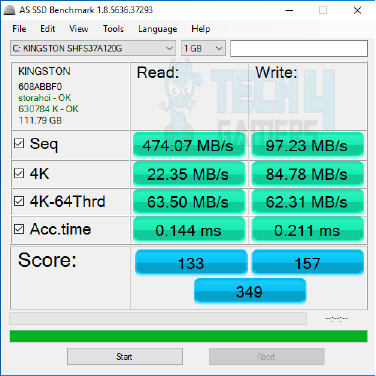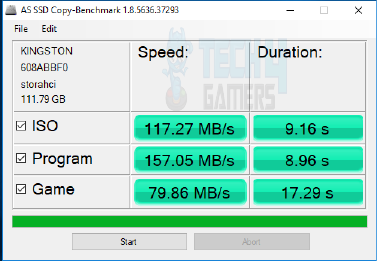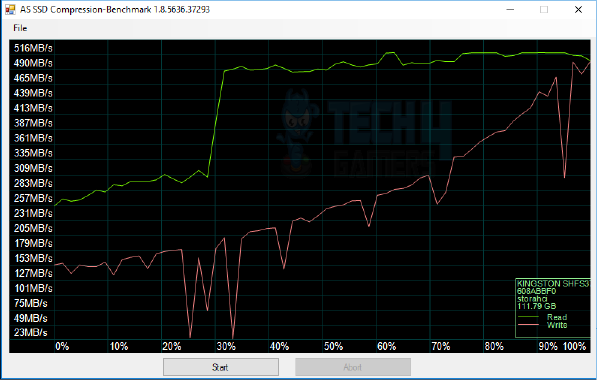 3DMark includes everything you need to benchmark your PC and mobile devices in one app. Whether you're gaming on a smartphone, tablet, notebook, or a desktop gaming PC, 3DMark includes a benchmark designed specifically for your hardware.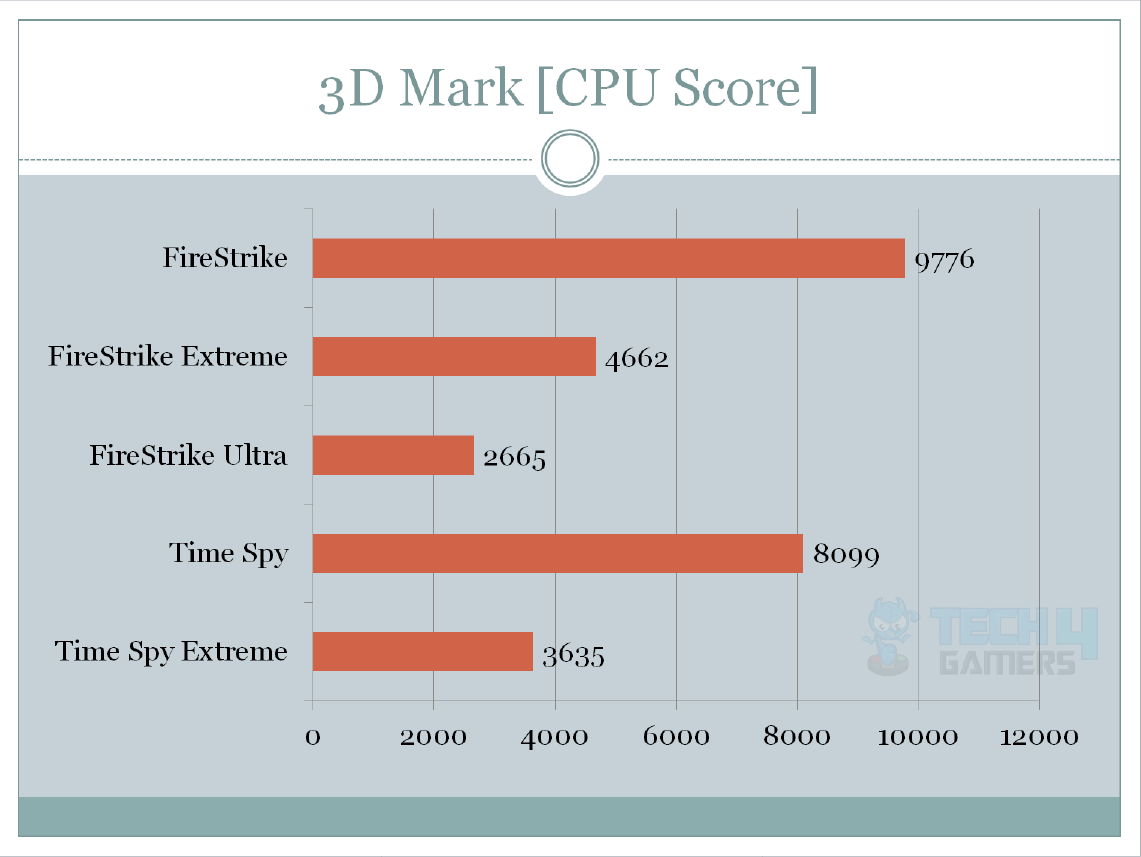 I have tested 5 games on the test build. All the games were tested with their highest graphics settings except that of MSAA which was 4x where applicable.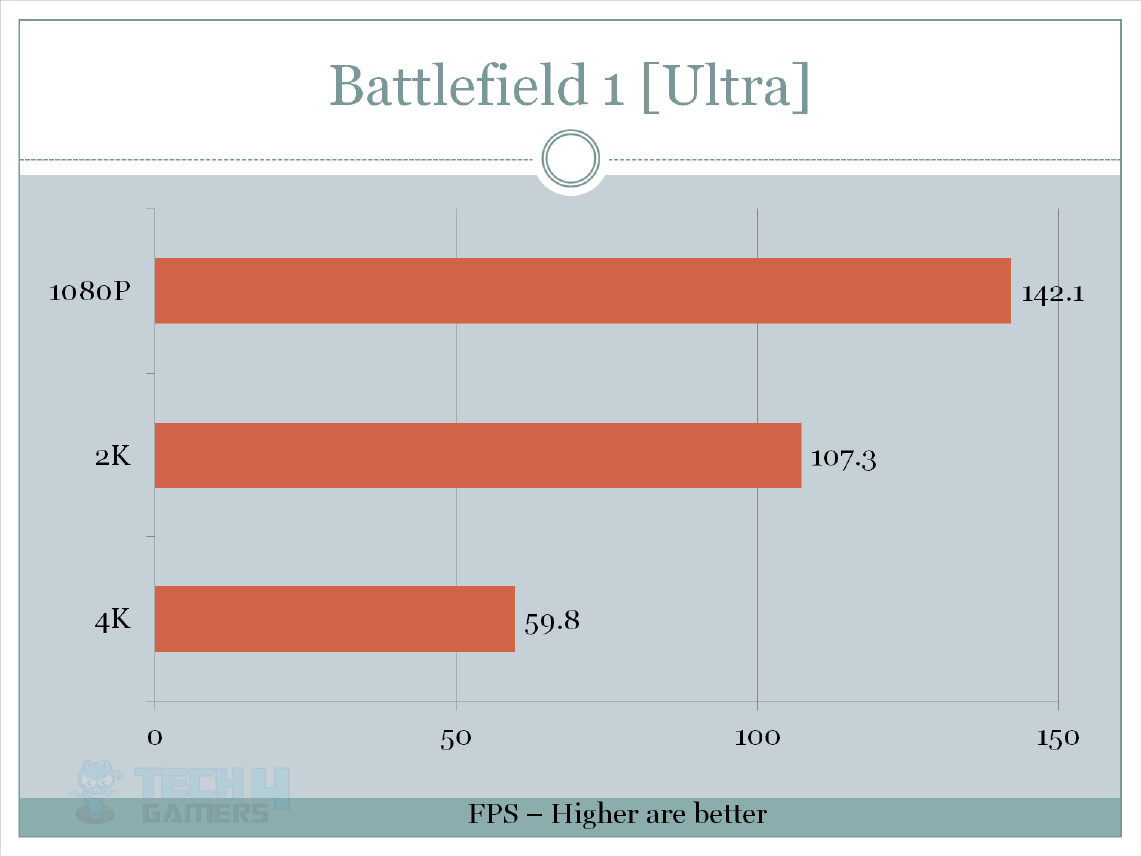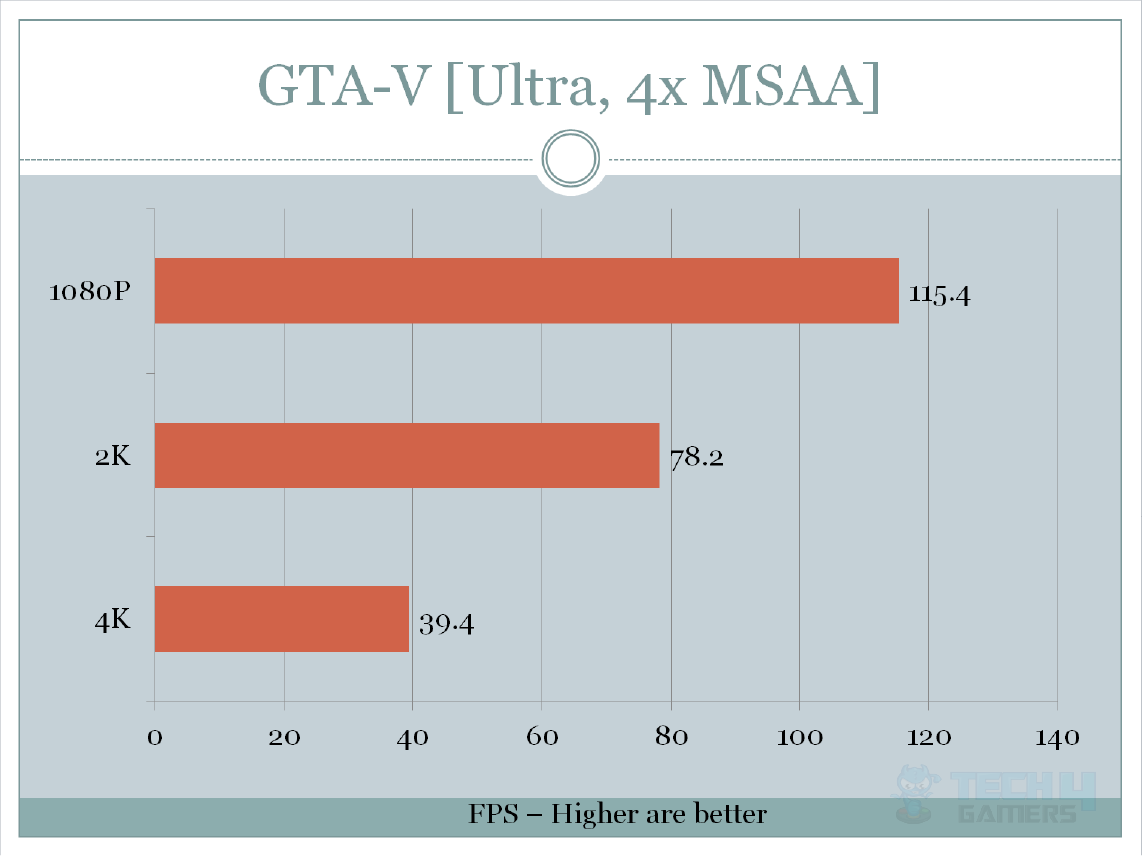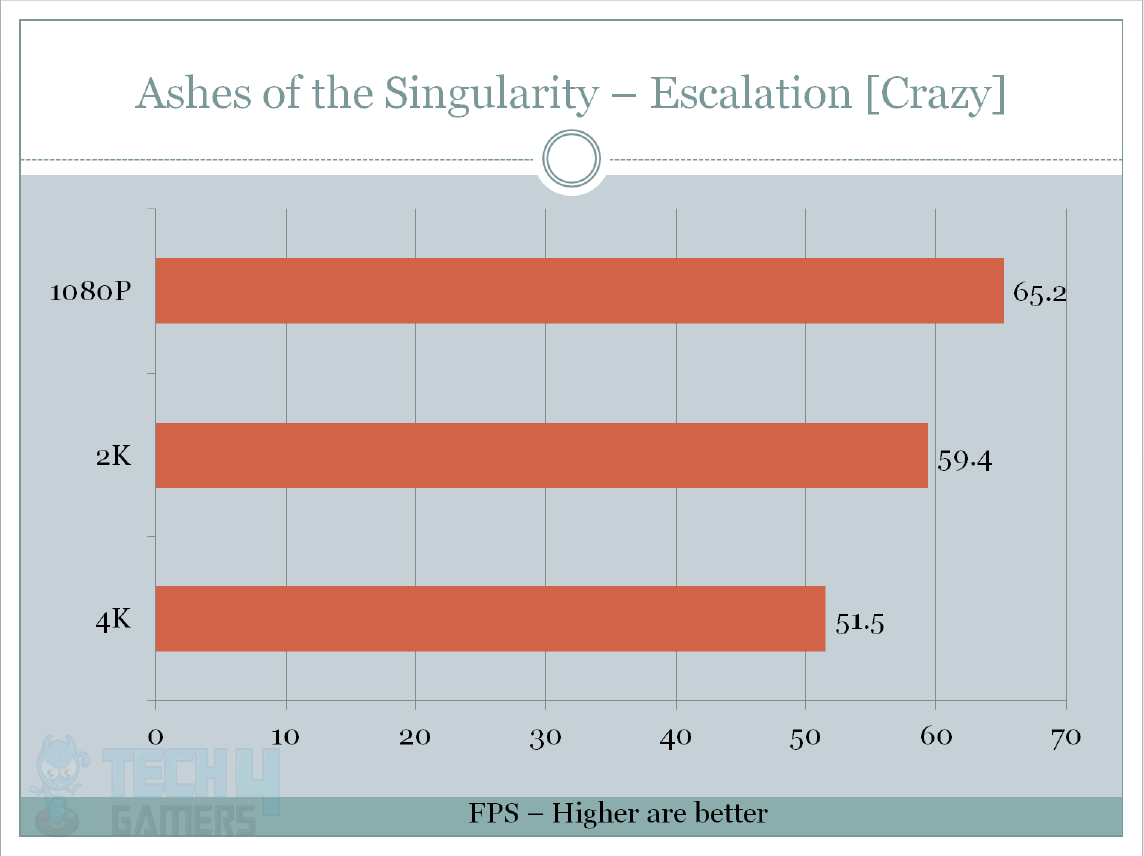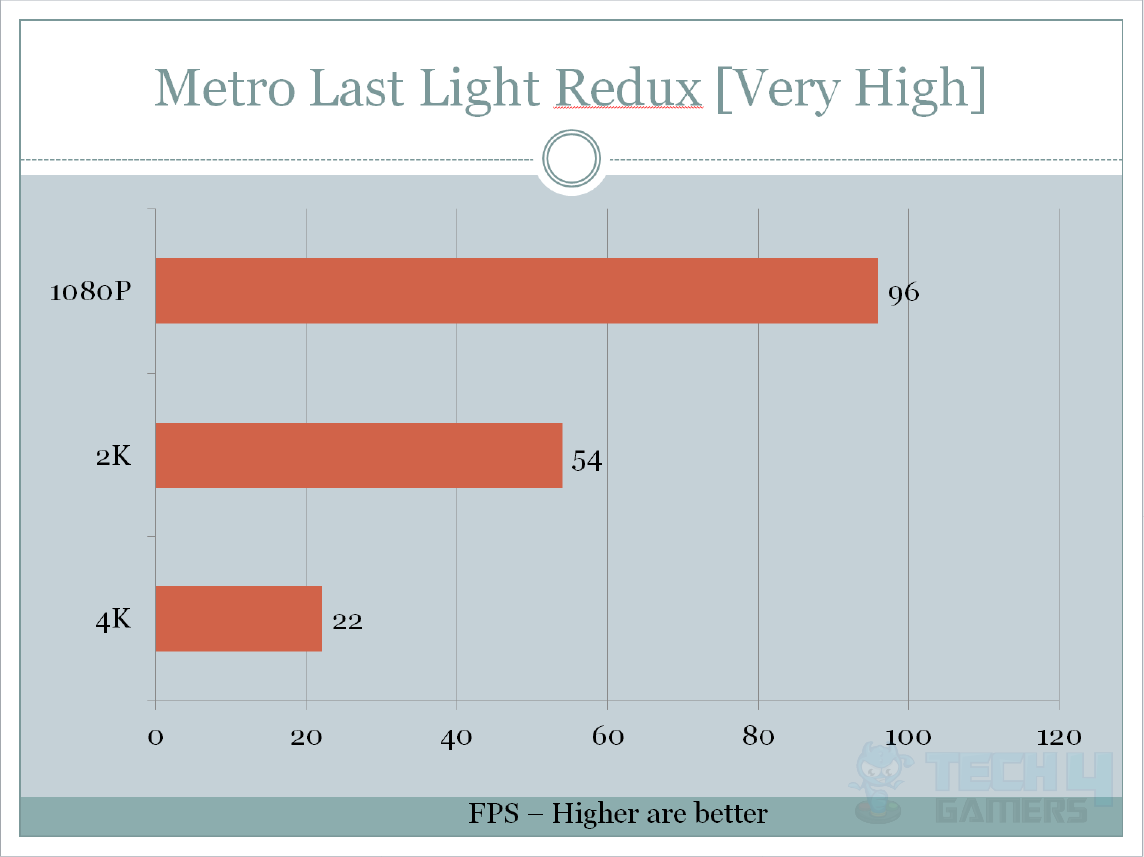 Asus has bundled many software in the provided CD disk. I'll discuss AiSuite III here as it is the main software when it comes to getting best of the best performance and fine tuning. The user can use this software to do literally anything ranging from overclocking to controlling fans to updating software and BIOS etc.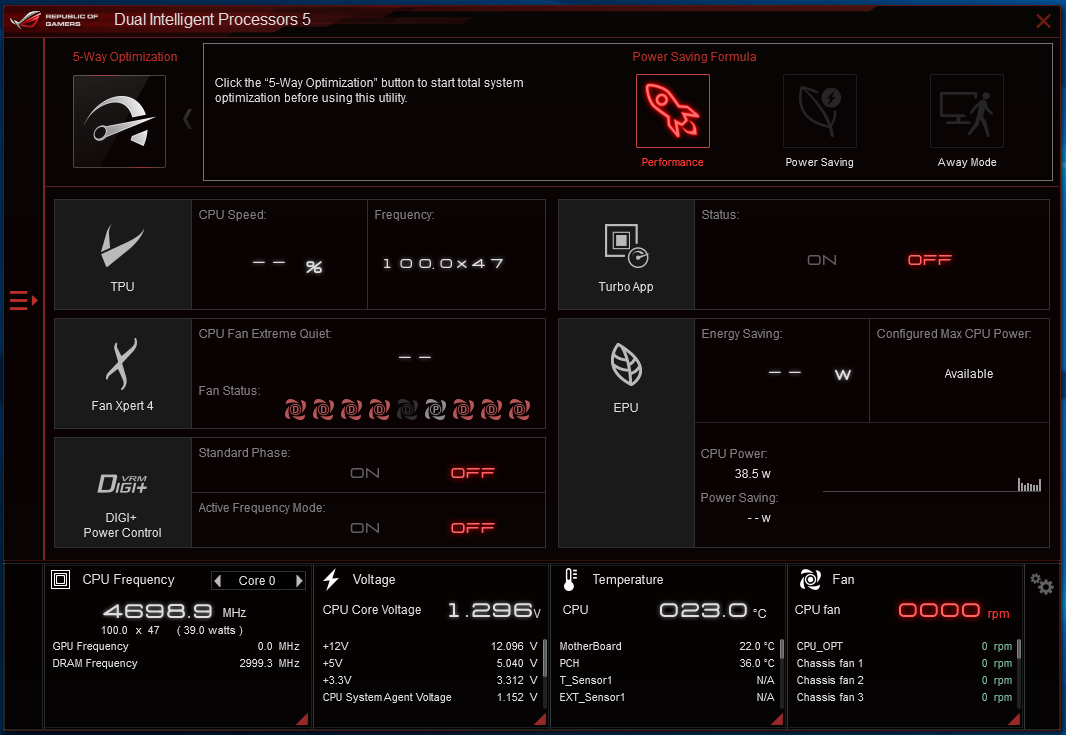 The main interface has One Click Overclocking option on the top left side. Click it and 5-way digital optimization will start. There are three modes on its right side, namely: Performance, Power Saving and Away Mode. Away Mode is a more tightened version of the Power Saving mode.
We've TPU, Fan Xpert and Digi VRM summaries on the main section. Turbo App status and EPU settings are on the right side of the main section. CPU Frequency, Voltages, Temperatures and Fan speeds are mentioned on the status bar located at the bottom of the interface. Clicking on the three bars and an arrow indicator on the left most side will open the menu list of the software. We've TPU, EPU, Digi+ VRM, Fan Xpert, PC Cleaner, EZ Update etc on the listing.
Fan Xpert is a very handy tool and it can be used to configure each and every fan in the Chassis as per the user requirement. If you are not sure about the settings to be used then simply run the Fan Xpert Fan tuning wizard.
The wizard will check the characteristics of each fan and set the profile accordingly. There are 4 pre-built profiles for the fans which are Silent, Standard, Turbo and Full speed. The graphical interface is available as well to set the fan curve. There are two modes, smart Mode with custom fan curve and RPM Fixed Mode which will set the one constant speed for the selected fan.
TPU section provides comprehensive settings to overclock the CPU. We have the option of fine tuning single core or group of cores. Voltage can be set as Adaptive, offset or User where User means the manual Vcore. Digi+ VRM section contains settings like CPU Load Line Calibration, VRM Switching Frequency, CPU Power Phase control etc.
Clicking on 5-Way Digital Optimization will start a tuning wizard that would overclock the CPU frequency with 100MHz at a time with stress test of 15 Seconds or user provided value on each iteration to determine the thermal characteristics and stability. The system will restart several times during the process. The process is fully automatic and user intervention is not needed.
Each iteration shows the summary of the process in terms of Current-Voltage, Temperature and Power in addition to the Maximum values of each variable. Once the complete process is done, Summary will be produced.
System Information shows the Motherboard, CPU and DRAM information. Turbo App boosts the performance of selected applications. PC Cleaner lets the user to get rid of junk files and to free the space taken by these files. EZ Update lets the user update the BIOS of the motherboard and other apps.
USB BIOS Flashback lets the user to check and download the latest BIOS and copy it to the supported USB Flash drive which then can be used to update the BIOS by using the methods already described under BIOS section.
File Transfer is another feature which is based on cloud computing. It lets the user transfer the files between supported mobile devices and the PC. I've used this utility to transfer files from and to my Android device to the PC. It needs an active WiFi connection to do that. Files can be shared using Could Go as well so as to make your files accessible from the cloud server.
Overclocking and Thermals
My first target was to check if the chip can make it to the magic figure of the 5.0GHz using 1.30V VCore which it does easily. Then, I tried for 5.1GHz using 1.32V VCore. It passed the stress test. Though system booted up at 5.2GHz using 1.350V VCore and Cinebench was able to complete the run and gave me the score but the stress test failed.
Custom loop cooling solution would be idea for higher speeds. Bear in mind that thermal characteristic of every chip is different and there is no guarantee that chip would hit or cross 5.0GHz. It is still a silicon lottery at large.
On stock clocks, the stres test resulted in max 61°C. I have used Noctua NH-D15 to cool the chip. The stability test was conducted using Asus RealBench 2.4 software and RealTemp was used to monitor the temps. Max it hit was 81°C under stress test for 5.0GHz. Room temp was 20°C. Cinebench was run to test the overclocking results. CPU score was 1687.
Conclusion
The Asus Republic of Gamers is a famous brand among the overclocking enthusiasts and gamers alike. These boards are feature rich and provide ultimate performance levels with intuitive UEFI BIOS having a user-friendly interface. Asus ROG Maximus X Hero is the first card in the ROGG lineup.
It takes upon the specifications of the Asus Strix Z370E and takes them to the next level though the price difference is quite apparent. There is another version of the Hero with the WiFi AC provision on the board though the specifications are same but there is roughly $20 difference in both models.
Being a ROG series motherboard, the Asus ROG Maximus X Hero is features rich motherboard. It has Intel LGA1151 socket for 14nm Coffee Lake CPUs and is not backward compatible with the Kabylae/Skylake CPUs. It has 4 DIMMs with support of up to 64GB at the whopping 4133MHz (OC) support out of the box. It has total 6 PCIe slots with 3 being the PCIe Gen x1 slots. The second slot is electrically switched with the CPU and it draws PCIe lanes from the CPU. It is Gen 3 x16/x8 rated. Fourth slot is also draws PCIe lanes from the CPU and in case SLI/CFx both slots operate in x8/x8 configuration. Sixth slot is x4 rated and draws PCIe lanes from the chipset.
The motherboard has 10 power phases which are adequate to handle the clean power requirement of the board. It has USB 3.1 Gen 2 port for connectivity with the front panel of the Chassis. It also has the USB 3.1 Gen1 which is backward compatible with the USB 3.0 as well. From storage perspective, it has two M.2 sockets.
First one has a beautiful heatsink cover for optimal cooling performance. The second socket does not have any heatsink though using 3D printing mount, fan can be added for its optimal cooling. Then we have 6 SATA 6G ports. In case you would need more storage then definitely X299/X99 is a right platform for your need.
It features Intel 1219V Gb LAN using LANGuard and GameFirst IV. It features SupremeFX S1220 Codec using ES9023P High Definition DAC with 120dB SNR stereo playback and 113dB SNR recording input. Sonic Studio III and Sonic Radar III are bundled software to augment the hardware functionality. This asus rog maximus x hero review board comes with 5 different temperature sources on board.
It has 6 PWM/DC based fan headers along with a fan extension header to connect the Asus Fan Extension board with it which needs to be bought separately. There is a smart protection feature which is a dedicated integrated circuit that protects each fan header from over-temperature and over-current. We have a AIO Pump header and a Water Pump header which is rated at 3A.
Asus has implemented their famous AURA RGB Lighting solution in this board. There are three zones. First is the back I/O Cover with the RGB LED, then the heatsink below the CPU Socket and the Chipset cover itself having the RGB LEDs. In addition, there are total 3 AURA Sync headers on this board. Two are regular +12V GRB format headers in the white color while the third one is for the individually addressable lighting strips.
We have Start, Reset, ReTry, Safe Boot buttons. 2-digit output enabled Q-LED debug is also provided. TPM header and 2 USB 2.0 headers are located on the bottom. Front panel header is on the bottom right side. Front Panel audio header is on the bottom left side. Right under the Q-Code LED there are 4 LEDs for the CPU, DRAM, Graphics and Boot.
In case any of these have some issue the corresponding LED would light up constantly. This helps in troubleshooting with further aid from the Q-Code LED. We have Mem-Ok button on board as well. The motherboard carries the limited 3-year warranty.
BIOS has a user friendly interface and the Asus users would not find anything different in the layout making the life easier for the user. Bundle software are handy and offers lot of functionality based on the respective hardware components.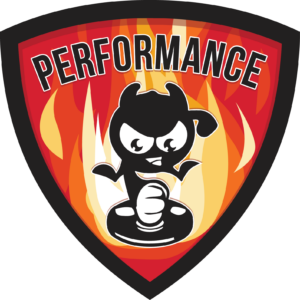 Was our article helpful? 👨‍💻
Thank you! Please share your positive feedback. 🔋
How could we improve this post? Please Help us. 😔
[Hardware Reviewer & Editor]
Meet Nauman Siddique, a highly experienced computer science graduate with more than 15 years of knowledge in technology. Nauman is an expert in the field known for his deep understanding of computer hardware.
As a tech tester, insightful reviewer, and skilled hardware editor, Nauman carefully breaks down important parts like motherboards, graphics cards, processors, PC cases, CPU coolers, and more.
15+ years of PC Building Experience
10+ years of first-hand knowledge of technology
7+ years of doing in-depth testing of PC Hardware
A motivated individual with a keen interest in tech testing from multiple angles.
I majored in Computer Science with a Masters in Marketing
Previously worked at eXputer, EnosTech, and Appuals.