The latest 12th generation processors were recently launched by Intel. Alder Lake processors based on the new hybrid design has many advantages for media professionals and gamers, as the new design allows the CPU to use the operating cores when needed while minimizing power consumption on normal tasks. The new CPUs offer support for both DDR4 and DDR5 RAM (depending on the motherboard, you may check our guide on (Z690 motherboard), which means you can choose to save money or go with the latest and greatest at faster speeds at higher costs.
However, since the best DDR5 RAM is as rare as the graphics cards, you may not have many options when upgrading or building a new PC right now. In any case, all of the DDR4 and DDR5 RAM will fit with the Core i7-12700K, as the new processor is equipped with a 12MB repository that ensures faster statistics and smoother at multiple job handling. In addition, Alder Lake CPUs support the latest technologies, such as PCIe 5.0. Intel Core i7-12700K has become a popular processor used in gaming computers and other powerful devices of the date. The best combination of CPU and RAM provides an outclass usage experience. The Core i7-12700K brings great improvements to gamers and professionals who care about performance and productivity. Keep in mind, that alongside Best Ram For i7 12700k, you will also be needing Motherboard For i7 12700k.
Specifications of Intel Core i7-12700K
Cores: 12
Threads: 20
Frequency: 3.60 GHz
Turbo (single-core): 5.0 GHz
Turbo (All Cores): 4.90 GHz
Memory: DDR4-3200, DDR5-4800
L3 Cache: 25MB
PCIe version: 5.0
PCIe lanes: 20
Related: Make sure to get a CPU Cooler for i7 12700k as well, this will help with decent temperatures alongside future options for overclocking.
Should You Get DDR5 or DDR4 Ram For i7 12700k?
The new memories offer a bandwidth of 4800 – 5600 Mb / s, so even 1.8 times higher than DDR4 RAM modules. In addition, their operating voltage has been reduced from 1.2 to 1.1 V, which is to translate into a reduction in electricity consumption by up to 20%.
Apart from high numbers in every department, the DDR5 modules are equipped with the error correction system (ECC), which can correct even 1-bit errors – the manufacturer claims that such a solution will improve memory reliability up to 20 times. Thanks to the use of TSV (through-silicon via) technology, it is now possible to create modules with a capacity of up to 256 GB. Therefore, we get more efficient, more capacity and energy-efficient memories in comparison with DDR4.
Best RAM for i7-12700K
RAM
ADATA XPG Caster 32 GB DDR5
Patriot Viper Venom 32Gb DDR5
G.Skill Trident Z5 32GB DDR5
G.Skill Trident Z Royal 16GB DDR4
Teamgroup Elite 32Gb DDR5
Corsair DOMINATOR PLATINUM RGB 32Gb DDR5
Preview
Award
Best High-end RAM for i7-12700K
Best Budget RGB RAM for i7-12700K
Best Performance RAM for i7-12700K
Best Cheap RAM for i7-12700K
Best Ram for i7-12700k In 2022
RAM
ADATA XPG Caster 32 GB DDR5
Preview
Award
Best High-end RAM for i7-12700K
RAM
Patriot Viper Venom 32Gb DDR5
Preview
Award
Best Budget RGB RAM for i7-12700K
RAM
G.Skill Trident Z5 32GB DDR5
Preview
Award
Best Performance RAM for i7-12700K
RAM
G.Skill Trident Z Royal 16GB DDR4
Preview
RAM
Teamgroup Elite 32Gb DDR5
Preview
Award
Best Cheap RAM for i7-12700K
RAM
Corsair DOMINATOR PLATINUM RGB 32Gb DDR5
Preview
Award
Best Ram for i7-12700k In 2022
Last update on 2023-09-22
Compatibility is very important; if all parts of the gaming rig are compatible with the desktop, it will provide exceptional performance. That is why to make full use of the i7-12700K, you need to choose the corresponding RAM. The RAM is responsible for storing data temporarily and your computer needs that data within a few seconds to run smoothly and quickly. We have also added a comparison table above, so if you want a summary, that's where you need to focus at.
So, let's take a look at the best RAM For i7 12700k that you can buy today.
ADATA XPG Caster 32 GB DDR5 @7000MHz
Patriot Viper Venom 32Gb DDR5 @6200MHz
Skill Trident Z5 32GB DDR5 @5600MHz
Skill Trident Z Royal 16GB @4000MHz
Team group Elite 32Gb DDR5 @4800MHz
Corsair DOMINATOR PLATINUM RGB 32Gb DDR5 @6400MHz
ADATA XPG Caster 32 GB DDR5
Best High-end RAM for i7 12700K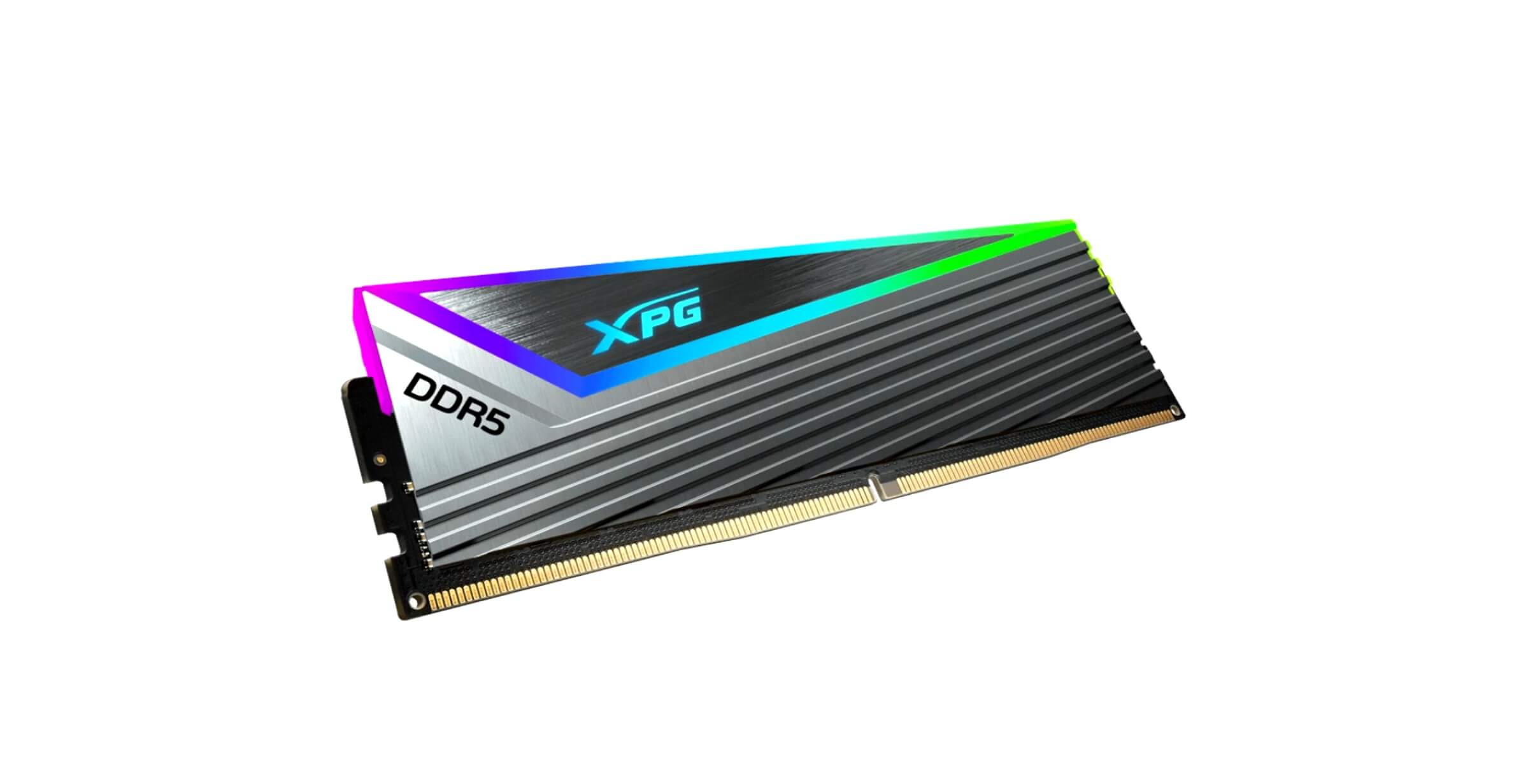 Specification Memory Type: DDR5 | DDR Speed: 7000MHz | Capacity: 32GB | Latency: N/A | RGB: Yes | Supply Voltage: 1.25V, 1.4V
We started hearing about ADATA's next-gen XPG CASTER DDR5 RAM, which is the best high-end RAM for i7 12700K, and the first pick on our list. As we all know, the ADATA XPG series is always making and selling high-quality products. So among their high-end products, we present to you the ADATA XPG Caster 32 GB DDR5.
XPG CASTER DDR5 feature grey metal heat sinks, with good RGB light that will ensure that any gaming PC looks incredibly bright. Due to its great overclocking capabilities, this RAM is ready for a high workload. With the performance speed at 7000 MT / s, the XPG CASTER is a new DDR5 version that is twice as fast as the standard DDR4 DRAM. With faster data transfer rates, users will enjoy a smoother and seamless gaming experience. With the support of Intel XMP 3.0, overclocking is amazing and straightforward, allowing users to avoid complicated BIOS settings and endless overclocking parameters.
With their heat sink, bright RGB triangular light, and straightforward design, the XPG CASTER DRAM series conveys a sense of speed, sophistication, and style of the future.
This RAM fully complies with JEDEC standards and is guaranteed to work 100% with any Z690 DDR5 supported motherboard in the market.
Pros
High Frequency
Top-notch heat sink
Patriot Viper Venom 32Gb DDR5
Best Budget RGB RAM for i7 12700K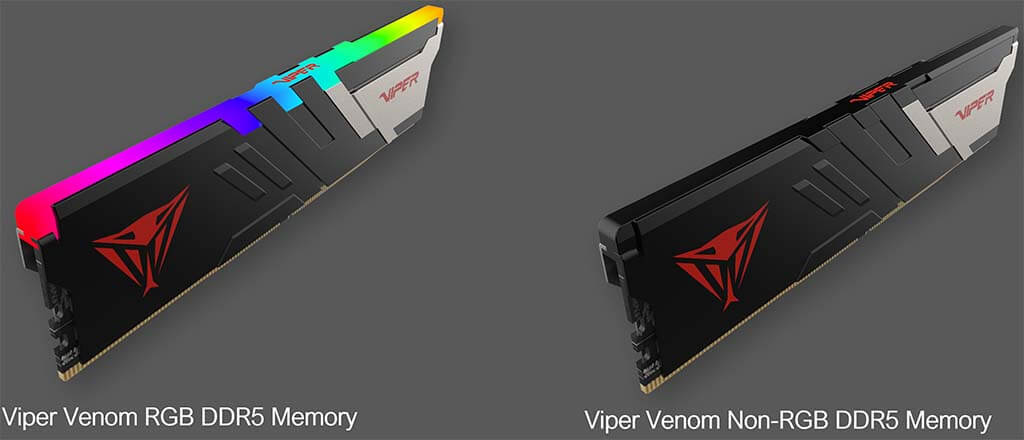 Specification Memory Type: DDR5 | DDR Speed: 6200MHz | Capacity: 32GB | RGB: Yes | Supply Voltage: 1.1 – 1.25 V
The VIPER VENOM DDR5 is customized for enthusiasts and hardcore gamers obsessed with aggressive performance and reliability in budget. This model of Patriot (Viper Venom) memory modules comes with an elegant design with a new look to mutually blend with the LED bar and the heatshield. We would say that your savings in Patriot Viper Venom, which is also the best budget RGB RAM for i7 12700K would change your life in terms of computing efficiency.
Read Our Patriot Viper Full Review.
Patriot Viper Venom 32Gb DDR5 is available in the packages of two, with non-RGB and RGB models. The function of on-chip ECC is a sign for correction of the error to improve the integrity of data and enhance stability and performance.
All modules are prepared with an aggressively designed cooling heat spreader. In this situation, users will be enabled to choose between adjustments with multicolor backlighting. So, if you are looking for an overall good value for money memory kit, then you can go for it
Pros
Comes with multiple frequencies to choose from
Affordable
Aggressive Design
Cons
No as such issues with the RAM
G.Skill Trident Z5 32GB DDR5
Best Performance RAM for i7 12700K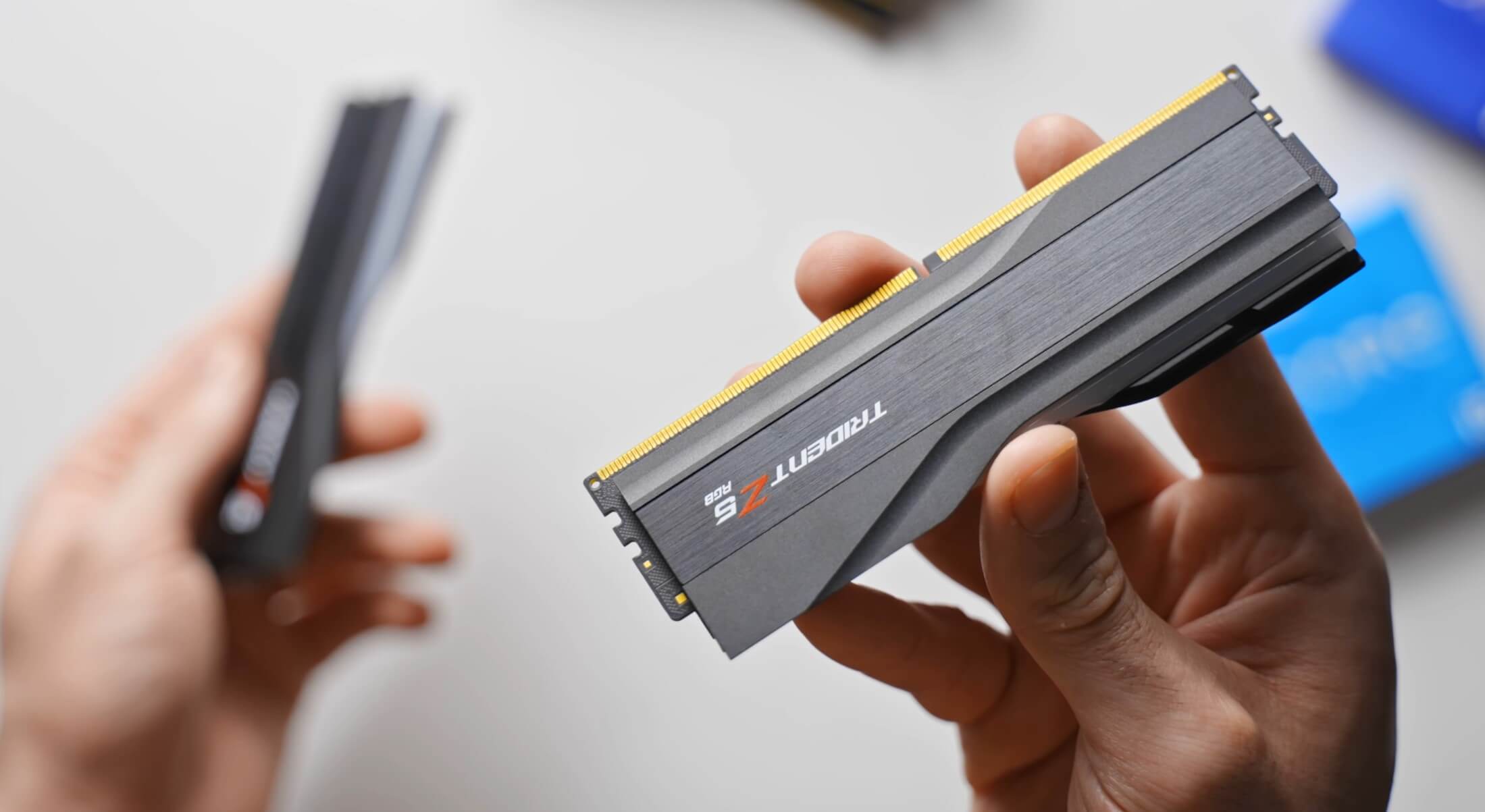 Specification Memory Type: DDR5 | DDR Speed: 5600 MHz | Capacity: 32GB | RGB: Yes | Latency: CL36-36-36-76 | Supply Voltage: 1.35 V
The Trident Z5 RGB brings unprecedented levels of performance to DDR5 memory modules, allowing faster speeds and lower latency. The Trident Z5 RGB features hand-screened ICs specially selected by G.Skill engineers based on their high-quality construction for high overclocking performance, reliability, and compatibility with 12th gen Alder Lake CPUs, which includes the Core i7-12700K. The design of this RAM is a building design of a bit bulky and the heatsinks extend from the top that can make the hassle to install these with some dual-fan design CPU cooler.
The internal dual-channel volume and the higher speeds make these modules the development we anticipated, and these are only the first units. The development will start from this powerful base. The G.Skill Trident Z5 performs perfectly, with good overclocking capabilities, at least in early units, reduced working temperatures, and combines seamlessly with new generations of Intel processors to achieve truly remarkable performances.
G.Skill has managed to bring the Trident Z5 RGB clocking in at an impressive 5600MHz with CL36-36-36-76 latency and working on Intel's latest Z690 chipset architecture, which features native support for DDR5 memory (with Alder Lake CPUs). The XMP 3.0 support allows for an easy setup and automatic overclocking.
Related: Best RAM For i9 12900K
G.Skill's Trident Z5 DDR5 series has established a nice advancement over its Trident Z series predecessors based on the DDR4 norm. With DDR5, G.Skill has carried higher performance & faster transfer speeds, that in return, provide nice gains in applications and gaming. When coming to the Cooling performance of this i7 12700k RAM, the Trident Z5 RGB features a dual-heatsink design to ensure optimal thermal dissipation that consists of a metal heat spreader and a translucent RGB light bar – a new all-in-one LED light bar that can be controlled alongside third-party software for a fully customizable lighting experience. The new model of these kits of Samsung's new DDR5 memory chips is based and with latencies of either CL36 or CL40 and range in speed from a range of DDR5-5600 to DDR5-6400.
The memory also features sufficient clearance for overclocking. Though with its 1.35V stock XMP voltage, the DIMMs can be pushed to +400 Mbps with ease which makes Trident Z5 the best performance RAM for i7 12700K. The clear return is minimal over the JEDEC 4800 Mbps speed, but you can play around and get even better overclocks. The overall look of the Trident Z5 series is also futuristic, and the theme reminds us of the Normandy SR2 from Mass Effect.
It looks great in silver, and users have the option to get them in black color too with or without RGB. The aluminum heat spreader has been forged to deliver great looks and also great cooling. The main difficulty in the system is the higher CAS latency due to the CL36 timings, which still isn't close to what DDR4 was able to offer. While the raw bandwidth speeds have gone drastically up, there is a small number of applications that still depend upon tighter timings, especially the 0.1 & 0.01% low in games that can see a slight improvement.
Pros
Great Overclocking Potential
Aesthetic
Cons
Availability
Higher CAS latency
G.Skill Trident Z Royal 16GB DDR4
Best Value For Money i7 12700k RAM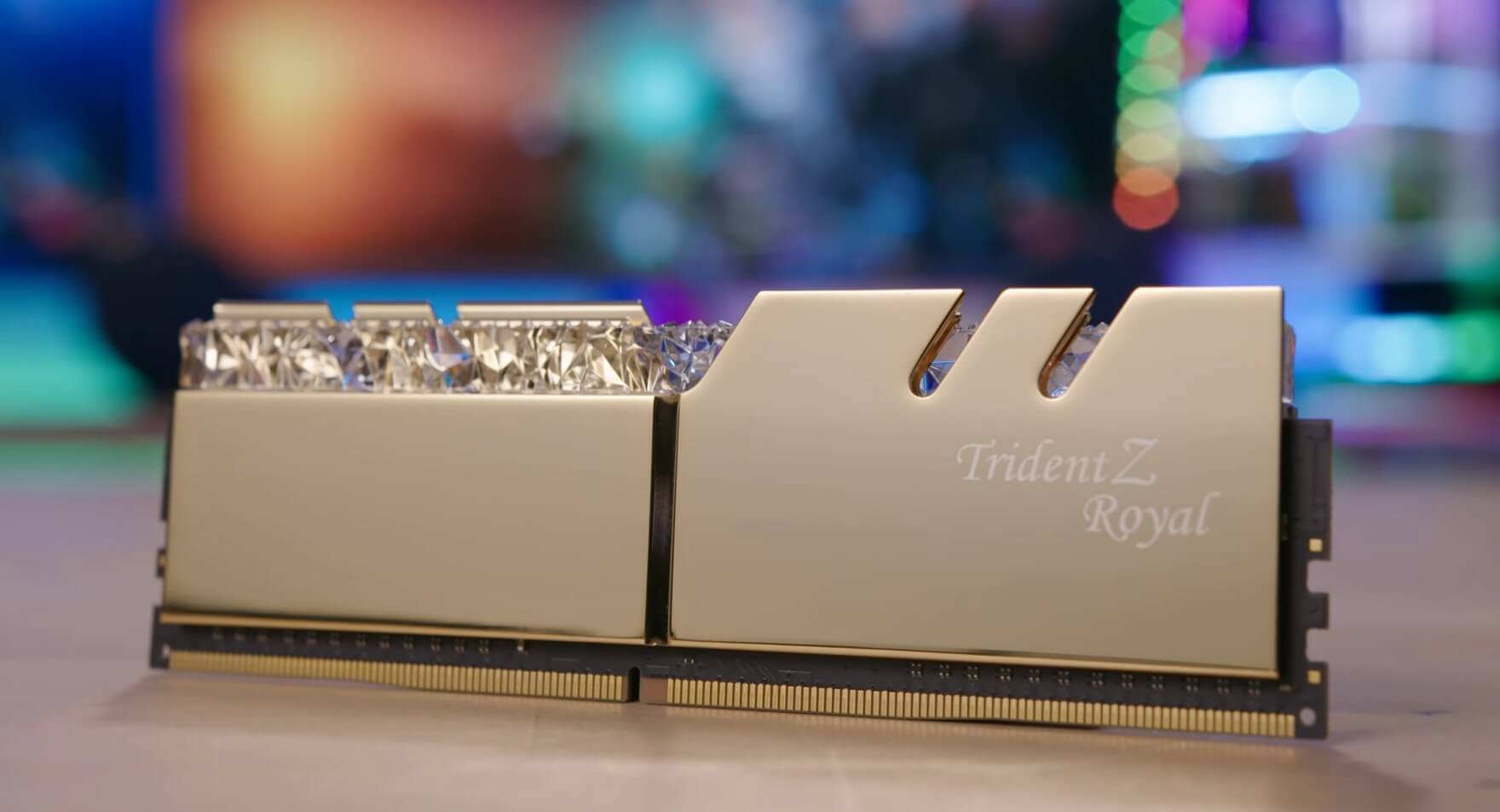 Specification Memory Type: DDR4 | DDR Speed: 4000 MHz | Capacity: 16GB | Latency: 15-16-16-36 | RGB: Yes | Supply Voltage: 1.4 V
The first and foremost reason for including this in our hand-picked selection is that G.Skill has hand-selected the components of the RAM, which are rigorously tested before assembling them. This is what gives G.Skill its famous name in the industry since there is one of the best RGB DDR4 RAM i.e. Trident Z Royal DDR4.
G.Skill was kind enough to satisfy us that the performance of the RAM we are discussing is now the best successor to the Trident Z RGB DDR4 RAM kit. When coming to the performance of this G.skill module, it stacks up to other memory kits that we have tested and determined that the design and price make up for the non-budget friendly of this particular series of Royal.
The heat spreader of G.Skill Trident Z Royal 32Gb (2x16Gb) is also made up of polished aluminum, which has an amazing shine that is further topped by a crystalline light bar which is quite rare to see in other RAM designs out there. The modules view to be shown off in a glass-paneled case and look a bit premium with their stunning mirror-like gold or silver finish.
Over the modules, there are glistening glassy light bars with the mandatory RGB goodness, and the colors are especially bright and vibrant. Some might even say it's too bright. You will be cross-eyed if you glance at them in a darkened room. While 4,000MHZ is not all that exceptional, and the fact that they run with straight 17's for timings is not unheard of either.
Voltage is standard for speed, and it never harms to be assisted by a lifetime guarantee. Though, when you go to G.Skill to hunt for this kit, it is not available in quantities just yet but we remained told that it should be soon, though. The new module is stylish to the point of excess and may leave customers wanting it on a shelf rather than in their system. G.SKILL is still committed to providing top-notch performance with their kits, and this one is no exception.
Game applications generally do not see significant benefits with variable memory of different kits, but DDR4 has enabled momentous gains in memory frequencies that may affect game performance. Moving from stock with the range 2600-4000 MHz can have a small impact on the working performance, and improved CAS times for some high-end SKUs can result in better overall system response and FPS. The benefits of playing if you use fast RAM, however, are relevant to each game. Some see benefits while others do not. If you are interested in very high FPS, you will want to add faster RAM to your system. Otherwise, you may leave some worthy parts on the table.
The G.Skill Trident Z Royal RAM kit moves some mind-blowing details. The new Trident Z Royal modules with Samsung featured based are some of the fastest memory kits that can go up to 4000 MHz. G.Skill has also proven that it can create some excellent memory modules for PC players and production enthusiasts. The Trident Z was already an excellent design but taking that as the basis for Trident Z Royal, G.Skill made an amazing design that offers more than just a visual display. So we got a 4,000 MHz RAM kit, tested it on the Z390 high-end motherboard without any problems.
We even reached over to the impressive 4400 MHz kits with solid CL16 times while sitting within the JEDEC 1.5V range, and the test set sounded very responsive. Our Verdict: G.Skill Trident Z Royal is the Best Value Ram for i7 12700k In 2023.
Pros
Top-notch performance
Solid heatsink
Impressive performance in gaming
Teamgroup Elite 32Gb DDR5
Best Cheap RAM for i7 12700K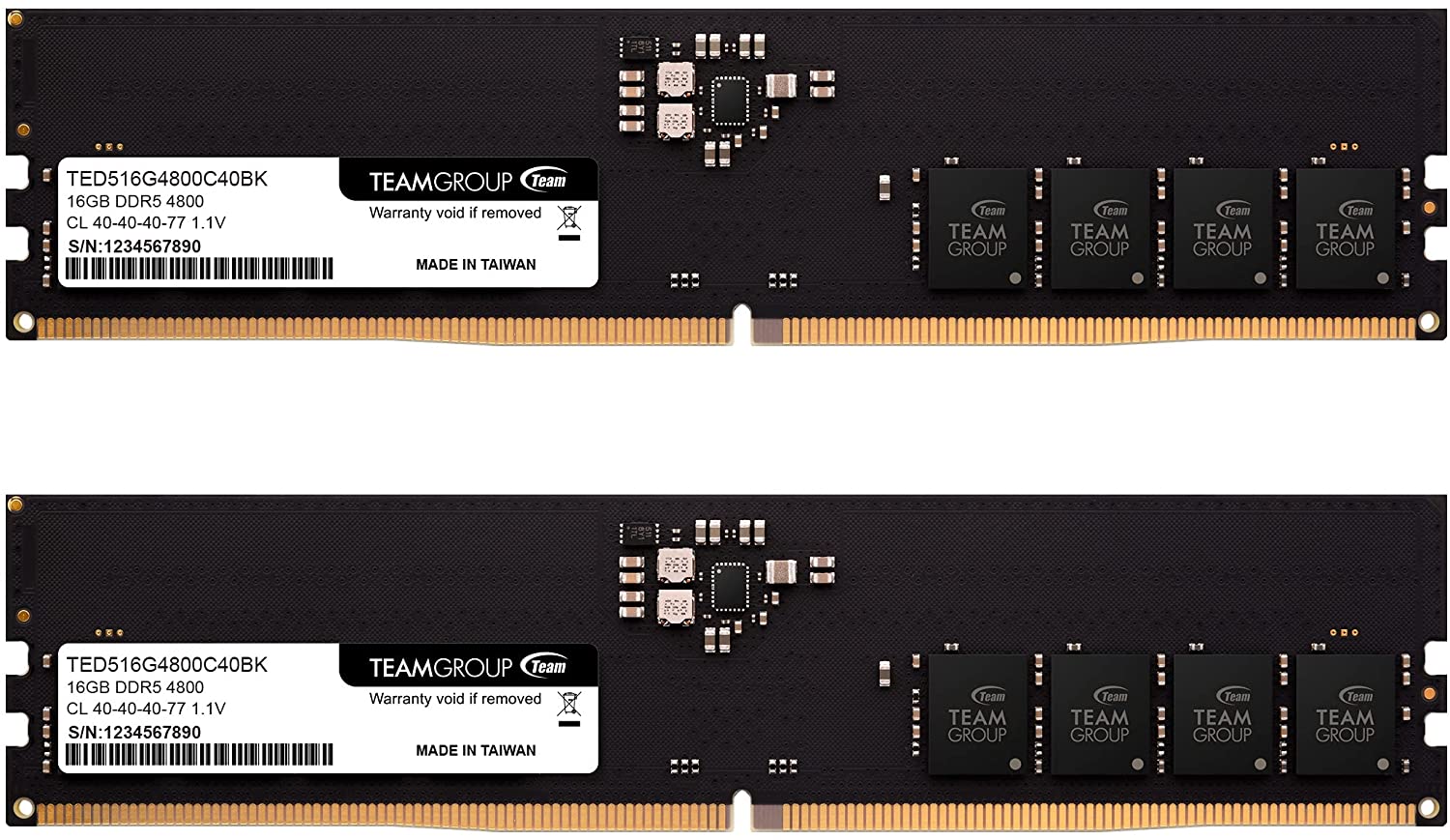 Specification Memory Type: DDR5 | DDR Speed: 4800 MHz | Capacity: 32GB | Latency: CL40-40-40-77| RGB: No | Supply Voltage: 1.1 V
A high-end RAM would let the user to access bigger data as rapidly as possible, so no lags occur during his immense PC game or everyday multitasking. TeamGroup recently announced its first DDR5 DRAM product – coming in the shape of a 32GB memory module that would operate at 4800MHz. We have selected Teamgroup Elite module as the best non-RGB RAM for i7 12700K due to the premium build quality and top-notch performance it promises.
Everybody in the tech niche was keenly hoping for TEAMGROUP's first DDR5 RAM to be an unsettled product, and it did not dishearten us. It lacks any eccentric RGB lights, so it is not as beautiful as any other top RAM for i7-12700k, but we do not ponder this is a problem for all PC users. Many of us praised the jet-black scheme of this module. The new module would become a part of the top-selling ELITE memory product line and would showcase improved architecture that would offer double the performance of DDR4 alternatives.
TeamGroup plans to release a 32GB 4800MHz module that operates at 1.1V – an improvement over the 1.2V DDR4 predecessor. Data transfer rates of 4800-5200 Mbps can be expected, translating to a 1.6 times increase in performance – all while reducing power consumption by 10%. The first stage to support these new DDR5 RAM modules will be Intel's 12th generation Alder Lake-S PC processors, which will be paired with new 600-Series chipset motherboards.
Teamgroup Elite has a capacity of 32Gb memory kit that comes in a budget, but there is a condition to expect as it is hardware that bleeds, after all. In addition, semiconductors of global shortages have had an impact on memory rates. In terms of price, the TeamGroup memory kit is in the same classifications as another high-end DDR4-4000 capacity of 32GB memory kits on the market. But if you want to start switching the next-gen build at the moment, it is your option according to your desire.
We would praise the company of a heat diffuser which would have been of great help. However, you have to chew the bullet and accept the lack of a heat spreader to appreciate the overall compensations of this i7 12700k RAM module. The high-end performance this cutting-edge hardware offers is beyond admirable. The DDR5 exhibits high rates of data, and the early released modules exhibit very bad RAM timings. The condition will be the same to be seen whether DDR5 memory can hang with the best i7 12700k RAM on the market but then would still believe the first kits to be far from the best.
Pros
Amazing built quality
Affordable in DDR5 category
Corsair DOMINATOR PLATINUM RGB 32Gb DDR5
Best Ram for i7 12700k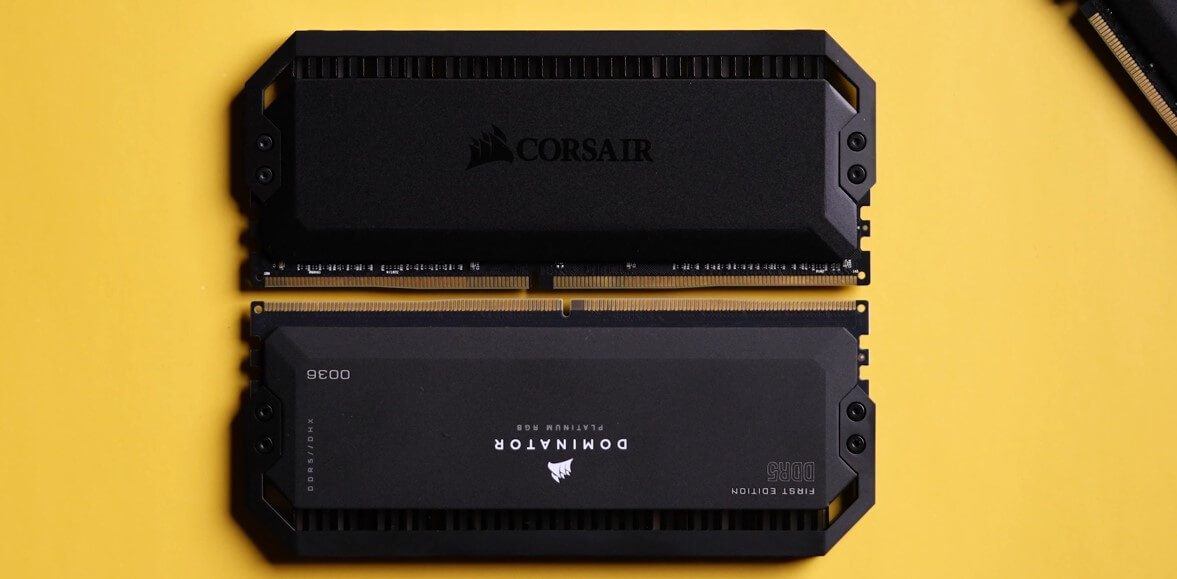 Specification Memory Type: DDR5 | DDR Speed: 6400 MHz | Capacity: 32GB | Latency: 38-40-40-78| RGB: Yes | Supply Voltage: 1.25 V
The Corsair Dominator Platinum RGB DDR5-6400 is one of the few high-end products capable enough that we, as tech experts, can mention in the page of unmatched best RAM for i7 12700K. Corsair Dominator Platinum RGB has some noticeable Intel XMP support that intensely advances multitasking and gaming involvement. However, if your PC theme is mainly white, you may go with this kit since the Corsair Dominator Platinum RGB comes in white color.
Like other DDR5 RAM we've revised so far, Corsair's Dominator Platinum RGB 32GB kit has a sole row of tiers on one side of the kit. The aluminum heatsinks are enormous, but only touch 56mm in elevation, which should be fine with most PC coolers and the average PC cases. This is the finest product especially once stripped. Each RAM module comes with a total of 12 Capellix lights placed in a loop outline. The numbers two and two are hidden behind each shape, while the fourth and third are hidden under the Dominator emblem.
In terms of sizes, Corsair's Capellix lights are far thinner than standard RGB LEDs that we can find in other varieties. DOMINATOR PLATINUM RGB DDR5 high-performance memory reaching frequencies up to a blistering 6,400 MHz. Available in kits of 2x16GB, DOMINATOR PLATINUM RGB 6,200 MHz and 6,400 MHz hit a new milestone with these extraordinary speeds, and are now more customizable than ever thanks to the new XMP Manager in CORSAIR iCUE software.
As a consequence, it will look pretty with your white scheme. Corsair is a famed brand that no PC gamer is unaware of and needs the hardware piece it produces. The company's dominator roster is already an achiever in the tech world, and it is still dominating the users' prime award lists. This Best RAM For i7 12700k here is the same lineup's inheritor and is even better than the previous descendants of the team. Uncertainly you are up for a DDR5 memory kit, nothing performs as fervently as this one does.
Corsair's Dominator RGB RAM unit is a high-performance component that can be altered using the company's iCUE tool. iCUE is a customization package produced by Corsair that is mainly used to alter Corsair peripherals like keyboards, mice, and memory kits. On top of that, there are extra performance-boosting possibilities available, such as changing the RAM frequency or using XMP.
The higher latency and faster speeds are an even match for the lower latency and slower speeds of DDR4, which means we're only going to see a marginal upgrade (until we see generational improvements from manufacturers). We tested this RAM kit alongside other DDR5 modules with a 12th Gen Intel Core i5-12600K and MSI MPG Z690 Carbon WiFi. With the DDR5 generation, overclocking enthusiasts are smashing previous speed limits with the help of CORSAIR modules. In November, overclocker David Miller, aka mllrkllr88, set a new record level of speed for CORSAIR DDR5 memory by reaching a speed of 8,149 MT/s when cooled with liquid nitrogen.
Related: Best Ram For i5-12600k
DOMINATOR PLATINUM RGB DDR5 is designed with a bold, refined aesthetic to complement its world-class performance, illuminated by individually 12 ultra-bright addressable CAPELLIX LEDs per module and expertly constructed with beautiful forged aluminum. Its patented DHX cooling design ensures that performance is not held back even at frequencies of 6,400 MHz. As with all CORSAIR memory, DOMINATOR PLATINUM RGB is backed by a limited lifetime warranty.
Pros
Elegant design
High frequency
Things You Must Know While Buying Ram For i7 12700k
You can get advantage from Intel Core i7 12700k coupled with the best i7 12700k RAM. A good memory kit provides better performance and overclocking potential to push the speed up to its maximum size and maximum speed. Therefore, consider these factors before you buy RAM.
Generation of RAM
As hardware standards fluctuate, one should not cling to older DDR models, and the PC user should have a memory supported by motherboard (some Z690 motherboards support DDR4, while some DDR5). DDR4 is still acceptable in some cases, but DDR5 is a new standard packed with high numbers.
Heatsink
Heatsinks are elements that create an efficient way of heating to be transmitted to the air and away from electrical objects or parts. Heatsinks may sound unnecessary in RAM, and many blogs out there can contradict that. However, if you use your computer for long hours and always with high processing speed and power, you will notice that your computer's RAM space is very hot.
When a computer system performs multiple tasks, carries heavy loads, or a player plays AAA games, the chances of it getting hot increase. That affects not only computer performance but also its health. So you have to keep the desktop temperature, for that purpose you need a solid cooling system. Heat dispensers and heat sinks in RAM are used for cooling and are made of aluminium to provide better heat dissipation. Therefore, if your RAM does not have the right heatsink, you may end up damaging your computer, and it may cost you more if you take it for repair. So, keep your eyes open for heatsink-related specifications.
RAM Timing
RAM timing usually measured as a series of numbers such as 7-8-7-24, indicating RAM delay. These numbers inform the reader of the number of clock cycles per second taken by RAM to access certain types of data. Therefore, when the response time becomes shorter, your RAM will work faster as per the record.
The clock cycle shows the delay and timing of your RAM. It is something that does not require extra money or investment. Built-in versions such as 16.16.16 or CL16 (16-18-18-38) are considered good latency. That means you should choose RAM with the lowest latency possible. Responsive RAMs have lower latency than most looked-for competitors.
Capacity
Normally the use of 8GB does not meet the needs of the enthusiastic user, but its good for medium users with moderate needs. 16GB is a good option for most people with gaming rigs, though 32GB is recommended by us if you are getting such powerful processor incase you want to use it for editing work in long run, also the price difference is not much these days between 16Gb and 32Gb kits.
Frequency of RAM
While buying Ram for i7 12700k – remember speed, it is the opposite of the delay. RAM performance increases when the level is high enough. Faster RAM than competitors allows the player to unlock the game and become the owner of the playground. High speed improves the overall performance of any PC user. Not all games offer that easily, but in-game performance improves in most cases.
RAM is one of the greatest vital things to consider if you want a good computer to consider the frequency of RAM. RAM frequency is a measure of the speed of a clock. You can usually find this number next to its name in the memory type. For example, DDR4-2400 has a frequency of 2400 MHz. You may be doubting why we want to look at RAM Frequency in the first place.
However, the frequency of RAM indicates how much data can be processed and processed by your RAM per second. Therefore, we would suggest that if you need a computer that works well, and then with RAM, within your range, it has a high RAM frequency. The ideal RAM frequency for DDR4 is 3200MHz, and for DDR5, the ideal frequency is 6000MHz+.
Form Factor
The RAM size shows a few parameters to check compatibility, i.e., form factor and pin configuration. Most sockets only allow some specific form factors of which means you cannot simply insert any product into your computer. When looking at the type of RAM, you need to be very careful as its speed and capacity would not matter if the stick did not enter the system. The RAM form should be the same as the motherboard you own.
Facts to know about DDR5 RAM
Having short on facts, curious people often ask the question of what makes DDR5 RAM different from other RAMs on the market. Is it worth spending that much money on DDR5 RAM? DDR5 RAM has set an original set of memory modules for consumer PCs, especially for Alder Lake Core processors. Its increased capacity of 64 GB per module allows this DDR5 RAM to have a fourfold boost compared to its predecessor DDR4 RAM. This is not all. DDR5 RAM provides you with an advanced data level that enables you to deliver high performance on integrated image processors.
We can say that DDR5 RAM has opened new doors for our future of high-end technology, which works very well with other components of this time. Another thing that may be of interest to tech lovers is that the construction of the DDR5 RAM channel has changed compared to the DDR4 RAM structure.
The big difference is that each DIMM is now upgraded from one channel to two channels allowing RAM to have more power to do multiple things. An integrated power management circuit located directly on the RAM unit controls the circuit. Traditionally, power management is done by the motherboard. This positive change is a step towards sustainable development as it saves energy and electricity from waste.
Not only does Alder Lake-S provides DDR5 support, but it will also be the first consumer PC platform with PCIe 5.0 support. Speaking of the competitor 'AMD', its next-generation Zen4-based Ryzen CPUs are also likely to accept DDR5 memory tech. However, they supposedly will not come – at least not primarily – with support for PCIe 5.0. We don't know how much of an interruption this will be to AMD.
Though, given that PCIe 4.0 is only just now hitting its pace with current-generation graphics cards and SSDs with plenty of additional headroom left.
In addition, DDR4 RAM has a 72-bit data channel while DDR5 RAM uses a 40-bit data channel which gives the user high efficiency in terms of memory usage and low latency. Another difference lies in the mortality of both DDR4 and DDR5 RAM. DDR4 RAM has a death capacity of 16 Gb while DDR5 RAM has a power of 64 Gb which allows DDR5 RAM to have high DIMM capacity.
In addition, DDR4 RAM has 1 channel per DIMM while in the new DDR5 RAM, providing the user with 2 channels per DIMM makes processing smooth. This supports a higher volume of DRAM in DDR5 RAM compared to DDR4 RAM.
How We Chose The Best Ram For Core i7-12700k
Whenever you buy a computer for anything from play to content creation, you are always looking for in-depth details. Precisely, you usually look at how much RAM the computer has selected. But, the real question is, how can we choose the best RAM for i7 12700k for your computer. Well, the first and most important thing you should do is do a little research and be sure you have started this step, so you are reading this article. The next thing you should check is which RAM manufacturer is providing compatibility with your processor and motherboard.
You do not need to be worry if you cannot get the right pitch, so invest in a good RAM for your Core i7-12700K. You may be wondering now why we should return to that particular company? However, to be honest, the company of the RAM determines the design of your PC theme and the longevity of the product under stressed usage. Lastly, try to buy RAM that is fully compatible with your processor and motherboard.
Final Thoughts And Summary
The i7 12700k is one of the efficient 12th generation Intel Core processors (Alder Lake-S), which will interest players and enthusiasts. It comes with 12 full core numbers and 20 threads and the maximum turbo frequency is 5.00GHz. Intel i7 12700k coupled with best ram will offer great performance in all the current ongoing latest games.
DDR5 memory has set a new standard for memory units on consumer PCs, especially for Alder Lake CPUs. With its increased capacity of 64GB per unit, this RAM interface to have a four times surge compared to its predecessor DDR4 RAM.
This does not finish here. DDR5 RAM offers you an increased data proportion which allows you to excerpt high performance from iGPUs. We can claim that DDR5 RAM has unbolted some new binds to our high-tech, high-performing future.
RAM temporarily stores data to access it without any problem or interruption during hard work. And the powerful RAM in that will be able to adequately handle the needs of a modern computer, whether you are a game developer or a web developer.
Back then when computer games were not fashionable and doing a lot of things was not a thing, people used to do well with a small amount and soft quality of RAM, but now the usage is very different. PC games are a fascination, and content creation and multitasking are a big responsibility.
So the central RAM would not be able to survive this pressure and load, a system that would do so due to the specified functions. That is why we have written down the products, each with the best RAM of the i7-12700k. Now your job is to choose the one that best suits you to the type of user you are and that matches the parts of your machine. Among all these RAMs with modern features, good looks, low latency, and high-quality features choose the one that seems right for you.
We may end up with DDR6 and DDR7 RAM in the market at an affordable price within a year. However, if we talk about what you are trending these days. After that, we can say for sure that DDR4 and DDR5 would be the best choice for you guys.
Frequently Asked Questions
Which RAM should you get for Core i7-12700K?
To get a high-end processor like the i7 12700K, one has to choose RAM that can carry the high-end performance that this processor brings. Choosing a DDR5 module that can support high-performance levels the provision of i7 12700K would be better. And within the DDR5 memory kit, the ADATA XPG Caster 32 GB DDR5 came out the best DDR5 ram for Intel Z690 platform.
What is the difference between DDR5 and DDR4?
Now let us help you by comparing DDR4 RAM with DDR5 RAM. DDR4 RAM has a data rate of 1.6 to 3.2 Gbps and a clock rate of 0.8 to 1.6 GHz. While in DDR5 RAM, the data rate increased from 4.8 to 8.4 Gbps and the clock speed increased significantly from 1.6 to 4.8 GHz. This allows DDR5 RAM to have higher bandwidth. Speaking of power consumption, DDR4 RAM used to cost 1.2 V while DDR5 RAM now consumes 1.1 V. To the average reader this change may seem very important, but if you use it for a long time, you will realize that this low power consumption saves you money.
Which motherboard support DDR5 RAM?
As of now DDR5 ram is only compatible with Intel Z690 chipset for 12th generation Alder Lake processors, though AMD will also launch new Zen4 platform with support of new DDR5 standard later this year.
Was our article helpful? 👨‍💻
Thank you! Please share your positive feedback. 🔋
How could we improve this post? Please Help us. 😔