The Ryzen 9 3900x, as we as a whole know it, is one of AMD's most noteworthy third-gen Ryzen chipsets. Featuring 24 threads and 12 cores count, the 3900x is an ideal processor for weighty responsibilities like gaming, delivering, rendering, and video altering. The Ryzen 9 3900x is a powerful processor that gives its best when matched with a high-performance graphics card. Nonetheless, a typical error made by both beginner and experienced manufacturers is that they overlook the need of purchasing an appropriate Ryzen 9 3900x motherboard. Before additional leaping to the conversation of Best Motherboard For Ryzen 9 3900x, how about we review all the supported motherboards, like the X570, X470, and B450.
The motherboard is the base building block of any PC build. Buying a motherboard that ticks all your requirements should be one of your priorities while building a PC. The Ryzen CPUs are all built on the Zen architecture and only go into an AM4 socket. This means that all X570, B550, X470, and B450 motherboards support Ryzen 9 3900x out of the box. That's a lot of options, and it is very easy to lose track and end up buying a board that does not comply with your needs. We recently tested Ryzen 7 3700x Motherboards as well, that are particularly similar to Ryzen 9, thus check them out if you are into mid-range motherboards.
Best Motherboard For Ryzen 9 3900x: Our Recommendations
Like any other PC component, it is important for you to complete your research before picking out a motherboard for Ryzen 9 3900x. There are several aspects to consider when buying a motherboard, these include the type of chipset, form factor, VRM, storage, PCIe 4.0 support, and so on.
To make life a bit easier for you, we have reviewed a list of the 6 best motherboards for Ryzen 9 3900x In 2022. While reviewing the Ryzen 9 3900x Motherboards, we also adjusted the pros and cons of each motherboard to help you make an informed decision altogether.
ASUS ROG X570 Crosshair VIII Formula
Best Overclocking Motherboard For Ryzen 9 3900x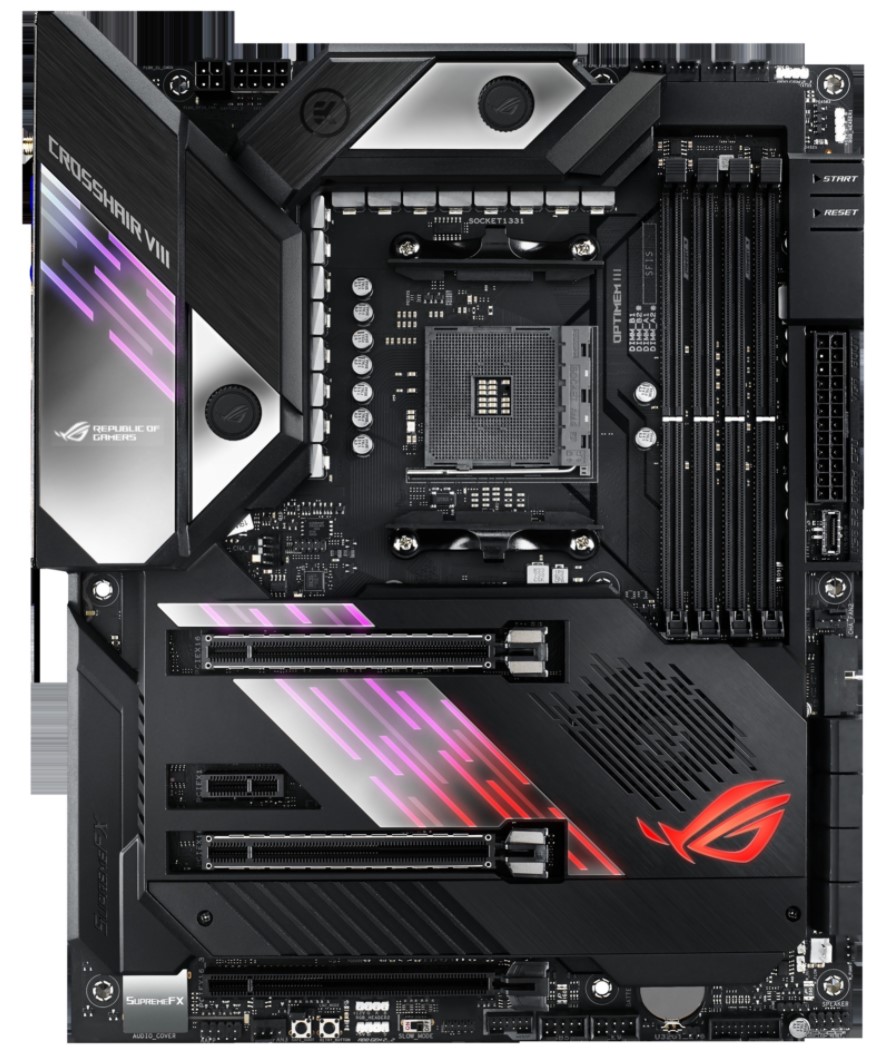 Specs="Chipset: X570 | Memory: 4x DIMM, 128GB, DDR4-5100 | Video Outputs: None | USB Ports: 12x rear IO, 9x internal | Network: 1x 5 GbE LAN, 1x Wi-Fi 6E | Storage: 2x M.2, 8x SATA"]
The top entry on our list of best motherboards for Ryzen 9 3900x is the one and only Asus ROG X570 Crosshair VIII Formula. It is a flagship Asus ROG board, so it naturally falls in the higher-end market category. It is host to a monster VRM solution with massive EKWB heatsinks that provide immense overclocking capabilities to the user.
When you're paying this much for a motherboard, you expect it to have beautiful aesthetics and top-notch build quality. Such is the case with the Crosshair VIII Formula, which has a very premium feel to it. It features a black PCB with shiny silver heatsinks that give a very subtle look. The design is further accentuated by intelligently placed RGB LEDs striking across the rear I/O cover and heatsinks. The famous ROG emblem is also engraved on the chipset heatsink.
The 16-phase VRM on the Formula is what feeds the components with processed power from the power supply. 14 phases are responsible to provide the CPU with the required voltage, whereas the remaining 2 phases are for the rest of the components. Two mighty EKWB heatsinks surround the power circuitry and keep them cool. The chipset is also covered by an active cooling heatsink. Another interesting feature is the LiveDash OLED which aids while diagnosing potential problems. With the Crosshair VIII Formula, you can push the 3900x (or any Ryzen series chipset for that matter) to its limit. The thermal design of this motherboard is any overclocker's dream.
As for the memory, you are provided with four DIMM slots that can channel 128GB RAM at 5100MHz. Three M.2 slots is what you'd expect from a motherboard of this league but sadly, there are only two PCIe 4.0 x4 slots. In addition, there are eight SATA3 ports for SATA-based drives. Two PCIe 4.0 x16 Asus SafeSlots are included which are fed by the CPU. The third PCIe 4.0 x16 and the PCIe 4.0 x1 slots are fed by the X570 chipset. The M.2 slots are placed at the bottom under the chipset fan, with both slots side by side.
The I/O panel on this Ryzen 9 3900x motherboard is the best one on this list. It offers four USB 3.2 Gen1 ports and eight USB 3.2 Gen2 ports including one Type-C. In addition, there are two LAN ports, one of which is the lightning-fast 5G port. Wi-Fi 6 connectivity is also available which makes use of the AX200 adapter capable of reaching a whopping 2400Mbps speed. Clear CMOS and BIOS flashback buttons are also given. The audio codec producing audio through the 5 gold plated audio jacks, is the standard SupremeFX S1220.
To sum up, the Asus ROG X570 Crosshair VIII formula offers extreme level performance with an outstanding cooling solution. That being said, the Formula is undoubtedly the best overclocking motherboard for Ryzen 9 3900x, although it's a bit too pricey for some.
Pros
Top Of The Line Power Delivery
High Memory Compatibility
Lots Of USB Ports
5 Gigabit LAN
GIGABYTE X570 Aorus Master
Best Motherboard For Ryzen 9 3900x In 2022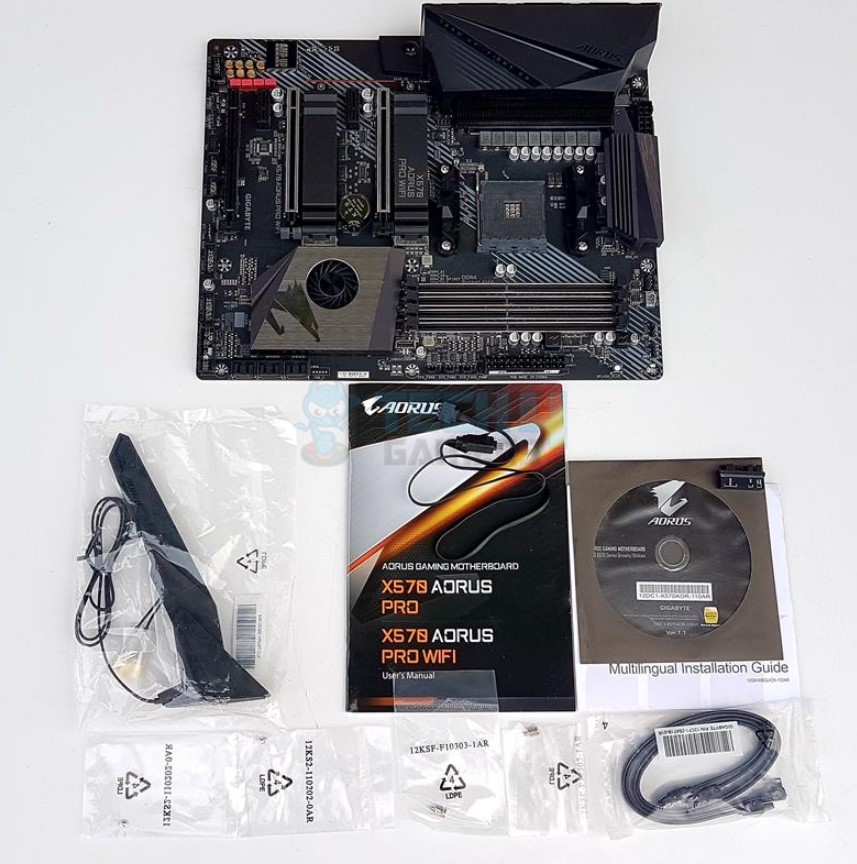 Specs="Chipset: X570 | Memory: 4x DIMM, 128GB, DDR4-4400 | Video Outputs: None | USB Ports: 8x rear IO, 9x internal | Network: 1x 2.5 GbE LAN, 1x Wi-Fi 6 | Storage: 3x M.2, 6x SATA"]
The second spot on our list is claimed by the infamous Gigabyte X570 Aorus Master motherboard. The X570 Aorus Master features impressive aesthetics, and Gigabyte has packed it with a boatload of features to make it a worthy investment.
Speaking of aesthetics, the Gigabyte X570 Aorus Master sure is one stylish-looking motherboard. We see a prominent black and gray theme, with RGB elements across the board. The Aorus branding is visible on the chipset heatsink. Strips of RGB LEDs can be found on the VRMs, the rear I/O cover, and near the audio trace. Four LED headers and seven fan headers enable you to put on a serious light show. Both external and onboard lighting can be configured using the RGB Fusion 2.0 software.
Read GIGABYTE X570 Full Review.
The power to the Aorus Master is fed by a 14-phase Infineon VRM featuring a 12+2 configuration. The VRM is complemented by a state-of-the-art heatsink design. A stacked-fin heat pipe and a thermal base plate ensure effective heat dissipation. The chipset fan itself is quite stealthy and efficient in its operation. Thanks to its solid VRM, the Aorus Master deals with subsequent overclocking like a charm. It is an excellent choice for those who are going to frequently overclock their Ryzen 9 3900x.
Coming to the memory and storage, the Aorus Master has plenty to offer. There are four dual-channel DIMM slots capable of holding 128GB of DDR4 memory. You get three M.2 connectors supportive of PCIe Gen 4 technology, along with 6 SATA3 6GB/s ports. The provision of 8 SATA ports is generally the standard at this price point, but six do just as well. As for the expansion slots, you get 3 PCIe 4.0 x16 slots and 1 PCIe 4.0 x1 slot. The slots are secured with steel armor to provide retention to the cards. Unfortunately, using the third M.2 slot disables two of the SATA ports. On the brighter side, all the M.2 slots and the three PCIe x16 slots can be used simultaneously. To Summarize the ASUS ROG X570, It is the Best Overclocking Motherboard For Ryzen 9 3900x.
The I/O panel houses 10 USB ports, 4 of which are the latest and greatest USB 3.2 Gen2 ports. Apart from that, there are 2 USB 3.2 Gen1 ports and four USB 2.0 ports. Gigabyte has hooked this Best Ryzen 9 3900x motherboard up with a 2.5GbE Ethernet controller and Intel Wi-Fi 6.0 technology. Both of these features are exclusive to some of the most premium motherboards out there, including this one. An optical S/PDIF out port along with five audio jacks are also provided. The audio is produced by Realtek's ALC1220 codec, as expected from a motherboard of this league.
In short, the Gigabyte X570 Aorus Master has a nice feature set and offers excellent value-for-money. If the Crosshair VIII Formula is out of your budget, then the Aorus Master would be your next best alternative. Its adept performance in all departments makes it the best overall motherboard for Ryzen 9 3900x.
Pros
Incredible Power Delivery

Lots of Connectivity

Versatile Networking Options

5 Gigabit LAN
Cons
Great Aesthetics for an X570 Motherboard
ASRock X570 Gaming Phantom X
Best RGB Motherboard For Ryzen 9 3900x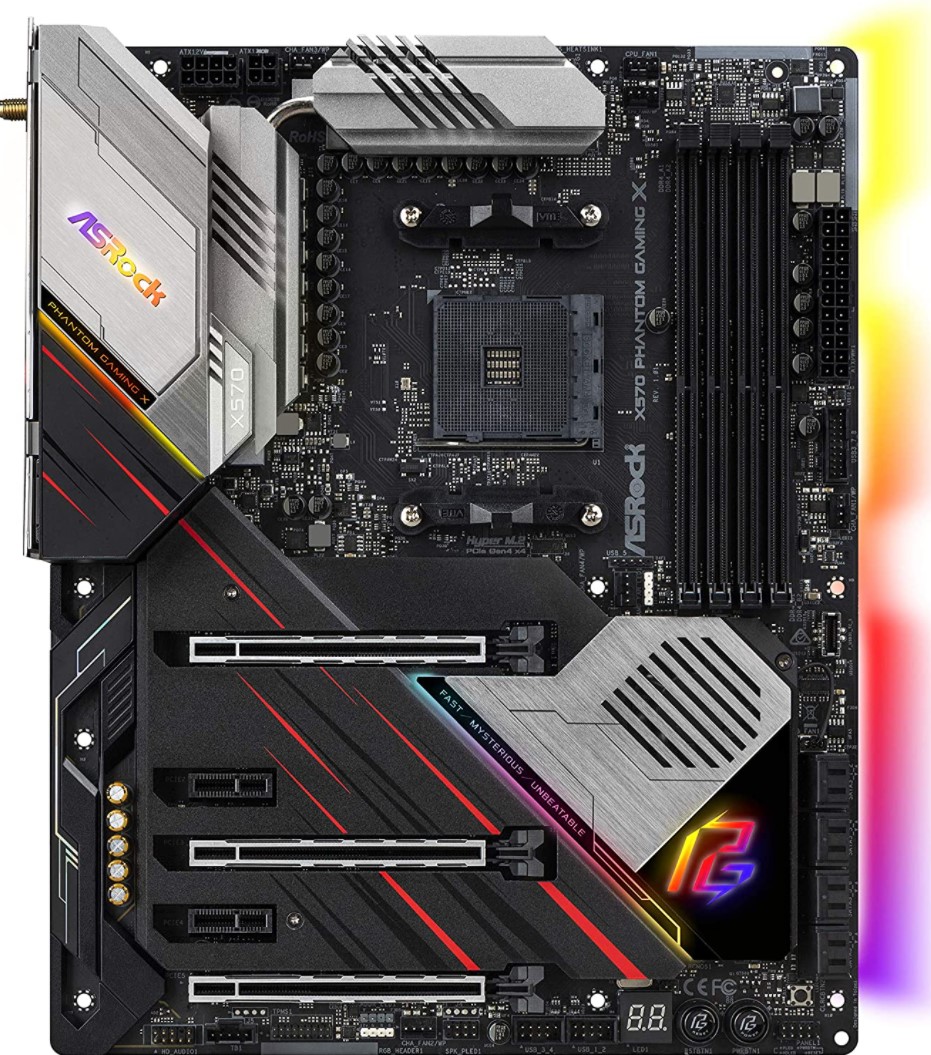 Specs="Chipset: X570 | Memory: 4x DIMM, 128GB, DDR4-4666 | Video Outputs: HDMI | USB Ports: 8x rear IO, 6x internal | Network: 1x 2.5 GbE LAN, 1x Wi-Fi 6E | Storage: 3x M.2, 8x SATA"]
The next contender for the best motherboard for Ryzen 9 3900x title is the X570 Gaming Phantom X from ASRock. It is ASRock's premium motherboard packed with incredible aesthetics and top-notch performance. Although an expensive option for some, it is the more affordable ones in the top X570 boards segment.
ASRock never misses out on aesthetics, and such is the case with the X570 Gaming Phantom X. It has an all-black PCB that is almost entirely covered by large, appealing heatsinks. The heatsinks are mainly shades of gray and silver, with streak accents of red on some parts. Not to mention, the RGB elements are quite stylish too. You get to see RGB lighting on the rear I/O shroud, the chipset heatsink, and on the side of the board. In other words, the Phantom X features a balanced color combination with sufficient RGB lighting to match most tastes. ASRock Polychrome software can be used to control any RGB zones on the board including external RGB components.
It is powered by a 14-phase VRM configured in a 12+2 design. Over the VRMs, we have two aluminum heatsinks connected via a liquid-filled heat pipe. The heatsinks do an excellent job taking the heat away from the VRMs, keeping the board thermally efficient. A massive metal backplate at the rear of the board further aids the cooling department. Other than that, we have a chipset fan that uses EBR bearings for longevity and improved cooling. The incredible thermal performance of the board prevents power-hungry chips like the 3900x from overheating.
The memory department of this board is what you'd expect on any premium board. You can install up to four kits in the provided DIMM slots and overclock them to a speed of 4666+MHz. You also get a total of 11 storage options including three hyper M.2 slots that support gen 4. Three full-length expansion slots are also available. They are ASRock's exclusive Steel Slots with the new PCIe 4.0 interface.
Another highlight of this motherboard is the rear I/O panel that comes with an integrated shield and houses a boatload of connectivity options. It houses eight USB ports including two USB 3.2 Gen2 ports. Moreover, two RJ-45 LAN ports are available for wired internet and two antenna ports powered by Intel Wi-Fi 6 802.11ax for wireless network. Other than that, there are the regular PS/2 port, optical S/PDIF out port, clear CMOS button, and BIOS flashback button. At the very bottom of the panel are five gold plated audio jacks fueled by the Realtek ALC1220 audio codec.
All in all, the ASRock X570 Gaming Phantom X is the company's top-of-the-line X570 board that is equipped with amazing features, a superb cooling solution, and a flashy design. As mentioned in our previous motherboard article, the only flaw of this motherboard is its BIOS. Apart from that, it can be acclaimed as the best RGB motherboard for 3900x with top-end performance.
Pros
Great VRM Design
Solid Connectivity Options
3x M.2 Slots
Cons
Relatively Pricey
The Design of this X570 weren't great enough
MSI MPG X570 Gaming Pluheight
Best Gaming Motherboard For Ryzen 9 3900x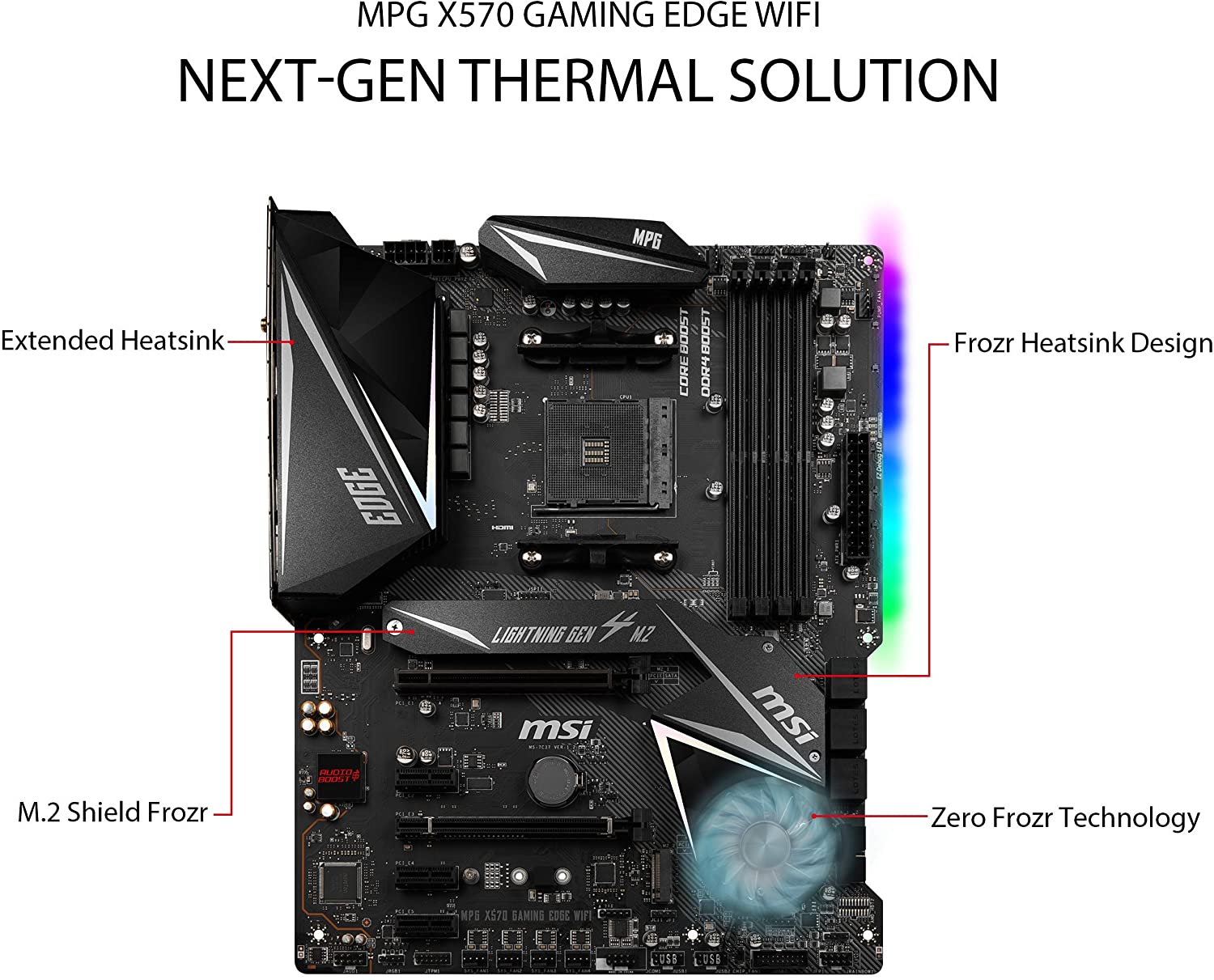 Specs="Chipset: X570 | Memory: 4x DIMM, 128GB, DDR4-4400 | Video Outputs: HDMI | USB Ports: 8x rear IO, 8x internal | Network: 1x 1 GbE LAN | Storage: 2x M.2, 6x SATA"]
We all know that this list would have seemed a bit incomplete without an MSI motherboard. The MPG X570 Gaming Plus is one of MSI's hot-sellers, and for good reason. It bears an extremely reasonable price tag which makes it a great grab, particularly for gamers.
For a mid-range motherboard, the MPG X570 Gaming Plus boasts a significantly better look as compared to its competitors. The PCB is a combination of black and red, and the heatsinks have a bit of a dark grey theme going on. The MSI and 'Gaming Plus' branding is also written in red, which is a nice touch. However, the RGB area is where Gaming Plus considerably loses its lead over its competitors in this price bracket. There is no addressable RGB lighting on the board, and that's surely a bummer for our RGB lovers out there. Nonetheless, you can still install RGB fans onto it to light up your Ryzen 9 3900x Gaming Motherboard.
The voltage regulator features a 10-phase design in an 8+2 manner and is equipped with an IR35201 PWM controller. To keep the VRMs cool, MSI makes use of an extended heatsink design for effective heat dissipation. However, there is no heat pipe linking the two this time around. Over the chipset is a Frozr heatsink equipped with a double ball-bearing fan. Interestingly, the fan is implemented with zero frozr technology: an AI tuning system that adjusts fan speed as per the heat produced by the chipset, keeping noise levels low.
Memory is one area where no X570 board slacks on, and it's the same case with this board. It packs 4 DIMM slots with a 128GB memory capacity at 4400+MHz overclocked speeds. The storage offering on this board is adequate enough, with 6 SATA3 ports and 2 M.2 gen 4 slots. However, you might be surprised to see no M.2 heatsink screwed on the board. Well, worry not because MSI has you covered with an M.2 frozr shield in the box. The gen 4 lanes also extend to the two PCIe x16 and three PCIe x1 slots.
The rear I/O panel, although well equipped, does lack a pre-mounted shield. Two USB 2.0 ports, four USB 3.2 Gen1 ports, and two USB 3.2 Gen2 (Type-A and Type-C) ports are present. Moreover, there is one PS/2 port and one optical S/PDIF out port. For wired internet, you have a LAN port housing the Realtek 8111H Gigabit LAN Controller. The gold-plated audio jacks are powered by the Realtek ALC1220 codec. Surprisingly, MSI has not compromised on the audio solution even at a sub $200 price-point. A BIOS flashback button is also present for easing the process of updating BIOS.
On the whole, the MSI MPG X570 Gaming Plus is targeted more towards budget gamers who want to run their Ryzen 9 3900x at stock settings with no tweaking and get adequate thermals.
Pros
Great VRM Design
Versatile Connectivity
Relatively Affordable
Cons
No WiFi
One of the Best Looking X570 Motherboards
MSI MAG B550 Tomahawk
Best Cheap Motherboard For Ryzen 9 3900x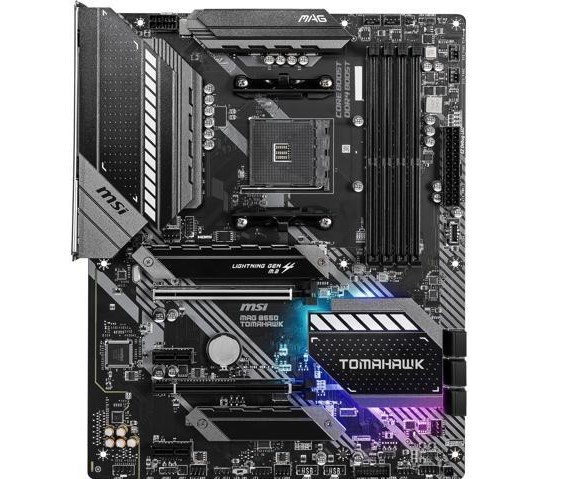 Specs="Chipset: B550 | Memory: 4x DIMM, 128GB, DDR4-5100 | Video Outputs: HDMI and DisplayPort | USB Ports: 6x rear IO, 7x internal | Network: 1x 2.5 GbE LAN | Storage: 2x M.2, 6x SATA"]
Moving down the list, we have our first motherboard that features the AMD B550 chipset. It's MSI again, impressing us with yet another high-quality product, the MAG B550 Tomahawk. At a very reasonable MSRP, the Tomahawk is a feature-packed board that gives most premium X570 motherboards a run for their money.
The MAG B550 Tomahawk does a decent job in the aesthetics area, featuring a bold black-and-grey theme. MSI has been generous with the RGB LEDs on this board, as we see plenty of RGB LED strips around the chipset heatsink. You also get eight fan headers and two aRGB connectors to brighten things up a bit. The lighting can be controlled using the MSI Mystic Light software. In addition, the MSI and Tomahawk branding can be seen on many parts of the PCB. The heatsinks are quite chunky, which influences the overall look of the board in a rather subjective way.
The power delivery on this AMD Ryzen 9 3900x motherboard is overseen by a 13-phase VRM in a 10+2+1 configuration. The Tomahawk makes use of MSI's 'Core Boost' technology to attain accelerated CPU speeds with ease. The MAG B550 Tomahawk is also equipped with a surprisingly excellent heatsink design. As a result, you can run games on a range of settings without bumping into any temperature issues. The Tomahawk particularly handles Ryzen 3000-series CPUs quite nicely, so it is a great building block for your 3900x. MSI also includes the Dragon Center toolbox for you to monitor and configure your motherboard's performance.
The Tomahawk ticks all boxes in the memory sector, offering four DIMMs that provide 128GB of RAM capacity at 5100MHz. There are two M.2 slots, one of which supports both PCIe and NVMe while the latter only supports PCIe-based drives. You also get six SATA3 ports @6GBps, although some motherboards also provide eight ports in this category. As for graphics, there are two long PCIe slots, including 1 PCIe 4.0 x16 slot and 1 PCIe 3.0 x16 slot. Moreover, there are 2 PCIe 3.0 x1 slots as well. The proprietary x16 slots are protected with Steel Armor to provide strength and stability to the cards. We award the MSI MAG B550 Tomahawk as the Best Cheap Motherboard For Ryzen 9 3900x; it provides, budget, value, and excellent performance.
However, there is a dark side of this Ryzen 9 3900x motherboard too, more specifically the I/O panel. There are only six USB ports (although two of them are USB 3.2 Gen 2 ports, so that's a positive point). There's no built-in Wi-Fi module, and no PS/2 combo port as well. The Realtek ALC1200 audio codec is pretty underwhelming for today's audio standards. On the brighter side, you get an ultra-fast 2.5GbE ethernet port along with another 1GbE ethernet port. An optical S/PDIF along with five analog audio jacks are also available. Lastly, HDMI and DisplayPort are also provided, giving you a variety of options for multimedia connectivity. For the 3900x, though, this isn't exactly an advantage as the CPU does not support integrated graphics.
All things considered, the MSI MAG B550 Tomahawk is the best budget motherboard for Ryzen 9 3900x. It is not only an excellent choice for this particular chipset, but it is future-proof for the later Ryzen CPU generations as well.
Pros
Support For 2.5 GbE LAN
Excellent Price To Performance Ratio
Very Solid VRM
Cons
Very Few USB Ports
Without WiFi X570 Motherboard
MSI MAG B550M Mortar
Best Micro-ATX Motherboard For Ryzen 9 3900x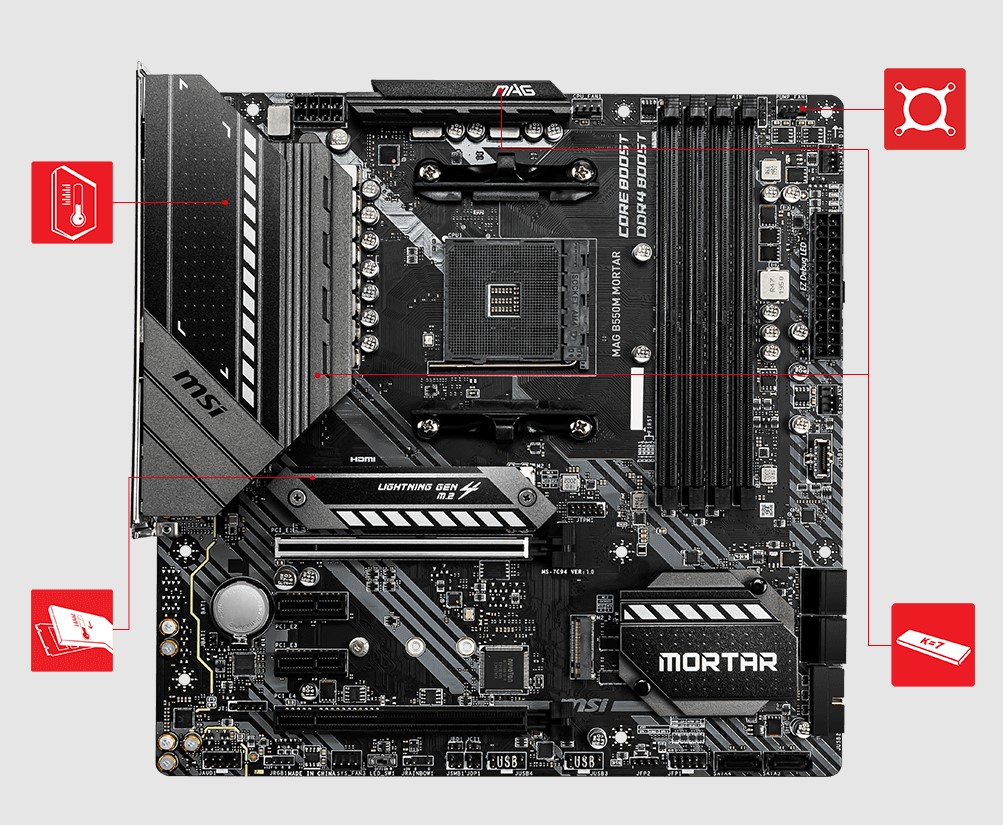 Specs="Chipset: B550 | Memory: 4x DIMM, 128GB, DDR4-4400 | Video Outputs: HDMI and DisplayPort | USB Ports: 6x rear IO, 7x internal | Network: 1x 2.5 GbE LAN | Storage: 2x M.2, 6x SATA"]
And last but definitely not least, we have another B550 motherboard in the micro-ATX form factor. It's the MSI MAG B550m Mortar, a cheap motherboard specifically designed for more compact builds. The B550m Mortar cuts down on the gimmicks and provides features that are sufficient enough for any serious gamer. The result: an extremely manageable price tag that allows you to save your money and invest it in, for example, a better graphics card.
The MAG B550m Mortar boasts a pretty attractive design language. The PCB is quite a busy one, as a lot of components are crammed into a smaller form factor. The heatsinks and rear I/O cover are brushed silver, giving the motherboard a very elegant look. The MORTAR emblem is engraved on the chipset heatsink. As for the gimmicks we mentioned earlier, RGB lighting is one of them as there is no integrated RGB. The overall design pattern is reminiscent of MSI's other premium X570 and B550 motherboards, such as the B550 Tomahawk.
An 11-phase VRM design configured in an 8+2+1 layout is responsible for providing pure and usable power to the components. MSI has implemented the extended heatsink design with an extra choke thermal pad for an improved thermal solution. They further claim to have thickened the PCB with copper for higher performance and non-stop gaming. The thermal performance of the Mortar is somewhat similar to the B550 Tomahawk, except for the smaller heatsinks and lack of a chipset fan. Pair it with a 3900x, and this board works like a charm.
Unlike most mATX form factor boards, the B550m Mortar has 4 full-fledged DIMM slots with a 128GB capacity at 4400MHz speeds. The storage section is another impressive specification of this Ryzen 9 3900x motherboard. It includes six SATA3 ports, one M.2 gen4 slot with heatsink, and one M.2 gen3 slot which is the standard in most mid-range B550 boards. The primary PCIe 4.0 x16 slot is armored with steel to avoid bending of the graphics card. Apart from that, one PCIe 3.0 x16 and two PCIe 3.0 x1 expansion slots are also available. Overall, it is safe to say that no corners have been cut off in this section of the motherboard.
Related Articles: Best Motherboard For Ryzen 5 5600x
Another similarity between the Tomahawk and the Mortar is the I/O panel. Both of them have six USB ports with the same layout i.e two USB 3.2 Gen2 ports, two USB 3.2 Gen1, and two USB 2.0 ports. Apart from that, we have the PS/2 port, optical S/PDIF out port, a 2.5G LAN port, and a BIOS flash button. Also, there is a display port and an HDMI port, although they may not be useful with a chip lacking integrated graphics like the 3900x. Lastly, MSI has included the rather substandard Realtek ALC1200 audio codec in their board.
The MSI MAG B550m Mortar is our pick for the best micro-ATX motherboard for Ryzen 9 3900x. It has robust VRM coupled with excellent cooling. If you are looking for a compact and affordable motherboard, this is the way to go.
Pros
Budget X570 Motherboard
Performance Oriented VRM Design for B550
Cons
Only 1 M.2 is Gen 4
No Wifi Support
Very Scarce USB Ports
Tips For Buying Ryzen 9 3900x Motherboard
Selecting motherboard is the most important part of a PC build. Although the above is a complete review and guide on best Best Motherboard for Ryzen 9 3900X in 2022 and now, hopefully, you are able enough to buy the best product as per your choice, some of you are still confused about choosing a product. The Ryzen 9 model of 3900X is a 12-core processor, which shocks the competition between Ryzen 9 3900X and Intel Core i9 processors. It's powerful enough for high-end uses like video editing and playing AAA game titles, but it needs an equally capable motherboard. So, to help you out, we decided to make a list of the most important features that you, as the buyer, should consider before making the purchase.
Compatability of Processor
The first and the essential factor you should know is the compatibility of the processor with this motherboard. Processors come up with different generations, that is, the versions. You must know about it well. Every generation has no support with every motherboard. Every one of you knows that there are different processors, including Gen 1, Gen 2, and Gen 3, and more. So, it depends on which one you want to buy. After your choice and analysis, look for a motherboard that is compatible with your processor. Some motherboards including the ASUS brand and some MSI brand products, can support all processors of a certain generation.
Memory
Many users look for high memory, and some, on the other hand, don't require high memory. So, it depends upon your need and which memory support you need for daily tasks. Some motherboards can support high memory of more than 32GM RAM, and some, on the other hand, have a short memory of less than 32GB RAM. You can check motherboards of qualified vendor lists for the sake of your confidence and assure the best quality. In other words, you can say that RAM capacity is an essential factor to consider.
Sockets & Chipsets
Some of the motherboards lack a couple of slots like RAM expandability, NVMe SSD slots, etc. If you are looking to get hold of SSDs and a pair of extra RAMs, make sure your motherboard has the option for slotting in more components. The other most important and vital feature is the chipset of a motherboard which determines how fast or slow your performance can be based on RAM, GPU, and Many other attachments with this device. Moreover, the chipset enables different features in the overall experience like Resizable Bar, Fast Boot, and Overclocking support.
Form Factor
It's another important factor that needs to be addressed. There are three kinds of factors: ATX, Micro ATX, and Mini ATX. The most common one is the ATX form factor which comes in different sizes based on the number of DIMM slots available for memory. If you are replacing your old motherboard and don't know the exact size, you can always measure the old one and get the one with the same size for accuracy purposes. If you bought a standard ATX, but your case only supports mini ATX, what will you do? Possibly, nothing! Your money is down the drain. So, it is required for you to select only those motherboards which are hostable in your case.
Expansion Slots & PCIe
A good gaming PC will require more than just a processor, graphics card, and ram. The ATX format is recommended because of its large number of expansion slots, and this makes upgrading easier down the line without having too many new components lying around already installed on-site so as avoid problems with compatibility issues during installation time frames. The PCIe slots are connectivity ports added to the motherboard which allow you to connect various peripheral devices to your systems, such as graphics cards, video cards, audio cards, and more. The more PCIe slots you have, the more connectivity option you will have. So make sure to opt for the motherboard that offers the connectivity of other hardware that you require.
BIOS
The BIOS is the pre-built software on the motherboard that is responsible for detecting the components connected to the motherboard and also forming a connection between various components. Motherboards come with BIOS, which need to be upgraded from time to time. Make sure that your BIOS is compatible with your processor; otherwise, the motherboard won't be able to recognize it. Look out which motherboard offers the best BIOS set and BIOS recovery option.
Comparison of Ryzen 9 3900X vs 3700X vs 3600X
Whichever Ryzen 3000 processor you choose to buy, you're going to have a capable PC ready for action. Even Ryzen 3 and Ryzen 5 processors are more than happy to keep up with some serious workloads, though they do come with fewer cores and lower clock speeds. All of the Zen 2 series processors, including the two in this guide, run on the AM4 platform and support the same AMD chipsets.
The AMD Ryzen 9 3900X is a monstrous CPU, boasting 12 cores in a small package with 24 threads at hand to handle any task you throw at it. It offers immense performance at a reasonable price, though you'll dislike the lack of an integrated GPU. Also, while you are here, also check out Best Motherboard For Ryzen 5 3600.
Whereas The Ryzen 7 3700X is one of the worthy products for AMD's series of processors. AMD of this processor is one of the most capable desktop processors the manufacturers, at present, we have the latest technology of Ryzen 9 and Threadripper. But 3700X still offers excellent value and is worth your money with six cores and a TDP of lower than the latest Ryzen 9 3900X if you don't need all that performance.
The Ryzen 5 3600X is a little more down to Earth than the older model and is vastly more affordable, making it quite the processor for most gaming rigs and workstations. When you don't need a mass of cores and threads, this CPU will be more than relaxed to play your favorite games and render all your media. While comparing to 3900X, both processors work well with RAM that's clocked at 3200MHz, support AM4 chipsets, are built on the 7nm Zen 2 architecture, and even work with PCIe 4.0 hardware. At just 95W and 105W for the two Ryzen CPUs, you'll also be able to avail an efficient cooler out of the box, which is essential in running the PC under a heavy workload.
How We Chose The Best Ryzen 9 3900x Motherboard
If you want the absolute best motherboard for ryzen 9 3900x, then there are several factors you should closely consider. Remember – determining our requirements while buying a motherboard, and going about the buying process accordingly is our ultimate goal. Though the list goes on and on, these are the most vital aspects to evaluate when purchasing the motherboard for Ryzen 9 3900x.
Chipset
Choosing a relevant chipset is the first fundamental part of buying a motherboard for your 3900x. AMD Ryzen processors are highly credited for their flexible compatibility, which is one of their primary selling points. The AMD X570 chipset is currently the top-of-the-line chipset you can get for your 3900x, with all the flagship features. The AMD B550 is another relatively cheaper option. If you are looking for something a bit more wallet-friendly, then even a B450/X470 motherboard is a decent choice for the 3900x. However, due to the lack of PCIe 4.0 lanes, we do not recommend the older 400 series motherboards.
Form Factor
Once you have made up your mind on a particular chipset, the next step is to decide which form factor to opt for. There are three main form factors to choose from: ATX, micro-ATX, mini-ITX. Naturally, smaller boards are less feature-packed than their full-sized ATX counterparts. Thus, it all depends on what you want – whether it's the compactness you're looking for, or a better feature set without having to make any considerable compromises.
Voltage Regulator Module (VRM)
It is essential to have sufficient, high-quality VRMs in your Ryzen 9 3900x motherboard especially when pairing it with a power-hungry processor. Cheap quality VRMs tend to degrade quickly, specifically when under persistent heavy loads. This ultimately has negative effects on your CPU's performance. So, investing in a high-end CPU and cheaping out on a motherboard will cost you in the future. It is always wise to invest in a quality motherboard as the VRMs are much more stable and long-lasting.
Upgrade Path From X570 and B550
Spending money on a motherboard for Ryzen 9 3900x time and again while frequently swapping it out is a hassle. Hence, it is beneficial to have prior knowledge about a motherboard's CPU support. For example, the Ryzen 5000 series is likely to be the last batch of Ryzen processors officially compatible with 400 series motherboards (B450/X470). On the other hand, the B550 and X570 motherboards will have support for the next-gen processors. Therefore, it is better to loosen your pocket a bit and go for a newer motherboard. It will allow you to replace your older Ryzen 9 3900x processor with a later-gen processor, without having the need to change your motherboard as a whole.
Why Trust Tech4Gamers?
The Tech4Gamers has been reviewing all parts and components regarding PC build for many years now, and we use our experiences and expert opinions when making recommendations. We do our best to serve you the best product recommendations according to your need and do all the performance tests of the products we recommend for you. The overall testing of each product will allow you to select the best and the right product that makes some worth of your money.
Other Reads: Best Motherboard for Ryzen 9 5900X
Our vast experience and the competitive team allow us to explain each product's ideal use cases, as well as the perfect customer demand for any given product. With our monetizing skills, we are committed to keeping our editorial and product reviews and recommendations processes completely beyond the others. So you can always be sure we are on behalf of our skills for the best PC parts and components which are essential for you without any biased opinion.
In the case of motherboards for the latest RAM in the market, we test the products like their: quality, power delivery setup, overclocking headroom, connectivity and among many other featured factors. These results and efforts allow us to elaborate the whole product conclusions and you have to buy it or not these will give recommendations for you, without you having to test all the products, or having to sift through piles and piles of data from our motherboard testing.
All of the recommended products and many others not in this roundup have been tested with a processor of the Ryzen 9 3900X, and the given motherboards have been shortlisted based on their performance test with the high-end AMD processor. So you can trust our reviews and choose the product where your demand lies in happy shopping!
Frequently Asked Questions
Is Ryzen 9 3900x good for gaming?
The Ryzen 9 3900x is an excellent CPU for gaming on a high level. Its staggering 12 cores and 24 threads provide enough computing power to run the most popular AAA titles at high FPS. Some of the earlier Ryzen CPUs were considered to have relatively poorer single-core performance as compared to their Intel equivalents. However, AMD has certainly improved their game with the 3900x, as we get to see better benchmarks and outstanding performance on a wide range of tests. Obviously, we would recommend pairing it with a good GPU – an RTX 2000 or the newer 3000 series card for gaming at those higher resolutions.
Is The Ryzen 9 3900x Worth it?
The answer to this is a big yes. Being a third-generation CPU, the Ryzen 9 3900x falls in a moderate and very reasonable price spectrum. We have already talked about its incredible per-core performance, which makes it an excellent value-for-money product overall. Not only this, the stock coolers that come with Ryzen chipsets are much better than Intel's stock coolers too. As a result, they provide more overclocking headroom without having to make any additional investment.
Do I Need A Cpu Cooler For Ryzen 9 3900x?
The 105W TDP Ryzen 9 3900x is, without a doubt, a power-hungry CPU that requires an efficient cooling system. The stock AMD cooler does a decent job at keeping temperatures low while also providing a bit of overclocking headroom. If you are going to run the CPU mainly on stock settings, then the stock cooler will be sufficient enough for the task. If you are a frequent overclocker, then it is wise to invest in a cooler from a renowned brand. With a high-end cooler (preferably an AIO), you can overclock your CPU to newer heights without having to worry about soaring temperatures or overheating issues.
Was our article helpful? 👨‍💻
Thank you! Please share your positive feedback. 🔋
How could we improve this post? Please Help us. 😔