Finding the best motherboard for Ryzen 5 3600, which is arguably the most popular and best value processor by far, is never a walk in the park. Ever since the release of the B550 Motherboards, the market has almost infinite options. This six-core and twelve-thread CPU is an esteemed one in the market, particularly due to its excellent performance and spot-on pricing. The Zen2-based Ryzen 5 3600 processor is an incredible choice for all kinds of gaming, editing, and multitasking purposes. Most importantly, the best part is that it won't cost you an arm and a leg.
Speaking of costs, if you pair it with a motherboard that doesn't match your build, then the results could be costly. Most people make the age-old mistake of putting all their eggs in one basket. They invest more in the CPU and GPU while overlooking the need of having a solid motherboard that holds them all together. Consequently, their CPU's power is limited to a great extent, and that's no justice to any high-performance chipset.
Ryzen 5 3600 Motherboard Compatibility
Delightfully speaking, AMD ensures extensive support for the Ryzen 5 3600 as far as motherboard compatibility goes. The R5 3600 can be paired with a top-end X570 or mid-range B550, as well as the older version of both these motherboards, i.e., the X470, B450, and B350. Not stopping here, the AMD has promised support for the Ryzen 3600 to the somewhat outdated budget-focused A320 motherboard with the help of an exclusive BIOS update. Conveniently, the newer version, i.e., the A520, supports the R5 3600 out of the box.
However, we generally discourage gamers from mounting the Ryzen 5 3600 on entry-level motherboards such as the A320 and A520 since these boards have comparably worse VRMs and a lower amount of heatsinks (if any at all) correlating with subpar cooling performance. Consequently, your Ryzen 5 3600 will surely fall victim to a CPU's biggest enemy, i.e., thermal throttling, corresponding to a noticeably negative impact on CPU and overall gaming PC performance.
Moreover, older motherboards such as the B350 have lower RAM speeds, running at a maximum native frequency of 2666 MHz, while the newer B550 can support a higher native frequency of 3200 MHz with overclocking support beyond 4000 MHz. A-Series motherboards, unfortunately, are not officially supported for overclocking due to their signature significantly worse passive cooling.
Last but not least, thanks to the previously discussed thermal design of the A-Series AM4 motherboards, you won't be able to overclock your R5 3600 or the paired RAM to eke out some extra performance, nor will you be able to utilize PCIe Gen 4.0 lanes since AMD has had to cut some slack in a few areas to sustain a reasonable price point. However, this does become a concern with users looking to future-proof their gaming systems since the A320 & A520 definitely don't exude any signs of longevity or durability from an objective perspective.
7 Best Motherboards For Ryzen 5 3600
In simple words, buying a powerful and reliable motherboard for your 3600 is almost mandatory. What seems like a one-step decision, however, actually requires more research than you think. From chipset to variant to the VRMs and USB ports, everything should comply with your requirements. With more and more competitors entering the motherboard realm, it gets extremely difficult to make the right choice. To simplify things for you, we have made a list of the best motherboards for Ryzen 5 3600. After thorough research, we can guarantee that these are some of the safest and most feasible picks for you.
ASUS ROG Strix X570-E Gaming
Best X570 Motherboard For Ryzen 5 3600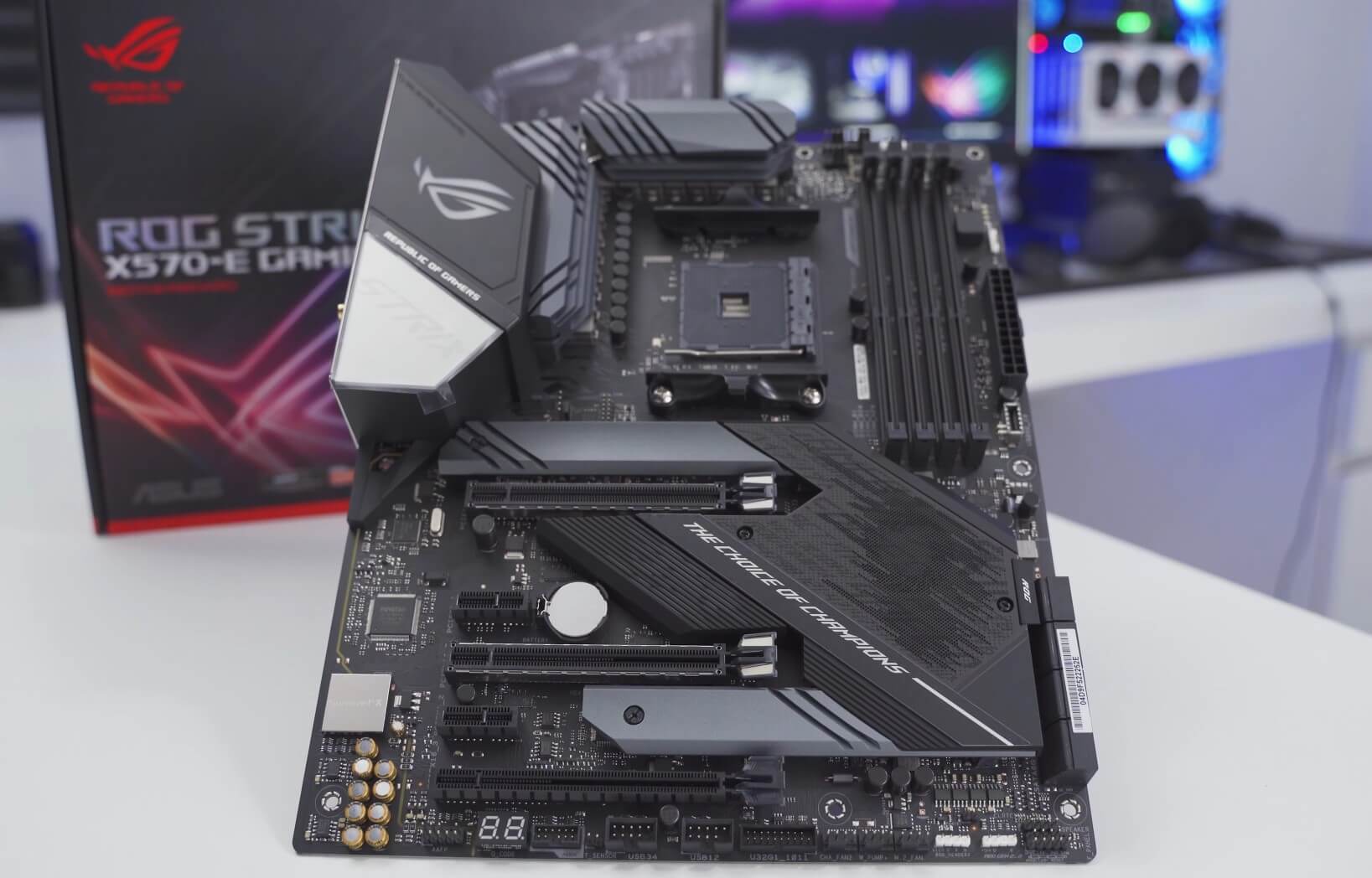 Specs="Chipset: X570 | Memory: 4x DIMM, 128GB, DDR4-5100 | Video Outputs: HDMI and DisplayPort | USB Ports: 8x rear IO, 7x internal | Network: 1x 2.5 GbE LAN, 1x Wi-Fi 6 | Storage: 2x M.2, 8x SATA"]
Pros
Excellent VRM
Great Connectivity Options
Excellent Aesthetics
High RAM Compatibility
Cons
Quite Expensive For Ryzen 5 CPUs
The board that tops our list is none other than the Asus ROG Strix X570-E Gaming. It features all the bells and whistles that you'd expect to see in a premium motherboard. The icing on the cake comes in the form of a reasonable price tag that's not too over-the-top.
The ROG series motherboards from Asus have always been some of the most attractive and appealing boards on the market. The ROG Strix X570-E Gaming features a simple jet-black finish coupled with grey heatsinks. The chipset heatsink is black, though, and has the ROG emblem engraved on it. Credit where it's due, Asus' implementation of RGB lights is surely unmatched. The result is incredible aesthetics and a very stylish design language.
Related: Best Motherboard For Ryzen 9 3900x
When it comes to performance, the ROG Strix is an absolute champ. It rocks a 16-phase digital VRM in a 12+4 configuration. The VRM is equipped with an SP1405 PWM controller which is highly power-efficient in its operation. Asus nailed the heatsink area too, as we see an MOS heatsink connected to an 8mm direct-touch heatpipe. The chipset is actively cooled with a durable chipset fan as well, and Asus has even included a water pump for better cooling. Needless to say, performance figures were fantastic on the Ryzen 5 3600. A motherboard that is purpose-built for the latest Ryzen 5000 processors can easily handle overclocking on the 3600 without a flinch.
The ROG Strix X570-E Gaming can be hooked up with 128GB of DDR4 RAM @4400MHz. The slots are apparently equipped with Asus OptiMem tracing technology that maximizes memory frequencies and reduces latency. There are two PCIe 4.0 x4 M.2 slots that come with dedicated heatsinks, along with eight independent SATA 6GB/s ports supportive of RAID 0, 1 and 10. Three full-length PCIe 4.0 x16 slots are provided to perform the primary graphic rituals. Two of these slots are Asus SafeSlots i.e they are reinforced to provide strength and stability to the cards. Both NVIDIA SLI and three-way AMD CrossFire are supported out-of-the-box. In addition, two PCIe 4.0 x1 expansion slots are also available.
When it comes to the rear I/O panel, one thing for sure is that Asus never disappoints us. You get four USB 3.2 Gen2 ports (including one Type-C), which is an amazing offering from a motherboard of this category. HDMI and DisplayPort are also provided, although they only come in handy in an APU-based build. It features an RJ45 2.5G LAN port, and also packs Intel's top-of-the-line Wifi 6 module. Five audio jacks and one S/PDIF out port equipped with Asus' SupremeFX S1220A audio module are available.
Verdict
In short, the ROG Strix X570-E Gaming has all the bells and whistles that you would expect to see in a premium motherboard. Its extreme overclocking ability, ample connectivity and quirky design make it the best X570 motherboard for the Ryzen 5 3600 in our books.
MSI MPG X570 Pro Carbon WiFi
Best Gaming Motherboard For Ryzen 5 3600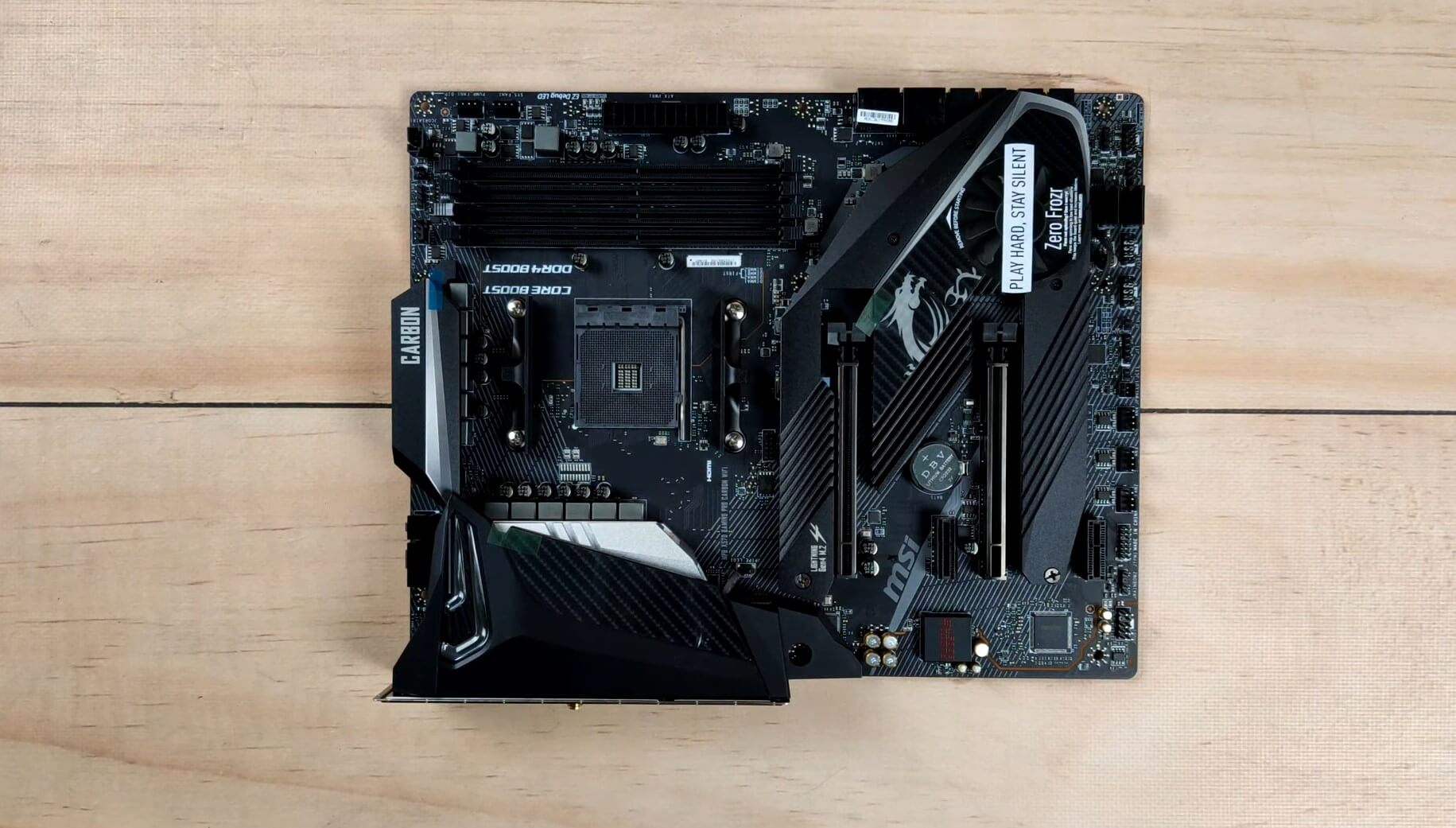 Specs="Chipset: X570 | Memory: 4x DIMM, 128GB, DDR4-4400 | Video Outputs: HDMI | USB Ports: 8x rear IO, 8x internal | Network: 1x 1GbE LAN, 1x Wi-Fi 6 | Storage: 2x M.2, 6x SATA"]
Pros
Great For Overclocking Ryzen 5 3600
Versatile Networking
Attractive RGB
Several USB Ports
The second spot on our list is grabbed by the MSI MPG X570 Gaming Pro Carbon Wifi motherboard. This board is a complete package offering top-tier Wifi technology, plenty of connectivity options and a manageable price tag.
In terms of aesthetics, the Gaming Pro Carbon Wifi certainly is one cool motherboard. It features a carbon-themed design, and the PCB comes in a tasty jet black finish. There is a substantial amount of RGB elements available on the board. MSI boasts that the design of this particular motherboard is inspired by supercars. Surely enough, this Ryzen 5 3600 motherboard looks stylish in all kinds of builds. Both internal and external RGB can be configured using MSI's Mystic Light software that allows you to play with 16.8 million colors.
The power regulation on this board is performed by a 12-phase VRM in a 10+2 configuration and 56A power stages. MSI makes bold claims about the capabilities of their VRMs while advertising about features like Core Boost and Game Boost. MSI has also implemented an extended heatsink design to avoid those high temperatures during heavy workloads. Upon first impression, the first thing that catches our sight is the Frozr fan on the chipset heatsink. In addition, M.2 Frozr shields are also included in the box, to ensure cool operation of the drives. This VRM and heatsink team does a commendable job at handling the Ryzen 5 3600 at various overclocked settings.
The Gaming Pro Carbon Wifi can hold 128 gigs of DDR4 memory at 4400+ MHz speeds, as claimed by MSI. An adequate amount of storage options is provided in the form of two hyper M.2 slots and six SATA3 ports. The graphics area is quite loaded as well, as we see two long PCIe 4.0 x16 slots. Further, two PCIe 3.0 slots that are powered by the X570 chipset are also provided. The Gaming Pro also offers CrossFire support that allows you to take your graphics game to another level. Not to mention, the x16 slots are secured with MSI's Steel Armor shielding to provide retention to the cards.
The I/O panel is rich in connectivity options too. You get three USB3.2 Gen2 Type-A, one USB3.2 Gen2 Type-C, two USB3.2 Gen1 Type-A and two USB2.0 ports (8 ports in total). Also located on the rear I/O is a PS/2 combo port, an HDMI port and a BIOS flashback button. This motherboard is equipped with Intel's latest and greatest AX200 802.11ax Wifi adapter. It also comes with the regular 5-port audio stack and optical S/PDIF, all powered by a Realtek ALC1220 codec.
Verdict
In short, the X570 Gaming Pro Carbon Wifi is an excellent midrange motherboard that packs a ton of features. It even provides top-tier Wifi technology which makes it the best Wifi motherboard for the Ryzen 5 3600 by value.
Gigabyte B550 AORUS Master
Best B550 Motherboard For Ryzen 5 3600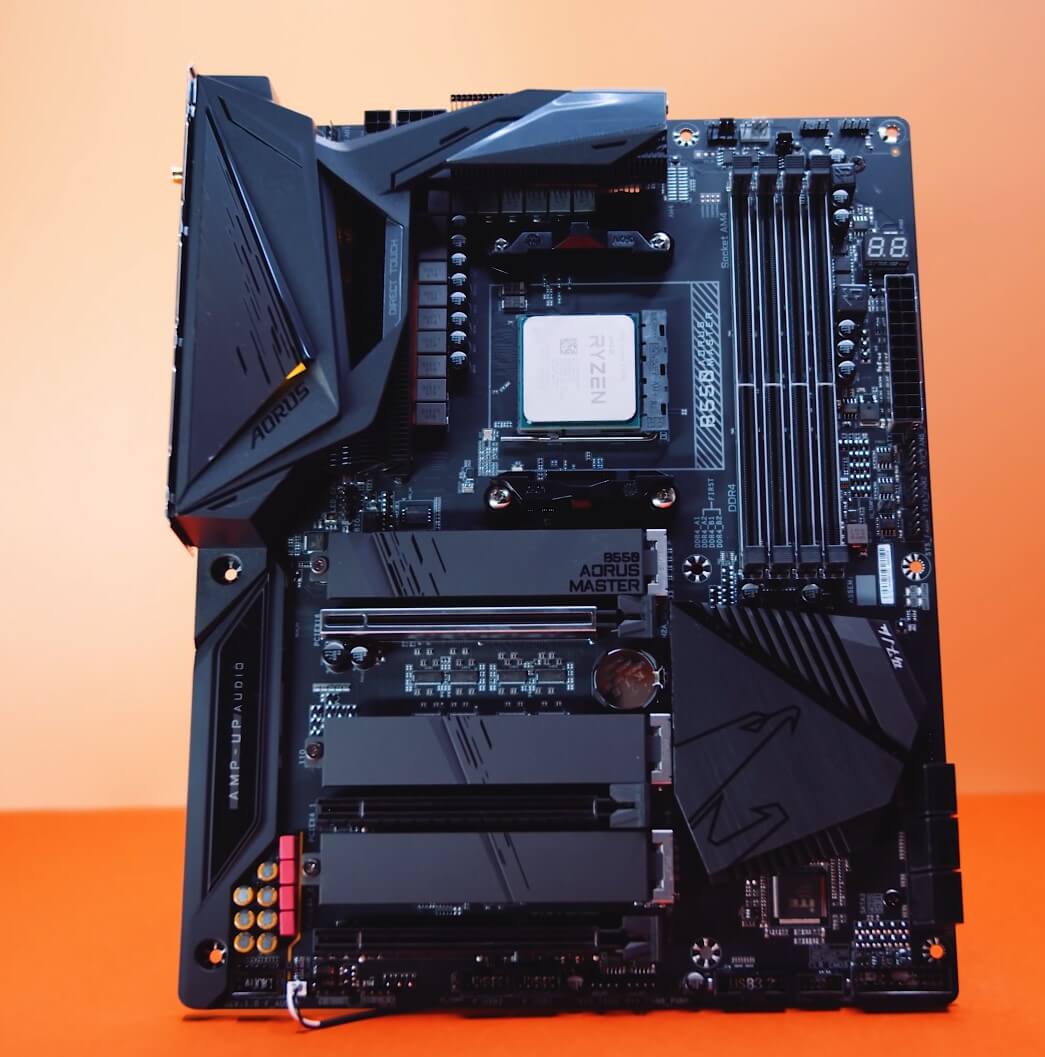 Specs="Chipset: B550 | Memory: 4x DIMM, 128GB, DDR4-5400 | Video Outputs: HDMI | USB Ports: 12x rear IO, 6x internal | Network: 1x 2.5GbE LAN, 1x WiFi 6 | Storage: 2x M.2, 6x SATA"]
Pros
Efficient VRM Design
Numerous USB Ports
Attractive Design
High Memory Compatibility
Next up, we have a motherboard that's probably the best out of its category. It comes from Gigabyte, a company that is highly credited for producing high-quality motherboards. The Gigabyte B550 Aorus Master is a true testament to that, and you'll see why.
To begin with, the B550 Aorus Master features a very similar design to the X570 Aorus Master. This means that we get to see the same black and grey color combination. A considerable portion of the shroud uses brushed aluminum material that adds to the beauty. However, it doesn't have as much RGB as its older brother, and the only RGB elements are situated on the shroud. Regardless, you always have the luxury of 8 fan headers and 5 RGB headers at your disposal. The trademark Aorus Falcon is imprinted on the chipset heatsink, while the Aorus emblem is written on the shroud itself.
The secret to this Best motherboard For Ryzen 5 3600 exceptional performance lies within the Infineon 16-phase VRM design. It comes in a 14+2 setting with 70A power stages that provide more than enough juice for the Ryzen 5 3600. The task of heat dissipation is primarily fulfilled by a fins-array heatsink connected to a direct-touch heatpipe. In addition, a thermal baseplate is used to improve heat dissipation. As a result, you get a decent amount of overclocking headroom and minimal throttling on the Aorus Master.
In terms of memory, the Aorus Master can host up to 128GB of DDR4 memory at 5100MHz+ overclocked speeds. There are three PCIe 4.0 x4 M.2 slots with dedicated heatsinks for each. One of the slots supports both PCIe and SATA drives while the other two are only compatible with PCIe drives. You also get six SATA3 6GBps ports that are simultaneously usable with all the M.2 slots. In the middle, we have one full-length PCIe 4.0 x16 slot that is fueled by the CPU. Moreover, there are two long PCIe 3.0 x4 slots fed by the B550 chipset. Due to lesser graphic slots, SLI or CrossFire support is not included in the B550 Aorus Master.
The rear I/O panel is loaded with a ton of connectivity options. You are greeted with 12 USB ports, including 6 USB 3.2 Gen2 (10GBps/5GBps) and six USB 2.0 ports. Five analog audio jacks along with an optical SPDIF port are provided. The audio is managed by Realtek's ALC1220-VB audio codec. Gigabyte has also fitted Intel's latest Wi-Fi 6 AX200 controller under the hood. An ethernet port powered by a 2.5GbE Realtek 8125B controller can also be found on the I/O panel. An HDMI port is also given, but it becomes purposeless with the 3600 which has no integrated graphics.
Verdict
All things considered, the B550 Aorus Master has an impressive feature set which makes it the best B550 motherboard for the Ryzen 5 3600. The pricing might be a serious setback, though, as the B550 Aorus Master almost falls in the midrange-X570 zone.
ASRock B550M Steel Legend
Best Micro-ATX Motherboard For Ryzen 5 3600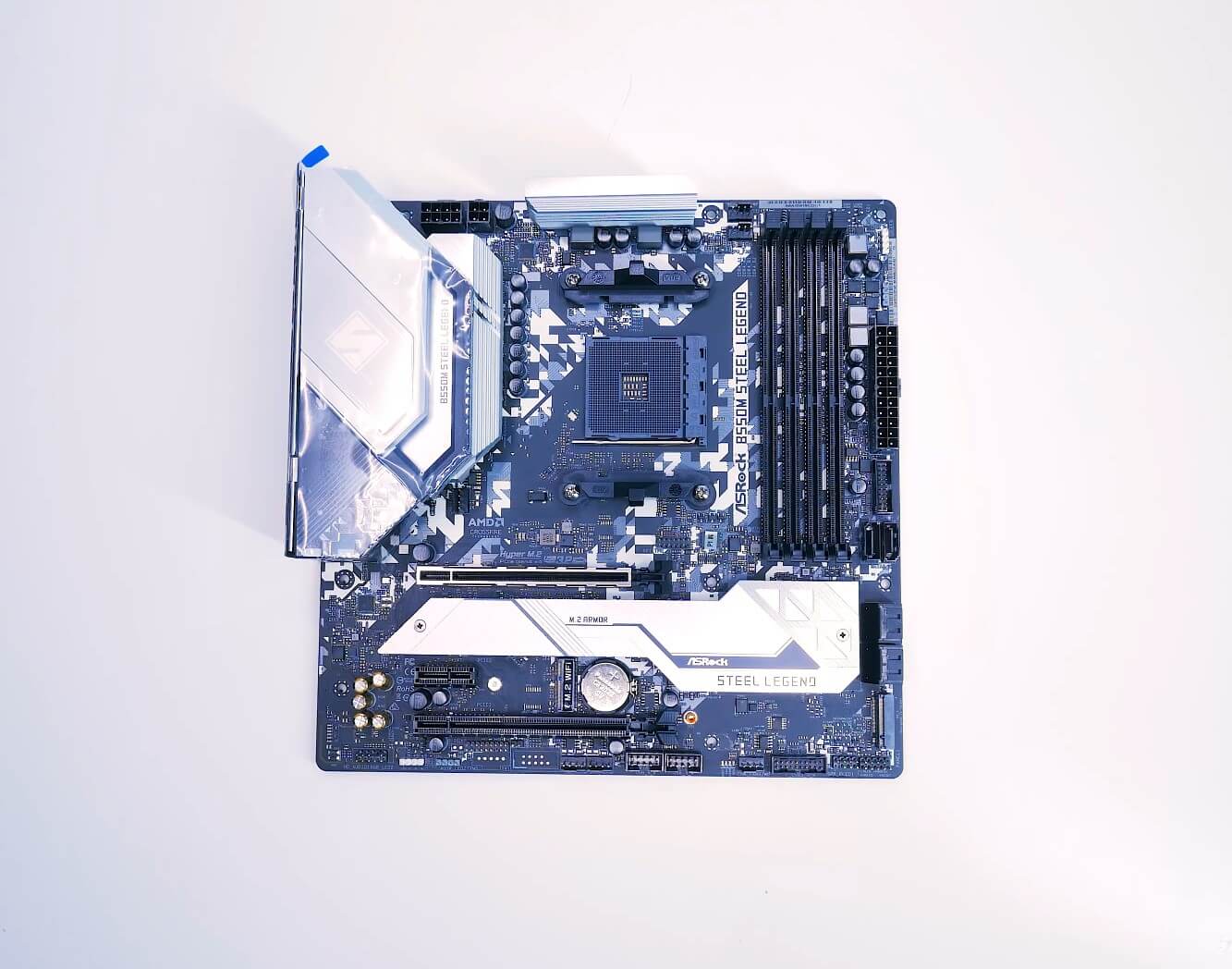 Specs="Chipset: B550 | Memory: 4x DIMM, 128GB, DDR-4733 | Video Outputs: HDMI and DisplayPort | USB Ports: 8x rear IO, 8x internal | Network: 1x 2.5GbE LAN | Storage: 2x M.2, 6x SATA"]
Pros
Premium Audio Codec
Option Of 2.5 GbE LAN
Good Storage Options
Cons
Controversial Looks
No Onboard WiFi
ASRock has made quite a name for itself in the world of motherboards. They are well-known in the market for providing innovative aesthetics, solid build quality and excellent product value. Their B550m Steel Legend motherboard is no exception.
Speaking of aesthetics, the B550m Steel Legend is the classiest board out of the lot. We have a black PCB with a striking camo pattern running across the board. Moreover, there is a two-in-one heatsink for cooling the chipset and the primary M.2 slot. The heatsinks are made out of brushed aluminum and have an organic feel to them. RGB lighting can be seen under the chipset heatsink and on the I/O cover. The trademark "S" logo is engraved on the I/O cover and also emits light. All in all the color combinations are phenomenal; props to ASRock for the designing on this one.
The B550m Steel Legend provides smooth power delivery via the 10-phase VRM design. ASRock claims to have used a Hi-Density power connector which reduces the connector temperature by 22 degrees and power loss by a massive 23%. The heatsinks ensure that VRMs remain stable by taking the excess heat away from the power delivery circuitry. Moreover, the chipset also remains cool courtesy of the all-in-one heatsink covering the chipset and the M.2 slot. However, the absence of a chipset fan is a bit of a setback.
You can install a maximum of 128GB memory in the provided DIMM slots at 4733+MHz speeds. For storage, there are six SATA3 ports and two M.2 slots. The primary M.2 slot operates at PCIe Gen4 x4 speed, whereas the secondary slot supports Gen3 x2 speeds or the SATA interface. However, the second M.2 slot shares lanes with three SATA slots, so using either of them disables the other one. As is the norm with B550 chipset boards, you get a primary PCIe Gen4 x16 slot which is coated with steel. The other expansionary x16 and x1 slots are compatible with PCIe Gen3 interface.
The rear I/O panel comes with an integrated shield and a total of eight USB ports. Out of the eight ports, two are USB 3.2 Gen2 (Type-A and Type-C), four of them are USB 3.2 Gen1 and the last two are USB 2.0 ports. Moreover, it is also equipped with a Dragon 2.5G LAN port and two antenna mounting ports, in case you want Wi-Fi connectivity. Lastly, the five gold plated audio jacks make use of the Realtek ALC1200 audio codec.
Verdict
With that said, the ASRock B550m Steel Legend bears an extremely reasonable price tag along with an excellent circuitry and feature set. It is the best micro-atx motherboard for Ryzen 5 3600 due to its excellent value proposition and incredible aesthetics.
ASUS ROG Strix B450-F
Best B450 Motherboard For Ryzen 5 3600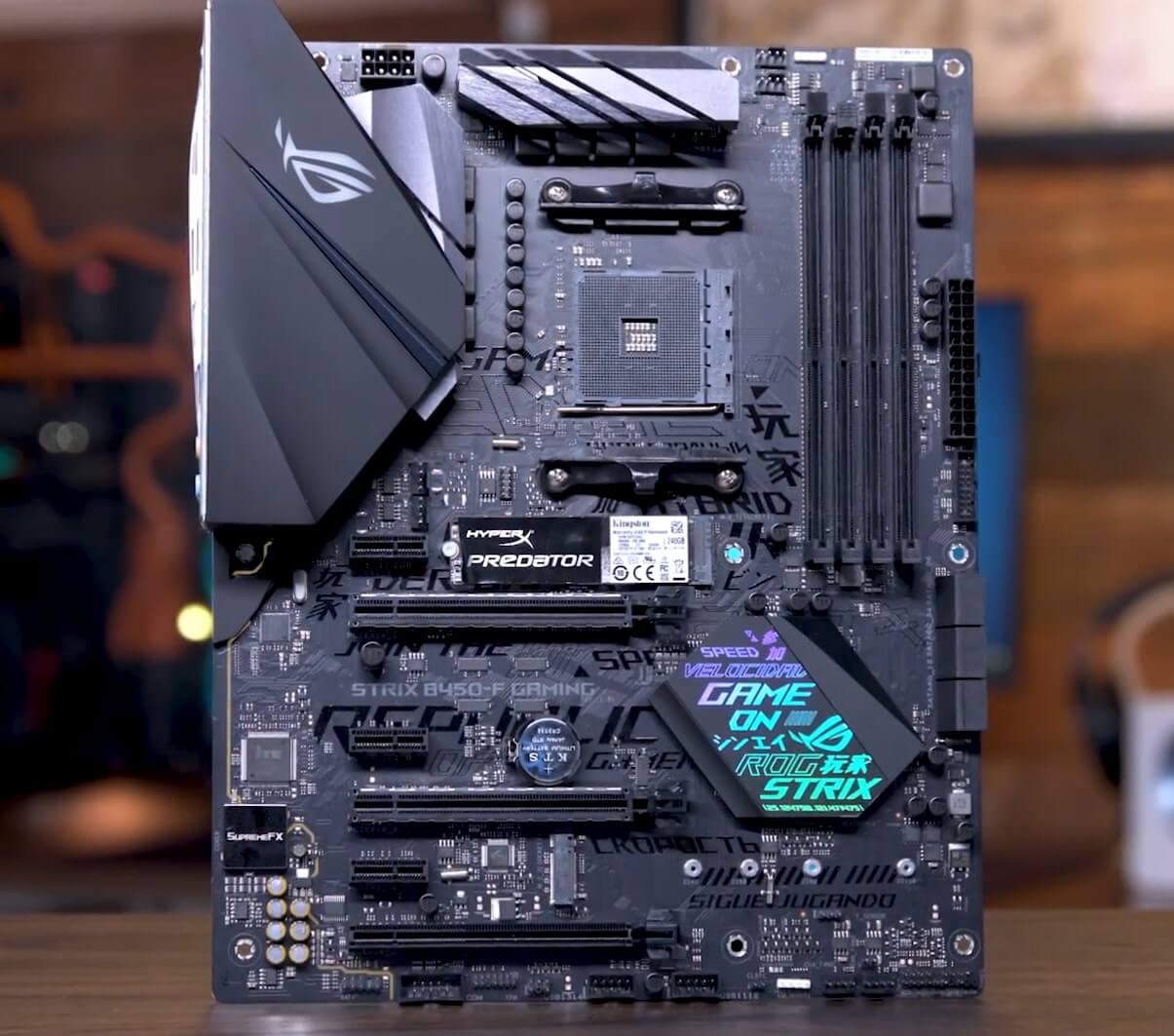 Specs="Chipset: B450 | Memory: 4x DIMM, 128GB, DDR4-3600 | Video Outputs: HDMI and DisplayPort | USB Ports: 8x rear IO, 6x internal | Network: 1x 1GbE LAN | Storage: 2x M.2, 6x SATA"]
Pros
Relatively Affordable
2x M.2 slots
Attractive RGB
For the next entry on our list of Best motherboards for Ryzen 5 3600, we have the improved version of the B450-F Gaming, the Asus ROG Strix B450-F Gaming II. The Gaming II has some touch-ups over the original one, including some small changes in design.
It features similar aesthetics to the X570-E Gaming – nothing surprising as they belong to the same lineup. The PCB is entirely black with some silver text written over it. The 'ROG' text is prominently carved under the M.2 slot with the ROG design next to it. There is a ROG emblem designed on the CMOS cell, something interesting in our eyes. Apart from that, the rear I/O cover is also all-black, with a thin blue stripe and an RGB ROG logo over it.
Related: Best Motherboard for Ryzen 9 5900X
The B450-F Gaming II makes use of an 8+4 VRM design instead of the 6+2 on the older version. Over the VRMs, there are silver brushed metallic heatsinks to keep the thermals in check. The by-product of sturdy power delivery paired with an excellent cooling solution is impressive overclocking abilities. However, there is no actively cooled chipset heatsink, but that's understandable since it is a feature found only in premium boards. The absence of an M.2 heatsink over the primary slot is a bit of a disappointment. Overall, this motherboard is more than capable for the Ryzen 5 3600, even when overclocked.
Another upgrade over the original B450-F Gaming is the memory speed. The Gaming II can cater up to 128GB of RAM at 4400MHz overclocked speeds, whereas the original had 3600MHz advertised speeds. The storage department is decent, with two M.2 slots and six SATA ports to install your HDDs and SSDs. As for PCIe slots, there are two PCIe 3.0 x16 Asus SafeSlots and another PCIe 3.0 x16 slot. Apart from that, three PCIe x1 slots are also available that make use of the older gen 2 technology.
The rear I/O panel is pretty well-equipped, as expected from an Asus ROG board. It comes with three USB 3.2 Gen2 ports including two Type-A, whereas most boards in this category only feature two Gen2 ports. You also get two USB 2.0 ports for linking up your peripherals. The LAN port provides wired network connectivity courtesy of the Intel I211-AT 1Gb Ethernet. However, there is no Wi-Fi module. The audio codec is the Asus-exclusive SupremeFX S1220A which Asus claims to be better than the Realtek ALC1220 used in most premium boards.
Verdict
All in all, the ROG Strix B450-F Gaming II being a better version of the original B450-F gaming which was already a premium B450 board makes it the best B450 motherboard for Ryzen 5 3600. It has improved power delivery and out-of-the-box support for 5th gen Ryzen processors, so upgradability is not an issue.
B450 AORUS Pro WiFi
Best Value Motherboard For Ryzen 5 3600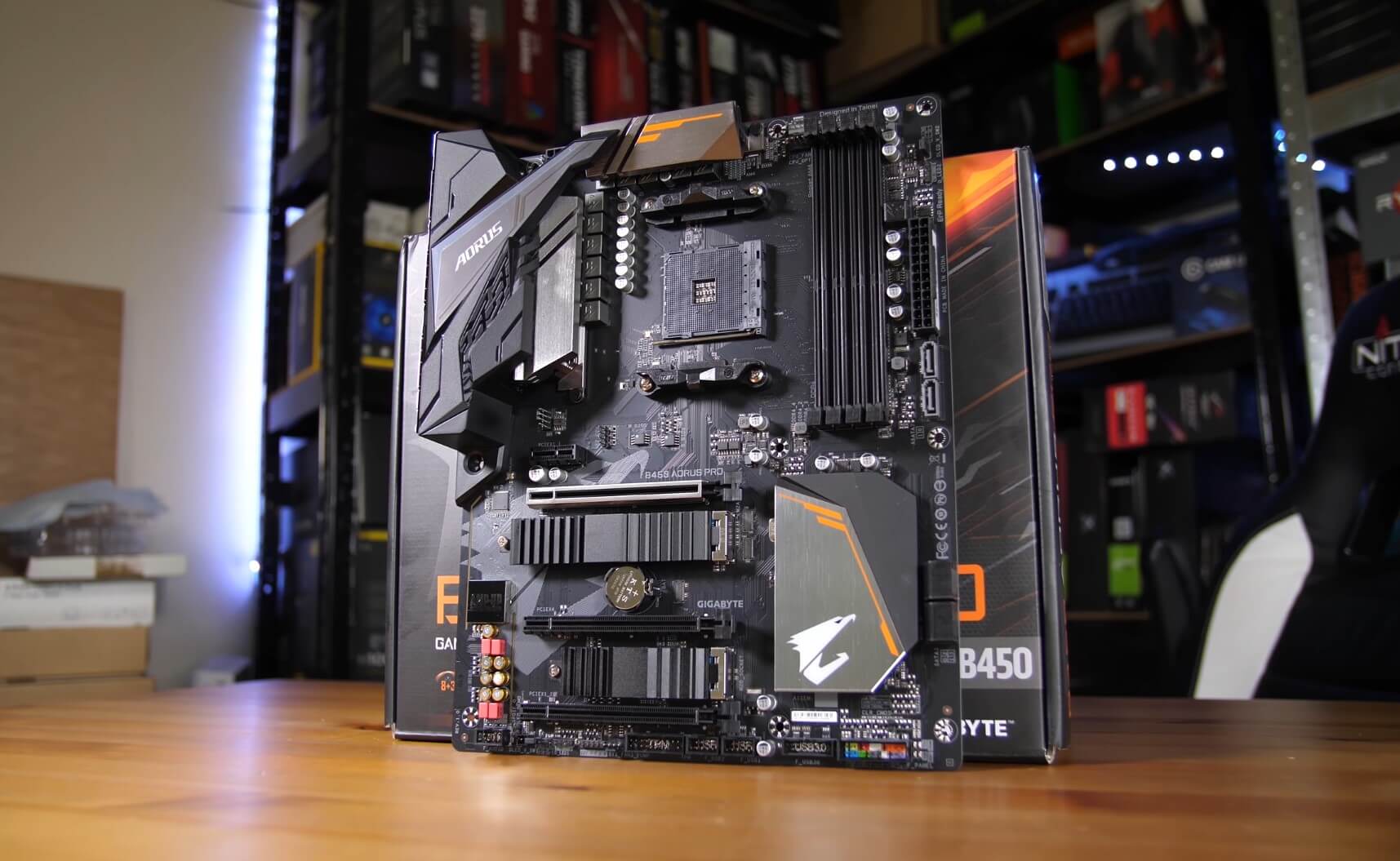 Specs="Chipset: B450 | Memory: 4x DIMM, 128GB, DDR4-3600 | Video Outputs: DVI-D and HDMI | USB Ports: 6x rear IO, 6x internal | Network: 1x 1 GbE LAN, 1x WiFi | Storage: 2x M.2, 6x SATA"]
Pros
Robust CPU Power Delivery
Attractive Aesthetics
Inclusion Of WiFi
Cons
Sparse USB Ports
Low Memory Compatibility
The idea of a budget motherboard is something that strongly appeals to a majority of the consumer audience. And it makes sense, as some of us are gamers who have no choice but to allocate a lower budget for a motherboard. The B450 Aorus Pro Wifi from Gigabyte is a shining star from the category, and for all the good reasons.
The B450 Aorus Pro Wifi features a clean black PCB with silver heatsinks that are styled with orange accents. For a budget motherboard, the Aorus Pro has plenty of RGB to go with it. You also get several fan headers and addressable RGB headers to put on a light show. A backlit Aorus Falcon logo can be seen on the chipset heatsink. In simple words, the design is sleek, attractive and blends in quite nicely with most builds.
This B450 motherboard's performance is on par with some of the premium 400 series X470 motherboards. The power delivery is robust considering the price tag, all thanks to the 11-phase VRM arranged in an 8+3 design. Heat dissipation is carried out rather amazingly by the stylish silver-finished VRM heatsinks. Overclocking the Ryzen 3600 to some extent is possible on the Aorus Pro, which is an impressive feat for a budget motherboard. In our testing, we were able to find the sweet spot at 4.3GHz and 1.212 voltage paired with the Cryorig R1 cooler.
The B450 Aorus Pro Wifi features a dual memory architecture with 4x DIMM slots that support up to 128GB of RAM. Memory overclocking is also available with officially advertised speeds of 3600MHz. There are three full-length PCIe x16 slots out of which only the first one has gen 3 support and is armored to provide extra support for your VGA card. However, the other two x16 slots share bandwidth with the x1 slot, disallowing them to run at full speeds. It is advised to install your graphics card in the primary slot to get the best out of it. The x1 slot is placed above the top x16 slot, a rather weird placement not seen in most boards.
The I/O panel lacks a bit, especially in terms of USB ports. There are only six USB ports including 2 USB 3.2 Gen2 (Type-A and Type-C) ports. However, there are eight ports on the similarly priced B450 Tomahawk MAX, which is also included in our overview of the Best Motherboards For Ryzen 7 3700x. There is an RJ-45 LAN port powered by Intel GbE LAN with cFosSpeed Internet Accelerator. Apart from that, there are 2 antenna connectors for Wifi connectivity. The audio ports are fueled by the Realtek ALC1220 codec, which is quite admirable considering the codec is mostly used in premium boards.
Verdict
To sum up things, the Aorus Pro Wifi is well-equipped and is an excellent budget option for those who do not want to pay extra for Gen4. In our list, it is the Best budget motherboard for Ryzen 5 3600.
ASRock B450M Steel Legend
Best Budget Motherboard for Ryzen 5 3600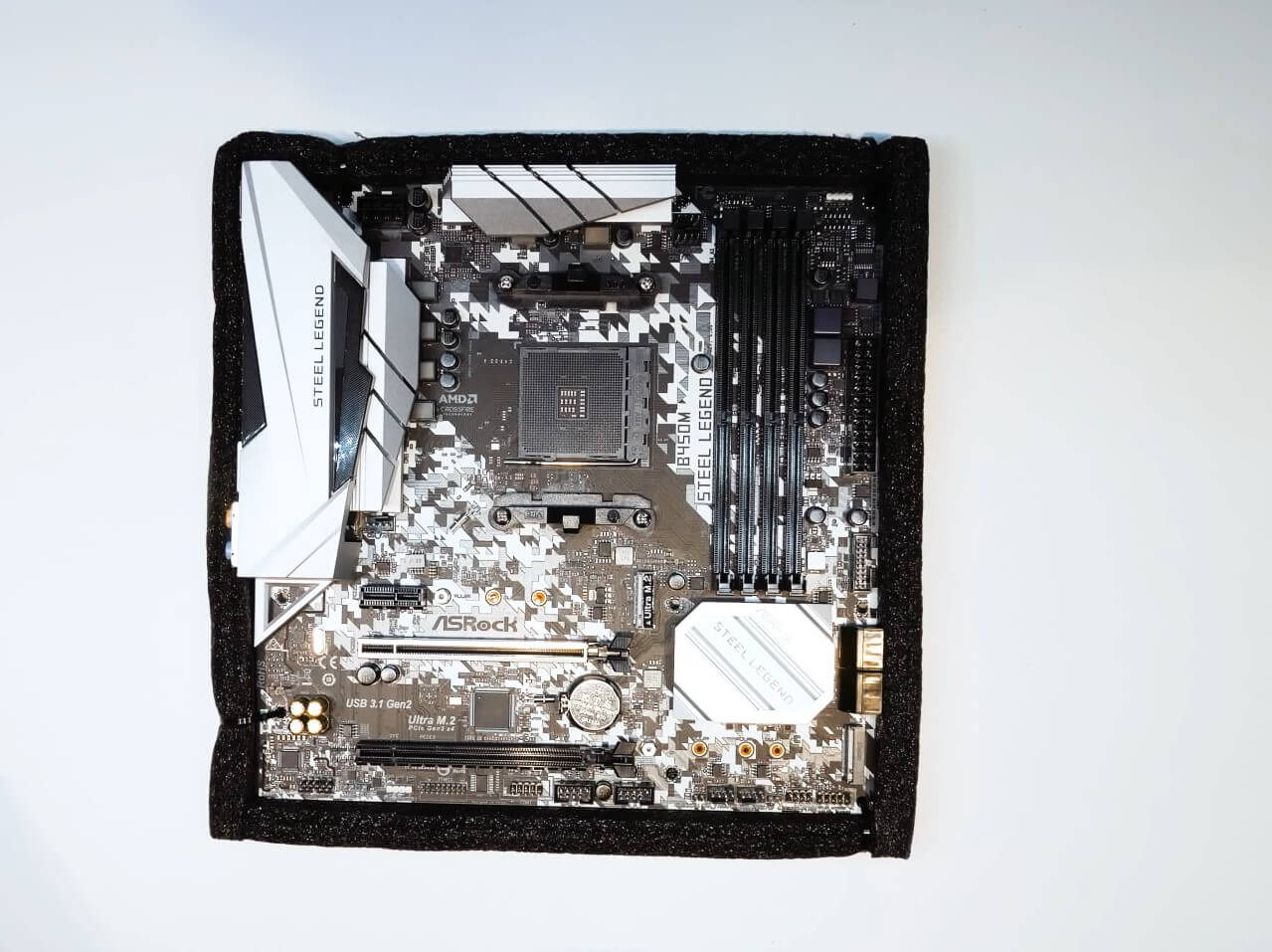 Specs="Chipset: B450 | Memory: 4x DIMM, 128GB, DDR4-3533 | Video Outputs: HDMI and DisplayPort | USB Ports: 8x rear IO, 6x internal | Network: 1x 1GbE LAN | Storage: 2x M.2, 4x SATA"]
Cons
Mediocre Power Delivery
No WiFi
Only 4 SATA Ports
The final spot is taken by the B550m Steel Legend's predecessor, the ASRock B450m Steel Legend. This particular offering from ASRock is an extremely affordable micro-ATX board rocking the B450 chip. It does all the basics expected from a motherboard, while also providing decent build quality and longevity at an entry-level price.

In terms of looks, the B450m Steel Legend is one of the most unique boards on the list, just like the B550m Steel Legend. It boasts a very attractive camo theme on the PCB. Considering the price point, ASRock has been rather generous with the RGB on this board. We see PolyChrome RGB elements under the chipset heatsink and on the shroud. You can also install external RGB components thanks to the multiple RGB headers, which again are a blessing at this price range.
The B450m Steel Legend, being a budget-oriented board, attributes a rather substandard power design. Only a 6-phase VRM is what it offers. The heatsink features a normal dual design with a silver finishing. There is also a chipset heatsink with a similar finish as the VRM heatsinks. For further cooling efficiency, there is a 2oz layer of copper inside the PCB. Regardless, the Steel Legend is in no way meant for overclocking. It can handle the Ryzen 5 3600 at stock settings without any issues however, if you are into overclocking then it might not be the right option.
The B450m Steel Legend performs up to the mark in the memory department. You get 128GB support for your RAM at 3533+MHz overclocked speeds, which is quite impressive considering the m-ATX form factor. As for the expansion slots, it offers one PCIe 3.0 x16 slot which is armored with steel. Moreover, there is another x16 slot and an x1 slot which, in contrast, are PCIe 2.0 slots. There are two M.2 slots out of which only one supports PCIe Gen3 x4, whereas the other one is based on the SATA interface. Four SATA3 slots are also available. The storage is quite decent keeping in mind the price and form factor of the board.
Coming to the rear I/O panel, it is packed with a total of eight USB ports, including two USB 3.2 Gen2 ports (Type-A and Type-C). Apart from that, four USB 3.2 Gen1 ports and two USB 2.0 ports are also provided. All the ports come with Electrostatic Discharge (ESD) protection. A Realtek Gigabit LAN port is also present along with five gold-plated audio jacks. The audio codec used is a pretty substandard one, however, demanding a better audio solution is a big ask for such a cheap-priced motherboard.
Verdict
ASRock's B450m Steel Legend is an impressive budget-oriented board that is capable of handling the 65W 3600. It offers some premium features like USB 3.2 Gen2 and superb memory support, which earns it the title of the best cheap motherboard for Ryzen 5 3600.
Ryzen 5 3600 vs Ryzen 7 3700X
From the Ryzen 5 lineup, we have got the Ryzen 5 3600. On the other hand, representing the Ryzen 7 series, we have the Ryzen 7 3700X. These two boxed processors from the AMD Ryzen processor series come with integrated TSM 7nm FinFET processor technology. The AM4 CPU socket makes both the processors compatible with top-of-the-line AMD Ryzen motherboards having the B550, X570 chipsets, and mid-ranged motherboards possessing X470 and B450 chipsets.
With 8 cores and 16 threads, Ryzen 7 3700X is a more powerful beast than the Ryzen 5 3600, a 6 core 12 thread processor. With these many cores and threads, the Ryzen 5 3600 provides a decent clock speed of 3.6 GHz. Also, the Ryzen 7 3700X offers similar clock speeds of 3.6 GHz. These processors are overclocking unlocked, providing max boost speeds of up to 4.2 GHz for the Ryzen 5 3600 and 4.4 GHz for Ryzen 7 3700X. Ryzen 7 3700X seems to be taking the lead here.
The 3600 comes with an L3 cache of 32 MB and an L2 cache of 3 MB. On the other hand, the L3 and L2 cache for 3700X is 32 MB and 4MB, respectively. Talking about TDP, both these processors take up a default power of 65W. Also, these processors provide support for PCIe 4.0 slots with 16 lanes. The Ryzen 5 3600 includes memory support for DDR4 RAM chips; the same goes for the Ryzen 7 3700X. With two memory channels for faster data transfer, it operates at 3200 MHz speed. Both these processors have the overclocking unlocked that improves performance drastically if you need to juice out your processor's capability. You can read a full comparison of Ryzen 5 3600 vs Ryzen 7 3700x here.
Ryzen 5 3600 vs 5600X
Having the same product line, both the processors come from different series. The 3600 comes from the Ryzen 5 3000 series, whereas the 5600X is part of the Ryzen 5 5000 series processors. Even though Ryzen 5 5600X was released months after the 3600, both processors are equal concerning cores and threads, 6 cores and 12 threads. These processors can support the AM4 sockets found in AMD-specific motherboards with X570, B550, A320, B450, and X470 chipsets. Also, both the processors have the TSMC 7nm FinFET processor technology for CPU cores.
More from AMD: Best Motherboard For Ryzen 5 5600x
Having the same cores and threads does not make the two processors similar. The Ryzen 5 3600 provides a clock speed of 3.6 GHz, but the Ryzen 5 5600X provides a clock speed of 3.7 GHz. The max boost clock speed that the 3600 provides is up to 4.2 GHz. The competitor for this processor, the Ryzen 5 5600X, can give a boost clock speed of 4.6 GHz at max, making it a better processor regarding clock speeds. It's incredible to see how two processors with almost the same base specs have such a gap in performance overall.
Both these processors come with three caches L1, L2, L3. Ryzen 3600 has an L1 cache of 384 KB, an L2 cache of 3 Mb and an L3 cache of 32 MB. Also, the Ryzen 5 5600x comes with the L1, L2 and L3 cache, which is 384KB, 3MB and 32 MB, respectively. Not only that, but these boxed processors provide a great deal of memory support too. The Ryzen 5 3600 and 5600X support the PCIe 4.0 interface with 16 lanes. Also, the support for DDR4 type memory chips makes it the best choice for gamers. The 3200 MHz speed with dual memory channelling is the base requirement for every user nowadays, as RAM speeds have increased drastically. You can read our full Ryzen 5 3600 vs Ryzen 5 5600x comparison here.
Factors To Consider While Buying Ryzen 5 3600 Motherboard
As with any PC component, one must do his homework before getting his hands on a particular product. This involves determining the key factors and making a decision accordingly. Likewise, there's plenty to consider before buying a suitable motherboard from a suitable brand. In the end, it all narrows down to your own priorities and requirements, but these general factors are the seeds of every person's buying process.
Chipset
The primary decision-maker when buying a motherboard is the chipset. As we have established earlier, Ryzen processors are some of the most flexible processors out there. They are compatible with a range of chipsets, including the B450/B550, and the X470/X570. Choosing the right chipset depends upon your needs and your budget. If you want that PCIe Gen 4 experience, then buying a B550 or X570 becomes mandatory. However, if you are willing to compromise on features in return for saving some cash, then a 400 series motherboard makes more sense. If you want to know which is better, read our B550 vs X570.
Before buying a motherboard, checking the chipset of your processor is the first step to go to, which will help you shorten your options. The Ryzen 5 3600 processor supports AMD-specific motherboards with X570, B550, and B450 chipsets. These chipsets have the AM4 socket compatible with the Ryzen 5 3600 processor. We have cornered our options from the wide range of motherboards onboard to those containing the AM4 socket in return, relieving some of your tension.
Form Factor
Motherboards come in a variety of shapes and sizes. The three main form factors are ATX, micro-ATX and mini-ITX. ATX is the standard form factor, whereas m-ATX and ITX are designed for more compact builds. A smaller form factor generally means a smaller VRM, slightly more compact heatsinks and lesser connectivity options. Thus, it is important to find that sweet spot between form factor and features and then pick accordingly.
If you are buying a motherboard according to your case size, knowing about the form factor of your motherboard helps you understand whether it will fit in your case or not. If you are buying a motherboard before the case, you have many choices to select from. There are four general form factors that most motherboards come in: the E-ATX, ATX, micro-ATX and the mini-ITX. The most commonly used is the ATX motherboard, which requires a medium to large-sized tower or desktop case.
Form factors and thermals have a deep relation. The surface area of your motherboard is proportional to how fast it will heat up. It also tells you what type of case will suit your motherboard. If you have a micro-ATX motherboard, you will need a small-sized case to fit it in. Using a small-sized case causes problems as the low surface area of the motherboard means that it will heat up faster as there is less breathing space, which will make the heating process swifter. You will need heavy cooling systems like water coolers or air coolers with extended heatsinks for this purpose.
Budget
Allocating or knowing your budget for your motherboard is an essential part while buying one. It allows you to cut down on options and consider only the ones that comply with your budget. This factor is interconnected with all the other major factors one should consider. For example, the chipset and the form factor is majorly determined by how much you are willing to pay for a board. Let's say you have assigned a lower budget, it means you are most probably restricted to B450 or micro-ATX B550 boards. However, as you keep increasing your budget, you dive further into the B550 and X570 zones.
Ryzen 5 3600 vs 3600x
To begin with, the Ryzen 5 3600 and 3600X are 6-core/12-thread CPUs launched by AMD, based on their Zen 2 architecture, back in July 2019. The processors were built using TSMC's N7 (7nm) FinFET node. Specifically speaking, the vanilla Ryzen 5 3600 has been a massive success for AMD, probably their most popular CPU to date. Unfortunately, the pricier 3600X has failed to establish a commanding presence in the wildly competitive CPU market.
Delving into the details, the Ryzen 5 3600 operates at a base frequency of 3.6 GHz with a turbo up to 4.2 GHz, at a TDP (Thermal Design Process) rating of 65W. In contrast, the nominally faster Ryzen 5 3600X runs 200 MHz faster at a base frequency of 3.8 GHz, turbo-boosting to 4.4 GHz. However, the Ryzen 5 3600X is rated at a TDP of 95W and comes with a bundled AMD Wraith Spire stock cooler. On the contrary, the relatively thermal efficient Ryzen 5 3600 ships with a Wraith Stealth, AMD's cheapest and worst cooler, bluntly speaking.
In terms of memory support, both processors are equal, supporting up to 128 gigs of DDR4 RAM @3200MHz in a dual-channel configuration (although single-channel operation is possible as well, albeit with worse speeds corresponding to an overall reduction in memory performance)
As far as performance is concerned, we regret to inform you that the Ryzen 5 3600X only offers, at best, up to a 5-7% increase in general usage and gaming workloads. Simply put, you'd get better results if you paired the vanilla Ryzen 5 3600 with a high-performance after-market cooler using the price differential versus buying the Ryzen 3600X at about a 15% inflated price, depending upon where you intend to source the CPU from. If you don't believe us, AMD has been forced to slash the price increase of the Ryzen 5 3600X over the 3600 by 50%, thanks to backlash from the gaming community over the negligible performance differences between the two CPUs.
Furthermore, even though AMD rates the 3600X's TDP at 95W, we found both processors nearly identical in terms of heat output, with the thermal difference measuring a few degrees Celsius because of the 3600X's slightly faster CPU clocks. This suggests that AMD has advertised this increased TDP because the Wraith Spire is a 95W cooler while the Wraith Stealth is a 65W CPU cooler.
All in all, it's simply not worth buying the Ryzen 5 3600X since it's highly overpriced, straight out of the factory, even after a $25 MSRP discount. The plain Ryzen 5 3600 remains the king. It wins our confidence and that of fellow gamers worldwide since you could pair it with a decent aftermarket air cooler from top-notch manufacturers such as Noctua or BeQuiet and overclock the CPU yourself to obtain far better performance while keeping the processor's temperatures within a suitable range, surpassing the capabilities of the comparatively weak stock coolers. While we talk about Coolers, why not read our Best CPU Cooler For Ryzen 5 3600 article.
How we chose the Best Motherboard for Ryzen 5 3600
Knowing the processor details beforehand is a plus point when buying a motherboard, but it's not enough. A processor is not the only thing you need to look out for. A motherboard comprises multiple mini components that play a crucial role in the overall working of the system. Mostly, buyers draft a spec sheet in mind when buying a motherboard but get confused when purchasing one. Different processors support different chipsets, which in turn support different sockets in significant cases, getting you pretty puzzled.
This vast number of options surely would give you headaches, but don't worry. We have taken this problem into our hands so you can stay at ease. We tested and checked multiple motherboards in the market and came up with many options that can suit you. Let us look at these options by looking at the features they provide. This guide can assist you in buying a motherboard for yourself too.
VRM
One of the most pivotal decisions to make in motherboard purchasing is about the VRM. We all know that every component needs a set amount of power to work. If more power is provided, the part will not function. To stop this from happening motherboard comprises the VRM (Voltage Regulator Module).
Let us talk about why this is so important. Excess voltage to a component has an inverse relation with the life of that component. Adequate power supply and stability are a must for good performance from a motherboard, which gets ensured by using a robust VRM. If your motherboard cannot control the voltage to each component or the power is unstable, you will face performance hits that might go long term. So, try buying a motherboard with a powerful VRM that introduces power consistency and cleanness.
Thermals
As excess voltage damages the motherboard's components, the same is true with excess heat. Overheating is not advantageous for any electrical component. The manufacturers provide max temperature upper bounds that the component can withstand, just like the AMD Ryzen 5 3600 can withstand 95°C max.
In a motherboard, the PCB layers are the first thing to look for in the context of heat reduction. PCB layers are the semiconductor layers with soldered components. The more PCB layers a motherboard has, the more heat insulation it will provide. They help slow down the motherboard's thermal conductivity, which makes the motherboard take more time to heat up.
Heatsinks in a motherboard are also substantial because they disperse heat from the components keeping the motherboard cool. They are metal components with a grill-like structure providing smooth air flow, hence keeping them cool. The form factor also plays a massive role in thermal cooling, which we will be looking at later in the article.
Coolers for a CPU are also essential for removing heat from the motherboard. But you better know the form factor of your motherboard before buying a cooler, or else it will be a waste of time and money. Any type of cooling setup is adequate, whether a water cooler or an air cooler with heatsinks.
Expansion Slots and Connectivity
Each motherboard has specific expansion and storage slots alongside USB ports. In most motherboards, the chipset manufacturers like Intel and AMD specify the maximum number of slots and ports supported. So, every motherboard manufacturer using the chipset has to go by the book.
There are multiple types of slots and ports in each motherboard. But three most common ones are the expansion slots, storage slots and USB ports.
To connect peripherals and USB storage devices, we use USB ports. Before buying, ensure that the motherboard has the minimum required USB ports. As for the expansion slots, these slots provide fast data transfer rates from the PCIe supporting device to the processor or chipset. Try prioritizing the PCI 4.0 x16 slots for your GPU over the PCIe 3.0 lanes. Also, the GPU you are about to plugin must have the same PCIe version of the slot to attain the fastest speeds. If that's not the case, buy a motherboard according to your GPU or attach the GPU for lower PCIe speeds.
The last one is the storage slots. These slots connect storage devices like SSDs or hard drives. With the launch of NVMe SSDs, the fastest of the bunch, manufacturers now try to add at least one or more M.2 slots for these new SSD types. If you are an NVMe lover, you should go with a motherboard with more M.2 slots than the SATA slots. If you use hard drives and SSDs, a motherboard with more SATA ports is better.
Visuals and Aesthetics
This step should be your last priority if you are more concerned about the components of the motherboard rather than their beauty. Well, having a beautiful matching board adds to the looks of your setup. If you're spending money on something, why not make it attractive?
Nowadays, RGB lights play a huge role in the aesthetics of a motherboard. Having a lit motherboard in your PC case is an excellent addition to your build. If you are not into RGB lights, consider buying a single-coloured light motherboard. These allow you to create multiple contrasts between motherboard colour and the light. You can make your build more pleasing by choosing the PCB colour contrast, the heatsinks colours, and the lighting setup facilitated by the motherboard.
Frequently Asked Questions
What motherboards are compatible with Ryzen 5 3600?
As we have spoken about the versatility of Ryzen processors and their support for a variety of motherboards. The Ryzen 5 3600 is no exception and is compatible with almost all the motherboards including B550 and X470. It can even be used with the cheap A320 motherboard, however, we do not recommend that due to its comparatively poor power delivery and thermal performance. B450 and X570 are the most commonly used motherboards with the 3600, however, B550 is also becoming increasingly popular due to PCIe Gen4 lanes.
Is the Ryzen 5 3600 worth it?
The Ryzen 5 3600 in our opinion, offers one of the best price-to-performance ratios for any processor. You get an all-in-one package: a 6-core 12-thread layout, a mere 65W TDP and superb gaming performance. Moreover, you also get CPU support across the line, from 300 series motherboards to the latest 500 series motherboards. It carries a very reasonable price tag for its offering. Our answer to this question is YES, the 3600 is worth every penny.
Is Ryzen 5 3600 good for gaming and streaming?
The Ryzen 5 3600 is an excellent processor for multitasking due to its 6-core and 12-thread arrangement. If you like to stream while playing games, then the 3600 is definitely a worthy option. Pair it with a suitable graphics card and it will handle your games along with streams without any lag or FPS drops.