Best Value 360mm AIO?
Review Summary
The ENERMAX LIQMAXFLOW 360mm is a powerful AIO CPU cooler perfect for high-end CPUs. It features a thick radiator, dual-chamber pump, and a unique VRM fan to keep your CPU cool and quiet, even under heavy load. It's also compatible with a wide range of sockets, has a refill port, and is rated for 400W TDP, making it an excellent value for the price.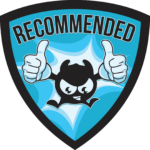 Quality -

9/10

Design -

9/10

Performance -

9/10

Features -

9/10

Value -

9.5/10
Pros
Thermal Performance
400W TDP Rating
Brilliant Digital Lighting
Micro-Fit-8-Pin Connector on Fans
Easy Daisy-Chaining
Embedded 60mm fans in the block
VRM Cooling
5-Year Warranty
Price
Cons
No control of the embedded fan
The new generation platforms from Intel and AMD present a unique challenge for the CPU cooler manufacturers. With high thermal density, high power draw by Intel SKUs, and 95ᵒC by design thermals on AMD SKUs, even the high-end coolers have struggled to tame the peaking temperatures.
In recent times, we have seen many manufacturers rolling out their cooling solutions aimed at these platforms to keep the thermals at bay while providing enough headroom for overclocking and effective gaming load thermals. I am seeing many manufacturers increasing the thickness of their coolers' radiators and a few using more fins in the same area, both of which provide more surface area to provide a better and more efficient cooler.
At the same time, they are tweaking the pumps to provide a better coolant flow with improved efficiency. Many manufacturers have released 420mm versions of the coolers. Some have even gone ahead and installed fans on the pump block to provide some airflow on the motherboard's VRMs. The idea is simple: lower temps on VRM would increase efficiency in power regulation. ENERMAX has launched a new series of coolers named LIQMAXFLOW. These coolers are available in three sizes:
I am testing ENERMAX LIQMAXFLO 360 AIO this time. I have tested their Aquafusion ADV 360 earlier, which is also a nice cooler. Salient features of LIQMAXFLO are:
Advanced Dual-Chamber Xtreme Pump with Patented SCT Tech.
Ultra cool with a 60mm VRM Fan.
Equipped with High-Performance Silent Flow Fan.
Magnetic and Rotatable AIO cover design
Pre-Applied Premium Thermal Grease.
38mm Thick Radiator tailored for enhanced cooling.
Refillable Radiator with an additional 100ml coolant.
---
Key Takeaways
The Enermax LIQMAXFLO 360 liquid cooler offers excellent cooling performance.
The integrated refill port and a coolant bottle make it easy to maintain the cooler, making your AIO last for a long time.
The embedded 60mm fan in the block provides additional cooling for your motherboard's VRMs, helping to keep your entire system running cool and stable.
---
Specifications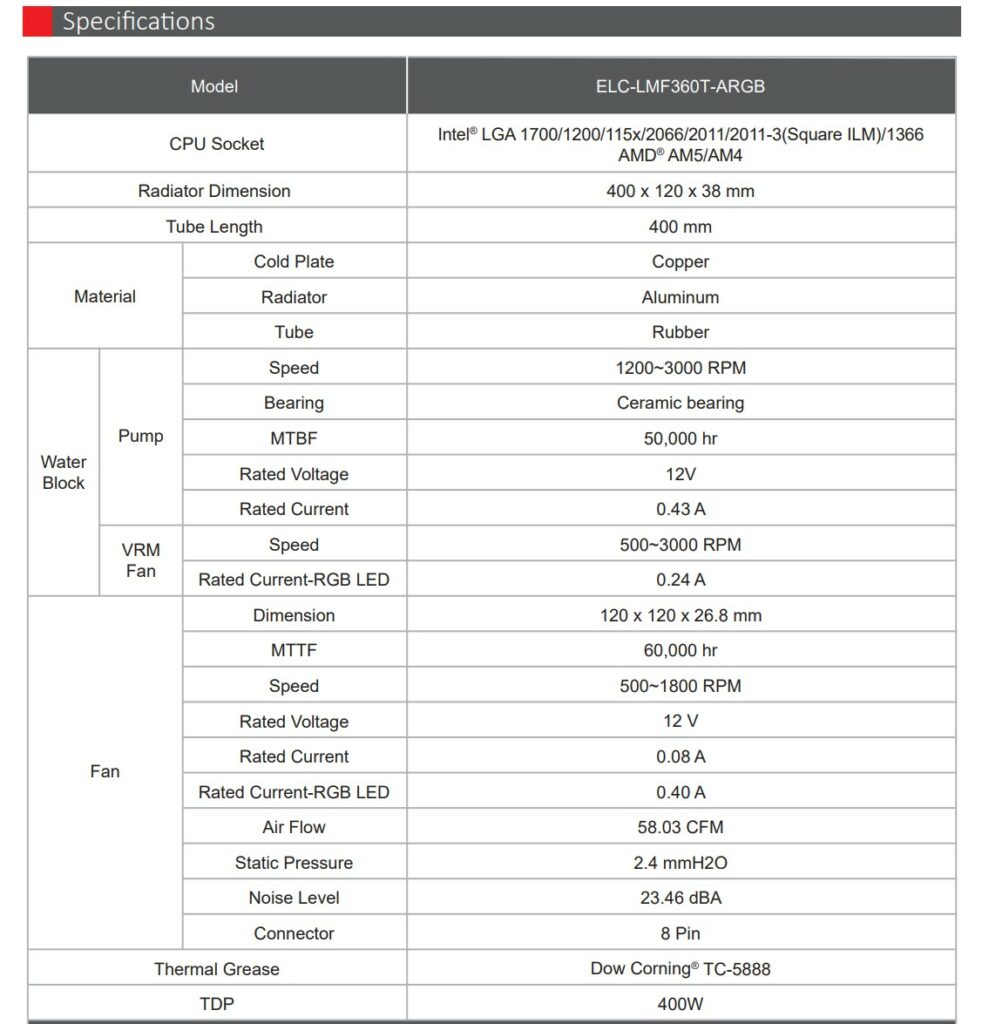 Looking at the specifications, this cooler is compatible with Intel Socket: LGA 1700/1200/115x/2066/2011/2011-3/1366 and AMD Socket: AM5/AM4/AM3+/FM2+/FM1. The pump uses ceramic bearing, which is a standard these days. The pump features a Patented SCT technology and it has a maximum speed of 3000 RPM. The embedded 60mm fan also has the same maximum speed, though both components may be drawing different power.
Dimension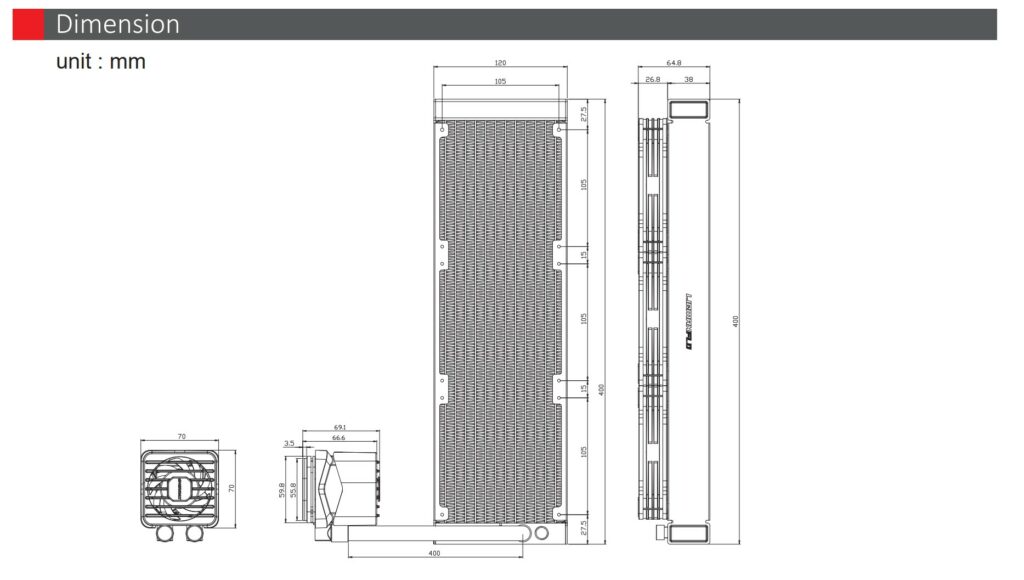 The above is a block diagram showing the dimensions of this cooler. The radiator has a dimension of 400x120x38mm (LxWxH). Here, 38mm refers to the thickness of the radiator. Please note that the actual fin stack would have a lower thickness than the 38mm mark. The overall thickness of the radiator would be 64.8mm after installing 26.8mm thick 120mm fans. The pump block housing is 70x70mm in size. The tube has a length of 400mm, which is adequate for any requirement.
Packaging And Unboxing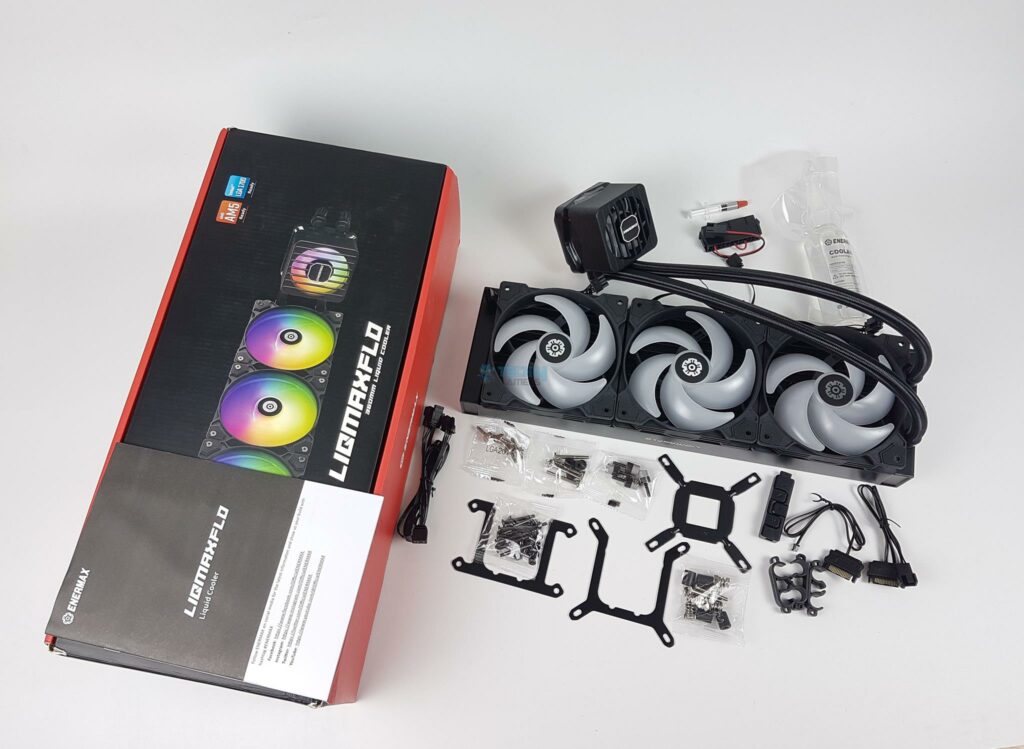 The cooler and its accessories are shipped inside a cardboard carton placed inside a paperboard outer packing material. The following are provided:
1x Cooler
3x Fans
1x Intel Backplate
1x Intel Mounting Bracket
1x AMD Mounting Bracket
AMD AM4/5 Screw Bolts
4x Intel LGA20xx Studs
4x Intel Pillar Screws
4x Intel Locking Washers
4x Intel Spacers
4x Thumb Screws
1x 100ml Coolant Bottle
1x Jumper Starter
1x Thermal Paste Tube [Dow Corning TC-5888]
1x A-RGB Controller
1x SATA Cable for A-RGB Controller
1x 2-pin socket to SATA Connector for Pump
3x Tube Clips
1x Adapter Cable for Fans
1x User Guide
Design
ENERMAX LIQMAXFLO series of liquid coolers are the latest generation from the manufacturer. ENERMAX has focused on high performance from this series of coolers and longevity by providing a refill port and a refill coolant. This unit is rated to handle a TDP of 400W. It is time to dive deep and see all the major components of this cooler, starting with the radiator.
Radiator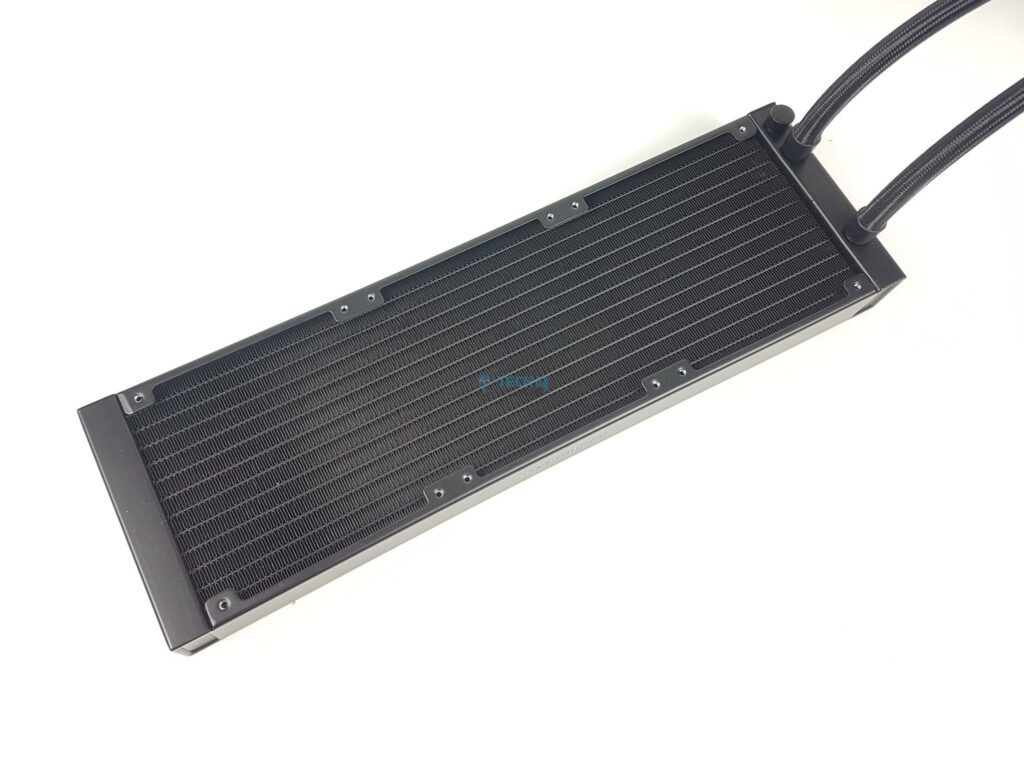 The ENERMAX LIQMAXFLO 360 has a 360mm radiator that is made of aluminum material. Its differentiation from the competition is coming from two factors:
The overall thickness of the radiator is 38mm, whereas the standard thickness is around 27mm.
This radiator has a refill port on the far chamber or block.
This unit has a dimension of 400x120x38mm. The bundled fans stand at 26.8mm thickness. Installing these fans over the radiator will give a total thickness of 64.8mm which is actually 65.8mm, approximately including the head of the fan screws. The fin density is at 20 FPI. There are 12 channels for the coolant flow. There is a gap of 105mm between any two fan mounting holes on the radiator. The complete unit is black in color. There is a third port along with two main ports on the near block. This port seems to be reserved for factory use only, so don't tamper with it.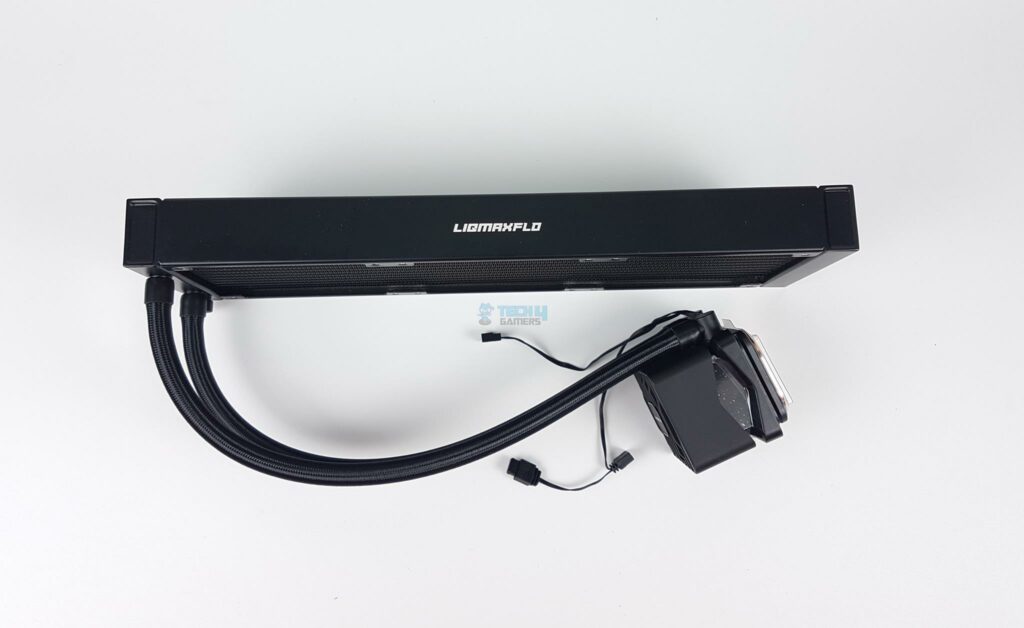 The above picture shows the side view of the unit. Now, you can see a 38mm thick radiator. Notice the gap between the actual fin stack and the side frame of the radiator housing. This implies that the thickness of the fin stack is less than 38mm overall thickness. The side frames have branding in white color. There are black color clamps covering the tube connection with the fittings on the radiator and the pump block. The tubes are made of rubber, and they have nylon braided mesh sleeves for aesthetics and to prevent bending. Tubing has a length of approximately 400 mm.
Pump Block
In this section, I will take a look at the pump block of this cooler.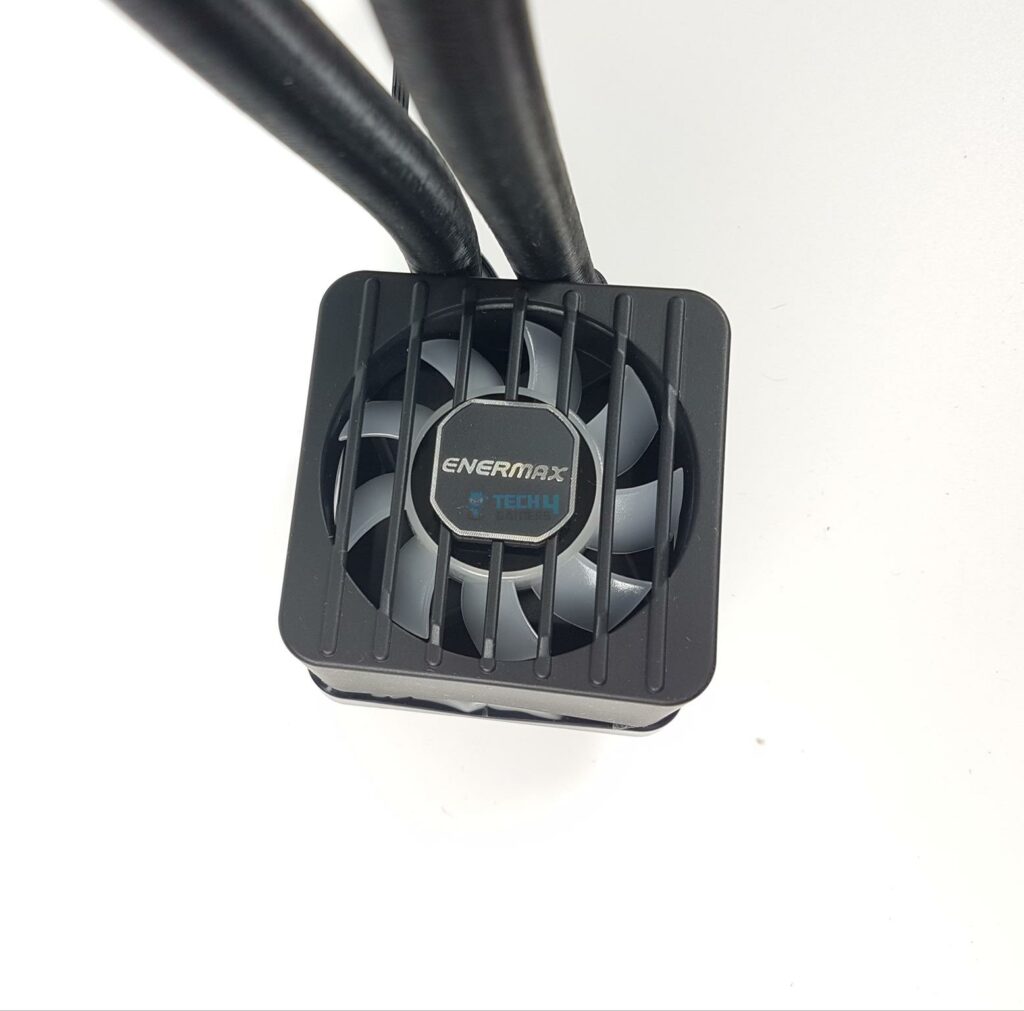 I am showing a top view of the block of this cooler. We can see a 60mm embedded fan over the top of the main pump housing. This fan is sometimes referred to as a VRM fan. Its speed rating is 500 to 3000 RPM. This fan has digital RGB LEDs as well that take 0.23A. This fan has 9 blades. There is an ENERMAX branding over the top cover. This trend is gearing up as we are seeing many more options with embedded fans to keep the VRM cool.
The top cover is magnetic and can be pulled off for easy handling. It is rotatable, which makes installation of this cooler convenient in any orientation. The 60mm VRM fan is screwed into the main housing.
There is absolutely no marking or branding on any side of the main housing. The central portion is glossy finished and has a slim inset design. There is another advantage of having a top fan. This fan also keeps the pump motor cool.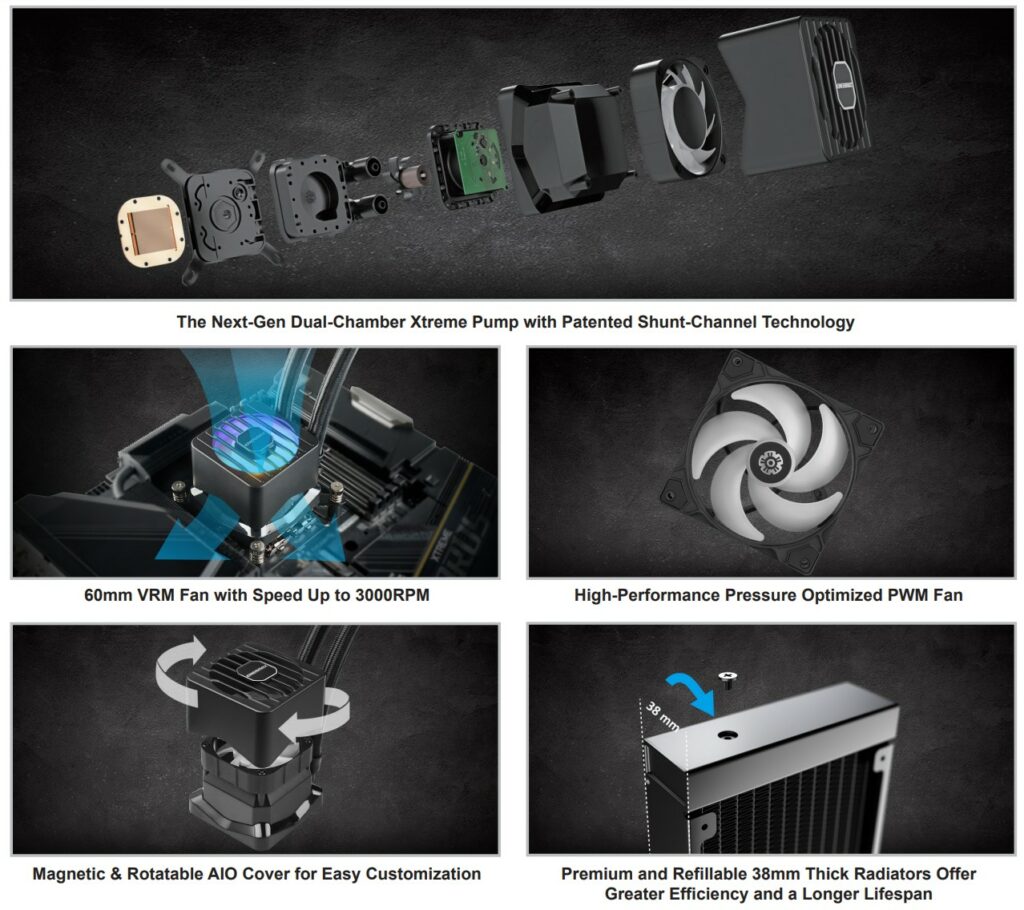 The above picture is taken from the ENERMAX website. It summarizes the features of this cooler. I am interested in showing the internal layout of the pump unit. This is an ENERMAX Patented Dual-chamber Mechanism. This helps to isolate the pump from the heat. ENERMAX believes that this would significantly increase the cooler's lifespan without compromising efficiency.
ENERMAX is using patented SCT technology in this unit. The Shunt-channel Technology (SCT) design shortens the coolant flow path, resulting in faster heat transfer. We saw the same features on the Aquafusion ADV 360 pump unit. This pump uses ceramic bearings and is rated for 50,000hrs MTBF. Its rated voltage is 12VDC, taking 0.43A current. The speed rating is between 1200 to 3000 RPM.
The tubes are installed in a 90° mount on the base of the block so that they can be rotated as per requirement to the left or right side position. Two cables are coming out from this end. One cable has a 4-pin PWM connector to power the pump. The other cable has dual connectors. Both are standard 3-pin, 5V digital RGB connectors (male and female). I appreciate the use of standard connectors, as this makes the cooler compatible with the RGB sync technologies of the motherboard manufacturers.
This cooler has a copper base measuring roughly 54x54mm. It has pre-applied thermal paste in a honeycomb pattern.
Fans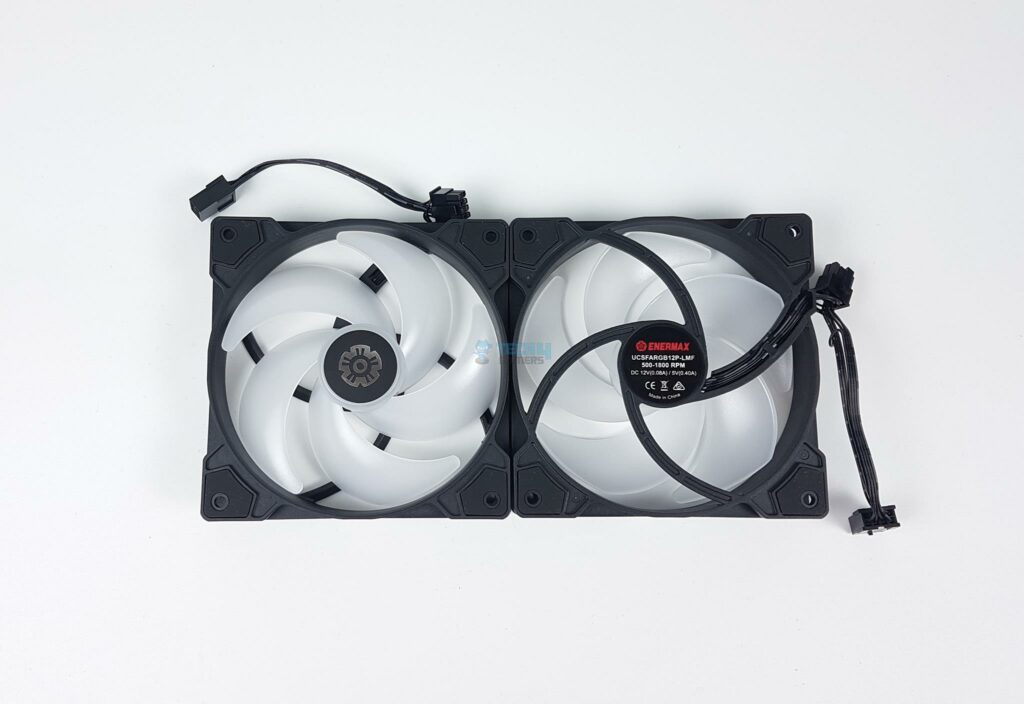 ENERMAX has provided 3x 120mm digital RGB fans with this unit. Each fan has 5 blades, which reminds me of ARCTIC P12 series fans. The blades are translucent for even light diffusion. Each fan blade is 3mm thick for provision of ample airflow of 58.03CFM while maintaining a static pressure of 2.4mmH₂O. Each mounting corner has a cut-to-size anti-vibration rubber pad. There is a silver color badge or sticker on the center of each fan. The backside of the fan has a 4-arm assembly. The wires are routed on one arm, having an inset and wider route. UCSFARGB12P-LMF is the model of this fan. These fans are rated for 500 to 1800 RPM at 12VDC.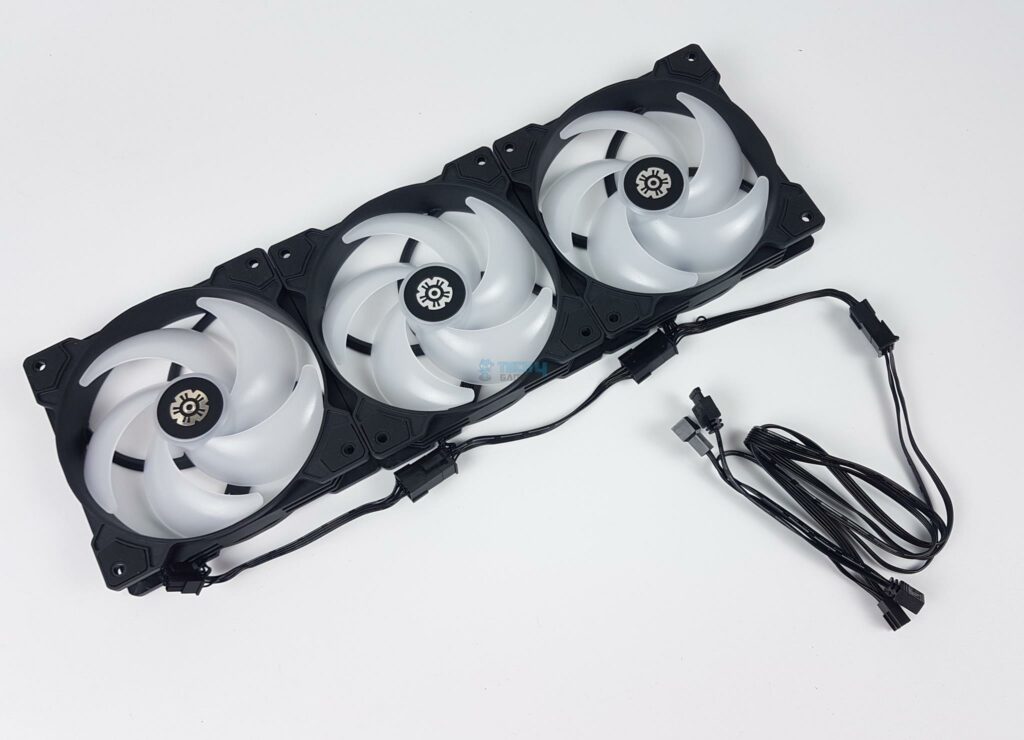 These fans use different connectors other than standard 4-pin PWM connectors and 3-pin, 5V digital RGB connectors. This reminds me of EK Water Blocks EKOmniLink technology on their EK-Nucleus series of liquid coolers. These fans are using 8-pin micro-fit connectors with a shorter cable length. The idea is to daisy-chain these fans using these special connectors and then use a single cable to handle the connectivity, hence reducing the cable clutter. That cable has a 4-pin PWM connector as well as a standard 3-pin, 5V digital RGB connector. There is also a socket connector to which the pump's power connector can be connected.
Installation
I have followed the following steps to install this cooler on the GIGABYTE Z790 AORUS Elite AX motherboard:
You will have to prepare the backplate by installing the pillar screws using locking washers.
Install the prepared backplate on the motherboard.
Install the Intel mounting bracket on the pump block.
Align the holes on the mounting bracket with the threaded portion of the pillars and place the block on the CPU.
Use thumb nuts to secure the block on the motherboard.
Install fans on the radiator and set up a cable connection.
Installation is completed.
Clearance
The cooler has no clearance issue for the RAM and PCIe slot. However, make sure that your case supports 360mm AIO. The dimension of the radiator without fans is 400x120x38mm (LxWxH). With fans, the dimension is 400x120x65.8mm. Your case must have a clearance for this much thickness.
Digital RGB Lighting
ENERMAX is using standard RGB connectors following a 3-pin format on 5VDC. This makes the cooler compatible with the RGB sync technology of the motherboard manufacturers:
ASUS AURA SYNC
GIGABYTE RGB FUSION 2.0
MSI MYSTIC SYNC
ASROCK POLYCHROME SYNC
ENERMAX has also provided a slim-design digital RGB connector that is SATA-powered. If your motherboard does not have a digital RGB header, then don't panic and use the bundled controller instead. The RGB lighting is working flawlessly. The diffusion is even, and we have tested the lighting on the GIGABYTE Z790 AORUS Elite AX motherboard using the RGB Fusion 2.0 app. The lighting was responding well to the change in mode. Here are some pictures:
Thermal Testing
I have used the mentioned configuration to test the performance of this cooler: –
Here is the settings table for testing:
| | |
| --- | --- |
| All Cores | Auto |
| VCore (V) | Auto |
| Power Limits | Removed |
| Thermal Paste | Pre-applied |
| Test Run Time | 30 minutes CINEBENCH R23.2 |
| Idle Time | 10 minutes |
| Fan/Pump Speed | 100% PWM Duty Cycle |
| Monitoring Software | HWInfo64 |
Disclaimer: Every silicon is different; hence, no two SKUs are likely to take the same voltage to yield the same performance at the same thermals per se, but the margin would be close. Not every stress test run may yield the same result, which could be due to various reasons like thermal paste application, ambient temperature variation, mounting pressure of the cooler, etc. This is why we have listed our variables and their settings. Variables not mentioned are on the Auto setting.
Result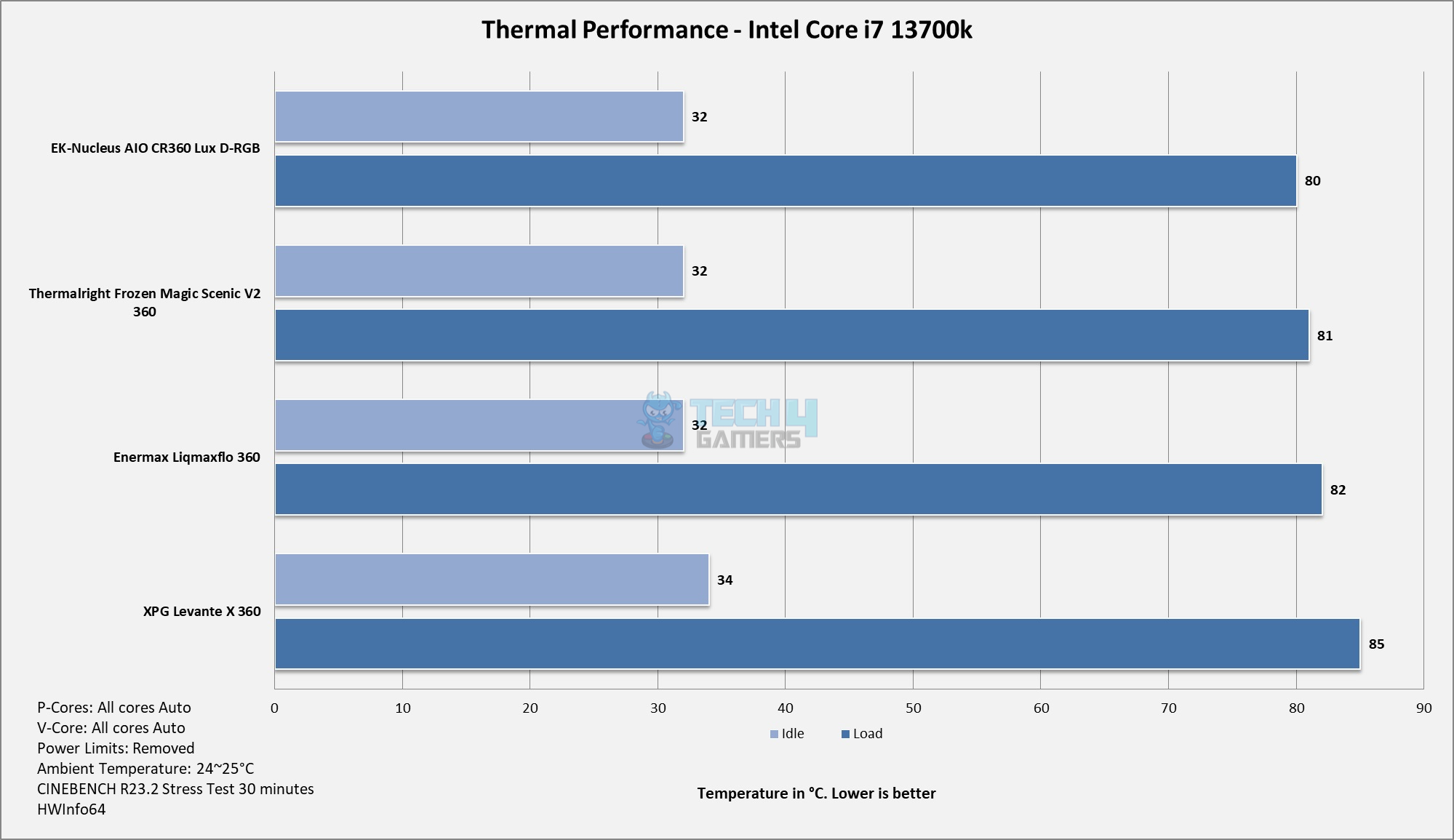 The ENERAMX LIQMAXFLO 360 has performed quite well in my testing. It is right next to the Thermalright Frozen Magic 360 Scenic V2 cooler with a difference of 1ᵒC. It has a superb lead over the XPG Levante X 360 liquid cooler. The cooler is loud at the fans' full speed, so I would suggest a custom fan curve or Auto PWM setting. I did not monitor the VRM temperatures due to my health issues. I apologize for that. The embedded fan runs silently. Unfortunately, there is no control of this fan at the user's disposal.
Should You Buy It?
Now the main question is, should you buy it?
Buy It If
You need a powerful cooler: The ENERMAX LIQMAXFLO 360 is a top-tier liquid cooler with good thermal headroom. It is a feature-rich liquid cooling solution at the user's disposal.
You want good value for money: This cooler has an MSRP of USD 129.99. This price point, along with a feature-rich and powerful cooling solution, is a good value.
You prefer longevity: One downfall of closed-loop coolers is that they are not serviceable. However, the ENERMAX LIQMAXFLO has a refill port on the radiator, and ENERMAX has provided a 100ml coolant as well to service this unit in the longer run.
Don't Buy It If
You already have a 360mm AIO: If you already have a 360 mm-sized liquid cooler, you would probably not need this cooler.
You have a compact mid-tower: This cooler has a dimension of 400x120x64.8mm (LxWxH). This makes this cooler somewhat larger and thicker than the standard liquid coolers. If you have a compact mid-tower PC Case, chances are that this cooler might not fit in. Do your homework properly.
Final Thoughts
The ENERMAX LIQMAXFLO is available in three sizes: 240mm, 360mm, and 420mm. I have tested a 360 mm-sized version of this series. This cooler packs some handy features, which are:
38mm thick radiator provides more surface area.
A refill port on the radiator allows the user to service this cooler for longevity and durability.
Micro-fit-8-pin connectors on the fans allow easy daisy-chaining and single cable handling.
3mm thick translucent blades sustain the higher static pressure.
The dual-chamber Design of the pump housing allows the isolation of warm coolant from normal coolant.
Shunt Channel Technology in the pump allows efficient flow of coolant.
An embedded 60mm fan cools the VRM of the motherboard.
ENERMAX is offering this cooler for USD 129.99 with a 5-year warranty. This cooler has performed incredibly well on our test bench and is sitting close to the likes of EK-Nucleus AIO CR360 Lux D-RGB and Thermalright Frozen Magic Scenic 360 V2. The overall noise output is on the high side, and I would suggest running these fans on Auto PWM settings or using a custom fan curve profiling. This is a fantastic cooling solution and is recommended by me.
Was our article helpful? 👨‍💻
Thank you! Please share your positive feedback. 🔋
How could we improve this post? Please Help us. 😔
[Hardware Reviewer & Editor]
Meet Nauman Siddique, a highly experienced computer science graduate with more than 15 years of knowledge in technology. Nauman is an expert in the field known for his deep understanding of computer hardware.
As a tech tester, insightful reviewer, and skilled hardware editor, Nauman carefully breaks down important parts like motherboards, graphics cards, processors, PC cases, CPU coolers, and more.
15+ years of PC Building Experience
10+ years of first-hand knowledge of technology
7+ years of doing in-depth testing of PC Hardware
A motivated individual with a keen interest in tech testing from multiple angles.
I majored in Computer Science with a Masters in Marketing
Previously worked at eXputer, EnosTech, and Appuals.