Best 360mm AIO?
Review Summary
XPG is back at it, and this time even with better-performing coolers. Say hello to Levante X, a cooler that has the capability of handling high-end SKUs with stunning visuals on the pump housing and using powerful Vento Pro fans. This cooler is almost a no-brainer, provided XPG sets the price right.
Quality -

8.5/10

Design -

9/10

Performance -

9/10

Features -

9/10

Value -

7.5/10
Pros
Excellent Thermal Performance
ASETEK 7th gen design
Infinity Mirror Design
Rotatable top Lid
Addressable RGB Lighting
Warranty
Intel LGA1700 Socket Support
AMD AM5 Socket Support
Easy Installation
Why you can trust Tech4Gamers:

We understand the importance of making informed decisions. That's why our team spends significant time testing every product we review.

Find out more about how we test.
XPG stands for Xtreme Performance Gear. XPG is an enthusiast gaming brand from ADATA focusing on eSports, PC Enthusiasts, and gamers. XPG's family of products include PC Systems, including desktop and laptops, Memory Modules, Solid State Drives, PSUs, PC Chassis, Cooling solutions, and RGB Accessories. Gaming peripherals include gaming mice, keyboards, and headsets. XPG is committed to bringing excellence to its products with reliability, durability, and performance in focus. Their designs have won several IF Design and GOOD Design awards.
---
Key Takeaways
You should buy the XPG Levante X 360 Liquid Cooler if you are you are looking for a high-end 360mm AIO that can handle top-tier processors.
You should not buy the XPG Levante X 360 Liquid Cooler if you are on a budget.
---
We tested XPG Levante 240 at the time of its release and found it a good liquid cooler in its domain. XPG recently released the Levante X series of coolers, particularly aiming at the new platforms from Intel and AMD. This series of coolers uses ASETEK's seventh-generation design. Since this cooler has ASETEK as OEM, they are available in the North American region. We are taking a look at XPG Levante X 360 cooler. As the name indicates, this is a 360mm size AIO cooler. It is compatible with Intel LGA 1700 / 1200 / 115x and AMD AM5 / AM4 sockets. XPG has provided 3x digital RGB fans with this cooler, along with a dedicated controller. The key features are:
Reliable High-Performance CPU Liquid Cooler with Asetek Cooling Solution.
A high-Performance pump efficiently dissipates heat from high-end CPUs.
High-Performance, low noise Dual-Ring 120mm ARGB Fans.
Universal design for fan & pump RPM control supports all MB brands.
All-in-One hassle-free installation; no additional setup required.
Fluid Dynamic Bearing (FDB) Fans with 4-Pin PWM design.
Specifications
Product
XPG Levante X
Water Block Dimension (H*W*D)
72.5 x 50mm
Water Block Material
Copper
CPU Socket Support
Intel: LGA 1700, 1200, 115x
AMD: AM5, AM4
Radiator Dimension
360mm - 394 x 121 x 27mm
Radiator Material
Aluminum
Tube
400mm Sleeved Rubber tube
Fan Size
120mm ARGB Fans
Fan Dimension
120 x 120 x 25 mm
Bearing Type
Fluid Dynamic Bearing
Fan Speed
600~2000 RPM
Fan Static Pressure
1.42mm H2O ±10%
Fan Air Flow
61.5 CFM ±10%
Fan Noise
18.17 dBA(avg.)
Protection
Auto-Restart
Weight
2.14kg
Warranty
5 years
Packing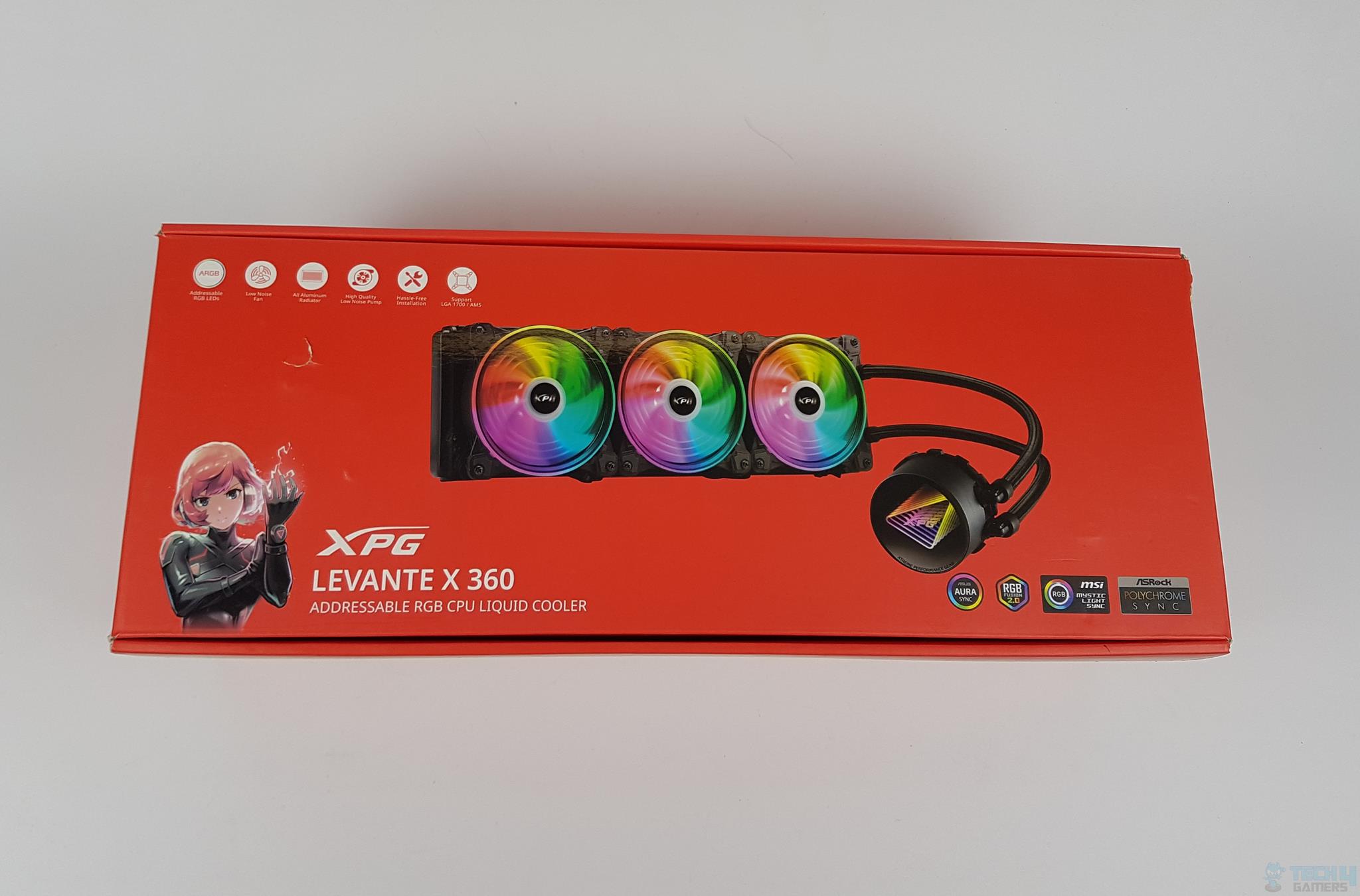 The cooler is shipped inside a sleek-looking packing box having a red color theme all around. This cooler is compatible with:
XPG has listed salient features that are described above.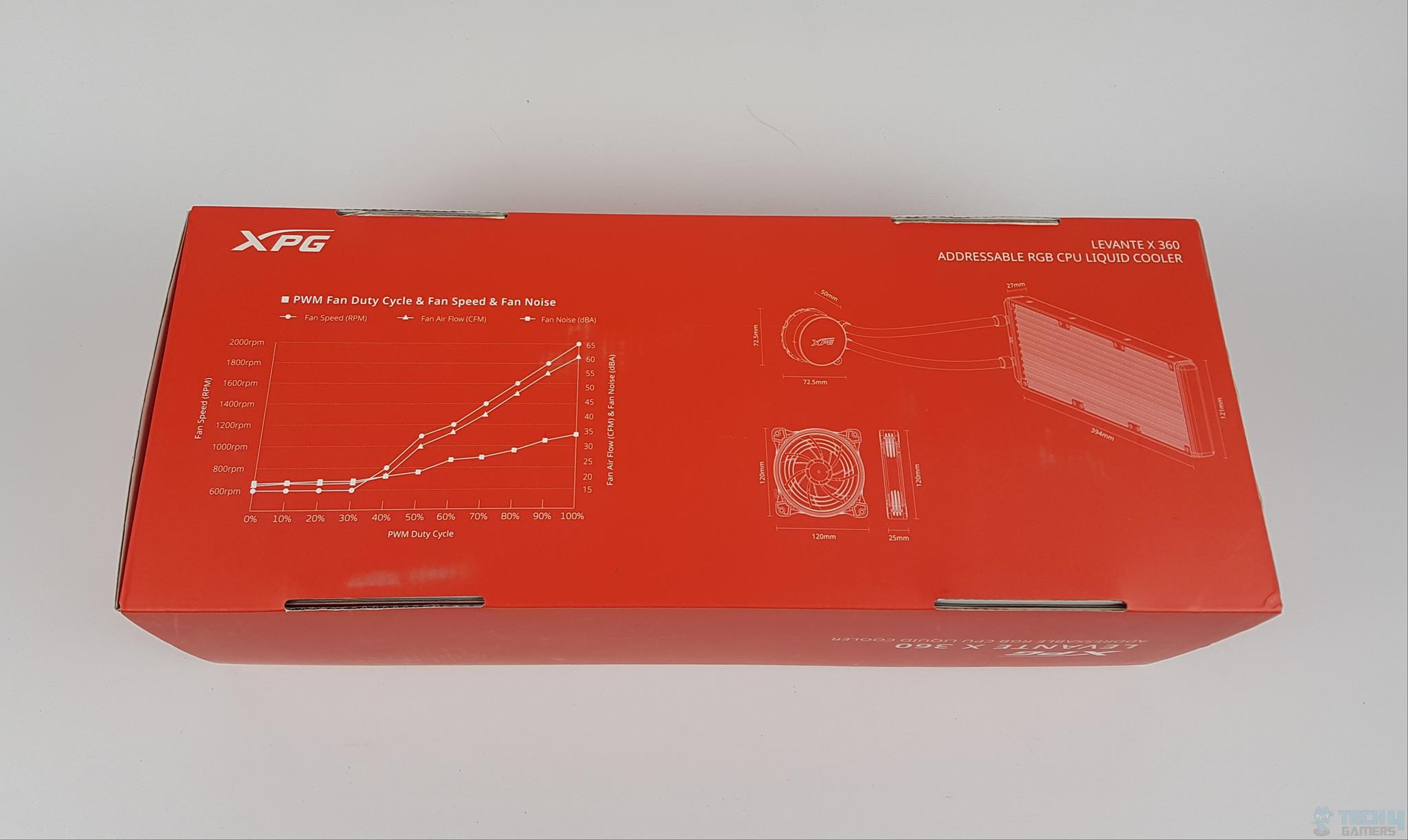 There is a graph showing a relation of speed, airflow, and sound of this unit under the P/Q curve. Dimension of the unit is also provided on diagrams.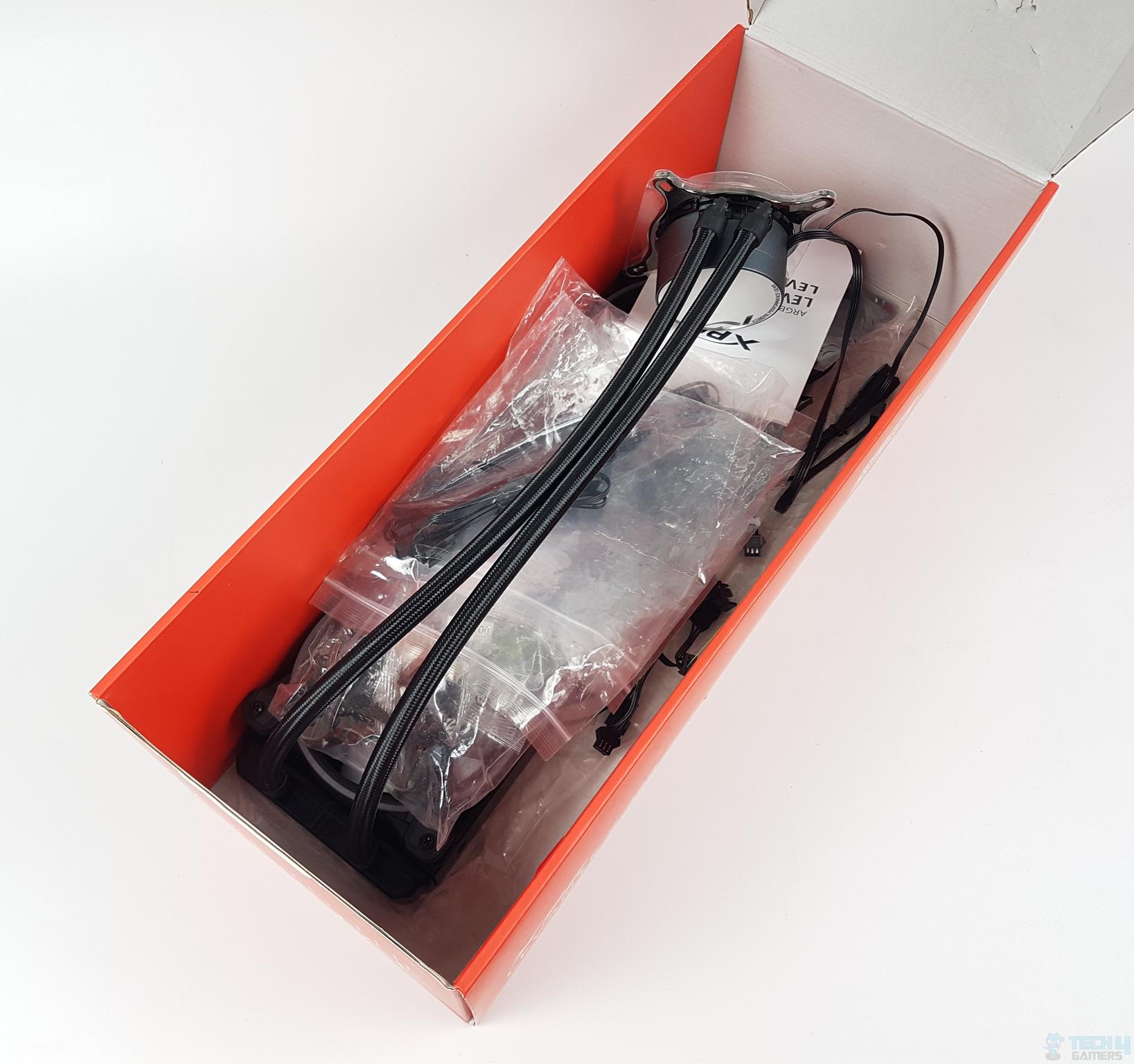 This is how we have received a review unit. The fans were installed. There were scratch marks on the block's housing. The mounting hardware was lying all over the place. The radiator itself has quite some bend fins with the coating removed. Clearly, someone from their warehouse sent a used unit. We have already communicated this with the XPG team. They were shipping another unit, but we told them otherwise to save resources. Yes, this is not how the review line works, but the unit was intact, so why not.
What's in the box?
It is time to take a look at what is provided in this box by XPG.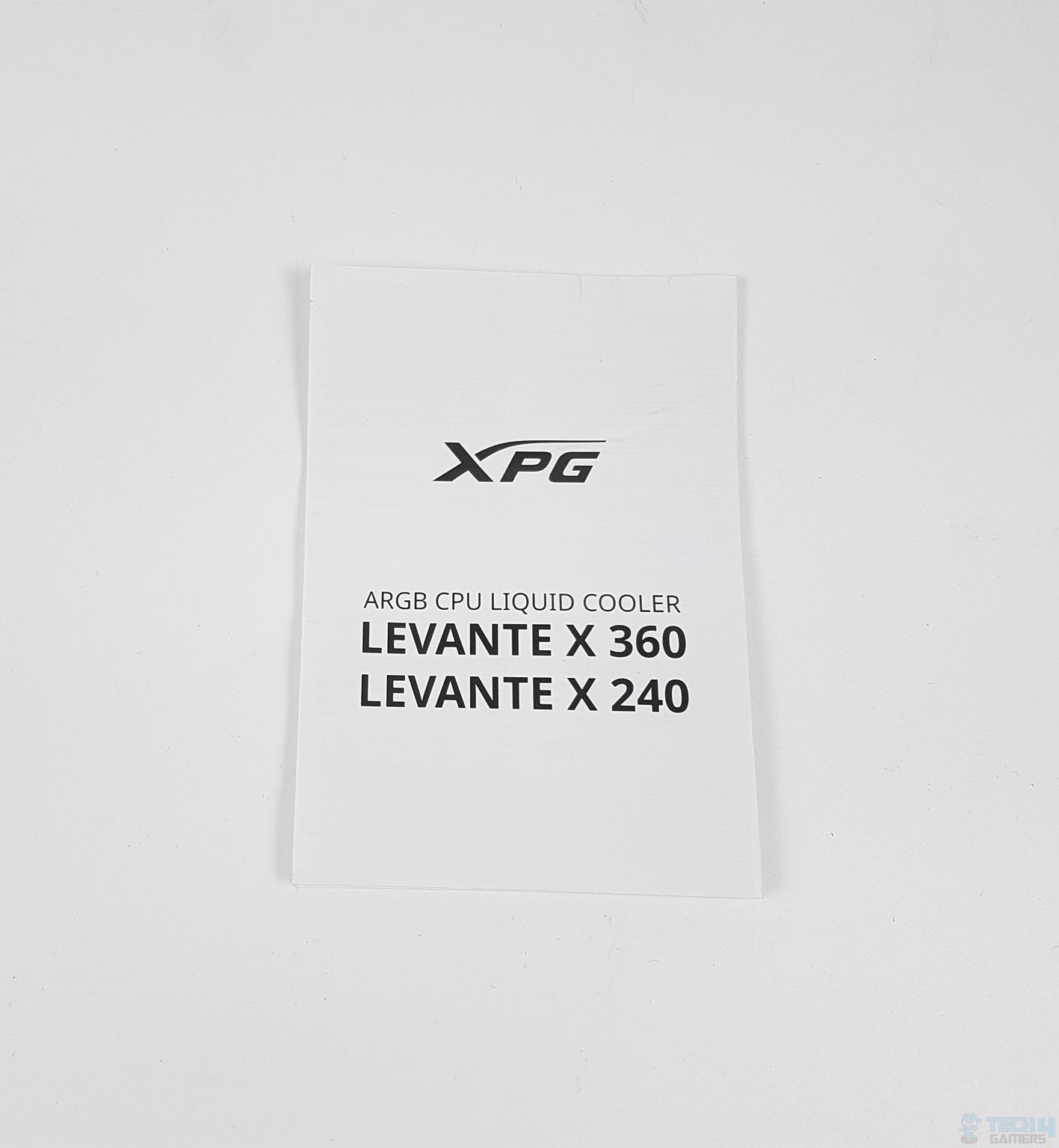 XPG has provided a printed user guide clearly providing instructions about installing this cooler on supported sockets. However, they have forgotten to mention the important design element in the booklet. The top lid of the block's housing is removable and rotatable.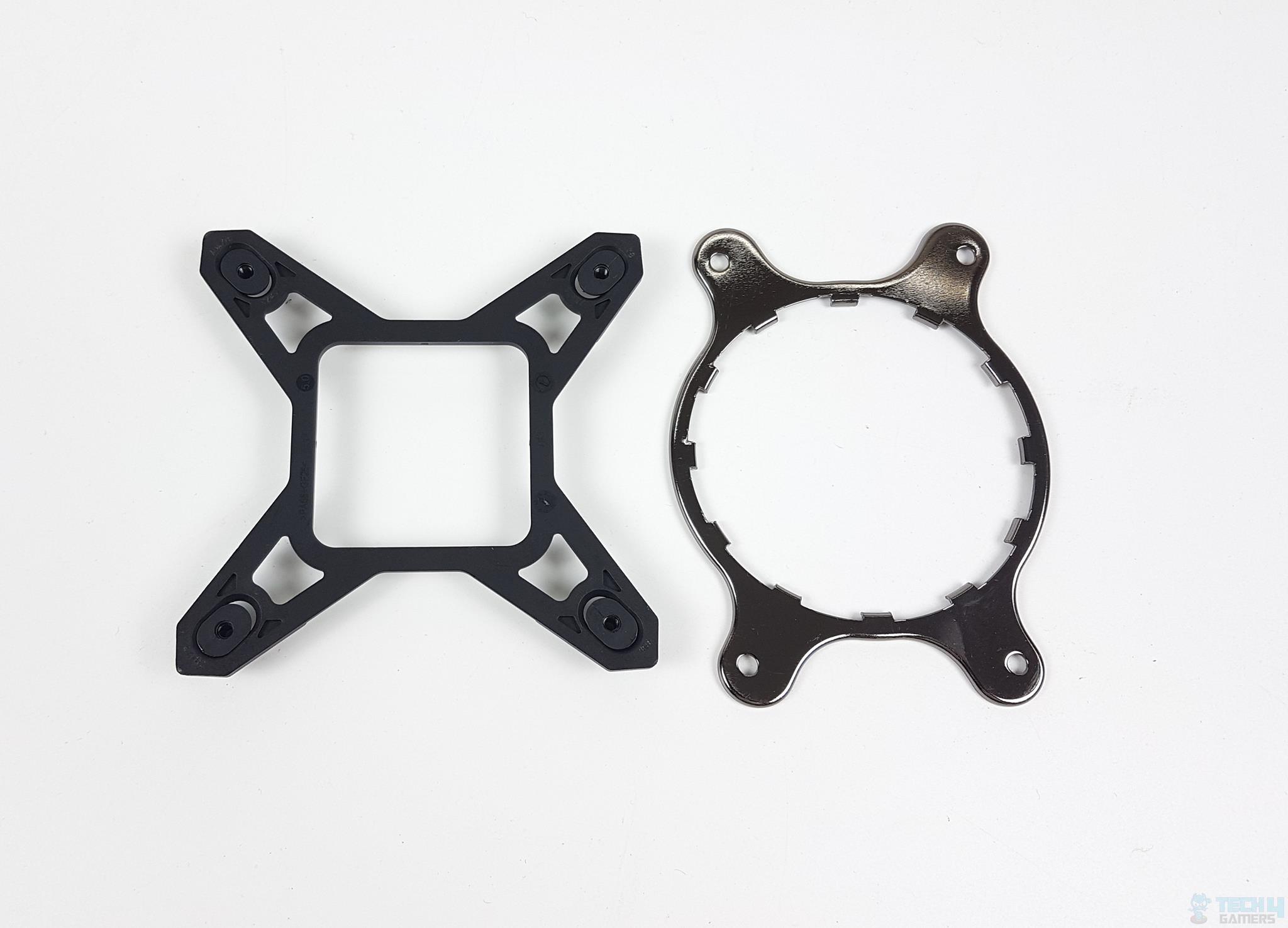 XPG has provided:
1x AMD Ring Mounting Bracket
1x Intel Ring Mounting Bracket [Comes pre-installed]
1x Intel Backplate
The Intel backplate is made of plastic material, and I am a bit skeptical about its rigidity. XPG should improve the strength of this backplate, particularly for the LGA1700 socket.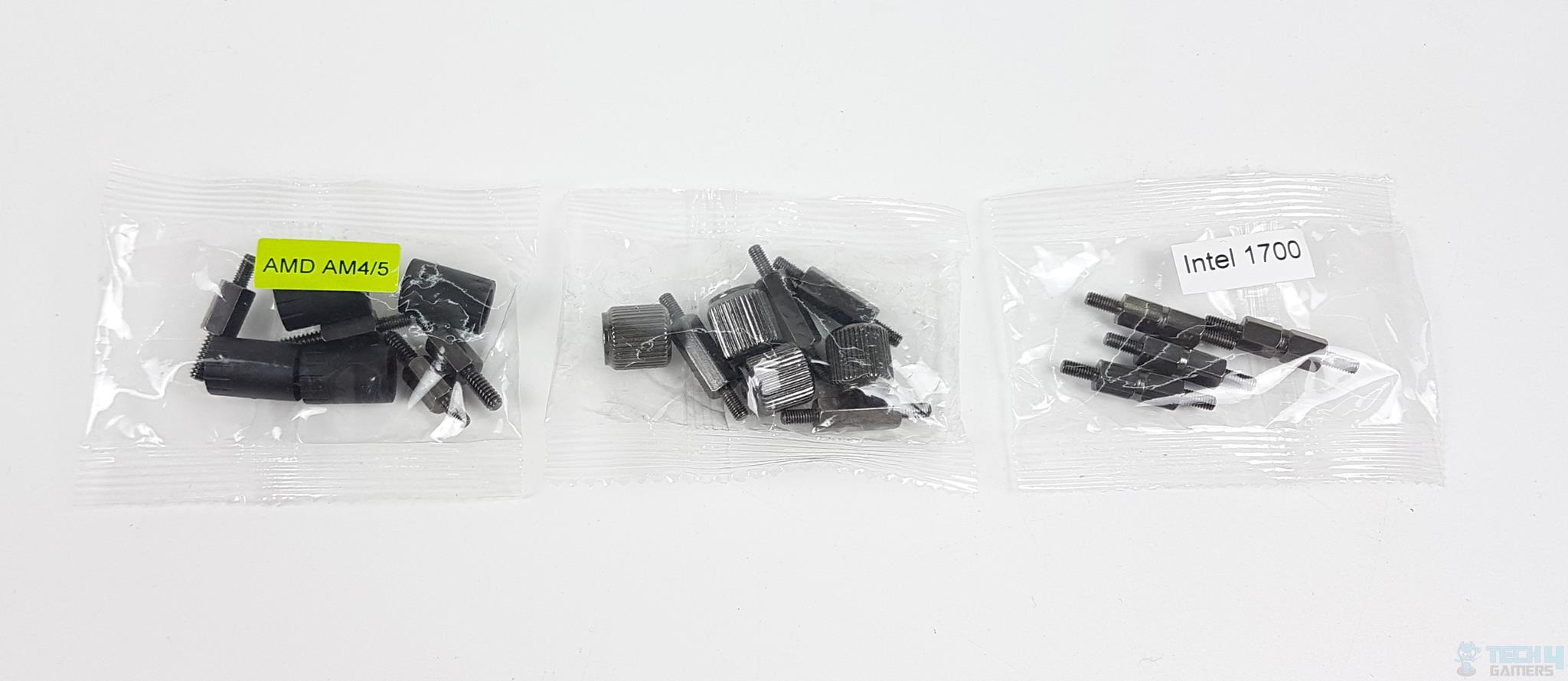 There are:
4x AMD Black Color Spacers
4x AMD Standoff Screws
4x Intel LGA1200/115x Standoff Screws
4x Intel LGA1700 Standoff Screws
4x Thumb nuts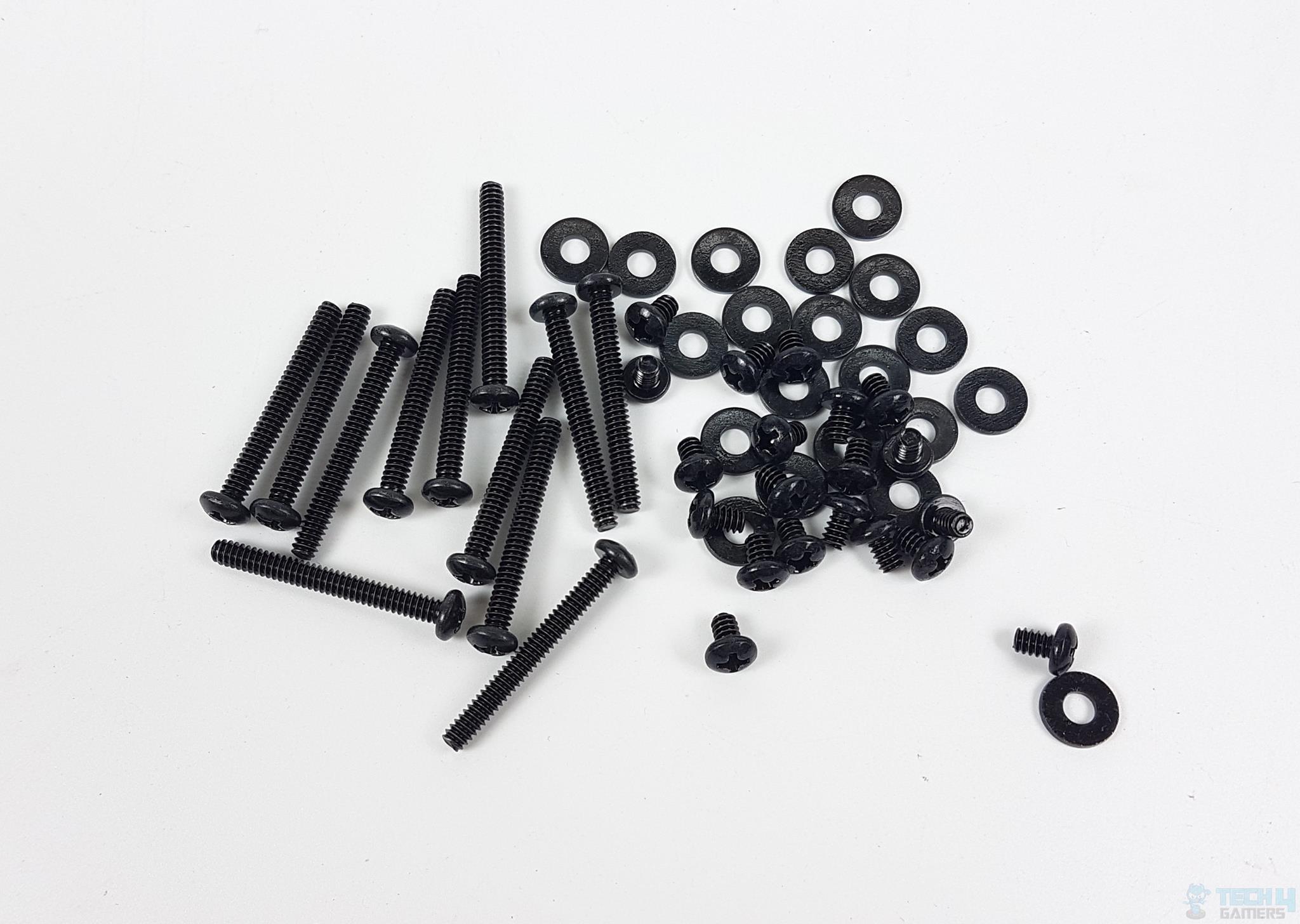 XPG has provided:
12x Fan Screws
12x Radiator Screws
There should be 12x metallic washers, but we have got some 20 [Someone must be generous!]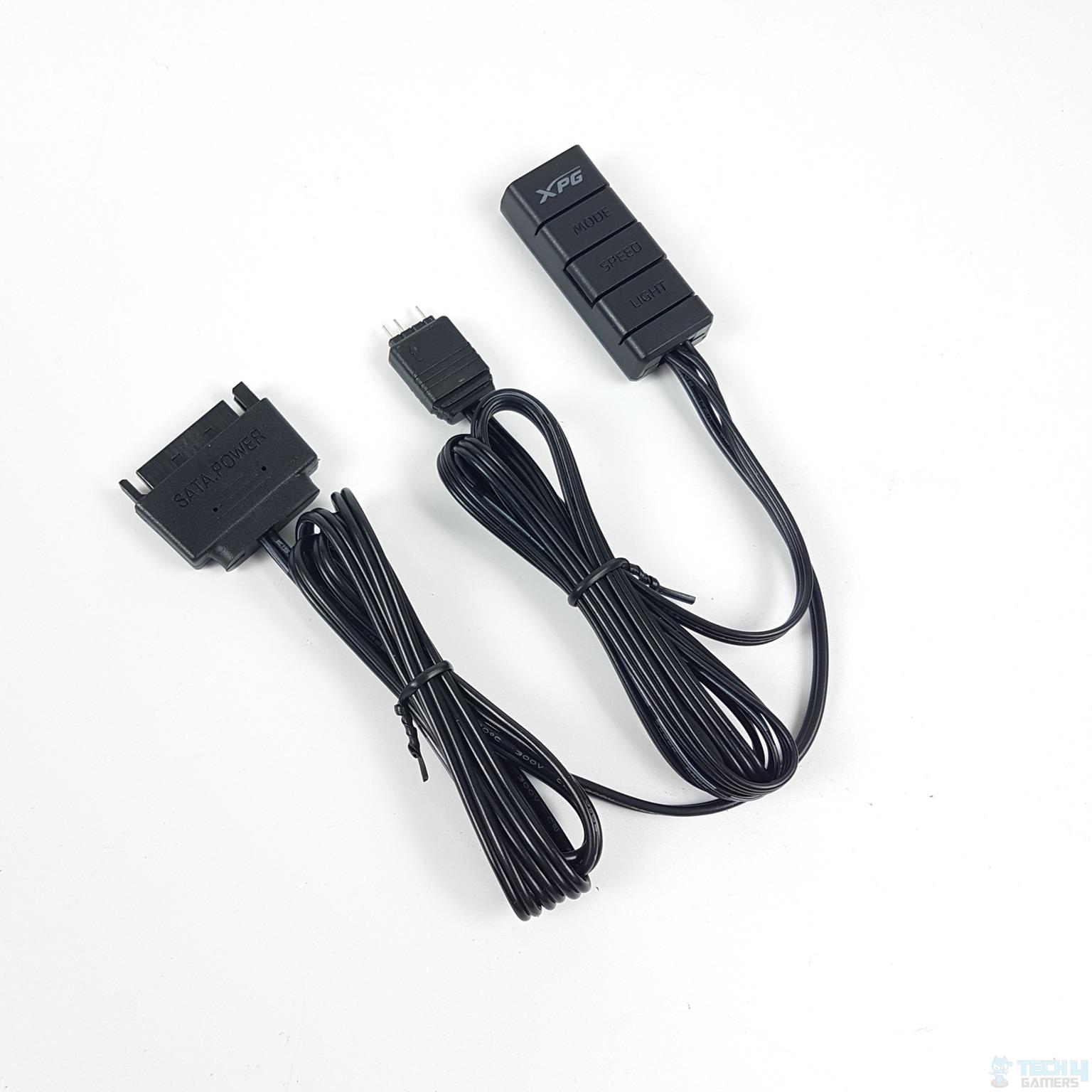 XPG has provided a dedicated A-RGB Controller with this cooler. I must say, I admire the look and feel of this controller. It has three buttons. The Mode button changes the lighting modes. The Speed button controls the speed of dynamic lighting modes. The Light button toggles the light colors in static mode. This controller is SATA powered, and from the A-RGB end, there is a standard male A-RGB connector using a 3-pin interface at 5VDC. The cables are flat and thick enough to provide a good grip and durability.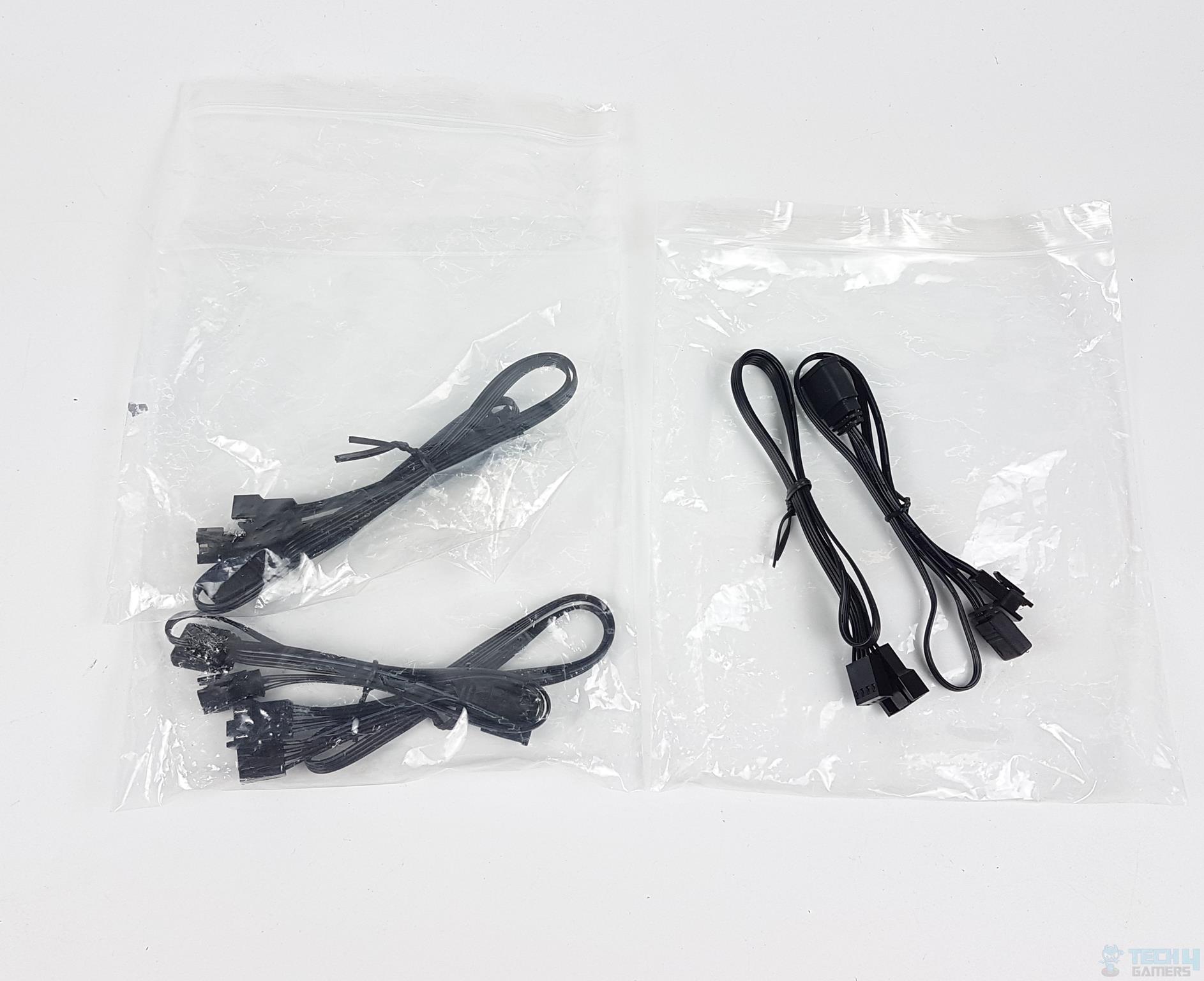 We are showing three containers for the fans. Originally, the fans should have come packed inside these containers. Each container has two cables. One cable is the PWM extension cable whereas the other cable is an A-RGB extension cable using a proprietary connector on one end and a standard A-RGB connector on the other end. This clearly tells us that XPG is using proprietary connectors on the fans and possibly on the pump housing. We will check that later in the Design section.
Design
Let's start taking a look at the cooler, starting with a statement from XPG about this cooler. "An All-In-One CPU Liquid Cooler with industry-leading engineering from Asetek, XPG LEVANTE X provides excellent CPU heat management. This reliable, high-performance Liquid Cooling solution ensures smooth system operation for an optimal gameplay experience."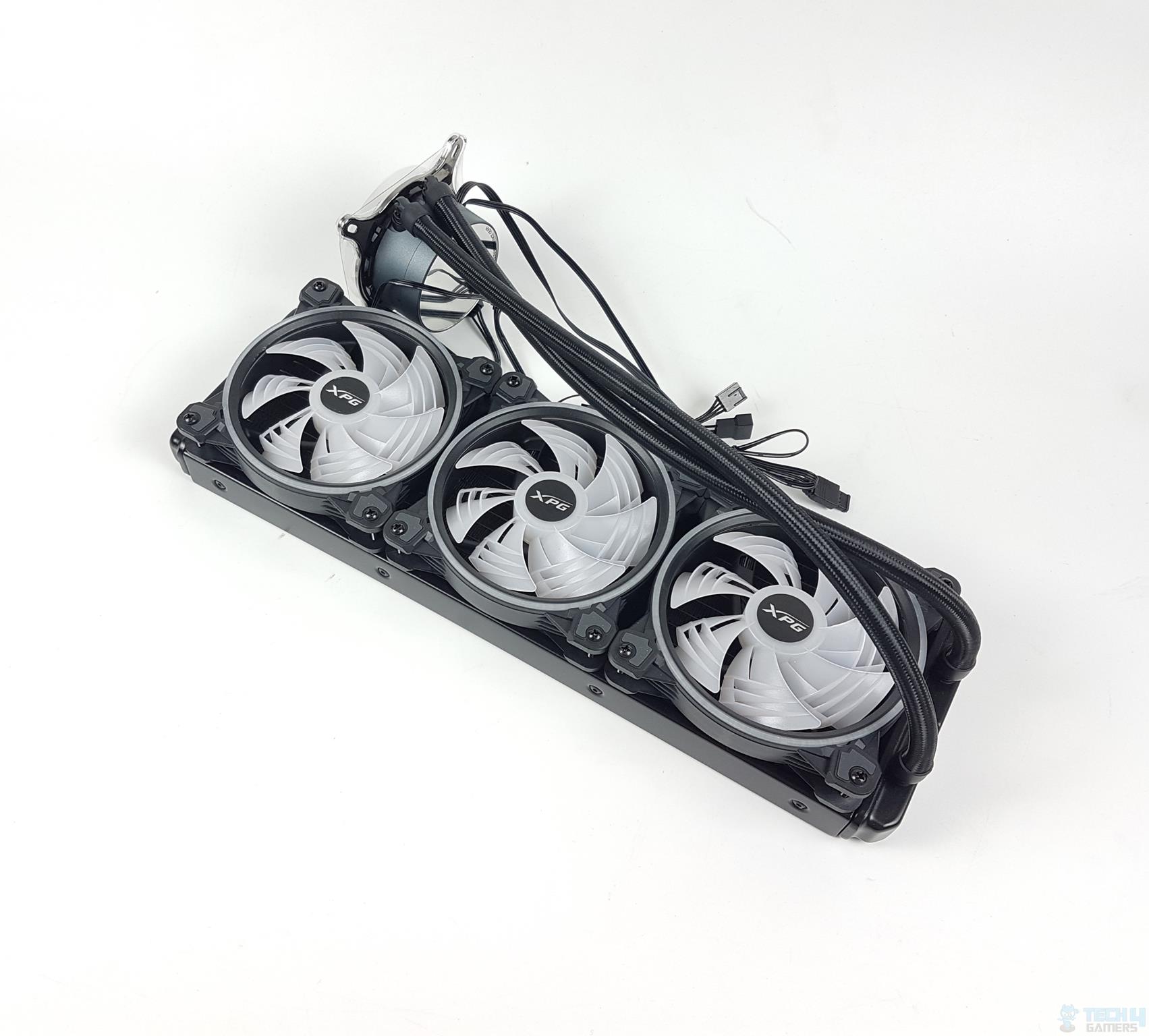 This is how our sample came. Originally, the fans should have come in their dedicated containers, and there should be an egged box or an inside container in the main packing box on which the individual items are placed.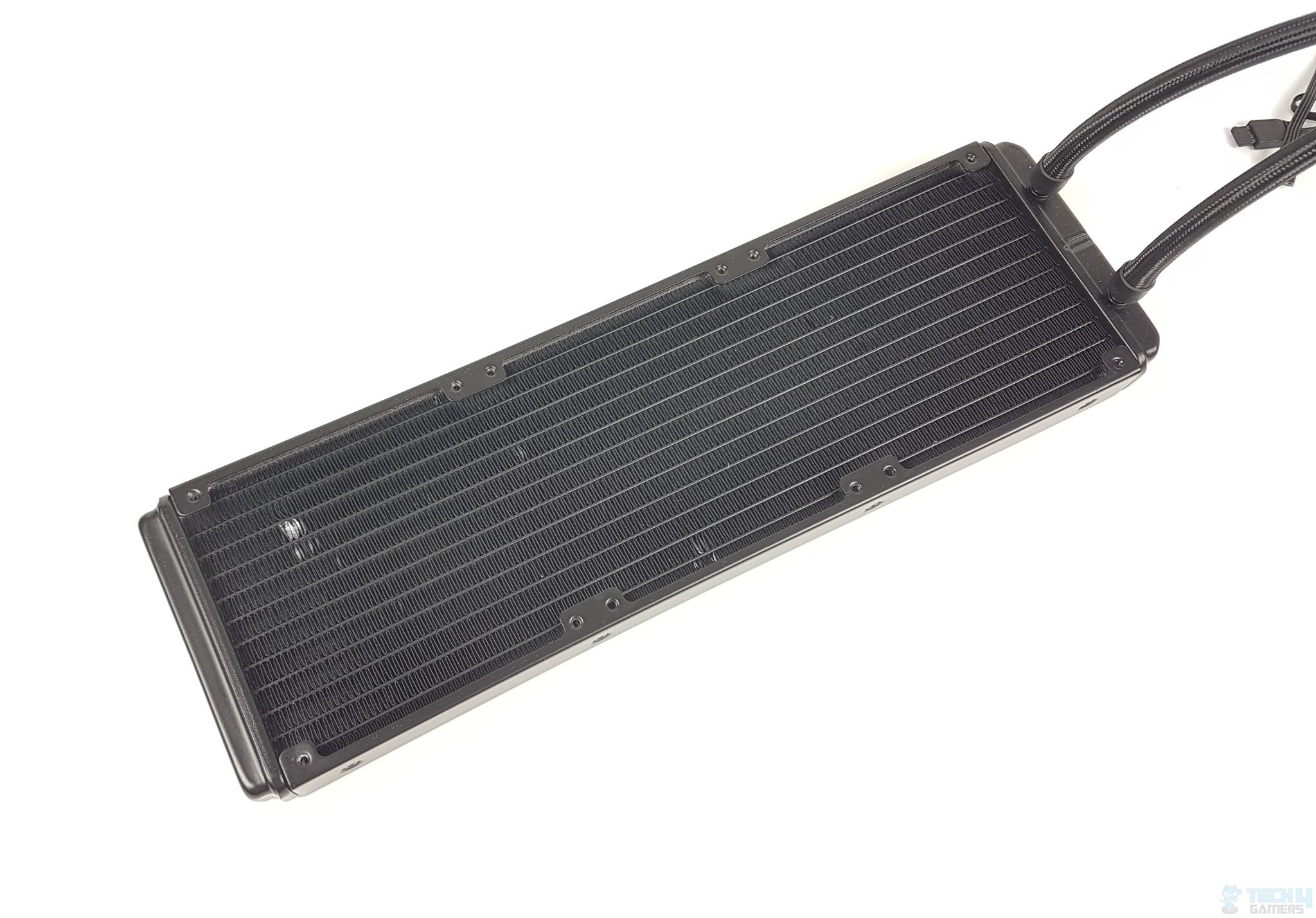 We removed the fans from the radiator. This radiator is made of an aluminum material. It has a fin density of 20 FPI, and it has 12 channels for the coolant flow. XPG has shown 11 channels on their website, which is incorrect. The dimension of this radiator is 394x121x27mm (LxWxH). Adding 25mm thick fans will make the overall height of this unit to be 53mm, including the heads of the screws (approximately). There is a standard gap of 105mm between two opposing mounting holes and 15mm between two adjacent holes.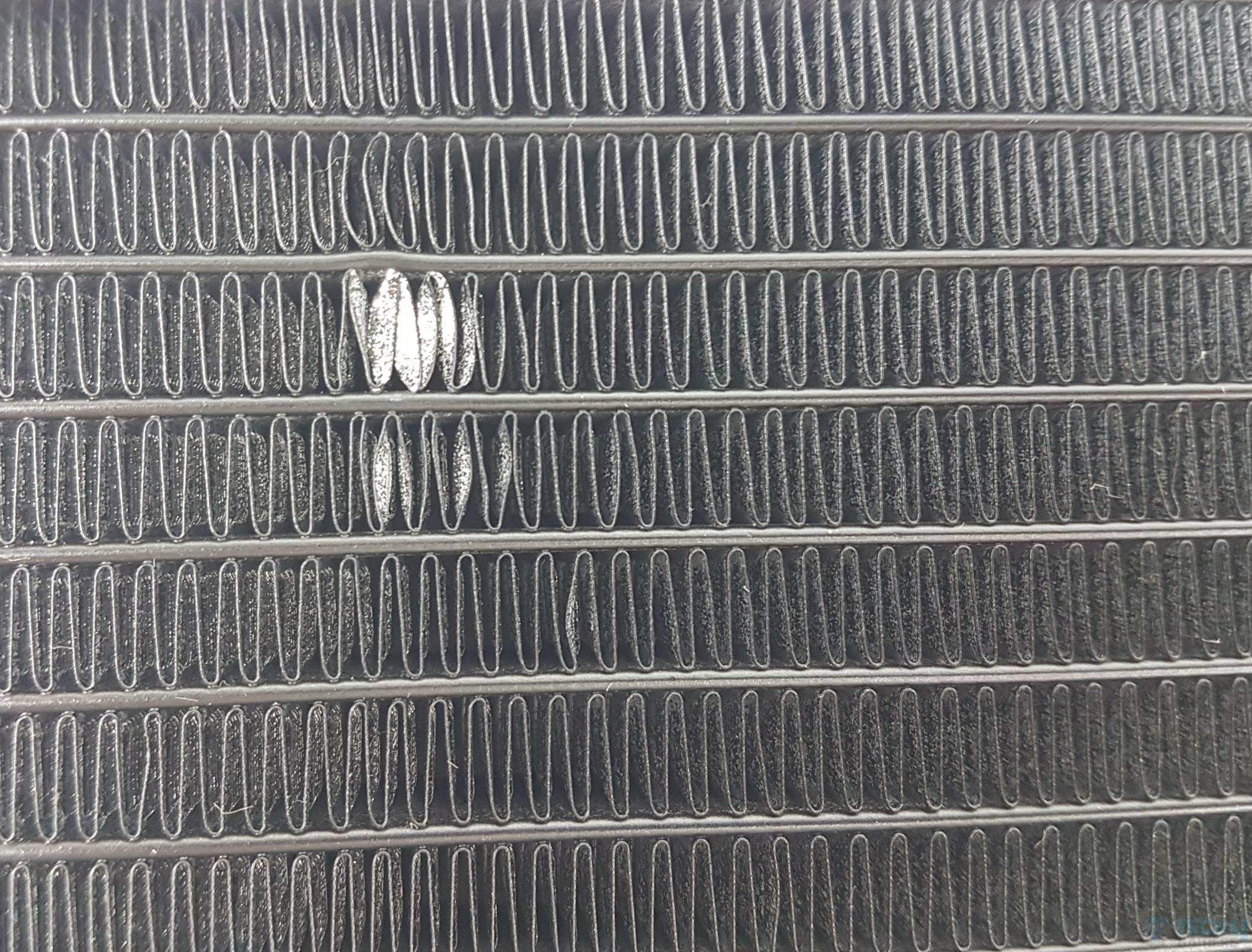 This radiator has bend fins all over the place. They can be spotted on the front as well as on the backside. Some of these fins even have lost the black coating. From the angle of bending, it seems like something hit these fins. Anyhow, XPG has been informed about it.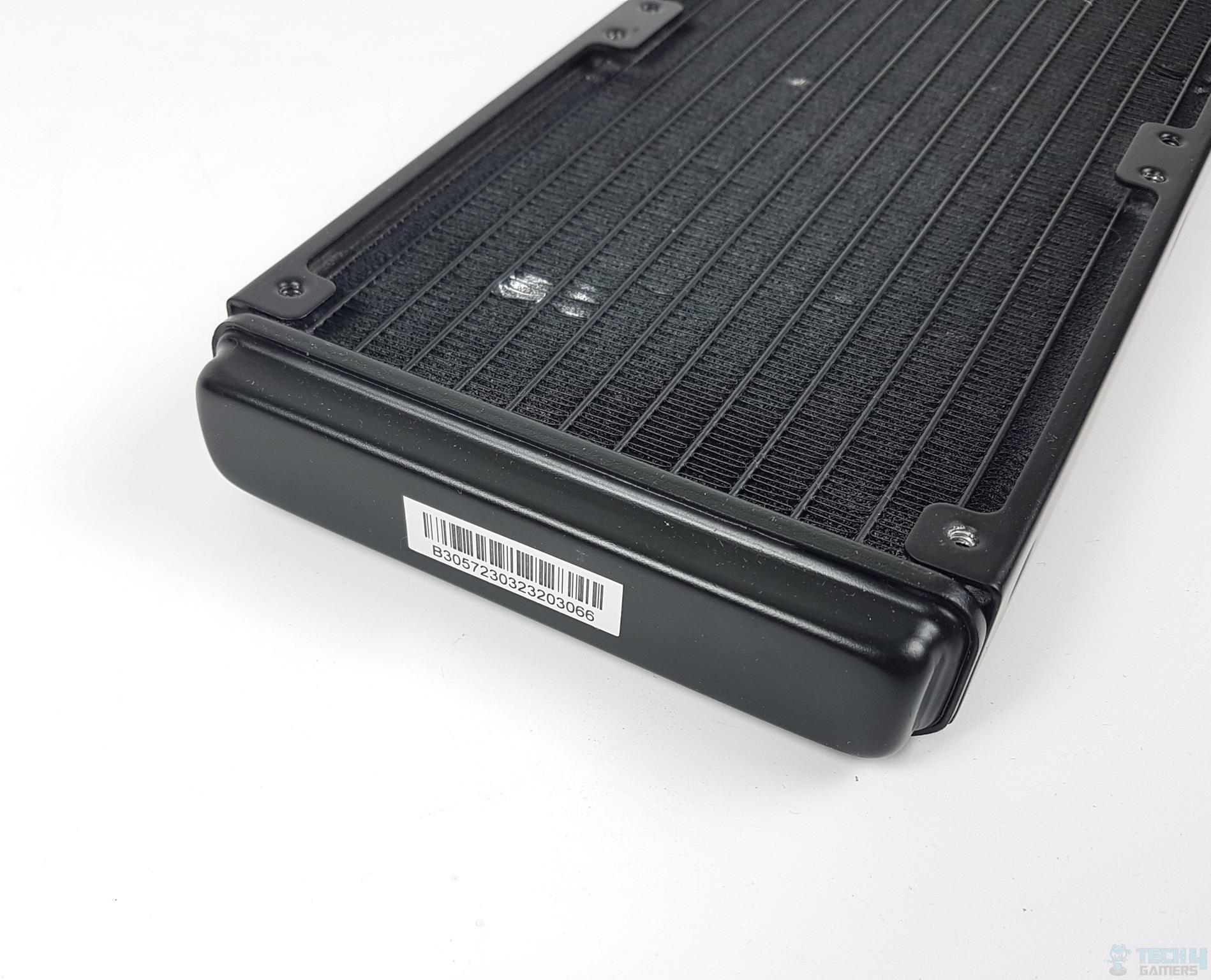 Looking at the far end or block of this radiator, we can spot a part number (possibly) sticker pasted there. This is not a rectangular layout since the edges are rounded. This block is thinner than the nearby block. This is by design.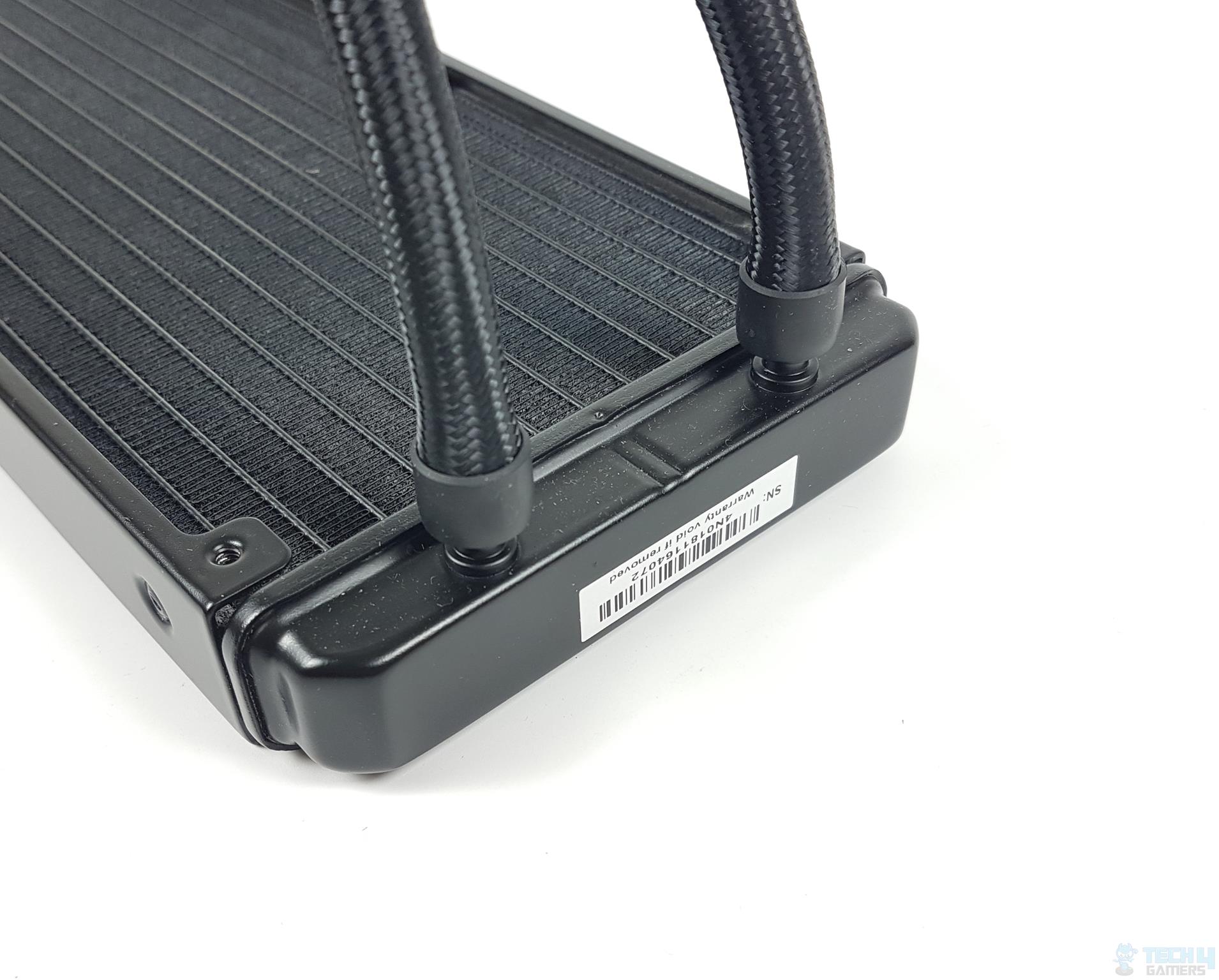 Now we are looking at the near block. We have two tubes making a connection with the barb fittings. These connections are concealed with rubber clamps or covers. There is a serial number sticker pasted over this end. Don't remove this sticker, as this would void the warranty.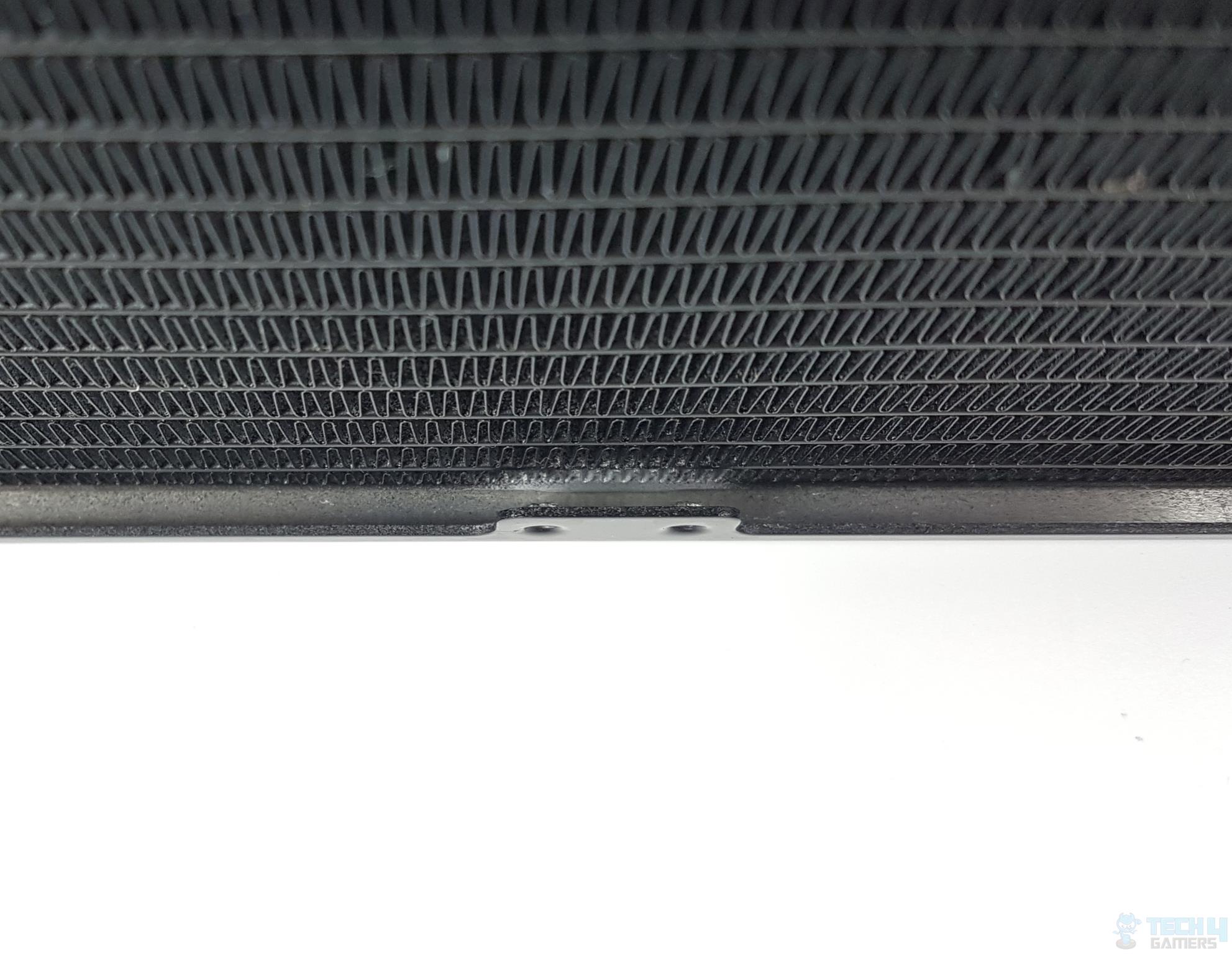 There is a certain gap between the side frame of the radiator's housing and the actual fin stack. This would mean that the fin stack has less thickness than 27mm. So far, we have seen that CORSAIR AIOs have a full-height fin stacking in our experience. There is no protective plating under the mounting holes, but as long as you are using XPG screws, you are good. Plus, this gap between the side frame and fin stack provides space for screws.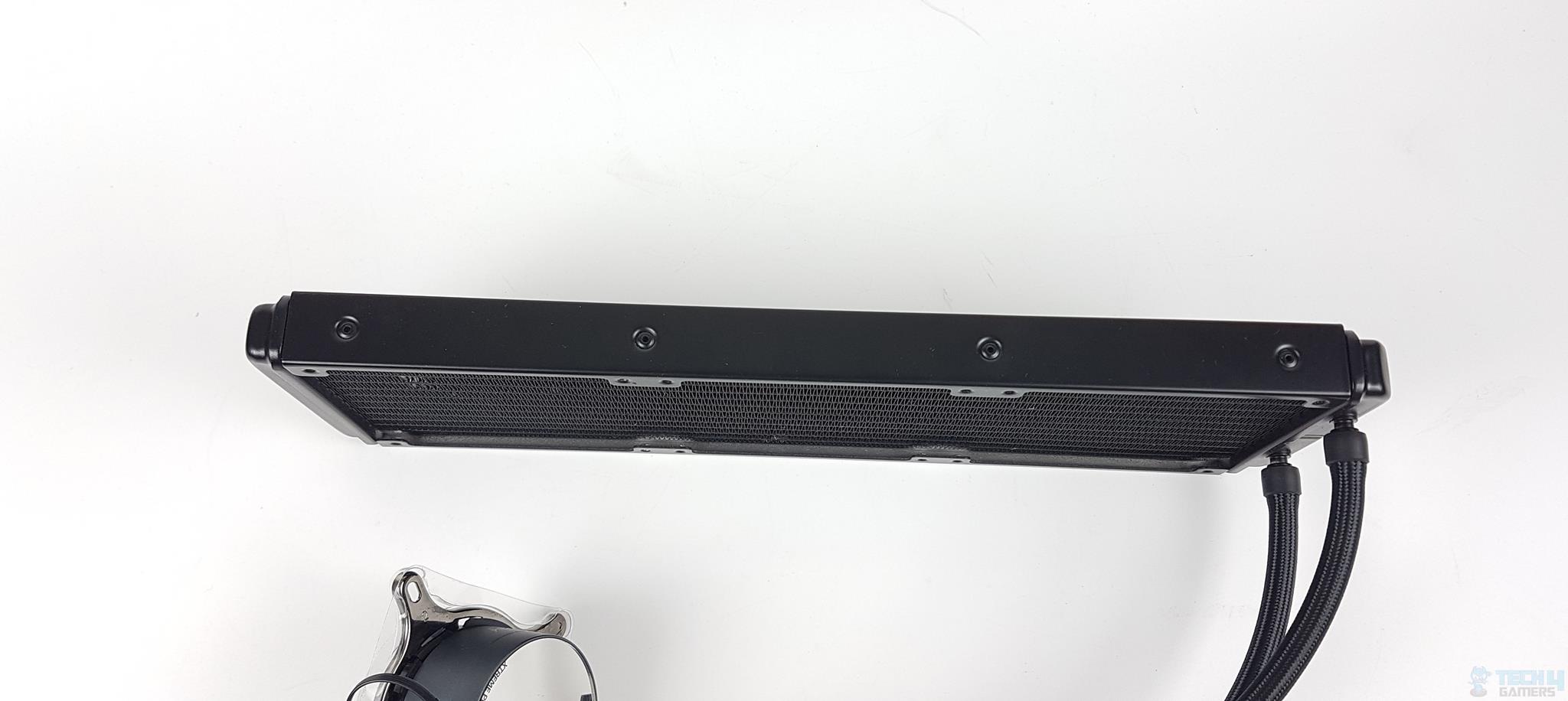 Looking at each side of the radiator's housing, there is no branding anywhere. The side plates are riveted to the main housing.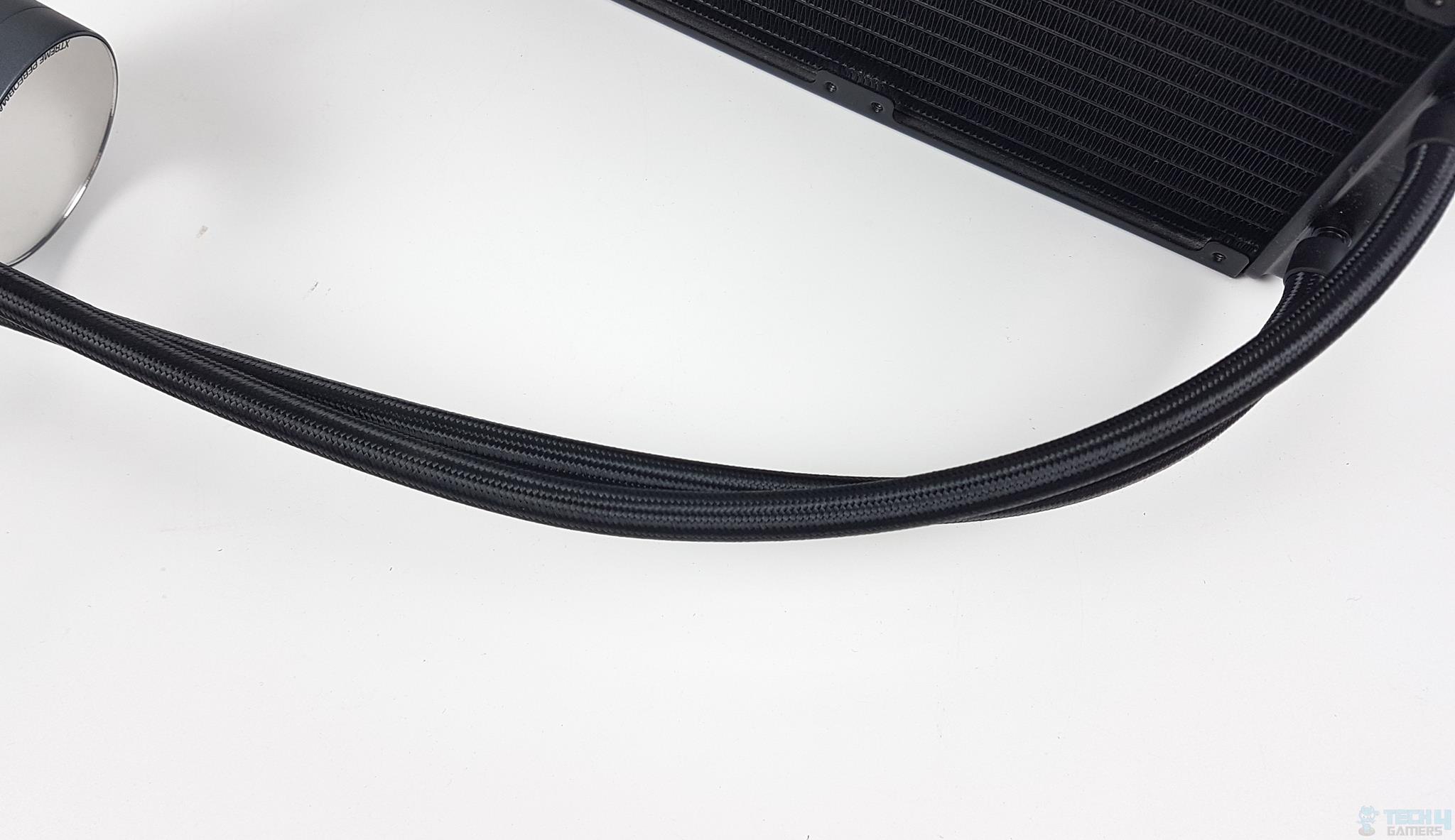 The XPG Levante X 360 is using rubber tubes that run to 400mm in length. In our measurement, the tube only has a length of 385mm, whereas this length goes to 415mm, including the connection with fittings. These tubes have nylon braided mesh sleeves for aesthetics.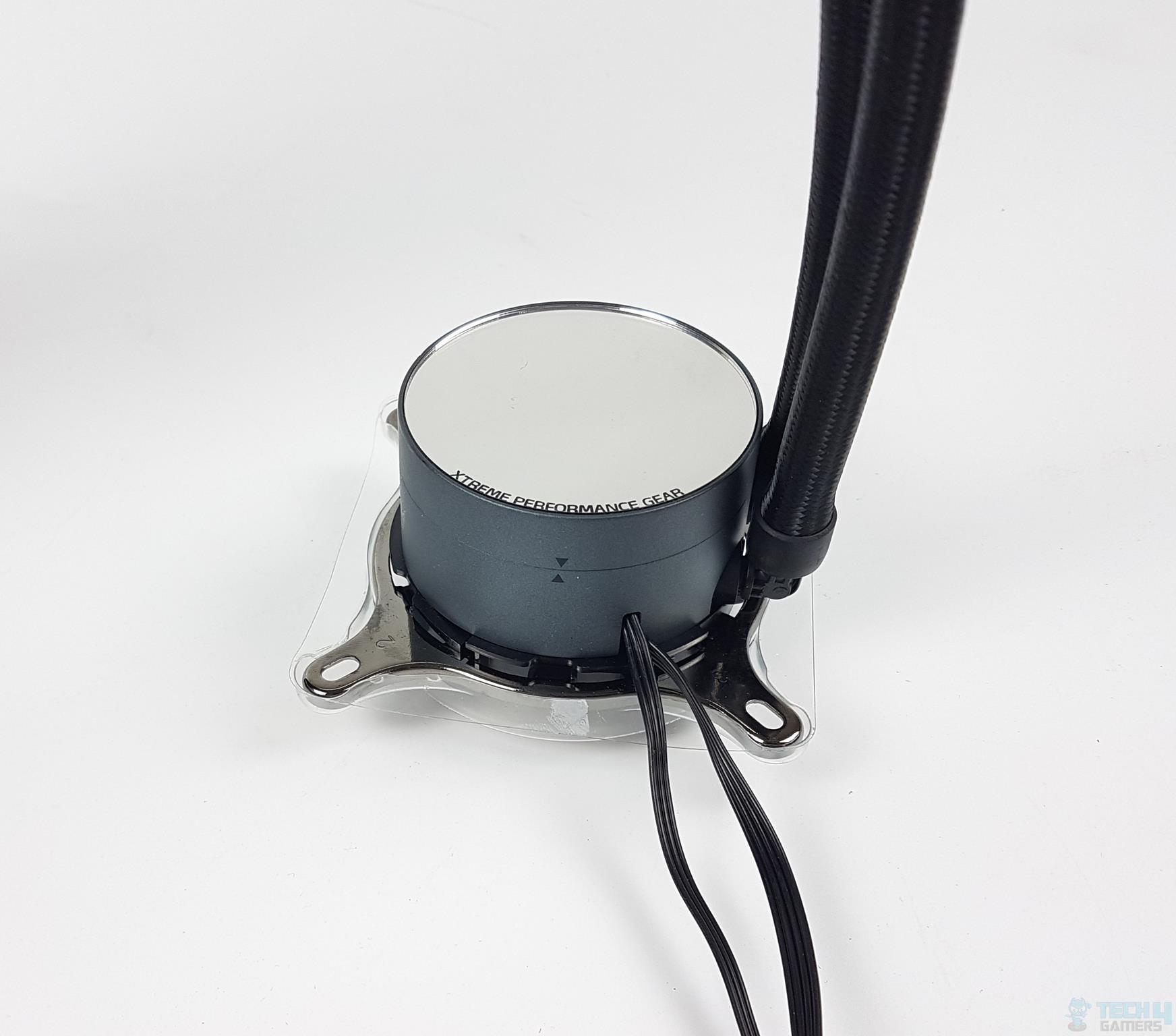 The pump housing on XPG Levante X 360 has a ring or circular design. Its diameter is 72.5mm, whereas its height is 50mm. It seems to be made of ABS material. There are arrow markings on all sides of the housing. As can be seen in the above picture, the arrow marking on the top lid aligns with the arrow marking on the main pump housing. Unfortunately, the user guide and the web page of this cooler are silent about this. The top lid is removable so that the user can install it in any of four directions. This would come in handy during the installation of this unit, regardless of the orientation. One can easily rotate the top lid so that the XPG logo remains upright. We can see two flat cables coming out from near the base of this block.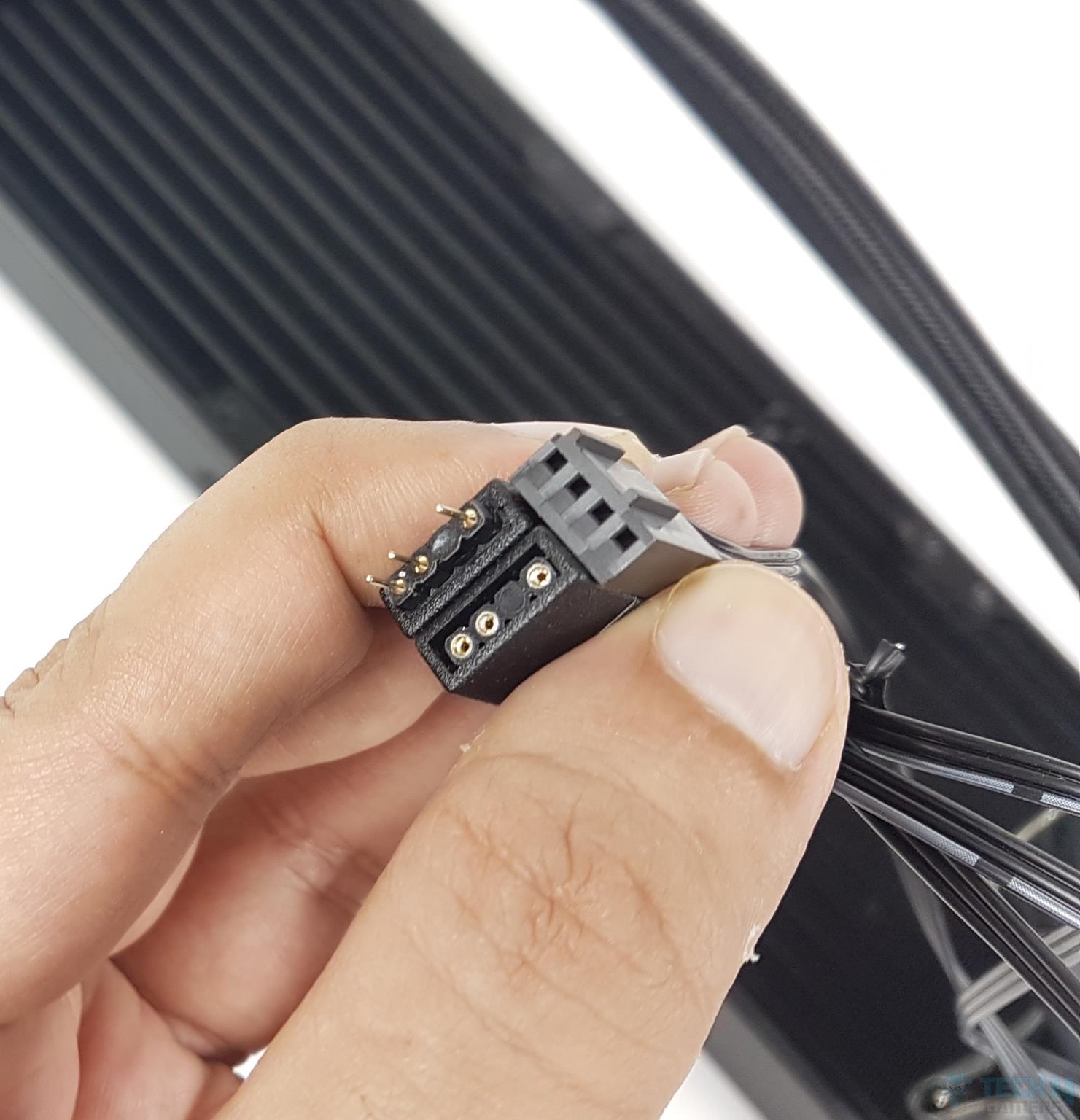 One cable has a 4-pin PWM connector to power the pump. Speaking of the pump, this unit has ASETEK's 7th-generation pump design. It is mentioned on the website that 800RPM whisper-quiet performance. I am sure this is not the full speed of this pump. XPG has not mentioned any specifications of this pump. The other cable has two standard RGB connectors.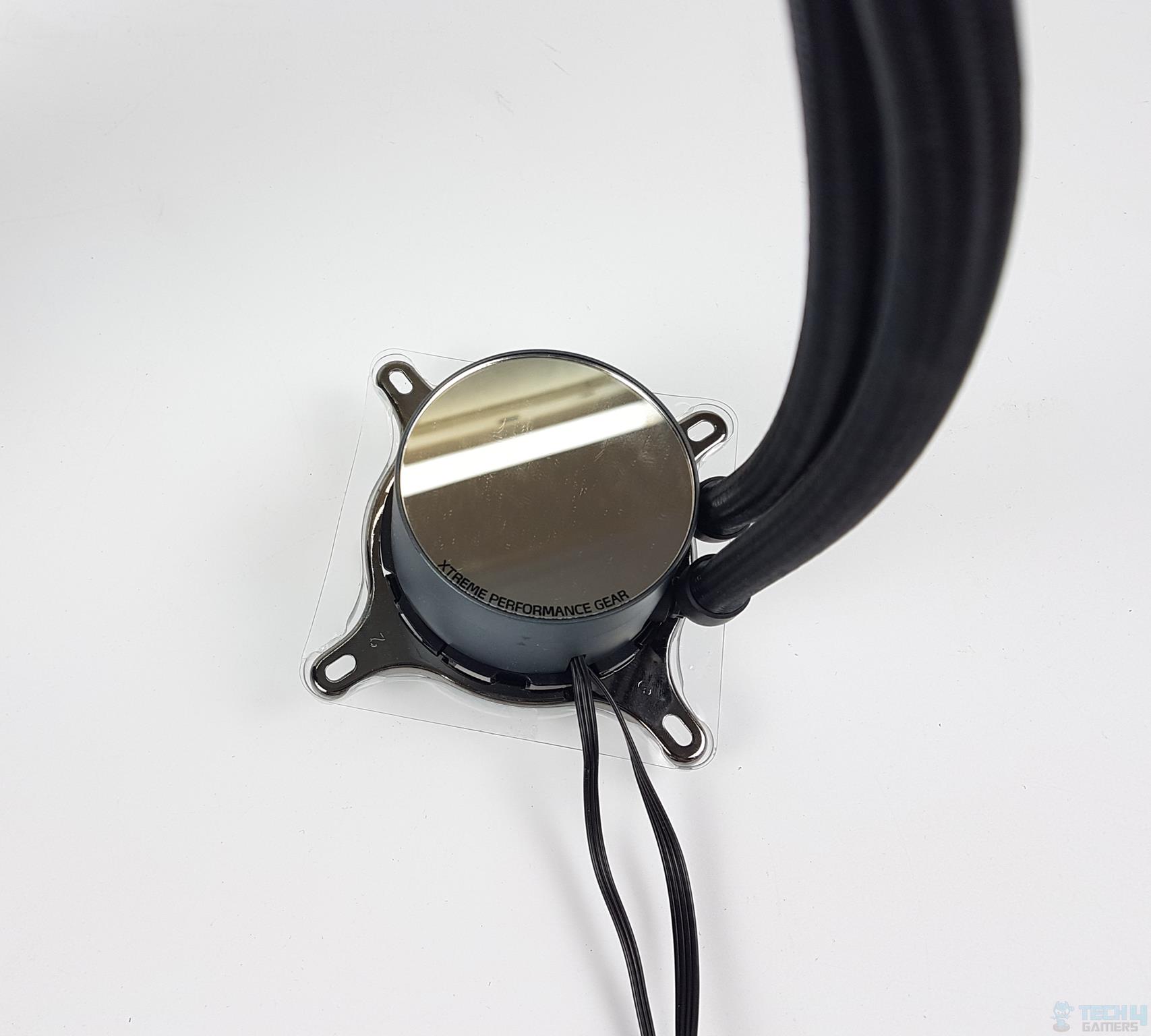 There is a glossy lid on top of this housing. It has an infinity mirror design under the XPG logo that looks quite good in person. To further spice things up, there is A-RGB backlighting as well.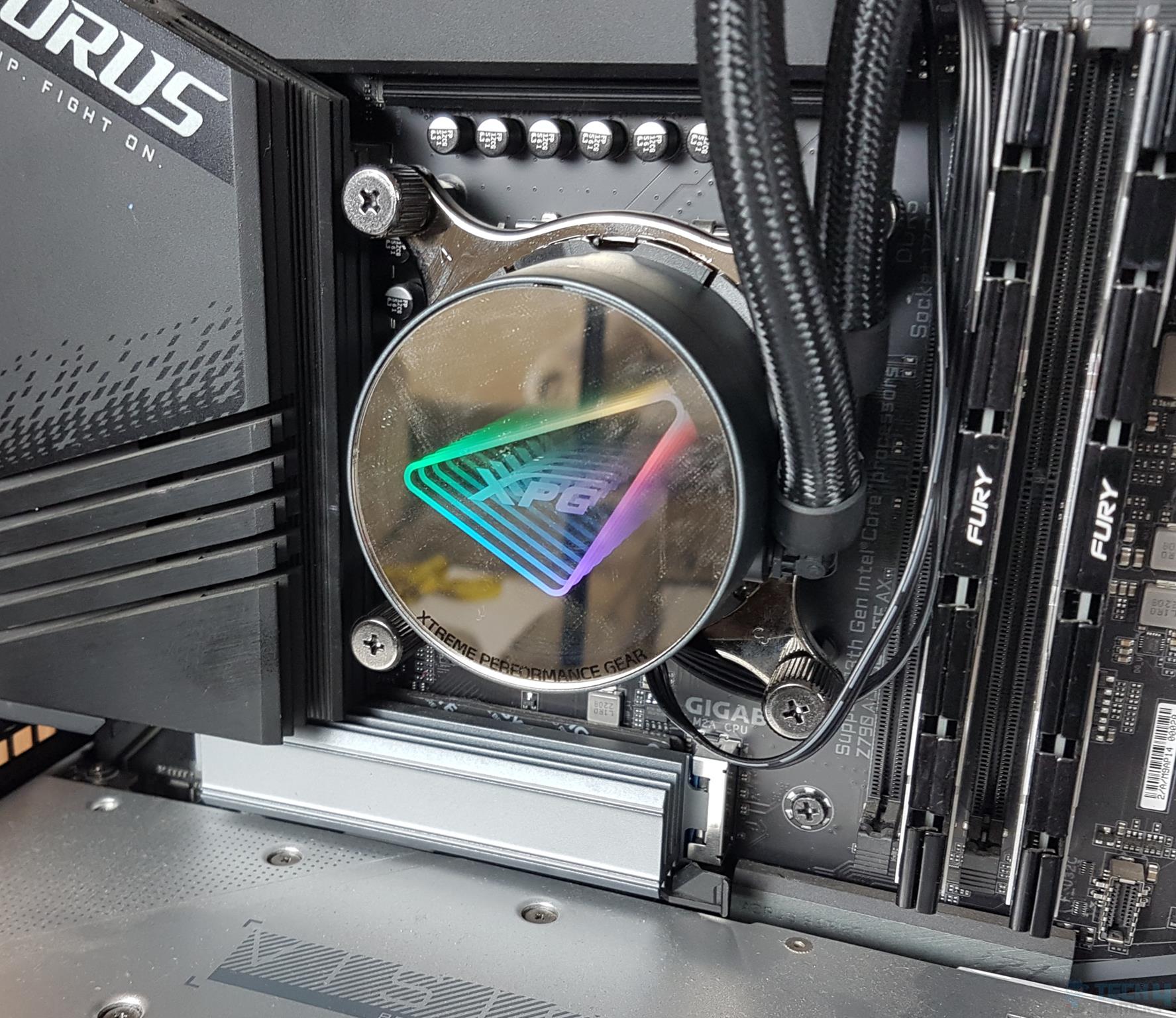 The above picture says it all.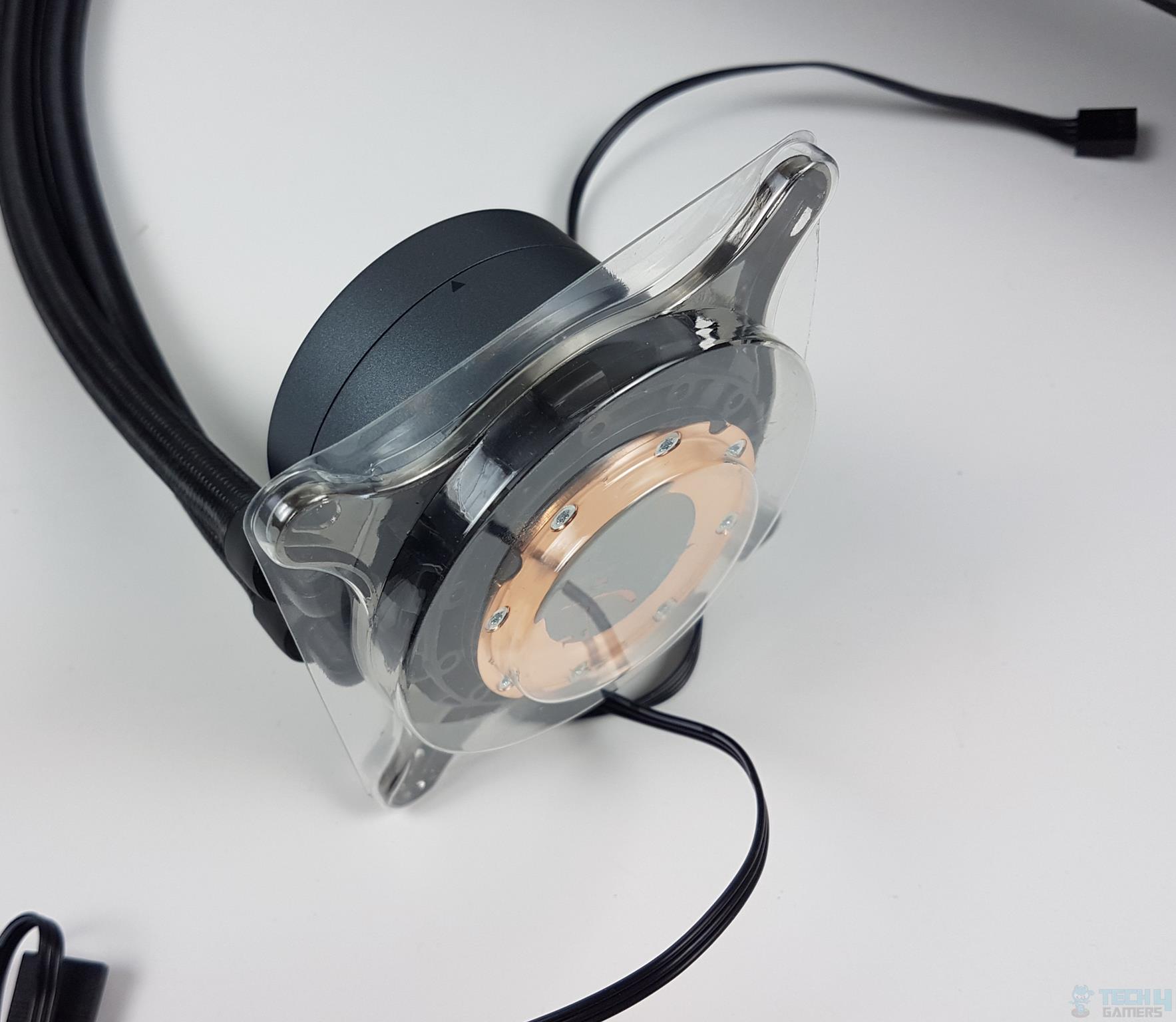 The base has a transparent cover. This is to protect the pre-applied thermal paste on the base.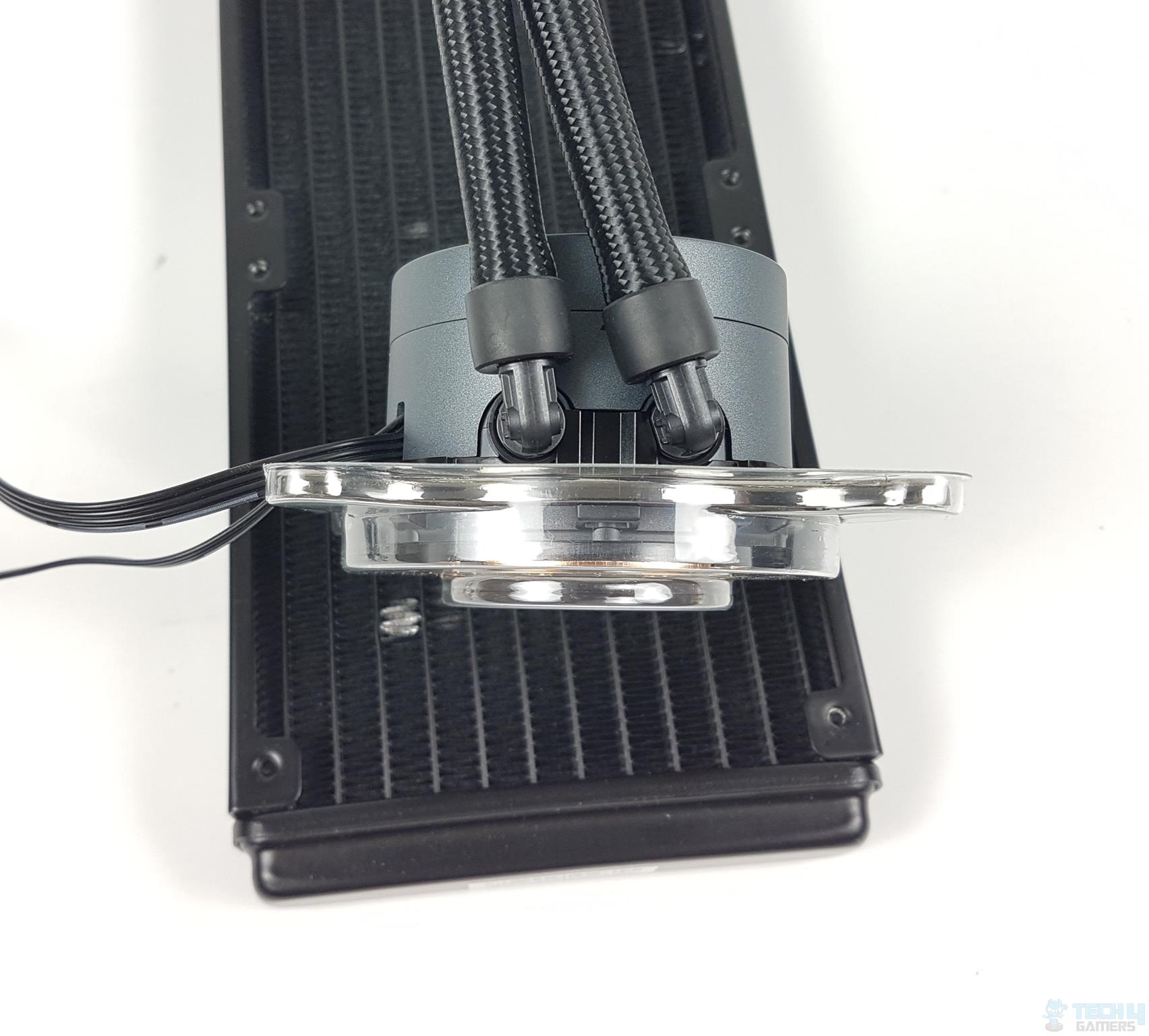 Looking at the back side of this housing, we can see 90° fittings installed over here. The tube connection with these fittings is concealed using rubber covers. The user can rotate these tubes towards the left or right side depending on the requirement and the possible extent of this range.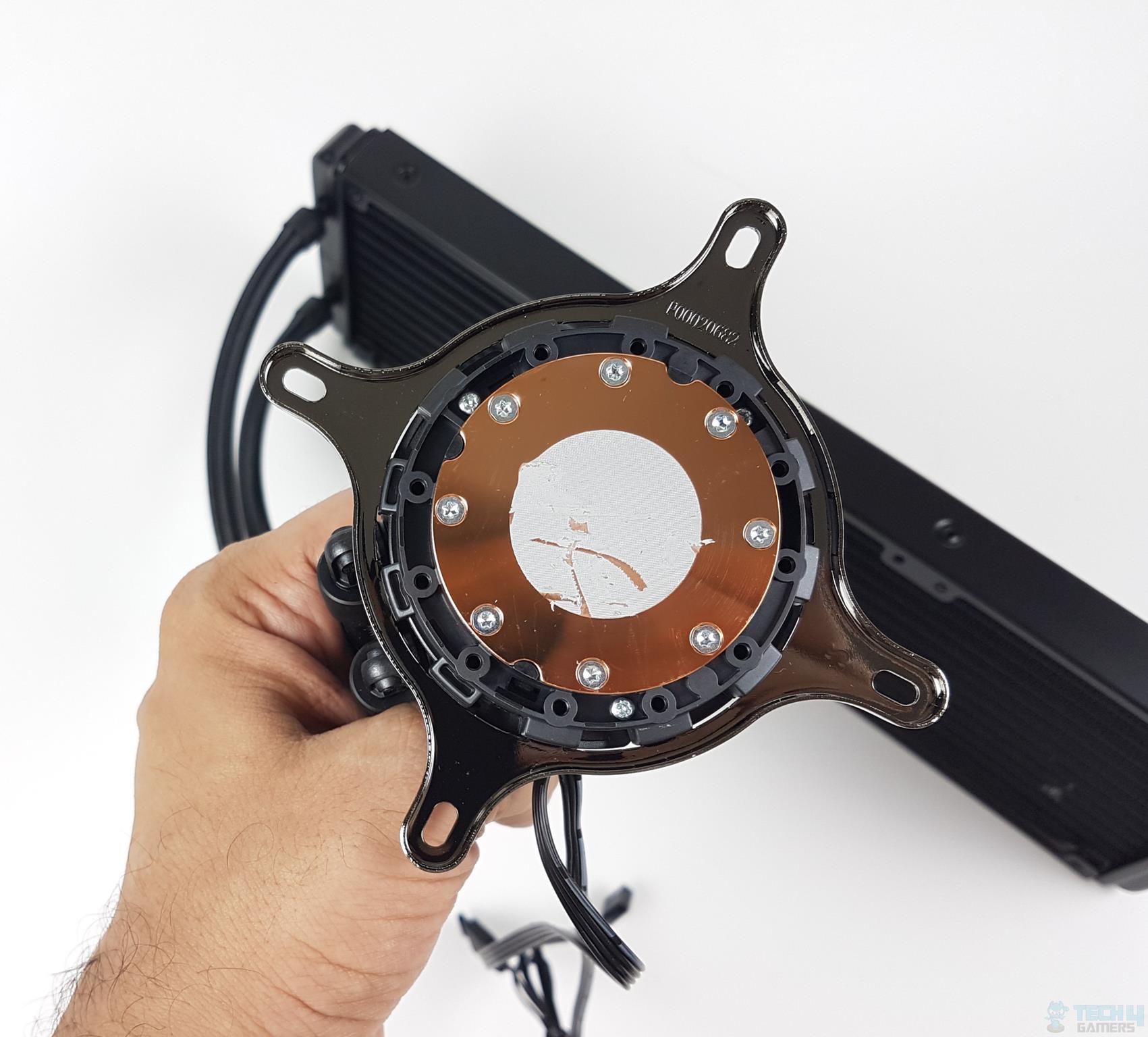 There is a circular copper base that has pre-applied thermal paste. We can see that some of the paste is eroded, possibly during shipping or prior to shipping. The diameter is 55mm. XPG has mentioned that there is a 0.15mm thin micro-channel providing a larger surface for effective heat transfer over the cold plate.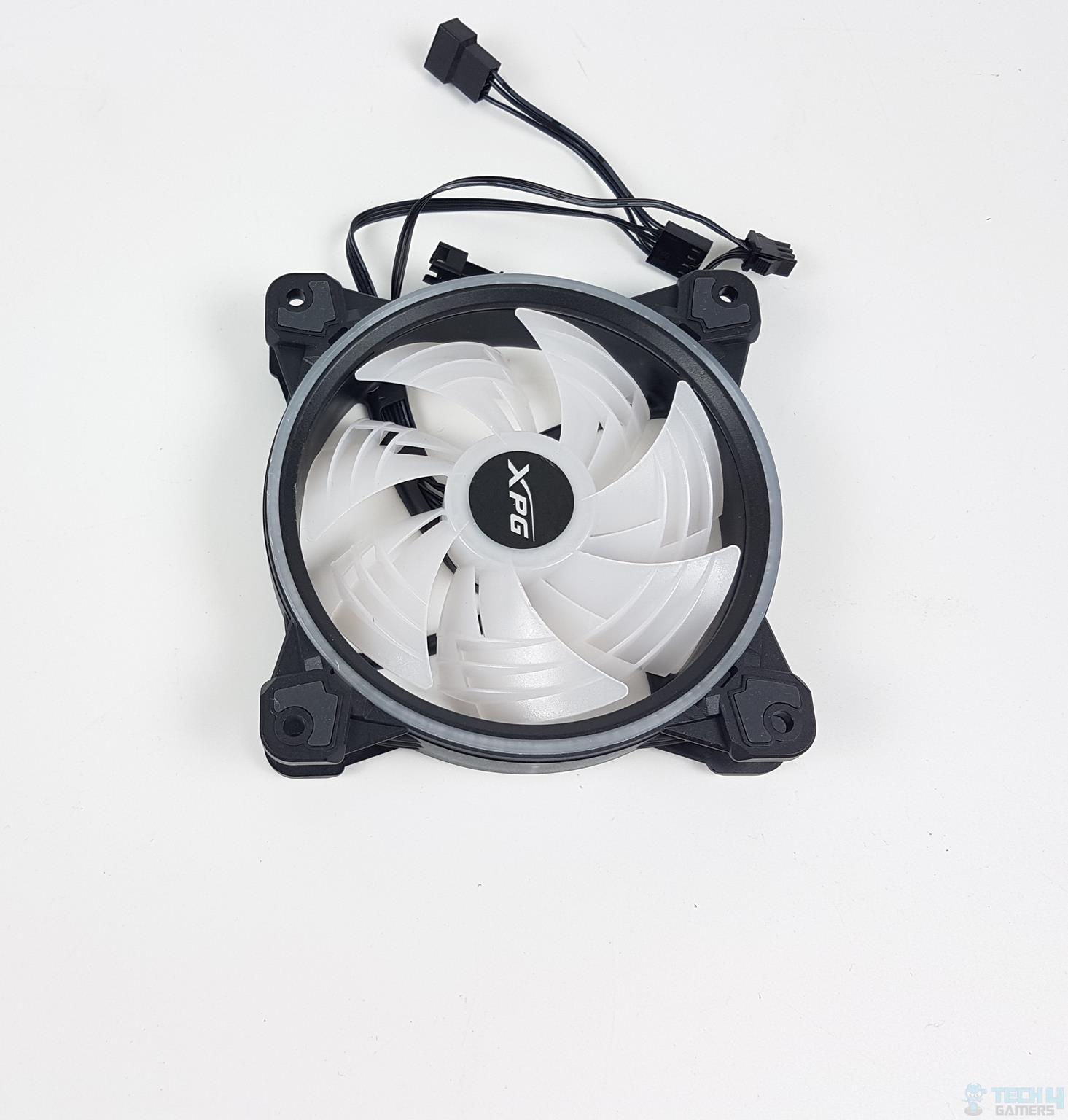 XPG has provided three Vento Pro A-RGB vibrant fans with this cooler. Each fan features a dual ring for some vivid and vibrant lighting effects that I personally like quite well. The same was the case with Levante 240 AIO. Each fan has 7 blades, and we have an altogether different design. Each blade has another blade on the trailing edge. There are three raised surfaces connecting both blades. Then there is a certain gap between both blades. I think they are trying to provide better airflow and address the drag at the same time. Their design team can better describe the logic behind this particular design. There is an XPG branding over the hub, and each fan has 20 digital RGB LEDs. We can see a thick ring diffuser on the border of the frame. This is the second area for RGB lighting. Each mounting corner has a cut-to-size anti-vibration pad to reduce vibrational noise.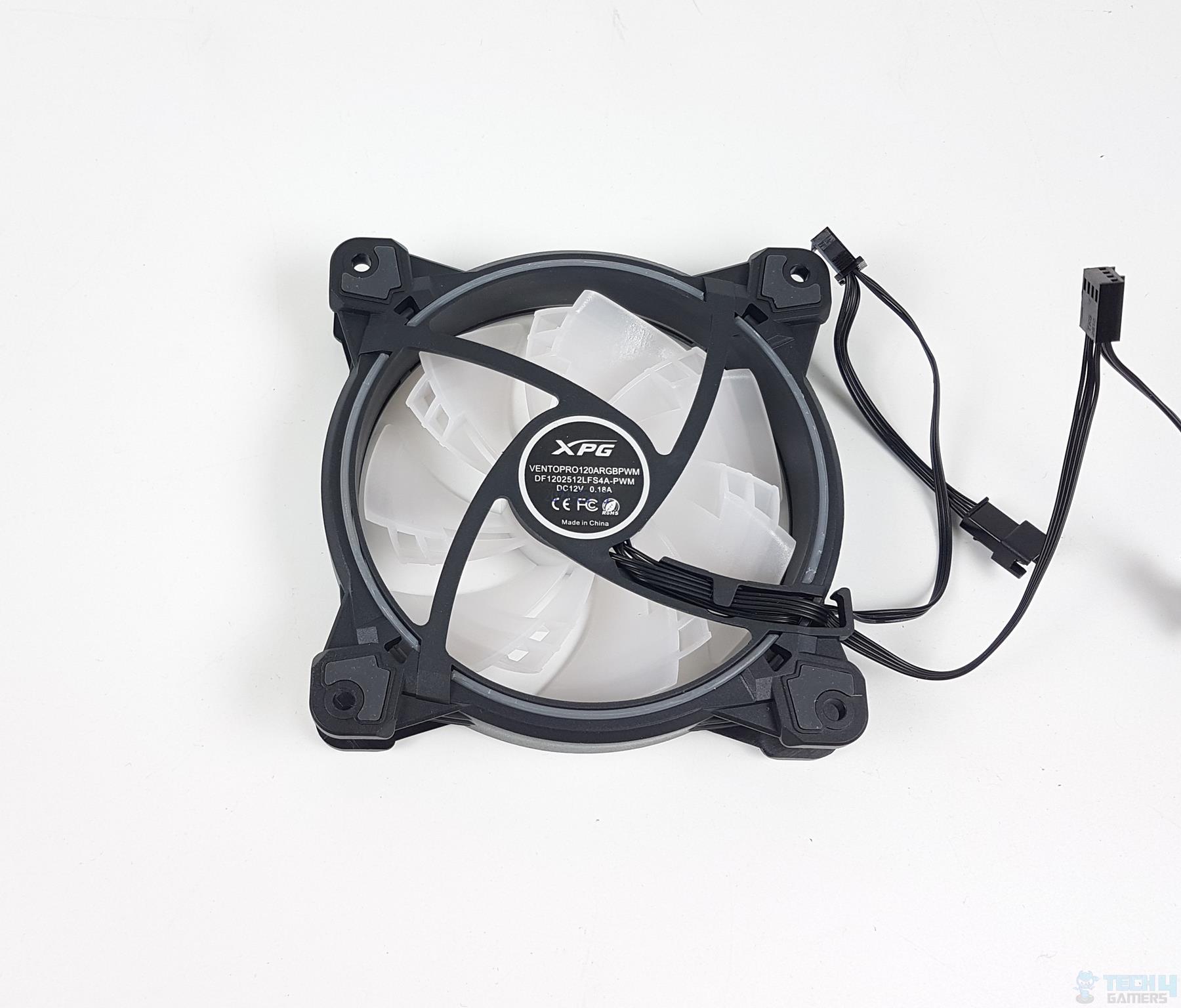 Looking at the backside of the fan, we can see a similar ring diffuser over here as well. There is a 4-arm assembly with one arm having an inset on which the wires are routed from the hub to the frame. These fans are made in China. The cables are small in size, and they have a daisy-chain function. This allows interconnecting of the fans on the radiator with minimalistic cable management.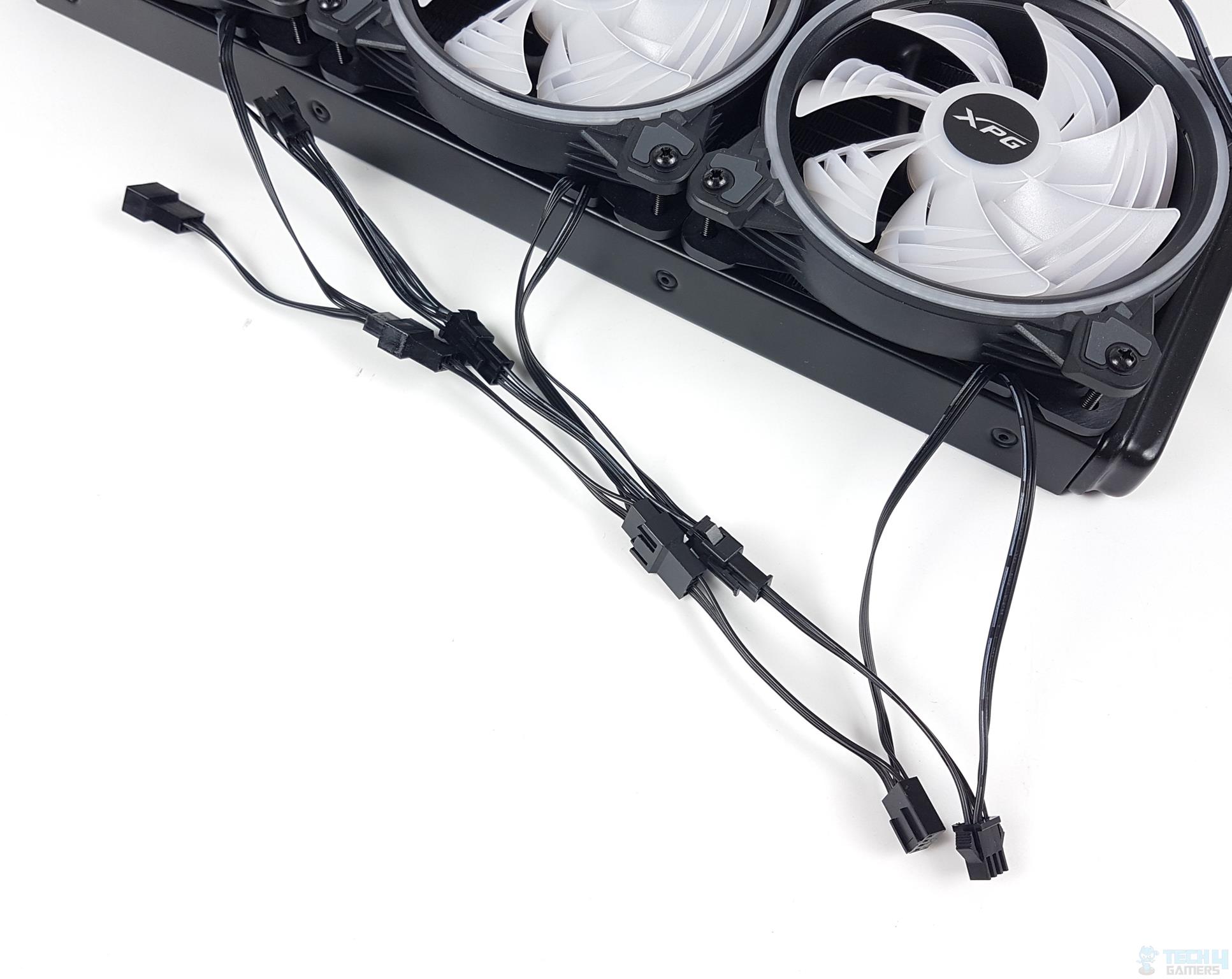 The length of these cables should have been even less than this length for true, easy cable management.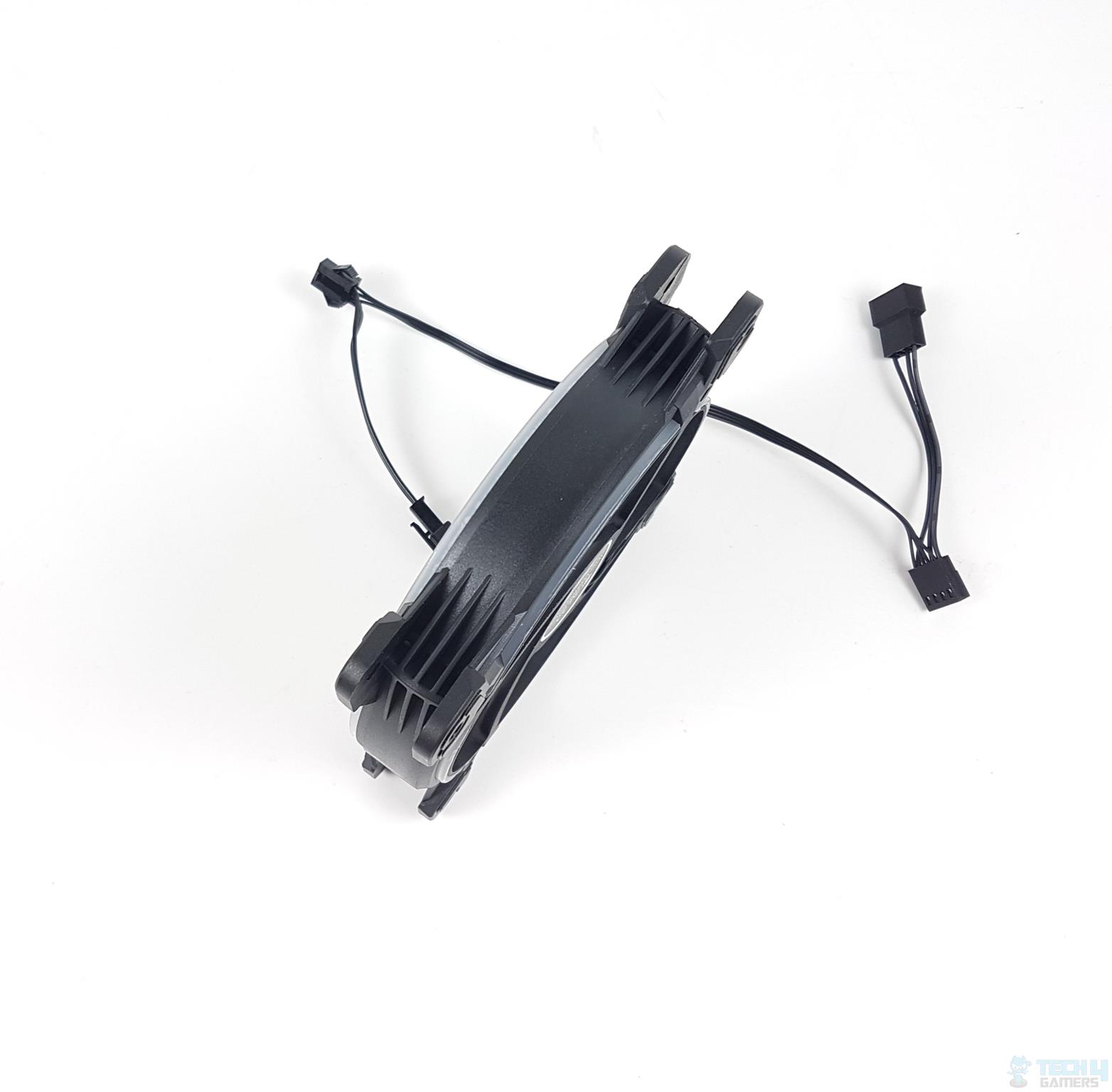 The frame of these fans is sturdy. It is black in color. We did not find arrow markers that help novice users in identifying the direction of airflow through the fan and the direction in which blades would spin.
Each fan has a 4-pin PWM connector and a 2-pin socket on a motor's power cable. The ARGB cable has proprietary connectors (3-pin JST), which should have been standard connectors, in my opinion.
Salient specifications include:
Size
120x120x25.6mm
Speed
600 ~2000 RPM
Connector
4-Pin PWM

3-pin JST

Current
0.18A
Static Pressure
1.40 mmH2O ±10%
Air Flow
61.5 CFM ±10%
Noise
18.17 dBA (average)
Bearing
Fluid Dynamic Bearing
MTBF
40,000 hours at 40°C
Function
Auto-Restart
Installation and Clearance
We have tested the cooler on the Intel platform using the Intel i7 13700k over the GIGABYTE Z790 AORUS ELITE AX motherboard. Installation is quite simple and takes only a few steps:
Prepare backplate for LGA1700 socket.
Place the backplate on the backside of the motherboard.
Secure the backplate using the Intel LGA1700 standoff screws.
Remove the protective cover from the base.
Place the block over the CPU so that the threaded portion of standoff screws passes through the mounting holes of the ring bracket.
Use the thumb screws to complete the installation.
Install the radiator assembly as per the requirement.
Connect the cables.
Installation is complete.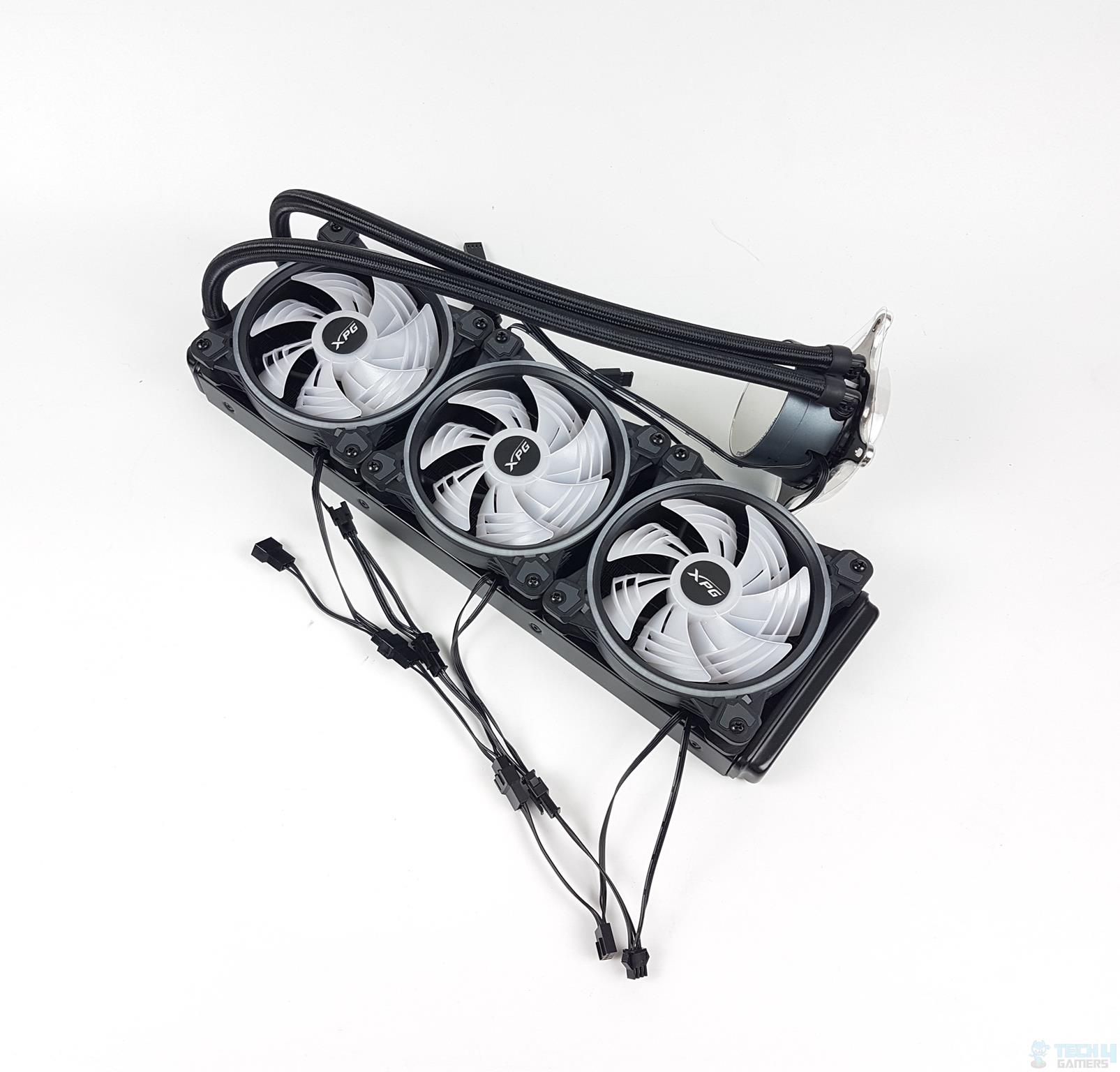 This unit has a dimension of 394x121x53mm with fans. Keep these dimensions in mind for the PC Case clearance. This cooler has no obstruction for the PCIe slot and DIMM slots.
Digital RGB Lighting
Although the fans on XPG Levante X 360 cooler have 3-pin JST connectors. Once they are daisy-chained, they are to be connected either to the provided controller or to the RGB header on the motherboard using the A-RGB extension cable/adapter. This way, we are still dealing with standard connectors for A-RGB lighting effects making this cooler compatible with RGB sync technologies of the various motherboard manufacturers. We have tested the cooler's RGB lighting using GIGABYTE RGB FUSION 2.0 app and found it working fine.
XPG Levante X 360 Test Bench
Thermal Testing
We have used the following configuration for testing:
The test table for Intel core i7 13700k is:
| | |
| --- | --- |
| Clocks | Auto, Stock |
| Voltage | Auto, Stock |
| Power Limits | Removed |
| C-States | Disabled |
| Speed Step | Disabled |
| Rest of settings | Stock, Auto |
| XMP | XMP Loaded where available |
| Thermal Paste | Pre-applied Thermal Paste |
| Thermal Paste Application | Pre-applied |
| Headers | CPU_FAN, CPU_OPT, and PUMP Headers |
| Stress Software | CINEBENCH R23.2 |
| Stress Run Time | 30 minutes |
| PC Idle Time | 5 minutes |
| Monitoring Software | HWInfo64 |
| OC Tool | Intel XTU |
We have seen AMD AM5 and Intel Alder Lake S CPUs taking more power, and this time, both sides have aimed at reaching the maximum clocks regardless of the thermal limit. In fact, the AM5 SKUs will run into thermal limits right away depending on the cooling solution and the clocks being used. This has made testing of CPU coolers challenging because viewers/readers are not used to a new nomenclature which is what clocks are sustained under a given load using a particular cooler.
That is if the cooler is capable of providing enough cooling heads to sustain the high frequencies at high package power. Among other reasons is the high thermal density of these new CPUs. Traditionally we are used to going the other way around, that is, which cooler is better in terms of thermal capacity. Despite this, we are using temperatures as a base for measuring this unit.
The ambient temperature was in the range of 24°C to 24.5°C. We are reporting absolute temperatures in the graph. The testing is done on an open-air bench system. Once inside the chassis, the temperatures are expected to rise and would largely depend upon the optimal airflow inside the chassis.
Disclaimer: Every silicon is different; hence no two same SKUs are likely to take the same voltage to yield the same performance at the same thermals per se, but the margin would be close. Not every stress test run may yield the same result, which could be due to various reasons like thermal paste application, ambient temperature variation, the mounting pressure of the cooler, etc. This is very why we have listed our variables and their settings. Let's take a look at the results.
Result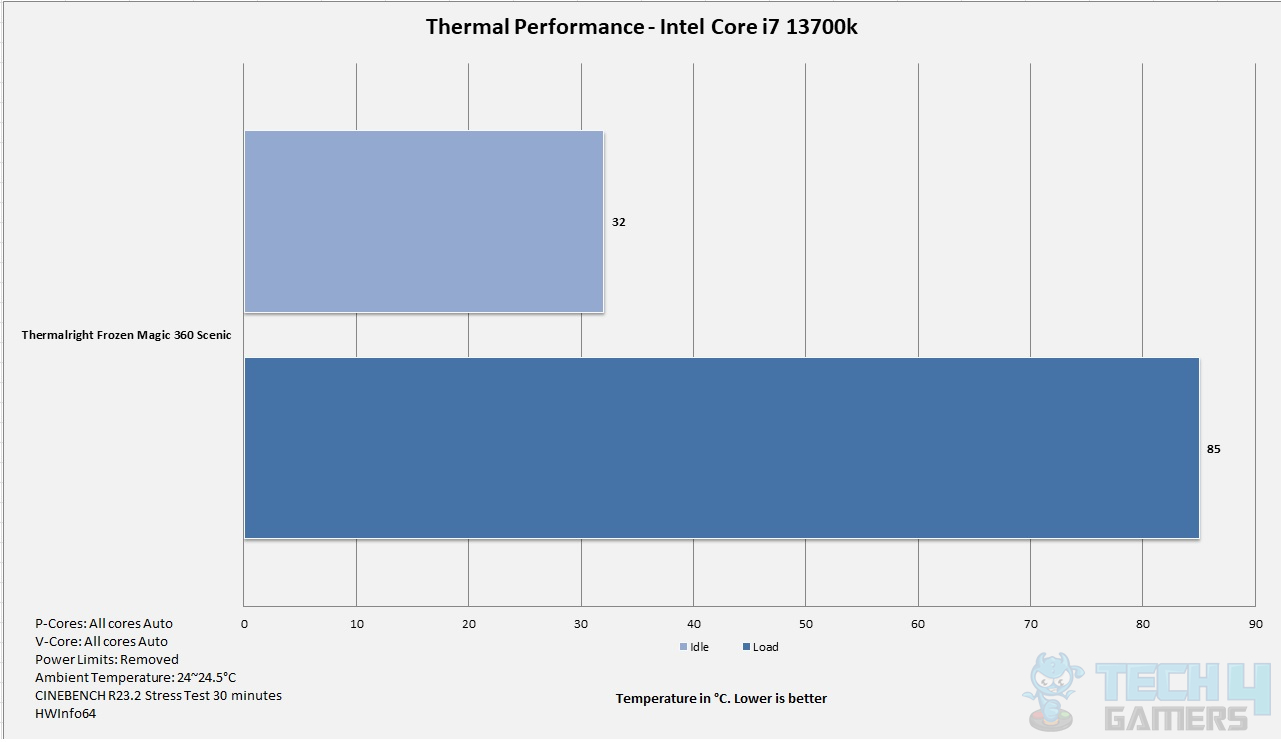 This is a good performance from XPG Levante X 360. In case you are wondering, thermals are in the 80s, and I am calling this a good performance. Then you would need to learn about these new platforms and their thermal behaviors. The CPU was drawing 221W power on the package, and we have reported the package temperature here. The CINEBENCH R23.2 Multi score comes to 30281, which is quite good. There is no other cooler in the graph because we have tested this cooler using its pre-applied thermal paste, whereas other coolers are tested using either Noctua NT-H1 or Alphacool Subzero thermal paste. This is why we can't compare these coolers straight up.
Noise
The Frozen Magic 360 Scenic V2 is roughly making 50 dB(A) sound output at an ambient of 32 dB(A). The noise output is good as well.
Conclusion
XPG is back with yet another series of coolers though they have not changed the naming convention. This time they have released the XPG Levante X series of coolers. This series has 240mm and 360mm size coolers. Each size is available in white and black color. I am a lover of white color components. Anyhow, I digress. Coming back to the topic, this series of coolers are primarily optimized and designed for Intel and AMD's latest platforms. Hence it is an easy guess that this cooler is out-of-the-box compatible with LGA1700 and AM5 sockets. In addition, this cooler is compatible with Intel LGA115x/1200 sockets and AAMD's AM4 socket. It is not compatible with the Intel LGA20xx socket, which makes sense.
These coolers are based on ASETEK's 7th generation design and this is why XPG has these coolers listed on their AMAZON US store. The radiator of this cooler has a dimension of 394x121x27mm. XPG has mentioned that this cooler has 11 channels for coolant flow which are actually 12 in number. The fin density stands at 20 FPI. The overall height of this unit comes to 53mm after installing fans. XPG uses rubber tubes running over 400mm in length, and each tube has a nice mesh sleeve for aesthetics. We have found a few bend fins that XPG has assured us that this is random and retail units would not have such issues. Bend fins would not hurt the performance of the cooler but would just look bad from an aesthetic point of view, and they can be fixed easily.
The pump is integrated into the block, which is an ASETEK design, particularly for the North American region since they have a patent for this design in this region. We don't know much about this pump, but XPG has mentioned that it has low noise and high performance, particularly when it is PWM enabled. I appreciate this design. The block has a dimension of 72.5x50mm. It is circular or ring design, and it has a high glossy top lid that is rotatable. It has an infinity mirror design that is A-RGB backlit as well. The overall look and feel of this unit is premium. This unit has a copper base having a diameter of 55mm. Since it is an ASETEK design, it comes with a pre-installed thermal paste.
XPG has supplied three Vento Pro 120mm A-RGB fans. Each fan has 7 blades design with a distinct layout. Each blade has another blade on top towards the trailing edge. These blades are frosted for even diffusion of lighting. These fans have a dual-ring design. There are a total of three areas that have A-RGB backlighting. Each fan has 20 A-RGB LEDs. The ring is on the front and on the back as well. Then there are LEDs in the hub that illuminates all blades. I must say these fans pack some stunning lighting effects. Speaking of numbers, these fans are rated for up to 2000 RPM using PWM control.
The airflow rating is 61.5 CFM ±10%, whereas the static pressure rating is 1.42 mmH2O ±10%. The noise level rating is an average of 18.17 dBA which is questionable. Anyhow, these fans are not making loud noise even at full speed, but in my personal opinion, XPG has opted towards silent operations over high-performance. Each fan has a small length cable to power the motor. This cable has a 4-pin PWM connector and a socket for daisy-chaining. There is another cable to power the A-RGB LEDs, and it uses a proprietary 3-pin JST connector and a socket for daisy chaining. XPG has bundled a PWM extension cable as well as an A-RGB Adapter/Extension cable. The small length of cables on these fans would make cable management somewhat easy.
XPG has provided a dedicated A-RGB controller that is SATA powered. It uses a standard RGB connector. The final assembly will still have standard RGB connectors making this cooler compatible with RGB Sync Technologies of various motherboard manufacturers. Installation of this cooler is convenient and super easy. Installing it over the LGA1700 socket would require 9 items to install the block on the CPU.
The XPG Levante X 360 is listed on the XPG AMAZON store at USD 199.99 at the time of this writing. Now, this is a steep price that XPG is charging. They are offering a 5-year warranty period on this cooler which is a wise move. We have tested this cooler on a power-hungry Intel i7 13700k with power limits removed. The cooler easily managed the under-stress heavy multi-core load, and the maximum temperature noted on the package was 85°C.
This is a good performance given that many 360mm size AIOs have struggled to keep the temperature under the 90s. There is no other cooler in the graph because we have tested this cooler using pre-applied thermal paste. Usually, we use Noctua NT-H1 or Alpahcool Subzero thermal paste for the coolers, and where we use a similar thermal paste, coolers are included in the graph. The noise output is at a decent level as well under full load and speed.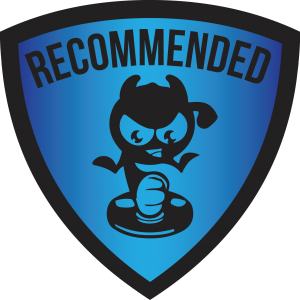 Learn more about Tech4Gamers Awards
Was our article helpful? 👨‍💻
Thank you! Please share your positive feedback. 🔋
How could we improve this post? Please Help us. 😔