Is it worth it?
Review Summary
The Asgard BRAGI RGB DDR5 6800MHz CAS34 stands out with its top-notch performance and sleek, piano-themed design, appealing to gamers and enthusiasts. The premium build quality and attention to detail, including handling accessories, further improve the experience. Overall, given the performance, looks, and overclocking potential, we recommend the kit.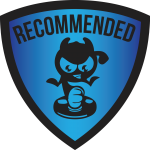 Value -

9/10

Performance -

9/10

Quality -

9/10

Features -

9/10
Pros
Operates at 6800MT/s
RGB Lighting
Intel XMP 3.0
AMD EXPO
Dark Coffee Mirror Vest Aluminum heat spreader
Build Quality
Overclocking
Limited Life Time Warranty
Asgard, a new China-based manufacturer of memory and storage solutions, sent us their BRAGI series DDR5 kit for review. While "Asgard" may remind many of the Marvel Thor movies, this manufacturer also has a DDR4 kit named after Loki. I'm curious why there isn't a Thor-named memory kit. The BRAGI series, inspired by the Norse god of music and resembling piano keys, features one black and one white diffuser. We're reviewing the Asgard BRAGI RGB DDR5 kit at 6800MHz with CAS34, a unique speed bridging the 6400MHz and 7200MHz gap. The kit's part number is VAM5UX68C34AG-CBRAMIN.
[/su_note]
---
Key Takeaways
The Asgard BRAGI RGB DDR5 6800MHz CAS34 kit is for those who want high-performance DDR5 RAM with a beautiful reflective design, plenty of overclocking potential, and support for both AMD EXPO and Intel XMP.
The Asgard BRAGI RGB DDR5 6800MHz CAS34 kit is not for those who are on a tight budget or are building a small form factor gaming PC.
The best thing about the Asgard BRAGI RGB DDR5 6800MHz CAS34 kit has to be its excellent performance and jaw-dropping design. It really makes the kit stand out from the rest.
---
Specifications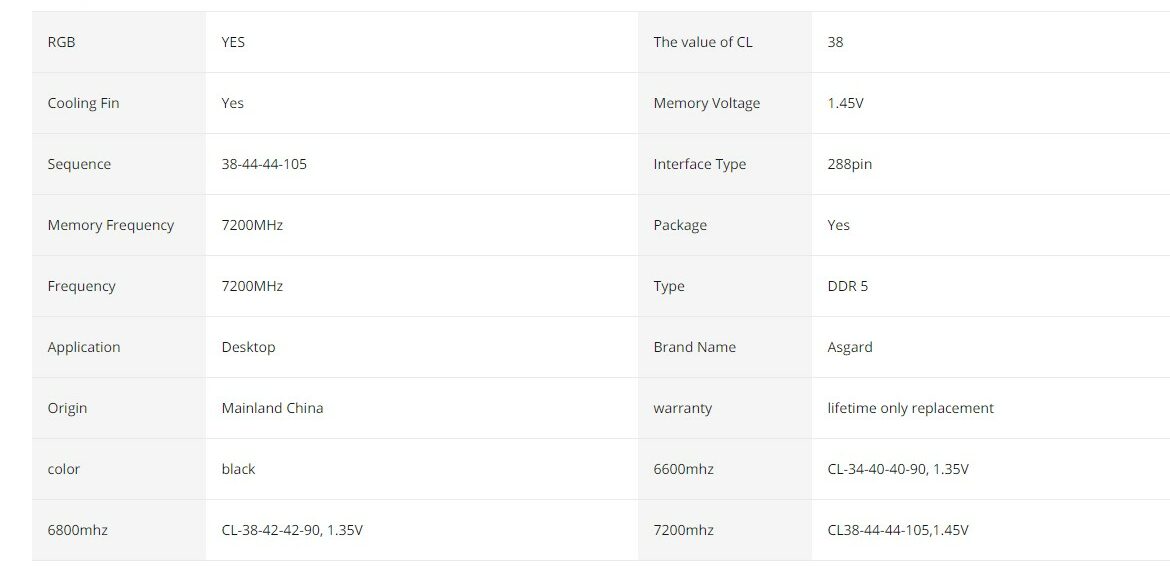 The above picture shows the specifications of the BRAGI series of DDR5 kits. These kits are available at the following speeds:
Since we are testing the 6800MHz, we will focus on this stick only. This kit has a timing of CL 34-42-42-90 at 1.40V. They have shown the wrong voltage for the 6800MHz, and I am sure that the voltage for the 6600MHz kit is also 1.40V. This kit is programmed for Intel XMP and AMD EXPO profiles. What is more surprising is that Asgard is using the same settings of Intel XMP for the AMD Expo profiles.
Packing Box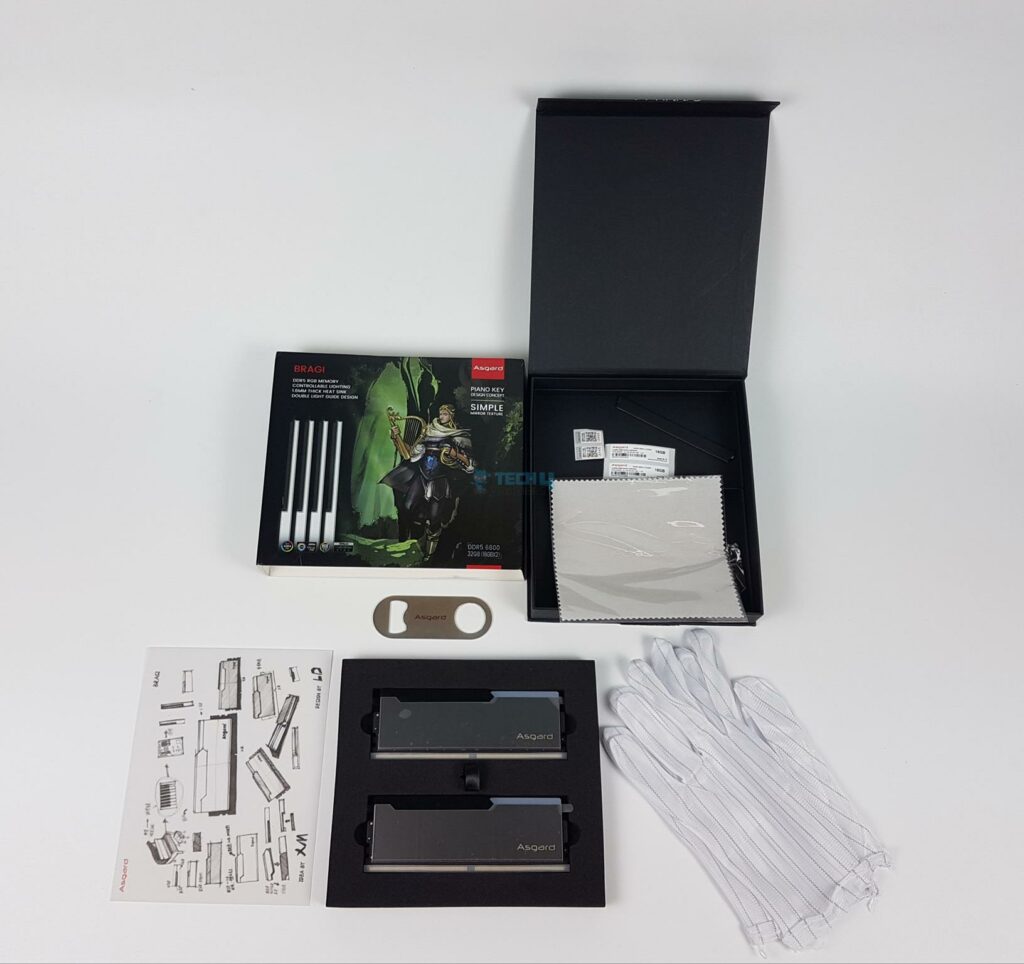 This kit has a cool presentation from Asgard. The outermost box has a paperboard cover that shows the BRAGI concept along with the Piano keys design. Salient features are also printed over the backside of this paperboard cover. The main packing box is made of thick cardboard material and is black in color. Flip it on one side to open the top cover; we are presented with a paper sheet that shows the pencil drawing of the key components of this kit. Then there is a microfiber cloth, which is of utmost importance here.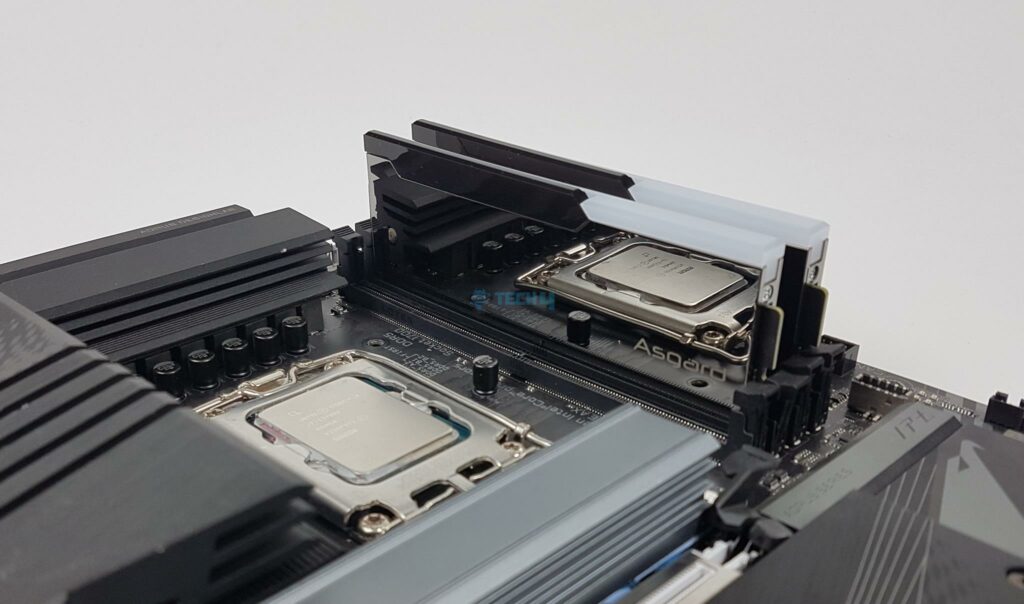 This cloth is to be used to clean the glossy chrome mirror finish of the modules. As we can see in the above picture, this kit has a highly reflective surface which is a fingerprint magnet.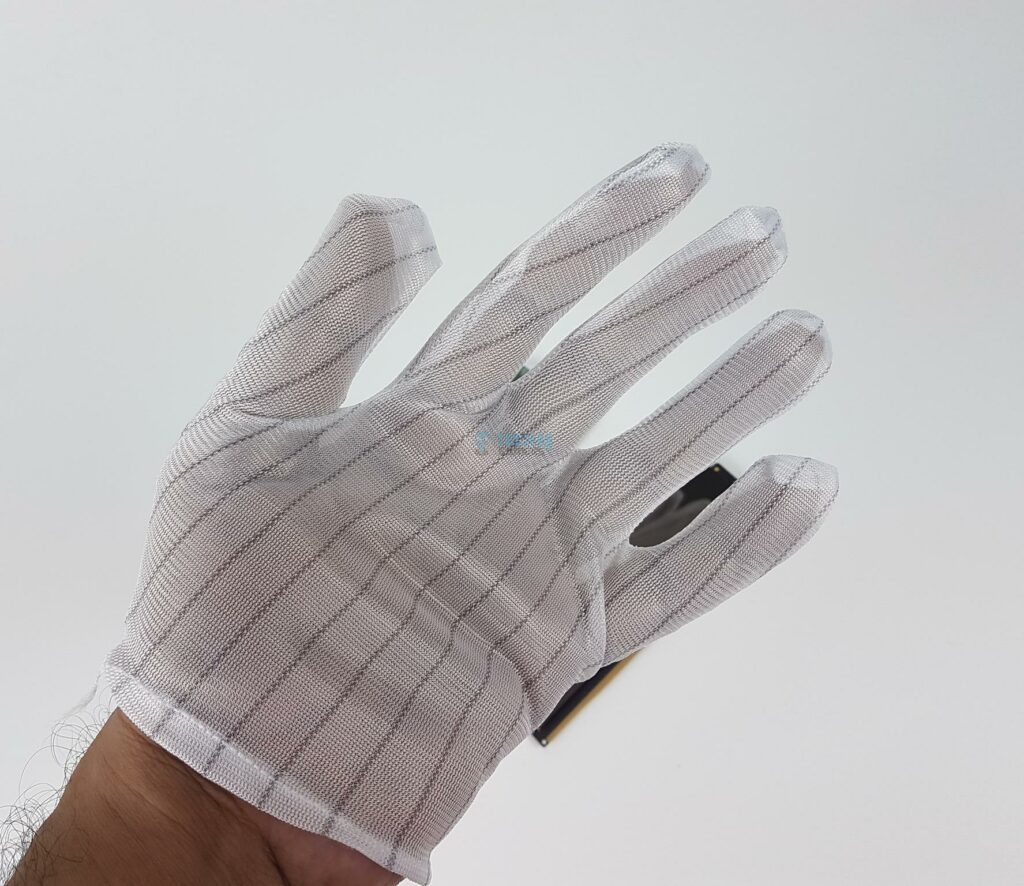 Asgard has provided two gloves that you should wear to avoid fingerprints on the surface of the kits. There is a bottle opener as well in the box, along with the serial number stickers or labels that can be pasted on the modules should you want it. I would not, in my opinion. The RGB lighting is compatible with RGB sync technologies of motherboard manufacturers, and it is compatible with:
ASUS AURA SYNC
GIGABYTE RGB Fusion 2.0
MSI Mystic Light sync
ASRock Polychrome Sync
Design
Let's start by stating the salient features of the kit:
Piano Black and White key design
Double Light Guide Design
Luxurious dark coffee-colored mirror surface, pursuing simple texture
Thickened 6 series high specification aluminum heat sink
CNC-processed heat sink
Supports ASUS, MSI, ASRock, and GIGABYTE motherboard lighting control
8M RGB colors will bring a new DIY experience
Leverages on-board PMIC for a Stable and Quick Power Supply
Intel XMP 3.0 technology supports Intel 600 and 700 series motherboards
Rigormultiple strict tests to ensure their stability and reliability
Limited Lifetime Warranty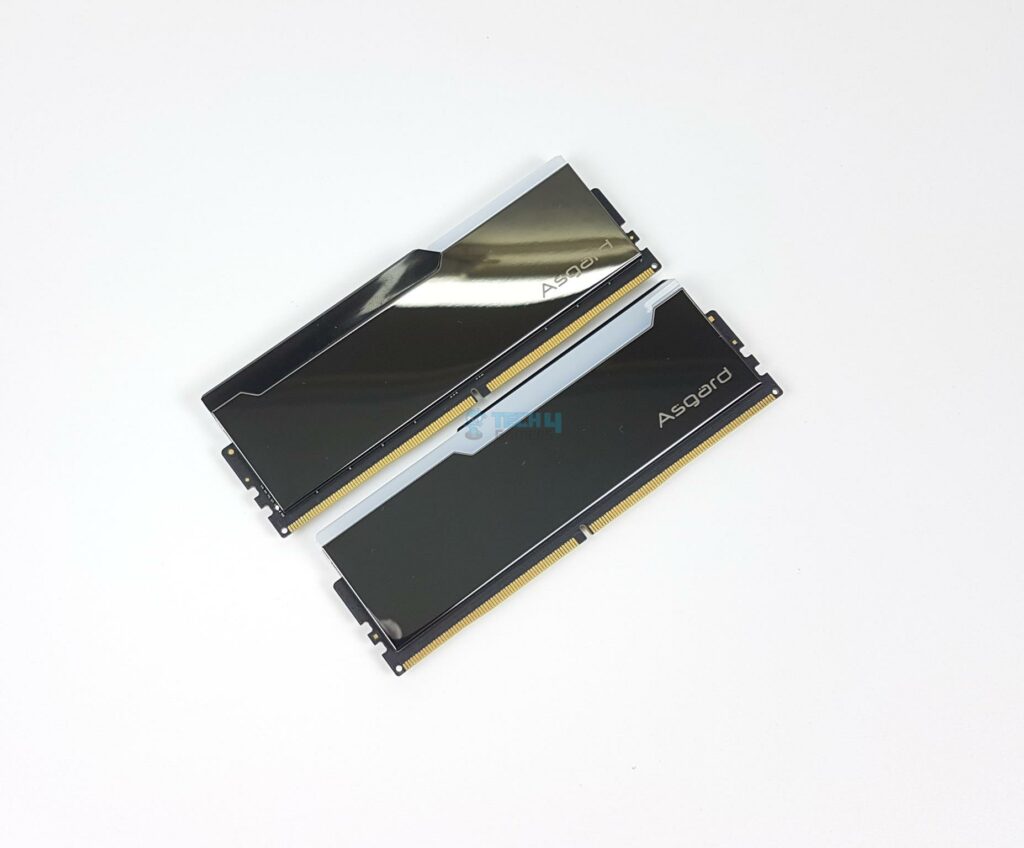 Asgard's flagship BRAGI DDR5 memory kits come in three speeds: 6600MHz, 6800MHz, and 7200MHz. With a glossy dark coffee mirrored surface, they don't offer color variations. However, they provide 16.8 million RGB color options, controllable via motherboard manufacturers' RGB sync apps. These kits adhere to the JEDEC 4800MHz base frequency.
The Asgard Bragi DDR5 kit measures approximately 135x45x9mm, but Asgard hasn't specified these dimensions. At 45mm in height, these are high-profile modules and might interfere with CPU air coolers that extend over the DIMM slots with front fans. Consider this when choosing a CPU cooler and PC case, though liquid coolers present no issues. The Asgard BRAGI RGB DDR5 includes on-die ECC for real-time data correction, a 288-pin unbuffered DIMM layout, and protective covers on both sides and the connector.
The kit features a sleek aluminum heat spreader with a consistent design on both module ends. Made from 2mm thick aluminum using a cold forging process, its CNC machining is precise. It has a glossy, dark coffee-colored mirror finish. Make sure to handle it with the included gloves, and clean with a microfiber cloth. Asgard branding is on each module side. While users can affix serial number labels, I wouldn't recommend it. The design is 1Rx8, meaning a single rank using 8 modules, and the kit is manufactured in China.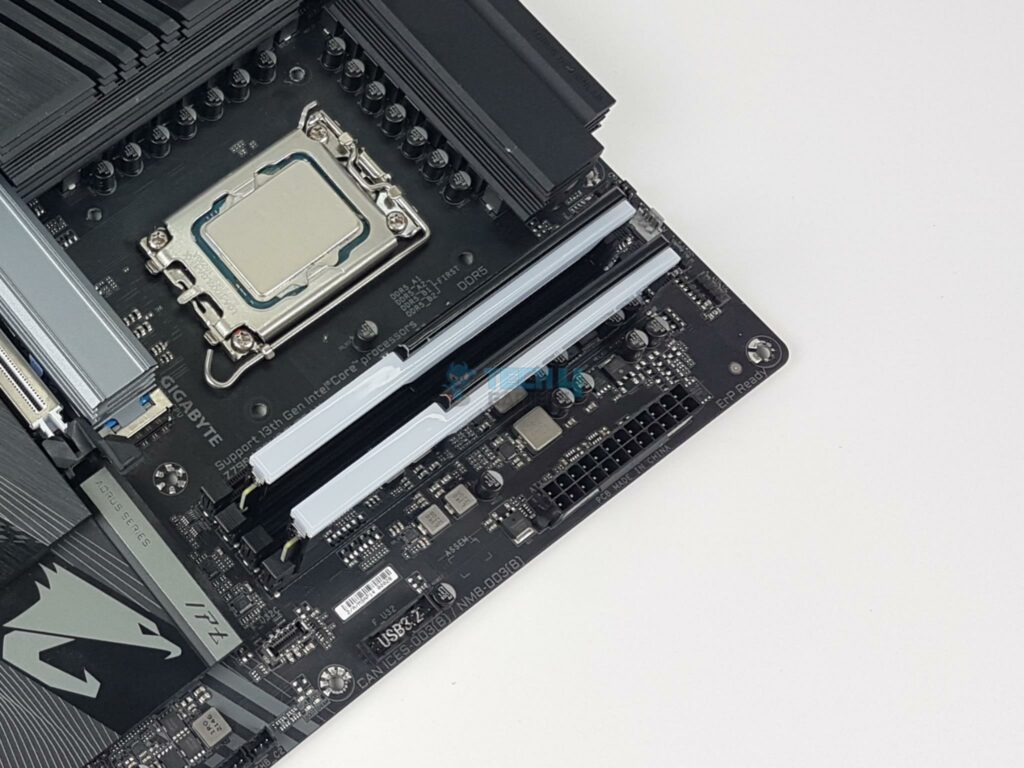 The above picture shows a top view of these modules. You can see the piano's black and white color key theme on this kit. This would be more visible or apparent when using all four modules. There is a black color strip right next to the diffuser that takes a certain portion of the diffuser. Another key design is that there is no Asgard branding on the diffuser. I appreciate this thinking by the Asgard. Like the Lexar kit that I tested previously, the diffuser on the Asgard kit does not have a catcher on top, making it a clean look.
The Asgard BRAGI kit has a layout similar to the Lexar ARES RGB kit. It features a single-rank design on a black PCB, though Asgard doesn't specify the number of PCB layers. A thick black pad covers the full length of the PCB's unpopulated side, equalizing its width with the opposite side. The populated side centers a PMIC chip, flanked by 4x memory chips on each side, amounting to a 32GB capacity in a 1Rx8, 2G x 64-bit design. While Asgard has placed a thermal pad over the memory chips, it's unclear if the PMIC and SPD Hub devices also have one.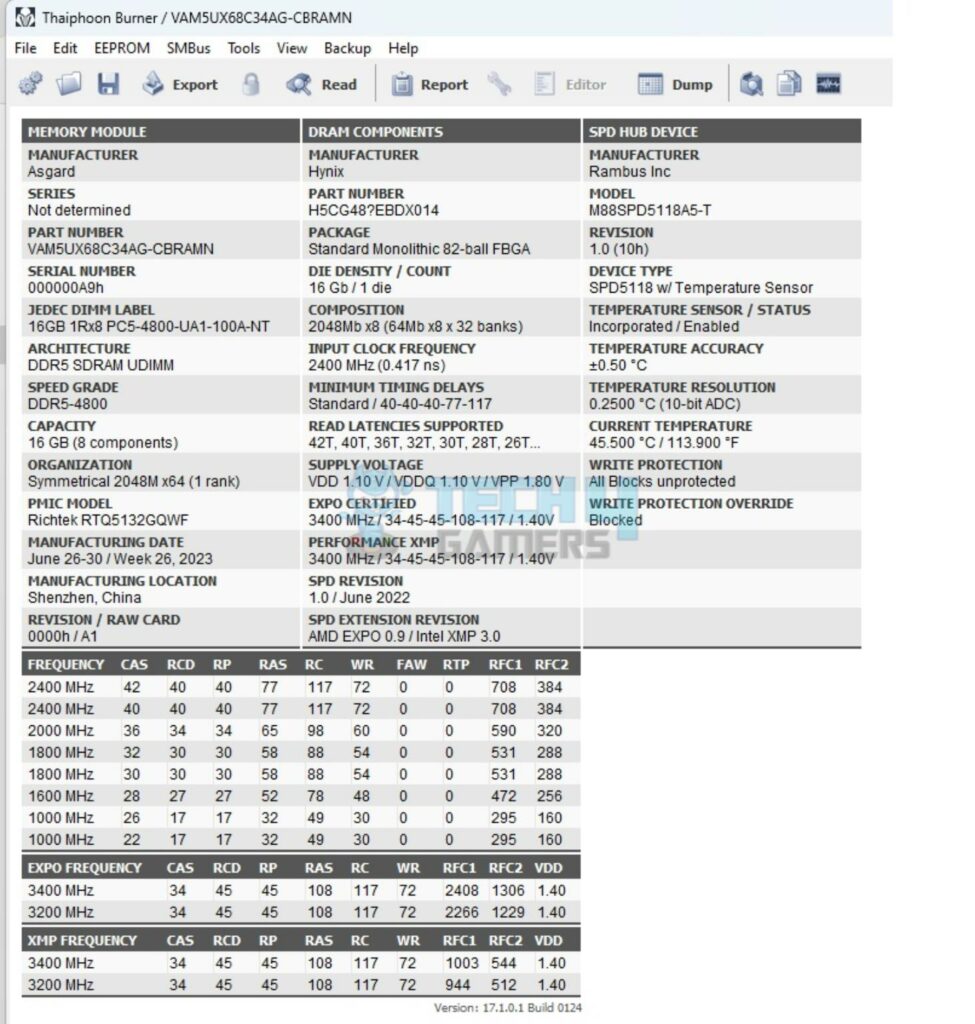 The Asgard kit, made in China during the 26th week of 2023, uses Hynix A-Dies with the part number H5CG48?EBDX018. I suspect these are A-dies rather than B-dies. The PMIC controller comes from Richtek, with the part number RTQ5132GQWF. The kit supports Intel XMP Revision 3.0 and AMD EXPO 0.9 profiles. It incorporates an SPD device from Rambus Inc., model M88SPD5118A5-T. Notably, the SPD5118 features a temperature sensor that reports tCase thermals but not those of the memory chips or the controller.
RGB Lighting
The Asgard BRAGI RGB DDR5 kit was tested on a GIGABYTE Z790 AORUS ELITE AX motherboard, and RGB lighting was controlled using the RGB Fusion 2.0 app. The lighting was responding to the changes in the app. There is an even diffusion of the lights across the diffuser, and I appreciate the sublime lighting to highlight the piano key concepts in this kit. Here are some pictures.
Testing
We are using the mentioned configuration for RAM testing:
Intel i7-13700k [Stock, Auto]
Enermax Liqmaxpro 360 AIO
GIGABYTE GeForce RTX 3060 VISION OC Rev.2 [For Display]
be quiet! Straight Power 11 850W Platinum PSU
Thermaltake Core P6 TG Snow Edition in an open frame layout
Other kits are:
We are thankful to our sponsors for this test bench. The following software has been used for the testing:
AIDA64 Engineer
SiSoftware Sandra Suite
Performance Test
3DMark Time Spy
Super Pi
BIOS Run
I have checked, and there are a total of 4x profiles under XMP. There are two XMP profiles and two EXPO profiles. What is strange is that the same Intel XMP profiles are converted into AMD EXPO profiles using the same settings and configuration. We know that 1.40V on AMD can be problematic ever since the burning issues were reported, and AMD fixed this issue by imposing a restriction of 1.30V on SOC. The first XMP profile has a configuration of 6800MHz 34-45-45-108 at 1.40V. The XMP 2 has a configuration of 6400MHz 34-45-45-108 at 1.40V. The AMD EXPO 1 and 2 have the same configurations. This kit conforms to JEDEC 4800MHz base operating speed operating at 1.1V voltage.
CPU-Z and AIDA64 SPD Readouts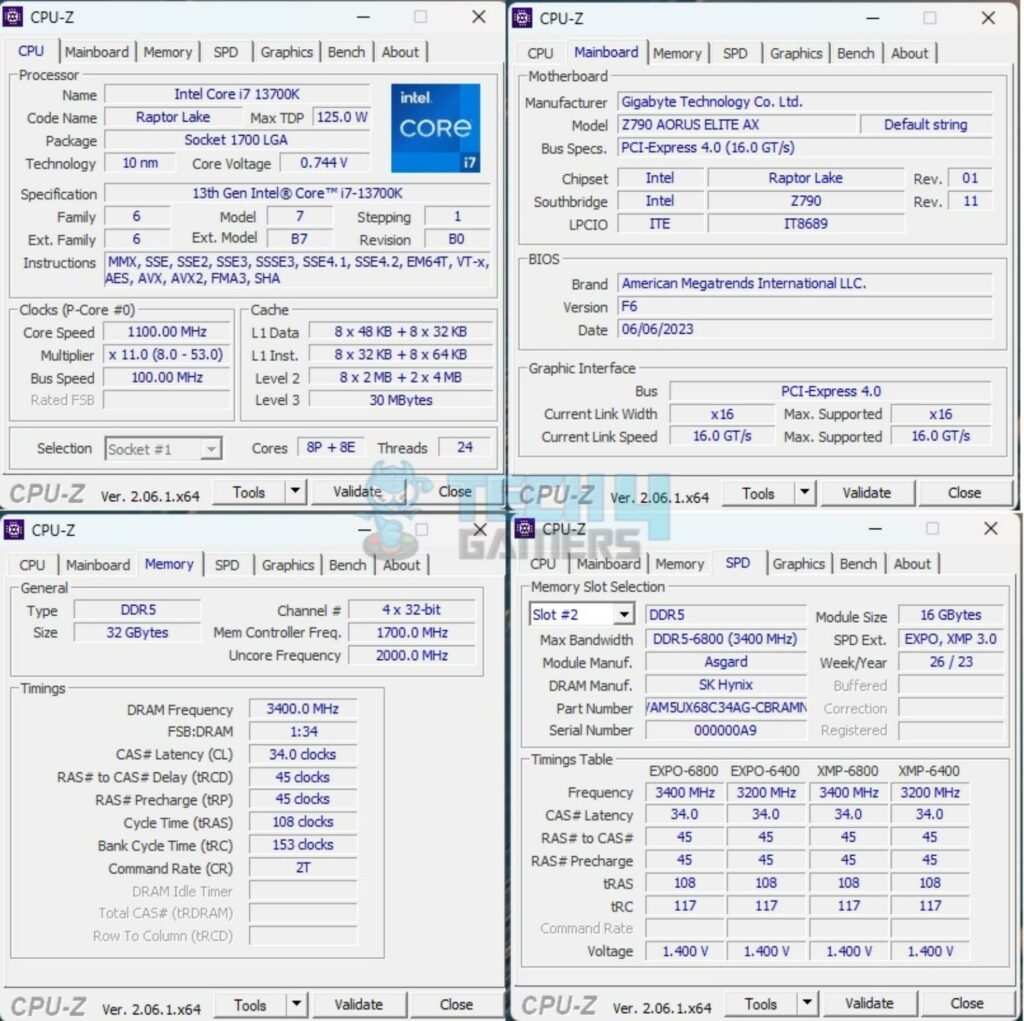 The above is a CPU-Z screenshot. Looking closely, you will notice that the software is reporting the kit to be in quad-channel configuration. The reason for that is with DDR5 kits, we have two channels per module, with each being 32-bit wide.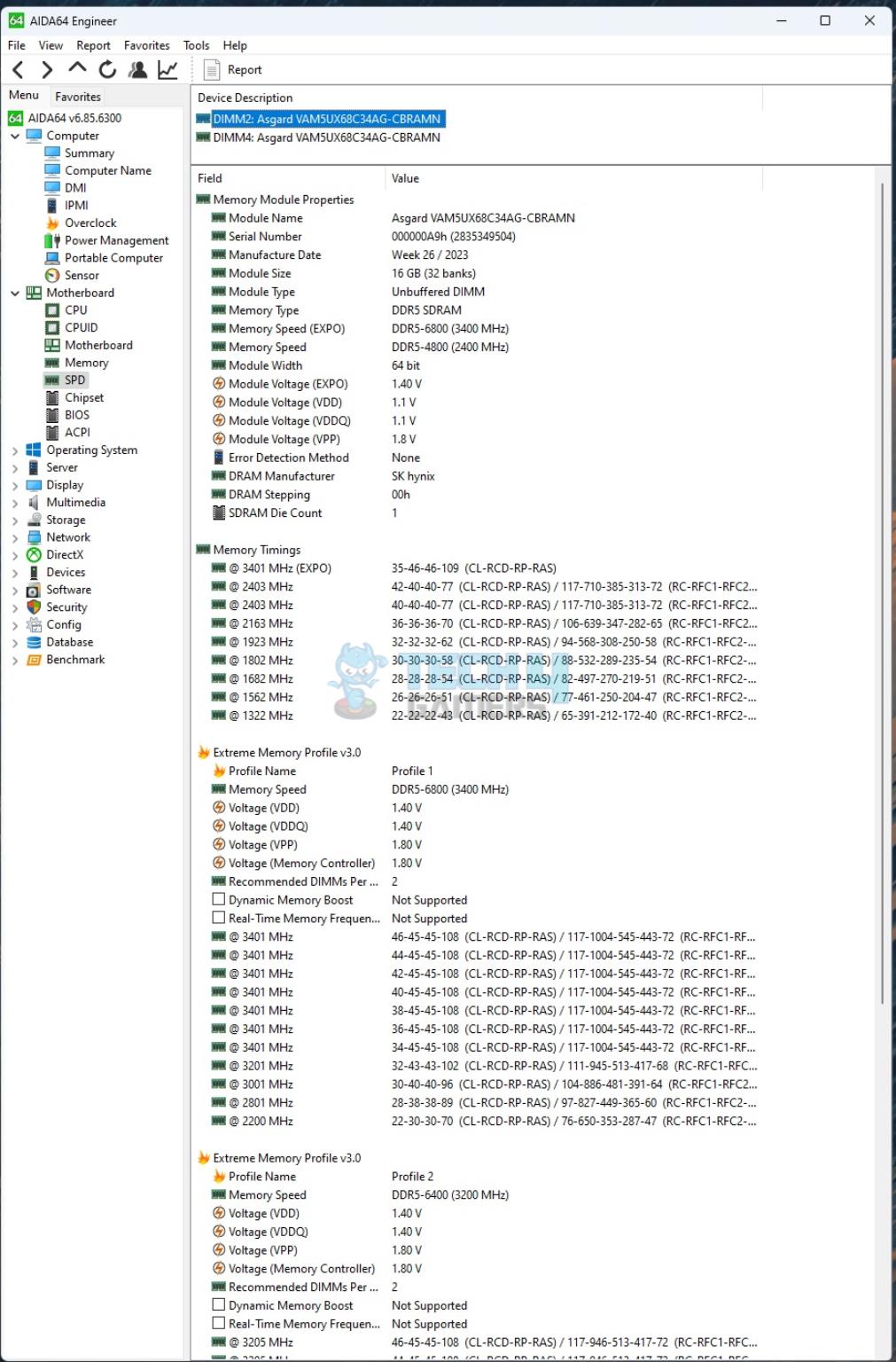 The above is the SPD readout as taken from the AIDA64 Engineer edition.
Results
It is time to take a look at the results and see where this kit falls in the graphs. I am starting with the AIDA64 Engineer edition result. Technically, we would want to see this kit sitting in nicely between the kits operating at 6400MHz and kits operating at 7200MHz.
AIDA64 Engineer
AIDA64 Engineer Benchmarks
Overall, the Asgard BRAGI DDR5 kit delivers a strong performance in AIDA64 Engineer.
The kit ranks third with a commendable read operation score of 101,350MB/s.
In the Memory Write benchmark, the Asgard kit maintains its third position. It narrows its gap with the 7200MHz kits, scoring 91,837MB/s.
In the Copy operations, the kit again holds the third position.
The kit excels in the Latency benchmark: It achieves 60.7ns, securing the second slot.
Other Benchmark Software Results
Now, let's take a look at the other benchmark results:
Starting with the SiSoft Sandra Software, the Asgard BRAGI DDR5 kit ranks third, as anticipated.
In the Super PI benchmark, the kit took 309.937 seconds to complete the 32M PI computations.
In the Performance Test benchmark, the Kingston Fury Renegade DDR5 kit (6400MHz with tighter timing) is slightly ahead of the Asgard BRAGI DDR5 kit.
Lastly, in 3DMARK Time Spy CPU Score, the Asgard BRAGI DDR5 kit's performance aligns closely with two kits operating at 7200MHz.
Overclocking
When it comes to overclocking, the Asgard BRAGI RGB DDR5 6800MHz CAS34 has a stunning performance. This kit packs a good overclocking headroom. We easily overclocked the kit to 7600MHz using the same timing, giving us a healthy +800MHz gain. We also tried for 8000MHz. Although the Windows was loading and working, it was not stable; hence, we did not count that in. It would need above 1.55V, and I was not comfortable with that voltage for daily use. Everyone's mileage would be different; hence, it is important to know the configuration on which the overclocking is done. Here are the settings for this overclock:
| | |
| --- | --- |
| Memory Frequency Multiplier | 7600MHz |
| Timings | 34-45-45-108 |
| Gear Mode | Auto |
| VDD A0 | 1.47V |
| VDDQ | 1.47V |
| VPP | 1.80V |
| VCCSA | 1.350V |
| VDDQ CPU | 1.42V |
| VDD2 CPU | 1.42V |
Results
Below are some results with the overclocking.
Overall, the performance gains after the overclock were notable. For instance:
In the AIDA64 Memory benchmark, we saw a 9.4% boost in Copy benchmarks.
An 8.8% boost in Write benchmarks.
A 10.7% boost in Read benchmarks.
Latency also went down to 56.5ns from 60.7ns.
We also say a 1.0% boost in Time Spy CPU scores.
Should You Buy It?
Given the performance, design, and price, should you go ahead and buy the Asgard BRAGI RGB DDR5 6800MHz CAS34, or should you look for better options?
Buy It If
You Plan To Switch Platforms: The Asgard BRAGI RGB DDR5 6800MHz CAS34 works with both Intel XMP and AMD EXPO, giving it the best of both worlds.
You Like Glossy RAM: With its glossy reflective finish and piano key style-themed design, the kit looks very unique and beautiful. Plus, the RGB lighting diffusion is incredible.
You Want To Overclock: As we saw in our tests, the kit has excellent overclocking headroom.
Don't Buy It If
You Are On A Budget: If you are on a budget, then you should skip this and explore more options.
You Have Clearance Issues: This is a high-profile RAM standing at 45mm in height. So, if you have a tall cooler, you might look into low-profile RAMs.
Final Thoughts
Asgard BRAGI RGB DDR5 6800MHz CAS34 is a high-performance memory that would suit gamers and enthusiasts alike. This kit features a dark coffee-colored mirror vest on the aluminum heat spreader. This spreader is made using a high-quality 2mm thick aluminum heat sink cold forging process. The CNC machining work is precise and up to the mark.
Due to its highly glossy and reflective nature, Asgard has provided a pair of gloves and microfiber cloth to handle the modules with care. The main theme behind the design is the piano's black and white keys design based on BRAGI, who was the son of ODIN in Norse mythology and is regarded as the god of poetry and music. This series is available in 6600MHz, 6800MHz, and 7200MHz speeds.
This kit has a premium touch and feel from its packaging to the modules' build quality, and we are impressed with it. This kit has performed very well in our testing, and I can say with confidence that it will cater to your needs when it comes to gaming DDR5 solutions with quite some style. This kit has a limited lifetime warranty, but I am not sure how to claim this warranty if I cannot locate the website of the manufacturer and the listed one does not get opened. Customer service is very important, and I always pay attention to this aspect.
Was our article helpful? 👨‍💻
Thank you! Please share your positive feedback. 🔋
How could we improve this post? Please Help us. 😔
[Hardware Reviewer & Editor]
Meet Nauman Siddique, a highly experienced computer science graduate with more than 15 years of knowledge in technology. Nauman is an expert in the field known for his deep understanding of computer hardware.
As a tech tester, insightful reviewer, and skilled hardware editor, Nauman carefully breaks down important parts like motherboards, graphics cards, processors, PC cases, CPU coolers, and more.
15+ years of PC Building Experience
10+ years of first-hand knowledge of technology
7+ years of doing in-depth testing of PC Hardware
A motivated individual with a keen interest in tech testing from multiple angles.
I majored in Computer Science with a Masters in Marketing
Previously worked at eXputer, EnosTech, and Appuals.