Best Value DDR5 RAM?
Review Summary
The Lexar ARES RGB DDR5 kit offers high performance at 6400MHz and CAS32 for budget gamers, rivaling pricier options like the Kingston Fury Renegade DDR5. It features a sleek design with diffused RGB lighting, no branding, and a black aluminum heat spreader, perfect for stealth builds with RGB accents. However, its overclocking capabilities are limited, and it may not fit with larger air coolers. Overall, the ARES delivers excellent value in performance, design, and price.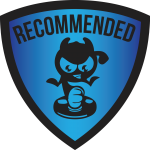 Value -

9/10

Performance -

9/10

Quality -

8.5/10

Features -

8.5/10
Pros
Good Performance
Aesthetic Looks
Good Value
Effective RGB Sync Compatibility
Intel XMP 3.0 Support
Cons
Limited Overclocking Headroom
Lacks AMD EXPO Support
Lexar has sent us their Lexar ARES RGB DDR5 kit (LD5EU016G-R6400GDLA) for review, running at 6400MHz and CAS 34. Targeting budget gamers, it offers quality DDR5 performance with tight timings and is our second kit at these specifications, following the Kingston Fury Renegade. Available in white and black, the kit includes an Intel XMP profile but lacks AMD EXPO support, though it's still AMD-compatible.
[/su_note]
---
Key Takeaways
The Lexar ARES RGB DDR5 6400MHz CAS32 Kit is perfect for those who want a bang-for-the-buck DDR5 RAM with excellent looks.
The Lexar ARES RGB DDR5 6400MHz CAS32 Kit is not for those who want top-notch overclocking potential.
The Lexar ARES RGB DDR5 6400MHz CAS32 Kit is a solid DDR5 option that has both excellent performance and beautiful looks, making it perfect for most gamers. Plus, given its relatively good price, the kit also offers very good value for money.
---
Specifications
Take a look at the complete specifications of the kit: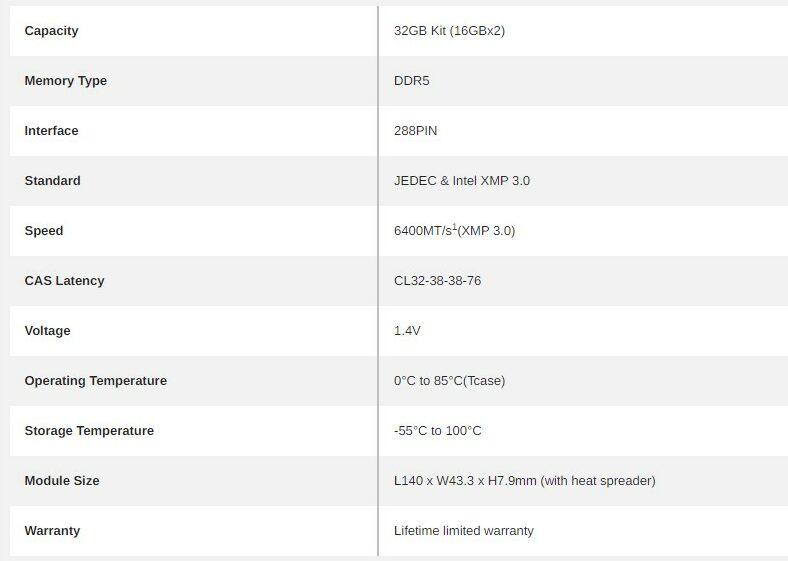 Not here tha 43.3mm is the overall height of the kit. This is a tall profile, and you may have to adjust the height of the air cooler's front fan if the kit obstructed the actual fitting of the fan on the heatsink.
Packing Box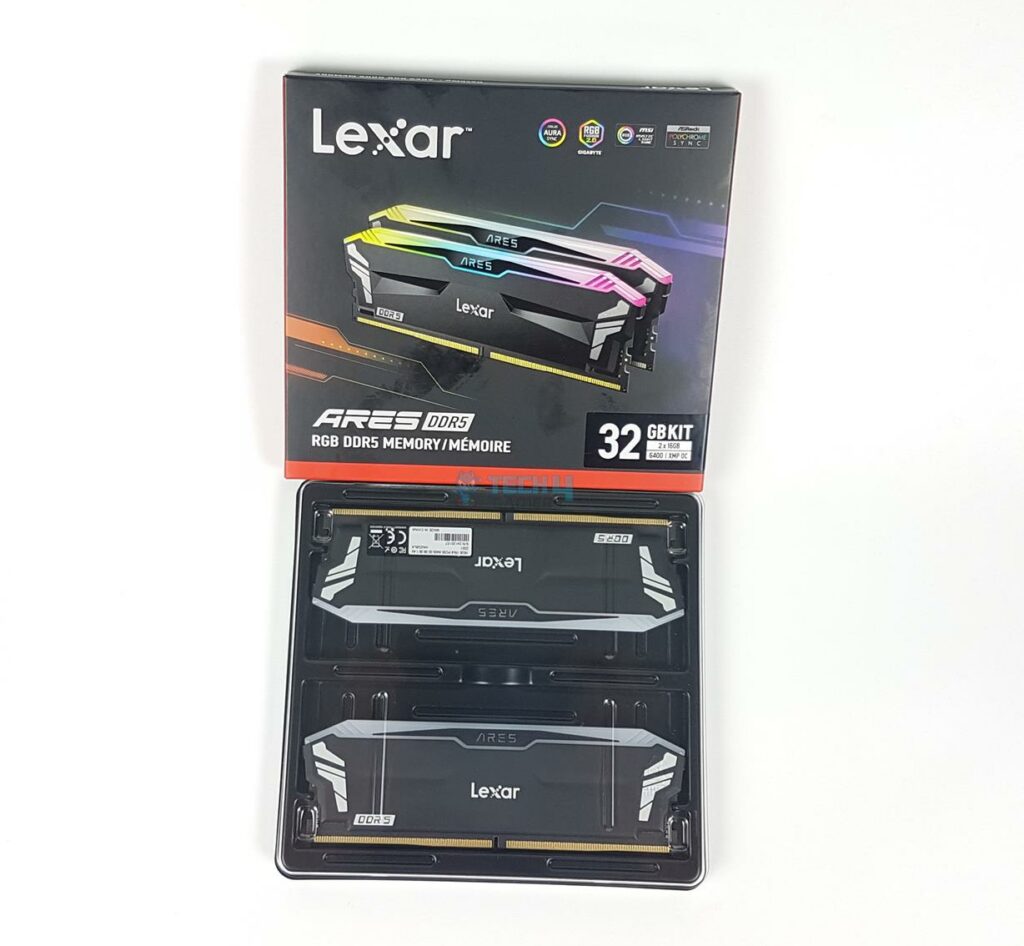 The kit is shipped inside a standard paperboard-made packing box. The RGB lighting is compatible with RGB sync technologies of motherboard manufacturers, and it is compatible with:
ASUS AURA SYNC
GIGABYTE RGB Fusion 2.0
MSI Mystic Light sync
ASRock Polychrome Sync
The front side of the packing box has a picture of both modules showing their RGB vibrant colors. This is a 32GB kit comprising 2x 16GB modules. The modules are placed inside a transparent container, and nothing else is in the box.
Design
Let's start by stating the salient features of the kit:
Experience Ultra-fast Performance with Next-gen DDR5
Game in Style with Lexar RGB Sync
Designed with Increased Stability and Reliability
Leverages on-board PMIC for a Stable and Quick Power Supply
Keep your Game Cool
Supports Intel XMP 3.0
Rigorously Tested
The Lexar ARES RGB kits, their top memory solution, offer speeds up to 6400MHz and come in black, white, and a non-RGB variant. Only some kits have both XMP and EXPO profiles; our sample has an Intel XMP 3.0 profile. Each module holds 16GB, and none go below the 6000MHz JEDEC 5600MHz base. I expect Lexar to introduce more capacities and speeds.
The Lexar ARES RGB DDR5 Desktop Memory features on-die ECC for instant data correction and an unbuffered 288-pin DIMM layout. It has an aluminum heat spreader and reveals a black PCB with white LEXAR and ARES branding. A serial number label is on the back. Each module uses a 1Rx8 design, meaning one rank with 8 modules. These kits are made in China.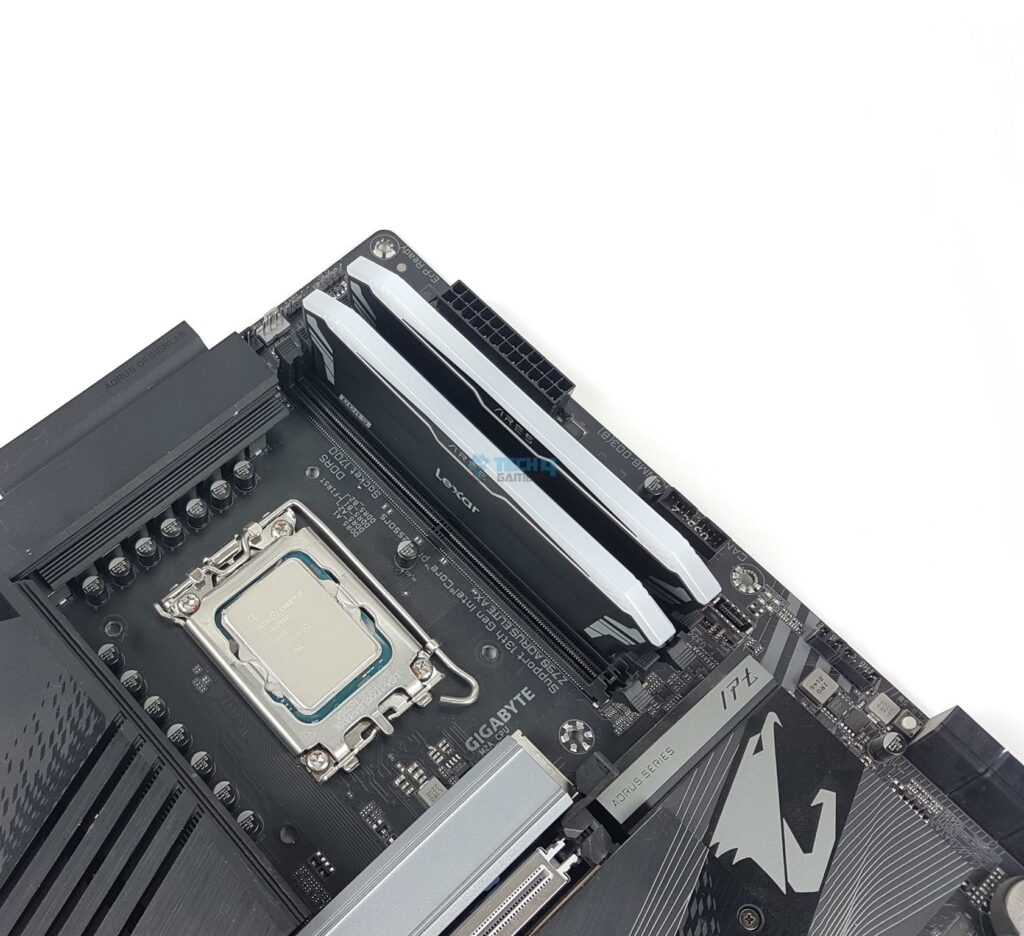 The picture displays a top view of the modules with a diffuser spanning the PCB's length. Notably, there's no branding on top. Lexar opts for a clean design, which I like. Unlike other kits, these diffusers lack end catchers, giving them a standard appearance. Other brands should take a cue from Lexar.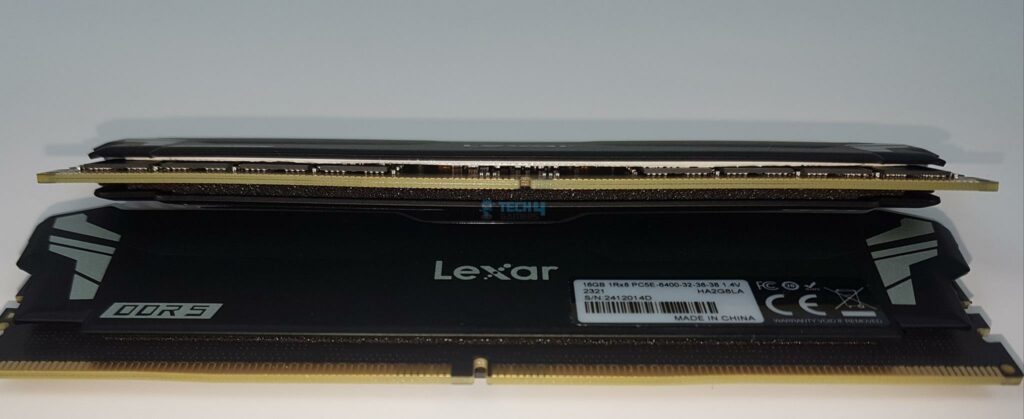 The kit features a single-rank, standard black PCB design. A thick black pad runs along the non-populated PCB side, balancing the width on the opposite side. The populated side has a PMIC chip on the center, with 4 memory chips on each side, totaling 32GB in a 1Rx8, 2G x 64-bit layout. There's also a thermal pad on the chips.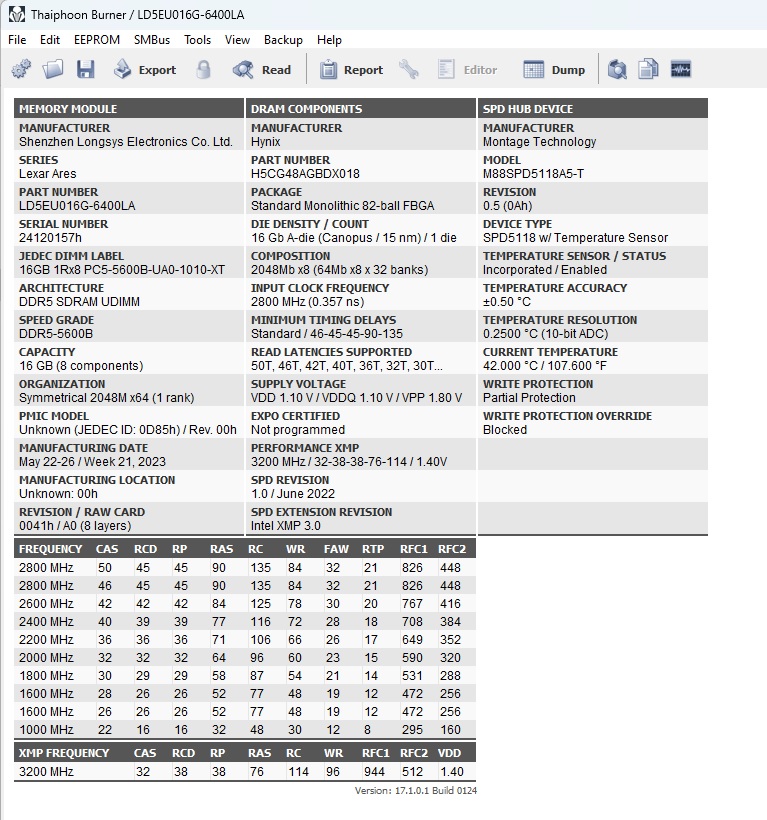 From the Thaiphoon burner data, the memory is made by Shenzhen Longsys Electronics, suggesting Lexar used an OEM for this kit. It utilizes Hynix A-Dies with part number H5CG48AGBDX018. The PMIC model isn't clear, but the BIOS indicates GMT. Produced in May 2023 (Week 21), the kit has an Intel XMP Revision 3.0 profile (3200MHz 32-38-38-76-114 1.40V). The SPD device is from Montage Technology, model M88SPD5118A5-T, with the SPD5118 featuring a temperature sensor reporting tCase thermals, not the memory chips or controller.
RGB Lighting
We have tested this kit on the GIGABYTE Z790 AORUS ELITE AX motherboard and controlled the lighting using the GIGABYTE RGB FUSION 2.0 app. The kit was responding to the change in modes perfectly. Unless there was a software control, both modules were out of sync in RGB light diffusion. Here are some pictures.
Testing
We are using the below-mentioned configuration for RAM testing:
Intel i7-13700k [Stock, Auto]
Enermax Liqmaxpro 360 AIO
GIGABYTE GeForce RTX 3060 VISION OC Rev.2 [For Display]
be quiet! Straight Power 11 850W Platinum PSU
Thermaltake Core P6 TG Snow Edition in an open frame layout
Other kits are:
We are thankful to our sponsors for this test bench. The following software is used for the testing:
AIDA64 Engineer
SiSoftware Sandra Suite
Performance Test
3DMark Time Spy
Super Pi
BIOS Run
This Lexar ARES RGB DDR5 32GB kit only has one XMP profile programmed on it, and loading this profile will set all the related variables, including memory timings, voltages, and frequency. In the BIOS, I saw that this kit has a GMT PMIC chip. However, Thaiphoon Burner couldn't read the PMIC manufacturer. This kit conforms to the JEDEC standard of 5600MHz base operating speed at 1.1V voltage. In XMP mode, the profile is set to 6400MHz at 32-38-38-76 timing using 1.40V.
CPU-Z and AIDA64 SPD Readouts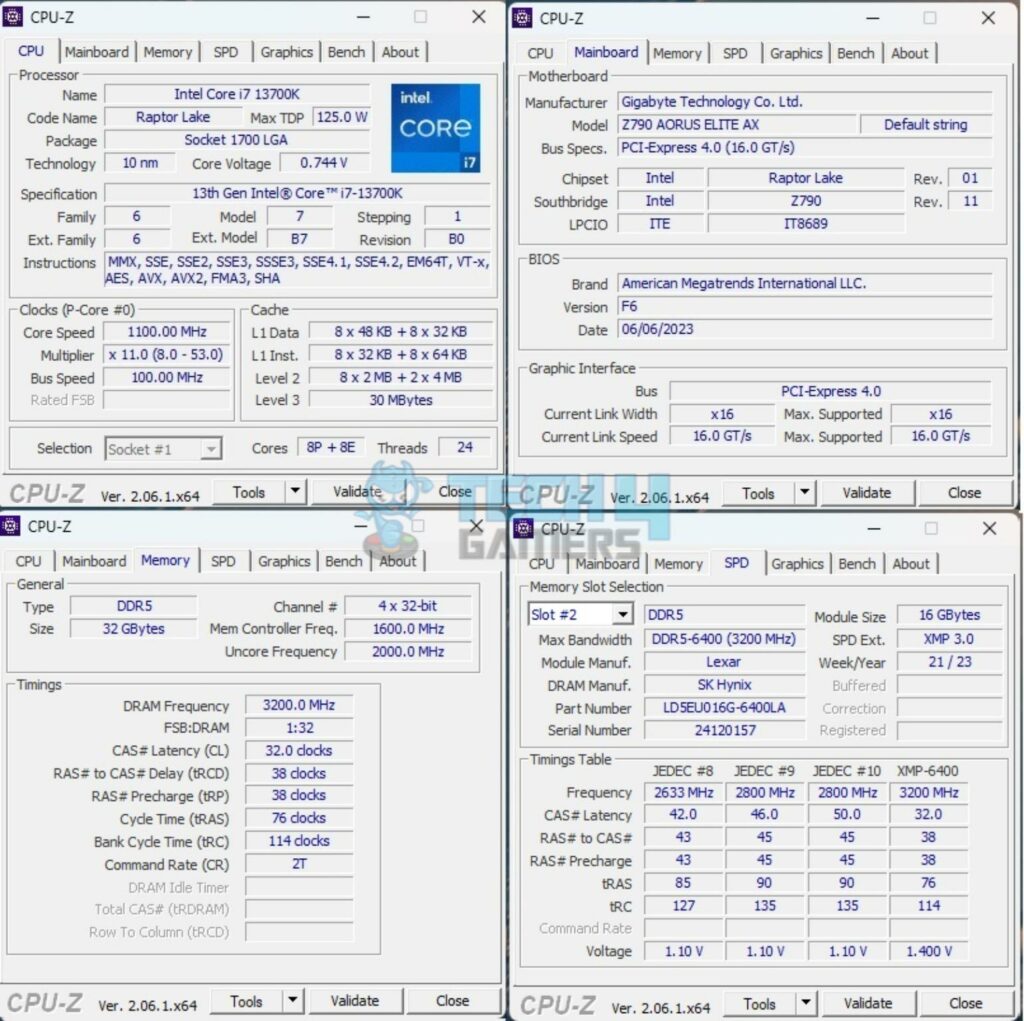 The above is a CPU-Z screenshot. Looking closely, you will notice that the software is reporting the kit to be in quad-channel configuration. The reason for that is with DDR5 kits, we have two channels per module with each being a 32-bit wide.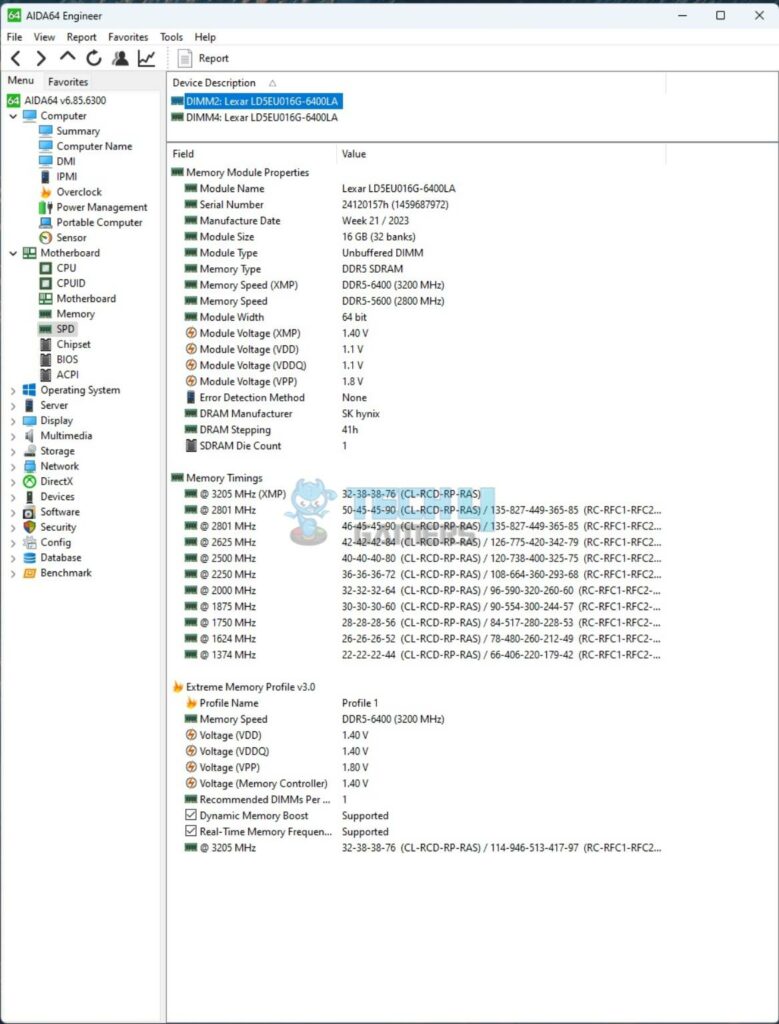 The above is the SPD readout as taken from the AIDA64 Engineer edition. This kit supports Dynamic Memory Boost and Real-Time Memory Frequency.
Results
In this result, we shall be comparing the Lexar ARES RGB DDR5 6400MHZ CAS32 kit with the Kingston Fury Renegade DDR5 kit 6400MHz CAS32. Let's start taking the results one by one, starting with AIDA64 Engineer.
AIDA64 Engineer
Both kits perform similarly as they have the same speed and CAS. The Kingston Fury Renegade kit, with its 32-29-29-80 timing, outperforms the Lexar ARES in read operations, albeit marginally. This slight lead is consistent in memory write operations. In the Copy benchmark, the performance gap is minimal, making their performances virtually identical. However, in latency, the Lexar ARES kit excels, taking the top spot.
Other Benchmark Software Results
Beginning with SiSoft Sandra Software. Both kits are closely matched, with Lexar ARES slightly edging out Kingston Fury Renegade. In Super PI, they're neck-and-neck, but Kingston Fury Renegade slightly pulls ahead. The same marginal lead for Kingston Fury Renegade is seen in the Performance Test. However, in 3DMARK Time Spy, there's a significant performance gap. This might be attributed to regular updates in Windows and 3DMARK. Regardless, Lexar ARES ranks second in the chart.
Overclocking
The Lexar ARES RGB DDR5 6400MHz CAS32 kit has a low overclocking headroom, and this is proven in my test. This kit could hardly do +400MHz above the 6400MHz mark, even at 1.50V VDD/VDDQ. All my attempts to overclock this kit 7000MHz and 7200MHz were futile. Everyone's mileage would be different; hence, it is important to know the configuration on which the overclocking is done.
| | |
| --- | --- |
| Memory Frequency Multiplier | 6800MHz |
| Timings | 32-38-38-76 |
| Gear Mode | Auto |
| VDD A0 | 1.46V |
| VDDQ | 1.46V |
| VPP | 1.80V |
| VCCSA | 1.350V |
| VDDQ CPU | 1.40V |
| VDD2 CPU | 1.40V |
Results
This kit was pushed to 6800MHz for a stable operation. Here are the results from this overclock.
In the AIDA64 Memory benchmark, scores improved from the stock run:
Copy benchmark saw a 6.6% boost.
Write benchmark increased by 5.5%.
Read benchmark rose by 3.7%.
Latency decreased to 58.1ns from 60.5ns.
The Time Spy CPU Scores also saw a 1.2% enhancement due to this overclock. However, the overall gain is not that huge of a leap thanks to low overclock.
Should You Buy It?
After testing each and every aspect of the Lexar ARES RGB DDR5 6400MHz CAS32 kit, should you buy it?
Buy It If
You Want The Best Bang For The Buck: With its relatively lower price tag and tight timings, this kit with an XMP profile will set you well for all your gaming needs operating at 6400MHz.
You Want Want Beautiful Looks: Along with effective cooling, Lexas has wisely skipped branding on its diffuser, which, in my opinion, looks very beautiful.
Don't Buy It If
You Want Overclocking: If you are an overclocking enthusiast, then this kit may not be for you due to low overclocking headroom.
You Have A Big Air Cooler: This high-profile RAM stands at 43.3mm tall. If you use a bulky CPU air cooler that overhangs the DIMM slot, you must consider the PC case cooler clearance and the cooler's RAM clearance. However, there is no issue with AIO coolers.
Summary
Lexar has launched a high-performance kit at a good price for the gaming community, and they have done so at tight timings with an XMP profile. Meet the Lexar ARES RGB DDR5 6400MHz CAS32 memory kit for all your gaming needs. This kit has a stylish aluminum heat spreader, which is lightweight, and it boasts stunning visuals on the top using an uninterrupted run of thick diffusers. The touch and feel of this kit is not premium, but I have no reservation given the good performance of this kit.
It has taken the bar and challenged the more expensive Kingston Fury Renegade DDR5 6400MHz CAS32 kit. The Kingston kit has an advantage in the overall timings, but still, the Lexar ARES RGB kit has managed this nail-biting competition in a graceful manner. Why spend a lot when you can have the same performance at a much lower price? It also offers RGB lighting, for which Lexar has also provided dedicated software, though it is not needed since this kit is compatible with the RGB sync technology of motherboard manufacturers.
Lexar is offering a limited lifetime warranty on this kit, though I can't speak of how good their customer service is since I have no experience with them.
Awards Received By Lexar ARES RGB DDR5
The Lexar ARES RGB DDR5 6400MHz CAS32 kit has also received the following Tech4Gamers Awards:
Was our article helpful? 👨‍💻
Thank you! Please share your positive feedback. 🔋
How could we improve this post? Please Help us. 😔
[Hardware Reviewer & Editor]
Meet Nauman Siddique, a highly experienced computer science graduate with more than 15 years of knowledge in technology. Nauman is an expert in the field known for his deep understanding of computer hardware.
As a tech tester, insightful reviewer, and skilled hardware editor, Nauman carefully breaks down important parts like motherboards, graphics cards, processors, PC cases, CPU coolers, and more.
15+ years of PC Building Experience
10+ years of first-hand knowledge of technology
7+ years of doing in-depth testing of PC Hardware
A motivated individual with a keen interest in tech testing from multiple angles.
I majored in Computer Science with a Masters in Marketing
Previously worked at eXputer, EnosTech, and Appuals.