An AIO cooler is a liquid cooler that helps you stabilize your CPU temps by relying on liquid solutions. It uses a closed-loop system to pump water or any other fluid to cool your CPU block. However, just like any other component, it gets old as well. In this guide, we will not only tell you how long does an AIO cooler last but also point out some factors that affect its lifespan and what precautionary measures you can take to increase its lifespan further.
---
Key Takeaways
AIO coolers are built sturdy, but they will stop working at some point, just like any other component.
AIO coolers can last up to 7 to 10 years if used with care.
It is important to maintain your AIO cooler and monitor its performance to make it last long.
---
Lifespan Of An AIO Cooler
The average lifespan of an AIO cooler is somewhere around seventy thousand hours. This usually means somewhere between five to seven years of use. This is similar to the lifespan of motherboards. However, it is not uncommon for an AIO cooler to last up to ten years and for others to break way before that. It comes down to a lot of factors, such as how well it is built and how regularly it is maintained. Most reputed brands such as Corsair, Cooler Master, and ETK give anywhere between three to five years of warranty with their liquid AIOs.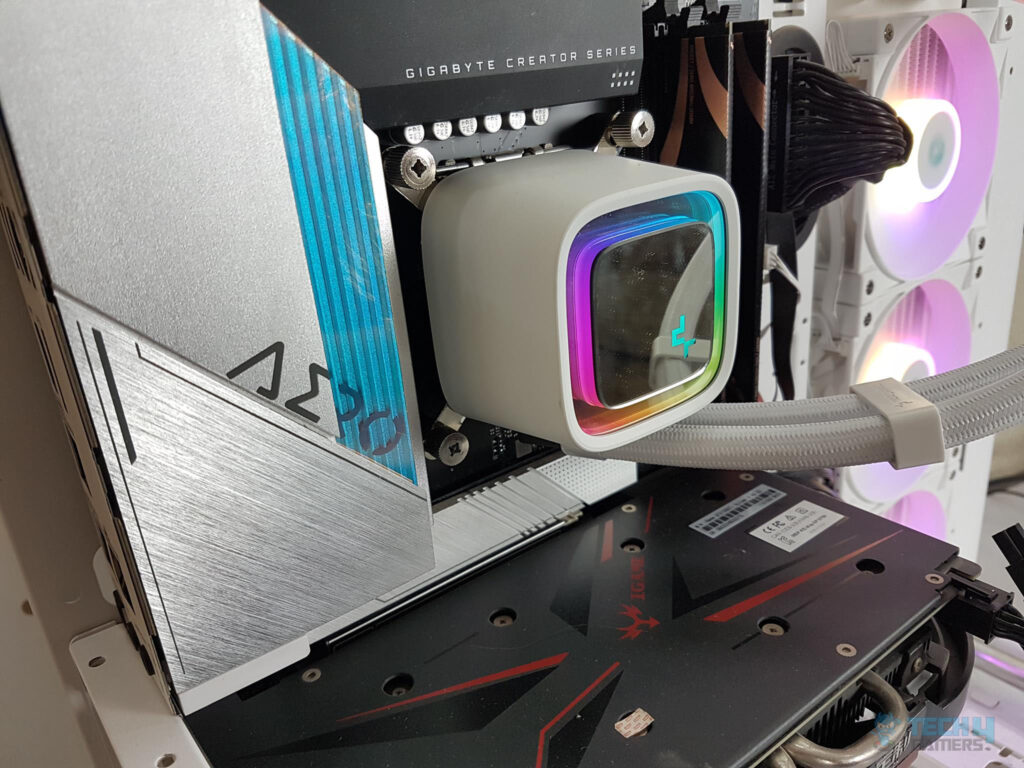 Brand Verifications
Mentioned below are some of the well-known AIO series and the warranties provided with them by the manufacturer.
Corsair Hydro Series products have a 5-year warranty.
Corsair Hydro X Series Core products (blocks, pumps, and radiators) have a limited 3-year warranty.
NZXT Kraken Z Series has a 6-year warranty.
NZXT Kraken X Series also comes with a 6-year warranty.
Cooler Master's Master Liquid PL Series offers up to 5 years of warranty.
Given the warranty periods of reputed AIO series, it is hard to tell the accurate life span of an AIO. However, if you go with a well-made series from any of the reputed brands with a decent warranty period, chances are you can make your AIO cooler last for at least seven to ten years, given that you take good care of it, maintain it regularly and keep an eye on the factors that affect its lifespan.
Factors That Affect The Lifespan Of An AIO Cooler
AIO coolers usually last long, way longer than any other custom liquid cooling solution. However, that does not mean they are unbreakable. There might be certain factors that will abruptly decrease the lifespan of your AIO cooler. Some of them are:
Installation Problems
AIO coolers, as hassle-free as they sound, certainly are not easy to install. That means the user is more likely to have some problems during the installation process of these cooling systems. The most common mistake users make while installing their AIO is that they don't make sure the tubing is beneath the cooling block and radiator.
This will cause them to make bubbling noises, and the liquid will not rotate how it is supposed to, causing massive problems with the cooling and decreasing the lifespan of the cooler with it.
Another common installation error most people make is that they place the radiator at the bottom of the case and install the cooling block and pump above it. The pump should always be beneath the radiator, not even on the same level, as it ensures the proper flow of the liquid as it was intended by the manufacturer. To make sure everything is perfect, read our guide on how to install an AIO cooler.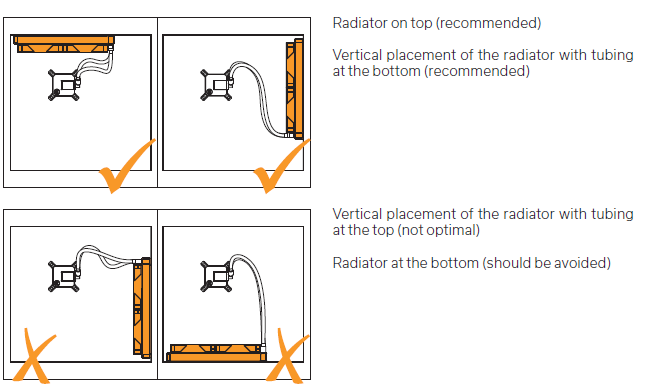 Pump Failure
Often times by default, the cooler is filled with up to 90 percent of its total design capacity. This means that 10 percent of the space is reserved empty. Sometimes, in an extremely unlikely scenario, tiny air bubbles can build up in this space. Those tiny bubbles can merge up to create bigger bubbles hence occupying the unused space and blocking the outgoing tank.
This may cause a failure in the pump's working. We suggest a replacement in this case. Some AIO coolers come with a dedicated extreme mode in their default software that can help eliminate the bubbles before they can cause a malfunction in the pump's working. You can also physically bleed the system if you suspect any air bubbles within the tubing or pump. Just stay cautious of the bubbling sound your cooler makes and take precautionary measures accordingly.
Corrosion
Normally, radiators on AIO coolers are made out of copper or aluminum. The fins inside the radiator are also made of the same metals. The thermal performance of copper is better than that of aluminum while lasting much longer because of its resilience and ability to degrade at a lower rate.
This also means the cost of a copper-made cooler would be much higher than one made out of aluminum, so manufacturers have a hard time keeping it at an affordable cost. Aluminum, on the other hand, is considerably cheaper but much more affordable.
Therefore, copper fins are much more likely to last a longer period of time compared to aluminum fins which are more corrosive in nature. Furthermore, when welded with cheaper welding flux and low-quality coolant, it can also form a mixture that is highly oxidizing in nature. This can also cause the tubing to deteriorate over time.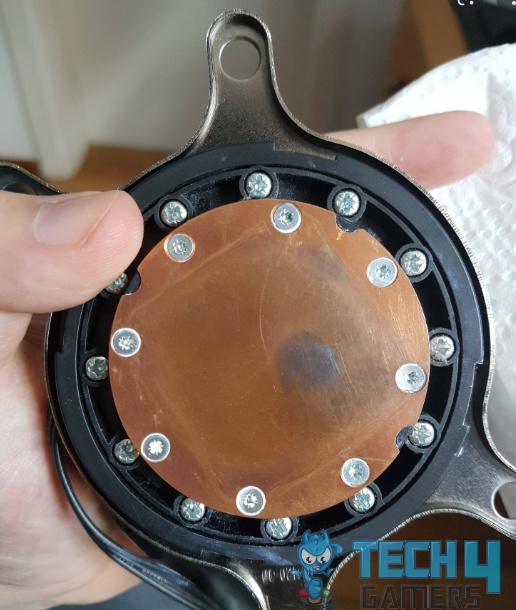 What Causes AIO Coolers To Break?
If you're considering buying an AIO cooler and you are worried about its leakage, that's the last thing you should be worrying about. The majority of the AIO coolers will mostly likely never leak. This is because they are designed as closed-loop systems, which means nothing is supposed to enter or come out. You are not even supposed to change the liquid inside them.
Hence, chances are your AIO cooler would never leak. If it were to happen, it would have happened to several people, and you, most probably, would have heard about it on the internet by now. What can cause it to break would be issues linked to the cooling block, most certainly the pump inside of it, which you must change in that scenario.
Maintenance
Proper maintenance of components will increase the overall lifespan of your gaming PC. AIO coolers are fairly easy to maintain compared to custom water loops, as there's no sort of liquid replacement required since it all remains sealed up in the tubing. They run on fairly low maintenance; however, you will need to do some of it occasionally in order to get the most out of their lifespan.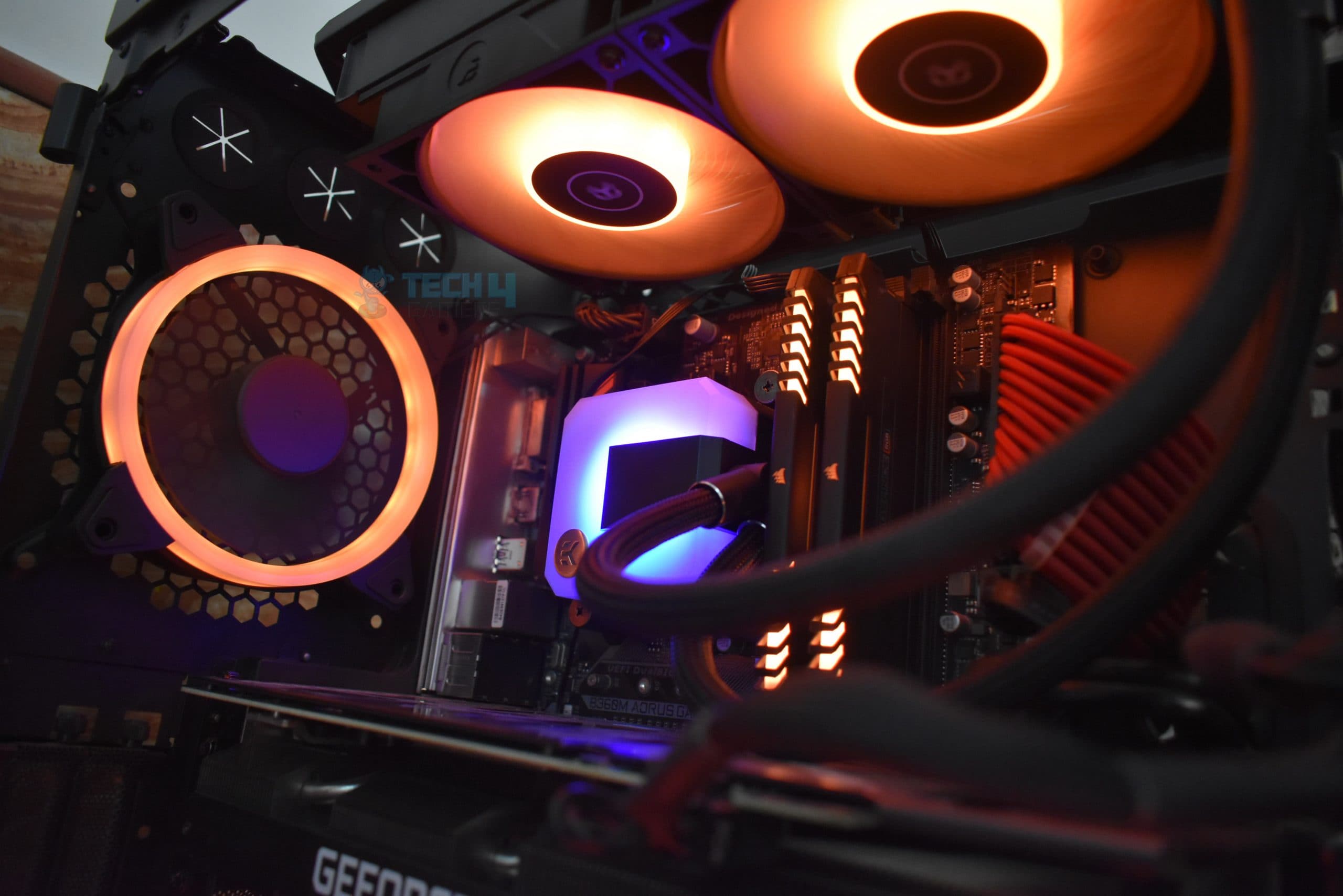 This includes making sure that they remain dust-free with occasional cleaning every now and then. Also, keep monitoring your thermals to make sure the AIO is performing as it should. This is the reason why AIO coolers are so popular nowadays. The whole process is so hassle-free once they are up and running in your system.
How To Tell If Your Cooler Needs Maintenance?
The easiest way to tell if your cooler needs maintenance and it is not performing as it should is by constantly monitoring your system temperatures. You can get it done by Windows 10's task manager. There are also more efficient ways to do it with certain apps that not only let you constantly monitor the temperatures but also compare them in the form of charts and other infographics to see how it has been behaving in the past so you can get a better understanding how it is supposed to perform and how it is currently performing.
Another noticeable sign that your AIO cooler needs maintenance is that its fan noise gets noticeably loud. This can either be because there's a considerable amount of dust and gunk in your radiator or because your cooler is struggling to keep your CPU at ideal temperatures. Either way, we suggest maintenance.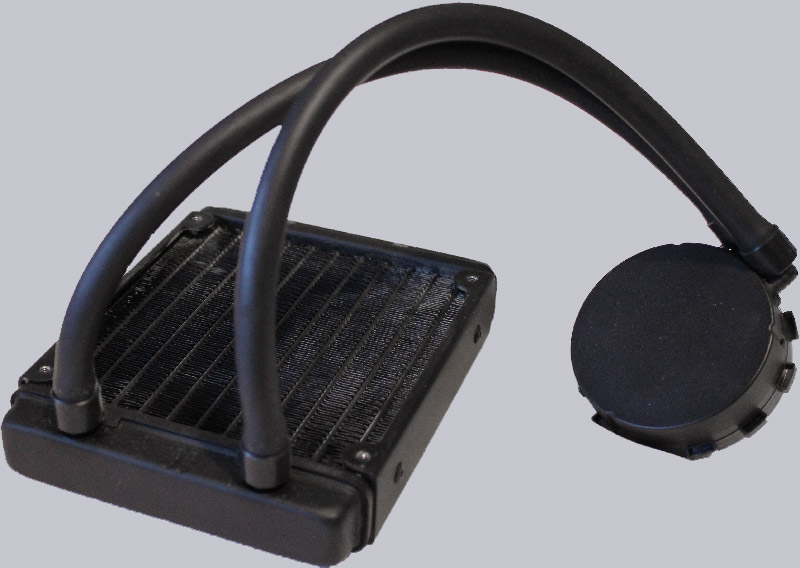 How To Extend The Life Span Of Your AIO Cooler?
The first thing you can do to extend the lifespan of your cooler is to ensure that it is mounted correctly in the direction suggested by the manufacturer. The pump should always be underneath the radiator, and the tubing should always remain beneath both.
The second and easiest way to ensure the maximum life span of your AIO cooler is by regular maintenance. AIO coolers are much easier to maintain than any other liquid cooling solution on the market. They are tied shut, which means you don't even have to worry about replacing the liquid. All you have to do is make sure the dust does not accumulate around the radiator or inside the fans. Another thing you can do is monitor the thermals of your system to ensure that your cooler is putting up the work and behaving as it is supposed to.
Conclusion
The cooling solution is an essential part of any PC. It can sometimes even affect the performance of your entire PC or stabilize it by saving it from thermal throttling. Hence, it is extremely important to go for a solid cooling solution that can stabilize your computer's thermals. AIO coolers are one of the most reliable options in this regard. They can last anywhere between 5 to 10 years, given that you take good care of them, clean the dust off of them and monitor their performance regularly. Make sure the AIO you buy is made out of copper, especially the fins, does not cheap out of welding flux and coolant, and lastly, comes with an extensive warranty.
---
Related Guides:
Was our article helpful? 👨‍💻
Thank you! Please share your positive feedback. 🔋
How could we improve this post? Please Help us. 😔