Ryzen 7 5800X3D is AMD's last take based on the AM4 platform to compete with Intel's 12th Gen Alder Lake, specifically the Intel i9-12900K, from its seat as the best processor for gaming. AMD has perhaps shown that it has figured out the best way to boost gaming performance without ramping up a lot of specs. A solution that they came across was to increase the size of the L3 cache memory to enhance the gaming performance of their devices and give more power to the processor.
AMD Ryzen 7 5800X3D is a special processor from the Vermeer series, which should interest the most demanding gamers. The processor is equipped with 8 cores and 16 threads based on Zen architecture with an additional 3D V-Cache cache – a total of 96 MB of L3 cache has been made available here, which translates into much better performance in games. The Ryzen 7 5800X3D fits motherboards with an AM4 socket and has a TDP of 105 W (it is, therefore, worth taking care of proper CPU cooling). Talking about CPU Cooling, also check out our CPU Coolers For Ryzen 7 5800X3D.
Before hopping on directly to the Best RAM For Ryzen 7 5800X3D, let's look at some essential details to be kept in mind. This particular setup needs the right cogs to build its flawless mechanism for the user to enjoy to their fullest, which is why, precisely, compatible high-performance hardware must be present in these systems to match the majesty of such builds. Memory is one of the most significant hardware components of such builds, and in response to this demand for the Best RAM For Ryzen 7 5800X3D, we've come up with the best available options to polish the performance of your build further.
Quite a few criteria need to be considered when selecting your perfect fit. Firstly, it's a simple but the most important matter of compatibility of the RAM with the system build. Secondly, the focus needs to be directed toward frequency or speed, memory die, size, and latency options for the said RAM option. Given the price difference and personal preference, the user must carefully consider the RGB and aesthetical options.
RAM
TEAMGROUP T-Force Xtreem ARGB
G.SKILL Trident Z Royal Series
G.Skill Trident Z Neo Series
Corsair Dominator Platinum
How It Looks
RAM
TEAMGROUP T-Force Xtreem ARGB
How It Looks
How It Looks
RAM
G.SKILL Trident Z Royal Series
How It Looks
RAM
G.Skill Trident Z Neo Series
How It Looks
RAM
Corsair Dominator Platinum
How It Looks
How It Looks
Last update on 2022-10-07
Best RAM For Ryzen 7 5800X3D
We have selected a couple of RAM from a swarm to review them for the users. We aim to express these products in their real value so that the users can take advantage and choose the top Ryzen 7 5800X3D RAM for their builds.
The list of kits available is a unique selection after carefully eliminating even the closest of competitions. We can confidently say that each of the kits presented here is selected on merit. Style, build quality, latency, memory size, and compatibility are primary judging factors for these selected items. Kindly enjoy a good read.
TEAMGROUP T-Force Xtreem ARGB
Best Gaming RAM For Ryzen 7 5800X3D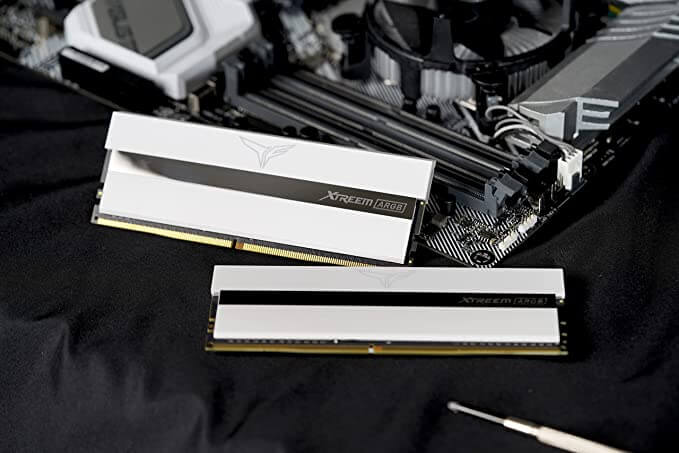 Specifications: Memory Size: 16 GB | Memory Speed: 3600 Mhz | Voltage: 1.45 volts | CAS Latency: CL 14
Pros
Low Latency

ARGB

High-Performance heat sink

Software synchronization support
Cons
The color of RGB is not bright enough

Unstable on some motherboards
TEAMGROUP is a well-known Taiwanese company that excels in researching and developing high-quality products, being a leading brand in recent years and ranking in the CommonWealth magazine's top 1000. The company's line of RAM and memory modules have all received critical reception worldwide and have won various honors and awards over the years.
TEAMGROUP T-Force Xtreem is very small, with dimensions of 5.24 x 1.93 x 0.31 inches and weighing only a meager 9.8 ounces. Along with providing a high speed, all at low latency, this product also has available ARGB with addressable RBG technology. TEAMGROUP T-Force Xtreem also features a heat sink made with an aluminum alloy, which further boosts the performance and prevents any overheating. Additionally, it enables you to utilize the RAM's extremely low latency, CL14, and fast memory speed of 3600MHz, which help to make sure you get the best gaming experience possible.
Along with a bonus of availability in a wide array of colors, the product will easily blend into your computer's setup and provide unparalleled performance at no cost to the aesthetic. These plus points make it an excellent product for gamers who want a stylish PC that looks good and runs smoothly. When it comes to high-quality DDR4 RAM, the TEAMGROUP T-Force Xtreem is, without doubt, the Best Gaming RAM For Ryzen 7 5800X3D available in the market, coming in with a lifetime warranty which says a lot about the quality you can expect from this RAM. The feature that makes it great is the higher than usual clock speed in the DDR4 category and excellent latency.
What we liked about this:
While it is nothing revolutionary, the TEAMGROUP T-Force Xtreem itself is available in various colors, which offer a lot of customizability to the user. Along with this, it has ARGB available, which can further boost the aesthetic of your setup. TEAMGROUP T-Force Xtreem's build quality is slim and sleek and is complimented with a heat sink made of aluminum that makes sure you get the best performance possible.
The memory is also capable of complete synchronization with the software, alleviating hassle and ensuring excellent performance the second you plug it in, which is reasonable considering the good amount of memory size the product provides and little to no CL latency 14. Topped off with a lifetime warranty, all of this should easily seal the deal. It is pretty easily one of the Best RAM For Ryzen 7 5800X3D.
What we disliked about this:
While the TEAMGROUP T-Force Xtreem itself is top-notch, its users have received many complaints regarding its stability. Many people have talked about how unstable the product can get, which seriously impacts its performance. Speaking of performance, it also must have a few flaws that limit the ram from reaching its advertised speed. However, this is another matter the product is known for, significantly impacting the product's reputation and the company. Lack of consistent speeds and stability are the main things you should be worried about when purchasing this product.
Who is this for?
The TEAMGROUP T-Force Xtreem is an extremely good-looking and well-performing RAM that should provide gamers the performance they need for hardcore gaming and enable them to make a powerful workstation. With a slight increase in latency, while clocking upper frequencies, this RAM stays in the game with minimum loss in performance. The overall package that you get is complete for this kit. It easily establishes itself as one of the Best Gaming RAM For Ryzen 7 5800X3D, which is worth considering for every hardcore gamer.
PNY XLR8 Gaming
Best RGB RAM For Ryzen 7 5800X3D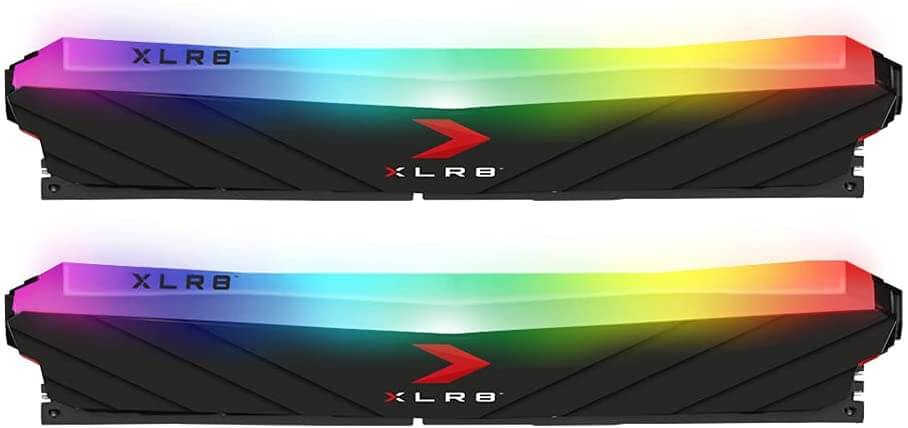 Specifications: Memory Size: 32 GB | Memory Speed: 3200 Mhz | Voltage: 1.35 volts | CAS Latency: CL 16
Pros
Smooth Performance

Dual-Sided RGB Lighting

Heat Spreader

Supports most motherboards
Cons
Short RGB Lifespan

RGB is not Bright
PNY is committed to providing high-quality products that are both reliable & affordable and cater to your needs. This company's RAM and other products are tailor-made to provide its customers with high-powered equipment that can manage demanding applications while ensuring you get the best performance and speed at low latencies and with great-looking LEDs.
A beautiful lighting RGB system and great performance are what you can expect from the PNY XLR8 Gaming, which is designed to be an eye-catching and good-looking piece of equipment that provides style to your rig and its performance deserves. To further compliment the aesthetic of the PNY XLR8, it was made intentionally lightweight, weighing only 4.8 ounces and being relatively small with the dimensions of 5.71 x 0.24 x 1.83 inches. The measurements provide clarity when considering the memory clearance of coolers, so it is better to keep this in mind.
You would think that the major focus of the RAM is the RGB. Still, along with that, the PNY XLR8 is also capable of providing excellent performance, allowing you to work on all manner of applications or play high requirement games smoothly and efficiently and look good while doing it. This product is also compatible with most motherboards, making it a go-to choice when in the RAM market.
Furthermore, a standard voltage requirement of 1.35 volts makes it possible for this kit to have a higher clocking potential. 32GB of memory comes in handy for content creators, rendering usage, and even animation workstations. This kit is available with multiple options for either dual or quad setups. It is recommended to always go with the maximum slots coverage to increase system smoothness and lower latency. Dual and quad configurations are essential in AMD setups and significantly affect FPS in-game and the latency of the overall system.
CL 16 is very good decent latency out of the box and should not be underestimated, though an average user will probably not notice the slight bump in these latency levels. With the beautiful and pleasing LED lights, this product is not all looks and makes a great addition to your computer's setup by bringing the performance it promises, making it one of the Best Ryzen 7 5800X3D RAM.
What we liked about this:
Suppose you need to use some demanding software or just want to elevate your gaming experience but do not want to sacrifice the aesthetic of your setup. In that case, this product is precisely what you need. PNY XLR8 Gaming, aside from being more affordable than other RAM on the market and providing just the same, if not better performance, comes with good RGB lighting, which gives the product a futuristic and smart design that will look great on your computer.
The product excels in providing its user with a massive boost in power and speed, taking one step further with a smart heat spreader that ensures the product does not overheat during extended usage periods. The focus on lighting features is quite focused.
What we disliked about this:
While the RGB lighting of the product is the main selling point and no doubt looks excellent, various issues come with it as well. First off, the lighting is a bit too dim, which many customers have complained about. The life of these RGB lights is also a hot topic as there have been reports of users having the lights die out entirely after a month of usage, which is not acceptable. Another problem the product has is that it will prevent the computer from booting up in rare cases, despite being compatible with the motherboard.
Who is this for?
Overall, the PNY XLR8 is a product made for gamers with great love for RGB. We say that the out-of-box features this kit boasts; although a bit higher latency and comparatively lower clock speeds, the testing shows that it outperforms some of the best based purely on circuitry design and brute performance. With a massive 32GB memory in its arsenal, the productivity tasks on the RAM perform exceptionally well. On paper, it might be losing in the raw specifications. However, practically it gives you the actual scenario advantage for both gamers and workstation users. The RGB extravaganza is as expected, and it is the crown jewel of this kit. If you are a hardcore gamer and want to upgrade your gaming rig with a stylish design while conserving performance, this product is undoubtedly one of the Best RGB RAM For Ryzen 7 5800X3D.
G.SKILL Trident Z Royal Series
Best High Performing RAM For Ryzen 7 5800X3D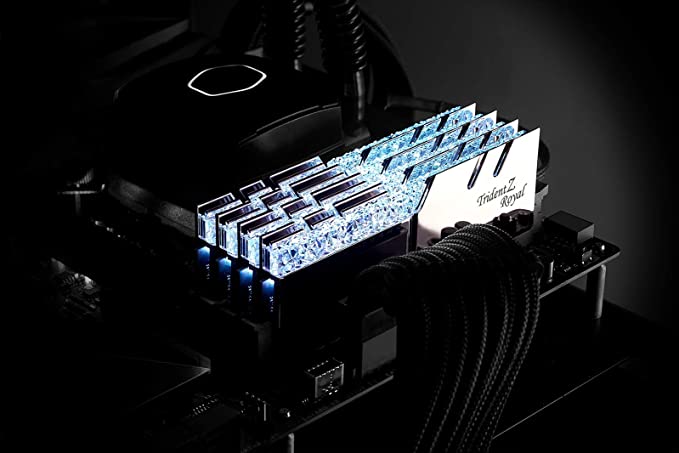 Specifications: Memory Size: 16 GB | Memory Speed: 4400 Mhz | Voltage: 1.35 volts | CAS Latency: CL 18
Pros
Lifetime Warranty

Amazing Speed

Crystalline RGB Bar
Cons
Glossy Heat Sinks

Only Good with XMP or DOCP enabled

Expensive
Founded in 1989 in Taipei, G.SKILL is a company known for its award-winning computer chassis and high-performance gaming products. It is a leading manufacturer of computer-related products in Taiwan and is world-renowned for its dedication to quality and passion for performance. Equipped with highly skilled employees, the company is one of the top picks for gaming products.
Elegantly designed and extremely powerful, the G.SKILL Trident Z Royal Series will provide you with a massive boost in performance right out of the box. Featuring 4400MHz of Memory Speed available in the small size of 7.13 x 5.35 x 0.91 inches and weighing only 8.4 ounces is astonishing. While the latency of the G.SKILL Trident Z Royal Series is on the higher side when compared to the others on this list, it is still extremely small, providing a whole new level of gaming and performance speed, especially considering the staggering 4400 MHz memory speed and a bit higher latency of CL18, providing further improvements to performance.
It provides excellent latency and speed, so there is little reason not to get the G.SKILL Trident Z Royal Series. If you have a habit of overclocking your RAM, then this product is perfect for you as it is at its best when overclocked, and with the heat sink, you should have no issues with overheating, making it one of the Best RAM For Ryzen 7 5800X3D. As is the trend, the product has RGB lights but features a crystalline light bar which is extremely different from other products and quite visually appealing, with the RGB system working as a cherry on top of a cake.
What we liked about this:
The G.Skill Trident Z Royal Series is undoubtedly what you want when buying a high-end Memory stick. There is no doubt that this product has impressive performance, even more so when overclocked. While many people fear overclocking their RAM, you can do so without worrying about this product. The premium heat sink will provide the product with solid protection against overheating. Fast speeds and lower latency are also integral to the product's success which is why it is highly regarded and much preferred for gaming and other demanding tasks.
While you may have different opinions on the product's design, you cannot deny the distinct beauty of the crystalline light bar, which elegantly spreads the RGB lights. All of this is available to you with a lifetime warranty which should further add more value to the product, making it a great product to consider if you want high-performance memory. The primary focus of all RAM kits should be the value they bring to your system by matching the pace of the system because a weak sidekick can never be appreciated alongside a strong hero. The hero is performance-focused in this context, so we can see why it is the High Performing RAM For Ryzen 7 5800X3D.
When it is stressed to be a high-performance kit, it is necessary to go to the depths for details. This kit rocks a 16GB memory size, which is just enough for modern usage, but it is recommended to look at the higher memory options available for this kit. Trident Z Royal series has an excellent circuitry to allow for excellent cooling and is specifically designed to withstand system loads.
While being a very stylish kit, it makes no compromises on the durability department. While a CL18 latency is slightly behind the RAM with the CL16 mark, it is essential to look at this kit's package. This is the only DDR4 RAM kit on this list that brings a staggering 4400MHz. With such a high clock speed, a CL17 latency is a blessing.
What we disliked about this:
While you cannot deny the sheer power and performance of the G.SKILL Trident Z, a lot of its value comes from the fact that the RAM must be overclocked if you want to use it to its full potential. While it does have measures to prevent overheating, it does not change that many users may not even know how to overclock their RAM. This heat sink is also very glossy and is prone to having dust stick to it, ruining the product's beauty. This high-end product also does not do good with Zen 2 systems, which is not surprising but still saddening.
Who is this for?
The G.SKILL Trident Z is a product that is made for people who want to get the most out of their RAM and have a habit of overclocking it, as it will elevate your gaming experience to new heights and does so while having a stylish and distinct light bar, The product is extremely powerful while being pretty and has to be mentioned when talking about the Best High Performing RAM For Ryzen 7 5800X3D. The expectations from a premium lineup such as this are not easily fulfilled.
There are next to no faults we can claim for this particular kit. An immortal warranty speaks for itself on certain levels for each module and the behemoth of a company that produces them. No effort has been spared to provide the users with the best experience possible, both performance and looks. If you can go green, you can never go wrong with this one, and in that case, we highly recommend this diamond for your crown of a system.
G.Skill Trident Z Neo Series
Best 32 GB Kit for Ryzen 7 5800X3D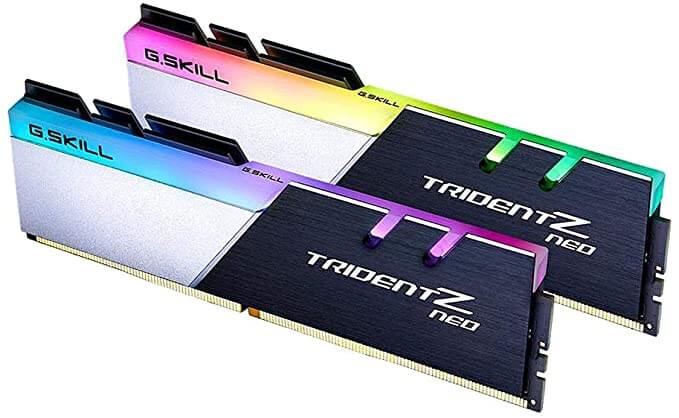 Specifications: Memory Size: 32 GB | Memory Speed: 3600 Mhz | Voltage: 1.35 volts | CAS Latency: CL16
Pros
Compatibility with AMD motherboards

Good Appearance

Good post-sale support

Brilliant RGB
Cons
Inconsistent overclocking ceiling
G.Skill, a company that doesn't cheap out on any of its products, has made a name in RAM circuitry and design. G.Skill is notorious for providing tough price competition to its rivals in this field. Established in 1989, this company has made strides in the RAM field, and enthusiasts consider this a great option due to its competitive pricing and plethora of features. The customizations for performance alterations make it a must for those that require overclocking enthusiasts.
If you are a Trident fan, this is the bold incarnate of the previous lineups that check almost everything there is to check. The design is very appealing, with black brushed aluminum on one side and a silver finish. Compatibility with the Ryzen 5800X3D is a non-issue for this memory kit. On par with the likes of Xtreem, this kit is available for a very attractive price.
Coming out with a very much needed 32GB option and boasting a 3600MHz clock-able speed, this RAM does wonders in terms of performance. A 16CL CAS latency gives it the wiggle room required to get to the upper frequencies while preserving latency. Once more, we see that most of the performance category requirements are pointing toward making this kit one of the Best. Since the topic of a 32GB setup has been discussed for AMD specifically, it is to be noted that AMD systems heavily depend on dual or quad-channel configurations. It is no secret that AMD systems benefit significantly from greater memory size and multi-channel setups.
What we liked about this:
If there were ever an RGB carnival, this is it. Although much traditional, the lighting on this RAM is immaculate and has a serviceable diffuser that lightens the source light. Atmospheric lighting is fairly environmental and easy to control. By tinkering slightly, the tweaks can tighten the timings on this RAM to achieve a CAS latency of 14. Also, the user can sacrifice latency for additional frequency and vice versa.
The software handling of this kit is very user-oriented and helps a lot in the process of settings for this kit. Using the basic XMP settings, users can easily ramp up the settings according to their requirements whenever they require. 32GB setups are not uncommon nowadays as the demand increases in response to technological demands.
Dual or Quadra setups for the modules are considered by gamers as well due to the buff in overall system latency and in-game FPS. Easy to overclock while maintaining the latency levels and beating all competition, this RAM has quite a condensed feature palette that makes it a complete package for many purposes. Power requirements on this kit are very safe and calculated. We can say that this is not lacking as much as not getting called the Best 32 GB Kit For Ryzen 7 5800X3D.
What we disliked about this:
Not an absolute deal breaker; however, user might face issues when overclocking these memory modules above advertised frequency.
Who is this for?
Trident Z Neo is designed for users who want a superabundance of features at a reasonable price and do not mind sacrificing minor setbacks in the form of variance in RAM stick samples. Outpacing the RAM competition, Trident Z Neo stands out with extraordinary performance. The 32GB mark is a sweet deal maker for many content makers. Be it productivity tasks or games; the 32GB memory size complements the performance even more. This kit sacrifices neither quality nor quantity. It is highly advised to consider this as a strong candidate when considering a 32GB kit setup because it is, in every meaning of the title, the Best 32 GB Kit For Ryzen 7 5800X3D.
Corsair Dominator Platinum
Best 64 GB Kit For Ryzen 7 5800X3D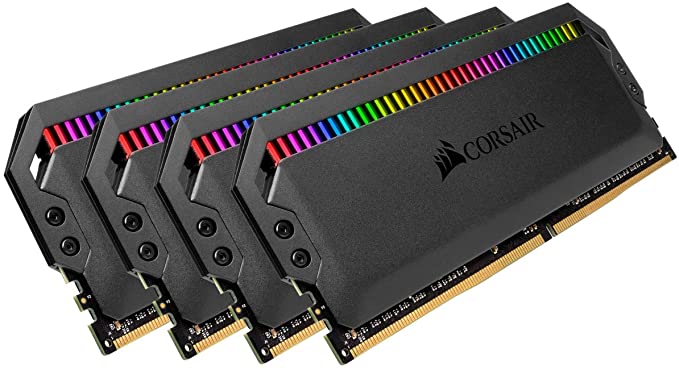 Specifications: Memory Size: 64 GB | Memory Speed: 3600 Mhz | Voltage: 1.45 volts | CAS Latency: CL16
Pros
Good capacity modules coupled with tight timings

Unique RBB lighting effects

iCUE software for RGB control

Good XMP performance
Corsair Gaming Inc. is US-based computer hardware and peripheral production company. Since 1994, it has been actively producing one of the best products that this market has seen. Corsair is one of the most trusted names in the market regarding quality RAM. You can easily trace the company's memory lane back to the era of DDR2. Corsair, since then, has grown a lot as a company is now considered one of the best producers of RAM.
The Dominator series retains gold top fins with a white aluminum heat spreader, considered semi-glossy. Featuring a massive 64GB of RAM set up and an excellent 16 CL CAS latency, we can already tell that this too will be in line with one of the top RAM's For Ryzen 7 5800X3D. The top bar comprises the RGB setups, and the lighting setup boasts 12 dedicated LEDs to complement a smooth aesthetic look for the kit. Corsair's complete RGB setup can only be controlled by the iCUE software, which has a debatable performance and options. Nonetheless, it is a good package overall.
What we liked about this:
Corsair Dominator Platinum is a suitable kit for many PC enthusiasts due to its XMP performance. The frequency cap can go as high as 4300Mhz in testing, and the CAS Latency can go as low as 15 on multiple settings. This combination of aesthetical features, the supporting brand, and the performance makes it one of the best RAM modules out in the market. Even suggesting that this is the Best 64 GB Kit For Ryzen 7 5800X3D would be the performance monitored when these kits ran in a quad RAM slot setup during the testing phase. 64 GB RAM means either four sticks of 16GB modules or two slots of 32GB modules following the simplest trends for a significant performance boost.
What we disliked about this:
Corsair Dominator Platinum exceeds the well-known 50mm mark, which might not be compatible with builds with bigger coolers. The iCUE software is not that difficult to learn, but it would have been preferred if the RGB had worked with the sync automatically.
Who is this for?
Corsair Dominator Platinum is slightly expensive but still at a competitive price point. If you have a white PC built with a Ryzen 7 5800X3D, it is highly recommended that you choose this kit. There can be a second opinion due to its specified software and its incompatibility with big coolers, but all of that is completely user-dependent. However, the end of the debate comes with the availability of the 64GB variant that we are reviewing.
A massive buff of almost 50% in in-game FPS is not a hoax. It is common knowledge that AMD uses multiple channel technologies and gives an enormous boost in performance. Since the discussion is purely contextual, it is entirely appropriate to give this the title of the Best 64 GB Kit For Ryzen 7 5800X3D.
Crucial Ballistix
Best Cheap RAM for Ryzen 7 5800X3D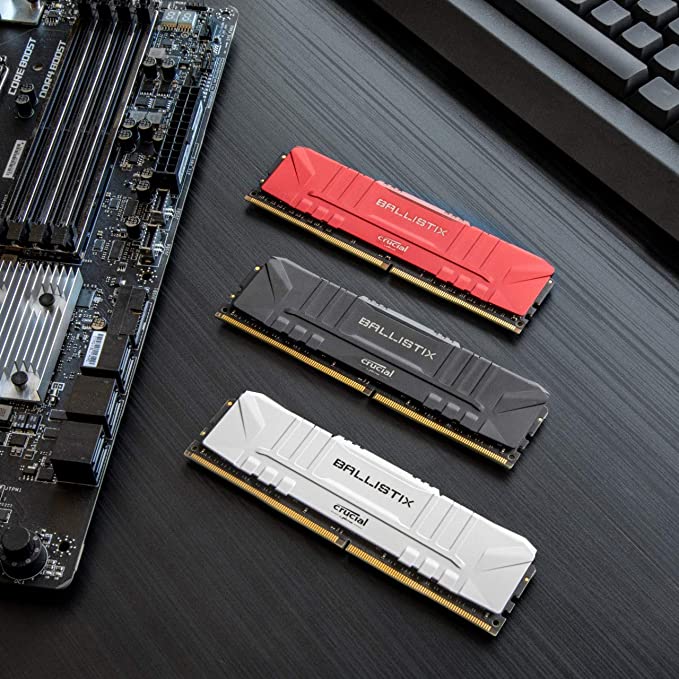 Specifications: Computer Memory Size: 32 GB | Memory Speed: 3200 Mhz | Voltage: 1.35 volts | CAS Latency: CL16
Pros
Low-profile

Adequately low latency

Very good performance

Massive overclock potential

XMP 2.0 support

Compatible with most builds
Cons
Performance drop on few motherboards
Crucial is a well-known brand for producing budget options for gamers by cutting out the middleman in their transactions. For the past 25 years, Crucial has been in the PC components industry while making the bang for the buck products and sourcing their product to Micron. Some might be skeptical of the low pricing of the brand, but there are no corners cut during their production. All products are built to be top-notch and have perfect design and build quality.
Crucial Ballistix is a stylish gaming RAM with a smooth powder-coated black finish. RGB enthusiasts can be happy with the decent brightness, but some might want more from the RGB setup. Nonetheless, this kit packs some serious clocking potential which can easily be achieved with minor tweaks. Additional software with Crucial Ballistix is very user-friendly and leaves much less desired. Not everyone enjoys out-of-the-world aesthetical pleasure as some people require simple best out-of-the-box performance for their high-end setups. If you are indeed going for the Ryzen 7 5800X3D, you have a very different definition of a budget option. Considering the build, Crucial Ballistix is a very cheap budget option. In good faith, we can indeed suggest that this is the Best Cheap RAM For Ryzen 7 5800X3D.
What we liked about this:
One-click XMP profiles are available, making it easier for users to switch performance profiles easily. The build quality is excellent, along with a very durable design. The clocking potential of Ballistix is the highest among all of these listed kits. Despite the fantastic price, it comes with the luxury of customization options for RGB settings and performance alterations. In all finality, this kit is quite the package, and it is tough to go wrong with this choice. Due to the brand name, we know that there is decent pricing on various platforms. Relatively comparing, this kit is a general recommendation for all variations of setups with Ryzen 7 5800X3D making it one of the Best Ryzen 7 5800X3D Budget-Friendly RAM.
What we disliked about this:
Performance drops in AMD setups are nothing new. However, some users enthusiastically demand products that support an AMD technological revolution. These tech rebels want the best for their system and majorly deny even the slightest drops in their expectations.
Who is this for?
Crucial Ballistix is designed with performance in mind. Anyone who requires out-of-the-box performance can add this to their wishlists. Recommendations are not always one-dimensional. We would strain that this particular kit is well designed to handle your tinkering and come with a very good clocking ceiling. Crucial usually makes sure that the RAM installation stays relatively easy, which is the case here. Crucial Ballistix is designed for users that prefer a hassle-free RAM setup that can be tinkered with one-click operation while maintaining stability. Bringing utility to the table and a perfect price point, this is an ideal budget option that can be dubbed Best Budget RAM For Ryzen 7 5800X3D.
The Competition
Patriot Viper Steel Series
This series is known for its brilliant frequency gain potential while minimizing the latency gain. Even at 4400MHz, it has reportedly not crossed the CL 19 mark. It could be said that this Patriot Viper Steel Series DDR4 is also a perfect option to consider for Ryzen 7 5800X3D. It is compatible with all the DDR4 PCIe 4.0 setups, making it one of the competitors for this list. Not making it on the list does not mean it doesn't have what it takes. It lacks RGB features; however, this feature is quite debatable among the community. In summary, people can live without RGB for sure. We hope you give this RAM some insight from one of our reviews on Patriot Viper Steel Series DDR4.
Corsair Vengeance LPX
Vengeance LPX is said to be the most common branding of RAM that is used in mid to upper-tier systems. A fundamental frequency, a latency of CL 18, is not very common to see. This all-rounder RAM kit racks RGB, but vengeance LPX saves your wallet from quite a theft as you can get it in a very handsome range of $80-$150 easily. This price tag easily surpasses all the budget options for many users. The only problem we could find was the product's availability in the market.
The vengeance kit is rocking in the department alongside good build quality regarding performance. There could be a few improvements to the design, but what more do you need at such a price point? We would highly recommend that you take a quick peek at our review on Corsair Vengeance LPX DDR4.
Our Criteria
Many different factors go into judging memory sticks, and each of them is equally important to ensure that you get the best RAM available on the market. Along with mentioning these factors, it shall also be explained in detail how each of them matters and why they are so important in figuring out which RAM is the best. Let's look at the elements we considered while selecting the Best RAM For Ryzen 7 5800X3D and which you can consider while buying RAM for your build.
Compatibility
The RAM compatibility is probably the most important factor you need to assess when purchasing a new memory stick. It would be extremely heartbreaking to spend your time and resources finding the perfect RAM only to find it does not work with your computer's motherboard. This is why very compatible RAM are much more popular than those only compatible with a few select motherboards. The more compatible the RAM is, the more likely it will appeal to a greater audience.
Discussing this in further detail, the dimensions of a RAM affect the cooler's memory clearance options, so it is essential to look at the kit's dimensions to confirm the compatibility with the cooler and the case. On another point, different PCIe slots have different versions. The RAM kits listed are compatible with the PCIe 4.0 slots, and any user has to be on board with these restrictions.
A change in brand name or vendor option does not significantly affect compatibility. For example, some new variants of DDR4 RAM have not supported the Zen 2 architecture of AMD. However, that does not mean that the supply brands' difference significantly affects compatibility. Nowadays, every processor chip has a corresponding compatible motherboard that defines the type of RAM it can use according to its RAM slots. It is straightforward to figure out the proper combinations in such cases.
RAM Memory Size & Frequency
Once you have assessed that the RAM is compatible with your motherboard, you must make sure that it is up to your desired size and frequency, as this is the meat of the RAM and a huge factor that determines whether it is good. The bigger the RAM, the less likely your computer will slow down, allowing you to open multiple tasks and carry out more demanding processes flawlessly. The frequency of the RAM also plays an important role, with faster frequencies being better but not as much the size of the RAM itself.
Latency
The CAS Latency of the RAM is integral to assessing the speed of the RAM itself. Typically you want the lowest latency possible when purchasing your RAM, as the CL latency will correspond to the number of clock cycles it will take to carry out the task. RAM with much lower CAS latency are highly preferred, so we put the RAM with the lowest latency and exceptional performance in the guide.
Aesthetic & Build Quality
Depending on your stance, this is probably the most or the least important factor in deciding which RAM is the best. Some people do not care about the aesthetic and instead focus on power & performance, while others will want a mix of strength, speed, and design. Either way, the build quality and design of the RAM are integral to assessing which RAM is the best as more appealing and better build quality products will attract more customers.
Why trust Tech4Gamers?
Tech4Gamers team has a passion for these emerging technologies. We aim to provide you with credible and in-depth reviews featuring products free of external influence. We try to cover a wide horizon of technologies associated with the most popular ones in demand to ensure that you get the best device for your needs. In return, we demand nothing but your satisfaction.
How Did We Test?
In alignment with our primary goal of testing performance, we ran benchmark stress tests on all of these RAM samples. To keep the competition fair, we used the identical setups for all RAM, which included an AMD Ryzen 7 5800X3D processor with an x570 motherboard supporting PCIe 4.0 slots to complement our RAM.
Then, we had to target the durability of each module and tested them through some harsh testing to confirm their durability. This procedure gave us much insight into the samples' build quality and thermal dissipation.
Lastly, a survey was conducted on distinct features, including a survey for RGB ratings, which helped get a detailed score for the aesthetical build of the kits involved.
These efforts were made to provide you with the most accurate information about these RAM. After all these particular benchmarks, we are proud to say that the list before you indeed comprises the Best RAM For Ryzen 7 5800X3D, and we hope that you will continue to support our website.
Conclusion
Finally, we have to decide the king of the list. After carefully reviewing these options, we have chosen a few key criteria to judge our pick from this list. To make it unbiased, we are not considering RGB features to be a part of the debate. Feature selection is based on performance, rating the latency, clock speed caps, memory size, frequency, and compatibility. Build quality is essential in every review so we will be keeping a very close eye on it.
Initially, considering the maximum frequency options, we can confirm that the least loss of latency and highest frequency after ramped-up settings were considered while reaching the final verdict first. In this regard, the G.Skill Trident Z Royal series takes the lead. With an astonishing maximum frequency of 4400Mhz, it can still achieve an excellent latency of CL 17. This performance is unmatched when you consider the potential for a clock speed ceiling. The place where it gets beat is the pricing of the kit.
Given that this is a premium kit, the pricing is just correct. However, compared to the other items on this list, this is the most expensive item we have. If this RAM is available at a good bargain, it is a blindfolded recommendation.
Moving on, let us consider the Crucial Ballistix series. Although cheap, this kit lacks a few features that leave something desired. It performs slightly better on Intel systems. Since we are talking about the Best Ryzen 7 5800X3D RAM, we should not consider a kit that devalues the setup. The negligible performance drop is noticeable on quite a few benchmarks, making users hesitant to consider this particular RAM. If not for this slight flaw, This kit would have been the ideal choice.
Finally, we consider the product in between the extremes. Indeed, we are considering crowning the TEAMGROUP T-Force Xtreem ARGB as the Best RAM For Ryzen 7 5800X3D. Since we are not considering the RGB shortcomings of any kit, we might as well thoroughly review all the performance factors here. With the minimum and recommended latency of CL 14, this kit becomes the go-to RAM for high-end performance. The frequency of 3600MHz is above the average of 3200 mark. Even with safe overclocks, the latency remains very low. The pricing is average, and both of these can be considered the best of both worlds in this context. So, according to these reasons, we believe that our choice this time would be the TEAMGROUP T-Force Xtreem ARGB.
Frequently Asked Questions
What RAM does Ryzen 7 5800X3D Support?
Unlike Intel's 12th Gen which support DDR5 and PCIe 5.0, Ryzen 7 5800X3D supports PCIe 4.0 and DDR4. Frequency can be clocked to higher speeds, depends on the memory module.
How much RAM is recommended for Ryzen 7 5800X3D?
We recommend going with at least 32GB of RAM to cater to the modern needs of such a system. As for the frequency, any memory module above 3200Mhz is recommended for the system as long as it has good latency.
Do these RAM support overclocking to 3600MHz?
Yes, majority of suggested RAM are capable of higher clock speeds in exchange for higher latency. However, some settings allow for a minimum bump in latency and still allow the system to achieve high clock speeds for RAM.
Which feature is the most important when choosing a RAM kit?
The primary features are lower latency coupled with higher clock speed. Memory size is totally depends on your requirement. It is highly suggested to go for multiple channel module options if available. It should be clear that AMD systems tend to perform better with high frequency RAM kits.
Was our article helpful? 👨‍💻
Thank you! Please share your positive feedback. 🔋
How could we improve this post? Please Help us. 😔