Are you tired of searching for a good yet cheap gaming PC that doesn't cost much but still offers enough performance to play games? After all, searching for affordable PC components can be difficult, especially considering how expensive the new processors and graphics cards are. Well, worry not because we are here to help you build the best $500 gaming PC.
Yes, you read that right; you can build an undeniably good gaming PC for under $500 without going for any knockoff components.
Take a look at the components you need for a $500 gaming PC:

Best $500 Gaming PC Build
Last update on 2023-11-28
In this guide, we will not only walk you through the components you need to build the $500 gaming PC, but we will also show you its gaming benchmarks. Furthermore, we will tell you how you can plan such a budget-friendly build, along with a few tips and tricks to have a smooth first PC building experience.
We have also built the following custom gaming PCs:
Best Gaming PC Under $500
Here are all the parts you need to build a cheap gaming pc under $500:
Processor: Intel Core i3-12100F
Motherboard: MSI PRO H610M-G
RAM: Corsair Vengeance RGB PRO 16GB
Storage: Crucial P3 Plus 500GB
Graphics Card: EVGA GeForce GTX 1650 Super SC Ultra
Casing: GAMDIAS AURA GC2
Power Supply: EVGA 550 BP 80+ Bronze
Intel Core i3-12100F
Best Gaming PC Under $500 Processor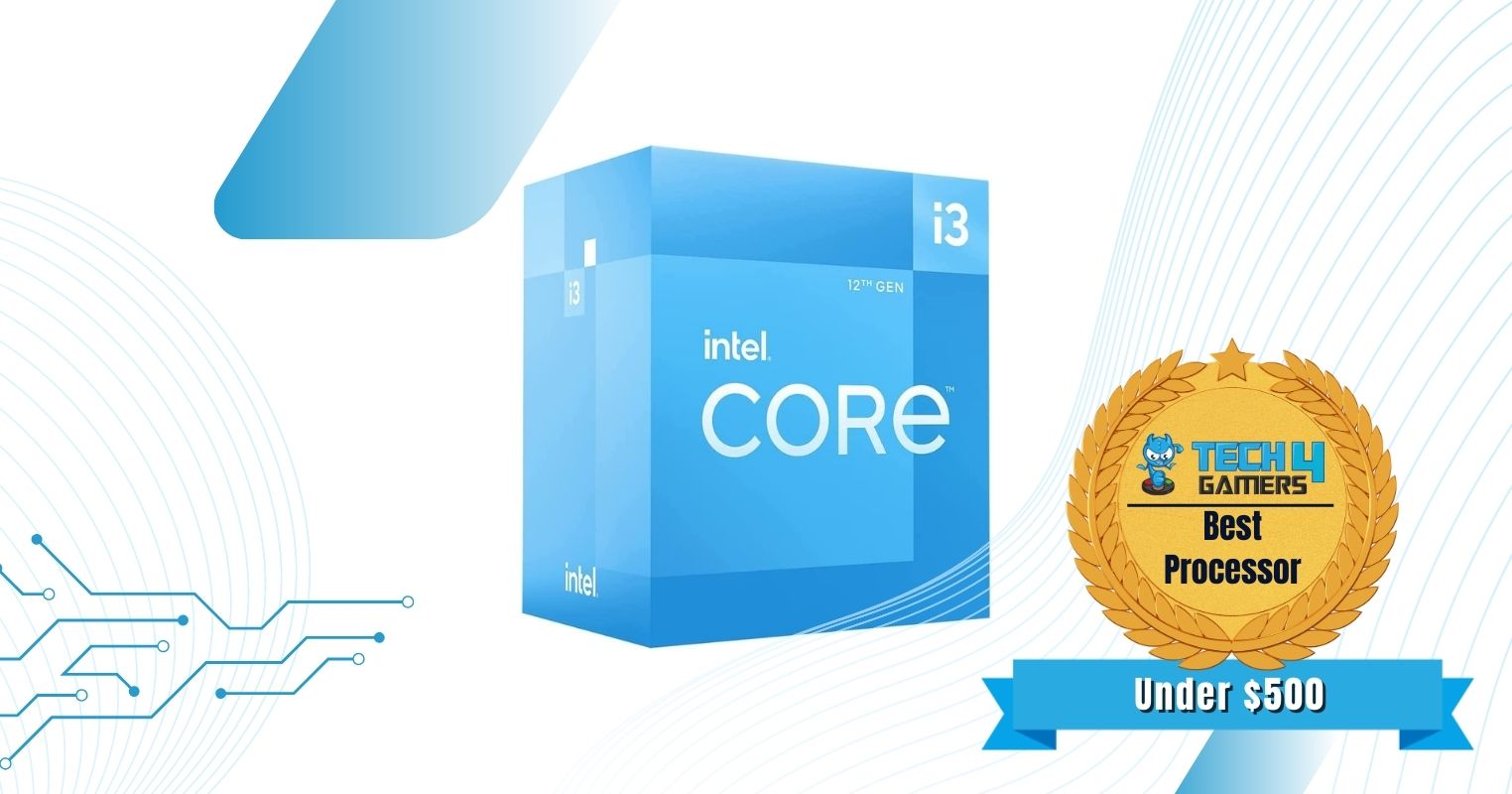 Socket: LGA 1700 | Cores: 4 | Threads: 8 | Base Clock: 3.30 GHz | Boost Clock: 4.30 GHz | L2 Cache: 5 MB | TDP: 58W Base Power, 89W Turbo Power
When it comes to building a cheap gaming PC, you need to go for components that offer the most value for money. At $100, the Intel Core i3-12100F is the best processor for a gaming PC under $500. It is a quad-core processor with 8 threads, meaning it is well up for Hyper-Threading. Plus, since it does not come with Intel's efficiency cores, the CPU works best with both Windows 10 and 11.
First off, don't think that the i3-12100F isn't up for gaming because it is an i3. Intel has really improved the gaming performance of its lower-end processors with high clock speeds, and the i3-12100F is no different. The processor has a base and boost clock speed of 3.30 GHz and 4.30 GHz, respectively, which makes the 4-core CPU perform significantly better than Intel's lower-end processors of the past.
Even when we compared the Core i3-12100F with the Ryzen 5 5600X, we were impressed to see how much of a fight the i3-12100F put up. Throughout the gaming performance, the i3-12100F stayed right behind the Ryzen 5 5600X, which not only costs more but has more cores and threads. Furthermore, we saw that the i3-12100F performed better than the 5600X in single-core performance.
Despite the phenomenal gaming performance at such a low price point, the i3-12100F also comes with a stock CPU cooler. Meaning that you don't have to spend any dollars on a cooler. You can just use the one that the processor comes with.
All things considered, when it comes to building a good cheap gaming PC under $500, the Core i3-12100F is the best bang for the buck. The processor will not disappoint you, and you can enjoy 1080p gaming all day long.
Also Read: How To Buy A CPU
MSI PRO H610M-G
Best Gaming PC Under $500 Motherboard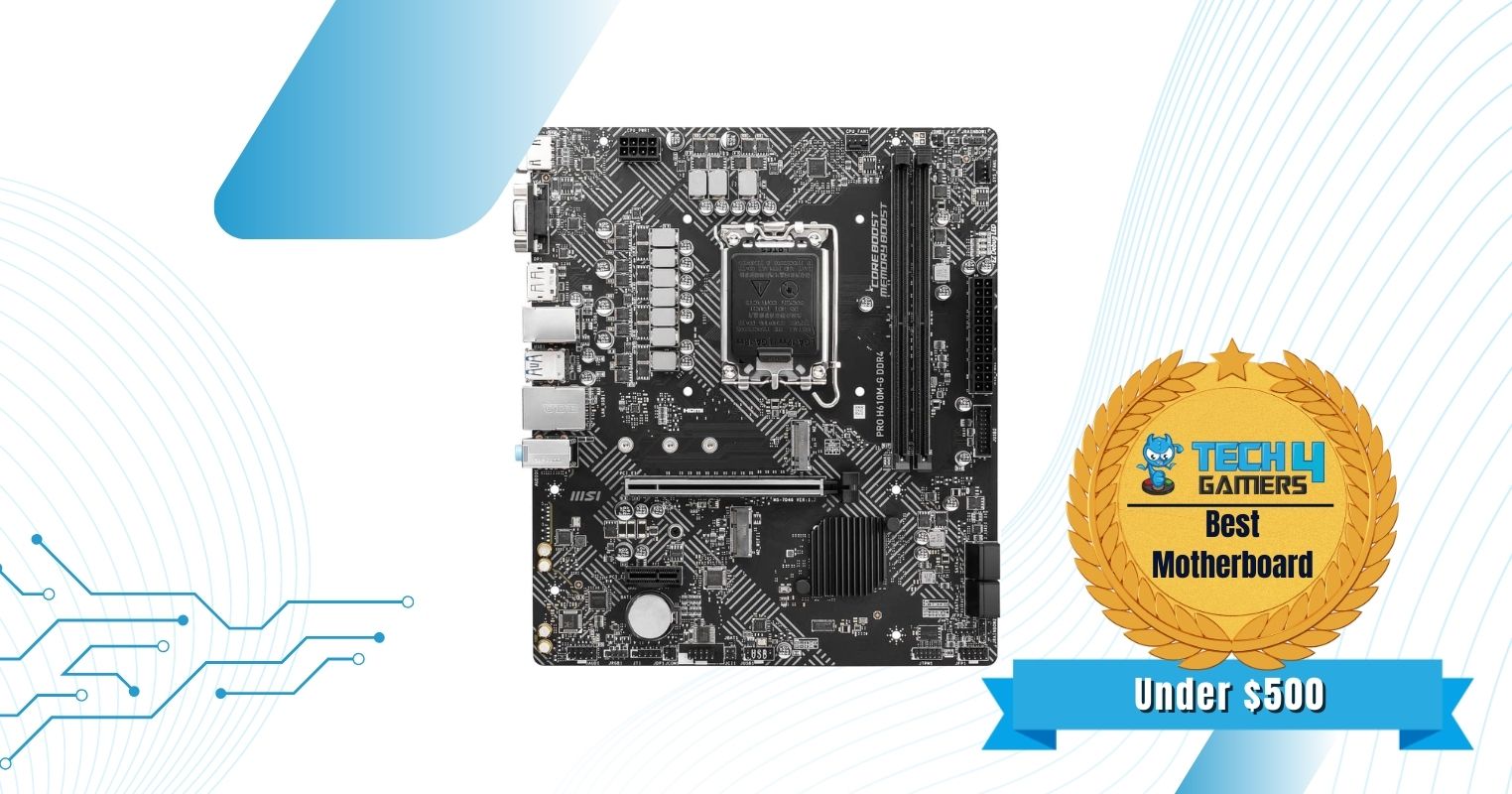 Chipset: H610 | VRM: 4+2 | USB Ports: 6x Rear, 4x Front | Video Outputs: DisplayPort, VGA, HDMI | Storage: 1x M.2 Slots, 4x SATA 6Gb/s
Let's face it, in a 500 dollar gaming PC; you have to go for components that focus on the essentials to give you the best price-to-performance ratio. As such, the best $500 gaming pc motherboard only needs to pack enough features to get you through the day, and the MSI PRO H610M-G offers just that.
The motherboard features a black PCB with silver stencil-like lines. There are obviously no built-in RGB LEDs or massive heatsinks, yet the board looks simple. As for power delivery, the MSI PRO H610M-G uses a 6-phase VRM design in a 4+2 configuration. The VRM structure makes it clear that the possibility of overclocking is next to none, but since our processor does not support overclocking, the lack of it is irrelevant to us.
However, the 6-phase VRM does make sure that low-power chips like the Core i3-12100F work smoothly and reliably for long hours, even under gaming loads. That's all we need from a motherboard in such a tight budget. MSI truly focused on just the essentials to price this motherboard so cheap.
For your storage, you get an M.2 PCIe 3.0 x4 SSD slot with 4x SATAIII ports. Just like the storage configuration, the USB port offering is also adequate. You get 4x USB 2.0 ports at the back, along with 2x USB 3.2 Gen-1 Type-A. At the front I/O, you can have 2x USB 2.0 and 2x USB 3.2 Type-A ports.
At best, you can equip the MSI PRO H610M-G with 2x DDR4 RAM sticks of 32GB each, running at 3200MHz. Such memory support is way more than necessary for the cheap gaming PC under $500 we are building. For internet connection, there is a 1Gbps Intel LAN port at the rear IO.
Overall, the MSI PRO H610M-G is worth every penny. It offers all the essential features you would need to have a smoothly functional PC, and that's what we want. Because of its striking value for money, we have picked the MSI PRO H610M-G as the best motherboard for the 500$ gaming PC.
Also Read: How To Buy A Motherboard
Corsair Vengeance RGB PRO 16GB 3200MHz CAS16
Best Gaming PC Under $500 RAM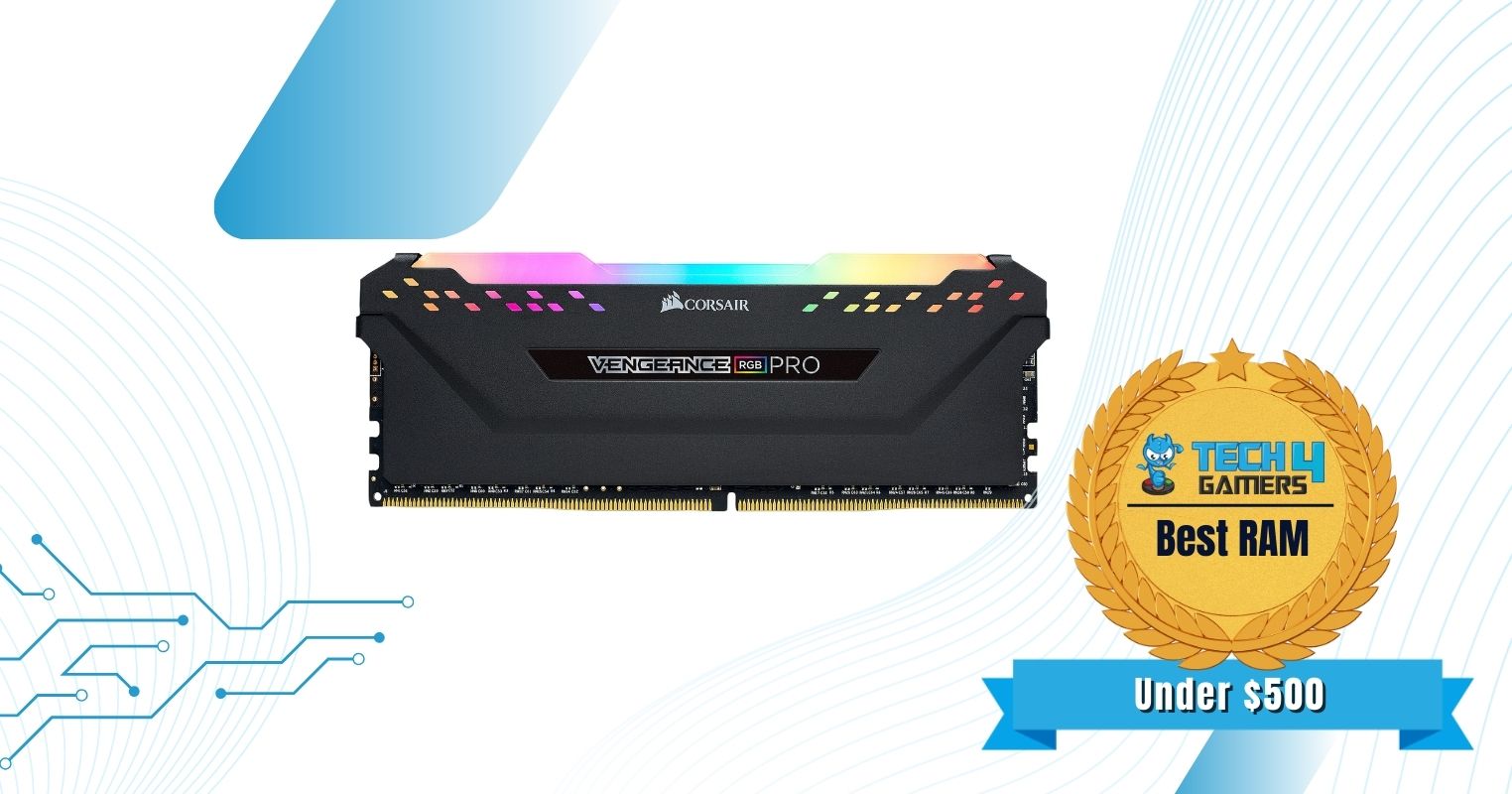 Memory: DDR4 | Capacity: 16GB (2x 8GB) | Frequency: 3200MHz | CAS Latency: CL16 | Input Voltage: 1.35 | RGB: Yes
Since the custom PC we are building is aimed at gaming on a budget, we need to go for performance-centric RAM that does not cost a ton. Luckily, the Corsair Vengeance RGB PRO has both of these features. When it comes to sheer performance, the RAM is a beast, and once paired with the i3-12100F, it will have no issues in gaming.
First up, the Corsair Vengeance RGB PRO has a whopping 3200MHz frequency and a low CL16 latency. For a RAM to perform well, it needs to have both high frequency and low CAS latency, and this kit from Corsair nails both aspects. Furthermore, the kit we are recommending has 8GB capacity in each stick, totaling 16GB. Our goal is to build a cheap gaming PC under $500 which can play 1080p games, and 16GB of DDR4 RAM is just perfect for it.
We have tested the Corsair Vengeance RGB PRO 16GB 3200MHz CAS16 using a variety of software. Not only that, but we have also overclocked this kit in our test bench. In a nutshell, the performance figures we saw were mind-blowing, especially considering the low price.
Apart from the impressive performance numbers and the low pricing, another great thing about the Vengeance RGB PRO is that it looks very beautiful. Corsair has packed 10 ARGB LEDs into the stick, and you can control them using the iCUE software to display various effects. The overall design of the heat spreader is also quite aggressive. You get bold branding, sharp angles, and perforations for more RGB display.
What sets the Vengeance RGB PRO apart from the competition is its attractive pricing. That's also why we have selected it as the Best Gaming PC Under $500 RAM.
Also Read: How To Buy RAM
Crucial P3 Plus 500GB
Best Gaming PC Under $500 Storage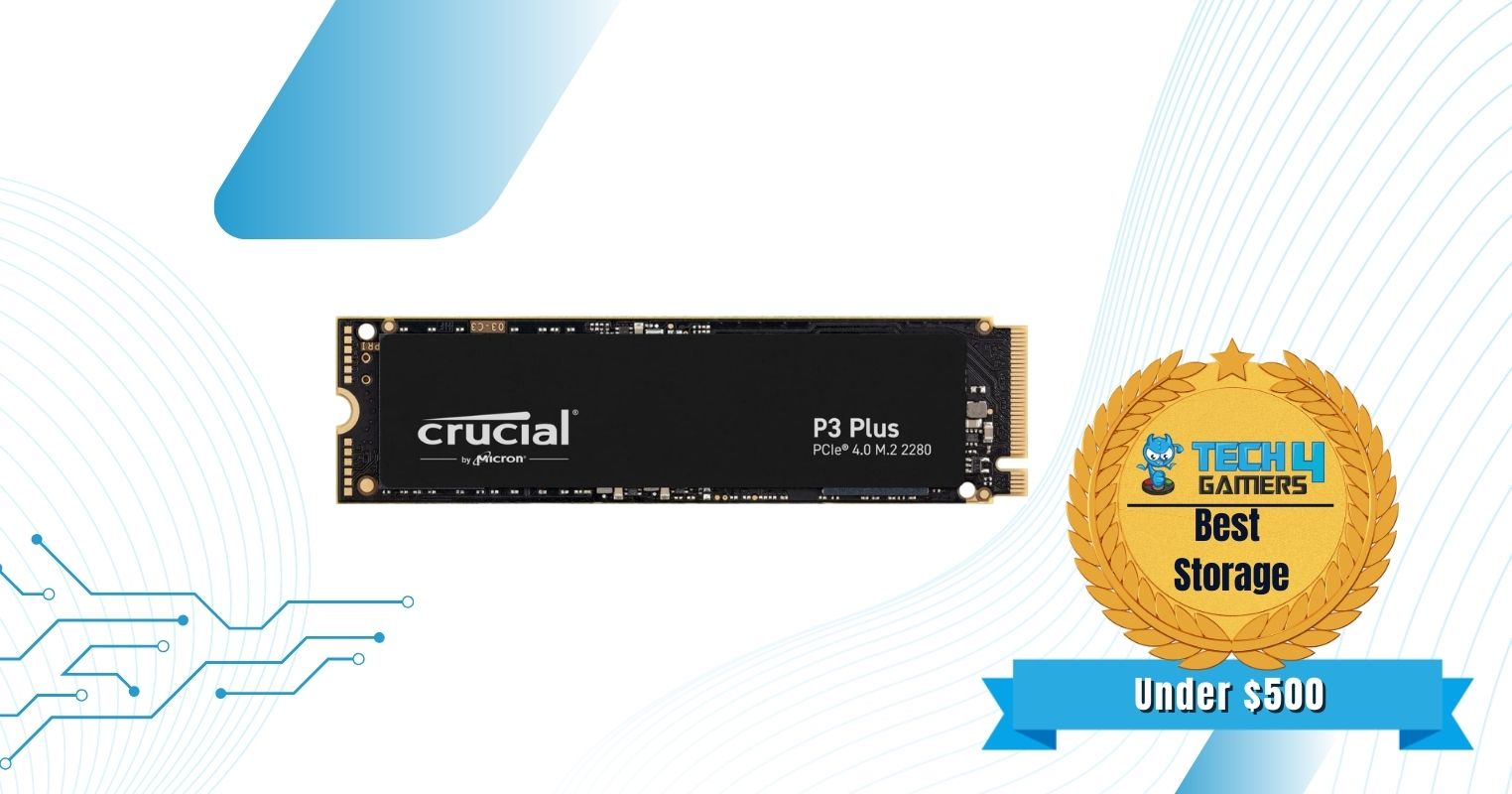 Capacity: 500GB | Interface: NVMe (PCIe Gen-4 x4) | Sequential Read Performance: 4,700 MBps | Sequential Write Performance: 1,900 MBps | Warranty: Limited 5 Years
For storage, there is only one no-brainer option, and that is the Crucial P3 Plus 500GB. The SSD has exceptional read and write speeds, so you can say goodbye to long game loading times. But most importantly, it is very affordable, making it the perfect storage option for the best cheap gaming PC under $500.
The Crucial P3 Plus has a 500GB capacity, allowing you to download quite a few games along with essential software. Furthermore, it has a sequential read and write performance of 4,700 MBps and 1,900 MBps, respectively. In real-life performance, such transfer speeds basically mean that your Windows will boot, and your games will load significantly faster.
You get such a remarkable SSD for just 32 dollars, which makes it quite a bang for the buck. Plus, Crucial also gives you a 5-year limited warranty, so in case anything goes wrong, Crucial has got your back.
EVGA GeForce GTX 1650 Super SC Ultra
Best Gaming PC Under $500 Graphics Card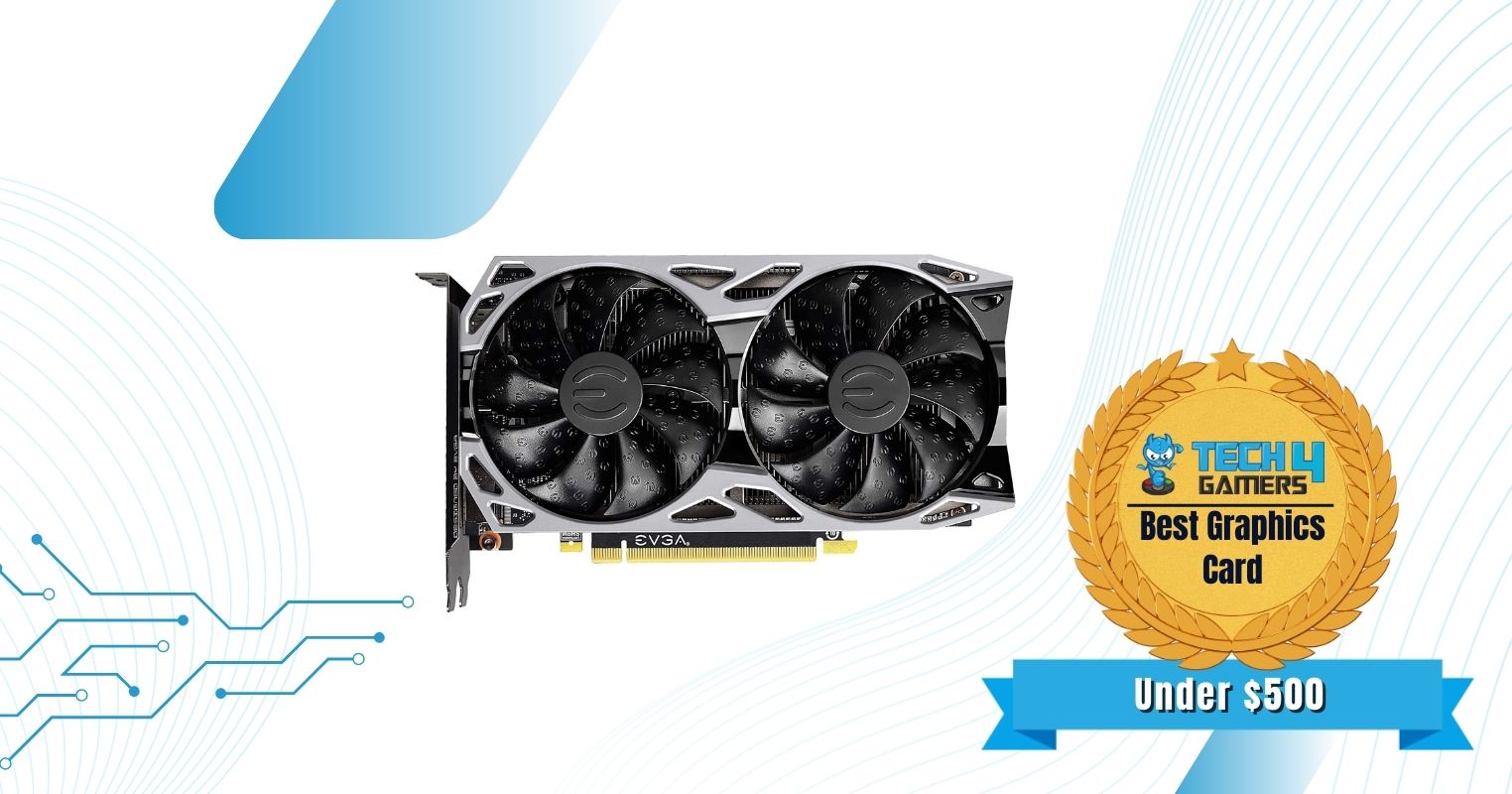 VRAM: 4GB GDDR6 | Boost Clock: 1755 MHz | Dimensions (LxH): 202.1 x 111.15 mm | Slot Size: Dual Slot | Power Connector: 1x 6-pin | RGB: No
When it comes to the gaming performance of any PC, it relies heavily on just the graphics card. You cannot go wrong with a poorly selected GPU in your PC build, as it can completely ruin your experience. Therefore, the graphics card for the best cheap gaming PC under $500 has to be the EVGA GeForce GTX 1650 Super SC Ultra. Performance, looks, reliability, affordability, stability, it has everything you could ever want.
As for the performance, the GTX 1650 Super packs 1280 CUDA Cores and has a 4GB 128bit GDDR6 VRAM with a memory bandwidth of 192 GB/s. The GTX 1650 has lots of gaming potential, but EVGA has taken things one step further by tweaking this card to offer more performance with a boost clock speed of 1755 MHz.
The EVGA GTX 1650 Super SC Ultra is also reliable and stable, and that comes from its insanely well-built cooling system. The graphics card uses a dual-fan design with high-quality thermal pads and a heatsink. From the entire cooling system, the two fans are the real star of the show, they definitely make quite some noise, but the GPU remains under optimal temperatures. Such a well-built thermal solution, along with impressive performance figures, definitely make the EVGA GTX 1650 Super SC Ultra the best video card for gaming pc under $500.
Focusing on the visual appeal, the card has a gray and black theme with lots of vents to support airflow. The fan blades are covered with the "E" from the iconic EVGA logo. There are no RGBs, but given the competitive price-to-performance ratio, the looks are quite good.
All things considered, since we are using the Core i3-12100F with 16GB of DDR4 3200MHz RAM along with such a beast GTX 1650 Super SC Ultra, our $500 Intel gaming PC will absolutely nail 1080p casual games.
Also Read: How To Buy A Graphics Card
GAMDIAS AURA GC2
Best Gaming PC Under $500 Case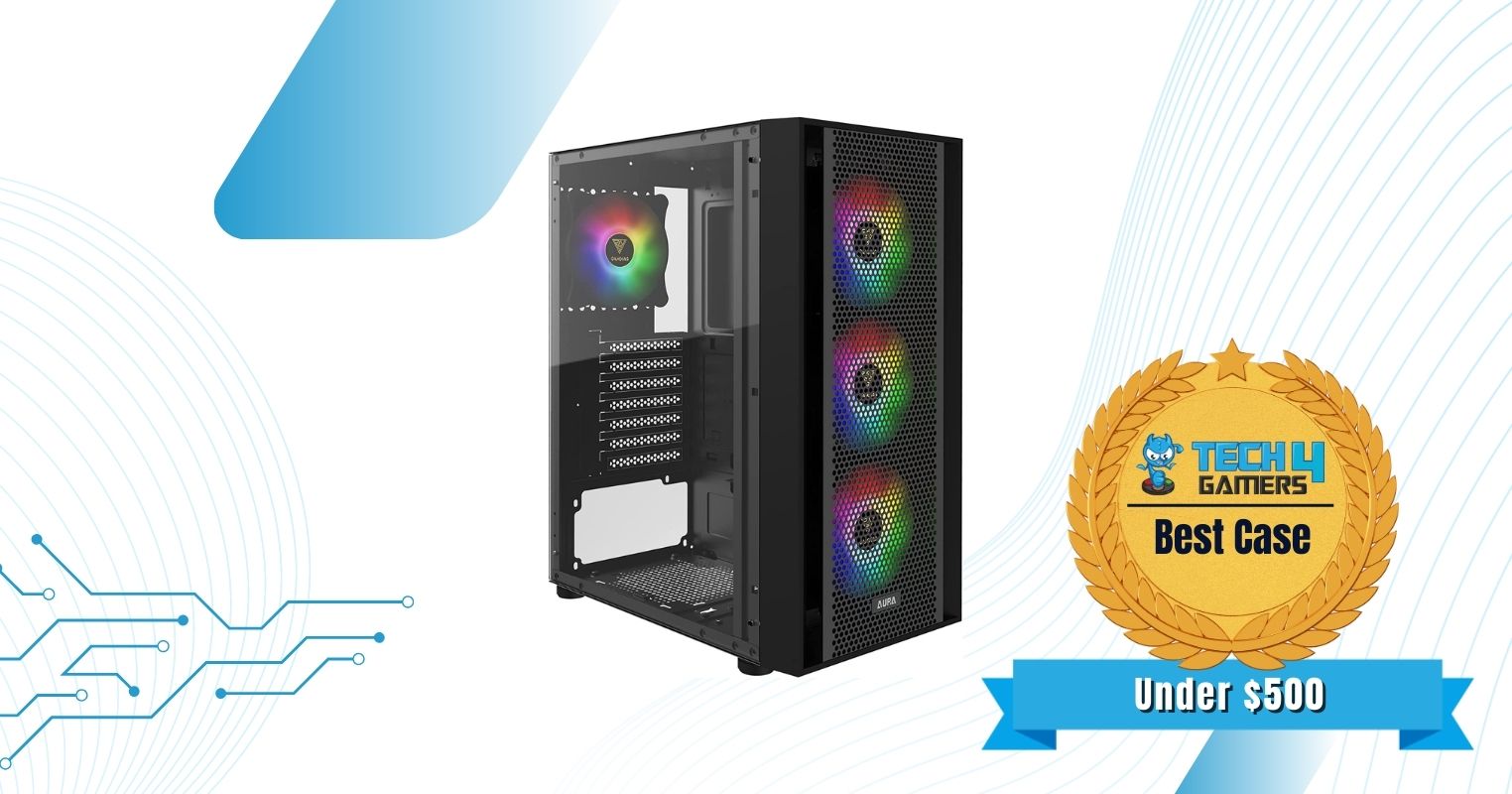 Case Dimensions: 352 x 200 x 442 mm | Maximum GPU Length: 260mm | Maximum PSU Length: 150mm | Maximum CPU Cooler Height: 160mm | Form Factor: Mid Tower | Radiator Compatibility: 120mm, 240mm
For the Best Gaming PC Under $500 Case, we had to go with something that not only is very budget-friendly but also offers remarkable airflow. That's because, for the type of PC we are building, we want it to stay under optimal temperatures at all times to offer the best possible performance. Luckily, the ZEUS GAMDIAS AURA GC2 marks every tick on our list.
To support good airflow, the AURA GC2 uses a beautiful mesh front panel. Not only that, but the PC even has mesh at the top panel. This way, air can enter the chassis without any obstructions. Furthermore, the fan support of the AURA GC2 is also quite impressive. First of all, the chassis comes with 4x 120mm ARGB fans pre-installed (3x at the front panel, 1x at the rear). On top of that, you can equip the top panel with 2x 120mm extra fans for even more ventilation.
Considering the $500 gaming PC we are building, you don't have to go out of your way and spend any more money on extra fans. The pre-installed fans that the chassis comes with are enough to cool down our gaming PC. With that said, you should still know that if you plan to move to an AIO in the future, then you can equip the front panel with a 240mm radiator and the rear panel with a 120mm radiator.
As for the storage, the AURA GC2 comes with 2x HDD brackets. You can pair it with 2x SSDs, 2x HDDs, or 1x SSD and 1x HDD. Since we are using the Crucial P3 Plus 500GB SSD in our cheap gaming PC build, we will face no issues with storage compatibility. Moving towards the front I/O, you get a 2x USB 2.0, 1x USB 3.0, 1x Audio Jack, and one LED control button to tweak the ARGB fans.
Design-wise, the GAMDIAS AURA GC2 has a very gamer-ish vibe to it. The chassis has a black body, and the looks of the ARGB fans at the front, combined with the mesh panel, make it stand out from the rest. Considering the insanely low price, the chassis is truly the best.
Also Read: How To Buy A PC Case
EVGA 550 BP 80+ Bronze
Best Gaming PC Under $500 Power Supply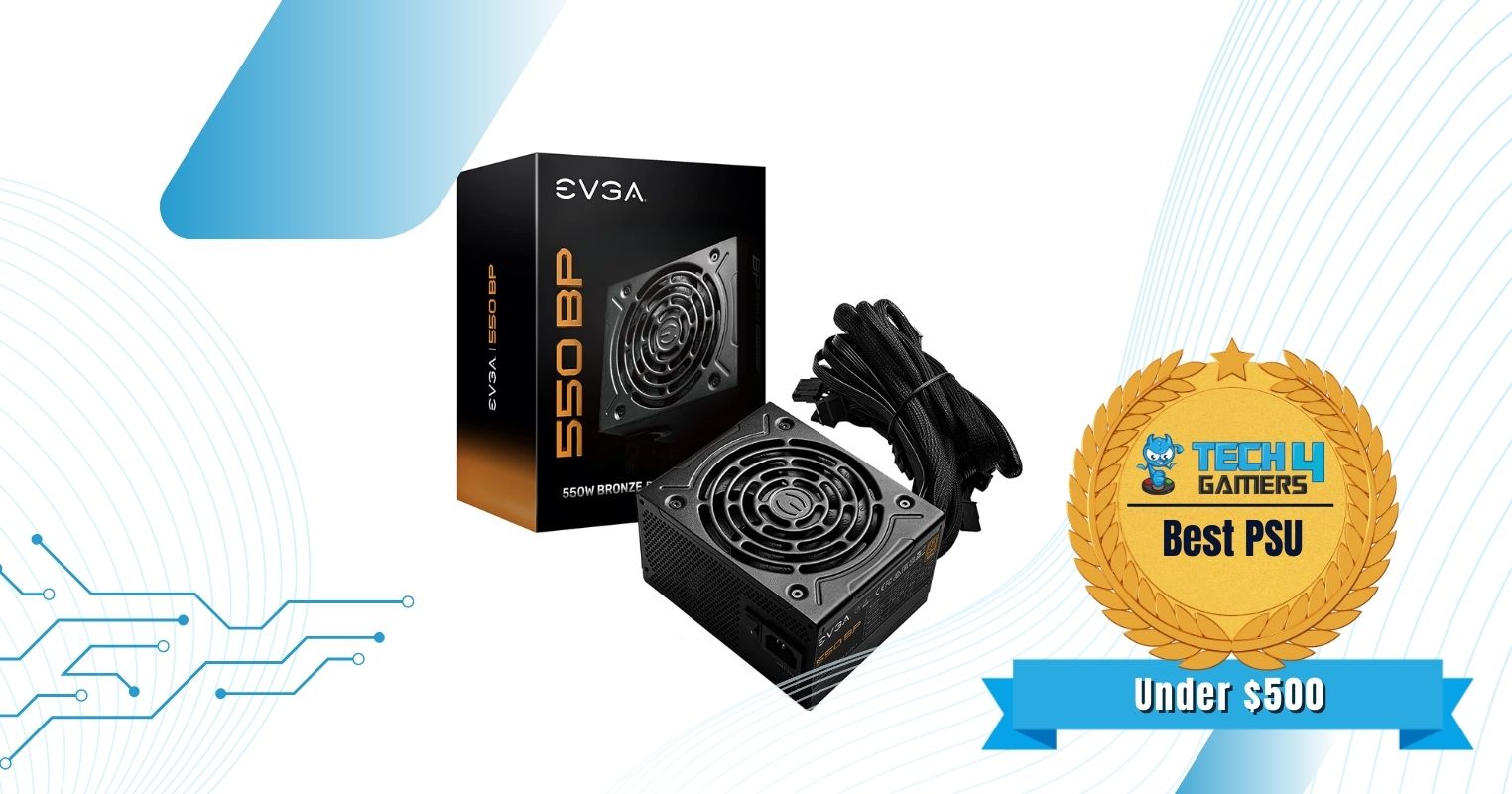 Total Output: 550W | Efficiency: 80 Plus Bronze | Dimensions (HxWxL): 86 x 150 x 120 mm
At last, we have the power supply. When it comes to building PCs, no matter how tight the budget is, you must never go for a knock-off PSU. A poor-quality power supply can damage your entire build, and that's why you should purchase whichever high-quality branded PSU falls within your budget. For the $500 gaming PC, there is no better PSU than the EVGA 550 BP 80+ Bronze.
It has an output capacity of 550W, and in light of the components we have selected for our cheap gaming PC, a 550W PSU is sufficient. Furthermore, the power supply has an 80 PLUS Bronze certification, which means that this PSU will not unnecessarily waste power.
What sets the EVGA 550 BP 80+ Bronze apart from its competition is that it offers over voltage, under voltage, over current, under current, short circuit, and over temperature protection along with a 3-year limited warranty at such a low price. Going with the EVGA 550 BP will give you peace of mind that your $500 gaming PC has a reliable PSU, and if anything wrong happens with it, then EVGA has got your back.
Also Read: How Long Do Power Supplies Last?
How We Test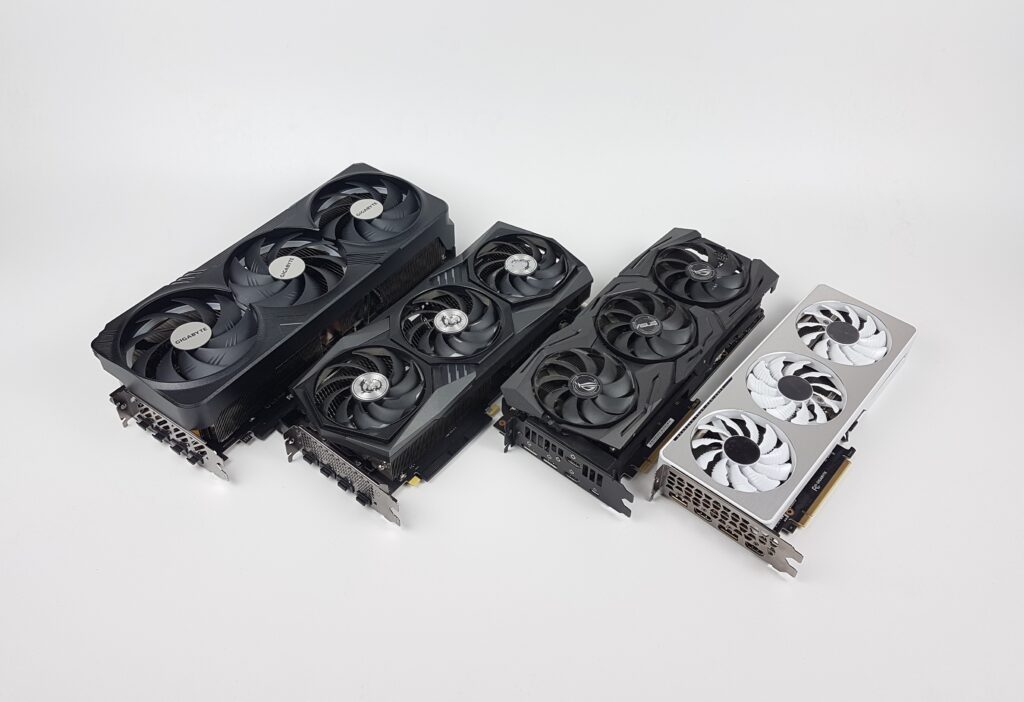 Tech4Gamers is responsible for providing our readers with the most authentic, well-researched, and up-to-date content. Similarly, when we review products or build gaming PCs, we have to remain unbiased so our readers get the best possible information. To get authentic information, we personally review and test various components like processors, graphics cards, motherboards, RAM, CPU coolers, SSDs, PC chassis, and more.
In order to make sure that our tests are not affected by any external factors, we have outlined strict criteria that must be followed. This way, every product we test goes through the same process, allowing us to compare multiple products with each other. If you want to learn about how we test individual components, please refer to our guides below:
1080p Benchmarks Of Cheap Gaming PC Under $500
As such, we also tested the $500 gaming PC build we have made. Considering the price, the gaming PC handles 1080p gaming quite well. In our tests, we were getting good frames with high settings. However, these days many AAA titles are not as optimized as they used to be, and even in those games, we were getting decent frames with medium settings.
Take a look at our $500 Gaming PC 1080p benchmarks below: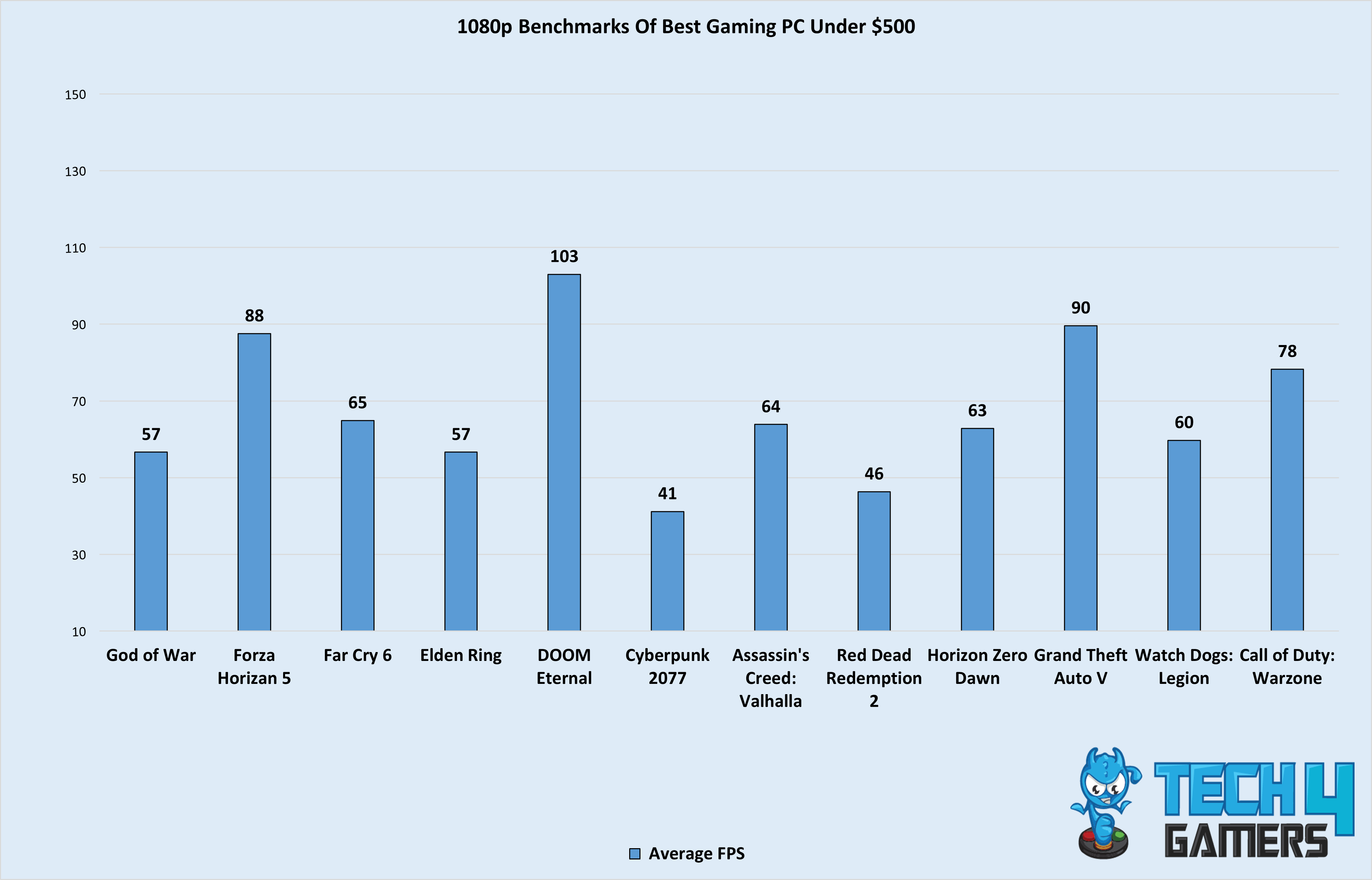 Our tests show that the $500 Gaming PC build does a great job at handling 1080p gaming. Therefore, you should not worry about this rig's performance.
Also Read: Gaming PC Benchmarks
Monitor, Peripherals, and Other Expenses Of A $500 Gaming PC
Since you are building a very budget-oriented gaming PC, it is best to keep in mind a few other expenses that come with a gaming build. First up, you need to get a monitor. If you already have one, then it's good. But, if you are going to buy a monitor, then make sure it is 1080p in resolution and has a refresh rate of at least 120Hz. As for the size, a good gaming monitor should be at least 22 to 24 inches, but the display size depends on your preference and the space you have.
Remember, you can save up more money and swap out the components to get a boost in FPS. However, it is really difficult to change monitors every now and then; those things don't come cheap. Therefore, it is important to do thorough research and get the best monitor that falls within your budget. If you plan to play competitive eSports games, you must prefer a high refresh rate. But if you're a fan of the visual and immersive experience that games bring, go for a monitor with phenomenal color accuracy.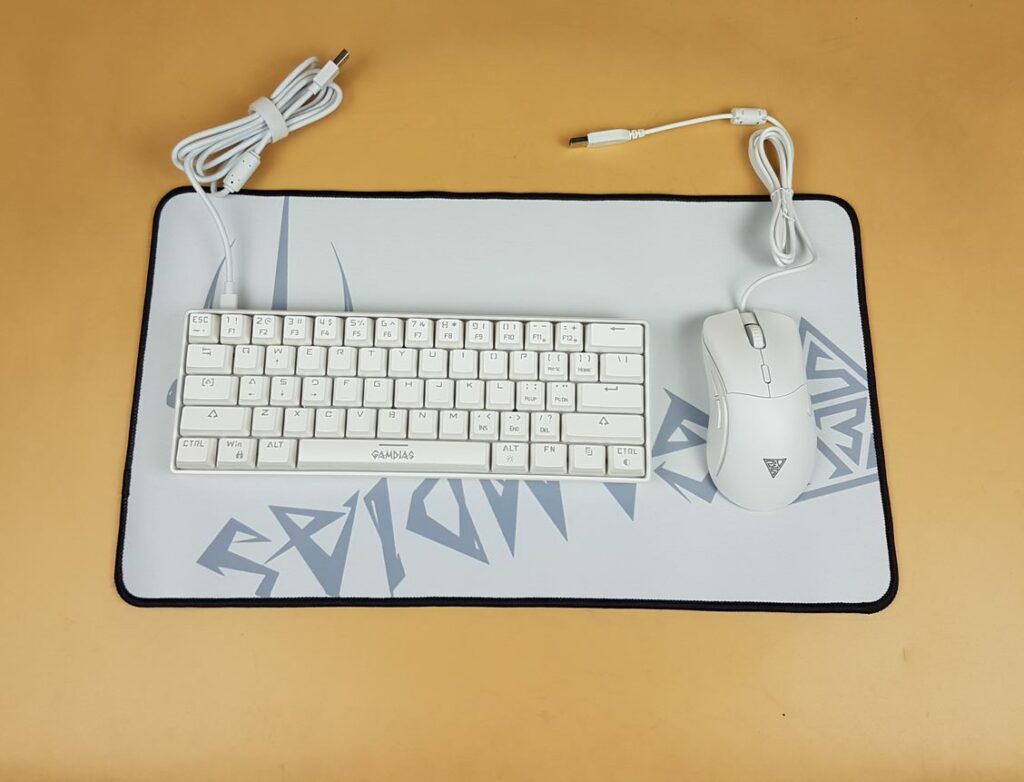 The same goes for peripherals. Since you're building a cheap gaming PC, it is best to use old peripherals if they are good enough. If that's not the case, then go for the ones that fall within your budget and have good gaming specs. It is highly recommended that you skip RGB and other flashy features and go for the core essentials that can help you game better. If you are into competitive FPS games like CS:GO, Valorant, and Fortnite, then you can check out the following guides:
These guides cover a variety of mice that offer great performance for FPS gaming. They also include good budget options that offer solid value for money.
Another extra expense that you might not expect is the Windows license key. Since our $500 gaming PC uses the Core i3-12100F, which has no Efficiency Cores, the CPU offers great compatibility with Windows 10 and 11. It is recommended that you go with the latest Windows 11 because most games are optimized for it. If you have an old PC, you can use the license key from that. Otherwise, you will have to purchase the license separately. It is not a huge expense but it is still worth accounting for.
More Details: How To Update Windows
How To Plan The Best Cheap Gaming PC Under $500
Whether your budget is $500 or $2000, if you are a beginner in the PC building world, you must always consider these factors to ensure your build goes smoothly without any hiccups.
$500 Budget
First of all, you need to keep your budget in mind. For 500 bucks, you can build a decent gaming PC. However, it is only possible if you emphasize the essentials of a gaming build and not flashy bells and whistles. Emphasizing the essentials means you need to focus on performance and performance alone; you can get RGB lights and other aesthetics later by saving up, but with a $500 budget, the key to getting the best gaming PC is to aim for performance.
Upgradability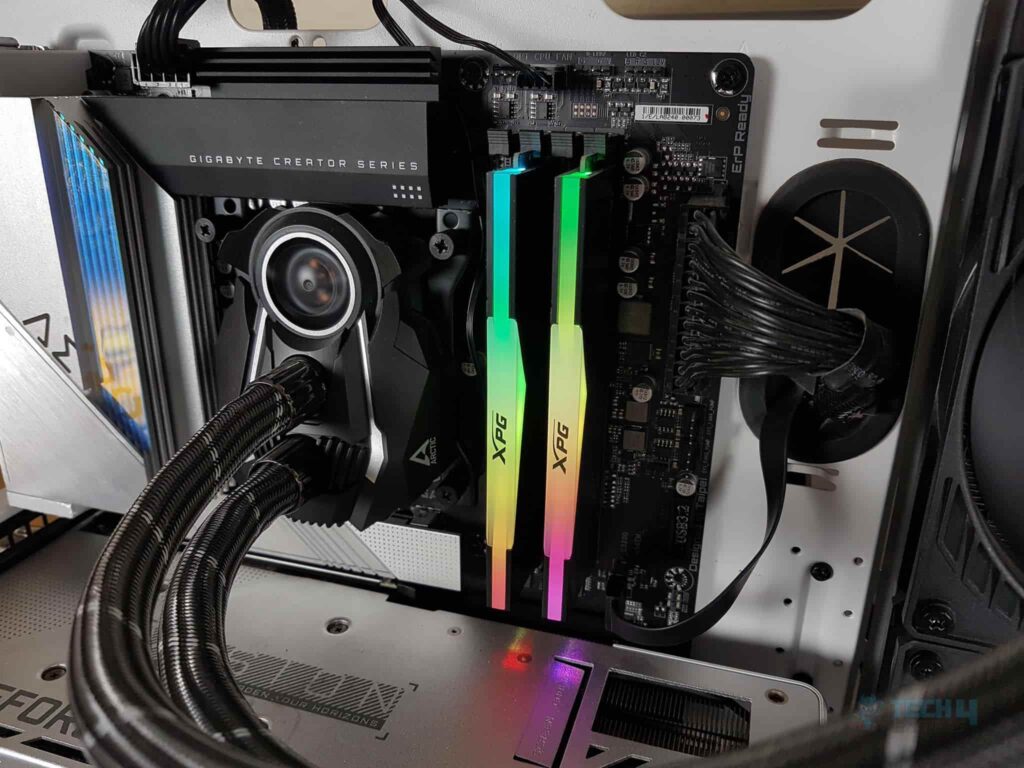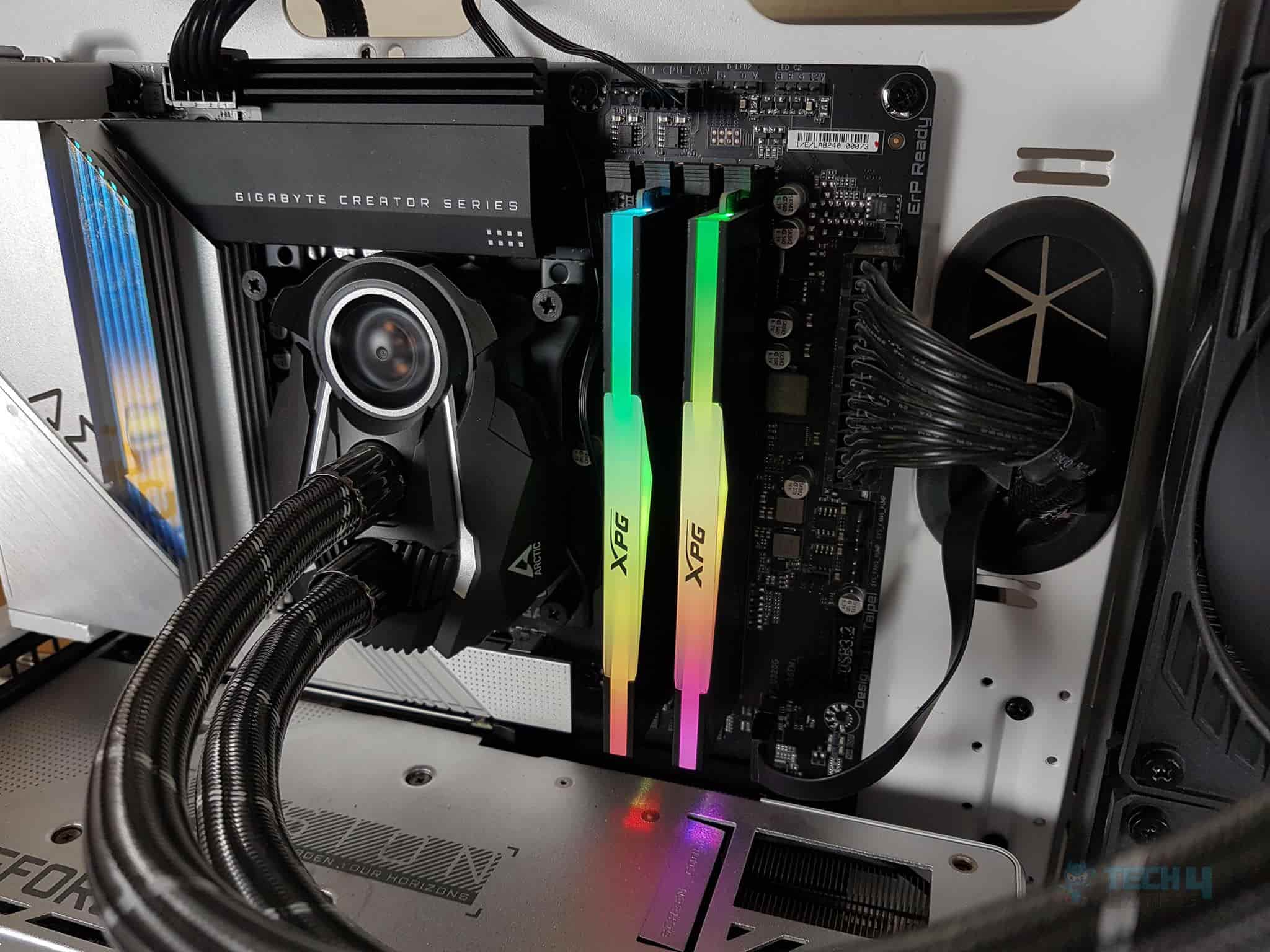 Upgradability, as a whole, is an important factor to consider whenever you're building a PC. However, when it comes to budget-friendly gaming PCs, you need to consider it more than ever. That's because the trick behind keeping an up-to-date economical rig is to buy a compatible PC first, then save up money and swap out a few components whenever you feel like upgrading.
To ensure that your PC has upgradability to some extent, you need to go for highly compatible and future-proof components, at least to some extent, and the $500 gaming PC parts we have selected offer just that.
Performance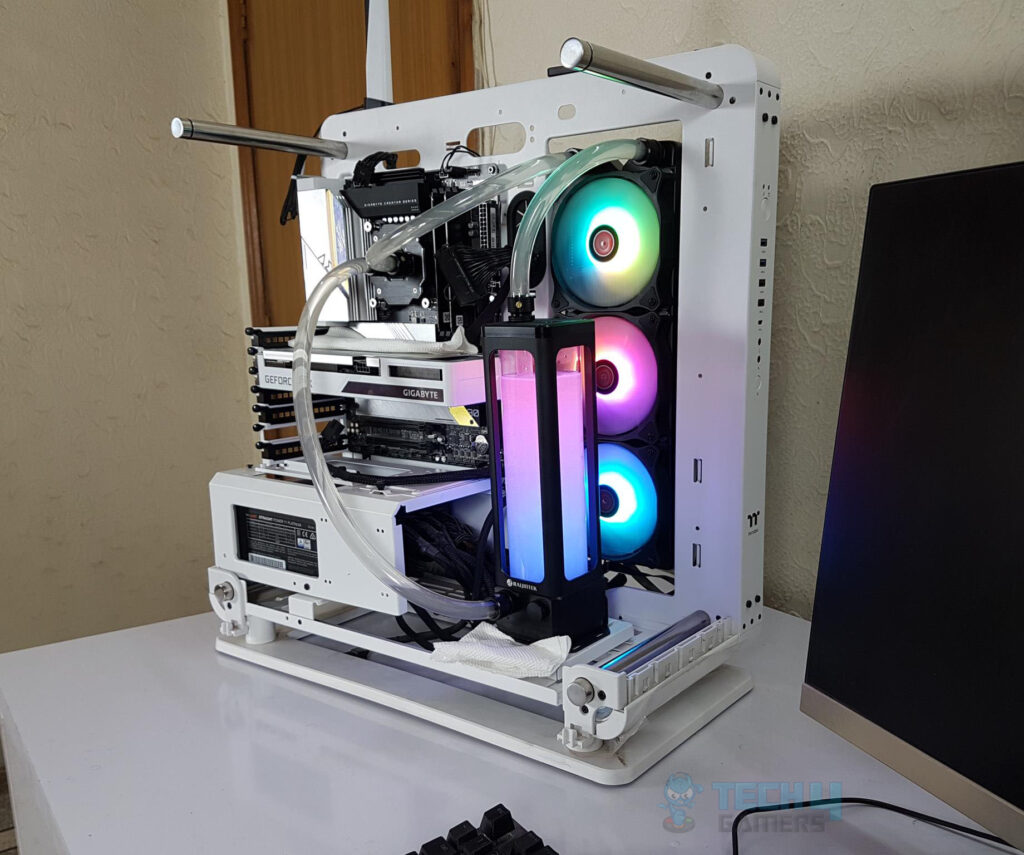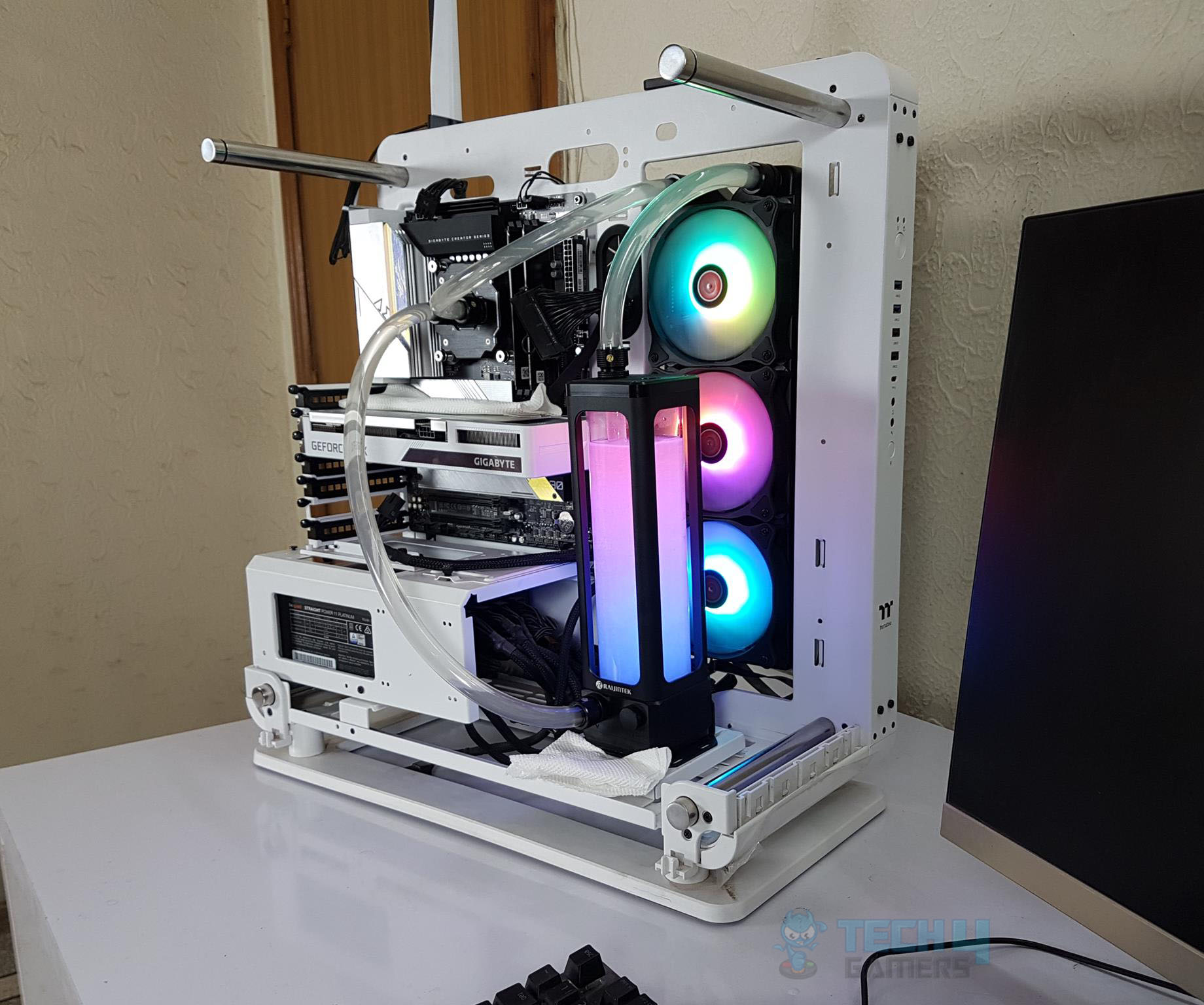 At first, considering performance when building a gaming PC sounds obvious. However, it is not as simple as it sounds. That's because, depending on who you are and what your intended usage is for a $500 gaming PC, the performance you need can vary a lot.
For instance, if you are an FPS gamer, then you will have to also focus on getting low latency peripherals and a high refresh rate monitor a lot more than if you play games for their visuals and story, and both of these features can drive up the cost a lot. Similarly, if you're a video editor, then you need more RAM than a general gaming PC.
Therefore, you must consider the type of performance you require from your budget gaming rig and then move towards building it.
Overclocking Potential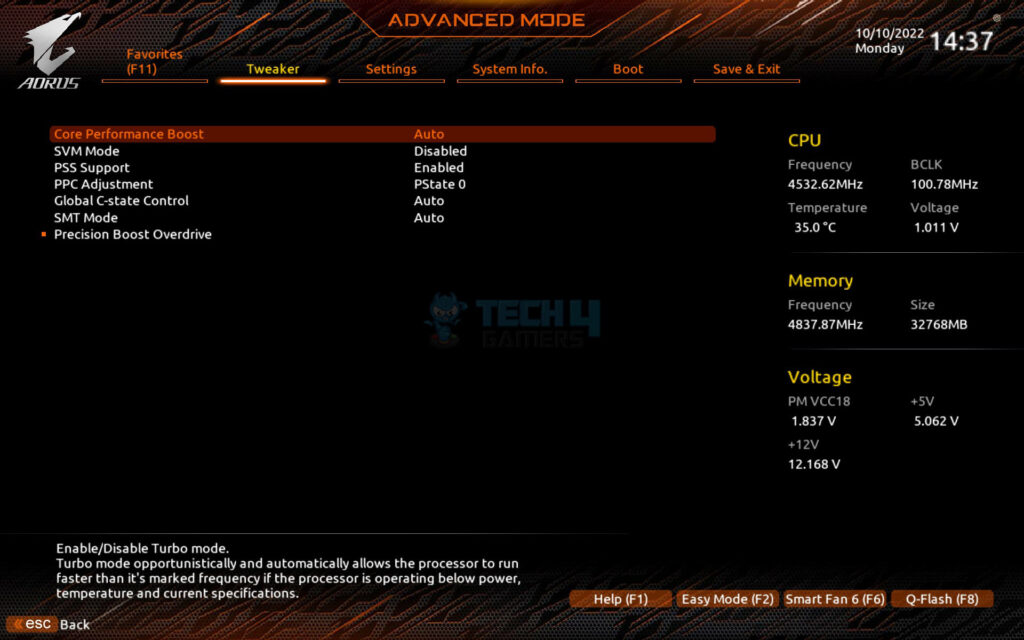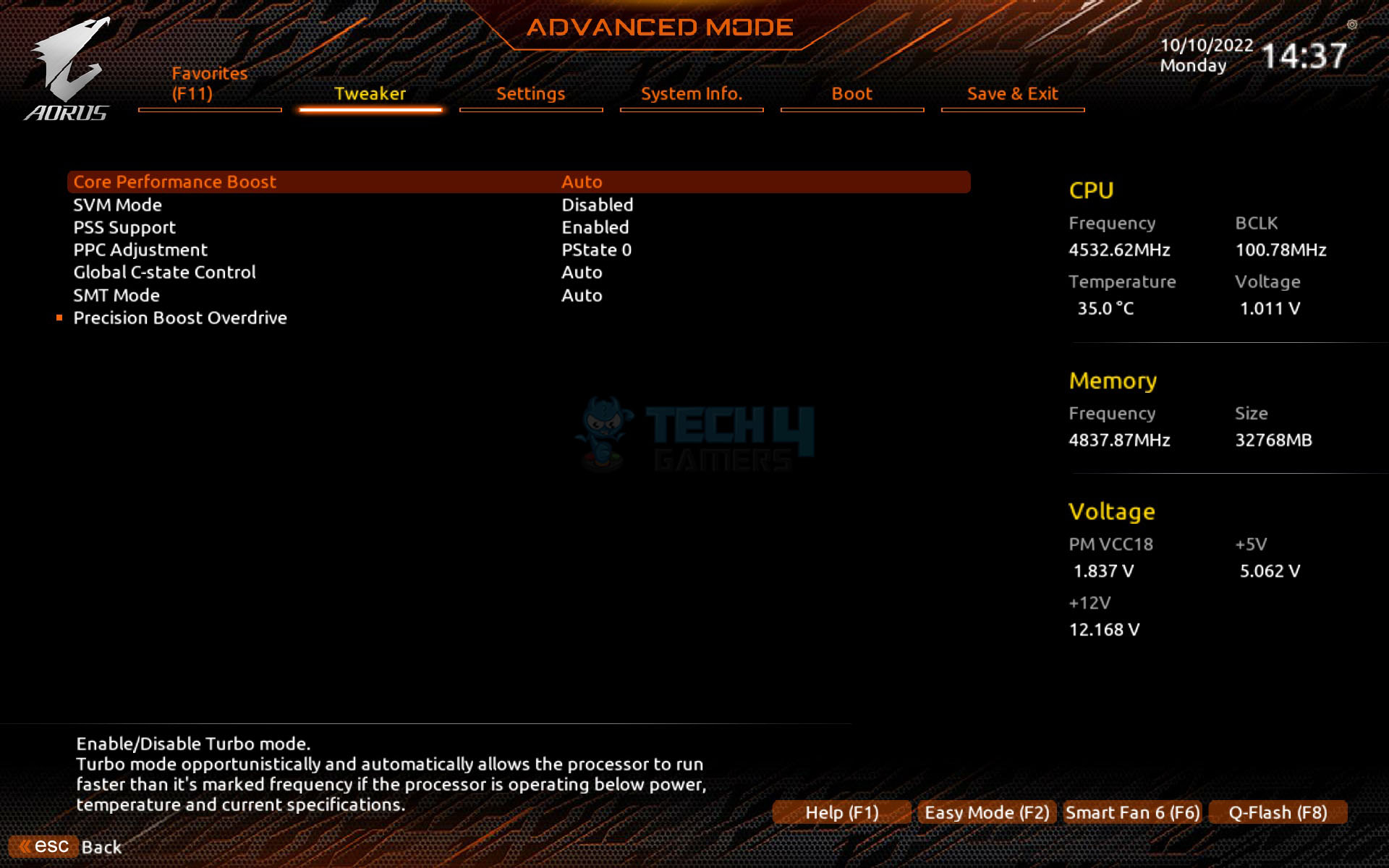 Since you're building an economical gaming PC, it won't have a ton of overclocking potential. However, if you use a strong cooler and a relatively reliable motherboard, then you can still get a bit extra juice out of your rig.
To make it happen, always go for the highest quality components you can get in your budget. For instance, never cheap out on the PSU, and aim for the motherboard that has a solid VRM structure. Furthermore, make sure that your build is equipped with enough fans to provide adequate airflow.
Also Read: Best GPU Overclocking Software
Custom Built or Prebuilt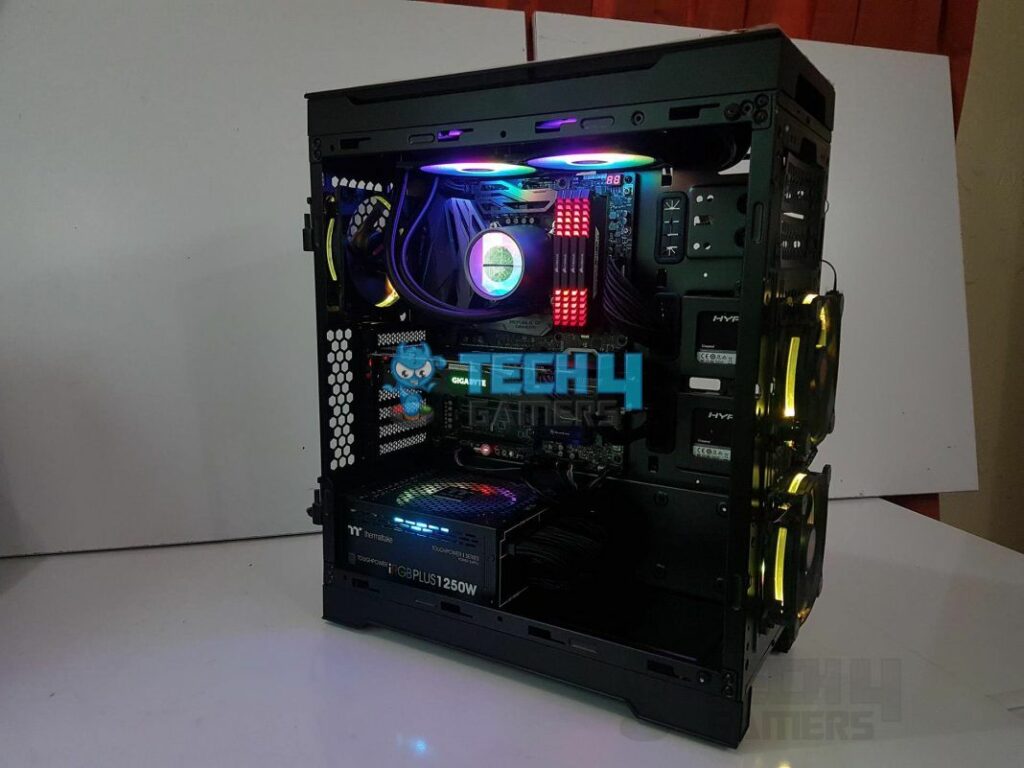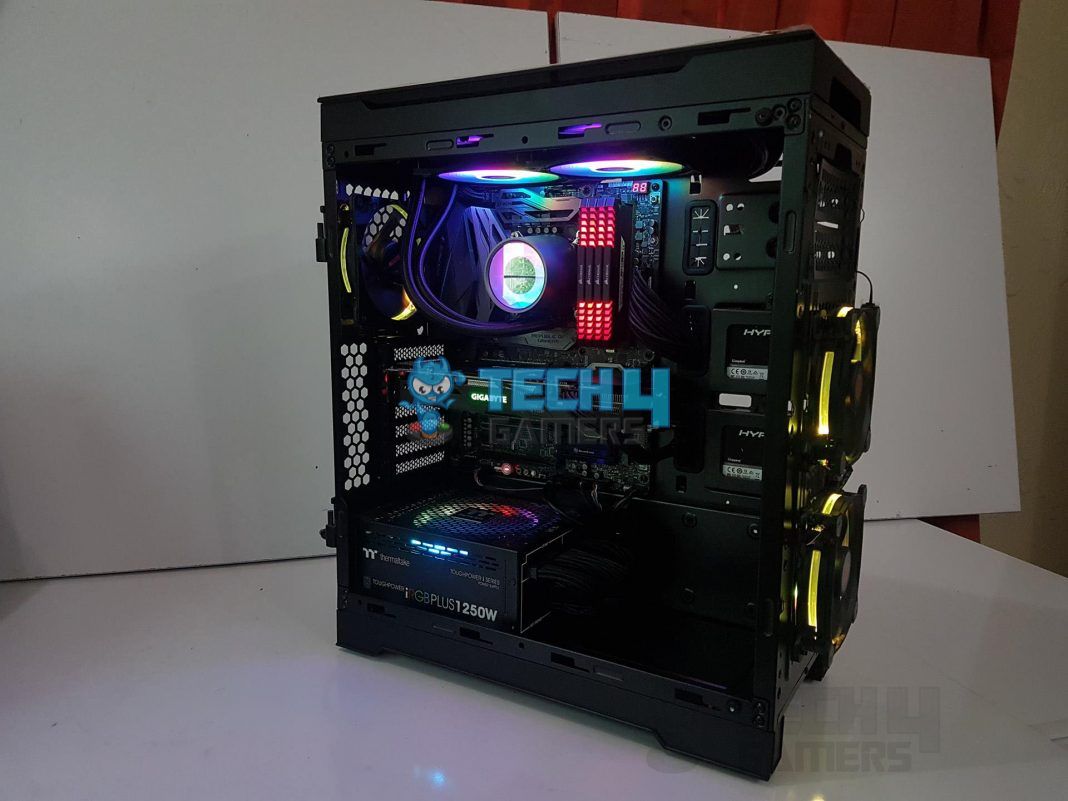 Another question that should cross your mind when building a gaming PC is whether you should take the time to build your own $500 gaming PC or go to a PC shop and purchase a prebuilt rig that falls within your budget.
Well, the answer to that question is quite simple; basically, if you can invest some time, have a bit of technical knowledge, and want to save up a few bucks, then you should definitely build your own PC.
Alternatively, if you neither have the time nor the expertise to build your PC, then you should refer to a trusted source and buy a prebuilt gaming PC. However, we don't recommend purchasing a prebuilt $500 gaming PC because prebuilt PCs, in general, are a bit more expensive than their custom-built counterparts, and since we are going after a budget-friendly option, then building your own rig is your best bet at getting the most value for money rig.
Tools Required
If you go with our recommendation and decide to build your custom $500 gaming rig yourself, then here are a few important tools that you should have in your toolbox to ensure that your PC-building experience goes by smoothly:
Thermal Paste: To apply to your CPU after installing it.
Anti-Static Mat/Wrist Band: So you and/or your PC components don't get an electric shock from the static build-up in your body.
Zip Ties: To cable manage your build so it looks clean and tidy.
Phillips Screwdriver (Number #1 and #2) and Hex Nut Driver: To screw the different screws involved in the PC-building process.
Magnetic Mat/Screw Tray: So you can keep all of your screws in one place for better organization.
Knife: To unbox your PC components.
Building Gaming PC Tips
Building your first gaming PC? Here are a few basic tips for a safe and smooth experience:
Build with a friend: It is best to build a PC with someone who has experience. If you have a friend who is into the PC-building world, then it is best to call him/her over. You will have an extra pair of experienced hands.
Build on a suitable surface: Never build on an uneven surface because that puts your motherboard and other components at risk of damage.
Stay grounded: This is especially for those who have carpets in their rooms. As you walk, your body will build up static energy that will be discharged as soon as you touch other electrical components (like your PC parts). This static discharge is mostly negligible, you will get a tiny shock, and that's it. However, it is still risky to touch your PC with it as it can risk damage. Therefore, always wear an anti-static wrist bend or work on an anti-static mat for safety.

Anti-Static Wrist Strap (Image By Tech4Gamers)

Organization is key: You don't want to misplace a few screws or mess around with the cables. Using magnetic trays or a large, neat, clean surface to build your PC is best. This way, everything will stay organized, and your build will go smoothly.
Stay on top of the airflow and thermals: If you are using the GAMDIAS AURA GC2, as we have recommended for your cheap $500 gaming PC, then you don't have to change any fan configuration. We selected this chassis for many reasons, and its pre-installed fan selection is one of them. However, it is still recommended that you keep an eye on the thermals of your finished build. There might be a chance that you didn't plug one of the fan cables correctly, or the stock cooler isn't seated properly. All of these factors can affect your rig's thermals. That's why it is best to monitor thermals after building your PC. You can use software like MSI Afterburner for it.
Apply thermal paste correctly: If you are using the same parts as the ones we have recommended for the $500 gaming PC, then you don't have to worry about this mistake. That's because we are using the stock cooler in our build, and it comes with pre-applied thermal paste. Nevertheless, you should still remember that when it comes to building PCs, always apply thermal paste adequately. This means not too much, not too little. Just a pea-sized paste is enough.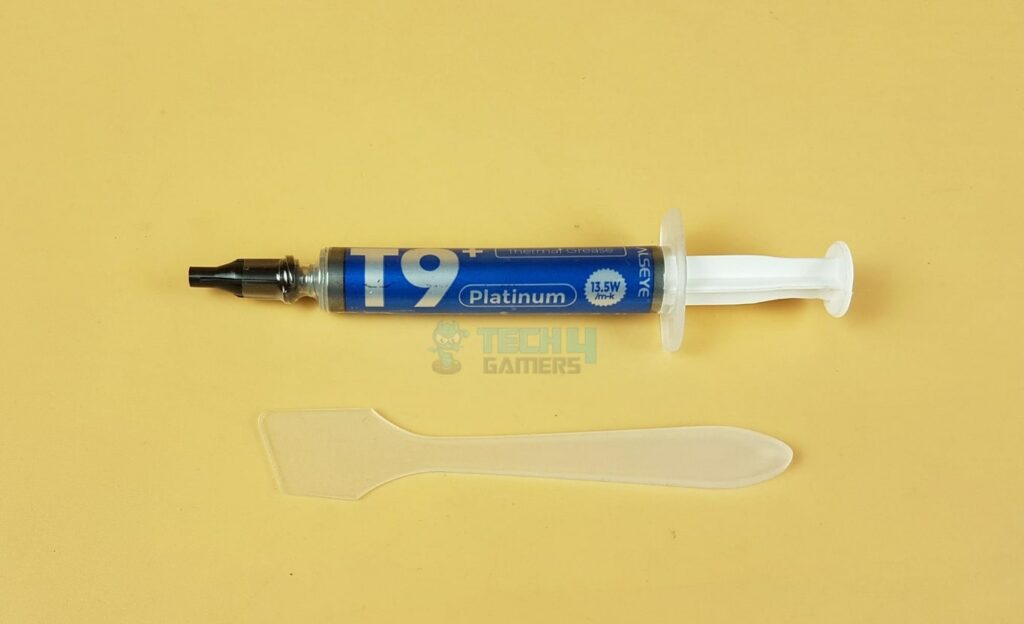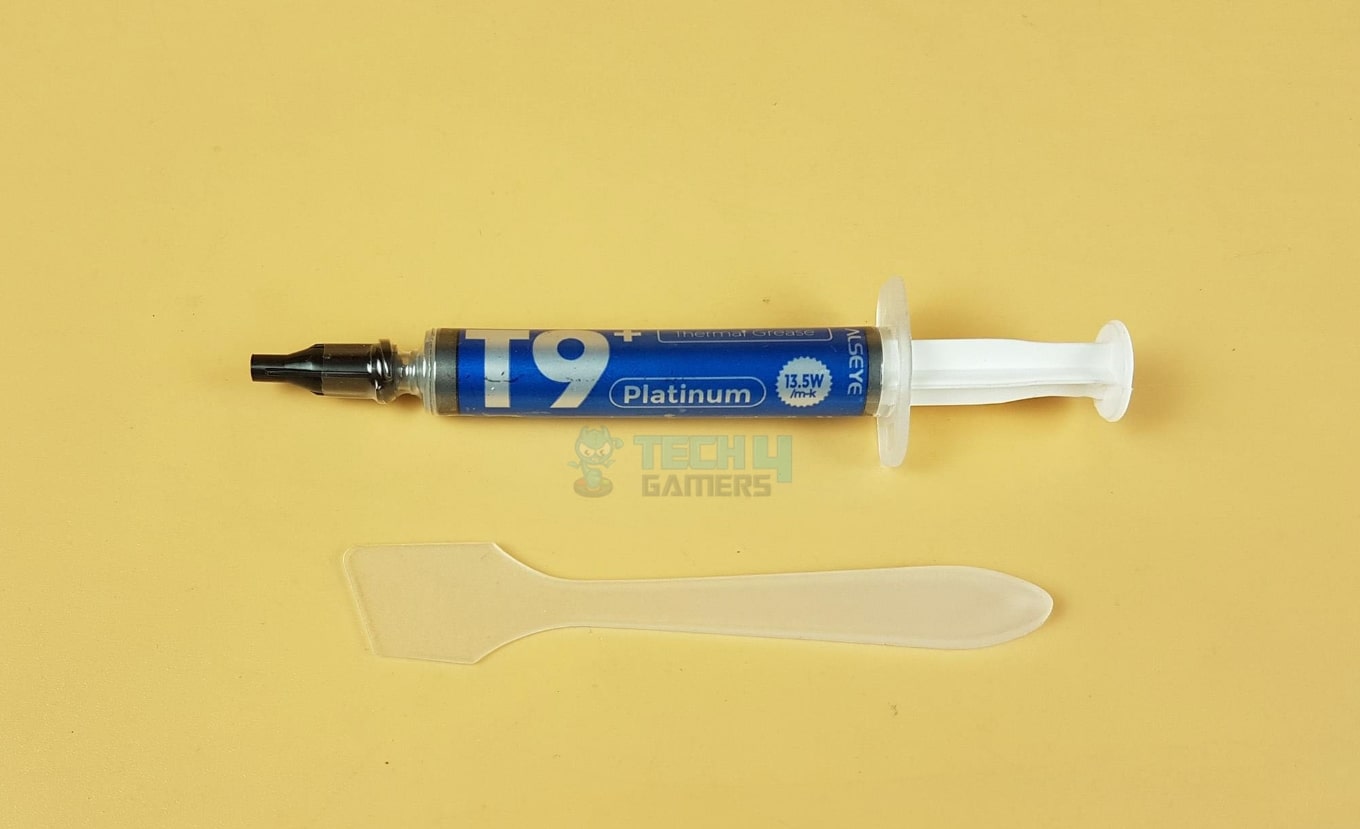 We have a detailed guide on the basic PC Building Mistakes To Avoid. It is highly recommended that you go through that guide before working on your first custom PC.
$500 Gaming PC Vs Console
A $500 budget also poses an important question, should you even build a $500 gaming PC in the first place, or are you better off with a console? Well, for $500, the PlayStation 5 and the Xbox Series X fall within your budget. However, given their availability (or lack thereof), buying them at said price tag is another question. Let's assume you do manage to pick up a PlayStation 5 for $500. But should you actually go for it?
If your goal is to play the latest and greatest games, and that's it, then going with the PlayStation 5 is the safest bet. You get access to Sony's exclusives, ray tracing, beautiful graphics, and decent framerates. However, if your use case is anything but playing only the latest games at high-end settings, then building the $500 gaming PC should be your go-to option.
First off, gaming-wise, a PC build is far more versatile. You can play games from any era. Plus, nothing beats the fun of PC gaming if you are into competitive games. Furthermore, a $500 gaming PC won't restrict you to just gaming alone. It is a full-fledged PC, and you can use it for work, entertainment, and basically everything in between.
A custom gaming PC will always have the advantage of upgradability as well. You cannot really move up the ladder from a PS5, but with gaming PCs, the sky is the limit. Your $500 gaming PC might not surpass a PS5 in playing the very latest games, but you can swap out the components one by one, and in no time, you will have a far better machine that does more than just gaming.
So, to answer the original question, it totally depends on your preference and your use case. Going with a console can be a good option if you are after nothing but playing the latest games at high-end graphics. However, for anything other than that, a custom $500 gaming PC is the way to go.
Why You Should Trust Tech4Gamers
The team behind Tech4Gamers has been building gaming PCs for decades. As such, our hardware experts have gained invaluable experience, which is very useful in building gaming PCs for various use cases. In order to uphold high quality and authenticity, our writers perform days-long extensive research, testing, and analysis of products.
Furthermore, we put our claims to the test by benchmarking the PCs we built over different games. These benchmarks help our readers anticipate the kind of performance they can expect from our PC builds. Besides building gaming PCs, Tech4Gamers also reviews independent products, provides reliable news, and publishes blogs and troubleshooting guides for our readers.
Our work has been acknowledged and appreciated by many hardware manufacturers. They have come forward to collaborate with us by sending their products for our hardware experts to test. Some of the companies Tech4Gamers has collaborated with are Aerocool, ARCTIC, ASRock, ASUS, be quiet!, Cooler Master, Corsair, DeepCool, EKWB, Fractal, Gamdias, GIGABYTE, Kingston, MSI, Noctua, Orico, Razer, Sabrent, Thermaltake, and more.
These products help us offer the latest content for our readers. Furthermore, they also give us the means to build various gaming PCs for our readers. Similarly, we are confident that our guide on the Best $500 Gaming PC will assist you in creating a budget-friendly setup.
FAQs
Can a $500 Gaming PC run games at 1440p?
While the $500 Gaming PC nails 1080p gaming in AAA titles. It may suffer when the resolution is cranked up to 1440p. However, if you lower the graphics, the budget build can run games at 1440p as well.
Is $500 enough for a gaming PC?
Definitely, our $500 gaming PC can handle AAA titles with decent FPS, making it the best cheap gaming PC.
Is the GTX 1650 Super enough for 1080p?
Yes, the GTX 1650 Super is enough for 1080p gaming.
How many fps should I expect from a $500 gaming PC?
As confirmed by our tests, you should expect an average of 60 FPS at 1080p resolution from a $500 gaming PC. Keep in mind that figures can go over or below 60 depending on the game and the settings.
Is a 550W PSU enough for GTX 1650 Super?
Yes, a good quality 550W PSU is enough for a GTX 1650 Super.
Is a $500 Gaming PC worth it?
Yes, for $500, you can build a great bang for the buck gaming PC that can handle high-end games without breaking a sweat.
Was our article helpful? 👨‍💻
Thank you! Please share your positive feedback. 🔋
How could we improve this post? Please Help us. 😔
[Hardware Expert]
With a major in Computer Science, Sameed is a tech enthusiast who puts his passion for gadgets into words and creates informative blogs. From comparing different hardware to reviewing the best RAMs, motherboards, and graphics cards for your next build, Sameed has covered a wide spectrum of topics that have given him a special insight into every nook and cranny of the tech world. Sameed is also a certified expert at Computer Hardware & Networking.
Get In Touch: [email protected]