Glorious Model D Review
Review Verdict
The Glorious Model D Minus is an ultra-lightweight powerhouse with responsive sensors and a layout tailored to the specific needs of gamers. Though the left and right buttons wiggle a little, this is easily one of the finest small gaming mice available. It's well-made, with a right-angled design, and is pleasant to use. The two buttons on each side may potentially be used to facilitate simpler online browsing. The cost is one of its strengths. It costs $50 yet has the same functionality and performance as mice, which cost almost twice as much.
Design -

9/10

Quality -

9/10

Sensors -

9.5/10

Price To Value -

9/10

Software -

8.8/10
Pros
The mouse is offered in both a glossy and a matte finish.
Designed with minimal weight and size in mind.
Additional PTFE feet skates.
The RGB lighting is smooth and pleasing to the eye.
Reasonably priced.
Superb sensor and switches
Cons
Unprofessional in appearance.
DPI Indicator at the bottom.
Complex and resource-intensive software
No onboard memory.
Excessive Branding.
Since 2014, Glorious has sold PC gaming gear and accessories that combine professional-grade functionality with premium materials, sleek design, and reasonable pricing. They have created a range of professional-grade, high-quality equipment that was previously beyond of reach of the typical gamer, and they now offer it at reasonable costs.
Glorious meticulously perfects each product they present with an eye on design, function, and aesthetics to give its customers total confidence in their choices. Because they adhere to a policy of constant innovation, they can maintain all of their goods cutting edge without overwhelming customers with alternatives. Gaming may be a diversion for some people but a way of living for others.
As a result, they want to ensure that every gamer, from the weekend warrior to the e-sports elite, has access to the highest quality products available. These mouses have been designed with just quality in mind. The peripherals manufacturer Glorious has seen remarkable growth in the last few years. Their first two launches were met with a "cold" response, but when they revealed the Model O mouse, they quickly gained a massive fanbase among enthusiasts.
Despite a few stumbles here and there—something that is practically unavoidable when producing peripherals—they have now established themselves as a business that makes top-tier peripherals that adhere to all the newest advancements and trends. Millions of people throughout the globe have joined the Glorious legion, and they are getting closer and closer to their objective. Glorious' initial mouse, the lightweight Model O, was primarily responsible for the company's rapid rise to prominence among skilled professional gamers.
As a matter of fact, the Glorious mice deserve the attention of gamers. Extremely lightweight and ergonomic, the Model O and its right-handed companion, the Model D, have a unique design that has inspired imitations from other manufacturers. In addition, the mice are affordable, considering that the company is relatively small in an industry dominated by behemoth names.
Affordable, high-quality, and attractive? That can hardly be topped. We'll review the Glorious Model D Minus, a popular gaming mouse for e-sports nowadays. From Glorious, you can choose from three distinct categories of gaming mice:
MODEL O/O- [Ultra Light Ambidextrous Mouse]
MODEL D/D- [Ultra Light Ergonomic Mouse]
MODEL I [Ultra Light Multi-Button Mouse]
Since this is a review, we shall pay special attention to the Glorious Model D Minus. There are two sizes of the Glorious Model D Ultra Light Ergonomic Mouse, one for medium-sized hands and the other for large. Its ergonomic, featherweight design conceals a wealth of high-end components. The mouse is 61 x 120 x 40 mm (WxLxH). The mouse's height was measured from its base to its highest point. The Glorious Model D – Mouse weighs in at 61 gm (without the cord), so you can be certain that you are holding a reasonably lightweight mouse.
About Glorious Model D Minus
If you're looking for a lightweight gaming mouse, go no further than the Glorious Model D minus. It's a refinement of the previous Glorious Model O, which is ambidextrous and works quite well but isn't exceptionally comfortable to use. It's great for palm or claw grips because of how naturally it fits in your hand.
Like many others in the esports community, the Glorious D-minus mouse considers simplicity an admirable quality. Among its six buttons are two primary clickers, a scroll wheel, and a DPI-switching button. Moreover, Two macro buttons are located on the side. If you often swap dpi, you may want to keep an eye on the mouse's bottom, where a color-coded DPI setting indication may be found.
However, it can not be used as an input. Like the outside, the inside of the Model D minus is rather simple. A Pixart PMW-3360 sensor can precisely track up to 12,000 dpi and speeds up to 250 inches per second. A rating like that is typical for a $50 mouse, even if it's from a major brand.
This mouse comes in black or white with either a matte or glossy finish. The GLORIOUS Model D is a wired mouse and, as such, is not particularly portable. People seeking a professional mouse for personal desktop setup shouldn't be troubled because it isn't the best travel companion and could be difficult to place in a laptop case.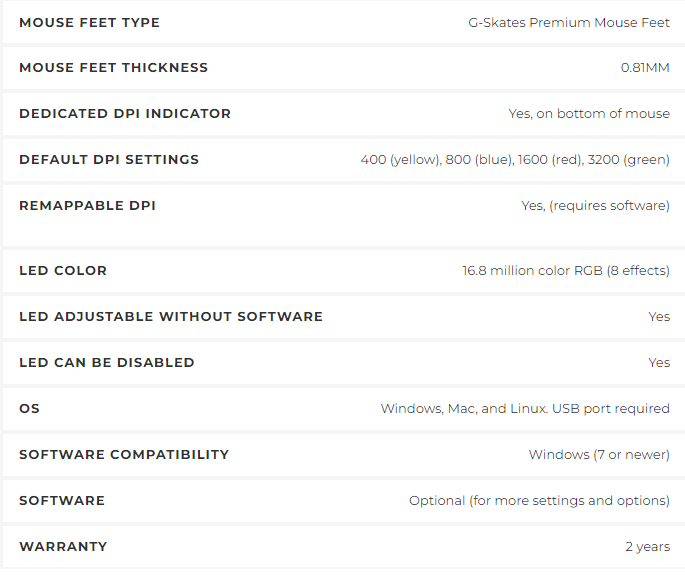 The primary focus of an esports mouse is on its speed. Because, in principle, a lighter mouse allows for quicker movement, manufacturers eliminate all unnecessary components in pursuit of minimal weight. On the other hand, the Model D minus has relatively few extras and is very lightweight (only 2.15 ounces). Although the Glorious and numerous other basic mouse manufacturers only vary by ounce or so, the Glorious is much more fluid to use.
Glorious Model D Minus Packaging and Unboxing
The mouse is packaged in a black and white paperboard box for shipping. All in all, the presentation is well done.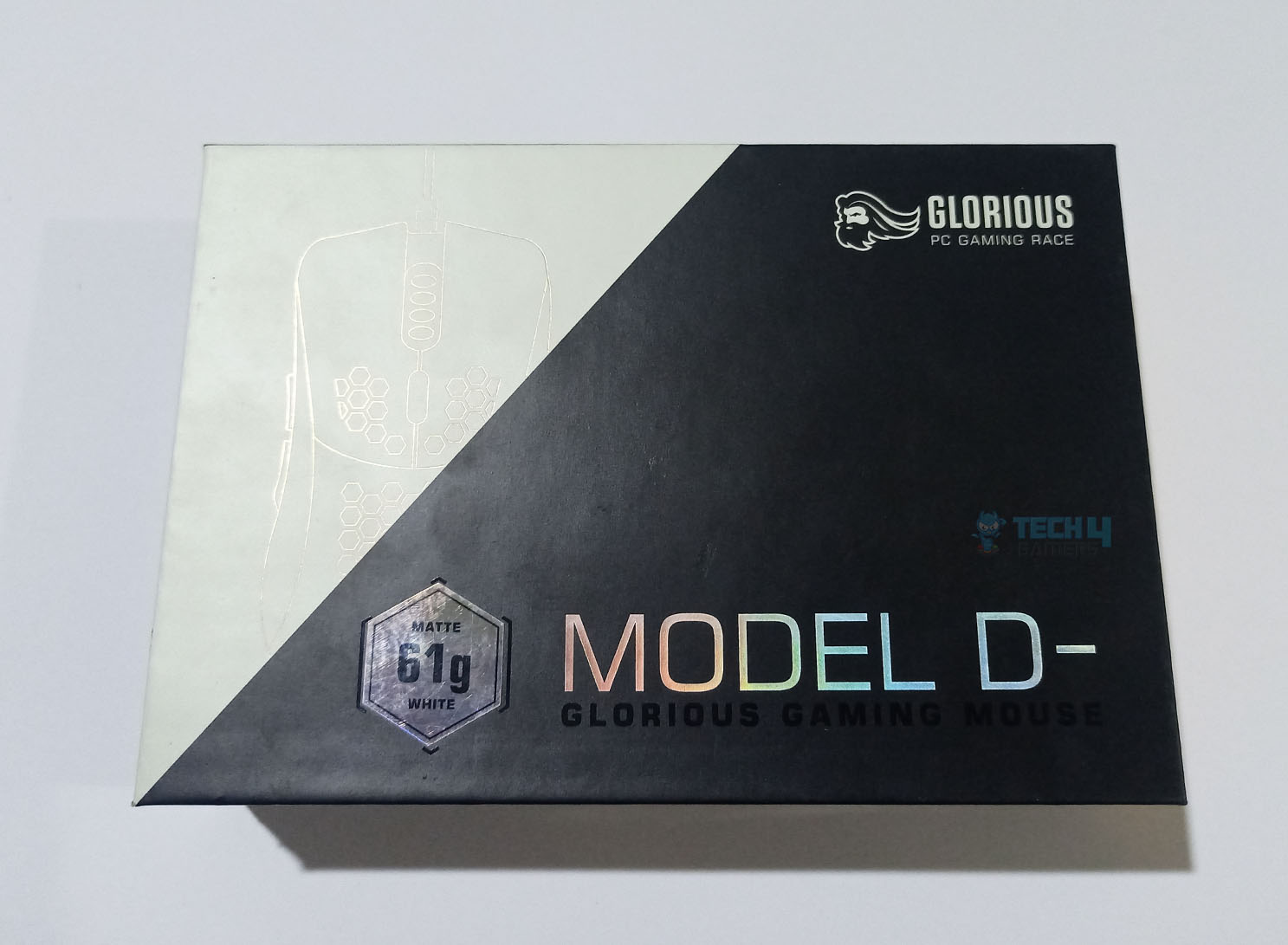 The front side of the packaging box has the Glorious brand logo printed on the top right side. A picture of the mouse from its top perspective is done in a liner style on the left side of the box. Right below it, the mouse's weight is inscribed in bold lettering on a silver sticker. Alongside, a text informs that the Model D Minus is inside the box.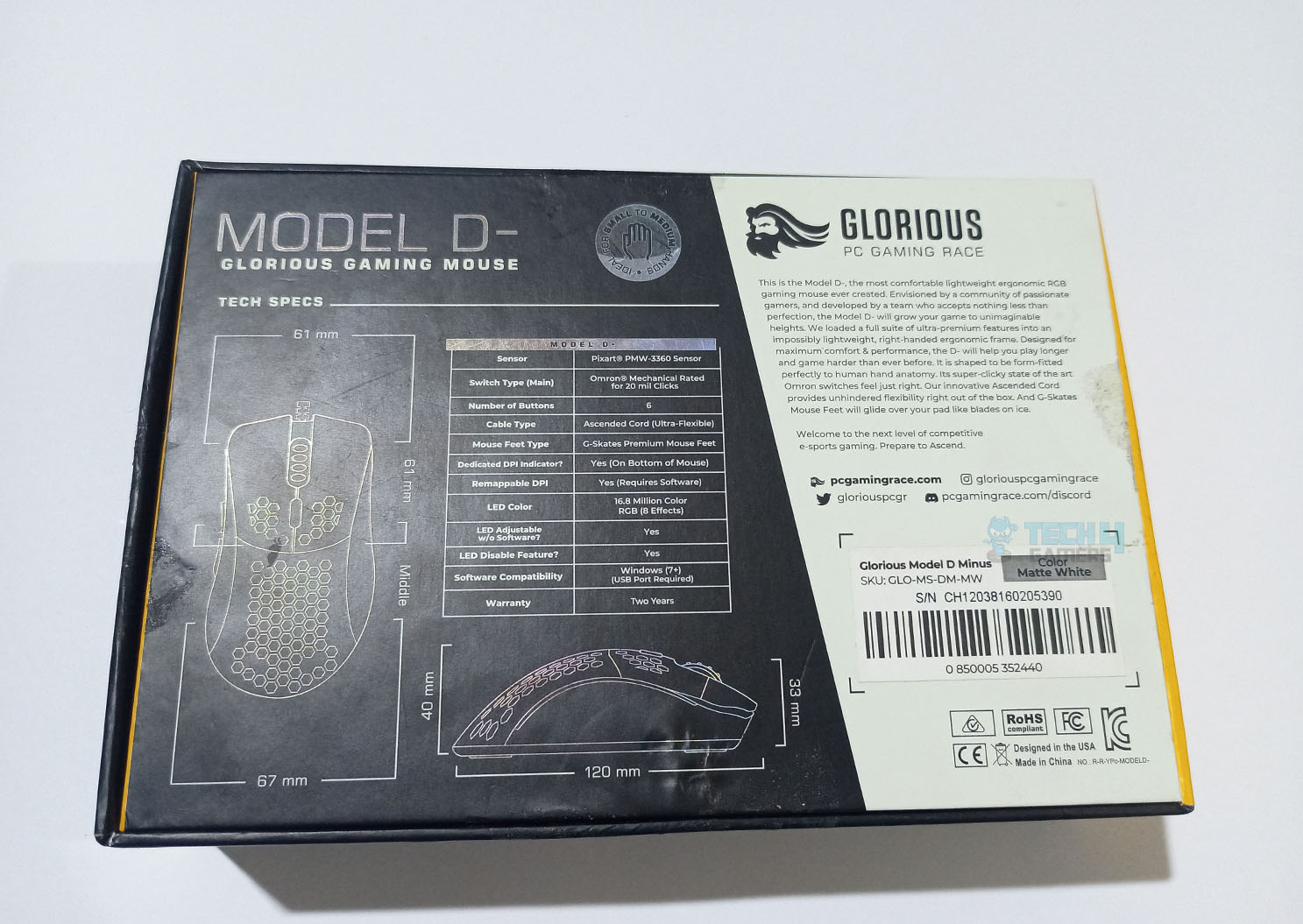 The Glorious logo, in a simple black and white design, is printed on the upper left corner of the back of the box. In the following, they briefly outline the offerings that the company offers. A little sticker with details such as the stock keeping unit (SKU), serial number (S/N), model number, bar code, and color has been written to the bottom. Up there, you may find links to the Glorious brand's many social media profiles (Instagram, Twitter, and Discord). Specifications and dimensions for the mouse can be seen on the left. The box has four seals in total, which can only be opened from the backside.
The left and right sides indicate the model name and the brand's catchphrase, Glorious PC Gaming Race. Moreover, the accessories inside the box are written on one side. It includes the G-Skates mouse feet and ascended cord. In addition, two texts indicate the mouse's extremely lightweight abilities, and it's ideal for small to medium hands.
Everything you need to get started with your Glorious Model D Minus is neatly packaged in black packaging.
Glorious Model D Minus Contents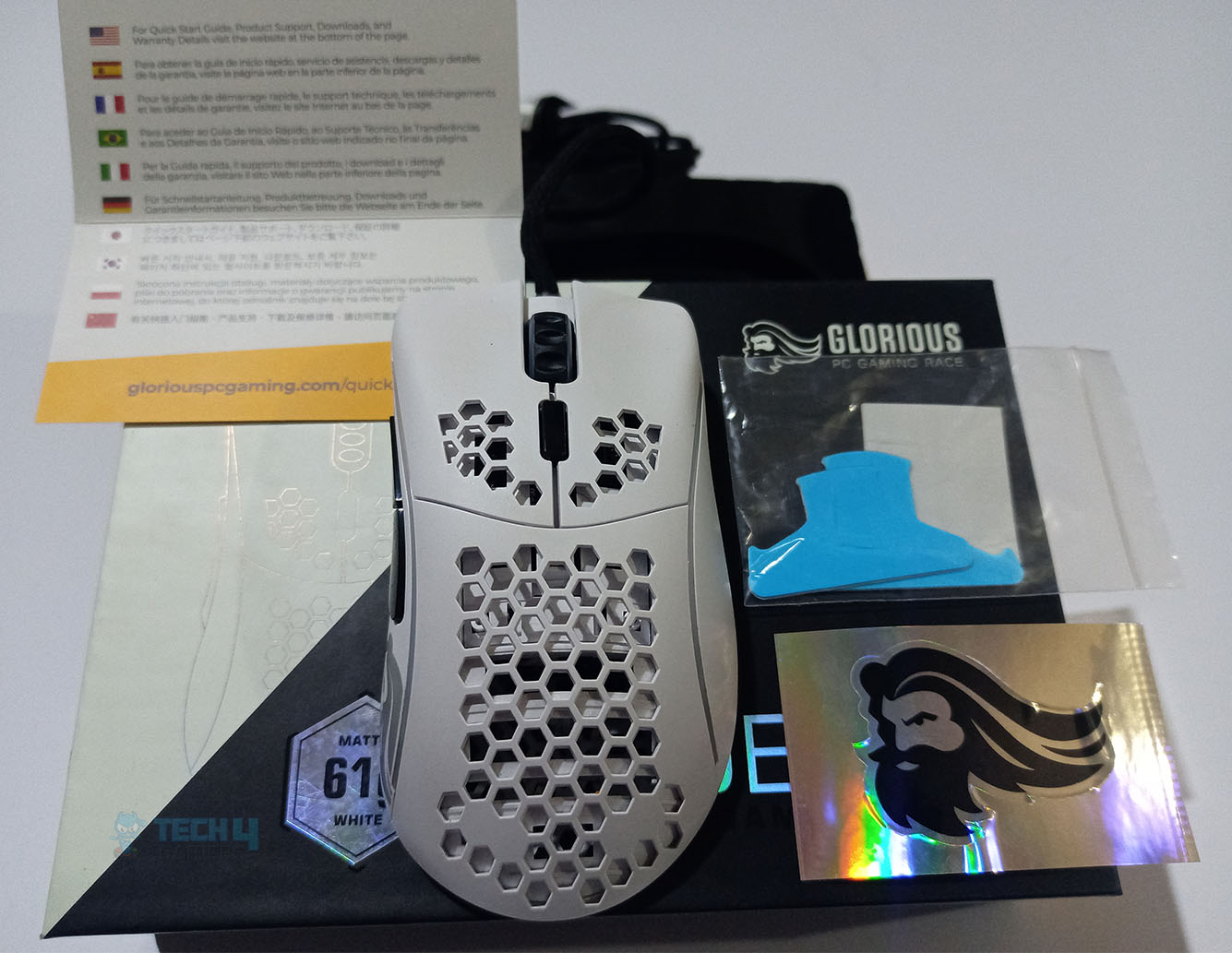 1 x Glorious Gaming Mouse Model D Minus
1 x Glorious G-Skates
1 x Glorious brand logo sticker
1x User Guide
Inside the Model D Minus box, you'll find the typical stuff: a quickstart manual, some warranty papers, and a sticker. You also receive two big extra feet that effectively double the mouse's gliding surface. While I appreciate the inclusion of these extra-large feet, I wish the replacement feet for the smaller ones should also be included since I believe more customers may benefit from them. In any case, it's wonderful that Glorious lets you customize your experience to your preference.
Glorious Model D Minus Closer Look
After briefly introducing Glorious's Model D series, let's examine what the mouse can do and what features it comes with. The Glorious Model D Minus Review indicates, "Ergonomic design primarily for right-handed users." If you are a fan of MMOs or MOBAs, you probably see the market for gaming mice differently than Glorious does. For fast-paced games like shooters and battle royales, where the quickest trigger finger usually wins, the subreddit-inspired peripherals maker's emphasis is on the lightweight mouse with simple button layouts, which appears to be one of the finest gaming mice.
Those who prefer a slimmer profile and southpaws alike will like the Glorious Model O and its little sibling, the Glorious Model O-, which provide a symmetric, IntelliMouse-style solution. Both the original Glorious Model D and its variant, the Glorious Model D-, sacrifice symmetry in favor of a more practical, ergonomic layout.
As a result, all Glorious' offerings have similar specifications except for size. All of them are relatively compact, with eye-catching, elegant RGB lighting and meticulous attention to detail across all components that set them apart from the competition. The Model D- carries on this heritage with a feel of quality that transcends its $50 price tag, thanks to details like its PTFE feet, sensors, and buttons.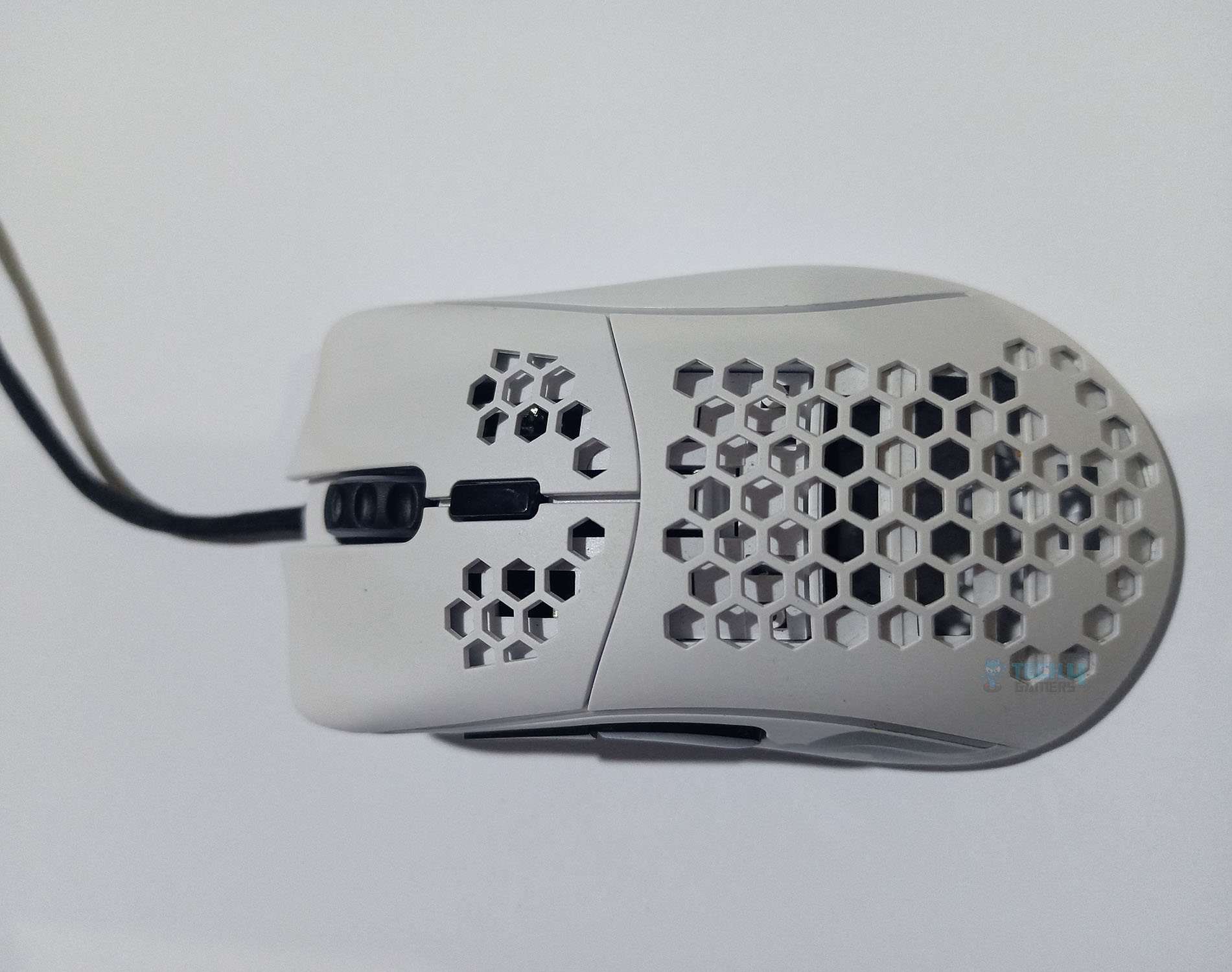 This is the mouse for you if you appreciate using ergonomic mice. Whether or not it's a good fit is a matter of taste, but I can't see someone who likes ergonomic mice actively disliking this one unless, maybe, you have a strong preference for a hump that's more toward the rear than the center.
The EC inspired one of the most iconic mouse designs, the Model D Minus. Thus, those well-versed in the mouse industry may expect few surprises from this Model. If you like a mouse with a center hump and are searching for a medium-large ergonomic model, this one may be a good option because of its smooth, undisturbed design that lacks any jarring indentations or curves.
Although this mouse may be used with almost any grip style (with the possible exception of a pure fingertip grip, for which there are probably superior options), how you want to hold it will significantly impact your experience. In this regard, we reviewers can only provide a general framework. Theoretically, some individuals with tiny hands like large mice, whereas others with larger hands may do better with smaller mice. Consider these size/grip suggestions as speculative at best.
You may or may not like the honeycomb textures on any Glorious mouse. The Holes cover the body and part of the right and left mice buttons to cut down on weight. However, this leaves the PCB exposed. The honeycomb shell is becoming more popular, and the PC Gaming Race is among the businesses leading the charge. The shell and the majority of each click button seem to have been punched by a machine, leaving just a sparse web. The mouse's structure is sound since its sides are solid, and struts are between them.
The right and left click buttons of the Model D- are beveled and flayed outwards, making for a more comfortable grip regardless of how you want to hold your mouse. This shape felt natural in my hands, although the buttons' design allowed for considerable lateral play. This was also a minor issue with the pre-redesign Model O and Model D models. However, players who like stronger lateral movement must be mindful that the wobbling is not likely to culminate in an unintentional button press due to the quality of the switches beneath and the hardness of the plastic exterior.
I've always liked Glorious because of the matte finish they employ. I didn't have any problems with the coating, and I prefer it over a stickier yet fingerprint-attracting coating since it helps the mouse appear and feel cleaner. This is a matter of taste, but if your hands get dry, this coating should do the trick. The matte contributes to its usability by making it comfortable to hand. If you're not a fan of having holes beneath your thumb or anywhere else your hand rests, you shouldn't have any issues here since the remaining holes are smooth, and there are none around grip contact areas.
Glorious Model D Minus Aesthetics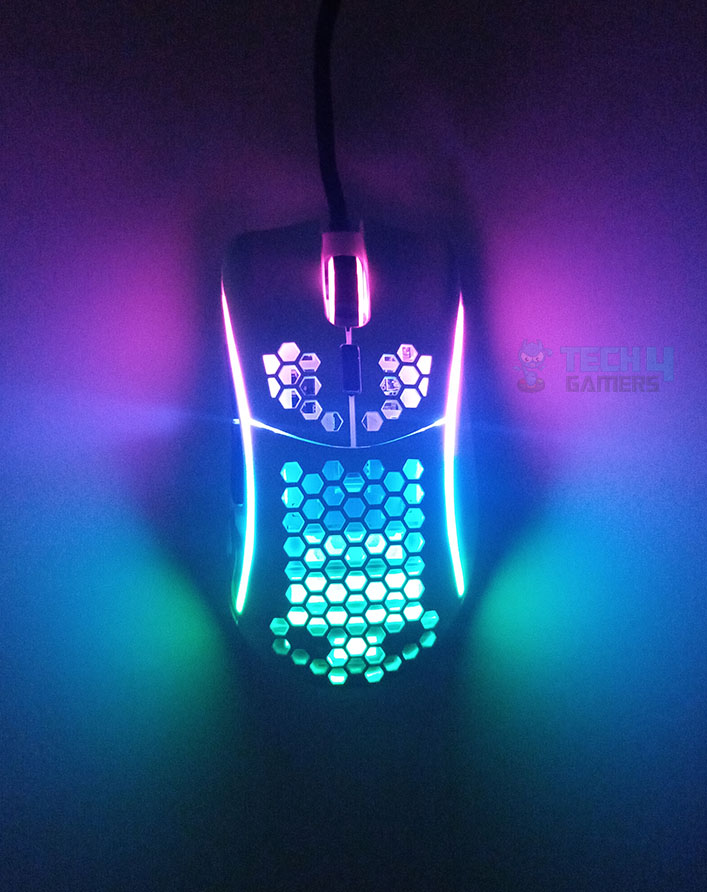 Aesthetics are just as important to me as functionality in design. I don't know whether the mouse loses much weight due to the holes or if they have any noticeable effect on the mouse's performance in any way. Upon first glance, I can attest that it is both polished and fascinating. The Model D Minus isn't like other esports mice that try to hide their RGB illumination below a plastic shell.
In reality, the honeycomb shell allows for a lot of customization in terms of color. The mouse has three different types of illumination: the lightning on the scroll wheel and two RGB lighting strips on the side panels. Because you can see the interior, the illumination fills out the area within the mouse.
The sensor and internal components are visible, and the interior has a soft glow. Use Glorious's proprietary software for customization. These RGB zones are very crisp. After I connected the mouse, a Glorious effect appeared automatically. Seeing so many distinct areas distributed over each RGB stri[p was remarkable.
PTFE Additional Skates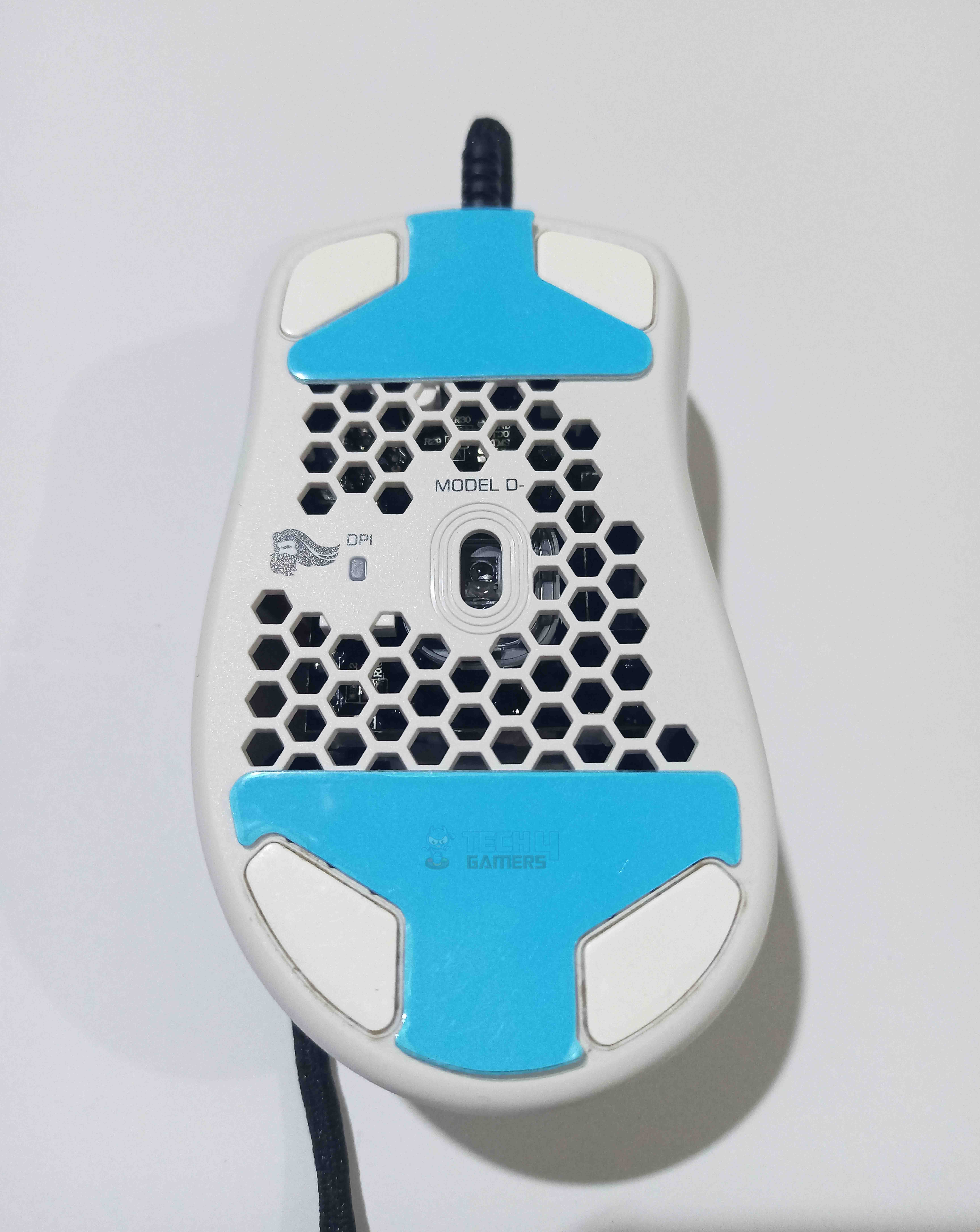 The mouse has four little G-Skate wheels on the bottom. You can expect a swift and easy ride from them out of the box. In my opinion, these are among the best stock feet available, but relatively quick. The majority of individuals will find this to be an improvement, but those used to having greater command over their feet may require some time to adapt.
Two extra, bigger feet are provided so that you may adjust the mouse's gliding area to suit your needs. These won't make a huge difference in your speed or glide, but they're great if you'd rather use bigger skates. The feet now come with humorous blue "remove" stickers, a new and entertaining addition. Many forum members were unaware that Glorious' mouse feet had a protective layer on them before use; the manufacturer also picked up on this. Whatever the situation, it's hard to ignore that you must take off the protective blue sticker before using the mouse.
Button and Mouse Wheel Functionality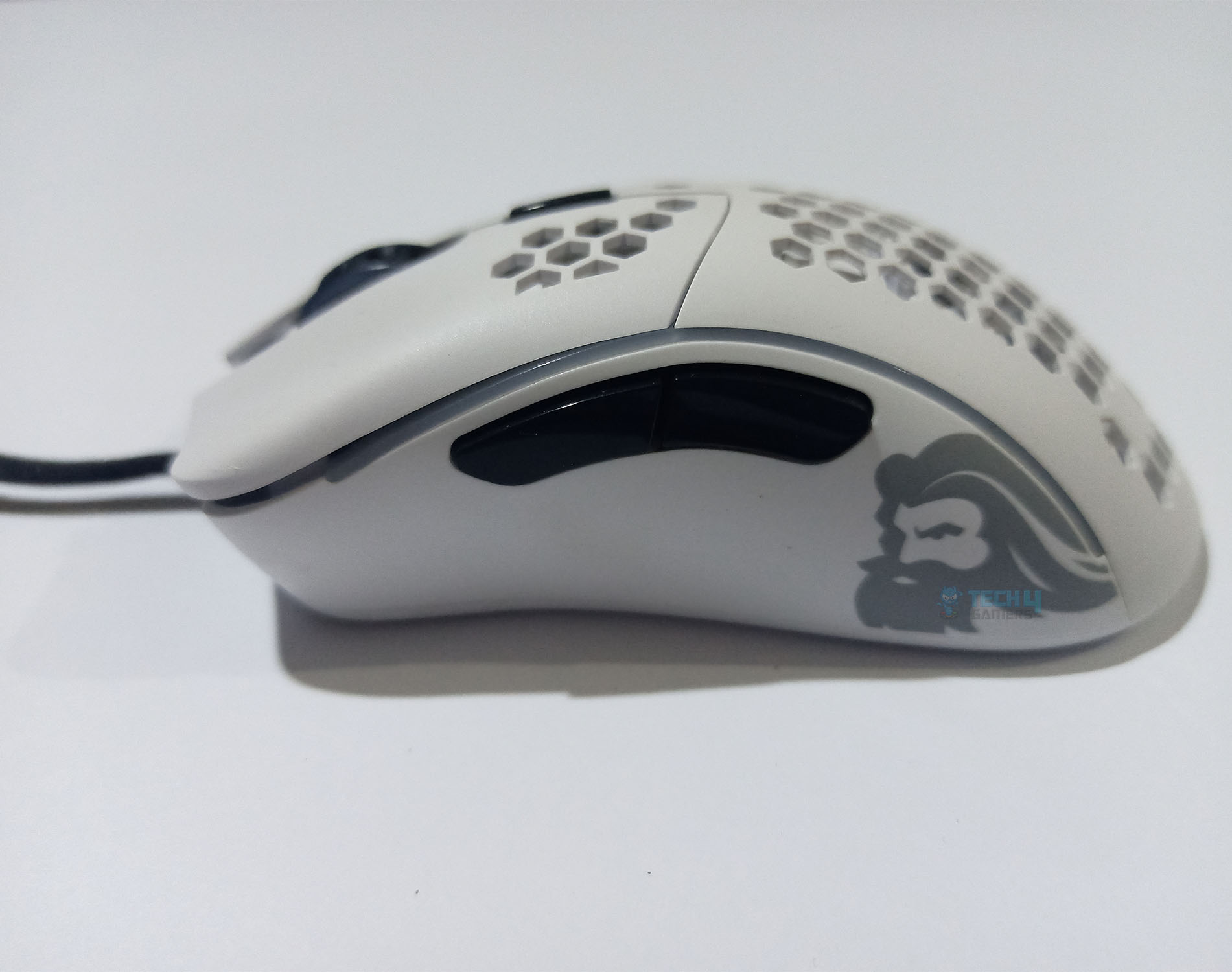 The Model D Minus is swift and precise thanks to Omron switches for the right and left buttons and G-Skates signature PTFE feet. On the other hand, the shooter player's input needs are met by a straightforward six-button layout. In Glorious' software, you may assign custom functions to the right and left click buttons, the two side buttons, the inward scroll wheel, and the DPI button located at the lower right of the wheel.
The Model D Minus logo and branding are less pleasing to the eye. There is a picture of the mascot of the infamous Glorious PC Gaming Race where your thumb would normally go and on the bottom of the mouse, symbolizing the exclusive nature of its representatives. An even more lenient "Glorious" stamp in smaller font size may be seen on the right side.
This combination of clicks is highly pleasing since the click sensation is so distinct and immediate and because there is so little pre-travel. However, there are a few minor issues here. Both the left and right buttons have some flex when not touched, with the latter experiencing more play toward its right side. While I don't see any of these issues as dealbreakers, they are worth mentioning. There is some secondary movement, as with many mice, but this is to be expected and falls well below acceptable ranges.
Despite its small volume, the scroll wheel has a surprising amount of tactile variation between its various stages. The whole thing is solid and dependable, and the amount of power needed to click it is just ideal, in my opinion. Its firmness prevents accidental clicks when scrolling, yet its flexibility makes it simple to click without changing your grasp. In addition, there is no discernible side movement, and the overall scrolling experience is incredibly stable.
There is no sign of the usual "side button mushiness" upon activating either side button. There's a little pivoting problem, with almost little post travel in the middle of the side button and more obvious post travel when you press away from the center. As far as I'm concerned, however, these side buttons are up to pace since they never move inside the shell until you push them with a lot of power and at their extreme edge. Even then, travel remains constrained.
Since the scroll wheel and buttons are one of the most frequently criticized features on enthusiast forums, I've dedicated more time to assess this section. This isn't to say that every Glorious mouse had problems in this area, but rather that people are considerably more likely to write about their objections than their praises. The primary buttons aren't perfect from a technological standpoint, but after putting them through the proverbial rough patch, I've concluded that they work well for everyday use.
Build Quality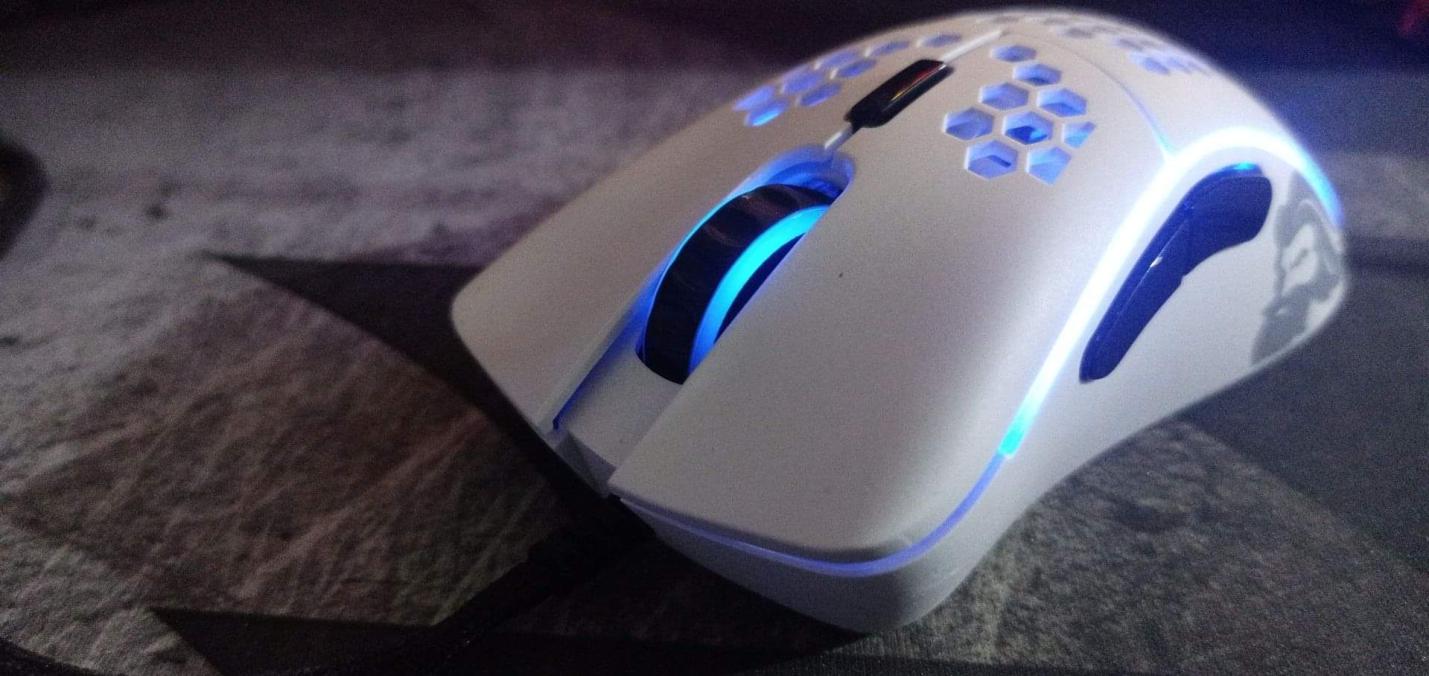 Given that Glorious isn't precisely renowned for its impeccable Quality control record, this part might be more crucial to this mice than it would be for others. Over a few weeks, I put the Model D Minus through its paces with various standard "stress tests," It passed with flying colors. There is no bending or squeaking, as on a few of the brand's earlier models.
Thus the mouse has a solid, premium feel. Shaking or tapping the mouse has no physical effect on it. As it turns out, they weren't blowing smoke when they said they'd improve their quality control. Reviewers can only analyze what's put in front of them, errors happen, and no company has a perfect record of providing immaculate product after immaculate product, so take everything with a grain of salt.
The included cable is the so-called "Ascended Cable" from Glorious. It's a pliable cable that bends like a paracord and has prongs at either end for a secure hold. It's so light and flexible that it's almost unnoticeable. Manufacturers often provide poor-quality cables. The Ascended Cord removes the need for third-party modifications. Their exclusive braided cable is so supple and lightweight that your mouse will feel like it's wireless. Moreover, Additional colored ascend cords are available for your Model D Minus, allowing you to personalize your mouse further.
Performance and Sensor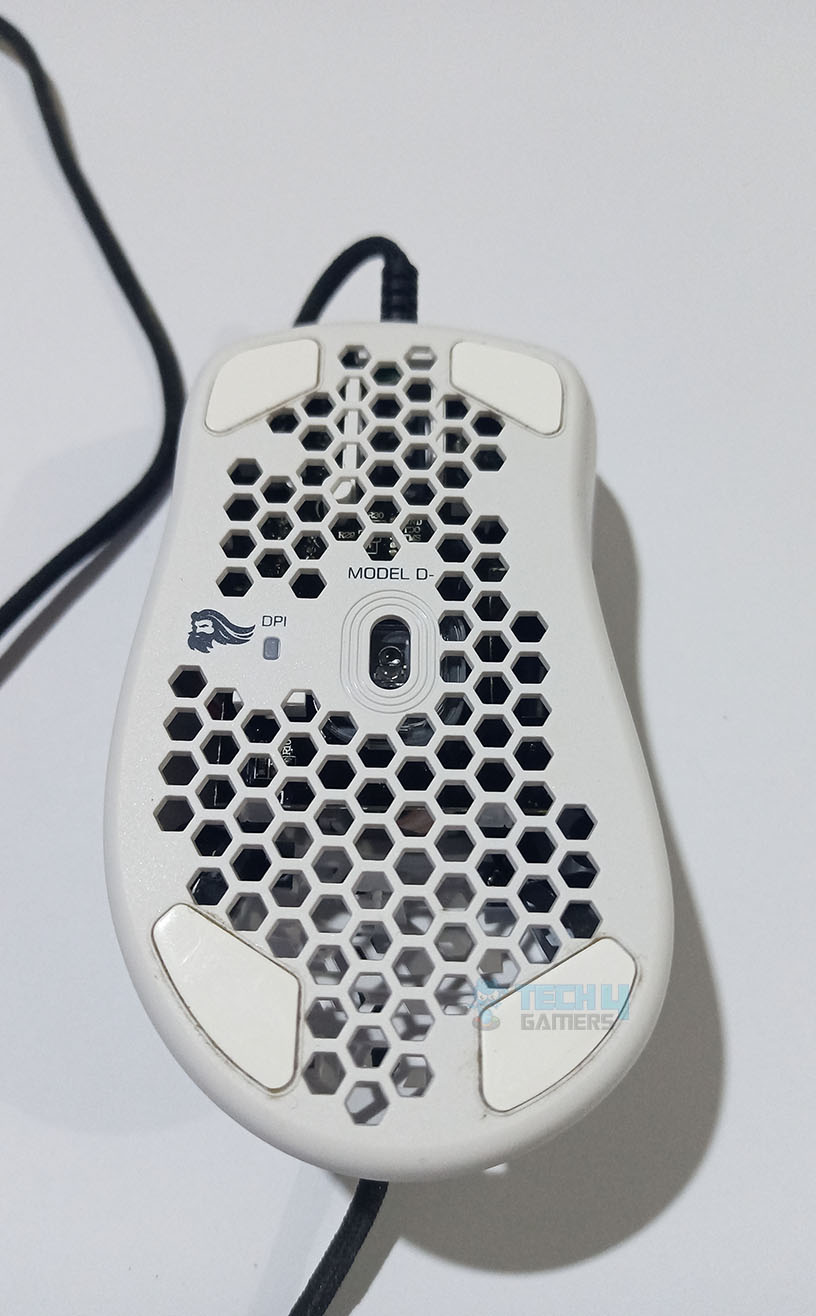 First, the most basic fact: Forget about trying to macro Tinker in the Dota pubs with the Model D Minus or piloting a plane in the latest Microsoft Flight Simulator with it. Its six-button arrangement is optimized For FPS, the games we focus on testing. Like the rest of the Model D series, Glorious is packed with a Pixart PMW 3360 into the Model D Minus. This sensor has a maximum speed of "250-plus" IPS and can withstand approximately 50G of acceleration at its maximum sensitivity setting.
Valorant and Counter-Strike: Global Offensive offer one of the most intense testing methods of raw mouse input competence in eSports. They are the actual test of mettle for any mouse. At low DPI settings, the Pixart sensor in the Model D Minus proved extremely dependable. In order to turn or flick-aim with any precision at the low sensitivity level preferred by us. At 1000 DPI, you will need to make large movements across the mouse pad.
Here is where the extraordinary nature of Glorious' PTFE feet shines. All the good things about the Model D Minus, like how portable it is, how ergonomic its shape is, how sensitive its sensor is, how stable its feet are, and how responsive its switches are, work together perfectly. Aside from the buttons, the Model D Minus has no apparent flaws that require improvement. Inconveniently, the mouse's DPI setting indicator light is located underneath the mouse. This can be a major hassle if you frequently toggle between two preferences.
Like other models of the Glorious mouse line, this one has a scroll wheel with a notched design and does not respond to sideways nudges for scrolling. Gamers who are into FPS gamers found it to be a helpful tool. It would help if you had distinct scroll inputs in these games to switch weapons or zoom levels without accidentally activating another command.
In this image, you can see that the Glorious' cable design provides a tight seal around the inner wires as compared to the Model O, which is great news given that some users experienced connection issues with the Model O. The test unit we have hasn't experienced any cable issues like that. It was true that the cable had a more supple and unrestricted feel than one made from braided fabric.
Software Support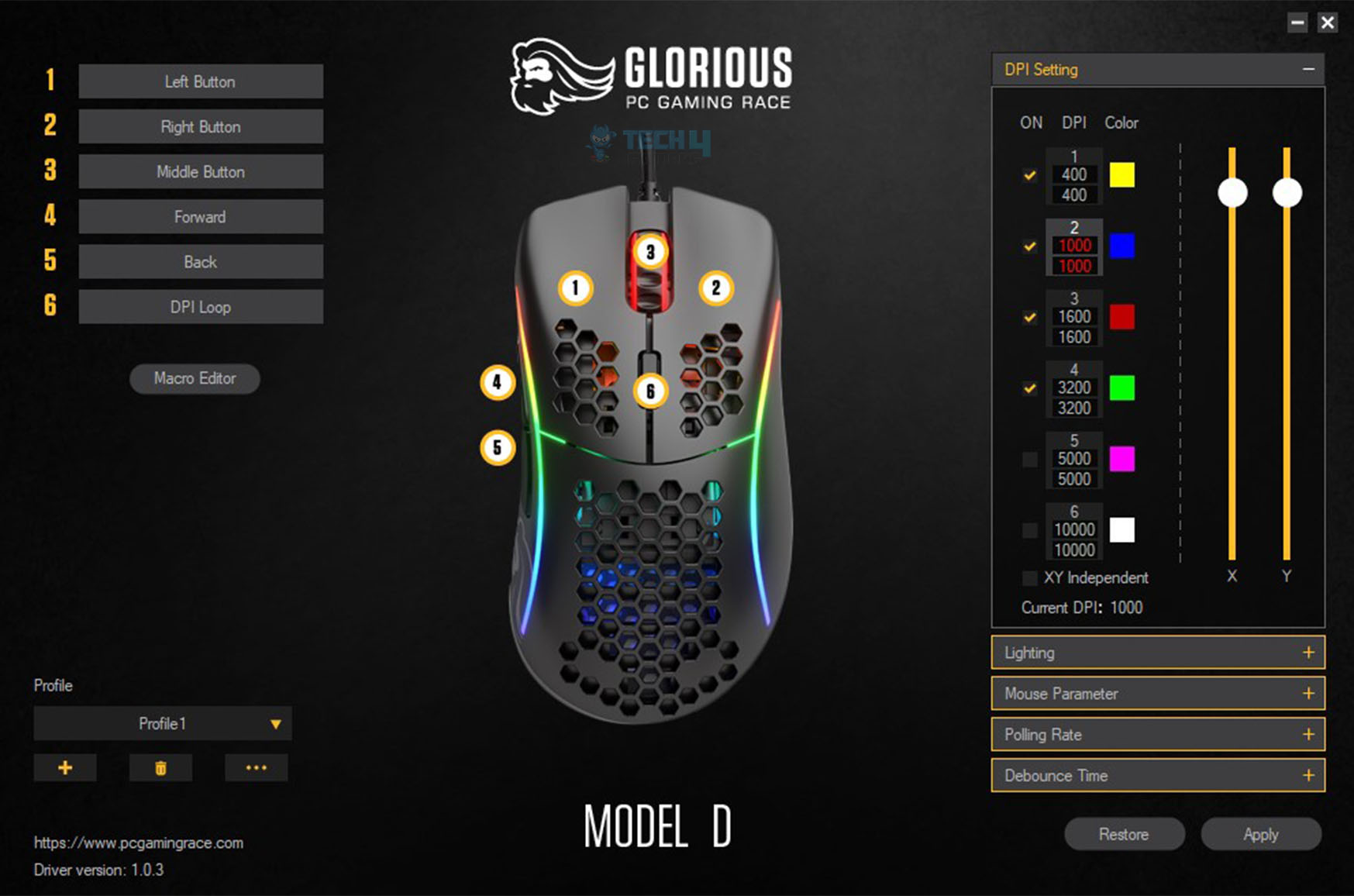 Both Glorious mice have unique setup software that is otherwise quite comparable. The Model D software program offers a simple one-window easy user interface to discover any feature you need, including rebinding keys, generating macros, adjusting DPI settings, and customizing lighting.
Your Glorious Model D-'s software is uncluttered, easy to use, and packed with useful functions. Most notable is the customizable debounce duration, which defaults to 10ms but is suggested at 4ms. If you prefer to tap fast to cancel off weapon recoil, you may want to decrease the debounce period after your switches register an input. This enables you to pick between speed and precision while clicking fast at high speed. There are two distinct DPI sliders, one for horizontal and one for vertical movement.
Using the accompanying software, you can modify the colors of the RGB lighting and pick from several various lighting effects. The amount of control you have over RGB is impressive. Preset actions are stored in the software and may be customized using the gazillion colors inside the RGB spectrum, which is likely enough to make a lighting enthusiast busy. Even the mouse's indicator light on the bottom, which displays the DPI setting, may be customized to show different colors to better distinguish between them.
The Glorious Model D minus software is great, and it lets you modify the luminance and sensitivity with a few clicks. It's important to remember that Model O's software differs from Model D's and requires a separate installation. In the same style as the Model O, this mouse works nicely with Windows. However, the software is not accessible for macOS.
This prohibits you from rebinding the buttons or altering the color of the LEDs. However, there are certain places where you're not as well served as you would be with a high-end mouse from a well-known brand. Although you can make your profiles with unique settings for DPI, button mappings, and so on, you can't link them to certain applications or games. Unfortunately, Model D lacks internal memory for user profiles, making it impossible to take them with you unless you export them and manually transfer them.
Mouse Utility
The Model D Minus may not be your preferred mouse for usage in a professional setting if you want a heavier mouse for increased efficiency. The remaining qualities, though, are rather intriguing. You may disable the RGB lights if you choose, and the mouse's clicks and scroll wheel are surprisingly quiet. The mouse's high DPI level is beneficial for editing and other software.
Overall, it appears like Model D Minus is performing well; if you can get beyond its debatable aesthetically displeasing design, it ought to be sufficient for any professional purpose. At this time, the Model D Minus's gaming performance is not only state-of-the-art but also flawless across all relevant metrics. It's hard to choose a favorite feature of this mouse since they're all so well designed.
The mouse's customizable RGB lighting will do wonders for your setup's aesthetic, and its illumination is well-diffused to prevent headaches. The mouse-specialized skates are the best you can get, while the bigger skates are an option if you like them. You won't experience any flaws from the mouse's perfect sensor. The mouse's low weight makes it one of the most ergonomically friendly gaming mice ever. Overall, the Model D offers a heaven-sent gaming experience without needing to pay over a hundred dollars since this mouse offers most high-end capabilities at a reasonable price.
Personal Experience
The Model D minus ergonomic, right-slanted shape is easy on the hands for those with a wide variety of grips and sized hands. In addition to its build quality and specialized software, this product is highly adjustable. Another size, the Glorious Model D, is also on the market. There is no discernible difference in performance, although Model D is much heavier. This mouse looks much like the Glorious Model O, but it's more comfortable because of its right-angle design and rounded corners.
The scroll wheel and its two side RGB strips are illuminated. The honeycomb structure covering its body helps keep it lightweight. The feet slide smoothly, it's very lightweight thanks to the honeycomb pattern design, and it even has spare skates. Design-wise, it's more than adequate. However, unlike the Glorious Model O, this mouse has some wiggle room at the corners where the RGB lights and the left/right-click buttons meet on the rear panel.
Squeezing this mouse reveals that, although it has no serious flaws, it is a little fragile. If you use a mouse bungee to adjust the cord, this mouse becomes very lightweight. Of course, optimizing the mouse's weight is impossible unless the mouse can be modified. Using the Glorious Model D minus is a pleasant experience. The mouse's body and right-angled form make it comfortable for people with various grips and hand sizes.
We recommend the Glorious Model O if you want to utilize your fingertips since this Model is better suited for a palm or claw hold. This mouse is comfortable with a palm grip regardless of hand size. All controls, including the scroll wheel, should be comfortably within reach. The cable on the Glorious Model D minus is top-notch. The improved 'Ascend' cable, also included with the Model O mouse, is very flexible, light, and does not add any resistance to mouse movement.
The PTFE feet are top-notch, allowing for smooth movement on both a mousepad and the tabletop. Even if you're uncomfortable with the smaller skates, you can always use the bigger ones that come with the set. Two side buttons are present on the left side of the mouse, which is sufficient for FPS games but not ideal for MMO games. While the software does allow for many profiles, there is currently no way to set a button to toggle between them.
All buttons are clicky. However, the side buttons are significantly larger than the Model O buttons, making them more comfortable with an ergo-shaped mouse. Check out the Glorious Model I if you want a lightweight mouse with a layout like the Glorious Model D minus, but with additional buttons on the side. This gaming mouse has very little click latency. There is no discernible lag or delay while clicking the mouse. We put the mouse through its paces using the software's lowest debounce setting. The scroll wheel on this mouse is typical fare. It has distinct, although somewhat faint and muted. It looks and functions almost exactly like the Glorious Model O.
Final Verdict
Glorious PC Gaming Race demonstrates its expertise in creating a top-tier gaming mouse with the release of the Model D Minus Mouse. The mouse must be comfortable to hold. It must be solid and trustworthy. It would be best if you didn't ever reach the limitations of its capabilities. I'm all for fancy extras like a wireless connection and a slew of inputs, but the basics need to be spot on for me to recommend your mouse.
Glorious never deviates from what seems to work. In addition to the symmetrical Model O mice and the bigger Model D mice, the brand now offers a smaller, more lightweight ergonomic option called the Glorious Model D Minus. Minor issues exist here at most. If you look closely, you can see the buttons jiggle, and there's a DPI indicator on the bottom of the mouse. However, the problem of manufacturer branding isn't to be ignored either. When the initial Glorious mice came, and even now, the atmosphere was unsettling.
In and of itself, the Glorious Model D Minus may not be the most groundbreaking product to hit the market in recent memory. Both ergonomic mice that are low in weight are available. On the other hand, the cost is the most critical factor here. The Model D Minus has a pricing that is more accessible than that of its well-known rivals' similarly-functioning mice.
There are a lot of cool new features on the Model D Minus compared to previous Glorious mice, but I believe the one that fans are most anticipating is the enhanced quality control. There is no creaking or bending while using the mouse, and although the buttons aren't perfect, they aren't annoying enough to detract from my experience.
Of course, I can only evaluate this mouse based on this one sample, but so far, so good. Combine it with its sturdy shell, fantastic wireless performance, lightweight chassis, and excellent stock feet, and you have a very dependable mouse. While the Model Minus may not be the most groundbreaking product, it does precisely what it promises to accomplish at a reasonable price, earning my praise.
It's commendable that Glorious is making an effort to get this product to the market at these rates since high-quality mice in this price range are still uncommon in today's market, and the handful that does exist tends to cost a lot of money compared to what a gaming mouse generally costs.
Comfort is the deciding factor between the Model O Minus and Model D Minus, and that varies by hand, size, and grip. Smaller hands and clawed grip users will appreciate the Minus versions' increased comfort. The larger sizes are better suited to bigger fingers and pads, and they also fill out a palm beautifully for palm and hybrid grip players.
The Model D- also saves weight compared to the Model D. If you've spent more time with the D or the O, that'll affect whether one seems more like home to you. The Glorious D meets all of these requirements and costs less than most top manufacturers, making it an attractive option for 99 percent of gamers. Explore the possibilities from specialized mouse manufacturers, beginning with this one, if you need an esports mouse.
Coming Next: BenQ ZOWIE EC2-A Review
Was our article helpful? 👨‍💻
Thank you! Please share your positive feedback. 🔋
How could we improve this post? Please Help us. 😔
[Hardware Reviewer]
After many years of exploiting various pieces of hardware, Abdul Hannan now serves as an editor at Tech4Gamers. He's been in the PC hardware reviewing industry for almost a decade, and his staff of passionate geeks and reviewers is second to none.
Abdul Hannan is constantly seeking new methods to improve the performance of his computer components since he is an ardent overclocker. He is well-known for providing the most extensive and unbiased analysis of the newest and greatest hardware for PC gaming, including everything from GPUs to PSUs.