Consumers need to choose from hundreds of RAM kits when exploring the RAM world. Besides the performance, you must look at the aesthetics, cooling, and lighting effects. Corsair RAM kits are one of the best in the industry in terms of all those points. But what if you recently bought a kit, and now you can't change the color of the Corsair RAM? Let's explore exactly how you can get the lighting effects you desire!
Key Takeaways
Using Corsair's iCUE software, you can easily manage and control the RGB of all your PC components, even if they are from another manufacturer.
iCUE allows users to monitor several components' temperatures, voltage ratings, and fan speeds.
The iCUE software showcases multiple preset murals, effects, and static colors. Users can also customize and create their colors and effects.
Users can save multiple color setting profiles and change their RAM lighting effects with a simple click.
Downloading Corsair Software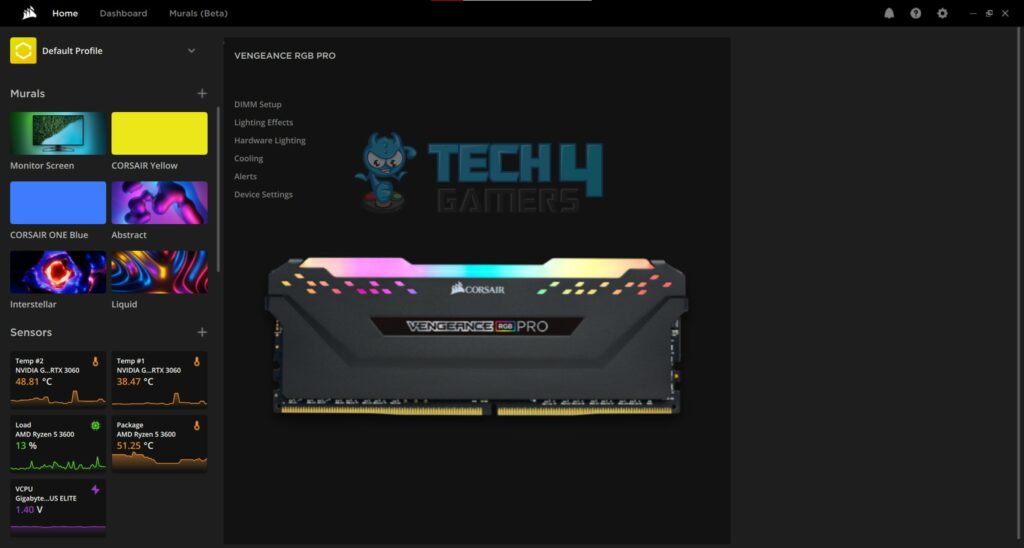 The
first
thing you will need to do after buying a pair of
Corsair RAM
is to
download
relevant software from
Corsair's website
. In the case of
RAM
kits, you want to download Corsair's famous
iCUE software
to change all the settings and lighting effects of the RAM.
Through the Corsair iCUE software, enthusiasts can monitor not only their RAM voltage and temperature but also the temperatures of their CPU and GPU. Moreover, you can also check the fan speed of your graphics card and CPU cooler on iCUE.
Depending on the amount of Corsair products you own, you can practically maneuver through all of them on iCUE without downloading separate software for each. So, to add your lighting effects to your RAM, your first step should be to download the relevant software. But, you might want other Corsair software to change the settings of several components, such as the fan speed of Corsair case fans.
On the other hand, if you have an ASUS motherboard and it's not responding to your lighting adjustments, kindly read through our guide on Aura Sync not detecting the motherboard. You might also have to activate Windows before personalizing your PC.
Exploring Corsair iCUE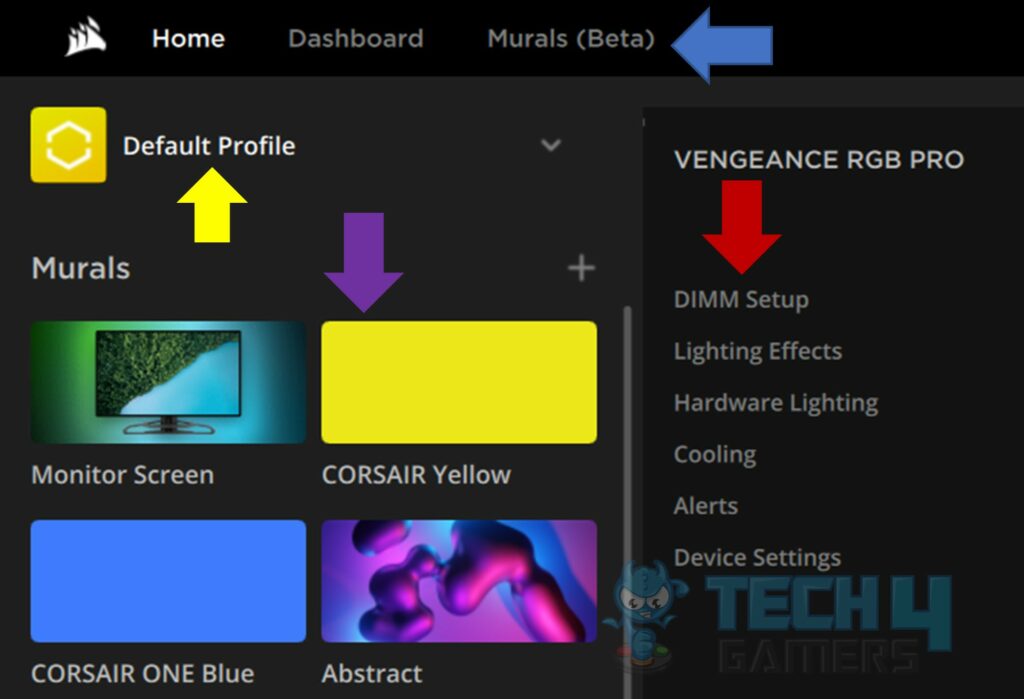 After
downloading
and installing
Corsair's iCUE
software, you should find similar options as shown in the above
image
once you
run
the software. Depending on your taste, you can
change
your RAM color by selecting any
"Murals."
However, if you want more options, you'll see a different option labeled "Murals (Beta)" on the top bar of the application. You can create new murals or use any of the pre-generated ones by Corsair.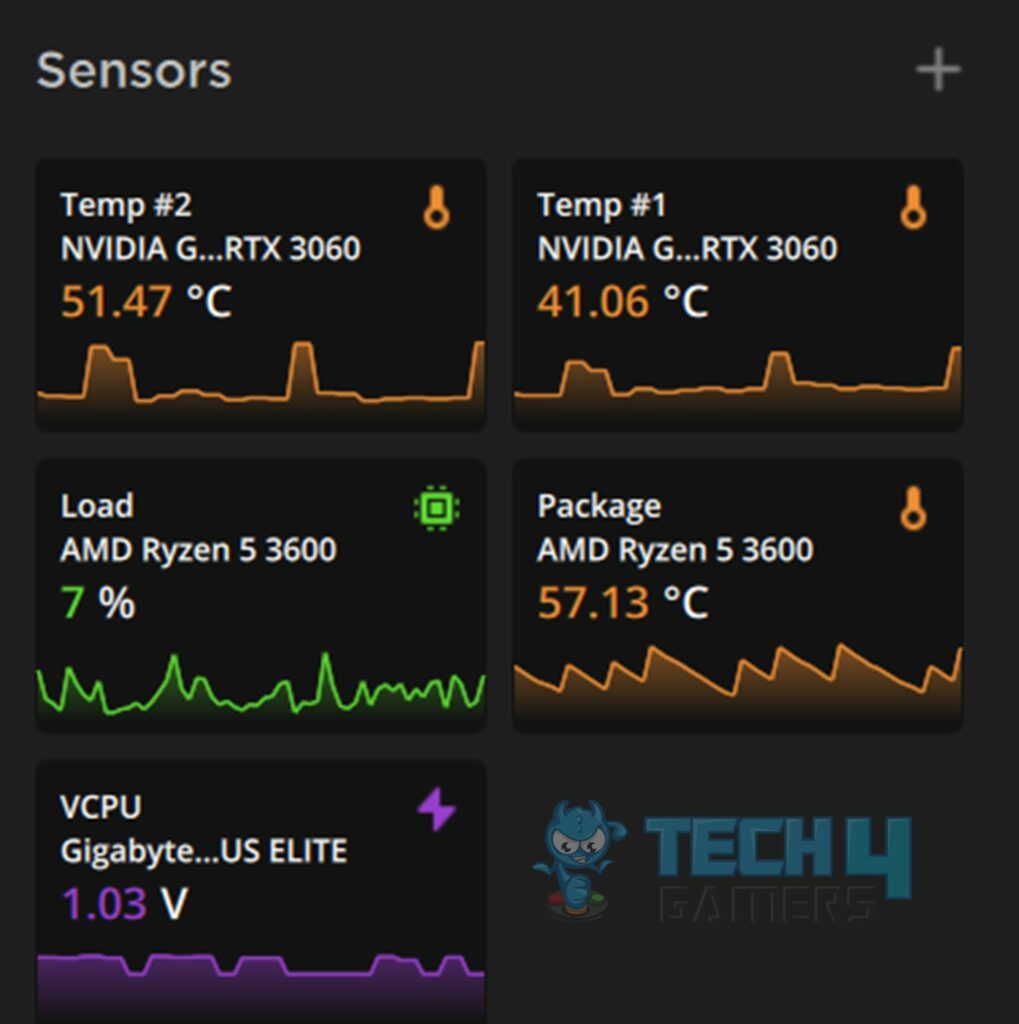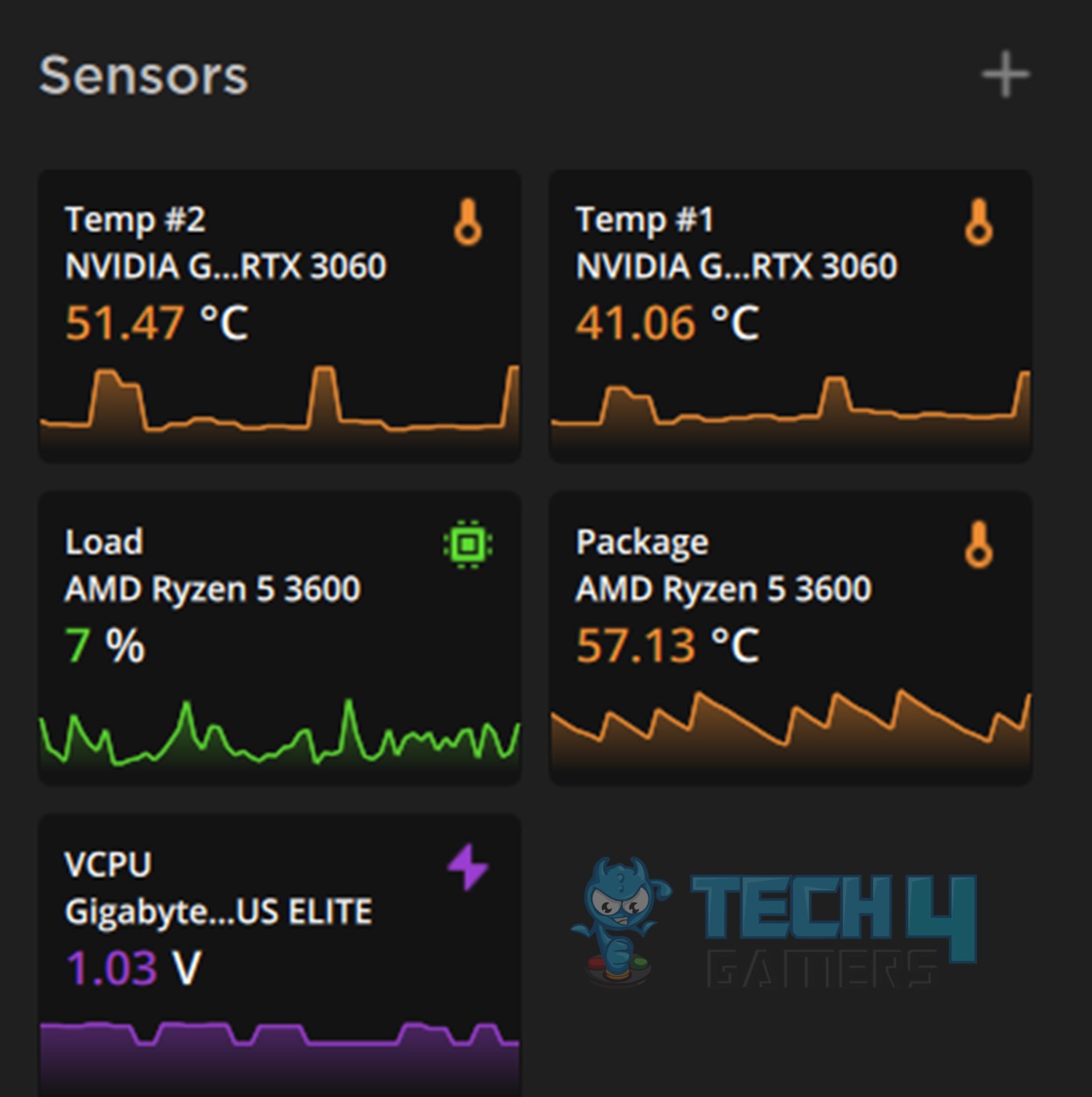 But that's
not all
about the
software.
Beneath the murals on the home screen, you'll see a bunch of
"sensors,"
with
multiple
values. As the
above
image shows, you can see your graphics card's
temperature
at different
places,
the
total load
on the processor, and its
package
temperature. Moreover, you can also monitor the
voltage consumption
of the motherboard.
If you go on the "Dashboard" panel, you can view the detailed graphs and temperatures of your processor, motherboard and GPU. Furthermore, you can also look at the GPU and CPU cooler fan speeds.
You can also customize your profiles for all the Corsair products you own and match your desired lighting. But if you want to customize and change the color of your Corsair RAM lights, the settings on the right-hand side of the home screen will interest you more.
If you have enabled a firewall and cannot download Corsair's iCUE software because of it, we recommend reading through our guide on disabling PC firewalls. You can also attempt restarting your router if all else fails.
Changing Corsair RAM Color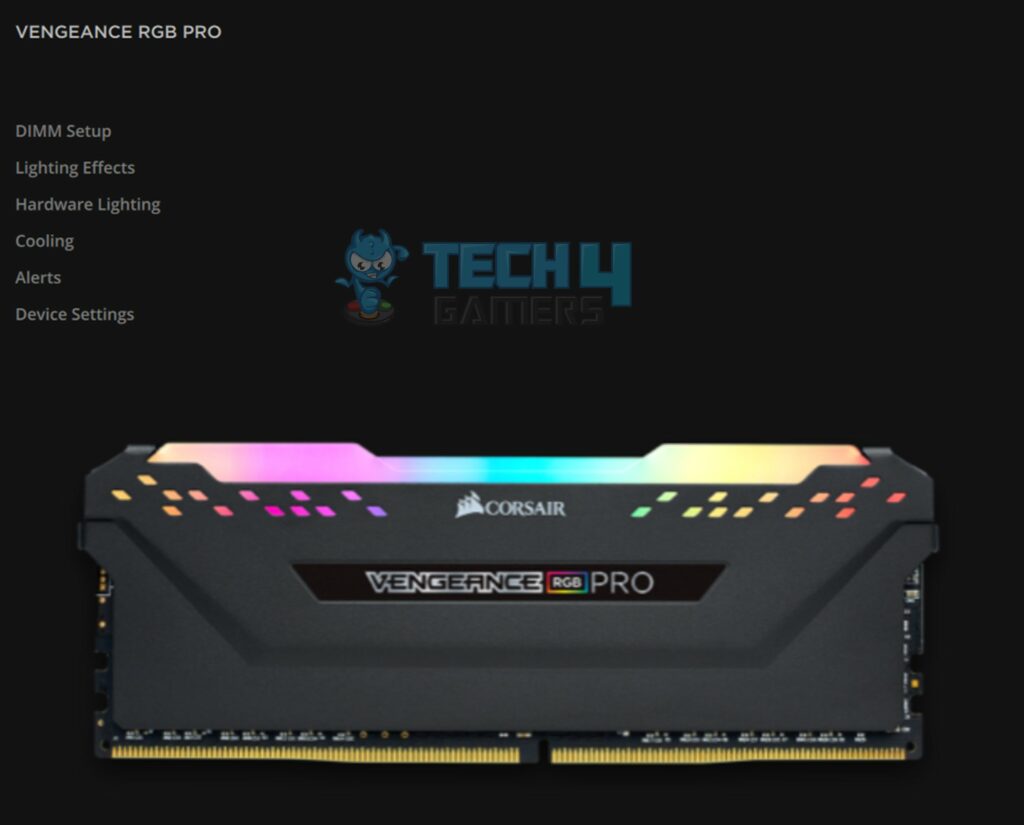 After you have
set
the software as you
like,
let's change the RAM
lighting.
Return to the
home screen
of Corsair's iCUE software and look for your RAM's image on the
right-hand
side. You'll see multiple options from the image, such as
"DIMM Setup"
and
"Lighting Effects."
However, you'll click the
"Hardware Lighting"
button to
customize
your RAM
lighting.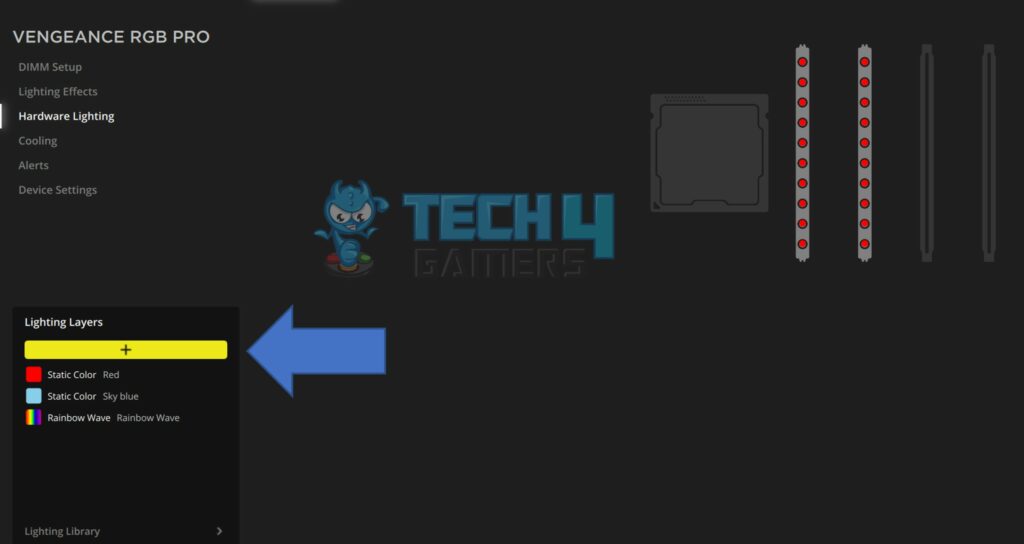 Upon clicking on
"Hardware Lighting,"
you should see a similar window open as the one in the
above
image. Under
"Lighting Layers,"
click on the
"+"
icon, and you'll see a flurry of
options
rise.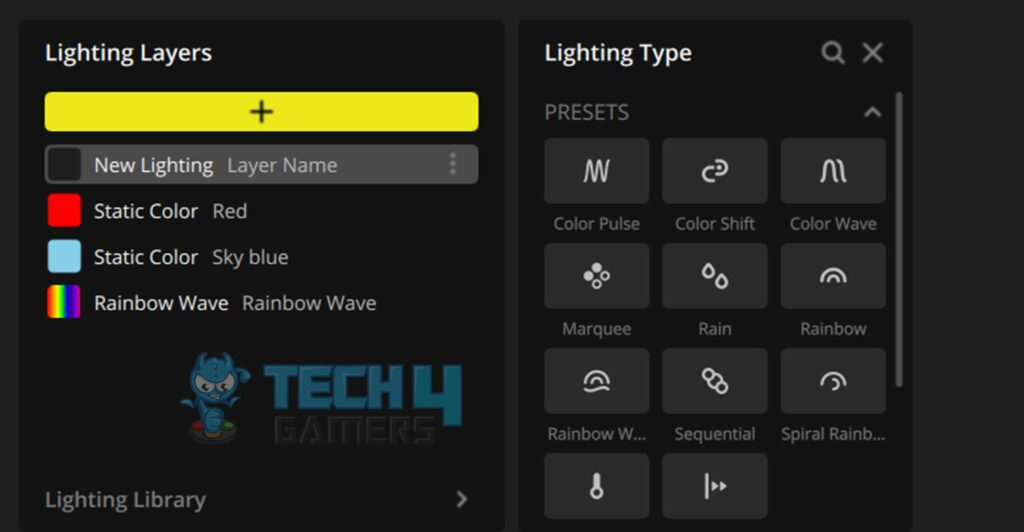 You have
multiple
presets to choose from, or if you
scroll down
, you can
customize
your lighting. We recommend checking out
all
the
presets,
depending on your preference. We love the
"Color Shift,"
preset at
medium
speed. You can also customize the
two
colors you
want
in the preset.
The "Temperature" preset is fantastic for consumers constantly worrying about their CPU's temperatures. To utilize this preset, you only need to customize the color of your choice at specific temperatures. If your processor reaches that certain temperature, the color of the RAM will change accordingly.
Also Read: How Much RAM Do You Need For Video Editing?
Customized Lighting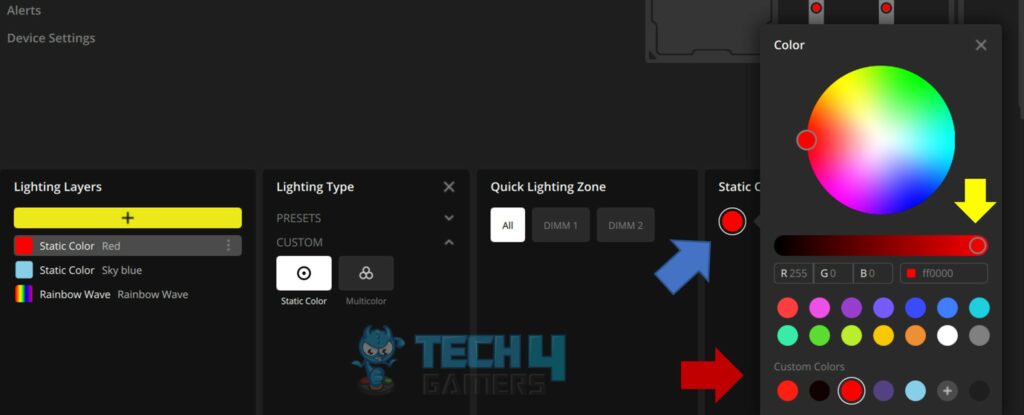 If you want
custom
static lighting colors, click the
"+"
icon and move towards
"Static Color"
. You'll see a new box heading
"Quick Lighting
Zone"
. If you want to change the color of only a
single
stick of RAM, choose the stick you wish to color
before
proceeding.
Because our system has two sticks of Corsair Vengeance RGB RAM, we only see "DIMM 1" and "DIMM 2" options. However, if you have four sticks of RAM, you can see options for all four sticks.
In any case, we wanted to change the color of all our RAM sticks, so we clicked on "All". You will see another heading called "Static Color". Click on the color box to see an RGB wheel open in front of you with a few preset colors and the option to select and save any custom colors you wish.
If you want to save a new custom color, click the "+" icon below the "Custom Colors" heading and select the color you fancy more. We wanted to change the color of our RAM sticks to a bright red, which we got to without tinkering with the RGB wheel a lot.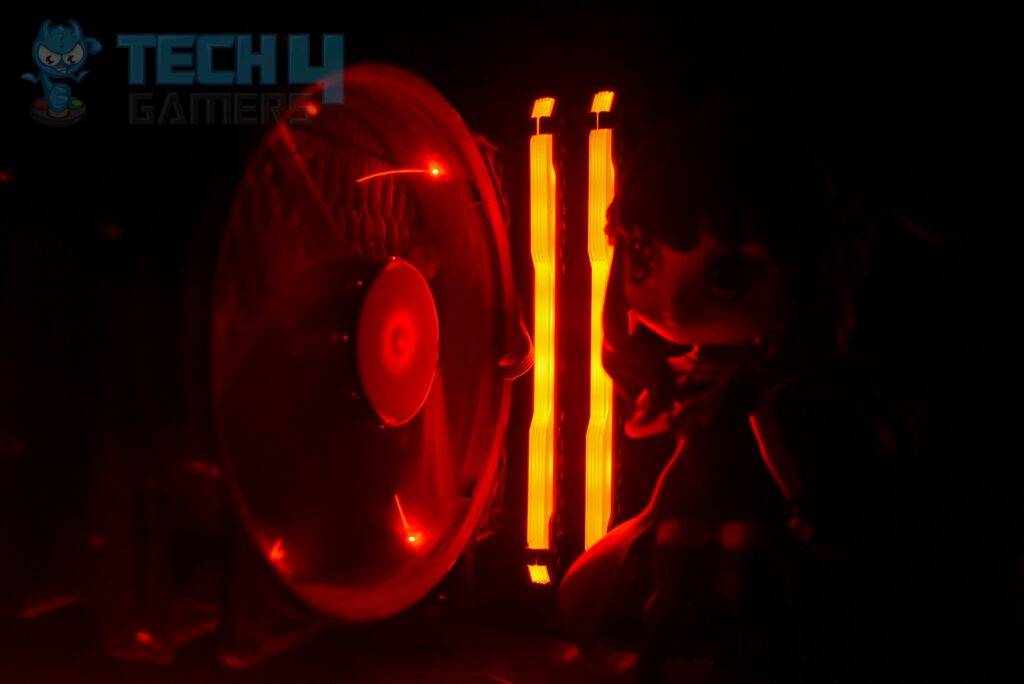 Seeing how our CPU cooler
showcases red,
we changed our RAM colors to a
similar
bright red. As you can see, the colors of the RAM have changed
successfully.
But what if you want to change the lighting colors
again?
Follow the same process defined above and change the lighting again. You could even save a separate setting for easier lighting changes. For example, we wanted to change the red color of the RAM to light white. So, we created a new color setting and changed the color as we liked.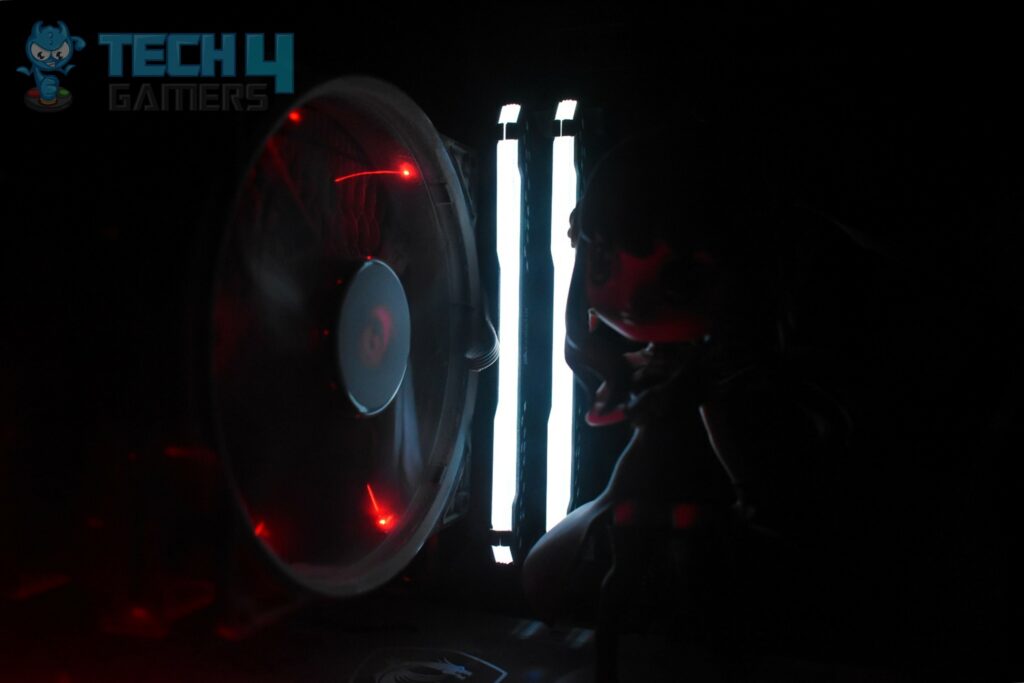 Thus, you can
easily
change the color of your
Corsair RAM
and create
multiple
color settings as you wish. Use
preset
static colors or
customize
your effects; you can do all that in
Corsair's iCUE
software.
If you're looking for Corsair RAM, the Corsair Vengeance RGB Pro DDR4 3200MHz, which we have reviewed, might interest you. If you want DDR5 RAM, please read our review on the Corsair Vengeance RGB DDR5 6000MHz RAM.
Conclusion
In conclusion, learning how to change the color of your Corsair RAM isn't tricky. All you need to do is download Corsair's iCUE software, set it up to your liking, and change the lighting according to your requirements.
You can choose from various preset effects, murals and static colors or customize your colors and effects. Moreover, the whole process barely takes five minutes if you have a color and effect in mind, else exploring the software can take slightly longer.
All-in-all, unlike a few software where you need to restart your PC or the software every time to apply the changes, Corsair's iCUE saves us from that hassle. So, if you plan on buying Corsair RAM for its RGB capabilities, we recommend going with it if your other requirements are being met.
Frequently Asked Questions
Does Corsair's iCUE software control all RGB?
Corsair's iCUE software can control the RGB of Corsair's products and other components. So, if you own an ASUS motherboard and GPU and have Corsair RAM, you can change the lighting of the motherboard and graphics card with iCUE.
Will having the iCUE software affect my gaming performance?
Having the software open in the background shouldn't affect your gaming performance much unless you have minimal RAM and a slow processor.
Is there software besides Corsair's iCUE to manage RGB?
If you don't want to use Corsair's iCUE software, you can try using the free OpenRGB software to control and manage your RGB settings.
Related Articles:
Was our article helpful? 👨‍💻
Thank you! Please share your positive feedback. 🔋
How could we improve this post? Please Help us. 😔