A good performance mouse?
Review Summary
The EC2-B is a competent esports and casual gaming mouse that provides a reliable, minimalist offering. You can depend on its precision, responsiveness, and ease of use. The modest curve of its shape and the fact that it offers low click latency should also make it seem snappy and pleasant to use. It's also rather lightweight, yet the cord is stiff, and the mouse's button flexes, so the overall quality is merely adequate.
Build Quality -

8/10

Value -

8/10

Design -

7/10

Performance -

9/10

Sensor -

7/10
Pros
Low click latency
Comfortable
Lightweight
Various models for several hand sizes and grips.
Cons
Fairly Standard Build Quality
No Software Support
DPI has a small range
Not enough room for customization
BenQ Zowie mice are intended to provide top-tier performance and accuracy for gamers of all skill levels. Furthermore, these mice will give you the edge you need to smash the competition thanks to their ergonomic designs, durable buttons, and cutting-edge capabilities, and the Zowie EC2-B is not an exception. Having said that, Zowie is not a fresh face in the industry.
Zowie has developed its own formula for the ideal gaming mouse, one that succeeds where others stumble while going above and beyond in crucial aspects. If you want a mouse that can catch pace with your gaming prowess and offer you the advantage you need to win every game. Look no further than the BenQ Zowie EC2-B Mouse!
The ergonomic design makes it one of the best FPS gaming mice. Moreover, BenQ put in a lot of time and effort to fine-tune the mouse's structure and build quality. Additionally, they teamed up with professional eSports players to develop a mouse that has all the bells and whistles gamers need to have a fine experience. Henceforth, this gaming mouse will take your game to the next level with its cutting-edge design and functionality. The EC2-B is designed to accommodate players of every level of experience, from novices to professionals.
Therefore, let's get into the specifics of why this mouse is so important for competitive gamers. To clarify, the innovative design of the BenQ Zowie's chassis has become the benchmark by which other gaming mice are evaluated. For a long time, the Zowie EC2-A and EC1-A have been considered among the world's finest gaming mice. As a matter of fact, customers had requested Zowie for quite a while to include the more advanced 3360 sensors in their mice for some time, and the company finally did so with the release of the EC2-B and EC1-B models.
Is this new lineup an improvement over the A series, or a swing and a miss? Find out in our in-depth analysis below.
Related: GLORIOUS Model D Minus Mouse Review
---
Key Takeaways
When it comes to gaming mice, the BenQ Zowie EC2-B is widely considered to be the standard of excellence, providing an exceptional experience for both casual gamers and professional competitors. It has a sleek, minimalist design and a snug grip that's comfortable with the hands. The low lift-off distance of the optical sensor guarantees that all motions are accurately transmitted on display. As a result, the EC2-B is great for competitive gaming and any task that calls for pinpoint accuracy with a mouse.
You should get the BenQ Zowie EC2-B Mouse if you want a snappy sensor that can keep up with your pace. It has a Pixart 3360 Sensor which makes it a great option for gamers who need precise mouse movements due to its high responsiveness, accuracy, and low lift-off distance.
You should not get the BenQ Zowie EC2-B Mouse if you are in for flashy aesthetics. Firstly, it doesn't have any fancy additional features that some players might enjoy, like RGB lighting. Moreover, the mouse is designed for average-sized hands, so it may not be comfortable for those with larger hands.
The BenQ Zowie EC2-B Mouse is a perfect fit for those who put an emphasis on precision and comfort. Moreover, the mouse's optical sensor is great for FPS titles due to its responsiveness, accuracy, and short lift-off distance. In addition, the EC2-B is built to be used for a considerable amount of time without discomfort due to its ergonomic shape and comfortable grip. In the same vein, the mouse's sturdy build guarantees its usability for years to come, making it a great pick for those who value long-lasting products.
---
Specifications
| | |
| --- | --- |
| DPI | 400 / 800 / 1600 / 3200 |
| USB | USB 2.0 / 3.0 Plug & Play |
| Buttons | 5 buttons |
| Cable Length | 2m / 6,6 ft |
| Polling Rate | 125 / 500 / 1000 Hz |
| Size | Medium |
| Design | Ergonomic |
| Dimensions | 120 x 64 x 40mm |
| Weight | 90g |
| Sensor | Pixart PMW3360 |
| Switches | Huano |
What's in the Box
It should come as no surprise that the EC2-B, like other Zowie mice, is presented in a stylish matte black box. The company went for a clean, minimalist look, so there's no advertising on the packaging. Moreover, there are no specifications for the mouse's DPI counts, features, and so on.
As a matter of fact, one of the best features of Zowie mice, in my view, is the inclusion of a spare set of mouse feet in the packaging. Surprisingly, the EC2-B comes with 16 extra feet, giving you plenty of options for replacements. That's awesome, and props to Zowie.
BenQ ZOWIE EC2-B mouse
Additional PTFE feet
BenQ Zowie Logo sticker
User guide and other documents
First Impressions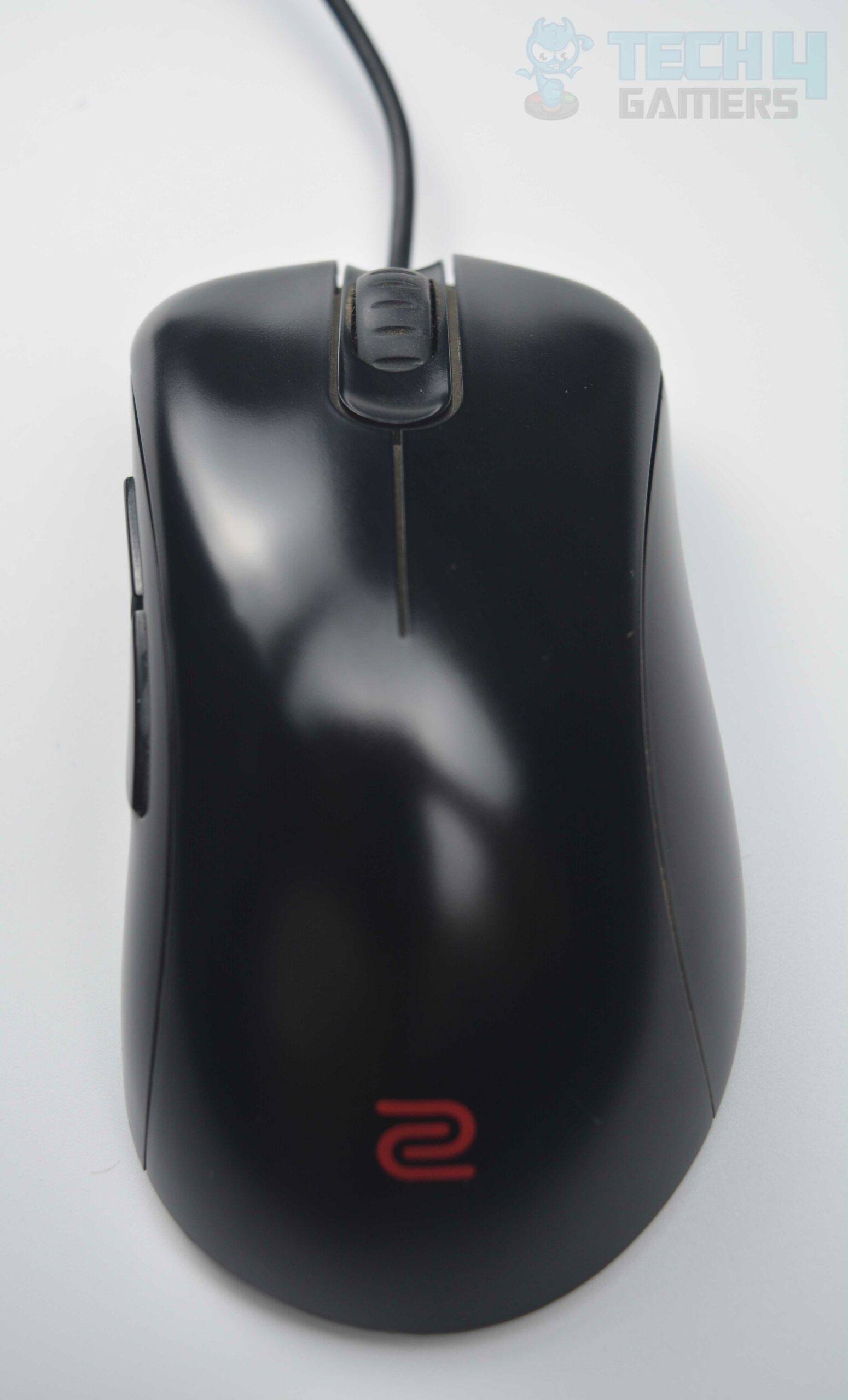 Most veteran gamers already know this. Still, I would like to mention that Zowie products are designed with performance in mind. Zowie doesn't care much about RGB lighting or any of that other nonsense since it won't help you shoot heads in the game. The EC2-B has a low profile, but don't let that fool you; it packs a punch.
As it lacks flashy LED strips or apparent branding, the EC2-B is unlikely to look out of place in the classroom or the workplace. At first sight, the red Zowie logo appears on the rear, while the BenQ logo appears on the side in a tiny size. In a sea of colorful mice, the Zowie EC2-B sticks out as a minimal offering for serious users. Consequently, the EC2 series is one of Zowie's best-known products and continues to be a fan favorite.
That is to say; the EC2-B is a reasonably priced ergonomic mouse that provides all-day comfort, lightning-fast responsiveness, and top-tier performance. It has an ergonomic design and has two side buttons on the left side. The shape was designed to be used by gamers with many different hand sizes and shapes.
Comparable to the EC1, it is noticeably smaller. The simple egg form of the shell is useful for regular lengthy gaming sessions. One of the most crucial features of a gaming mouse is its form and feel. The Zowie EC2-B is a medium-sized mouse with a lightweight design, coming in at roughly 90 grams (3.2 ounces). The weight prevents lifting as a consequence of rapid double-clicking.
Some users may be alarmed by a PixArt 3360 sensor. However, it does not necessarily degrade responsiveness during gameplay. Even though there is no onboard storage or configuration software, this is not a deal breaker. The EC2-B has all the features a gamer might want in a mouse while yet adhering to the company's traditional minimalist aesthetic.
Design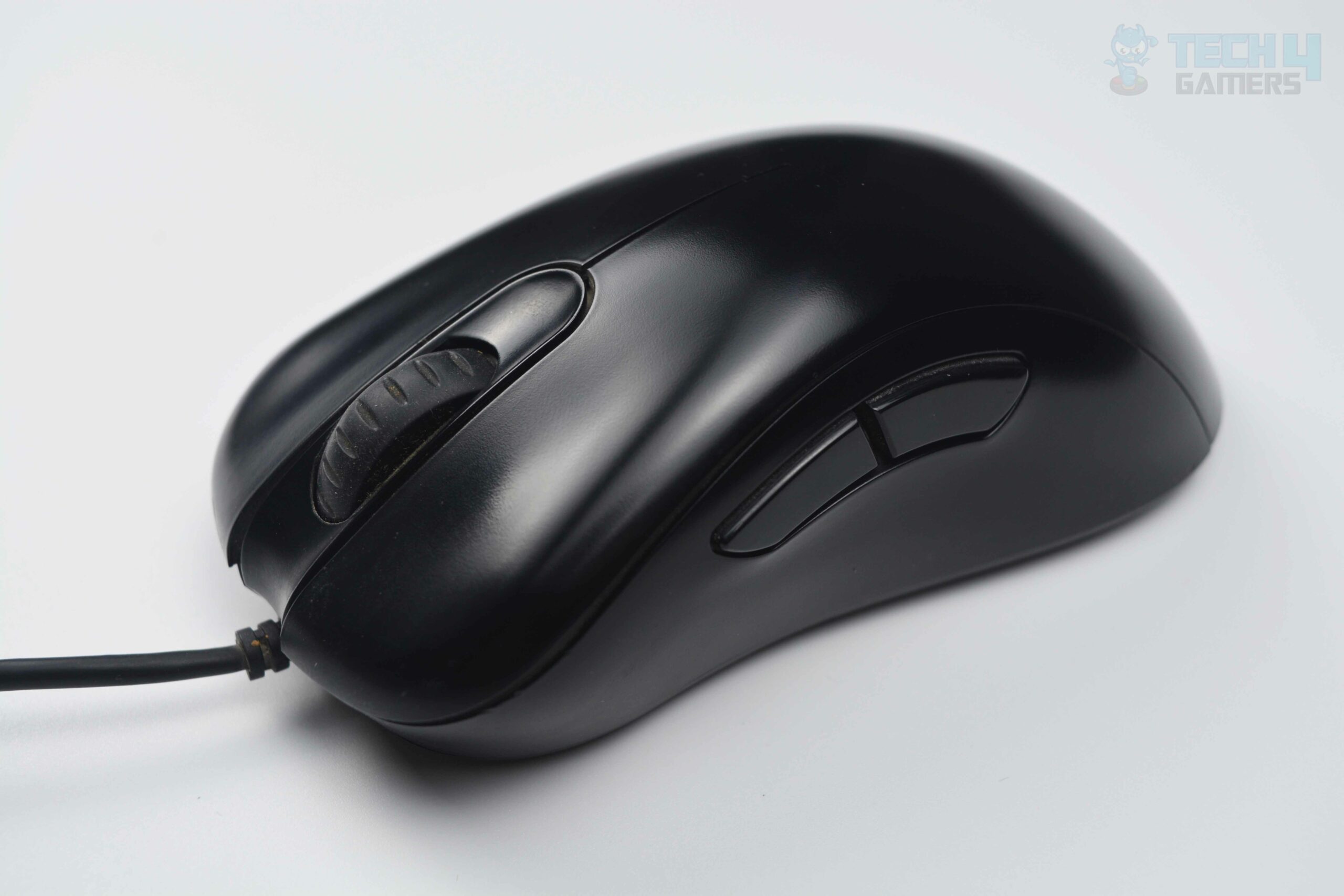 To put it simply, the mouse coating is mediocre at best. The coating combines a black finish and mixes a matte appearance and a glossy tint. However, it's attractive and has a nice gripping texture. Although it serves its purpose, I didn't really like the way it felt. The fact that Zowie coatings display fingerprints has always bothered consumers.
Some users have complained that the coating makes the mouse too slippery. However, I haven't experienced this myself, despite the fact that my hands tend to get rather sweaty during continuous gaming sessions. This isn't likely to be an issue for a competitive player, but those with the obsessive-compulsive disorder could have issues.
However, I did find that the mouse's surface rapidly absorbed oils and sweat, making it feel a little unpleasant after prolonged usage. Meanwhile, the fact that a simple cleaning of the mouse resolves the problem for me. My intolerance of such things is a minor drawback.
On the other hand, the Zowie EC2-B's rounded design provides extra room for the person's wrists. The right-handed ergonomic design is quite secure, with no dangerously sharp corners or skewed curves. There's plenty of room to cover the mouse and keep your fingers from getting in the way of precise control. Also, it has every feature you need to play your favorite games in comfort and style. Overall, I think the Zowie mouse is one of the best-looking types of mice because of how unique and interesting it looks.
Shape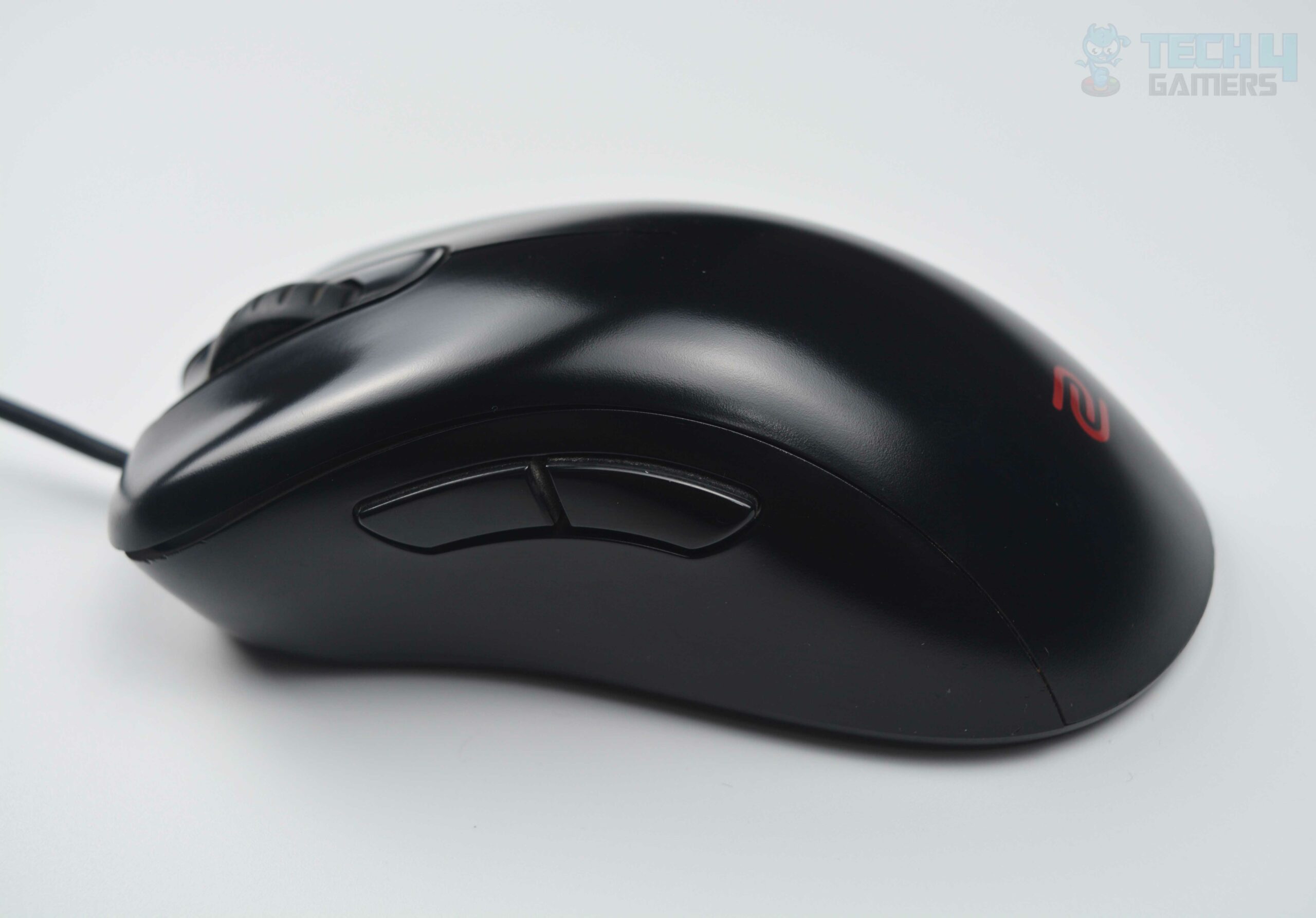 The Zowie EC2-B is an eSports and FPS mouse that comes in medium size. It is a straightforward black mouse with no gimmicks. Furthermore, the EC form is one of the finest available since it fits well in hand. The mouse doesn't have any overly rounded edges, so you won't feel inclined to hold it in any certain manner. The slight bend and highly rounded back make it more comfortable to hold with the right hand.
The mouse has a strong build, with a narrowing gap between the top and left sides that disappears entirely by the time you reach the back. Moreover, you may rest your thumb comfortably on the inset while gliding the mouse around the bottom's center. The inset narrows as you get closer to the rear. Its ergonomic form and basic five-button layout make it a top pick for FPS and strategy titles.
The unique form factor of the EC series is undeniably a blessing. The fact that Zowie didn't mess with the A-series' praised form is hardly a negative thing. There are zero reasons for changing the form of the EC series, which possesses one of the industry's highest-quality profiles. Moreover, the EC2-B has a secure and pleasant form factor.
You won't have to adjust to any weird bumps or features on this mouse. Furthermore, you won't be left wondering why they went with a certain design. It's not simple to put into words, but the Zowie EC2-B is obviously a well-designed mouse the moment you pick it up. When praising anything, I strive to avoid exaggeration, but the shape of the EC series really is deserving of praise. Let's simply say that the EC series' widespread recognition for its aesthetic success is not undeserved.
A Good Read: CORSAIR HS60 Pro Surround Gaming Headset
Comfort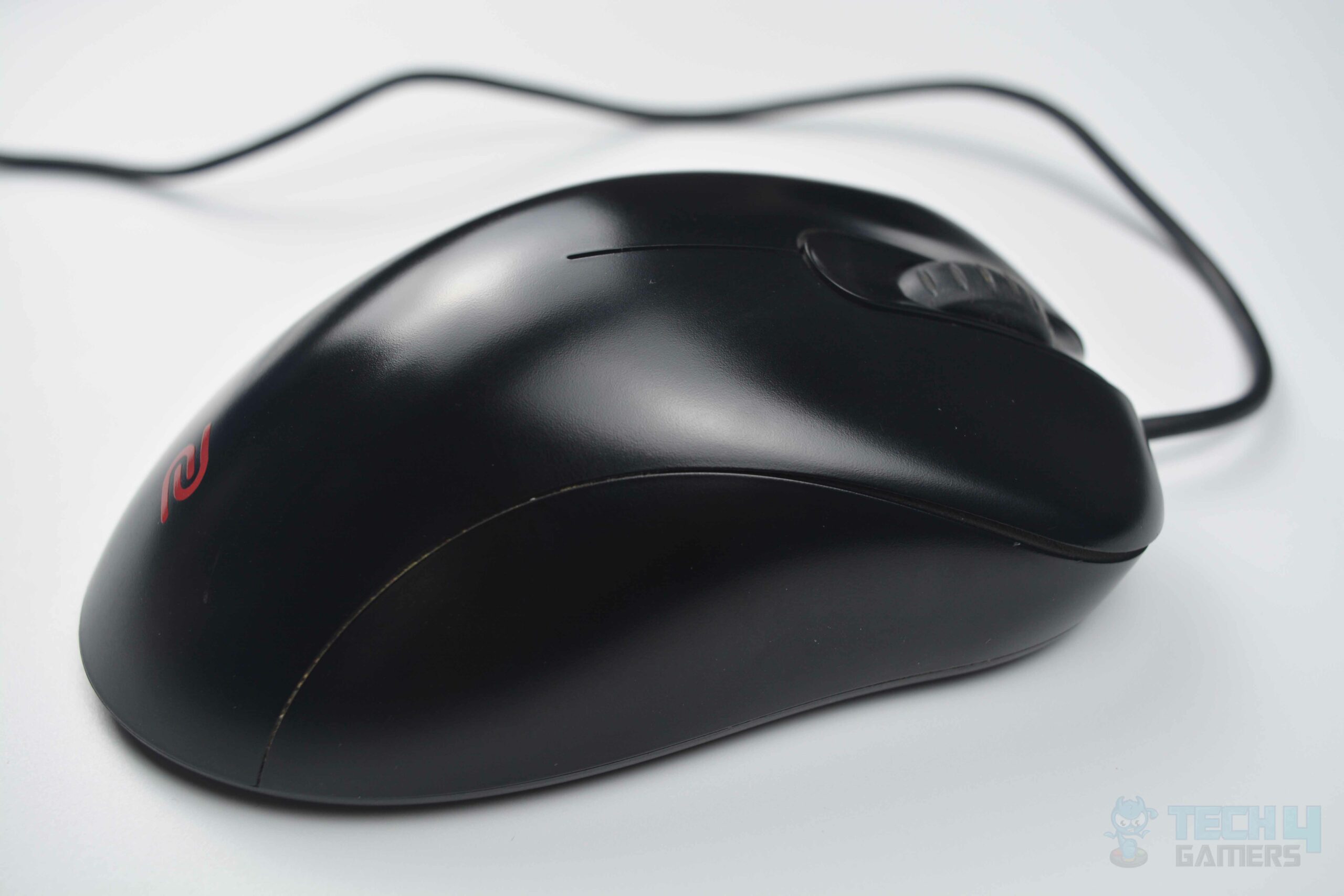 The EC2-B's solid grip and comfortable curve make it a suitable gaming mouse. If you want to play for long periods of time, your comfort should be your primary consideration. One of Zowie's first releases of an innovative mouse design, EC2-B, is a calibrated version of the original EC1. For those with medium hands, the EC2 should be a perfect match.
In contrast to the usual Zowie aesthetic, this one has neither sweeping arcs nor sharp corners. The mouse's lightweight design and minimalist eggshell make it ideal for continuous usage. The 90g weight of the EC2-B is much smaller than that of the bigger EC1. Although 90 grams is a lot for a lightweight mouse, EC2-B's compact form factor and well-balanced weight distribution make it seem manageable.
Furthermore, the EC2-B, like all Zowie mice, is beautifully streamlined with no sharp edges or protrusions. In the process of our testing of the BenQ Zowie EC2-B Mouse, we found that it felt well in hand. Because of its comfort, we had no inconveniences or fatigue. This improvement gives the mouse a smoother and more reliable tracking benefit.
An overhyped mouse may look and sound great on paper, but rattlings from the mouse are a typical problem. On the other hand, EC2's grip is firm without being too distracting. Even after a couple of weeks of use and several drops on various surfaces, the mice still make no noise when shaken. It's another impressive feature that contributes to the premium Zowie mouse experience. Even in a noise-sensitive setting, this mouse's volume shouldn't be an issue for others around you.
Buttons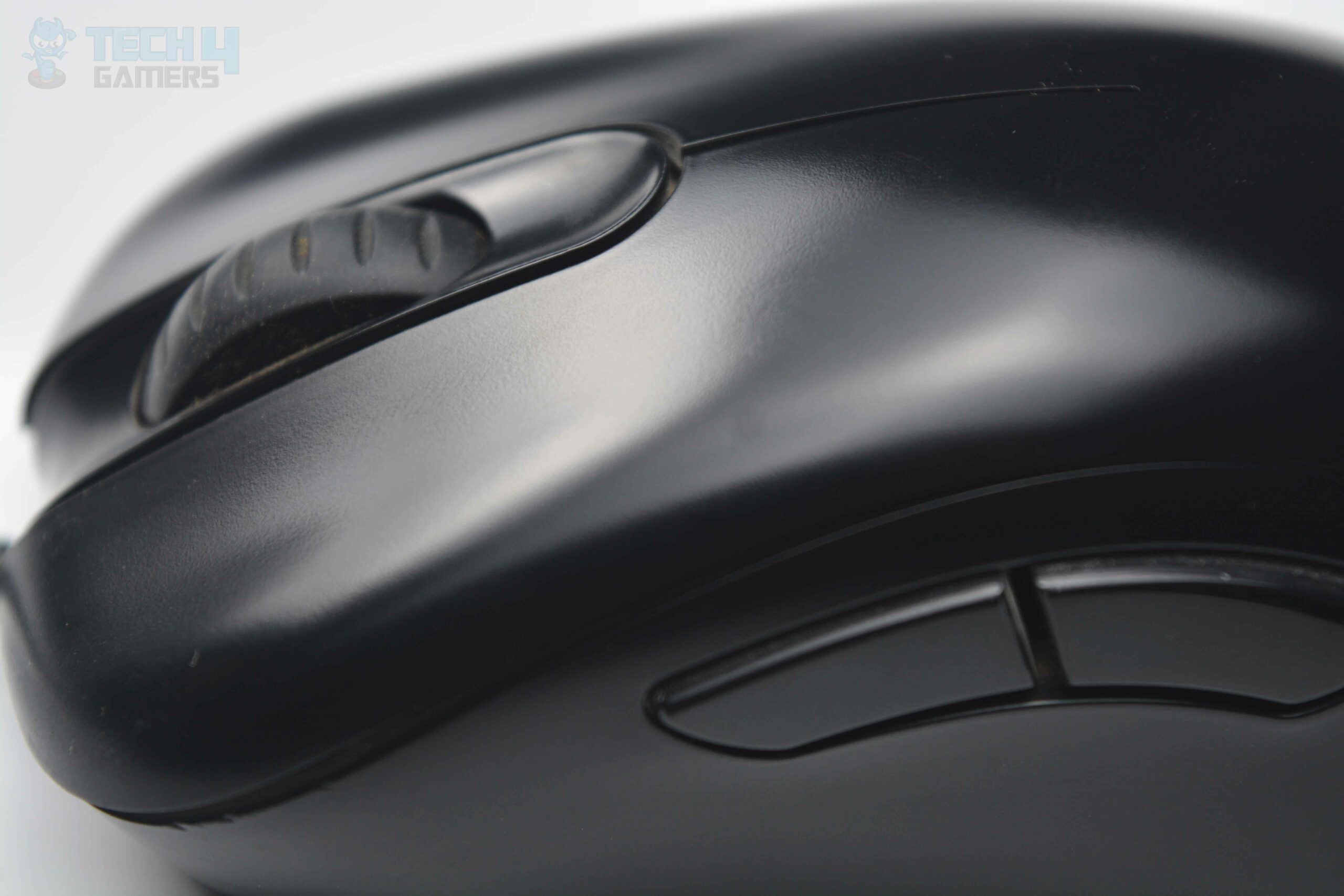 All Zowie mice, including the EC series, are equipped with Huano switches, which provide a satisfyingly solid click. Moreover, starting with the EC-B series, Zowie has been hardening both the left and right mouse clicks. As a matter of fact, this might require a few days for diehard EC-A series fans to get used to the new changes.
The left and right clicks are somewhat heavy, yet they are sharp and consistent. The EC2-B is typical of Zowie mice in that it has a loud clicking mechanism. While the primary buttons will encounter some pre and post-travel, it won't significantly affect FPS gameplay. However, this mouse isn't optimal for MOBAs.
There are undoubtedly other mice available with a softer click. However, this need not be an issue for those who, like me, enjoy a little more forceful click. There were early concerns about the EC2-B's primary clicks seeming mushy, but I haven't found that to be the case with my unit.
When compared to the A series, the side buttons seem to be an improvement. The side buttons are positioned in an ideal spot, neither in the way nor too far away. It's convenient that you can use your microphone and swap weapons without having to move too far away from any of the buttons.
Moreover, they have a more consistent click and a shorter total travel time. Nevertheless, they are not yet at the top in their domain. Having said that, the back button on the side seemed a little mushy to me, but otherwise, they serve their purpose well. Moreover, the buttons are not programmable, and there is no accompanying software. By default, the side buttons will forward or backward through a page.
Similar: RAZER Huntsman Tournament Edition Gaming Keyboard Review
Scroll Wheel
Sadly, this scroll wheel has the same low quality as the rest of Zowie's notoriously flimsy products. It was the first thing that caught my eye. It functions adequately for gaming, such as when using the scroll wheel to switch guns or bunnyhop in CS:GO, but it's not the most comfortable tool for regular web browsing. Zooming back and forth between multiple levels in rapid succession may require more effort than you're used to. Furthermore, it is uneven and lacks smoothness.
However, the build is excellent, with the exception of some side play in the primaries. Moreover, the scroll wheel is clunky and has fewer steps than a typical mouse. Some will be happy about this, while others will be disappointed. The reason for having smaller and more defined stages is that it makes it more difficult to miss a step by mistake, such as when switching weapons through the scroll wheel.
Although convenient for gaming, the enhanced efficiency is less than optimal for general web navigation. That is to say, and the scroll wheel also makes a lot of noise in comparison to other gaming mice. Moreover, the mouse wheel features highly distinct clicks at each of its discrete increments, and the wheel's rubber design has grooves for added traction.
Build Quality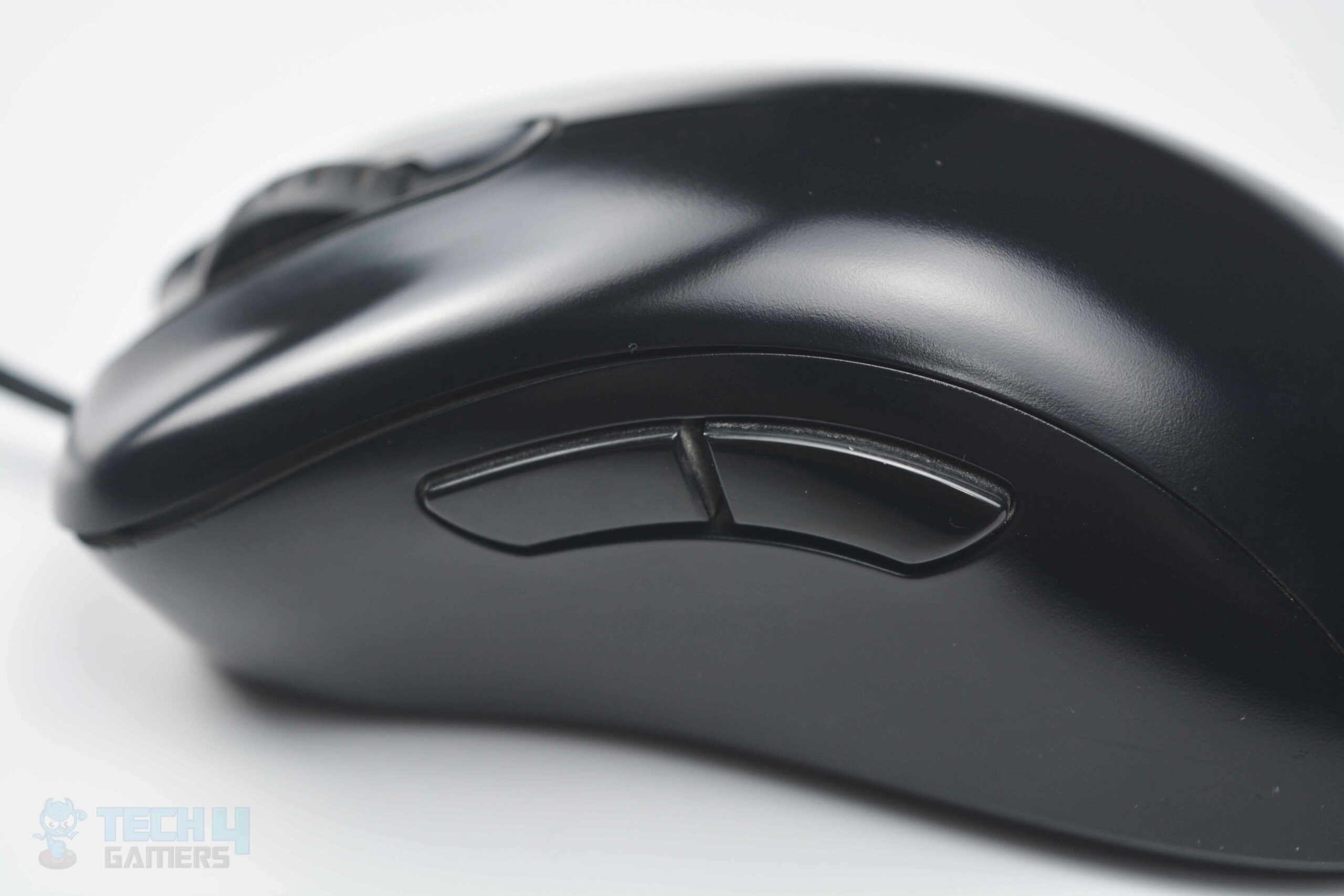 When reviewing a mouse, I take it to a series of rigorous tests, which include slamming it on the desk many times and gripping it as forcefully as I can to make sure nothing rattles or makes noise when it shouldn't. In every scenario, the Zowie EC2-B performed well. There is a little "tick" when I halt the mouse or switch directions, but it's not loud enough to be annoying.
Furthermore, I don't feel anything moving, even when I perform a rapid long flick or fast, swift motions. Coil whining was a problem in earlier versions of the EC2-B, wherein the sensor's micro vibrations would result in a relatively high-pitched beeping tone. Even after days of usage, I didn't notice any coil whining on my unit. Moreover, Zowie promised to address the problem, and I think they resolved it well.
While I cannot claim that this problem has been resolved for all units, I did not experience any noise from my mouse during testing. On the contrary, I could hear a shallow buzzing sound when I placed my ear near the mouse in a tranquil environment. However, it won't be a problem under normal circumstances.
The build quality is excellent. While the top seems sturdy, the bottom flexes quite a little, as one of the side buttons may be triggered by just squeezing underneath it. The four PTFE feet on every corner are a significant bonus since they work well and only resist a little on several surfaces.
No Software Support
The BenQ Zowie EC2-B is a plug-and-play mouse that works without requiring additional driver or software installation. Plug it in, adjust the DPI and polling rate using the buttons the under the mouse, and start popping heads. The absence of software or a driver is both a drawback and an incentive. Zowie EC2-B's ease of use provides reliable performance across all platforms for competitive gamers.
Instead of relying on slow software or faulty drivers, as with many other systems, your preferences and settings are maintained and stored directly by the hardware. On the other hand, gamers who want on-the-fly customization at their fingers will be disappointed with the Zowie EC2 B since DPI control cannot be rebounded to any of the accessible buttons without reconfiguring the game's settings in-game.
Related: HYPERX Cloud 2 Wireless Review
Feet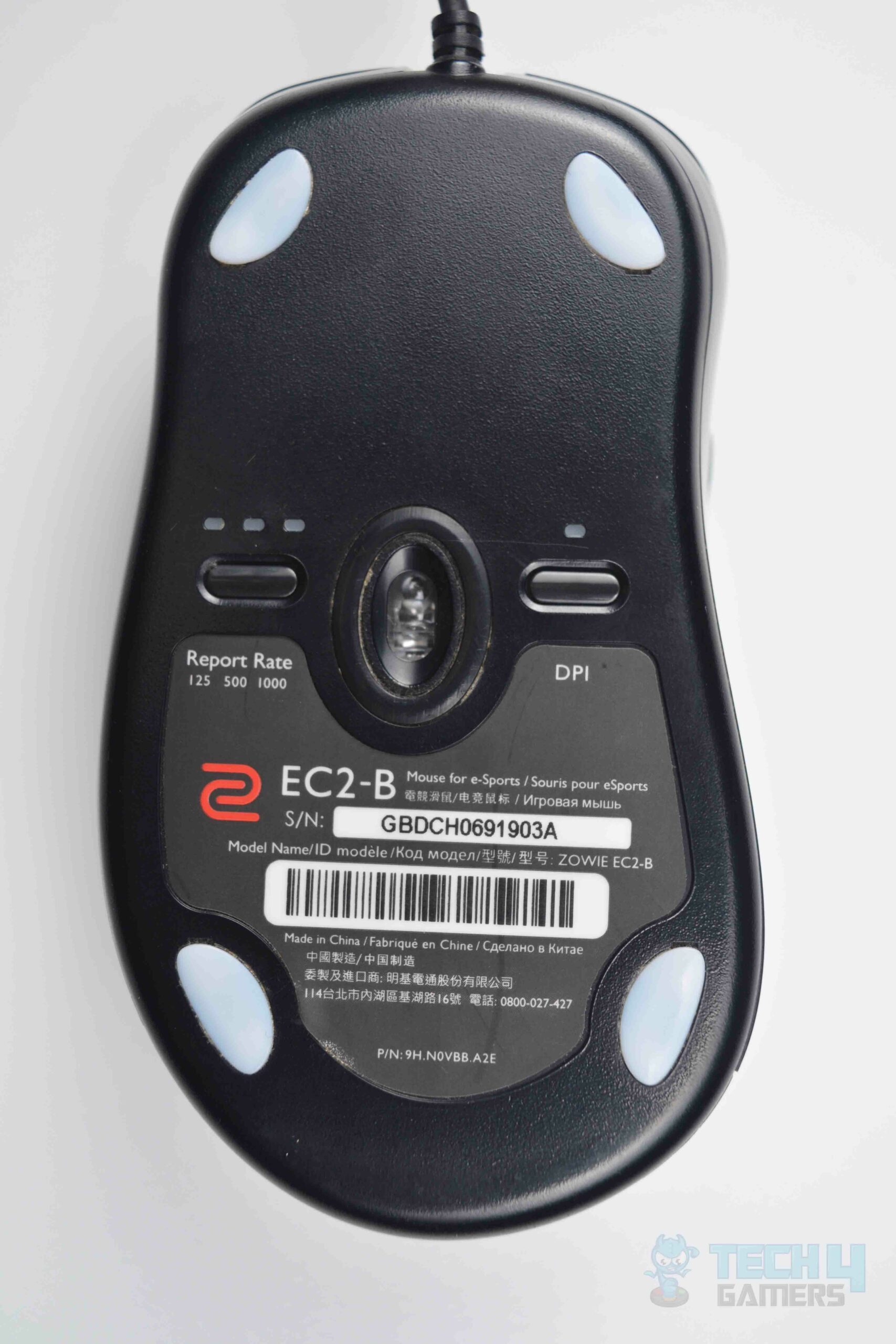 The feet were the primary source of controversy around the EC B series' release. After hearing complaints from the public that the wider feet were becoming less smooth over time, Zowie made the decision to switch to four smaller feet. Now, instead of the two huge mouse feet seen on the A series, the B series has four little mouse feet, thanks to a redesign by Zowie.
Most people, including myself, find that the traditional two-feet position offers the best compromise between speed and control. On the downside, the four-foot slide design seems very slippery and swift. Whether or not you prefer the B series' quicker and more aggressive glide compared to the A is a question of personal choice. While I normally like a mouse with bigger feet, I had no problems adapting to them.
Moreover, the top of the mouse is slim and narrow, while the bottom looks like a split pear. They have a slightly raised surface compared to the rest of the mouse, which makes sense given that they facilitate the mouse's constant movements. The mouse has two straight edges that might be a bit scratchy if you use it directly on a surface.
Sensor
The 3360 sensor, which is now placed into the mouse, is primarily responsible for the EC2-B's existence. The 3360 is an astounding sensor that's not going to spin out, not even when tilt-slamming it, which is the only possible upgrade to the 3310, which is another renowned sensor. Therefore its performance is remarkable, as predicted.
The PixArt 3360 sensors on the Zowie EC2-B rarely gave me any trouble but might be a concern for others. If you have a habit of smashing and spinning your mouse, you may have tracking issues with an older mouse's sensors. Although I didn't experience any issues of this kind when using the mouse, I felt it was important to highlight them in my review.
Nevertheless, several top-tier gamers are still using the EC2 without any difficulty. So it's safe to assume that the possible tracing problem isn't a deal breaker. As far as you don't smash your mouse around, you should have no problems.
Grip Styles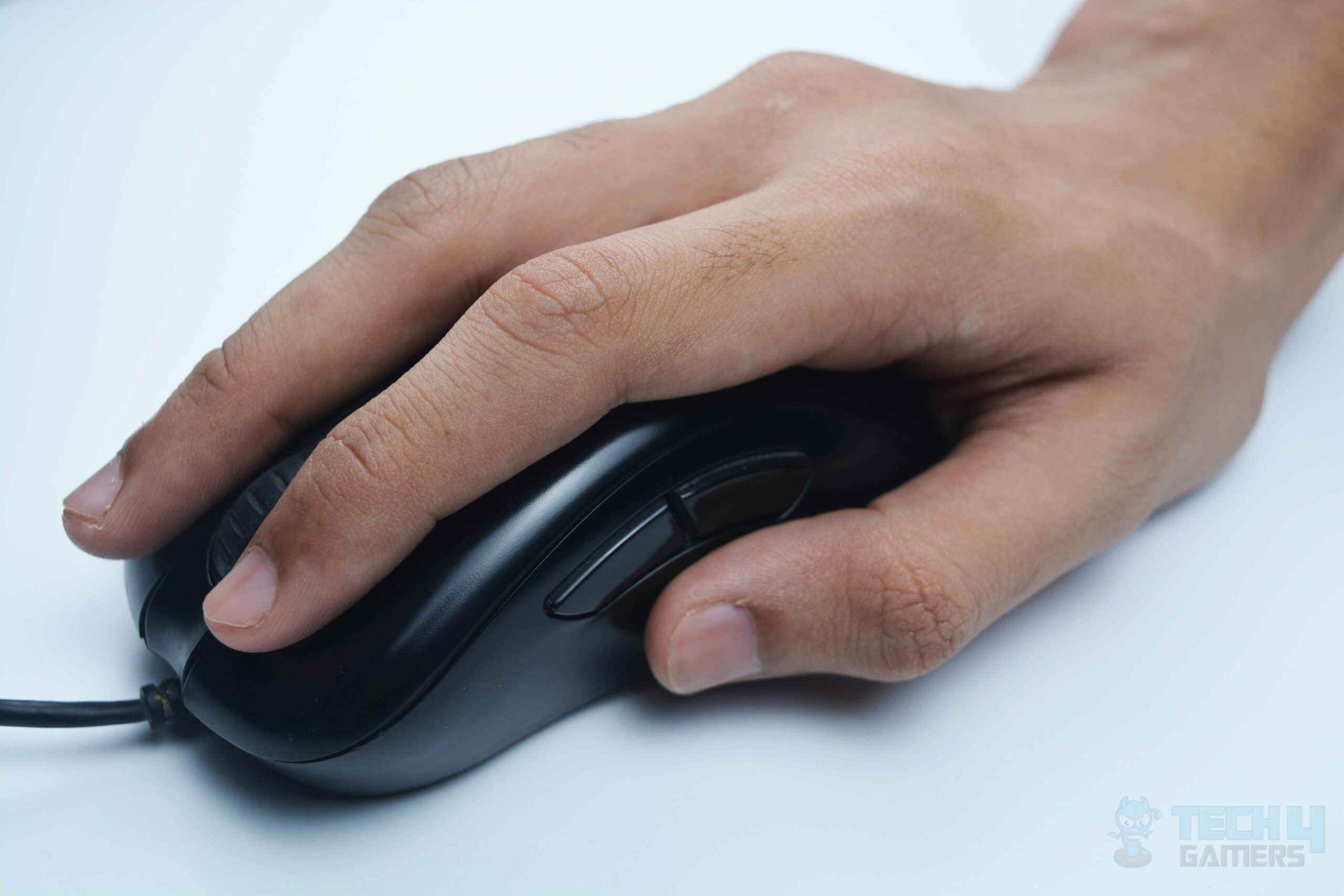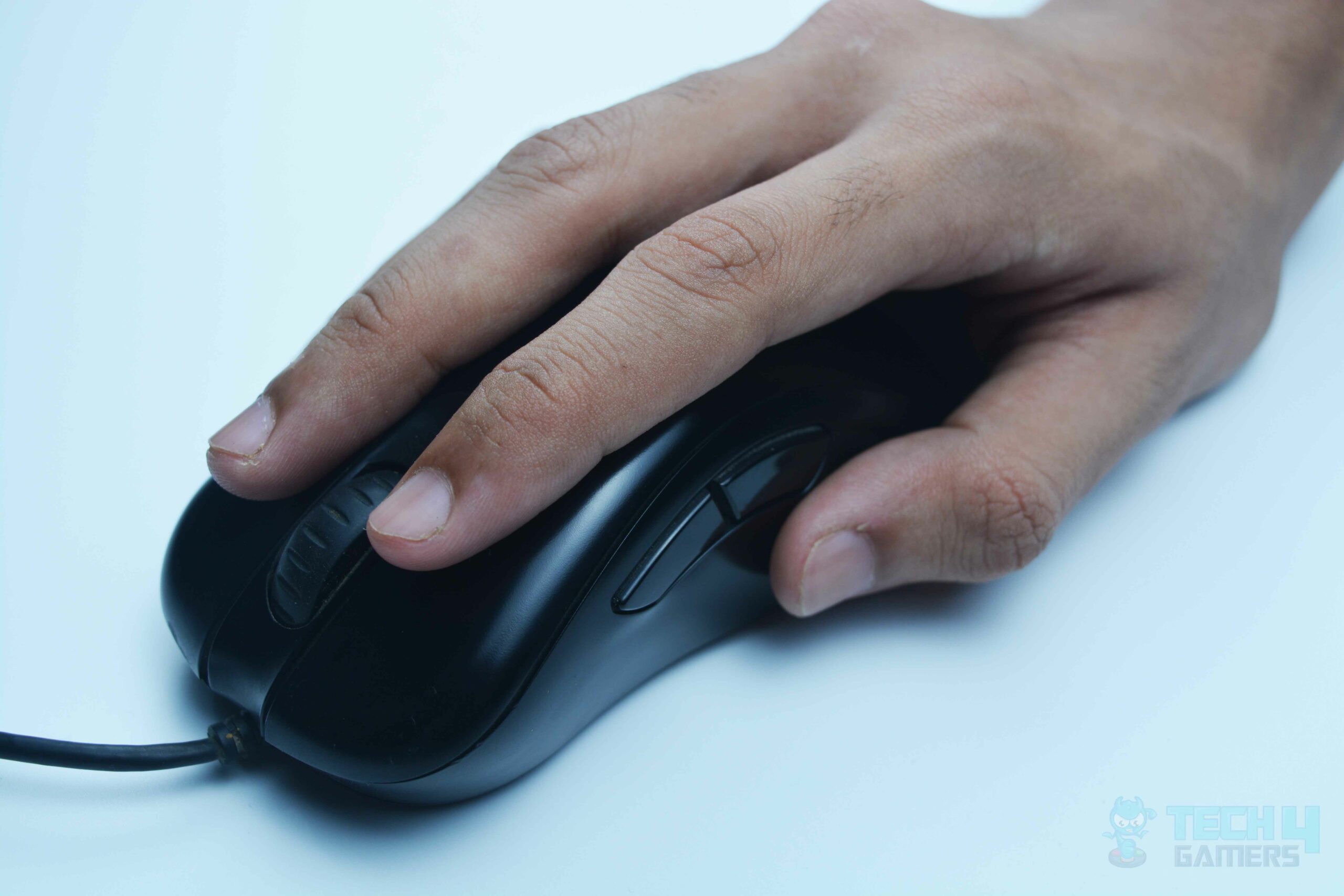 Depending on the type of gaming mouse you're looking for, "convenient" might be the single most significant factor. No matter how well-built a mouse is, it's useless if you have trouble getting a solid grip on it. The Zowie EC2-B is a great addition to Zowie's portfolio since it continues the company's emphasis on form and comfort in their mouse. To clarify, the EC2-B excels in this scenario.
Notably, the mouse is designed in a manner that needs almost no break in time and will mostly suit practically all grip types, according to the size of the hands, of course. Above all, the majority of gamers should have little trouble adapting to this. You may have a look at an EC2-A if you're not sure whether you'll like the form and want to check it out before investing in this one since the shape is identical.
Read our review of the BenQ Zowie EC2-A for more of our thoughts on this mouse.
The BenQ Zowie EC2-B's gently rounded form factor makes it a pleasure to hold and use. If you want a more secure grip on the mouse, you may also curl your fingers and support them with your lower palm. It also frees up motion from the palm's tip to the fingers. The right side of the mouse is concave, so your ring, as well as your little finger, may rest comfortably there.
Moreover, the EC2-B's curved rear makes it easy to use the buttons with the index or ring fingers. The placement of its side buttons eliminates unintentional touches and provides a comfortable resting spot for your thumb. Henceforth, the side buttons are conveniently located, making it possible to use a palm grip without difficulty. Moreover, the structure enables a comfortable palm grip regardless of personal preference. With a palm grip, it should be used by anyone with a wide range of hand sizes.
Because of its bulk, it may be difficult for those with tiny hands to utilize it properly with a claw or fingertip grip. Although the design was perfect for a comfortable hold with my fingertips, the mouse might have benefited from being around 15 to 20 grams lighter to make it more manageable.
Also Read: Types Of Mouse Grips
The mouse is shaped such that the user's whole palm rests on it while using it. On the other hand, claw grip users with small hands may have trouble reaching the scroll wheel and left and right click buttons. Furthermore, only those with really huge or extra-large hands will be able to use it with a fingertip grip. In the same vein, it may be difficult to use for those with little or medium-sized hands.
Performance
If you're into esports or competitive gaming, you may know that top gamers avoid peripherals with too many bells and whistles. Similarly, professional gamers, particularly those who compete in first-person shooters, adopted EC2-B as a must-have weapon in their arsenal almost immediately. It's one of the best options for lengthy periods of gaming since it's basic yet provides comfort and performance.
According to the company's philosophy of "performance above fancy," all of Zowie's mice look and feel the same. Moreover, the outstanding design has a button on the mouse's surface that enables easy customization. The mouse's DPI may be rapidly changed through a small, sleek button located at the bottom. To quickly lower or raise your DPI when playing a first-person shooter, press the button located underneath your mouse. The design of the BenQ Zowie EC2-B makes it harder to unintentionally change the sensitivity level, despite the fact that the DPI adjustment button could be more accessible if it were situated on the mouse top, possibly under the scroll wheel.
The BenQ Zowie EC2-B's DPI range is respectable. However, it is less than that of other competing gaming mice. The sensor often falls slightly short of the DPI, but only slightly. It lets you quickly and easily choose between four different DPI profiles. You may also choose between three different polling rates (125Hz, 500Hz, and 1000Hz) with a second button on the bottom. On the downside, there is no additional software. Therefore, you can't change any of these settings.
I was keen to give this mouse a try since I believed it had the potential to replace my current mouse, and I was not wrong. With my hand size, the size and shape of the mouse are just right. I obviously needed to adapt to some changes with this mouse. Having said that, my main mouse is the Glorious Model D, and the Zowie EC2-B's higher clicking point was the first thing I noticed. When I first started playing, my aim was kind of rough. Moreover, I made a lot of mistakes, and occasionally I fired accidentally. Getting adapted to the weight was another challenge. After I got used to it, however, the mouse's feel was superb.
The design is fantastic, and it tracks well and has a really short lift-off distance. As expected, almost 30% of CS:GO professionals use this mouse. Surprisingly, I was only slightly underperforming compared to when I used my primary mouse. Furthermore, I put EC2-B through its paces in a number of games, notably Aimlabs, Valorant, and other aim-intensive titles, and the EC2-B consistently delivers top-notch results. It also has a very low click latency, so it will feel incredibly snappy throughout gameplay. As for the 3360's superiority, that's hardly news to anybody. The smooth surface allows for effortless, trouble-free movement.
The rubber cord is 2 meters long and uses a 2.0 USB connection to connect to your PC. It doesn't weigh too much or get twisted up easily, but the rubber cable used by Zowie is very unpleasant to deal with it. I hardly use a wired mouse in the absence of a bungee, but I did find that the Zowie's cable was too slippery and thin for any of my bungees to keep it in place. Thankfully, the simple solution to resolve its cable problem is to simply paracord it.
In conclusion, the BenQ Zowie EC2-B is not ideal for on-the-go use due to its wired-only layout, but it should not be a problem for your home gaming setup.
Related: Razer Viper V2 Pro Review
Final Verdict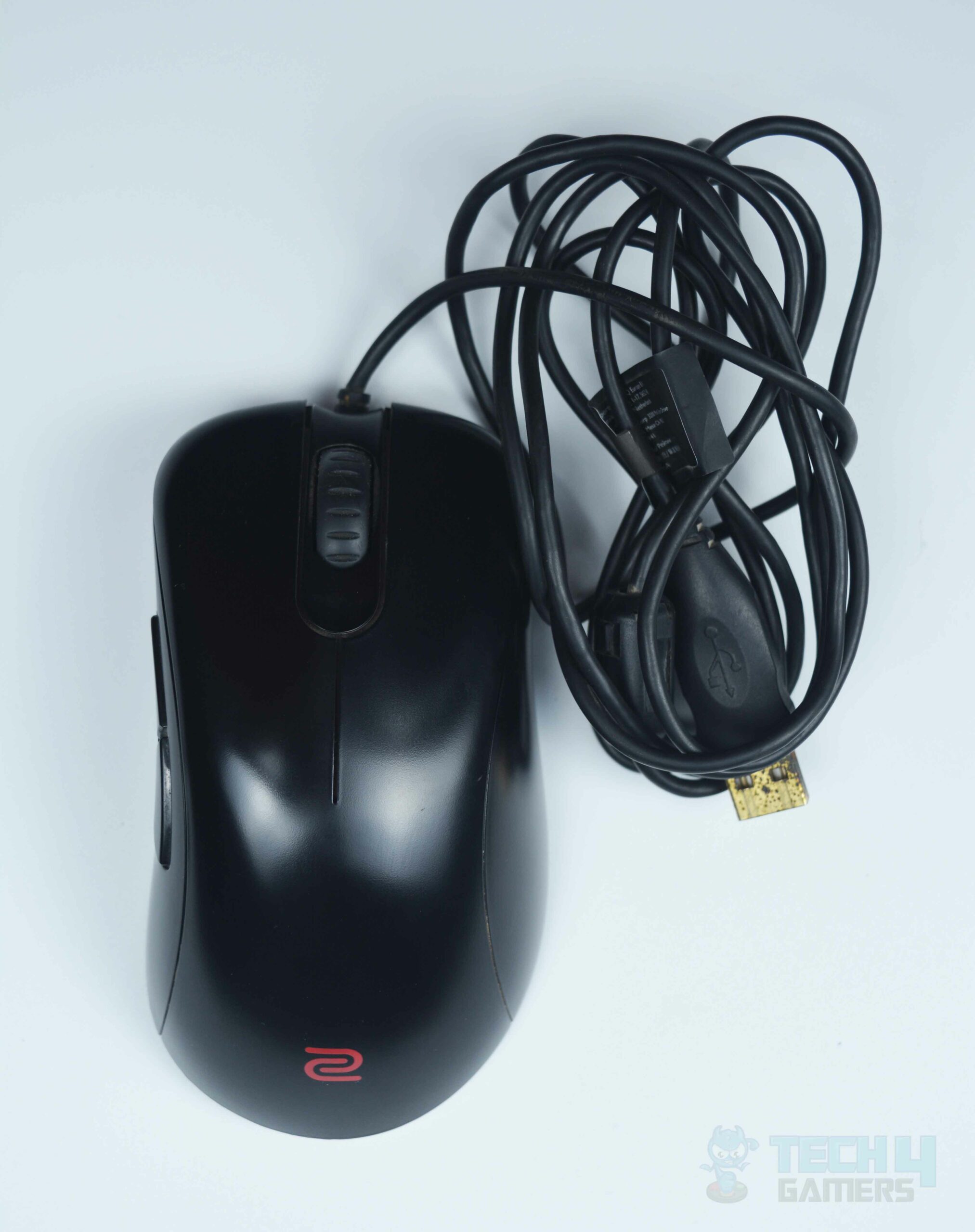 After a few quality control difficulties with an initial couple of batches, Zowie built upon the tried and tested design of the EC series by integrating the 3360 sensors. It is made a staple in the gaming industry. Especially the CS:GO scene, where it is the most often used mouse. Zowie is committed to providing us with a wide variety of tournament-ready options that usually always meet our high standards for performance.
My opinion is that the mouse feet, as well as the addition of a 3360 sensor, are the most significant improvements, but you may compare the two to get your own conclusion. Moreover, several small adjustments have been made, such as a new coating and an upgrade to the side buttons.
The EC2-B series is, despite a few drawbacks, undoubtedly a top-tier mouse. However, it will be up to the buyer to determine whether or not the improvements that Zowie has provided are enough to be worth the purchase of an EC2-B if they already have a fully functional EC2-A.
Whether you're a competitive player or just want the best possible performance from your mouse, the Zowie EC2-B is an excellent choice. The EC2-B's ergo form is excellent if not the finest, and the 3360 sensor is a decent choice. The product's high-quality design and build ensure that users with varying grip styles may use it with ease.
There is no question as to why it has become the trend in competitive gaming. Its speed and accuracy are just perfect, making it a great choice for FPS games. The EC-B series had a solid build quality overall; the mouse didn't wobble or make any other noises when shaken or under intense force.
The minimalist aesthetic is a great encouragement, and the ergonomic form makes it a pleasure to grip. Moreover, it's easy to use for extended periods of time without hand fatigue because of the ergonomic design. If you care more about how well and comfortably your mouse performs than how pretty it looks, this is the mouse for you.
Conclusion
Despite a recent surge in competition from mice featuring ultra-light honeycomb shells, optical switches, latency-free wireless connections, and other cutting-edge features, BenQ Zowie's EC series continues to be a favorite among FPS professionals. You don't need to be acquainted with the EC line to realize that its ergonomic design is widely regarded as the finest of all time.
It's among everyone's top three favorite shapes, and there's a good reason why it's so often copied. Overall, the BenQ Zowie EC2-B is a high-quality yet lightweight gaming mouse. Right-handed users, particularly those who utilize a palm or claw grip, should find the elevated back and slightly curved shape quite pleasant.
While its maximum DPI is lower than that of some other gaming mice, its extensive DPI range and minimal click latency should make it feel snappy during gameplay. There is no accompanying software. So you can't customize the sensor settings or remap the buttons, and there aren't any programmable RGB lighting zones.
Although we only reviewed the medium size, our insights necessarily apply to the large size as well, except for our recommendations for weight and grip type. It has a solid feel and minimal click latency, and the slight curve in its design should make it pleasant to use despite its small dimensions.
The cable is not very flexible, in spite of that it is rather light. BenQ Zowie EC2-B has excellent build quality as a whole, thanks to the rounded buttons on the mouse. To conclude, the EC series is the parent of modern ergonomic FPS gaming mice. It lacks the modern conveniences of its competitors, but you can be certain that the EC series will outlast any passing trend.
Coming Next: Ducky One 3 Mini Daybreak Keyboard Review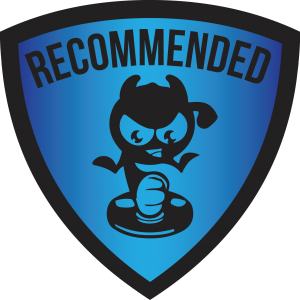 Was our article helpful? 👨‍💻
Thank you! Please share your positive feedback. 🔋
How could we improve this post? Please Help us. 😔
[Hardware Reviewer]
After many years of exploiting various pieces of hardware, Abdul Hannan now serves as an editor at Tech4Gamers. He's been in the PC hardware reviewing industry for almost a decade, and his staff of passionate geeks and reviewers is second to none.
Abdul Hannan is constantly seeking new methods to improve the performance of his computer components since he is an ardent overclocker. He is well-known for providing the most extensive and unbiased analysis of the newest and greatest hardware for PC gaming, including everything from GPUs to PSUs.