Review Summary
The Razer Viper V2 Pro's only focus, and primary concern, is speed and accuracy. That's a huge deal for FPS professional players since it implies this featherweight pointer is about to revolutionize the genre. The mouse's Weight has been reduced, and it has a new generation of optical switches and a Razer Focus Pro 30K sensor. Moreover, Razer claims to have enhanced wireless performance and battery life. It's ergonomic, thanks to its symmetrical design, and its exceptional feet ensure a silky, silent glide over mousepads. There may be more reasonable alternatives for the rest of us, a little lower on the pricing scale. On the contrary, this mouse might be the best choice for professional, dedicated gamers.
Design -

9/10

Sensor -

9/10

Performance -

10/10

Value -

7/10

Quality -

8/10

Software -

8/10

Features -

9/10

RGB Lightning -

0/10

Connectivity -

7/10

Switches -

10/10

Weight -

10/10
Pros
Superb wireless performance
Exceptionally lightweight
Conveniently shaped
Superior Sensor
Lightning-fast optical switches
DPI Count Extremely High
Additional Side Grips
Remarkable Mouse Feet
Extended battery life
Even on soft pads, the redesigned feet move more easily.
Cons
DPI-switching is a pain
Enhanced build quality
Expensive for several genre players to justify
Absence of RGB Ligtning
Unsuitable for left-handed players
There is now no more space for the USB dongle.
It's impossible to discuss gaming mice without mentioning Razer. They have traditionally dominated the peripheral gaming market. Razer has been manufacturing gaming accessories and hardware since its founding in 1998. To successfully compete with Logitech for the finest lightweight eSports mouse, they've upgraded to the next level with the Razer Viper V2 Pro. The only Focus of development on the Razer Viper line of gaming mice has been optimizing their performance.
The mouses were designed from the ground up with feedback from professional gamers to ensure it would be something they wanted to use. The Viper V2 Pro is refined in every way imaginable, from its design to its Weight to its cable. At first, it was difficult to foresee how Razer might improve upon the Viper Ultimate. Despite the high price, the Ultimate's fantastic feature set won us over as one of the best wireless gaming mice for esports.
Three years later, with the Viper V2 Pro, an improvement over the Viper Ultimate in almost every regard, Razer has moved towards wireless gaming dominance. Nevertheless, the engineers at Razer never even considered that scenario. Razer has finally unveiled the Viper V2 Pro, their flagship successor after the Viper Ultimate dominated the market for three years. From afar, the improved device seems similar to its predecessor.
Picking it up, though, reveals that this time around, Razer has made something entirely new. Razer has removed the rubber side grips with 16 grams of Weight to create a weapon for the dedicated, professional gamer who is only concerned with one thing: winning. The arrival of the Razer Viper Ultimate's successor ignited an unexpectedly heated controversy. Why has a mouse that seemed to have played by the rules become controversial? The cost is a significant consideration.
A more particular misconception is that by charging the same $150 launch price for the lighter, fewer feature-rich Viper V2 Pro as its more extensively equipped predecessor, Razer is making gamers "pay more for less." Although the charging dock has been replaced with a USB-C connection, the new mouse is priced the same as its predecessor. The primary value proposition of V2 Pro is somewhat more nuanced. But this growing disagreement from a loud minority threatens to blind consumers to the most incredible mouse to debut at any point in the last year.
The Viper V2 Pro, which has been available for more than eight months as of this writing, has garnered both fans and skeptics since its introduction to the market. To better understand these favorable and unfavorable thoughts, I put the Viper V2 Pro through its paces to determine which camp I would ultimately join. Let's examine the Viper V2 Pro's performance in depth and the validity of the continuing discussions concerning its cost.
Specifications
| | |
| --- | --- |
| FORM FACTOR | Right-handed Symmetrical |
| CONNECTIVITY | Razer™ HyperSpeed Wireless and Wired – Speedflex Cable |
| BATTERY LIFE | Up to 80 hours (constant motion at 1000Hz) and Up to 24 hours (with HyperPolling Wireless Dongle, constant motion at 4000Hz) |
| RGB LIGHTING | None |
| SENSOR | Focus Pro 30K Optical Sensor |
| MAX SENSITIVITY (DPI) | 30000 |
| MAX SPEED (IPS) | 750 |
| MAX ACCELERATION (G) | 70 |
| PROGRAMMABLE BUTTONS | 5 |
| SWITCH TYPE | Optical Mouse Switches Gen-3 |
| SWITCH LIFECYCLE | 90-million Clicks |
| ON-BOARD MEMORY PROFILES | 1 |
| MOUSE FEET | 100% PTFE |
| CABLE | Razer™ Speedflex Cable USB Type-C |
| TILT SCROLL WHEEL | None |
| APPROXIMATE SIZES | Length: 126.5 mm / 4.98 in, Width: 66.2 mm / 2.61 in, Height: 37.8 mm / 1.49 in |
| APPROXIMATE WEIGHT | 58 g |
| DOCK COMPATIBILITY | None |
What's in the Box
Featuring Razer's signature green-on-black color scheme, the Viper V2 Pro's package is immediately recognizable as a high-quality product. Unboxing the mouse is a simple process. Everything you need to get started with the Razer Viper V2 Pro is right there in the package.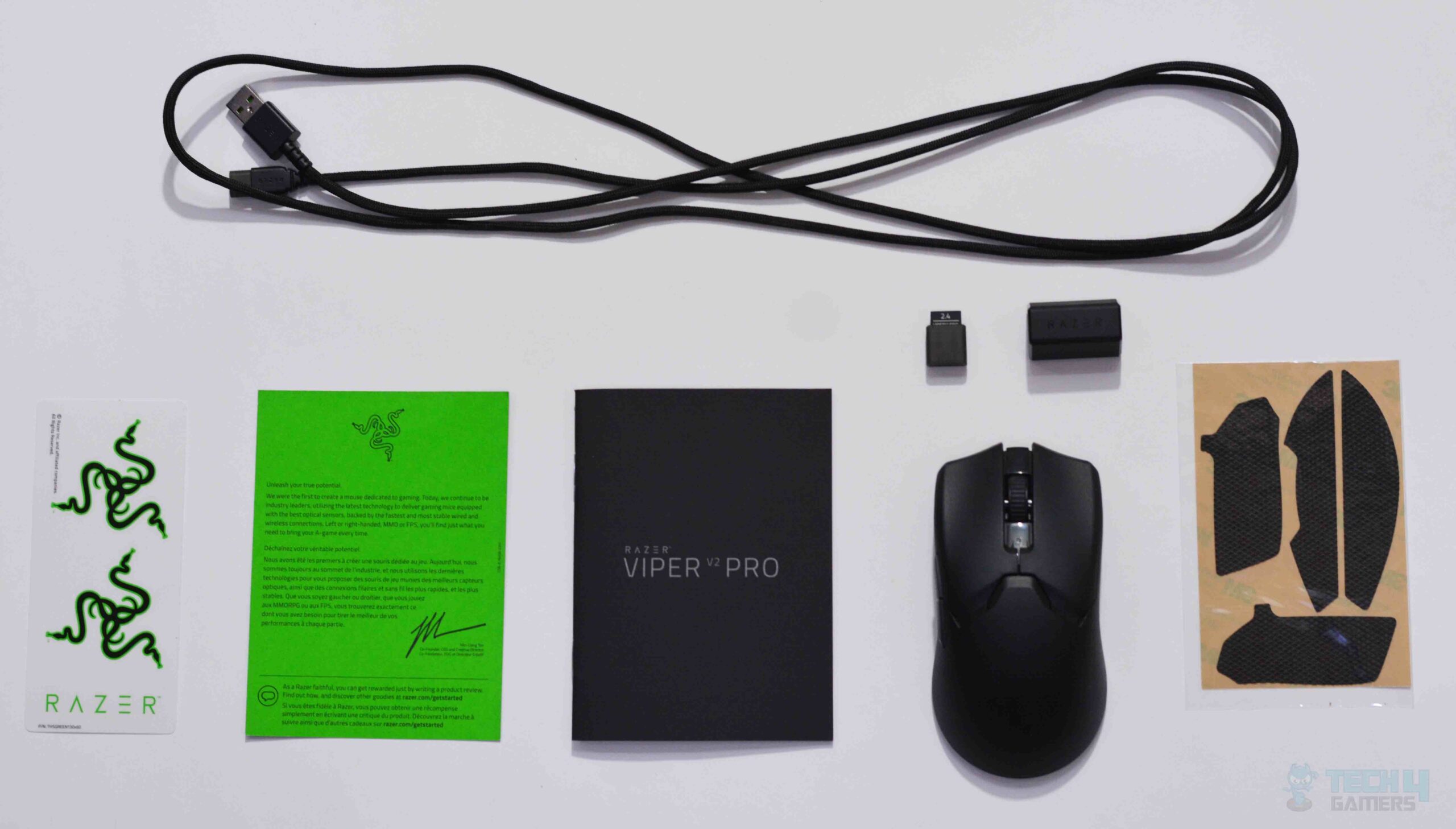 Razer Viper V2 Pro
Wireless USB dongle + USB dongle adapter
Type-A to Type-C Speedflex cable
Razer Mouse Grip Tape
Important Product Information Guide
Weight
The Viper V2 Pro's small Weight was the first thing I noticed; it nearly seemed like I was holding something nothing more than a hollow plastic shell. Nevertheless, despite its lightweight, the mouse gives the impression of being well-construct d. Although I am not a professional player, I have used the Viper Ultimate as my primary gaming mouse for quite some time. The prospect of a revamped version, though, is intriguing. The V2 Pro is an improved version of Razer's 2019 Viper Ultimate. The most noticeable difference is in Weight.
The Viper V2 Pro's reduced Weight of 58 g for the white model and 57 g for the black model is the consequence of a redesigned shell design, the removal of right-side buttons to reduce the number of buttons to a comfortable five, built-in side grips, and the absence of RGB without resorting to any other gimmicky measures.
It has managed to shed 17 grams in comparison to the previous black Viper Ultimate model. The Viper V2 Pro weighs just 57 grams, making it lighter than the 63-gram Logitech G Pro X Superlight and the 60-gram HyperX Pulsefi e Haste Wireless. Despite having an 80-hour battery, it's lighter than many renowned wired mice.
Moreover, Unlike many other lightweight mice on the market, the Viper V2 Pro doesn't rely on honeycomb shells or holes to attain its feathery chassis. Even though it's lighter, the Viper V2 Pro's durability is superior. There are no loose pieces or rattles in the mouse. The exterior is solid and bends slightly under force.
Also Read: Drevo Falcon Gaming Mouse Review
Shape
Razer has taken the "if it ain't busted, don't fix it" approach to the design of the Viper V2 Pro. The dimensions and design of the Viper V2 Pro are the same as those of the Viper Ultimate. Ultralight has a diminishing return since the lightweight will be felt but not make a major impact. However, a few significant external updates address other reviewers' concerns, and I have raised them against the Viper lineup. Evidently, Razer heard us.
The Viper V2 Pro is similar in size and form to the previous model and other palm-grip wireless gaming mice, measuring 1.49 by 2.27 by 4.99 inches. Though the Viper V2 Pro has the same general outline as earlier Viper models, it is otherwise distinct. The Viper V2 Pro is asymmetrical since the side buttons have been removed from one side.
It's still a design that works with either hand, but lefties will have to use it without the side buttons. Neither the front nor the back of the Viper V2 Pro has any pronounced curves, and the device lacks Razer's trademark flare at the top. While the width has been significantly increased in the back, the front has remained quite constant and only flared out slightly towards the center. The Viper V2 Pro maintains a low profile thanks to its centered hump and gently sloping profile.
The top of the mouse is remarkably flat, even throughout its width. The vertical and horizontal sides of the grip region both slope inward, although the vertical remains relatively straight. The only somewhat flashy shape-specific design feature is the rather deep resting grooves on the primary buttons. Because of the lack of palm support, the Viper V2 Pro is best used with a claw or fingertip grip unless one has very tiny hands. This mouse is a good fit for most people's hands because of its moderate size and little hump.
The Viper V2 Pro, although conservative in appearance, has a basic and beautiful form that works well in practice. If you've used previous Viper mice, you'll be familiar with the Viper V2 Pro's shape and weight distribution. The Razer Viper V2 Pro is almost indistinguishable from the original Viper mouse, with a few minor refinements. The loss of rubber grips is mitigated somewhat by the textured plastic covering on the shell, which was absent from the V1. In addition, the mouse's rough surface met all of my gaming requirements, o I didn't even bother with the accompanying grip tapes.
Sadly, Razer sacrificed the Viper V2's dedicated power button to make the mouse as light as possible. The new power button also functions as a DPI switch; you must hold it down to turn the mouse on or off. What has been sacrificed so far is just the beginning. The USB dongle s dedicated Razer area has been removed, too. When there is nowhere to put your dongle, you are more likely to misplace it, which is disappointing.
Optical Switches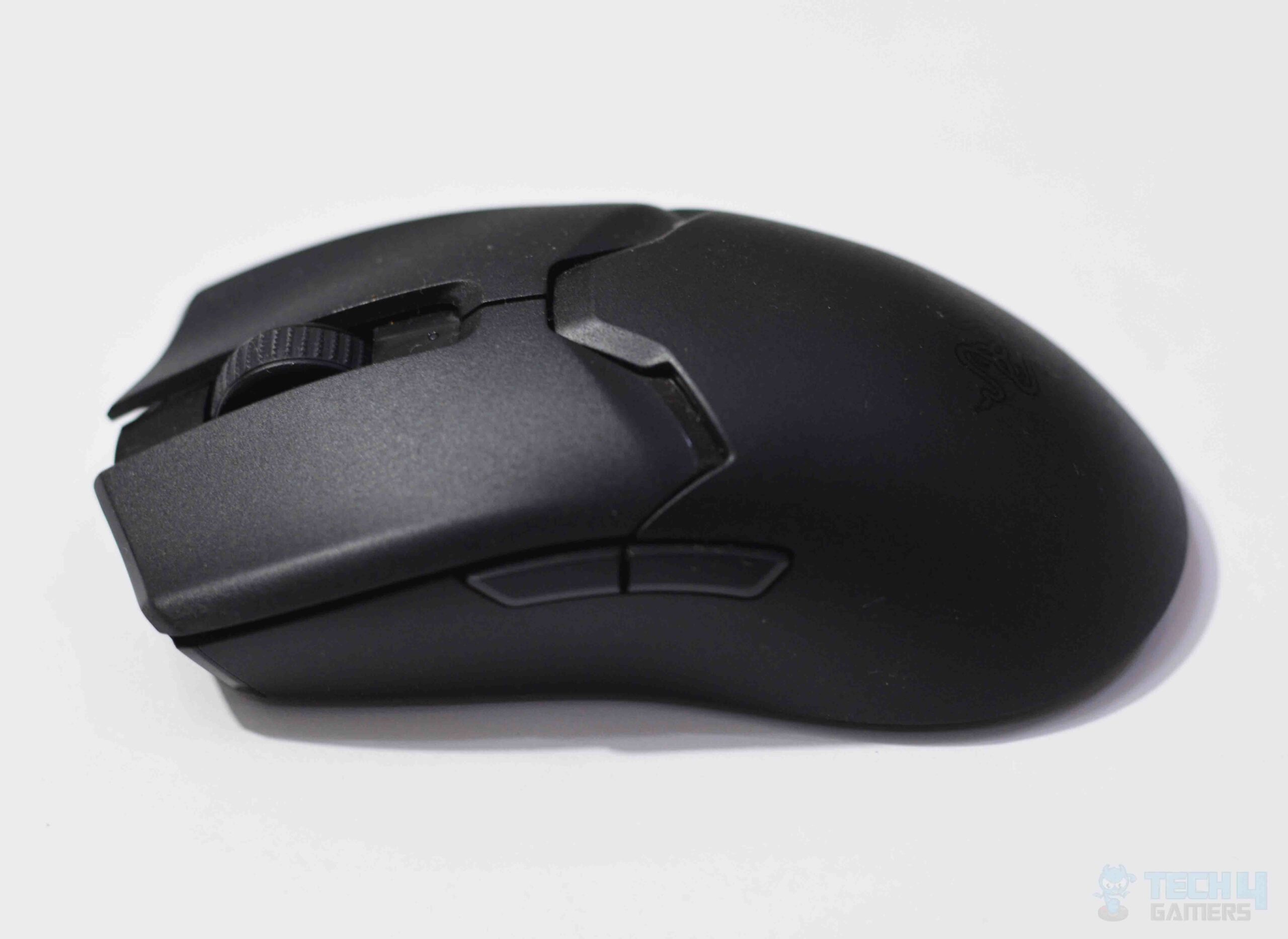 The two primary buttons are equipped with Razer's newest third-generation optical switches, certified for 90 million clicks, and provide extremely low latency without the possibility of accidental double-clicking. The two remaining buttons on the mouse's left side have also been upgraded, with the new design making them sit less flat with the mouse than the Viper Ulimate's. The V2 Pro's buttons are far superior to the Ultimate's in every conceivable way, including pre-travel, post-travel, side shift, and tactility.
I've also noticed that the left-hand buttons stick out a little more than they did on the Razer Viper Ultimate. Anyone who found the side buttons on the previous model too flush to press quickly would be pleased to hear this. Most mice employ mechanical switches manufactured by companies like Omron and Kailh, which, like keyboard s itches, rely on metal contacts to perform their purpose. However, optical switches, such as those made by Razer, depend on the disruption of individual light beams to register a user's input.
The company claims these benefits reduce latency, quicken responses, and extend product longevity. In my experience, the optical switches from Razer are the quickest and most responsive. However, many other people and I have noticed that they never felt right in the past. It took some time for people to get used to the click, which first seemed hollow and provided less input than mechanical switches.
With their Gen 2 optical switches, Razer has significantly addressed this shortcoming. Generation 3 opticals, however, have allowed eliminating the gap. The left and right mouse buttons feature Gen 3 optical switches, which readily compete sonically and tactilely with Omron versions. To some extent, they fall short of the feel and sound of premium aftermarket switches, but only slightly.
Build Quality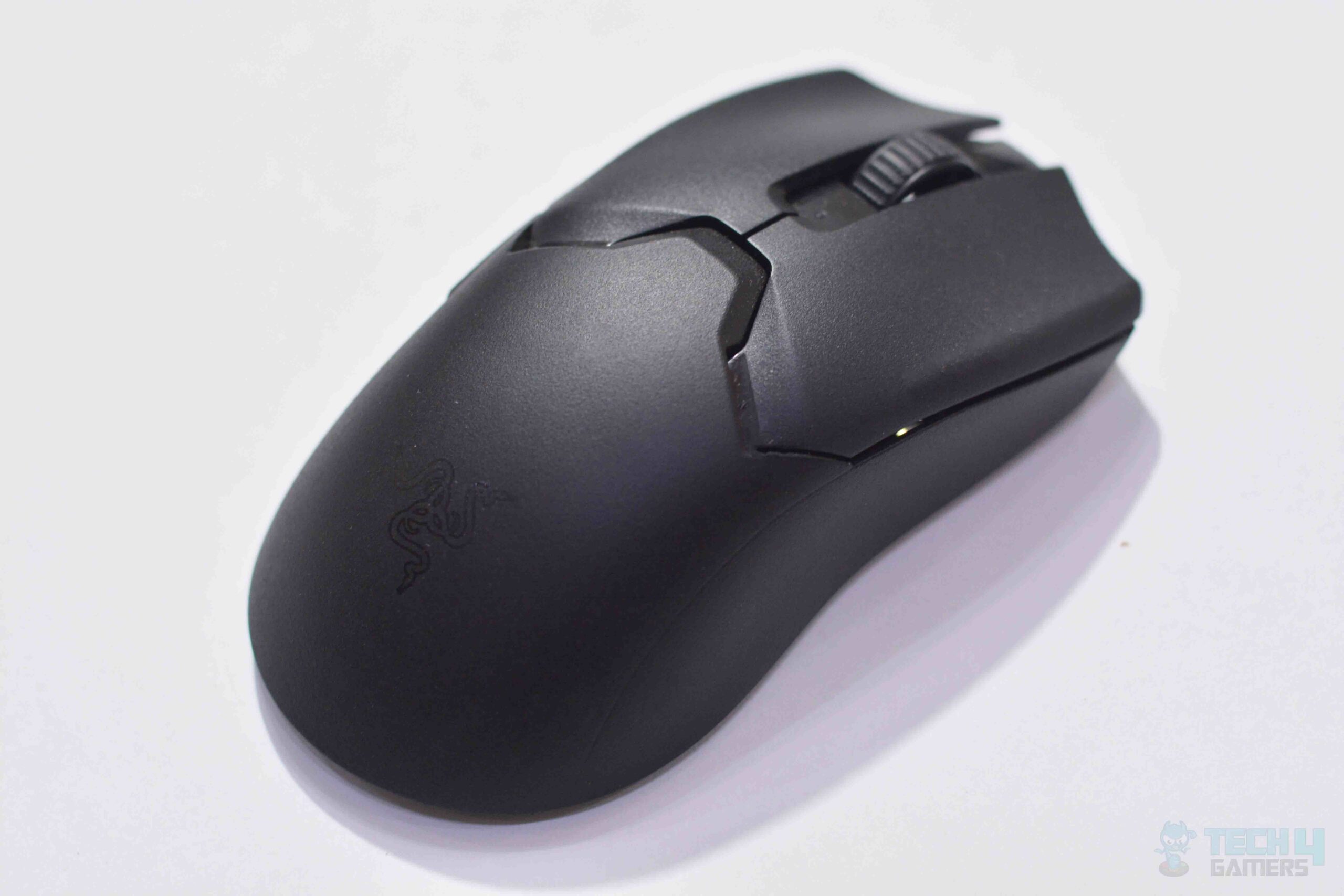 The grade of the structure is generally excellent. When you move the mouse, it doesn't make any noise. Applying lateral pressure causes a little cracking sound, but the shell does not bend. The chassis never seems like it would suffer damage if dropped, despite how light it is. The Viper V2 Pro is designed for both claw and fingertip grips since it has the same flat form as the rest of the Viper range.
Squeezing the sides to trigger the side buttons is feasible, but it takes a lot of pressure. At long last, you can stop worrying about making unwanted mouse clicks by slamming the mouse down. Viper V2 Pro's primary controls are excellent. There is some lag before and after travel, but the button reaction is still definite and swift.
Compared to previous implementations of optical switches, the two primary buttons come closer to sounding identical. Although the buttons seem physically detached from the shell, any sideways motion is subtle at rest and requires stimulation before it is readily apparent. The buttons are rather stiff. These buttons on the side are great. They have a hollow sound, but the pre- and post-travel are little.
Thus, the actuation is solid and satisfying. All of the surface areas have the same amount of pressure. You can easily activate the buttons by rolling your thumb over them. Thus, their size and location are also excellent. These switches are a set of CF surface-mounted switches with a white plunger. Viper mice have always had a reliable scroll wheel, and this mode is no exception. The Viper V2 Pro's wheel is mechanically similar to the wh el seen on the V1, although with slightly increased tension.
Nothing to complain about here either; the mouse wheel retains its high quality and familiarity with the same stepped design and stippled rubber finish as before. The exterior of the Viper V2 Pro has been slightly textured and is now matte. The grip is satisfactory and doesn't show dirt and fingerprints too quickly. Although cleaning might be time-consuming, it removes all traces of previous use. Overall, the materials are excellent.
Razer Focus Pro 30K Optical Sensor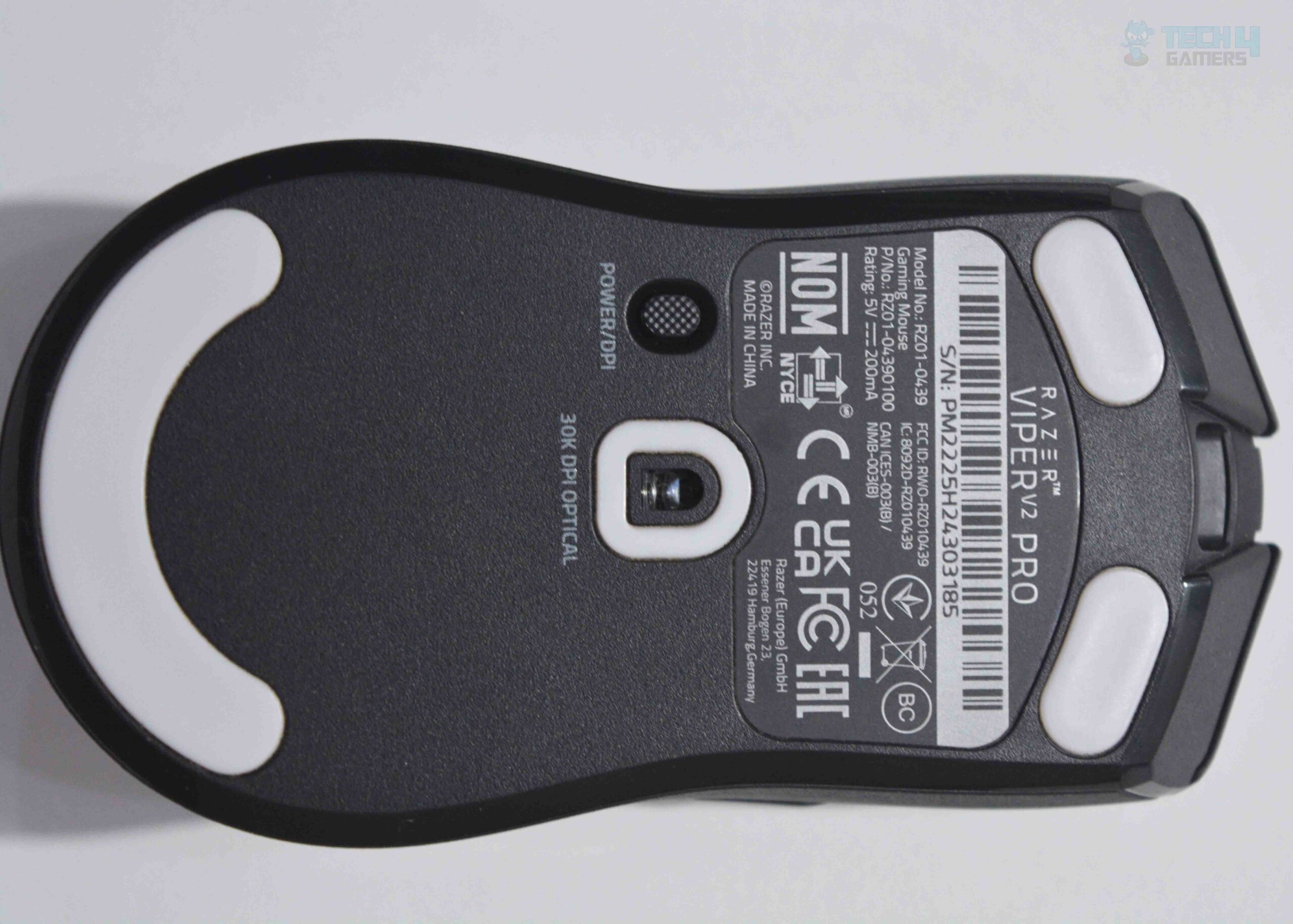 If y u flip the mouse over, you'll see that it has a relatively spotless bottom that houses the new Focus Pro 30k optical sensor, the power/DPI button, and three PTFE feet. Some notable improvements have been made to the design compared to the prior Focus Plus sensor. The PAW3950, or Focus Pro 30K sensor, is the most current technology of Razer and PixArt's continuous partnership. The PAW3950 can reach speeds of up to 30,000 CPI and has enhanced surface compatibility with glass and a shorter lift-off distance than its predecessors.
Users who want to utilize the 30K DPI setting on this mouse must use the Razer Synapse app. Considering that my preferred DPI range is between 800 and 1000, I considered the 30K DPI option unnecessary while it might be useful for competitive players. Razer Viper V2 Pro tracked flawlessly on both cloth and hard surfaces, with no discernible acceleration or other changes, and it had no spinouts or other mechanical difficulties. Whereas I didn't see any significant variation in lift-off distance due to Razer Viper Ultimate calibration, I did notice a difference thanks to the additional option to choose between "Low," "Medium," and "High" tracking distances.
The adjustments made to the V2 Pro's feet are noticeably more significant. The Viper V2 Pro stands on gently rounded, non-dyed PTFE Teflon feet. Glide performs nicely. When vertical pressure is applied, the sensor's CPI will remain stable thanks to the ring around it. This Viper's feet are smaller and shaped differently from those of earlier models.
The Razer Viper Ultimate was criticized for having the shortest foot and the sharpest angles of its generation of gaming mice. The sharp corners and low surface area might be an unwelcome obstacle on smoother mousing surfaces. The bigger, single rear foot and innovative-shaped front feet of the V2 Pro performed well right out of the box, especially on softer mousepads.
The Viper V2 Pro's brand-new Focus Pro 30K sensor is outstanding. It's exactly as promised, completely error-free, and much improved over its forerunner. In addition, Razer has enhanced the sensor's efficiency compared to the previous generation, which has significantly improved the Viper V2 s battery life.
Absence of RGB Lightning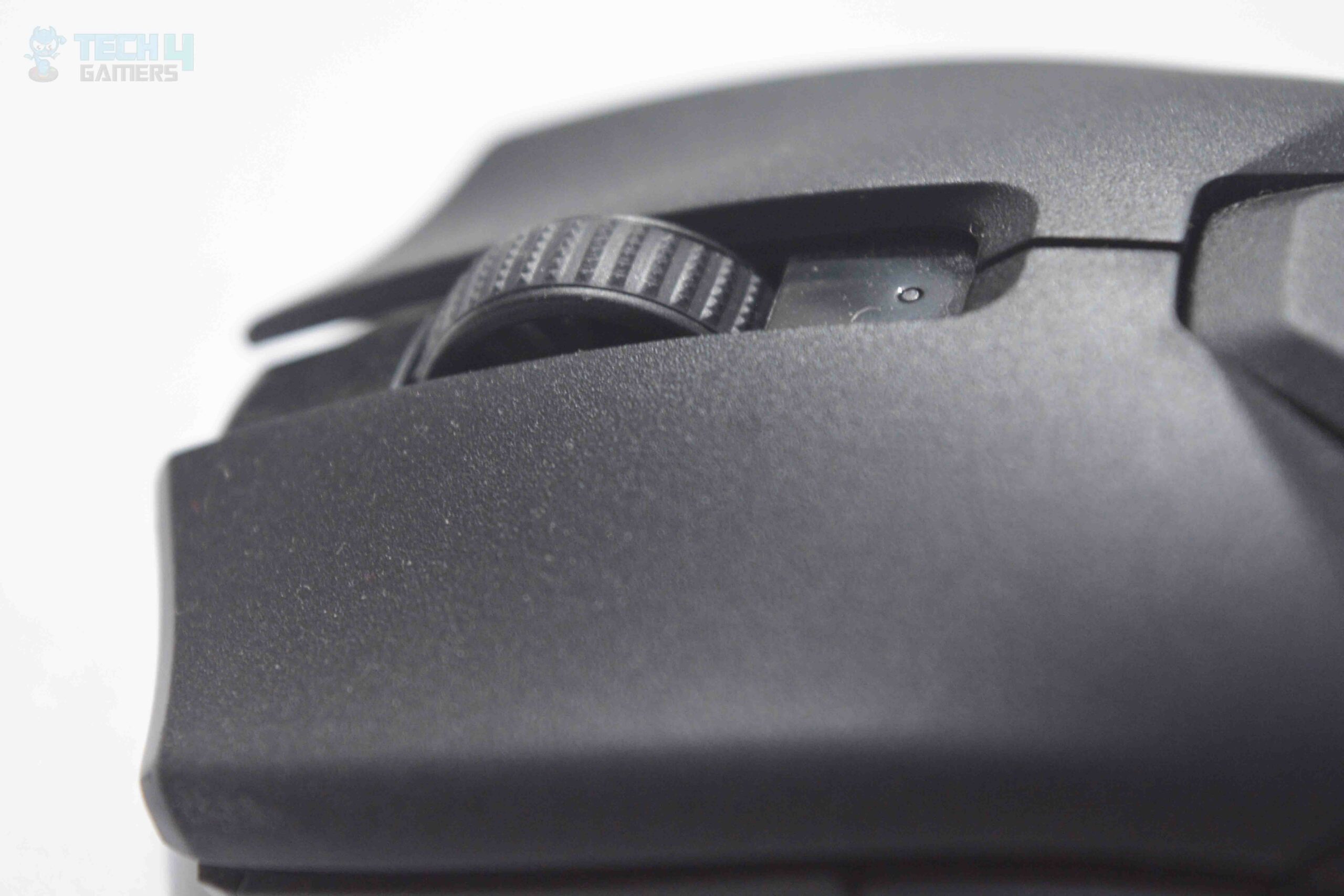 What's coming next could surprise you. Even though it's a Razer product, the Viper V2 Pro features zero customizable RGB lighting options. Razer ditched the RGB branding in favor of a plain, printed logo to save Weight and offer a pure performance product. The Viper V2 Pro achieves a minimum of 80 hours of battery life by removing RGB enhancements to the wireless implementation.
A small LED is positioned behind the scroll wheel, and that's the sole light provided. The charging status of the mouse and its status as an active device can be indicated by its blinking light. Achieving that 58g weight required a modification that may not go well with RGB purists. But it was a necessary sacrifice.
Connectivity Options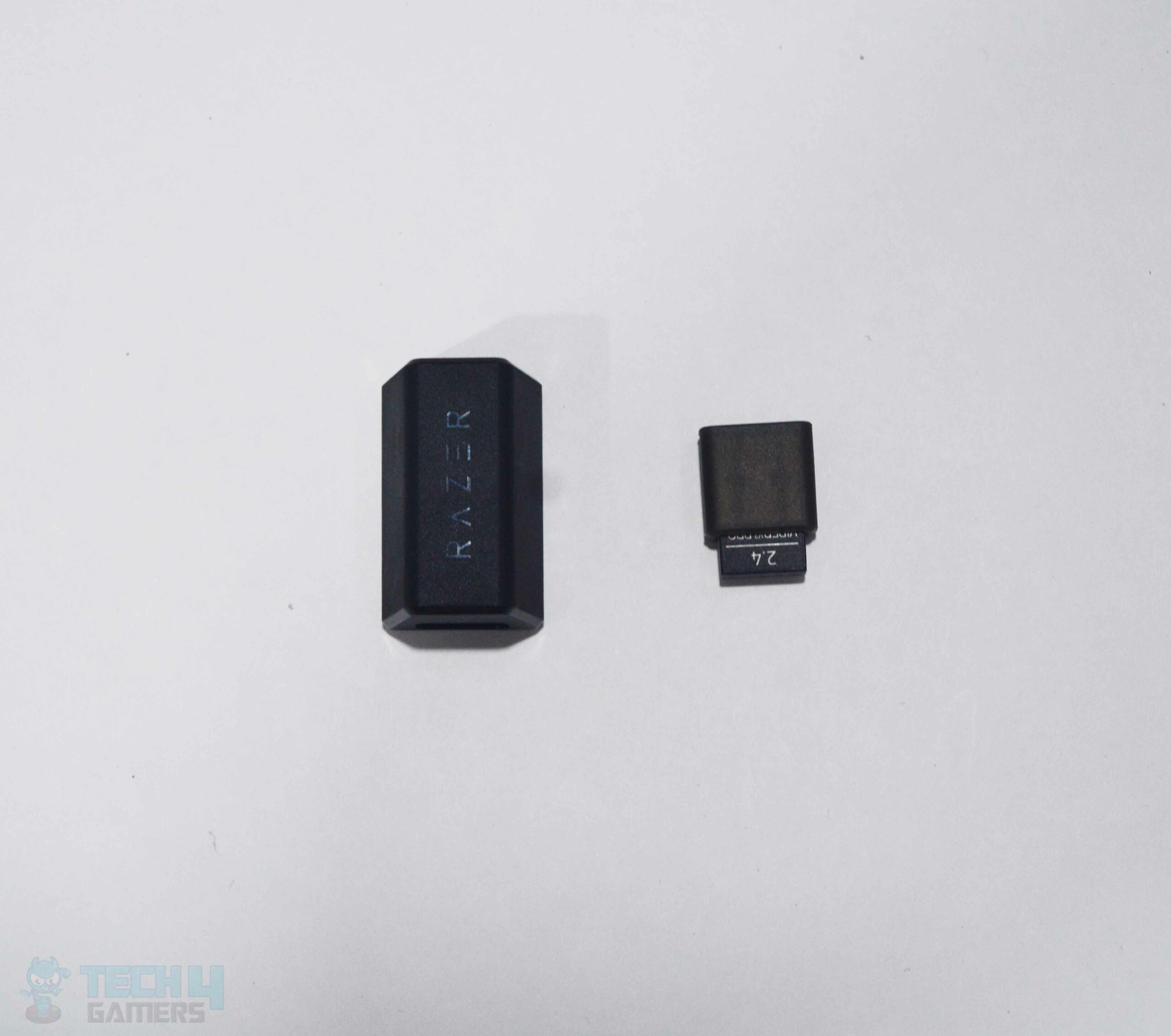 When the Razer Viper Ultimate debuted, it came with a charging dock. The handy addition lets you charge your Razer Viper Ultimate while it isn't in use by placing it onto the dock. Moreover, the dock extended the reach of the wireless dongle and added more RGB lights to your setup. The adapter was compatible with later-model Ra er mice as well.
It is skipped on the V2 Pro in favor of a system used by almost all g ming mouse manufacturers today. It includes a 2.4GHz dongle, a coupler, and a USB-A to USB-C charging cable. In this arrangement, the dong e employs Razer's HyperSpeed Wireless technology to offer a connection as reliable as a wired one. The wireless dongle will typically be inserted into the coupler's USB-C port, while the USB-A port will be connected to the user's computer.
The mouse's battery may be charged by removing the USB-C plug from the coupler and inserting it into the mouse itself. This s itches the mouse into a wired device. Reversing the above steps, you may easily return to wireless connectivity when charged. This configuration is simple to use, adaptable to a wide range of situations, and widely accepted as the reference standard in the market. The 2 Pro's wireless connection has no latency and never causes any issues. The V2 Pro has 80 hours of gameplay, which is 10 hours more than the Ultimate.
Gamers who prefer a cable connection can plug in the SpeedFlex cable. The V2 Pro's USB-C connector may be found between the primary clickers, taking the place of the wireless doc ing station of earlier Vipers. To avoid snag ing when charging, I recommend the 6-foot SpeedFlex cable, although any USB Type-A to Type-C connection will serve its purpose.
Although it's unlikely that the wire would get disconnected while in use, there isn't an anchor at the mouse end of the line. The previous Razer charging cords were much more rigid. Thus, this one is a big improvement. As a result, the Viper V2 Pro may be utilized with no discernible change in handling relative to a completely wired mouse. The HyperPolling Wireless Dongle relies on a cable with shielding comparable to that of a high-speed wired mouse. Hence this is what was utilized to power it. This wire is 1.80 meters in length.
In contrast, those who prefer to utilize the included USB wireless dongle will enjoy a solid experience through a 2.4GHz connection—the benchmark for any wireless gaming mouse. However, it cannot compete with the ease of placing a Razer Viper Ultimate at its dock. The charging cable serves dual use as an extension cord when paired with the wireless extender. With the help of the wireless extender, you may minimize the space between your dongle and mouse.
Since the mouse doesn't have a dedicated place to keep the dongle, the extension may also be used as a simple attachment point, making it less likely that the dongle will go misplaced on the road. Many people are unhappy with the V2 Pro's price because of this. Misunderstanding Razer's aims are at the root of many complaints, including the lack of RGB, revamping the charging method, and the absence of right-side buttons.
Also Read: TT eSPORTS Mouse Review
Enhanced By Intelligent Functions
The V2 Pro, like the Ultimate before it, uses Motion Sync, Razer's Smart Tracking, and Asymmetric Cut-Off technology. Motion Sync syncs up with your computer's data extraction intervals for the mouse, so it always has the most up-to-date information on your cursor's location. Razer's Smart Tracking aids in keeping the lift-off distance constant regardless of the surface, which provides more command.
Finally, height adjustment granularity levels in Asymmetric Cut-Off have increased from three to twenty-six. The new sensor is impressive thanks to its high resolution of 30,000 dpi and a top acceleration of 750 inches per second. These features make the new sensor outstanding, putting it on par with Logitech's acclaimed Hero sensor.
In plain English, users may choose a launch and landing distance that is optimal for their play style, and this distance will remain constant regardless of the surface type. This is done so that the device can maintain consistent tracking for improved accuracy.
Inclusion of Additional Side Grips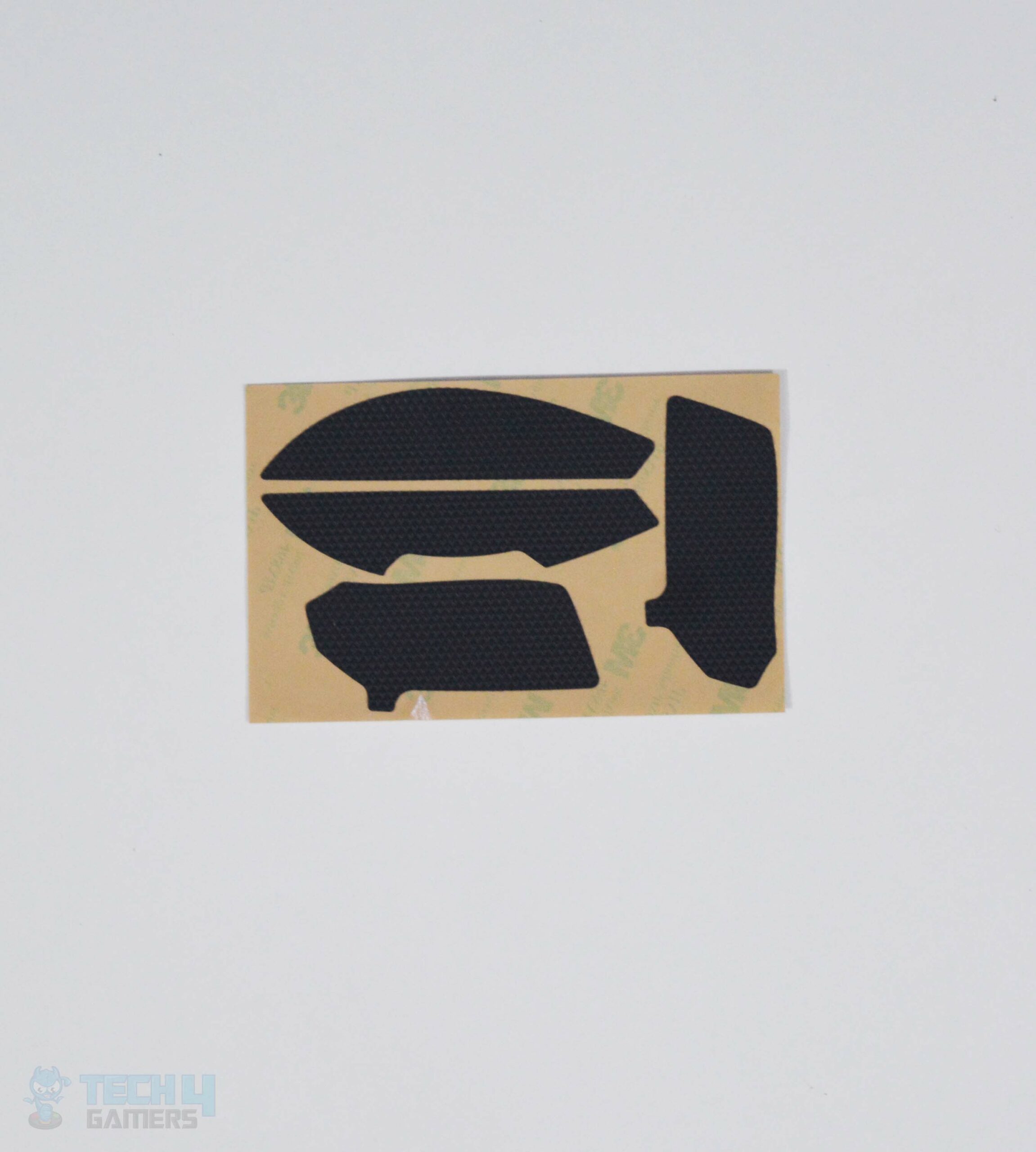 The Razer Viper Ultimate's built-in rubber panels added a nice texture, although several reviewers noted that they wore out quickly. In the past, many normal healthy mice were lost prematurely because they couldn't be replaced. Although, It had enough friction to keep your hand from slipping even when it's warm and sticky.
Fortunately, Razer has included a pair of rubber grips that may be attached to the V2 Pro if you still like the feel of softer rubber. These appliques may be easily swapped out, eliminating the need to throw otherwise functional Vipers due to simple wear and tear on the grips. The included grips enclosed the mouse's side panels and left and right buttons, with cutaways on the left for the mouse's back and forward buttons.
Those openings are just on the left, as I said. The V2 Pro is different because the right panel, where buttons used to be, is now empty. Unlike the Razer Viper Ultimate, a "truly" ambidextrous mouse, the V2 Pro only has back and forward buttons on the left side. Though this may be a bummer for gamers who use their left hand to use their mouse, it will be a huge relief for those whose ring or pinky fingers often seem to land on the right side of their Razer Viper Ultimate, activating the switches by mistake.
Compatibility With Razer Synapse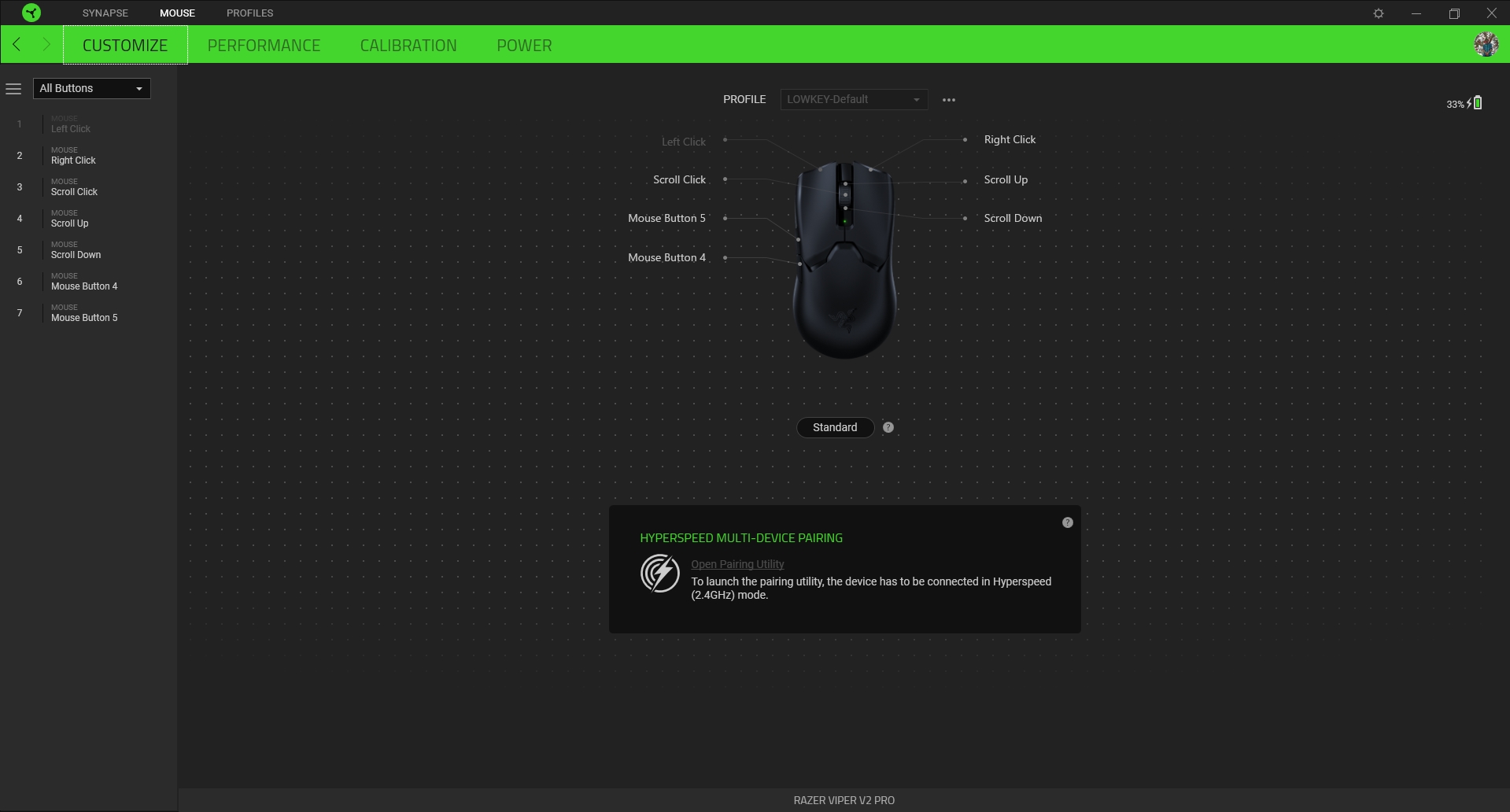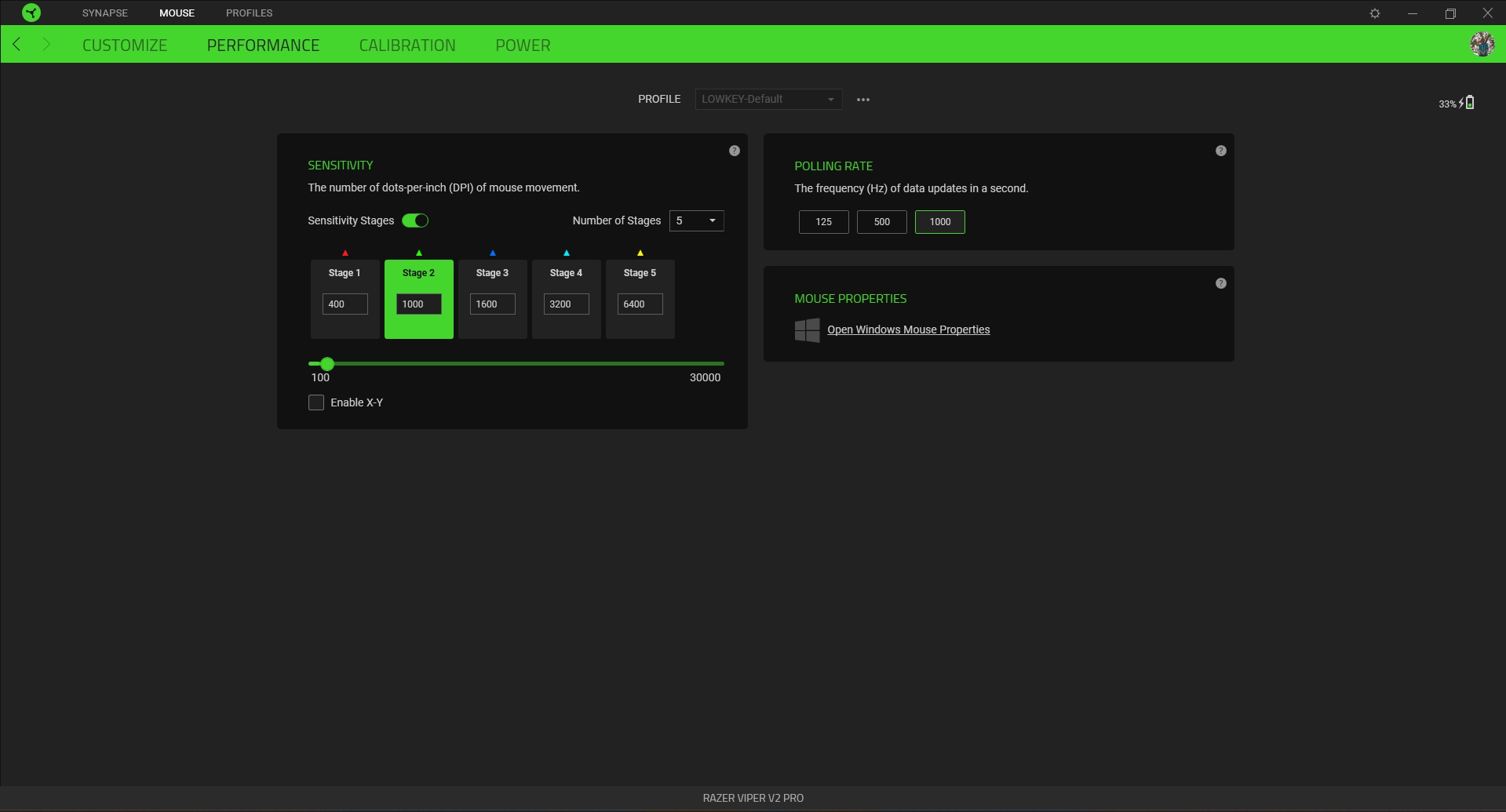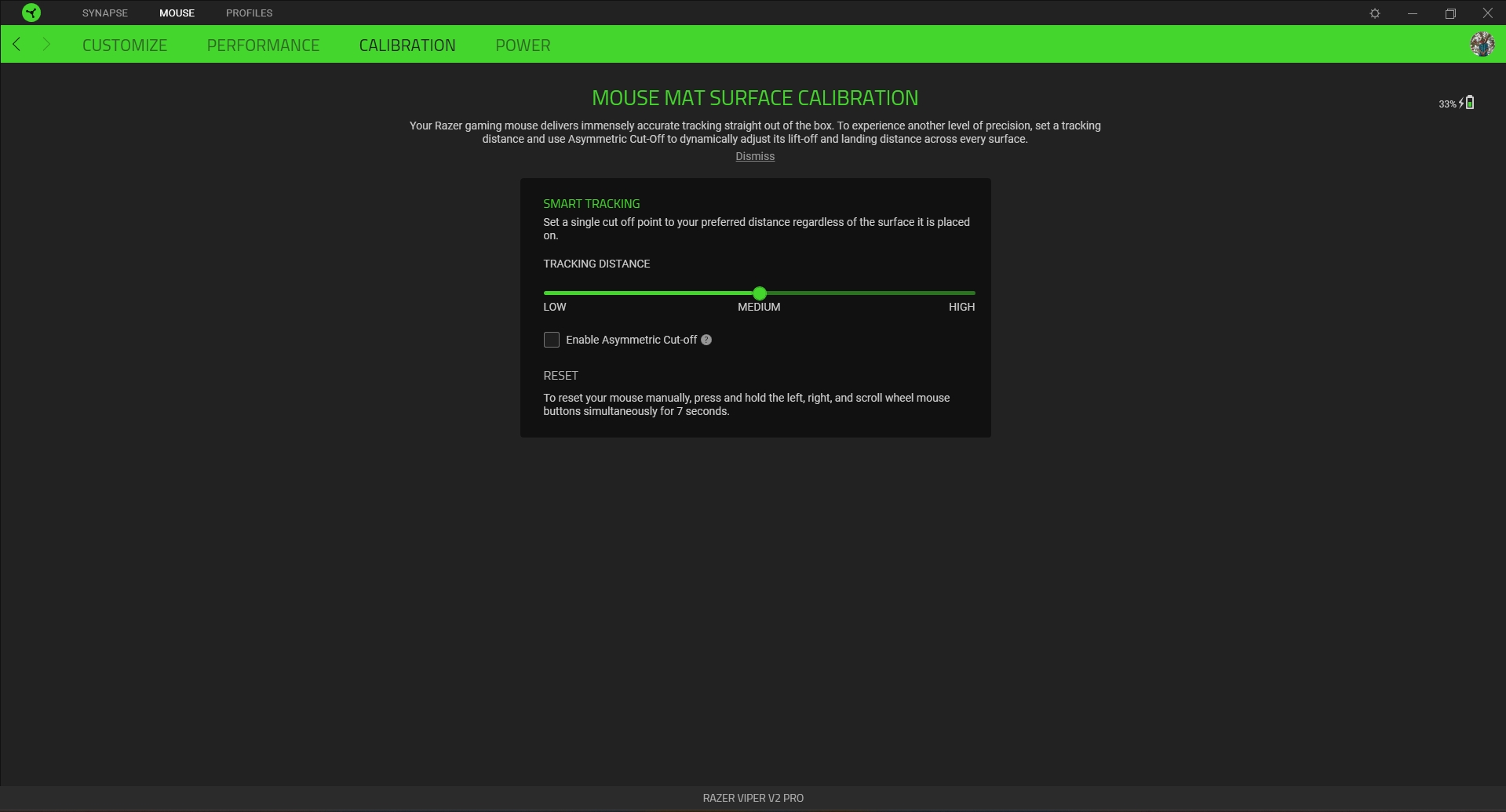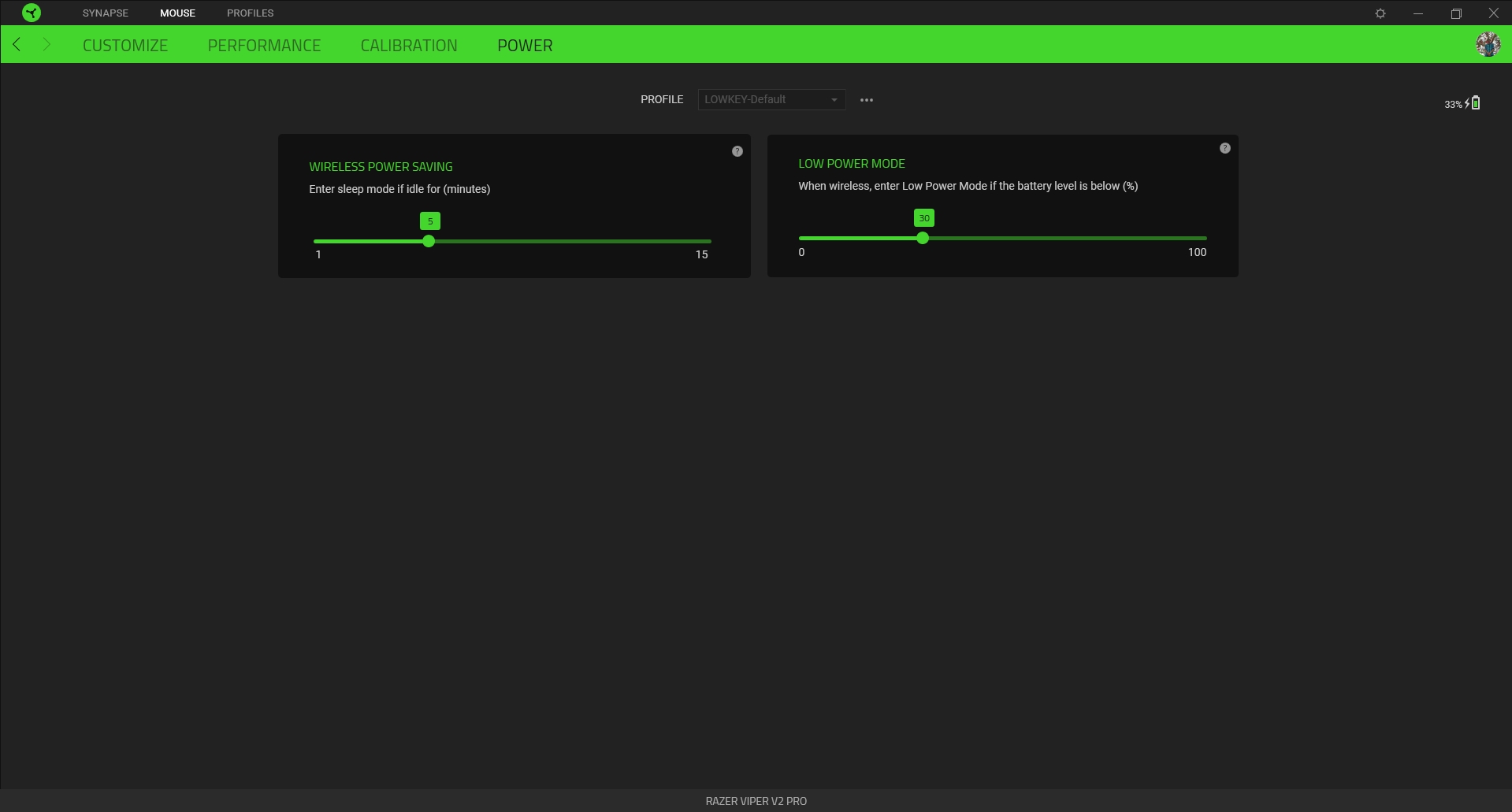 Razer is, in my opinion, the undisputed leader in the realm of customizable, color-changing lightning; hence, it was a bit of a surprise to see that the V2 Pro lacks any kind of RGB lighting whatsoever. The logo and scroll wheel lack even the tiniest hint of RGB. In this model, Razer seems to be taking a minimalist approach, and although I appreciate the effort, I must admit that I miss the sparkle.
Esports gamers are Viper's target demographic, so I'm willing to bet they wouldn't mind if the mouse lost a little weight in exchange for the lightning show. However, the lack of RGB support does not compromise the power of Razer's customization suite, Razer Synapse. It may not have any lightning settings, but you can still tinker with the sensitivity, polling rate, lift-off distance, button as alignments, and other settings to your heart's desire.
For the Razer Viper Pro V2, the latest version of Synapse will be used. Synapse also allows you to set up the V2's updated capabilities. Thanks to the asymmetric cut-off, you can fine-tune your pick-up game by independently adjusting the takeoff and landing distances. The mouse has five different DPI levels. However, only a single profile may be saved to the device. Razer Hypershift is an alternative that lets you temporarily overlay a second set of features on top of your existing button assignments.
Having a plethora of shortcuts at your disposal is particularly useful in strategy games and MMORPGs. The most user-friendly program includes all of this and more. If you're familiar with other Razer products, you won't notice any differences here, but new users may feel overwhelmed by the number of settings available. In all the greatest ways, the V2 Pro gives the impression that it was made for specialists who aren't afraid to go deeply into settings menus.
The Viper V2 Pro's DPI may be changed on the fly between five different values accessible through the performance tab of the settings menu. Each set's X and Y axes are also flexible, and you may use as few as two or as many as five. The polling rate may be changed from the standard 1000 Hz to a range of values between 500 Hz and 125 Hz. The mouse mat's surface calibration tab is next, where you may tweak the optical sensor's tracking distance.
If your mouse has problems tracking on a particular surface, you may change the lift and landing sensitivity using the Asymmetric Cut-Off feature. However, I seldom used it since the mouse worked well on every surface I used it on. Finally, a power tab lets you adjust wireless power conservation and put the mouse to sleep after one to fifteen minutes of inactivity. You may also configure a low-power mode that activates at a certain percentage of battery life remaining.
The included Razer Synapse software allows for fine-tuning and customization, and stored configurations may be used even when the software isn't open in the background. The Razer 4000 Hz HyperPolling Wireless dongle, which provides accurate 4000 Hz polling in wireless performance, is also compatible with the Viper V2 Pro.
Powered to Perform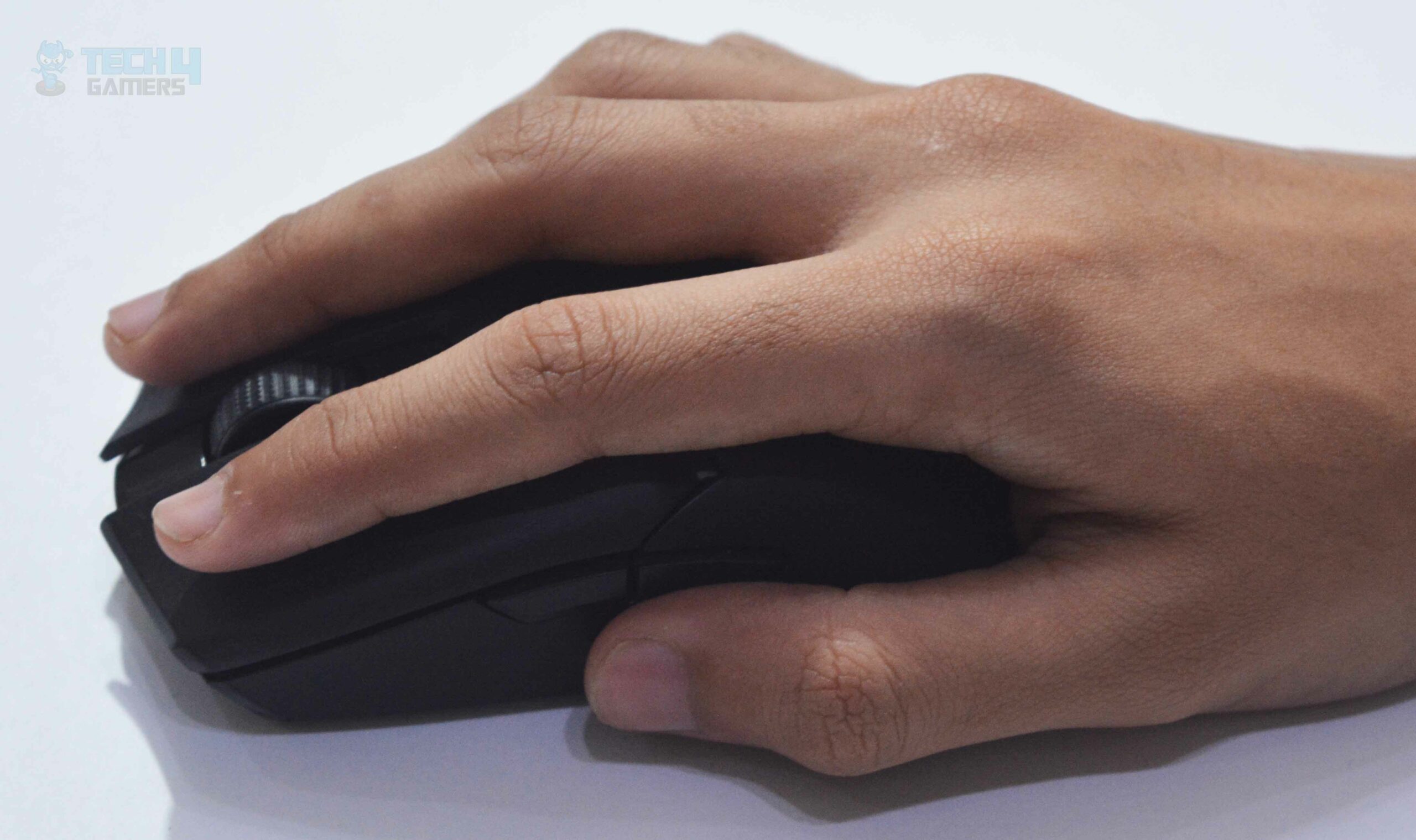 Although I am not a pro, my mouse skills improved significantly after playing CS: GO. The V2 Pro excels in games that need rapid mouse movements and swipes. Games like Valorant and Apex Legends, both FPSs, in which sniper rifle flick shots felt responsive and natural. Moreover, multiplayer online battle arenas like DOTA are perfect examples since they need quick reactions, precise mouse movements at high DPI settings, and a high click rate from the player. I had no way of convincing myself that the mouse was to blame for my failures, so I had to accept responsibility for my lack of precision.
If you're familiar with the Viper family of products, you'll find that the V2 Pro represents a significant improvement. It incorporates the best features of its predecessor, smooths out the rough spots, and results in a well-honed, pinpointing device. However, you give up a couple of the older model's capabilities in exchange for lightweight, rather than compromising comfort for precision. Regarding gaming mice, particularly those designed for FPS games, I strongly believe lighter is better.
These cuts are at the heart of the debate over the V2 Pro's first critical reaction. The question, "Why am I spending more for a mouse that utilizes less material and doesn't have a dock?" has been posed by several Redditors. A YouTube dispute has broken out between many prominent mouse review channels, including one channel effectively labeling as "shills" any of the others who rate the Viper V2 Pro a remarkable mouse.
To upgrade to the V2 Pro, you must sacrifice a few features. Most of them are listed on the V2 Pro's product page on Razer's website. The features that have been cut out and the amount of space they've freed up are listed as you scroll down the page. Grip extensions? -3.2g. buttons on the right? -2.9g. Moreover, -2.7g for not having RGB lighting. And so on; the point is that there is no dishonesty here. Razer did not create a product that it said had all of the capabilities of the Razer Viper Ultimate.
What came out was a high-quality mouse that made some sensible trade-offs to be one of the lightweight on the market without resorting to any apparent perforation. The price tag may be more understood if exterior flaws like holes are explained. Many other mice are as light as the V2 Pro, but only a select handful have managed it without weakening the shell.
In reality, it's rather costly to manufacture mice with such little mass, solid construction, and few openings as this type. You're paying for the millions of hours of development that went into making a mouse that is at once light, precise, and durable. It just takes a few cents to get the plastic. The research and development of new technology into its production drive the price significantly.
Should You Buy it?
The Razer Viper V2 Pro is an excellent gaming mouse that breaks new ground regarding how little Weight a high-performance gaming mouse can have. Razer has not slacked off in any respect, despite fierce competition from devices like the G Pro X Superlight. If you have the cash, haven't replaced your mouse, and are fans of Razer's minimalist aesthetic, the Viper V2 is a great choice for a new wireless gaming mouse.
Related Read: The 7 BEST Mouse For VALORANT
The 2019 Razer Viper V2 Pro improves upon the previous generation Viper Ultimate in several ways. Although it isn't quite a revolution, it is undeniably a move in the right direction. The V2 Pro is an excellent gaming mouse with a phenomenal sensor, extensive customization possibilities, and a sleek appearance that will look well on any desktop. Don't pass it up if you're a dedicated gamer. It has all the functions that an esports wireless mouse should have.
Razer has no plans to stop selling the Razer Viper Ultimate, so don't worry if you feel obliged to have four side buttons, two on each side, or are worried that your setup will suffer without RGB lighting. As was previously reported, the current price of $80 is the lowest it has ever been. However, the Viper V2 Pro is the greatest mouse Razer has ever made for FPS gamers who want the best, most accurate weapon to increase their headshot count or give them more victories in a battle royale.
I understand that the asking price of $150 might be overwhelming for some people. I would encourage them to be patient. Compared to its competitors, Razer is known for offering earlier discounts. So when V2 Pro is as old as the Razer Viper Ultimate is today, which may be in a few years, its price could drop to about $80. Until then, any competitive player familiar with the Viper form has my absolute recommendation. Certainly, even at the present asking price. You can see why the V2 would be a worthwhile upgrade from the Ultimate.
Conclusion
Like its predecessors, the Razer Viper V2 Pro has a somber design with strong angles. Black plastic with a rough matte finish and glossy black plastic details make up the whole. A little LED light hidden beneath the wheel reveals the current CPI setting. On the palm rest, you'll see the Razer logo, although, unlike prior iterations, there is no RGB illumination. Although it's lighter than its predecessors, the Razer Vipe V2 Pro still has a solid, well-built feel.
If you move the mouse, you won't hear any rattling noises, and neither the buttons nor the scroll wheel will wobble. However, if you press down hard enough on the mouse's side, you can trigger the side buttons, which isn't a problem in practice. According to Razer, the white version of this mouse is around one gram heavier. The Razer Viper V2 Pro generally has a pleasant symmetrical form. It has a little bump in the center but is flat and slim. The plastic body is gently textured for improved grip, and the buttons are strategically positioned.
This Viper model is unusual because it lacks bu tons on the right side, making it suitable for right-handed users while leaving left-handed users without a mouse. Even though it comes with adhesive grips, this mouse does not include the rubber side gr ps of the previous model Razer Viper Ultimate. Razer claims that the battery life of the Razer Viper V2 Pro is 80 hours. The Razer Viper V2 Pro's paracord-like charging wire is lightweight and flexible, making it easy to move from desk to desk without creating unnecessary drag.
Razer Viper 2 Pro's feet are so well-designed that the mouse moves effortlessly on both hard and soft mousepads and straight on desktops. The Razer Viper V2 Pro's all-buttons make it easy to assign their new purposes, including profile switching, media playback, window shortcuts, and even keyboard shortcuts. A Hypershift button, which allows for a second tier of button assignments, may also be programmed. It has an ext a, unprogrammable button at the bottom of the mouse.
When held for three seconds, this button turns the power on and off, pressing and releasing it cycles between five different CPI levels. The G n-3 optical switches used in both the left and right click buttons are rated for 90 million clicks each. The click latency on the Razer Viper V2 Pro is consistently l w. It's great for casual and competitive gameplay because of its snappy controls and wide range of genre support.
This mouse contains a setting called "Asymmetric Cut-Off," which allows you to alter the lift-off and landing distance to fit your play style and the typical sensor adjustment options found on other gaming mice. In contrast to other recently released mice, this optical sensor works properly on glass. The mouse wheel has a satisfying click and smooth, definite steps. Besides being silent while moving at high speeds, the rubberized texture improves grip. Synapse, Razer's software, is excellent. The interface is clean and straightforward.
Variables such as CPI, takeoff distance, calibration, surface calibration, and power settings are all adjustable. The software has been criticized for its frequent upgrades and excessive resource use, much like many other software solutions from other big manufacturers. If you prefer little or no software at all, you may find this to be an annoyance. In both Windows and macOS, the basic button actions perform as expected. Razer Vper V2 Pro was used to write this review. It should be noted that Razer had zero hand in shaping this evaluation.
Up Next: GLORIOUS Model D Minus Mouse Review
Was our article helpful? 👨‍💻
Thank you! Please share your positive feedback. 🔋
How could we improve this post? Please Help us. 😔