Best MOBA/MMO Gaming Mouse?
Review Summary
The Darkstar is a highly customized gaming mouse designed for a massive fanbase of MMO/MOBA users. I would fall in love if I could get familiar with the somewhat awkward button layout a little earlier. With this in mind, the Corsair Darkstar Wireless costs $170, and the short battery life is a major draw. However, you get a lot of value for your money because of its ergonomic layout, high-quality performance, and solid build quality.
Build Quality -

8.5/10

Value -

8/10

Performance -

9/10

Design -

8/10

Software -

7.5/10
Pros
Innovative and futuristic design
Remarkable sensor
Extensive personalization choices
Lightweight for an MMO mouse
Tilt gestures
Cons
A little bit expensive
Short battery life
Side buttons are hard to get used to
Inadequate RGB lighting
A heavenly presence has emerged in the endlessness of the gaming world, tempting players from every part of the cosmos. The perplexing gaming mouse, the Corsair Darkstar Wireless, awaits us as we enter the realm of the unusual, ready to redefine the essence of control. If you want an out-of-this-world gaming experience, this wireless MMO gaming mouse is your ticket to the stars. Therefore, its extensive features will help you harness your full gaming potential.
---
Key Takeaways
The Corsair Darkstar Wireless gaming mouse is intended for MMO and MOBA games. It contains 15 programmable buttons, including a one-of-a-kind six-button side cluster conveniently located for quick access. A sub-1ms Slipstream Stream or Bluetooth connection, a Corsair Marksman 26,000 DPI optical sensor, and lightning-fast Corsair Quickstrike buttons round out the mouse's capabilities.
I have liked the Corsair Darkstar Wireless Mouse's innovative and futuristic design, remarkable sensor, extensive personalization choices, lightweight for an MMO mouse, and tilt gesture motions.
The things I have not liked about the Corsair Darkstar Wireless are its a little bit expensive, its short battery life, the side buttons are hard to get used to, and inadequate RGB lighting.
The Corsair Darkstar Wireless gaming mouse is perfect for gamers who enjoy playing MMO/MOBA games. These genres typically require players to use various abilities and commands, making the 15 programmable buttons on the mouse extremely useful for customizing keybindings and macros—moreover, those who value intuitive extra features, speed, and comfort during gaming sessions.
---
Usually, mice built expressly for MOBA and MMO games is hard to come by. These gaming mice are peculiar in a market saturated with professional esports mice with the same streamlined design, ultralight body, and reliable gaming-grade sensors. You can play these games with any mouse, but the more you get into the genre, the more you'll appreciate a gaming mouse designed specifically for their requirements.
Fascinatingly, the new Darkstar Wireless RGB MMO Gaming Mouse from Corsair is an intimidating contender. With Darkstar Wireless, Corsair enters the competition of this restricted market domain, providing an alternative approach to the MMO gaming mouse. It's fantastic to see a mouse explicitly designed for MMO players at a time when the majority of top-tier gaming mice are tailored for competitive eSports and FPS players. The name may be misleading, but the mouse shines out in a crowd.
Why you can trust Tech4Gamers:

We understand the importance of making informed decisions. That's why our team spends significant time testing every product we review.

Find out more about how we test.
It stands out because of its high-resolution sensor ceiling (26,000 CPI), unique button arrangement, striking futuristic design, and extensive personalization possibilities. Despite its many useful features, some customers may balk at the device's steep price tag of $170. Tech4Gamers has given the Darkstar its recommended award as an excellent MMO mouse despite its prohibitive cost. After a few days of using the Darkstar Wireless, it's impossible not to be impressed, although even dedicated MMO mouse users may have trouble getting the hang of it initially.
Specifications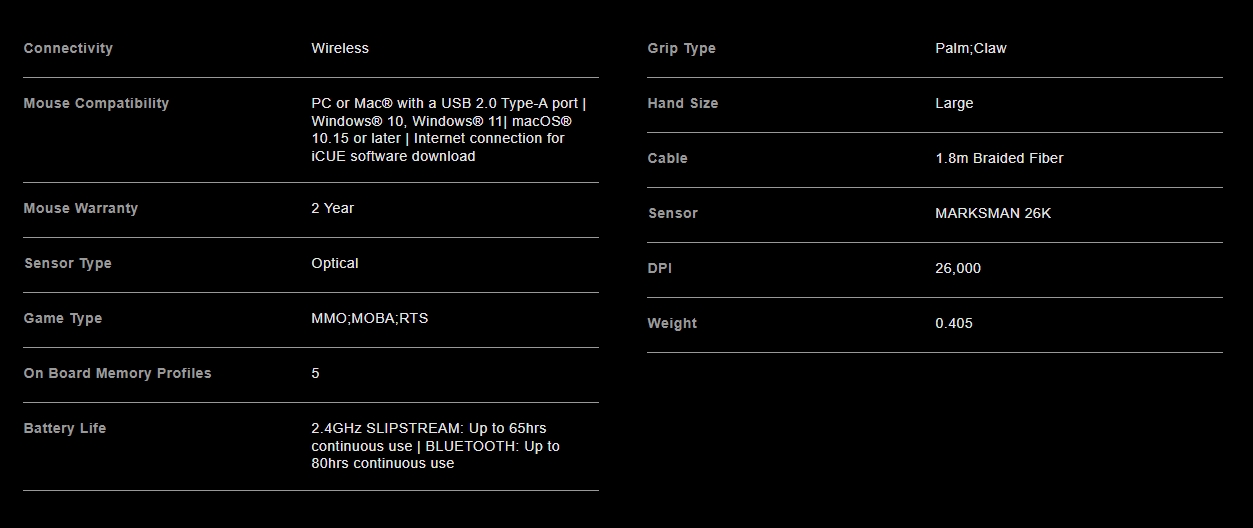 Box Contents
Corsair Darkstar Wireless
USB-A to USB-C Charging Cable
User and Warranty Information
Slipstream Wireless USB Reciever
Even though many mice often don't come with many bells and whistles, the Darkstar's accessories are a bit underwhelming. For $170, I'd expect Corsair to provide a plethora of in-box contents, like a high-quality paracord-style cable, some kind of dongle extender, and possibly an additional set of mouse feet.
Take a look at the unboxing video:
First Impressions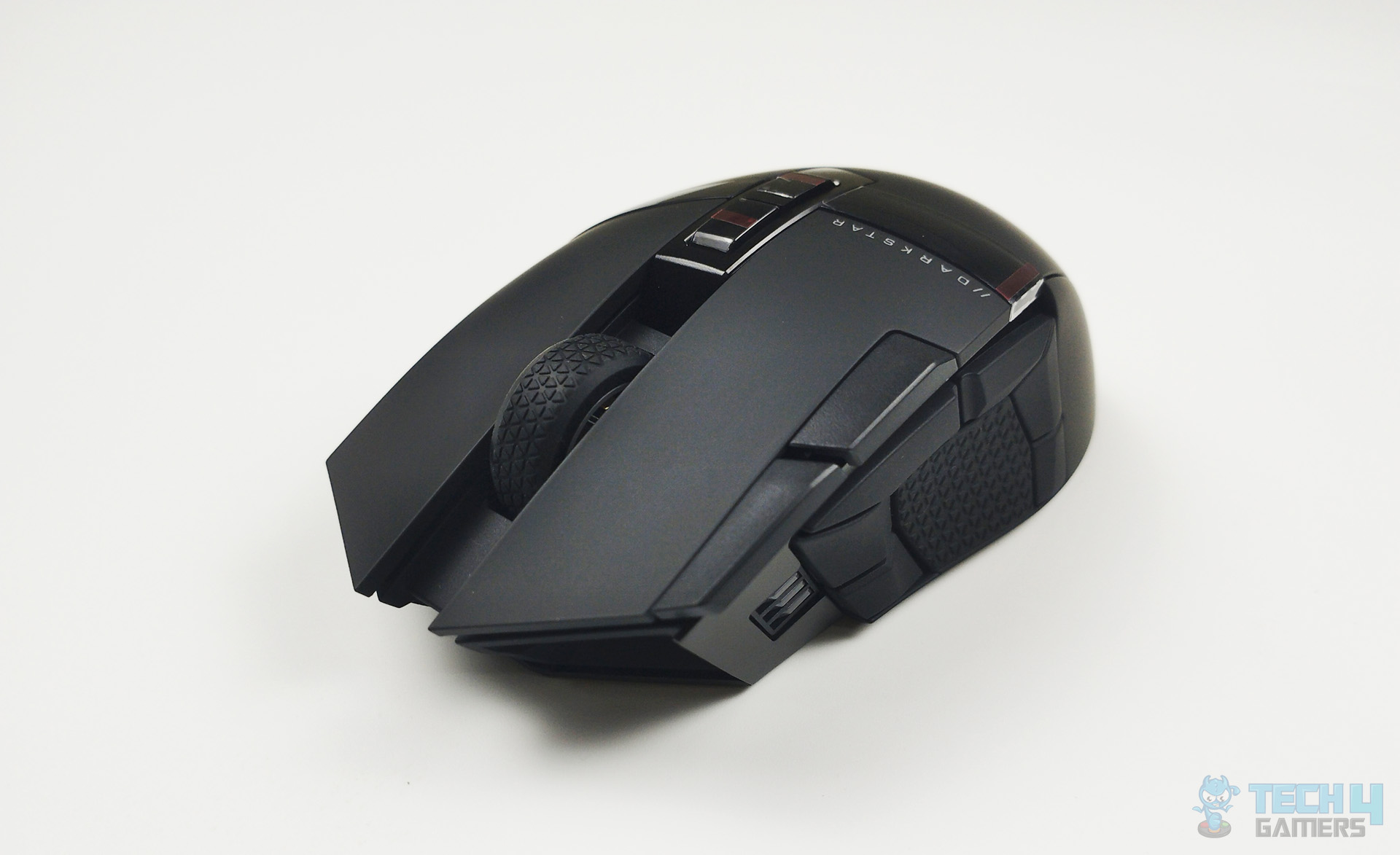 Corsair's Scimitar Elite RGB was Corsair's last MMO/MOBA mouse. Fortunately, Corsair has moved on from that 2020 model, and the new Darkstar Wireless is an attempt to refresh these button-heavy pointers. At first appearance, this doesn't even resemble an MMO mouse, much less the Scimitar. However, its 15 customizable inputs and six-button arrangement on the left side make it clear that it means business.
Additionally, this new flagship has many advanced features, making the hefty price tag seem reasonable to those who can use them. Notably, the sensor is highly adjustable, the design is innovative and comfortable, and many extra features exist. I tested the Corsair Darkstar Wireless for a couple of weeks to see where it stands compared to other top-tier gaming mice. Read on to discover what sets it apart from the competition and where it falls short!
Design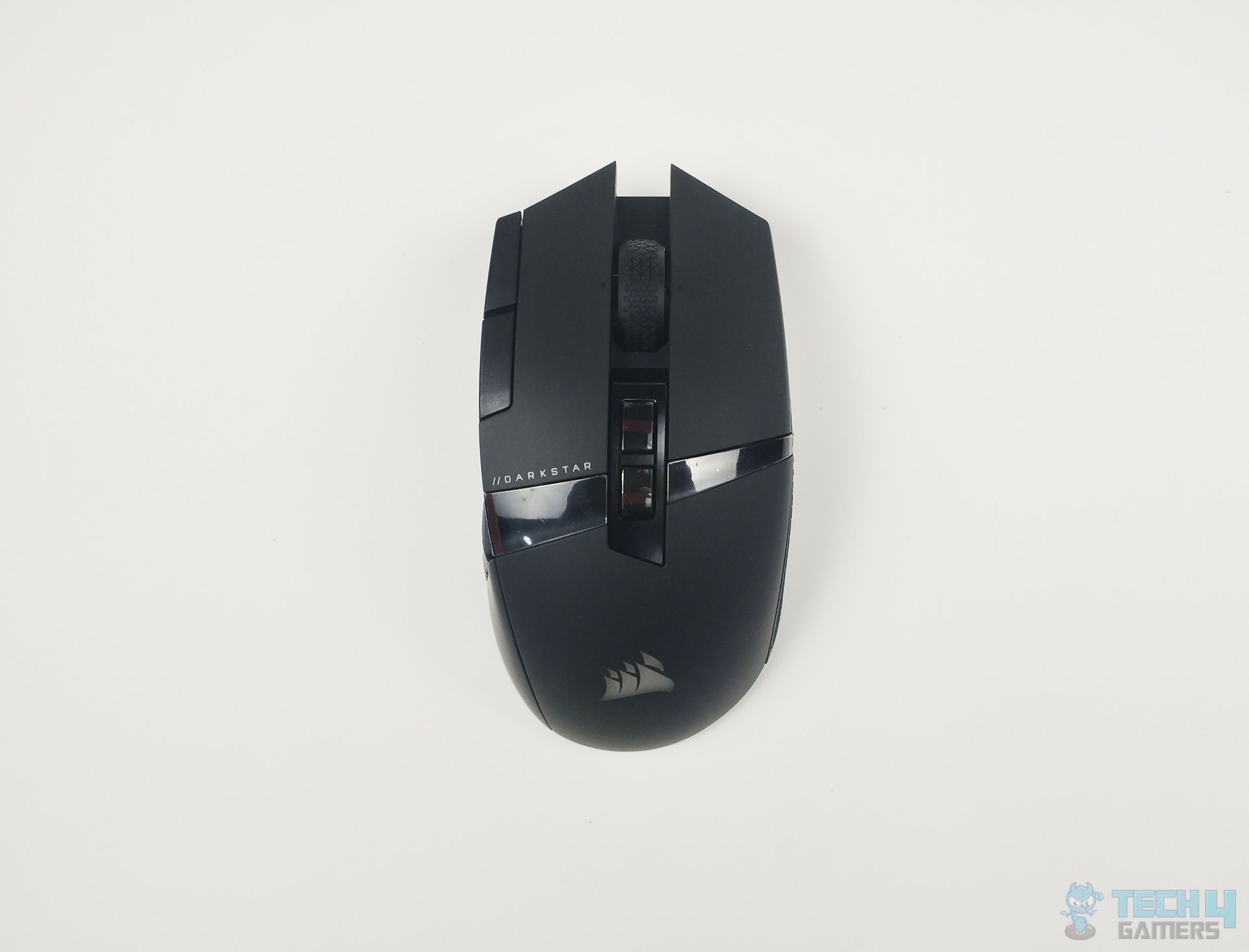 The Darkstar Wireless is a stunning piece of technology. Even while it's not officially associated with Mass Effect or any other space titles, the Darkstar's design and aesthetics call the galaxy environment and technological aesthetic to mind. In light of the right-handed semi-contoured design, glossy accents, subtle RGB lighting, and minimal product branding all contribute to a high-end feel and appearance. Additionally, the chassis consists primarily of a smooth and luxurious matte black plastic that adds to its enticement.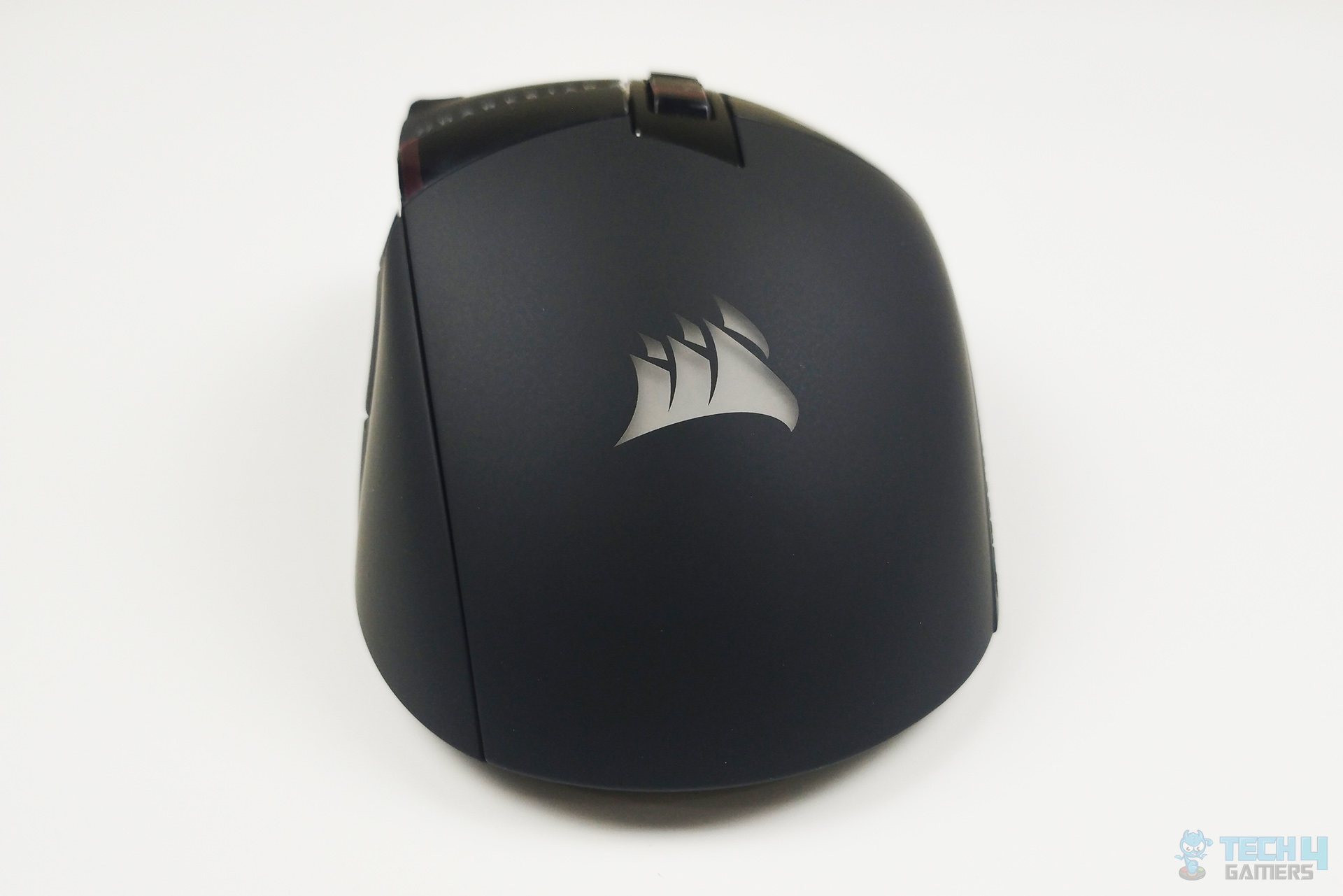 Furthermore, the mouse's main shape is an exciting arrangement of overlapped quadrilaterals that doesn't stand out as a typical gaming mouse. It took some time for me to adjust to using the Darkstar Wireless since I am used to FPS mice. Even with this, the mouse is surprisingly pleasant to use initially because the overall design is minimalist and sophisticated, with finely cut panels, asymmetrical patterns, and crisp lines.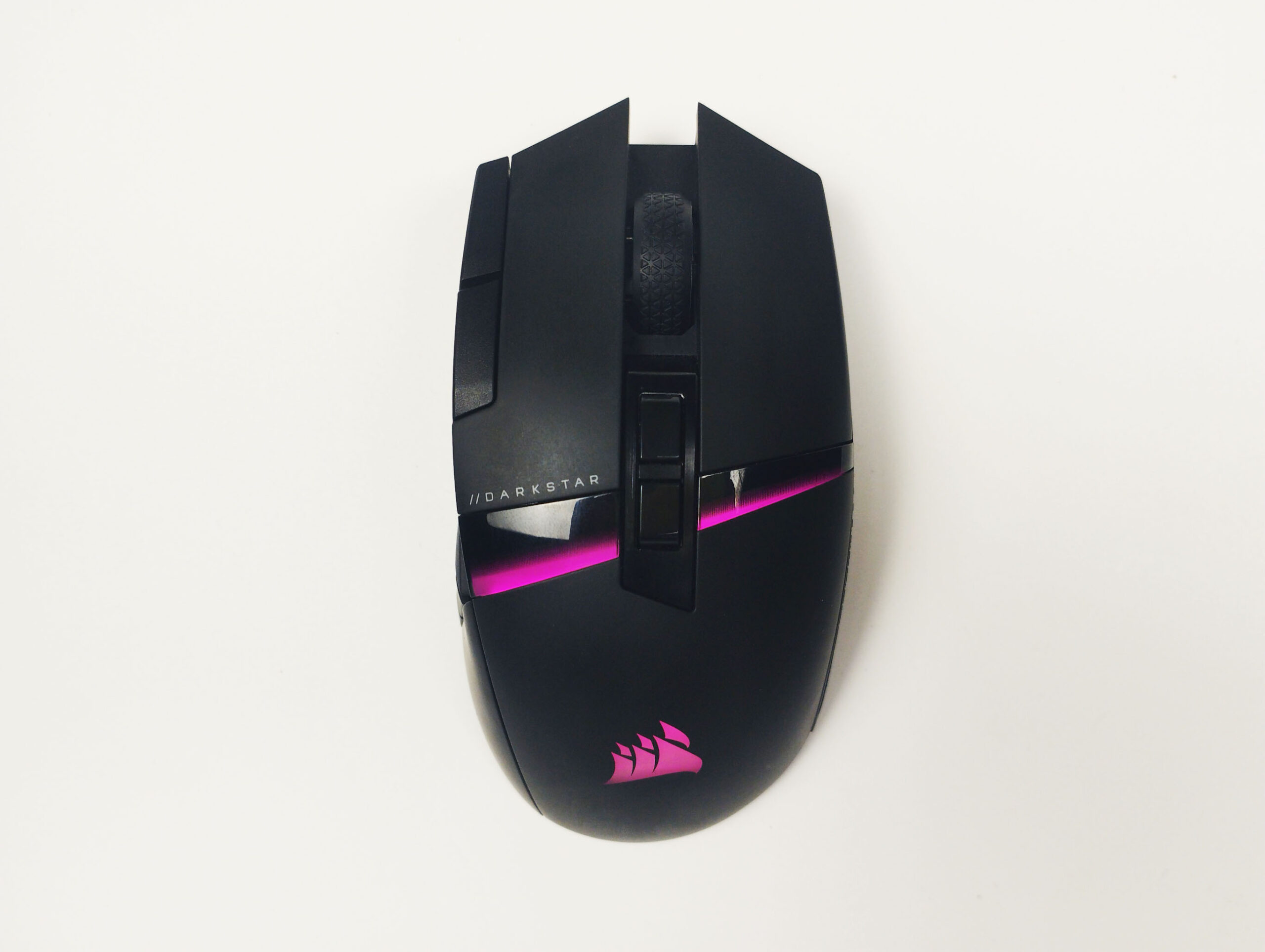 All things aside, the Darkstar is advertised as having nine different RGB lighting zones. To give an illustration, the Corsair symbol on the mouse's palm gets lit up in RGB, with a rainbow of colors shining over the mouse's surface. The USB-C charging connector is also sandwiched between two tiny LED strips, which sit beneath the mouse's tip. These two light zones on the front of the mouse aren't helpful since they aren't visible at full brightness less you're looking directly at the mouse.
Moreover, the light bar that spans the mouse's middle has six separate lighting zones. With this in mind, the two in the front and the branding on the palm rest bring the total number of customizable lighting zones to nine. Aesthetically, the Corsair Darkstar Wireless is fantastic, albeit I immediately turned off the RGB cycling over the mouse's core body to save some juice. Moreover, when the CPI or profile is changed, the mouse's three LED indicators light up, which seems like a grill placed adjacent to the cluster of the side buttons.
It is also named after astronomical concepts like enigmatic and nova corps. Notably, the Darkstar is around the same size as its rivals on the market, measuring 1.7 by 2.7 by 5 inches. However, it is longer and has a narrower waist. It's a little under an ounce lighter than the V2 Pro, coming in at 3.3 ounces. Although this may not seem like a significant deal, it significantly impacts fast-paced shooters like Apex Legends. Fortunately, the weight is spread so evenly that I nearly didn't notice.
Comfort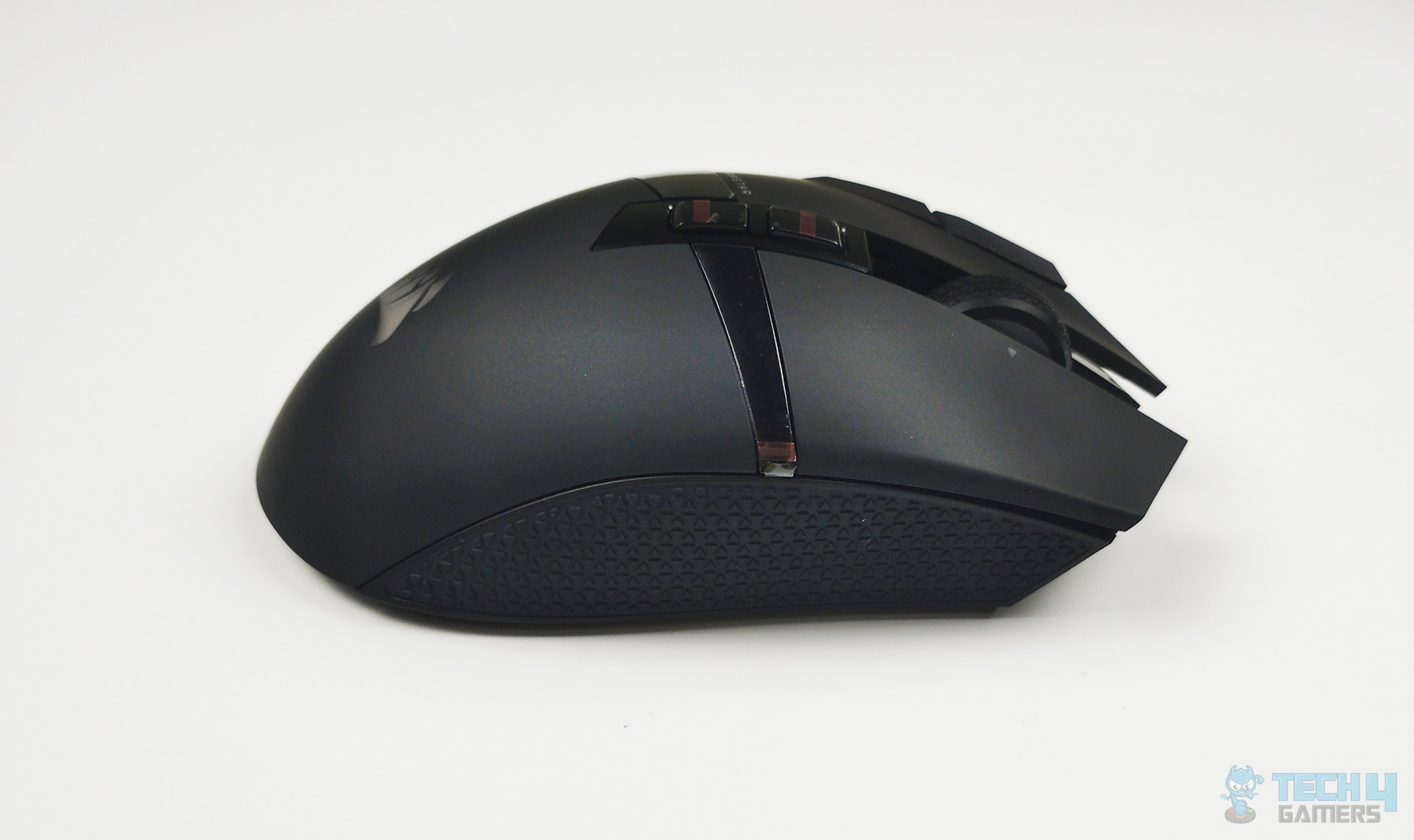 Corsair claims that the innovative, easy-to-reach configuration of the side cluster's six buttons instead of the usual cluster of 10 or 12, along with a strategically positioned textured thumb grip, will allow you to play longer without experiencing hand fatigue. To some extent, this is somewhat true. Notably, it is a little hefty, and for someone who had been regularly driving a Razer Viper V2 Pro, it took some getting used to.
Compared to other mice within its domain, the Darkstar isn't very light, but I found it extremely pleasant to use and simple to move. Even though it isn't typically meant for MMO mice, I found it simple to pick up. However, the ability to pick up this mouse is pretty crucial since you'll need to do so to take benefit of the customizable mouse-tilt motions provided by Corsair. Notably, when you pick up any mouse, there's a fair possibility you'll make an unintentional click.
To compensate for this, the thumb grip of the Darkstar makes it convenient to pick up and tilt the mouse. Furthermore, they greatly enhanced the mouse lift capability. Thankfully, the design is well-balanced between the flattened profile that's simpler to use with your palm and the more precise angles for better ergonomics. Because of this, it's pretty easy on the user's hands and wrists, making it great for extended usage. Since the hump along the rear of the Darkstar is not as noticeable as it is on the competition's products.
It signifies that Corsair's Darkstar Wireless can be flicked much more quickly. Changing to a fingertip grip for those genres that required it didn't make me feel like I was dragging a beefy mouse across my workspace. Although I had pretty big hands, the Darkstar's smooth movement, pleasant feel, and control made up for its greater size. Moreover, in the limited time I used the mouse, I quickly became comfortable with it.
Notably, due to my very big hands, I find playing with a palm or claw grip more comfortable, and the Darkstar endorses them both, as do the extra buttons. While getting used to a mouse might require time, setting it up how you'd like it is a breeze. Moreover, most of Darkstar's capabilities are managed through Corsair's downloaded software, iCUE. However, you can make changes to profiles and DPI on the fly.
Above all, the Darkstar is a great all-around gaming mouse, but it was explicitly designed with MMOs and MOBA in mind. It's not just that it has excessive buttons; it's also built to withstand marathon gaming sessions. To be accurate, the Darkstar isn't as "ergonomic" or "ultra-contoured" as some other gaming mice, and it doesn't come with any additional supports for your thumb or fingers. However, while not the most pleasant mouse I've ever used, it was light and responsive enough that it felt natural with my hand.
PTFE Feet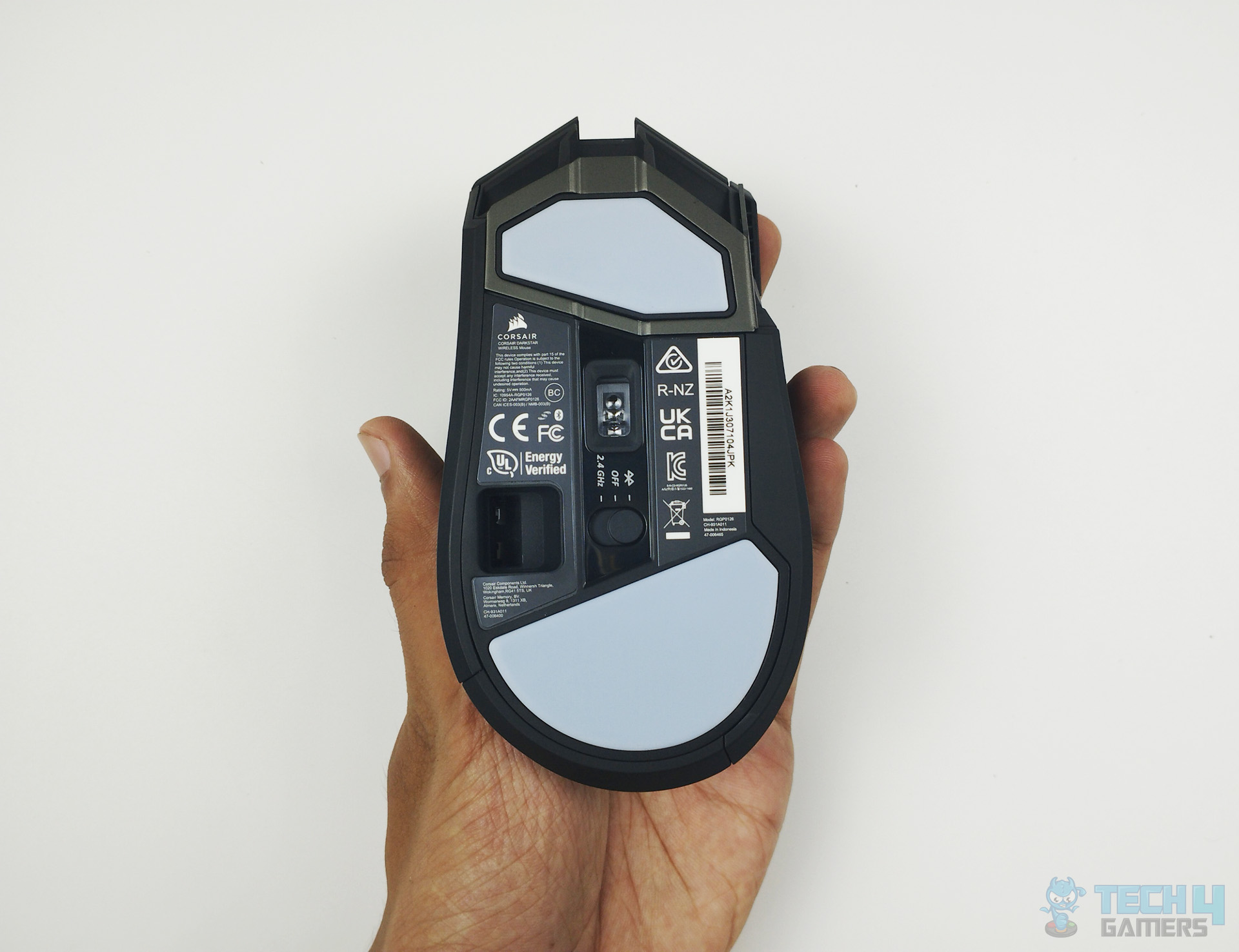 Both of the mouse's feet are made of 100% PTFE, making smooth movement on any surface. Historically speaking, I have used and evaluated a lot of different gaming mice, but only a few have ever felt as fluid as the Darkstar Wireless. As a result, the pleasure of using a mouse is much enhanced. Whether or not the feet will keep their smoothness after months or years of usage is questionable. In addition, the Corsair Darkstar Wireless has a slot for the 2.4GHz wireless dongle when it's not in use adjacent to a toggle button for switching between Bluetooth and 2.4GHz wireless.
Grip Styles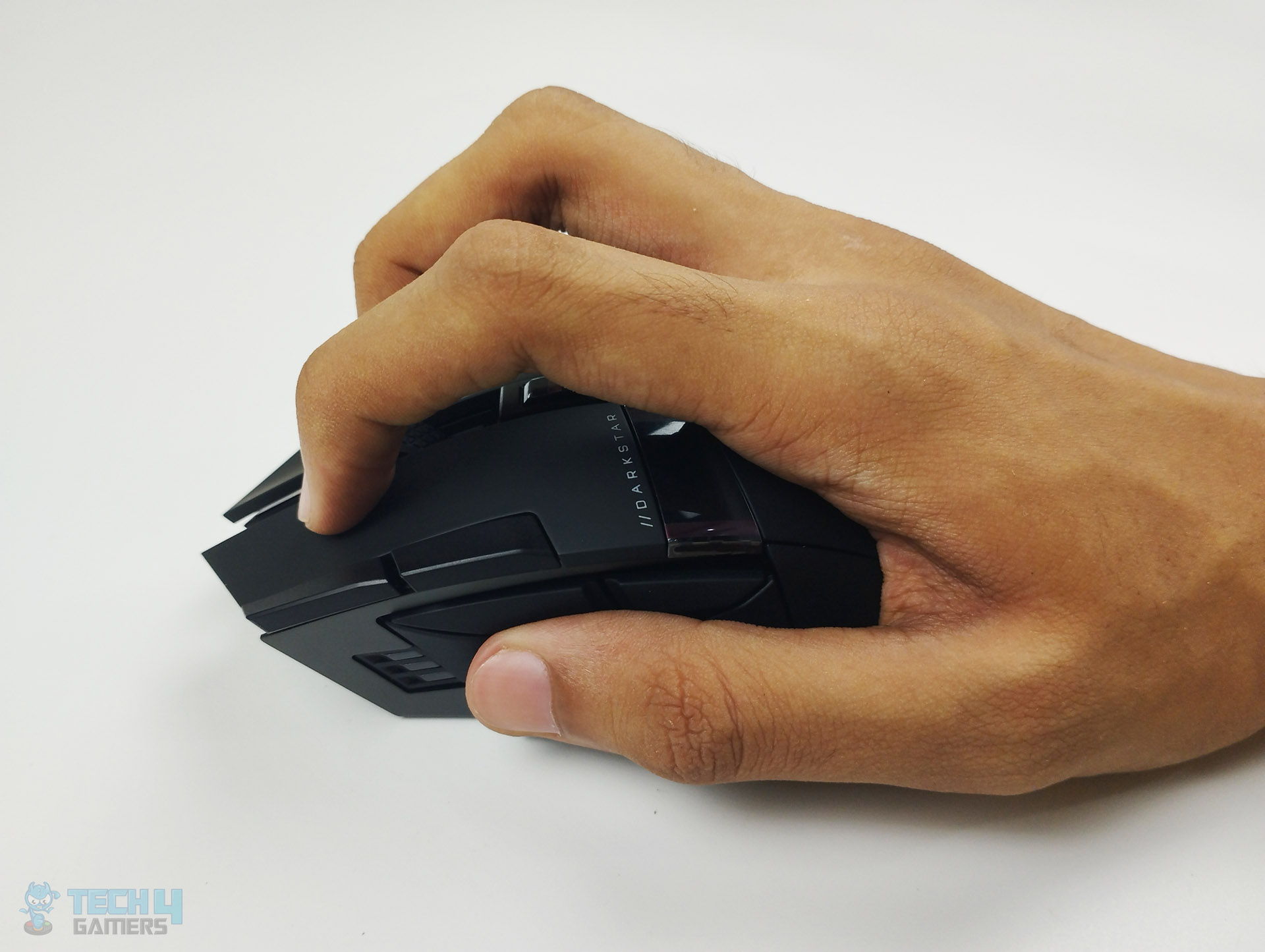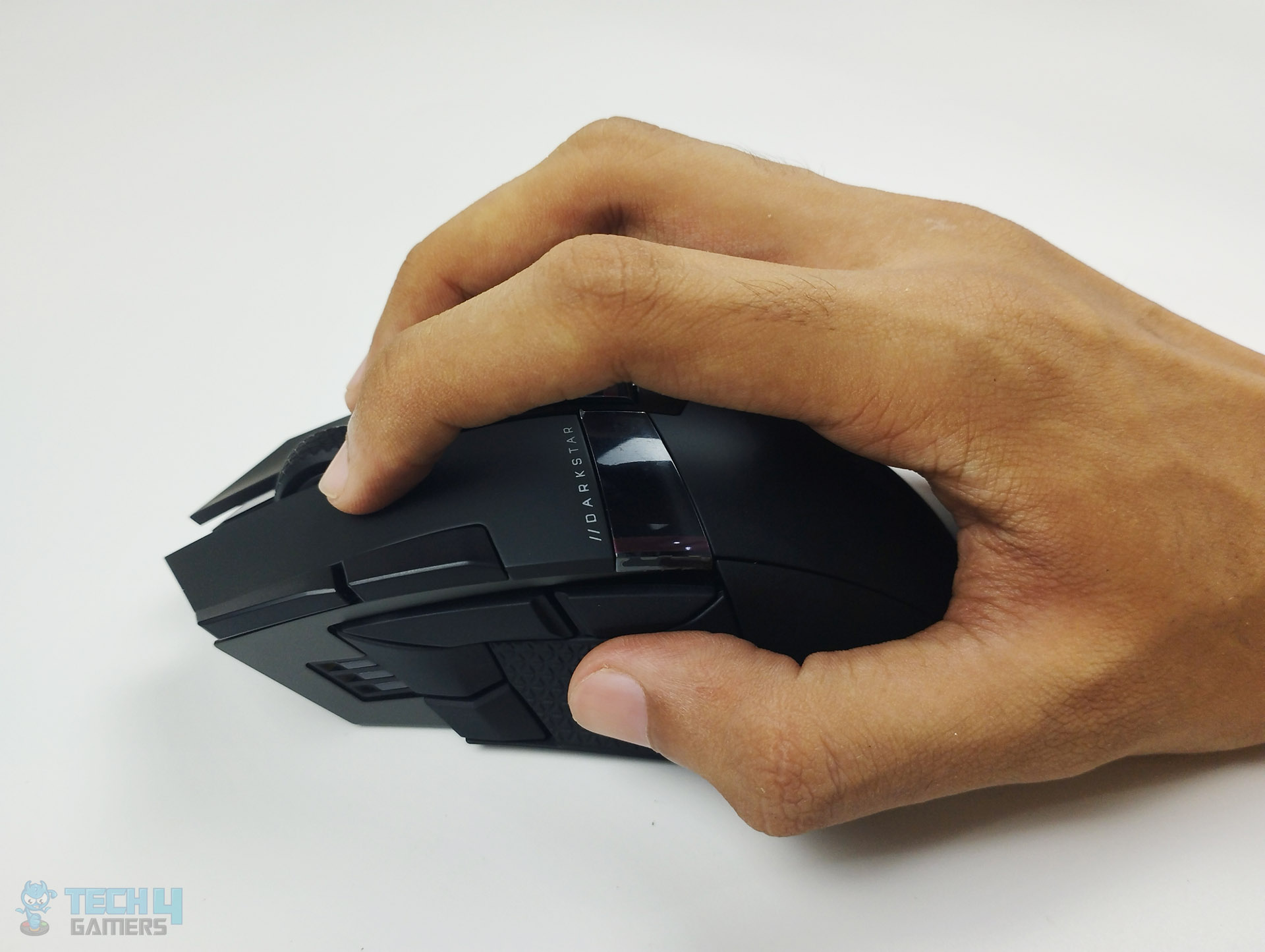 Connectivity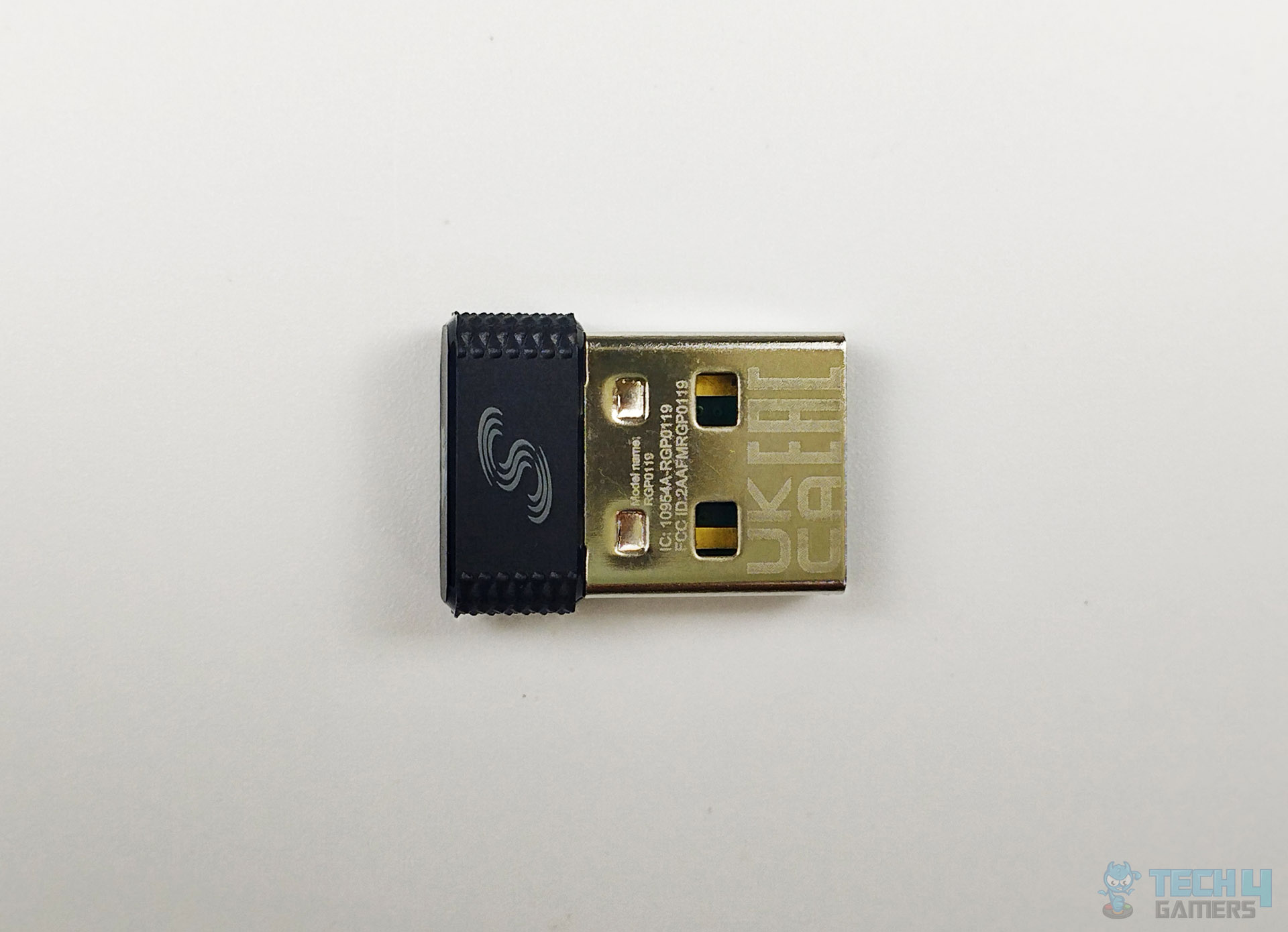 You can connect your Corsair Darkstar Wireless to your setup in three ways. Its wireless arrangement includes a connection through Bluetooth and a 2.4GHz wireless dongle. Bluetooth is great for on-the-go, but its high latency makes it unsuitable for competitive gaming. At the same time, the 2.4GHz "Slipstream" wireless is the connection of choice for gamers. Unfortunately, the mouse doesn't include a wireless charging feature even at this price. Occasionally we overlook charging our mice, and that's no reason to interrupt our playing sessions with a wire, right?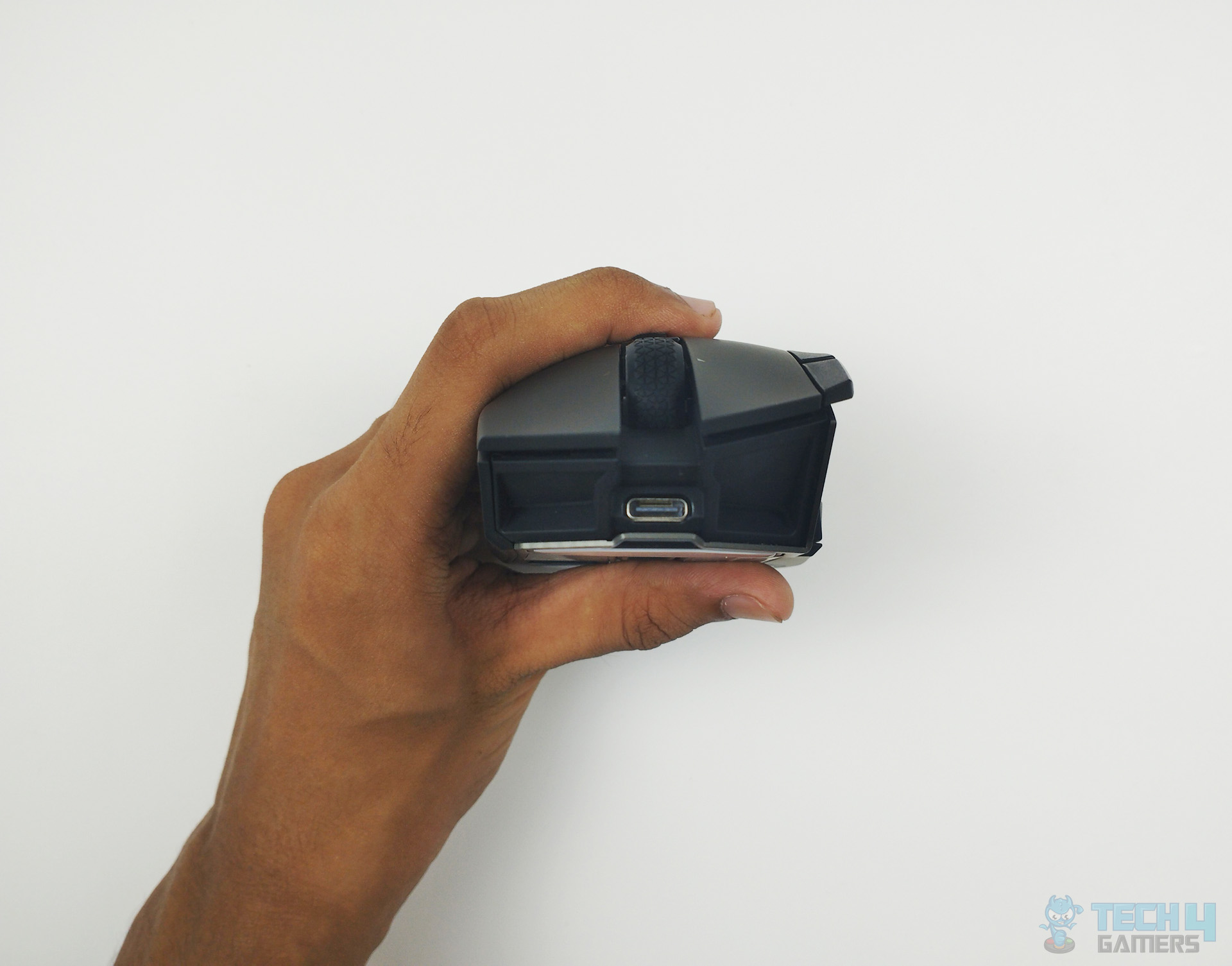 The mouse also includes a 1.8m USB-C to USB-A cord for wire arrangement. However, unlike other gaming mice, it is not made of lightweight and is thus not as flexible as a paracord cable. Although it will serve its charging purpose, it will not allow you the same range of motion as, say, a HyperX "HyperFlex" mouse cable or a Razer "SpeedFlex.". At the very least, the cable can be utilized for charging, but it is too rigid and restrictive in its braiding for any real gaming.
Unfortunately, this isn't very pleasant, considering it costs $170. I know that Corsair would prefer that we use the wireless mouse, with its Slipstream technology allowing for point-to-point latency of less than one millisecond and a polling rate of up to 2,000Hz. To clarify, if you're not competing, the difference in latency probably won't be evident, and the battery life hit will be less severe at the typical 1,000 Hz. Fortunately, during my playtests and general use, I had no problem with the 1000hz polling rate.
Buttons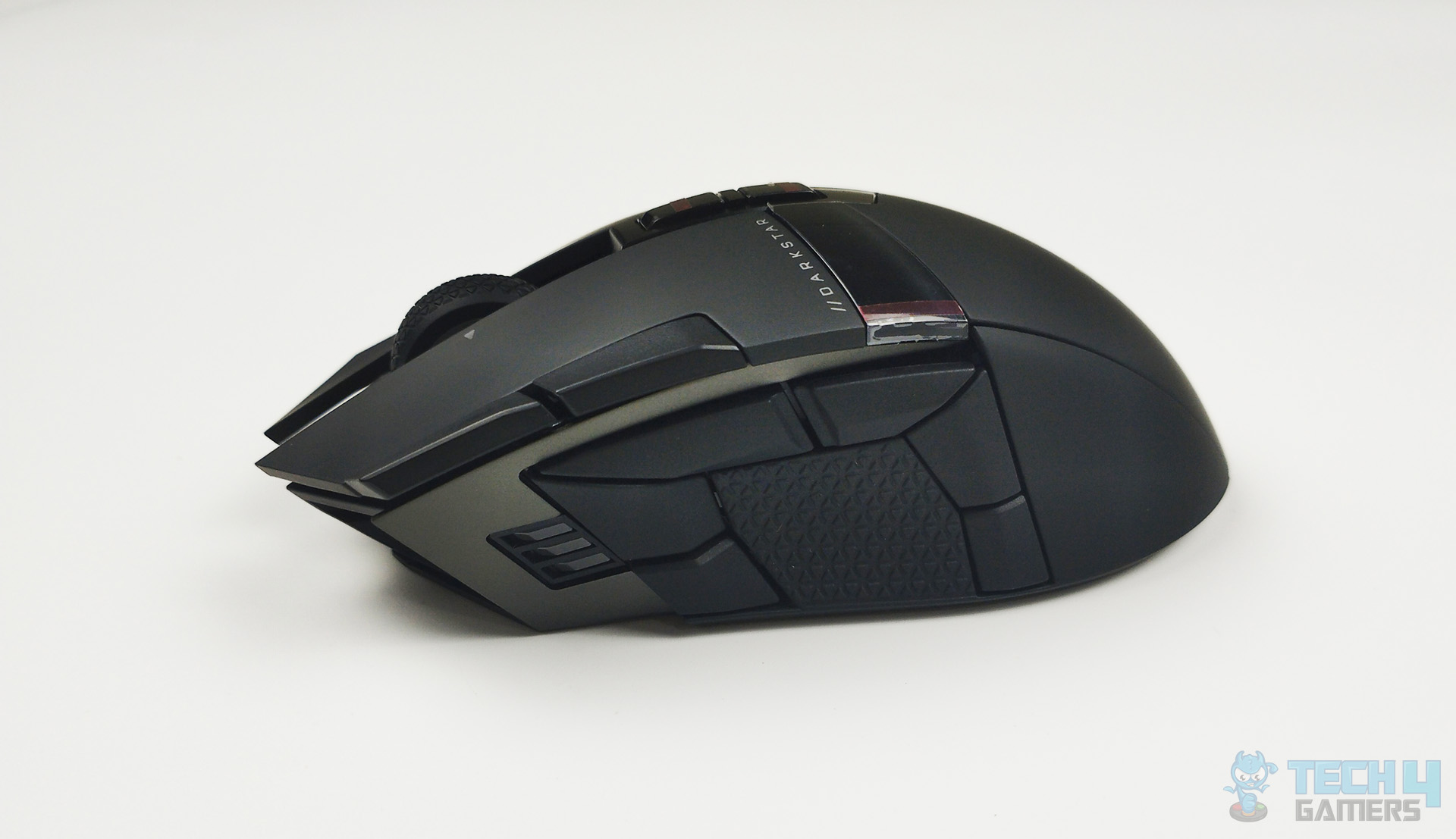 There are a total of 15 programmable buttons on the Darkstar Wireless mouse. These include the Left and Right primary buttons, a cluster of six buttons on the side, a scroll wheel with three clicks, two DPI buttons to the left side of the left primary click, and two profile configurable buttons beneath the scroll wheel. The six-side button cluster includes two buttons ahead of the thumb grip, two over the thumb grip, and two below the thumb grip.
Fortunately, both the left and right sides are textured to provide a secure hold. The Darkstar Wireless' textured side grip made it seem like a natural extension of the user's hand, making it surprisingly pleasant to use despite its numerous buttons. The two thumb buttons over the grip have been preset to go forward and back by default, while the other four are unprogrammed.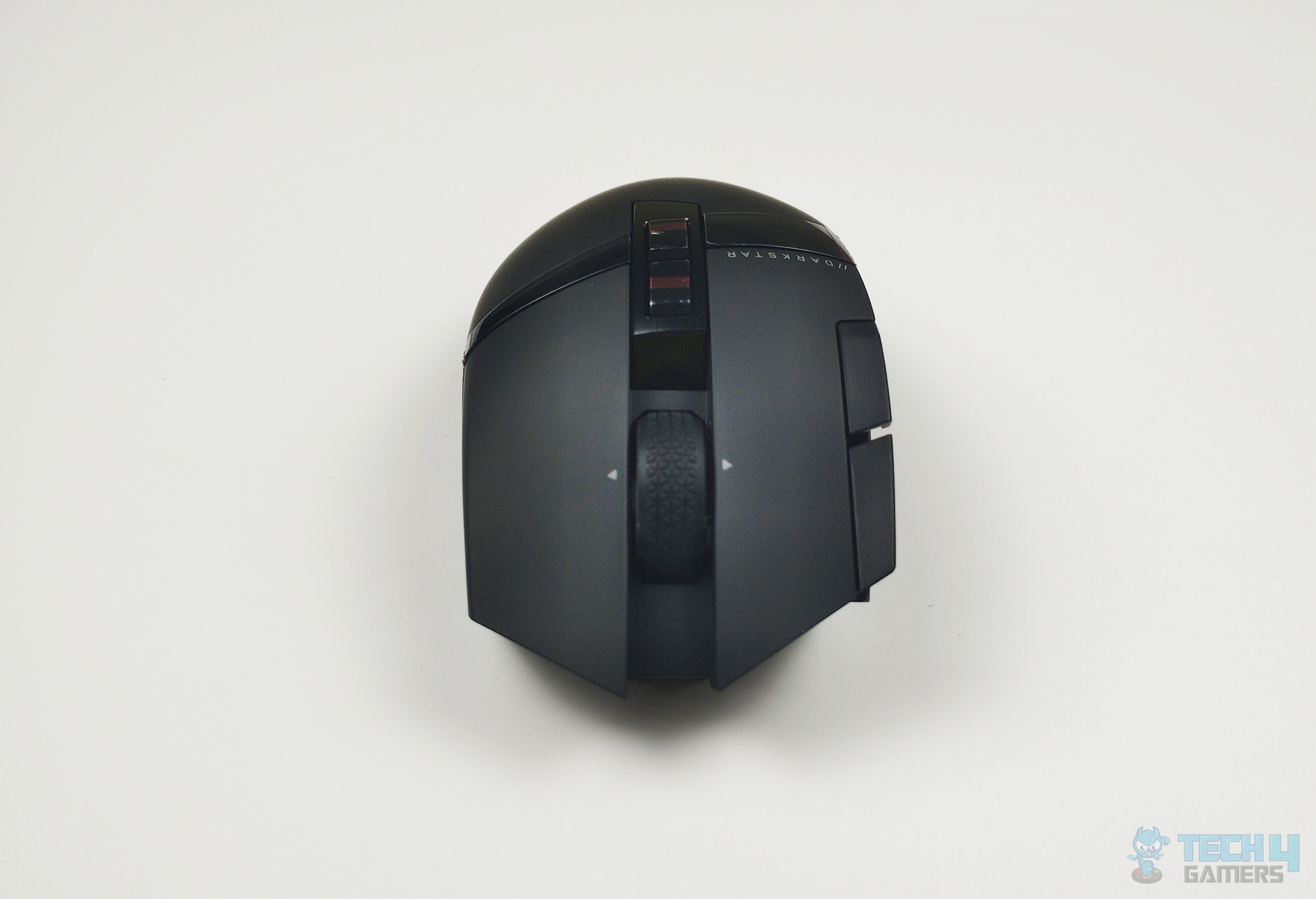 The Corsair Darkstar Wireless uses Omron optical switches for the right and left mouse buttons. Similarly, they are quicker, more reliable, and more durable than mechanical switches. In addition to contributing to the high-end feel of the mouse, its buttons are also very quiet and easy to click. Despite being noiseless, they are rather snappy, providing helpful tactile input.
Nevertheless, the awkward positioning of its buttons is a minor drawback. In particular, I had to stretch my hand out to the side to press the buttons at the front of the grip, and I had to move my whole hand back to press the buttons at the rear of the grip. Moreover, the buttons angled inward towards the grip don't help either+.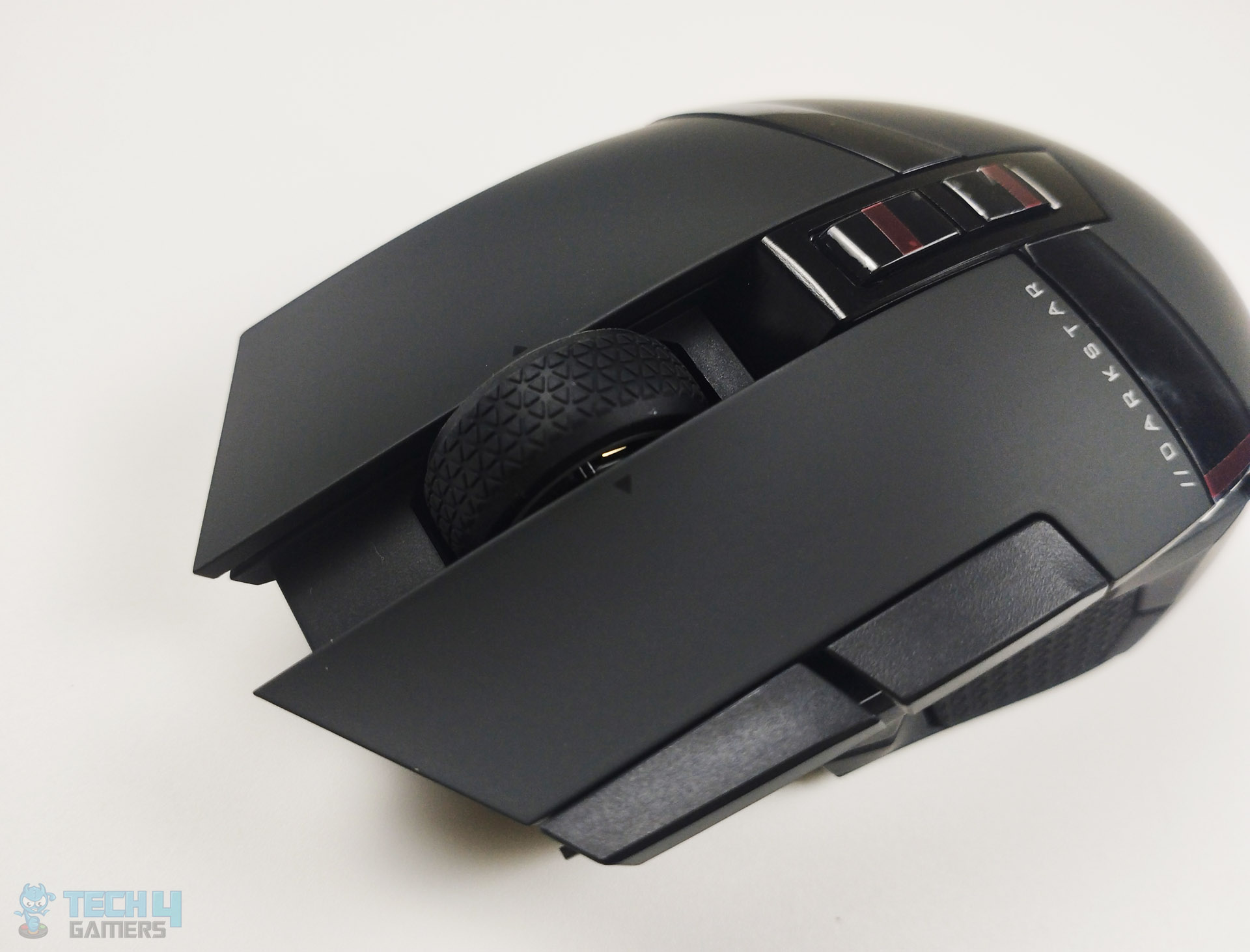 In addition to this, the mouse has a patterned 3D scroll wheel amid the two primary clickers and two profile switches on the top. Unfortunately, the scroll wheel is a little difficult to push, which nearly always leads my aim to wander. Nevertheless, the steps are quite tactile and legible, which could help gamers who depend on them organize their inventories.
Here is the sample video of what the buttons on the Corsair Darkstar Wireless sound like:
Features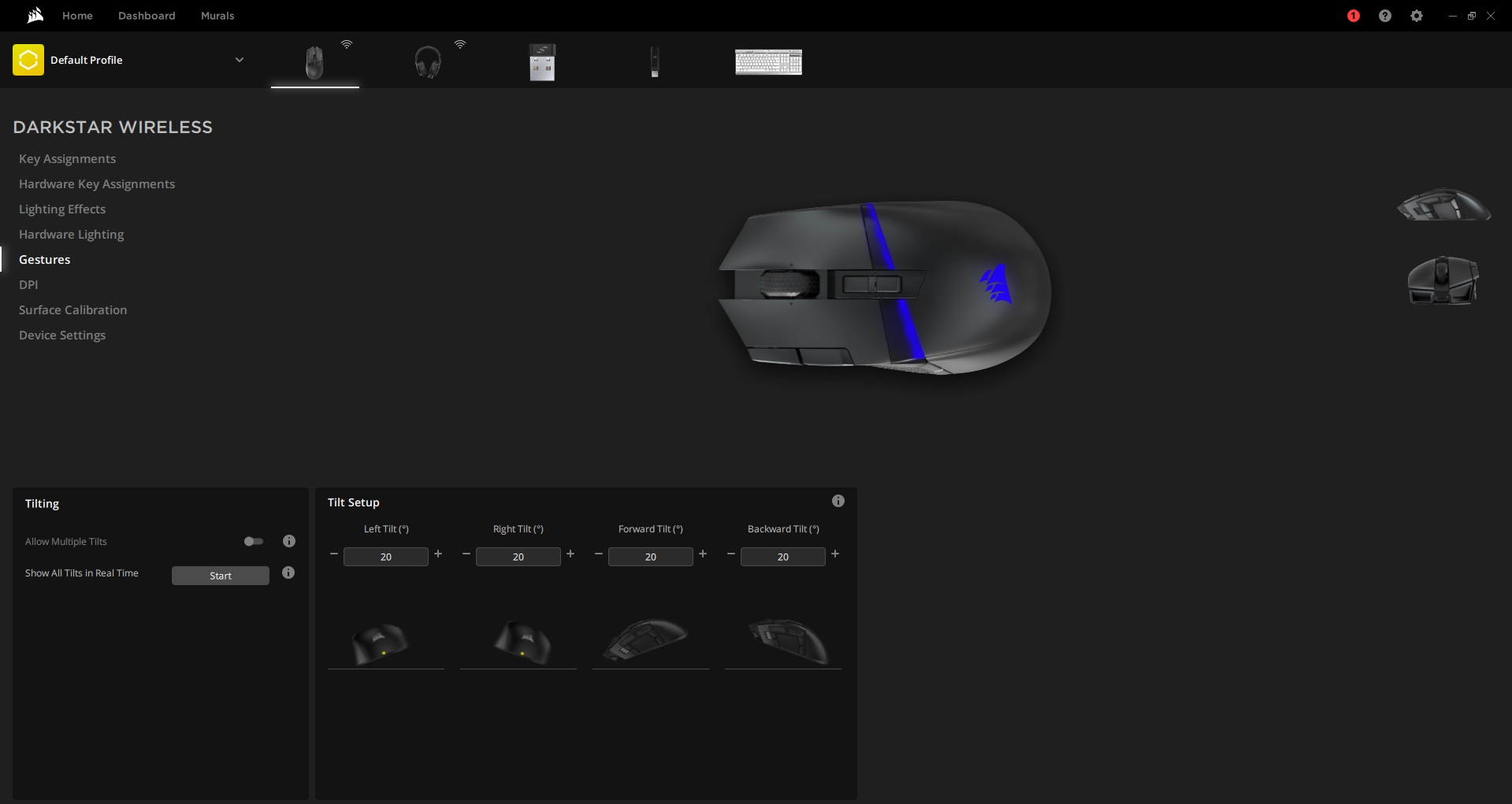 I would say that Darkstar's customizable gesture capability sets it apart from the rest of the competition. It's the first time I've had any success with a mouse with a built-in gyroscope for sensing tilt motions. At first, I was skeptical about how often I'd use it. Afterward, I started flinging about my regular mouse and wondered why I couldn't reload with my right tilt. Notably, it incorporates four tilt gestures.
These movements, forward, backward, right, and left, can be modified just like any other mouse button as additional virtual mouse buttons for usage in games and other applications, and they perform well. For regular use, I have my mouse set up such that if I tilt it in the left direction, it mutes my mic on the Discord voice chat. Similarly, I have set a mouse tilt to the right for gaming to reload my weapon.
Consequently, this improves the overall gaming and regular experience and can provide new accessibility features that were previously unattainable. Although I doubt any professional player would use this feature during competitive gameplay, I can't deny that it's remarkable and well-implemented. Last, you can adjust the sensitivity of the tilt gestures in the Corsair iCUE software to prevent accidental activation while lifting the mouse to move it.
More programmable inputs are always good in my book. Even though the tilt movements are so unique from anything else out there. Still, I had no trouble picking them up right away. While certain tilt motions, like a backward mouse tilt, may seem natural, others, like a forward mouse tilt, may initially feel awkward. However, I could efficiently utilize Corsair Darkstar wireless right and left tilt movements.
Fortunately, controlling the necessary tilt angle for registration and seeing on-screen representations of this angle as you set up makes the procedure incredibly easy. Furthermore, it is effective. Finding the optimal tilt angle for an intentional movement was challenging, but everything else fell into place once I did. Notably, it's an excellent feature that distinguishes Darkstar Wireless from the rest of the competition, and I don't see myself giving it up anytime soon.
Sensor
The Corsair Marksman 26K optical sensor, which I tested, worked well across the board. It has a maximum sensitivity of 26,000 CPI, a speed of 650 IPS, and 50G of acceleration. The CPI can be fine-tuned from 100 to 26,000 in 1 CPI increments. It is safe to assume that it will accomplish its intended purpose, including the toughest of the hardcore. Moreover, it is accurate and certain to delight purists more than casual gamers. Above all, the sensor is very sensitive and has several other features. Specifically, the Darkstar supports gesture-based tilt movements. The Darkstar performs well in most gaming situations.
Notably, the Marksman sensor, developed in-house by Corsair, is on par with sensors used in other companies' top-tier mice. The Darkstar performed well in my tests, tracking smoothly over various surfaces while facilitating rapid, accurate, and sensitive mouse flicks and clicks. Meanwhile, tuning the lift-off distance, shifting angle-snapping on or off, and calibration of the mouse for a certain surface are a few customization possibilities available in the iCUE software from Corsair for its sensor.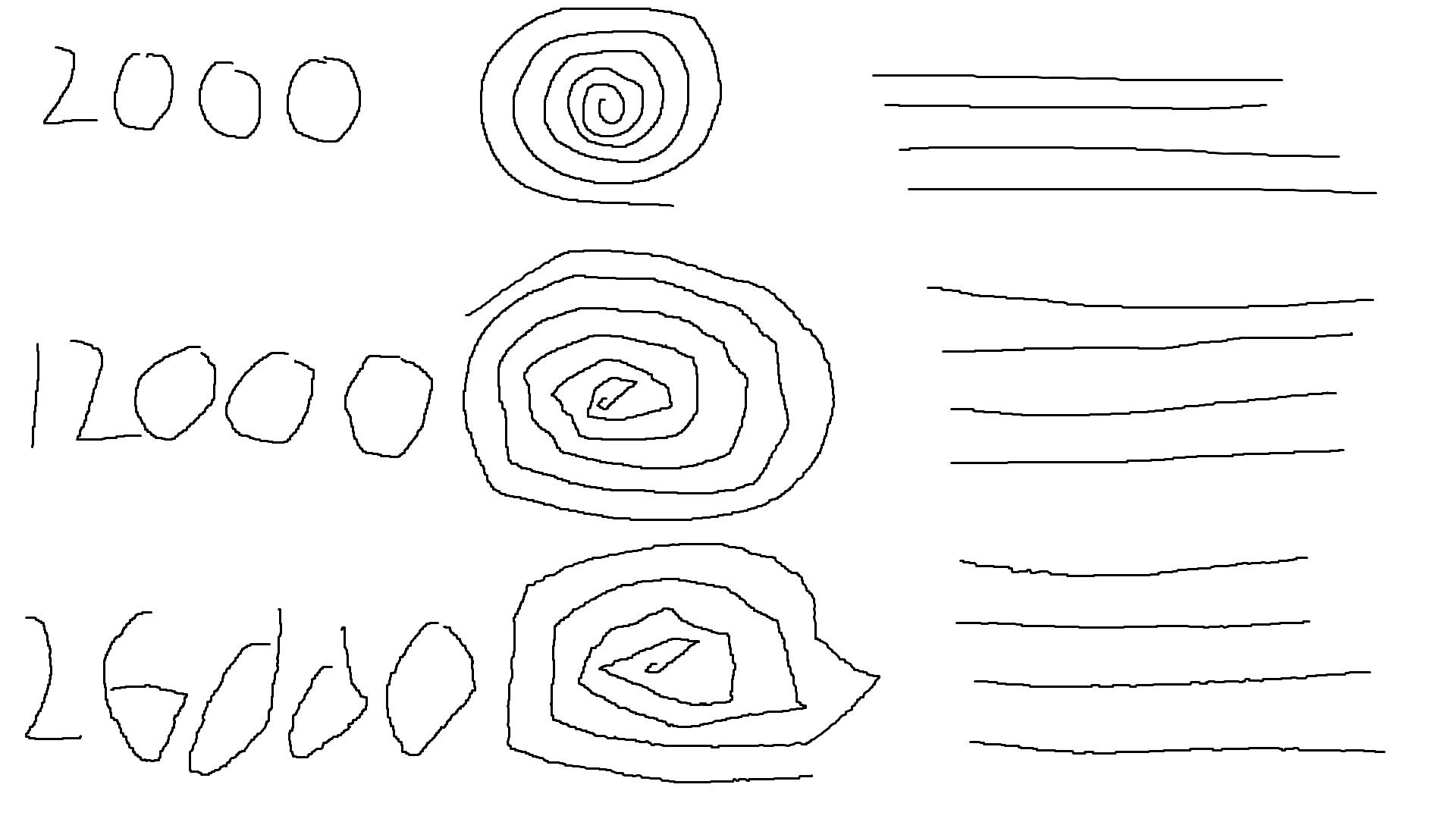 The results of this test are used to identify the presence of angle snapping and jitter problems. As can be seen, there are no obvious significant snapping angle issues. Moreover, at 2000 and 12000 CPI, there is little to no noticeable jitter. However, we can observe a significant jitter at the highest sensitivity of 26000 CPI.
Click Latency Test
Each PC gaming setup component adds a delay known as latency or lag to the gameplay. You want as little latency as possible while playing games so that your inputs register instantly and the action flows smoothly. The click latency of your mouse significantly impacts the quality of your experience. Using the CPStesters click latency test, I calculated the click delay and provided the results as an average of over a hundred clicks.
You can see a demonstration of this graph for the Corsair Darkstar Wireless with wireless, wired, and Bluetooth connections below.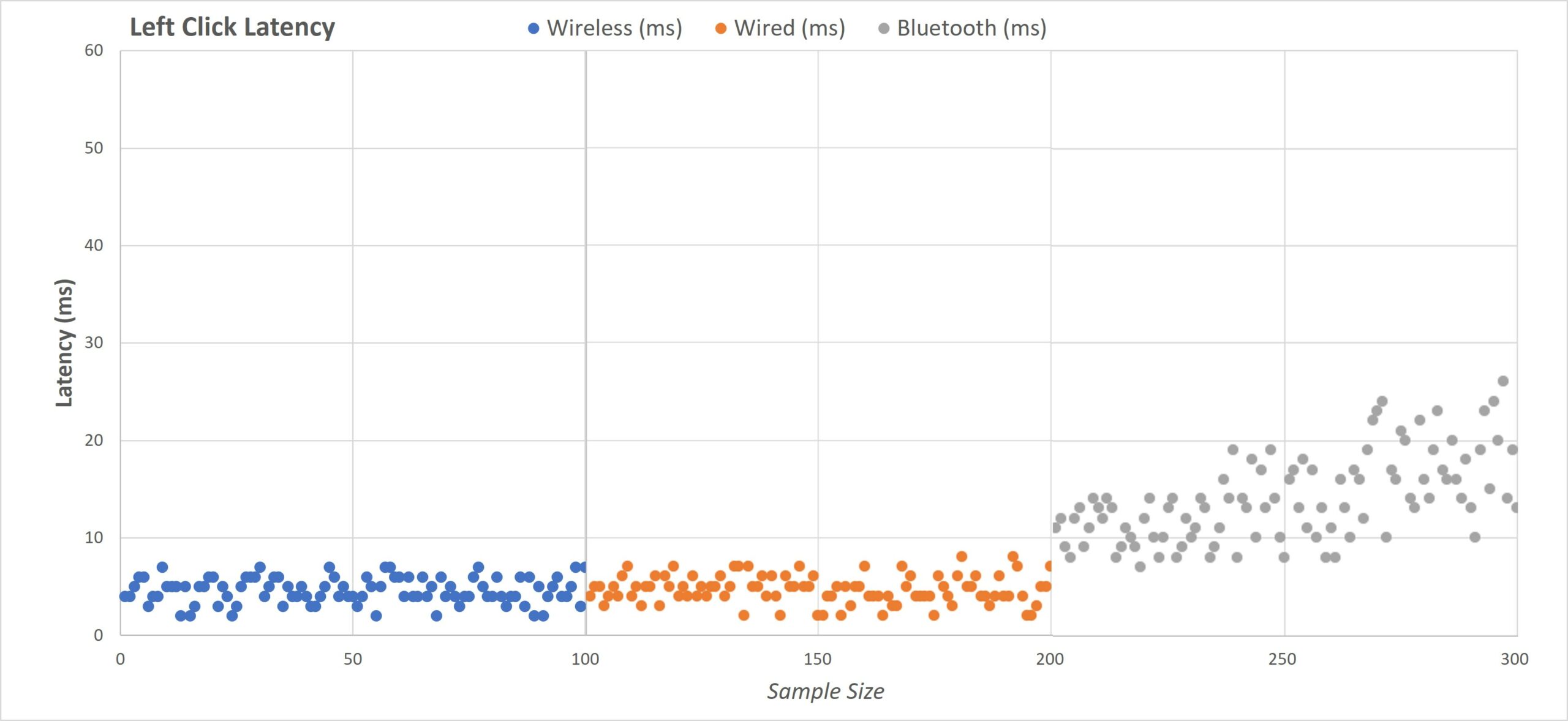 Wireless = 4.63ms
Wired = 4.66ms
Bluetooth = 14ms
Polling Rate Test
In Corsair Darkstar Wireless RGB, you may choose between five different polling rates: 2000Hz, 1000Hz, 500Hz, 250Hz, and 125Hz. I used Joltfly's mouse polling rate test at 2000Hz and 1000CPI to ensure the highest possible polling rate. Using these settings, I these results which can be seen in this graph.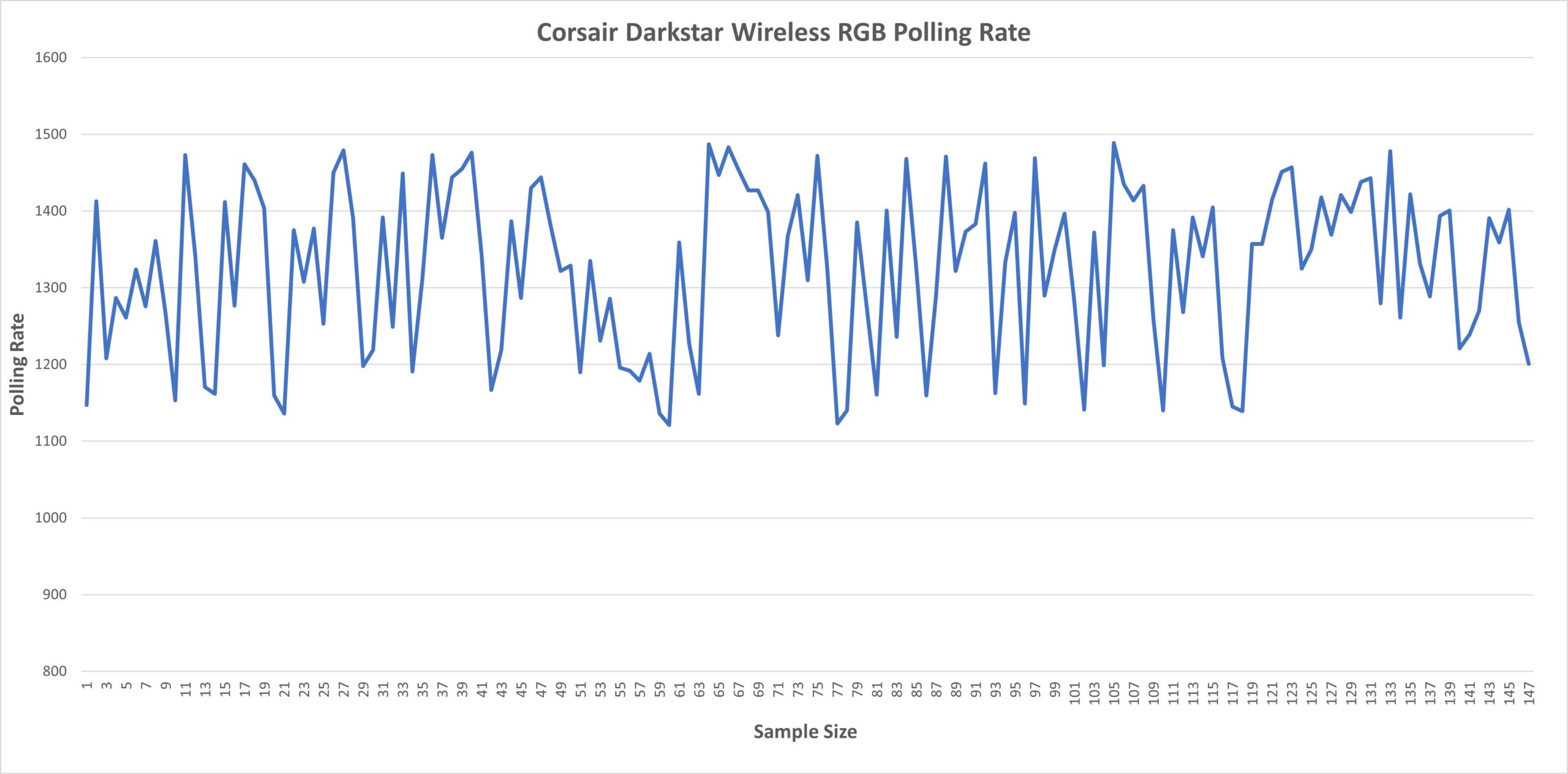 The graph demonstrates different polling rates the mouse achieved, ranging from 930 to 1505. I moved the mouse in circular motions to test the polling rate with different results. The test recorded 147 samples and had a 1307Hz average polling rate for the entire duration.
CPI Deviation Test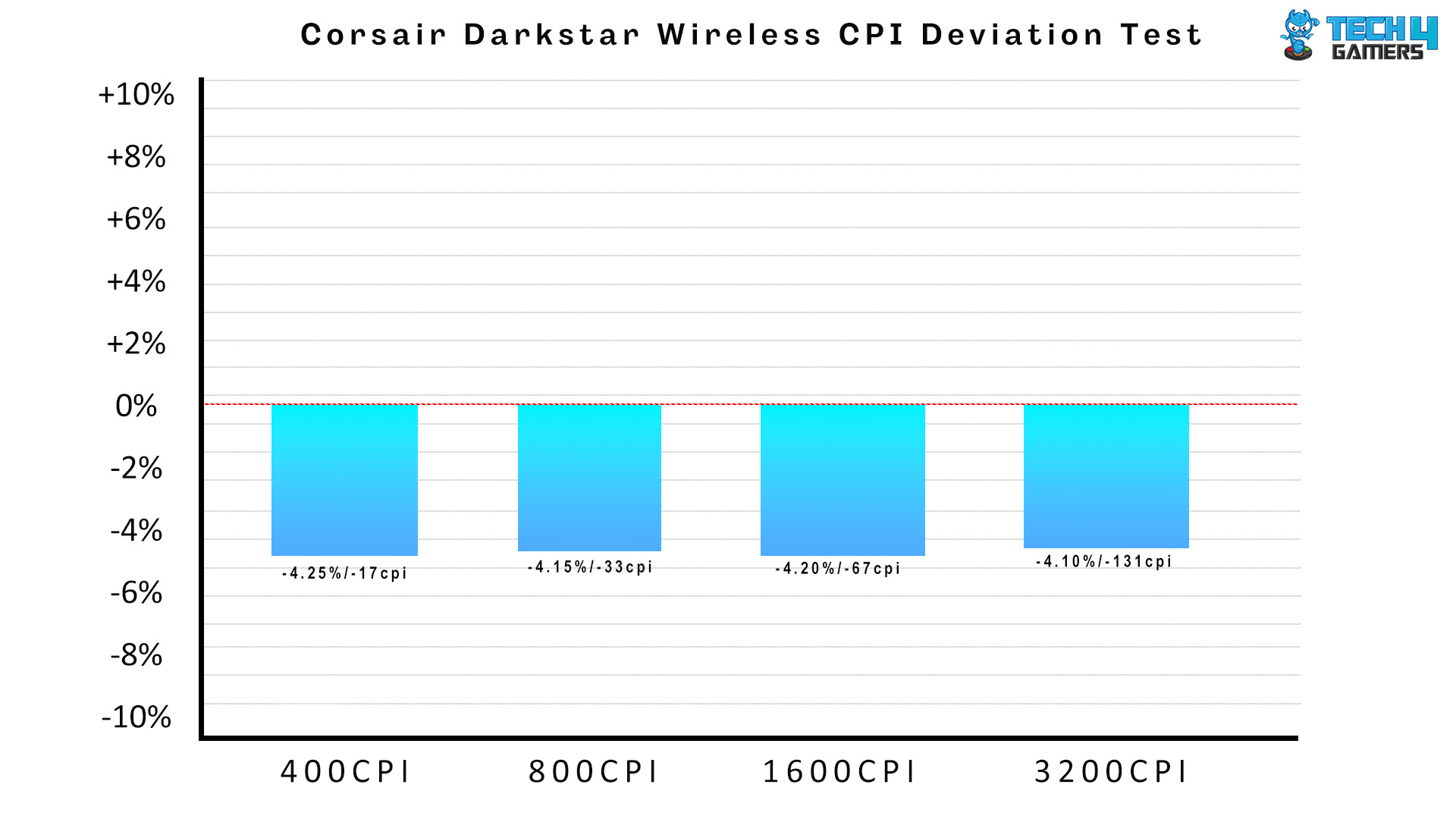 The CPI measures how many times the mouse registers a change in position of one inch. Several potential causes exist for the gap between nominal and real CPI. While a perfect correlation between nominal and actual CPI is unrealistic, it is preferable if the two were as close as possible. Through this evaluation, I will determine whether this is the case. However, remember that this variation will still vary from unit to unit. Thus, your actual results may vary from those provided. My evaluation is limited to the top four common CPI Vales (400, 800, 1600, and 3200). It seems like a solid outcome, with the deviation being solely negative and quite small.
Performance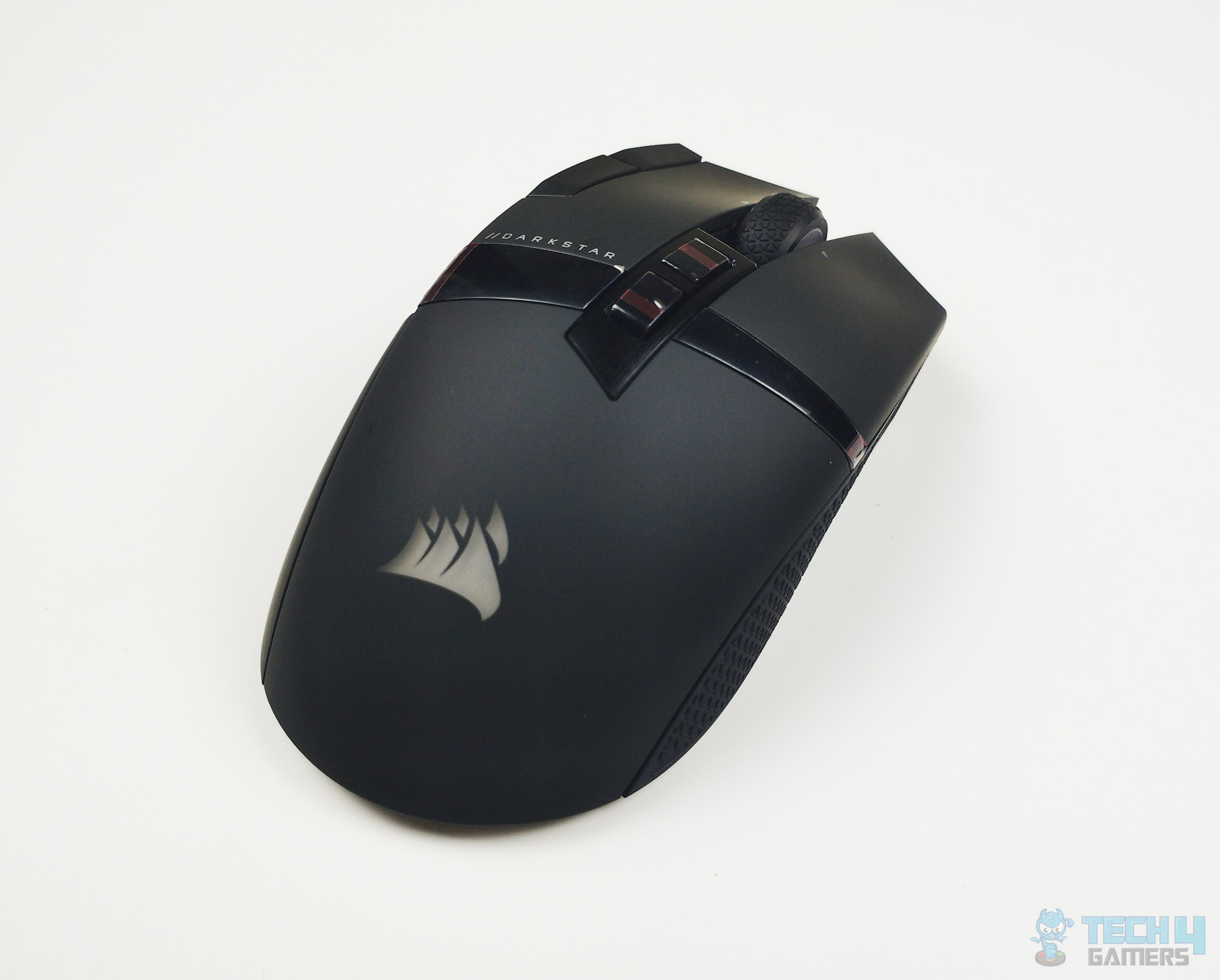 As for real-world performance, Darkstar Wireless stands head and shoulders above the competition. My unforeseeable motions and twitchy playstyle were never an issue for the sensor, whether I was playing fast-paced games like Apex Legends or Valorant or more deliberate titles like DOTA 2 or Diablo 4. To be frank with you, I'm a massive fan of MOs. It's refreshing to see a button layout tailored specifically to MMOs. Whether you'd rather sacrifice the textured middle for two more inputs or, like me, like the ability to grip without worrying about inadvertent presses, the compromise between inputs and comfort here is satisfactory.
I gave the additional buttons a good word out. As I said earlier, I'm still familiar with their placements, but I imagine that would be the case for most people. Fortunately, in FPS games, I had no trouble swinging the mouse about or flicking it to perform the rare no-scope headshots I managed to pull off in Fortnite. While other MMO mice neglect a thumb grip in favor of more buttons, the Darkstar Wireless throws that in the bin by placing comfort ahead of more features.
Thus, the mouse's six-button side cluster is well placed and far enough away from the thumb to never interfere with your grip, and it doesn't immediately seem like it was made specifically for MMOs games in mind. As a result, the Darkstar Wireless is easier to grip, even for low DPI gamers, without accidentally pressing any of the mouse. If you act like a nit picky, the additional side buttons, however, need an outstretched or backward thumb in order to be pressed, which is a difficulty brought about by the presence of the thumb grip.
However, if you're playing games like DOTA 2, League of Legends, and others where the camera doesn't move in real time, this shouldn't be too much of an issue. Corsair tried to develop a novel arrangement for these buttons, and in most cases, they have done a pretty significant job. Fortunately, after some time, when using this mouse for an MMO, I could quickly tell precisely where each side button was. Consequently, my inventory management skills with Corsair Darkstar Wireless become top-notch.
The remarkable in-game experience directly results from the sophisticated design, engineering, and technology that went into its development. Because of its less weight and improved grip, this mouse can be flicked for instantaneous in-game responses. Remarkably, many programmable inputs can be included with high precision and accuracy. To further demonstrate, even the twitchier first-person shooter situations for which I would ordinarily use an FPS were not too difficult.
Although my aim and movement weren't nearly as precise as they would have been with a slimmer, quicker pointer at the helm, I could still hold my own in my ranked matches of Valorant. It took some practice to get the hang of Corsair's newest offering, but it was well worth it. Ultimately, I had gotten used to its unusual layout, and after some while, it did seem very natural. Remember that it's difficult to become accustomed to deliberately pressing those side buttons, so some skill and attention are involved.
iCUE
Like other Corsair devices, the Darkstar Wireless is fully configurable through the iCUE companion software. As of this writing, iCUE v. 5.4 is the version available from the official website and fully compatible with the m use. As a bonus for managing your Corsair hardware, the program also accepts plug-ins from other developers. In terms of use and functionality, iCUE is on par with competitors renowned softwares.
With this in mind, there is no better friend than iCUE and no worse adversary. It's a bit of a drag, like most gaming software. When you hook in for the first time, you'll have a lot of work between managing these multiple menu options, figuring out that certain functions will work with a specific memory, and maintaining all inputs neatly maintained. That is to say, the Darkstar Wireless Mouse can also be used without the included software, but it contradicts the whole point of having such impressive features if you neglect to use it.
If you intend to use it, you can customize the buttons, RGB lighting, DPI levels, angle snapping, lift height, and button response optimization settings through the iCUE companion and many other options. However, getting lost in all the available choices is easy. All these settings rely on software or hardware. For instance, the mouse's key arrangements and RGB lighting can be saved on different hardware-level settings. So, the mouse can be used without the iCUE program.
On the other hand, the mouse-tilt motions, for example, are software-specific, so they can't be shared across categories. You could not use the gesture controls without iCUE running in the background. Even after this, I don't see any good reason for keeping them in their categories. Fortunately, iCUE lets you build and save endless profiles, each with its unique combination of software and hardware settings.
However, if the mouse can save up to 5 profiles, what's the point of having software and hardware-level prof es? In addition, the mouse's buttons let you choose between different profiles, although it's unclear if you're selecting software or hardware settings. The three LED lights to the right of the six-button cluster indicate which profile is active, but I haven't determined which color corresponds to which profile.
Furthermore, the DPI area has its own set of profiles, both at the software and hardware levels, which adds another layer of complexity to the profiles you gene ate. Why Corsair would make the iCUE software a little more challenging is beyond me. It would be much easier to use the program if the profiles were just stored on the mouse rather than in the software and the hardware separately. Unfortunately, iCUE has an unusual interface that may throw off first-time users.
Here is the sample video of all the settings available for Corsair Darkstar Wireless in iCUE.
Battery Life
There is a trade-off for low latency, and that is the shorter battery life. If the RGB lighting is off, Corsair claims that the Darkstar wireless can last 65 hours with 2.4 GHz connectivity on a single charge. On the other hand, if you connect by Bluetooth instead of USB and turn down the brightness, you should get roughly 80 hours of use. Battery life with RGB lighting on, even at the minimum brightness, is just around 20-25 hours, which is nothing impressive.
Within each cycle, I could utilize it continuously for around two days. That's not horrible, but it's also not very impressive compared to the battery life of other, more expensive flagship mice. Therefore, if you like constantly recharging the mouse, turning off the RGB lighting is suggested. Moreover, it does not contribute much to the attractive essay. Even at full brightness, your hand will cover the front-facing RGB zones, and the LEDs underneath the two primary buttons are hardly noticeable.
Should You Buy It or Not?
The Corsair Darkstar Wireless is a remarkable product. It is a terrific option for MMO gamers and can hold its own against the other leading brands. While the Razer's adjustable button plates and somewhat greater resolution are appealing, the Corsair's one-of-a-kind sensor and evenly distributed weight will likely win over some customers. In addition, the clever thumb grip makes the mouse seem more compact and comfortable for casual gamers of both MMOs and MOBAs and competitive esports professionals.
Given how well-matched the two companies are, your choice may be yours. However, the Darkstar's distinctive design and functionality make it an excellent choice for anyone searching for a swift mouse suitable for challenging MOBAs, MMOs, and fast-paced FPS shoo ers. The new flagship from Corsair has a lot going for it if you get over the learning curve presented by the unusual arrangement of the six-button side cluster.
That is to say, if you're willing to put in the time and effort to master Darkstar and CUE. It will take some time, but this mouse has the potential to become a top-tier option for MMOs, MOBAs, general gaming as well as non-gaming products. I like MMOs and mice with many buttons, and I enjoy such mice even more when they are specially designed for the needs of MMO players. Even with all the complaints earlier, I can see a bright future ahead for me and the Corsair Darkstar Wireless toge here. Notably, it's comfortable, well-made, and feels and looks relatively high-end.
On the downside, Darkstar's prohibitive cost of $170 may be off-putting to many consumers. At $170, it's not cheap, but it competes head-on with the rest of the competition in the market. The upgraded gyro capabilities, increased sensitivity, and user-configurable features of the Corsair sensor make an explanation for the Darkstar's price tag. Corsair has the upper hand with this extensive set of feat res. Because of that, it has been given Tech4Gamers' highest recommendation.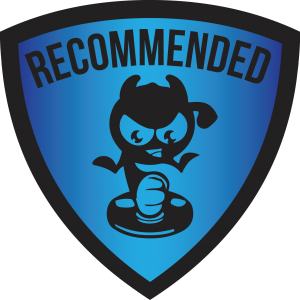 Learn more about Tech4Gamers Awards
Was our article helpful? 👨‍💻
Thank you! Please share your positive feedback. 🔋
How could we improve this post? Please Help us. 😔