Good Value For Money?
Review Summary
You can expect all the same great features from the Ducky One 3 Mini Daybreak Edition as with the Ducky One 3 series, but with a little compromise in its RGB lighting. Despite this, this is one of the most visually beautiful keyboards available, thanks to its high-quality construction, sturdy chassis, and meticulous attention to detail. It's a good keyboard, but its small size won't appeal to everyone. However, this premium typing experience has honestly surpassed all expectations from consumers. Because of how fantastic it is, this keyboard will make its way into your travel bag because of its enhanced portability.
Design -

9/10

Features -

7/10

Build Quality -

9/10

Value For Money -

8/10

RGB Lightning -

6/10
Pros
PBT Keycaps
Hot-Swappable
Dual-layer PCB
Sleek Bazel Design
Cons
No Software
No Wireless Support
In 2008, Ducky was established in Taiwan as a brand and manufacturer dedicated to providing customers with premium mechanical keyboards. Subsequently, they've come a long way since then. Alongside that, they are now widely regarded as one of the planet's best mechanical keyboard manufacturers because of their reputation for cutting-edge design, exceptional functionality, and build quality.
Now they have incorporated it all in the Ducky One 3 Mini Daybreak. As a company, they want nothing more than for their brand to be associated with high-quality products and customer satisfaction.
---
Key Takeaways
The Ducky One 3 Mini Daybreak has dual-tone true PBT Keycaps, a solid stance, authentic acoustics, lubricated stabilizers, noise-dampening foam, and many more features which make it a remarkable keyboard.
You should get Ducky One 3 Mini Daybreak if you want a hot-swappable PCB. So, you can tinker with your keyboard with minimal effort.
You should not get Ducky One 3 Mini Daybreak if you want a keyboard with great RGB lightning. It has PBT keycaps, and its legends are not transparent. So the light does not pass through them.
The Ducky One 3 Mini Daybreak is a perfect fit for those who are into customized mechanical keyboards and would like to do anything to make their keyboard sound a little better than before. Ducky has accompanied this keyboard with cutting-edge features that set it apart from the rest of the competitors. Moreover, the value it provides for what Ducky is asking should be the blueprint that other manufacturers should take note of.
---
Ducky offers solutions that enhance the productivity of the keyboard. Provide your fingertips with the assistance they need if you work or compete in professional scenarios. As the market for customized mechanical keyboards grows, so does the need for features expected in the enthusiast community to be included in mass-produced keyboards. It's not enough for a gaming keyboard to just function properly; it has to have an excellent feel and sound as well.
This review will examine Ducky's commitment to the comparatively recent "fight towards the top." The much-awaited follow-up comes about three years after the release of the Ducky One 2 Mini RGB, which helped propel 60% of keyboards to the forefront of the market and has a hot-swap PCB, lubricated stabilizers, and noise-dampening foam for better sound quality.
Having popularized the 60% form factor in a manner that no other keyboard or manufacturer has before, the Ducky One 2 Mini is destined to go down in history as one of the most iconic keyboards. Any subsequent version would be pressured to live up to such an impressive heritage.
Is the Ducky One 3 Mini Daybreak still appealing to this day, or has the One series reached its maximum threshold? Read our thorough review of the Ducky One 3 Mini Daybreak to learn everything there is to know about it!
Specifications
| | |
| --- | --- |
| Product | DETAIL |
| Structure | Ducky One 3 Mini Daybreak |
| Trigger switch | Cherry MX mechanical switches |
| LED | RGB |
| Connection interface | USB 2.0 |
| Keycap material | PBT |
| Output key number | USB N-Key Rollover |
| Printing technology | Double-shot |
| Dimensions | 335x110x40 mm |
| Weight | 627g |
Box Contents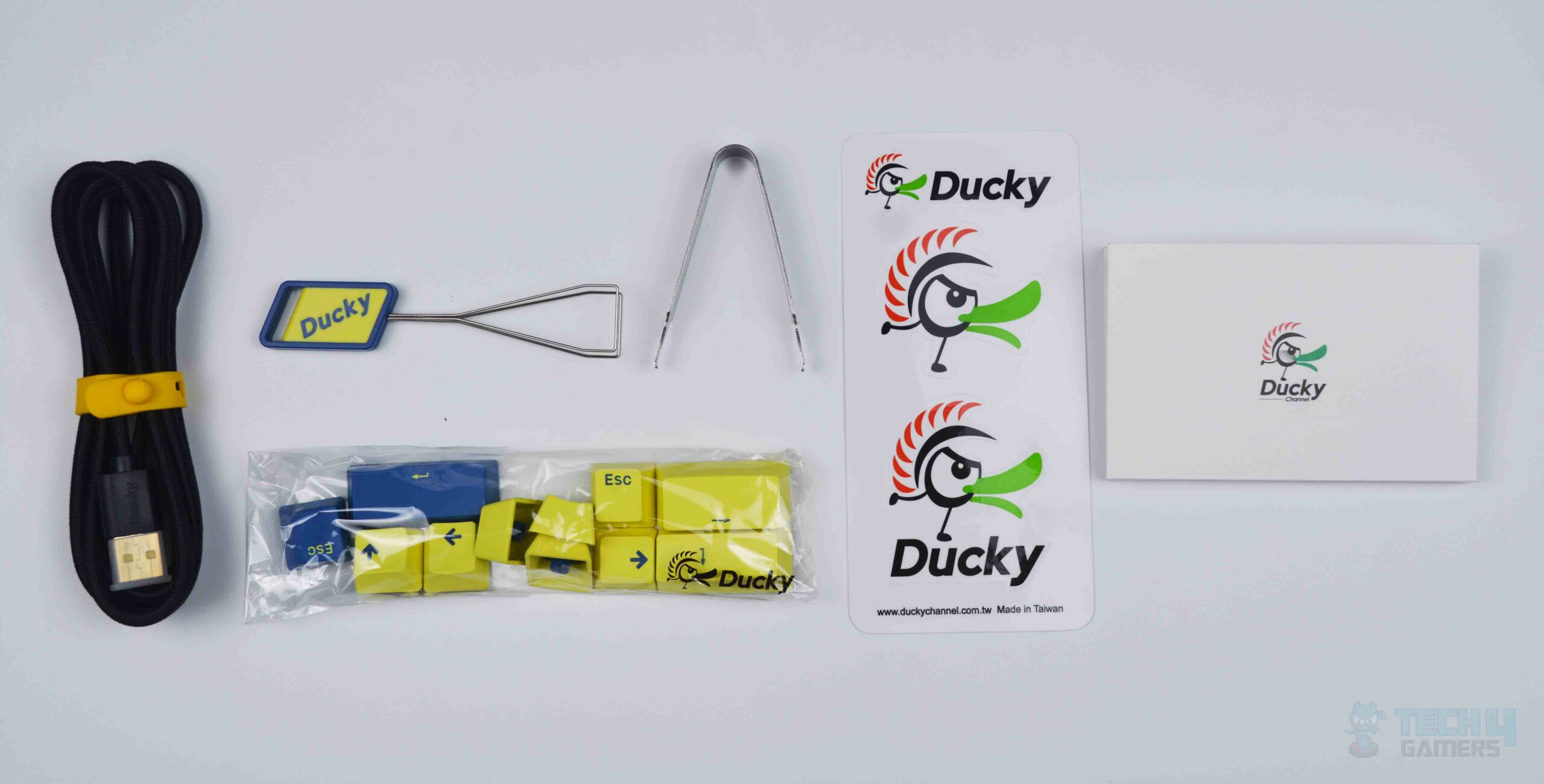 Besides the usual Ducky extras, you also receive a black braided USB-C cable. Unfortunately, it does not reflect the colors of the keyboard. The provided cable has been upgraded from the bare plastic from previous Ducky keyboards to a braided style. It's not a top-tier cable, but it's better than what Ducky provided in the past.
Other surprises within the package are the round novelty Ducky key cap that comes with a keycap puller, a Key switch puller, and eleven more keycaps. Even these extra keycaps weren't an afterthought; they're PBT, exactly like the other keycaps on the keyboard. In light of the fact that some manufacturers utilize inadequate materials for their additional keycaps, it's a nice addition.
Furthermore, there is always a keyboard cover inside the package of a Ducky keyboard, which 99 percent of consumers either don't use or trash away. It's a valuable piece of equipment to keep this cover on your desk at all times to protect your keyboard from dust.
In short, Ducky's unboxing experience is a blueprint that other manufacturers should follow. Although not cheap by any stretch of the imagination, this keyboard is cheaper than what other companies charge for their top-tier boards, which don't usually come with as many extras. For me, that kind of attention to detail is a sign that I'm dealing with something of high quality.
First Look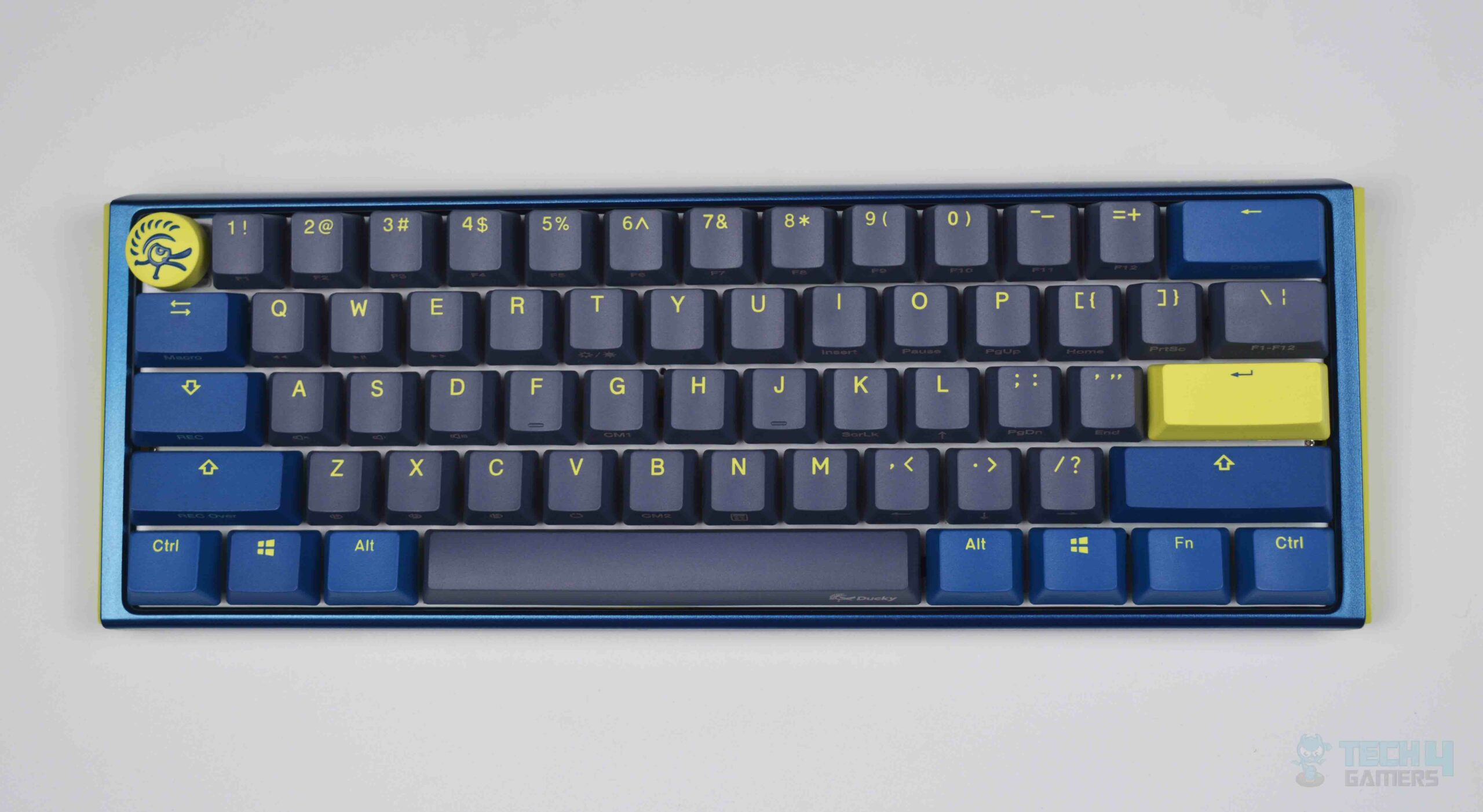 The latest update emphasizes authentic acoustics, solid stance, balanced tuning, and the typing experience. It brings the Ducky closer to the custom keyboard industry, whose products have been more widely available in recent years.
First, let's have a quick look. Consequently, this isn't your standard keyboard by any stretch of the imagination. Ducky chose a dynamic theme for the Daybreak color variant: a lovely deep blue with subdued yellowish-green legends and accents, and your primary keycaps are a cool grayish-bluish Pantone.
This design approach may not be to everyone's liking since it stands out on a workstation. Although, it's a welcome change of pace. If you like these particular tones, then you are in for a treat. I believe it looks fantastic even though I want my workstation to have a simple appearance. Personally, I think all-black keyboards seem dull, so this is a nice compromise between being noticeable and appearing flashy.
There are different variations of the Ducky One 3 series. The one we are reviewing today is the 60% Ducky One 3 Mini Daybreak. In addition to this, we have the TKL version, which is the 65% SF version, and the two full-sized versions, so you can choose the perfect keyboard size that suits you.
This is the Daybreak variant, but there are also Yellow, Fuji, and Matcha alternatives. All choices include hot-swappable key switches. As my personal preference, I like 65% of boards.
I cannot manage my work without the absence of arrow keys for productivity and normal day-to-day usage. Still, it will not impact my view of this keyboard, especially since different-sized versions are available for individuals who prefer those.
While using the One 3 Mini, the arrow keys (and the F row, and whatever) can still be accessed by pressing combinations of the Fn key and the appropriate key, in case you're unfamiliar with these smaller boards.
Since it employs palettes that appeal to me, I find the overall design of this board to be rather appealing. There isn't a ton of annoying branding, which is a plus. The Ducky logo appears on the front section of the spacebar, but no additional branding is visible when looking at the keyboard from the top.
While it has a spray-painted metallic sheen, the casing is made entirely of plastic which might put some consumers to worry about the build quality.
RGB Backlit Keys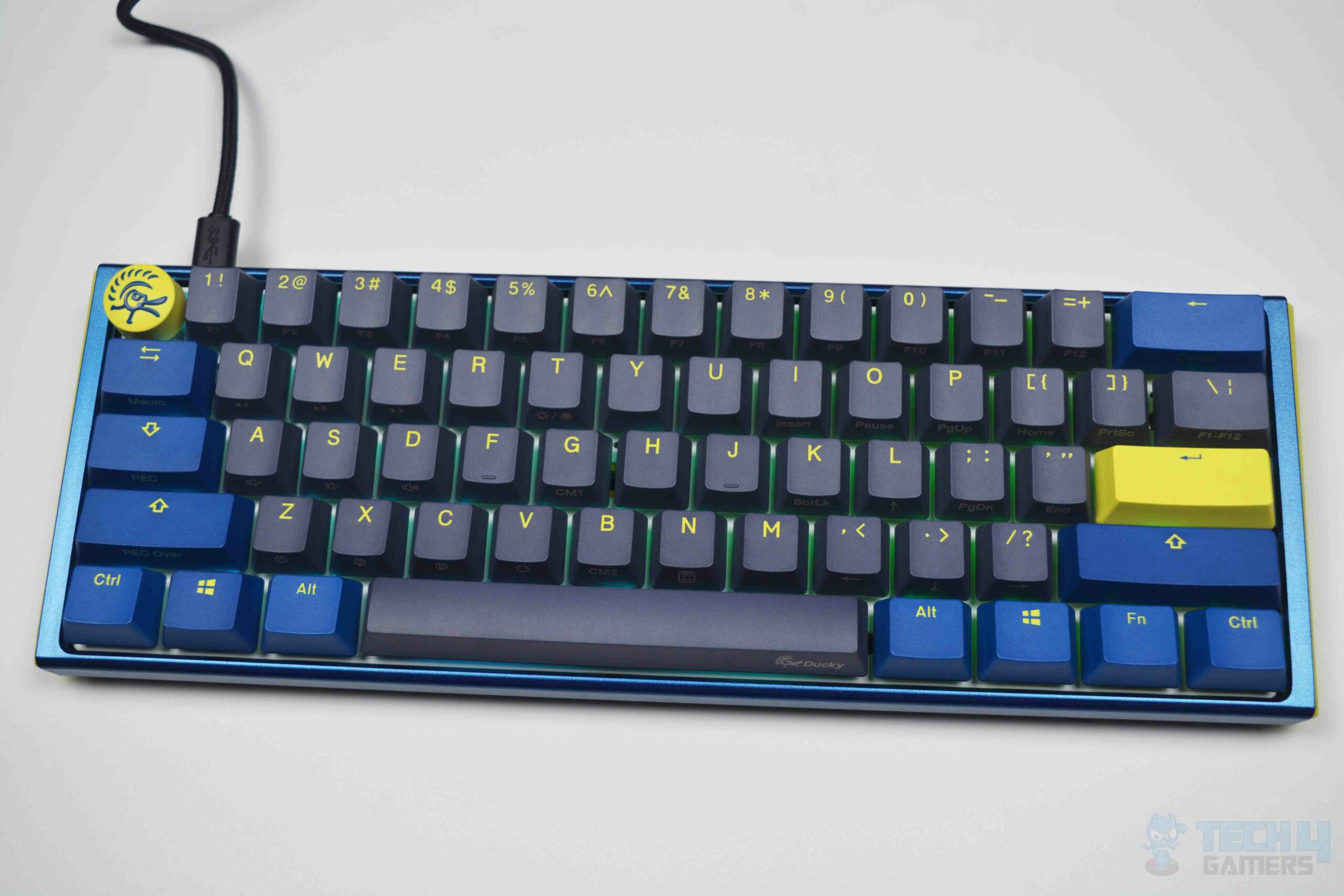 Now we're powering up our keyboard by connecting the USB-C cable in its upper left corner. Certainly, this distinctive color scheme makes the RGB stand out with vibrant colors and eye-catching effects. Although, it's only standard onboard effects.
More on the downside, these keyboards do not have any accompanying software. As a result, the board incorporates everything required for adjusting RGB effects and recording macros.
In the end, it's a matter of taste. It might be seen as a benefit by some or a drawback by others. I am the kind of person that would want the peripherals to have dedicated software. In this way, it would be easier to control RGB lightning according to my taste and record macros. For this reason, I'm not going to support the onboard controls.
However, looking at the shortcuts, you can toggle between RGB cycles by pressing FN + Alt + T.
First Mode: Wave Mode (Default)
Second Mode: Color Cycle
Third Mode: Rain Drop
Fourth Mode Ripple
Fifth Mode: Rainbow Reactive
Sixth Mode: Reactive
Seventh Mode: Halo
Eight Mode: Breath
Ninth Mode: 100% Full Backlit
Tenth Mode: Radar
Eleventh Mode: Backlit Off
Ultimately, Ducky's RGB is as standard as I've come to expect. The colors are reflected beautifully off the white backplate. Remember that, unlike previous iterations, the keycaps will not shine through this time. Thus, the RGB display won't be as flashy as it would be with keycaps that let the light shine from their legends.
Nevertheless, the board utilizes a conventional bottom row, so upgrading the RGB possibilities by replacing the keycaps should be feasible.
True PBT Keycaps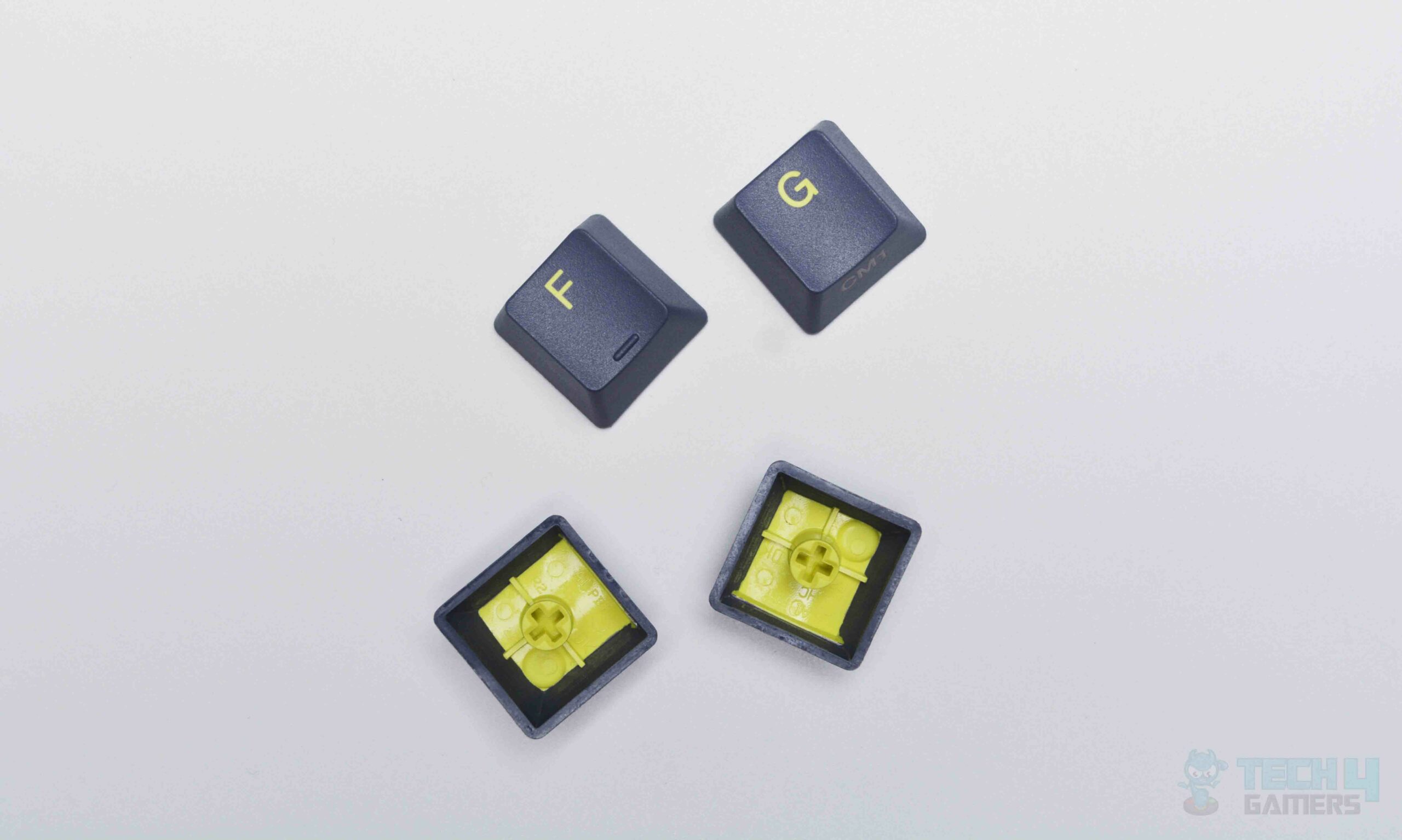 The keycaps are PBT, which have always been with most Ducky boards. They are much more durable than the thin ABS keycaps often seen on most keyboards, and PBT keycaps don't become glossy as quickly as ABS ones. The inscriptions and colors on these keycaps appear sharp and sophisticated, and the caps' surface is subtly textured for improved grip.
Quack Mechanics consistently offers the best materials. The keycaps are genuine PBT. Ducky has used a double-shot method in which two plastics are merged, and they were able to create seamless legends that will not fade away, even after years of usage.
These keycaps have been given a frosted finish, making them resistant to fingerprints and stains. The frosted texture provides enough grip even for sweaty palms without being too coarse or unpleasant.
They are also designed for speedy keystrokes and constant usage without ever losing their clean, fresh appearance. The one complaint I have about the caps is that they lack transparency. Although the board does feature RGB lighting behind the keys, you will only see the backlit lightning between the keys, not on the front, making using this in the dark less convenient.
Meanwhile, these keycaps are a two-tone PBT set. Here, the tight mold and double-shot injection are visible. Getting them off the switches without using any tools required a little additional push from me. Nevertheless, they are high quality, and the subtle matte texture gives them a pleasant feel. These keycaps are excellent, and I couldn't be happier with them.
Given that these keycaps are themed to complement the board's color scheme. As a result, I doubt many people would purchase this keyboard only to customize the keycaps.
I'll mention that when using a puller to remove your switches, you may easily scratch the cutout at the top and bottom, thanks to the metal-on-metal contact. The plate will be readily scratched, but the keycaps above the switch already cover it. As a result, it will not be visible during usage.
Build Quality – Optimized Construction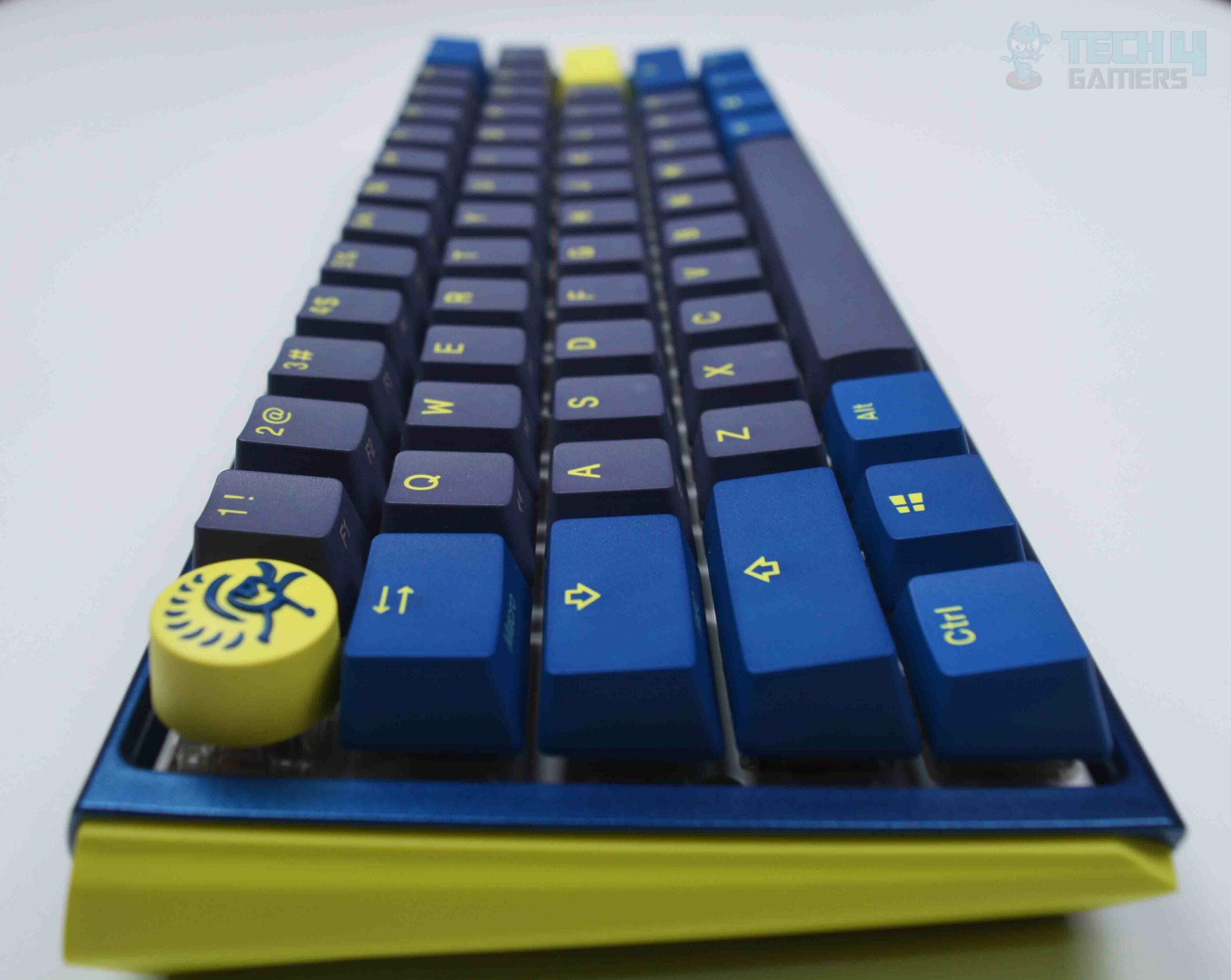 Like other Ducky boards outside the Mecha series, the One 3 Mini is made entirely of plastic. Considering what you're receiving for the money Ducky is asking, plus the fact that it doesn't feel incredibly cheap, it's understandable. I have no issues with the One 3 Mini's build quality, albeit it does bend somewhat when I hold it with both hands or apply pressure.
Many improvements may be found behind the cover. A thick pad is placed between both the PCB and the top plate. Further improving sound suppression and canceling out any undesirable noises is an additional layer of EVA foam pad placed underneath the PCB to lessen the pinging and make the case seem less hollow.
Utilizing multi-layered cushioning helps highlight the natural acoustics of your preferred switches while dampening any additional noise. The PCB foam pad is substantial and looks great. However, I think the foam layer covering the bottom of the case should be thicker. That's a minor issue, but most manufacturers don't even bother with soundproofing foam.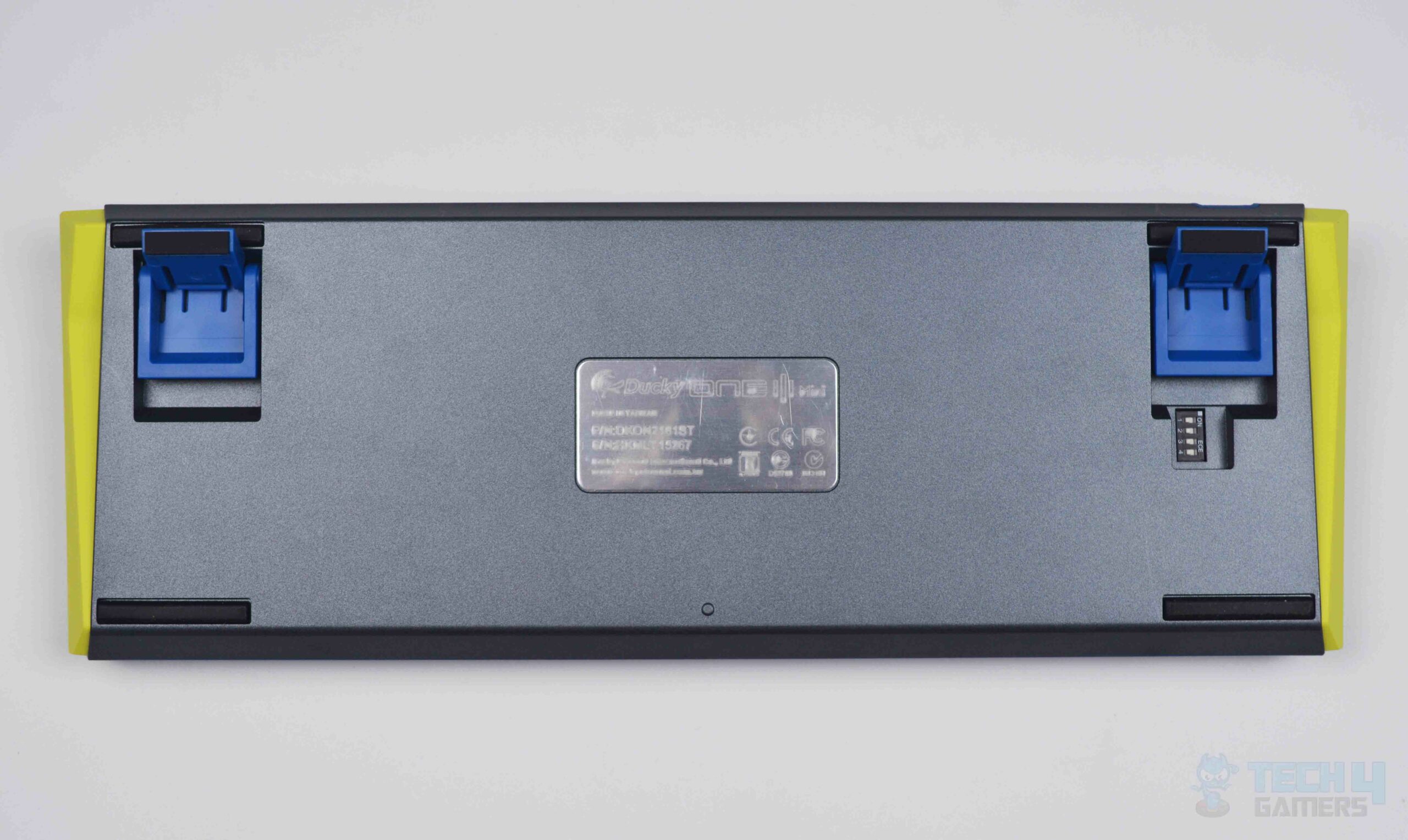 If you look at its base, you'll see it has dual, flip-out feet on both sides. The back feet can be raised to varying degrees. Therefore, their angles vary accordingly. So you may adjust the typing angle to your liking; I choose the flattest one, but having more options is always welcome.
As the case is lower and the weight is more evenly distributed, the keyboard remains steady even under the harshest environment given by professional gamers. The keyboard's front-to-back weight ratio was carefully designed to maintain it in a steady, correct position, which is crucial for competitive gaming and long typing sessions. Whether playing games or typing, the One 3 Mini doesn't slide.
Moreover, you also have a cutout for the switches on the lower left side, allowing you to do various things. For instance, reorganize the keyboard's bottom row, or turn off the Windows keys altogether. That way, you won't disturb your game experience by pressing it by mistake. It's also nice that Ducky has provided room on the casing for customized cords.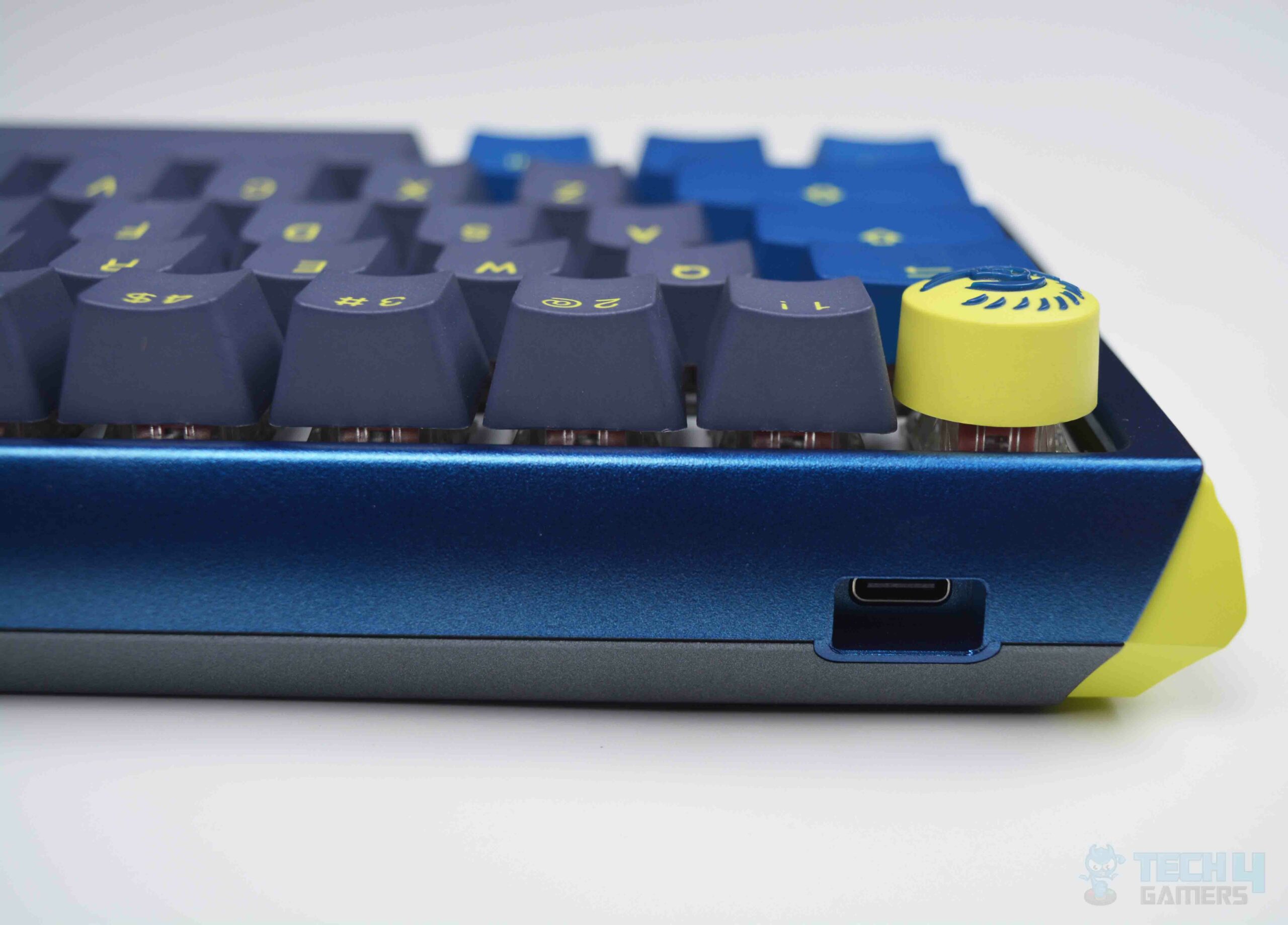 Even though the USB-C port is set back, there is enough space surrounding it to accommodate customized cables, which is a perk for many enthusiast mechanical keyboard lovers who like the aesthetic of using coiled or otherwise uniquely designed cables. Furthermore, I've been impressed by the One 3 Mini's simple disassembly.
Adding custom components, such as new foam, is a breeze since the top plate is held in place by just a few screws and can be removed from the case in seconds. The One 3 Mini's hot-swap PCB makes it a good starting point for those who want to experiment with their keyboards or who want to get into modifying mechanical keyboards.
Design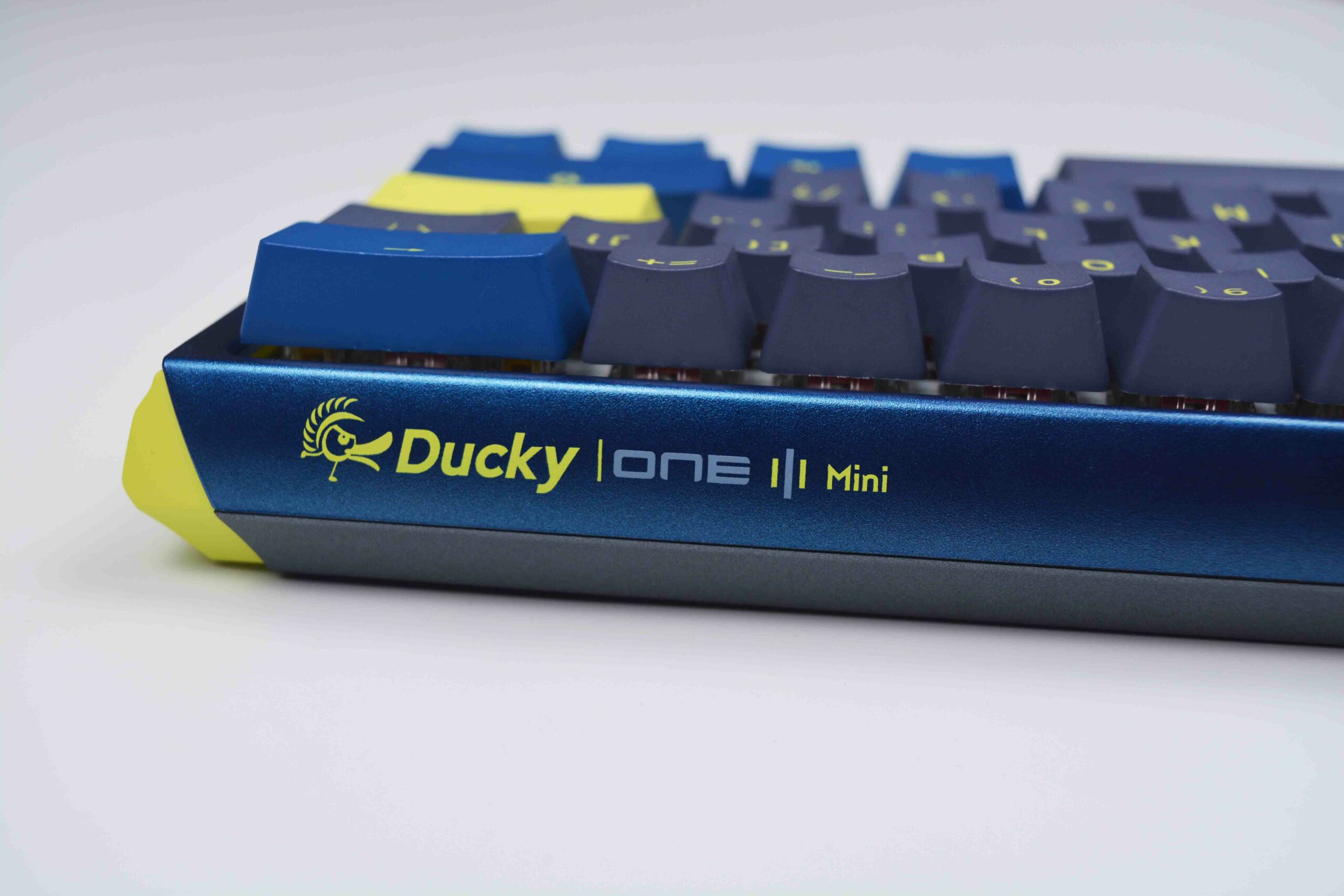 The keyboard's edges aren't rounded or smooth with the rest of the case; they're sharp and prominent. As a result, the two-tone effect of the body is emphasized even further. As an added bonus, it coordinates with the keycaps. Furthermore, every keycap design is accommodated by the keyboard's minimalist bezel design.
Visually, it's a seamless integration. Just a brief remark on the spare keycaps included in the package. If you want to use the regular arrow keys instead, you'll find their cluster at the bottom right, directly next to the right function key.
Hot-Swappable
Kailh's hot-swappable "hot-swap" sockets are standard on all Ducky One 3 mechanical keyboards. Kailh sockets, recognized by their bright yellow color, are favored because of their exceptional durability. You can easily enjoy a wide variety of mechanical switches by just mounting them in place and pulling them out.
The biggest benefit of these new releases is that the key switches are swappable. They can be popped out of the PCB and replaced with any other alternative that you like better than the silent red at any moment using the key switch puller that comes with the package. Subsequently, it's been a while since hot spot PCBs first appeared on the market.
Nevertheless, putting keycaps designed for different cherry profiles on these north-facing switches may cause interference since they will rest on top of the switches rather than be straight with the keyboard when pressed. Conversely, that is not the case for south-facing PCBs, but I will say that I don't think it will be too much of a problem.
Switches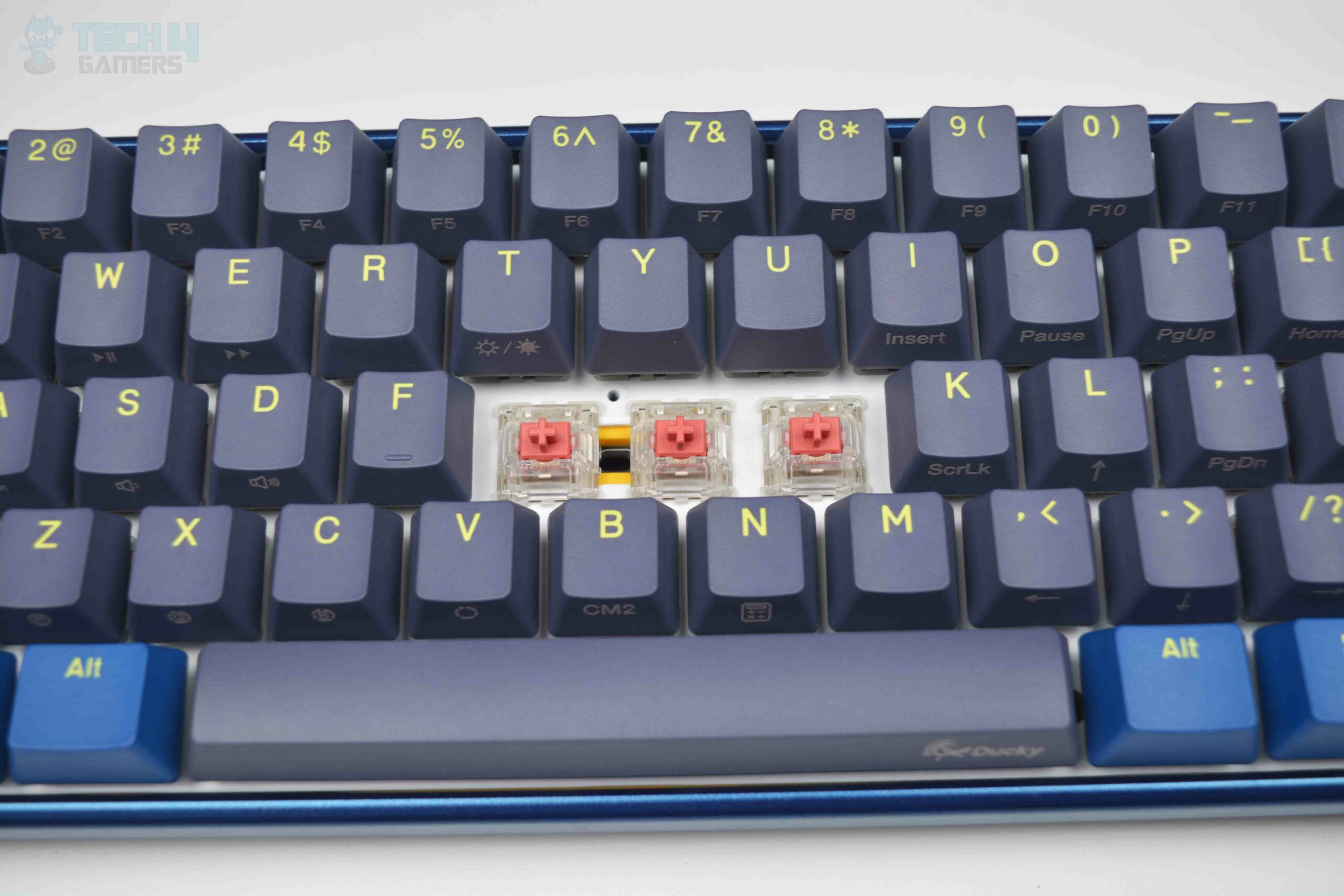 Regarding switches, I became a fan of the Cherry RGB Silent Red that came with the keyboard I received. This is the kind of switch I didn't have the opportunity to try. Notably, after spending some time with them, I have to say that I find them rather fascinating. Still, I'm unsure whether they have changed my mind about linear switches.
However, I do know for a fact that I loved typing and gaming on them immensely due to the combination of the PBT keycaps, the sturdy build quality, and the extremely soft typing feel that Ducky has provided. You'll need to listen to them while typing to really comprehend why they're so remarkable.
So do you get what I mean? It's almost quiet!
The keystroke is pleasingly soft and light on the fingers. When typing, it's loud enough to be enjoyable but won't be picked up by anybody else while communicating through Discord, TeamSpeak, or the mic if you're streaming.
Of course, the linear switches here are a big part of the reason for the absence of noise. Although no amount of black magic will make a red-type switch silent, it should get pretty darn close.
Ducky's high-quality acoustics and tactile feedback result from the combination of an EVA foam pad underneath the PCB and what the company calls "Q-Bounce pads" embedded into the board. Cushions for the switches, created from 17 different kinds of rubber, reduce noise and the force required to type.
Ultimately, components like stabilizers and the abovementioned foam may significantly impact the overall sound experience with a keyboard. Thankfully, they function well.
Moreover, Ducky uses V2 plate mount stabs with a bright orange stem for the internal stabilizers, and they lubricate the bar lightly to prevent annoying pings and rattles. Though it is a mild lubrication, I suggest adding a bit extra.
However, it is encouraging to see that we have some for those who aren't quite ready to take the plunge and modify their keyboards. In any case, the stock stabilizers are among the best I've experienced. Because of these factors, I had one of the best experiences of typing that I can remember. I have no idea how to describe how great this is, but I know I won't be able to return to my old keyboard after trying this one.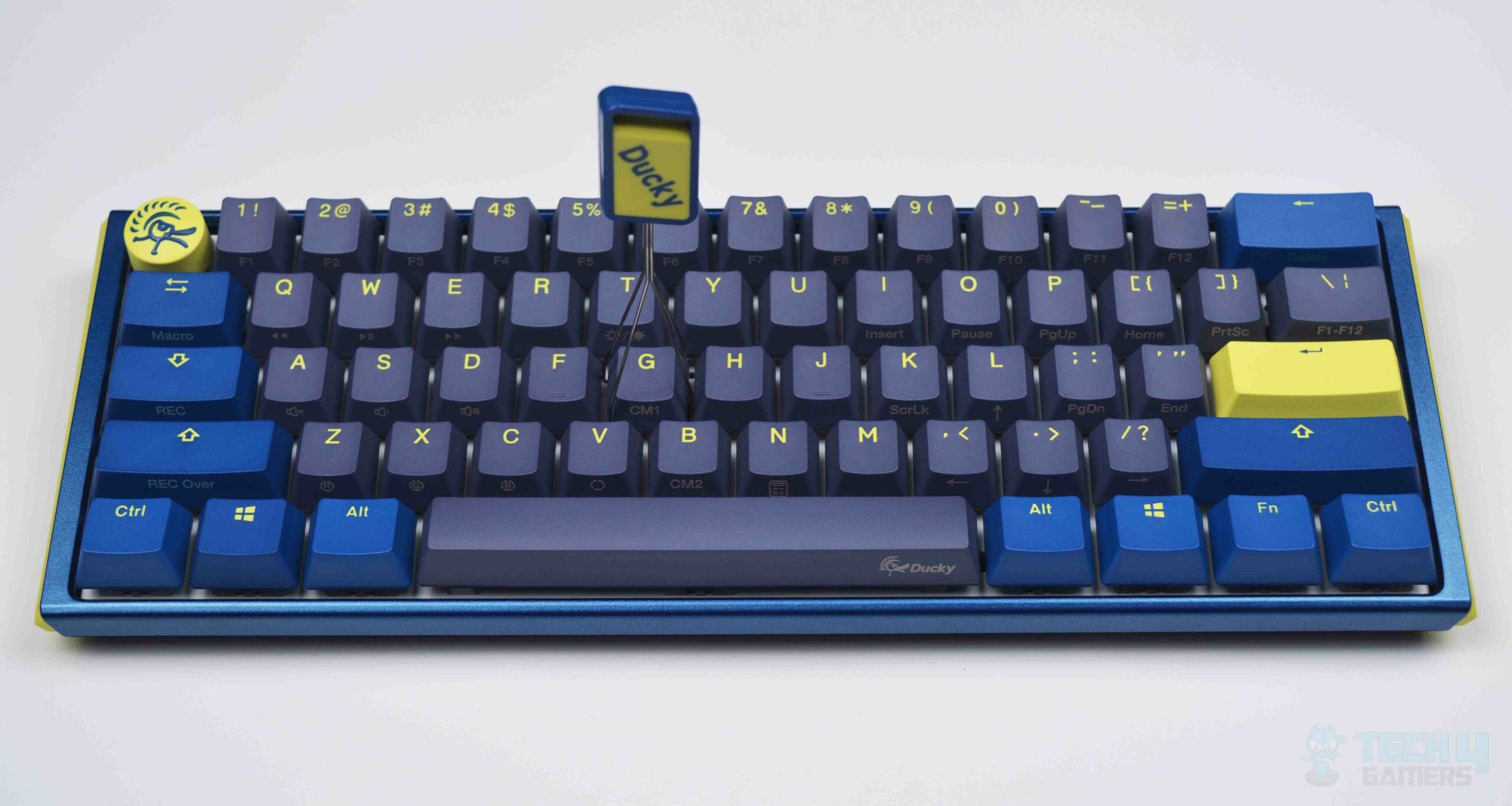 Unfortunately, if these switches don't provide the satisfaction that you are looking for. Nevertheless, with a hot-swap board, you can instantly replace them.
There is zero need for previous experience or technical expertise. Use the switch puller provided to remove the old switches and replace them. You can do this regardless of whether you know little about keyboards or have no other resources at your disposal.
Consequently, the keyboard is available in various switch types, including Cherry black, brown, clear, blue, simple red, and silent silver. All of these switches' housings include crystal tops, letting the RGB lighting shine brightly through and reflect off the white-coated aluminum plate underneath.
Features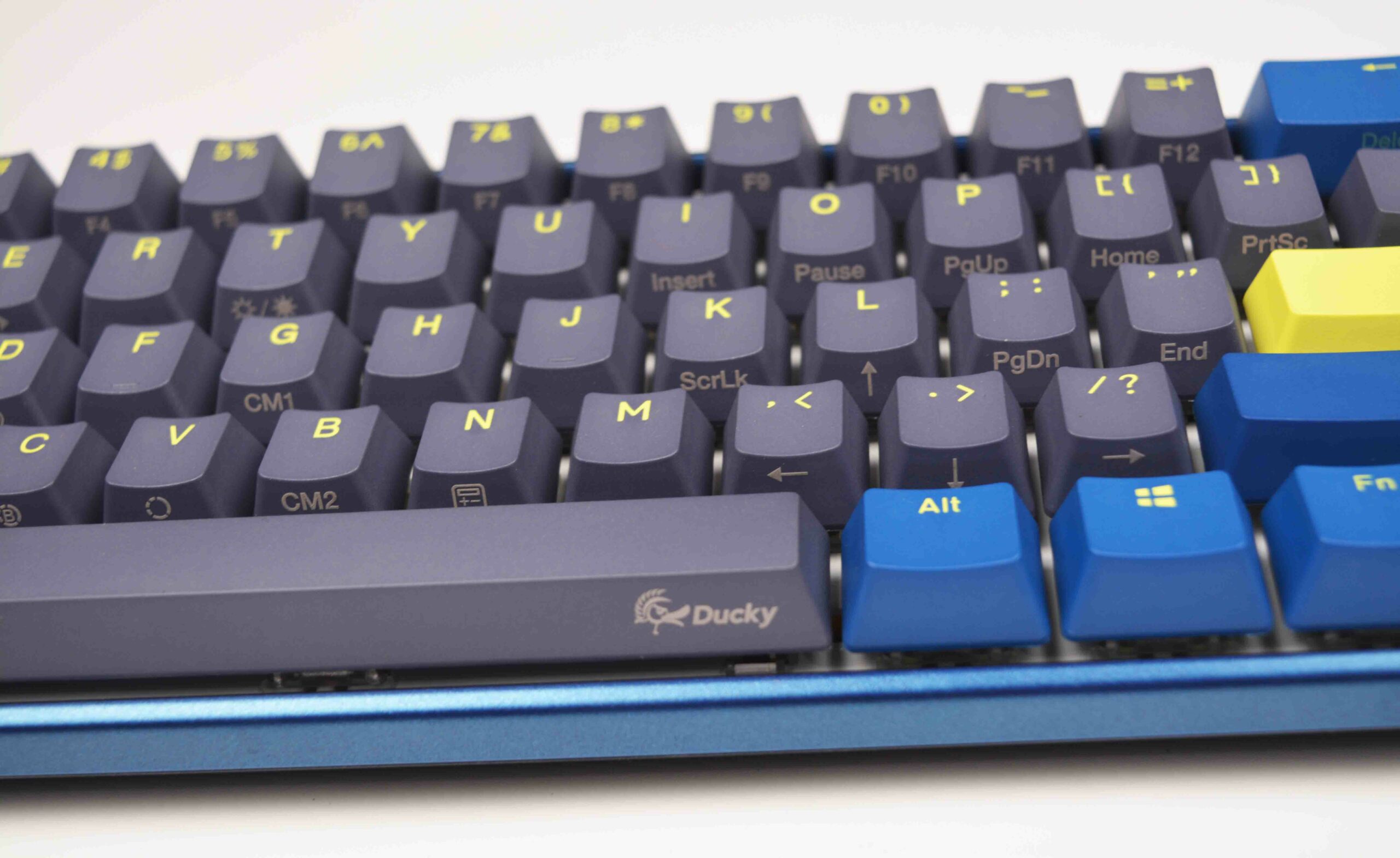 Those unfamiliar with 60% of keyboards in general need to know that even if the layout is more compact than usual, all of the keyboard's features are still available to them. You'll notice it printed on the front side of the keycaps. Controls for playback, volume, and customization of RGB lightning are all at our fingertips.
This means that the lack of physical space is not an excuse. Yet, such features are still accessible. I have had zero problems in input lag or latency when gaming with this. There was no issue that I could notice, and I felt perfectly at ease. I prefer linear switches for video games because they give me the impression that I am quicker on the keystroke and have a more sensitive trigger finger.
During the first few seconds, at least, before I see an enemy and go completely trashed, I feel a little more like a pro player. Nonetheless, the keyboard is fantastic. This pre-built 60% keyboard really crushes the competition. One could argue that it now represents the height of greatness.
Software Support
Software is something that is lacking here. Although I'm not too fond of it when additional software is required to use a device, having the opportunity to record complicated macros or create a sophisticated lighting scheme is helpful for products like keyboards, where many individuals do it.
Since the keyboard provides for almost all of your needs, there is certain to be a steep learning curve associated with its use; thus, I believe that a simple software program would significantly improve the experience.
Final Verdict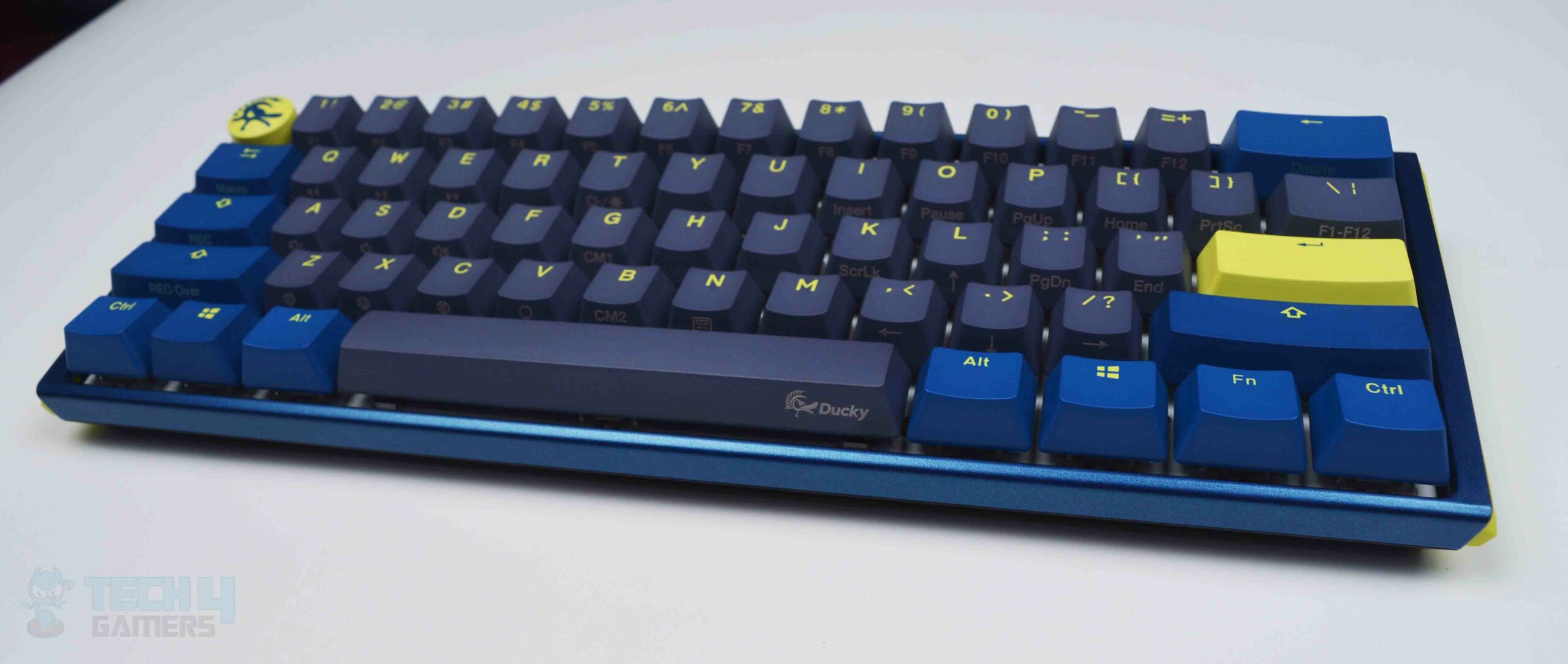 While Ducky has always been recognized as a top name in mass-produced keyboards, the company has recently been at risk of getting a little behind the trends. As competition from other manufacturers increased, users demanded that Ducky catch up by implementing innovations like hot-swap PCBs, PBT keycaps, noise-dampening foam, and many more.
Luckily, the One 3 Mini exceeded my expectations in every way.
In a nutshell, the Ducky One 3 Mini Daybreak Edition is an advanced iteration of an already fantastic keyboard. There aren't many advancements, but it's still a fantastic option for gamers and typists that choose portability over extra buttons. Nonetheless, its 60% form factor will not likely appeal to everyone.
The Ducky One 3 SF is an excellent option for only $20 extra if you'd instead have dedicated arrow keys and navigation buttons. Ducky has been creating high-quality keyboards for a long time, so it clearly knows what it's doing. In the same vein, this new release is a little more flashy than its predecessors.
The lubricated stabilizers, noise-dampening foam, hot-swappable PCB, and PBT keycaps make the One 3 Mini an excellent keyboard. In short, it's everything you could want in a mass-produced keyboard.
The One 3 Mini, even on its own, provides a level of performance that is competitive with the best keyboards in its price range, and with a few more dollars and a few minutes of tweaking, you can make it sound and feel like a much more expensive board.
Furthermore, the simplicity with which modifications may be made makes indulging in the abovementioned tinkering straightforward.
The experience of using a mechanical keyboard is very subjective, although there are objectively excellent and awful features and layouts present in a keyboard. In the end, the user's choice comes out on top.
In general, I don't think it's appropriate to criticize others for their own tastes. Notably, this Ducky One 3 Mini Daybreak is probably one of the greatest mechanical keyboards I've put my hands on. It's not loaded with bells and whistles, but it does the job as a high-end board for regular tasks. Simply amazing.
Coming Next: Corsair K70 RGB MK.2 CHERRY MX Low Profile Speed Review
Was our article helpful? 👨‍💻
Thank you! Please share your positive feedback. 🔋
How could we improve this post? Please Help us. 😔
[Hardware Reviewer & Editor]
Meet Nauman Siddique, a highly experienced computer science graduate with more than 15 years of knowledge in technology. Nauman is an expert in the field known for his deep understanding of computer hardware.
As a tech tester, insightful reviewer, and skilled hardware editor, Nauman carefully breaks down important parts like motherboards, graphics cards, processors, PC cases, CPU coolers, and more.
15+ years of PC Building Experience
10+ years of first-hand knowledge of technology
7+ years of doing in-depth testing of PC Hardware
A motivated individual with a keen interest in tech testing from multiple angles.
I majored in Computer Science with a Masters in Marketing
Previously worked at eXputer, EnosTech, and Appuals.