Is It Worth It?
Review Summary
The Logitech G502 Lightspeed is a formidable gaming mouse that blends a timeless design with modern features. Offering wireless freedom and adjustable weights, it caters to gamers seeking customization and comfort. Powered by the HERO 16K sensor, it delivers precise performance in various gaming genres. While its price may be a deterrent, the G502 Lightspeed's durability and responsiveness make it a strong contender in the gaming mouse market.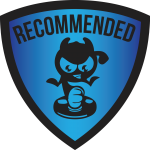 Build Quality -

8/10

Value -

7/10

Performance -

8/10

Design -

7.5/10

Software -

8/10
Pros
Timeless Design
High-Performance Sensor
Abundance of Buttons
Highly Durable
Cons
Limited RGB Lighting
Size and Weight
Powerplay Limitations
Steep Price
As many of you might have expected from the previous variants in the G502 lineup, this wireless gaming mouse complies with the standard of the G502 family in terms of design and performance in different scenarios. In this review, I will discuss the mouse's appearance, features set, and performance. Whether you play games a lot or want a mouse to fulfill your productivity needs, this review will help you decide if the G502 Lightspeed is a good buy in this gaming market. Keep reading to discover if this mouse is worth your money.
Why you can trust Tech4Gamers:

We understand the importance of making informed decisions. That's why our team spends significant time testing every product we review.

Find out more about how we test.
---
Key Takeaways
The Logitech G502 Lightspeed is a wireless gaming mouse, a modern rendition of the revered G502 series. Preserving its iconic design, it houses a potent HERO 16K sensor with an extensive DPI range, catering to diverse gaming preferences. Featuring 11 customizable buttons, RGB lighting, and compatibility with Logitech's G Hub software, it promises a personalized gaming experience.
The things I have liked about the Logitech G502 Lightspeed are its Timeless Design, Customizable Weights, HERO 16K Sensor, Powerplay Compatibility, Abundance of Buttons, Hyper-Fast Scroll Wheel, and Seamless Wireless Performance.
The things I have not liked about the Logitech G502 Lightspeed are its Limited RGB Lighting, Size and Weight, Steep Price, Potential Overkill for Some Users, Lack of Novel Features, and Comparison to Modern Mice.
The Logitech G502 Lightspeed is a perfect fit for Enthusiastic Gamers, Previous G502 Users, Those Who Prioritize Customization, Users in Need of Versatility, MMO and MOBA Players, and Logitech Ecosystem Users.
---
Specifications
| | |
| --- | --- |
| Dimensions (HxWxD) | 11.42 x 2.95 x 1.57 inches |
| Weight | 114 g |
| Optional extra weights | 16 g |
| Sensor | HERO |
| Resolution | 100 – 25,600 DPI |
| Max. Acceleration | 40 G |
| Max. Speed | 400 IPS |
| USB Report Rate | 1000 Hz |
| Wireless Technology | LIGHTSPEED Wireless |
| Wireless Report Rate | 1000 Hz |
| Battery Life | up to 48 Hrs |
| PTFE Feet | 250-km Range |
| Switches | Mechanical Button Tensioning System |
Box Contents
Gaming Mouse
Lightspeed wireless receiver
Receiver extension adapter
Charging/data cable
Accessory box
4x 2g Weights
2x 4g Weights
User documentation
Unveiling the Logitech G502 Lightspeed
When I first saw the original Logitech G502 series models, I remember thinking that, with a few little adjustments, it might be the ideal mouse. I realized I was in the presence of something extraordinary. When I finally got my hands on them, I was ecstatic; I didn't think I'd see another mouse as wonderful for a very long time.
That was a while ago, and in that time, Logitech has made a few improvements to the G502's successful design. Classics are always a safe bet. However, it is possible to rethink them. As a result, the Logitech G502 Lightspeed is a wireless, lightweight, and lighter version of one of the company's most popular gaming mice.
RGB Illumination: Packed with RGB illumination, the G502 Lightspeed, priced around $150, promises a comprehensive gaming experience.
Wireless Convenience: In addition to being entirely wireless, it can also be charged wirelessly using Logitech's innovative PowerPlay technology. However, Powerplay interferes with weight customization.
Preserved Excellence: The high-quality sensor, ergonomic design, and novel scroll-wheel choices that made the wired G502 so successful are all present and taken into consideration here.
However, the G502 Lightspeed isn't entirely up to the standard set by its forerunner. This is because of the steep asking price, some clumsy design choices, and the harsh, relentless passage of time. The original G502 had tough competition, but modern mice are far more capable. The G502 Lightspeed isn't quite the greatest wireless gaming mouse out there, but if that's what you've been looking for, you won't be disappointed.
Enduring Popularity
The G502 Lightspeed and its wired sibling, the G502 Hero, continue to be two of the most widely used mice on the market. What, despite the fact that many of its specifications should knock it out of the running, has made its design so enduring and able to retain a user base? Let's have a deeper look at one of the most widely used and much-debated gaming mice currently on the market.
Design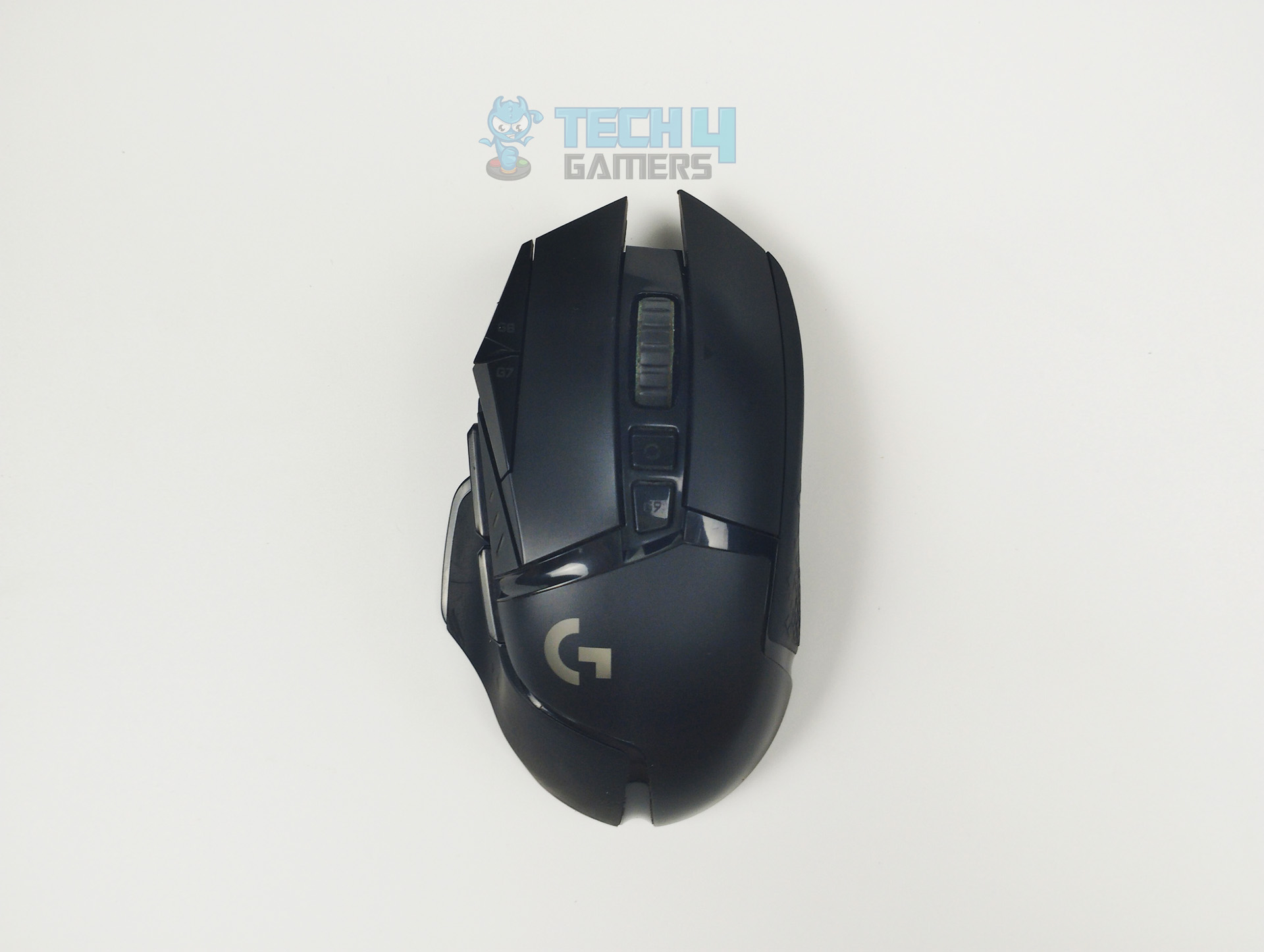 The G502 Lightspeed retains a design that will be immediately recognizable to anyone acquainted with prior G502 models. Logitech has achieved an impressive feat with the G502 Lightspeed by maintaining an exterior that closely resembles the popular G502 Proteus Spectrum while incorporating significant internal enhancements. Additionally, it bears a striking resemblance to the wired Logitech G502 Hero.
Seamless Transition to Wireless: Essentially, the G502 Lightspeed can be seen as its predecessor with the wired removed. It's truly impressive how Logitech has managed to preserve the design integrity of its best-selling ergonomic gaming mouse while implementing substantial internal improvements.
Portability: The wireless nature of the G502 Lightspeed ensures it's a highly portable gaming companion. You can easily take it with you wherever you go. What's particularly convenient is the ability to store the mouse's receiver within the device itself, eliminating the need for a cumbersome cord. This enhances the mouse's portability factor, making it a hassle-free choice for gamers on the move.
Build Quality: The Logitech G502 Lightspeed boasts exceptional build quality. Its body exudes a rock-solid construction with no discernible flex, assuring users of its durability. The buttons provide a satisfying clicky feel, enhancing the tactile experience of using the mouse. Designed for ergonomic comfort, the G502 Lightspeed features grips on both sides, and the soft, supportive thumb rest contributes to prolonged gaming comfort.
Built for Intense Gaming: The G502 Lightspeed's weightiness and design are tailored to meet the demands of gamers seeking an immersive and high-stakes gaming experience. Its robust construction exudes a premium, high-end feel from every angle.
One noteworthy aspect of the G502 Lightspeed is its design timelessness. Despite the passage of several years, the G502's design remains impressively solid and appealing. It's a testament to Logitech's commitment to crafting enduring peripherals, however, while the G502's design continues to stand strong.
It's worth noting that other high-end wireless mice from Logitech may offer a more comfortable user experience at a similar price point. After thoroughly testing the G502 Lightspeed, I found myself reverting to my trusty old Logitech G Pro X Superlight wireless mouse, which better suited my preferences.
Shape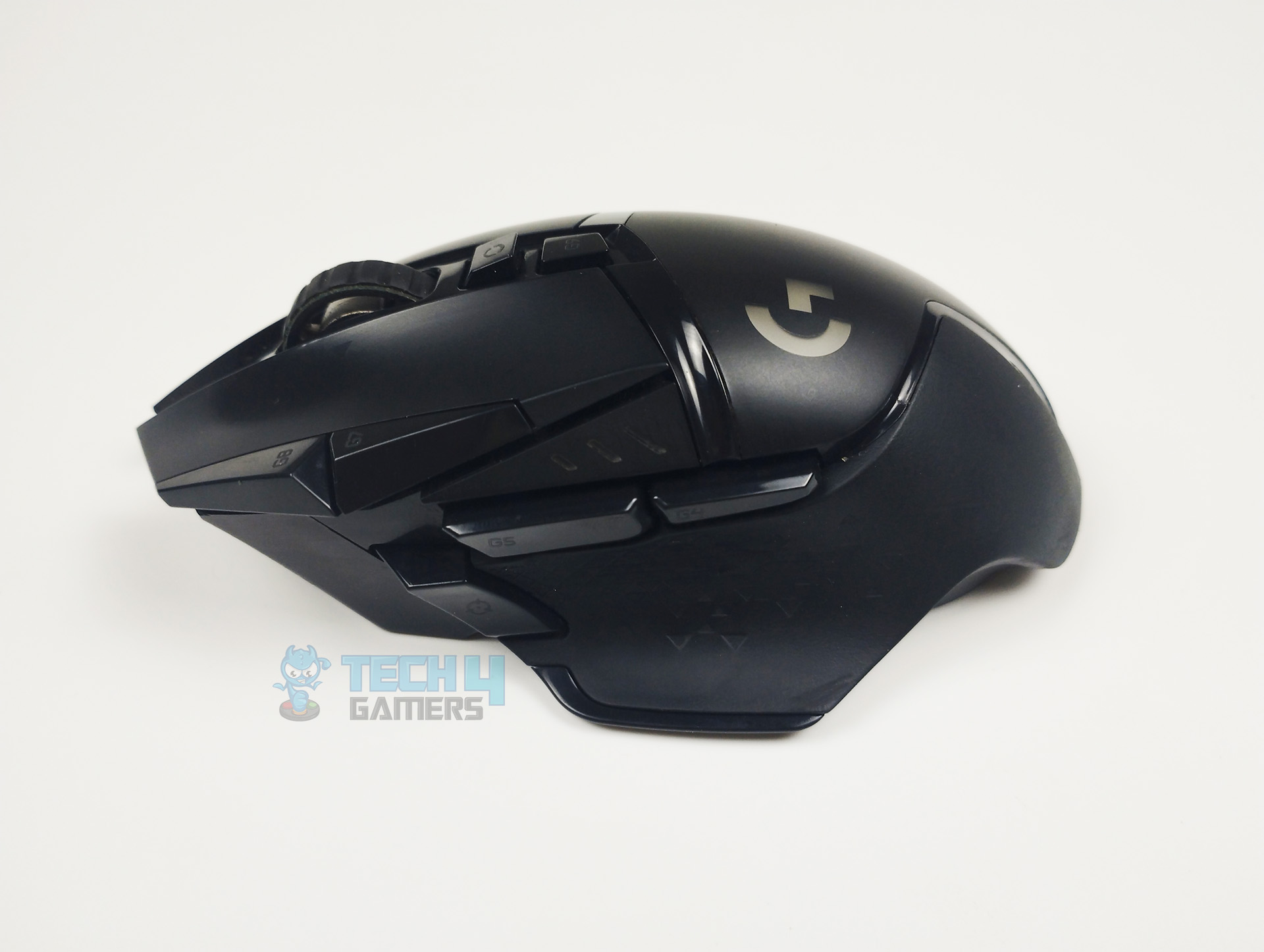 Measuring 11.42 inches in length, 2.95 inches in width, and 1.57 inches in height, the G502 Lightspeed's form is tailor-made for right-handed gamers. Its angular, matte black construction features two striking RGB light zones. One encompasses the iconic Logitech G logo, while the other includes distinctive stripes and rubberized embellishments. These embellishments serve a dual purpose, enhancing both practical functionality and the mouse's edgy aesthetic.
The mouse offers a rubberized U-shaped thumb rest, a pleasing rounded hump, and extended buttons that accommodate various grip styles, be it claw or palm. Even with the inclusion of the battery, the G502 Lightspeed maintains a remarkably lightweight profile at just 114 grams, making it lighter than its wired predecessor. Notably, the G502 Lightspeed entered the market at a time when many companies, including Logitech, were focused on offering wireless mice weighing between 55g and 70g. Given that this mouse provides additional weights, the timing of its release may raise questions about its weight relative to industry trends.
Grip Styles
Features
It's essential to highlight that the G502's weight won't pose a problem for many users. In the gaming community, there's been a plethora of memes poking fun at individuals who claim they can't use a mouse because it's slightly heavier, to the point where it's become a recurring jest.
Therefore, if you fall into the camp that believes the lightest option is always the best, this mouse might not align with your preferences. However, for those situated on the other end of the weight spectrum or who are willing to make some compromises in this regard, the G502 becomes an attractive choice due to the multitude of added features that come with its weight.
Having said that, the G502 Lightspeed boasts a comprehensive array of functions that cater to various gaming needs. Whether you're an enthusiast who appreciates the finer details in mouse design or a competitive gamer seeking every possible advantage, this mouse has something to offer. The weight, while slightly heftier than some alternatives, complements the mouse's extensive feature set, enhancing its overall functionality.
Customizable Weights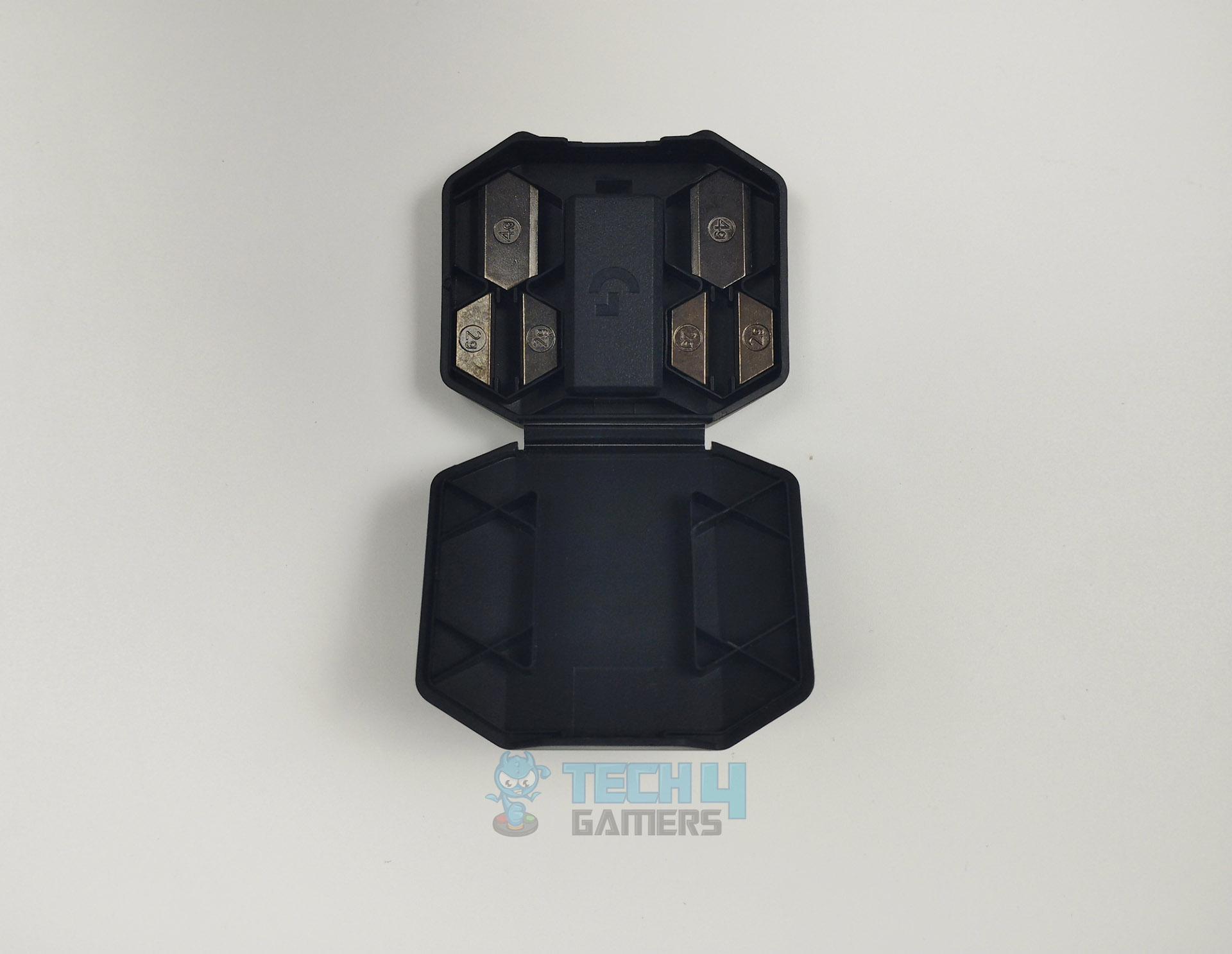 The G502 Lightspeed offers a remarkable feature that allows you to tailor your mouse precisely to your preferences – customizable weights. This feature grants you the ability to fine-tune the mouse's weight, ensuring it feels just right in your hand. Located at the base of the mouse, the weight system is conveniently accessible, allowing you to modify the mouse's weight effortlessly.
With two extra 4g weights and four additional 2g weights provided, you have the flexibility to add or remove weight according to your preferences, whether you desire a heftier mouse or wish to shift its balance. Logitech has thoughtfully designed the system for easy use, with a sliding plate around the sensor that reveals a puck for the larger weights and exposes four smaller weight compartments, making the process seamless.
Logitech's decision to retain this feature is likely driven by a desire to cater to a niche market that still values this level of versatility, even if it comes with added bulk. For those who prefer a feature-rich mouse over a lightweight one, the G502 Lightspeed remains a compelling choice.
Powerplay Wireless Charging
The G502 Lightspeed offers the convenience of wireless charging through Logitech's Powerplay equipment. To utilize this feature, you'll need to replace the standard puck that comes with the mouse with a wireless charging puck. Once in place, this specialized puck can harness power from Logitech's Powerplay mousepad, ensuring that wireless mice never run out of juice. Having personally experienced the convenience of the Powerplay Wireless Charging System with various wireless mice.
I can attest to its practicality and the freedom it offers from the hassles of battery management. It's important to note that while the Powerplay system enhances wireless convenience, there is a minor trade-off. The inclusion of wireless charging prevents you from adding additional weights to the rear of your device. For users who prioritize additional heft and customizability through weights, this is a consideration worth bearing in mind.
Buttons
Logitech seems to have adopted the "include everything that is possible" approach when designing the G502 Lightspeed. This mouse boasts an impressive array of eleven buttons on its top surface, catering to a wide range of user needs.
Primary Clicks and Scrolling: At the core, you have the standard right- and left-click buttons alongside a scroll wheel. What sets this scroll wheel apart is its support for Logitech's "Hyper-fast" scrolling, providing a seamless scrolling experience. Additionally, a dedicated button allows you to customize the wheel's resistance to suit your preferences.
Programmable Functionality: Just beneath the scroll wheel, a programmable button awaits, with its default action being battery status checking.
Sensitivity Control: To the left of the left-click button, you'll find two buttons designed for altering the mouse's sensitivity, perfect for adapting to different tasks or gaming scenarios.
Thumb Controls: On the side of the mouse, there are two generously sized thumb buttons, ensuring easy access and responsiveness.
Sniper Mode: Notably, a "sniper" button resides conveniently within reach, temporarily reducing the DPI for precision aiming.
While it may seem like an abundance of buttons for a compact mouse, Logitech has masterfully spaced them out, ensuring that they are easy to operate without inducing confusion. The result is a robust mouse that excels in a multitude of situations. Furthermore, Logitech's G Hub software opens the door to a world of customization.
You can assign these buttons to perform an array of tasks, spanning from standard mouse functions to keyboard shortcuts and even media playback controls. In short, the G502 Lightspeed becomes a versatile tool that can seamlessly transition from gaming to office work, adapting to your needs effortlessly.
Scroll Wheel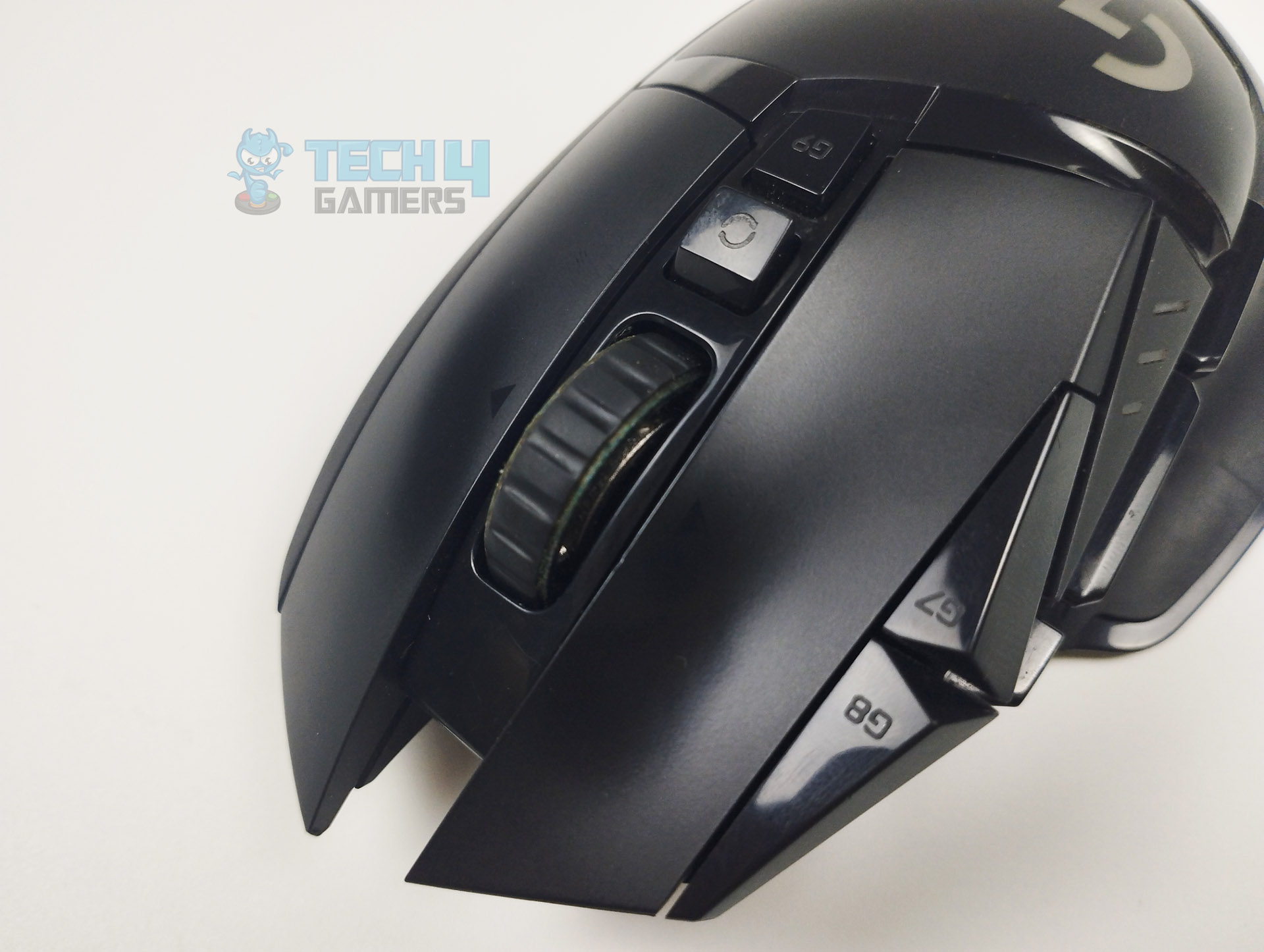 The G502 Lightspeed features a dual-function scroll wheel that adapts to your scrolling needs effortlessly. In its default setting, the wheel provides tactile feedback and scrolls a few lines with each rotation, ensuring precise control. However, this versatile scroll wheel doesn't stop there.
Hyper-Fast Mode: By simply pressing the mode toggle button located just behind the wheel, you activate the "Hyper-fast" mode. In this mode, traditional clicking and friction are eliminated. What you get is a wheel that spins freely, allowing you to scroll as rapidly as your needs dictate. This functionality proves incredibly useful when you need both precise, controlled scrolling and lightning-fast navigation. Whether you're meticulously examining documents or swiftly maneuvering through a game's interface, the G502 has you covered.
It's worth noting that the scroll wheel, which was solid metal in the first G502 iteration, has transitioned primarily to somewhat plastic in the G502 Lightspeed. This change may be noticeable to purists. However, the wheel's surface is rubberized for comfort, providing a secure grip despite its lightweight construction. Furthermore, the G502 continues to offer a customizable scrolling experience.
Feet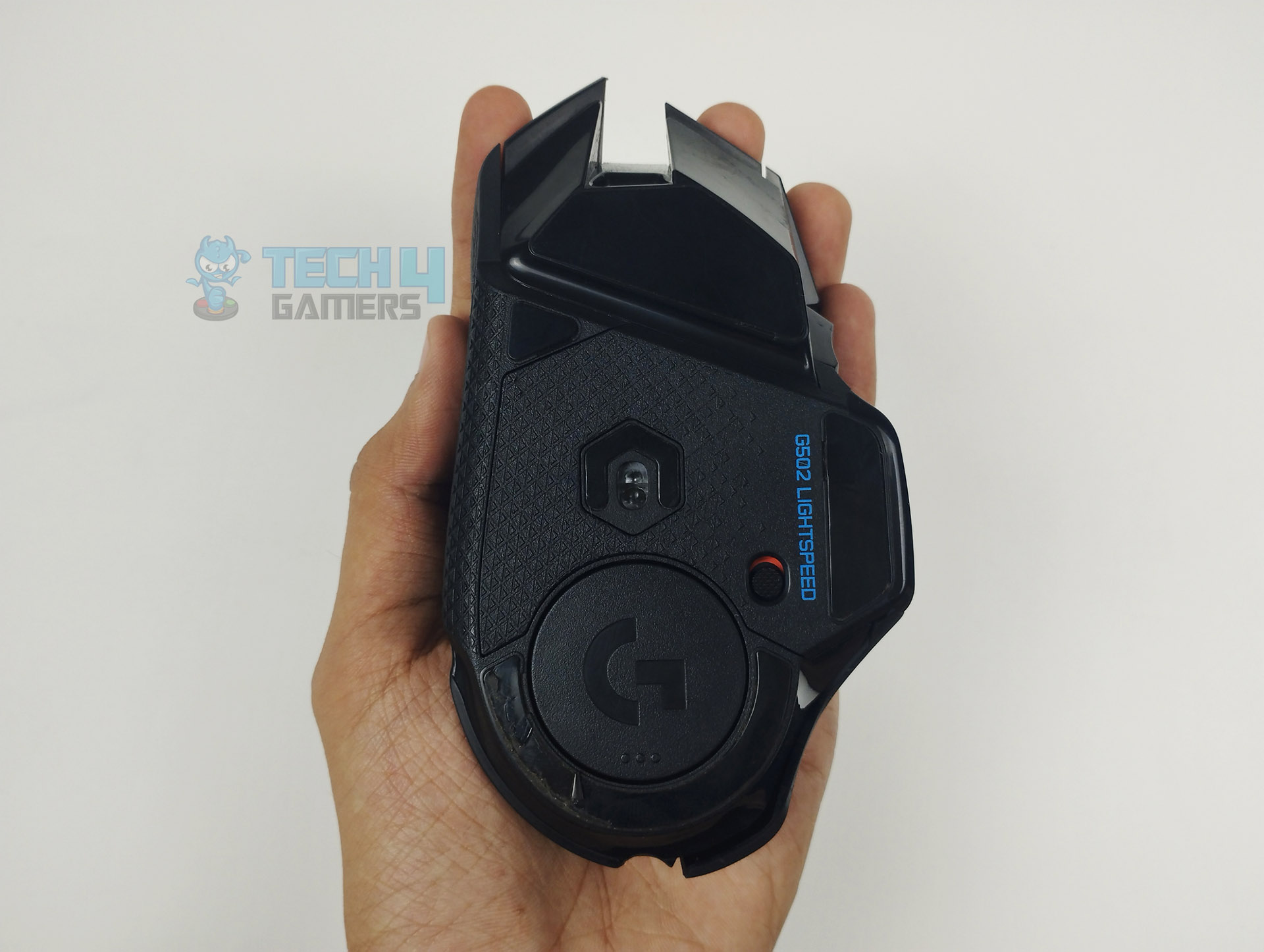 Upon flipping the mouse over, a world of additional customization options unfolds. Here, you'll encounter a toggle switch and a small circular container that emerges from its recess. By default, this space houses the Wireless dongle, but it can also accommodate additional weights if you desire to fine-tune the mice's weight. However, if you've embraced the convenience of the PowerPlay battery, you'll face a choice between these additional weights and uninterrupted wireless charging.
While this adds a layer of customization, it's worth noting that it does introduce certain limitations regarding your choice of weights. Similar to its wired predecessor, the G502 Lightspeed incorporates a panel that can be removed to access metal weights. However, due to the need for additional space to accommodate wireless circuitry, the G502 Lightspeed's design diverges slightly from its predecessor's.
Notably, the G502 Lightspeed utilizes small trapezoidal weights, a marked improvement over the previous semi-hexagonal weights, simplifying the process of adding or removing weights. Additionally, the mouse retains a portable storage compartment for these weights, ensuring they're always within reach. While it may be slightly inconvenient that the PowerPlay attachment isn't compatible with the 4-gram weights, this is a minor consideration in the grand scheme of things.
RGB Lighting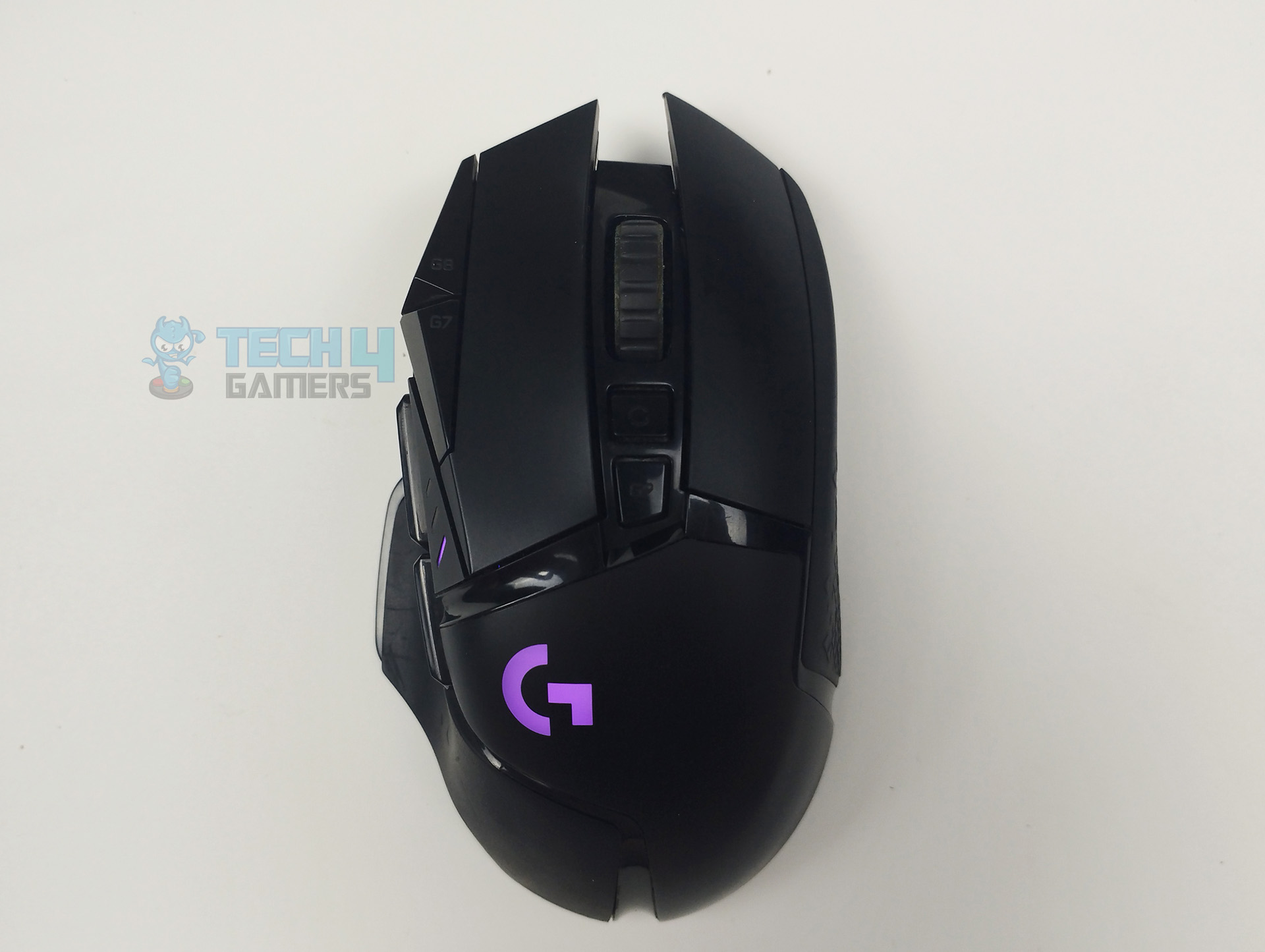 In the G502, the RGB lighting is modest, with the ability to alter the color of the G logo on the palm rest being its primary showcase. Beyond this, the mouse's LEDs maintain a low profile. The DPI side monitor does emit a faint glow, but it's so subtle that you might not even notice it in practice.
As a result, the mouse predominantly presents itself in black, downplaying the role of RGB illumination. It's crucial to emphasize that RGB capabilities have never been the sole determining factor for choosing or avoiding a mouse. If aesthetics hold considerable importance for you, this is a point to consider.
Similar to its wired sibling, the G502 Lightspeed is compatible with Logitech's Lightsync technology. This feature empowers users to synchronize the colors of their various Logitech products, creating a harmonious and visually appealing ecosystem.
Lightspeed Wireless Connectivity
The wireless capability of the G502 Lightspeed is undoubtedly a key selling point. In my extensive usage, I encountered flawless performance, devoid of any noticeable lag or latency. Whether engrossed in an intense gaming session or simply browsing the web, the mouse exhibited exceptional responsiveness within the 10-meter range of its wireless dongle.
Despite the impeccable wireless performance of the Lightspeed, the option for a detachable cord is a reassuring presence. It stands ready for use should the need arise, ensuring that you are never left without a reliable connection, even in the most demanding gaming scenarios.
Battery Life
As per Logitech's specifications, the G502 Lightspeed boasts an impressive battery life, capable of sustaining uninterrupted gaming sessions for up to 48 hours on a single charge. With a strategic dimming of the RGB lights and the practice of powering down between sessions, you can extend this endurance further, reaching up to 60 hours of gameplay. In my testing, I was able to reach the target mark without any hurdles.
Seamless Charging with Powerplay: For those who prioritize convenience, the G502 Lightspeed is fully compatible with Logitech's Powerplay charging mouse pad. This innovative accessory connects to your computer via a USB Type-A cable, seamlessly integrating power management into your gaming experience. As a result, I rarely found myself preoccupied with the need to recharge the mouse, as Powerplay fulfilled this function admirably.
Sensor
The G502 Lightspeed incorporates the HERO 16K sensor, a hallmark of Logitech's gaming excellence. With a CPI sensitivity range spanning from 100 to 16,000 CPI and a blazing-fast 1,000 Hz polling rate, this mouse is tailor-made for both FPS and strategic gaming genres. What sets it apart is its dynamic DPI adjustment feature, allowing you to assign DPI changes to specific buttons, delivering unparalleled versatility in-game.
Logitech G Hub Compatibility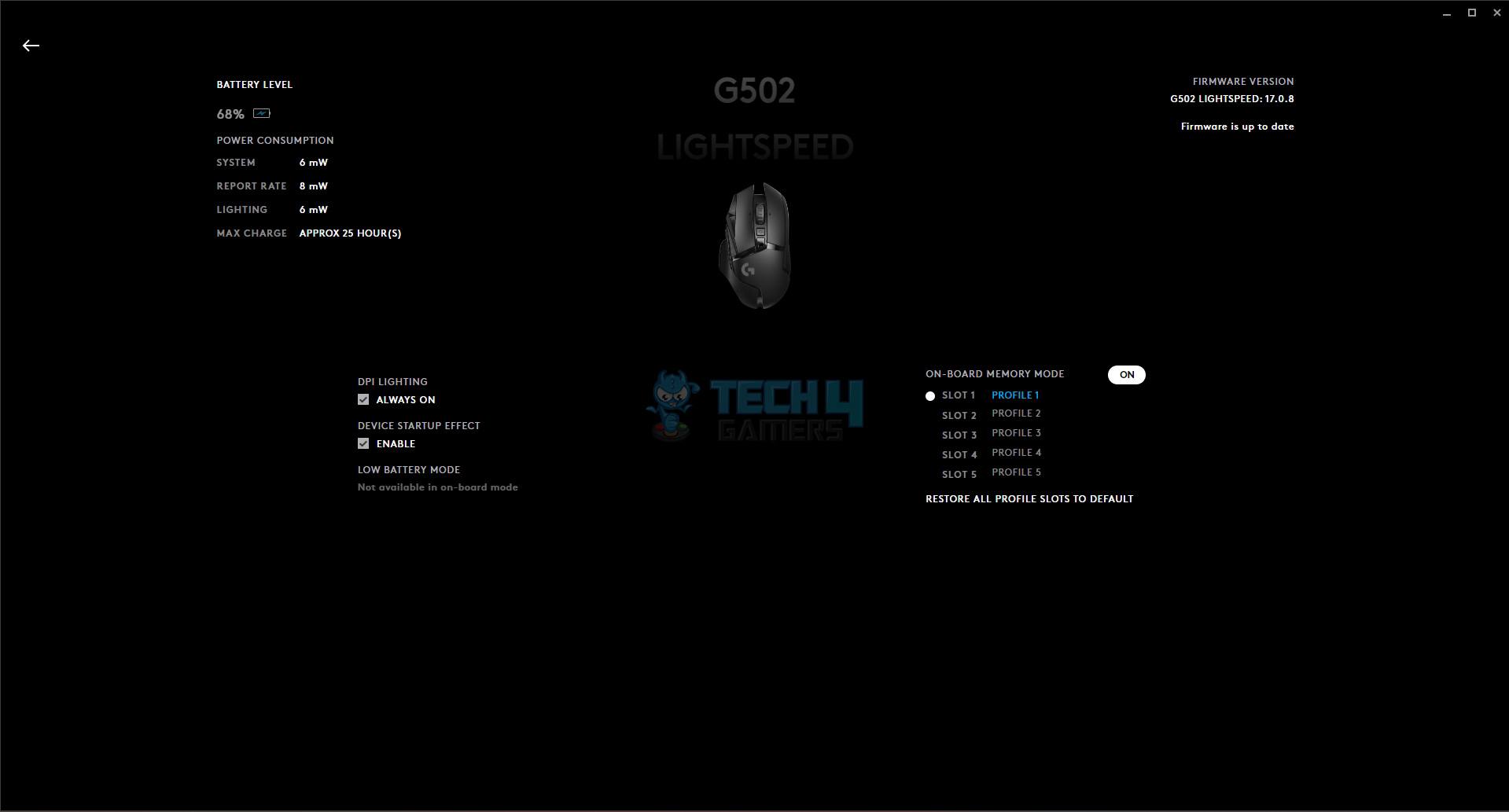 The G502 Lightspeed seamlessly integrates with the Logitech G Hub software, offering users an expansive array of customization options. Within the G Hub interface, you can finely calibrate the mouse's DPI settings, ranging from a low of 100 to a remarkable 16,000, ensuring precise control tailored to your preferences. Additionally, you have the freedom to adjust the mouse's brightness levels and remap its buttons, providing a high degree of personalization for your gaming experience.
Profiles: G Hub extends the realm of customization by enabling the creation of multiple profiles, each pre-configured to cater to specific gaming genres or work-related tasks.
G-Shift: The user-friendly software also introduces the concept of G-Shift, an ingenious feature that permits you to program an additional layer of commands accessible at your discretion. These commands are at your fingertips, readily accessible via a designated button.
Sniper Button: While I personally used this feature sparingly, the sniper button emerged as a particularly practical choice for its activation. In the realm of massively multiplayer online games (MMOs), where intricate control schemes are the norm, players often allocate specific actions to buttons. Sniper Buton doesn't fall short in this regard, offering a dedicated macro recording feature to streamline complex tasks.
Performance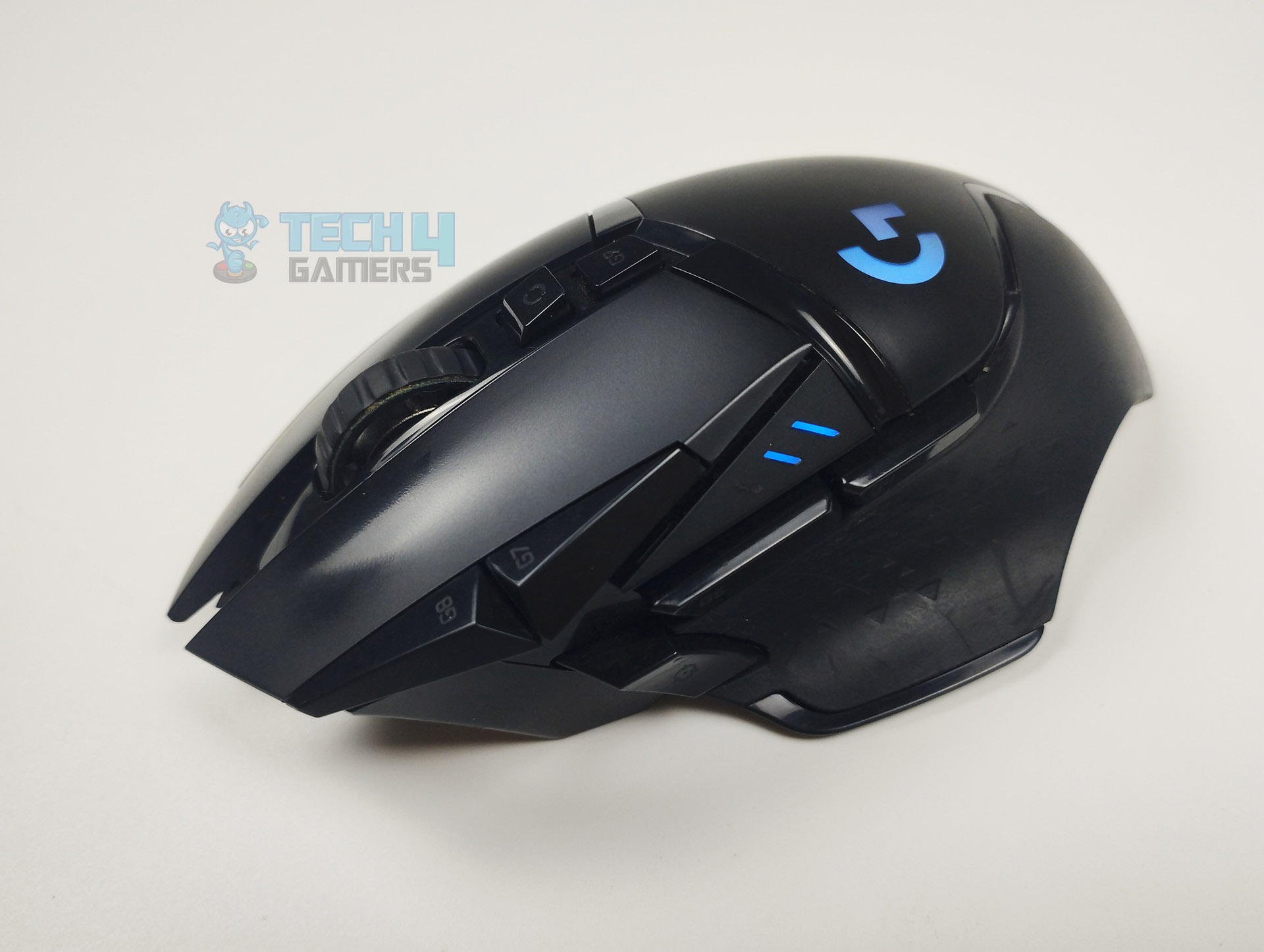 For those accustomed to Logitech's legacy of gaming mice, the G502 Lightspeed's performance comes as no surprise. Boasting 11 fully customizable buttons, this mouse caters to a diverse range of gaming styles, making it a versatile companion in your gaming adventures. Compared to its wired counterpart, the Lightspeed's wireless design and enhanced sensor create an experience that is, if not superior, at least on par. It's a testament to the device's prowess when a wireless configuration outperforms its wired equivalent.
FPS Experience: In my Valorant and CS: GO sessions, the G502 Lightspeed effortlessly delivered the essential components of a first-person shooter: speed and responsiveness. The strategically positioned DPI button, easily accessible via my thumb, facilitated swift and accurate aiming. Whether you're navigating a frenzied firefight or engaging in precision marksmanship, the G502 Lightspeed rises to the occasion.
MOBA Experience: While using the G502 Lightspeed, I found myself seamlessly controlling Nidalee's micro-mechanical abilities in League of Legends. By programming the additional buttons, I streamlined Nidalee's transformations between her human and cougar forms and executed precision skill shots like her famed "Javelin Toss" with ease. The mouse's configurable weight mechanism, meanwhile, ensured it nestled perfectly in my palm, enhancing my spear-throwing accuracy.
The profusion of side buttons comes into its own when diving into the spellbinding realms of massively multiplayer online games and precision in first-person shooters. The mouse's responsive sensor and flexible button configuration were invaluable in gaming scenarios. In sum, the Logitech G502 Lightspeed not only elevated my gameplay but also instilled the confidence needed to execute those demanding, high-skill maneuvers with unwavering consistency and accuracy.
Click Latency Test
Using the CPStesters click latency test, I calculated the click delay and provided the results as an average of over a hundred clicks. You can see a demonstration of this graph for the Logitech G502 Lightspeed with wireless connections below. Unfortunately, there is no Bluetooth support here.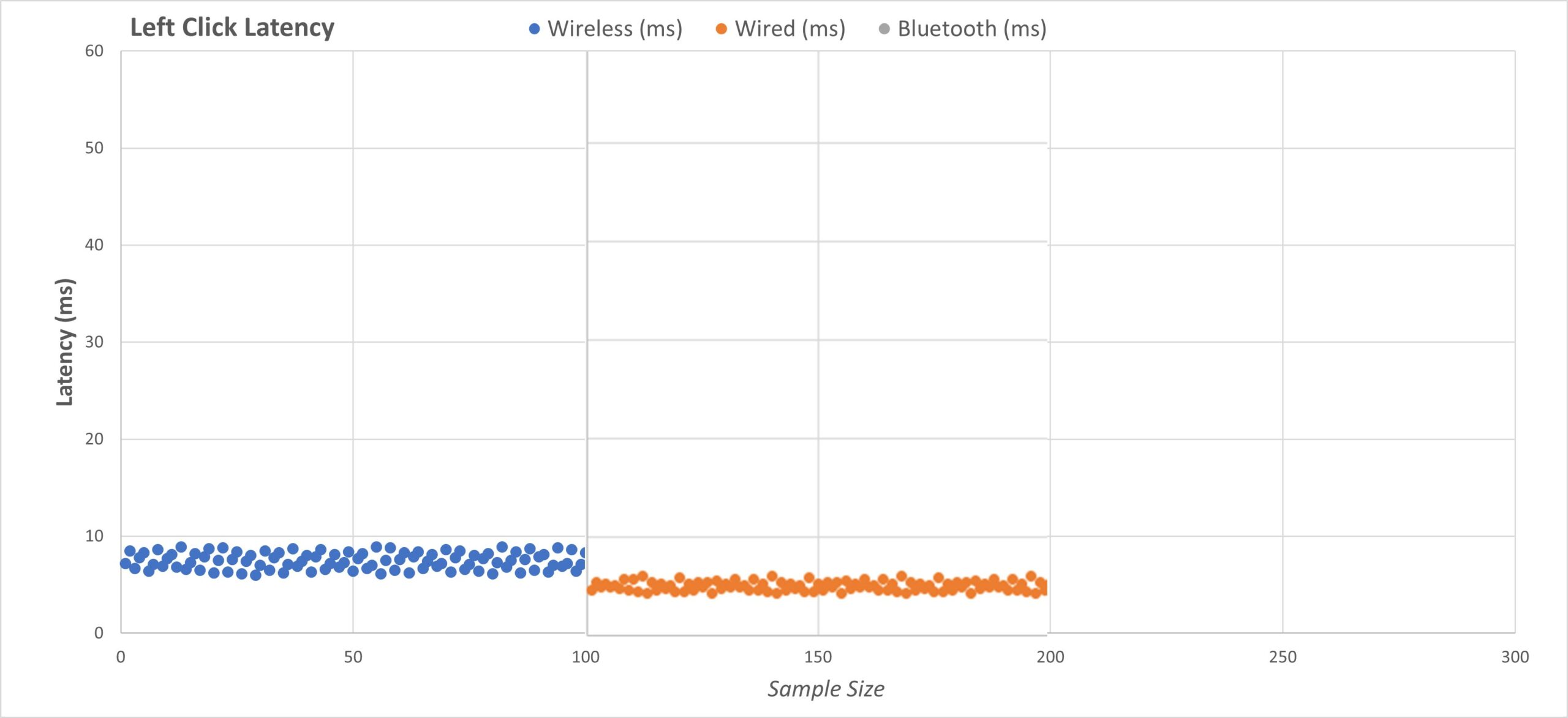 Wired: 4.95ms
Wireless: 7.45ms
Paint Test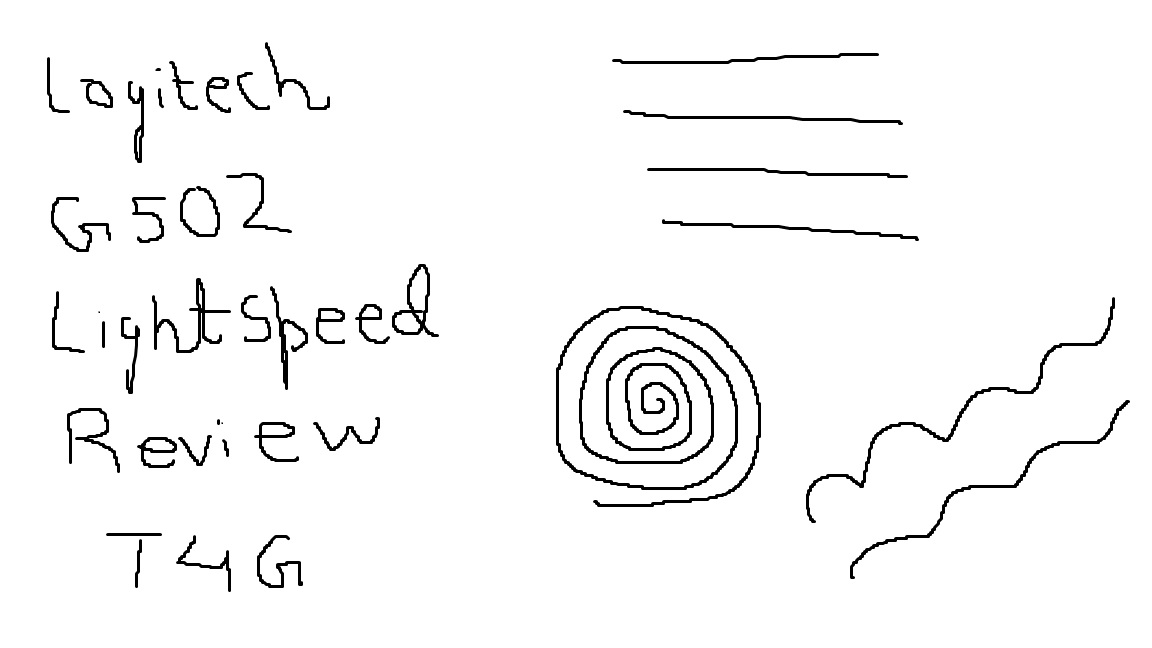 The results of this test are used to identify the presence of angle snapping and jitter problems. As can be seen, there are no obvious significant snapping angles and jittering issues.
Should You Buy The Logitech G502 Lightspeed?
Buy it if
Customization Matters
Logitech G502 Lightspeed comes with customizable weights, allowing you to fine-tune its feel in your hand to your preference. If you like personalizing your gaming gear, this is a plus.
Abundance of Buttons is Essential
With 11 customizable buttons, Logitech G502 Lightspeed is versatile and can adapt to different gaming scenarios. It's particularly useful for MMO and MOBA players.
Don't Buy it if
Size and Weight Are Concerns
Logitech G502 Lightspeed is designed for right-handed gamers and has a particular shape and weight. If these factors don't align with your preferences, it might not be the best fit.
Price is a Major Factor
The Logitech G502 Lightspeed, especially when paired with the Powerplay charging system, can be relatively expensive. If budget is a significant consideration, you might want to explore more budget-friendly options.
Bottom Line
The Logitech G502 Lightspeed is a near-flawless gaming mouse with just one glaring obstacle in its path—its price. Boasting a timeless design that seamlessly merges form and function, this mouse offers the added benefits of customization and wireless freedom. Paired with the Powerplay charging mat, you'll bid farewell to battery concerns forever. However, the shadow of Powerplay looms large, rendering some of the weights unavailability and hindering the level of personalization.
The fact that both features couldn't be fully integrated is a missed opportunity. Moreover, at $150, it's undeniably on the steep side for a mouse, with an additional $100 if you opt for the compatible wireless charging pad. While the G502 may no longer reign as the uncontested king of its category, the G502 Lightspeed is a triumphant continuation that will find its place in the hearts of gamers. It's particularly enticing for loyal users of the original G502 who have longed for a wireless iteration.
However, be prepared to dig deep into your pockets, especially if you opt for the PowerPlay system. Had the G502 Lightspeed launched a few years earlier, it would have undoubtedly clinched the title of the ultimate gaming mouse for all genres. Today, the choice is more nuanced, hinging on your gaming preferences and individual needs as you embark on your quest for the perfect mouse. Given its striking resemblance to the G502 Proteus Core, a mouse that debuted back in 2014, this evolution is hardly surprising.
The first-generation G502 was an absolute standout, and even with subsequent updates and enhancements, its successor caters to a more niche audience. If the added cost for customization and convenience aligns with your priorities, it's a worthy investment. Keep an eye out for discounts if the G502 Lightspeed's price point gives you pause, especially if you're enamored with its feature set. In the United States, retailers like Best Buy and Amazon often extend generous price reductions on Logitech's peripherals.
Was our article helpful? 👨‍💻
Thank you! Please share your positive feedback. 🔋
How could we improve this post? Please Help us. 😔
[Hardware Reviewer]
After many years of exploiting various pieces of hardware, Abdul Hannan now serves as an editor at Tech4Gamers. He's been in the PC hardware reviewing industry for almost a decade, and his staff of passionate geeks and reviewers is second to none.
Abdul Hannan is constantly seeking new methods to improve the performance of his computer components since he is an ardent overclocker. He is well-known for providing the most extensive and unbiased analysis of the newest and greatest hardware for PC gaming, including everything from GPUs to PSUs.