Bang For The Buck?
Review Summary
The Skullcandy SLYR gaming headset offers a budget-friendly entry into the world of gaming audio. Priced at just $60, it combines an eye-catching design with compatibility across various gaming platforms. With a detachable microphone, decent noise cancellation, and versatile performance across game genres, the SLYR is an attractive option for gamers on a budget seeking a straightforward and reliable gaming headset.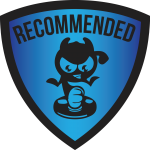 Build Quality -

7.5/10

Comfort -

8/10

Design -

7.5/10

Performance -

7.5/10

Value -

8.5/10
Pros
Distinctive Design
Affordability
Compatibility
Decent Audio Quality
Cons
Lack of Customization
Limited Features
Mic Adjustability
Welcome to the comprehensive review of the Skullcandy SLYR gaming headset. Unexpectedly, this headset has excellent value because it's affordable and performs well in different scenarios. If you are enthusiastic about gaming or are new to buying gaming products, the SLYR is worth considering. It looks nice and comfy to wear, and the sound is exceptionally good.
In this review, I have evaluated many different aspects of what makes the SLYR an excellent choice, and surprisingly, it ticks all the boxes. Moreover, I will also explain why this headset is a good pick if you want to spend less but still want something good. Notably, it works with many gaming platforms. So, I will go into its details as well.
Fortunately, this is a perfect solution if you are tired of looking at pricier headset solutions and looking for a value headset that can come into your budget. Therefore, this review will give you all the necessary information to see if the Skullcandy SLYR is right for you. So, if you want to save money or learn more, scroll down as I will uncover what makes this headset a top pick in the gaming products industry regarding value proposition.

Why you can trust Tech4Gamers:

We understand the importance of making informed decisions. That's why our team spends significant time testing every product we review.

Find out more about how we test.
---
Key Takeaways
The Skullcandy SLYR gaming headset is an affordable gaming audio solution that strikes a balance between price and performance. With a price tag of just $60, it offers an appealing option for gamers on a budget. This headset combines an eye-catching and gamer-centric design with compatibility across various gaming platforms, making it a versatile choice for console and PC gamers alike.
The things that I have liked about the Skullcandy SLYR are its Affordability, Compatibility, Comfort, Distinctive Design, Decent Audio Quality, Ease of Use, and Versatility.
The things that I have not liked about the Skullcandy SLYR are its Limited Features, Audio Equalization, Mic Adjustability, Midrange Sound, Marketing Gimmicks, and Lack of Customization.
The Skullcandy SLYR is a perfect fit for Budget-Conscious Gamers, Casual Gamers, Youth and Teens, Console Gamers, Those in Need of a Backup Headset, and Fans of Versatile Headsets.
---
Specifications
The Skullcandy SLYR headset doesn't introduce groundbreaking or unique features, but it offers a package of solid functionalities. Skullcandy's marketing highlights several key aspects:
| | |
| --- | --- |
| Headset Type | Wired Over-ear |
| Connection Type | 3.5mm Aux, PC Splitter |
| Impedance | 32Ω |
| Driver Diameter | 50mm |
| THD | <2% at 1KHz |
| Sound Pressure Level | 95±3dB |
| Frequency Response | 20Hz – 20KHz |
| Weight | 265g |
Superior Sound Quality: The SLYR boasts superior sound quality, driven by 50mm dynamic drivers.
High-Tech Microphone: It features a high-tech microphone known for its performance, offering clear voice communication.
All-Day Comfort: The headset is designed for all-day comfort, ensuring extended gaming or usage without discomfort.
Compatibility: It is compatible with various devices, making it versatile for different gaming platforms.
Mute Switch and Volume Controls: The headset includes a mute switch and adjustable volume controls for convenient use.
Detachable Microphone: One notable feature is the detachable microphone, offering flexibility in usage.
Box Contents
SLYR Headset
Removable Boom Microphone
3.5mm Aux Cable 5-pole to 4-pole (5ft)
3.5mm PC Splitter Cable
Quick Start Guide / Warranty Guide
Unveiling the Skullcandy SLYR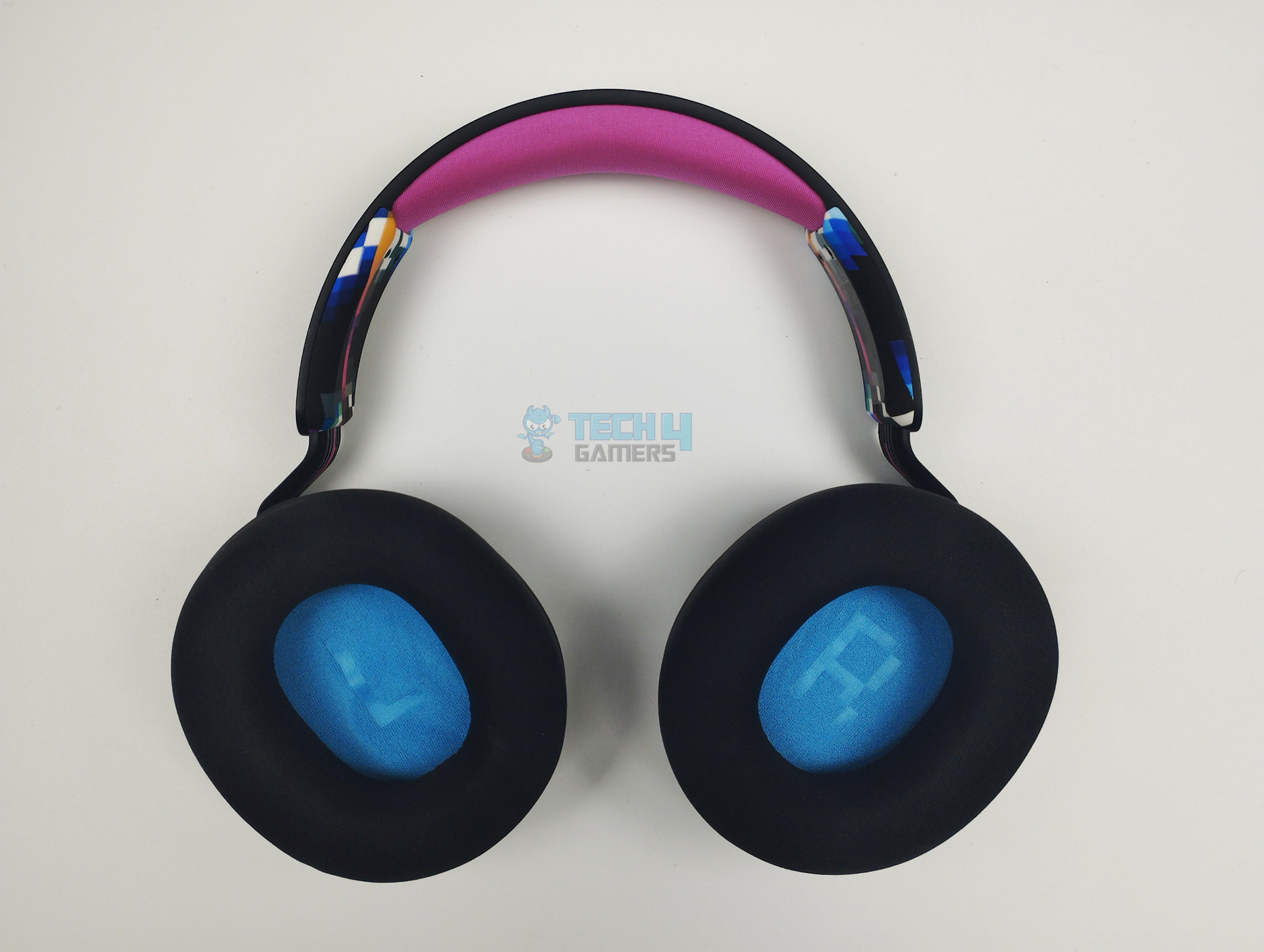 Since its establishment in 2003, Skullcandy, a prominent headphone manufacturer, has witnessed a gradual erosion of its once-dominant market share owing to the influx of new competitors. For a significant period, Skullcandy diverted its focus from gaming headphones to consumer electronics featuring Bluetooth technology. They had previously owned Astro but eventually sold it to Logitech. Still, Skullcandy remains a recognizable brand in the world of audio accessories.
Skullcandy's Return to Gaming
It's difficult to go a week without encountering a pair of Skullcandy headphones. Low-end earbuds are readily available in most supermarkets, and you're likely to spot individuals sporting a set while commuting or strolling through town. Furthermore, nostalgic aficionados from the '90s probably have an old pair tucked away somewhere. However, times have changed. Skullcandy has re-entered the gaming market with the PLYR wireless headset, as well as the wired SLYR and SLYR Pro models. All three options are competitively priced and showcase the distinctive tone and style characteristic of the company's products.
The SLYR: An Affordable Wired Option
I had the opportunity to get my hands on their entry-level SLYR headset, which seems to be a compelling low-cost wired alternative, holding its own against industry giants like Razer, Corsair, and Logitech. What sets it apart is a feature previously unseen on traditional analog gaming headsets. Initially, I had reservations about the headset's quality due to its modest price tag, roughly around $60. However, my expectations were pleasantly exceeded.
Unboxing Experience
The unboxing experience is clearly tailored to gamers, evident in the graphics and color scheme used. The SLYR's build quality predominantly consists of plastic, a design choice that's both simplistic and cost-effective. The headset exhibits flexibility with a swiveling headband and adjustable earcups. The headband's aesthetics are striking, featuring a blend of matte and glossy black tones with brushed metal accents, and the branding is kept to a minimum. In terms of appearance, it's an aesthetic success that is likely to garner numerous admirers.
Affordable Quality
As the most affordable of the three new headsets signifying Skullcandy's resurgence in the gaming headset market, the SLYR is an excellent option for those seeking high-quality sound on a budget. Even if the design might not appeal to everyone, at a mere $60, I believe this stands as one of the best budget gaming headphones available. The Skullcandy SLYR is portable, straightforward, and incorporates the company's "Supreme Sound" technology to deliver commendable audio quality. While it may not dazzle audiophiles, it is a worthwhile consideration if you're in search of an economical headset for gaming.
In this review, I will delve into the Skullcandy SLYR's performance and how it stacks up against other high-quality gaming headsets currently available on the market.
Design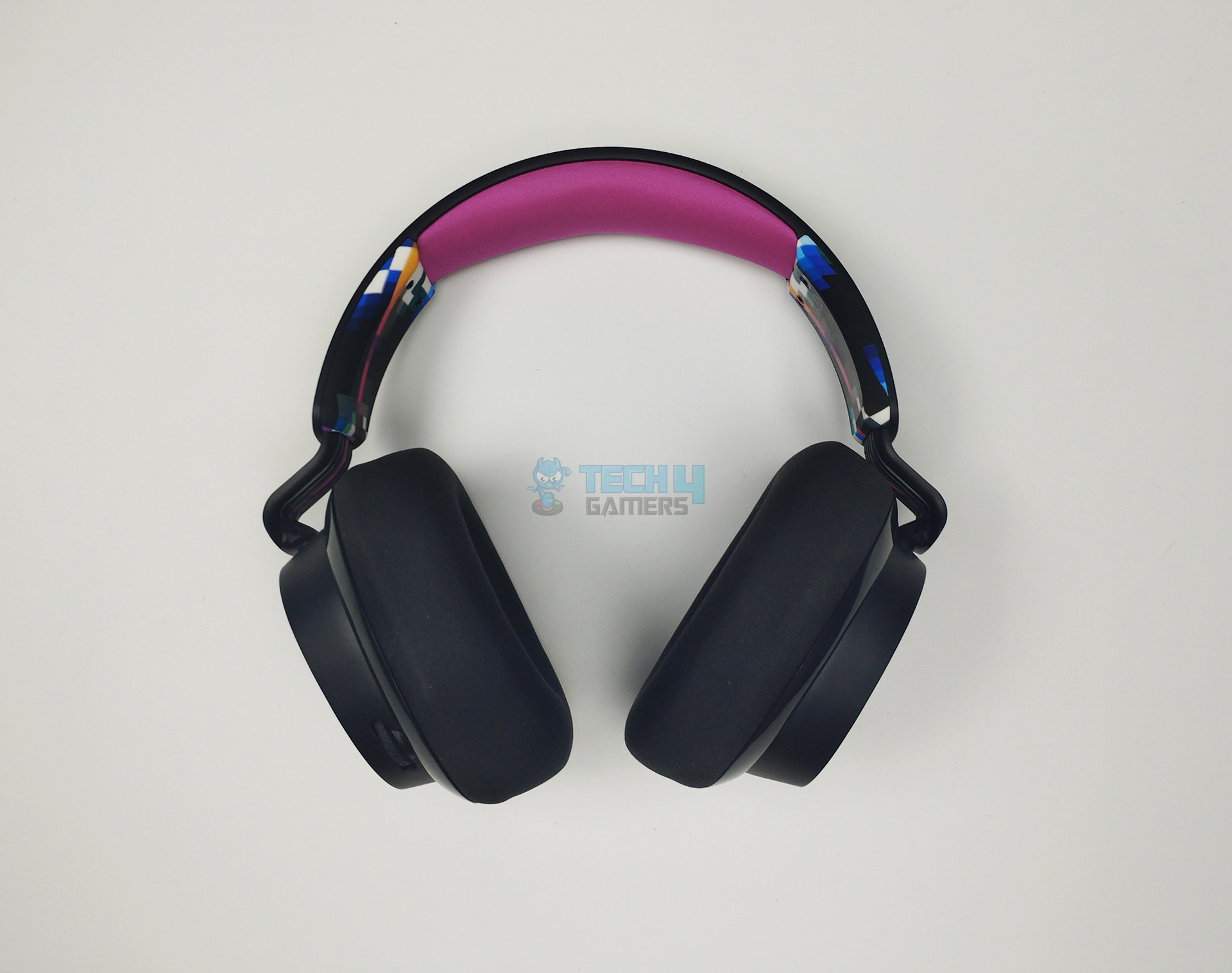 The Skullcandy SLYR, much like its pricier counterparts, the SLYR Pro and PLYR, is undeniably a bold and attention-grabbing piece of audio equipment. While it does offer a selection of color schemes to choose from, the overall design may come across as too flashy for those with more understated tastes. The design variations are primarily concentrated on specific elements:
Color Variations: Variations in color are primarily found on the insides of the headband, the earcups, and the "Digi-Hype" pattern adorning the inner surface of the headband.
Imposing Black Exterior: Across all variants, the exterior of the headset maintains a commanding black color, creating a striking contrast with the vibrant colors on the inside.
Distinct and Appealing Aesthetics
Overall, the SLYR carries an appealing look, especially resonating with individuals who appreciate a distinct style. Despite its complete plastic construction, it exudes a solid build quality. For review, I had the "Digi-Hype" version of the headset, featuring pixelated, multicolored headbands, a fiery headband cushion, and vivid blue inner earcups, all set against a backdrop of matte black.
As a result, this design choice stood out significantly, thanks to the sharp contrast between the entirely black backdrop and the distinct blue, white, and pink pattern. The top of the headband sports a translucent finish, adorned with two small dark blue Skullcandy emblems, which I found to be visually appealing, complementing the overall digital aesthetic of the headset.
Variants and Classic Base Color
For those looking for alternatives, the green variant showcases green inner earcups and a pixelated green, pink, and yellow headband design, while the blue version offers blue inner earcups with patterns in blue, purple, black, and white. Both the green and blue variants dial back the flamboyant headband cushion but retain striking designs. As previously noted, the headphones maintain a black base color, a safe choice when it comes to peripheral design.
This not only offers a classic look but also ensures that scratches and scuffs are less conspicuous against a darker backdrop. The headband features a soft inner material and an exterior that mimics the appearance of brushed aluminum. Unfortunately, it's important to mention that, unlike the Skullcandy PLYR, the SLYR lacks some of the advanced features, such as an adjustable mesh strap on the headband.
Comfort
When it comes to comfort, the Skullcandy SLYR headset earns nothing but praise. It proves to be a delight during long gaming sessions, and its lightweight and portable design makes it exceptionally well-suited for gaming on the go. The choice of materials, including a combination of robust metals and lightweight plastics, strikes a balance that gives the headset both sturdiness and a comfortable feel in your hands.
Built With Comfort in Mind
Clearly designed with long-term comfort in mind, it incorporates thoughtful features such as memory foam and breathable materials. The hinges, which can rotate a full 180 degrees, provide flexibility, although they do exhibit a bit more looseness than some may prefer. The headband offers slight adjustability, and the ear cups rotate smoothly on ball joints, ensuring a snug and comfortable fit, even for those with larger-than-average heads. This versatility ensures that consumers of varying head sizes can find comfort. One minor enhancement that could be considered is the addition of padding to the headband, similar to what's found on the ear cups.
Lightweight and Streamlined
It's worth noting that the Skullcandy SLYRs are exceptionally lightweight and streamlined, featuring minimal padding and no unnecessary bulk. They tip the scales at just over a pound (265 grams), which is truly remarkable considering their durability. The flexible design, low weight, and slim profile make these headphones comfortable for extended wear without feeling like an additional burden. However, this design may impart a slight sense of instability, which is effectively counteracted by the earmuffs of the Skullcandy SLYRs, enveloping and securing your ears.
Memory Foam Comfort
The memory foam-like mesh padding on the earmuffs provides a comfortable cushion for your ears, striking the right balance between firmness and the softness typical of memory foam. Additionally, the central section of the headband boasts memory foam, adding an extra layer of support. The primary source of rigidity lies in the harder plastic connecting the earmuffs to the headband at the joint, and its curved form enhances its durability, reducing the risk of snapping.
Noise Isolation
Furthermore, the memory foam used in the ear cushions ranks among the finest in headphones within this price range. It offers substantial thickness, aiding in noise isolation, and is exceptionally comfortable, with a slow-rebounding quality that enhances the overall experience. Even in noisier environments, you can expect a comfortable level of isolation while wearing these headphones.
Control Scheme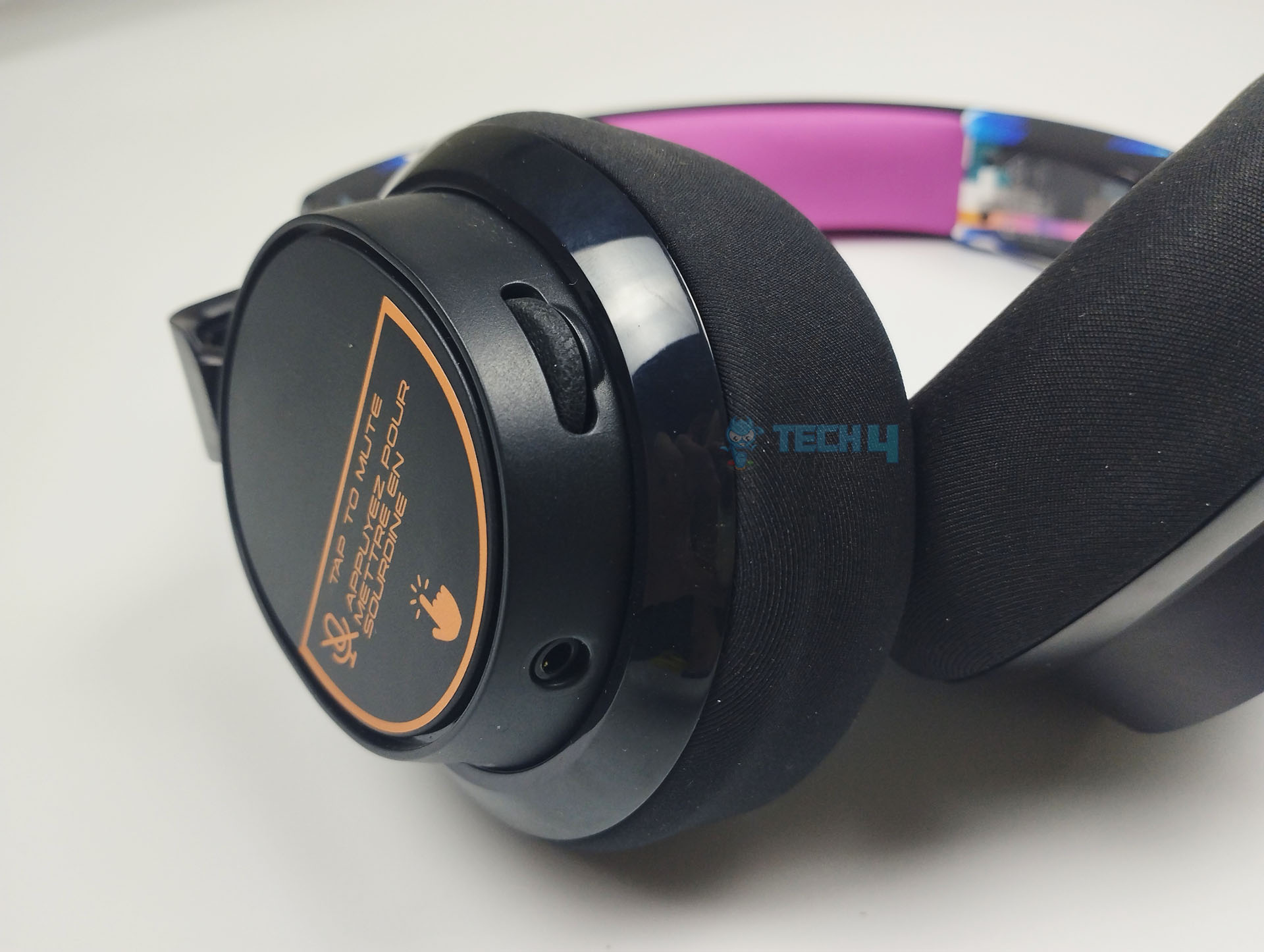 While the Skullcandy SLYR headset offers a solid appearance, it's important to note that the number of buttons and features is somewhat limited, but this is expected given its price point. One notable absence is the lack of a method for fine-tuning different sound sources simultaneously, which is a feature typically found in higher-end headsets and not something you would necessarily anticipate in such an affordable option.
The detachable microphone is a convenient feature and slots neatly into place within the outer casing of the left ear cup. Here, you'll also find a volume wheel, an AUX cable plug, and a tap-to-mute button. While some may prefer larger buttons, the functionality of these controls, such as muting the microphone by simply tapping your earcup, is undeniably practical and user-friendly.
User-Friendly Controls: Using the controls is straightforward, and they provide a satisfying click when used. The microphone itself incorporates an indicator light that turns red when muted, providing a clear visual cue to let you know when it's no longer picking up your voice.
Versatile Connectivity: A noteworthy addition is the inclusion of a USB-C headphone wire, which might come as a surprise since these types of headphones typically feature only 3.5mm headphone connectors. However, this broader range of connectivity options is a significant advantage. Additionally, there's a splitter included in case you need to separate the input and output connections.
Cable Length Considerations
It's worth mentioning that the length of the cable may be a bit rudimentary, as it barely reaches your PC on the desk, potentially causing some inconvenience. Placing it on the floor could exacerbate this issue. Nevertheless, the bundled bright yellow AUX cable offers compatibility with a wide range of gaming platforms, including Xbox One, Xbox 360, PlayStation 4, PlayStation 5, Nintendo Switch, and various mobile devices. Furthermore, for Mac or PC connectivity, a black PC splitter cable is required, making this headset adaptable to a variety of devices. Fortunately, the cords needed to connect to any console are included with this model, as it can only be used with a wired connection.
Microphone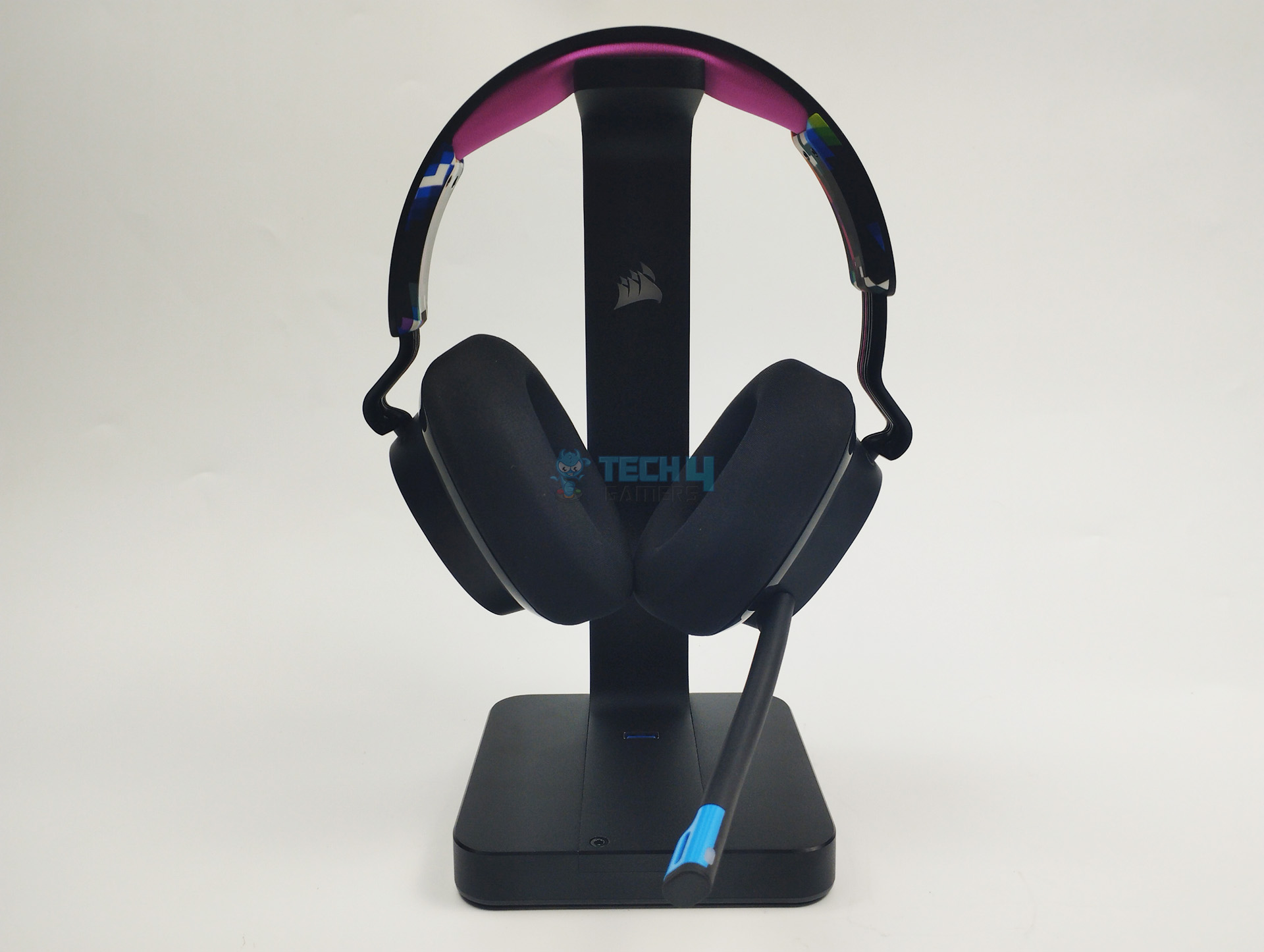 When it comes to specifications and features, the Skullcandy SLYR headset doesn't necessarily bring anything groundbreaking or unique to the table. One notable feature worth discussing is the detachable microphone.
Detachable Microphone Design
While this design element may raise concerns about the risk of losing the microphone or its impact on in-game communication quality, the mic on the Skullcandy SLYR is well-secured, exhibiting minimal flex due to its sturdy rubber construction. The microphone's flexibility is limited to bending its stem; it cannot be rotated or adjusted in height.
This trade-off is likely a result of the headset's affordability and the convenience of having a detachable microphone. The microphone provides great versatility due to its detachable nature. If you have no intention of using it for communication purposes, simply remove it. This flexibility allows you to use the headset as regular headphones.
Benefits of Omnidirectional Microphone
Surprisingly, the headset's microphone is omnidirectional, meaning it effectively captures sound from all directions, including from above and below.
This design choice offers two significant advantages.
Enhanced Voice Pickup: Omnidirectional microphones excel at capturing sound from all angles, mitigating factors like echo and reflection that can affect voice quality. As per my usage, the high-quality microphone proves useful for making calls and recording audio.
Noise Suppression: An omnidirectional mic can discern the origin of a sound and relay that information to the system, greatly improving noise suppression in applications such as Discord, Zoom, Microsoft Teams, and streaming software like OBS.
Performance and Clear Audio Quality
During my testing, I found that my friends were initially surprised by the microphone's performance in Discord, noting that my voice seemed slightly quieter than usual. However, this was easily remedied by adjusting the user volume on their end to accommodate my headset's microphone. It's worth noting that, in practice, the microphone on the Skullcandy SLYR headset has consistently delivered clear audio quality during conversations.
I've had lengthy discussions with various individuals, and they have all commented on the clarity of my voice, allowing for extended and enjoyable conversations. With this in mind, in the SLYR model, I did notice that the microphone sits a bit farther from my mouth after being positioned, and while it has some flexibility, it doesn't bend significantly.
Limitations in Customization
Unfortunately, unlike the premium offerings from the same manufacturer, the Skullcandy App doesn't provide extensive customization options for this microphone's audio settings. These top-tier models allow users to fine-tune the balance between chat and game audio and offer various sound engineering options to tailor the audio experience to their preferences.
Performance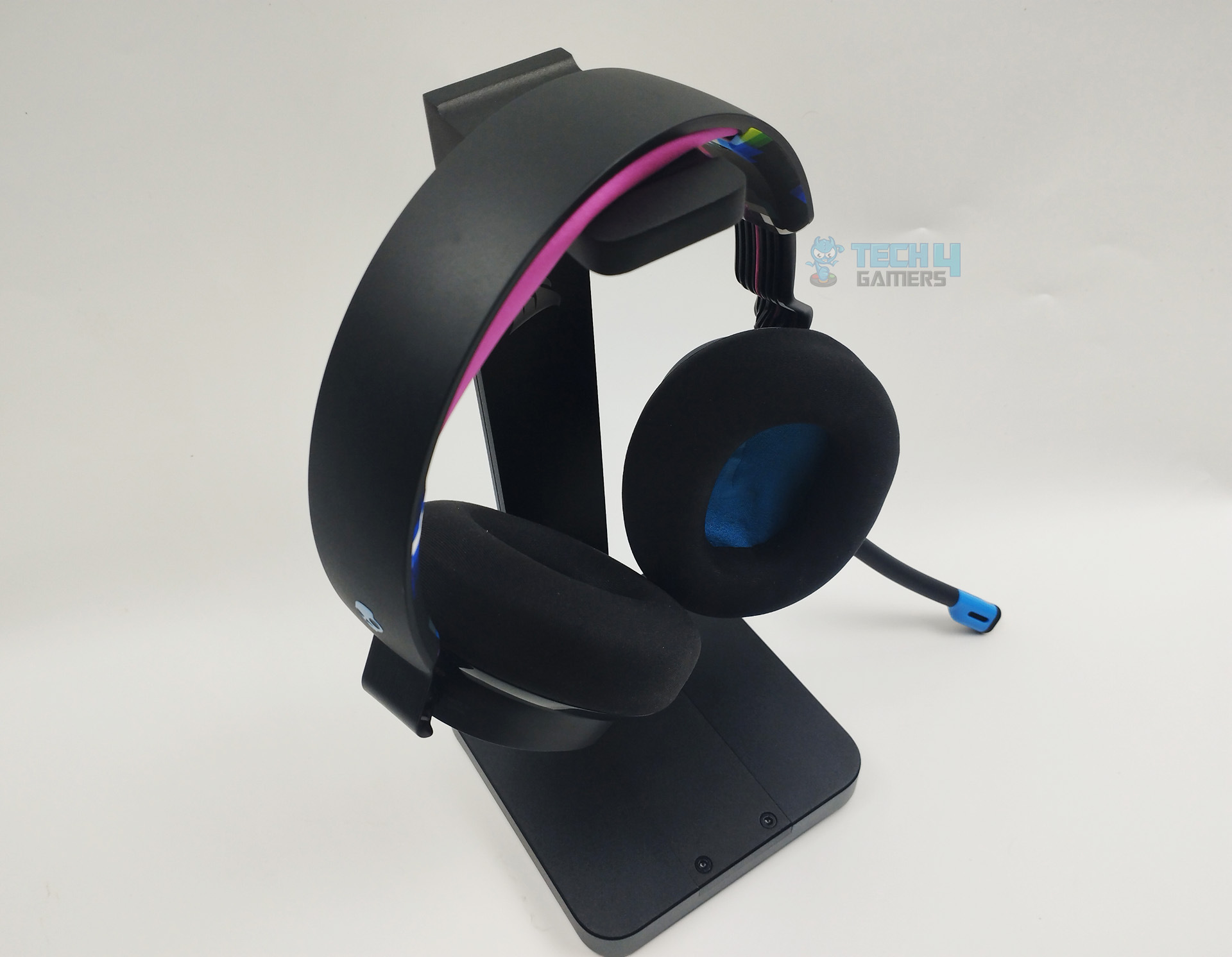 While the Skullcandy SLYR headset boasts appealing colors and a gamer-centric design, let's delve into its actual performance and its suitability as a beginner headset.
Audio Quality
Starting with audio quality, it's important to note that the SLYR delivers decent sound, especially given its affordable price point. However, it does come with a drawback in the form of limited equalization and profile selection options, which may disappoint some users. Nevertheless, the default game profile offers more than satisfactory audio for gaming.
Supreme Sound Technology
The headset incorporates Skullcandy's "Supreme Sound" technology, which the company claims to be a groundbreaking audio tuning method that enhances the richness and precision of every sound. While this might sound like a marketing gimmick, it does have a technological basis. For instance, the SLYR features dynamic drivers that deliver sound with an exceptionally wide frequency range and rich detail.
Typically, the term "super-wide frequency range" can signal lower quality in less expensive equipment, but this is not the case with the SLYR. Instead, it produces a powerful and expansive sound with well-balanced bass, midrange, and treble frequencies. Specifically, the 50mm drivers within the ear cups cover a frequency range spanning from 20Hz to 20KHz.
Balanced Sound Profile
The SLYR's audio profile tends to be smooth and V-shaped, with respectable low and high frequencies. However, the midrange may not be as smooth and could come across as slightly harsh or strident. Nevertheless, this audio profile works well for gaming by emphasizing low-frequency sounds like footsteps while making high-frequency sounds like explosions feel more immersive. However, it's worth noting that the highs and upper mids can occasionally be a tad piercing.
Versatile Performance
Despite its distinctive design, the Skullcandy SLYR is a high-quality, no-nonsense headset. Thanks to its aux cable connection, it seamlessly worked with my PlayStation 5, Xbox One, and PC, offering convenience and versatility for multi-console gamers. Considering its affordability, the SLYR provides impressive sound quality. Despite the occasional tinny sound associated with the Supreme Sound branding, you won't be disappointed by the audio quality.
Effective in Gaming
In practical terms, the Skullcandy SLYR excels in delivering the auditory cues and clear sounds essential for games like Valorant. I've also spent considerable time playing Fortnite, a game that relies on identifying the direction of gunfire and explosions. The SLYR effectively conveys these auditory cues, ensuring that you're well-informed about in-game events. The headset's sound quality holds up well for its price range, and it performs admirably in in-game communications, as confirmed by my teammates, who praised the clarity of my voice over the microphone.
It's evident that the Skullcandy SLYR is versatile, adapting effectively to a wide range of games and genres, including titles like Doom Eternal with its booming bass and deep demon roars. The headset excels at complementing the multidirectional sound systems commonly found in modern game engines, enhancing the immersive experience by accurately positioning sounds where they're supposed to be.
This is a detail that often goes unnoticed, but it significantly contributes to the overall gaming experience, especially when playing on devices with subpar audio equipment. The audio mix is well-balanced, preserving the intended quality of the music and sound design. Everything comes across as crystal clear and fully immersive, with bass, vocals, and other elements clearly distinguished.
Well-Balanced Audio Mix
In summary, while the SLYR's sound quality may not astound audiophiles, it certainly gets the job done as an affordable gaming headset. As someone not overly focused on audio nuances, the Skullcandy SLYR headphones struck me as robust, particularly for gaming purposes. Additionally, it's worth noting that the SLYR provides acceptable noise cancellation, addressing a common issue with gaming headsets, where users become so engrossed in the game that they neglect external sounds.
Should You Buy The Skullcandy SLYR?
Buy it if
You're Seeking Affordable Quality
The Skullcandy SLYR is priced at a mere $60, providing a balance between price and performance, which is hard to come by in the gaming headset market.
Multi-Platform Compatibility is a Must
The SLYR is versatile with its compatibility across various gaming platforms, including PC, Xbox, and PlayStation, making it a hassle-free choice for gamers who play on multiple systems.
Don't Buy it if
You're an Audiophile
If you have high expectations for audio quality and are accustomed to customizable sound profiles, the SLYR might fall short as it doesn't offer extensive equalization options.
Advanced Features are a Priority
The lack of high-end features like active noise cancellation, wireless connectivity, or comprehensive software customizability might be a deal-breaker if you're seeking a premium audio experience.
Bottom Line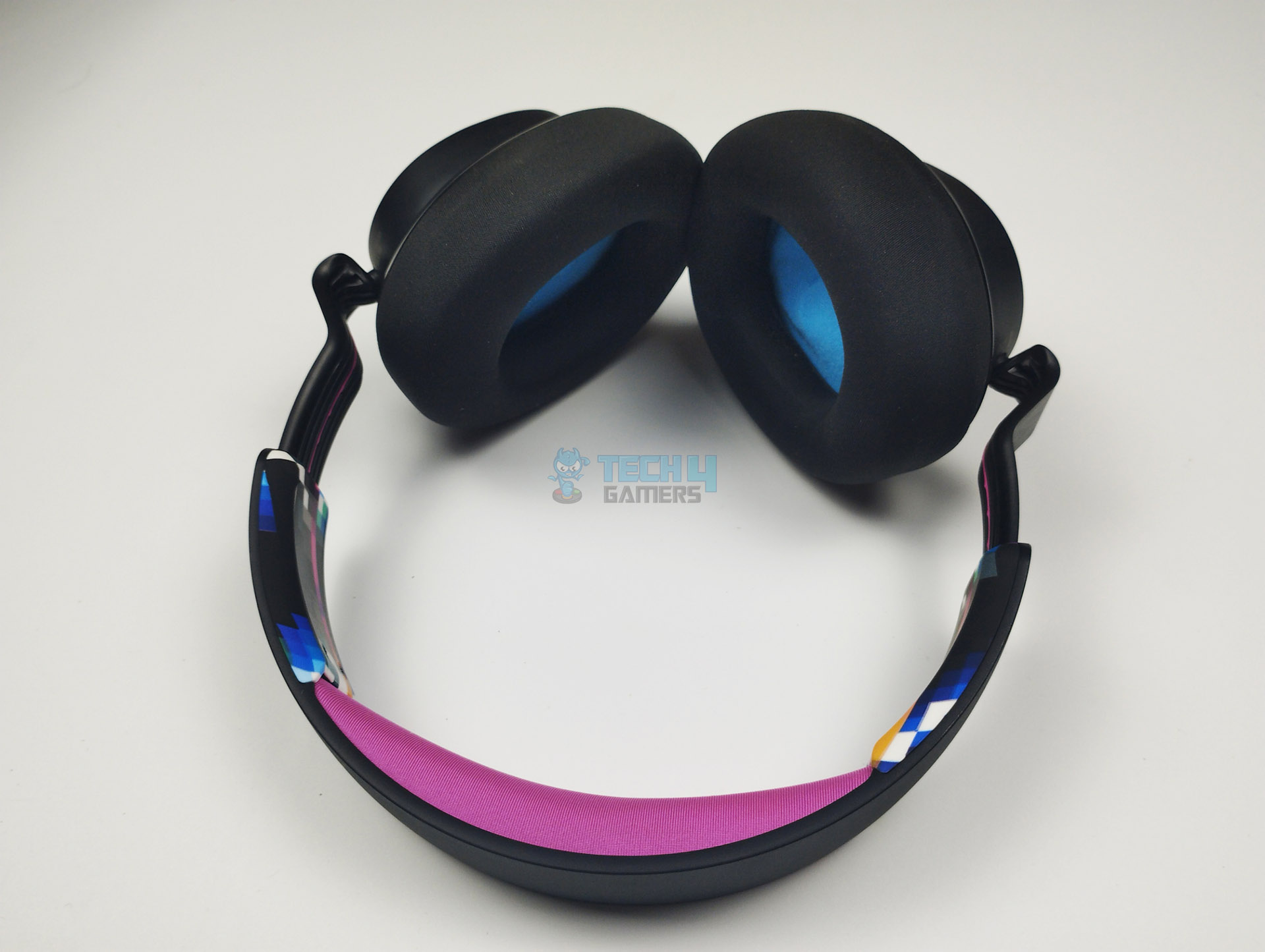 Solid Performance at a Budget-Friendly Price: The Skullcandy SLYR stands as a commendable choice for gaming headphones that get the job done, especially considering its wallet-friendly price tag of $60. It's challenging to find fault with the SLYR when you factor in its affordability.
Ideal for Multiple Gaming Systems: This headset is an ideal pick if you're seeking an affordable option that's compatible with all your preferred gaming systems. It doesn't boast extravagant features or a flashy design, but it excels where it matters most: offering solid performance at a budget-friendly price point.
Limited Features: It's an excellent fit for those on a budget who need a straightforward headset for gaming, virtual meetings, or music, however, without the extensive features set found in pricier models, such as Active Noise Cancellation, specialized software, or wireless Bluetooth capabilities.
Comfort Durability: Still, it's not just functionally impressive but also aesthetically appealing, highly durable, lightweight, and remarkably comfortable for extended usage.
Impressive Audio Quality: The audio quality it delivers is impressive from every angle. As someone who typically dislikes wearing headphones, I must admit that I thoroughly enjoy this one.
Target Audience: If you're a young gamer seeking an ideal birthday gift, the Skullcandy SLYR is a headset worth considering. However, for serious audiophiles who demand all the advanced features that come with high-end gaming headphones, this may not be the right accessory.
Compared to Other Models
Now, what about the other two headsets in the same lineup?
SLYR Pro and PLYR: Although visually similar to the SLYR, Skullcandy markets the SLYR Pro as a performance upgrade, even though the sound specifications remain identical. The Pro version offers downloadable software for personalized gaming experiences. On the other hand, the PLYR, while boasting the same audio specs on paper, is a wireless headset with Bluetooth connectivity for gaming and an advertised 24-hour battery life. It sports a distinctive design and potentially more comfortable headband compared to its counterparts. Additionally, the PLYR can connect to a separate 2.4GHz wireless transmitter, though this component must be purchased separately.
Price Consideration: With the SLYR priced at $60, the SLYR Pro at $100, and the PLYR at $130, there's room for improvement in sound quality, which is decent at best. However, considering the price, the sound quality is more than acceptable, making it a recommendable choice for those on a budget.
Was our article helpful? 👨‍💻
Thank you! Please share your positive feedback. 🔋
How could we improve this post? Please Help us. 😔
[Hardware Reviewer]
After many years of exploiting various pieces of hardware, Abdul Hannan now serves as an editor at Tech4Gamers. He's been in the PC hardware reviewing industry for almost a decade, and his staff of passionate geeks and reviewers is second to none.
Abdul Hannan is constantly seeking new methods to improve the performance of his computer components since he is an ardent overclocker. He is well-known for providing the most extensive and unbiased analysis of the newest and greatest hardware for PC gaming, including everything from GPUs to PSUs.