Best budget headset?
Review Summary
The Logitech G435 Lightspeed Wireless Gaming Headset is a budget-friendly gaming headset that offers a unique blend of style, versatility, and affordability. With its striking design and a spectrum of color options, it's aimed at younger gamers and offers compatibility with a wide range of gaming platforms, from PCs to consoles. However, users seeking top-tier sound quality and advanced customization may want to explore other options.
Build Quality -

6/10

Comfort -

6.5/10

Design -

7/10

Performance -

7.5/10

Value -

7/10
Pros
Stylish Design
Dual Wireless Compatibility
Long Battery Life
Environmental Considerations
Affordable Price
Cons
Flimsy Build Quality
Limited Customization
Noise Isolation
Microphone Quality
Comfort Issues
We are going to dive into the world of gaming with the Logitech G435 Lightspeed Wireless Gaming Headset, where style meets affordability and versatility. In this review, I will embark on a journey through the colorful landscape of a budget-friendly gaming headset that doesn't compromise on looks or cross-platform compatibility. It's a headset that aims to capture the hearts of younger gamers, and I will explore whether it accomplishes that goal.
Why you can trust Tech4Gamers:

We understand the importance of making informed decisions. That's why our team spends significant time testing every product we review.

Find out more about how we test.
From its striking design to its innovative microphone, I will dissect the highs and lows of the Logitech G435, uncovering its strengths and weaknesses so you can make an informed decision about whether it's the right choice for your gaming adventures. Whether you're a seasoned gamer or just starting, join me as I unravel the story of the Logitech G435 Lightspeed, where budget meets performance in the world of gaming peripherals.
Is it worthwhile to purchase, or is it only a gimmick? Let's find out.
---
Key Takeaways
The Logitech G435 Lightspeed Wireless Gaming Headset is a budget-friendly gaming headset designed with younger gamers in mind. With a playful design, eco-friendly materials, and compatibility across various devices, it caters to the needs of kids, tweens, and teenagers who engage in casual gaming.
The things I liked about the Logitech G435 are its Affordability, Color Variety, Cross-Platform Compatibility, Long Battery Life, Environmental Consciousness, and Attractive Design.
The things I did not like about the Logitech G435 are its Sound Quality, Build Quality, Limited Customization, Noise Isolation, Microphone Quality, and Comfort Variability.
The Logitech G435 is a perfect fit for Younger Gamers, Budget-Conscious Gamers, Casual Gamers, On-the-Go Gamers, Eco-Conscious Gamers, and Fans of Color Variety.
---
Specifications
| | |
| --- | --- |
| Weight | 5.82 oz (165 g) |
| Dimensions | 163×170×2.80 in (71 mm) |
| Audio Drivers | 1.57 in (40 mm) |
| Frequency Response | 20 Hz – 20 kHz |
| Impedance | 45 Ohms |
| Sensitivity | 83.1 dB SPL/mW |
| Max volume | <100 dB with an optional limiter at <85 dB |
| Microphone | Dual Embedded Microphone |
| Frequency Response | 100Hz-8KHz |
| Wireless range | Up to 10 meters via LIGHTSPEED USB receiver or Bluetooth |
| Battery Life | 18 hrs |
| Charging port | USB-C |
| Charging cable | USB-A to USB-C |
| Warranty | 2-Year Limited Hardware Warranty |
| Lightspeed Wireless | USB 2.0 port |
| Bluetooth | Devices With Bluetooth Audio Connectivity |
| Dolby Atmos | Tempest 3D AudioTech and Windows Sonic Spatial Sound compatible |
First Impressions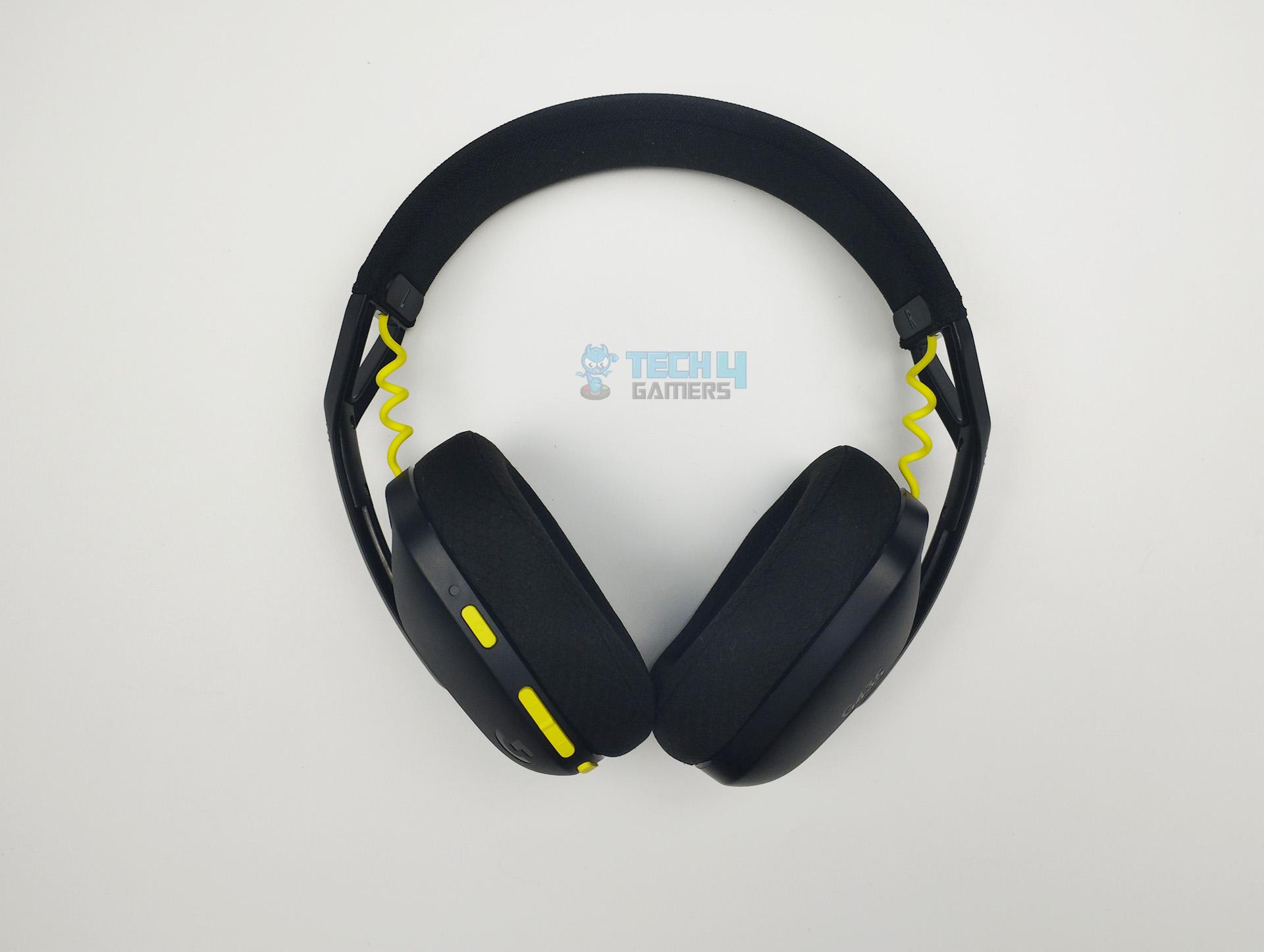 When searching for a budget headset, one often encounters the need to make sacrifices in terms of features. As we all know, Logitech is renowned for its extensive range of high-quality gaming peripherals, encompassing wireless keyboards, mice, and an array of headset options. The same can be said for the Logitech G435 Lightspeed Wireless Gaming Headset, which can be likened to a dependable budget sports car, offering a flashy design and super-fast, low-latency connectivity for gaming.
Surprisingly, it operates with minimal power consumption and boasts a respectable appearance for a budget headset, making it well-suited for its intended purpose. However, it falls just short of earning a strong recommendation. That being said, the Logitech G435 stands out in stark contrast to the typical gaming headphones I review. As previously mentioned, it sports a striking appearance. In fact, it shares several capabilities with the company's other headsets in the G series. Along the same lines, it is portable, lightweight, available in a spectrum of colors, and discreetly conceals its microphone.
The design seems straightforward. Logitech crafted the G435 with younger players in mind, especially those on PC and consoles, as opposed to older gamers. While well-intentioned, the outcome proves somewhat inconsistent at best. It's worth noting that the Logitech G435's $80 price tag and cross-platform compatibility hold significant appeal. Furthermore, the availability of Logitech coupons makes it even more affordable, placing it within the reach of many younger players. However, the G435 falls short in the areas of sound quality and comfort, two critical aspects of a gaming headset.
Setting aside these considerations, the G435 offers a run-of-the-mill, non-customizable audio experience housed in a somewhat flimsy plastic chassis. Moreover, customization options for this headset are limited. Nevertheless, it maintains a presentable appearance, boasts compatibility with a wide variety of wireless devices, and provides audio performance consistent with its price point. In other words, I will thoroughly evaluate every potential aspect of this gaming headset. So, don't miss the opportunity to discover whether these headphones truly deserve a spot on my list of top gaming headsets – read on to find out.
Design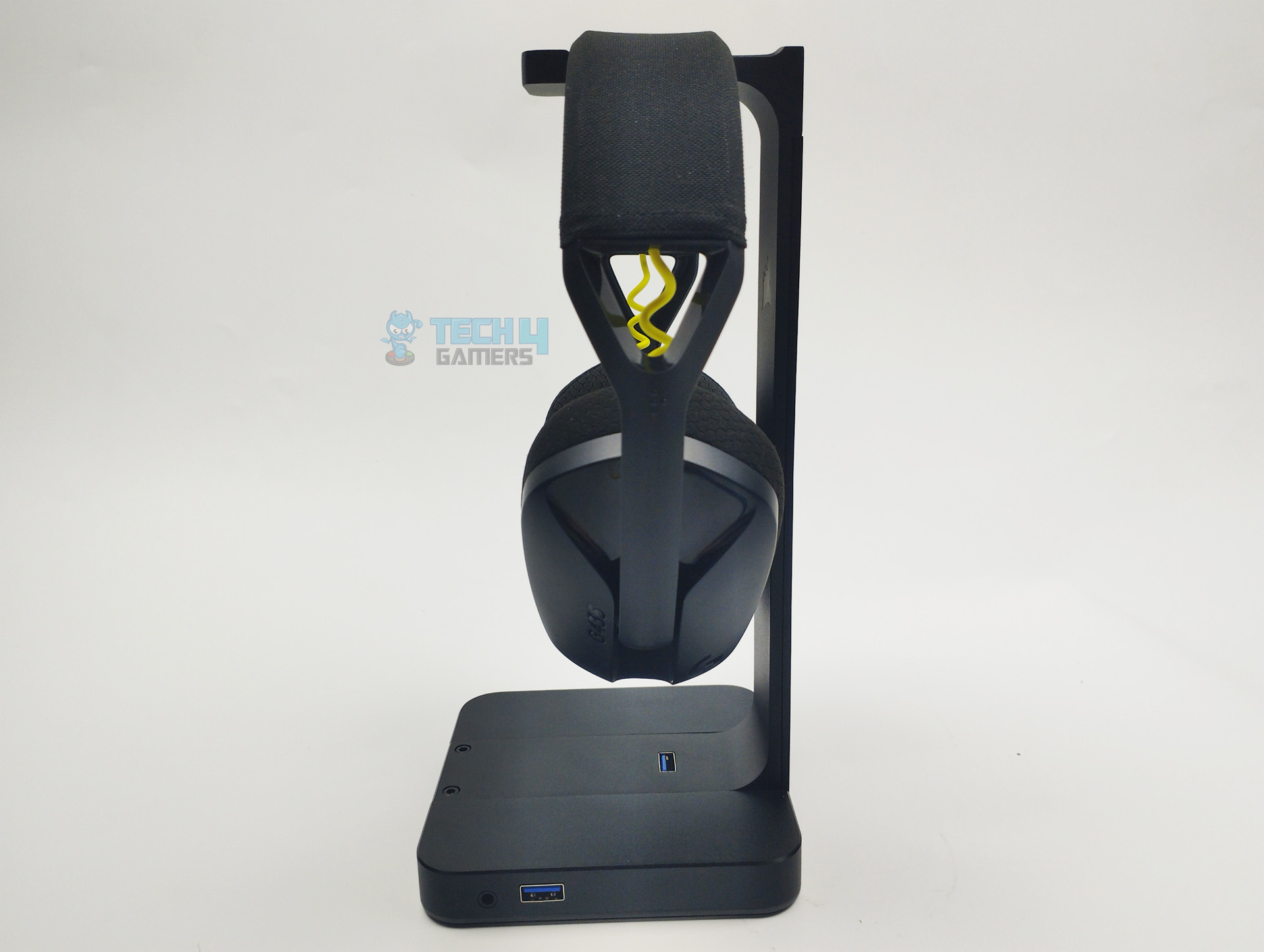 Upon first glance, the Logitech G435's diminutive size immediately grabs your attention. Measuring a mere 6.4 x 6.7 x 2.8 inches and weighing in at just 164g, the G435's remarkably lightweight build is nothing short of surprising. As someone who typically prefers gaming headsets to hover around the 220g mark, this lightweight design falls comfortably within the ideal range. Given its small stature and budget-friendly price point, it comes as no surprise that the construction lacks any metal components.
Notably, the G435 has garnered praise for its sustainability efforts, boasting a carbon-neutral certification and incorporating at least 22% recycled materials. This eco-conscious approach ensures that your Logitech purchase doesn't contribute to environmental degradation. It's important to highlight that the G435 deviates from the norm, as gaming headphones typically weigh twice as much and are bulkier. Logitech's deliberate decision to cater to young adults, including teenagers and tweens, as well as a female audience, by creating a more compact headset is a commendable move.
However, while the G435's size and weight earn accolades, its build quality leaves something to be desired. The headset exudes a sense of fragility with its thin plastic chassis and snug elastic headband. Nevertheless, the Logitech G435 Lightspeed maintains a straightforward design that could be perceived as almost toy-like, depending on the color palette you opt for. Notably, Logitech has been pushing the boundaries of aesthetics in their recent wireless gaming headphones.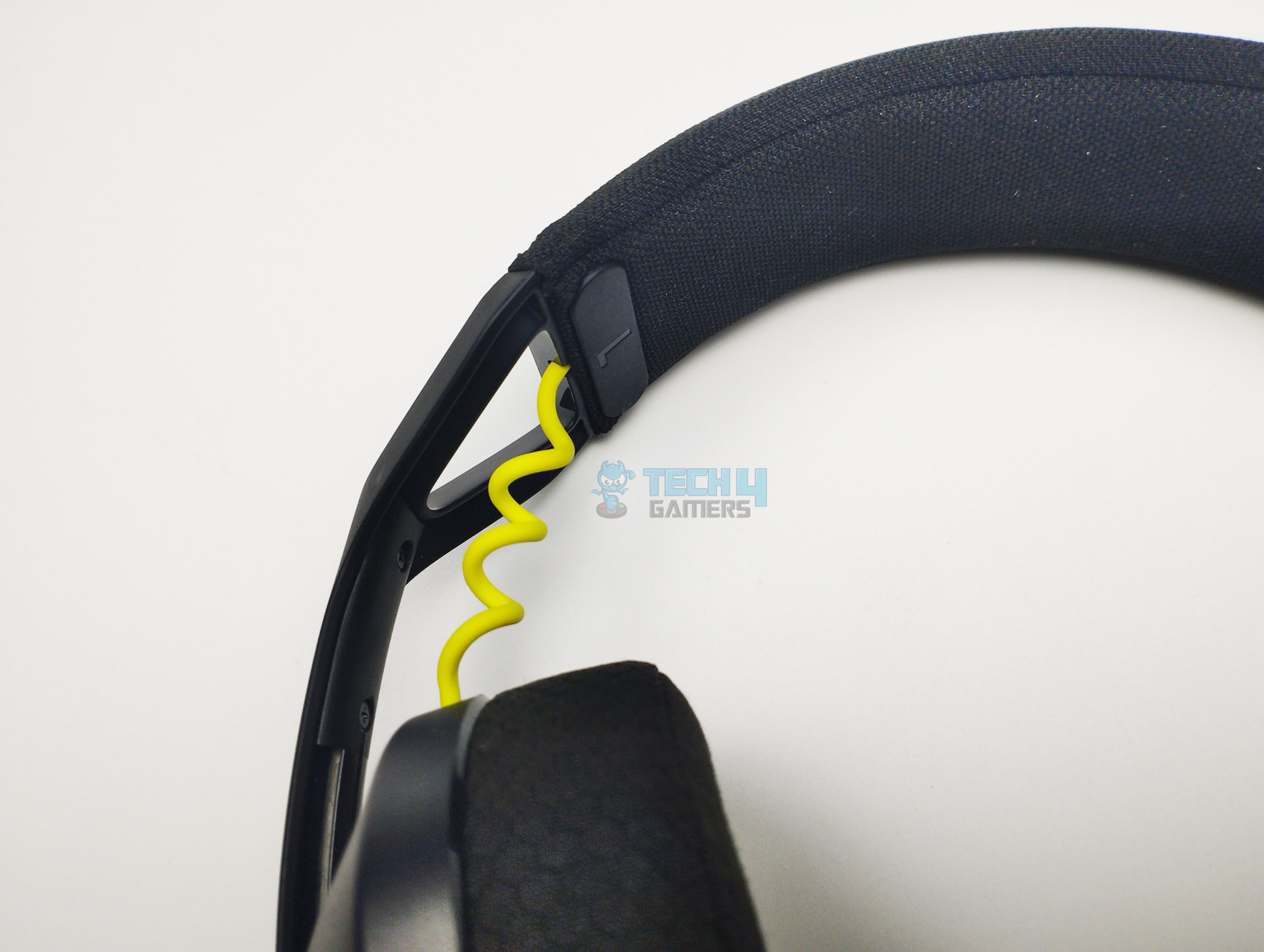 The Logitech G435 Lightspeed stands out as a gaming headset designed with sustainability in mind, coupled with distinctive visual choices. The headphones boast a sleek and stylish design, infused with a touch of gaming aesthetics thanks to the coiled audio wires connecting the ear cups to the headband. The G435 is available in three distinct color schemes: the understated black and yellow, the classy white and purple, and the flashy blue and pink.
While the 'Black & Neon Yellow' variant may not grab as much attention, the other two color options offer a more eye-catching and attractive choice. In fact, all three options are visually appealing, challenging the prevalent trend of "all black, all the time" peripherals in the gaming industry. It's worth noting that the review unit I tested predominantly featured a black design with bright yellow highlights on the wires and some buttons. While you won't find RGB lighting for visual flair, the vibrant colors alone suffice.
The earcups sport rounded corners and sharp edges, contributing to an overall fashionable appearance. They possess a slight swivel to the left and right and offer a degree of flexibility when adjusting upwards and downwards, enhancing comfort during extended use. In terms of visual aesthetics, the G435 bears resemblance to other contemporary Logitech gaming headsets constructed from plastic, such as the G335 and the G733 Lightspeed, with a few distinctive characteristics.
Comfort
Instead of a suspension band, as found on more expensive Logitech models, the G435 headset features a hollow plastic chassis and a fabric-wrapped headband. The absence of substantial padding in the headband might be a concern if the headset weighed more than its feathery 164g, but given its lightweight nature, it's a minor issue. Logitech markets the G435 as best suited for those with smaller heads. However, for someone like me with a notably larger head, even with the headband fully extended, achieving a comfortable fit with the G435 proved challenging.
Thankfully, the fabric-wrapped memory foam ear cushions offer adequate padding without causing discomfort due to excessive warmth. Surprisingly, despite the minimal cushioning and the thin fabric covering the plastic headband, I found myself able to wear these headphones comfortably for extended periods. The G435's feather-light build further ensures that comfort is never compromised. While it would be beneficial for the ear cups to be larger, their soft mesh fabric covering, combined with the gentle clamping force reminiscent of the Logitech G335, renders them almost unnoticeable during prolonged use.
All in all, the Logitech G435 did not quite meet my expectations, primarily due to my status as an adult male with a somewhat larger head. The earpads can be adjusted by sliding them up and down the headband, but they do not maintain their position exceptionally well. Even with the elastic headband, I struggled to achieve a snug seal over my ears. While the headset wasn't overly loose, it didn't impart a sense of security either. It's important to note that the definition of a "comfortable fit" can vary among individuals.
Nonetheless, it is safe to say that players who are younger or have a smaller head size will likely find it more comfortable. On the flip side, younger gamers are likely to have an enjoyable gaming experience with the Logitech G435 Lightspeed. The headset's minimal weight and comfortable ear cushions make it an ideal choice for extended gaming sessions. Furthermore, its impressive battery life allows for multiple gaming sessions before needing a recharge.
Build Quality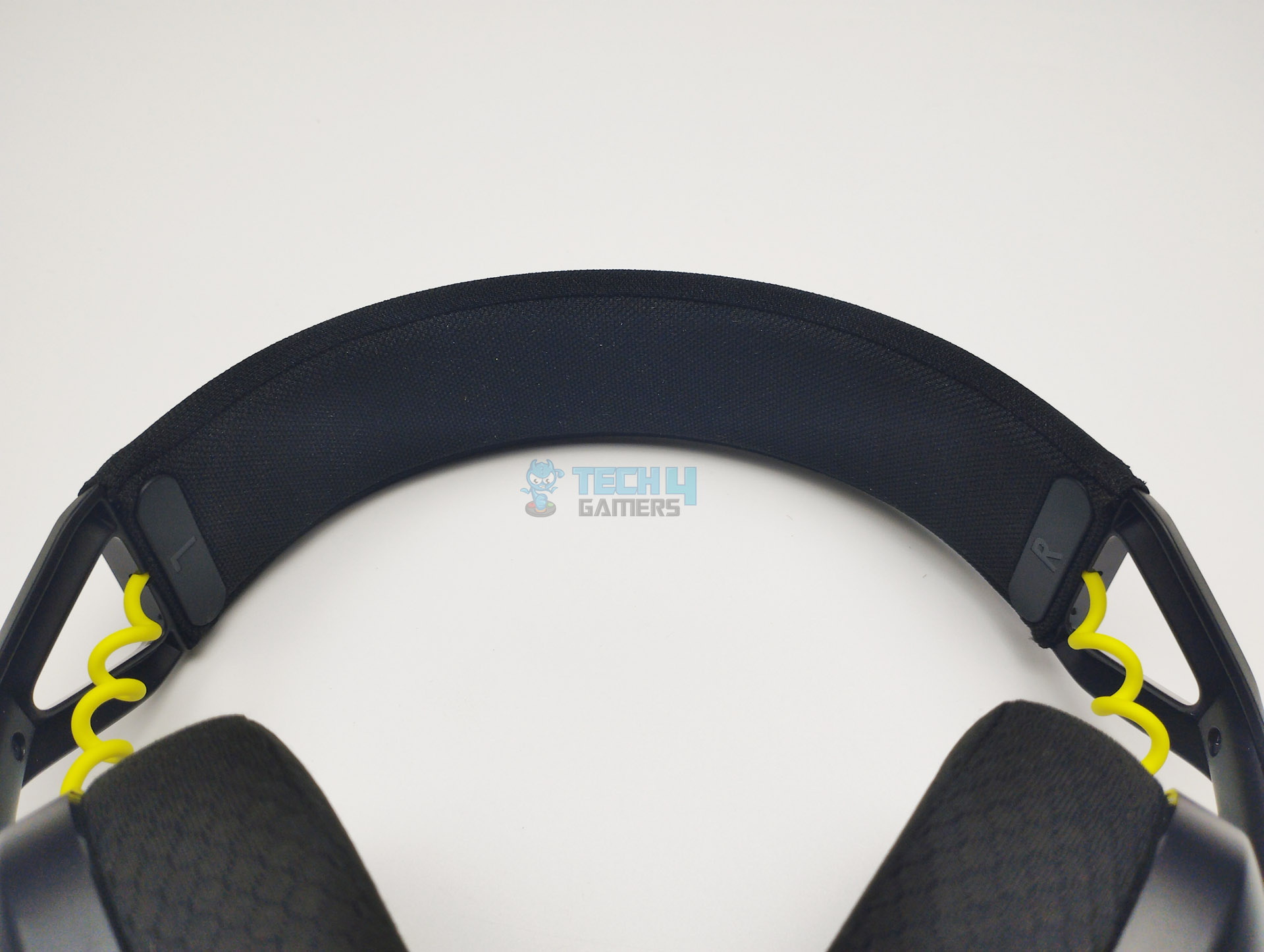 When it comes to durability, the G435 presents a distinctive case. While I'm hesitant to label it as "cheap," I must admit that during my time with it, the headset did give off a somewhat flimsy impression. Initially, I harbored concerns that even a minor drop could potentially lead to damage to one of the ear cups. Thankfully, the headset endured my rigorous testing, which included several accidental falls from my workstation to the floor. However, despite these initial tests, my reservations regarding its long-term durability remain.
Another aspect that gives me pause is the vertical movement of the ear cups. Admittedly, I've never been particularly fond of this design style, but the G435's narrow connecting bar between the ear cups and the headband exacerbated my apprehension. I handled the headset with great care, as I was reluctant to risk damaging the sliding mechanism or any internal components. In terms of stability, it's passable; the headset remains reasonably secure when you're stationed at a desk or on a sofa. However, if you're engaged in more dynamic movements, they can slip off your head.
With that said, there are aspects of the G435 that redeem it. The foam ear cups, for instance, offer a commendable level of comfort, although they lack extensive adjustability. Due to their limited range of motion, I often found myself needing to readjust them to alleviate the strain on my ears. After a few gaming sessions, the cups would gradually inch upwards, necessitating frequent readjustments. In my opinion, a more extensive range of motion for the cups, perhaps facilitated by wider plastic bars, could enhance overall comfort.
The concern here is that these plastic bars appear to reach a point where further expansion might render them more susceptible to damage, whether due to regular wear and tear or unexpected mishaps. While it's true that gaming headphones, including the Logitech G435, are not typically designed with portability in mind, this limitation is somewhat expected. Despite being more compact than comparable Logitech models, they lack space-saving features like folding or swiveling mechanisms. Additionally, there is no included carrying case to protect them while you're on the move. Nevertheless, despite its somewhat delicate build, I derived enjoyment from using the G435 from Logitech.
Control Scheme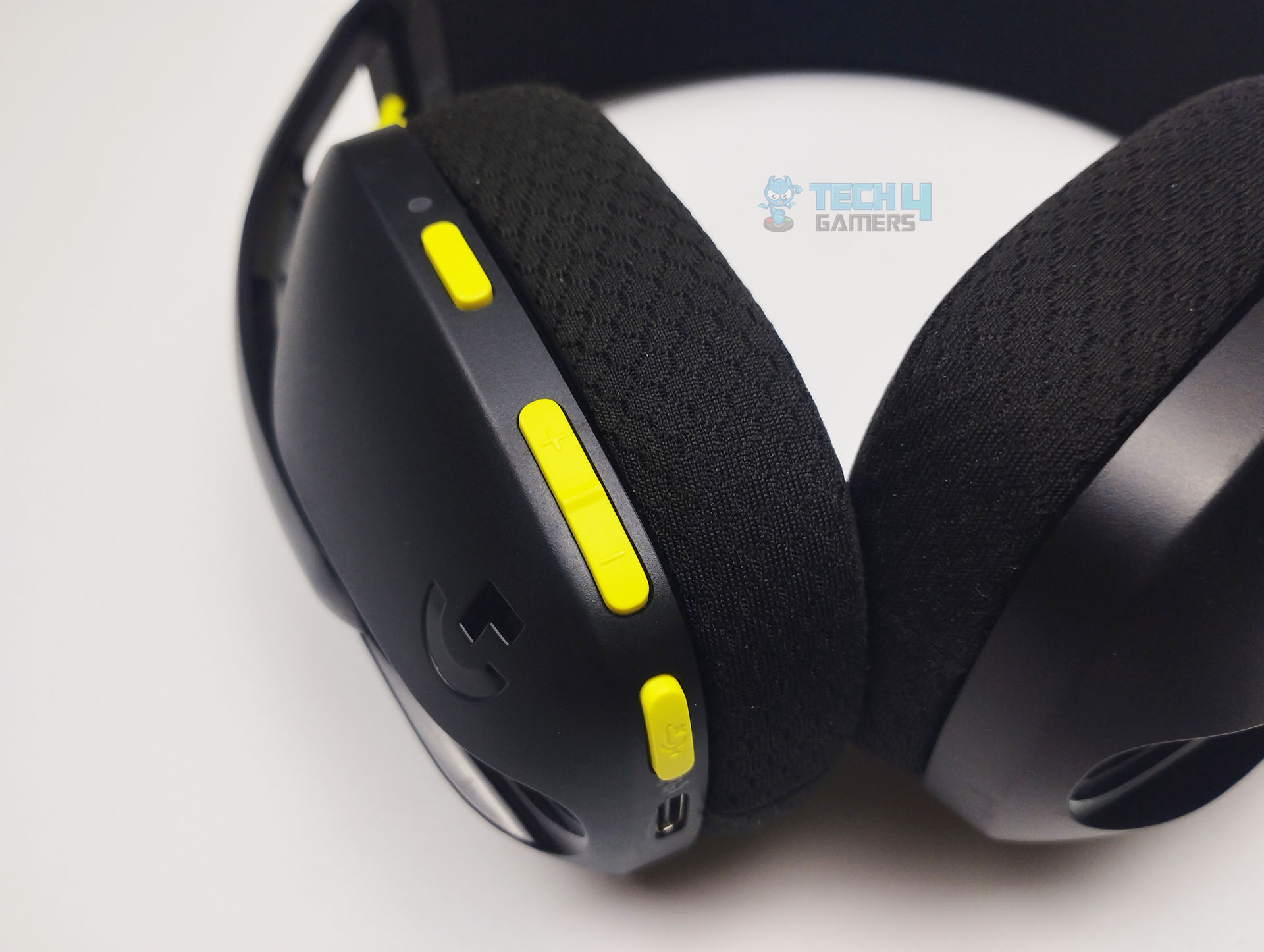 The Logitech G435 Lightspeed boasts an interface that, at first glance, may appear straightforward but turns out to be more complex than anticipated. As there are no controls on the right earpiece, the left earcup is tasked with accommodating a variety of controls. Unfortunately, this gaming headset does not integrate with Logitech's G Hub companion app, though it does offer a diverse range of features and a limited set of controls. These controls can be combined in various ways to perform a multitude of functions, and I'm pleased to report that the buttons functioned as intended.
On the left earpiece, you'll find controls to mute the microphone, power the headphones on and off, and adjust the volume. Regrettably, this interface may be less user-friendly, lacking options for tasks such as answering/ending calls, playing/pausing music, or adjusting voice and sound mix settings. Additionally, there is no accompanying user guide for these headphones. However, I'll provide you with detailed button combinations to access specific features.
Given the absence of software support for the G435, each button serves multiple purposes, making it somewhat cumbersome to navigate, especially when the headset is in use. For instance, the volume controls could benefit from a dial for smoother adjustments. Beyond their primary functions, these buttons can also be utilized for pairing with other Bluetooth devices and toggling between Bluetooth and USB wireless connections.
Pressing these buttons for specific durations can even activate a volume limitation feature. Audible cues, such as beeps, indicate when you've reached maximum volume, muted/unmuted the microphone, or powered the device on and off. While the buttons provide tactile feedback, there's no visual indicator for when the volume reaches its minimum level. Additionally, a multicolored LED conveys the current battery status and connection status.
For those considering the G435 for younger users, it's advisable to adjust the mic sidetone and set the volume limit to 85 dB, although these adjustments require precise button combinations. Since the headset can be paired with mobile devices or other Bluetooth-compatible devices, Apple iOS users will appreciate its compatibility with AAC and SBC codecs, ensuring high-quality audio streaming. Conversely, Android users are limited to SBC.
While many gaming headphones offer dual connections via USB dongles and Bluetooth, the G435 only supports either option at a single time. Regrettably, there is no wired listening alternative. The USB-C charging port is located at the base of the ear cup, but it cannot be used for direct wired connections. Charging is facilitated with the included USB-A to USB-C cable. Consequently, the headphones exclusively support wireless audio through Lightspeed and Bluetooth, lacking a wired backup in case of battery depletion or compatibility issues. Overall, the headphones' control scheme is passable at best.
LIGHTSPEED CONNECTION
Press the Power button for a minimum of 1.5 sec. The LED turns cyan once connected.
BLUETOOTH CONNECTION
Press 3 seconds or longer of the Power and Mute buttons. The LED will flash blue as it enters pairing mode.
SWITCH BETWEEN LIGHTSPEED AND BLUETOOTH
Press 3 seconds or longer of the Mute button.
– Switch to LIGHTSPEED; LED will light cyan for 5 seconds.
– Switch to Bluetooth; LED will light blue for 5 seconds
POWER ON AND OFF
Power ON
– Press the Power button for 1.5 seconds when the headset is OFF.
Power OFF
– Press the Power button for 3 seconds when the headset is ON.
Auto Shutoff
After 30 minutes of inactivity.
MUTE / UNMUTE AND MAX VOLUME
MUTE / UNMUTE microphone
– Short press on the Mute button.
Set Max Volume
– Press 3 seconds or longer Mute button + Volume UP
Set Min Volume
– Press 3 seconds or longer Mute button + Volume DOWN
BATTERY CHECK
Single press the Power button when the headset is ON
– Battery 31% to 100%; the LED will show green for 5 seconds
– Battery 15% to 30%; the LED will show red for 5 seconds
– Battery
<15% the LED will flash red for 5 seconds>Sidetone
Enable Sidetone
– Double press the Mute button, and the LED will flash twice in orange.
Disable Sidetone
– Double press the Mute button, and the LED will flash once in orange.
Adjust Sidetone
– UP = Single press Mute button + Volume UP
– DOWN = Single press Mute button + Volume DOWN
Connectivity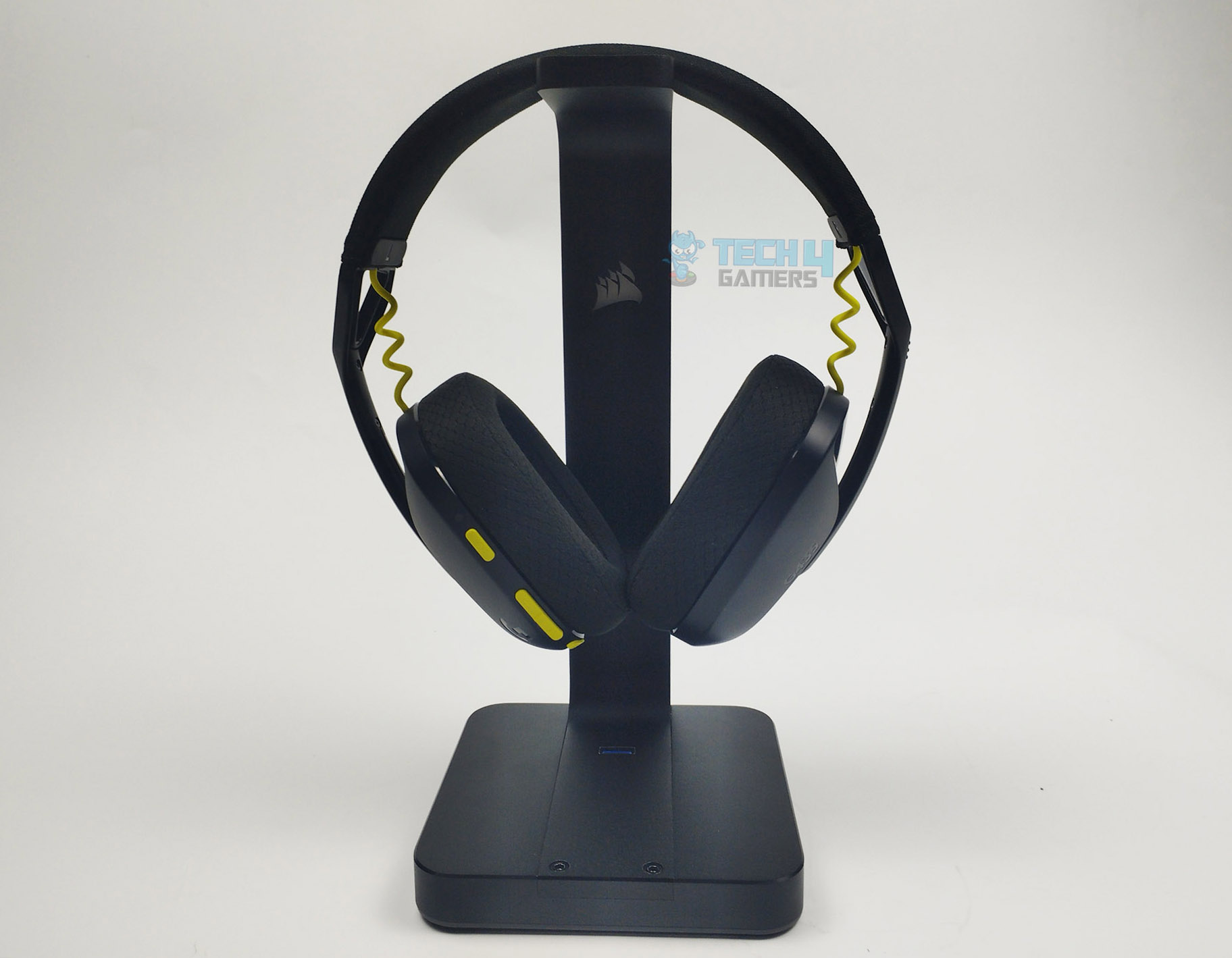 The Logitech G435 Lightspeed offers users the convenience of two distinct connection options tailored to their preferred platform. With the USB-A wireless RF dongle, you can seamlessly connect the headset, ensuring zero latency when used with your PS4, PS5, docked Nintendo Switch, or PC. In terms of audio performance, I tested the G435 across a variety of games on these platforms and found it to deliver an average experience. While the in-game dialogue and sound effects were audible, they did come across as somewhat muffled.
Furthermore, the G435's audio output lacked depth and bass, which at times resulted in voices and other elements feeling somewhat muddled. One more aspect where the G435 falls short, especially when compared to other Logitech headsets, is its limited functionality. Regrettably, it is not compatible with the Logitech G Hub software, meaning you cannot fine-tune equalizer settings and microphone volume or create profiles tailored to specific games.
Consequently, this lack of customization options also extends to the default sound profile, which cannot be altered. Despite its less-than-stellar sound quality, the G435's broad compatibility across various platforms remains one of its standout features. Additionally, while the G435 is Bluetooth-enabled and includes a dedicated wireless dongle, some users on Reddit have reported issues with connecting the headphones to their devices or updating the firmware. However, in my experience, the connection was rock solid, whether using the Logitech Lightspeed dongle or the wireless Bluetooth option.
It's worth noting that switching between different Bluetooth devices may require re-pairing the headset, but this is more of a limitation inherent to Bluetooth technology itself rather than a specific flaw of the G435. Fortunately, I encountered no noticeable lag in either game audio or lip sync during video playback, which is to be expected when using a dedicated wireless audio dongle. I initially had reservations about Bluetooth performance, but those concerns were unfounded.
The Bluetooth functionality was reliable enough for me to use the headset for making and receiving phone calls and engaging in online gaming communications. Logitech claims that the G435 offers a wireless connectivity range of approximately 10 meters, a claim I can corroborate based on my experiences. In practical terms, this means you can move around your home without worrying about signal loss. Moreover, while indulging in the second season of Jujutsu Kaisen through a Bluetooth connection to my TV, I found that I could venture approximately 25 feet to the kitchen without experiencing connectivity issues or audio sync problems.
While the G435's Bluetooth connectivity and compact size do make it suitable for outdoor use, it's worth noting that its performance in noisy environments like a crowded subway might be limited. The USB Type-A dongle, which matches the headset's color scheme, extends roughly 1.5 inches from your computer, with its narrow width ensuring it won't interfere with other connections. In conclusion, the Logitech G435 is an aesthetically appealing headset equipped with dual wireless capabilities, making it a convenient choice for use with both your computer and phone, although not simultaneously, like Corsair's Virtuoso RGB Wireless XT.
Performance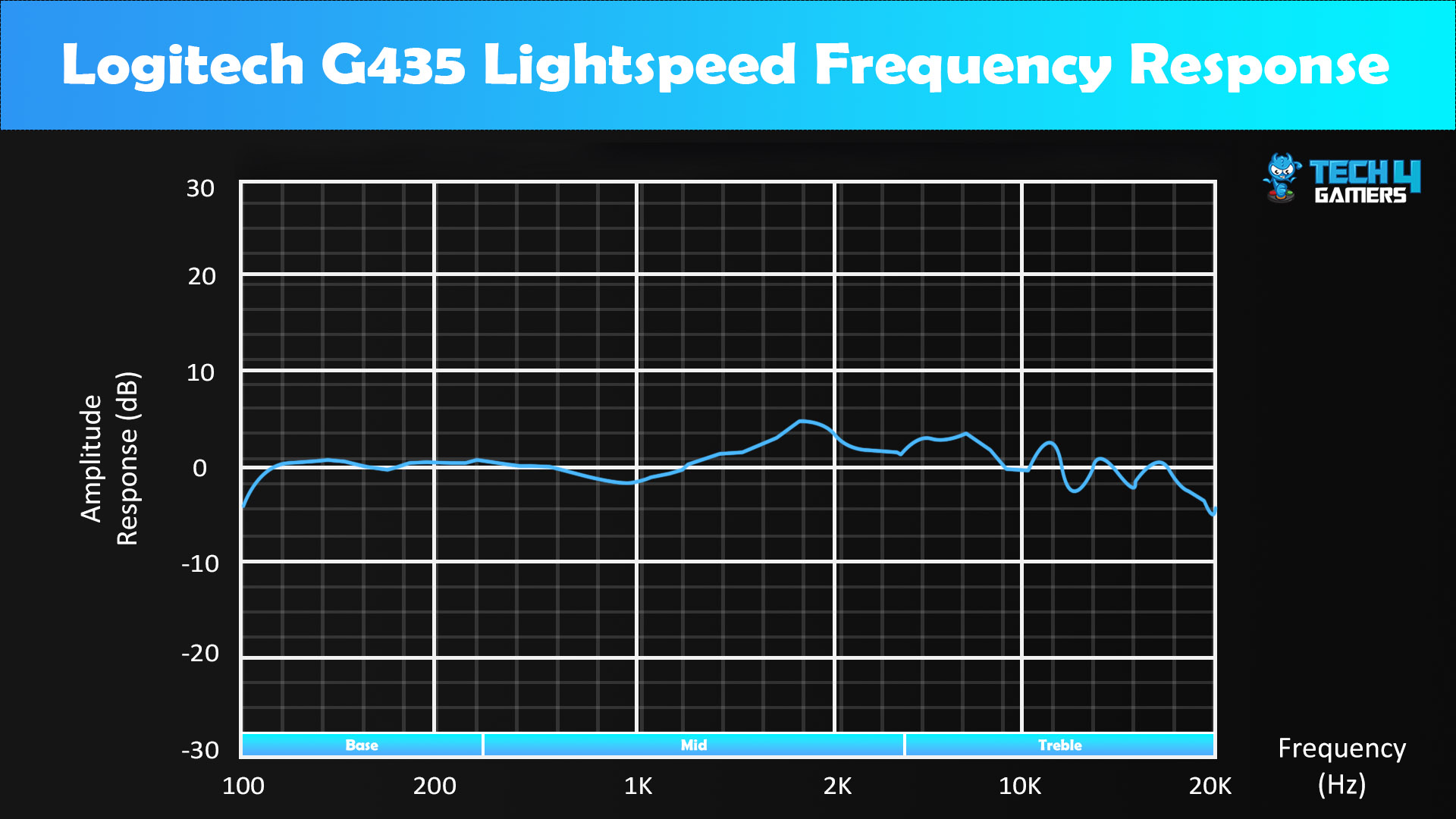 Compared to other average gaming headphones, the Logitech G435 Lightspeed indeed falls short in the audio quality department. While it offers a somewhat warm sound profile with reasonable loudness, courtesy of its 40mm drivers, the overall performance can be described as average at best. The sound profile provides a slight boost to bass frequencies, lending effects and footfalls a bit of additional resonance, but it could benefit from a touch more low-end rumble to truly excel in this aspect.
Nevertheless, it manages to deliver a satisfactory range, providing gunshots and footsteps with enough rumble and presence. However, it's important to note that individual experiences with bass delivery may vary, influenced by factors such as fit and wear, particularly for users with long hair or those who wear glasses. Furthermore, the G435 exhibits a commendable level of midrange accuracy. Although the overall balance is decent, the mid-range experiences a somewhat accentuated drop due to the overemphasis on high-bass and low-mid frequencies.
This can occasionally cause music and speech to seem somewhat pushed into the background despite their clarity. In terms of treble accuracy, the headphones offer satisfactory performance, with well-balanced low treble providing sufficient detail in speech and music, albeit with an underemphasized mid-treble that can cause sibilants like S and T sounds to appear somewhat flat. It's worth noting that the treble delivery may vary depending on individual experiences and fit adjustments.
The headphones don't maintain a perfectly stable frequency response, with the presence of hair or glasses potentially impacting bass performance. Additionally, the treble delivery can exhibit inconsistencies, emphasizing the importance of fine-tuning fit and placement for a more uniform audio experience. In terms of peak-to-trough performance, the G435 delivers a reasonable experience. Sound effects like footfalls benefit from a prominent peak in the low-bass and low-mid frequencies, imparting them with more thump and impact.
However, a dip in the low-mid range can sometimes relegate certain sounds to the background. The inconsistencies in the mid-treble can occasionally result in flat or sharp-sounding sibilants like cymbals. Despite these nuances, dialogue and musical instruments maintain a bright and clear presence. Notably, Logitech headphones are known for their reliable imaging, thanks to stringent quality control and a comfortable design. The bass reproduction is tight, and the treble remains clear, attributed to a group delay below the threshold of audibility.
In terms of amplitude and frequency response, the L/R drivers are well-matched in my unit. However, a significant mismatch in the phase response between the middle and upper registers affects the clarity of high-mid range sounds like voices, causing them to jump between the L and R drivers and distorting the stereo image. The passive soundstage of the Logitech G435 is adequate, though the closed-back design can sometimes create the sensation that the sound is emanating from within your head rather than coming from the room.
In terms of weighted harmonic distortion, these headphones perform quite well. A minor peak in the low to mid-treble at moderate volume levels may be present, but it's often imperceptible with real-world content. The remaining frequencies fall well within acceptable limits, ensuring a clean and undistorted sound. Unfortunately, the G435 lacks an equalizer, limiting the ability to fine-tune volume and tone preferences. It only provides an adjustable volume control within the range of 85 to 100 decibels.
In conclusion, the Logitech G435 Lightspeed provides solid performance in the highs and lows, thanks to its drivers, and generally meets the intended audio expectations. While it doesn't offer exceptional sound quality, it delivers an adequate listening experience, bearing in mind its $80 price point for a wireless headset. Professional-grade sound should not be expected from a headset in this price range, and the G435 provides a satisfactory audio experience.
Music
With the Logitech G435, your music experience gains the same level of clarity and precision as other budget gaming headsets. Each instrument in a song comes with minimal distortion, allowing you to hear the intricate details of your favorite tracks. While the bass and rhythm guitar may not steal the spotlight when compared to the percussion and synth, they maintain a distinct and clear identity throughout various musical genres. In general, you can expect a positive listening experience that transcends different musical styles, allowing you to appreciate the nuances of each composition.
However, it's worth noting that songs heavily reliant on deep, droning bass may not deliver the earth-shaking impact you might anticipate. For instance, when I delved into Travis Scott's "Utopia" album, I couldn't help but appreciate the well-executed music and vocals. Yet, it became evident that the G435's bass response left room for improvement. Since the G435 lacks dedicated software, you'll need to utilize your operating system's or media player's audio settings to fine-tune aspects like volume leveling or equalization, tailoring the sound to your personal preferences.
In summary, the Logitech G435 elevates your music-listening experience by providing clarity and precision, allowing you to hear every instrument with remarkable detail. While it may not cater to the most bass-heavy tracks, its performance across a wide range of musical genres ensures a satisfying auditory journey. Remember to explore your system's audio settings to customize your listening experience further.
Gaming
I thoroughly tested the Logitech G435 across a range of popular PC games, including Fortnite, Minecraft, Dota 2, Valorant, Overwatch 2, and Doom Eternal. My overall impression of the headset's performance was that it delivered sound quality that, while decent, didn't leave a lasting impact. The most notable observation was the lack of intensity in the gunfire, which could be a bit underwhelming for gamers seeking a more immersive audio experience.
When it came to dialogue, the G435 managed to maintain clarity, but it didn't quite capture the nuances of the various actors' performances. One notable challenge I encountered was finding the ideal volume balance – the G435 is inherently a quiet headset, making it a bit challenging to strike the perfect auditory equilibrium. Explosions and gunshots, while not overly pronounced without a dedicated sub-bass emphasis, may actually be preferable in highly competitive gaming situations.
These elements still take center stage as the most dominant auditory cues in any given gaming environment. Interestingly, the minor boost in upper-bass and midrange frequencies could make it somewhat easier to hear your friends on Discord. It's worth noting that the Logitech G435 lacks virtual surround sound and similar software features due to its incompatibility with the Logitech G Hub. However, most gaming platforms offer their own solutions to this issue, so it's not a significant drawback.
Logitech highlights compatibility with Windows Sonic, Dolby Atmos, and the PlayStation 5's Tempest 3D AudioTech. While Atmos and Tempest 3D indeed enhance the immersive quality of audio, they do depend heavily on surround sound technology, which the G435 lacks. During my Fortnite sessions, I found that I was missing the heightened positional information about opponent movements and gunfire that I typically experience with headsets featuring dedicated gaming-oriented 3D enhancements.
Similarly, while battling hordes of demons in Doom Eternal, the headset struggled to capture the full intensity of their roars. The 3D audio impression was intriguing but didn't necessarily translate into a more informative gaming experience. On a different note, the G435's reduced latency made it an ideal choice for mobile gaming on Android and iOS devices. However, it's important to note that different applications handle latency differently.
Noise Isolation and Leakage
When it comes to noise isolation, the Logitech G435 Lightspeed falls into the realm of average gaming headsets. Despite its stylish and comfortable fabric-covered earcups, it doesn't excel at blocking out ambient noise. When you put on the headset, you might be led to believe that its plastic construction is the culprit behind its lackluster noise-canceling abilities. It remains unclear whether it's the relatively porous and lightweight ear cushions that are to blame or if the low-quality plastic contributes to the headphones' struggle to block outside noise effectively.
In truth, the noise-canceling capabilities of this gaming headset are minimal, as it lacks active noise cancellation. Consequently, it can't effectively block bass-range noise passively. While it does a bit better with mid-range background noise, it struggles with high-pitched background noise. Environmental sounds tend to seep through unless you crank up the volume significantly, but doing so risks disturbing those around you.
While this may not pose a problem when you're gaming in the comfort of your home, the combination of Bluetooth connectivity and poor isolation makes it impractical for use in public spaces. Most of the sound leakage occurs in the middle and high frequencies, which means that listening loudly in an office environment could potentially disrupt your colleagues.
Microphone
The Logitech G435 Lightspeed is a gaming headset that pretty much gives you what you see, except for the mic, which is practically invisible. What sets this headset apart from others in the gaming world is its innovative microphone design. Instead of the traditional boom mic, Logitech has opted for a concealed microphone in the right earcup. It's a cosmetic marvel, but there's a trade-off in terms of recording quality. The headset employs two built-in beamforming microphones to replicate the experience of using a boom mic.
However, when compared to the boom microphones found in other Logitech gaming models, the performance of this concealed microphone doesn't quite match up. That being said, my voice did come through clearly during voice chat, and it handled low frequencies well. It's important to note that Logitech's claim of reducing background noise with its twin beamforming microphones is accurate, but it doesn't promise complete elimination of background noise.
While my voice was discernible over ambient noise, it didn't mean the background noise disappeared entirely. Voice recordings and gaming sessions still picked up a fair amount of background noise, including in-game audio, conversations from family members around me, and the clicky sounds of my keyboard's blue switches. This was true even when using wireless Bluetooth connections. When the volume was turned up, the microphone occasionally captured the caller's voice coming through the earcup, resulting in an echo for the caller.
To prevent this, I had to lower the volume to its lowest setting before the caller reported no more echoes. The microphone's distance from the mouth plays a role in its ability to capture background noise effectively but only somewhat effectively with voices. So, while the G435's microphone serves its purpose, it may not be the best choice for environments with high levels of ambient noise. Lastly, the notification sound that accompanies muting or unmuting the microphone is a nice touch.
Battery Life – 18 Hours of Playtime
During my time with the Logitech G435, I found that the battery life exceeded the company's advertised 18 hours on a single charge. In fact, this gaming headset impressively lasted for nearly 24 hours under continuous usage. While it may not match the battery life of the top gaming headsets on the market, it still stands as a respectable performance. A notable feature is the G435's USB-C charging capability, although it doesn't support fast charging.
The headset also incorporates a built-in auto-off timer to conserve power. However, it lacks an auxiliary input, meaning you can't use it for passive music listening once the battery is depleted. On the bright side, you can continue using the headset while it's charging. It's worth mentioning that the actual battery life may vary depending on your usage patterns. Nonetheless, the Logitech G435's battery endurance is certainly a strong point worth considering.
Should You Buy It or Not?
While the Logitech G435 serves as a passable entry-level headset for its target audience, it's important to note that within Logitech's recent lineup of gaming headsets, it falls short in several aspects. It's challenging to wholeheartedly recommend the G435 unless you're working with a tight budget or find that most gaming headsets are too large for your head. The audio quality, considering its price point (around $80, potentially even less with a Logitech G discount coupon), is sufficient but not remarkable enough to pull you away from other options.
The G435 is clearly not designed with someone like me in mind. I don't have an exceptionally small head, and I primarily game on traditional platforms rather than mobile devices, so I have no trouble finding gaming headphones that suit my needs. That said, the G435 does have some notable drawbacks to consider. Compared to other offerings from the same manufacturer, it lags in terms of sound quality and build quality. Additionally, its subpar sound isolation means it's not ideal for use in noisy environments or for keeping your audio private when it's quiet.
Furthermore, while the microphone captures your voice effectively, it also tends to pick up more background noise compared to headsets with boom microphones. However, the G435 does bring some significant advantages to the table that should not be overlooked. The inclusion of Bluetooth, especially at an $80 price point, is a major plus, making it a user-friendly wireless option that performs reliably thanks to its support for dual wireless connectivity.
For those concerned about environmental impact, the G435 is a commendable choice, as Logitech is making strides toward sustainability in the headphone industry. Overall, young gamers who spend extended periods gaming will appreciate the comfort it offers during long play sessions. While it may be well-received by tweens or teenagers, they may outgrow it as they get older. Overall, the G435 succeeds as an affordable, accessible peripheral for younger computer users.
It offers a compelling combination of portability, affordability, and wireless compatibility with a wide range of devices. If these aspects are your top priorities, then the G435 can be a viable choice. However, if you can stretch your budget a bit further, there are better alternatives available. In summary, the G435 is a reasonably priced mid-range headset option. While it presents a respectable wireless solution, it can't quite compete with similarly priced wired headsets in terms of features and sound quality.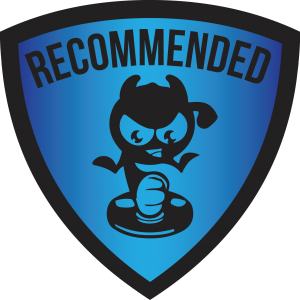 Learn more about Tech4Gamers Awards
Was our article helpful? 👨‍💻
Thank you! Please share your positive feedback. 🔋
How could we improve this post? Please Help us. 😔