Best Gaming Headset?
Review Summary
The Corsair Virtuoso RGB Wireless XT adds Bluetooth connectivity to the Virtuoso series, but that's about it in terms of changes from previous variants. The price tag is much higher than the previous model, yet it sounds and looks just as outstanding. It is a high-quality wireless option for gamers. It supports simultaneous connections and playback of audio from a computer and a phone or any Bluetooth device.
Build Quality -

9/10

Comfort -

8/10

Design -

9/10

Performance -

8.5/10

Value -

7/10

Software Compatibility -

7.5/10
Pros
Superb Microphone Quality
the plethora of Bluetooth codecs
Robust Build Quality
Diverse Connectivity Options
Cons
Steep Price Tag
No Significant Improvements from the Prior Variants
Low Battery Life
Gaming headsets have transformed from accessories to vital tools that shape our virtual gaming adventures. Corsair, renowned for cutting-edge tech and ergonomic design, consistently pushes gaming peripheral boundaries. As a result, the Corsair Virtuoso RGB Wireless XT stands as a testament to Corsair's pursuit of excellence. Delving into its details unveils not just a headset but a gateway to immersive audio, seamless connectivity, and personalized aesthetics.
In the gaming peripherals realm, where elegance meets performance and innovation intertwines with style, the Corsair Virtuoso RGB Wireless XT emerges as a formidable contender. It hones audio excellence, prioritizes comfort, and crafts customizable aesthetics for a unique audio experience. Furthermore, it supports extended gaming sessions without fatigue, bridging the gap between crisp audio and untethered mobility.
Why you can trust Tech4Gamers:

We understand the importance of making informed decisions. That's why our team spends significant time testing every product we review.

Find out more about how we test.
Embodied in the Corsair Virtuoso RGB Wireless XT is the commitment to elevate gaming experiences. It excels from acoustic prowess capturing every detail to intuitive controls adapting to gamers' needs. With superior build quality and an excellent microphone, the Corsair Virtuoso series earned acclaim among audiophiles. Consequently, the Corsair Virtuoso RGB Wireless XT retains predecessor features, adds Bluetooth connectivity, and includes software enhancements from Corsair iCUE's latest version.
---
Key Takeaways
The Corsair Virtuoso RGB Wireless XT headset emerges as a compelling choice for gaming enthusiasts seeking a blend of premium features and versatility. It excels in Comfort and design, featuring lightweight aluminum earcups with an elegant silver finish.
The things I have liked about the Corsair Virtuoso RGB Wireless XT are its immersive Gaming Experience, Ergonomic Design, Audio Excellence, Seamless Connectivity, Intuitive Controls, Detachable Microphone, and Premium Build Quality.
The things I have not liked about the Corsair Virtuoso RGB Wireless XT are its Price, Battery Life Reduction, Complex Controls, No Protection from Water and Dust, Limited Improvement Over Predecessors, and Not Ideal for Bass-Heavy Music.
The Corsair Virtuoso RGB Wireless XT headset is ideally suited for gaming enthusiasts, audio aficionados, tech-savvy individuals, multitaskers, and consumers willing to invest in premium quality.
---
Having said that, this review delves into the headset's luxury, exploring features, build quality, and immersive capabilities defining its upper hierarchy. Each facet of the Corsair Virtuoso RGB Wireless XT is scrutinized—technological marvels, comfort assessment, and its potential to redefine gaming. Buckle up for a journey where the Corsair Virtuoso RGB Wireless XT takes center stage, redefining gaming peripherals. The only question that remains is does the XT title's added value justify the higher cost?
Specifications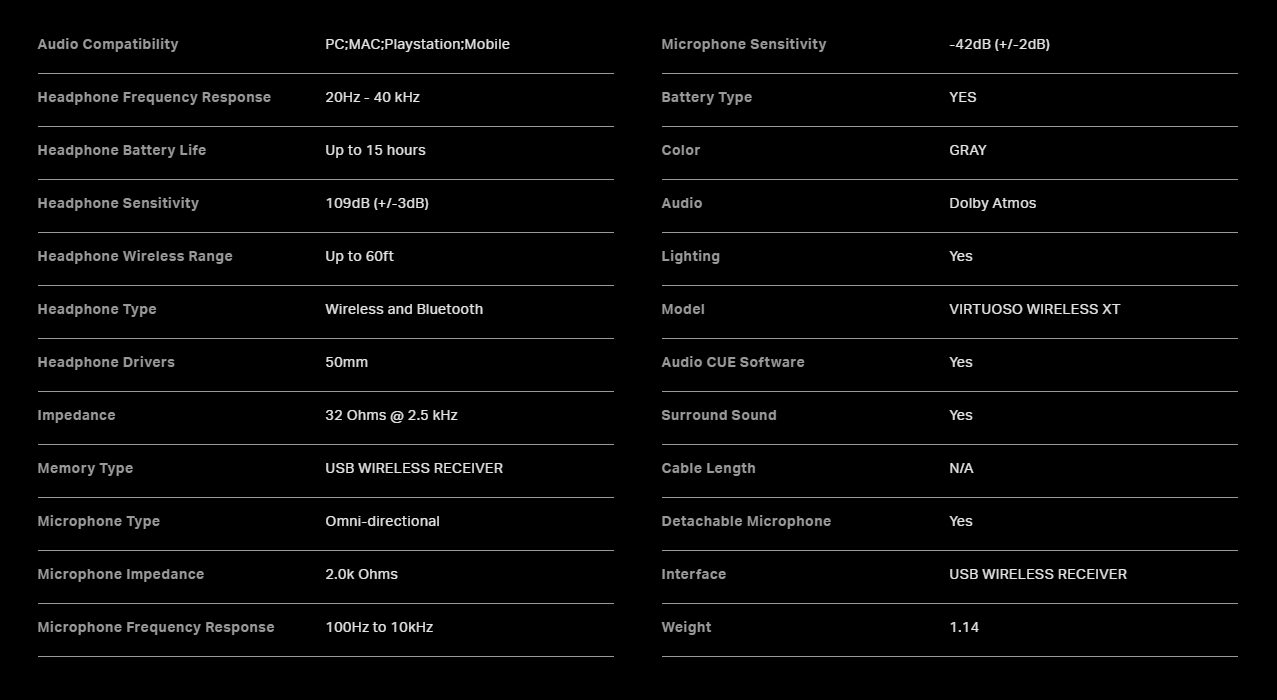 Box Contents
Corsair provides the Virtuoso RGB Wireless XT with a USB-C cable, serving both charging and wired connection purposes. Additionally, there's a 3.5mm audio cable with a convenient in-line control, offering an alternative wired option. Furthermore, there is a USB wireless transmitter that offers low latency, 2.4GHz wireless with up to 60ft of range. It's simple to misplace since the headset doesn't have a place to keep it.
The package also includes a detachable microphone. Notably, this headset is compatible with Bluetooth-enabled devices, spanning PCs (Windows or Mac), gaming consoles, and mobile phones. In addition to this, it includes a quilted fabric carrying bag with a magnetic closure, reminiscent of the previous edition, and is part of the package. Every element exudes a high-end look and feel, fitting for its $270 price tag. Particularly noteworthy is the pouch, which adds an extra touch of distinction to the entire package.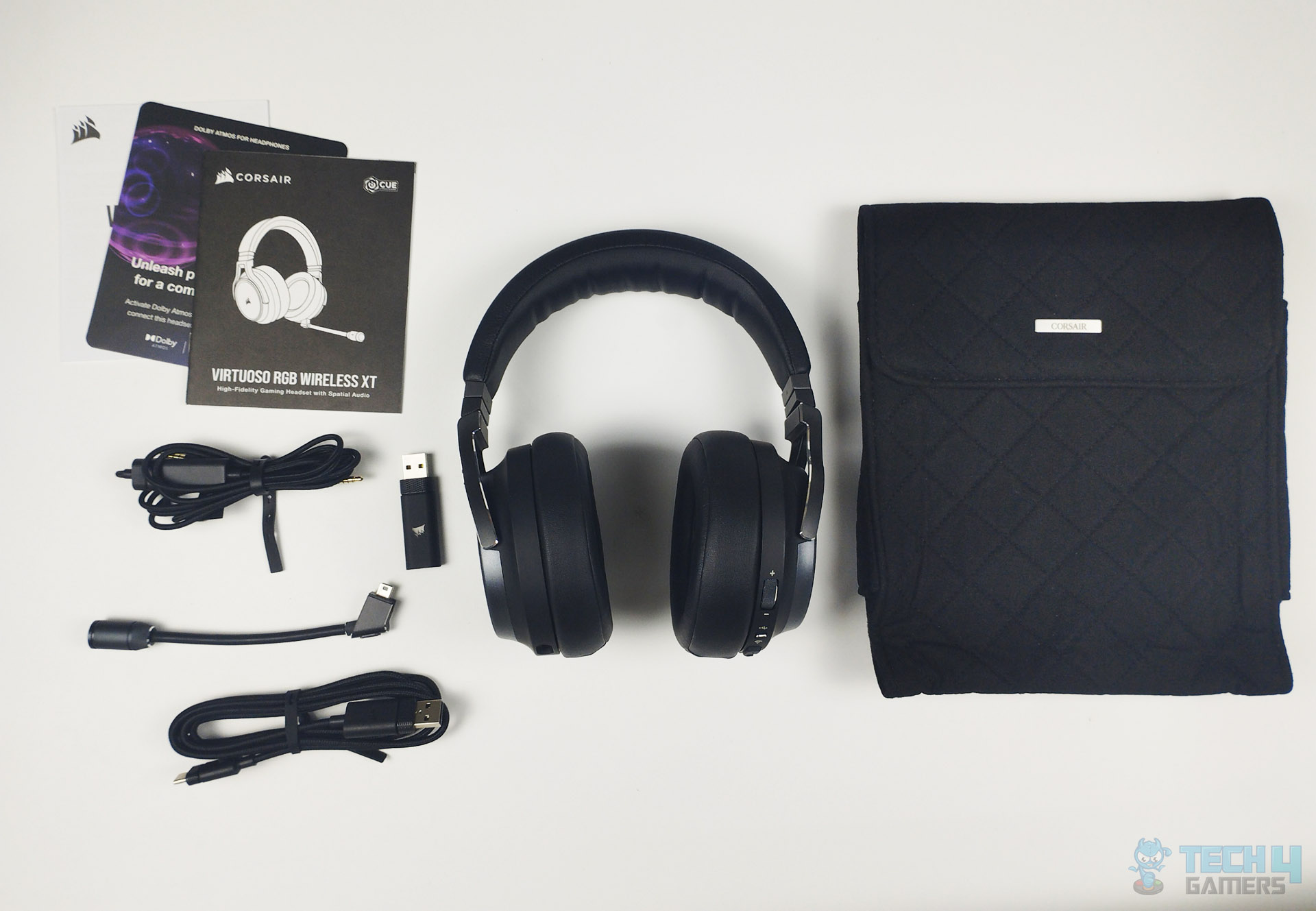 VIRTUOSO RGB WIRELESS XT
USB wireless transmitter
USB charging cable, 1.8m
3.5mm stereo cable with in-line controller
Storage pouch
First Impressions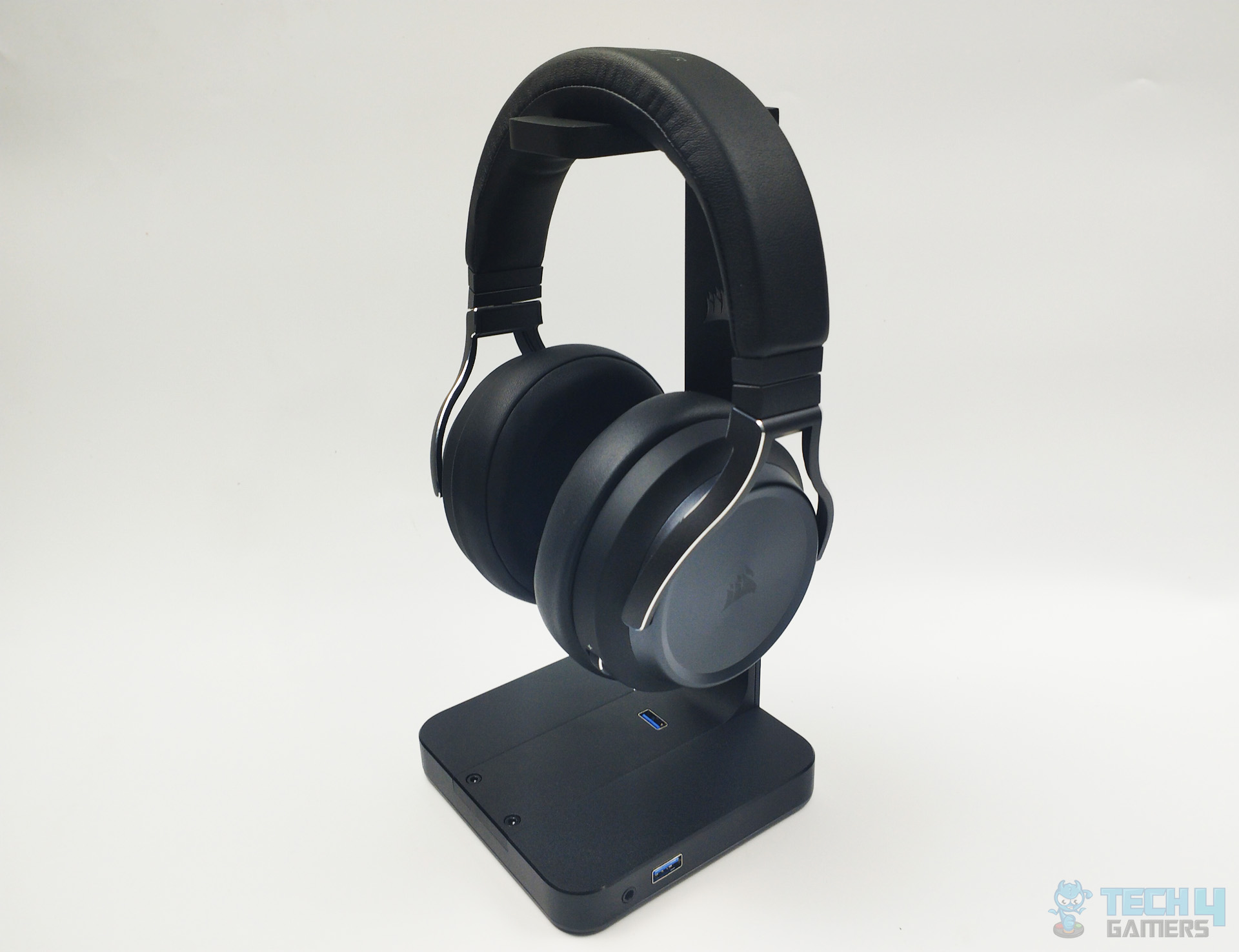 Evidently, Corsair's latest addition to the Virtuoso series, the Virtuoso RGB Wireless XT, clearly aims to secure a spot on our compilation of top gaming headsets. The Corsair Virtuoso RGB Wireless XT is the most costly of the Corsair gaming headsets I've reviewed so far. If you're looking for a high-end gaming headset, the Corsair Virtuoso RGB Wireless XT has all the bells and whistles you could want. The Corsair Virtuoso RGB Wireless seems to be a good buy, both financially and in terms of the features it offers.
With the first touch, I could feel Virtuoso RGB Wireless XT has high-quality construction. The frame and its accompanying aluminum brackets have a satisfyingly hefty, robust feel when held in the hand. Corsair set out to create a headset that does it all. Boasting a wide frequency range and a tasteful dose of RGB lighting beneath its aluminum earpieces, it exudes a notably more refined appearance compared to the majority of gaming headsets in the marketplace. Thankfully, the Corsair Virtuoso RGB Wireless XT maintains nearly every aspect that I cherished in its forerunner.
For pictures, the headset was placed on top of the Corsair ST100 RGB Headstand, and they blend in well with each other. Whether you're a professional PC gamer, a casual console gamer, an audiophile, or simply someone who prefers to attend meetings or listen to music on the phone, the Virtuoso RGB Wireless XT will serve you well. As a result, this headset has practicality, adaptability, and even style. In a nutshell, the Virtuoso RGB Wireless XT's superior audio quality and comfortable design speak for themselves. Corsair's prices may be steep, but at least you're getting a high-quality product in return. But is it really worth $269.99 for all these extra features?
Design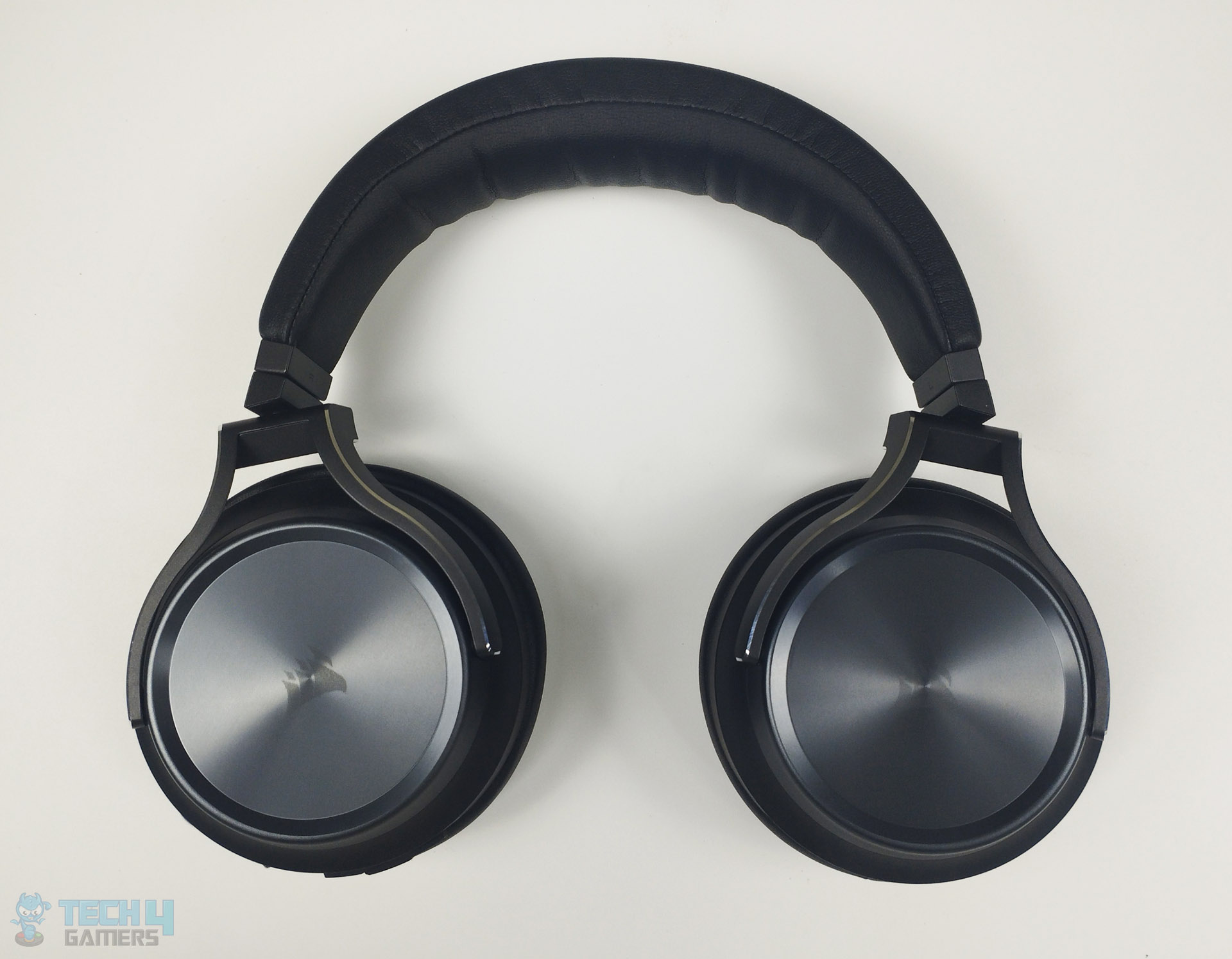 If you have encountered or engaged with a prior Corsair Virtuoso gaming headset, the most recent iteration will promptly strike you as familiar. It features a slightly darker slate gray finish, and the Corsair Virtuoso RGB Wireless XT closely resembles its standard and SE Virtuoso counterparts. Furthermore, both in terms of construction and design, it mirrors its predecessors precisely. However, this isn't inherently unfavorable; akin to its forerunners, this remains a robust and dependable gaming headset.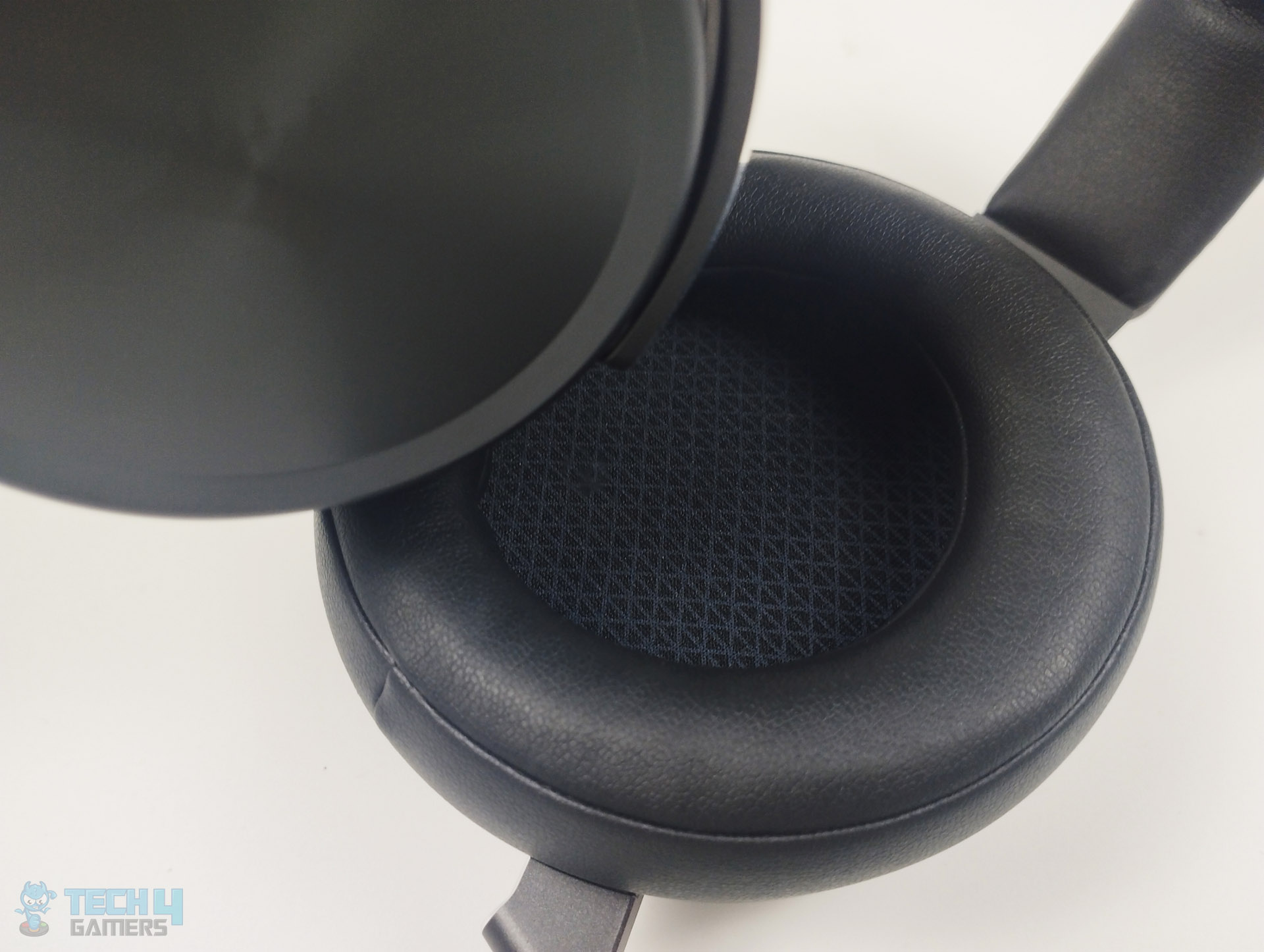 Crafted from lightweight aluminum, the earcups boast an elegant silver finish, while the central Corsair logo receives a rainbow glow from RGB lighting. Moreover, the cushions and headband feature soft leatherette and memory foam. The latter offers impressive comfort, yet concerns about its durability linger, particularly as the cushions lack mention of being removable or replaceable. The large earcups on the Corsair Virtuoso RGB Wireless XT are not just for looks; they provide excellent comfort and don't put excessive strain on your ears, even if you also happen to be wearing eyeglasses.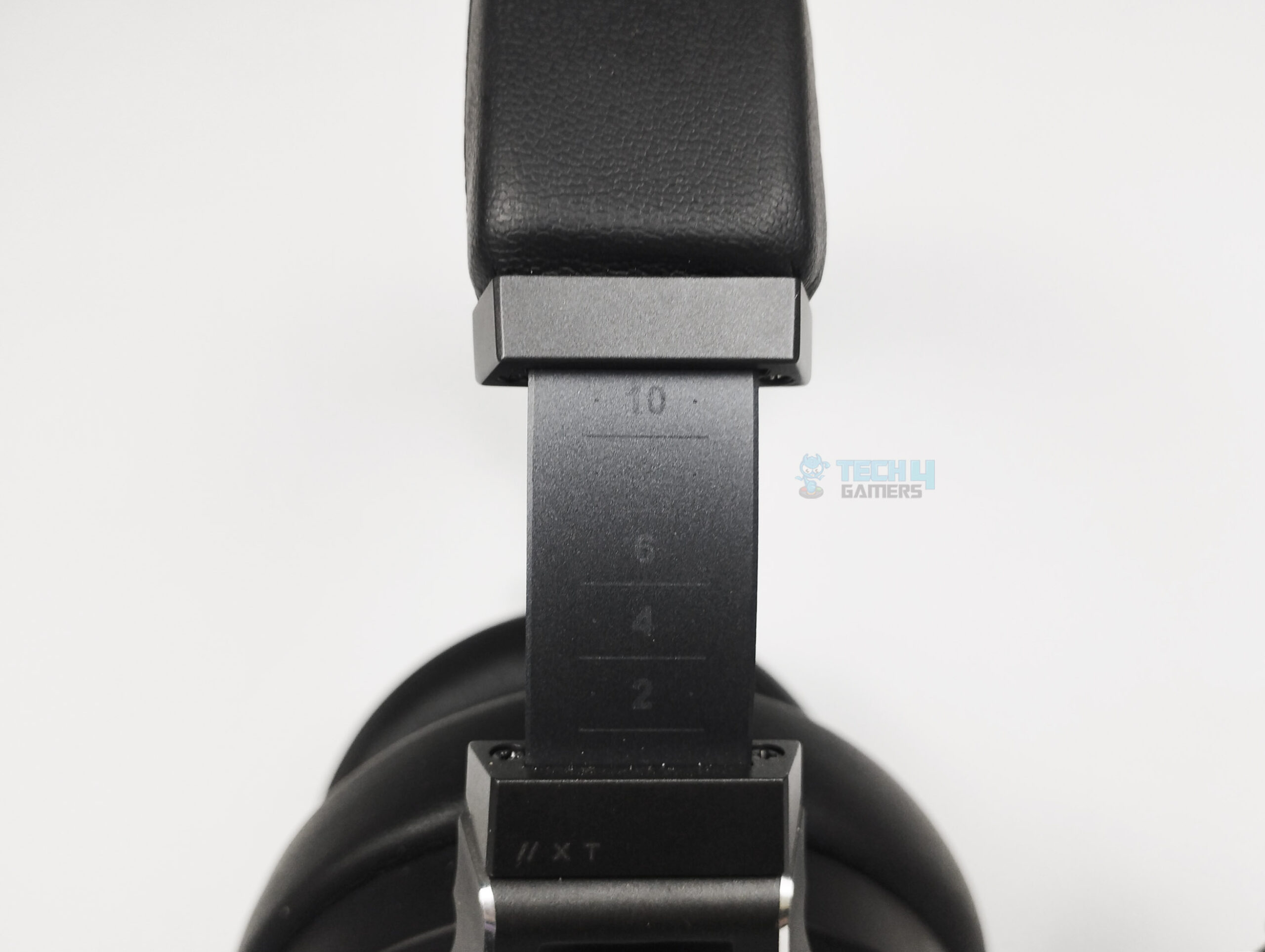 Notably, each earcup hinge is diamond-cut to catch and reflect light, much like the primary volume roller situated on the rear of the right earcup. Accommodating a variety of head sizes, the headband offers ten adjustable settings, making it suitable for individuals with more than average-sized heads. Though the lower section appears crowded with buttons and connections, the overall aesthetic remains decidedly refined.
Comfort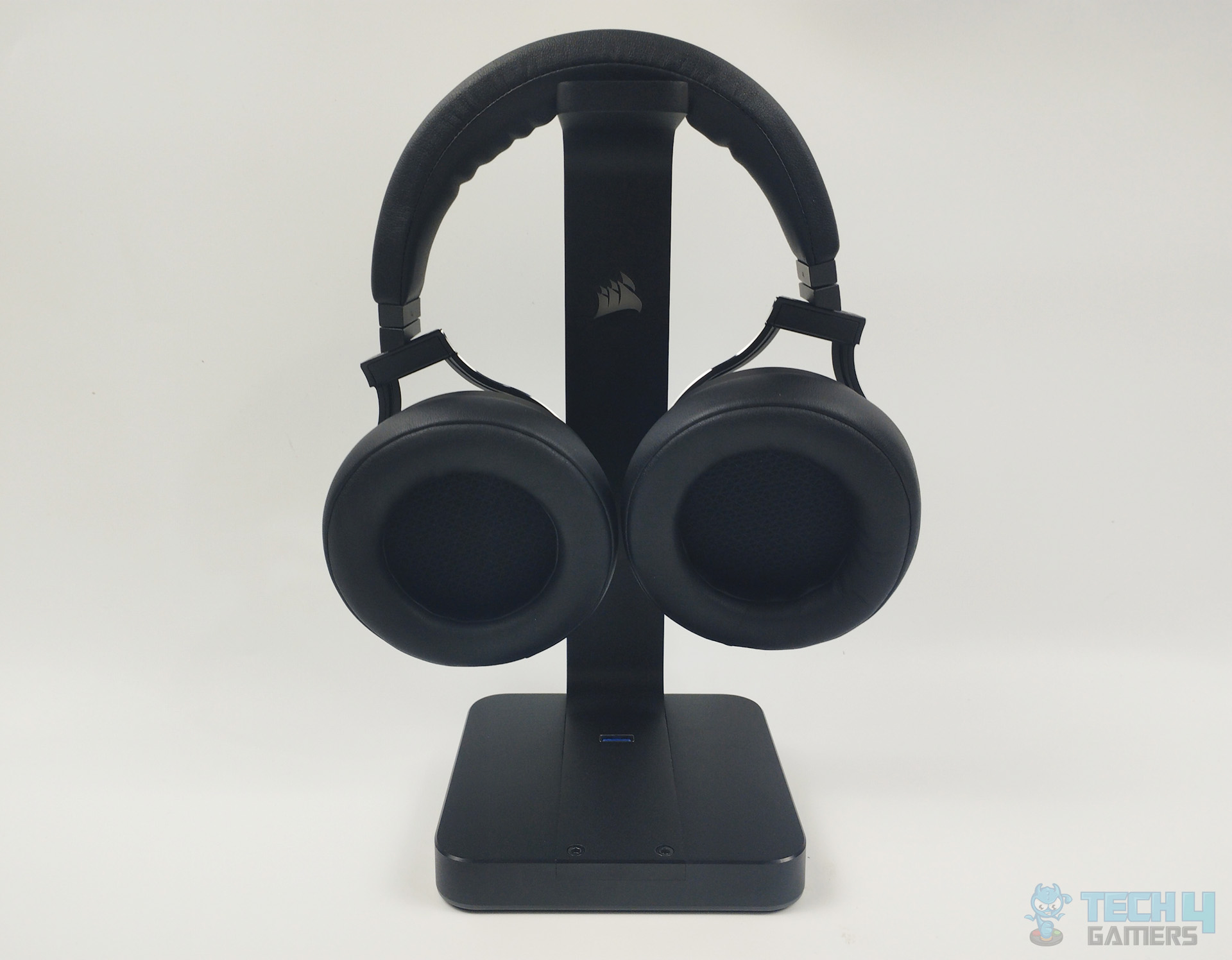 Intending to enhance comfort, Corsair set its sights on the XT model, specifically aiming to reduce clamping force and amplify headband cushioning. As a result, this novel headset design renders prolonged usage significantly more enjoyable. I played video games, worked, and watched television for long periods of time while wearing the Virtuoso, and I rarely felt the need to remove them. The only drawback was that they never quite sealed at the base of my ears, but I didn't have any noise leakage either.
The Virtuoso RGB Wireless XT succeeds in providing what is undoubtedly the most crucial feature of any gaming headset: a comfortable and secure fit. Weighing in at 64.5 grams, the Corsair Virtuoso Wireless XT carries a slightly greater weight compared to its competition. However, the comfort offered by the Virtuoso RGB Wireless XT became evident the moment I wore it in the morning until I removed it at night. The Virtuoso isn't exactly light at this weight, but because of its excellent weight distribution, you won't really notice it.
The XT variant's aluminum headband and earpieces are complemented by memory foam cushions wrapped in leatherette, endowing this model with a nearly all-metal construction. The headset's robust metal framework lends it a sensation of solidity and dependability. In some instances, it's worth noting that this structure, while potentially enhancing long-term comfort, does result in the headset slipping slightly as I move about my surroundings. Fortunately, throughout my testing, the headset remained securely in place, although I did find myself manually readjusting it multiple times daily.
Considering that the headband is so slack, the extra weight improves the fit, but it may cause tiredness in those who are susceptible to that sort of thing. Despite the ear pads being slightly shallow, the headphones' hinges offer a satisfactory degree of tilt and can swivel to lie flat in any direction, facilitating the easy establishment of a seal. However, after some time, continuous contact between my ears and the drivers did lead to some mild irritation.
Control Scheme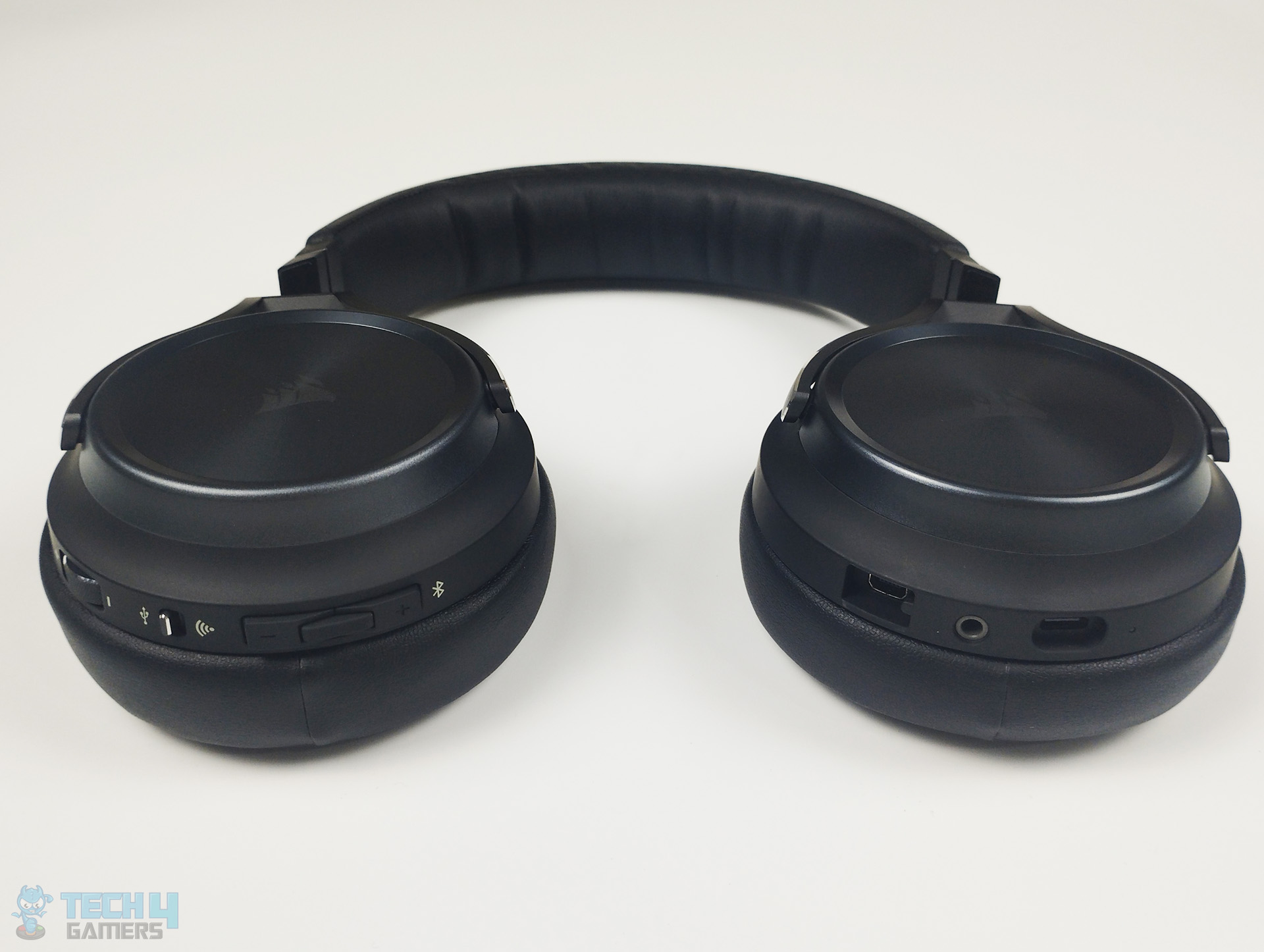 There's a lot to discuss in terms of control and connectivity choices. The headset's on-ear controls are plenty, but Corsair has tried to organize them to avoid seeming overwhelming carefully. Let's discuss them one by one by starting from the below towards the top. The right earcup includes a three-button configuration for Bluetooth controls. The middle button is the pairing/power button with a status light, while the side buttons are the volume controls (single push) and track skip buttons (double press).
Moreover, you can switch between a wired and wireless connection using a toggle. When not connected by USB and you are using it through a wireless connection, you can use the wired switch as a toggle button. The headset also is equipped with a sensor/accelerometer that shuts it off automatically after 10 minutes (which can be customized in iCUE) if no audio is playing and it is left on a table or desk and then turns it back on when you pick it up.
This kind of feature can be annoying if it doesn't function properly, but in my tests, it proved to be reliable. For the use of a computer and the bundled 2.4 GHz Corsair Slipstream wireless USB Type-A dongle, the primary volume dial is neatly placed above the mode switch. Apparently, a miniature variant of the volume rockers Corsair has been using for years in its mechanical keyboards, this has satisfying dimensions and feel.
On the other hand, the left earpiece is a little less crowded. The flexible microphone, which utilizes an old Mini-USB connector, perhaps for durability, can be plugged into a cutout, as can the 3.5mm audio jack for traditional cable connectivity and the USB-C port for recharging and tethered audio output. To some people, the enormous number of controls and inputs might be overwhelming. However, everything became clear to me, though, after I paired my phone through Bluetooth and my PC with the wireless dongle.
Surprisingly, I found the arrangement to be very natural to use after I learned that the above wheel was for adjusting the PC's audio and the bottom buttons were for managing the phone's music library. The only serious drawback I can think of is the Virtuoso RGB Wireless XT's two exposed USB ports. With this in mind, I wouldn't want to risk fluids or dust getting into them if I took them on a long walk.
Given that Corsair makes no promises of water or dust protection for this headset in either its materials or specifications, you should generally keep its use inside. Ultimately, it is easy to navigate the headset's interface just by touch because everything has a unique feel. When it comes down to it, using the Corsair Virtuoso RGB Wireless XT is a breeze.
Connectivity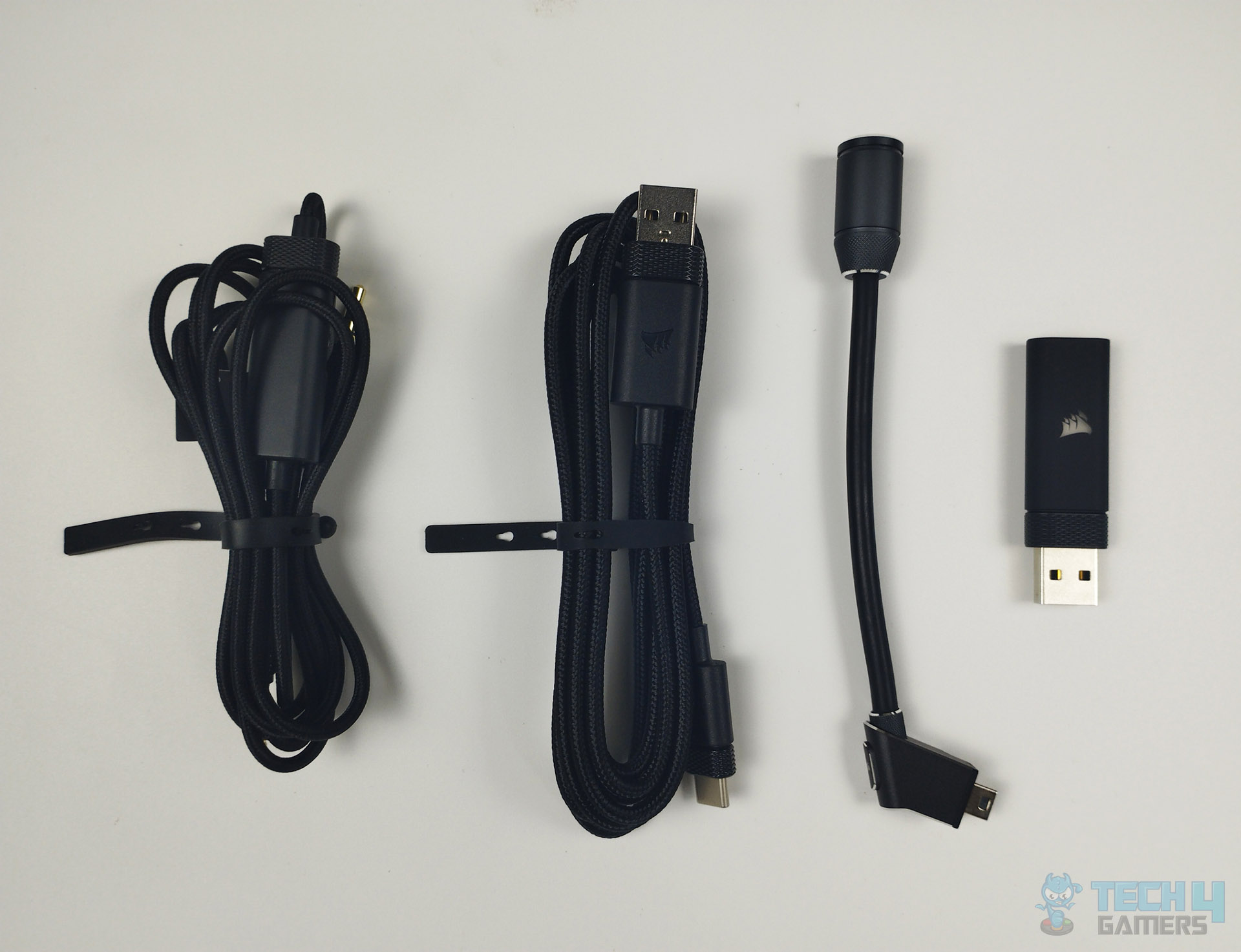 Notably, I think the connectivity features of the Virtuoso XT are its most appealing or at least most distinctive feature. When it comes to gaming headsets, the Corsair Virtuoso RGB Wireless XT has one of the most flexible connection choices. It's compatible with almost every popular kind of current audio connection right out of the box. To begin with, obviously, it contains all the standard inputs and outputs for a standard gaming headset. You can listen to audio wirelessly without any delay from your PC and PS5 with the use of a USB dongle.
Furthermore, the headset allows for a connection through USB-C and 3.5mm connectors, making it compatible with platforms such as the Xbox Series X/S and Nintendo Switch. The XT's main significant improvement over prior Virtuoso headsets is Bluetooth connection, and it certainly is not a stripped-down model. Consequently, this headset can also use Bluetooth 5.0 for its connectivity and is compatible with the standard SBC codec as well as aptX, aptX HD, and AAC. To give an illustration, this can be useful in a number of contexts, including Bluetooth phone calls to loved ones and online multiplayer games.
It is unusual for a gaming headset to offer anything beyond AAC (if Bluetooth is supported at all), much alone aptX HD. Even though the Virtuoso RGB Wireless XT does not enable Bluetooth multipoint, you can still have many wireless connections at once without any issues. Even better, Corsair allows you to pair two devices at once using Bluetooth and a 2.4 GHz dongle, giving you the freedom to move around the room without worrying about wires.
Throughout the day, I was able to listen to music and podcasts from my phone while still receiving updates from Slack and other programs on my office PC through Bluetooth. As a result, this headset's ability to simultaneously play dual audio from different devices is its most exciting audio wizardry. Sometimes when you are connected to two devices simultaneously, There are some instances where the notification sounds from one device overlap the ongoing sound being played from another device.
Corsair's creative approach prevents this from happening since I can listen to both audios simultaneously and set the relative volumes to emphasize important notifications or my employer's instruction in meetings. Therefore, this means that in addition to the audio coming from your PC, you can also listen to your phone's notifications or stream music from your phone. To accommodate this, you'll find volume settings that let you independently tweak the level of each source on the right earphone.
On the downside, in my apartment, the audio from the Virtuoso XT would randomly stop working when I went into my bedroom to relax from my PC, which is just two rooms away from my work room with the transceiver, even with all of the doors open. However, I had no trouble reaching the maximum range of 60 feet (18.3m) claimed by Corsair. Generally speaking, if I really cared about the range, I could have connected the Corsair headset to my phone through Bluetooth and walked all around my little apartment without the sound cutting off. Ultimately, Corsair has obviously mastered the adaptability objectives, and its headphones are also much more pleasant to use for extended periods of time than rival models.
Performance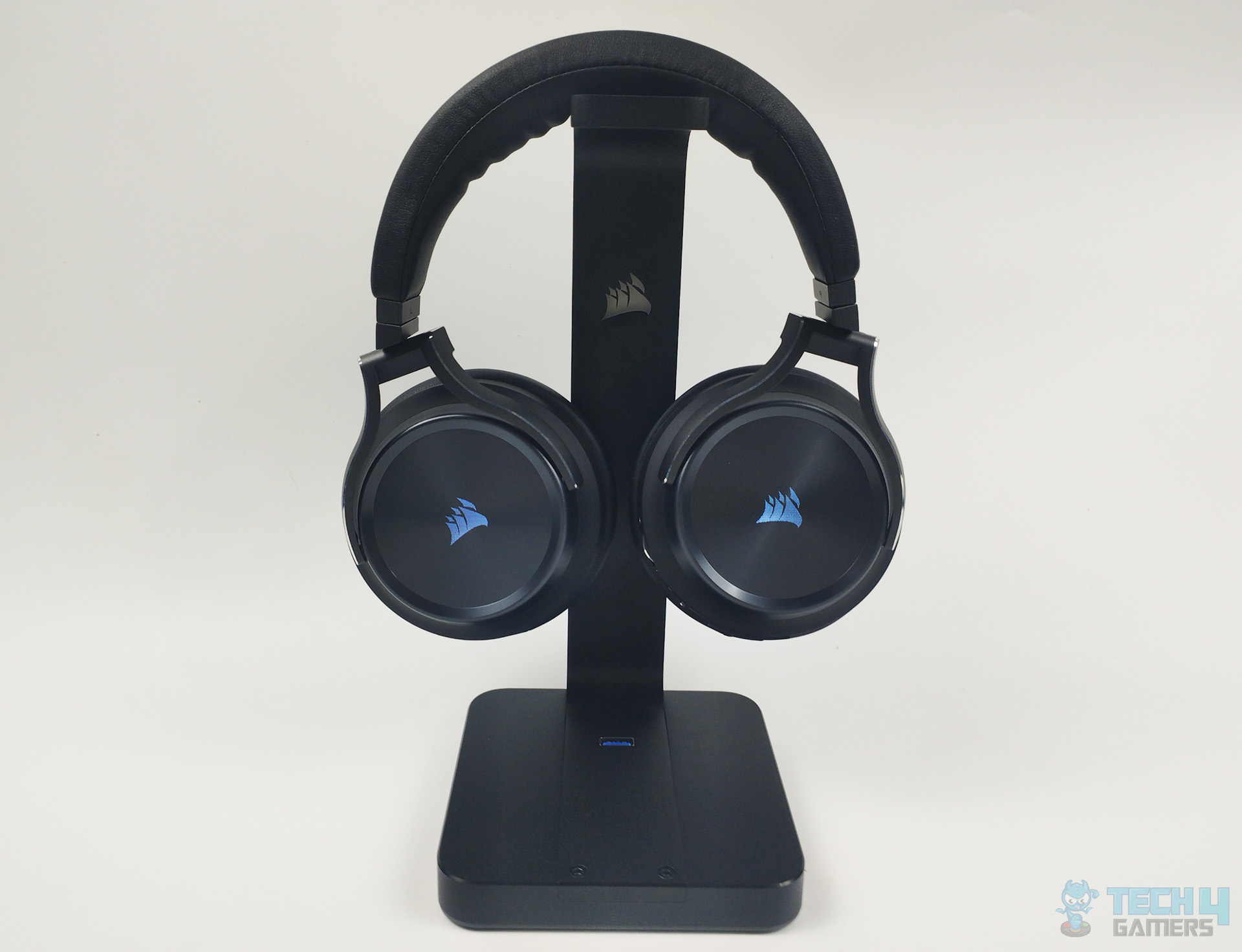 The sound performance of the Corsair Virtuoso RGB Wireless XT was one area in which I found myself pleasantly delighted. I'm happy to say that Corsair is back at its best with the release of the Virtuoso RGB Wireless XT. The audio is outstanding and full of depth and detail. Consequently, the headset does an excellent job of reproducing all sorts of sounds, from gunfire and explosions to music and dialogue.
As previously mentioned, the Virtuoso RGB Wireless XT can be used most effectively while listening over a wireless USB dongle. But you can also connect it to your mobile device through Bluetooth or a 3.5 mm audio port. These missed some of the normal punch of the Virtuoso, along with the surround sound feature that PCs provide. Still, it's on par with a high-quality set of headphones, but it's miles ahead compared to a cheap wired headset.
Music
The Virtuoso RGB Wireless XT isn't only a great gaming headset; it also works well for listening to music. I listened to everything from folk to rock to classical to metal on them while I was doing my day-to-day work. Overall, no matter what instrument was being played or how loud the vocals were, they all came through with crystal-clear immediacy. Initially, things were different when I first played Travis Scott's latest Utopia album on Corsair's improved Virtuoso headset for the first time, I was surprised by what I heard.
Corsair states that the XT model's paired 50mm neodymium drivers provide a broad 20 Hz-40kHz frequency range, much as the previous model of the series, which our audiophile community found to be quite satisfying. Because of this, I had high hopes for the headset's audio quality. However, I was displeased to hear that the lows had little presence in the blend while the mids were aggravating and excessive.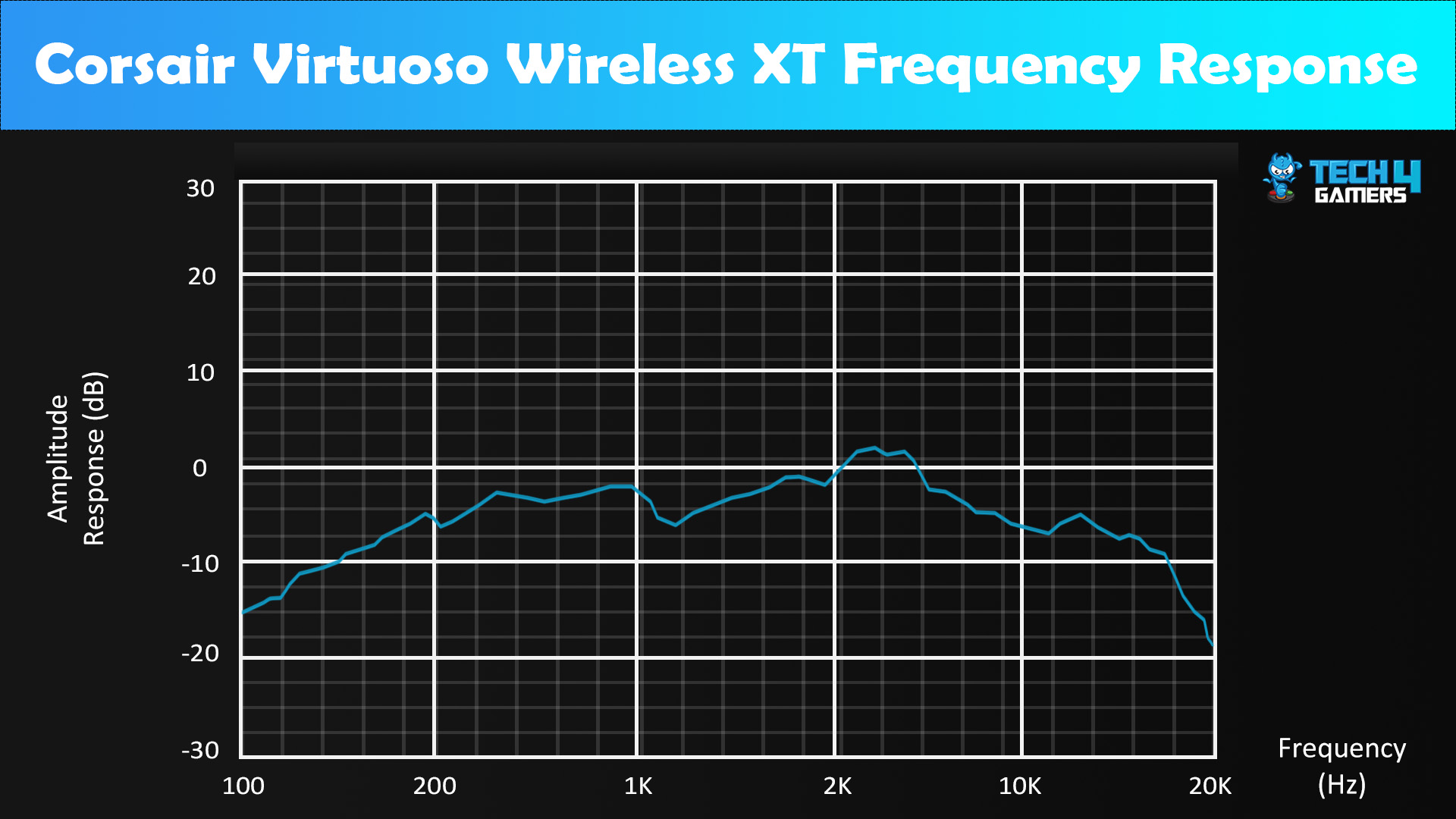 Although the sound profile is generally satisfactory, you shouldn't be surprised if you notice that some bass noises aren't reproduced accurately. The guitar and vocals in most of the songs are always audible, but the bass guitar and kick percussion fade into the background as the song progresses. In an attempt to improve the audio, I launched Corsair's iCUE software, which has been recently updated to version 5.5 and is considerably more appealing and generally less unstable. Afterward, I went to the Equalizer and selected the "Pure Direct" mode, and the quality of my sound was immediately enhanced.
Fortunately, the harsh mids were gone, and the low-end on songs like "Mona Lisa" from Dominic Fike sounded snappy but not overwhelming. In addition to this, the Corsair Virtuoso RGB Wireless XT features respectable noise isolation for a gaming headset. The somewhat shallow ear cups are mostly to blame for this since they won't provide adequate room for those with slightly bigger ears. Moreover, if you want to use them as Bluetooth headphones outside the house, you could have some issues blocking out low noises, but you shouldn't have too many issues within the house.
Gaming
Such a frequency response shouldn't cause too many problems when playing. Because of the low-frequency variation, the sound of gunshots and explosions may be reduced in volume, but only when competing with another source of sound that is higher. In Doom Eternal, the Virtuoso RGB Wireless XT really shined, making it easy to pinpoint precisely where the monsters were aiming their shots. Moreover, many different sounds you encounter while fighting with hordes of monsters will all come through loud and clear.
I experimented with different sound settings by selecting FPS competition from the list of available presets, and the headset's audio returned to its factory settings quality. I believe that the default headset audio setting is designed for gaming and not listening to music. Before you give judgment on the sound, make sure you've played about with the equalization controls. If you're unsatisfied with the Virtuoso XT's sound right out of the box, try adjusting some of the EQ Presets in iCUE.
The gaming experience provided by the Corsair Virtuoso RGB Wireless XT is respectable, albeit it may be best suited for action-filled games, depending on personal choice. After some hours of use, the headset may become unpleasant if you get headphone fatigue easily or if your ears are big enough to place pressure on the headphone drivers. If neither of those things bothers you, you could probably keep going all day long. Thankfully, the headset is compatible with the PlayStation 5's 3D surround sound capabilities, as well as Microsoft's Windows Sonic and Dolby Atmos for Headphones.
You can essentially use the built-in solution of your gaming platform everywhere you go. Notably, the Virtuoso RGB Wireless XT works well with Valorant on PC while using Dolby Atmos for Headphones, though the quality of the experience will vary depending on the game you are playing. Generally, the headset works fine for almost all game types especially those that require surround sound, like Fortnite.
As I'm not a huge competitive player and spend more time listening to music at work than attempting to frag random individuals online, I'd probably spend most of my time with the XT's EQ settings on Pure Direct. Moreover, to me, it's more fun to experience the game with the audio as the sound composer and the makers meant it to be rather than messing with it to get some competitive advantage.
iCUE
If you want more fine-grained control over your Corsair headset than just the volume rolling, you will need to download the iCUE companion software. Notably, you can tweak the RGB lighting, the sensitivity of the microphone, and a lot more through the software that comes with your headset. The latest version of the iCUE is CORSAIR iCUE v5.5 which was released in the summer of 2023. It now has a clean user interface and supports all the features that are included with the Corsair Virtuoso RGB Wireless XT. After selecting Virtuoso RGB Wireless XT from the list of peripherals.
You'll see a menu with three tabs on the left side of the client that includes Lighting Effects, Equalizer, and Device Settings. Obviously, the XT was designed with HiFi sound quality in mind. Nevertheless, not everyone will like the factory settings. This is where the EQ settings in the iCUE software from Corsair come in handy. Notably, iCUE allows you to customize the headset's EQ profile by selecting a predefined profile or generating your own with the onboard 10-band equalizer.
Additionally, iCUE provides a wide variety of predefined equalization profiles, such as Pure Direct, Movie Theater, FPS Competition, Clear Chat, and Bass Boost, that can be quickly and simply customizable. Moreover, on the left side, a slider lets you change the volume being heard through your mic. It also lets you tweak the amount of sidetone that reaches your ears. In addition to this, the LED Corsair logo on the headphones' side panels can have its color and brightness customized, too.
On the downside, there aren't many intriguing possibilities when you're restricted to only two lighting zones. Moreover, it is never very bright or too dim, but at least you get access to the complete RGB spectrum color wheel. It's a bummer that the headset doesn't let you store or toggle between these settings, so you have to keep running the iCUE in the background every time. In addition to this, the software gives you command over the device's active time before it automatically enters a power-saving sleep mode from the device settings menu
Having said that, your headset and USB dongle can both get firmware updates using this app. Beyond that, the only other feature of the dongle is a software toggle enabling 2.4GHz multipoint, which allows several devices to share a single USB dongle over Corsair's Slipstream 2.4GHz wireless connection. As a matter of fact, this headset does not have the capability to produce 7.1 virtual surround sound when using Corsair iCUE, unlike earlier Corsair Virtuoso versions.
That is to say, if you have Dolby Atmos headphones installed, you can turn it on in the Windows sound settings on your PC and use it with the Corsair Virtuoso RGB Wireless XT. Overall, the headset supports the numerous built-in standards on the console. Ultimately, iCUE installation is optional unless you intend to make extensive adjustments to the headset settings. Although the headset can be used without the software, the latter offers a more refined experience.
Dolby Support
You will be pleased to hear that a lifetime PC license for the Dolby Access app is included with the headset in case you prefer not to deal with iCUE, which has definitely had its critics, and nor want to test out the headset's spatial audio capabilities. Having said that, there is a list of games that benefit from Dolby Atmos, which would definitely elevate your gaming experience. I didn't have much time to test every game with it, but here is the list of all games that you can enjoy with it.
Notably, this is a convenient method to change the headset's equalization settings between different presets without needing to use iCUE. To some extent, this justifies the expense as well, considering that Dolby's Atmos software for news headlines alone costs $15. When compared to its default sound, Atmos expands the range of sound and creates a more immersive experience for music and movies. The headphones themselves sound amazing, and I had no trouble discerning the source of footsteps or gunshots.
To further elevate the experience, the Atmos sound enhancement makes using the headphones more pleasant. It's a pity that you can only use it on a PC. I did use it when playing PC games, and it allowed me to detect enemies approaching from all directions. You'll feel like you're really a part of the action thanks to the Dolby Atmos technology, which adds a spatial audio effect that gives the impression that sound is coming from all directions. Surprisingly, I was able to quickly and accurately respond to auditory cues inside games.
Battery Life
Even yet, it's not all rainbows around here. Corsair claims that you can get 15 hours of use out of the Virtuoso RGB Wireless XT on a single charge. I found that a full charge over USB-C on a PC takes between three to four hours. The battery life rating has dropped from 20 hours to 15 hours. However, you should still get roughly 20 hours of playtime if you just connect to a single device, and the lesser battery life figure is a result of the dual connection possibility. My tests showed that it lasts a little longer than that, with constant output and RGB lighting turned off.
However, you'll still need to recharge it every other day if you use it mainly for gaming purposes or every day if you use it for both work and casual gaming. This isn't the most outstanding battery life you can get from a gaming headset, but it's on the high end for this type of headset. In a nutshell, battery life will suffer if you choose to utilize both Bluetooth and 2.4GHz connections at the same time. While the lack of a rapid charge feature and the potentially long time it takes to charge completely may be frustrating, the ability to play wired through USB while charging reduces some of the distress.
Microphone Quality
Similar to its predecessors, the Corsair Virtuoso RGB Wireless XT has a microphone that Corsair describes as "broadcast grade." Although it isn't quite as clear as what you'd get from a dedicated microphone, it is about as good as it gets in terms of audio quality as one expects from a gaming headset microphone. In-game voice chat and chatting applications like Discord or Teamspeak should have no issue picking up your voice, and although recording with it won't sound as well as a specialized podcast microphone, it will surely do its job.
Additionally, the microphone can be detached, so you can take it with you if you decide to use the headset outside the house. There is no doubt that the 9.5 mm omnidirectional detachable microphone is pretty excellent and has a useful function for streaming or attending corporate meetings. Moreover, a red light indicates that the microphone is muted, whereas a green or white light indicates that it is unmuted. In addition, the microphone's status can be adjusted through a switch located near the port.
The light is a helpful and usually subtle indication of your mic status, but I realized that having a bright ring in front of my face during video chats or streaming really made me look like a clown. Fortunately, you can disable the LED entirely by toggling it off in the Device Settings section of iCUE. In this interface, you can also turn off the microphone and battery warning prompt that sometimes makes me jump. In addition to checking for firmware updates and customizing when (or if) the headset enters sleep mode (the default is 10 minutes). Furthermore, this menu also allows you to customize the RGB brightness in the middle of the earcups or turn it completely off by reducing the brightness to zero.
Should You Buy It or Not?
More than half a month has passed since I began using the Virtuoso RGB Wireless XT, and during that time, I have had nothing but pleasant experiences. Corsair Virtuoso RGB Wireless XT is an excellent choice if money is no issue. To be clear, this is not the most premium wireless gaming headset on the market, but it is easily among the best. It features a good microphone, features a wide variety of connectivity, produces excellent sound, and offers a plethora of Bluetooth codec options. Moreover, it has one of the best features, a nice design, comfort, and versatility.
Additionally, you can count on its solid build, which is quite comfortable and simple to use. However, price is likely to be a significant obstacle for many people. The price of the preceding SE model is $229.99. Whereas the XT variant costs $269. The only difference between this and its almost identical predecessor is that this one has Bluetooth connectivity and higher levels of comfort, which adds an additional $40 USD to the price. While I wish it had a longer battery life and believe the asking price of $269 to be steep.
I have no further concerns with the Corsair Virtuoso RGB Wireless XT, despite my uncertainty as to how the delicate leatherette earcups and headband cushions would hold up after more frequent usage. Whether or whether you consider it to be important is a matter of personal choice. After reading this, many of you would think it is still a gaming headset that doesn't perform significantly better than its prior variants except for Bluetooth connectivity.
Since I've been working remotely for over a year and dedicate the majority of my day glued to a computer and phone, being able to listen to both of my devices simultaneously without worrying about missing anything or having to switch headsets is a lifesaver. However, in the end, it's really just a luxury here. You can save some money by going with the Virtuoso SE instead of the full version if you don't need the additional padding or the ability to connect two devices.
In the same vein, it's an identical headset, only in a lighter shade of gray and without Bluetooth, and it's also quite a bit cheaper. I don't believe they have any intentions to stop manufacturing that model anytime soon; all they're doing is giving customers another option, this one with some more bells and whistles that could give some more room or freedom and better comfort. Surprisingly, you would not be able to find a direct competitor for this headset.
Since the Virtuoso RGB Wireless XT is around $70 to $120 more costly than similar wireless gaming headsets on the market, it is difficult to find a clear point of comparison. Ultimately, the Corsair Virtuoso RGB Wireless XT, despite its exorbitant price, and short battery life, is one of the finest gaming headsets I've tested in months. Even so, the Corsair Virtuoso RGB Wireless XT is an excellent choice if you have the budget for it and insist on having the highest quality equipment.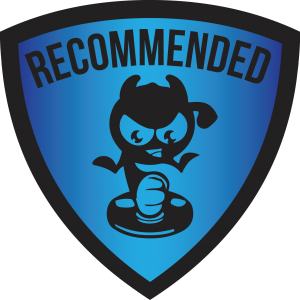 Learn more about Tech4Gamers Awards
Was our article helpful? 👨‍💻
Thank you! Please share your positive feedback. 🔋
How could we improve this post? Please Help us. 😔