Best Mouse For Large Hands?
Review Summary
The Corsair Ironclaw RGB Wireless is the best value massive wireless mouse you can buy, and it is also rather capable. It is an excellent gaming mouse that caters to a certain subset of gamers: those with extra-large hands. The Ironclaw is sturdy enough to withstand your palm or claw play style, along with pleasantly textured grips, configurable software, and just the right amount of additional buttons. If your meaty mitts are capable enough to break a mouse, then this thing can withstand your brutal force after any gaming rage quit.
Build Quality -

8/10

Value -

8/10

Performance -

9/10

Design -

8/10
Pros
Connectivity
Form Factor
Customizable DPI Settings
Pricing
Perfect for Palm Grips
Cons
Cannot Customize Through Bluetooth Connectivity
RGB Position Is Indifferent
Absence of Wireless Charging
Not As Convenient With Claw or Fingertip Grip
Heavy
Although surveys on preferred grip styles are rare online, it is generally accepted that the right-handed palm grip style is the most popular. Nearly half of all PC users (not only gamers) implement the tried-and-true approach. The Ironclaw RGB Wireless by Corsair is tailor-made for that kind of grip, and it shows.
The Ironclaw, once a wired mouse, is now available as a wireless option. The name is strange for a palm-grip mouse. Yet the mouse's generous dimensions and impressive performance capabilities more than make up for whatever shortcomings the name may cause. Now that I have gotten that out of the way, let us talk about the Ironclaw, which is one of the mice that Corsair introduced a while back that I really like using.
The mouse was reimagined to be both aesthetically pleasant and ergonomically functional, in keeping with the new modern appearance. Yes, this is the ideal gaming mouse for your hands. When you add in its outstanding feature set, three different connection methods, and subtle RGB lighting, you have a mouse that is perfect for almost any kind of genre, even if it is not the best when it comes to FPS titles.
Furthermore, the Ironclaw is a more reasonable option than other wireless mice, most of which cost more than $100. In reality, I have not been able to come across a better wireless gaming mouse at a lower price. Now that we are over the superficial discussion of cost, let us get down to the details and see whether this really is an excellent wireless mouse for gamers.
Related: GLORIOUS Model D Minus Mouse Review
---
Key Takeaways
For those who want a more substantial gaming mouse with more heft, Corsair offers the Ironclaw RGB Wireless. It is ergonomically designed for right-handed people, featuring textured grips on the sides for better grip. Using Corsair's Slipstream wireless technology, the Ironclaw RGB Wireless provides responsiveness and precision on par with traditional wired mice without the lag.
You should get the Corsair Ironclaw RGB Wireless if you want a comfortable design, low-latency wireless performance, 10 programmable buttons, customizable lightning, and versatility.
You should not get the Corsair Ironclaw RGB Wireless if you want a compact form factor, lightweight design, inexpensive mouse with inadequate battery life, and limited left-hand options, which is not as convenient with claw or fingertip grip.
If you are a gamer who likes a mouse that you can rest your palm on, the Corsair Ironclaw RGB Wireless is a great option. It functions well in MOBA and other games where precision and timing are paramount. Moreover, using the iCUE software, you can customize the Ironclaw RGB Wireless buttons and RGB lighting to your liking.
---
Specifications
| | |
| --- | --- |
| Prog Buttons | 10 |
| DPI | 18,000 DPI |
| Sensor | PMW3391 |
| Sensor Type | Optical |
| Mouse Backlighting | 3 Zone RGB |
| Onboard Memory Profiles | 3 |
| Mouse button Type | Omron |
| Mouse Button Durability | 50M L/R Click |
| Connectivity | Wireless/Wired/Bluetooth |
| Grip Type | Palm |
| Hand Size | Large |
| Game Genre | MMO, MOBA, Action, RPG, Survival |
| Weight | 130g |
| Cable | 1.8m Braided Fiber |
| Report Rate | 1000Hz/500Hz/250Hz/125Hz |
| Battery Life | 2.4GHz SLIPSTREAM: Up to 16hrs with standard lighting or 24hrs with lighting off. BLUETOOTH: Up to 30hrs with standard lighting or 50hrs with lighting off |
| Battery Type | Rechargeable Lithium-Polymer |
Box Contents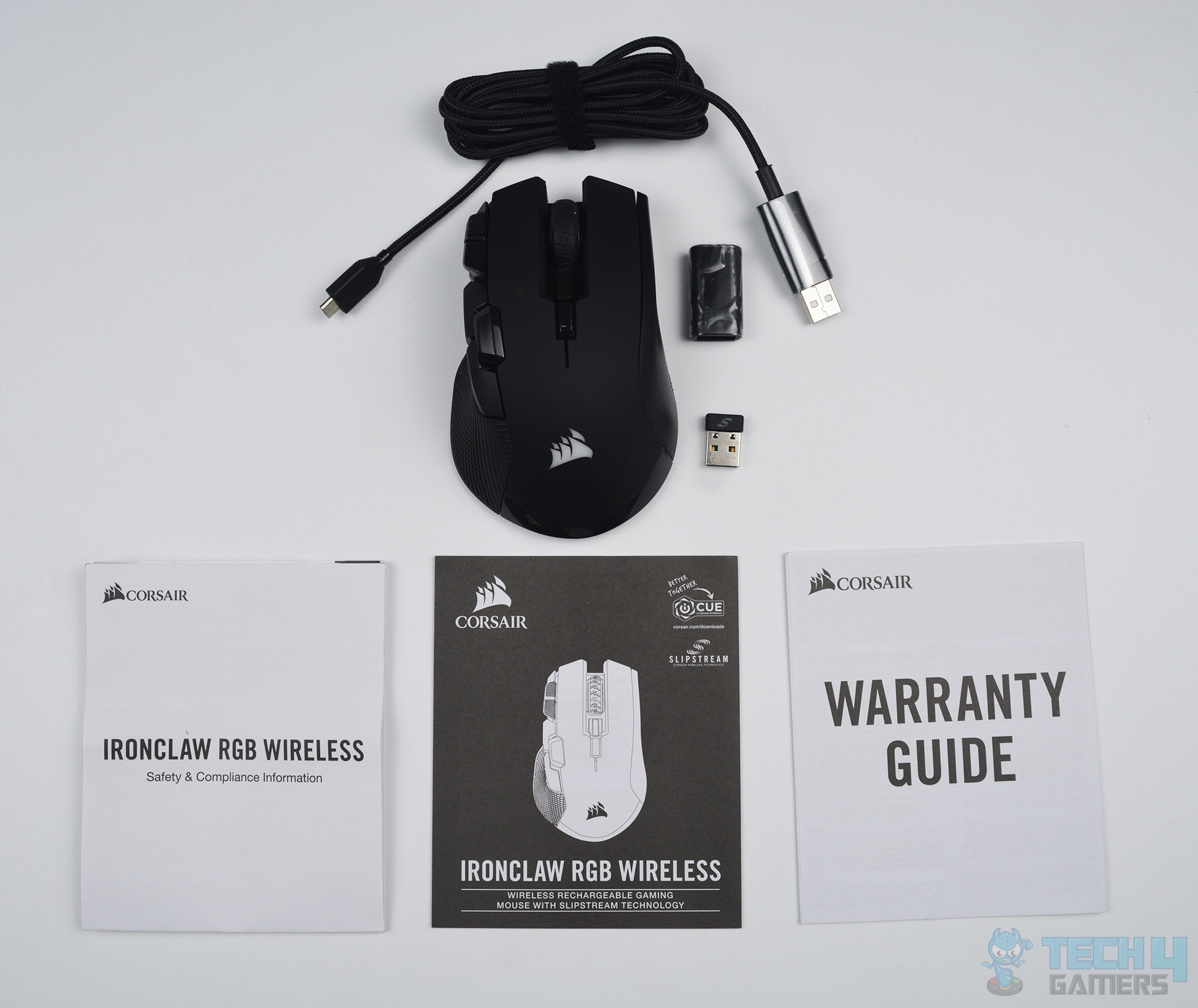 Ironclaw RGB Wireless Gaming Mouse
USB Charging and Data Cable
Wireless USB Transceiver (dongle)
USB Cable Adapter
Quick Start Guide
Safety Leaflet
Warranty Card
First Impressions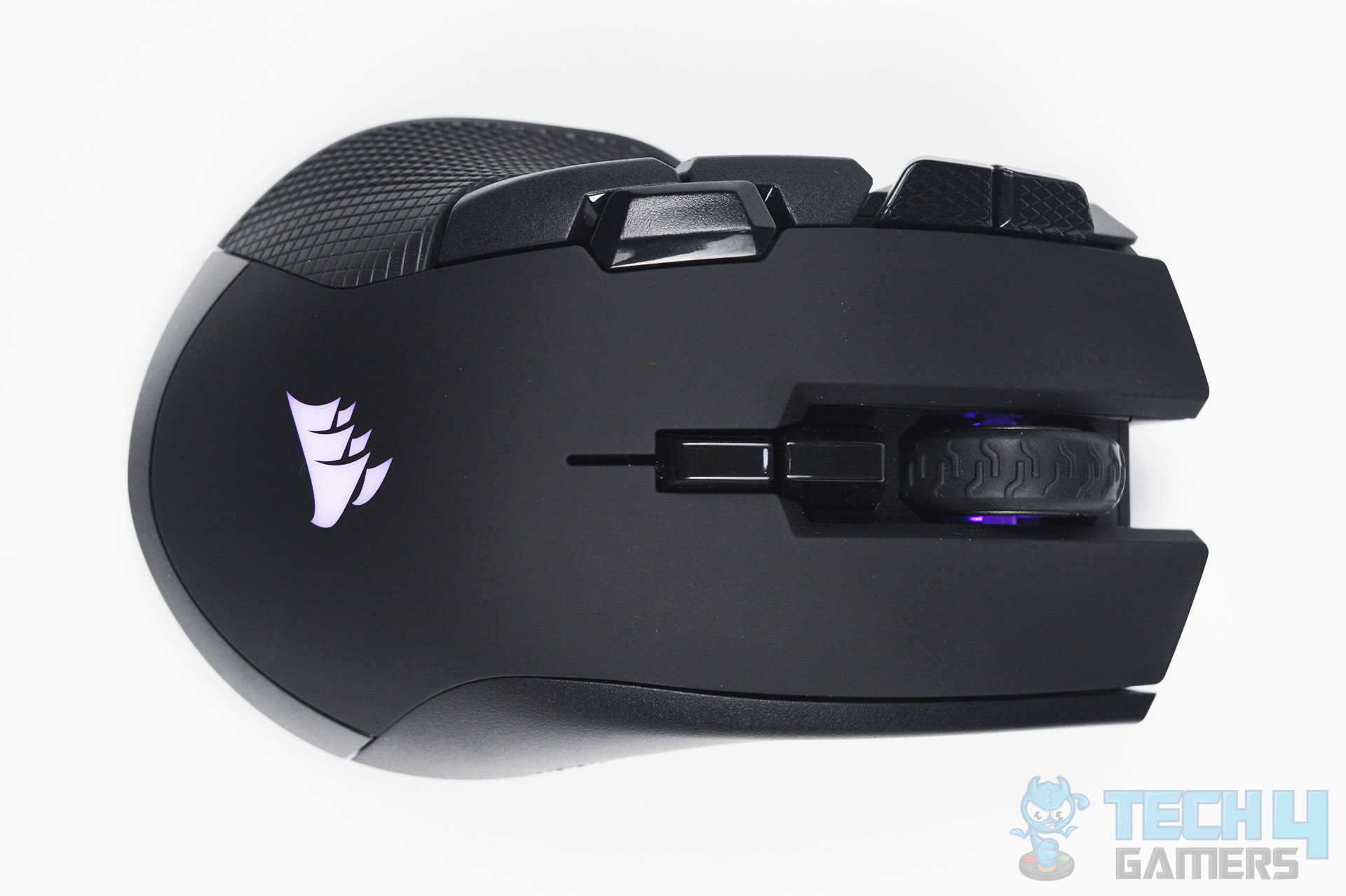 Now, for $80, you can buy the Corsair Ironclaw RGB Wireless, which is a controversial improvement at a fair price. Corsair made several questionable decisions in adapting the Ironclaw for its wireless release, including adding buttons in places they did not go and expanding the thumb buttons to accommodate them. When comparing the two, it is rather confusing that the original Ironclaw might be the superior option, particularly if you rarely use all ten buttons. However, the Ironclaw Wireless is the best value enormous wireless mouse you can get, and it is also a competent mouse. Still, the wired version of the device has some useful design features if you can live with the chord.
All in all, the Ironclaw RGB Wireless from Corsair is excellent. It has got everything you could want and more, including perfect, lightning-fast wireless connectivity and tracking performance, a fantastic core specification, and a solid build. You can tell the Ironclaw was made specifically for a right-handed palm grip the moment you put your hand on it.
Because of its design, your hand naturally falls into the ideal place to provide stability to that posture. The Ironclaw RGB Wireless, like the initially released Ironclaw RGB, is a stylish right-handed mouse. It is a huge one as well. The Ironclaw measures 45mm in height, 80mm in width, and 126mm in length and has a weight of 130g. You can normally overlook a wireless mouse for being a bit heavier, given the additional battery element it needs. However, the mouse constantly felt "light" in my head and palm as I moved it about. It has the right length, but it is also much bigger in size, weight, and width than the average mouse.
This works well for any grip style and is comfortable even for those with bigger hands. But there are no adjustable weights, so those with tiny hands may find it difficult to use. On the downside, Corsair's middle-of-the-road cost implies that it lacks several features seen on more expensive models. There is no place to put the USB dongle on the mouse, and there is no charging station or wireless charging provided.
A Good Read: CORSAIR HS60 Pro Surround Gaming Headset
Design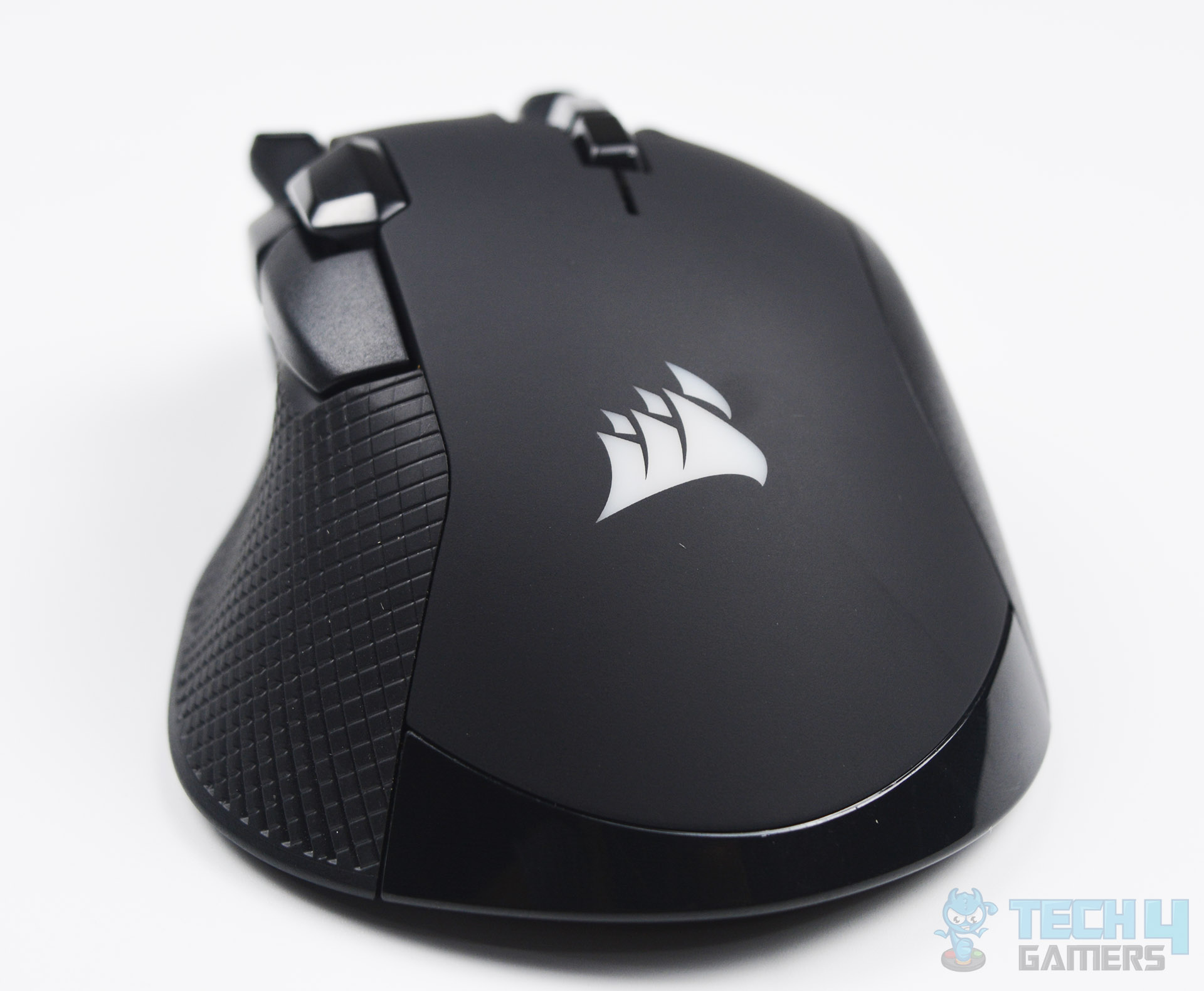 The Corsair Ironclaw RGB Wireless is built for intense gaming sessions. Its bold design and vivid RGB lighting make it stand out. The mouse has a rubberized thumb resting on the left side and seems to be rather large. Moreover, a number of buttons sit atop the mouse's body as well. The Ironclaw RGB Wireless is a wireless mouse, but it is also quite enormous. Because of its height and width, the mouse may not fit in a standard laptop bag. However, those looking for a computer mouse for gaming at home will likely not care about this.
Furthermore, the Corsair Ironclaw RGB Wireless is distinctly its own mouse. The first version only had seven buttons, but this one has ten. There are five buttons on top of the mouse: a scroll wheel that may be clicked, two center buttons configured to switch between your mouse's setup profiles, and the standard right and left click buttons provided by Omron switches certified for over fifty million presses. Notably, the left side of the mouse is where all the action is.
In comparison to the original Ironclaw's two macro buttons located at the base, the five additional buttons on the Ironclaw RGB Wireless are bigger and stretch almost the whole length of your finger. The mouse's two macro buttons are back and better than ever in this version; they are bigger than before and sit flush with the mouse's top, so you can easily press them using your thumb. A third element, which I would call a bumper, emerges from in between the two side buttons.
It is a "sniper" button that, when pressed and held, reduces the mouse's DPI, allowing for more precise clicking. Nevertheless, the buttons have a natural feel and are simple to hit quickly, even under pressure, despite a large number of buttons (it may take a few seconds to recall all your settings, particularly if you create new profiles from game to game). Unfortunately, there is nowhere to keep the dongle within Ironclaw Wireless. The dongle is so small that it is easy to misplace it. Thus, it would have been nice to have a dedicated storage space for it.
Comfort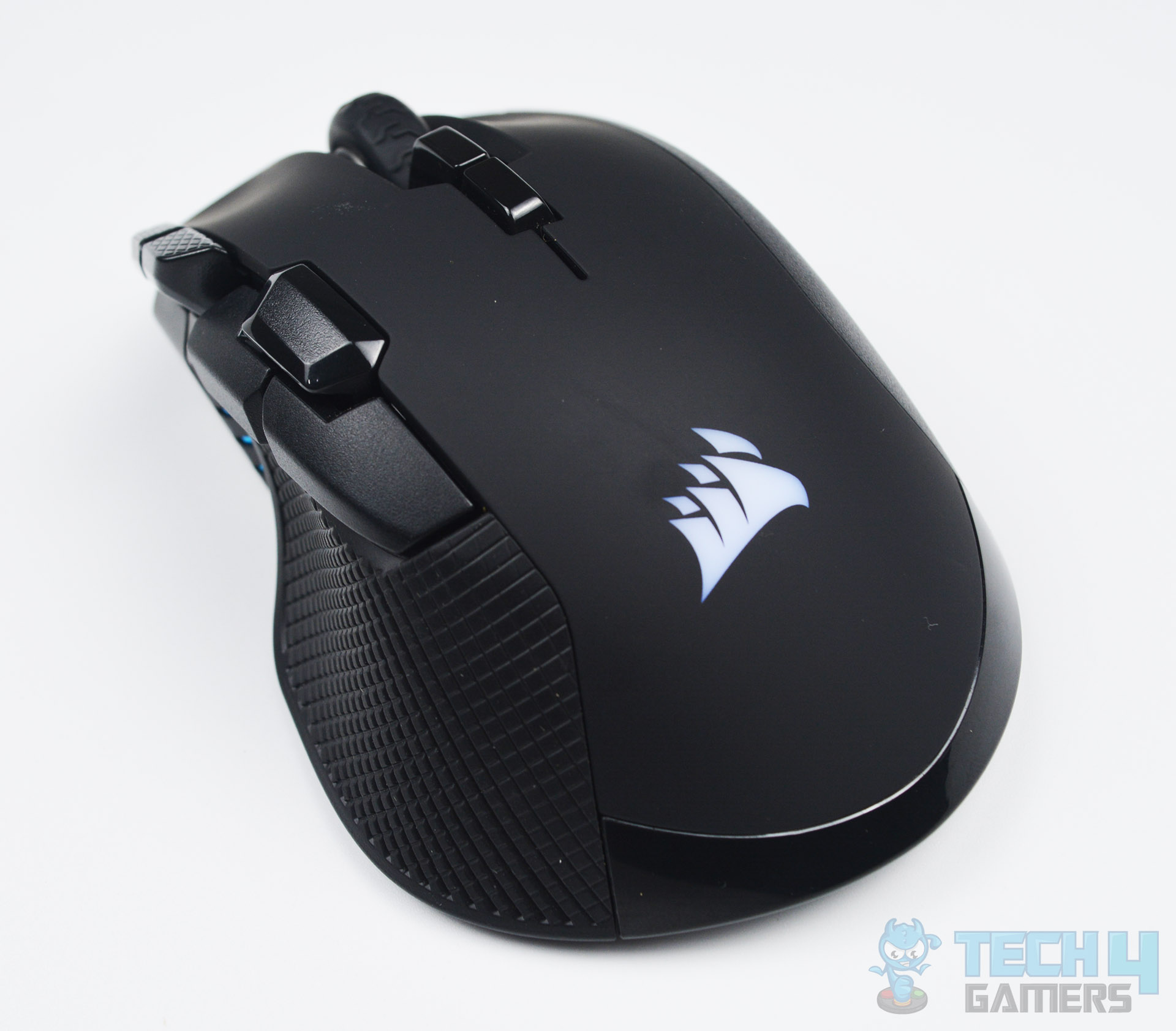 The design prioritizes comfort. This mouse has a thumb rest on the left side and is angled to the right, making it easy to hold in your hand. Depending on the size of your hands, though, you may have trouble reaching a few of the buttons. Fortunately, the overall size of the Ironclaw RGB Wireless makes it a pleasure to hold.
Given its height, the mouse allows your palm to rest comfortably over its buttons without forcing them. Its arcs are less rounded than I would like, especially around the thumb, but I never had any issues with my thumb feeling unsupported, and it always fell back into place when I repositioned my hand to push a side button.
The overall form and design are quite similar to the initial Ironclaw. It sports a matte black plastic top casing with rubber finger rests on both sides. Right-handers may feel some plastic through the thin grip for the pointer and pinky fingers. The fact that the grip stops short of the panel's peak is not very problematic, but I personally like symmetrical designs.
Similar: RAZER Huntsman Tournament Edition Gaming Keyboard Review
Grip Styles
We can not emphasize enough how much this mouse appeals to palm-grip enthusiasts. You could use it in general with a claw or fingertip grip, but you will not be able to access many of its features. To be more specific, I found it to be more comfortable and supportive for medium-sized hands than big substantial ones. My hand size (from the bottom of the palm to the tip of the middle) is 7.5 inches (165 mm) and 7 inches wide, making my hand average size.
Ultimately, the Ironclaw's length, width, and thickness all work together to provide the ideal grip. On the other hand, the disadvantage is that those with smaller hands have trouble using a claw grip and fingertip grip, whereas those with larger hands can do so with equal ease. It is comfortable to use (for righties only) because of the textured sides and ergonomic shape. Overall, it feels natural in the hand and is easy to use.
This mouse is best used with a palm grip, regardless of the size of your hand.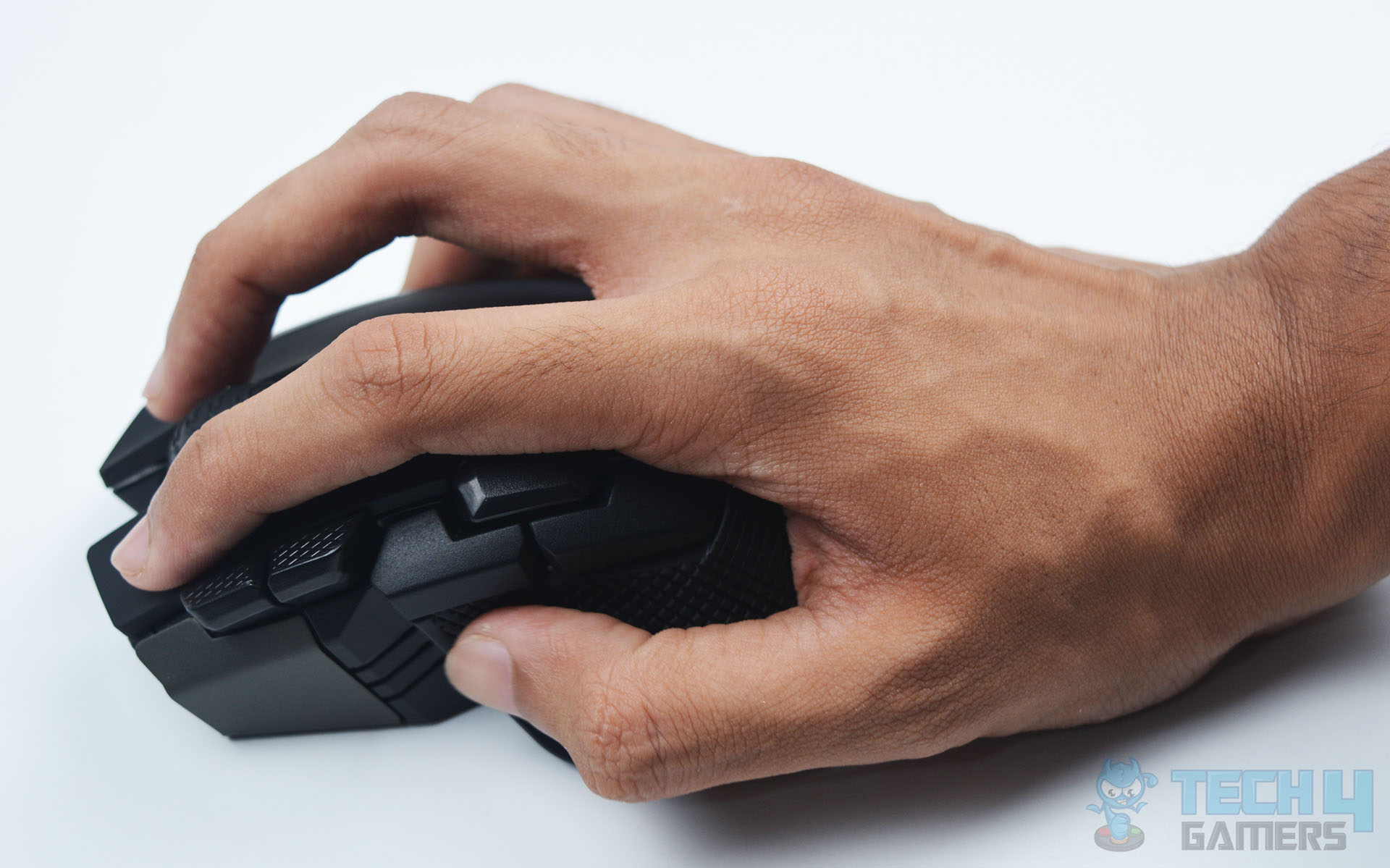 People with average-sized hands may have problems accessing the mouse's wheel and front buttons while using a claw grip.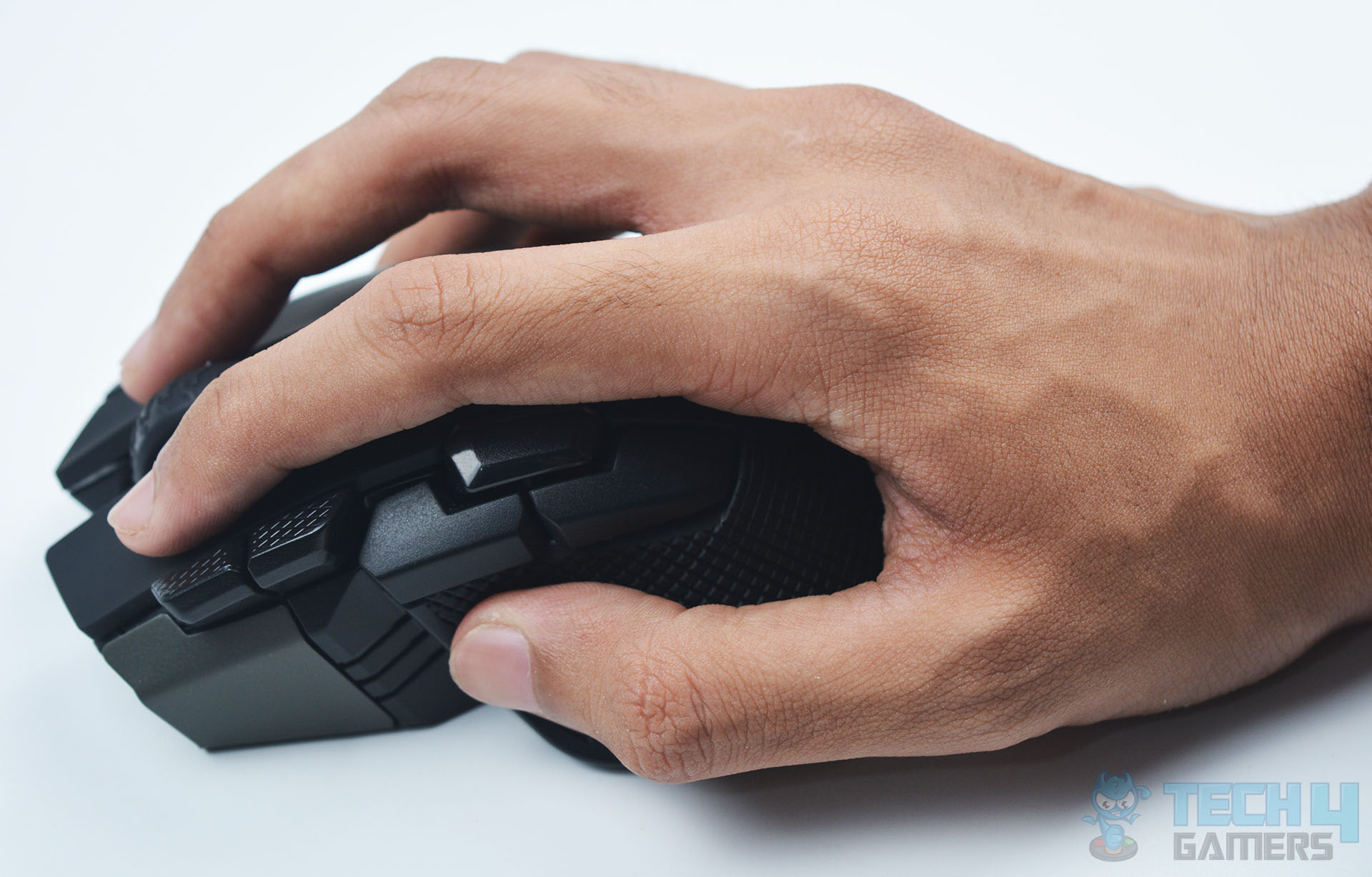 Those with smaller or medium-sized hands may find it difficult to reach the mouse's buttons and scroll wheel while using a fingertip grip, much as those with the same hands using the claw grip.
Build Quality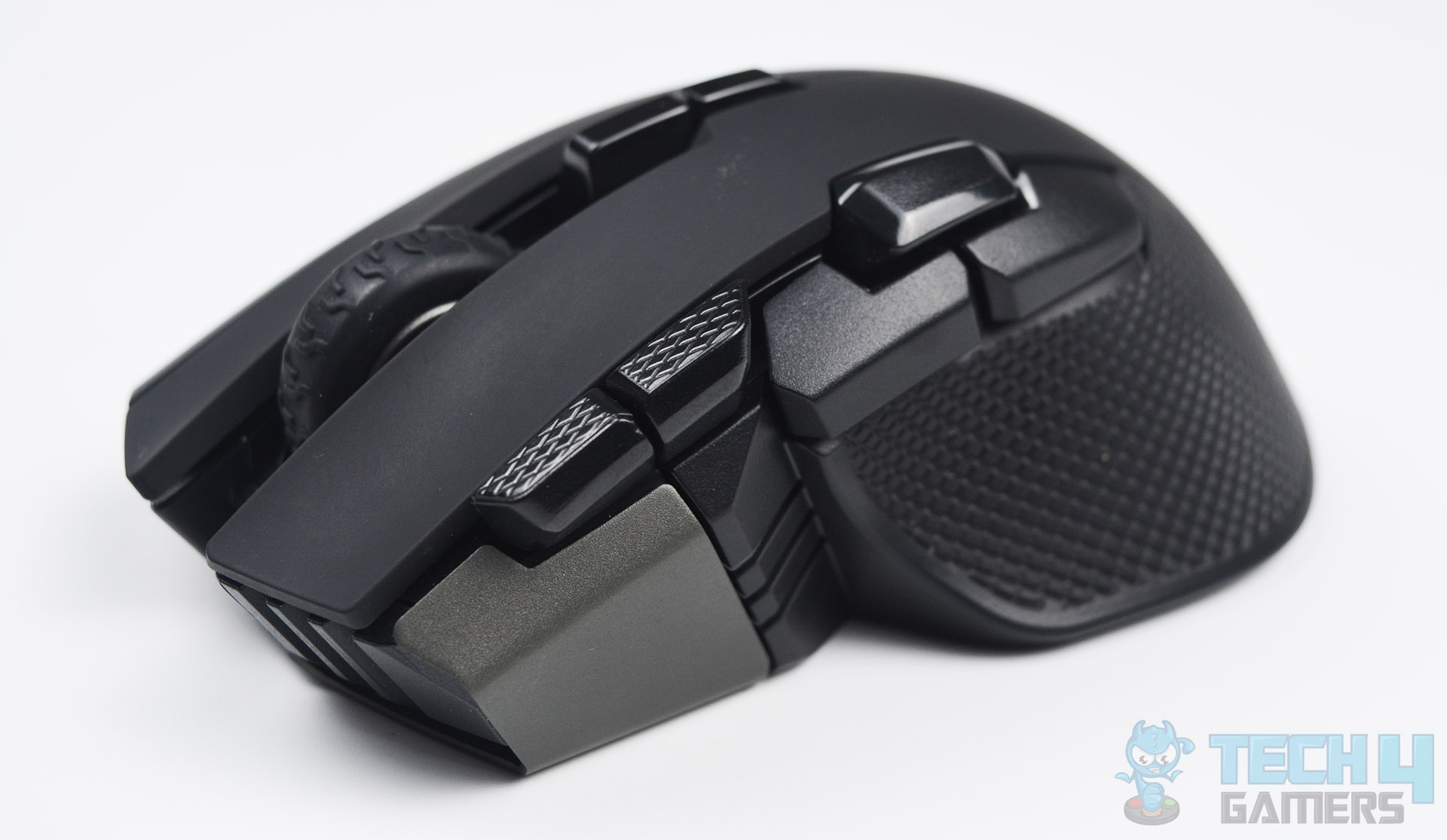 The build quality of the Corsair Ironclaw RGB Wireless is excellent. However, it is not nearly as high as that of other Corsair mice. Instead of an aluminum frame, the Ironclaw's front is composed of metal. Moreover, it is composed of sturdy plastic that looks and feels great. Additionally, this mouse has normal feet that glide rather well. Furthermore, there are no dangling components. Moreover, the Corsair Ironclaw Wireless RGB is an extremely hefty mouse with no available weight customization options.
Notably, a single piece of plastic with a smooth, firm surface forms the whole of the top. Strikingly, if you look at the mouse's left side, you will see a diamond-etched rubber thumb grip that is both comfortable and convenient. As you move your thumb and forefinger upward and around the back of the mouse, you will see that the depth of the diamond pattern gradually decreases, reducing the risk of discomfort at the joint.
Though minor, we do value this consideration. In addition to this, the right side, where your pinky and ring finger rest, is just as pleasant and natural to use thanks to the bottom segment's diamond-pattern rubber finish. When held this way, the two standard back and forward buttons are conveniently situated above where your left thumb will rest.
Furthermore, one button is located at the very front of the device and another at the very rear; a third button is located between the first two. If you want to press the third button, you will have to raise your thumb higher than usual, but other than that, there should not be any discomfort. Since the thumb is no more gripping the side that holds the mouse, this is not a button we recommend binding to anything you require during intense movement phases when precision is crucial, but it does have its uses.
Although the Ironclaw may not always succeed in terms of appearance, the Corsair combines high-end features with a dramatic design. Superior, textured rubber covers the left side, while smooth, rubber-free plastic covers the right. The quality of the build is superb. Conversely, Corsair seems fragmented because of its combination of industrial slats, matte plastic, and shiny plastic. Also, the thumb rest on the left side does not go far enough forward.
Related: HYPERX Cloud 2 Wireless Review
Call the Shots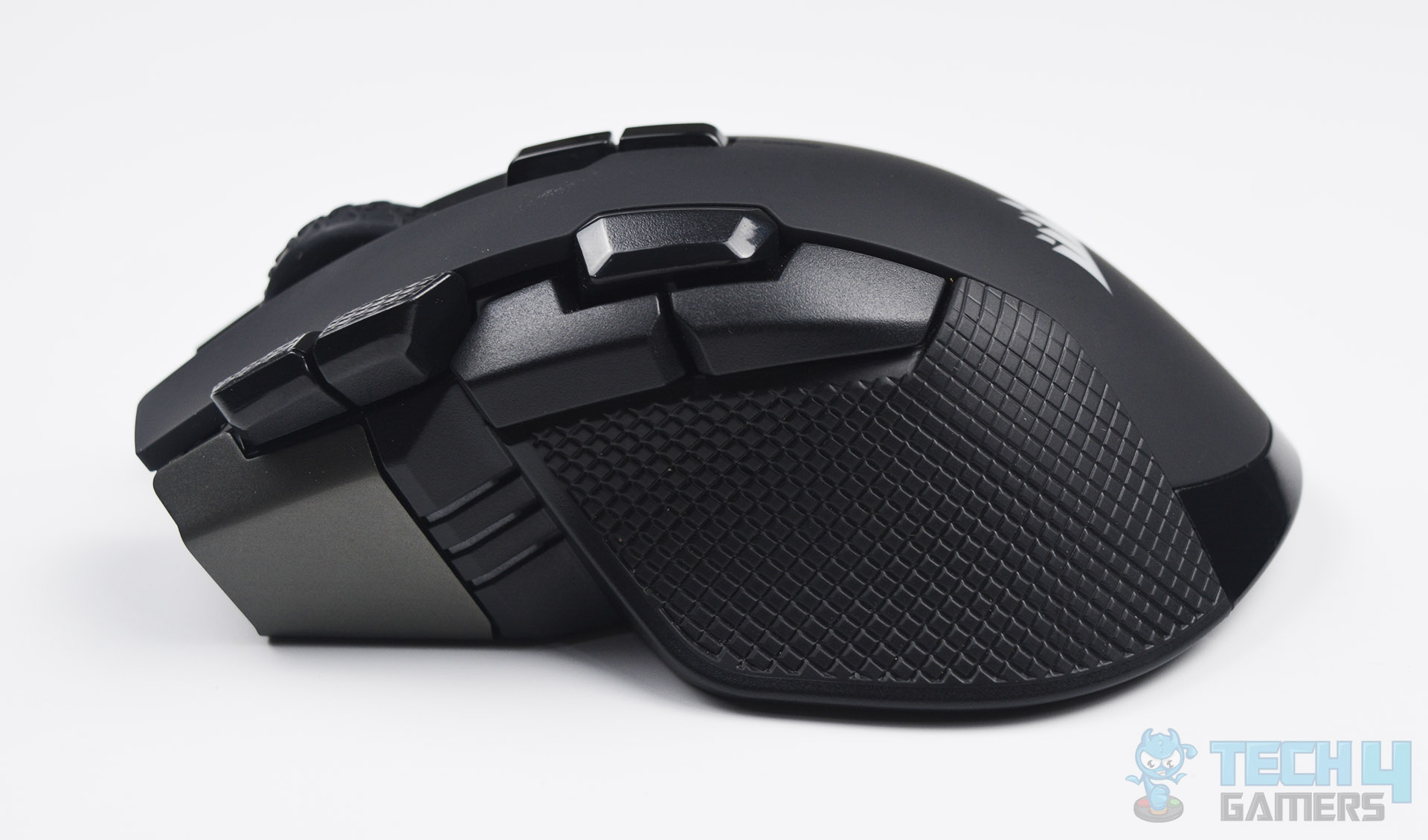 A majority of the mouse's buttons are located on the left side, which might be uncomfortable to use. The mouse contains ten customizable buttons, including a profile switch and a sensitivity switch. The buttons provide nice feedback and are easy to click. However, their placement may seem wrong at first. The mouse wheel on the Corsair Ironclaw Wireless is on the softer side but still provides satisfying clicks. It is worth noting that the scroll wheel, the mouse's weak spot and the first component likely to malfunction, has been the focus of countless internet complaints. The scroll wheel is useful, but it has a tiny flaw that makes it difficult to use in fights.
Notably, Omron switches, used for the most important buttons, are top-notch in every way: they are quick, reliable, and sturdy, and they prevent inadvertent double-clicking. Although some users may prefer buttons that feel a little lighter and shallower, these mice are great for almost every gamer or gaming situation and are superior to the vast majority of other mice on the market.
Those five additional buttons on the Ironclaw's left side certainly add chaos, but I quickly adjusted. The forward-facing mouse's two additional buttons are fantastic; they are within easy reach of the primary mouse buttons, and they respond quickly and precisely enough to serve as handy secondary triggers.
The additional controls on the left are functional but less impressive. The top one is excessively high for those with bigger hands, and its weight and softness make it unpleasant to use with the thumb. The two lower ones are more accessible, although they are not quite firm enough. Ultimately, the mouse has a convenient mode switch on its bottom. It powers off after a few minutes of inactivity, or you may flip the switch again to turn it off manually.
Slipstream Wireless Technology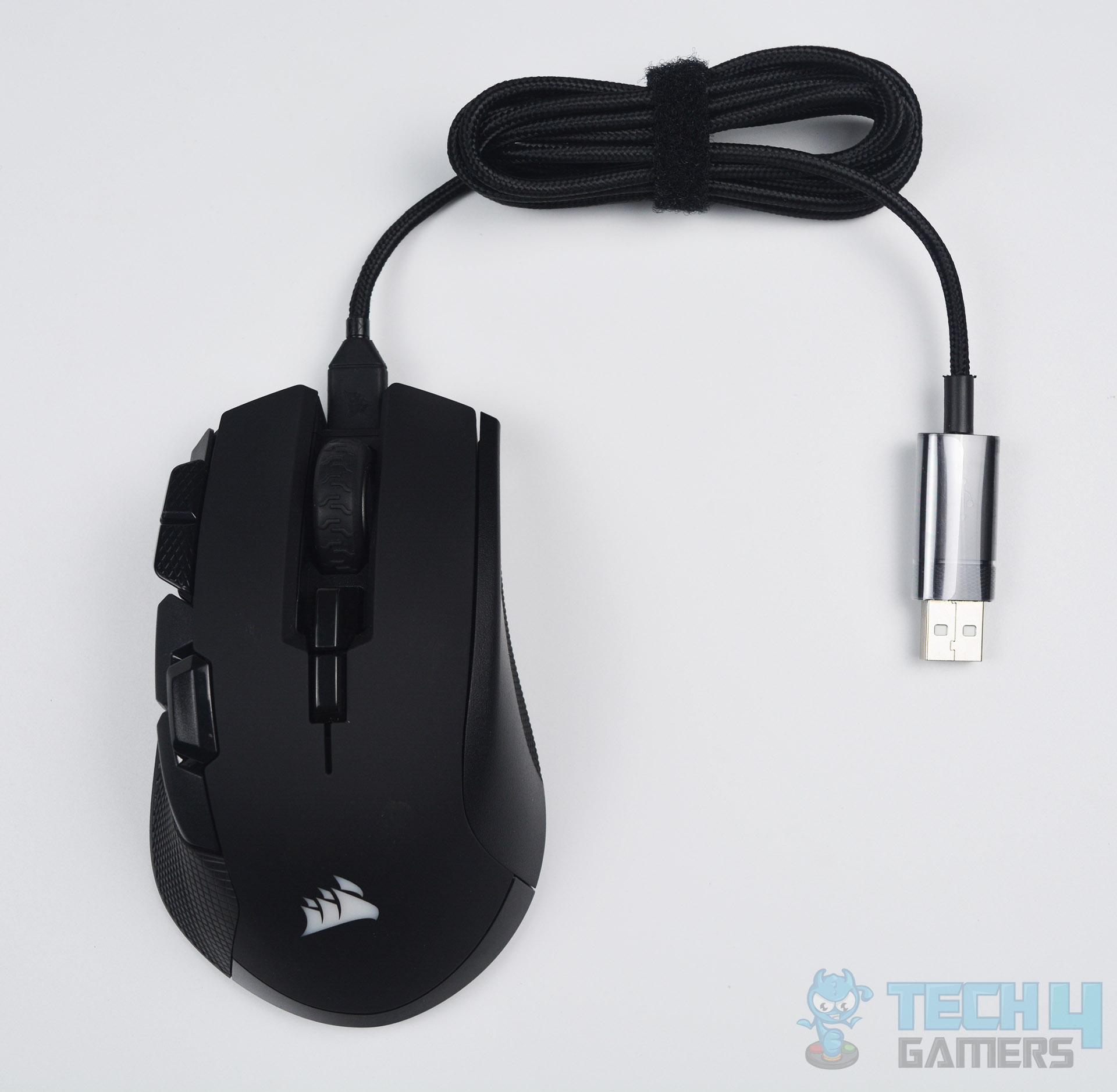 The Ironclaw RGB Wireless's most notable feature is, of course, its wireless capabilities. The Ironclaw RGB Wireless can be connected to your computer through Bluetooth, a wireless 2.4GHz RF connection, or a wired USB connection through the included charging cable. There is a chain of connections in action. All options are straightforward to set up and function flawlessly in my productivity and gaming evaluations.
To configure the mouse using the iCUE software, and since the DPI sensitivity appeared to be a little more forceful in Bluetooth mode, I would advise using the dongle instead. Having said that, the best option is Corsair's new "Slipstream" 2.4GHz proprietary connection, which reportedly provides latency of less than 1 ms. Corsair claims that its Slipstream technology enables the wireless adapter to hop between three different subchannels in order to maintain a stable connection and get the strongest possible signal.
Though I can not verify Corsair's claim of one-millisecond latency, I can state that I had no discernible lag when using the adapter and significantly less disruption than comparable 2.4GHz-based wireless adapters. There was one time when I had significant connection problems, perhaps due to signal noise, but it was temporary and resolved itself. Bluetooth, the alternative, is likewise quite effective.
Even while playing faster-paced games like the Valorant, I experienced no latency. One big limitation, however, is that Bluetooth users can not use Corsair's iCue setting program. In order to adjust your profiles, settings, and lighting, you will need to either plug in your mouse or switch to the other wireless connection. Finally, the wired connection also works as expected. When you connect the braided wire to your computer, the mouse will charge as you use it.
This makes it a more practical choice than other wireless mice, which may need placing them on a charging dock while not in use. When it comes to cables, the Corsair Ironclaw RGB Wireless falls short. It, like Razer cables, maintains kinks from the packing and feels extremely stiff. The positive side is that when you are not charging your mouse, you may use the cable as an extension to move the receiver closer to the mouse, improving performance.
Similar Read: Razer Viper V2 Pro Review
Dynamic, Three-Zone RGB
The Ironclaw RGB Wireless has three RGB lighting components, up from the original one. An enormous logo that flashes brightly at the bottom of the mouse is standard on almost every gaming mouse. Moreover, the Ironclaw RGB Wireless has an extra set of lights in the grills at the front of the mouse and a light under the scroll wheel.
In fact, you can also choose the colors of the mouse's three light indicators on the left side, which display wireless status and the current DPI setting. You can program the non-indicator lights to flash in a sequence, glow a certain hue, or do both. However, there is much room for improvement in the lighting. From the point of view of the player, none of the aesthetically pleasing light sources are very noticeable.
The scroll-wheel light seems to be located in the wheel well just beneath the wheel itself, making it difficult to notice unless you are looking at the mouse from the front, which is very unlikely. Ultimately, the most helpful lighting indicators are the battery, connectivity, DPI, and profile status, which can all be shown through the three lights located below the left-hand buttons.
Battery Life
If you turn off the RGB lighting effects on the Ironclaw RGB wireless, according to Corsair, you can get up to 50 hours of battery life in Bluetooth mode and 24 hours in 2.4GHz wireless mode. Using both types of wireless connections simultaneously, I was able to get roughly 25 hours of usage out of the mouse while allowing the lighting on for five days. It is not quite as long as the estimated battery life, but it is enough, and you can always plug the mouse in to keep working. In light of it, I did not think it was a big deal.
Sensor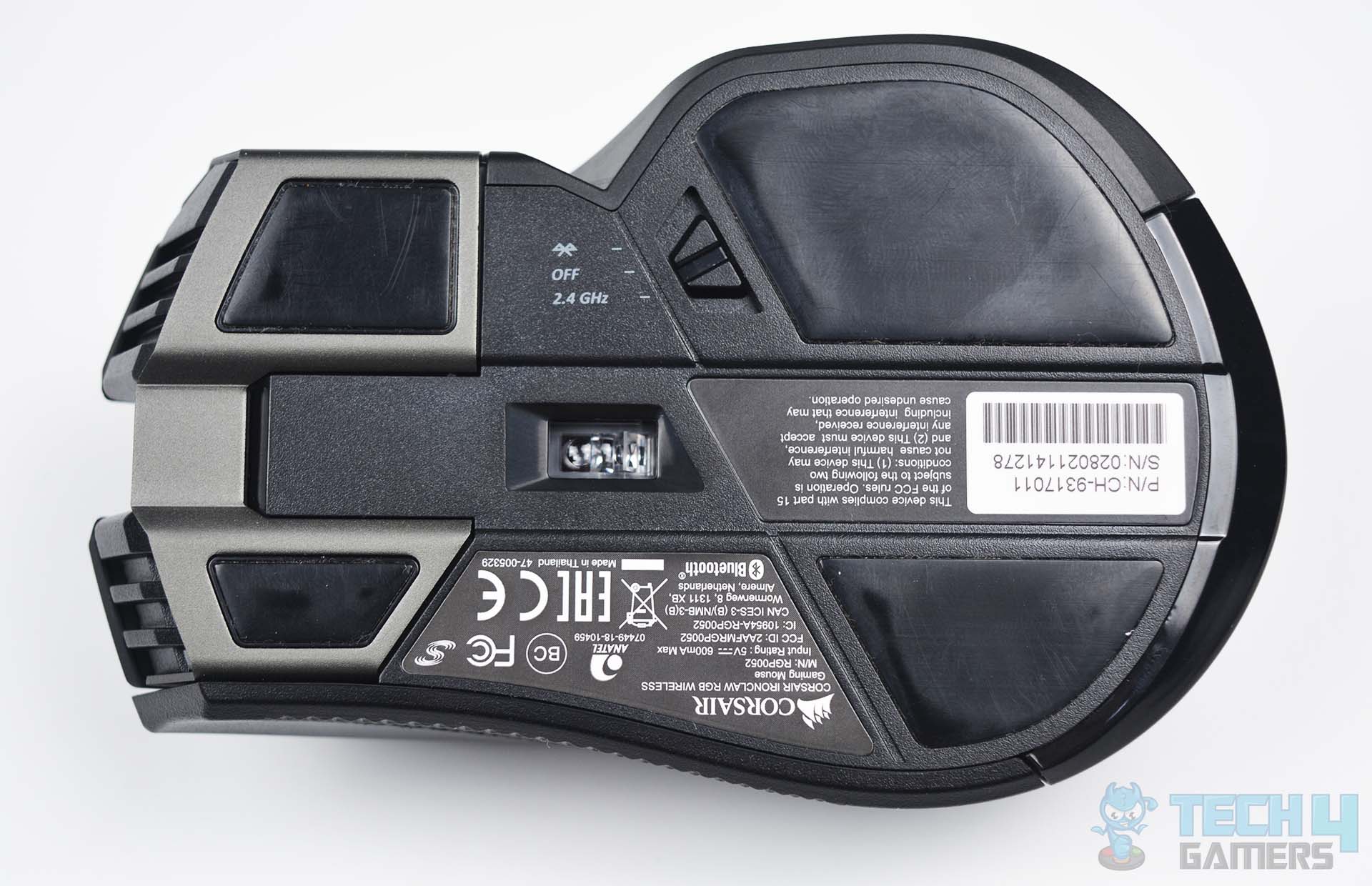 The Ironclaw is equipped with a Pixart PMW3391 sensor out of the box. For the vast majority of their mouse, Corsair depends on three optical sensors: the PMW3391, PMW3367, and PMW3360. The 3391 is only found in a few models of Corsair mouse, including the company's flagship products (higher model numbers indicate more advanced sensors).
The 3391 is a slightly modified version of Pixart's standard PMW3390. Along with its massive 18,000 DPI sensitivity level, the mouse also has 400 IPS tracking speed, a maximum acceleration of 50G, and a click endurance rating of 50 million. So you will not be disappointed in terms of specifications. However, unless you rely extensively on a multi-screen gaming setup, the ordinary gamer probably will not notice much of a difference between this sensor and the 3360 beyond the maximum IPS and DPI.
The features' usefulness, though, is more crucial. The maximum sensitivity setting of 18,000 DPI is just too high for any user, even for professional e-sports players. Even the remaining numbers are generous enough. Simply said, you do not need to look any further. Consequently, Corsair's numbers are adequate for any kind of gaming.
Performance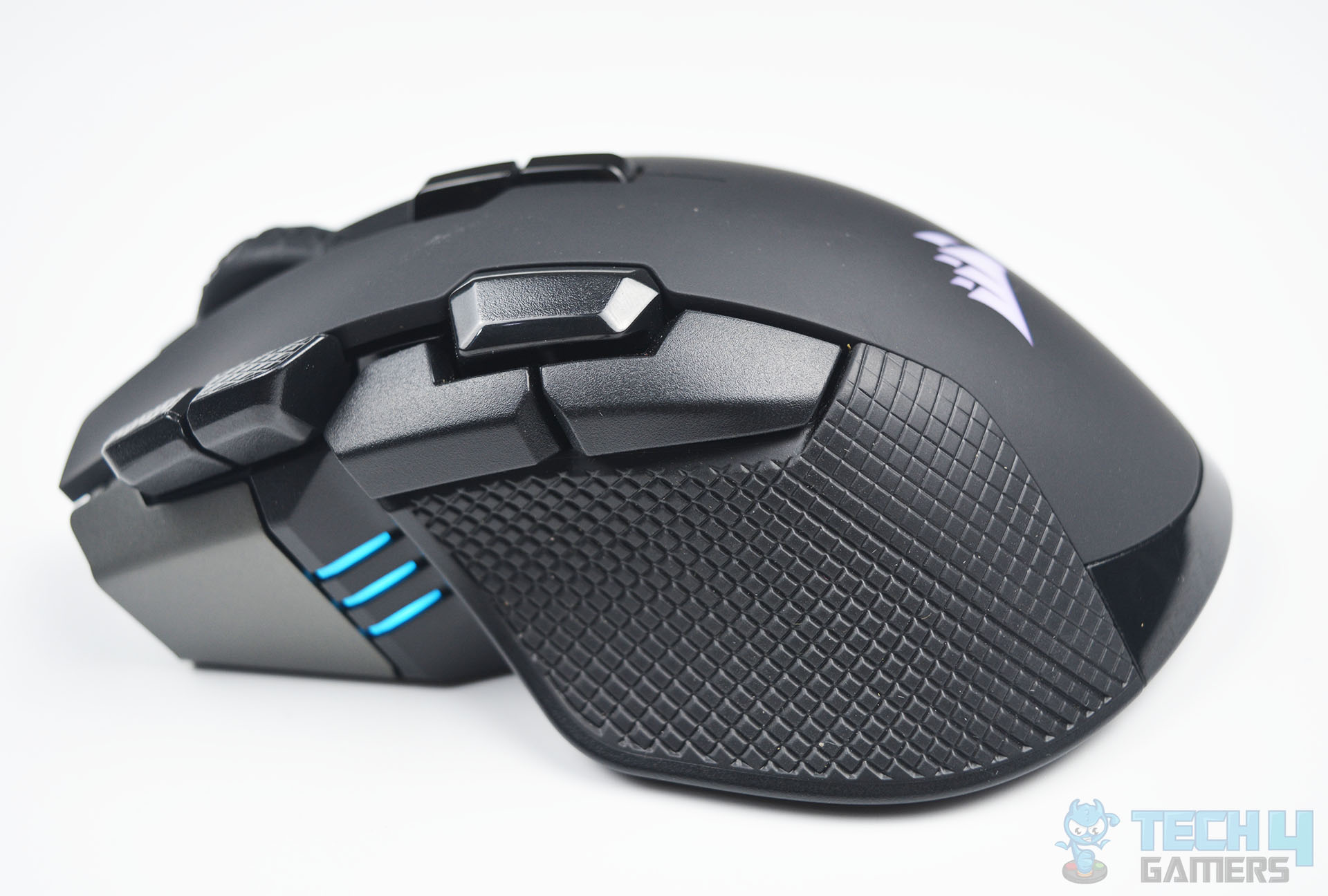 Like most other Corsair mice, the Ironclaw Wireless provides superb gameplay. After testing it with Destiny 2, DOTA, League of Legends, and Valorant, I can say that I am quite satisfied with its performance. The Ironclaw was quick to react, precise, and accurate in everything from shooting enemies to macro absurd Tinker abilities. Unfortunately, the sniper button is in a less-than-ideal location, which is my only real complaint. Conversely, sniper buttons on rival mice have been quite helpful for slowing down my DPI when shooting in Destiny 2.
The location of this feature on the Ironclaw Wireless is so out of the ordinary that I rarely use it. An additional button that is difficult to access is, at best, no better than no extra button at all. That is to say, the wireless performance of the Corsair is perfect, with no lag or connectivity problems at all. We have no trouble believing Corsair's boast that the Ironclaw has a latency of less than 1 ms; it is lightning quick.
The optical sensor was trouble-free, moving easily across a variety of surfaces. Moreover, Corsair's Bluetooth performance is average, but it is fast enough for gaming, and the USB performance is excellent. The Ironclaw is a great gaming mouse. However, it has some minor issues with the buttons that may turn off certain users. Despite this, playing a few rounds in Aimlabs with it compared to my usual Logitech G Pro Wireless or the Razer Basilisk Hyperspeed showed no noticeable difference.
Nevertheless, even in its wireless 2.4 GHz connection, the action ran smoothly with no lag. Maybe due to my lack of skills, I did not see any improvement in my general performance. Ultimately, I had the same experience when testing as I did when using a standard wired mouse. There was almost no discernible lag time between the Ironclaw and the PC, thanks to Corsair's Slipstream technology.
iCUE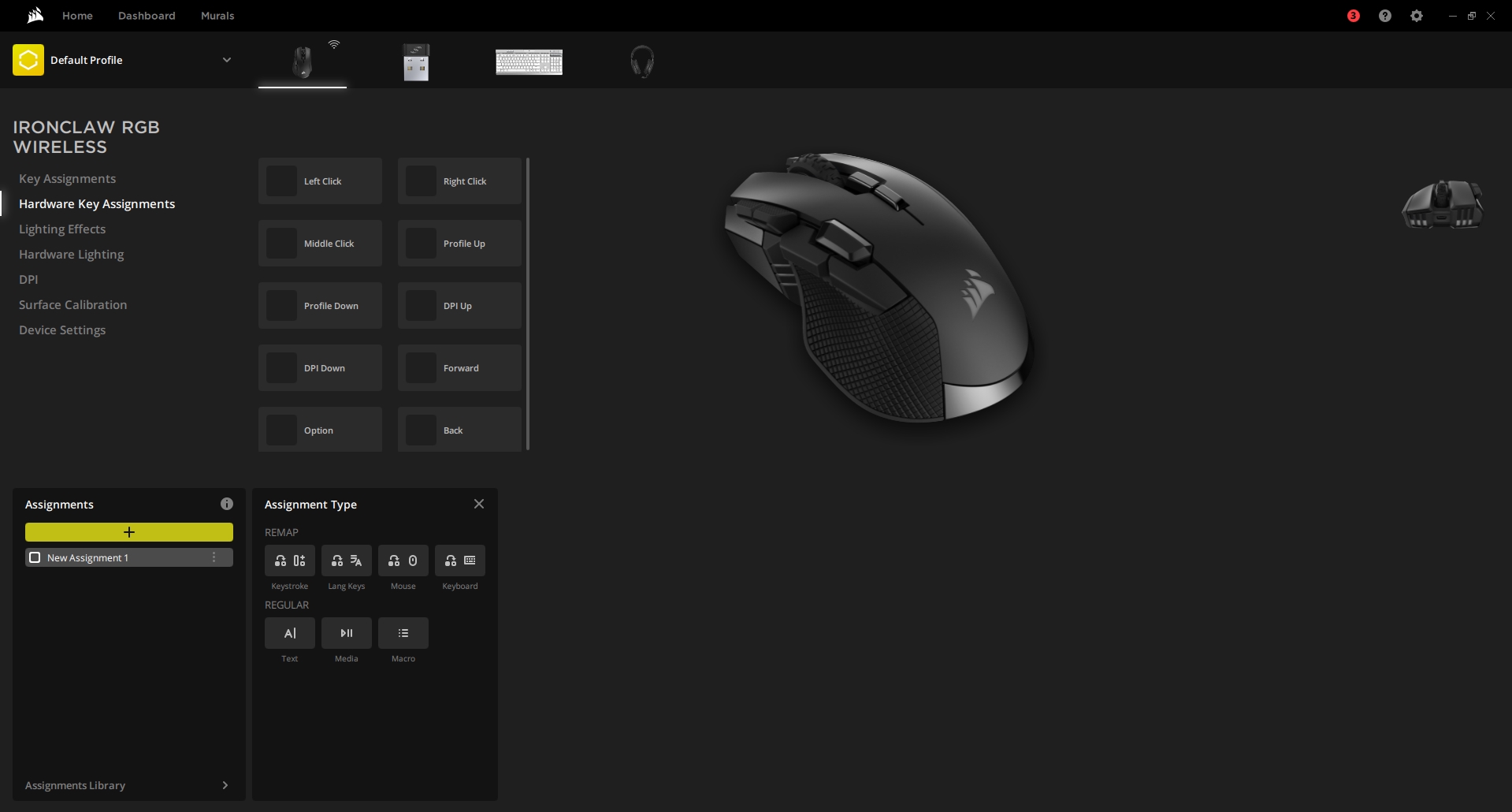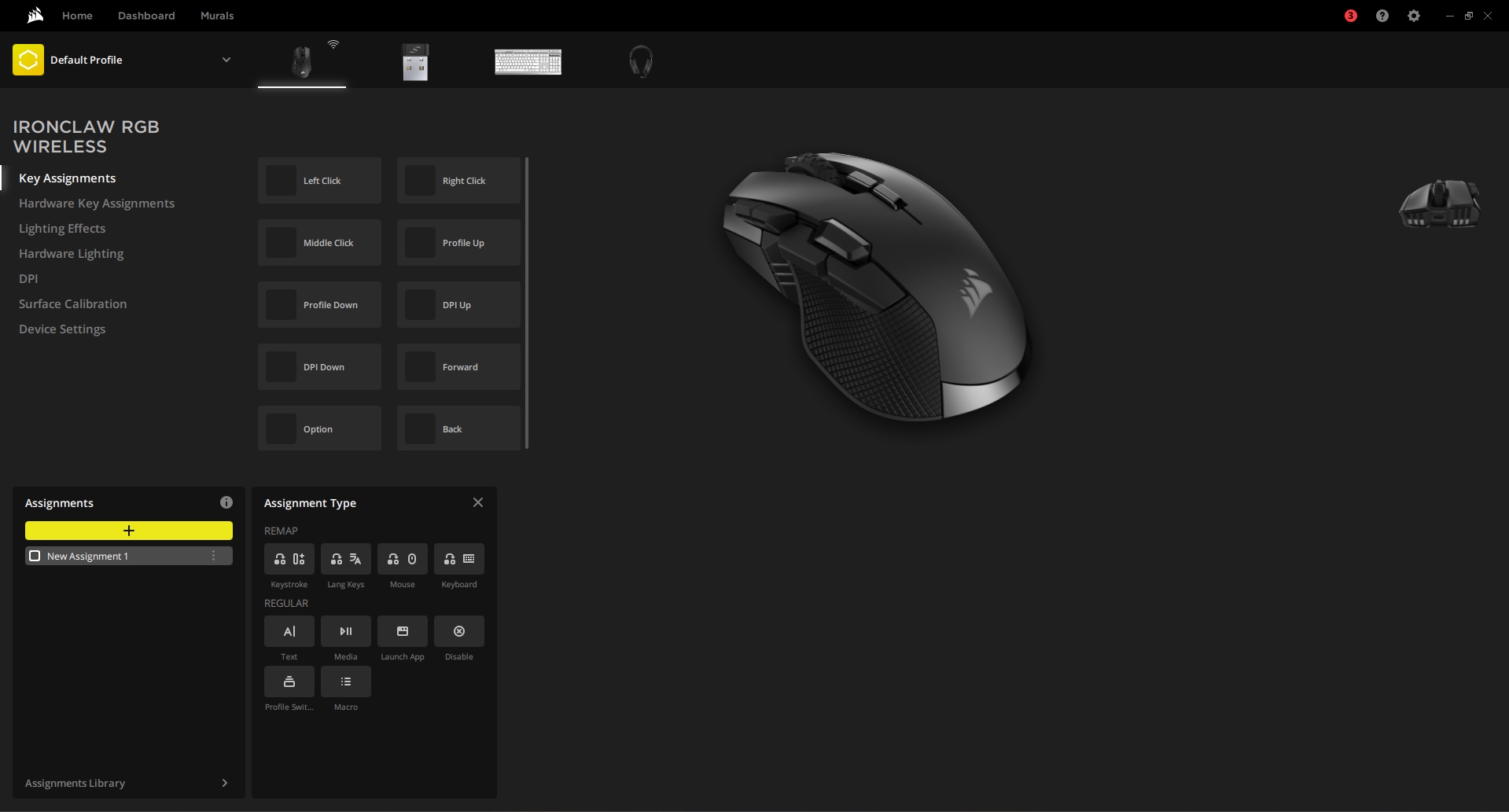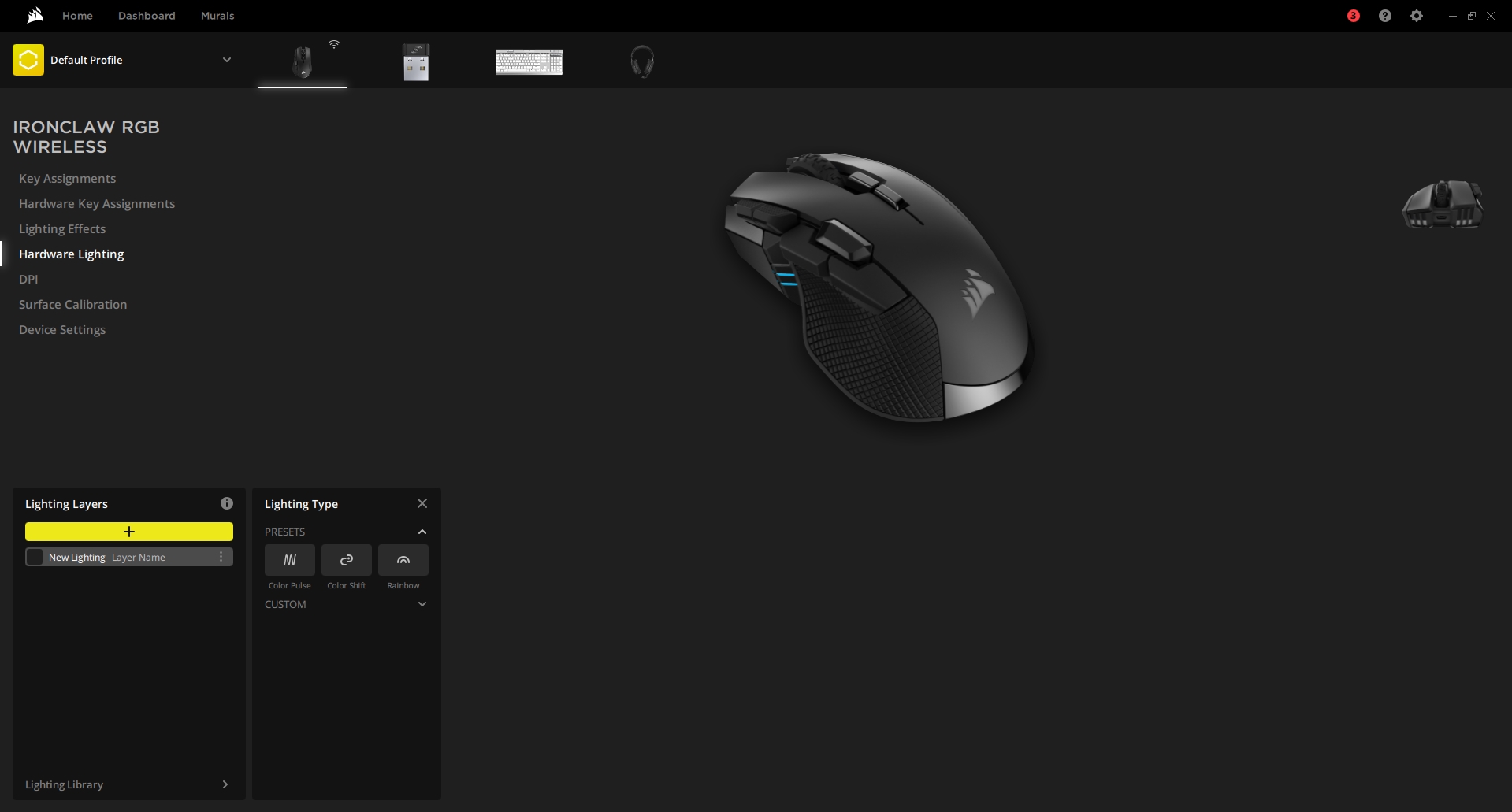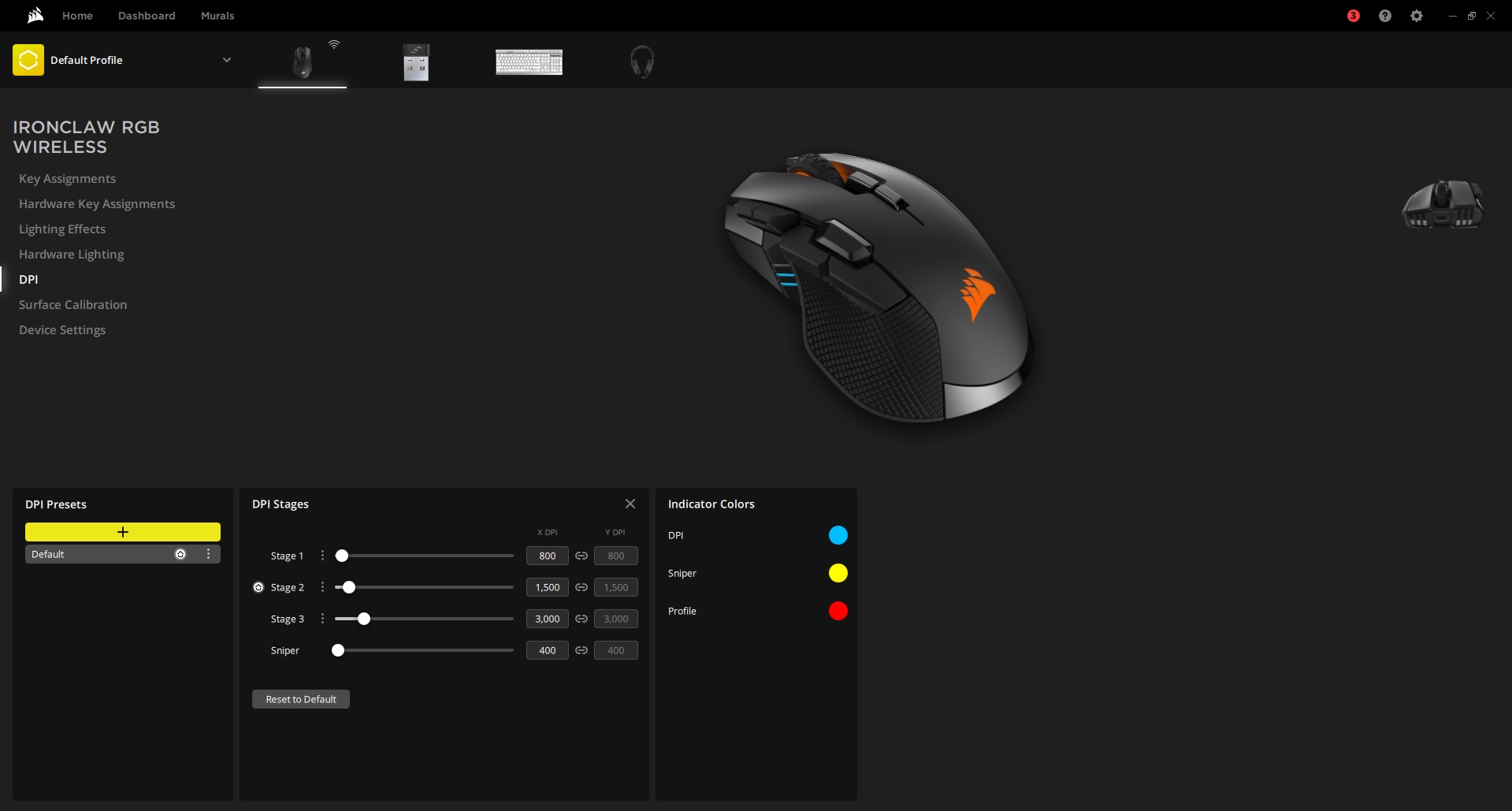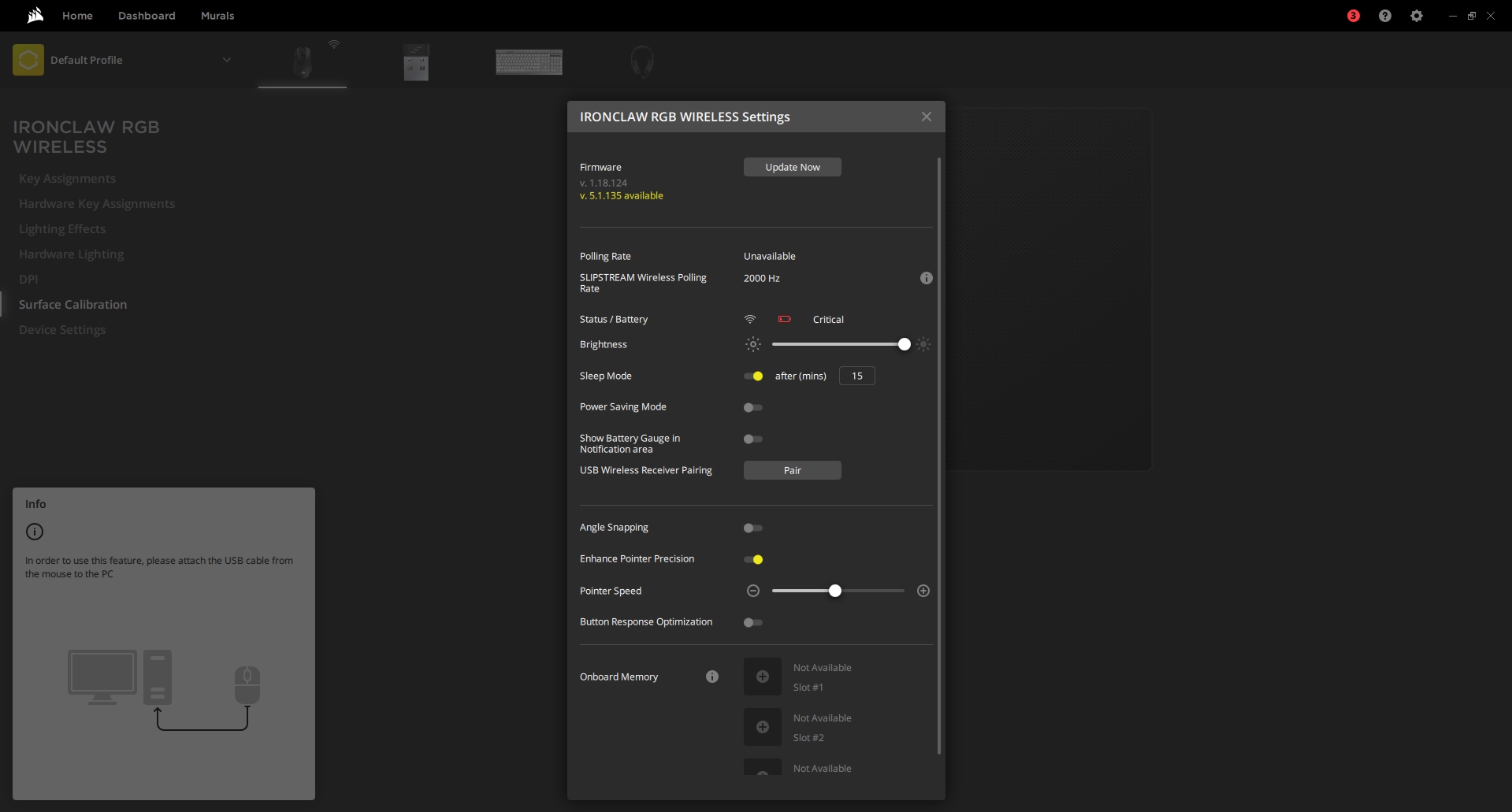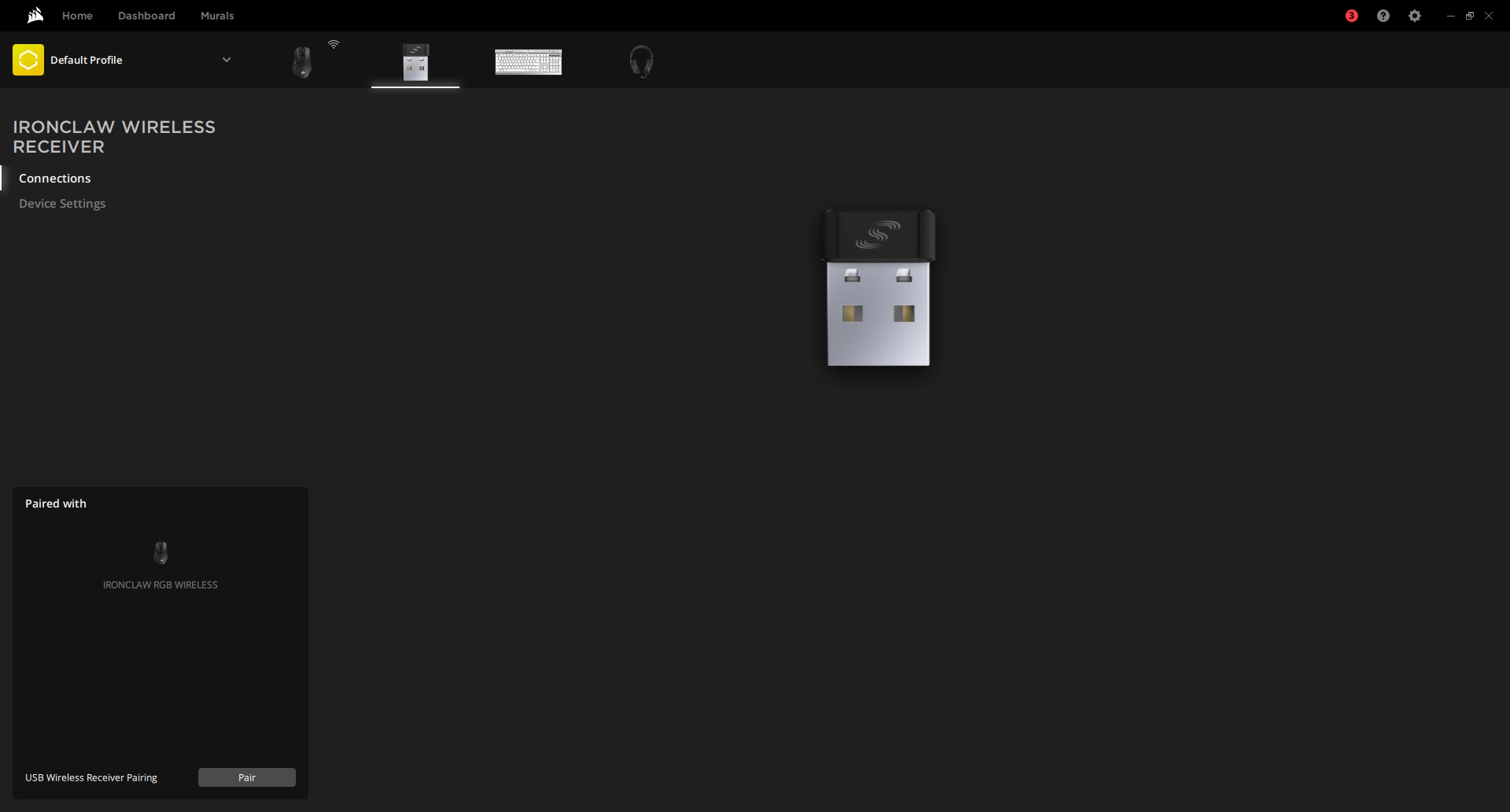 If you have used a Corsair mouse, keyboard, or headset within the previous several years. For sure, you might be acquainted with the iCUE software when you purchase a mouse from Corsair. Consequently, you get access to the excellent iCUE software package. Here, you may adjust your DPI to your heart's content and record macros for different buttons. Moreover, configure your RGB to whichever mode you choose, sync your RGB lighting across all your peripherals and Corsair products, and much more.
Once you get over the first learning curve, the application works great. Still, it is not nearly as user-friendly as alternatives such as Razer Synapse and Logitech G Hub. Obviously, the Ironclaw RGB Wireless, like all of Corsair's other peripherals, is compatible with iCUE. In this case, iCue's software makes it simple to customize the mouse's layout to suit your preferences. Since iCUE allows for an unlimited number of profiles, you may customize the program for each and every game in your collection and even more.
Furthermore, the Ironclaw RGB Wireless Mouse has its own onboard memory, capable of storing three different user profiles. That seems reasonable. I would prefer to have a smaller number of onboard profiles than a limited amount of profiles on PC. This mouse claims to be cross-platform and works equally well on both Windows and macOS. However, we were unable to customize its settings in the latter. When used with a Mac, the mouse always reverted to its factory settings, regardless of any stored macros or preferences.
The absence of wireless charging, the battery life, and the extra weight of the wireless mouse are major drawbacks. It is annoying that you have to go into the iCUE settings page only to see how much battery life the Ironclaw Wireless has left. This is information that the vast majority of people will want to see immediately, yet I had to go through the software to find it. Fortunately, once or twice weekly, Ironclaw charging should be plenty for the average gamer.
Not only does it support 2.4 GHz wireless through a dongle, but it also has a built-in Bluetooth connection. Therefore, not only can you use it with your gaming laptop, tablet, or even your phone, but it can also serve as a portable productivity mouse. Having said that, the PixArt PMW3391 optical sensor in the Ironclaw RGB Wireless can reach a maximum resolution of 18,000 DPI when used in paired with the iCue.
But what really blows my mind is that iCUE allows you to adjust your DPI in very few steps rather than having to go all the way. There is no need for trial and error or complicated patterns, and you are even able to select the color that stands in for each DPI. If you want to spend hours tweaking your mouse's settings, Corsair has given you every conceivable option. To sum up, surface calibration is also possible if the mouse is connected through a USB connection.
Conclusion
Corsair has created a high-quality, functional gaming mouse with the Ironclaw RGB Wireless. It has a lot going for it. It may take you by surprise. Aesthetically, it is about as out there as Corsair's mouse designs have been in recent years, but rest assured, all that craziness has a purpose. The Ironclaw RGB Wireless is an excellent entry point into the world of wireless gaming mice if you have been hesitant to make the switch due to concerns about latency or having to unplug your mouse to charge.
Even though it is not the pinnacle of wireless gaming mouse design, it has the smoothest functioning of any wireless mouse I have tried. In addition to its long battery life and cable charging system, the design is ergonomically correct, the button layout is straightforward and plentiful, and the mouse's materials collaborate to keep you at ease and the device looking neat. The sensor is responsive and to the point, and the offered types of connections are among the best available, even for wireless gaming.
The Ironclaw strikes a great mix between cost, performance, and features for the typical palm gripper. I realize that my objections about the buttons are minor, but keep in mind that the only way to fix these flaws and keep this specification is to spend more money. Most players will not even notice them, and critics still consider the Ironclaw superior to its rivals. Fortunately, the Corsair Ironclaw RGB Wireless is still one of the finest cable-free solutions for mid-range gaming despite a few minor drawbacks
$80 for a wireless mouse from a prominent brand that also has Bluetooth and USB connection is not unreasonable. If you have large hands, you should seriously consider Ironclaw Wireless. However, the $50 Corsair Harpoon RGB Wireless provides a comparable experience with fewer buttons, and the $60 normal Ironclaw is available if wireless functions are not a need. Pick carefully, but know that none of the three is a bad option.
In the end, I would like to give a huge shoutout to The Revive Tech for sending me this sample unit to review and share my experience with the world. Thank you for letting me put it through its paces. The Corsair Ironclaw RGB Wireless gaming mouse earns the Tech4gamers recommended Award because of its palm-favored design, extensive features, impressive performance, and reasonable pricing.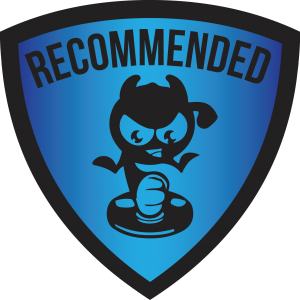 Was our article helpful? 👨‍💻
Thank you! Please share your positive feedback. 🔋
How could we improve this post? Please Help us. 😔
[Hardware Reviewer]
After many years of exploiting various pieces of hardware, Abdul Hannan now serves as an editor at Tech4Gamers. He's been in the PC hardware reviewing industry for almost a decade, and his staff of passionate geeks and reviewers is second to none.
Abdul Hannan is constantly seeking new methods to improve the performance of his computer components since he is an ardent overclocker. He is well-known for providing the most extensive and unbiased analysis of the newest and greatest hardware for PC gaming, including everything from GPUs to PSUs.