Best Budget Wireless Mouse?
Review Summary
The Corsair Harpoon RGB Wireless's ridiculously low price, superior comfortable grip, and trouble-free connection bring the wireless gaming mouse within reach of almost anybody. When used with either the provided USB charging cable or the wireless USB receiver, the click latency is excellent. Although it supports Bluetooth, you should not use it for playing games. Moreover, all hand sizes may comfortably use this mouse with a claw grip. However, those with really tiny hands may have trouble accessing all of the buttons. Ultimately, when compared to other wireless gaming mice, the Corsair Harpoon RGB Wireless is a steal.
Build Quality -

8/10

Value -

9/10

Performance -

8/10

Design -

7/10
Pros
Remarkable performance
Comfortable grip
Reasonably priced
Enduring battery life
Cons
Inadequate RGB lighting
Irritating charging port
Design favors only right hand
Not suitable for large hands
For a good reason, wireless mice no longer provoke panic among gamers. Having no wires to get in the way is a perk in itself. Additionally, so is the elimination of lag and fidelity problems. In most respects, just one issue remains, and that is cost. High-end, wireless gaming mice from reputable brands may cost as much as $150. That is a significant increase from the standard $60 price tag for wired mice. Due to its status as the industry's premier product, wireless gaming mice have always been somewhat pricey. However, the Corsair Harpoon RGB Wireless breaks the trend as the lowest-priced wireless gaming mouse at $59.
Consequently, it is much cheaper than the competition. Its price of $59 is lower than that of many wireless and even some wired gaming mice. Do not imagine for a second that this inexpensive mouse is lacking in quality because of its low pricing. It is on par with the greatest mice we have tested in terms of sensor, mouse buttons, RGB lights, and general manufacturing quality.
In addition to being a wireless peripheral with a tiny ergonomic form factor. Moreover, an adequate selection of features for an inexpensive cost makes this new offering from Corsair an easy choice. Notably, it has a sharp appearance besides its superior in-game performance. Furthermore, the Harpoon RGB Wireless's comfortable grip and user-friendly software are other noteworthy advantages.
The RGB capabilities are secondary, and the design does not encourage the use of the device for any certain kind of genre. However, the Harpoon RGB Wireless is a serious candidate for the best gaming mouse. Especially given its low price. When Corsair originally disclosed the price of the Harpoon RGB Wireless. Obviously, gamers were shocked.
A part of me kept thinking there was a catch. Just $60 for a wireless gaming mouse? Surely this is making you chuckle. At this time, I have reviewed so many wireless gaming mice so far. Some of them are the Logitech G Pro Wireless and the Razer Basilisk X Hyperspeed, which are both expensive options. So, can we trust the hype surrounding Corsair's new cordless offering? What I believe is as follows.
Related: GLORIOUS Model D Minus Mouse Review
---
Key Takeaways
The Corsair Harpoon RGB Wireless is a mid-range wireless gaming mouse for gamers looking for a dependable and economical wireless choice. It has a small and lightweight design that is appropriate for claw and fingertip grip styles. Moreover, it employs Corsair's Slipstream wireless technology, which provides low-latency performance comparable to a wired mouse. While it may not have as many functions as other high-end gaming mice, it nevertheless has enough customization options to meet the demands of most gamers.
You should get the Corsair Harpoon RGB Wireless if you are looking for an affordable wireless gaming mouse that is on par with the industry benchmark, lightweight, portable, with low-latency connectivity, and adjustable lighting.
You should not get the Corsair Harpoon RGB Wireless if you are looking for a mouse with extensive customizable options, compatible with large hands, adjustable weights, a high DPI range, and extensive ergonomic options.
If you are a gamer who values portability, affordability, and consistent wireless performance, the Corsair Harpoon RGB Wireless gaming mouse is an excellent option. The mouse is ideal for players that use a claw or fingertip grip due to its tiny form factor and lightweight design. For gamers on a tight budget who yet need a wireless mouse, this is a perfect fit.
---
Specifications
Prog Buttons
6
DPI
10,000 DPI
Sensor
PMW3325
Sensor Type
Optical
On Board Memory
Yes
Mouse button Type
Omron
Mouse Button Durability
50M L/R Click
Connectivity
Wireless
Grip Type
Claw
Hand Size
Small, Medium
Game Genre
Strategy, Sim
Weight
99g
Cable
1.8m Tangle Free Rubber
Report Rate
1000Hz/500Hz/250Hz/125Hz
Battery Life
2.4GHz SLIPSTREAM: Up to 30hrs with standard lighting or 45hrs with lighting off

Bluetooth: Up to 40hrs with standard lighting or 60hrs with lighting off

Battery Type
Rechargeable Lithium-Polymer
Box Contents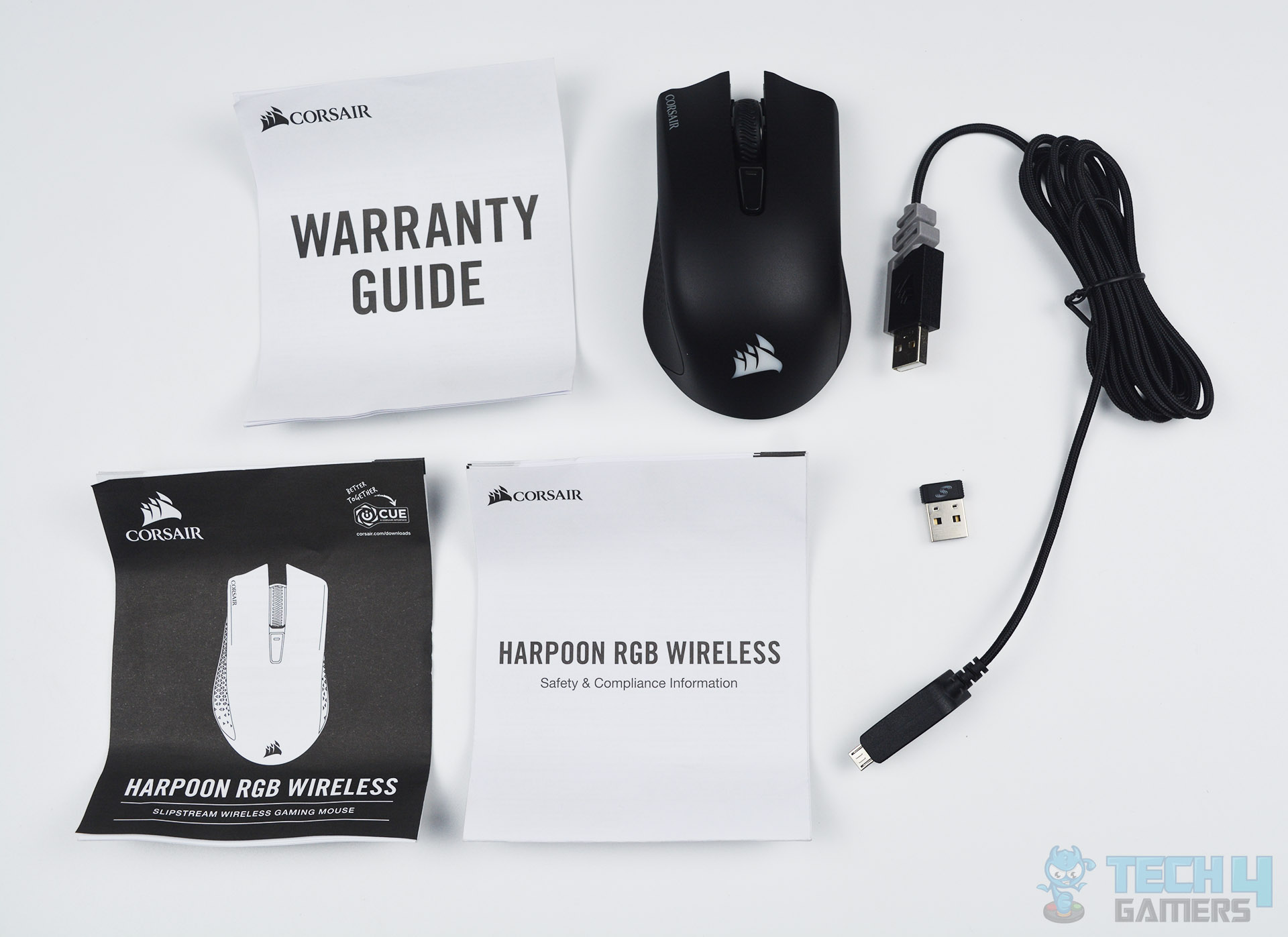 When it comes to the Harpoon's packaging, Corsair took a somewhat different approach. The mouse has nice card-box packaging, with a picture of the product on the front and a list of its functions on the other side. The Harpoon is packaged in a smaller, all-yellow box, in contrast to the bigger boxes and more subdued design of earlier models.
For this RGB wireless variant, they opted for something a bit more sleek and attractive, ditching the door-style viewing windows. The high-quality cardboard is the first thing I notice as we open the package. You can tell it is high quality and sturdy enough to survive a fall from a reasonable height. The mouse is housed in a slim plastic casing, and a charging cord is hidden beneath it.
Harpoon RGB Wireless Gaming Mouse
USB Charging and Data Cable
USB Wireless Transceiver (dongle)
Quick Start Guide
Safety Leaflet
Warranty Card
First Impressions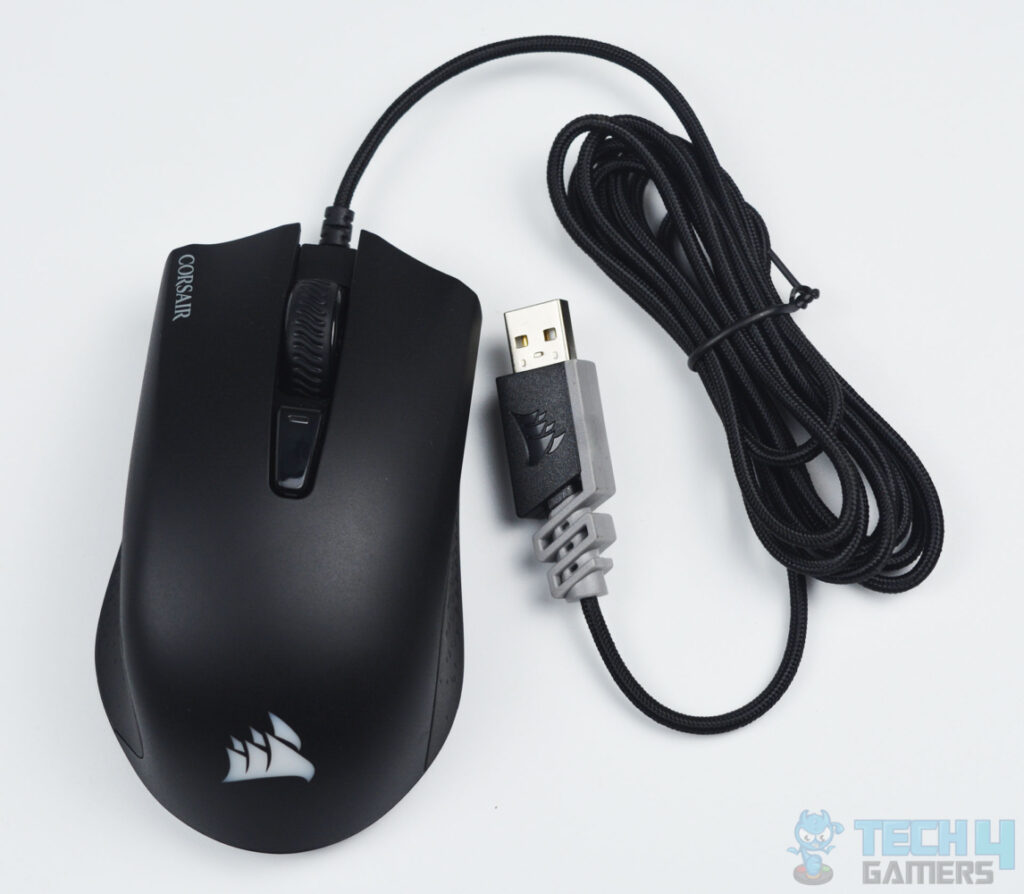 At first look, you may believe Corsair accidentally sent you an old wired Harpoon mouse instead of the Harpoon RGB Wireless because the Harpoon RGB Wireless can be used either wired or wirelessly. Consequently, the mouse maintains the same appearance as the wired version. Notably, the Corsair Harpoon RGB Wireless Gaming Mouse is essentially the same version of the original Harpoon mouse with the cable removed and an additional $20 added to the price.
Although functionally similar to Corsair's wired Harpoon RGB Pro mouse, this wireless option costs $20 extra due to its usage of an optical sensor. Moreover, the battery necessitates a few extra grams of weight for the Harpoon RGB Wireless. In all other respects, it is a carbon copy of the Harpoon RGB wired. Ultimately, it is a right-handed, six-button mouse with solely one RGB lighting zone.
Most importantly, there is a distinct separation between the left and right mouse buttons on the Harpoon mouse, wired or wireless. When connected to the cable. The wireless Harpoon fills the distance between them thanks to the cable's big plastic portion that wraps around the scroll wheel and plugs in underneath the wheel.
The Harpoon RGB Wireless has the same separation as its wired counterpart when you remove the cable. Notably, the wired model has a port for the permanent connection behind the left mouse button. All in all, the wireless Harpoon RGB is essentially indistinguishable from the wired version, except for the fact that the cord may be removed. Because it contains the battery for wireless mode, the Harpoon RGB Wireless is a few grams heavier than the wired version. Fortunately, It is not a bulky mouse, even with the battery installed. Its weight is 99 grams.
Still, it is not too heavy to carry about, and I never once had to exert myself to swing it from side to side when gaming. I attribute this to the fact that it is shorter and stubbier than the other gaming mouse I have been using lately. Fortunately, making it seem less cumbersome under the palm. While the folks at Corsair may insist this is more of a 'claw-grip' model than a palm or fingertip one. I had no trouble using it with either grip.
A Good Read: CORSAIR HS60 Pro Surround Gaming Headset
Design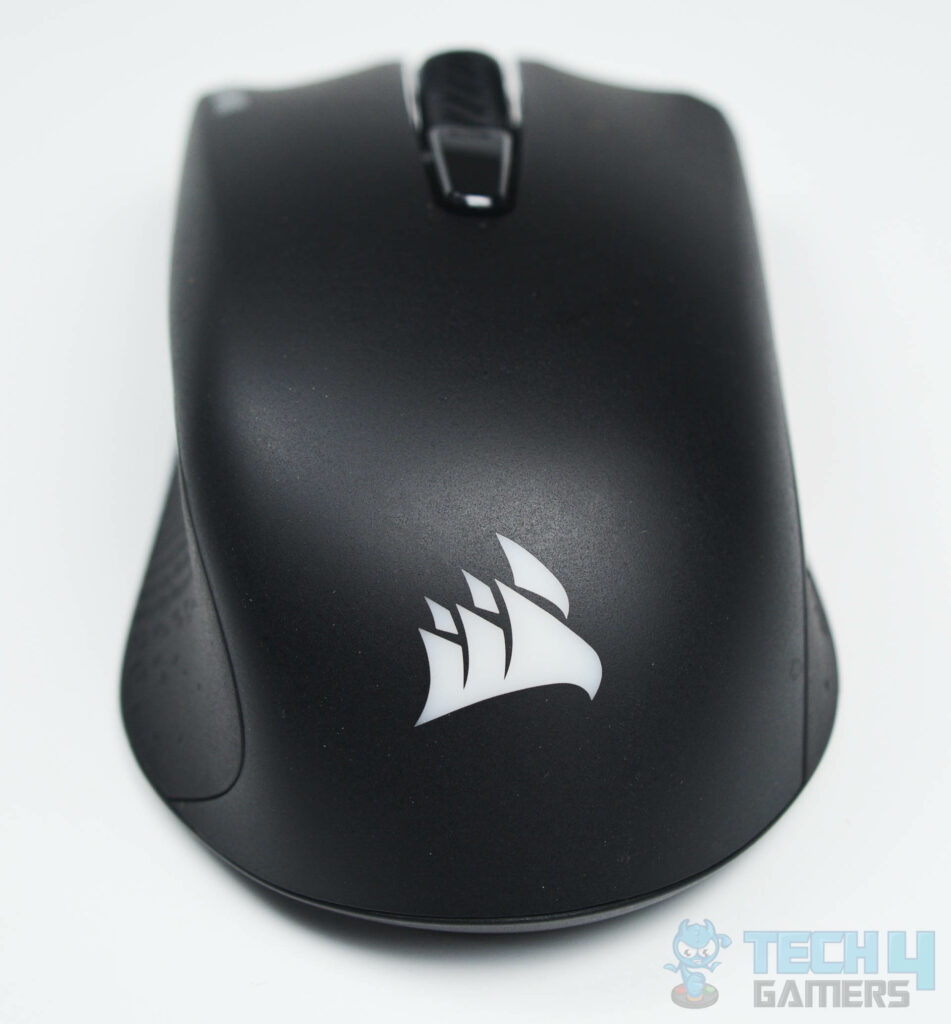 It is not surprising that the designers of the Harpoon took into account the increasing preference for compact mice while making it. It is immediately apparent that the designers of the Harpoon wanted to try something new with the design of this mouse when compared to the other mice within the Corsair line. I knew I was in for a pleasant experience the moment my palm touched the Corsair Harpoon's seamless body.
I am a big fan of the clean, understated look of the Corsair Harpoon RGB Wireless. There is no interruption in the continuity of the plastic from the rear of the mouse, where it begins. Subsequently, to the top, where it slopes, and then out to the two buttons. Meanwhile, a diamond-textured rubber material provides enhanced grip around the sideways.
This helps the mouse seem almost consistent throughout. Except for the apparent fork in the middle, where the scroll wheel hovers between the discrete mouse buttons. Consequently, this mouse almost feels completely seamless. Moreover, the Harpoon RGB Wireless looks great from the side because of its massive chasm. However, I am not a fan of how it forces the mouse's micro USB charging connector into the mouse's center.
Unfortunately, this design requires you just to charge the mouse with the included cable. When we would have liked to use any random micro USB, we happened to have to lie around. Having said that, depending on how flamboyant you prefer your gaming mouse. You may find the Harpoon RGB Wireless modest or simple.
Comfort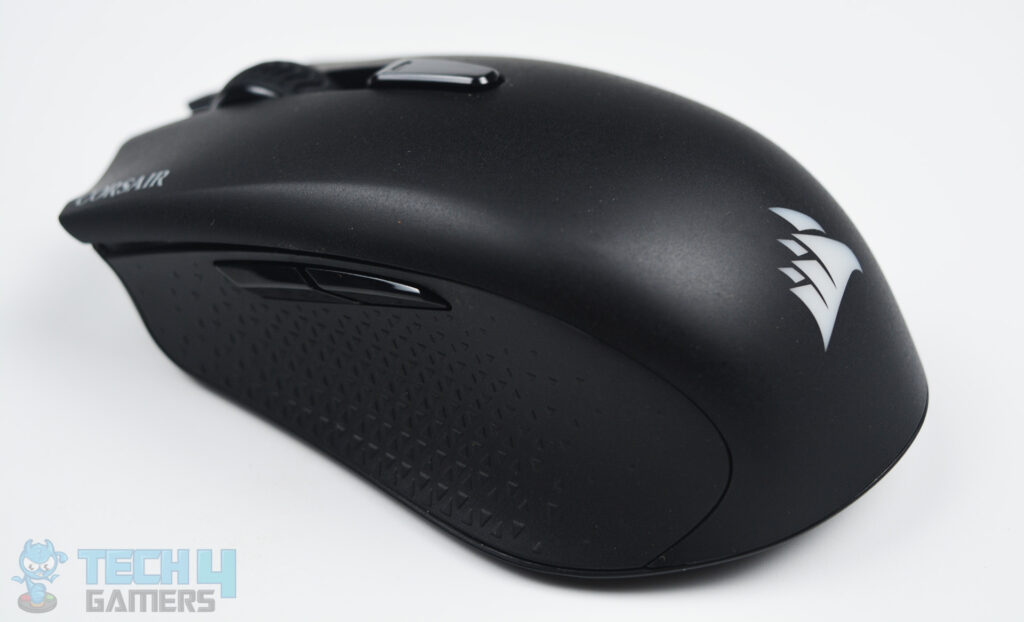 The chassis is completely black and features a compact form factor (4.6 x 2.7 x 1.6 inches) that is comfortable with both palm and claw grips. Notably, the thumb and two lateral fingers have textured grips, and there is a scroll wheel, a DPI sensitivity button, and two thumb buttons on the mouse's sides. Fortunately, the side buttons are conveniently located at the right height to avoid getting in the way as we move, yet still be easy to reach when necessary.
The accessibility and gratifying click of every button are commendable. Additionally, the wireless receiver can be stored in a little compartment under the mouse, which is a feature we need in any wireless mouse. By doing this, it makes it far more difficult to misplace a small device. Furthermore, the mouse also has a button that lets you choose between 2.4GHz and Bluetooth LE 4.2 wireless modes.
The lack of unique design elements in the Harpoon RGB Wireless is not a problem in and of itself. However, the mouse does seem quite similar to many other gaming mice. Still, it has everything a gamer needs to enjoy standard PC games. Whether they are single-player or multiplayer. On the downside, the RGB lighting is my one and only big criticism.
While some other Corsair mice include lighting on the palm rest as well as the scroll wheel, conversely, the Harpoon RGB exclusively has the former. Because your hand is always in the way of it, you will never get to appreciate the mouse's gorgeous, configurable RGB lights given the option between RGB lighting. I wouldn't ever see it as compared to no RGB lighting at all but at a somewhat lower price. I would definitely go with the latter.
Build Quality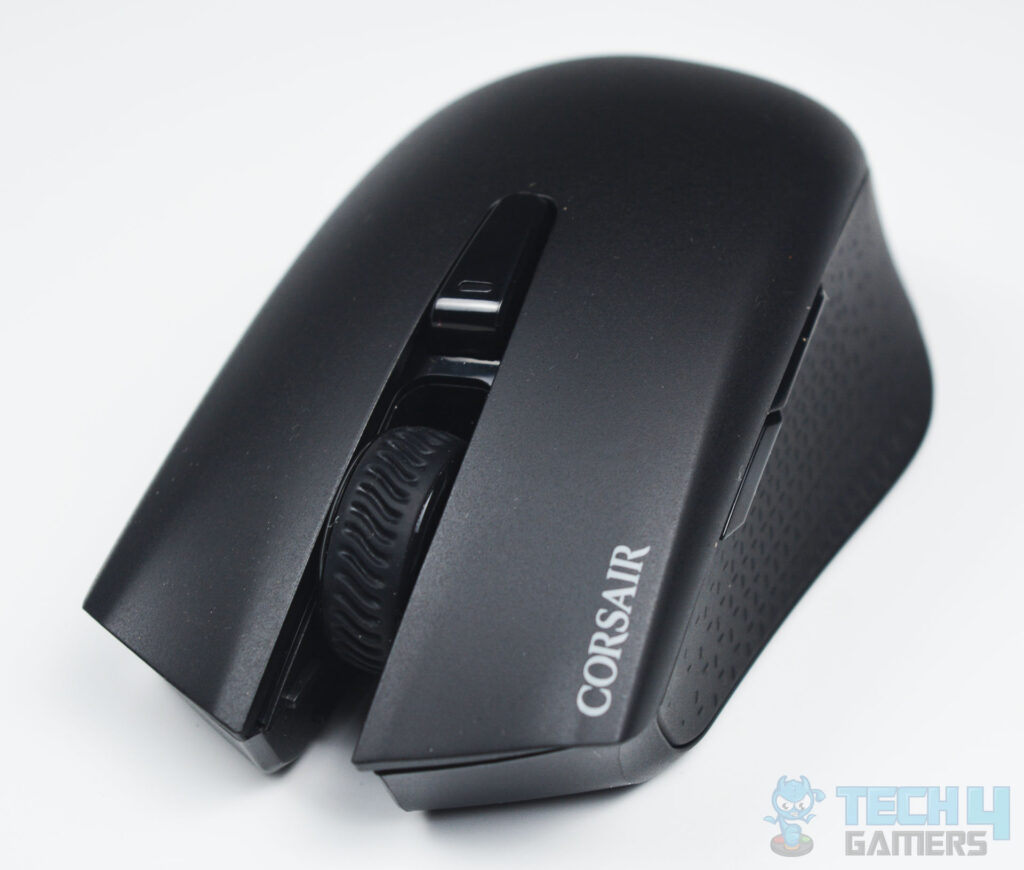 The Harpoon Wireless from Corsair is well made. The mouse's whole body is a high-grade matte plastic. It is a right-handed mouse with ergonomics that are rather neutral. So it will work with either a claw or palm grip. Comfort-wise, this mouse does the job. It leans slightly to the right but is still usable with either hand. The mouse felt instantly at ease with my claw grip. Moreover, it has a sturdy build, with no squeaking or fragile spots.
However, the primary left and right click buttons wiggle a little, although you probably will not notice it while using the mouse daily. Moreover, it is possible to activate the side buttons by pushing down firmly on the frame. Nevertheless, this is unlikely to be a problem during normal usage. Even after a lengthy session, when my thumb and fingers started to become warm.
Surprisingly, I still had good control because of the textured, rubberized side grips. The concave shape of the sides is also ideal for resting my thumb and side fingers. The Harpoon RGB Wireless is great in every way except for one: its tiny profile is the one thing holding it back from being perfect. Even so, the Corsair Harpoon RGB Wireless provides unrivaled precision and a high degree of comfort in use.
While its smaller size makes it less comfortable than bigger mouse, it still outperforms the competition in terms of grip comfort. You need to find your own sweet spot, but once you do, everything will go swimmingly. On the bright side, the Harpoon RGB Wireless Mouse is the greatest traveling companion for my laptop because of its compact form factor and lightweight. It allows me to work efficiently and precisely on all of my laptop's everyday apps when on the move.
Similar: RAZER Huntsman Tournament Edition Gaming Keyboard Review
Six Fully Programmable Buttons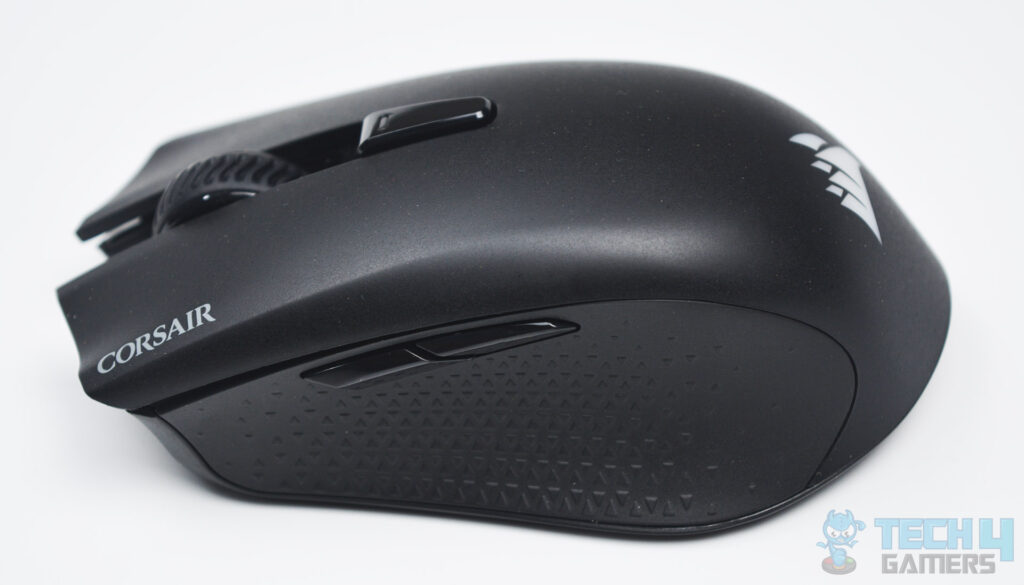 The mouse has six customizable buttons, which should be enough for most players. The right and left mouse buttons are on top, along with a scroll wheel you may use for scrolling, and a DPI settings button is located just behind the wheel. Above the left and right mouse buttons, the plastic is nearly sharp. It gives the mouse an intimidating appearance. The Harpoon's buttons are haptic, and they respond accurately. They feature a conventional actuation point for gaming mice, yet they click satisfyingly when used.
Moreover, the scroll wheel is textured like a small tire, making it easy to grip and rotate. The mouse wheel is subpar since it can only scroll vertically and does not have left and right buttons. Notably, the mouse wheel itself has distinct, clickable increments. Notably, there are two buttons for your left thumb.
The side buttons sit at an ideal height, right above where your thumb naturally rests. Consequently, this makes them quick to reach when required but out of the way generally. The thumb buttons are well located, and their placement nearly encourages their use. They do not feel spongey and have mild actuation pressure.
The same holds true for the remaining buttons. The primary clickers are gently concaved so that your fingertips may rest in a natural position upon them. Even though there is not a "sniper" button on the mouse, you can easily assign one of the side buttons to that function.
Related: HYPERX Cloud 2 Wireless Review
Grip Styles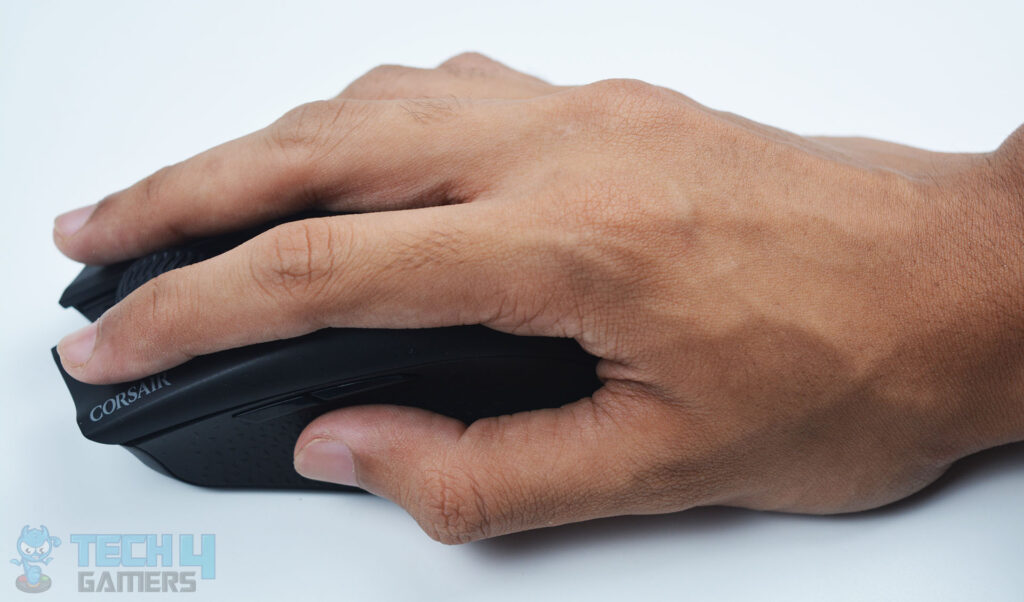 This mouse is on the tiny side. Thus, it is probably suitable for individuals with medium or smaller hands who want to use a palm grip. Larger hands will not fit comfortably, and the fingers will extend too far from the front.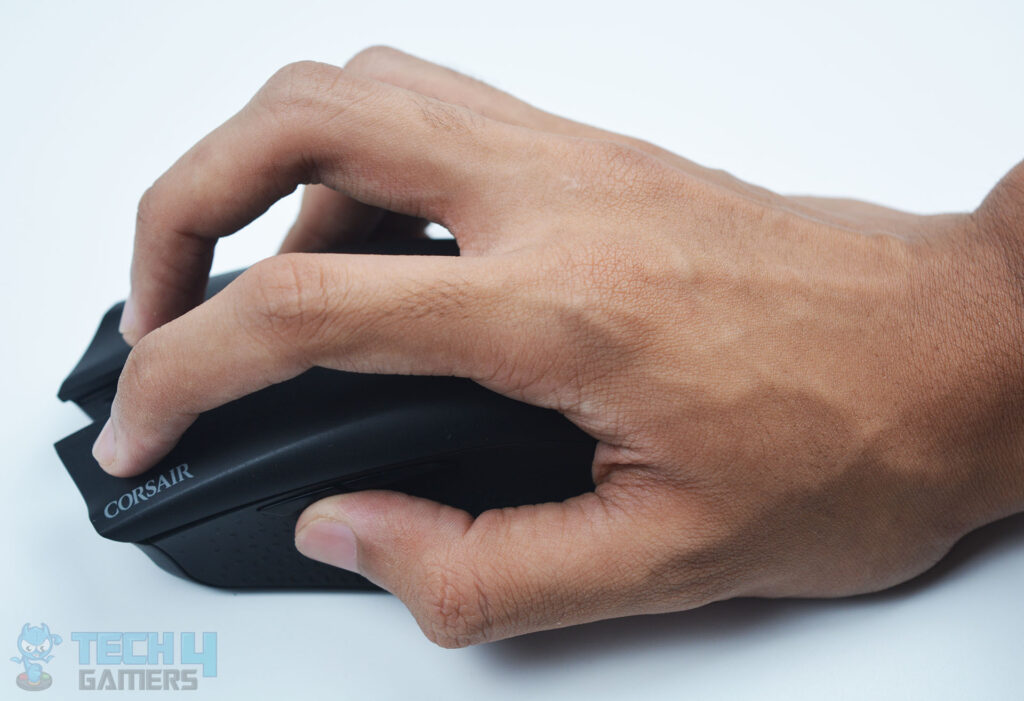 Everyone, regardless of hand size, will be able to use this mouse with ease and access all of its features with a claw grip, making it ideal for that kind of grip style.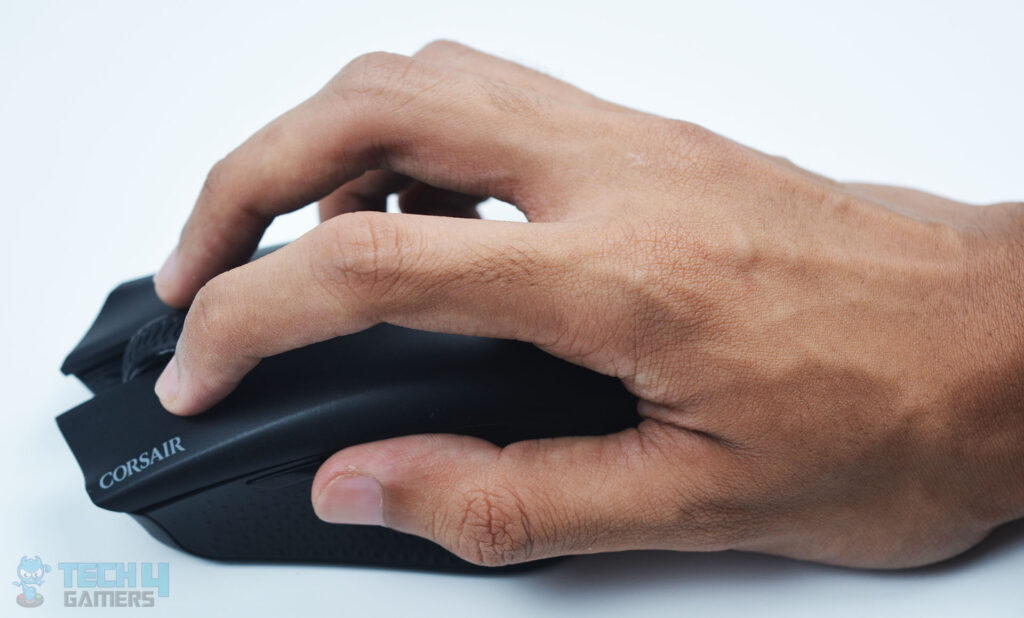 Fingertip grip should work well for everyone except those with extremely tiny hands. The front side button may be out of reach for those with smaller hands.
Dynamic RGB Lightning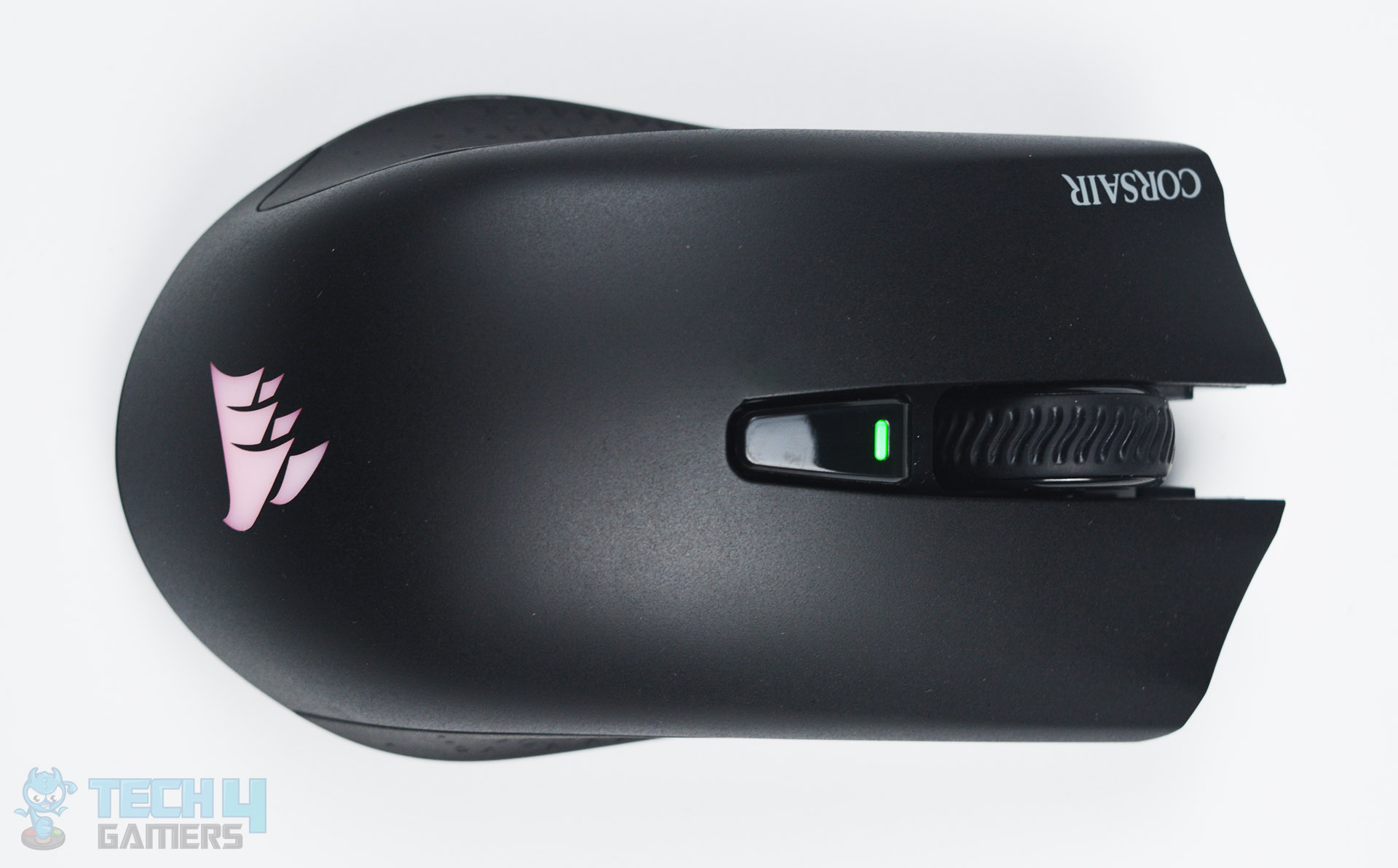 While the LED on the DPI button technically counts as a second lighting zone. The Harpoon RGB Wireless only advertises having one. True, you can only customize the Corsair logo above the palm rest's LED light with a custom color pattern. Still, you can also customize the colors on the LED indicator light for the mouse's five DPI levels and the dedicated sniper DPI mode.
Most of the Corsair logo's patterns seem the same since they only flash in one zone rather than cycling across many. All in all, making for a less-than-impressive RGB lighting display. However, if you intend to use the mouse mostly in wireless mode, you may choose to turn off the RGB lighting to save power. Not to mention that your palm is already covering it.
Slipstream Wireless Technology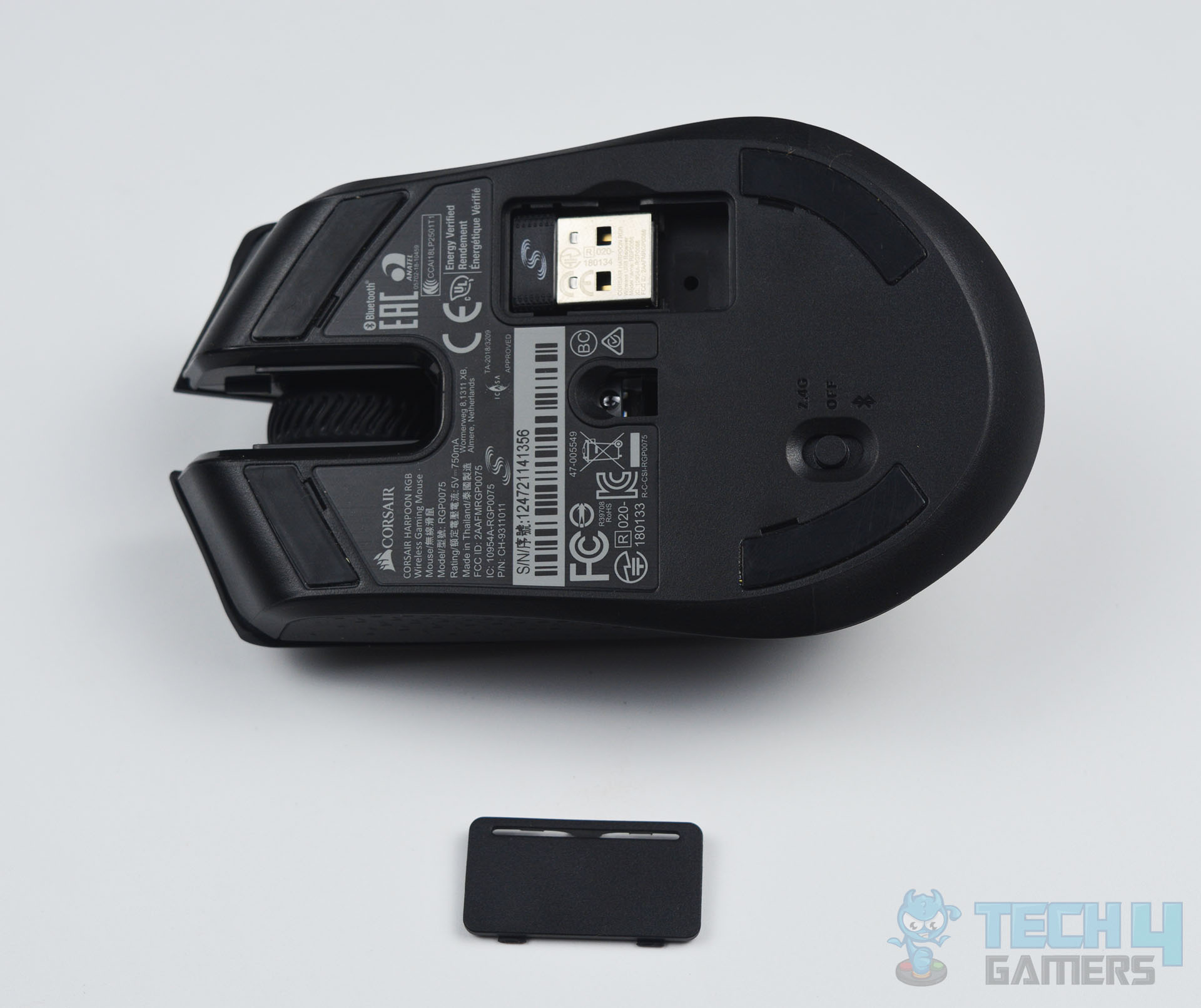 The name of the Harpoon RGB Wireless sums up its most prominent feature. It is a big brand wireless gaming mouse, and it is one of the more reasonably priced choices. In the same price range, you will find products like the Razer Atheris, which is designed specifically for use with laptops, or the Logitech G305, which runs on disposable batteries.
Whether you are using a wireless connection to your computer or a wired USB connection, the Harpoon RGB Wireless will perform flawlessly. The 10,000 DPI optical sensor is capable of detecting the tiniest of motions. However, I tend to favor lower DPI and wider arm movements. Your in-game commands will be sent as rapidly as you click, regardless of the sensitivity setting you pick. Thanks to Corsair's innovative Slipstream Wireless technology. Your wireless signal will always be in the fast lane, with a guaranteed latency of less than one millisecond.
The Harpoon RGB's wireless functions are reliable, and you may switch between USB and Bluetooth whenever you choose. In short, this is significant since many similarly priced mice only support connections through USB. The low-latency connection eliminates the usual problems associated with wireless mice. Consequently, it guarantees smooth and speedy mouse control.
I rarely felt like I was falling behind because of the technology I was using, even in games like Apex Legends, where instantaneous reactions are crucial. The wired alternative may provide greater precision, but you are not giving up anything by switching. Corsair claims that Slipstream can search for the best frequency to help keep your wireless connection nice and stable. Moreover, with a claimed range of up to 65 feet. Furthermore, two times the speed of Corsair's last-gen wireless standard. It makes a compelling elevator pitch.
While I did not put the Harpoon RGB wireless through tournament-level testing, I can attest that it performed flawlessly at my workplace, which is flooded with wireless traffic, with no lag or misinterpretation of commands. Thankfully, I had no issues with either the USB or Bluetooth arrangements, albeit the Bluetooth mouse sometimes failed to reconnect after a system restart. (The USB dongle never had any issues in this regard.)
Regardless of the genre, your gaming experience will seem quick and responsive. Due to the complexity of Bluetooth's structure, latency is greater and more erratic when used for gaming. Ultimately, you can use the Harpoon RGB Wireless with either its wired or wireless connections without installing any software, but if you want to tweak the mouse's appearance and performance, you will need to install Corsair's iCUE program. The iCUE software is very well-made, so changing settings is breathtaking.
Similar Read: Razer Viper V2 Pro Review
Battery Life
The Corsair Harpoon's 840 mAh battery makes it a formidable beast in terms of endurance. Corsair claims that the Harpoon RGB Wireless can run continuously for 30 hours while using the 2.4GHz Slipstream Wireless mode and its built-in lighting. Even if this is an exaggeration Notably, the device has more than enough juice for my needs. Having tested it for a week without any need to plug it in. I see no cause to disprove that claim.
That means you can easily play with this mouse for a couple of weeks straight. You may get an additional 10 hours of use out of this mouse by switching to Bluetooth mode. Additionally, if you disable the mouse's RGB lighting and put it into power-saving mode, you may use it for up to 60 hours straight. With the RGB lights on, those times reduce to 30 and 40 hours, respectively. Furthermore, the Harpoon comes with a lengthy USB charging wire. So you can power up as you play.
Having said that, the micro-USB charging connection attaches directly to the mouse, making recharging a breeze. The mouse is always available since you may use it either wirelessly or with a cable connection while it charges. Furthermore, six feet of braided wire is a nice addition to a cheap mouse.
Notably, they often have a short, rubberized cord that is difficult to untangle. Having said that, the Micro-USB cable that you get is quite good. It is a hard-braided cable but still has many kinks in the packaging. That is to say. According to the manual, the DPI indicator will flash red when the battery is severely depleted.
Sensor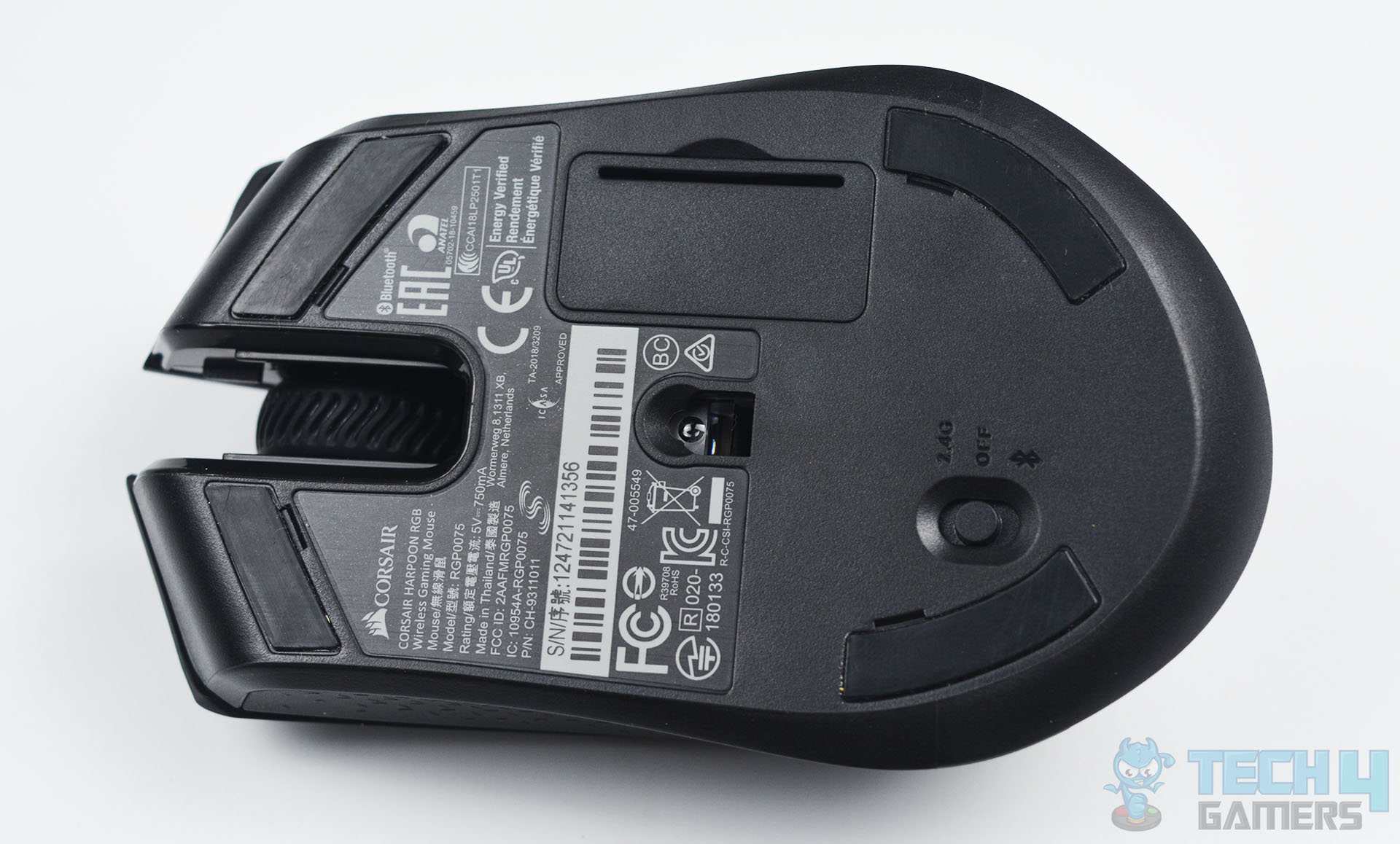 The new PMW3325 sensor is what really sets this version of the Harpoon apart, increasing the maximum speed from 6000 to 10,000 DPI. Unless you have bionic eyes that can detect subatomic-level motions across the screen, you probably will not ever need that additional 4000 DPI. Although, it is nice to have the option.
It was just as responsive to my clicks in games as it was in everyday usage, which is impressive given its much cheaper price compared to Logitech's G Pro Wireless mouse. The Logitech has always been reliable and responsive, but the one small issue I had while testing was that the Harpoon RGB Wireless needed a while to wake up after I had not used it for a while. Nonetheless, it is a minor issue in the scope of big things. With this in mind, I am willing to overlook it because of the significant savings.
You might be interested: Razer Basilisk X Hyperspeed Review
Performance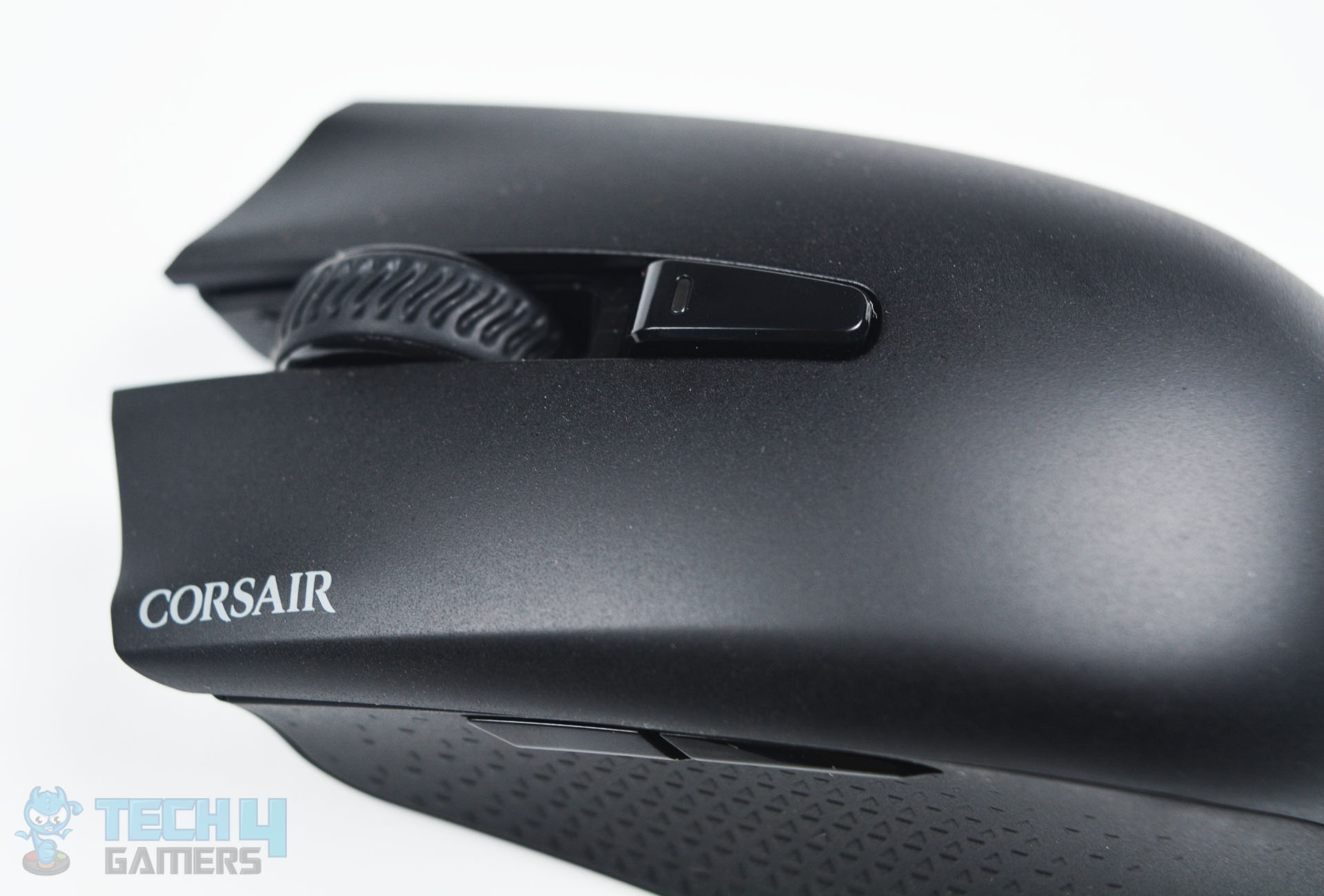 The original Harpoon was created by Corsair as a jack-of-all-trades, entry-level mouse. Consequently, its successor, the Harpoon RGB Wireless, follows in its footsteps. The mouse performed well across a variety of titles, including Destiny 2, Dota 2, Thronebreaker: The Witcher Tales, and League of Legends. The two thumb buttons were useful for remapping additional commands, and taking out hordes of enemies in Destiny 2 was as easy as enhancing my deck of cards in Thronebreaker.
Moreover, I played FPS titles like CS: GO, Fortnite, and Overwatch to put the Harpoon RGB Wireless through its paces. With the Corsair MM350 Premium Anti-fray cloth mouse pad, the mouse enabled lightning-fast reactions and exquisite control in-game. The mouse moved quite well on my Corsair mousepad, but its four small glide pads prevented it from moving even more smoothly.
Moreover, the width of the mouse is too small for my liking, and that is my main complaint. On the other hand, the textured side grips are nice, although they should be spaced out a little more. Notably, The Harpoon RGB Wireless is more comfortable for players that use a claw grip. Whether you are using a connected or wireless receiver with the Corsair Harpoon RGB Wireless, the click latency is excellent and highly constant.
On the bright side, the mouse's 10,000 DPI sensor works just well for my use. On my 27-inch 2K monitor, it provided more than enough sensitivity. Above 6,000 DPI, in fact, the experience became too tense to enjoy. In 2.4GHz wireless mode, I observed no slowdown. However, the same cannot be said for Bluetooth. I had a somewhat laggy connection while using Bluetooth.
Having said that, you should use the 2.4GHz wireless or cable connection for gaming, keeping Bluetooth for everyday computer usage when you want to prolong battery life or if you simply need a mouse to go on the road. Alongside that, Bluetooth also causes the RGB logo lighting to cycle through the rainbow's colors continuously.
My only concern is that I am not sure how the Harpoon RGB Wireless would fare in tournament play. There is no dedicated "sniper" button for first-person shooter gamers, and the mouse does not seem to be specialized to any certain genre. Nevertheless, the Harpoon RGB Wireless is a comfortable mouse, which is the most crucial factor at the professional level.
Ultimately, the Harpoon RGB Wireless delivers excellent performance. However, it is a small and light mouse. The Harpoon RGB Wireless is a no-brainer if having the capacity to flick a little mouse matches your gaming preferences. The Razer Basilisk x Hyperspeed Mouse is a good option if you like a bigger, heavier wireless mouse because of its larger form factor and greater DPI count for its sensor. However, the Razer Basilisk Wireless costs three times as much as the Harpoon RGB Wireless.
iCUE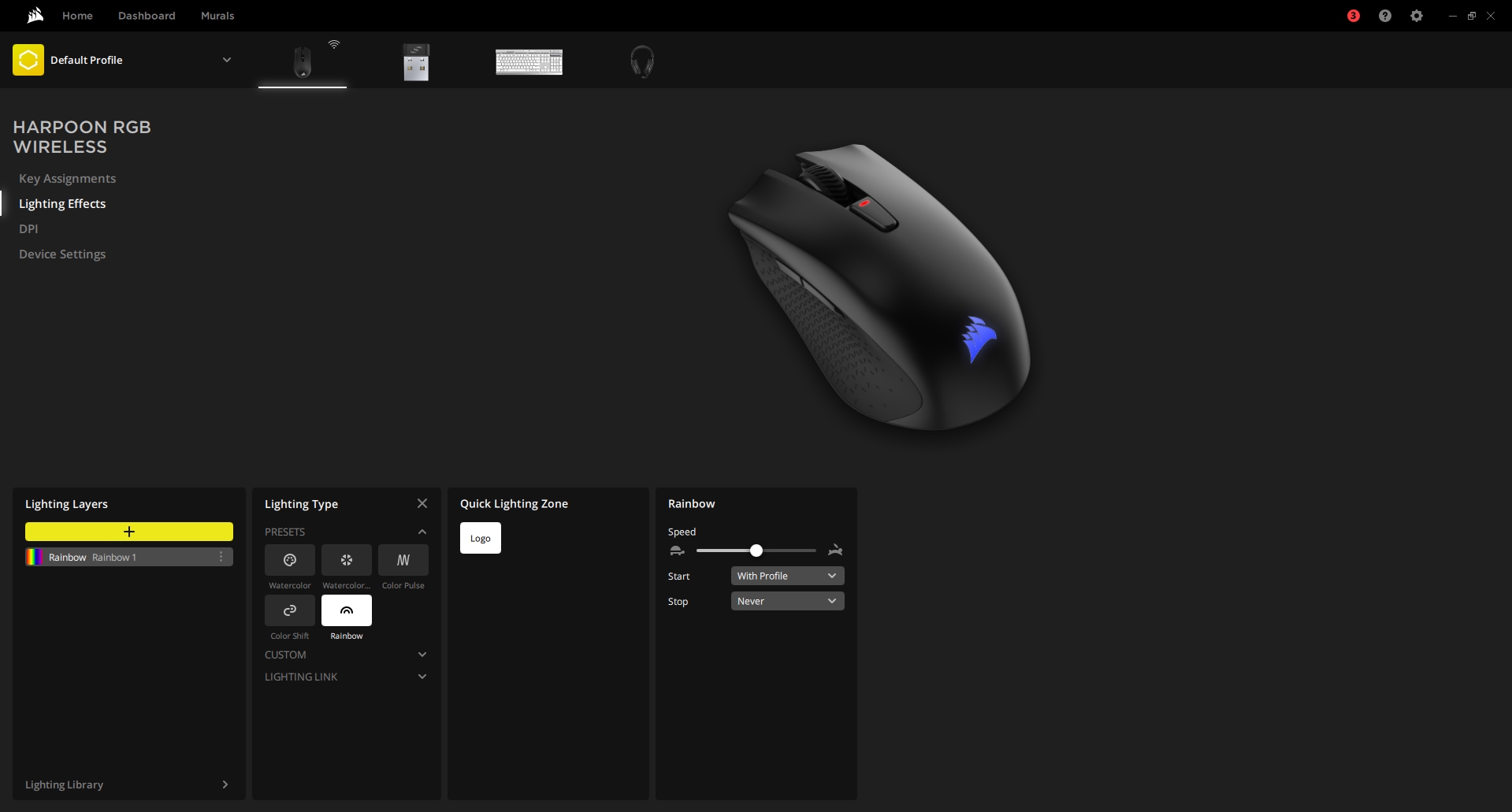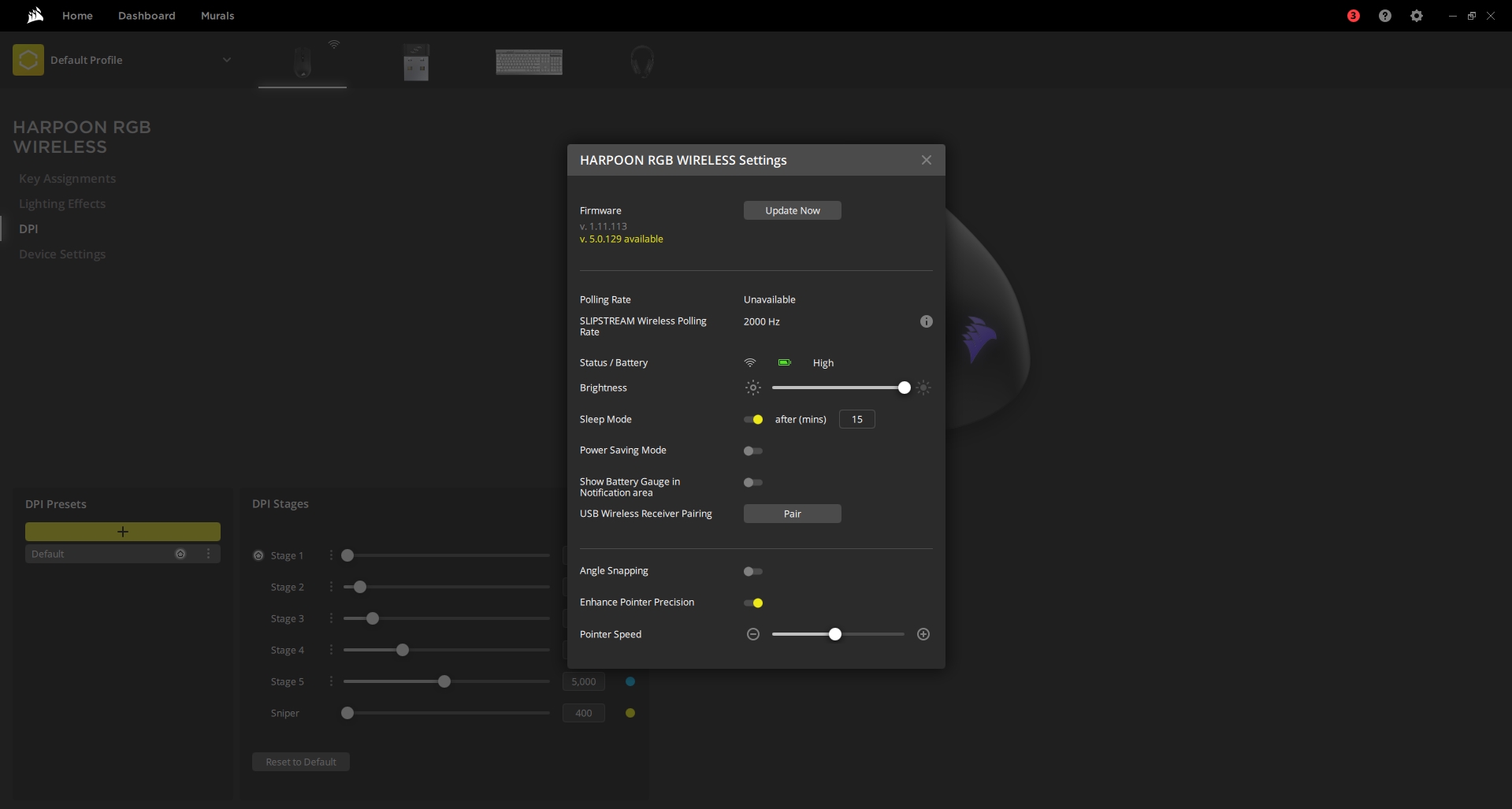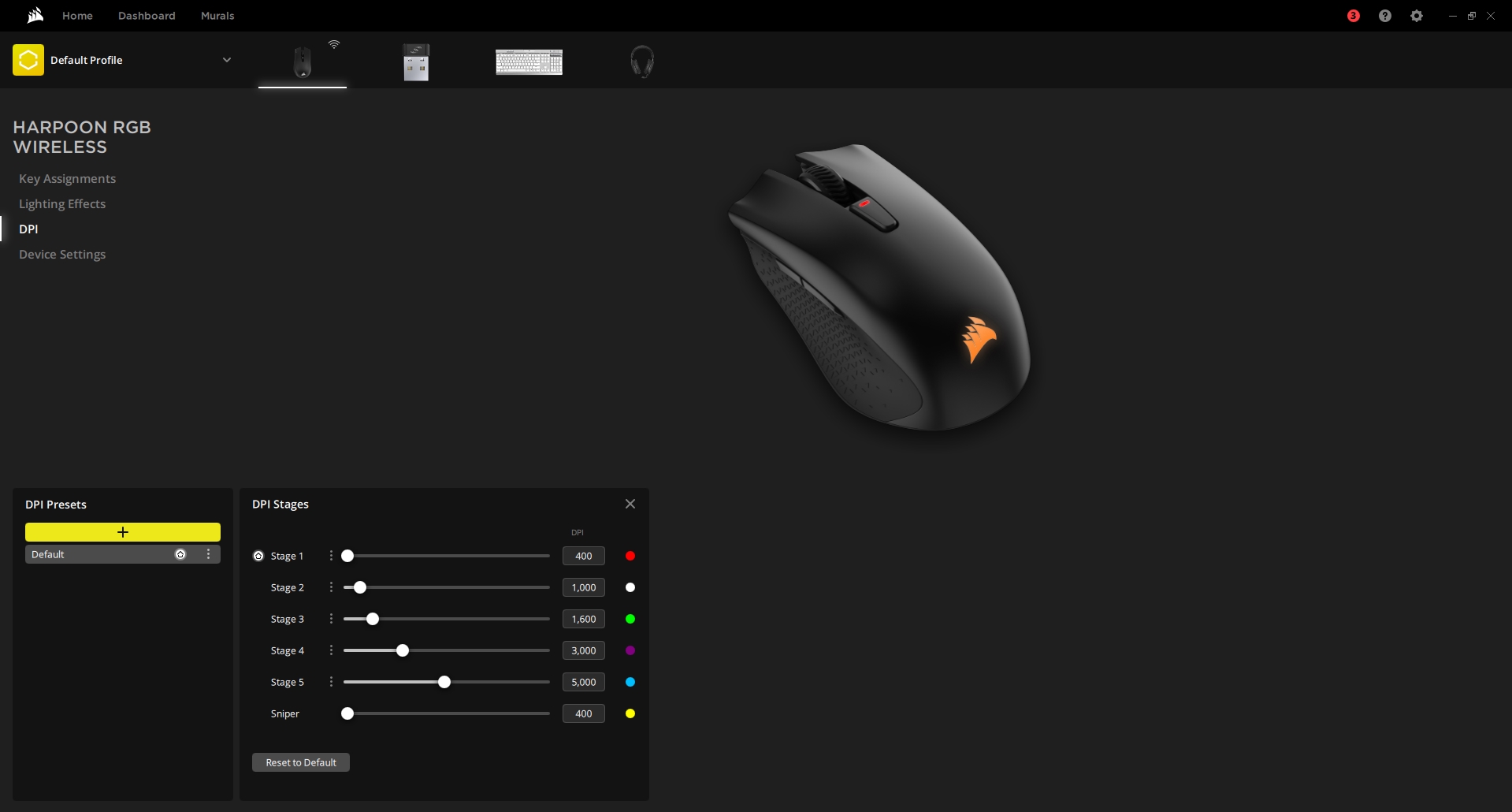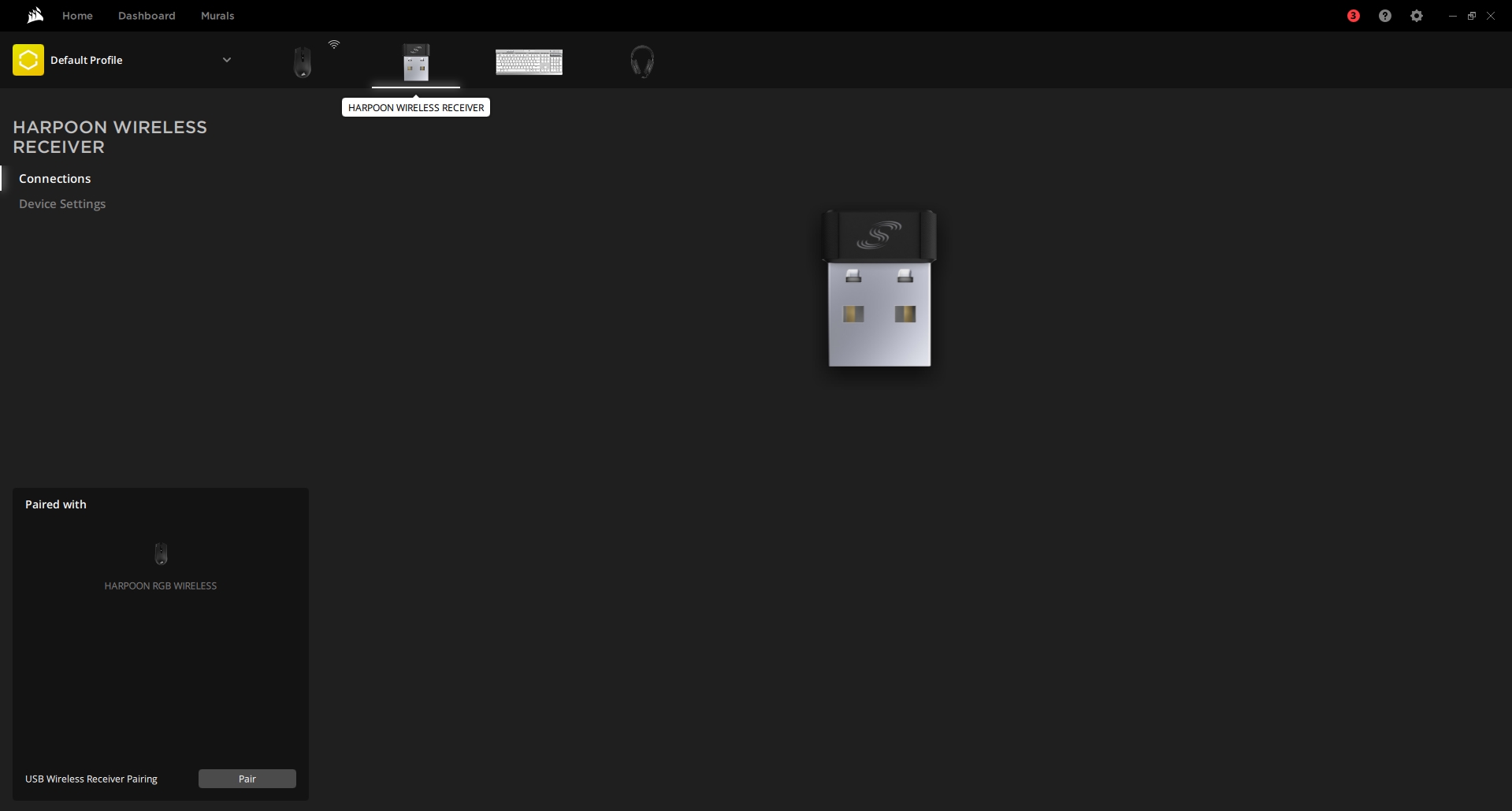 A specialized piece of software for tweaking every aspect of your gaming hardware is a need if you want to hang around the cool kids. Corsair's iCUE interface enters the fray, giving users a wide variety of controls for optimizing the performance of their gaming peripherals. After setting up the client, I realized that it covered not just my gaming peripherals but also my internal Corsair hardware. This implies you can make the lighting profile apply to anything. Along with my Corsair Harpoon, the entire show was spectacular.
In addition, the Corsair Utility Engine (ICUE) software allows you to customize the lighting, set custom DPI settings, remap any button (except the left-click), and more. When compared to Razer and Logitech's software, the iCUE has a steeper learning curve. However, it also offers greater functionality, especially when it comes to the creation of unique lighting profiles.
The iCUE's Dashboard has a nice touch, allowing you to keep tabs on the CPU and GPU temperatures and fan speeds, but if you are happy with the mouse's default settings, you do not need to bother with the program at all. Aside from the dedicated sniper mode, iCUE also allows you to specify a maximum of five custom DPI settings for your mouse. To give an illustration, in 200-DPI increments, you can increase the resolution all the way up to 10,000 DPI.
If you find that there are too many options for DPI, you may deactivate some of the available 5. Moreover, the Actions tab allows you to remap five of the six mouse buttons (the left mouse button cannot be remapped) and record macros. Due to the lack of a sniper button, I had to reprogram one of the thumb buttons on the side to serve that purpose.
On the other hand, the iCUE lighting effects tab lets you change the hue of the LEDs that serve as the Corsair logo and the DPI indicator. Logo options include a single hue or a gradient of hues and tones. To make it easier to keep track of the DPI level you are using, the DPI indicator allows you to assign a different color to each of your DPI settings, including the sniper setting. Notably, with the Harpoon RGB Wireless's onboard memory, you can quickly switch between computers without having to recreate your profile.
Should You Buy It or Not?
The price of gaming mice has steadily risen over the last several years to the point that a high-end model now costs upwards of $150. Yeah, that is very scary. If you are wondering, "cheap" refers to a price tag of less than $60. But Corsair has done the impossible, creating a low-cost mouse with a high-quality sensor and wireless connection. The incredible value of the Corsair Harpoon RGB Wireless is practically unreal.
For the price, this mouse would have been excellent regardless of its wired or wireless capabilities; the fact that it is wireless makes it even more impressive. Notably, the Harpoon RGB Wireless Gaming Mouse has a lightning-fast wireless connection time of under one millisecond. It is one of the finest wireless mice on the market since you can switch between 2.4GHz and Bluetooth wireless connections or a cable connection with ease while still experiencing low latency.
On the other hand, this mouse has fantastic accompanying software. Moreover, Corsair's iCUE software makes it easy to customize the mouse's dynamic RGB lighting, six fully programmable buttons, and lightweight design. It is nice that this mouse works with both Windows and macOS, but its lack of onboard memory means that your preferences will not transfer to a new computer. It is also worth noting that wired mice of the same price range would likely include a little better sensor.
With all due respect, the sensor is not great, but considering the wireless and RGB capabilities of this mouse, it serves its function. Another drawback could be its somewhat tiny form factor. However, it offers unwavering performance and comfort despite its compact size and low weight. Notably, Corsair has eliminated all unnecessary frills from the wireless gaming mouse and produced a product that excels in both performance and affordability.
Finally, we get to the million-dollar question: is it worth it to buy this particular gaming mouse? That, of course, is contingent upon several variables. If you want a mouse that costs less than $60, has a good performance, and is wireless, I do not think you will find it much better than this one.
However, if you like MMO games, you may want to look elsewhere for a mouse. The same is true for those who have somewhat big hands. Ultimately, it is a terrific small mouse overall, with excellent build quality and some eye-catching RGB lighting as well. Is this the proper mouse for my needs? No, I doubt it. However, it may be the best option for you.
In the end, I would like to give a huge shoutout to The Revive Tech for sending me this sample unit to review and share my experience with the world. Thank you for letting me put it through its paces. The Corsair Harpoon RGB Wireless gaming mouse earns the Tech4gamers recommended Award because of its well-rounded design, many features, impressive performance, and reasonable pricing.
Coming Next: Logitech G Pro Wireless Review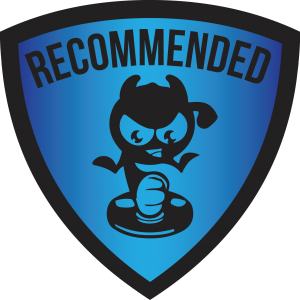 Was our article helpful? 👨‍💻
Thank you! Please share your positive feedback. 🔋
How could we improve this post? Please Help us. 😔
[Hardware Reviewer]
After many years of exploiting various pieces of hardware, Abdul Hannan now serves as an editor at Tech4Gamers. He's been in the PC hardware reviewing industry for almost a decade, and his staff of passionate geeks and reviewers is second to none.
Abdul Hannan is constantly seeking new methods to improve the performance of his computer components since he is an ardent overclocker. He is well-known for providing the most extensive and unbiased analysis of the newest and greatest hardware for PC gaming, including everything from GPUs to PSUs.