Good Value for Money?
Review Summary
The Razer Basilisk X Hyperspeed is a multifunctional mouse that excels in a number of domains. It's hard to tell the difference between this and the much more costly Razer Basilisk Ultimate. In addition, its ergonomic design makes it comfortable to use with any grip style and almost any hand size. On the downside, it uses a single AA battery instead of being charged through a USB port and has no RGB lighting. Ultimately, it is a perfect companion for FPS titles with its low click latency.
Build Quality -

8/10

Value -

9/10

Performance -

8/10

Design -

8/10
Pros
Remarkable Wireless Connection
Enduring Battery
Top-notch Performance
Ergonomic Design
Good Value For Money
Durable Build
Cons
Non-rechargeable battery
Absence of DPI Indicator and Sniper Button
Outdated Razer Gen Technology
No Option Wire Connections
A bit heavy
Razer has finally added the Basilisk X HyperSpeed to its extensive lineup of gaming mice. Since its 2017 introduction, Razer's Basilisk line of mice has evolved to appeal to FPS enthusiasts. From the very first wired model, they have had a reputation for lightning-fast performance. Subsequently, the Razer Basilisk X Hyperspeed is the last in the Basilisk series of top-tier gaming mice. Notably, this gaming mouse is a wireless adaptation of the original Basilisk, which uses most of its design elements but charges just $59.
The Basilisk X HyperSpeed wireless mouse may be the entry-level model in the Basilisk family, but its convenience and performance in games demonstrate that sometimes compromises in hardware can pay off. It places the Razer Basilisk X Hyperspeed in an amazing position since it can compete on price and performance with the leading gaming mice, even though many of those mice are wired.
Moreover, the Razer Basilisk X Hyperspeed supports dual-mode wireless through either 2.4GHz or Bluetooth. Even those who are skeptical of wireless gaming will be charmed by this inexpensive gaming mouse. It's good for casual gamers, but mainly due to outdated technology. It might be tricky to consider this as a primary mouse for professional esports players.
On the other hand, Razer had to make some compromises in order to keep its price down. While everything seems good on paper, it is not always the case when put to the test in the real world. So I took this mouse for a ride and wrote down my thoughts which include benefits, downsides, and anything else that deserves consideration, in my opinion. Well, without further ado, here is my take on the Razer Basilisk X Hyperspeed mouse.
Related: GLORIOUS Model D Minus Mouse Review
---
Key Takeaways
The Razer Basilisk X Hyperspeed Mouse is a dual-mode wireless gaming mouse that has been designed for competitive play and has an amazing battery life and competitive pricing. Moreover, it will let you aim with complete freedom and pinpoint accuracy across a wide variety of FPS titles.
You should get the Razer Basilisk X Hyperspeed if you want a wireless mouse that would be comfortable with all sorts of grip styles, precise sensor, good battery life, onboard memory, low latency, and button switches that would last for a long time.
You should not get the Razer Basilisk X Hyperspeed if you are looking for a wireless mouse that is lightweight and has a rechargeable battery, RGB lightning, latest-gen Razer technology, and impressive features.
If you're looking for a way to give yourself an advantage in your favorite esports title, go no further than the Razer Basilisk X Hyperspeed. Hyperspeed wireless technologies and Bluetooth connectivity enable consistent and reliable connections, while the 16,000 dpi optical sensor guarantees precision even with the smallest of movements. In addition, it has six buttons that can be set to specific functions.
---
Specifications
These are the most important details regarding the Razer Basilisk X Hyperspeed mouse's specifications that you need to know.
MOUSE FEET
Standard Stock Feet
FORM FACTOR
Right-Handed
MAX ACCELERATION
40
MAX SENSITIVITY
16000
RGB LIGHTING
None
APPROXIMATE WEIGHT
0.18 lbs / 83 g
BATTERY LIFE
Up to 450 Hours
MAX SPEED
450
SWITCH LIFECYCLE
50 Million Clicks
PROGRAMMABLE BUTTONS
6
ONBOARD MEMORY PROFILES
1
CONNECTIVITY
Razer HyperSpeed Wireless Bluetooth
APPROXIMATE SIZE
Length x Grip Width x Height
5.11″ x 2.36″ x 1.65″
130 mm x 60 mm x 42 mm
SWITCH TYPE
Mechanical
SENSOR
Optical
First Impressions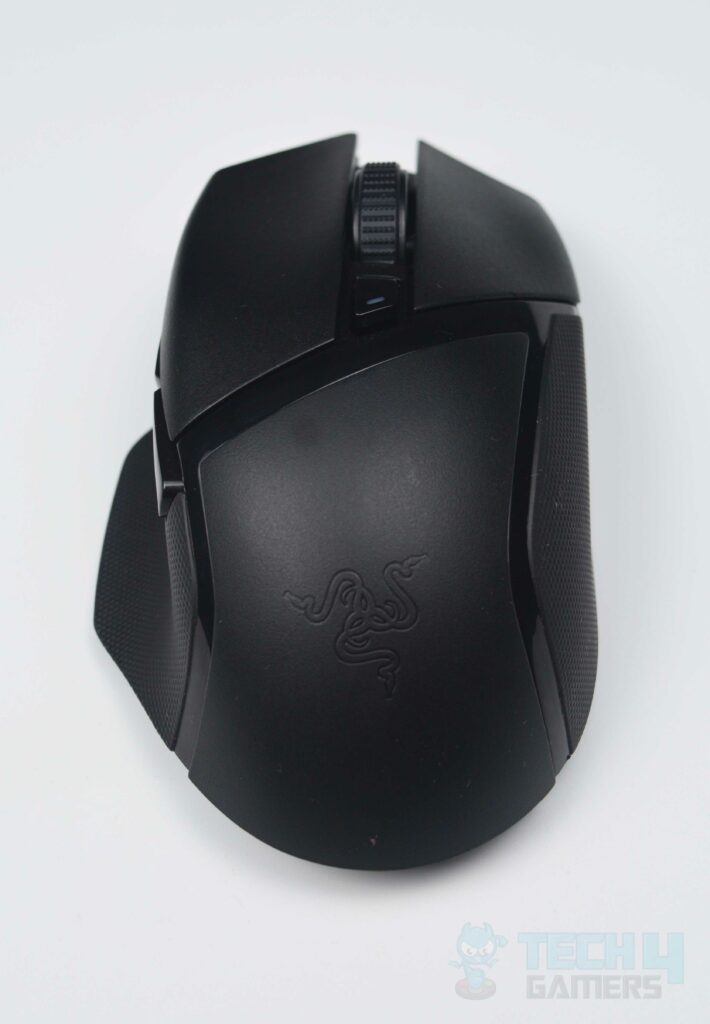 At first look, except without its RGB lights, the Razer Basilisk X Hyperspeed is visually similar to the Razer Basilisk Ultimate. However, the mouse lacks the sniper button seen on the left side. But, the same thumb rest and ergonomic design for the right hand are present. Consequently, the Razer Basilisk X Hyperspeed has a reasonable footprint and can fit in most bags and maybe even larger laptop cases. Even though most users would probably keep it at home with their gaming setup.
Like the original Basilisk, the Razer Basilisk X Hyperspeed has a sweeping thumb grip, an angular front design, and a sloped surface. However, it modifies things in a few ways. One difference is that the grip is less complicated and easier to use. Notably, there are two thumb buttons on the left side. But there are no extra modifications to the notched scroll wheel. The thumb buttons on these feel solid and never mushy, making them a pleasure to use.
Moreover, there is just one light on the DPI switch, and it is not RGB. In addition, it has mechanical switches manufactured by Razer that are rated to last through 50 million clicks. Consequently, the mouse weighs 83g without the AA battery. After doing some research, I discovered that the weight stated by Razer is for the mouse without the included replaceable battery. Even still, it's unusual and rather misleading of them to do that.
However, with the battery, it is a little over 100g. As it's such a substantial component of the mouse (weighing in at 17 grams), it deserves its own compartment. As you remove the palm rest, you'll find a compartment inside for the battery and a little USB dongle. With the available space, it's a pity that Razer didn't offer any additional custom weights.
That is to say, and it has dimensions of 130mm x 60mm x 42mm (LxWxH). These are identical to the Basilisk V2's dimensions. Considering I enjoyed using that model for longer than I did with the DeathAdder V2, it should come as no surprise that I similarly enjoyed using the Basilisk X HyperSpeed. Having looked at it, the Basilisk X HyperSpeed definitely, can be used peacefully for countless hours.
Design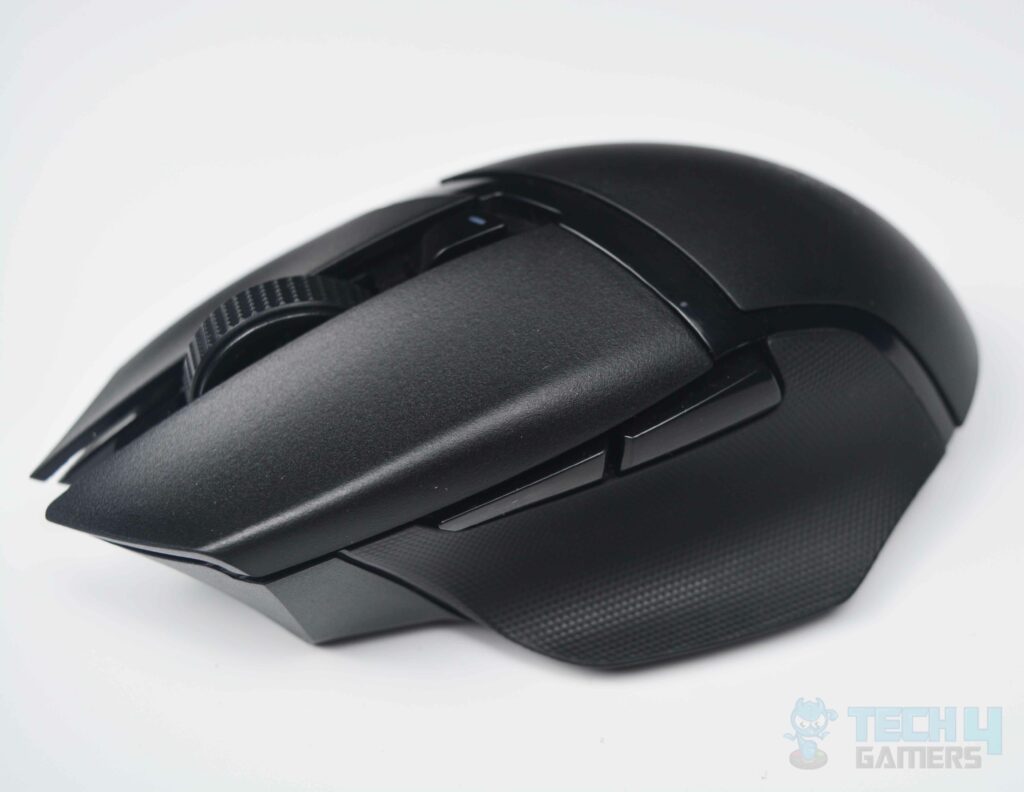 Razer's Basilisk X Hyperspeed wireless gaming mouse is based on the design of the original, more expensive model. They've obviously drawn some inspiration from the original design while also finding ways to exclude some features and keep the price down. Notably, design inspirations from the original Razer Basilisk can be observed here.
However, the thumb rest is somewhat longer, the base is slightly wider, and the device's front is curved in an aesthetically attractive plastic. Henceforth, the sleek plastic design has ergonomic side grips that improve grip and give the mouse an aspect of luxury. It's attractive because of the contrast between the glossy acrylics and the matte plastics.
However, this mouse is missing a DPI switch, buttons for tilting the scroll wheel, and a button for adjusting the sensitivity of the scrolling. But otherwise are almost similar; both are right-handed mice designed for palm and claw grips, have two side buttons and a thumb guard, and come in Razer's signature black-on-black-on-black color scheme. The thumb rest on the left side of the Basilisk X Hyperspeed is my favorite design element. My thumb has a nice resting place there when it's not pressing the side buttons.
Meanwhile, the form factor is generally comfortable in my usual palm grip. The mouse fits well in my hand, and each of my fingers has a good resting spot. Even if you don't use a palm grip, you should be capable of using this mouse well with various styles of grips. All in all, I find its length and design to be optimal for the palm grip.
Conversely, while utilitarian, the natural elegance of the design left much to be desired. Nonetheless, I did like how straightforward it was. Moreover, the Razer Basilisk X Hyperspeed's design will be recognizable to anybody who is familiar with the Logitech G502. Both mice are about the same size, but the G502 is heavier.
A Good Read: CORSAIR HS60 Pro Surround Gaming Headset
Comfort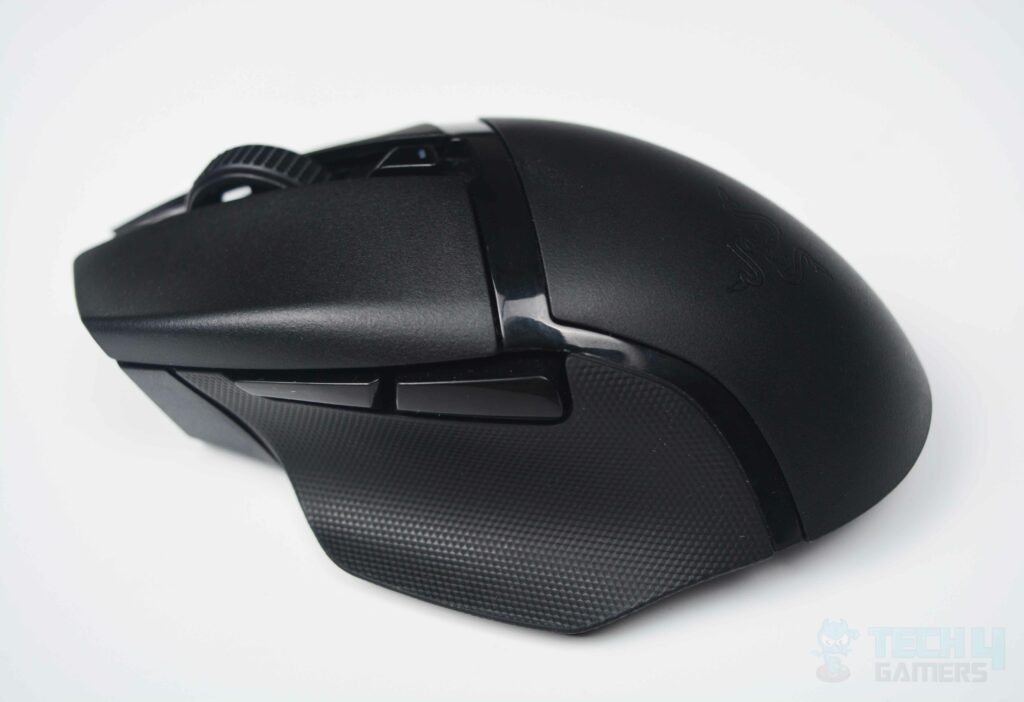 The coating has a rough matte finish, typical of a Razer mouse. Even though it's not the most comfortable choice, Razer generally makes it work. The rubberized part on the right side of the mouse is a nice touch and makes the mouse easier to grip. The Basilisk X HyperSpeed was a joy to use for hours at a time while gaming.
Basilisk X's unique form is one of its distinguishing features from its competitors. Notably, the Rival 3 and Logitech G305 are both ambidextrous or egg-shaped. The Basilisk X has the same big ergonomic frame and rubberized thumb rest as its siblings.
Moreover, the Basilisk X is almost indistinguishable from its more costly siblings. Meanwhile, all of the buttons performed as expected. However, the device's plastics looked and felt underwhelming. The rubber feet also seemed worn after just a few hours of usage, which was another drawback.
Grip Styles
The Razer Basilisk X Hyperspeed is a comfortable, well-balanced gaming mouse. This mouse is angled slightly for the right hand and has a thumb resting on the left side. The scroll wheel of the Basilisk X HyperSpeed is conveniently accessible with all types of grips, and the mouse's rubberized, recessed coating is comfortable to grip.
Also Read: BEST Palm Grip Gaming Mouse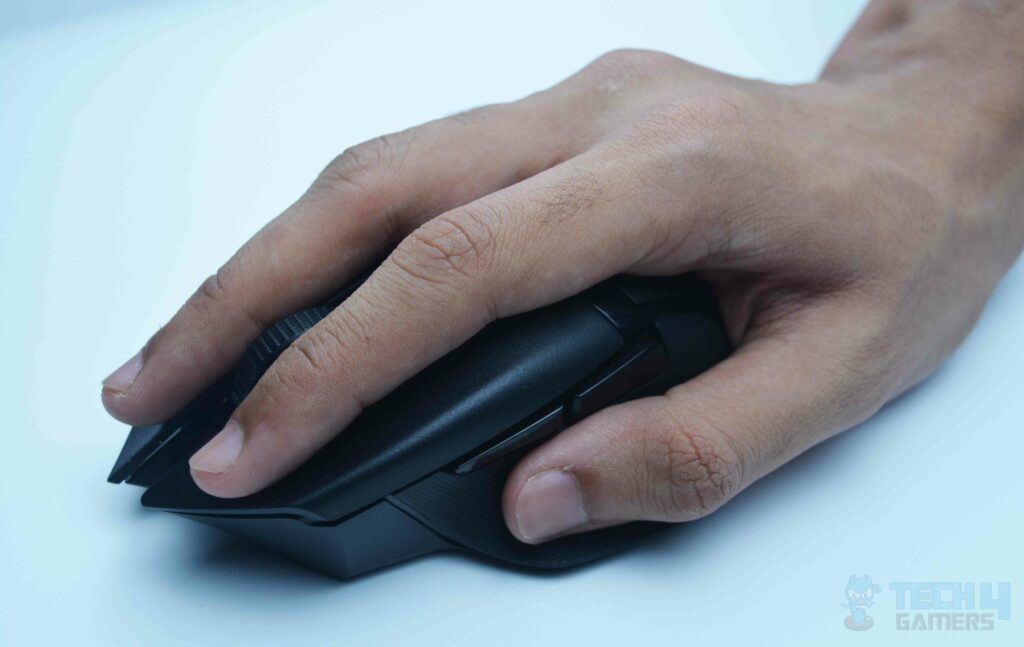 No matter the size of your hand, this mouse should feel good in your palm.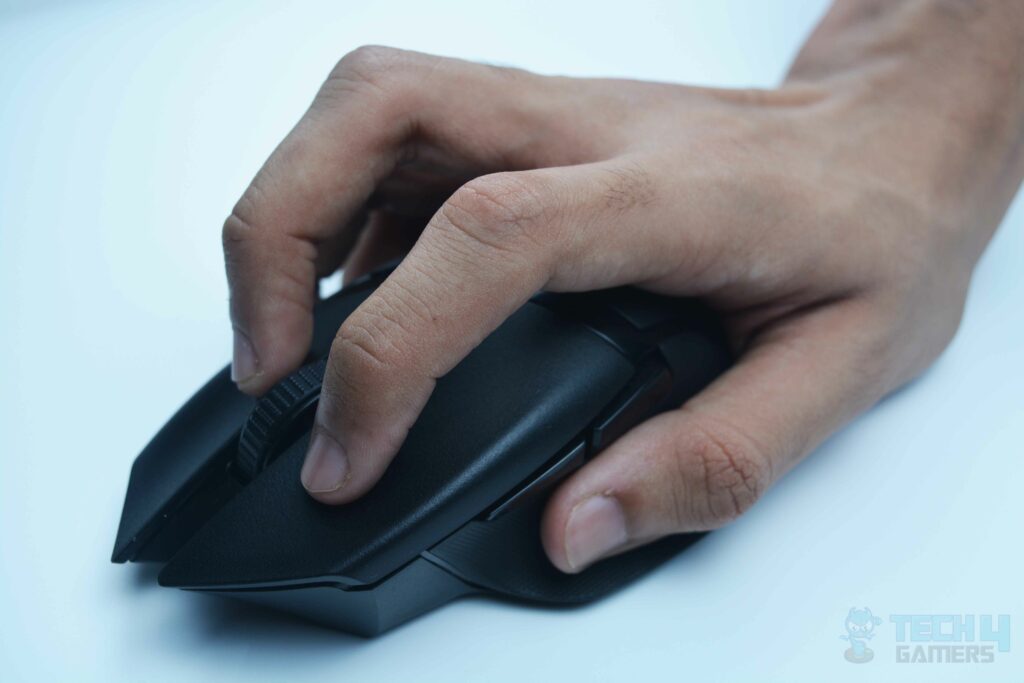 The mouse is not built in mind to cater to fingertip grip users, but it is still usable with it. So those with tiny hands may have trouble pressing the primary buttons and maintaining good control.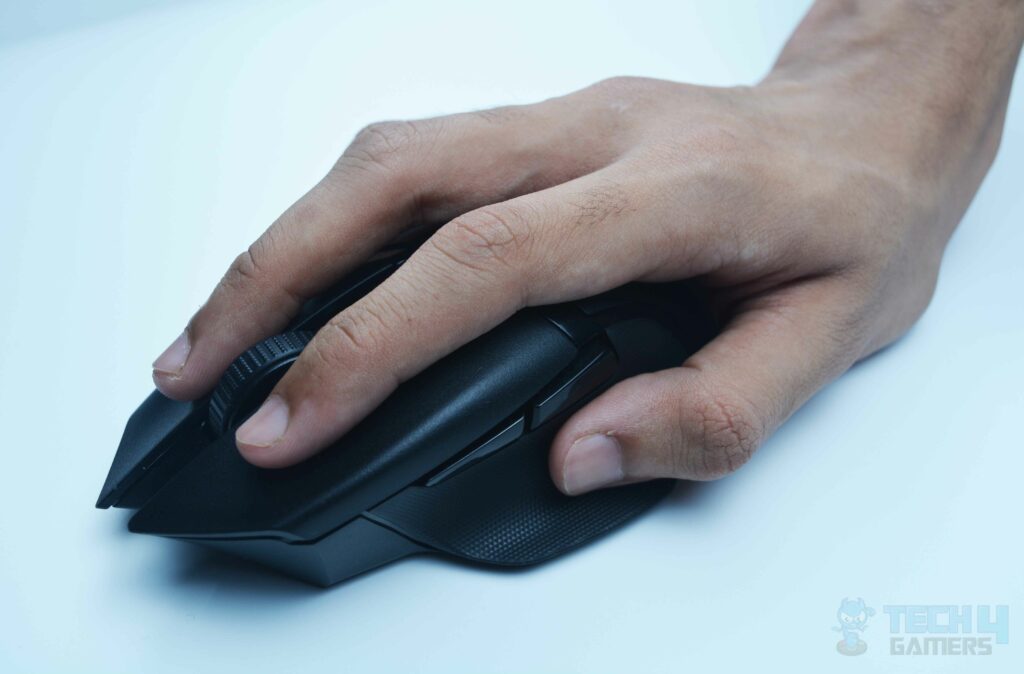 Those with tiny hands may have difficulties reaching the primary buttons when using a claw grip.
Also Read: Types Of Mouse Grips
Build Quality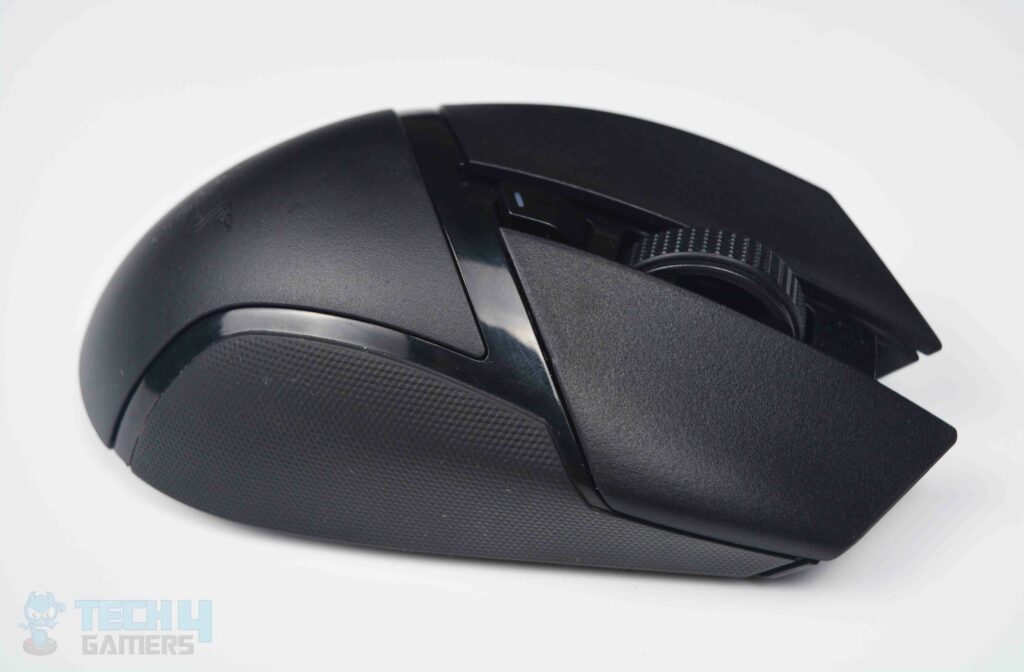 The build of the Razer Basilisk X Hyperspeed is top-notch, and it has the same premium feel as the more costly Ultimate version. Meanwhile, the Ultimate features higher-quality feet, which is the biggest distinction between the two options. All things aside, the only audible vibration while shaking the mouse comes from the battery, which is hardly noticeable during daily usage.
Luckily, Razer has not over-accessorized the mouse. It's a really basic-looking mouse, particularly in comparison to some of their previous offerings. But, the build quality is excellent, with everything feeling firmly secured. Picking up the mouse and shaking it causes a little wobble in the battery section. However, this is hardly noticeable under normal circumstances.
While aesthetically pleasing, this mouse lacks certain key features seen in its predecessor. First and foremost, there is just a single DPI sensitivity button on the mouse's front, so you can't switch between high and low DPI on the fly without assigning different functions to your thumb buttons. Notably, the paddle, a prominent button on traditional Basilisk mice that makes switching to a lower DPI "sniper" mode simpler, has been removed from the Basilisk X Hyperspeed. Without that function, the mouse seems less rich with features.
Similar: RAZER Huntsman Tournament Edition Gaming Keyboard Review
Feet
Obviously, this is one place where Razer has chosen to compromise. Plastic feet were used in place of the recommended PTFE ones. It reminds me of another good low-cost Razer alternative, the DeathAdder Essential, which also has plastic feet. While PTFE feet glide more smoothly and move more quickly across mousepads, some users may prefer the more manageable pace of plastic feet.
As I was testing this mouse, I didn't feel the need for PTFE feet. Even though PTFE would be my first choice, I found that these plastic alternatives performed well in most situations. I was thinking, "If this is all it took to make the price of the mouse cheaper, then it's well worth it," since the plastic feet are one of the most noticeable changes between this Razer Basilisk edition and the Razer Basilisk Ultimate. Moreover, the bottom of the Basilisk X HyperSpeed contains a switch that allows you to choose between different connectivity modes.
Hyper Speed Wireless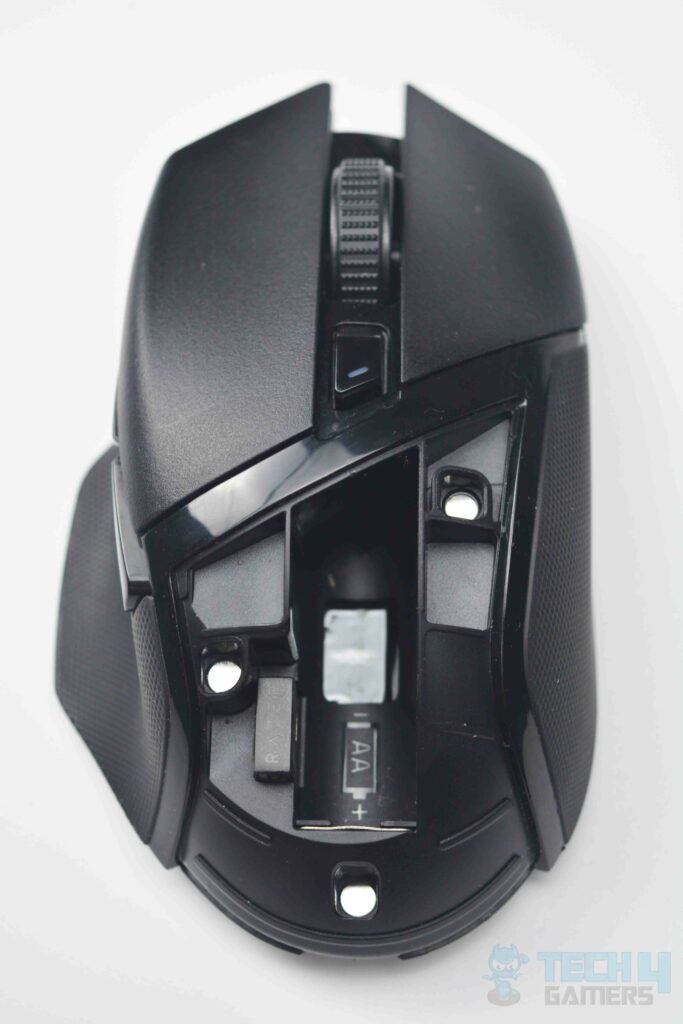 In the marketed HyperSpeed 2.4 GHz wireless mode, I had no interrupted, delayed, or inaccurate inputs when using the mouse. The Basilisk X HyperSpeed functioned as well as the Basilisk V2 in professional shooters like CS: GO and Valorant, but I recognize that not everyone will be persuaded that a wireless mouse can be as dependable as a cable one.
Yeah, the AWP caused me to miss a couple (dozen) shots, but that's not its fault. Moreover, when the USB receiver is attached to the Razer Basilisk X Hyperspeed, the click latency is excellent. On the contrary, when using Bluetooth, there is an increased and less constant click latency. Nonetheless, this is to be expected, and using Bluetooth isn't suggested for games that depend on quick reflexes.
Ultimately, it boasts a performance so outstanding that the boundaries between wired and wireless performance are blurred. According to Razer, its HyperSpeed wireless technology is 25% speedier than anything the competition (even Bluetooth) has to offer.
Related: HYPERX Cloud 2 Wireless Review
5G Advanced Optical Sensor
The optical sensor found underneath it is the Razer 5G Advanced, which can achieve up to 16,000 DPI, 450 IPS of tracking speed, and 40G of acceleration. On the other hand, the Razer Focus+optical sensor with up to 20,000 CPI, 650 IPS, and 50G is used in the other existing Basilisks, which is a downgrade. Not to mention, there is no RGB lighting in this variant.
On the specifications paper, the Basilisk V2 should be better than the Basilisk x HyperSpeed since the Focus+ sensor can handle up to 20,000 CPI. In reality, however, the maximum DPI that a sensor may handle is irrelevant so long as a lower DPI setting is used. As long as the tracking is accurate at 1,000 CPI, which is the level I use for most of my gaming sessions, I don't give much thought to how much further the sensitivity may go.
I doubt many players would try to max up any of these sensors. Adequately, its sensors are twice as accurate as those in the best-selling Viper Mini and Deathadder Mini versions, and its performance is on par with that of any other mouse now available. During the course of many hours of play, I never once had a problem with the mouse's tracking or "lift-off" distance.
Ultra-Long Battery Life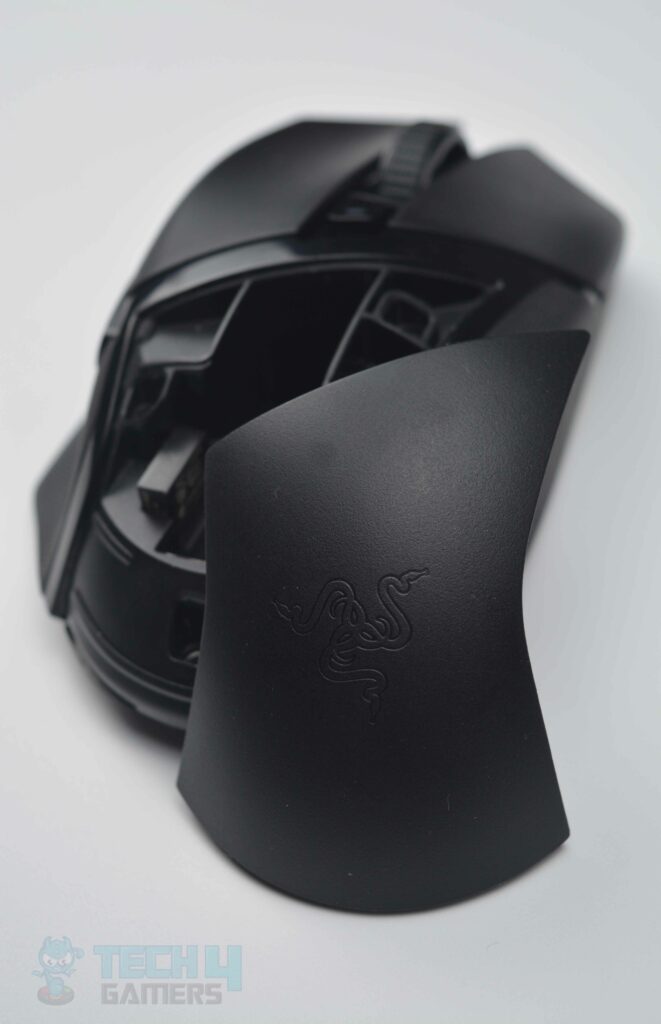 In comparison to the Basilisk V2, Basilisk Ultimate, and DeathAdder V2, the Basilisk X HyperSpeed is easily recognizable for its absence of the Razer Speedflex cable. This is a wireless mouse that uses Razer's exclusive HyperSpeed wireless technology to connect to a computer through a USB Type-A dongle functioning at 2.4 GHz.
In addition to this, Bluetooth Low Energy is another option for establishing a connection to the mouse. Some users may feel uneasy about the Basilisk X HyperSpeed's absence of wired compatibility because they worry about a battery drain in an unexpected scenario. Thankfully, the battery hasn't been a problem at all throughout the playtime.
According to Razer, one AA battery can fuel the Razer Basilisk X Hyperspeed for up to 285 hours when using it with the HyperSpeed Wireless connection or otherwise 450 hours when using Bluetooth. Although, we haven't played for that long. But in all of the testing, the battery has only been down by a few percent. The red light emanating from the DPI button is a welcome reminder that your device is still functioning on battery power.
When the battery reaches 5%, it will begin flashing, giving you plenty of time to stop what you're doing and swap it out. At least it won't just stop working without warning. Moreover, in the Razer Synapse software, the only indication of battery life is a tiny symbol in the upper-right corner of each configuration window. Fortunately, the Razer Basilisk X Hyperspeed isn't just a gaming mouse.
Thanks to its Bluetooth connectivity, this mouse can even be used in work or office environments. We have done some work with it by connecting it through Bluetooth to a laptop. The Razer Basilisk X Hyperspeed's tracking smoothness suffers, but it's still handy to be able to use it away from home without unplugging the USB dongle from our gaming PC. Ultimately, the battery capacity is adequate, but the inability to use a lithium battery is disappointing.
Related: Razer Viper V2 Pro Review
Programmable Button and Switches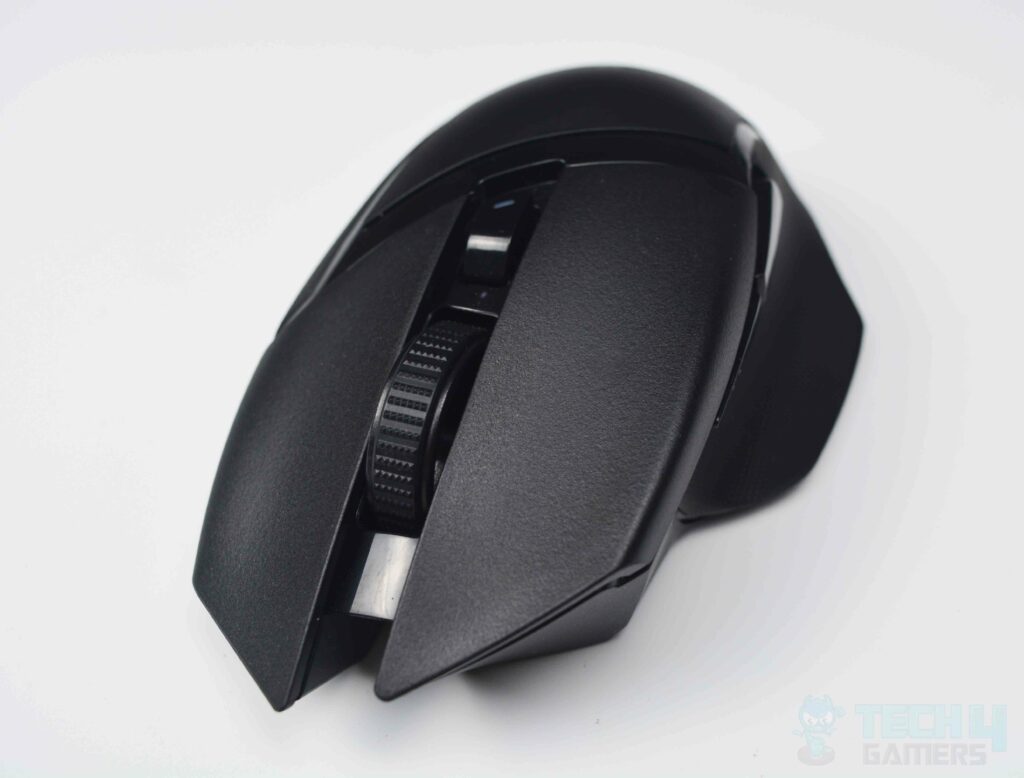 The quality of the buttons and switches is equally important to the overall quality of any gaming mouse. You're going to be using those components of the mouse pretty much every time you use it, so if they're faulty in any way, it'll be noticeable. Fortunately, Razer did not let us down in this area. The buttons are a little more difficult to press than those on many other mice I've used, but they're not unpleasant.
The side buttons are conveniently located and won't be accidentally pressed during intense gameplay. The thumb rest made it simple to reach the nearby buttons, and the weight didn't get in the way at all. Professional gamers who need to adjust their mouse's weight and DPI sensitivity may disagree. As a general-purpose mouse, I gave it a go, but it fell short due to its lack of side-scrolling and configurable scrolling settings.
Moreover, the buttons are a little bit difficult to reach with smaller hand sizes, so those like me who have a bigger hand can use this mouse effectively. On the downside, the Razer Basilisk X Hyperspeed mouse has a subpar scroll wheel. Although the scrolling motion is pretty clicky, there is sadly no scroll adjustment slider as on the normal Razer Basilisk or the Razer Basilisk Ultimate.
Notably, around 10 or 11 clicks are generated by a complete front-to-back scroll of the mouse wheel. Overall, the scroll wheel was useful, although, unlike the G502, it cannot be locked. It shouldn't be a problem, but knowing it never harms. Ultimately, the switch feels great and is reliably responsive, and the notches work splendidly.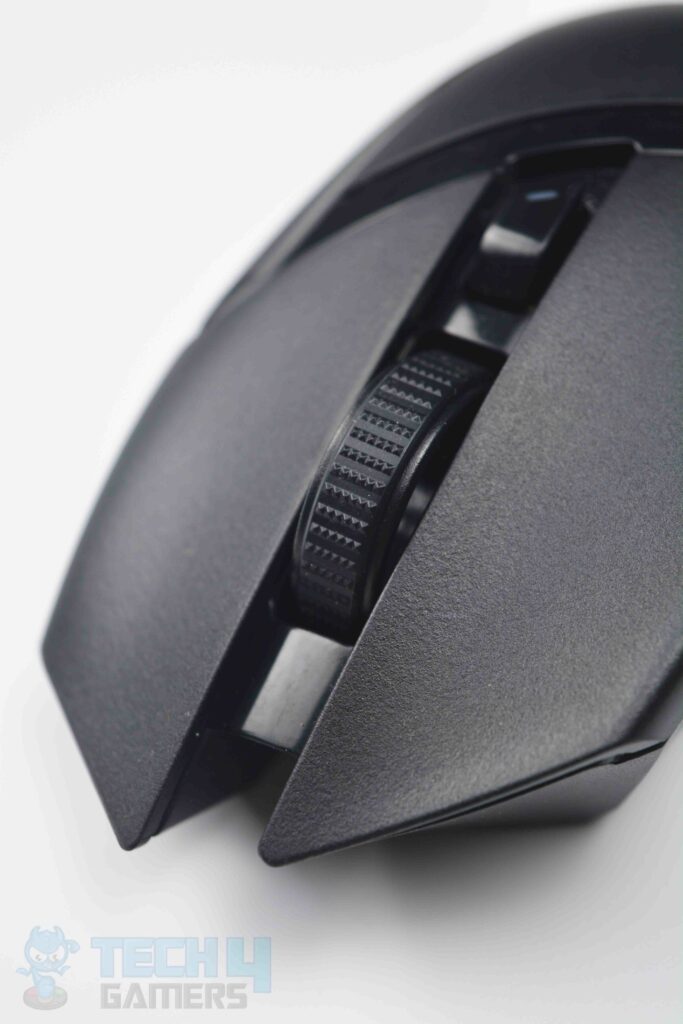 A button specifically for adjusting DPI settings has also been included. Changing the DPI in-game was quick and easy, although I often became confused as I cycled through my own settings. In this case, RGB lightning would have been useful since there was no indication of light to use as a reference.
At least when your battery life is becoming incredibly low, the DPI indicator glows a bright red. The remainder of the Basilisk x HyperSpeed's design is a stride down compared to the other available Basilisk mice. Unlike the other Basilisk mice, which employ optical switches with a 70 million click rating, this one only has six programmable buttons and uses Razer mechanical mouse switches rated for 50 million clicks.
Switching from the Basilisk V2 to the Basilisk X HyperSpeed and giving up five customizable buttons may not seem like a big deal if you don't use many of the side buttons. Moreover, it features Razer Hypershift, which allows users to toggle between different profiles, practically doubling the number of customizable buttons. Having said that, I have no complaints about the programmability of the buttons on my Basilisk X HyperSpeed.
Ultimately, the lightning-fast reaction time to even the tiniest mouse movement was something I immediately liked. That's because the brand's optical mouse switch technology enables immediate response from the time pressure is applied and the preset polling rate of 1000Hz for fast reporting.
Here is an audio sample for the Razer Basilisk X Hyperspeed
Gaming Performance
This is where we will discuss the Razer Basilisk X Hyperspeed's performance. It's great, to put it simply. The Razer Basilisk X Hyperspeed provides the kind of top-tier tracking performance one would hope to see in a premium gaming mouse, with features that can keep up with the lightning-fast reactions of the most skilled players.
Moreover, this mouse felt excellent in my hands throughout a few rounds of Valorant, whether I was dashing around corners with Jett to pick up my opponents off guard, firing into the distance for no reason, or defusing spikes in the last moments of a round. During gaming, the Basilisk X HyperSpeed gave me a comparable experience to that of the Basilisk V2.
The Razer Basilisk X never fails to track my aim at enemies when playing through the Valorant. As I made quick flicks with my operator or a quick turn to face an enemy from behind, tracking remained constant. The fact about gaming mouse specifications is that the vast majority of users won't detect a substantial difference between various models.
Although wireless connectivity for gaming mice may still cause some gamers concern, they have advanced significantly. We saw zero lag when gaming at frame rates above 300 on Valorant with the Razer Basilisk X Hyperspeed, thanks to the reliable 2.4GHz wireless connection. Fortunately, the Basilisk X Hyperspeed did not lose its signal even at a distance of roughly 30 feet, which is a must for a wireless mouse, although it did malfunction sometimes.
Notably, wireless capabilities have some drawbacks. In the midst of my Valorant aim battle. Unfortunately, the mouse stopped responding completely, and a restart was necessary. In my little time with the mouse, this occurred once, but that was more than enough to provide my feedback on it.
Apart from those issues, the Basilisk X Hyperspeed performed well throughout the game. The mouse's responses were timely and reliable. Although not exactly a critique, MMO players should know that the Synapse program has a plug-in that must be installed in order to utilize macros. You'll be prompted to do this during the installation process. So, if you want to use macros, be sure to tick the corresponding box.
Razer Synapse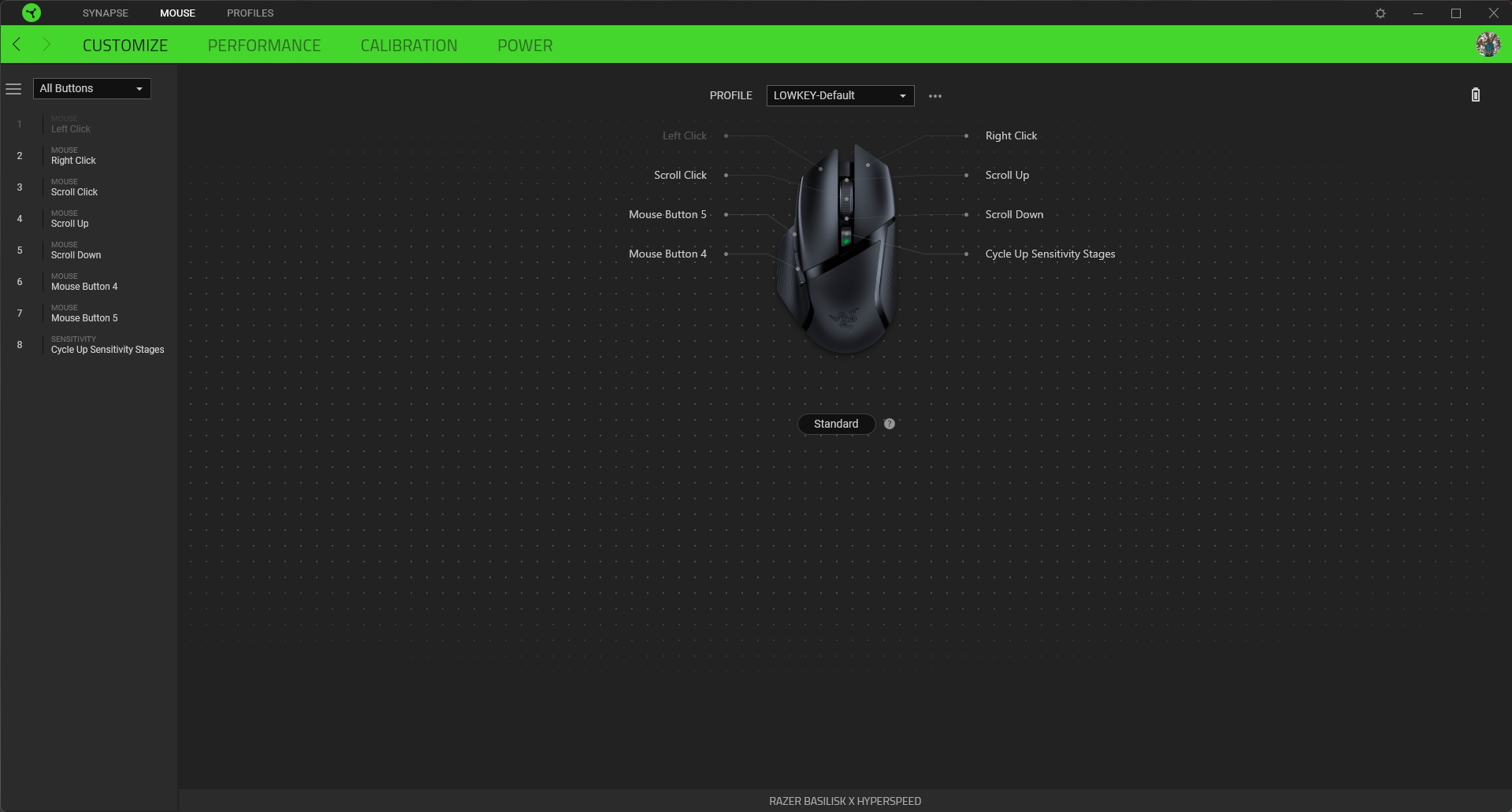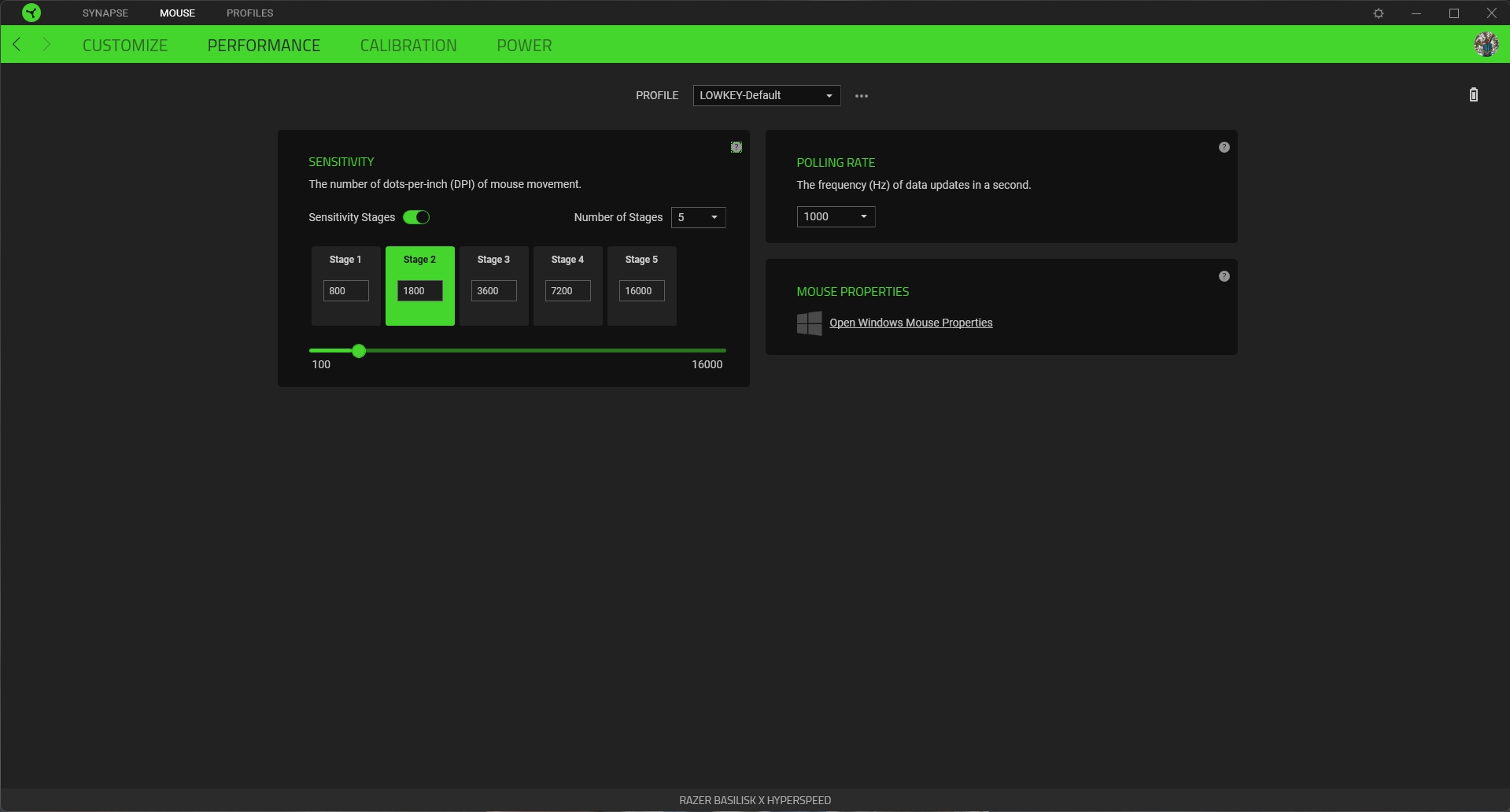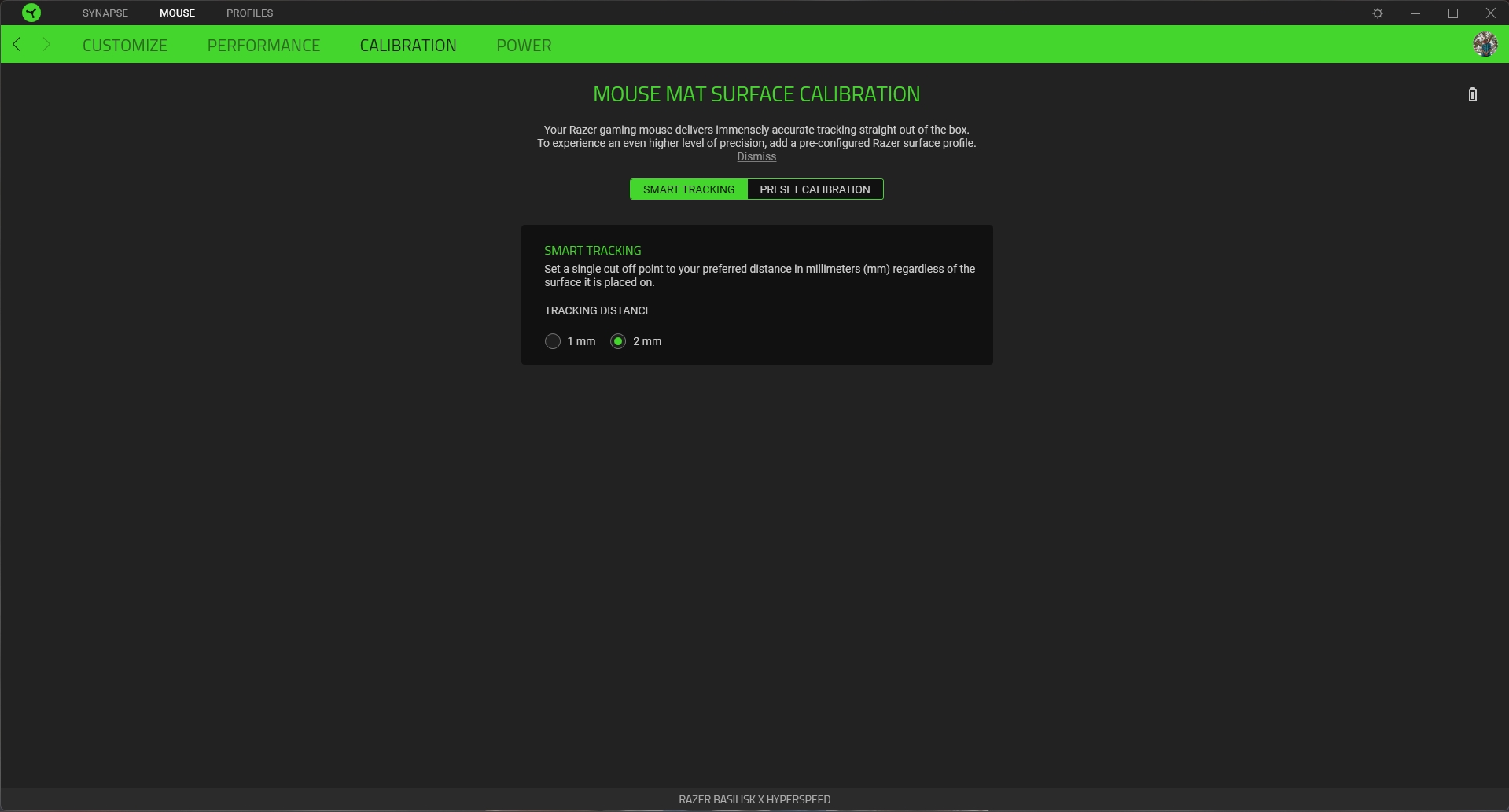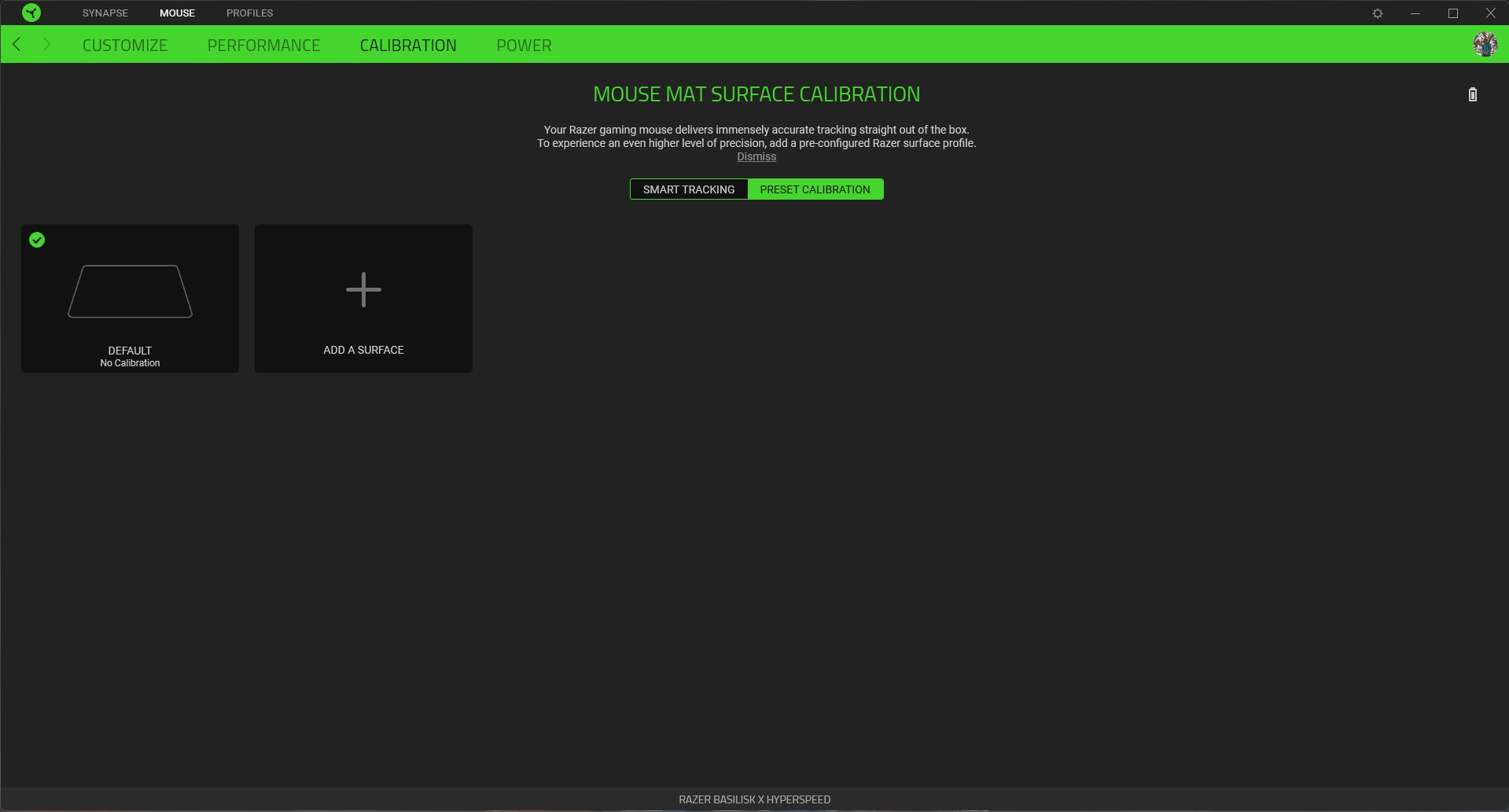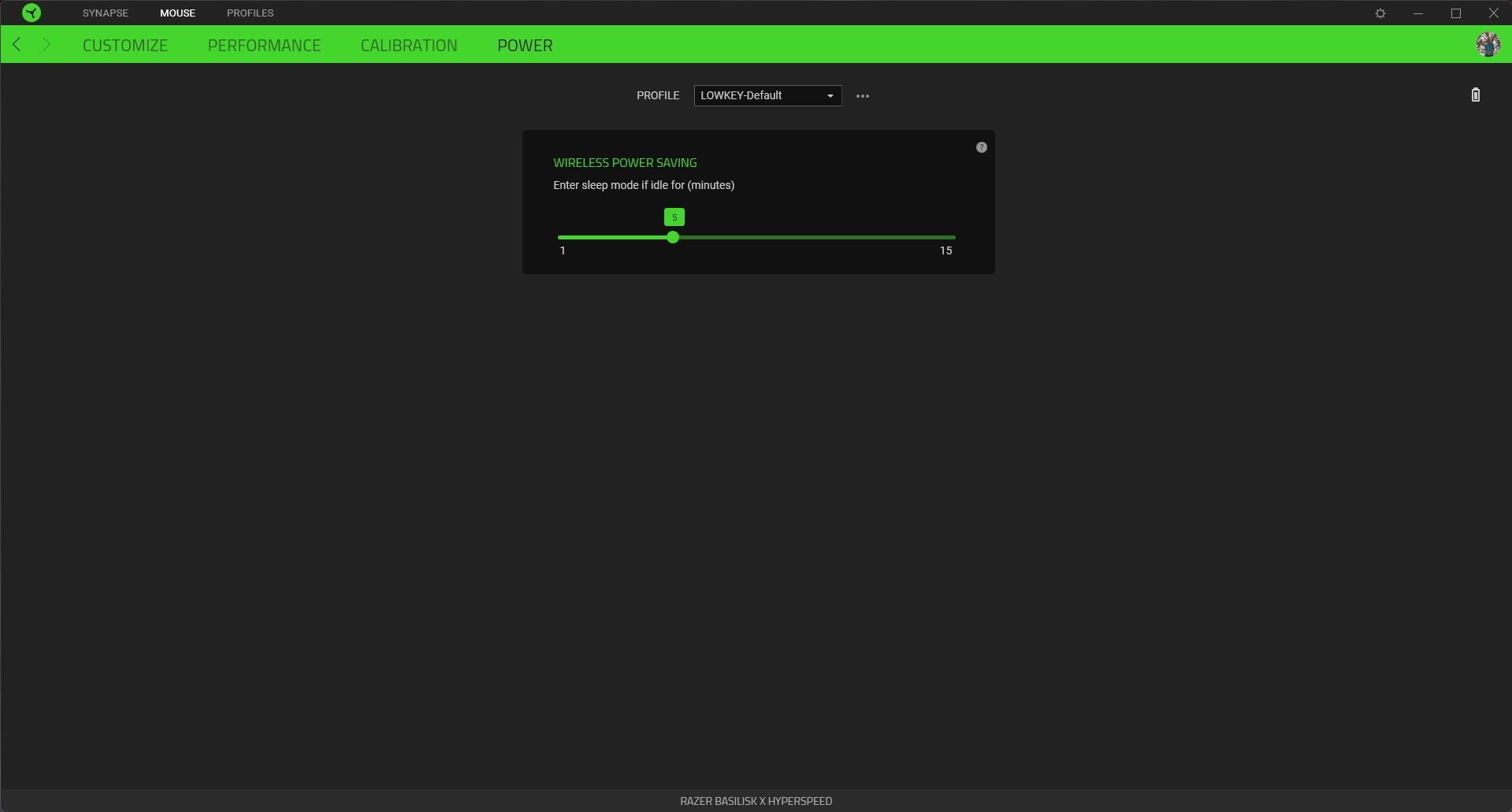 I appreciate that it is not compulsory, so I may choose to ignore it if I so want. But I did try it out so I could share my insights on it with you. There isn't much here, just the standard controls to modify things like DPI, bindings, and mousepads. You can also customize the mouse's "lift-off distance," which is the position at which it begins to record movements lifted from its "mouse mate," from 1 mm to 2 mm.
According to Razer, it offers a more precise gaming experience. Furthermore, with the accompanying Razer Synapse software, you can easily program shortcuts for the Basilisk x HyperSpeed's six programmable buttons and choose from five different sensitivity levels. However, with the limited amount of buttons, we thought it would be better to simply leave the bindings alone.
In case you don't want to install Razer Synapse on a computer, you're just using it temporarily. The CPI settings and assigned inputs can be stored on the device. The Basilisk X HyperSpeed lacks customizable RGB lighting, in contrast to the rest of the Basilisk family and seemingly every other Razer product. Although, the program does have some useful features, at least.
The lack of RGB lighting is the main problem. When compared to the Corsair Harpoon RGB, which has a fully lighted palm rest at no extra cost, the Basilisk X Hyperspeed's $10 price premium seems excessive. At long last, you may assign an idle mouse sleep interval. The default setting is 5 minutes. However, you may change it as needed. I suppose that helps save power, not that you ought to encounter problems with the mouse lasting as long as it claims to.
On the downside, the buttons may be reprogrammed to do a wide range of actions, although creating profiles is a time-consuming procedure. You can't just make a new profile and have everything work with it. Instead, you have to choose your Razer device from a list, dedicate it to a game, switch tabs, assign buttons, and then switch tabs again to return to your desktop profile. Nevertheless, not all games load their images correctly, leaving you to question which icon really represents the title you want to play.
Whilst all of that sounds fantastic in principle, in practice, I found the software to be a lot less polished and user-friendly than Logitech G HUB, which offers a similarly comprehensive degree of customization. The software seems bloated since it includes many features that are both unnecessary and irrelevant to this device, such as the Chroma RGB tool. The software also often froze or failed to adequately deliver when a setting was successfully loaded and implemented.
Should You Buy It or Not?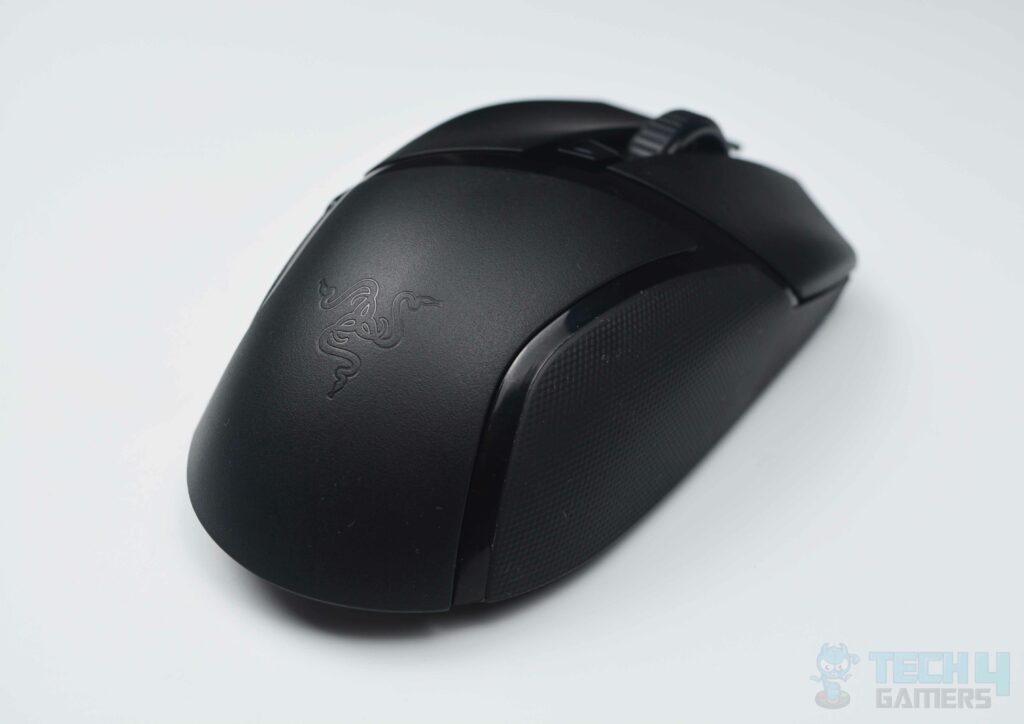 It's a good buy since you can use Bluetooth while you're away from home and HyperSpeed when you're in front of your computer. You can carry the mouse everywhere you go without worrying about losing the USB dongle. Furthermore, the Razer Basilisk X Hyperspeed's battery life is outstanding. It would take 9 months of daily one-hour gaming or 11 weeks of daily 9-5 workday Bluetooth usage to drain the battery.
It's remarkable how well the Razer Basilisk X Hyperspeed performs for the price, especially its elegant appearance and extended battery life. On the downside, the Razer Basilisk X Hyperspeed is equipped with only the essentials, making it an entry-level gaming mouse. There isn't much room for customization in terms of weight adjustment or button binding.
The Razer Basilisk X Hyperspeed is identical but lacks the Razer Basilisk's customizable scroll wheel, customizable RGB lighting, and a dedicated third thumb button. The affordability comes with these sacrifices. Moreover, the Razer Basilisk X Hyperspeed is unusual for its absence of the company's signature bright green, but it still manages to seem like a gaming peripheral thanks to its sharp angles and combination of matte and glossy black materials.
Final Verdict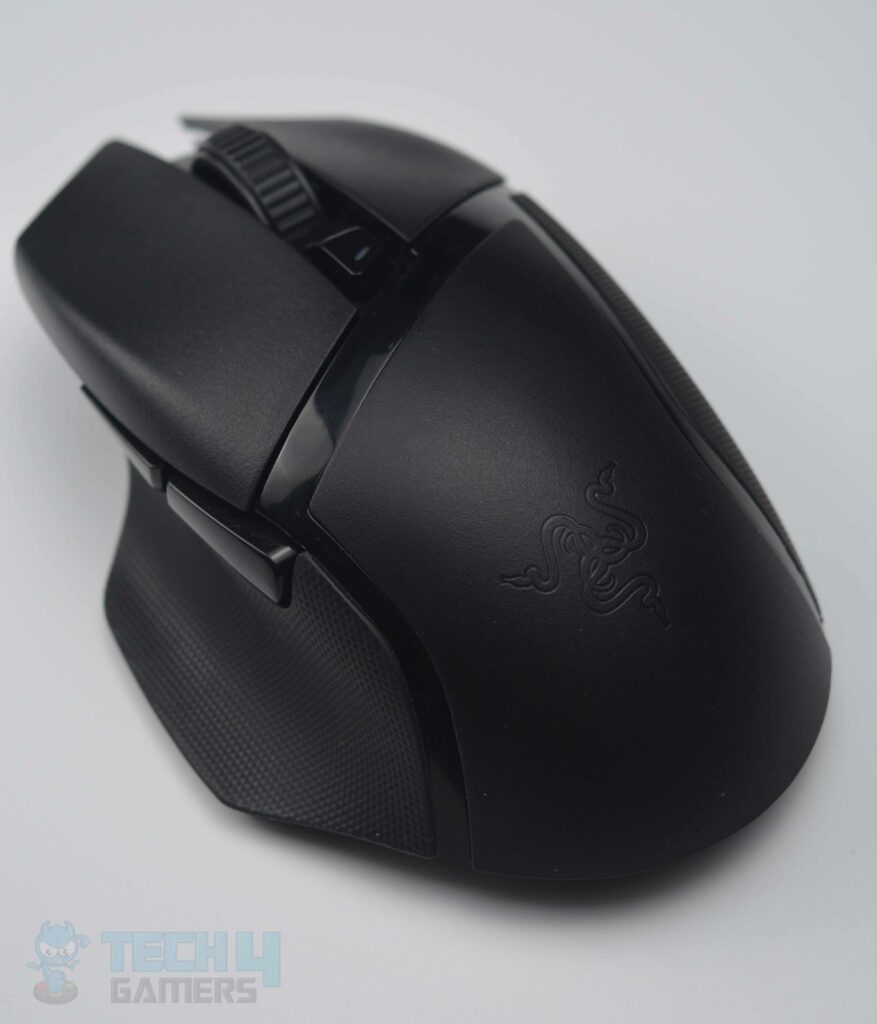 The Razer Basilisk X Hyperspeed is an exciting great trend in the industry. Manufacturers are beginning to offer wireless gaming mice in the $50–$60 price range rather than keeping them exclusively in the $100+ price bracket, although with fewer features. And that pretty much sums up the Basilisk X Hyperspeed: a competent device with no frills.
But, when compared to the price of the competition, I don't see why Razer had to make so many tradeoffs. The $50 Corsair Harpoon RGB Wireless is a direct competitor to the Basilisk X Hyperspeed because of its full RGB lighting and almost the same set of features. However, the Basilisk X Hyperspeed stands on its own as a reasonably priced mouse with enough features.
With its reasonable pricing and impressive feature set, the Basilisk X Hyperspeed promises to be a very attractive mouse. Overall, the mouse is comparable to the Logitech G305 and the Harpoon RGB Wireless. Nevertheless, they do not do any of these tasks more effectively when compared to this mouse.
On the downside, this model lacks lighting, the software is chaotic, and it no longer has the Basilisk line's standout feature. However, the Razer Basilisk X Hyperspeed is a wireless gaming mouse that offers solid performance at a low price. This wireless mouse might not be enough for those who value RGB lighting and dazzling design features.
On the bright side, the exceptional battery life, high-quality sensors, and dependable wireless connectivity more than makeup for a reasonable cost. In my opinion, the premium Razer Basilisk Ultimate, albeit almost twice as expensive, is a better deal. The Basilisk X Hyperspeed should serve you well if you decide to buy it. Yet, even at this price point, you can get a somewhat better wireless gaming mouse or even less if you look at the competition.
Conclusion
There's no doubt that the Basilisk X HyperSpeed is somewhat distinctive among the Basilisk models. It's the only one of the group that doesn't have a wired connection, it utilizes Razer's old tech, and it's a lot cheaper than the rest of the pack. Nonetheless, the Basilisk X HyperSpeed did not feel lesser than the Basilisk V2 in my hands.
The Basilisk V2 is a better choice for those who need greater sensitivity than 16,000 CPI and additional customizable buttons that the Basilisk X HyperSpeed lacks. Nonetheless, the rest of you may be certain that the Basilisk X HyperSpeed will serve your needs adequately while also saving you some money.
To get the most bang for your buck out of this collection, the Basilisk V3 is your best option if you're still hungry for an update and can deal with a bendy cable. This premium wireless option from Razer is just a few bucks more than this cheap wireless option, and it comes with the company's best sensor, the best new scroll wheel, the best buttons, and an additional third thumb button. However, this mouse is packed with value-rich features at its current pricing.
Basically, it delivers the essentials remarkably. I'm a big fan of the convenience of a mouse and the way the mouse feels in my hand, how straightforward the design is, and how well it performs in games. Even with the cheap plastic bottom, yes. So, If you're looking for a gaming mouse and phrases like "simple," "effective," and "value for money" appeal to you, then the Razer Basilisk X Hyperspeed mouse is an excellent choice.
Coming Next: Ducky One 3 Mini Daybreak Keyboard Review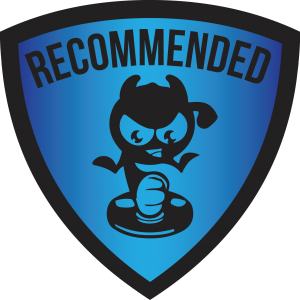 Was our article helpful? 👨‍💻
Thank you! Please share your positive feedback. 🔋
How could we improve this post? Please Help us. 😔