HYPERX Cloud 2 Wireless Review Summary
The Cloud 2 Wireless is an excellent upgrade to the cloud series, not due to any more features but rather to the deep focus on quality. The HyperX Cloud 2 Wireless builds on the success of its predecessor and illustrates the far-reaching effects of perfecting the essentials. It is designed to stand out on PC thanks to its long battery life and high-quality sound. The HyperX Cloud 2 Wireless headset is ideal if you're looking for a wireless headset that requires no configuration. If you don't want to spend time adjusting your headset's settings, this is an excellent option, although it lacks several capabilities offered by similar headsets in the same price range. Ultimately, this is a fantastic wireless gaming headset, although it seems a little less value for money for a 50% price increase.
Build Quality -

8/10

Comfort -

8/10

Microphone Quality -

7/10

Audio Quality -

9/10

Value for Money -

6/10
Pros
Long-lasting battery life
Remarkable Comfort
53mm drivers deliver immersive audio
Solid Build Quality
PC, PS5, PS4 compatible
Noise-canceling detachable mic with LED mute indicator
DTS Headphone: Spatial Audio
Superb Sound Quality
Cons
Inadequate software
Lack of Customization features
Short USB Connection Cable
Active Noise Cancellation is not available.
The bass could be more powerful.
A small number of manufacturers stand out as obvious choices for gaming headphones. Many passionate gamers vouch for HyperX as one of these manufacturers. For a good cause, too, since the HyperX Cloud 2 and Revolver headphones have garnered massive attention and sales, and the HyperX Cloud 2 Wireless was no different. When it comes to headsets, they never fail to provide the results.
---
Key Takeaways
The HyperX Cloud 2 Wireless has Dynamic, 53mm with neodymium magnets drivers, over-ear, circumaural closed back form factor, a frequency response of 15Hz-20kHz, an Electret condenser microphone, USB 2.0 connectivity, and battery life of up to 30 hours.
You should get HyperX Cloud 2 wireless if you want a wireless headset that lasts long as it has 30 hrs battery life and doesn't want a hassle to charge your headset every other day. Furthermore, they can endure for roughly a week of frequent usage as your primary device. Moreover, a headset that is plug-and-play and doesn't require software for shenanigans.
You should not get HyperX Cloud 2 wireless if you want customization features in a headset where you can tweak settings to get your preferred audio. As its software doesn't offer any customization features. Furthermore, a good recording microphone for streaming or recording purposes. Last but not least, if you are price-conscious, other better alternative headsets in this price range can offer much better value for money.
The HyperX Cloud 2 wireless is a perfect fit for those looking for a headset that emphasizes exceptional quality in its build quality. Moreover, a headset that you can wear during your long gaming sessions without any strain on your head. Furthermore, the best gaming experience with DTS Spatial Audio.
---
Their reputation has always been based on their high-quality sound and user-friendliness. For a long time, HyperX has been in the vanguard of producing outstanding gaming headsets, with a wide selection of headphones available from the middle to the top of the price spectrum. HyperX, in contrast to competing competitors, prioritizes quality above flashy features and marketing gimmicks.
Eight years have passed since the release of the HyperX Cloud 2 wired gaming headset. Although the products of HyperX haven't undergone any major visual changes, they have instead focused on improving the core features. There have been several variations of the Cloud series, including the Cloud Mix, Cloud Alpha S, and Cloud Orbit S. Still, HyperX is returning to the original Cloud design with the Cloud 2 and removing the cable.
HyperX's Cloud series keeps on shining with the addition of the HyperX Cloud 2 Wireless. The HyperX Cloud 2 has been around for quite some time, and although it is still a good choice, it is starting to show its age. That issue has been addressed with the HyperX Cloud 2 Wireless. For an extra $50, you can get this updated wireless gaming headset that improves the Cloud 2 design in a few key ways.
The Cloud 2 from HyperX was one of several wireless gaming headset updates in the last couple of years, and it's a big deal. It's always about the latest and greatest hardware and features for serious gamers. Keeping up with technological developments is a never-ending battle. If you spend over a hundred dollars, you may as well get your money's worth. Tossing that notion out the window is the HyperX Cloud 2 Wireless.
Except for a higher price tag, it's the technological embodiment of "perfection." The Cloud 2 Wireless is a headset that doesn't attempt to compete with other high-end gaming headphones in terms of the price range. After using Cloud 2 Wireless for a while, I can tell you how justified the price increase is reasonable.
Overview
It seems like the list of peripherals required to round up a modern gaming P.C. keeps expanding. There is certainly no shortage of options regarding microphones, gaming headsets, and other accouterments. Moreover, many companies now provide excellent quality. In 2023, gaming headsets have improved to unprecedented levels. Wireless headsets are now the center of attention. It's only reasonable since wireless connectivity is the next logical step in improving gaming headphones.
Well, with HyperX Cloud 2 Wireless, this is precisely what the company aims to achieve. Many people have anticipated the release of Cloud 2 Wireless, and it turns out that the excitement was well-founded. In some ways, it improves upon its wired predecessor. The all-new HyperX Cloud 2 Wireless is loaded with cutting-edge features; The Cloud 2 Wireless gaming headset packs a storm in each ear cup with its 7.1 virtual surround sound, USB dongle that cuts the cable and offers low-latency wireless action, and thrilling bass-heavy sound profile ideal for intensive gaming.
The headphones' audio performance may be thunderous, but their cloud-like soft ear cups are a huge selling point. However, It's important to note that the headset isn't groundbreaking. Although the Cloud 2 Wireless is a wireless headset, it is similar to the now-cheaper wired Cloud 2 headset. For its $150 price tag, this headset hasn't changed much from its predecessor, the Cloud 2, keeping most of its previous capabilities and adding a few more.
To be fair, the first Cloud provided remarkable comfort, a durable build, and reliable performance, so this isn't strictly a strike against the Cloud 2 Wireless. Kingston's if-it-ain't-broke-don't-fix-it strategy pays off, with a few small exceptions, by enhancing and polishing what had worked and removing the cord.
There is a lot of competition among wireless gaming headsets right now, but HyperX stands out because of its excellent balance of comfort, quality, and value. Additionally, it has problems with volume levels and lacks the extensive E.Q. settings of its competitors. So, Is it all rainbows and unicorns with the HyperX Cloud 2 Wireless? I say we find out. This extensive review of the HyperX Cloud 2 Wireless will cover all the essentials.
Specifications
Headphone Specifications
| | |
| --- | --- |
| Driver | Dynamic, 53mm with neodymium magnets |
| Form Factor | Over-ear, circumaural closed back |
| Frequency Response | 15Hz–20kHz |
| Sensitivity | -20dBV (1V/Pa at 1kHz) |
| T.H.D. | ≤ 1% |
| Frame Type | Aluminum |
| Ear Cushions | Memory foam and premium leatherette |
| Weight | 0.66lb |
Microphone Specifications
| | |
| --- | --- |
| Element | Electret condenser microphone |
| Polar Pattern | Bi-directional, Noise-cancelling |
| Sensitivity | -20dBV (1V/Pa at 1kHz) |
Connections and Features
| | |
| --- | --- |
| USB Specification | USB 2.0 |
| Cable Length (imperial) and type | USB charge cable |
| Bit-Depth | 16 bit |
| Audio Controls | Onboard audio controls |
| Wireless Range | Up to 20 meters |
| Battery Life | 30 hours |
| Charge Time | 3 hours |
Packaging and Unboxing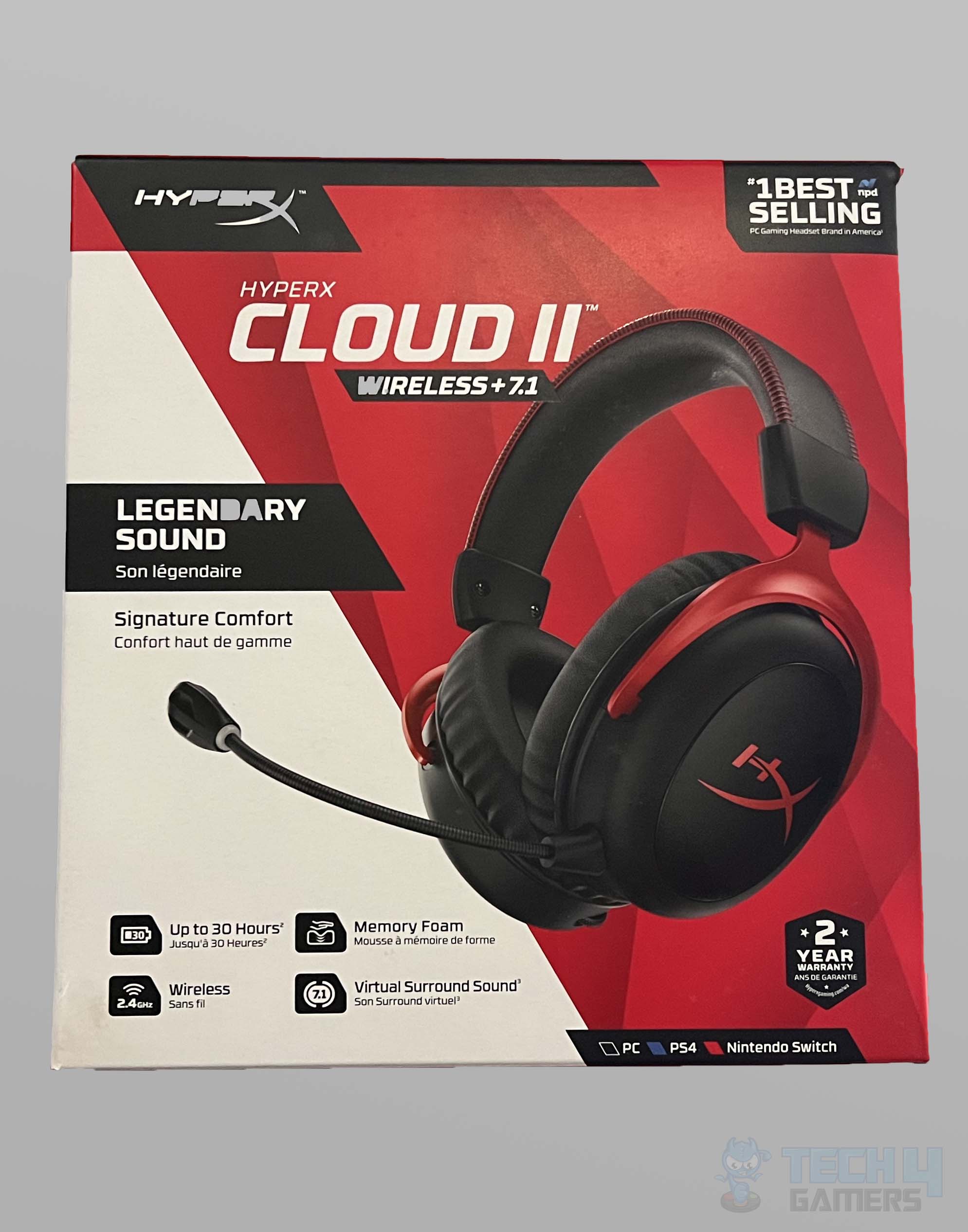 The HyperX Cloud 2 wireless has begun its journey in familiar and promising packaging. The white and red color scheme used for the box gives it an eye-catching appearance. This is the kind of thing you'd place on a shelf next to your gaming setup.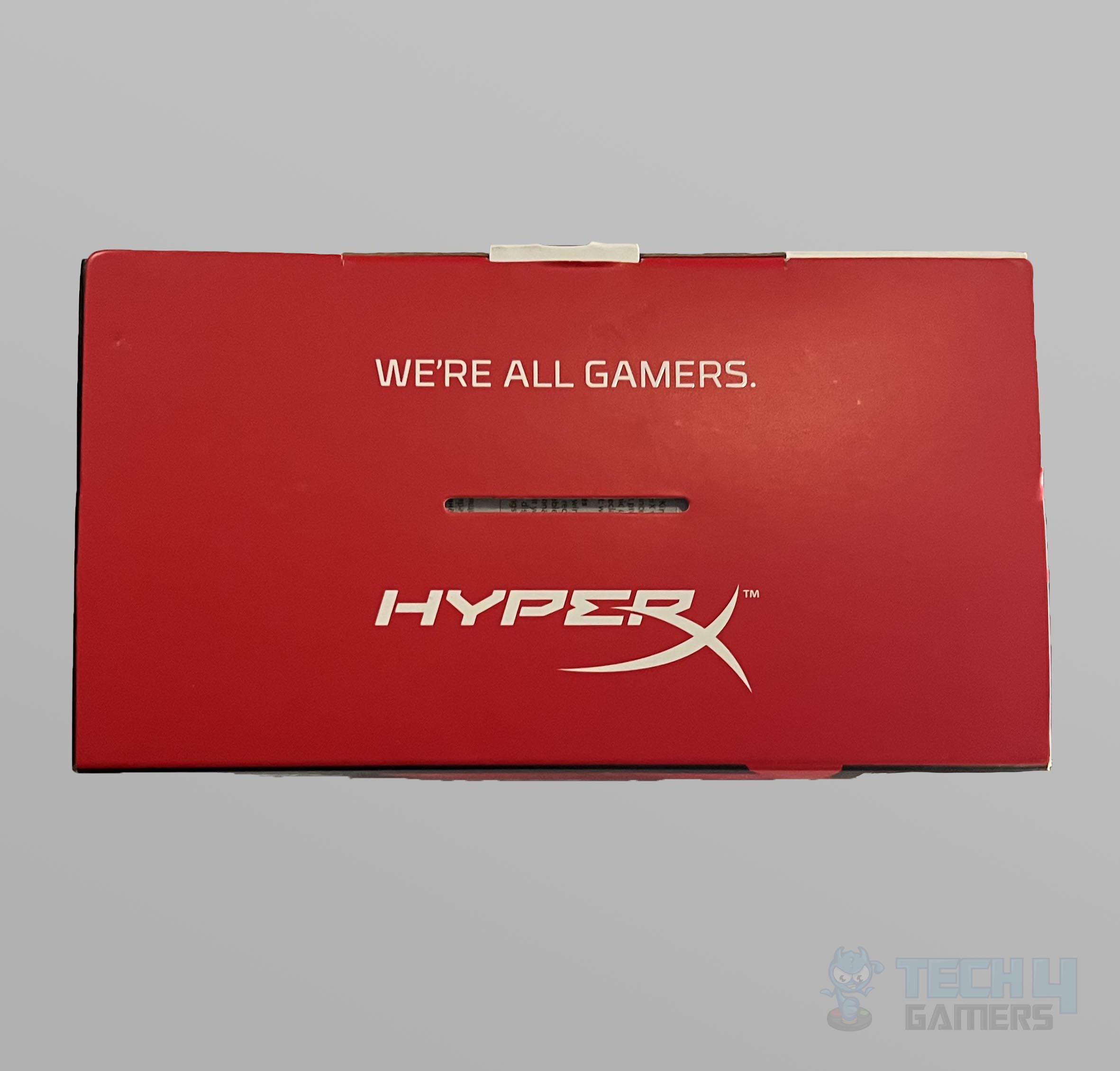 An image of the headset and a list of its features are printed on the front of the box. In addition to the front and back, the sides of the box also have text describing the product's characteristics.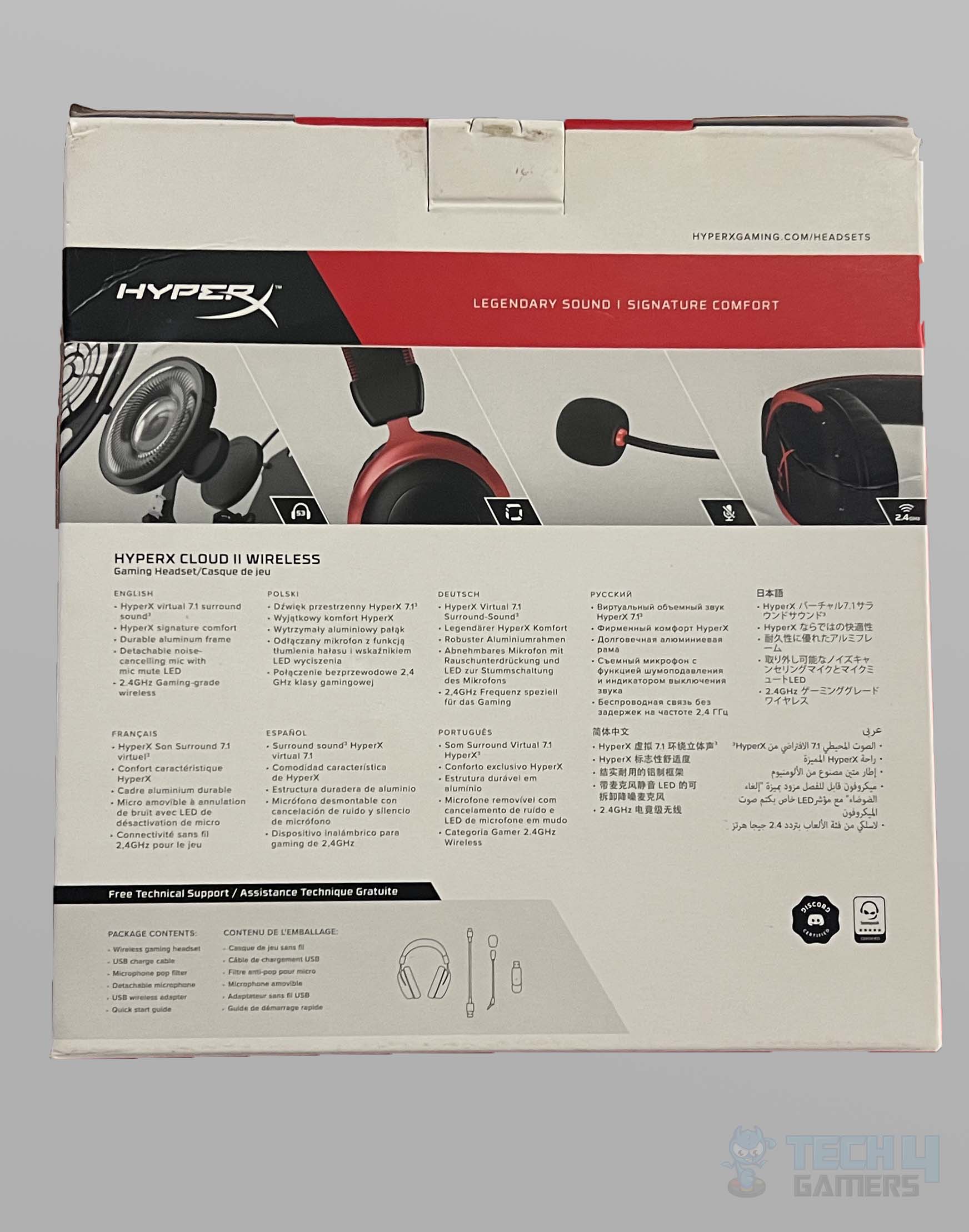 Box Contents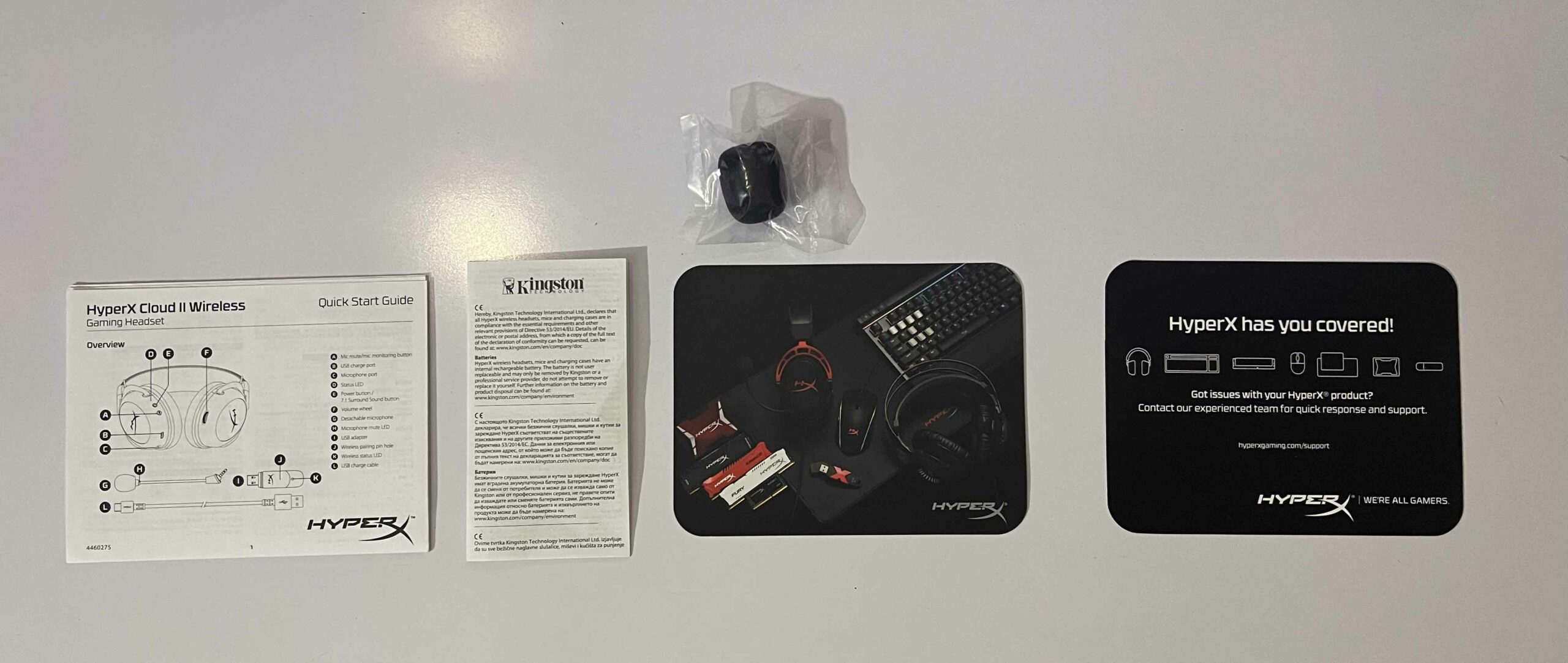 You'll get an introduction pamphlet and a quick-start guide when you open the package. The headset, a microphone that can be detached, a mic pop filter, and a USB dongle are all included in the package. Additionally, a USB type C charging cable is also included.
Design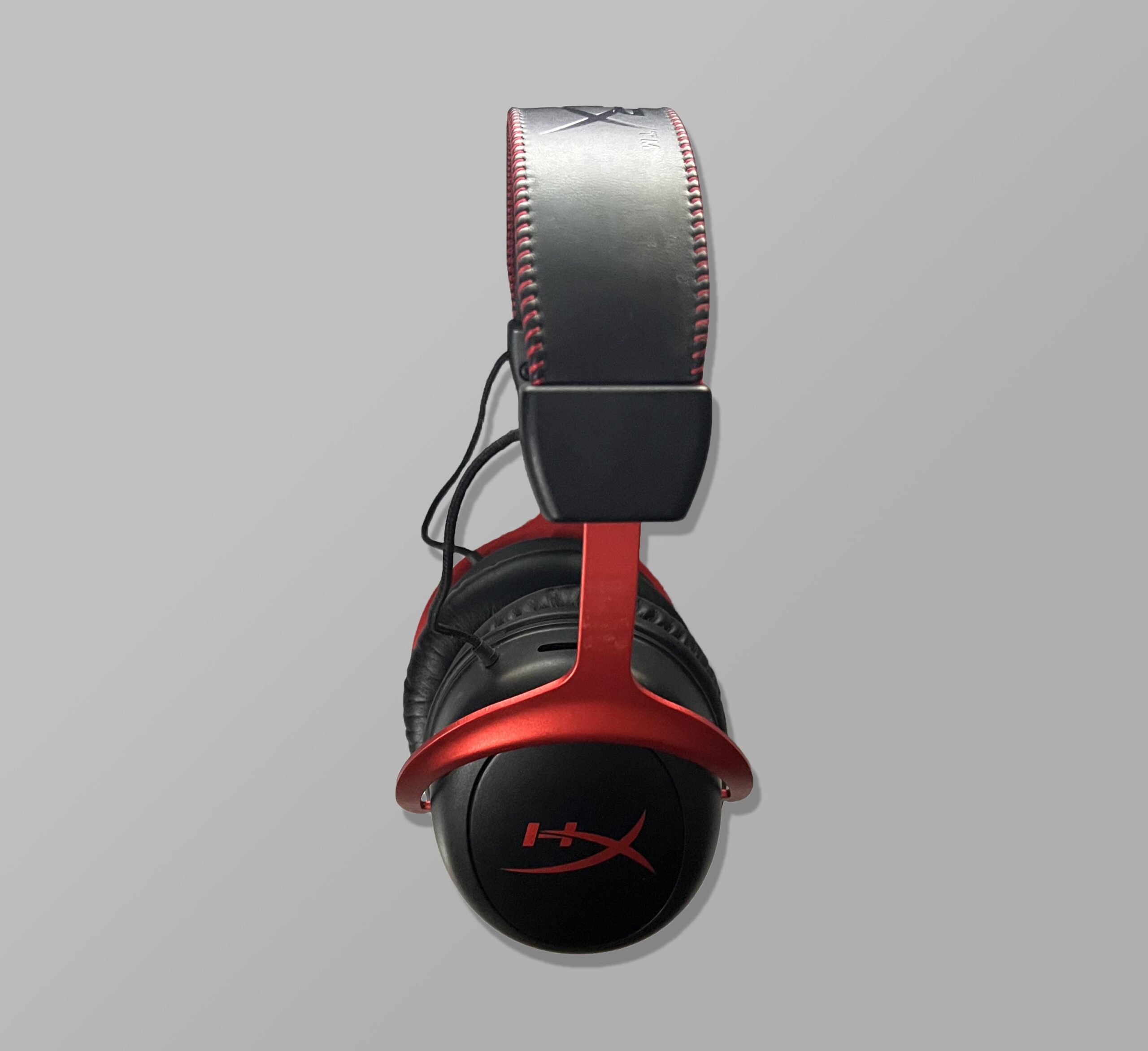 The HyperX Cloud 2 Wireless's aesthetic is an intriguing blend of minimalism and flamboyance. Since the regular HyperX Cloud 2 is so well-rated, it probably won't shock you to learn that now the design of wireless gaming headsets doesn't offer much to set new standards. Products like the HyperX Alloy Origins Keyboard and gaming mouse have the same visual style that aids in brand awareness throughout the company's product range. The wired and wireless versions of the Cloud 2 have the signature HyperX design of large, oval-shaped black plastic earpieces attached to a cushioned headband supported by Y-shaped metal struts.
The headset's signature dramatic style, jet black and ruby red, stay unchanged. However, the struts and the headband stitching are red rather than gunmetal gray, which is the most noticeable visual distinction. The HyperX name is now embossed into the band rather than sewn with a few other subtle alterations. For the average person, though, both headsets may seem identical.
The ear cushions and the bottom of the headband are both padded using the same delicate memory foam wrapped in lovely, silky faux leather. The headset provides a secure, comfortable fit thanks to its clickable earcup stops. A 2.4 GHz USB Type-A dongle replaces bulky cords, making the device plug-and-play. HyperX's Ngenuity software is not required for functionality. If you're looking for wireless headphones that live up to their name, go no further than the Cloud 2 Wireless.
It's not uncommon for headphones to have exposed wires running from the cans to the headband. Still, the Cloud 2 Wireless's considerable slack feels counterproductive, given the freedom you're presumably gaining by switching wireless, and it makes me anxious that the headphones may snag on anything. Not only is there no need to allow them to be that loose, but the cups don't move very far in any direction.
Also, the non-rotating ear cups are a small annoyance for me. Considering they didn't do this in the first place, it's not a huge deal that the new model doesn't enable you to wear your headphones around your collar with the earpieces folded in. While the removal of the cord does not compromise the durable build and superb soundscape for which its predecessor is renowned. However, a few drawbacks prevent it from delivering the same punch.
Features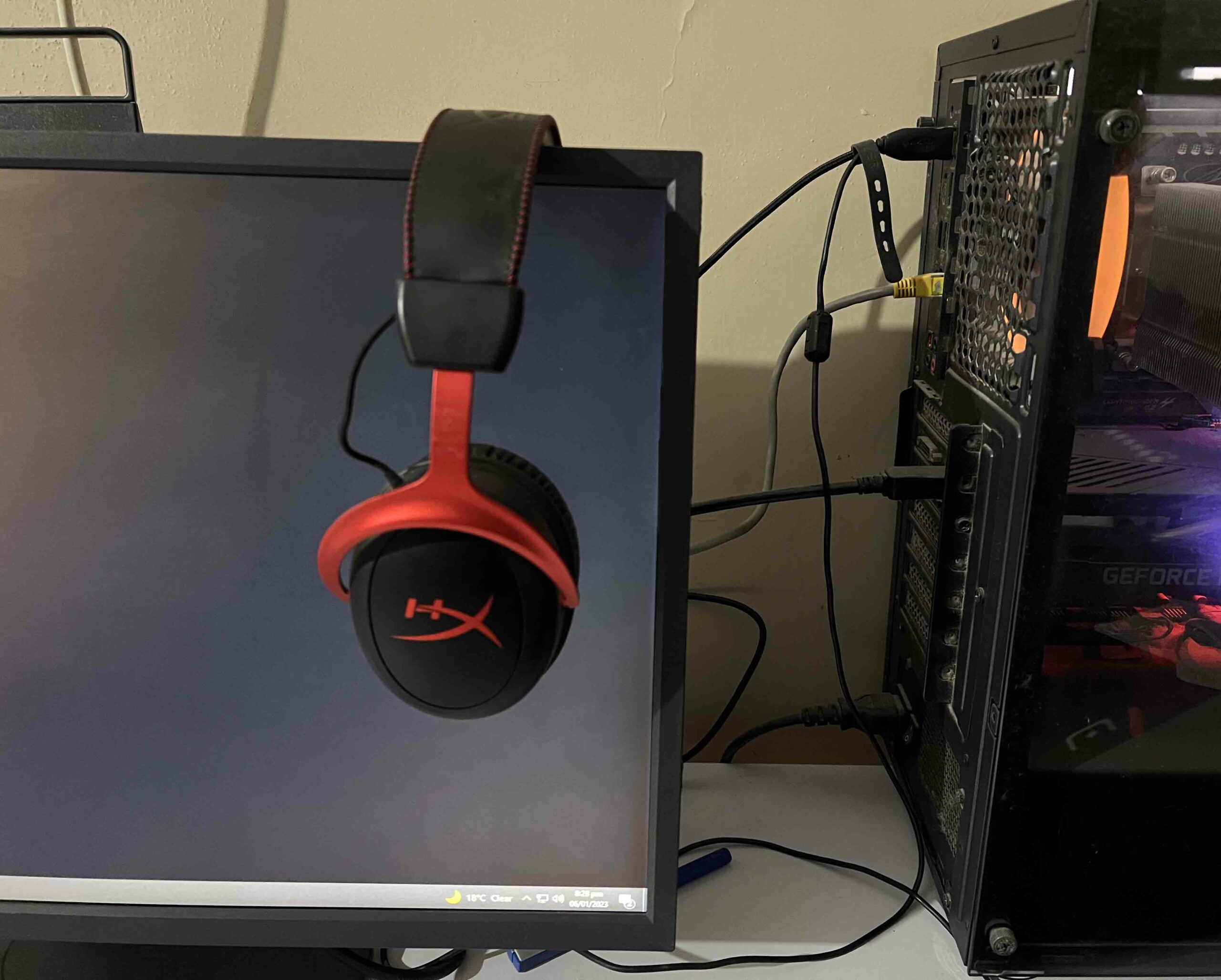 Considering that the Cloud 2 has a detachable DAC controller on the cord, the on-ear controls are more crucial than ever in this version. The right earcup, at the rear, has a large volume wheel, while the left has the rest of the controls and connections. It scrolls endlessly with no apparent stops in the movement. There's a charging USB-C port, a jack for the removable boom microphone, and power and Bluetooth buttons with an indicator light above them.
Since there is no 3.5mm jack, this headset can only be used wirelessly. Holding the power button activates the headset, and tapping it toggles between the stereo mode and the 7.1 virtual surround mode. In contrast to most headphones, which strive to cram as many buttons as they can into the left earcup, the volume control on this one is conveniently located on the right side. When you've reached maximum volume, a beep will sound to let you know.
Some adjustments are necessary for a headset design to function in its new wireless form. The only truly significant ones are found within oneself. Like their predecessor, these closed-back headphones use 53mm drivers that are somewhat bigger than standard. The maximum frequency is 20kHz, lower than the 25kHz of the wired HyperX Cloud 2 but on the level with other wireless headphones in this price range.
The HyperX Cloud 2 Wireless is optimized for PCs and PlayStation consoles, but it can also be used with a docked Nintendo Switch if you don't mind not having a microphone for online multiplayer. It won't function with the Switch in handheld mode due to the form of the USB Type C port, but perhaps more bizarrely, it also won't work with Xbox consoles.
The HyperX Cloud 2 Wireless's dongle ensures minimal latency with every connected device, notwithstanding the uncertainty of its compatibility. This is the standard protocol for high-quality wireless headphones, and it's a significant improvement over simpler Bluetooth counterparts.
HyperX claims that your wireless signal will remain strong for up to 20 meters (65 feet), which might be an issue if you live in a very large or open place, but it was more than enough when I tried it. It held up better than their rivals' much more costly headsets, but the sound started to drop when I put a few barriers between the headphone and the dongle.
Comfort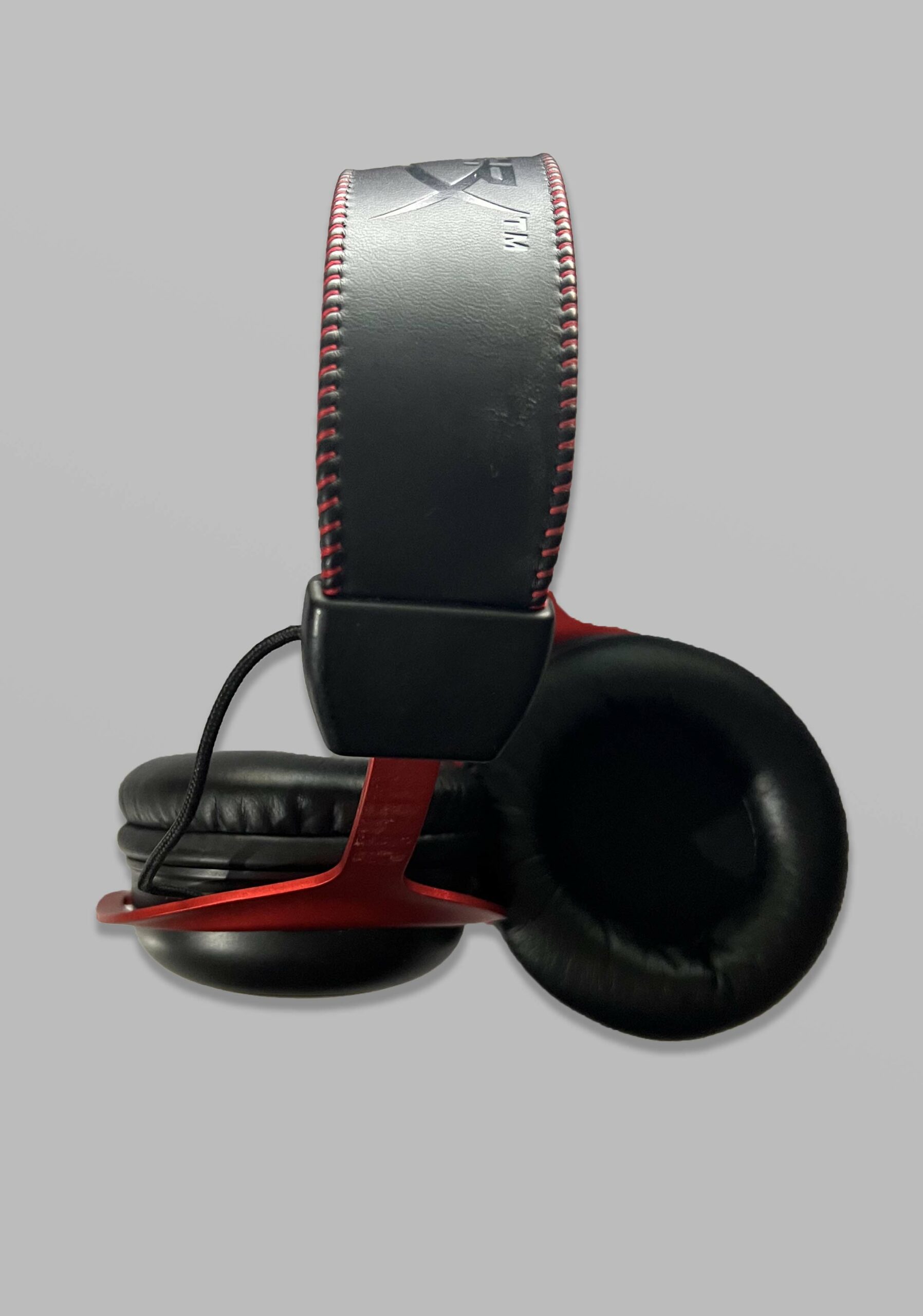 Compared to the wired version, which weighs 320g, this one is much lighter at only 300g. Although the leatherette may become very warm in comparison to the breathable material, the padded headband and ear cushions suspend it smoothly with minimum strain even after long periods of use, and the close fit also prevents sound from leaking. The head isn't bearing much load, and the sides of the head aren't pressed against anything particularly hard.
When it comes to comfort, HyperX has never been matched. What else would you expect from a product called Cloud 2? Without a doubt, in the year 2023, this headset will be among the most comfortable options available. They're soft and adjustable, so even those with bigger heads may wear them comfortably. The comfort and softness of the faux leather cushions are appreciated. In most cases, your ears won't feel discomfort when using these over-the-ear headphones.
The headband is well-cushioned. This clamp has a very gentle clamping force. The ear cups, which are red and made of metal, may be pulled out and repositioned to allow resizing adjustments. These aren't flexible, though. However, it may bend somewhat in both directions. So, it should fit rather well. This headgear is so well-designed that it doesn't bother those wearing glasses. And since they aren't too oversized and obnoxious, they look terrific perched on your head. The comfort features of HyperX's products are, as always, top-notch.
Microphone Performance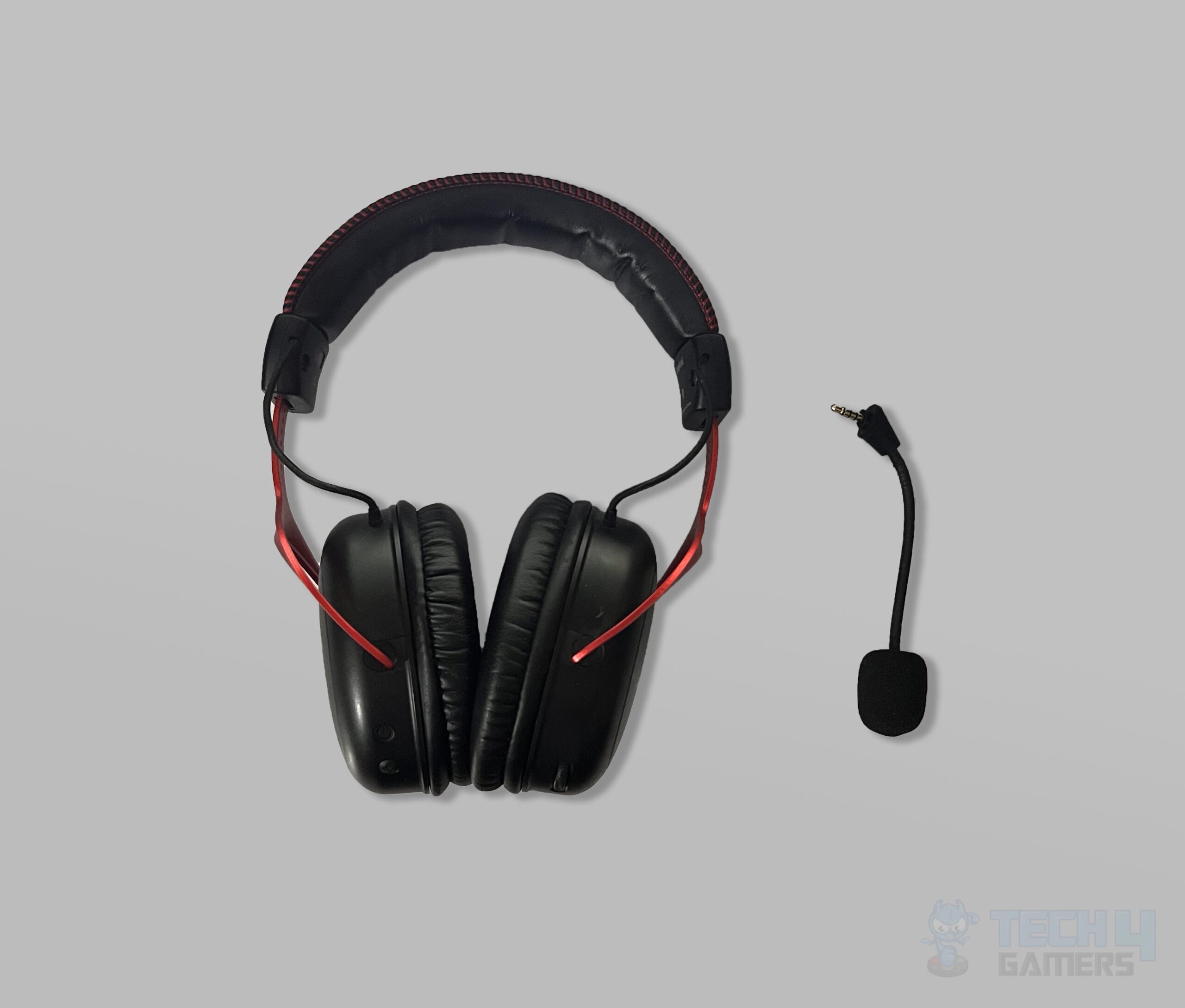 Like the wired microphones included with all HyperX gaming headsets, the microphone here is a detachable cardioid condenser mic. In the same way, the mic was simple to place accurately and effectively. As far as gaming headphones go, that's about the best you can hope for. But if we go in-depth, the microphone isn't as spectacular, and its lack of depth and clarity means it won't win any awards anytime soon.
There's not much to say outside the fact that the mic works; wireless headset microphones often exhibit more compression than their cable counterparts, but the noise cancellation on the HyperX Cloud 2 Wireless does an adequate job of dampening the clicks and ticks of a mechanical keyboard.
The boom microphone is a typical foam-covered microphone on a thin, flexible arm that performs well. Even after increasing the recording level in the software, it was still too low. In addition, my recordings weren't as crisp as those of their competitors. My Cloud 2 Wireless recording sounded weaker and further away than usual. This is an average headset microphone for most usage compared to other competitors' headset microphones.
The provided microphone may also benefit from a long boom arm. That would have improved the quality of my recordings, and the red LED that indicates whenever the mic is muted is now just out of the corner of my eye, which is hard to notice. Of course, if you're concerned about streaming or recordings, a dedicated USB microphone is a must-have; a well-designed one will outperform any headset boom mic.
Music Performance
The importance of good sound in a wireless headset goes without saying. Audiophiles may even argue that it is the most crucial one. Not that long ago, wireless headphones and headsets were mostly unimpressive. That's why some consumers are still wary about investing in wireless headphones or speakers. Thankfully, that problem has been solved with Cloud 2 Wireless.
When it comes to music quality, the Cloud 2 Wireless holds its own. The midrange and bass are consistently strong, but the highs may slightly lack sharpness. Vocals may sound a little harsh at maximum volume, but that's to be expected from any gaming headset. Though it's never unpleasant, audiophiles may take more notice of this.
This, of course, is dependent on the sounds being played. You won't be too bothered by the loud singing since it doesn't stand out. Thankfully, it's never distracting or loud enough to drown out the mids. The audio is vibrant and rich throughout. The sound quality is unaffected by the wireless connection. These are still among the finest on the market.
Gaming Performance
Little has changed internally or externally, yet the HyperX Cloud 2 Wireless still produces superb sound. From 15 Hz to 20,000 kHz, its 53 mm drivers produce clean, crisp sound. While using the Cloud 2 Wireless, Doom Eternal's armory of weaponry sounded full and thundering.
Furthermore, the miseries of my insignificant foes popped out against the bass, and the game's ethereal music became a welcome element in my game sessions. In my experiments, the simulated surround sound provided reasonable directionality panning. However, it didn't provide a clear feeling of whether sources of noise were arriving from my front or back. Depending on your playing, this will provide a broader audio experience.
Ready to test out HyperX's simulated 7.1 surround solution, I loaded up Hitman 2. The positional audio was good enough, letting me listen in on talks essential to the story or the sound of the vehicles. The virtual speaker in the middle was a little hard to distinguish from the ones on the left and right. The rear's left and right surround speakers were roughly where they should have been, but the center, front left, and left virtual speakers didn't feel as distinct as they should have.
Aside from some issues with placement, the sound quality seemed fine. In my testing of Ghostrunner, I picked up on every electronic buzz and hum that makes up the game's Cyberpunk-inspired music. Every time I slashed a cyborg ninja with my sword, the clang sounded clear and loud. I could hear and feel the thump of Mr. X's approaching footsteps in Resident Evil 2 by Capcom. On the Cloud 2 Wireless, the sound of Leon's gun and the splatter of zombie's guts sounded fantastic. All things considered, these headphones have a satisfying amount of thumping bass and clear, alongside untroubled mids.
I certainly heard footsteps, blowing grass, and floorboard knocks while playing Fortnite. The game's directionality was pretty good, with the headset's 7.1-channel simulated surround sound offering great visualization of the locations of those footsteps. When you're in a building, it's still difficult to tell if the trampling originates from below or above you; good stereo processing can only do so much.
Even though you're stuck with the default sound configuration, the Cloud 2 Wireless sounds great. Since there is no bass boost, you will be able to hear footfall in Valorant with the same clarity as picking out individual instruments in your favorite songs, despite the EQ having a small lean in favor of lower tones than highs.
When partnered with the appropriate game, HyperX's unique simulated 7.1 surround sound is just as enjoyable as alternatives like Dolby and THX. Like the regular Cloud 2, the Cloud 2 Wireless uses virtual 7.1 surround sound to provide in-game positional audio. I could reliably pinpoint the origin of gunfire in Call of Duty: Modern Warfare. I tried it out with various games to see if it got the job done. It did, though, at the very least. The 7.1 surround sound simulation is, on average, although superior to that of several widely viable headphones.
Despite its 7.1 surround sound and excellent positional audio, the Cloud 2 Wireless lacks a performance-oriented audio mode. These settings, becoming common on high-end and mid-range headsets, they recalibrate the sound so that in-game noises, such as footsteps, are more audible. Even though I don't miss it (since the versions I've tried making the games sound worse). However, given the feature's increasing popularity, I think it's important to note its removal.
Battery Life
HyperX's battery life is where it shines, and it easily outclasses the competition. The battery life of the Cloud 2 Wireless is second to none. HyperX claims you may go up to thirty hours without charging the headset. Even though I only got to the 28-hour marker before needing to recharge it, that's still far longer than the lifespan of similarly priced rivals.
When the time comes to put it on a charge, you won't be waiting long since it just needs over an hour to reach 50% and three to 100%. At 100% charge, the headset's LED light will remain solid green; between 90% and 15%, it will flash green; and at 15% or less, it will blink red. The NGenuity app's capability to monitor hard power usage is one of its few distinguishing features.
Rough, anecdotal testing revealed that the headset might endure for roughly a week of frequent usage as my main listening device. I was quite amazed. I like that the Cloud 2 Wireless uses a USB-C charging connector instead of the more common micro USB port, which is less efficient. The bundled USB-C to USB-A charging cable is frustratingly short at only 22 inches (0.5 m).
While it is possible to charge and play simultaneously, the accompanying cable is only 22 inches long, so you will likely need to purchase a longer one.
HyperX Ngenuity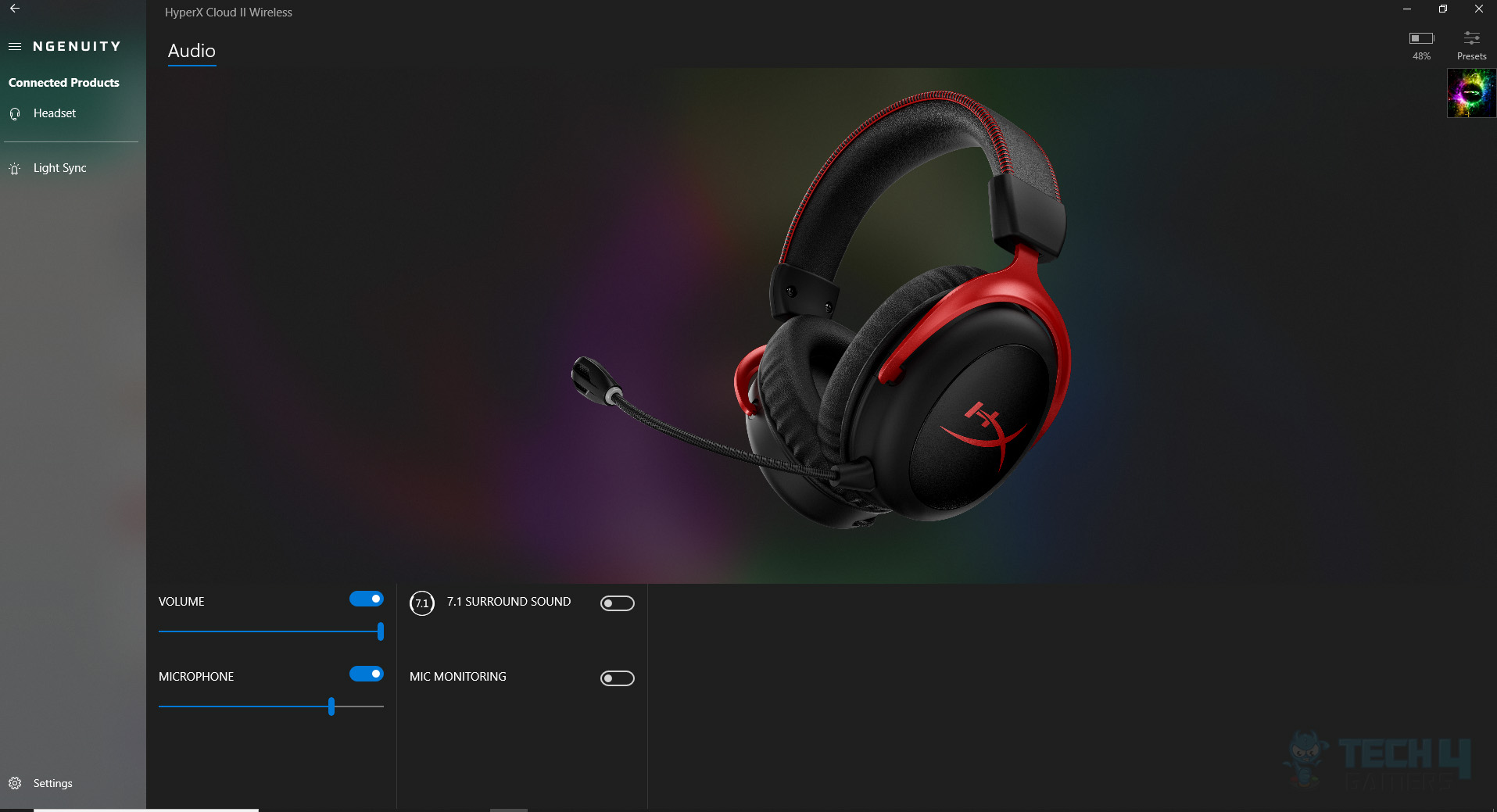 The Cloud 2 Wireless supports 7.1-channel simulated surround sound on PC through HyperX's Ngenuity software, which also supports other HyperX peripherals. You can change the intensity and volume of the microphone and headphones, respectively, and turn on and off mic monitoring, but that's about it compared to rival software from Razer and Logitech that offers a huge pile of customization. You may test the functionality of your microphone by listening to your voice using the monitoring feature. It's a widely-liked function that works nicely here.
The headset has neither equalization nor any other fancy controls. In reality, the program is a digital paperweight if you're not enticed by the possibilities to activate mic monitoring, change the duration of inactivity, or toggle between 7.1 surround sound and stereo. HyperX might improve even more with new, more powerful software, but as it is, this headset requires no configuration beyond plugging it in.
The installation could be worthwhile if you have other HyperX products that use it, but unless you can't tamper with equalizers, alter the game/chat mix, or fine-tune your microphone, Ngenuity is sadly inadequate with such a high-end headset. There's also an option to conserve battery life by setting the time the headset stays on but silent.
I think the default is the smallest timeframe, 10 minutes, so you may want to change that at least. By 2023's standards, the software included is very inadequate, but this is to be expected on any headset designed for consoles, for which there is frequently any software. The software is quite simple. The headset is completely functional even without the accompanying software. As a bonus, it doesn't slow down your computer or cause unwanted problems.
Should You Buy it?
Sometimes you want to purchase a headset and slap it on your head without having to fiddle with any settings or choices. In all honesty, the HyperX Cloud 2 Wireless is just that headset. I had a feeling this would be a simple review coming in. This is because, like all HyperX products, the Cloud 2 Wireless places emphasis on exceptional quality.
HyperX knew they couldn't mess up the success of the Cloud 2 by making a substandard wireless model. Like its wired counterpart, the HyperX Cloud 2 Wireless is a straightforward, high-quality gaming headset that produces exceptional sound. Design is still a strong suit for HyperX, and "excellent quality" has helped the brand achieve a respectable market share.
Additionally, it has excellent wireless compatibility. While it may be lacking in some of the more sophisticated personalization options one might hope to find in a headset costing $149.99, its core functionality is solid. HyperX Cloud 2 Wireless effectively eliminates the wired Cloud 2's connection while maintaining its excellent performance.
The headset is comfy and stylish and works great for gaming, voice chat, and entertainment. The comfort and durability of the headset are superb. It doesn't weigh much and has a soft, comfortable fit. Simply plug in the dongle results in instant connectivity and pairing. The audio is rich and detailed, as always, and provides a very immersive experience.
The main problem with Cloud 2 Wireless is its high price tag of $150. It has a longer battery life, a wider wireless range, and higher-quality audio than some expensive headsets. However, you'll be paying $50 more than the predecessor for a wireless connection that's a little more problematic and a headset that lacks customization features compared to others in the same price range. Moreover, the Short USB cord and incompatibility with Xbox are the only real drawbacks. However, it's fully compatible with Sony's PlayStation 4, Sony's PlayStation 5, and Nintendo's Switch.
The Cloud 2 Wireless falls in the middle of a selection of superior-quality headphones. Eventually, HyperX may make Cloud 2 Wireless more worthwhile by reducing its price to a level where it is competitive or by adding features to its software. However, as it is, it might be a hard sell, especially if you're currently using the wired version. The HyperX Cloud 2 Wireless is a competent headset overall, but its best use is as a "fire and forget" peripheral.
Conclusion
The wired and wireless versions of the HyperX Cloud 2 are visually similar. The frame is black, while the hinge, headband stitching, and individual earcup branding are all striking red. They also come equipped with a removable boom microphone to further aid in their laid-back appearance. These wireless headphones from HyperX, the Cloud 2, are a delight. The headband and earcups are both well-cushioned. Good thing they don't suffocate you with their grip.
However, prolonged use while gaming may cause them to overheat. The HyperX Cloud 2 Wireless controls are mediocre at best. These headphones are designed for gaming. Therefore, they don't have buttons for making phone calls or playing music. However, they feature buttons on both ear cups, unlike the wired HyperX Cloud. The mute microphone button, which features a red LED light to indicate whether it is muted, and the power button are both located on the left ear cup.
Turning on and off 7.1 surround sound is as simple as pressing and holding the microphone button. A volume control wheel that goes to infinity can be found on the right earcup. To let you realize when you've achieved either the lowest or maximum volume, it emits a distinctive sound. The headphones include an automatic shutoff feature, making a beeping sound when the timer goes off. Channel mixing is missing, which is a major shortcoming.
Moreover, the headphone portability makes it difficult to take them with you in LAN tournaments. They cannot fold to a more compact shape, nor can the cups swivel to rest flat. The lack of a protective carrying case is another downside. However, there is no denying the superior build of the HyperX Cloud 2 Wireless. Aluminium is used for the hinges and yokes, giving them a solid feel. The ear cups have a solid, sturdy build that should protect them from damage if dropped.
The headband and ear cups are both padded for comfort with leather. An audio cord connecting the ear cups to the headband is a possible weak spot. The headphones stay put in your ears rather well. Playing video games on them is comfortable enough, but they're not suitable to wear while playing sports. Moderate movement increases the risk that they may fall or slide off your head. The plus is that they are wireless, so you don't have to worry about a dangling audio cord pulling them out of your ears.
The HyperX Cloud 2 Wireless offers a sound profile that leans slightly toward the bass, making them ideal for bringing attention to in-game audio. We also ensured the mids were in check, so the voiceovers in our cutscenes sounded great. The headphones' frequency response is inconsistent, making them difficult to use. Fit, placement, and seal affect how much bass and treble you hear. Wearing glasses or having thick hair might damage the seal of the headphones by reducing the bass.
The HyperX Cloud 2 Wireless doesn't disappoint when it comes to bass. It's slightly overemphasized at all volumes, giving your mixes more thud, punch, and rumble. Some listeners, however, may find the volume to be distractingly excessive. The mic on these headphones is quite precise. Vocals and lead instruments seem crisp and present since the range is flat and neutral. The treble accuracy of the HyperX Cloud 2 Wireless is around average. Inconsistent low treble makes the main voices and instruments seem harsh or muffled.
Overemphasis on the mid-treble causes sibilants like cymbals to seem sharp. The peaks and dips performance of these headphones is satisfactory. The high bass has a little boost that makes it more resonant. A minor decrease in the low to mid-range then follows, pushing the voices and lead instruments to the background. The upper harmonics of vocalists and lead instruments are brilliant but become quite veiled as frequency climbs due to a peak and fall in the low-treble range.
There are a handful of peaks in the mid-treble that cause sharp sibilants. Soundstage passivity is an issue with the HyperX Cloud 2 Wireless. The sound seems to be coming from inside your brain rather than from in front of you, giving the impression of a tiny yet natural soundstage. Because of their closed-back construction, they won't convey a sense of space or openness as effectively as open-back headphones would.
If you push and hold the microphone mute button on your HyperX Cloud 2 Wireless, you may activate the headset's Dolby 7.1 virtual surround sound system. These headphones have an acceptable weighted harmonic distortion performance. There's a little boost in the low treble at a comfortable listening level. The range is well within acceptable parameters, resulting in rather uncolored and undistorted sound. Regarding blocking out ambient sound, the HyperX Cloud 2 Wireless falls short.
They aren't very effective at isolating lower frequencies and have trouble with higher ones. They are especially effective in dampening higher-pitched sounds. The leakage performance of the HyperX Cloud 2 Wireless is average. The leaking is most noticeable in the higher frequencies, making the sound hollow. It's rude to play music or podcasts at an earsplitting volume in the workplace that would make your coworkers hear every word. The HyperX Cloud 2 Wireless microphone may be detached and bent into various positions.
The boom mic on the HyperX Cloud 2 Wireless is sub-par quality. Your voice has a pleasant tone and is simple to comprehend. The noise reduction on the boom mic is top-notch. Even in noisy places, it can isolate your speech from the background. These headphones have excellent battery life. They feature a battery life of more than 30 hours on a single charge, so they should endure even the longest gaming sessions.
Even while charging, you can use them to listen to audio, but they can't be used passively because they lack a wired connection. Unfortunately, Ngenuity is just a mediocre software application. This app's simple interface makes it easy to check your battery life, volume, and microphone settings. The 7.1 surround sound may be toggled on and off as well. The 'preset' function may also be used to set up launchers for frequently used applications. The HyperX Cloud 2 Wireless has excellent non-Bluetooth wireless compatibility. They are ideal for video and gaming because of their reduced latency. However, your experience may differ since different programs handle latency in various ways.
Coming Next: Razer Viper V2 Pro Review
Was our article helpful? 👨‍💻
Thank you! Please share your positive feedback. 🔋
How could we improve this post? Please Help us. 😔
[Hardware Reviewer]
After many years of exploiting various pieces of hardware, Abdul Hannan now serves as an editor at Tech4Gamers. He's been in the PC hardware reviewing industry for almost a decade, and his staff of passionate geeks and reviewers is second to none.
Abdul Hannan is constantly seeking new methods to improve the performance of his computer components since he is an ardent overclocker. He is well-known for providing the most extensive and unbiased analysis of the newest and greatest hardware for PC gaming, including everything from GPUs to PSUs.