Best TKL Gaming Keyboard?
Review Summary
The Corsair K65 Pro Mini stands tall as a compact powerhouse, delivering exceptional gaming performance with its OPX linear optical switches. Its 65% design optimizes desk space without compromising functionality, and the RGB brilliance adds a touch of style. While its build quality and versatility shine, the limited switch options, software complexity, and a relatively higher price point might be considerations. For gamers valuing compact dominance and customizable lighting, the K65 Pro Mini excels, but those seeking broader switch choices or on a tight budget might want to explore alternative options.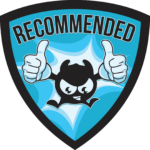 Performance -

9/10

Design -

8.5/10

Software -

8/10

Switches -

8.5/10

Build Quality -

9/10
Pros
Premium Build Quality
Linear Optical Switches
Swift Gaming Performance
Keycap Quality
Cons
Lack of Wireless Option
No Wrist Support
Potential Learning Curve for Customization
Higher Price Point
Have you recently had a look at the mechanical mini-gaming keyboard market? You would assume that's an extremely limited market, yet big and small manufacturers are all competing for market share in it. To differentiate its newest mini keyboard, the K65 Pro Mini, from the competition, Corsair has done a wonderful job.
It is a small version of the company's popular mechanical gaming keyboard, the K65. This keyboard's form factor is 65% smaller than standard keyboards, and it incorporates many navigation cluster keys in addition to dedicated arrow keys. It employs Corsair's linear optical OPX switches and can poll at a maximum of 8000Hz, showing off Corsair's commitment to making top-notch gaming gear.
---
Key Takeaways
The Corsair K65 Pro Mini packs big performance into a compact 65% design. Featuring Corsair's OPX linear optical switches, it ensures swift and precise gaming. RGB lighting, a sturdy build, and an 8000Hz polling rate add to its allure.
The things I liked about the K65 Pro Mini are its Compact Design, Premium Build Quality, Linear Optical Switches, Swift Gaming Performance, Sound Dampening Foams, Customization Options, Low Latency, and Good Typing Experience.
The things I did not like about the K65 Pro Mini are its Lack of Wireless Option, No Wrist Support, Limited Switch Options, Higher Price Point, Minimal Aesthetic Appeal, Switch Sensitivity for Everyday Use, and Minimal Aesthetic Appeal.
The K65 Pro Mini is a perfect fit for Gamers Seeking Compact Design, Enthusiasts Valuing Functionality, Corsair Fans and Brand Loyalty, Users Prioritizing Low Latency, Customization Enthusiasts, and People Enjoying Quiet Typing.
---
Specifications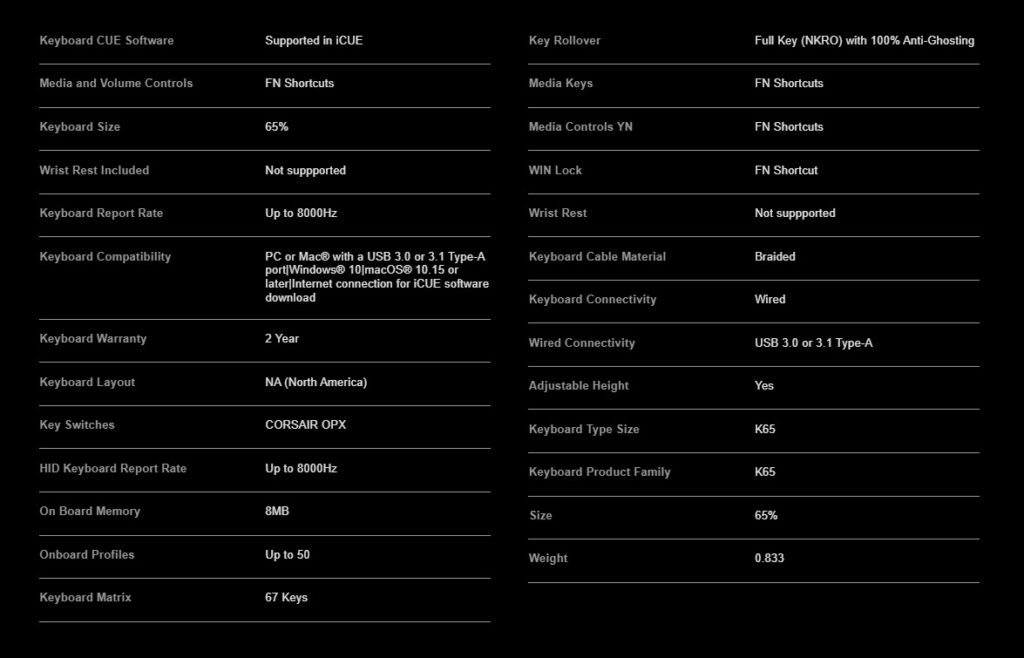 Box Contents
Corsair K65 Pro Mini RGB 65% Optical-Mechanical Gaming Keyboard
USB Type-C to Type-A cable
Radiant Spacebar
Safety leaflet
Warranty card
Design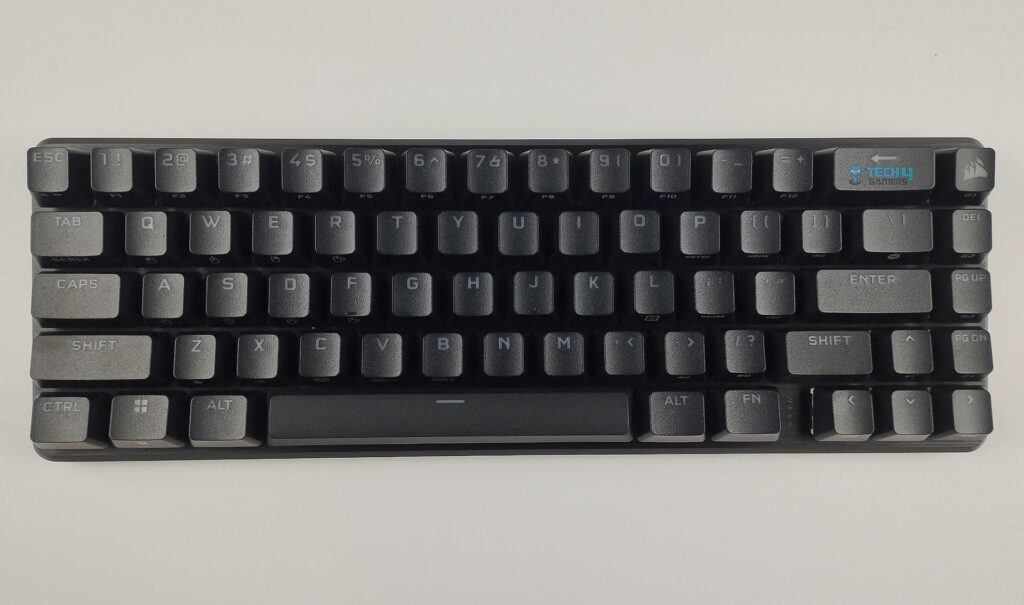 The form factor of the Corsair K65 Pro Mini is 65%, which is quite compact. As a result, extravagant embellishments in the design are out of the question. Therefore, there is nothing particularly remarkable about the keyboard's design. It's an RGB-lit small keyboard that looks great and can add a slight touch of flair to any setup. There are dedicated arrow keys, as well as Page Down, Page Up, and Delete from the navigation cluster.
Unfortunately, while there are no special macro keys on this keyboard, you can still assign macros to any key by recording them on the keyboard or in the iCUE application. The K65 Pro Mini doesn't impress you with fancy extras or skeptical functionality, but it gets the fundamentals right and has several features that enthusiasts will like. The optical switches and premium components used in this keyboard speak for themselves.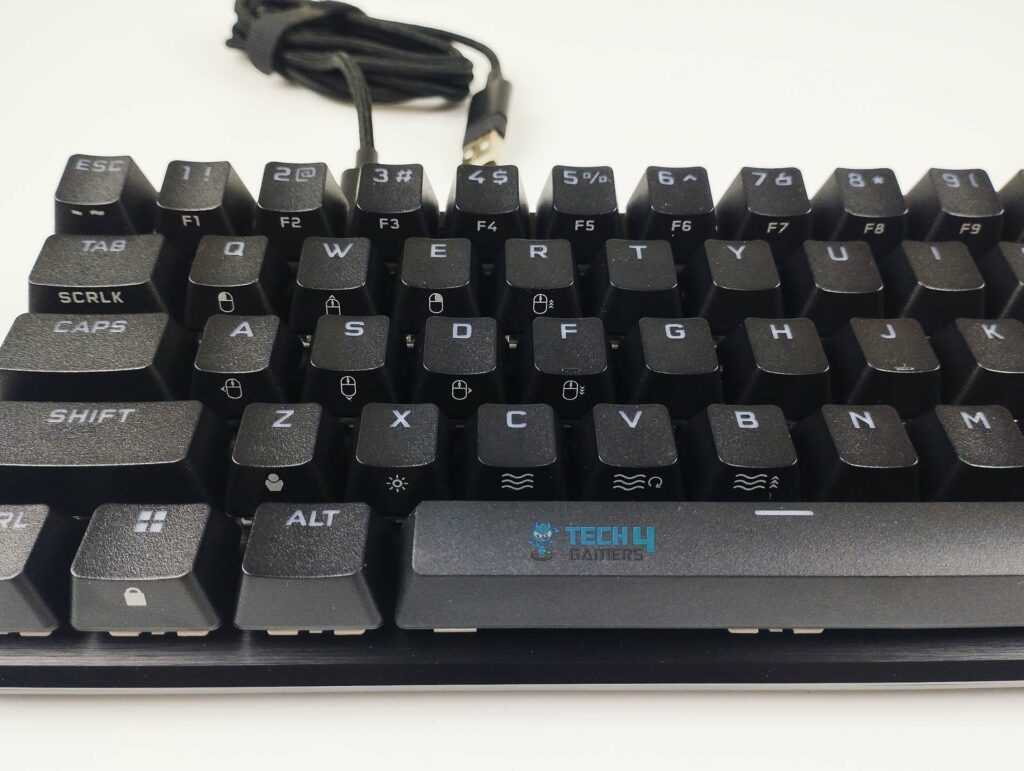 When it comes to the remaining portion of the keyboard, Corsair has performed an excellent job of hosting a plethora of functionality and multimedia options on the K65 Pro Mini, with many of these features clearly labeled on the front of the keys themselves. To access media controls, volume controls, RGB lighting modes, mouse controls, profile selection, and other useful shortcuts like Home, End, Print Screen, and more, simply press the FN key along with the dedicated key.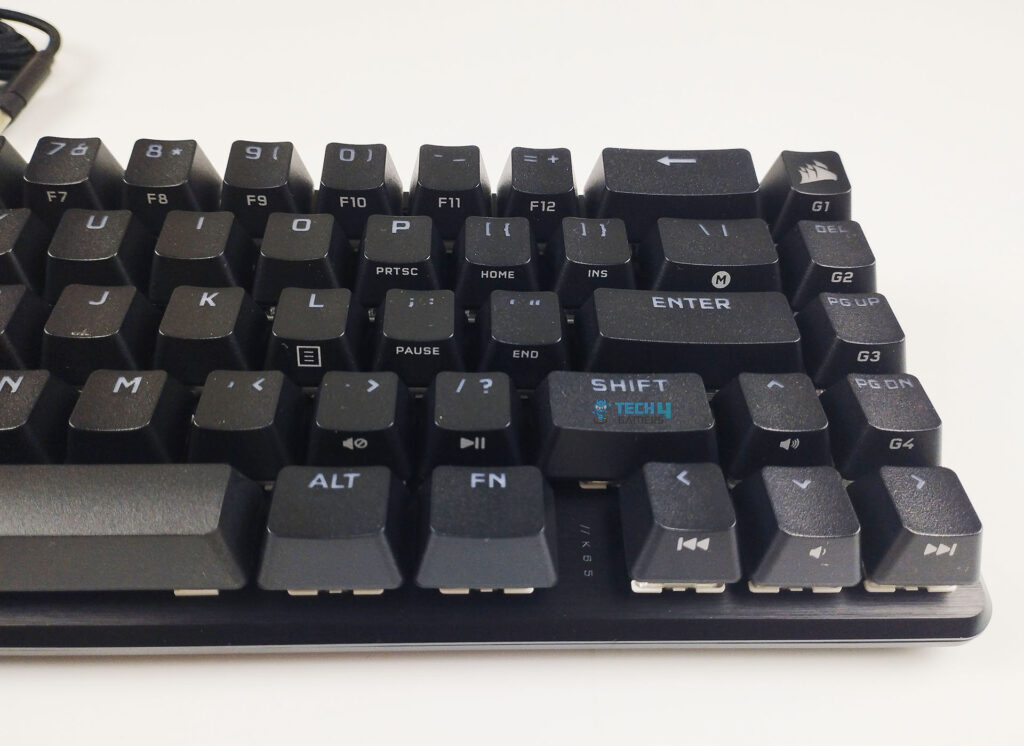 The compact size is a smart design decision that doesn't sacrifice much with regard to keyboard capacity, making it superior to around 65 percent of other keyboards. The user guide is available in digital form on Corsair's website here, and it contains a full list of hotkey combinations. Besides the standard keys, this keyboard also offers 8 MB of onboard storage for saving custom profile settings and macros, as well as PlayStation compatibility mode and caps/scroll lock indications.
Connectivity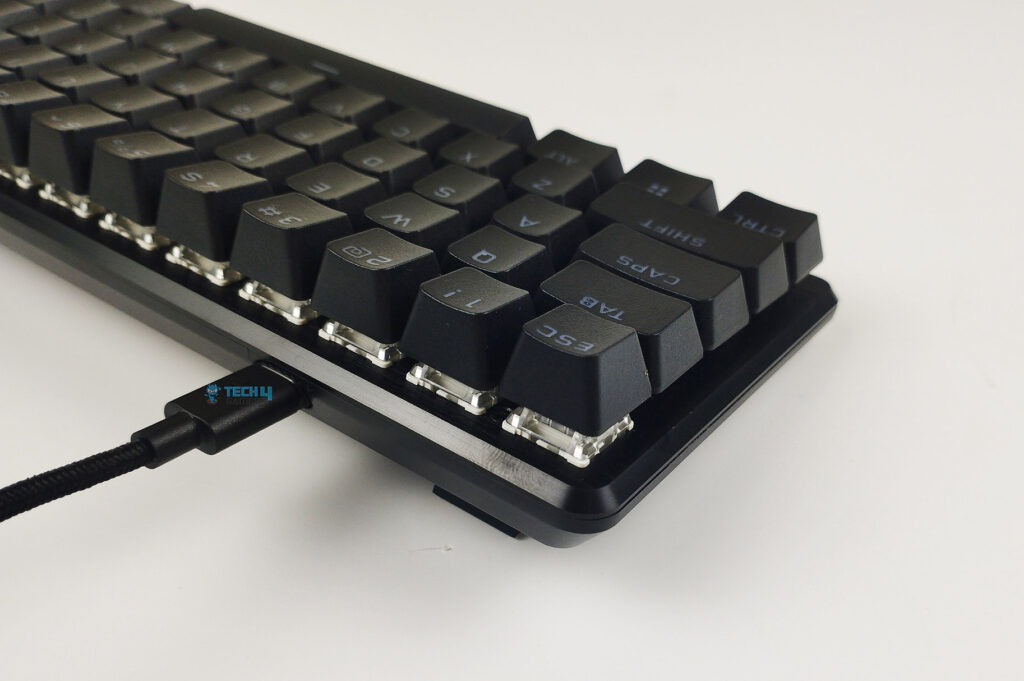 The K65 Pro Mini keyboard only comes in a wired model. Since it lacks wireless capabilities, you'll need to use a USB-C cable to its USB-C port to connect it to your computer. Fortunately, the keyboard comes with a braided, detachable USB-A to USB-C cable. But it still has some kinks from being packed. Accidentally, If you somehow lose the included USB-C cable, don't worry; any other USB-C cable will work just fine in its place.
In the future, I hope to see Corsair try an attempt at a wireless variant of the same keyboard without sacrificing any of its functionality or the sleek RGB lighting. Furthermore, I wish that the keyboard feet were double-staged for a somewhat taller profile and possibly that a wrist rest might have been included in the pricing.
Build Quality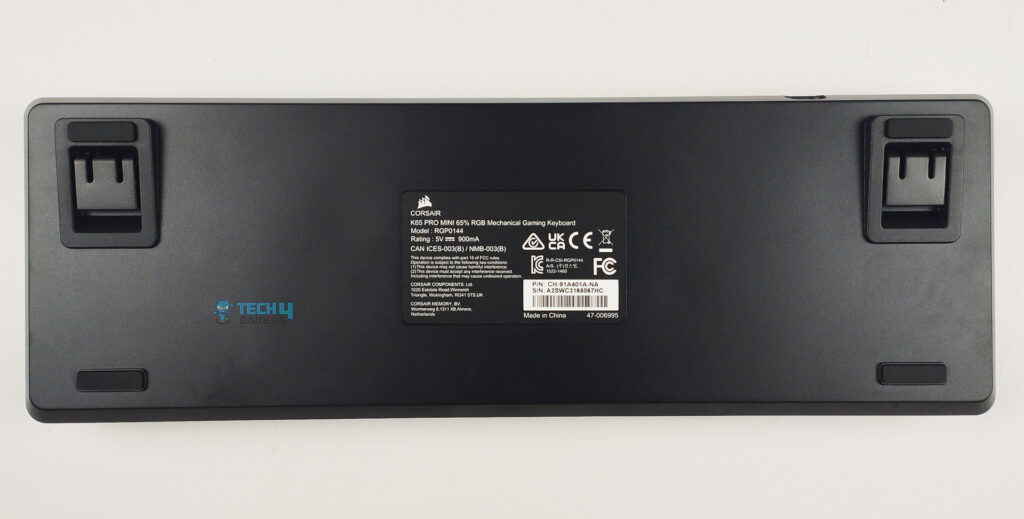 The overall build quality of this keyboard is excellent. Consequently, this keyboard's typical, high-profile design makes it ergonomically acceptable. There is no wristrest, but you may adjust the angle of the keyboard with the help of plastic feet that flip out from the back of the unit.
While the bottom casing is built of plastic, the faceplate is brushed aluminum, making it feel both sturdy and portable. The keyboard as a whole, however, flexes only a little. The keyboard is rather well-secured while in use thanks to its four rubber strips on the underside and extra rubber bits on the underside of the plastic adjustable incline feet.
Which Switches Are Used?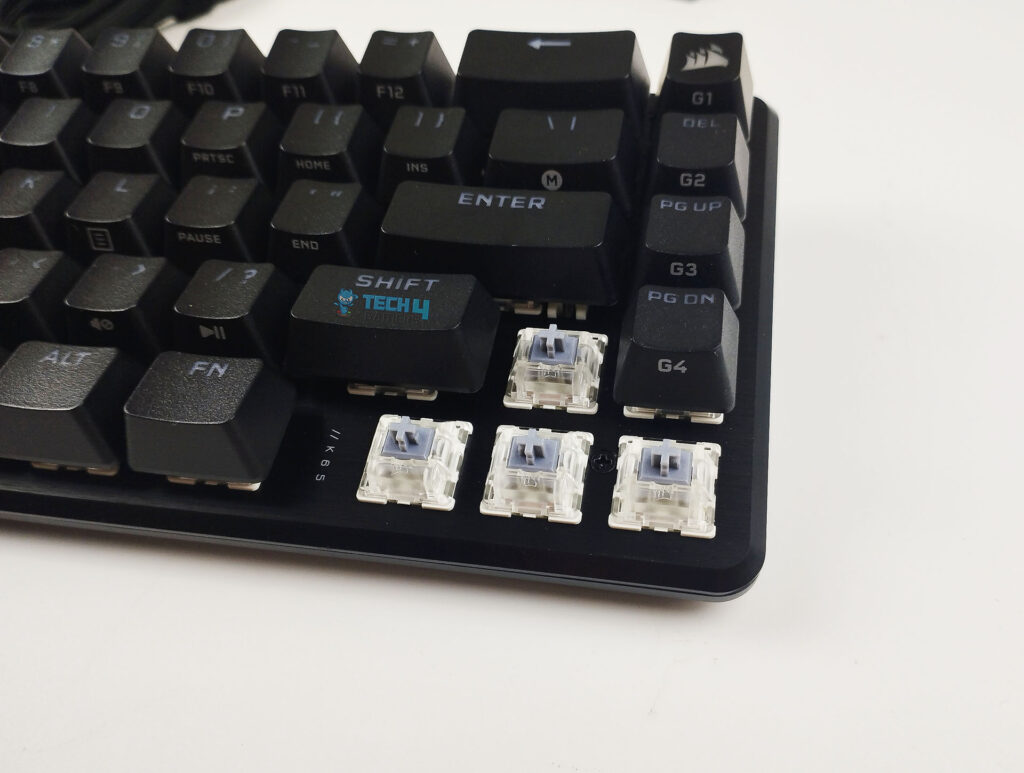 The K65 Pro Mini has Corsair's lightning-fast and semi-proprietary OPX linear optical switches. Unfortunately, there are no other switch options available for this keyboard at this time. For those who are unfamiliar, optical switches function in place of conventional mechanical or electrical switches by interrupting an emission of light to initiate a key press.
Combined with a smooth linear motion, it makes the switches incredibly swift and light, without any roughness or disturbances through the push. Even without the debatably necessary analog actuation of some of the priciest boards, optical, linear switches are likely the finest switches for playing games, at least in terms of pure technological considerations. When I tested the optical CORSAIR OPX switches, I found that they were remarkably responsive despite their low weight and short pre-travel distances.
It's worth noting that the switch's overall travel distance is substantially shorter than that of most others, which may seem unexpected if you're used to bottoming down your inputs. While these switches shine in fast-paced or competitive games, most people will find them too sensitive for everyday use. The HyperFast switches, as Corsair calls them, are another plus, making the keyboard a good pick for the rapid fire of first-person shooter battles.
Using it undoubtedly increased my typing speed, but I also became more prone to making mistakes and accidentally activating other keys because the switches have practically little pre-travel and might trigger even if a light wind finger touches on them. If you have really superhuman reflexes, you may want to use the keyboard's maximum polling rate of 8,000Hz, but if you're like me and don't notice a difference, you may stick with the default polling rate of 1,000Hz to save system resources.
Keycaps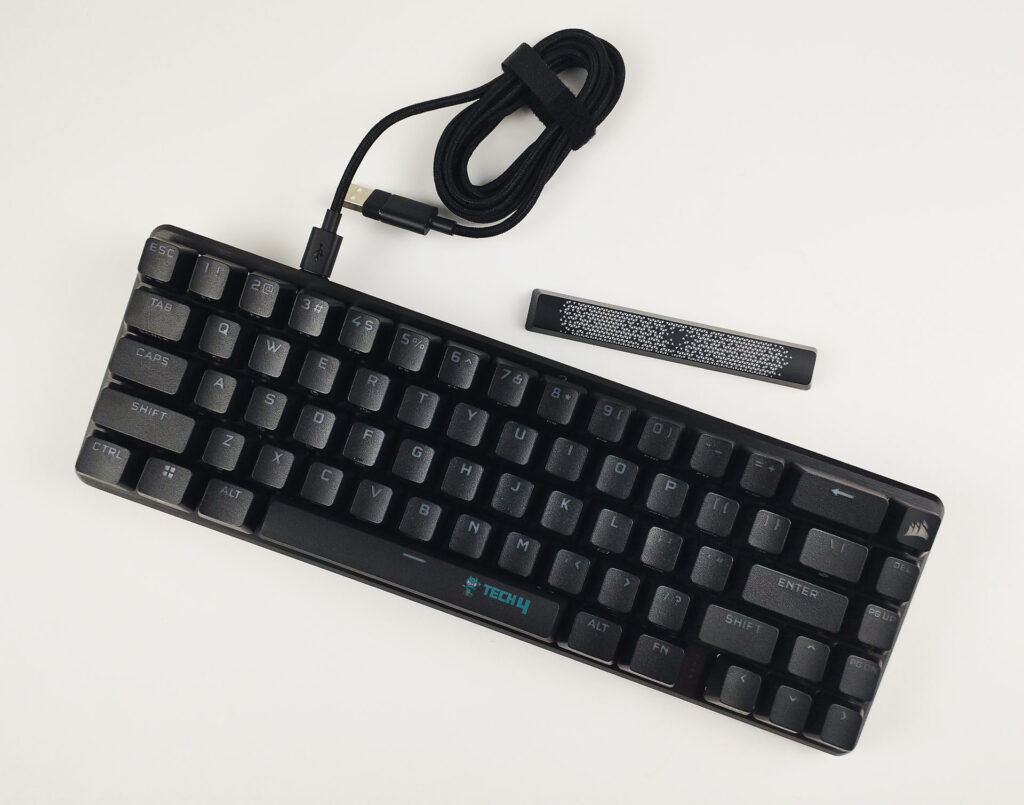 One method custom keyboards shine out in this aspect is by the use of distinctive and fashionable keycaps. To further customize the look of your keyboard, you can, as always, swap out the keycaps for those made by a third party. This is where the K65 Pro Mini separates itself from other compact gaming keyboards. Although PBT keycaps are becoming increasingly widespread, the ones included here are especially high quality.
They boast a beautiful rough texture that is quite grippy during gaming sessions. With the exception of the keycaps that feature the Corsair logo in the upper right corner as well as the alternative Radiant Spacebar, which is both made from thinner ABS plastic that feels less durable and more affordable, most of the keycaps are built out of double-shot PBT plastic. To add even more RGB to the keyboard, Corsair thoughtfully includes an additional SpaceBar with colorful perforations.
Having an additional, lighter Spacebar key makes the rattling stabilizers considerably more noticeable as it is lighter than the simple one and makes it more prominent. The choice of Spacebar key, thus, depends on the feel and appearance of the keyboard to the user. You can have either style or function, but not both. However, the PBT keycaps have a typical OEM shape and a nice, slightly rough finish, so they feel sturdy and would last a long time. There is just some bouncing in the keys, and the layout isn't too tight, considering the keyboard's small size.
The stabilizers do their job adequately, but they produce a little bit of noise, especially when used with the standard PBT plastic spacebar. Changing to the alternative ABS "Radiant Spacebar" lowers the overall pitch of the sound while leaving the rattling unchanged. Having said that, strange rattling from the stabilizer mechanism is common in gaming keyboards of this price range.
What Are The Customization Options?
The Corsair K65 Pro Mini features amazing hardware customizability. The stabilizers are plate-mounted, and the switches use standard-sized Spacebar and right modifier keys with Cherry MX Style switch stems. Although the PCB is technically hot-swappable, its compatibility is limited to CORSAIR OPX switches. If you want to use them, you'll need to find a set of appropriate third-party keycaps from an online retailer.
Although the stabilization mechanisms on the Backspace, Enter, Spacebar, and Shift keys are finely tuned, they still make a little amount of noise whenever you push them because they aren't lubricated. However, unlike the Spacebar, the Enter, Backspace, and Shift keys don't make nearly as much noise, and some could even say they feel too soft. One major difference is that they do not produce a "pop" sound like the other keys.
Since there are no standard pinouts on these switches, you can find greater compatibility with certain alternative Cherry MX-Style keycaps if you orient the switches with the South side facing up. With the switches in their default Northward orientation, the default shine-through keycaps are more easily visible. If you want to replace the keycaps, you'll have to learn the shortcuts first because doing so will erase the writing of the FN sub-functions.
Although this keyboard does not work with regular 3-pin or 5-pin mechanical switches because of its optical board, you can still manually tune and lubricate the switches if you want to. To do so, you will need to pull out the switches and then gain access to the stabilizers. While a regular switch puller will suffice, Corsair does not include a tool in the box for this purpose. This suggests that they did not anticipate anyone tinkering with their keyboards for such purposes.
Performance
Performance-wise, I have no issues. The switches' lightning-fast actuation proved useful in fast-paced first-person shooters like CS2 and Valorant. In MMO/MOBAs like League of Legends, in which activating powers or abilities rapidly might make a big impact, these switches are quite useful. The standard keycaps are sturdy and feature a gripping surface, so you won't slide off them even during marathon gaming sessions. In addition, they are double-shot PBTs, so they won't absorb oil or fingerprints even after several uses.
Sound
In terms of acoustics, the keyboard's two separate layers of sound-dampening foam within the case perform a lot of the heavy-duty work to ensure that the keyboard sounds pleasing to the ears, and their impact is noticeable when compared to the sound of numerous other keyboards with additional foam layers.
Typing Experience
After two weeks of using the Corsair K65 Pro Mini, I can say that its 8K Hz polling rate, compact size, and solid build are not what impressed me the most. It was the quality of the sound that did it. In most cases, the stabilizers on gaming keyboards are noisy and make the thing sound consisting of two steel plates grinding against each other, while the keyboard itself is a rattling mess that does little to avoid pinging. Corsair has made great efforts with the K65 Pro Mini to improve the keyboard's acoustics.
In spite of its lack of fancy features like the all-aluminum design and gasket mounts seen on most enthusiast-grade keyboards nowadays, this one provides a pleasing typing experience thanks to its linear optical switches, multiple sound-dampening layers, and top aluminum plate. It is silent, smooth, and, believe it or not, even without any lubricant on it, the stabilizers don't make an awful sound. Since I am a huge fan of keyboard acoustics and insist that my keyboard has a full, rich sound, the latest offering from Corsair has my full praise.
Corsair OPX linear optical switches, which I have to say are great in both sound and feel, complement the sound dampening. However, the bubble-wrap sound they make pleases the dopamine-addicted region of my brain, making the small discomfort of using them worthwhile. There will be no need to worry about disturbing others with the Corsair K65 PRO Mini.
Keystroke Latency
The Corsair K65 Pro Mini delivers unprecedentedly low latency. In this test, I used a polling rate of 8000 Hz and a Key Switch Debounce Time of 0 ms for the best possible results.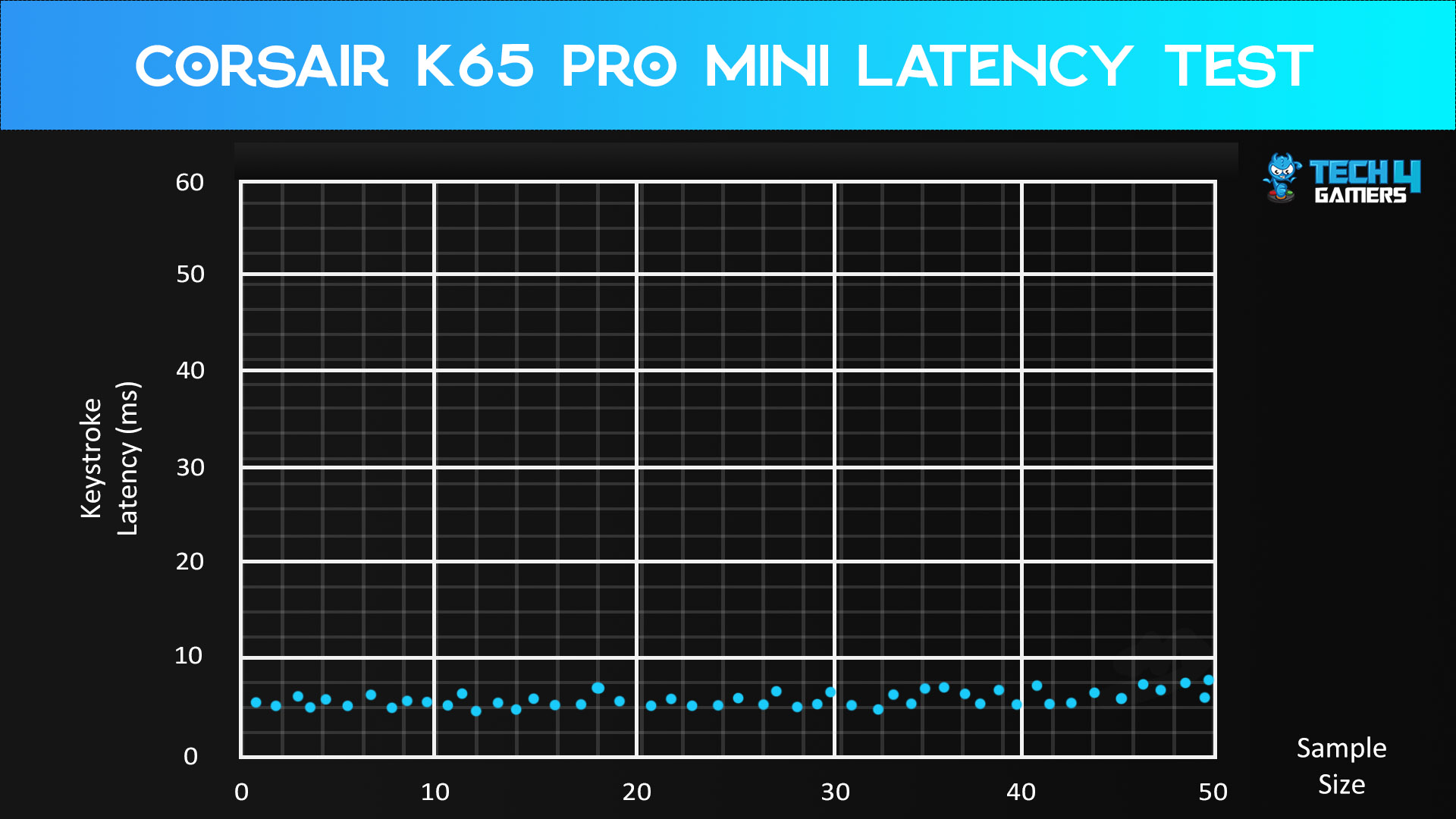 RGB Lighting
The K65 Pro Mini's keycaps and backlighting work together to illustrate the keyboard's creative layout. Each key is independently lighted, and it has complete RGB backlighting. There are both hotkey combinations and software options for configuring the keyboard's lighting. In addition to the standard spacebar, the box also contains the ABS' Radiant Spacebar, which features a dazzling design.
The pre-installed PBT plastic spacebar does not feature a shine-through design. The keycap legends on this keyboard are clearly visible even in low light, thanks to the bright lighting. However, there are a few blurry spots, and overall, white-only lighting has a bluish tint. Since this is a wired keyboard, you can keep the lights on and use your fancy 8kHz polling rate without worrying about anything shorting out.
iCUE
All the standard features of Corsair's iCue software are available on the K65 Pro Mini. Although it can be a bit complex at first, once you've set up the way you want the interface to look and feel, there's no turning back. Key assignments, RGB lighting visuals, macros, key switch debounce time, and polling rates are just a few of the many customizable initial options. If you're unfamiliar with Corsair products, you should know that the iCUE software provides hardware-based settings in addition to software-based ones.
Once you're satisfied with your keyboard's layout and RGB effects, you can save your settings permanently to the keyboard's hardware and ditch the software. The iCUE app must be actively running in the background for software settings to work. Why Corsair doesn't combine these two options and save the user's settings locally on the keyboard by default is beyond me, and I am in no position to ask right now.
Still, it's clear that Corsair put in a lot of effort here, as many of the essential features are available even without running in the background. Macros can be set up and removed with the press of a few keys. The keyboard's local memory can store up to fifty different user profiles; to switch between them, press the Fn key in combination with Z. You can even choose from and tweak up to 20 different lighting effects onboard, all with the help of some specific hardware settings.
Having said that, the full potential of the keyboard cannot be unlocked until the Corsair iCUE software has been installed. However, similar to other big manufacturers' software, this option also faces criticism for being cumbersome and requiring frequent updates. If you prefer minimal or no software at all, you may find this to be an annoyance.
Should You Buy K65 Pro Mini Or Not?
Buy it if:
Compact Size: If you want a powerful gaming experience without sacrificing desk space, the K65 Pro Mini's 65% design delivers compact excellence.
Swift Gaming Performance: Gamers seeking lightning-fast and precise keystrokes will appreciate Corsair's OPX linear optical switches, enhancing competitive gameplay.
Build Quality: If you prioritize durability, the K65 Pro Mini's sturdy brushed aluminum faceplate and sound-dampening features contribute to a satisfying typing experience.
Don't Buy it if:
Limited Switch Options: If you have specific preferences for switches and Corsair's proprietary OPX switches don't align with them, you might want to explore keyboards with a broader switch selection.
Software Dependency: For users who prefer a minimalist setup and dislike frequent software updates, the Corsair iCUE software's complexity and update frequency might be a drawback.
Higher Price Point: If budget constraints are a primary concern, the K65 Pro Mini's $130 price tag might be on the higher side for a compact keyboard. Explore alternatives for more budget-friendly options.
Bottom Line
The time I spent with the Corsair K65 Pro Mini was wonderful. The two layers of sound-dampening foams and the high quality of the Corsair OPX optical linear switches make for a significantly more comfortable typing experience than is typical with gaming keyboards. In addition, the solid construction, small size, and numerous personalization choices add a great deal of enjoyment to the keyboard. However, I do not believe that the features listed above are sufficient to warrant the high asking price of $130 for such a tiny board.
At $130, it's relatively high considering everything that the K65 does properly. Though I would prefer a lower price tag, I recognize that this is in line with comparable keyboards on the market. In short, the K65 Mini Pro is a good choice if you're ready to spend a little more money and want a reliable, no-frills optical design. Since this is a brand-new style in stores right now, I recommend waiting for a discount. If not, then you are free to make the purchase.
Was our article helpful? 👨‍💻
Thank you! Please share your positive feedback. 🔋
How could we improve this post? Please Help us. 😔
[Hardware Reviewer]
After many years of exploiting various pieces of hardware, Abdul Hannan now serves as an editor at Tech4Gamers. He's been in the PC hardware reviewing industry for almost a decade, and his staff of passionate geeks and reviewers is second to none.
Abdul Hannan is constantly seeking new methods to improve the performance of his computer components since he is an ardent overclocker. He is well-known for providing the most extensive and unbiased analysis of the newest and greatest hardware for PC gaming, including everything from GPUs to PSUs.