Should You Buy It?
Summary
The Teamgroup Siren DUO 360 ARGB is a dual-purpose AIO liquid cooler offering 360mm radiator cooling for both CPU and NVMe SSD. While effective in cooling the Intel i7-13700K and NVMe SSDs, it may pose challenges with high-profile RAM and is recommended for users prioritizing dual-purpose cooling over budget considerations or SSD-only cooling requirements.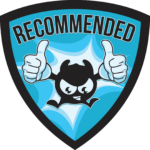 Quality -

9/10

Design -

9/10

Performance -

8.5/10

Features -

9/10

Value -

7/10
Pros
Adequate Thermal Performance
ARGB Mirror Effect on both covers
SSD Cooling
Standard Connectors
White color looks elegant
Cons
High Price
The warranty period is low
Teamgroup has recently released a new AIO named Siren DUO360 ARGB. This is a 360mm size liquid cooler, and the most salient feature is the dual cooling provision, i.e. this cooler has a block for your CPU as well as for your NVMe SSD. This cooler is available in white and black colors.
Another important aspect of this cooler is its price along with the warranty period. This cooler retails at a whopping USD 399.99, and Teamgroup offers only a 2-year warranty on this cooler. This cooler is compatible with Intel LGA1700 and AMD AM5 sockets prominently, along with support for other listed sockets. I am taking a look at the white edition. Its salient features include:
Liquid cooler supports CPU and SSD at the same time
SSD Module has a detachable ARGB cover
This cooler has a dual ARGB mirror design
The pump is rated for up to 4000RPM speed
A 360mm size large radiator for more cooling surface
3x 120mm ARGB Fans
---
Key Takeaways
The Teamgroup T-Force Siren DUO360 ARGB White CPU Cooler is an excellent dual-purpose 360mm AIO that does a great job at cooling both CPU and SSD. Plus, the white design makes it one of the best white CPU coolers I have tested.
You should get the Teamgroup T-Force Siren DUO360 ARGB White CPU Cooler if you want to cool both your SSD and your CPU without any compromises.
You should not get the Teamgroup T-Force Siren DUO360 ARGB White CPU Cooler if you are on a tight budget or have high-profile RAM.
---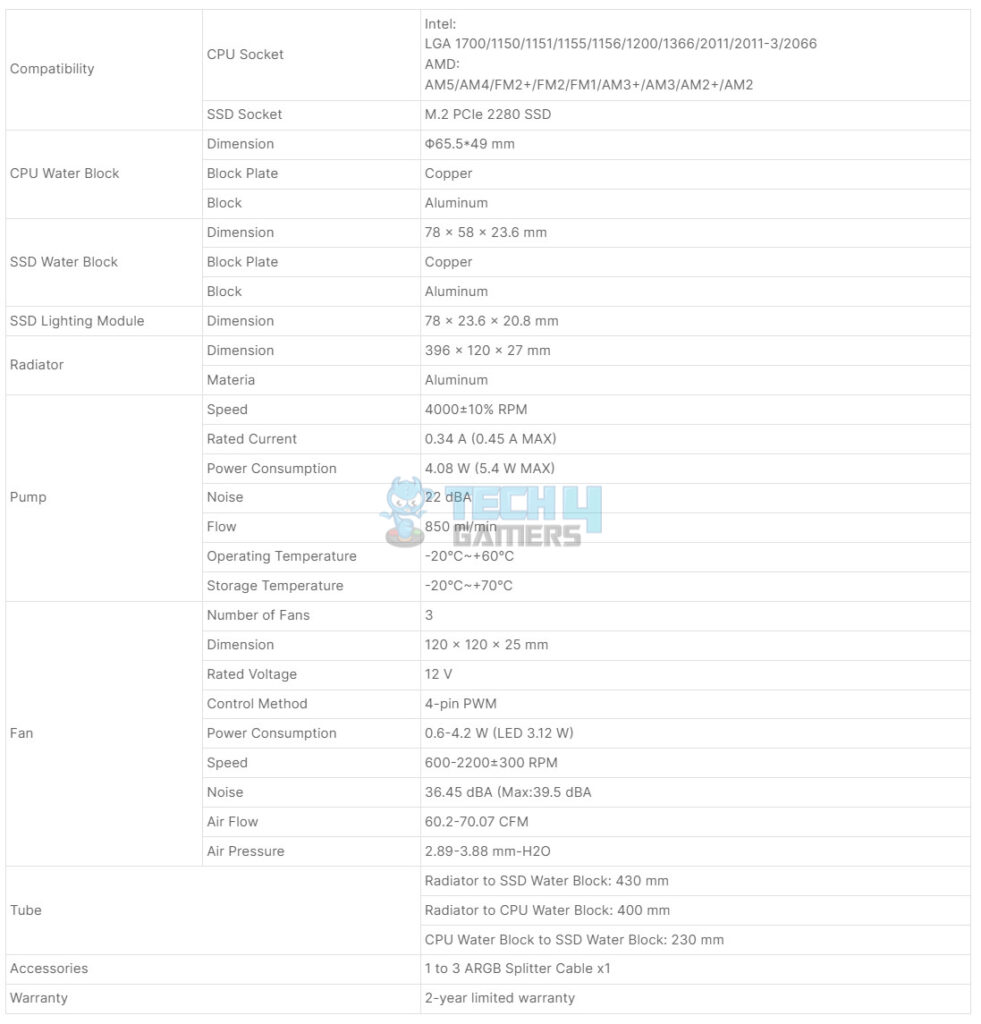 I am showing the specifications as taken from the Teamgroup's website. This cooler has a wide compatibility for listed sockets, including LGA1366/115x/1200/1700/20XX from Intel. It is compatible with AM5/AM4/AM3+/AM3/AM2+/AM2/FM2+/FM2/FM1 sockets. The M.2 cooler supports the form factor 2280 for the NVMe drives. The pump has a flow rate of 850 ml/min. The fans are using Hydraulic bearings.
Packaging And Unboxing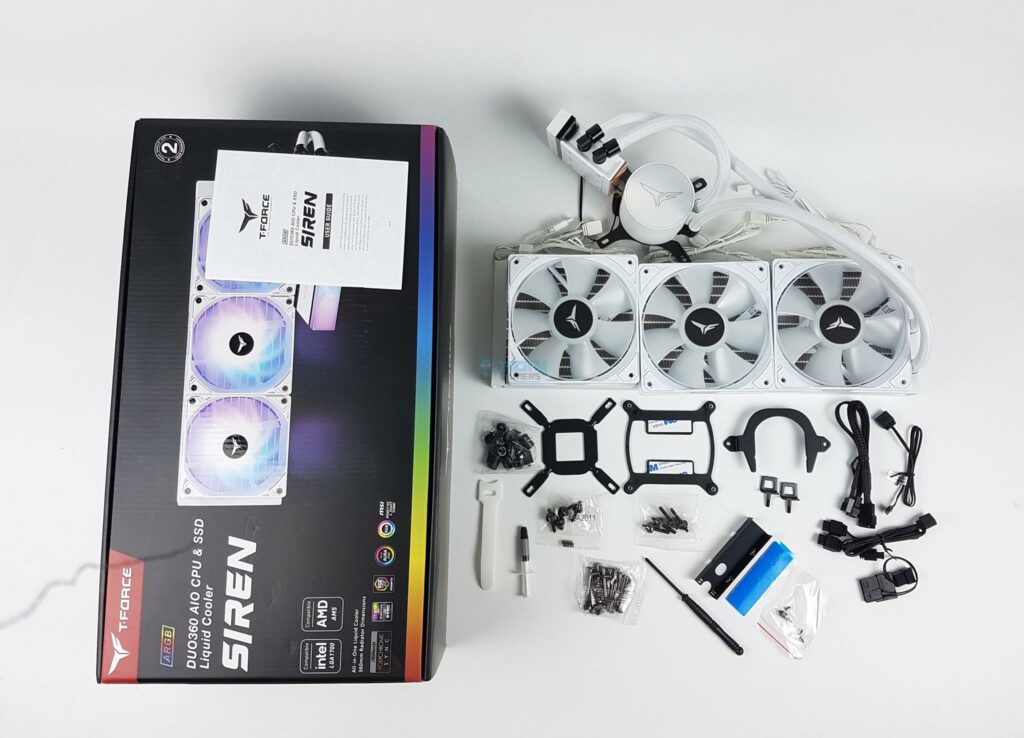 The cooler and its accessories are shipped inside a cardboard carton placed inside a paperboard outer packing material. The following are provided:
1x Cooler, 3x Fans, 1x Intel Backplate for LGA1700 Socket, 1x Intel Backplate for other Intel Sockets, 1x Intel Mounting Bracket, 1x AMD Mounting Bracket, 2x AMD Clips, 4x Intel LGA20xx Studs, 4x Intel LGA1700 Studs, 4x Intel Pillar Screws, 4x Intel Locking Washers, 4x Intel Spacers, 4x Thumb Screws, 1x Thermal Paste Tube, 1x 3-way PWM Splitter Cable, 1x 2-way ARGB Splitter Cable, 1x ARGB Adapter Cable CPU Block, 1x 2-pin Socket to Molex connector, 1x M.2 SSD Tray, 1x Thermal Pad, 1x Screwdriver, 1x M.2 Socket, 4x Screws or SSD Module/Block, 3x Tube Clips, 1x User Guide, 12x Fan Screws, 12x Radiator Screws
Design
The Teamgroup Siren DUO360 is a one-of-a-kind liquid cooler since Teamgroup has provided two blocks to cool your CPU and SSD as well. The idea sounds good on paper. But we are dealing with more tubing and routing of tubes with this configuration. It is time to take a look at each component in detail.
Radiator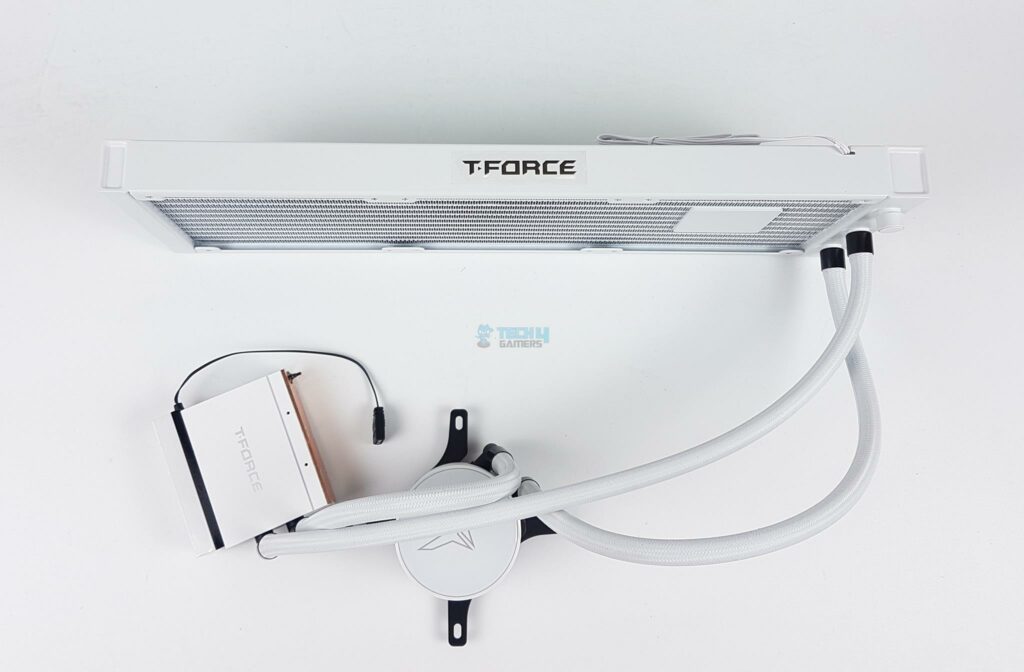 There is a 360 mm-sized radiator that actually has a dimension of 396x120x27mm (LxWxH). Here, 27mm is the overall thickness of the radiator. After installing a 120x25mm size fan, the overall thickness would be approximately 53 mm, including the screws' heads. This radiator has 20 FPI, making it a dense fins tack. There are 12 channels for the coolant flow. There is a gap of 105mm between any two fan mounting holes on the radiator. Teamgroup has given a complete assembly of a white color spray paint job. The overall fin stacking is satisfactory since we did not find a bend or broken fin.
The above picture shows the side view of the unit. There are three runs of tubes. One run is from the radiator to the CPU water block, measuring 400mm long. The second run is from the radiator to the SSD block, and it has the same length. A third run is between both blocks, and it has a length of 230mm, which, in my opinion, is not sufficient and can easily kink or be obstructed by the high-profile RAM. There is a T-Force branding on the side frame of the radiator.
Notice the gap between the actual fin stack and the side frame of the radiator housing. This implies that the thickness of the fin stack is less than 27mm overall thickness. Teamgroup is using rubber tubes that have a white color nylon braided mesh sleeve in white color.
There is a serial number sticker on the tube connection side of the radiator. Notice the black color clamps used to conceal the connection between the tubes and barbs. I wish they were also in white color. There is also a third port that seems to be a refill port. Its cover does not have a warranty void sticker that could imply that the user can operate this port, though it is reserved for factory use only, in my opinion.
Pump
The pump is integrated into the radiator. This design is being used by many manufacturers now. One aspect of this integration is to bypass the Asetek patent in North America, and the other sugar-coated reason is that this design removes the vibration from the CPU and socket.
There is a cutout on the side frame of the radiator. We can see a 3-pin cable routed from the pump coming out through this cutout. Teamgroup has done a nice job in this cable routing.
There is a 3-pin connector cable to power this pump. This pump is rated for up to 4000±10% RPM speed at 12VDC. It has a coolant flow rate rating of 850ml/min. Its rated current is 0.45A maximum with a maximum power draw of 5.4W. The noise rating is 22 dB(A).
CPU Block
Looking at the CPU block, we can see a Teamgroup branding on the top cover. The housing has a circular design and it is lightweight as well as a low-profile outlook. This is because the pump is integrated into the radiator unit. This housing has paths for coolant flow with a copper base plate. The top cover is ARGB backlit. The top cover is not removable. The unit comes with an Intel mounting bracket pre-installed.
Looking at the side, you can see a port. This is where you are required to connect the ARGB adapter cable so that the ARGB lighting effect on the top cover can be controlled.
The tubes are installed in a 90° mount on the base of the block so that they can be rotated as per requirement to the left or right side position. Teamgroup has used black color clamps to conceal the connection of tubes with the barbs.
I am showing the circular design of the copper base of the unit. It has a diameter of 52mm. There is a protective cover on the base. Don't forget to peel it off during the installation.
SSD Block
It is time to take a look at the SSD block or module, however you may call it.
The dimension of this block is 78x58x23.6mm (LxHxW). The height of this module is 58mm, which is quite tall. The width of 23.6mm is enough to prevent obstruction to the PCIe slot. There is a Teamgroup branding on the side of this block. The tubes are also in 90ᵒ mount on this block, and there are black color clamps on the connection points. The water block side has screw mounts. This side remains visible towards the PCIe slot.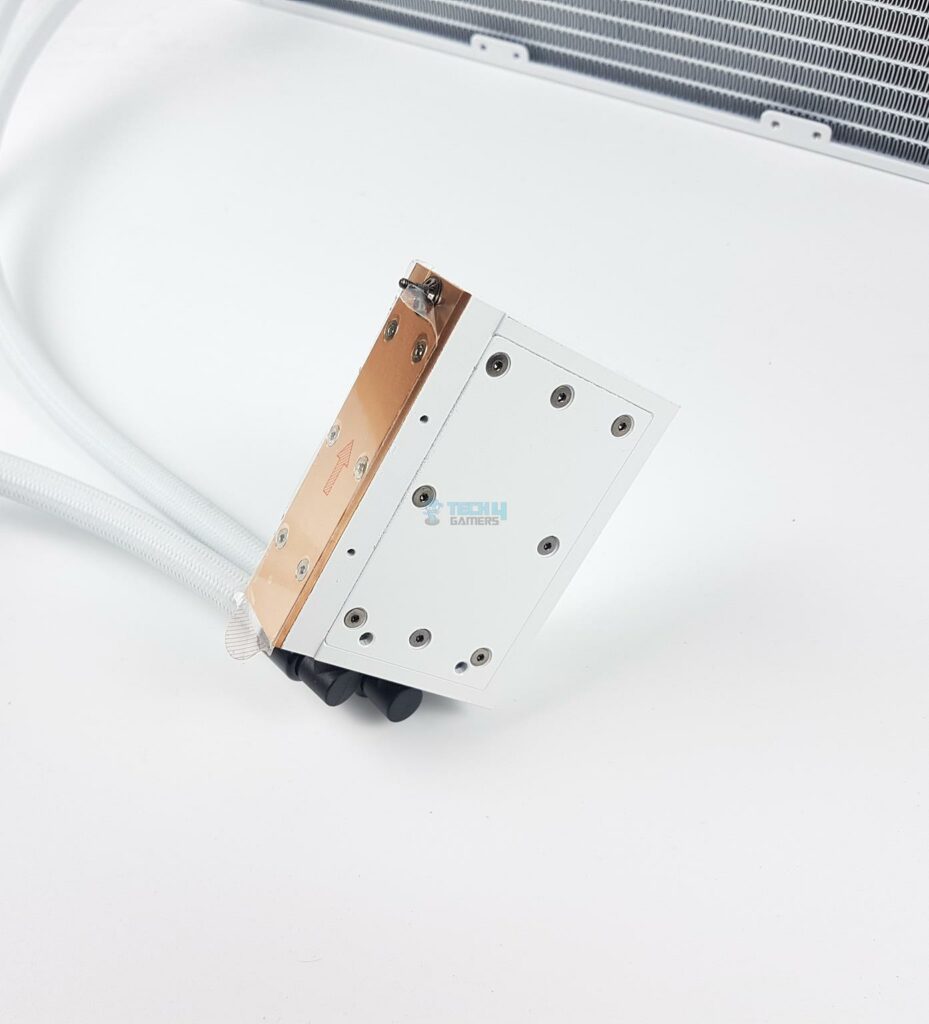 We have a copper base and a screw mount for which you would need a socket on the M.2 SSD slot area. In case your motherboard has EZ Latch or Q Latch mechanism, you can remove those mounts to install the bundled socket. Seems like the block is designed with old-school M.2 mounting, which is still common these days, but the majority of the motherboards now come with EZ latch or Q Latch mechanism with at least on the top M.2 drive.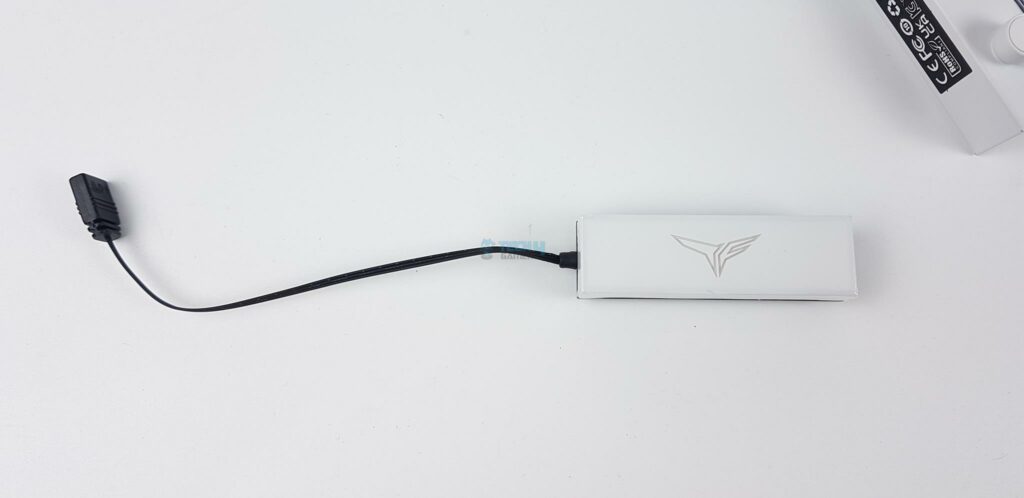 There is a magnetic top cover that can be placed over the SSD block after its installation. There is a single standard 3-pin ARGB connector to control the ARGB backlighting of this cover.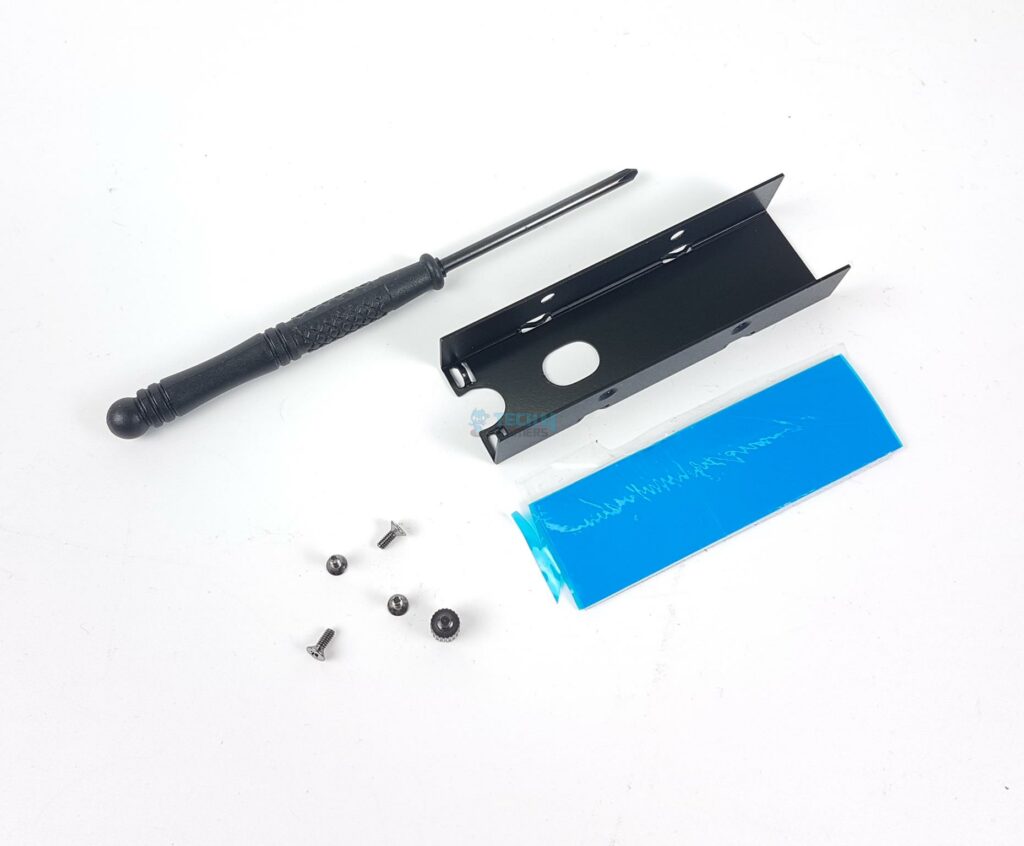 Teamgroup has provided an SSD container on which the SSD is to be placed and then covered by a thermal pad. This is for single-sided M.2 SSDs. What about dual-sided SSDs? You would need to install this assembly on the SSD block using the 4x screws provided with the cooler.
Fans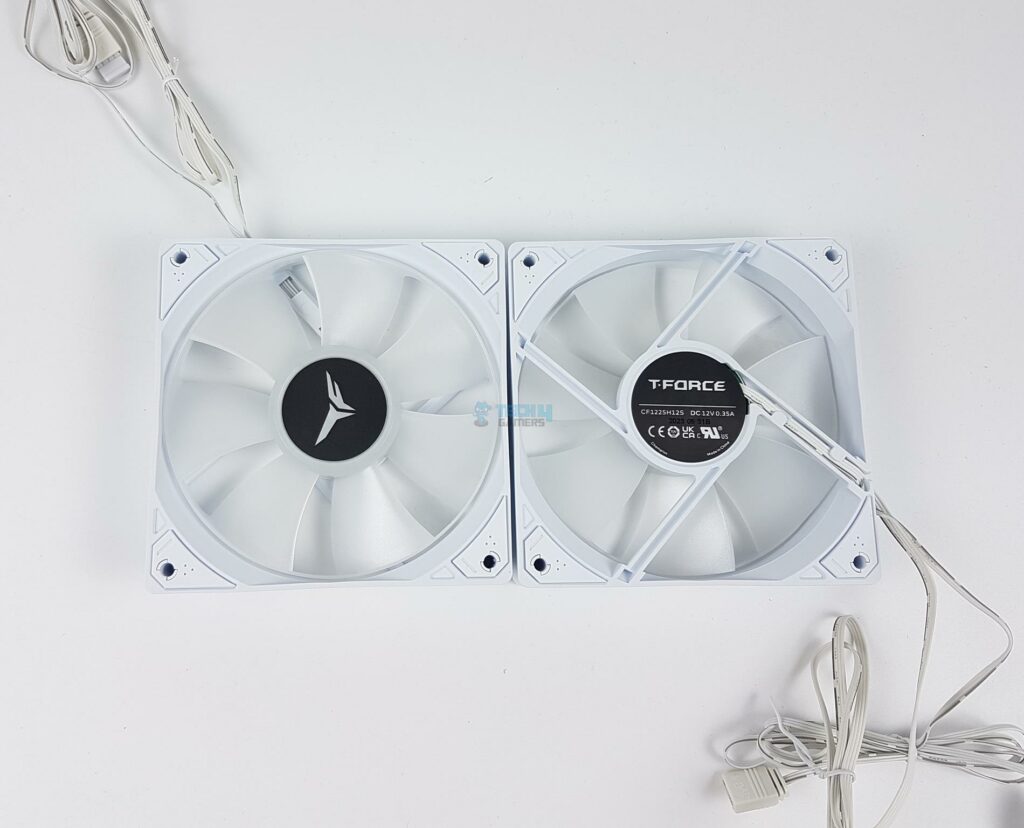 Teamgroup has provided 3x 120mm size ARGB fans in white color with this cooler. Each fan has 7 blades which are in quite different shapes than I have seen so far. They are translucent for even light diffusion across the surface. The center has a black color sticker with Teamgroup branding. All 4x mounting corners have a slope inward design. There are cut-to-size anti-vibration pads on the mounting corners. There is a 4 arms assembly on the backside, with one arm having a cable routing path. These fans are made in China.
There are arrow symbols on the frame of the fan showing the direction in which the blades would spin and the direction of airflow through the fan. These fans are using Hydraulic bearings. You can check the specifications of these fans in the relevant section of this article.
Each fan has three cables. One has a 4-pin PWM connector to power the motor of the fan. The other cable has a dual-head or dual-connector layout. It has standard ARGB connectors for the ARGB lighting. The cables are white in color. Their length is plentiful for any requirement.
Installation
I have followed the following steps to install this cooler on the GIGABYTE Z790 AORUS Elite AX motherboard:
Place the Intel LGA1700 backplate on the backside of the motherboard.
Secure it using 4x Intel LGA1700 Studs or screws.
Apply the thermal paste over the CPU.
Prepare the M.2 NVMe SSD by placing it in the tray and pasting a thermal pad over it.
Secure the tray with the SSD block using 4x screws.
Install the socket on the 2280-size hole on the M.2 socket.
Install the SSD block first.
Route the tubes well and install the CPU block.
Install fans on the radiator and set up a cable connection.
Installation is completed.
Clearance
The cooler has no clearance issue for the low-profile RAM and PCIe slot. However, make sure that your case supports 360mm AIO. The dimension of the radiator without fans is 396x120x27mm (LxWxH). With fans, the dimension is 396x120x53mm. Your case must have a clearance for this much thickness. I have observed that installing the SSD block and CPU block with high-profile RAM would make the tube routing challenge as tubes would press on the near CPU memory module. This was the case with the Corsair Dominator Titanium memory kit that has a height of 57mm. Take note, and better use a low-profile RAM kit with this cooler.
Digital RGB Lighting
Teamgroup is using standard RGB connectors following a 3-pin format on 5VDC. This makes the cooler compatible with the RGB sync technology of the motherboard manufacturers:
ASUS AURA SYNC
GIGABYTE RGB FUSION 2.0
MSI MYSTIC SYNC
ASROCK POLYCHROME SYNC
There is no dedicated ARGB controller with this cooler which is something I would expect in this price range. The RGB lighting is working flawlessly. The diffusion is even, and we have tested the lighting on GIGABYTE Z790 AORUS Elite AX motherboard using RGB Fusion 2.0 app. The lighting was responding well to the change in mode. Here are some pictures:
Thermal Testing
I have used the mentioned configuration to test the performance of this cooler: –
Here is the settings table for testing:
| | |
| --- | --- |
| All Cores | Auto |
| VCore (V) | Auto |
| Power Limits | Removed |
| Thermal Paste | Pre-applied |
| Test Run Time | 30 minutes CINEBENCH R23.2 |
| Idle Time | 10 minutes |
| Fan/Pump Speed | 100% PWM Duty Cycle |
| Monitoring Software | HWInfo64 |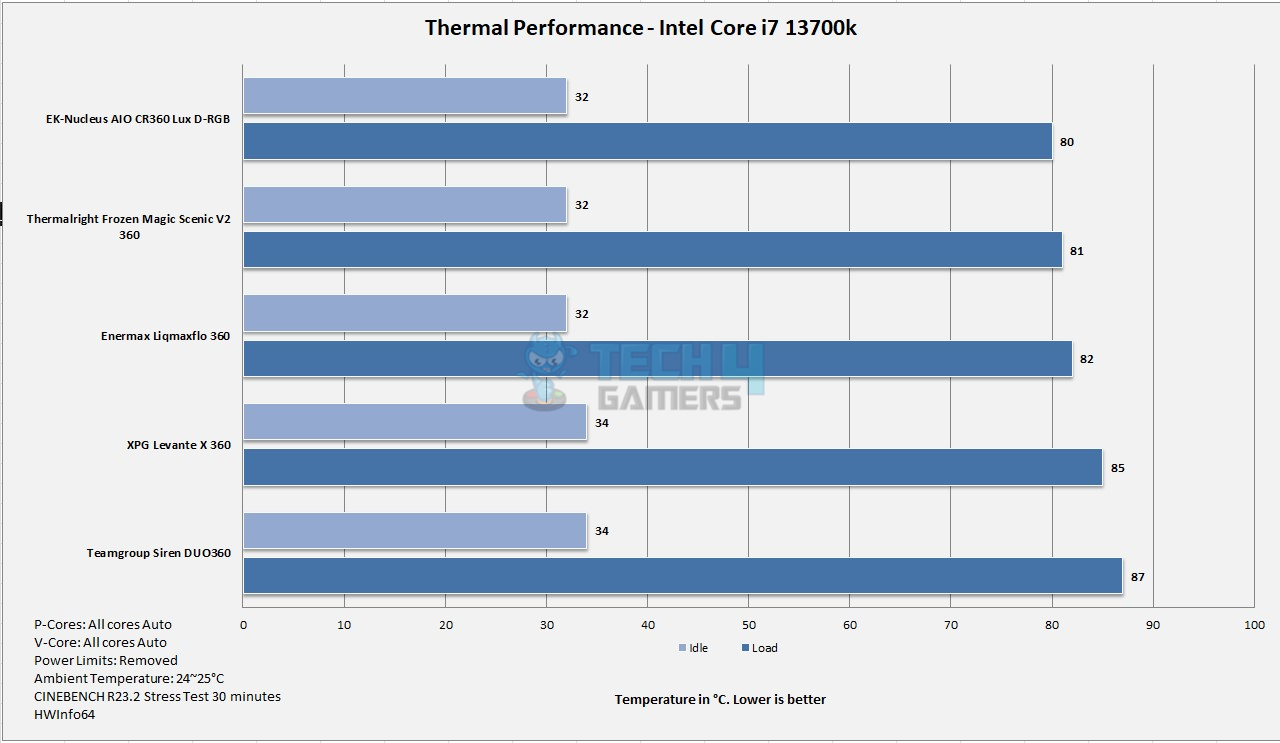 The Teamgroup Siren DUO360 ARGB white cooler has performed quite well, taming the 250W Intel core i7 13700k and keeping it at bay. This is a good performance because many 360mm AIOs have failed on my test bench to achieve this.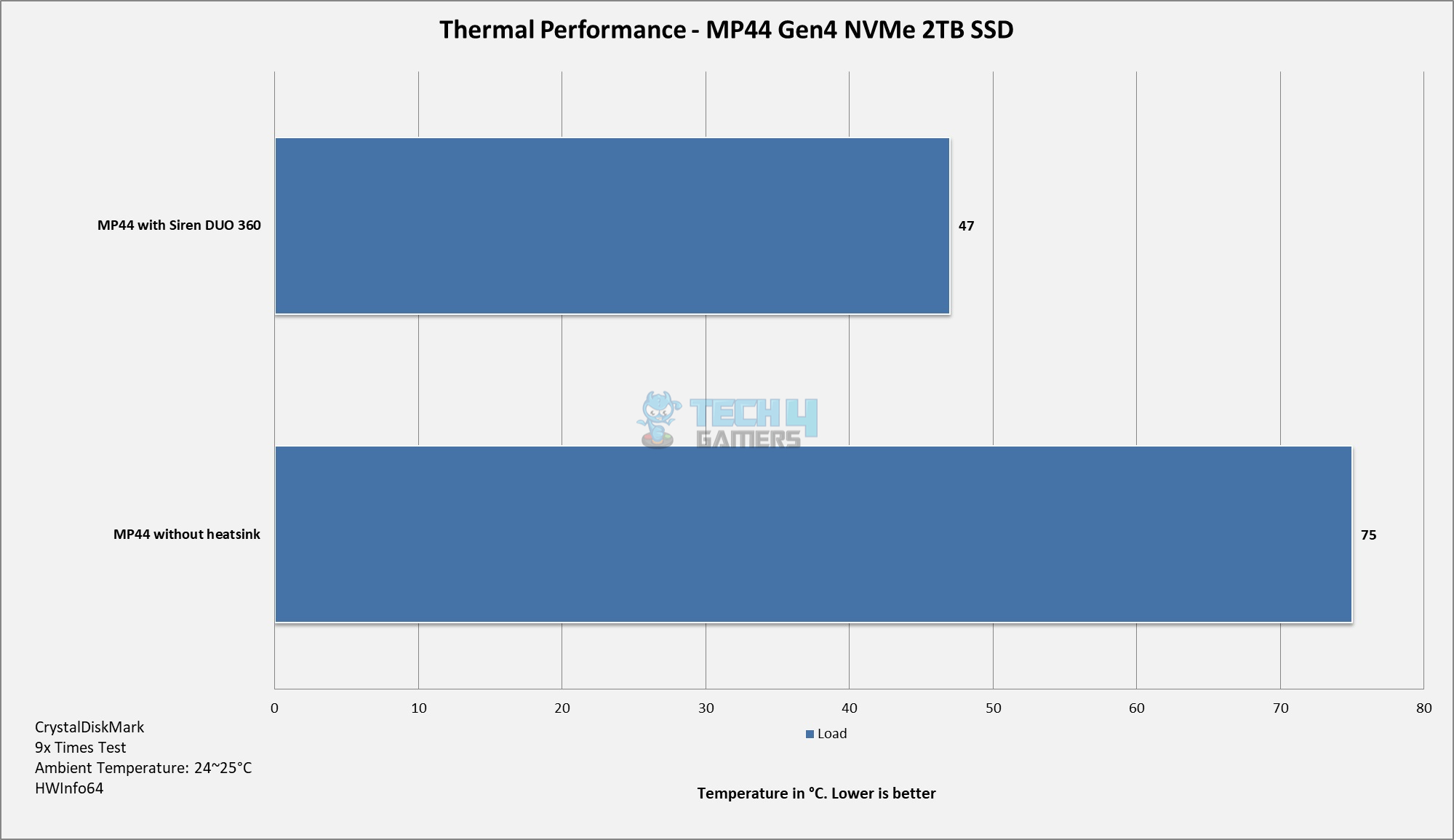 I have used the MP44 2TB NVMe SSD to test the SSD block. It was tested without a heatsink and then with the SSD block of this cooler. The result is self-explanatory, but keep in mind that NAND Flash chips love to run warm, so I would not really be bothering the NVMe SSDs unless they throttle or they are Gen5 NVMe SSDs. What matters is the sustained performance of the drive.
Should You Buy It
Buy It If
If you have a Gen5 NVMe SSD to cool: The Teamgroup Siren DUO360 ARGB White has the capability to cool your NVMe SSDs. This would come in handy for the Gen5 NVMe SSDs that run hot and need active cooling.
If you need adequate cooling for your CPU: The Teamgroup Siren DUO360 packs good thermal performance for your CPUs as well. You can consider it to cool your CPU as well as SSD.
Don't Buy It If
If you have high-profile RAM: You don't need this cooler if you have a high-profile memory kit, as the tube connection between both blocks would press the first memory module, and it could make your PC unstable.
If you are a budget user: Teamgroup is not coming slow. This cooler retails at USD 399.99 at the time of this writing, and this is quite a considerable amount to spend only on cooling.
Final Words
The Teamgroup Siren DUO360 is a liquid cooler that comes in white and black colors. The most compelling function or feature of this unit is its dual-cooling design. This cooler has two blocks. One is to cool your CPU, while the other is to cool your NVMe SSD. How cool is that! It is available in 360mm size only, which is understandable since this cooler is required to cool two components; hence, we would need more surface area for cooling.
This cooler is compatible with major Intel and AMD consumer sockets, including LGA1700 and AMD AM5 sockets. Although I am not a big fan of the LGA1700 mounting hardware of this cooler because the stud sits too close to the capacitors of the VRM area to my comfort, removing this stud is not convenient. The Teamgroup needs to rework that.
The pump is integrated into the radiator, and it has a rated speed of 4000±10% RPM at 12VDC with a power draw of 5.4W maximum. The flow rate is 850ml/minute. Teamgroup has provided 3x 120mm ARGB fans that are rated for a maximum of 2200±300 RPM at 12VDC, generating a maximum airflow of 70.07 CFM with a maximum static pressure rating of 3.88mmH₂O. These fans are quite loud, so I would suggest using the Auto PWM function or setting up a custom fan curve.
This cooler has a good performance, but this performance is coming at a steep price of USD 399.99. On top of that, there is only a 2-year warranty on this cooler. I would have preferred a 5-year warranty because the warranty period shows the confidence of the manufacturer in its products.
Was our article helpful? 👨‍💻
Thank you! Please share your positive feedback. 🔋
How could we improve this post? Please Help us. 😔
[Hardware Reviewer & Editor]
Meet Nauman Siddique, a highly experienced computer science graduate with more than 15 years of knowledge in technology. Nauman is an expert in the field known for his deep understanding of computer hardware.
As a tech tester, insightful reviewer, and skilled hardware editor, Nauman carefully breaks down important parts like motherboards, graphics cards, processors, PC cases, CPU coolers, and more.
15+ years of PC Building Experience
10+ years of first-hand knowledge of technology
7+ years of doing in-depth testing of PC Hardware
A motivated individual with a keen interest in tech testing from multiple angles.
I majored in Computer Science with a Masters in Marketing
Previously worked at eXputer, EnosTech, and Appuals.