Best Heavy-Duty SSD?
Review Summary
MP44 is built like a tank, not a rifle, and it works like that. If you are a heavy data user and in the market looking for a high-capacity, fast storage solution with almost no compromise, look no further, as MP44 has got you covered quite well.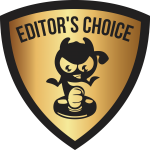 Quality -

9/10

Performance -

9/10

Features -

9/10

Value -

9.5/10
Pros
7400MB/s Sequential Read
7000MB/s Sequential Write
PS5 Compatible
Graphene Label
2500 TBW
5-Year Warranty
Excellent Real World Performance
Cons
Random 4K Performance could have been better
Runs warm
Teamgroup has introduced a new breed of NVMe SSDs named MP44. Don't confuse it with MP44L, as both are different. I am fond of war movies, and the very name of MP44 reminds me of the MP44 rifle from World War – II. Anyhow, that is not related anyway here. For those who are not aware, Teamgroup carries three main brands or categorizes their SSDs into three product lines. These are:
T-FORCE Gaming
T-CREATE Creator
Simple SSDs
The MP44 falls in the third category listed above. The salient features of MP44 include:
Gargantuan space for all-encompassing data storage
Heat dissipating graphene label, the best enhancement to motherboard heatsink
PCIe Gen4 ultra-speed performance exceeding 7,000MB/s
SSD patented monitoring
Recyclable packaging contributing to environmental sustainability
Five-year warranty for comprehensive protection
Heat dissipating graphene label patents:
Taiwan utility patent (No.: M628748)
China utility patent (No.: CN 217135922 U)
Patented S.M.A.R.T. software
Taiwan invention patent (No.: I751753)
This series of SSDs is available in the following sizes:
These are M.2 PCIe 4.0 NVMe 1.4 interface drives. Simply put, these are Gen 4 SSDs. Teamgroup has high hopes for this product line as they have rigorous in-house testing before commercializing these drives for the consumer market. This is why they are offering a 5-year warranty on MP44. We are taking a spin on a 2TB variant. The rated sequential read speed on this drive is up to 7400 MB/s, and sequential write speed is up to 7000 MB/s.
The 7400 MB/s is the very reason Teamgroup has been specifically suggesting testing these drives on the AMD platform since AMD's CPU and Chipset are capable of achieving these speeds compared to a maximum of 7000 MB/s on the Intel platform. 4K Random read and write are rated for up to 650K and 660K IOPS, respectively, for 2TB. Coming to another critical factor of TBW (Total Bytes Written), this SSD is rated by Teamgroup at 2500 TBW. The closest contender with this drive is the Kingston Fury Renegade 2TB.
Why you can trust Tech4Gamers:

We understand the importance of making informed decisions. That's why our team spends significant time testing every product we review.

Find out more about how we test.
---
Key Takeaways
The Teamgroup MP44 2TB NVMe SSD offers blazing-fast speeds, boasting an impressive 7400MB/s, making it an ideal choice for users seeking lightning-quick data access and transfer rates.
Gamers will particularly appreciate its compatibility with the PS5, ensuring seamless storage expansion and enhanced gaming experiences.
With a whopping 2500 TBW (Terabytes Written) endurance, this SSD promises exceptional longevity, making it a solid investment for both gaming and productivity enthusiasts.
---
Specifications
Take a look at the specifications: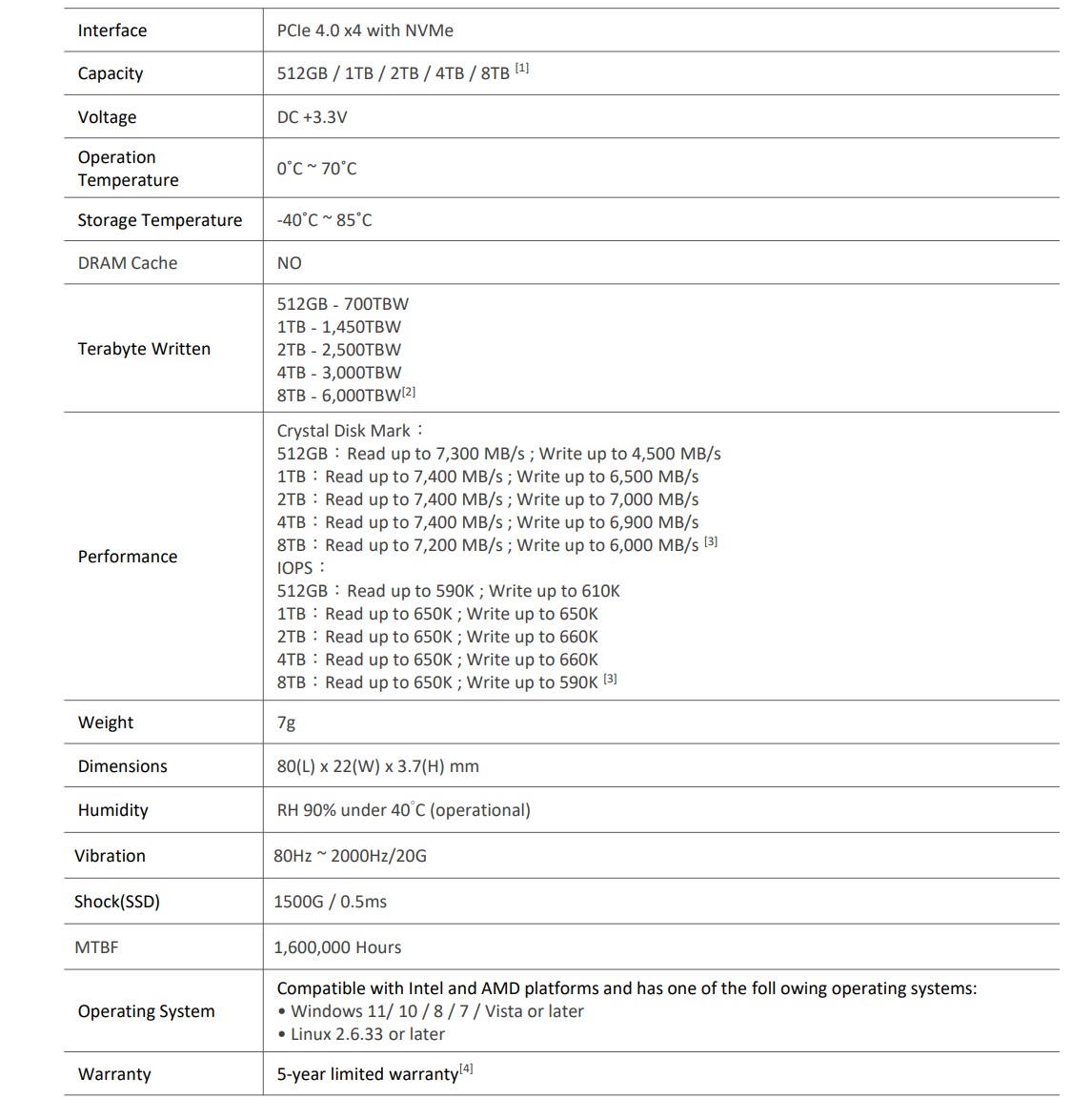 Packing Box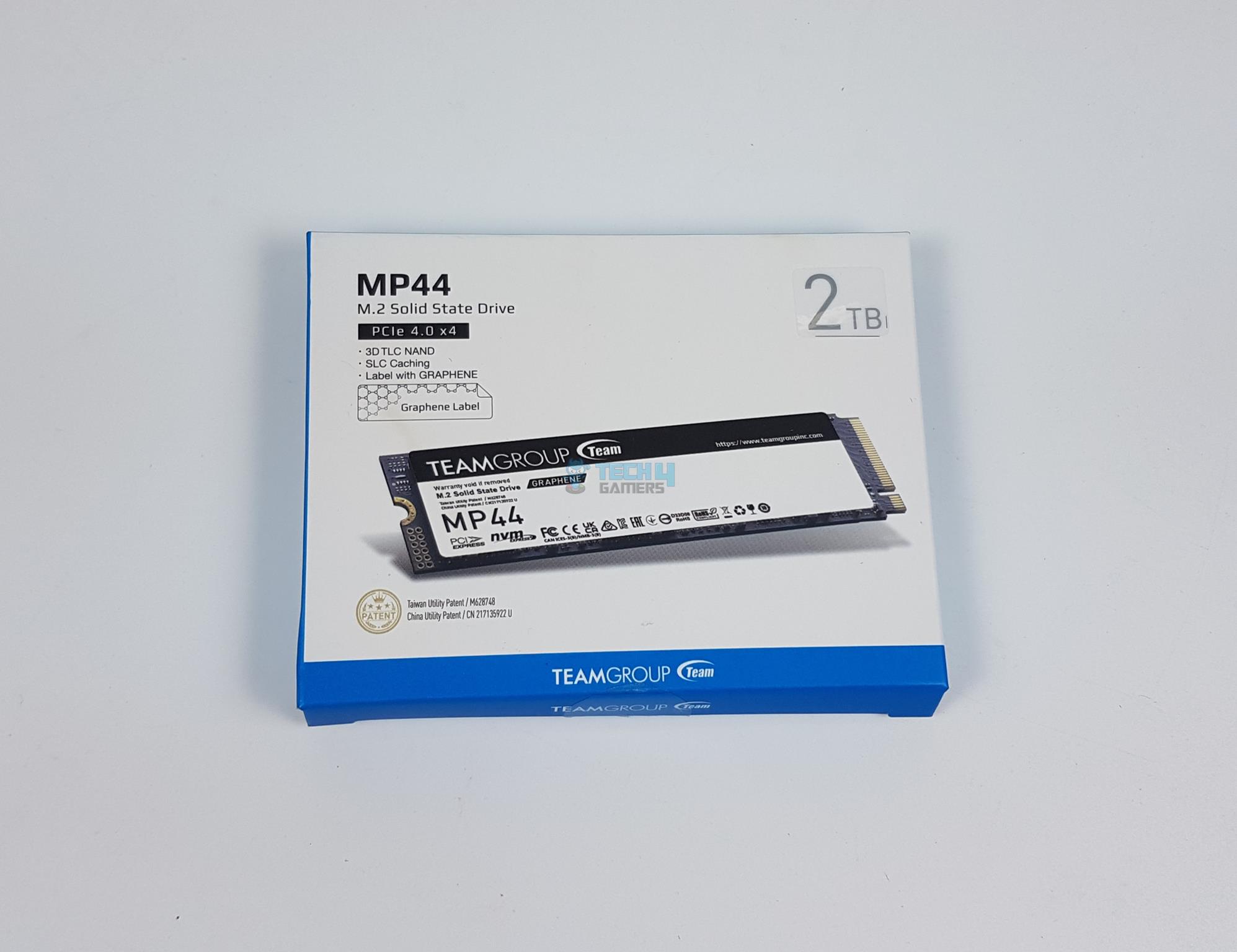 Teamgroup uses recyclable packaging. It has passed environmental protection certifications, including RoHS, REACH, and ESG, contributing to sustainability endeavors. There is a model of the SSD and the capacity label on the top. This SSD is using 2D TLC NAND FLASH with SLC caching. Another key feature is the Graphene Label, which we will cover later.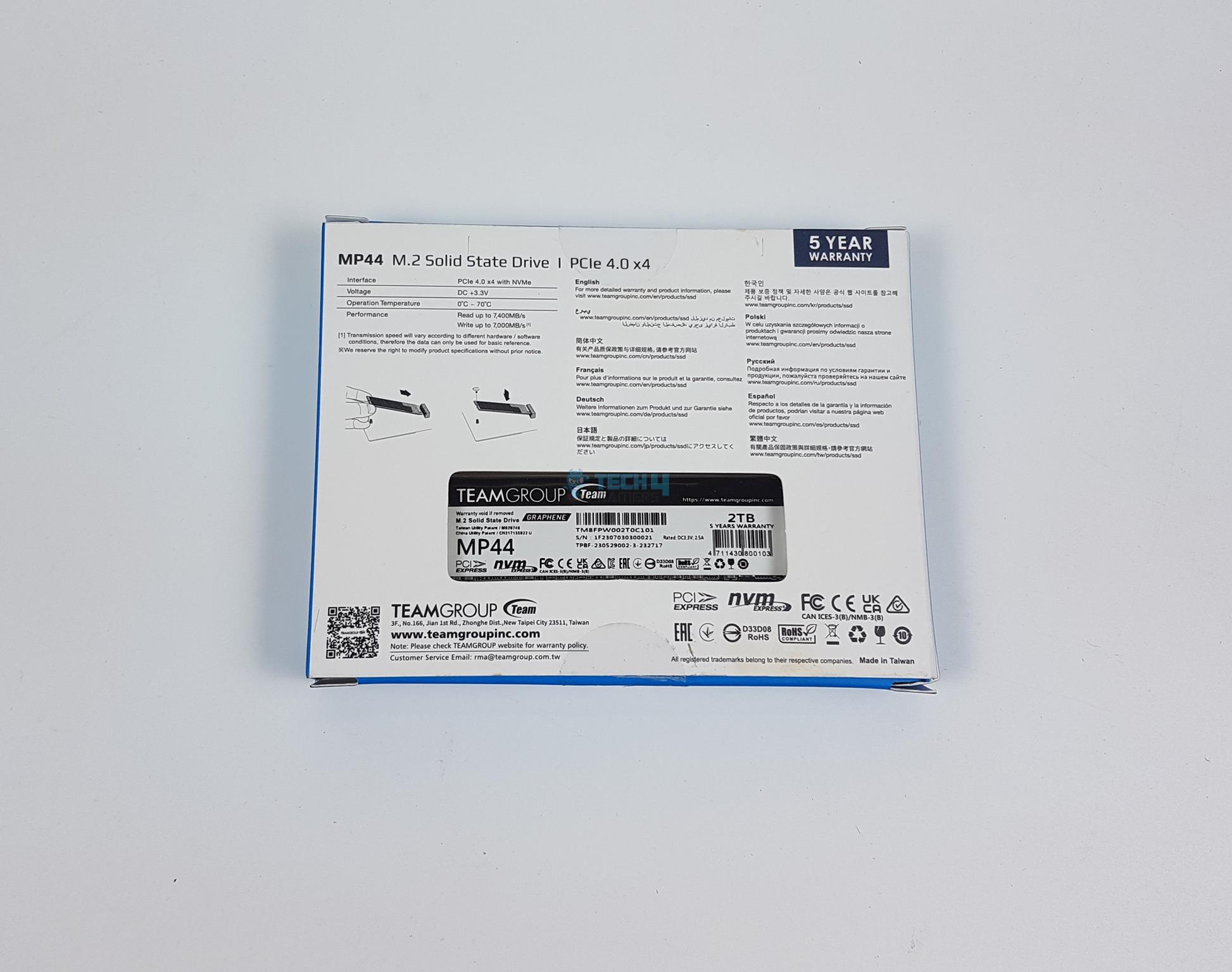 On the backside of the packing box, we can see some salient specifications of the SSD, including the voltage rating and performance numbers. There is a cutout at the bottom through which we can take a peek at the SSD itself. The SSD carries a 5-year warranty period.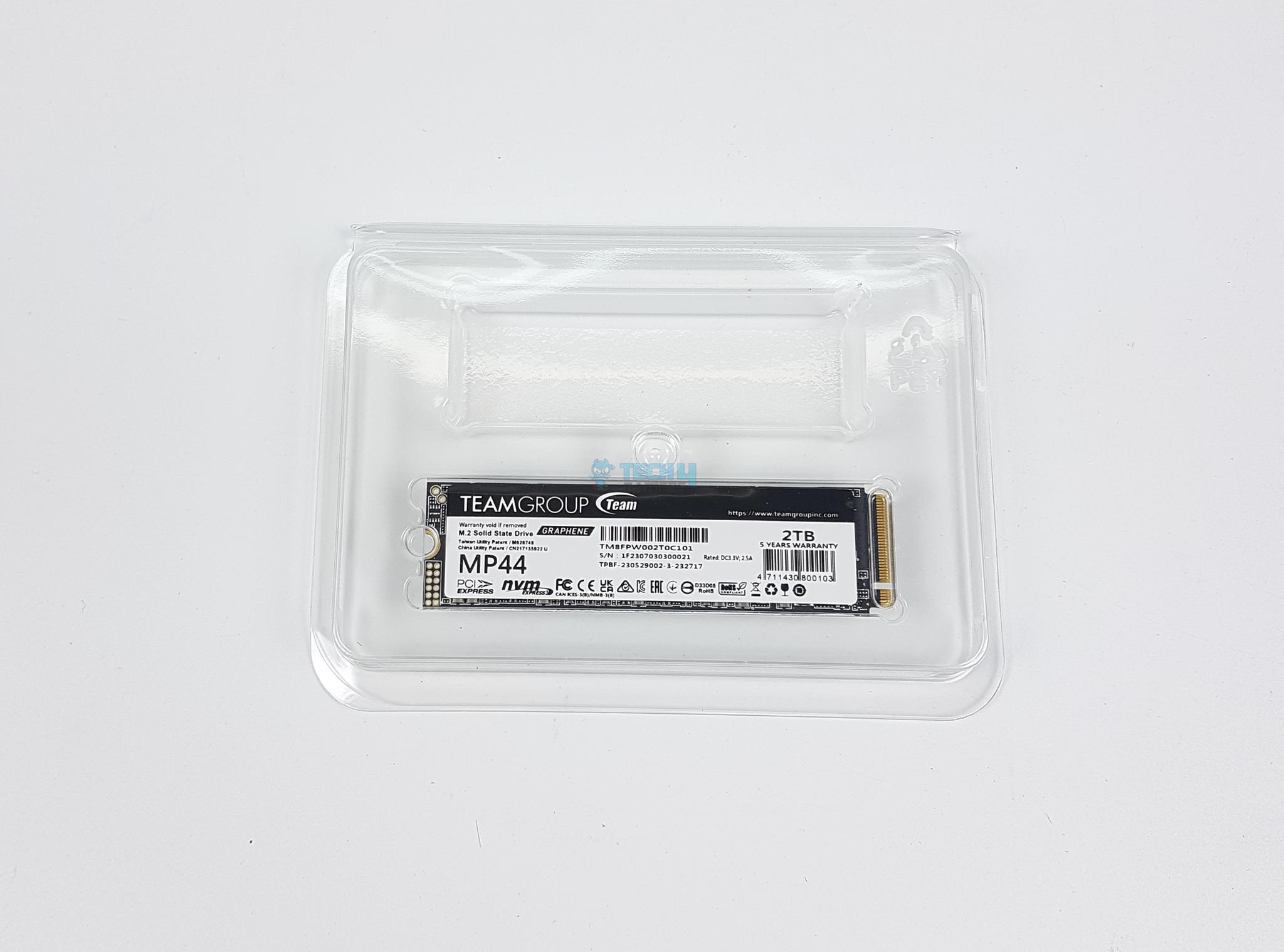 There is a transparent container inside the main packing box. It has an SSD, and there is nothing else, not even a sticker or a warranty paper. The overall color scheme of the main packing box is blue and white.
Design
Let's start with a statement from Teamgroup. "MP44 M.2 PCIe 4.0 SSD adopts the PCIe Gen4x4 interface. It features read/write speeds of up to 7,400/7,000 MB/s and a maximum storage capacity of 8TB. It is equipped with TEAMGROUP's exclusive patented heat-dissipating graphene label less than 1mm thick, which is also compatible with the onboard M.2 heat sink for superior heat dissipation performance to that of the native motherboard heat sink alone. It is undoubtedly the best enhancement to native heat sinks. MP44 M.2 PCIe 4.0 SSD also comes with a five-year warranty and recyclable packaging for user reassurance."
So, what is MP44, and should you get one? Let's find out. The MP44 uses a 3D TLC NAND Flash storage solution. This is an expensive storage solution when compared to QLC or MLC. Everyone has their own pros and cons, and we are not going into that.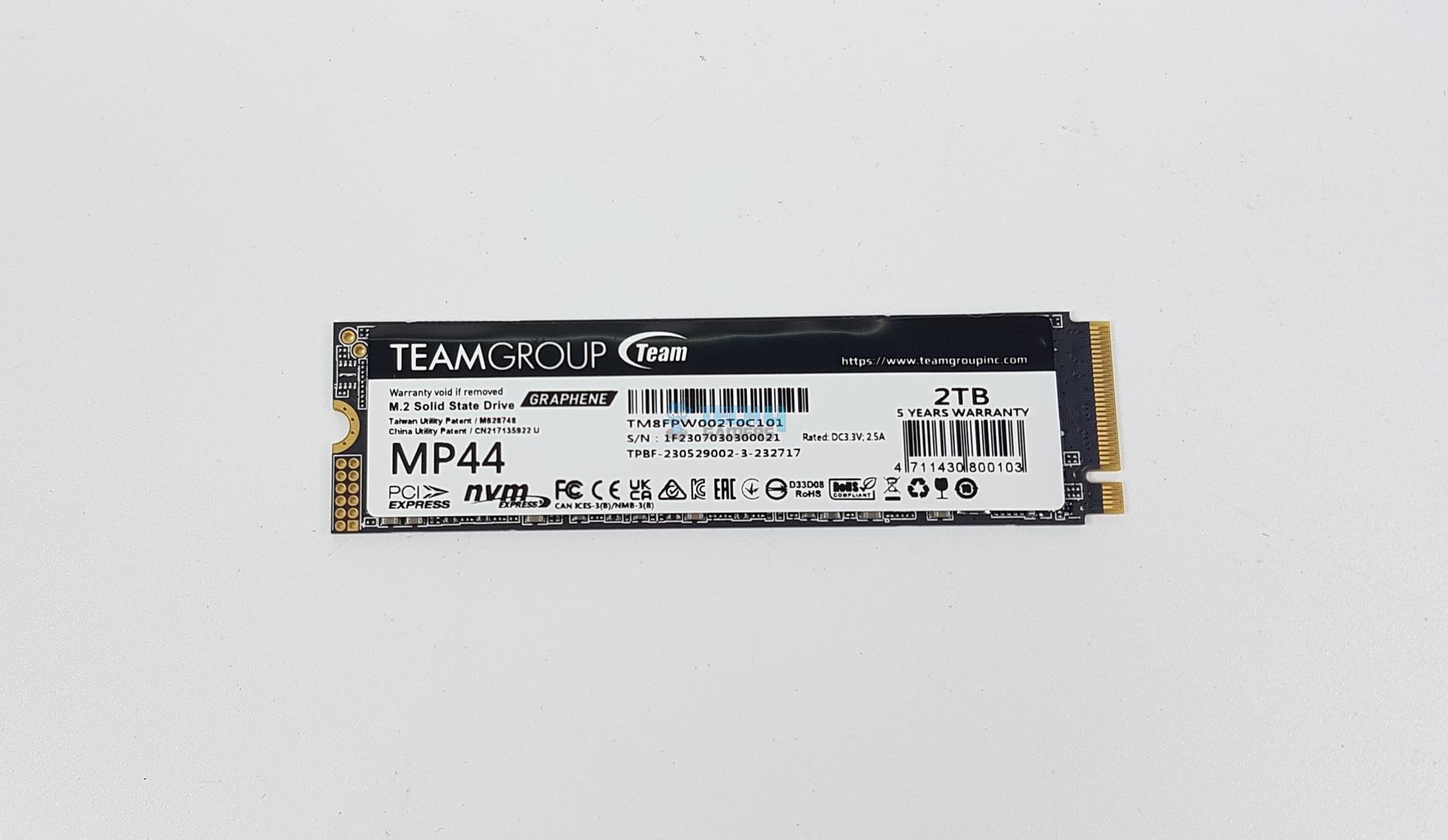 We are testing a 2TB variant of MP44 NVMe SSD. There is a Graphene Label up top. Teamgroup has developed this patented label that has a thickness of less than 1mm, which helps in effective heat dissipation. It eradicates any mechanical interference in assembly. It enhances the thermal performance of the SSD when combined or paired with the onboard M.2 heat sink. Removing this label would void the warranty. So, take it accordingly. The part number of this SSD is TM8FPW002T0C101. We can see that this SSD has a capacity of 2TB and comes with a 5-year warranty.
This SSD uses a form factor of 2280 using M-Key type for M.2 ports. In other words, it is an NVMe interface. This SSD is based on PCIe Gen 4 and uses 4x PCIe lanes (PCIe 4×4). Installing this SSD on a Gen3-based M.2 port would reduce the speeds. The dimension of this unit is 80x22x3.7mm (LxWxH), and it weighs 70g. There are no dedicated drivers as they are not required on Windows 10 and 11.
There is good news for PS5 users: this SSD is fully compatible with PS5 since it has a thickness of a mere 3.7mm, and there is another reason that it is available in 4TB and 8TB capacities at much lower costs than the competition but bear in mind that it does not have a DRAM or cache. Teamgroup has kept it simple, and there is no fancy design or layout on this SSD.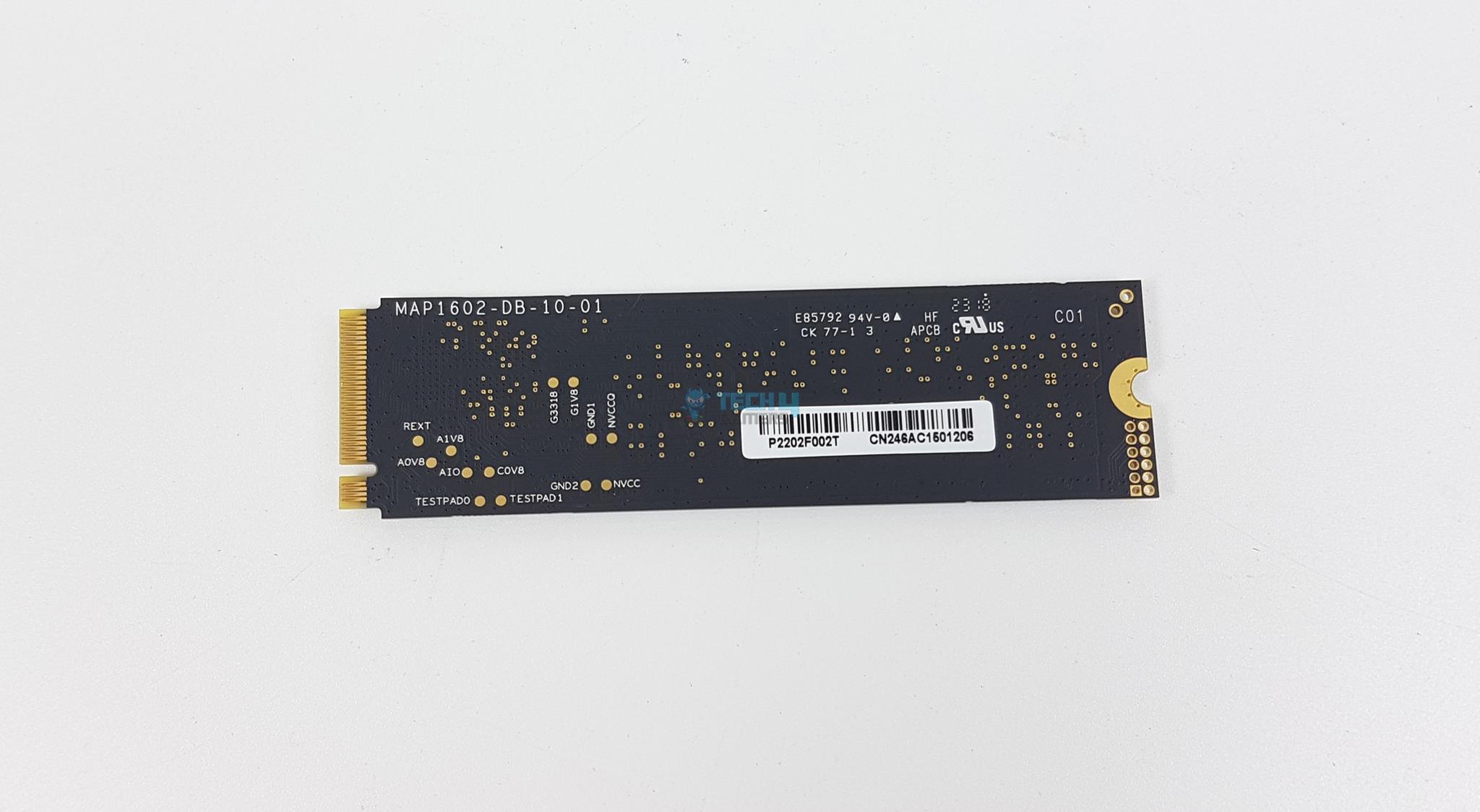 Looking at the backside of the unit, we can see that there is no component here. This means all components are on one side; hence, the Graphene Label concept makes more sense since this is a single-sided design. By single-sided, we mean that the controller, the NAND flash chips, and the DRAM chips (if present) are on one side of the PCB. This also implies that Teamgroup is probably using the same PCB for up to 4TB capacity SSDs in the MP44 series.
These drives are rated at +3.3V DC. Their operating temperature range is 0°C~70°C, which I am sure is a conservative value. With the latest firmware, this SSD has a higher temperature threshold. I will come back to this later in the testing section. The storage temperature range -40°C~85°C. Their Humidity value is RH 90% under 40°C. They are rated for a vibration range of 80Hz to 2000Hz. The shock rating is 1500G/0.5ms. The MTBF is 1.6 Million hours.
So, What Is Under The Hood?
Well, samples don't have a warranty anyway, so we removed the Graphene label after testing.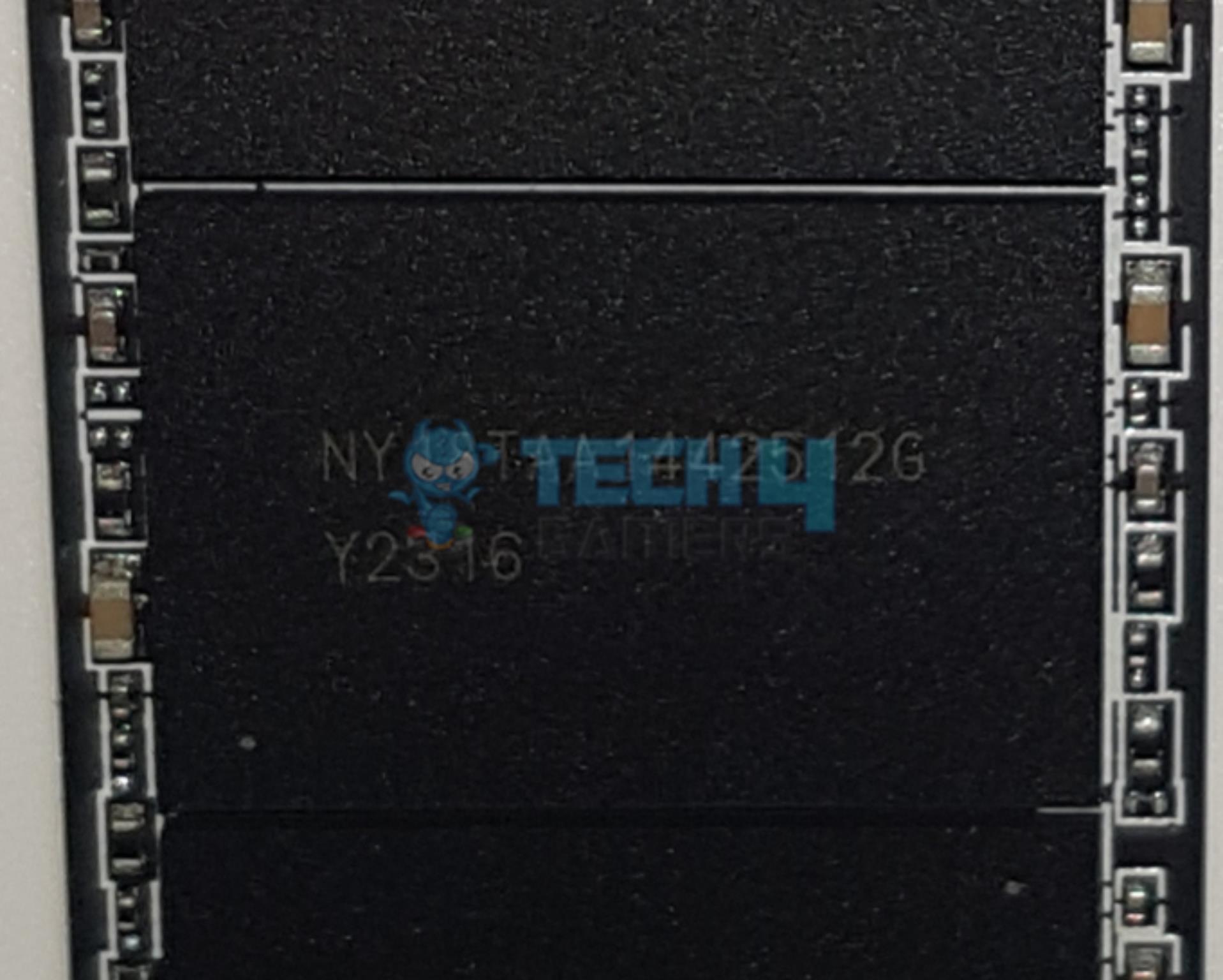 There are four 3D TLC NAND FLASH chips, each of 500GB. NY18TAA1442512G Y2316 is written on these chips. I am not sure if these are Teamgroup's manufacturing or if OEM is different.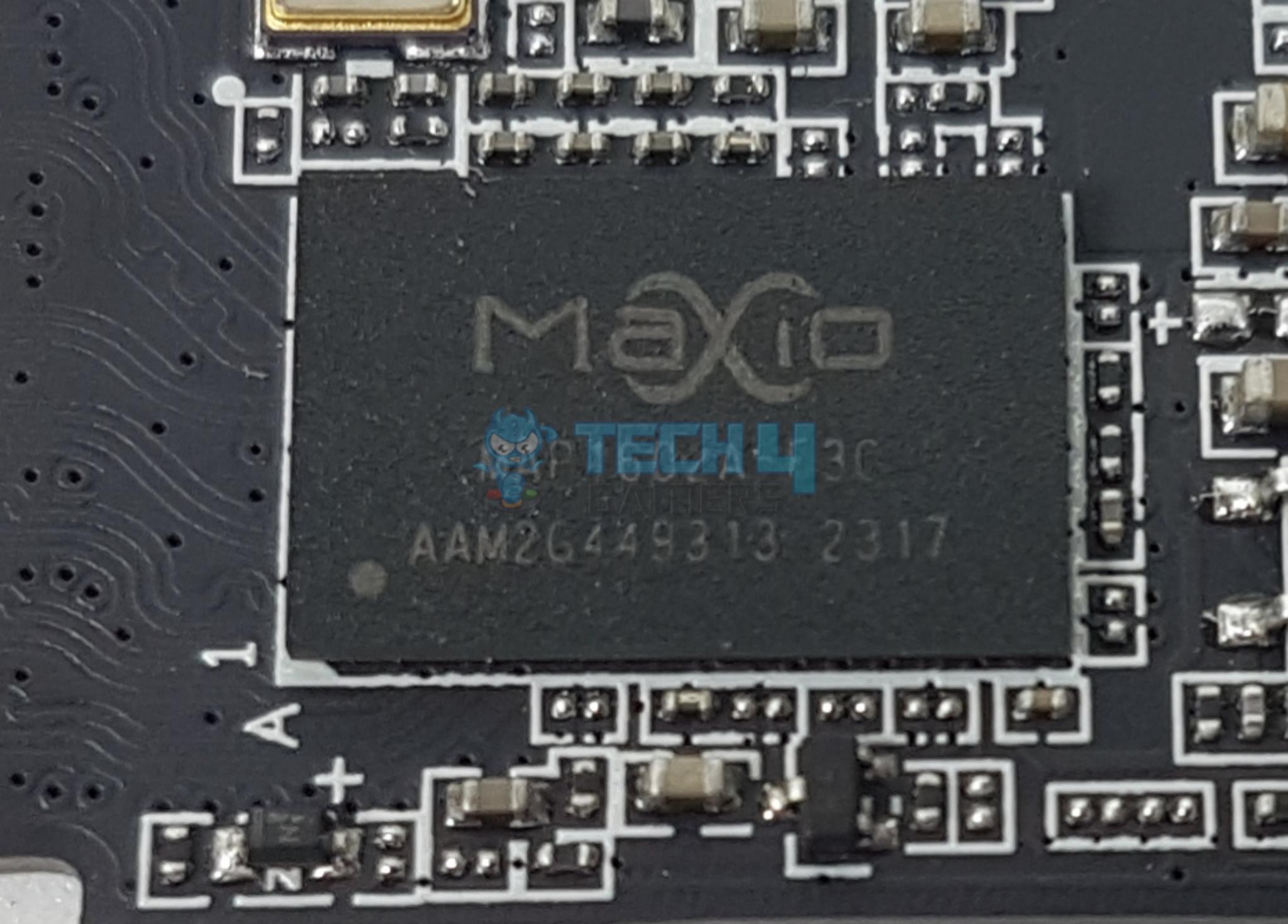 Teamgroup has employed the Maxio MAP1602A-F3C controller. This is a 4-channel controller from Maxio designed for DRAM-less NVMe SSDs. It is fabricated on 12nmm process technology and based on an ARM R5 CPU core. You can read more about it on maxi-tech.com.
Now, coming to some important numbers on MP44 2TB NVMe SSD, this SSD has:
| | |
| --- | --- |
| Sequential Read | Up to 7400MB/sequential |
| l Write | Up to 7000MB/random |
| m Read | Up to 650K IOPS |
| Random Write | Up to 660K IOPS |
Then there is the TBW rating. TBW stands for Terabyte written to SSD. Teamgroup has rated the 2TB variant at 2500 TBW. This is so far the highest number I am seeing on my test bench that even surpassed the Kingston Fury Renegade 2TB NVMe SSD. The 4TB and 8TB variants of MP44 are rated at 3000 and 6000TBW, respectively. I was expecting a higher number for the 4TB variant in particular.
Testing
The mentioned configuration is used to test this drive: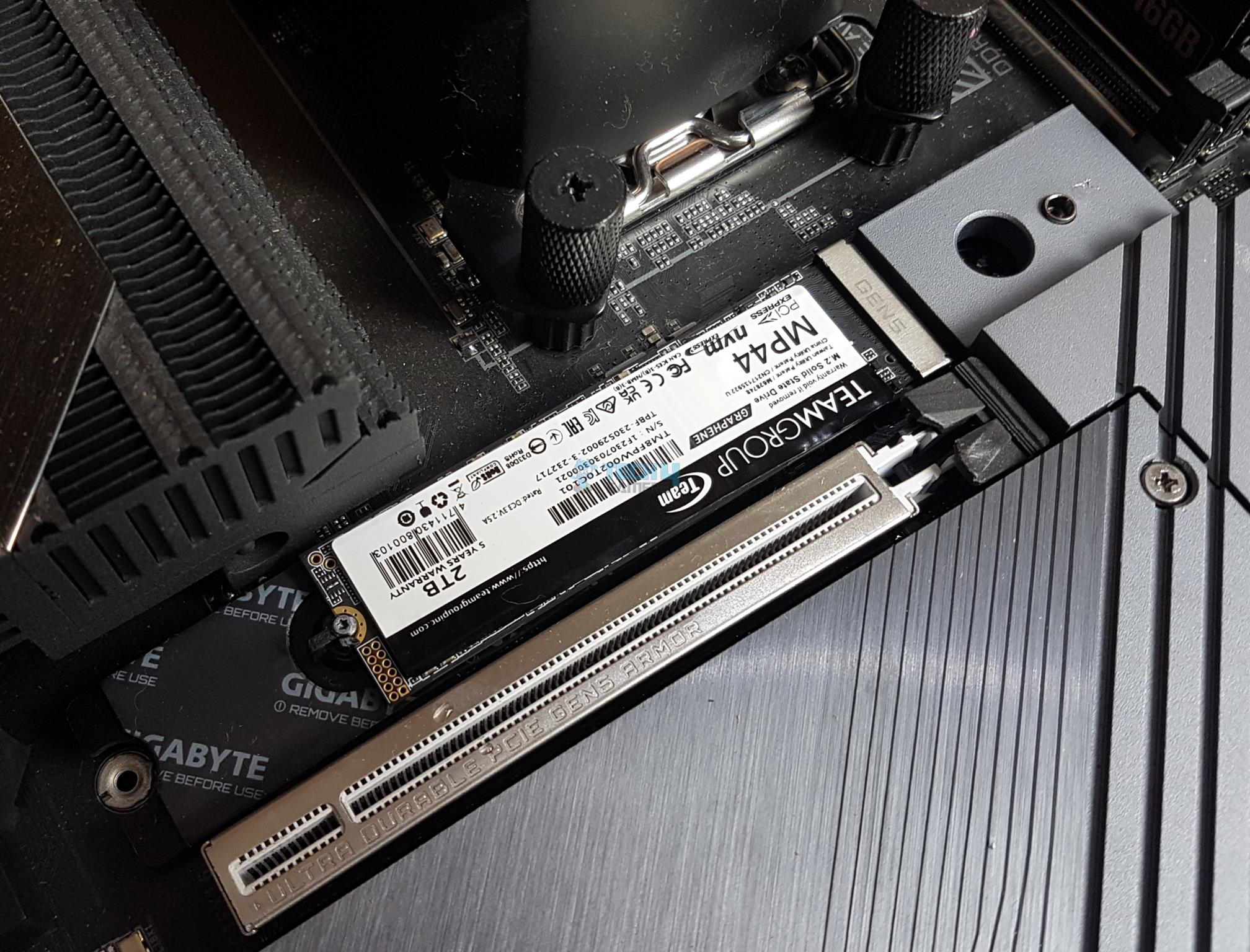 We have used the following software:
AS SSD 1.8.5636.37293
ATTO Disk Benchmark 4.0
CrystalDiskMark 8.0.4
Anvil Pro Storage Utilities 1.1.0
3DMARK Storage Benchmark
PCMARK10 Storage Benchmark
AJA Disk Bench
Black Magic Disk Bench
TxBench
DiskBench
Microsoft Windows 11 22H2 is used for the testing.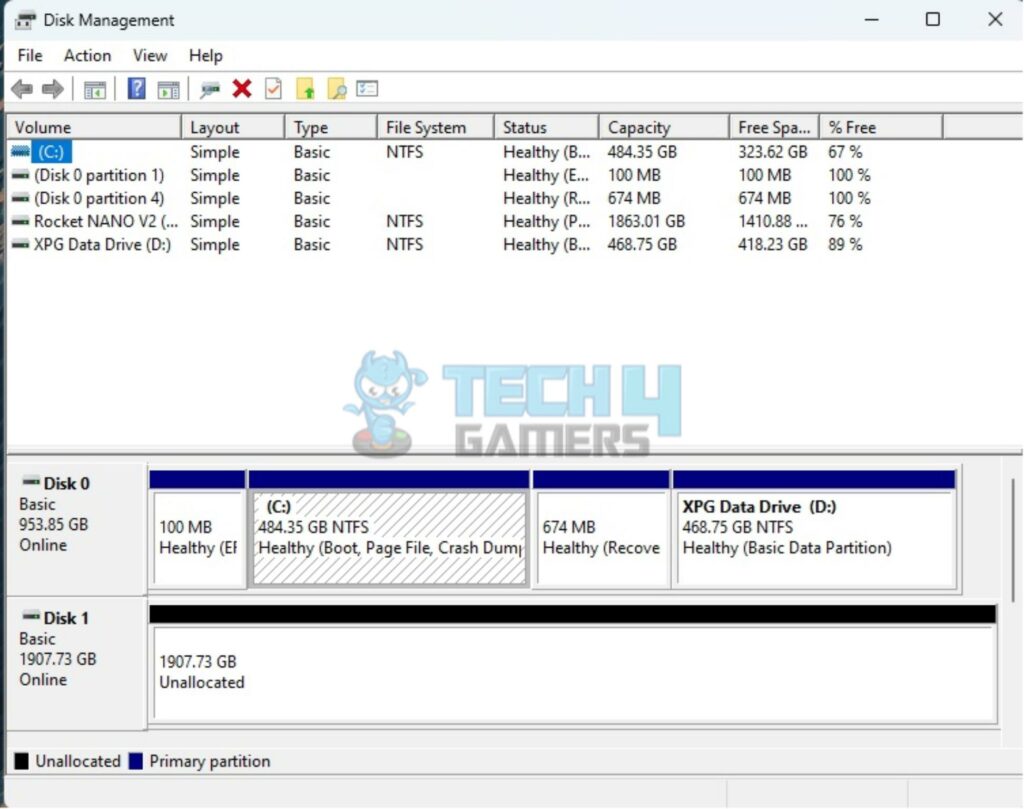 We installed the disk on our motherboard and booted in Windows. Since this is a new disk, you would need to initialize it first. Access the Disk Management Console. Surprisingly, we were not prompted for disk initialization which is unlike how it should be. The disk was initialized but unallocated. Anyhow, as can be seen in the above picture, we have an unallocated 1907.73 GB Disk 1 that needs to be processed. Right-click on it and follow the further steps.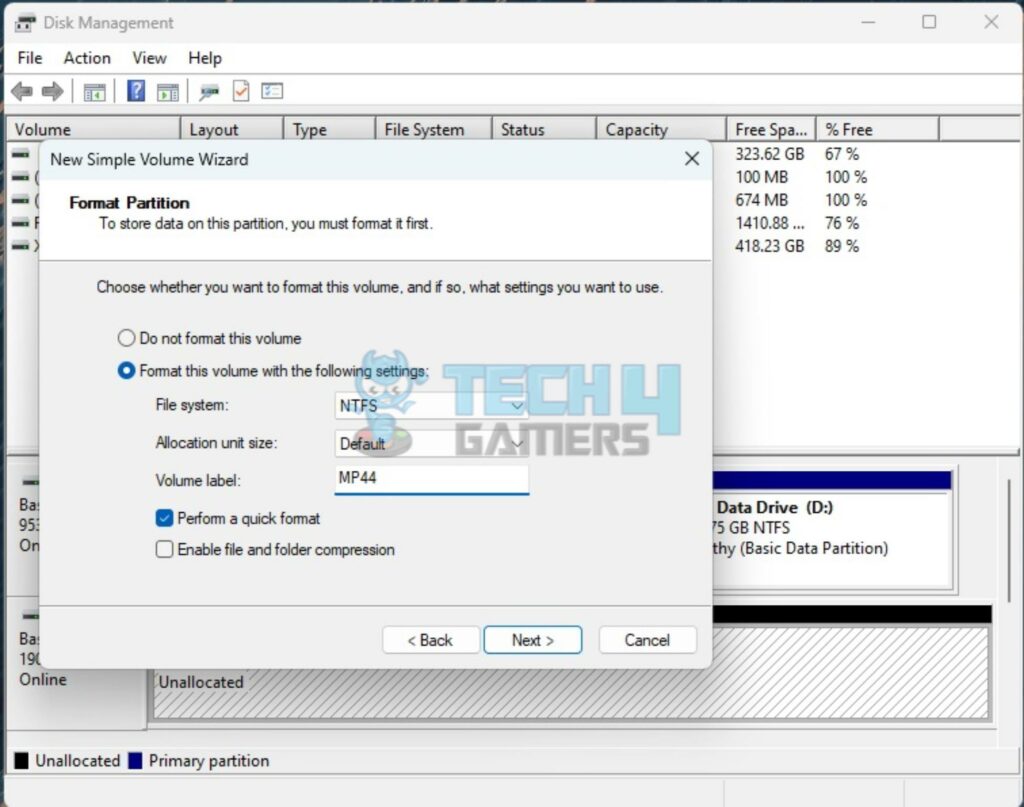 Select appropriate parameter values and proceed further.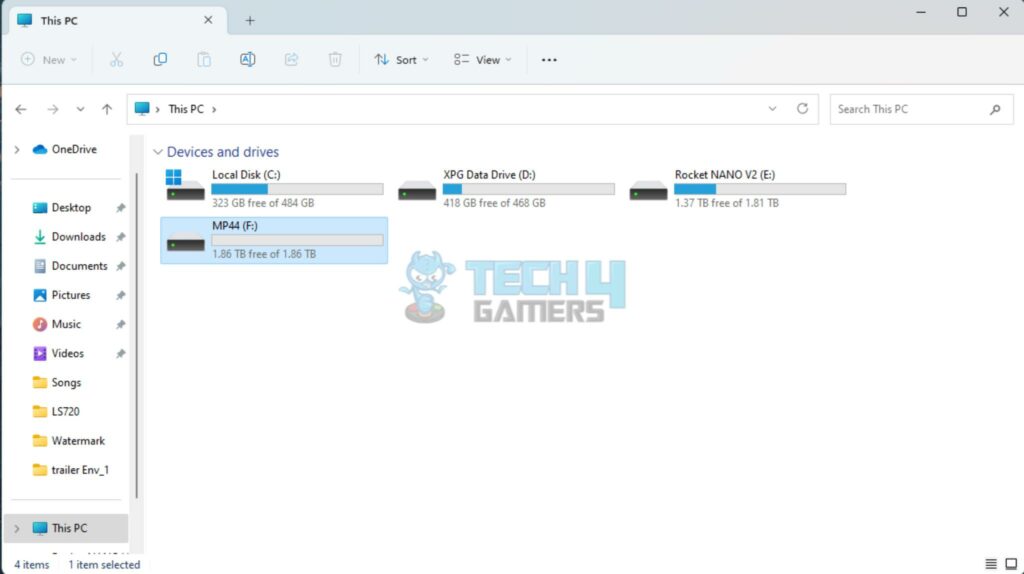 MP44 is ready for use.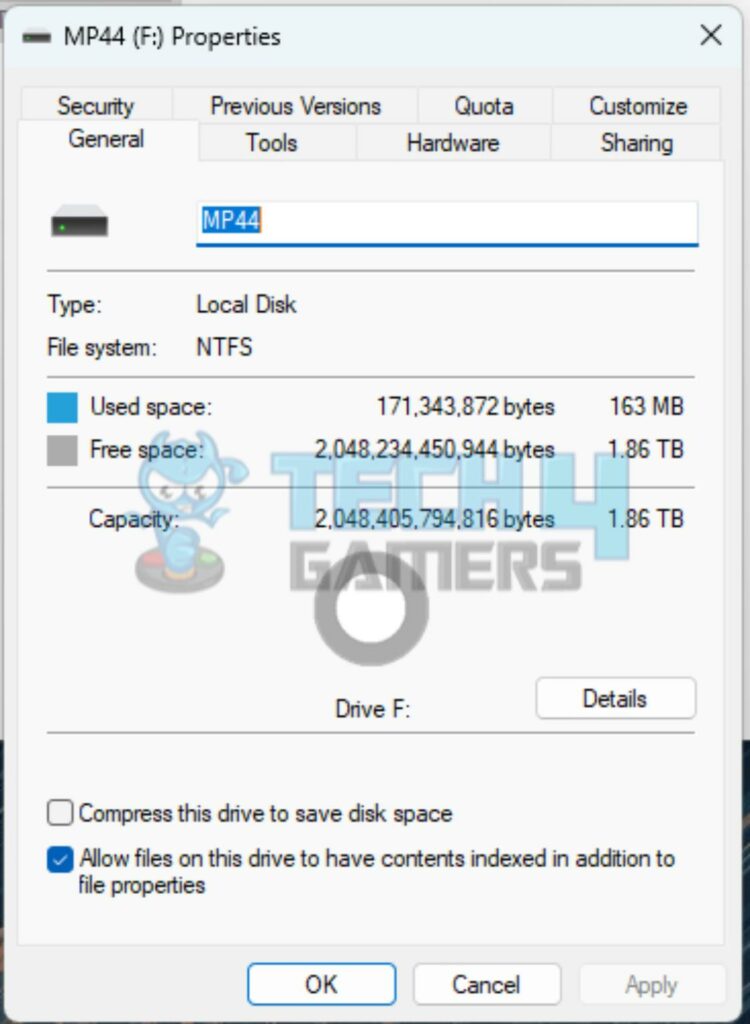 1.86TB is at the user's disposal for storage needs.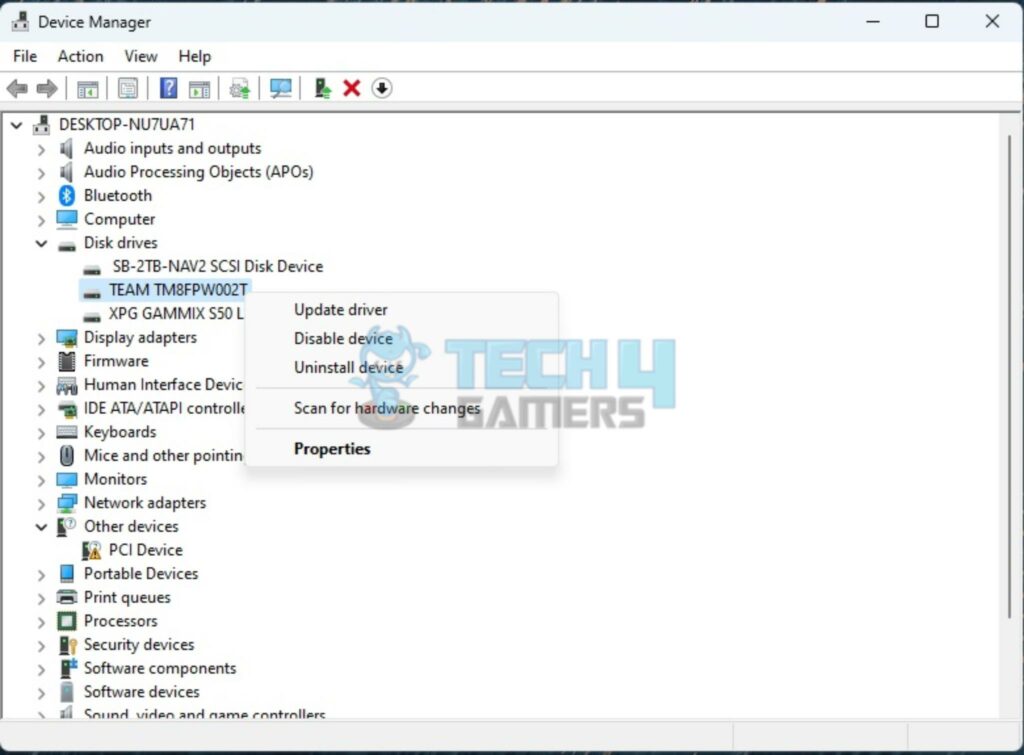 We wanted to see the default behavior of the SSD for the Cache writing. For that, we went to the device manager, right-clicked on the MP44 listed disk, and clicked on properties.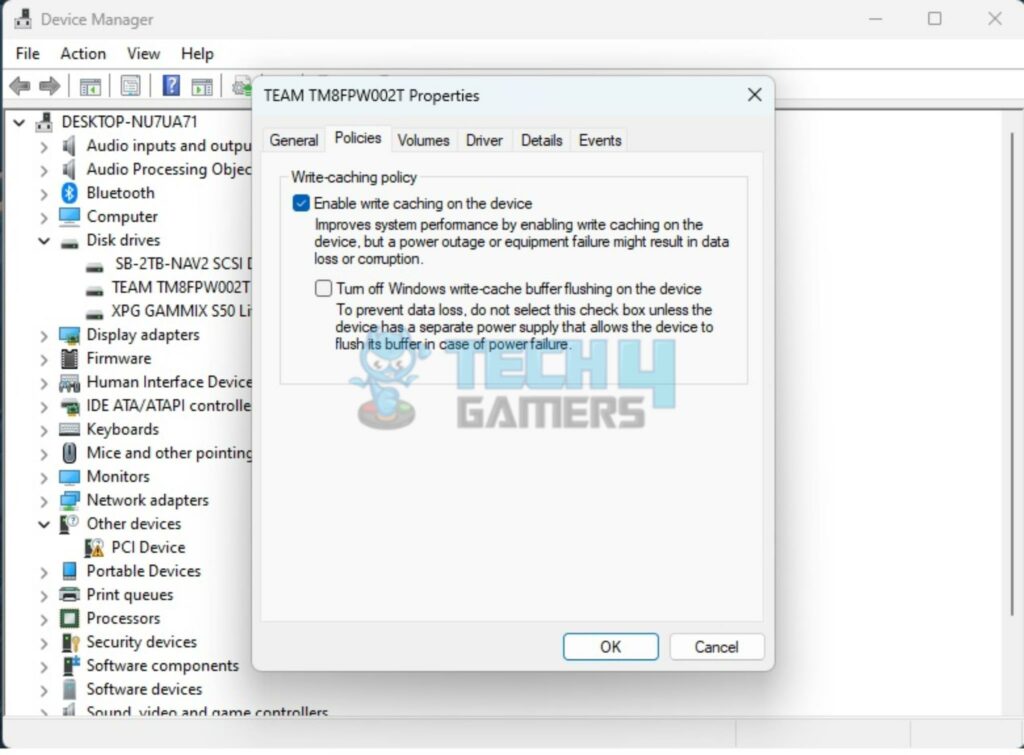 Write Caching is enabled by default on this disk. This speeds up the data transfer rates, but with the large data size, the data transfer rates take a hit since the available cache size is reduced depending on the data size and the available disk space.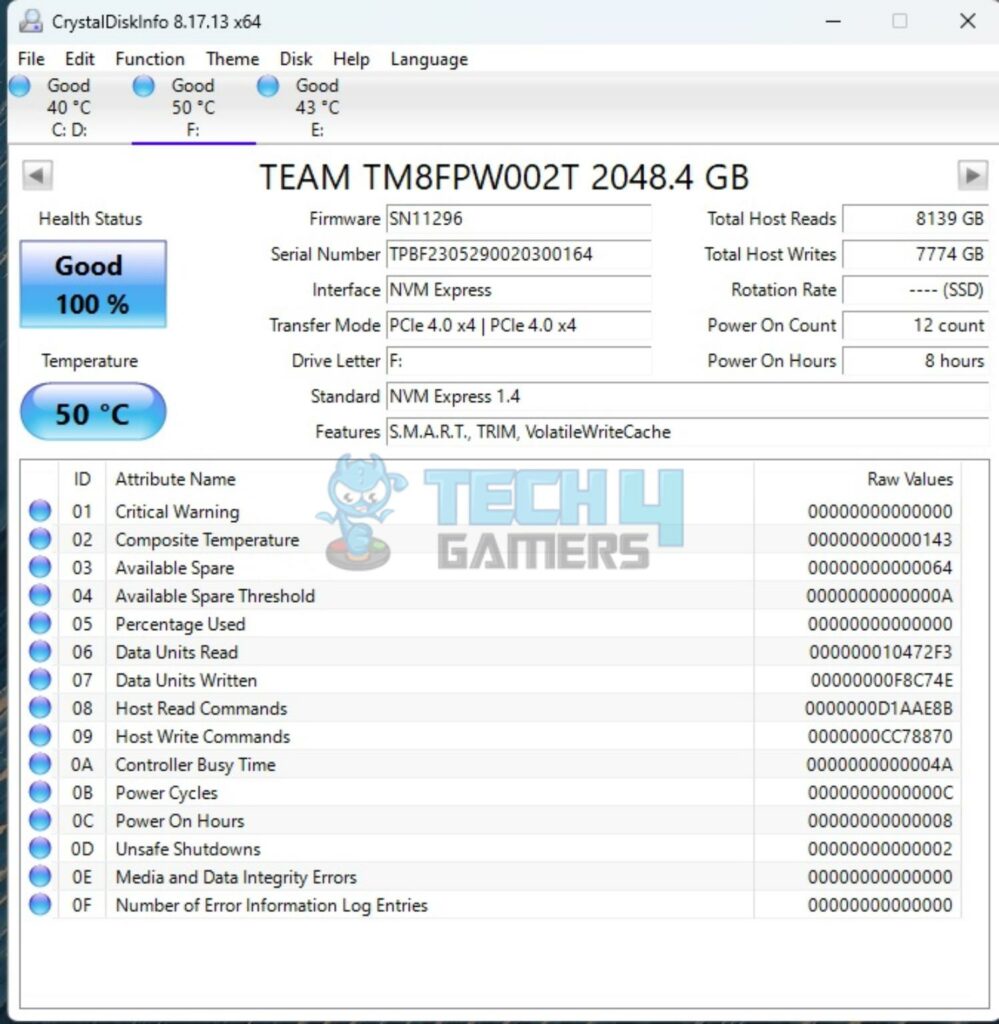 The above picture shows the Crystal Disk Info readout of this unit. The drive has an NVMe 1.4 interface using a PCIe4x4 connection. The unit supports S.M.A.R.T, TRIM, and VolatileCacheWrite. The firmware version is SN11296. Health is 100%, and idle temperature is 50° at an ambient of 36°C.
Software
Let's take a look at the software that Teamgroup has provided to monitor the drive's health, S.M.A.R.T, and run the benchmark. You can download the software from their website.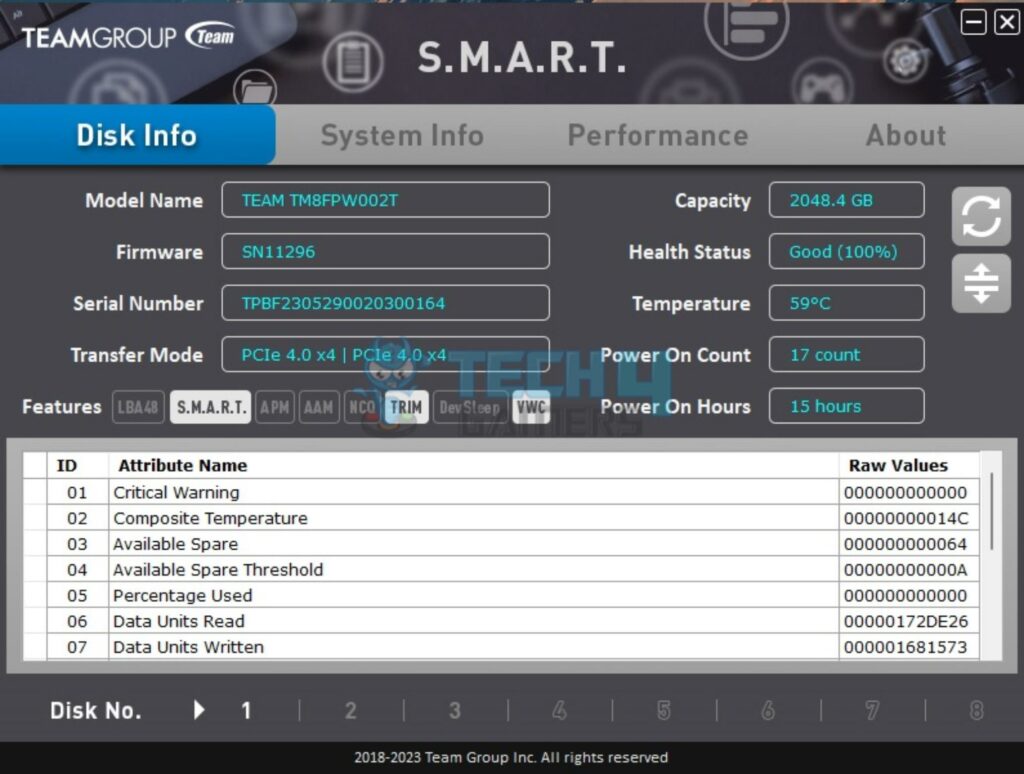 The first page shows the S.M.A.R.T. info on the disk drive. It shows that our disk has been used for 15 hours with a power-on count of 17 times. It also shows the firmware and serial number of the drive.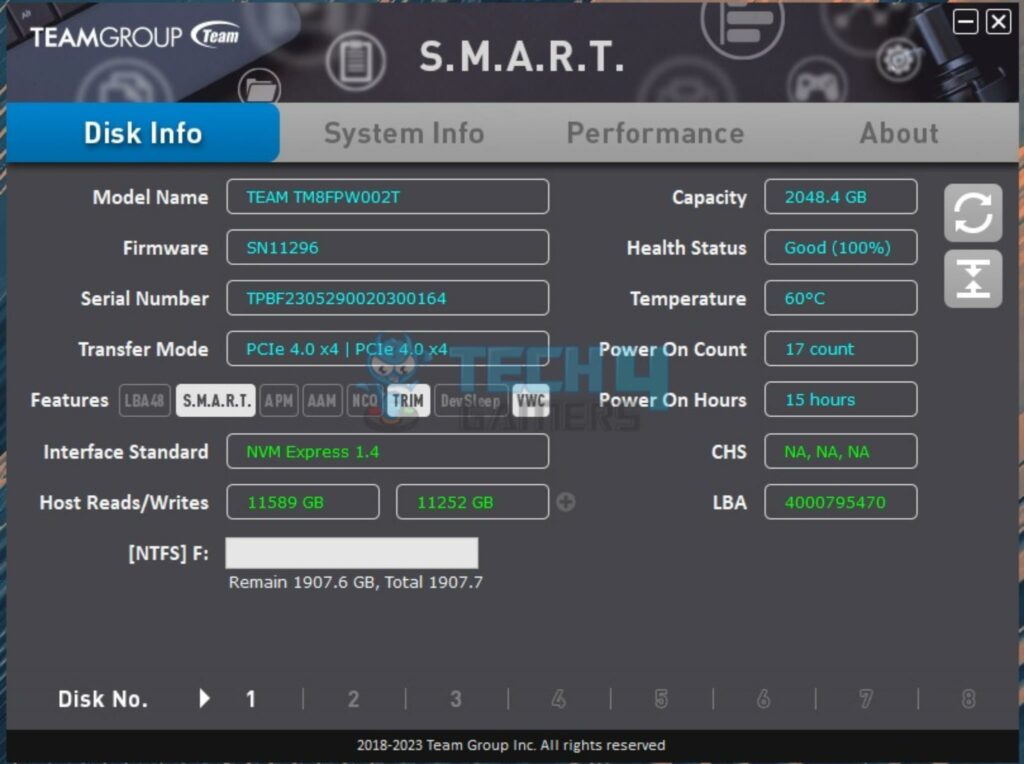 The same page shows the LBA and Host page reads and writes along with the interface standard.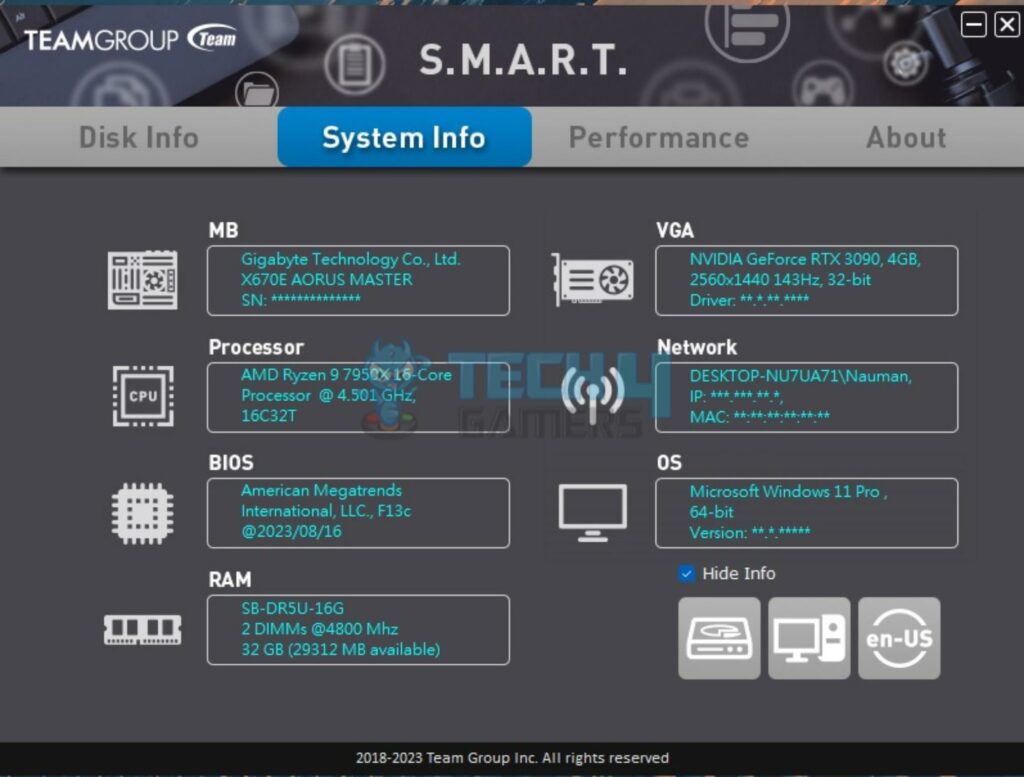 The second page shows the system information. It masks important information about the system by default, which is a wise implementation, and it allows the users to unhide that information.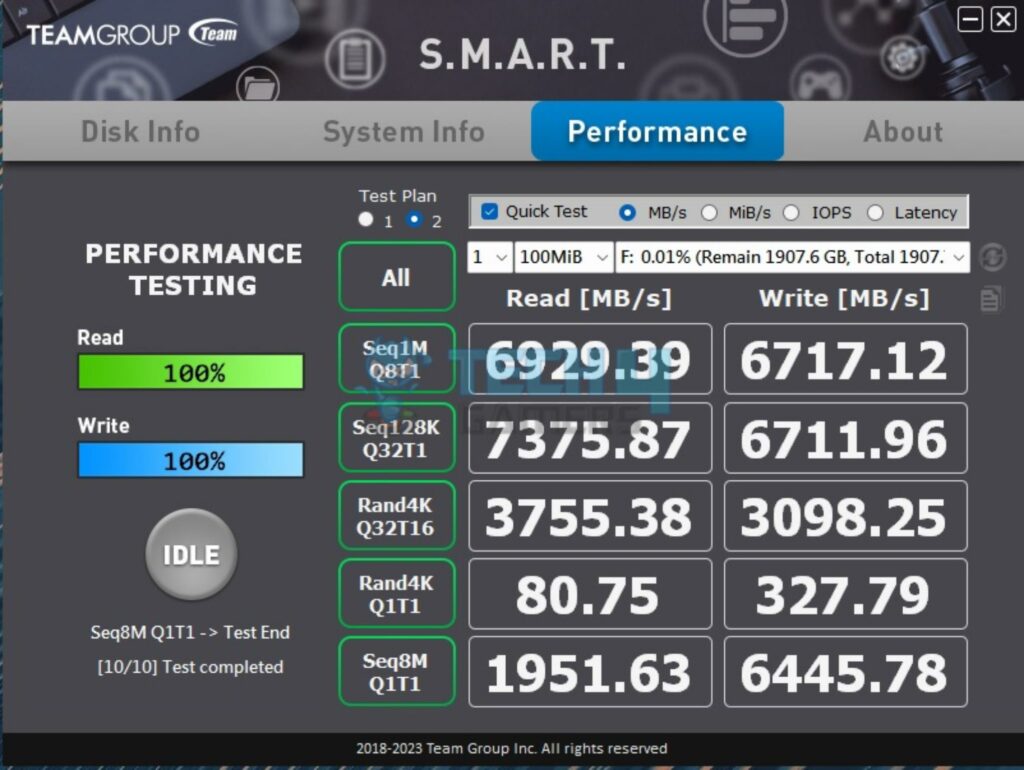 The performance page has two tests that measure the performance of the MP44 SSD, including the sequential and Random 4K.
Test Results
We are showing the synthetic results first, starting with three different runs from CrystalDiskMark.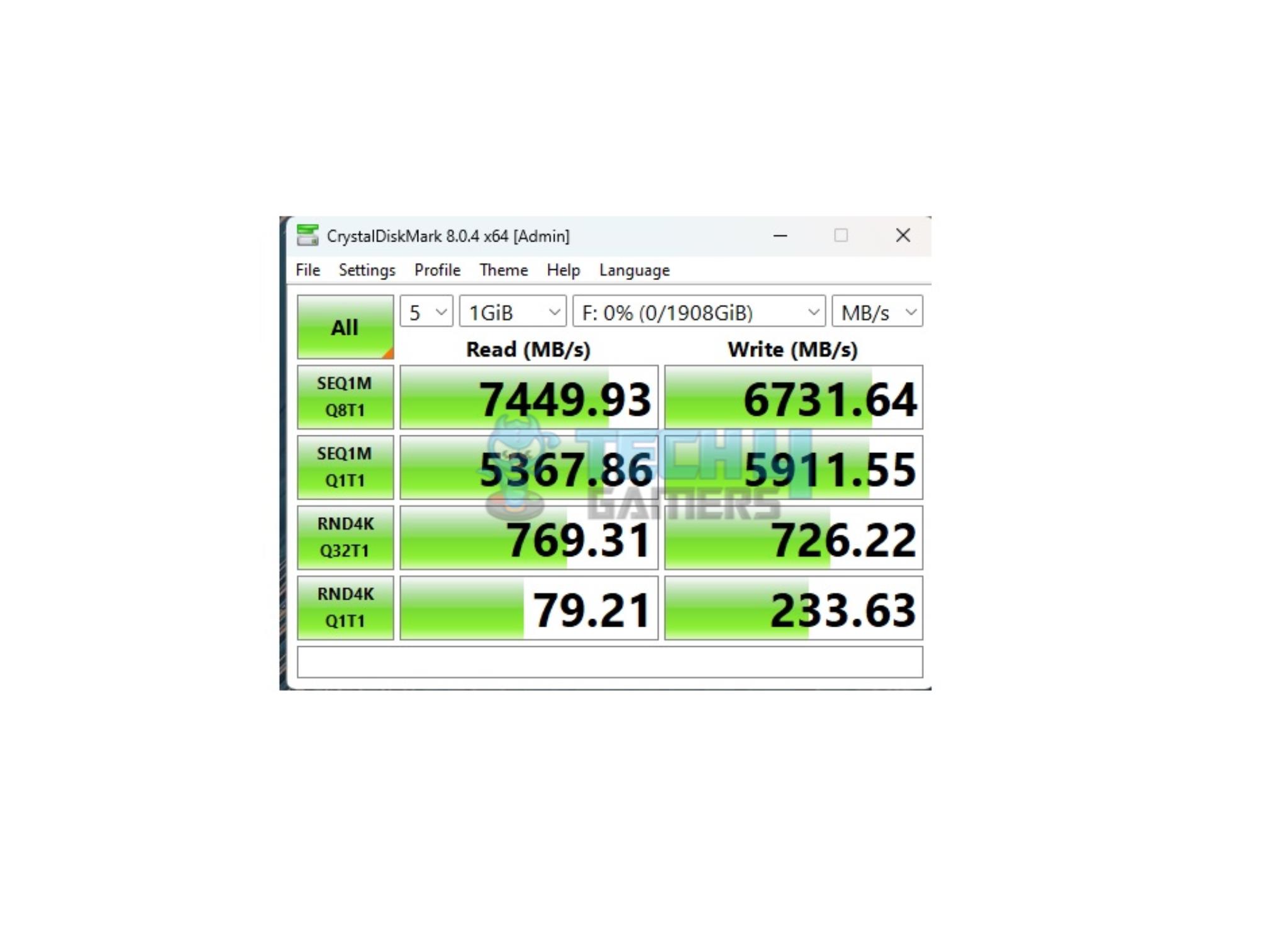 The sequential performance is right on the spot and this was only possible on the AMD platform for now. Even Random 4K Q32 performance is quite good.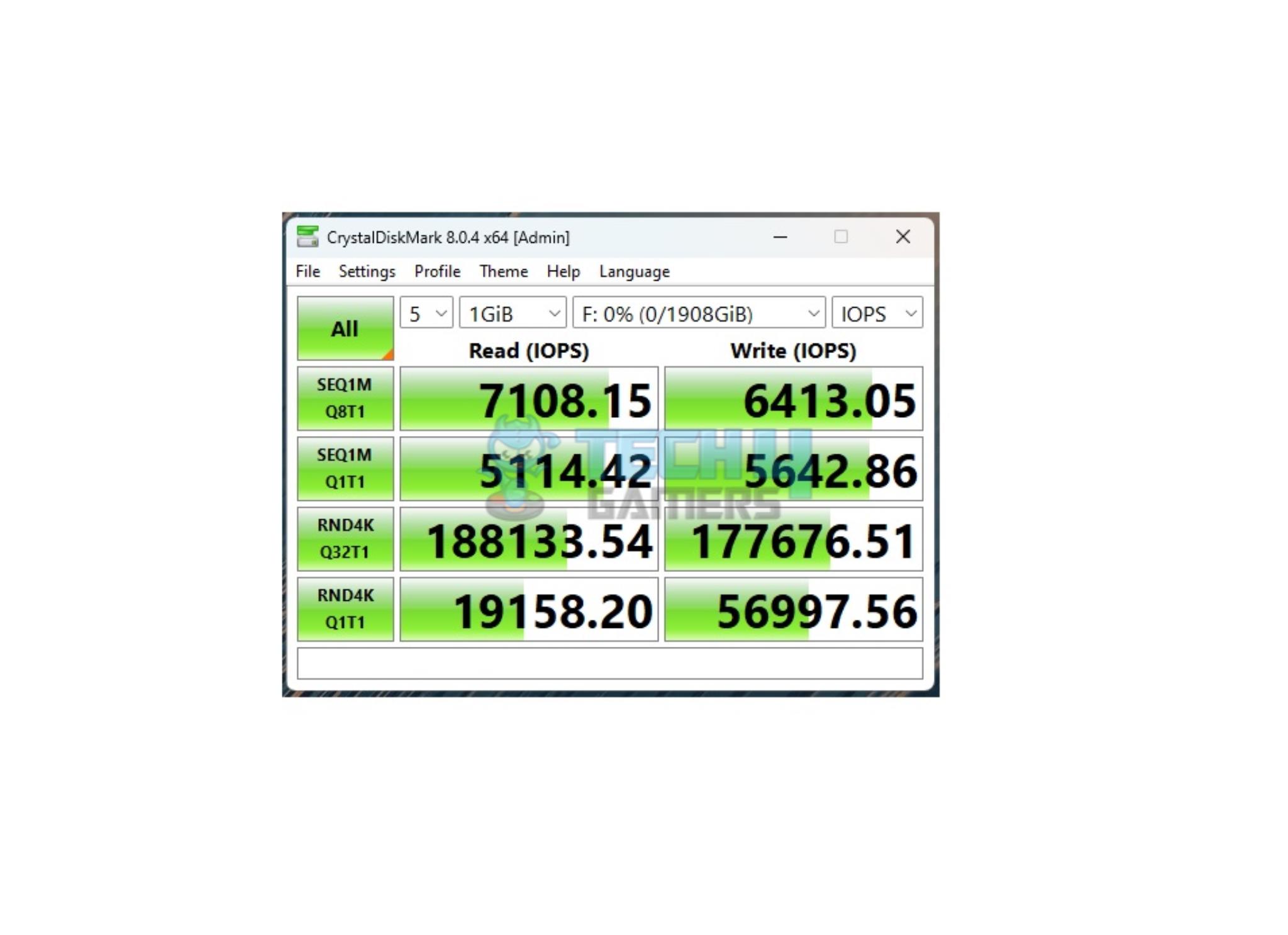 Well, Teamgroup MP44 fell short of Random 4K read and write performance in QD32. One thing that we don't know is what performance quadrant Teamgroup has mentioned in the specification. Usually, it is Random 4k QD32.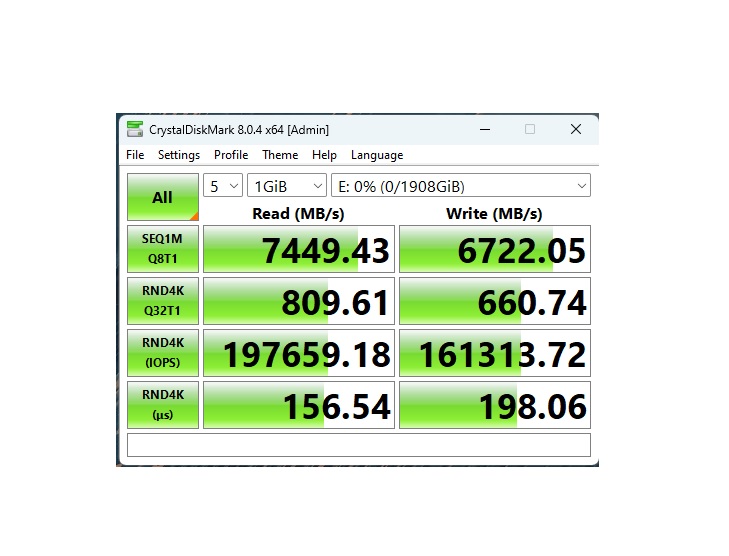 Above is a run result of a Peak Performance. We have a decent response time in 4K Random operations. The response time is a bit high which could well be due to a lack of DRAM cache.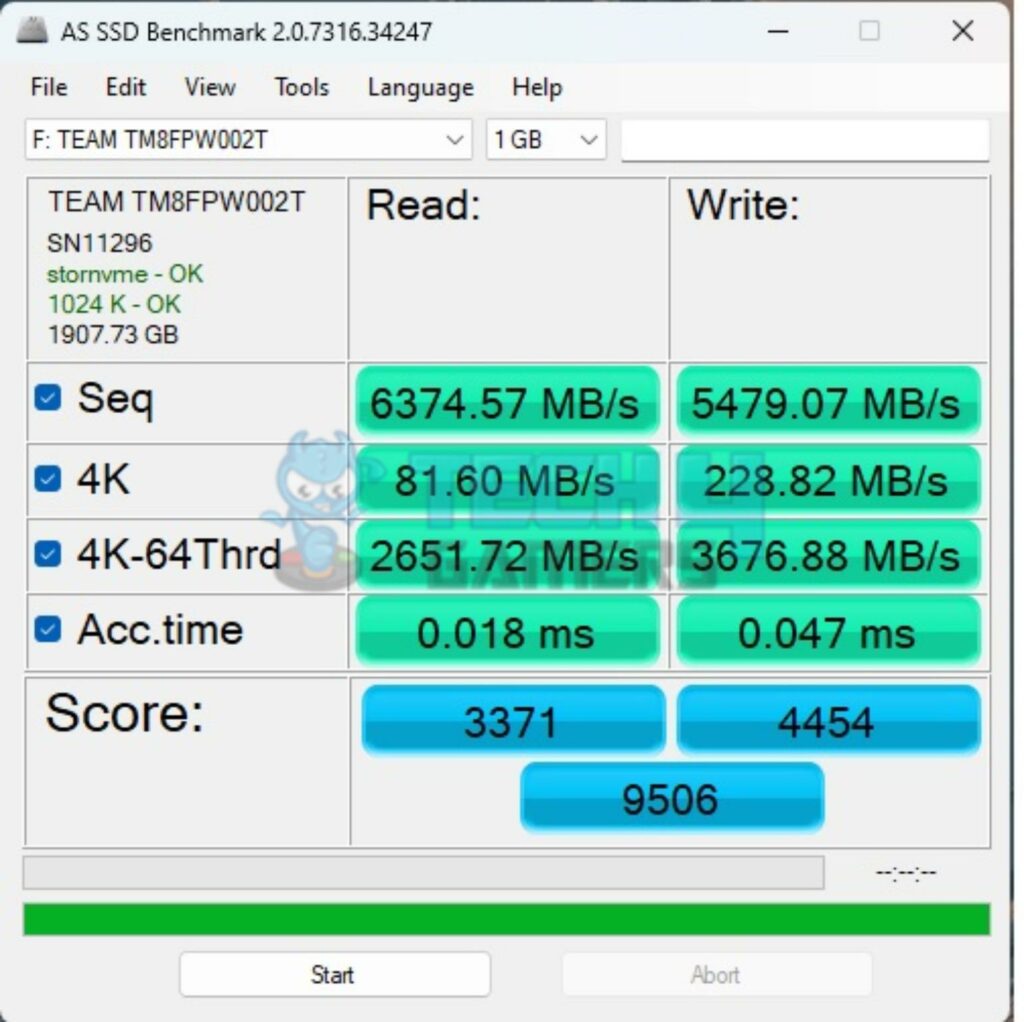 It is a bit surprising that this drive has a lackluster performance in this benchmark, with an overall score of 9506.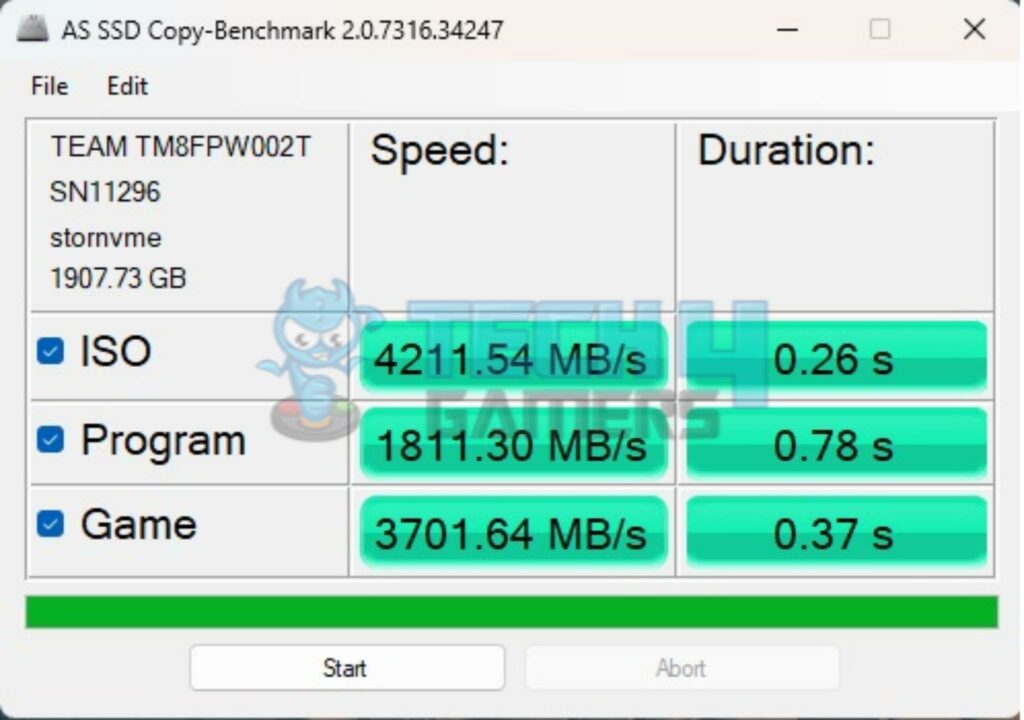 The above is a result of the AS-SSD Copy benchmark. It shows the speed and duration of different workloads, giving an idea of the real-world use scenario. The MP44 has done a fantastic job in this department, indicating that this drive would perform quite well in real-world scenarios.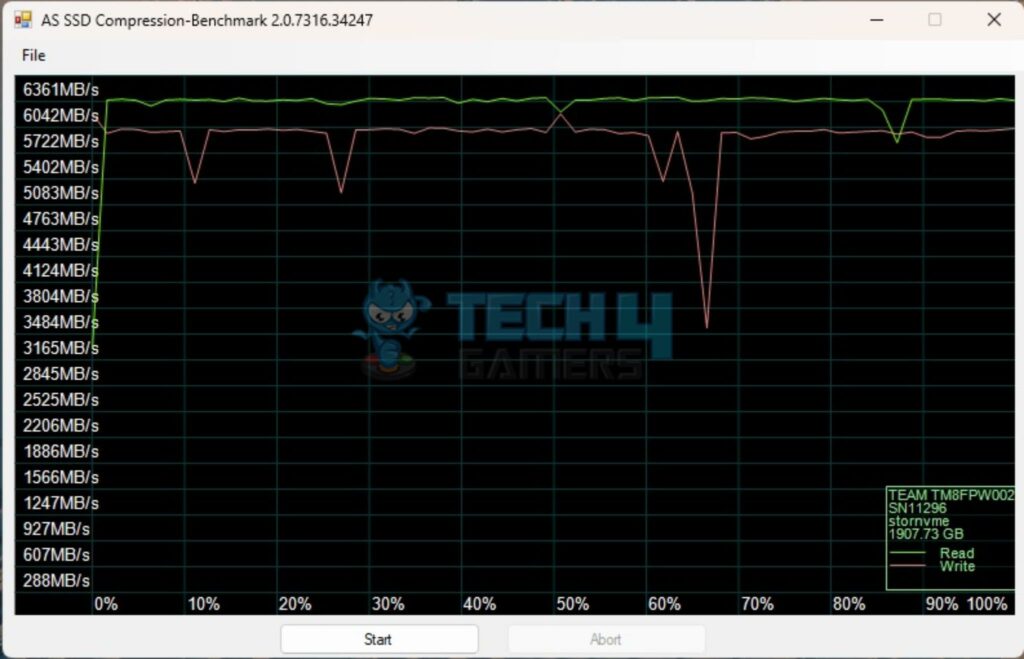 The above pictures show the result of the Compression benchmark run from AS SSD. Ideally, we would want as little deviation as possible, and we can see that in the read department. MP44 has performed quite well there. However, in write, it has taken a few dips, which is expected. We have seen many other drives doing that. The lowest dip was still above the 3484 MB/s mark, which is quite good.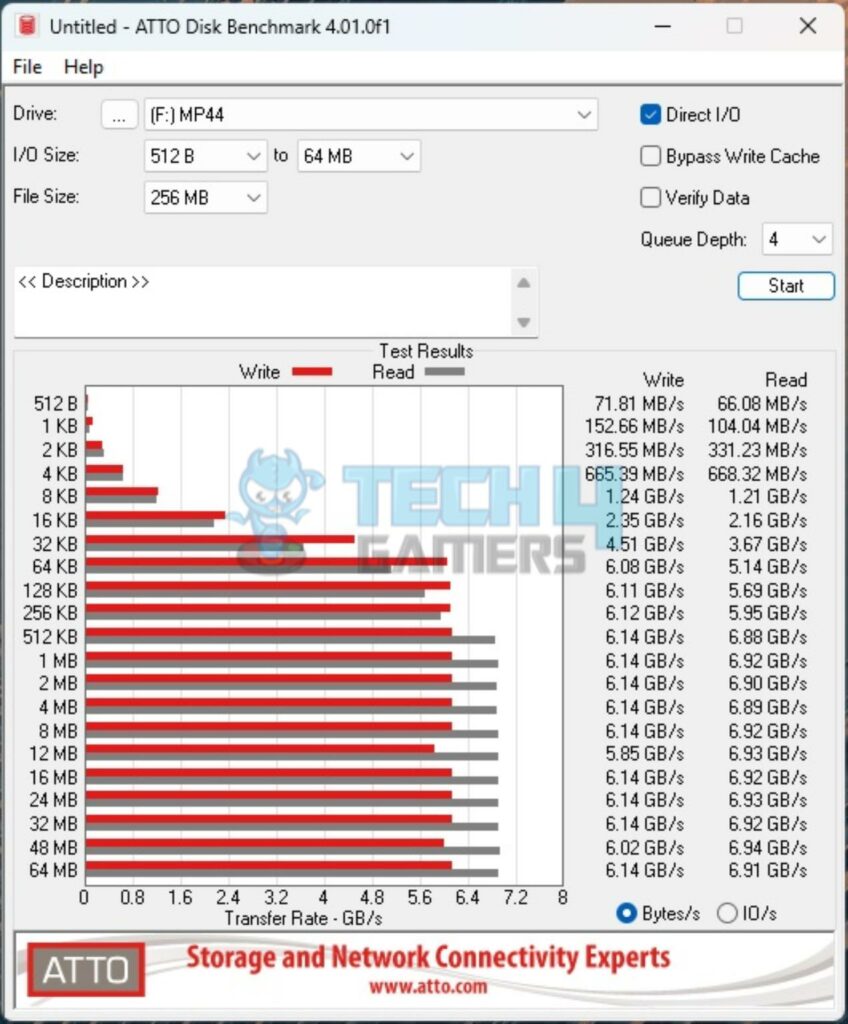 Next, we ran the ATTO Disk Benchmark to test the drive's performance. We have a maximum read (sequential) speed of 6.94 GB/s, which is quite impressive. The maximum write was 6.14 GB/s. There are a lot of factors that contribute to the drive's performance, and every test benchmark software has a different algorithm. This needs to be kept in mind while evaluating the performance.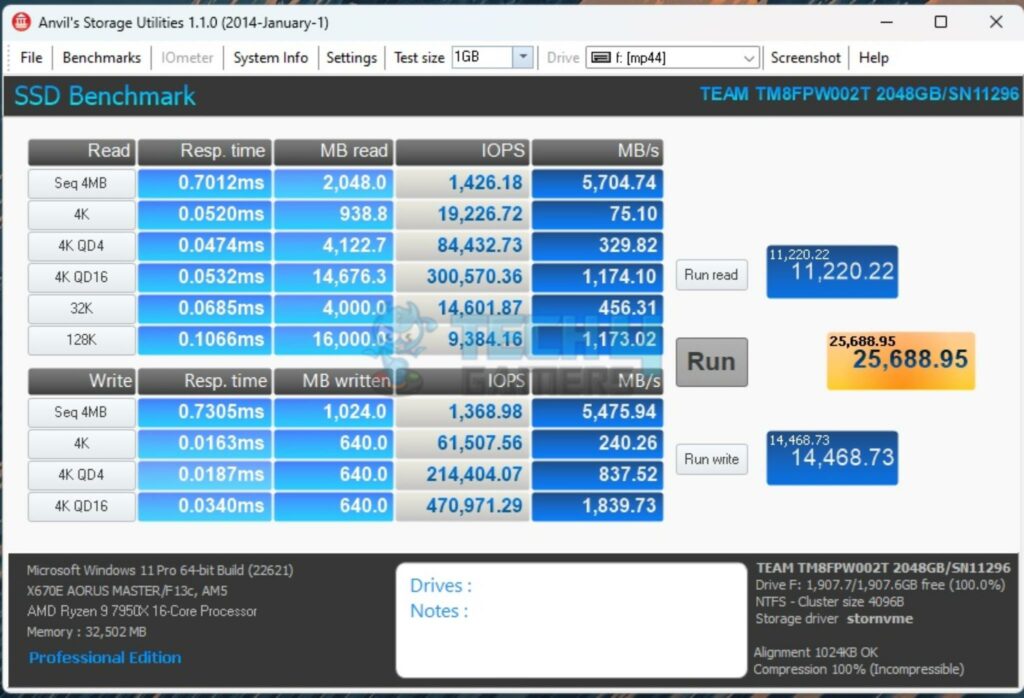 The drive has performed well in the Anvil Storage benchmark. It has an overall score of 25688.95, with a read score of 11220.22 and a write score of 14468.73.
We also ran the IO – IO-Threaded QD Benchmark in the Anvil (read and write). Here are the results.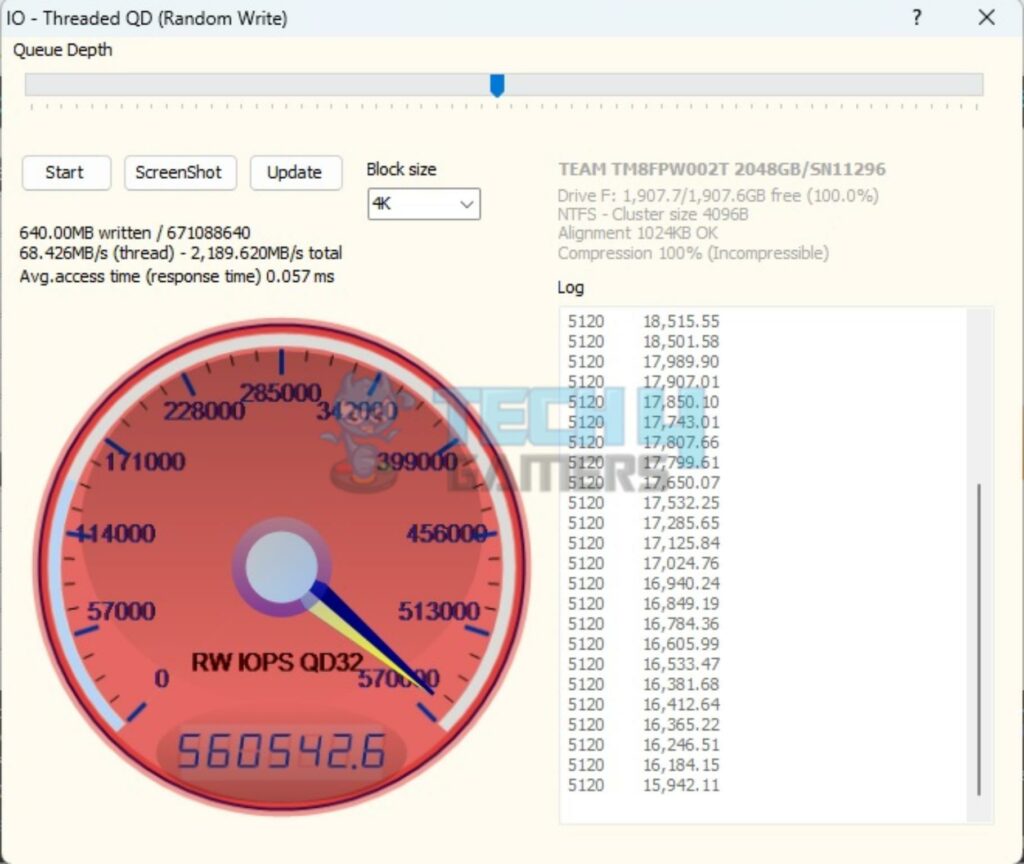 This drive did 560542 IOPS in QD32. Teamgroup's rating is 660000, so the drive is falling short of the rated specification.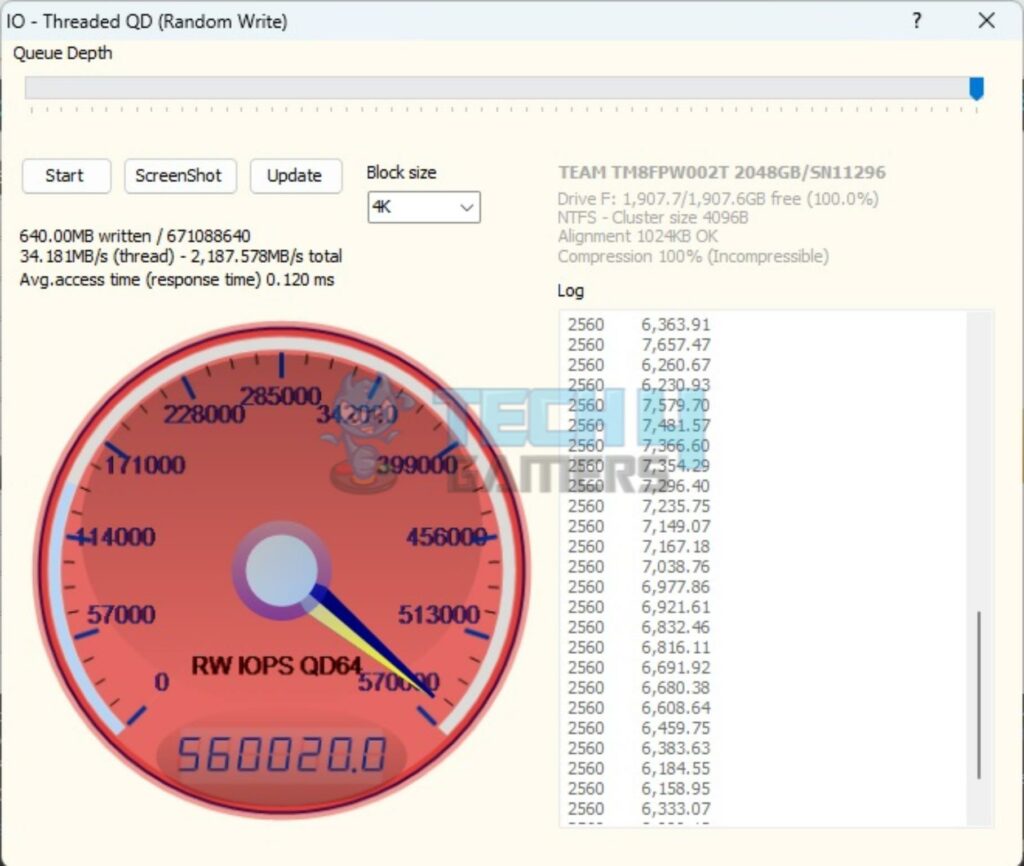 This drive did 560020 IOPS in QD64, which is still lower than the rated speed.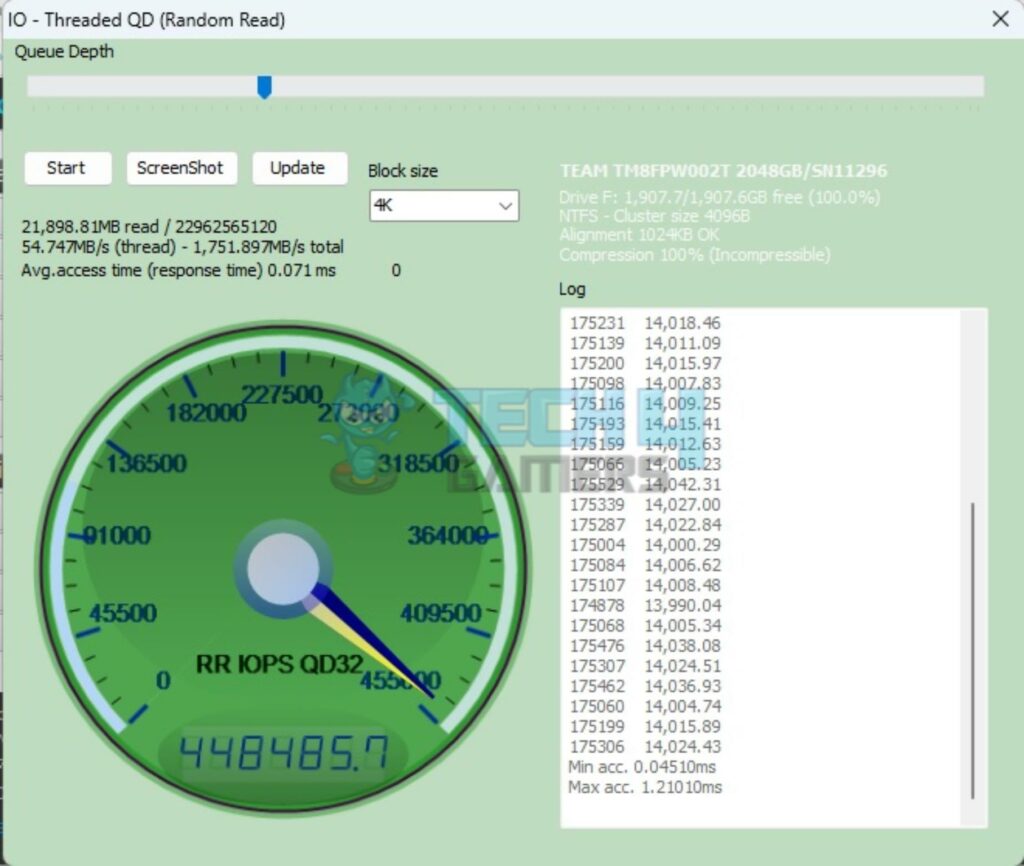 In Random 4k Read operations, this drive did 448485 IOPS in QD32, which is short of rated 650000 IOPS.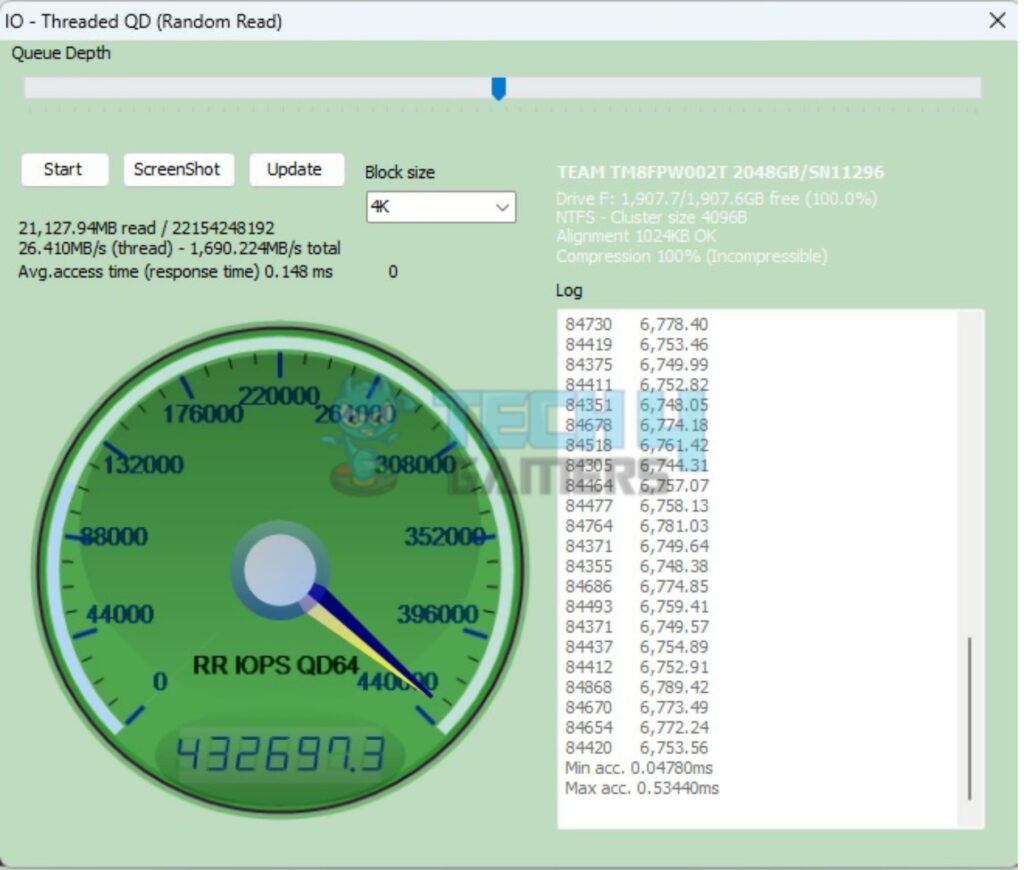 432697 IOPS was in QD64 read operations, which is still short of the rated specification.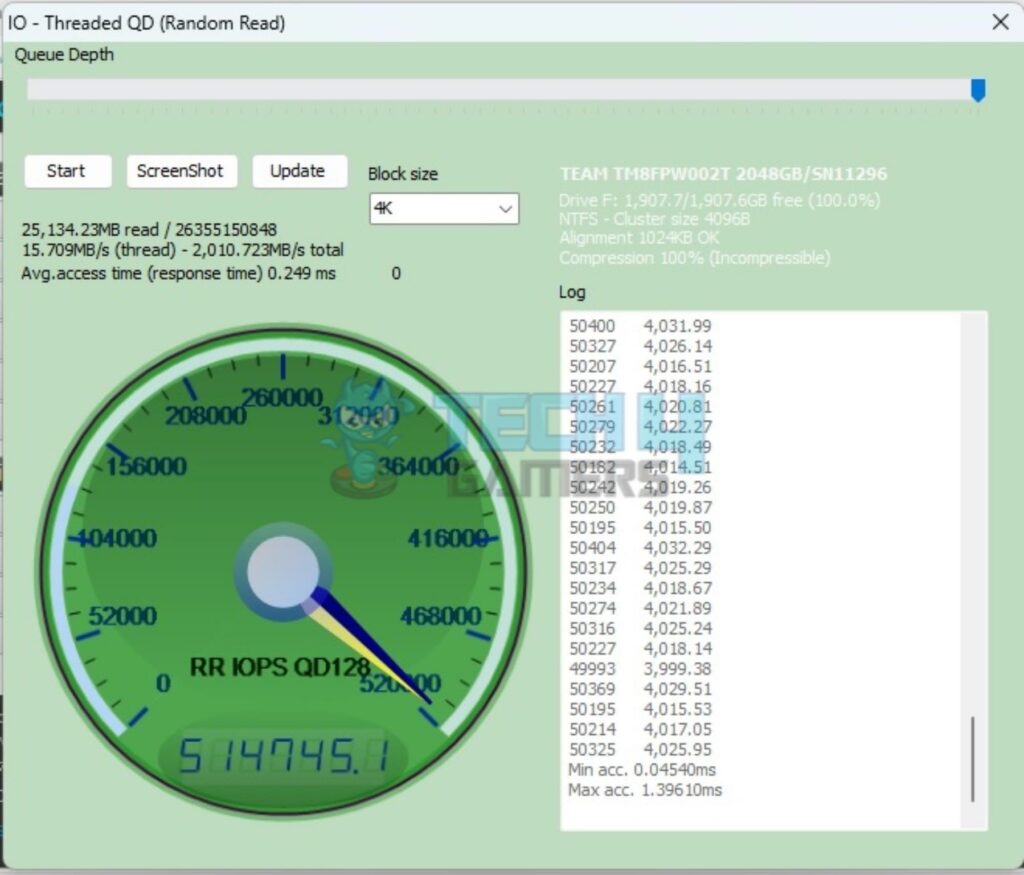 With a queue depth of 128, the MP44 did 514745 IOPS. We can see that this drive is weak in Random 4K read and write operations.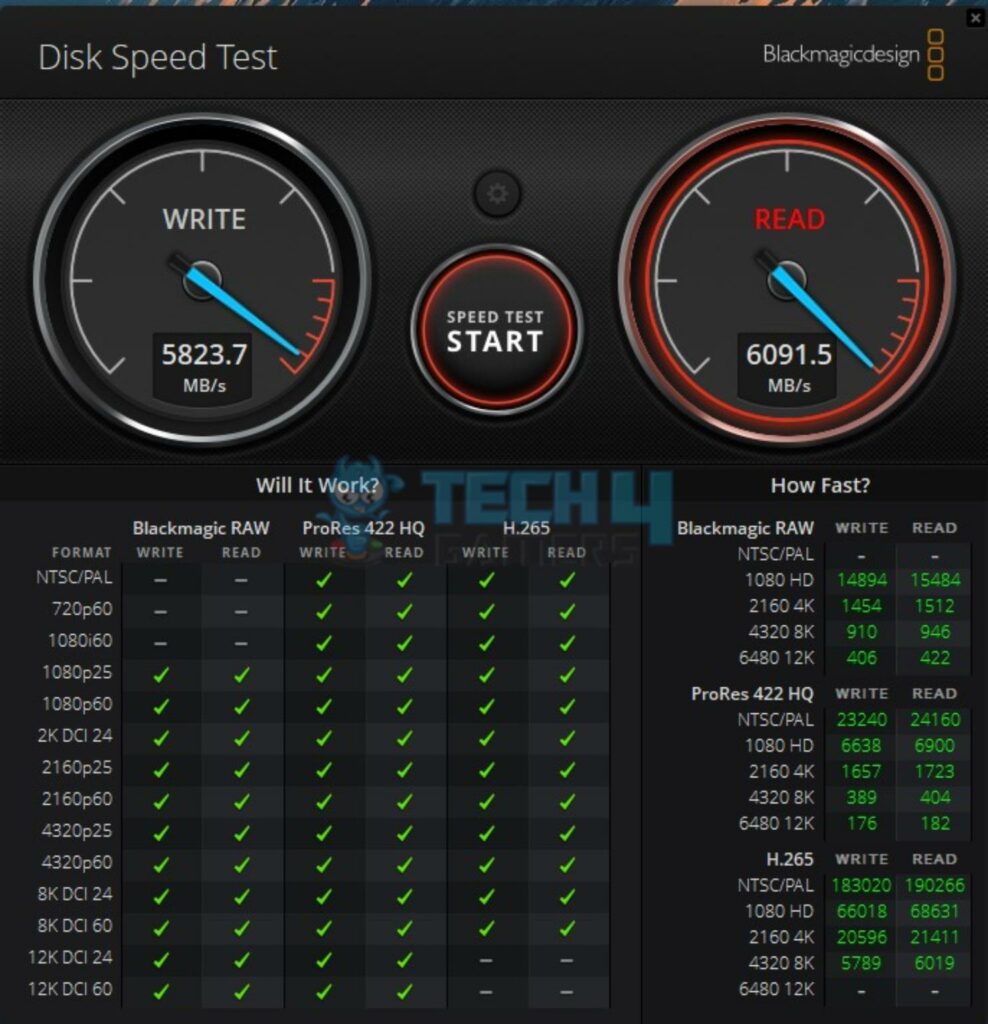 Next, we ran the Black Magic Disk Benchmark. This is a powerful and important utility that shows the true performance potential of the drive at hand. We are more concerned if the drive is capable of performing Read and Write operations under certain formats and then the consolidated speeds against each format. Teamgroup's MP44 performs quite well in this benchmark.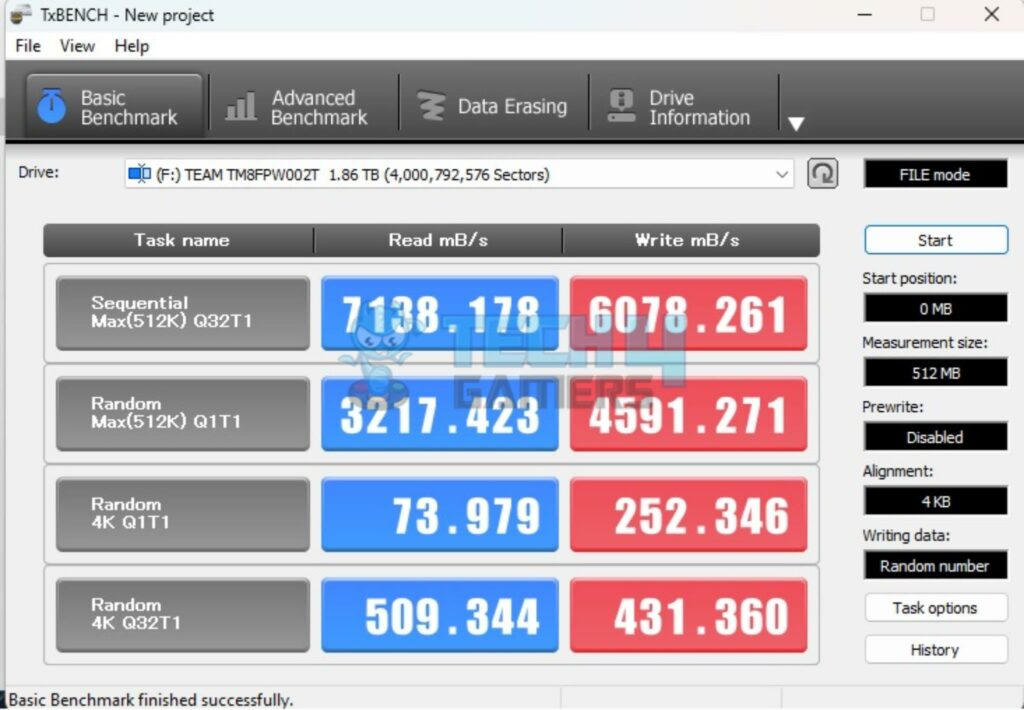 We are seeing an almost similar performance result from TxBench as we saw in CrystalDiskMark.
3DMark Storage Test
3DMark Storage test is relatively a new test bench measuring the gaming-only performance of the given drive using three games. It measures the load time of the games, recording the gameplay, saving the game, and moving the game. The overall score is given in a number, whereas there is also a result for the bandwidth and access time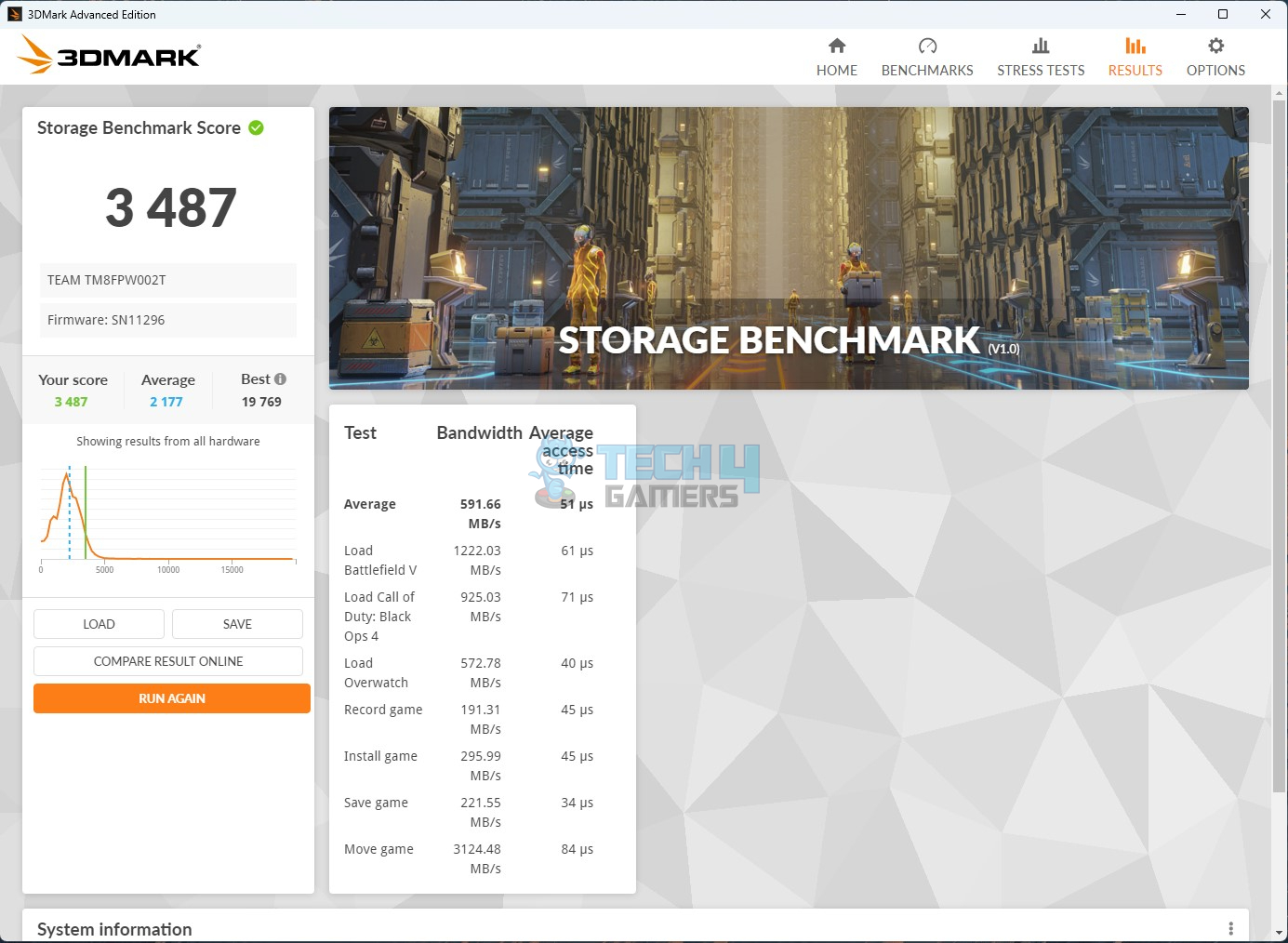 The Teamgroup MP44 has scored 3487 in this benchmark. The overall bandwidth comes to 591.66 MB/s and an average access time of 51 µs.
PCMARK10 Benchmark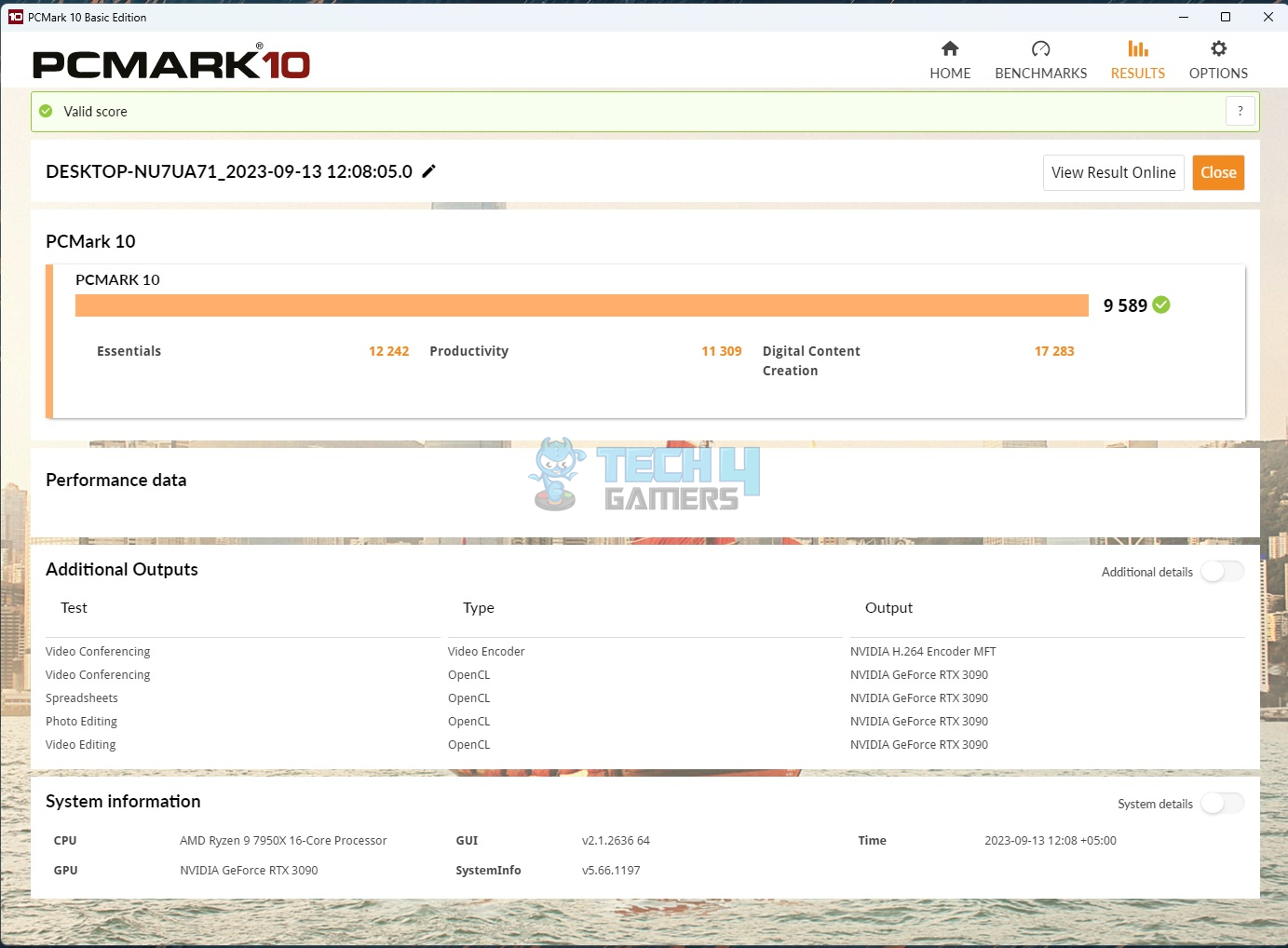 We ran the PCMARK10 overall benchmark, and it gave us an impressive score showing an impressive contribution from MP44.
Real World Testing
Now that we have completed the synthetic benchmarks, it is time to prepare our sample for a real-world use scenario for further evaluation. We prepared a 250GB size folder containing multiple files and folders including compressed files, including a 97GB compressed file. DiskBench was then used to observe the real-world data transfer speeds. Here are the results: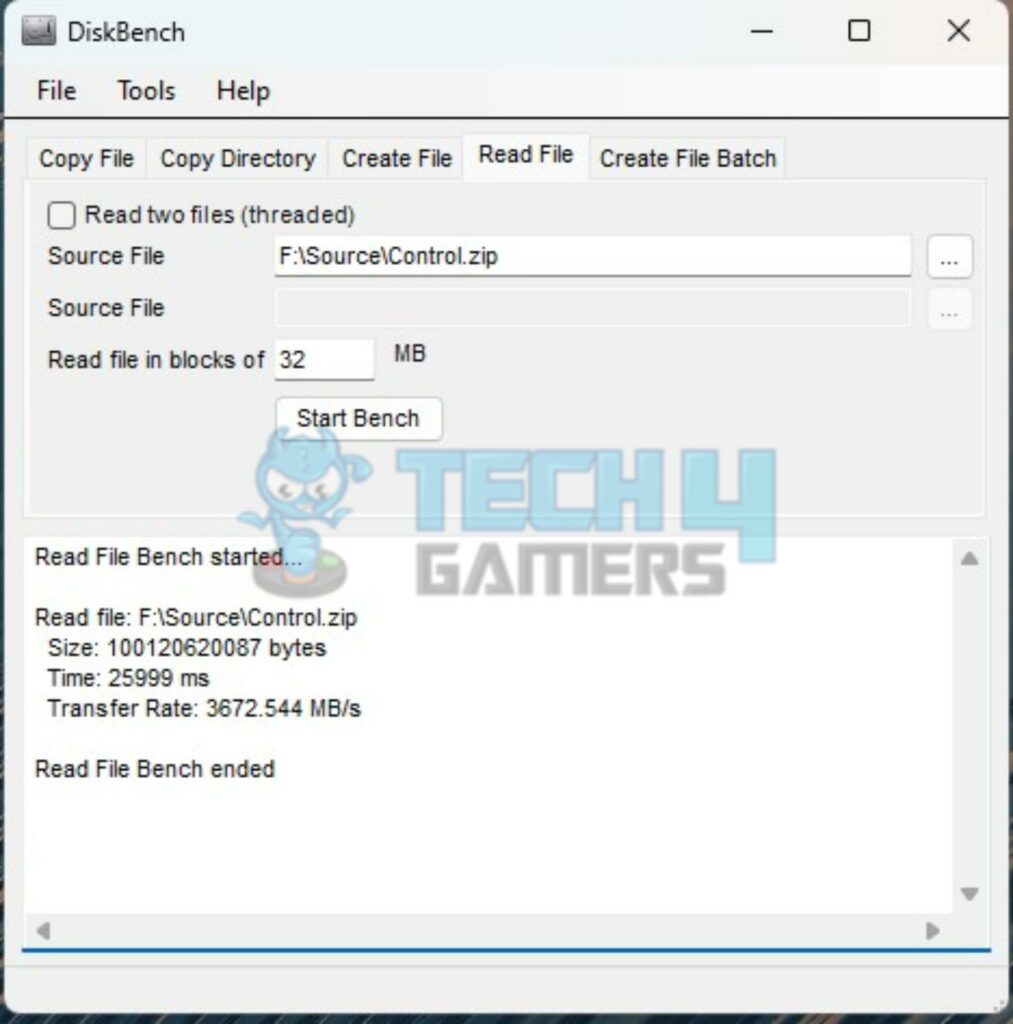 DiskBench was used to read the compressed file of 97GB. It took 25.999 seconds to read this file at the speed of 3672.544 MB/s. This is quite impressive.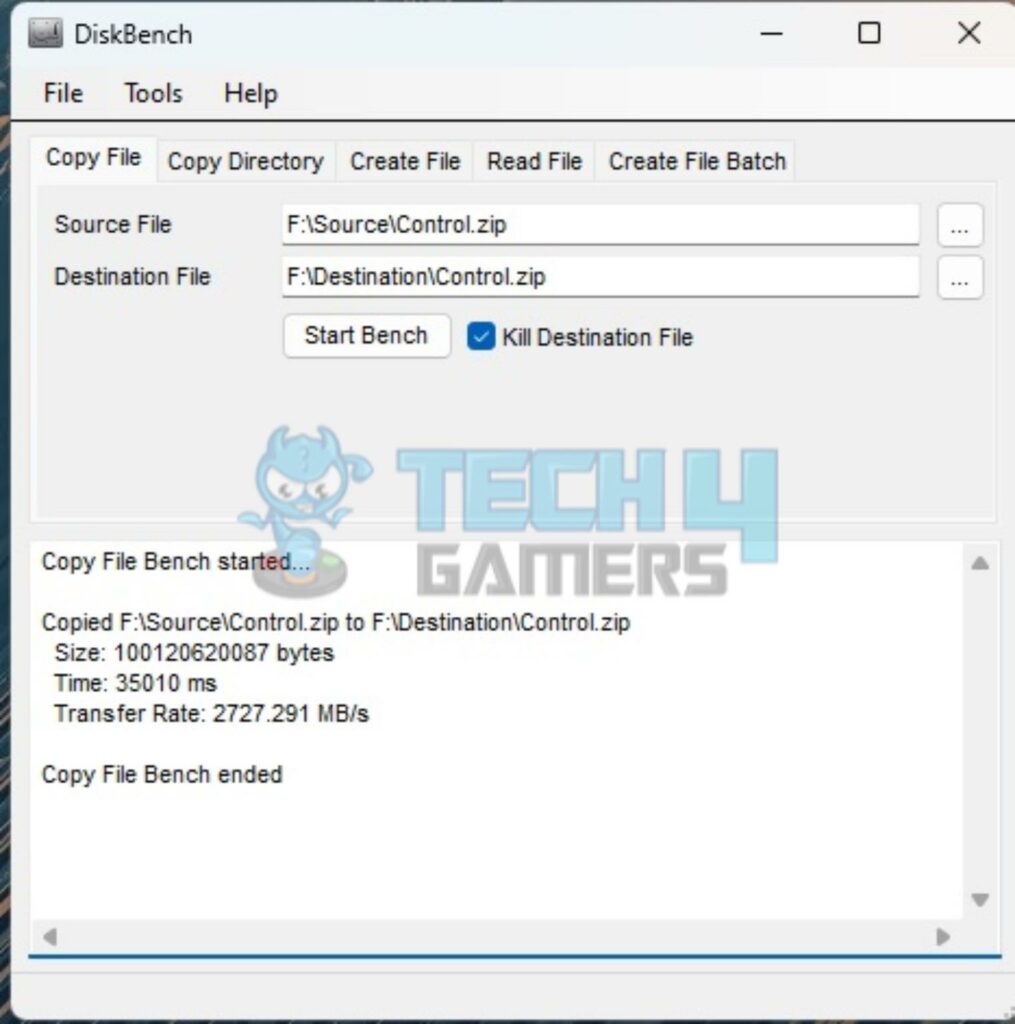 We then used DiskBench to copy this 97GB file on the MP44 (same drive). It took 35.010 seconds to copy this file at the speed of 2727.291 MB/s. This is still quite impressive.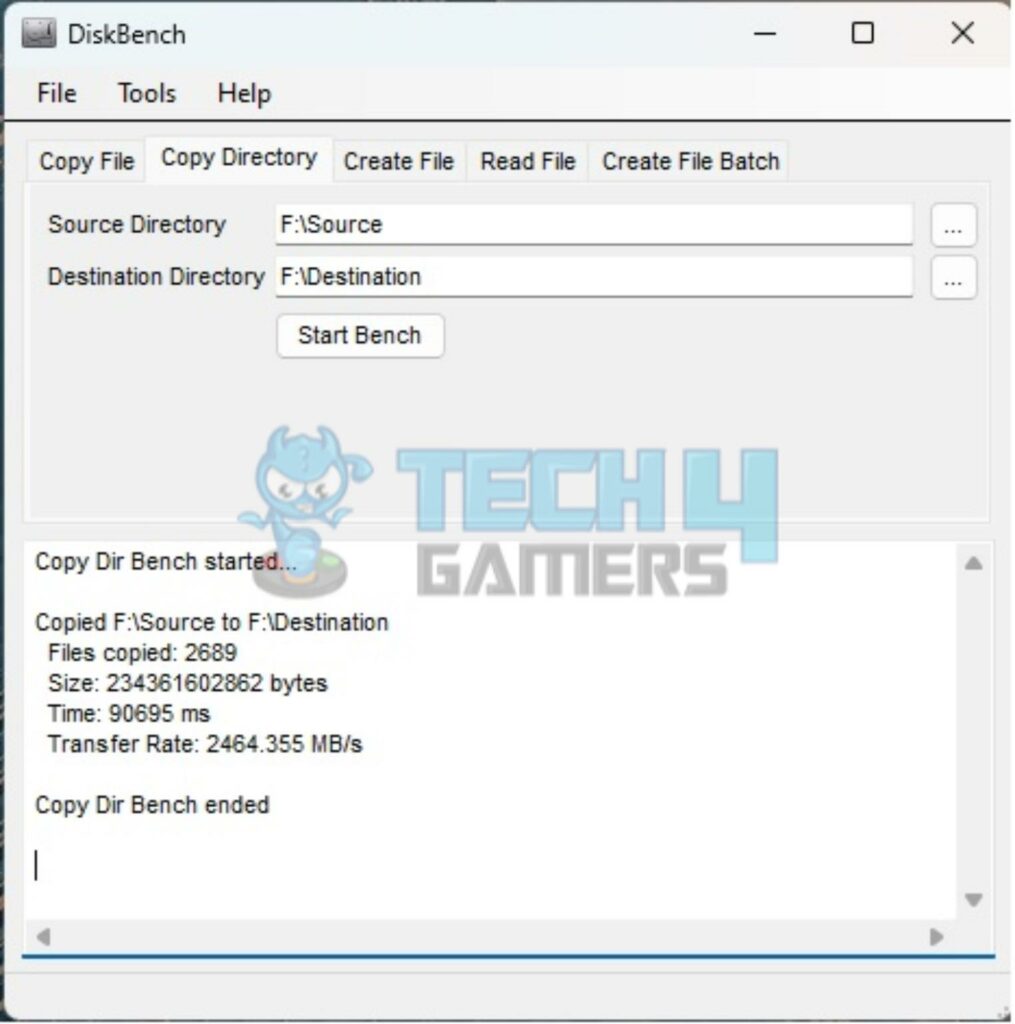 Next, we copied a 250GB size folder to another folder on the same drive using DiskBench. It took 1 minute and 30 seconds to complete this operation at the speed of 2464.355 MB/s. This is a good performance from this drive.
So far, the real-world scenario is showing this drive to be working like a charm and chewing everything we are throwing at it. Since it is using TLC, write caching. My wild guess is that the space reserved for that would be somewhat 500GB or so since it is a 2TB variant. I could be wrong here. To test that, we made 520GB size data, though ideally, it should be more than double this, and copy this data into the Source directory of MP44, and then we had DiskBench copy it in the Destination folder of MP44. We logged the disk read and write speeds during this operation using HWInfo64.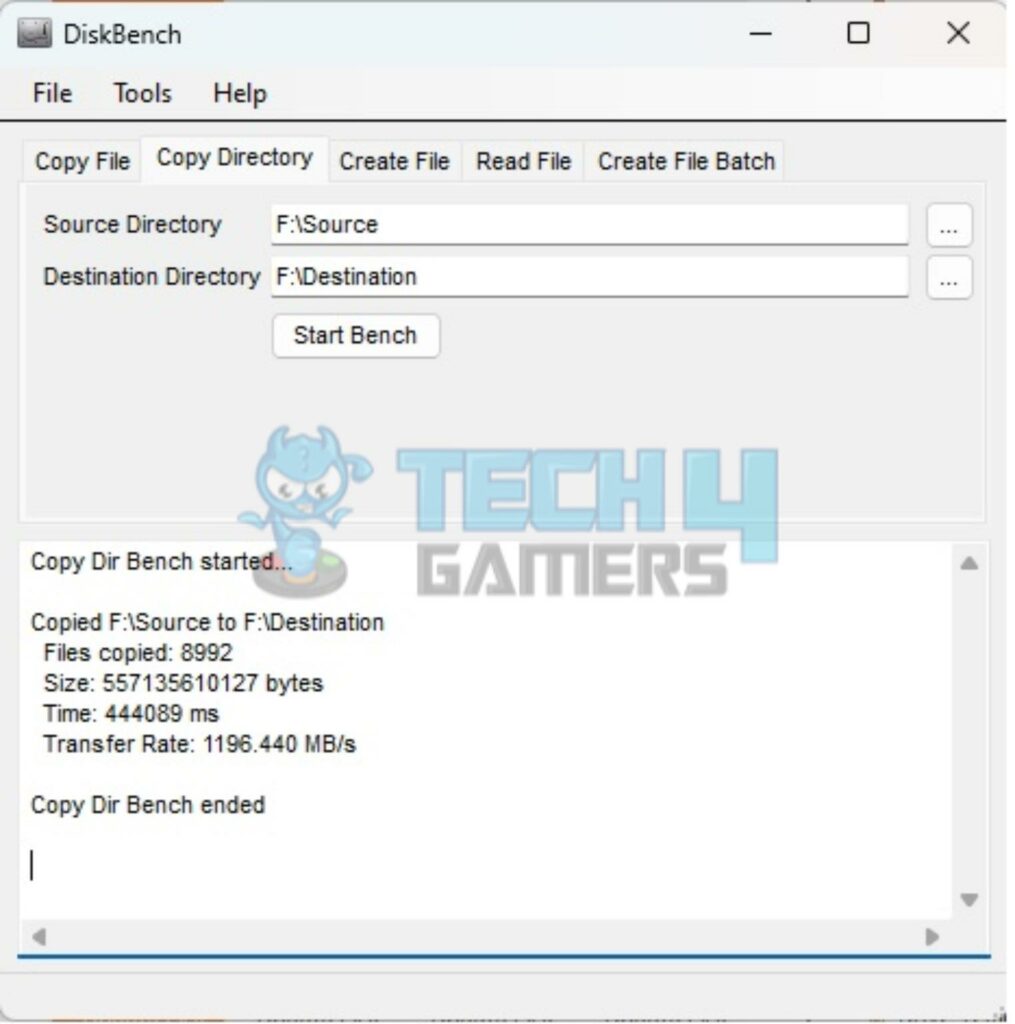 It took 7.489 minutes to complete this operation at an average speed of 1196.440 MB/s. This is quite an outstanding performance. Let's dig deeper first. When we opened the logged file, we found that this drive had hit 75°C, which was quite possible given the high ambient temperature of between 36°C and 37°C. Another observation we made is that this drive during this operation went as low as 710MB/s. In my opinion, this is still a good performance, given the very fact that it does not have a DRAM. This also confirms that high data size could impact the performance as there will be less space available for write caching.
Gaming Load Time
Gamers are very particular about these high-speed drives. This is why we have used Final Fantasy XIV: Shadowbringers Benchmark using the Highest Preset to record the game load time on RTX 3060. We already have some ideas from the 3DMARK Storage Benchmark. This test will show further insight.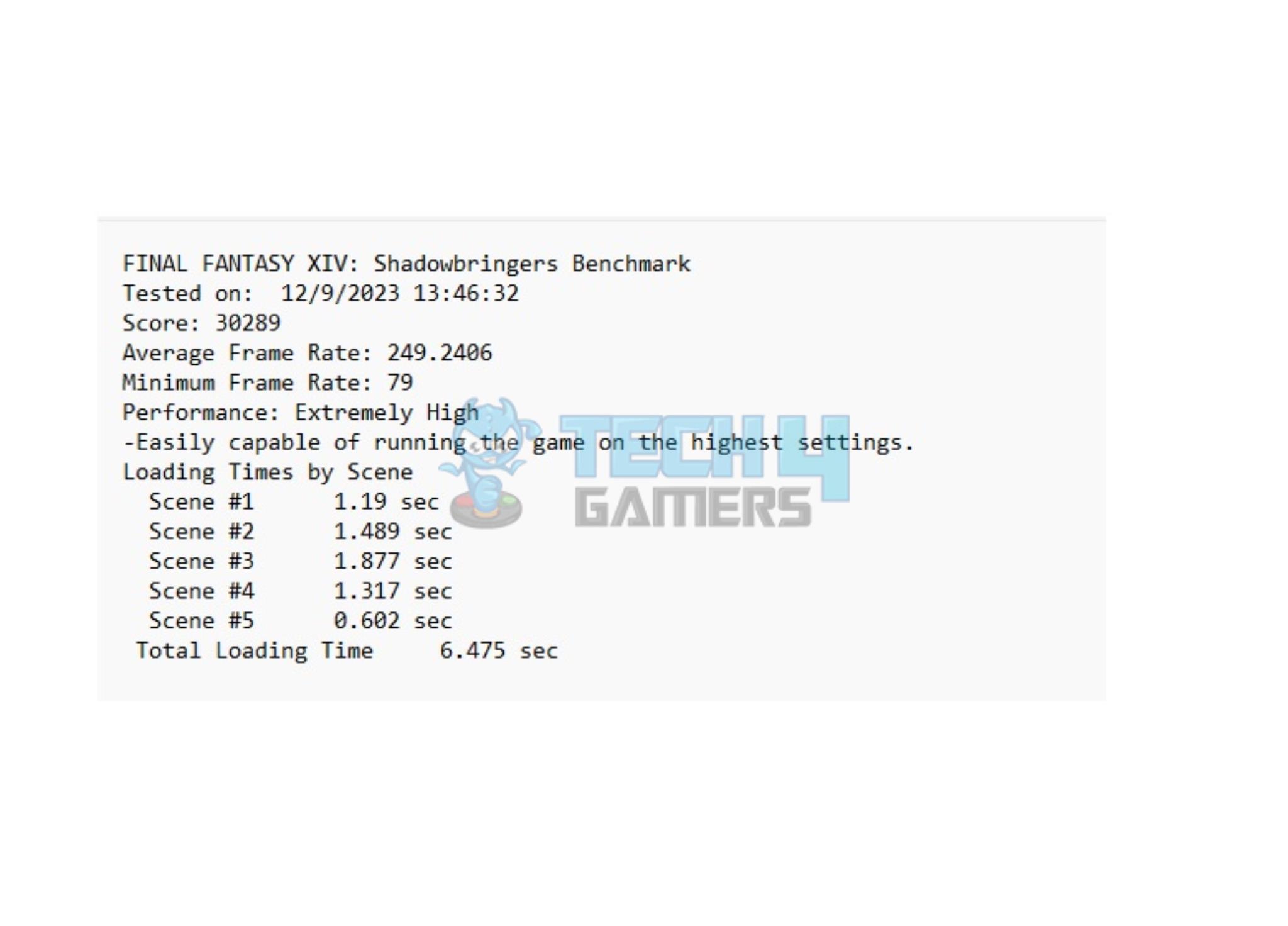 Total load time 6.457 seconds, which is almost where we have seen other high-performance SSDs performing similarly.
Thermal
Our drive was idling at 45°C and under load, it hit 75°C at an ambient of 36°C to 37°C.
Conclusion
Teamgroup has released a new series of SSDs in their SSDs line (not T-Force Gaming or T-Create Creator) named MP44. Don't confuse it with MP44L, as both are different. This series is available in multiple sizes starting from 512GB and going as high as a whopping 8TB. The total available sizes are:
We have tested a 2TB variant of MP44. This is a Gen4x4 SSD utilizing the NVMe 1.4 interface. It is using 3D TLC NAND Flash. The dimension of this SSD is 80x22x3.7mm (LxWxH), and it weighs 7g. This series does not have a heatsink. Teamgroup has a patented technology called Graphene Label that is placed over the active components on this SSD. This label has a thickness of less than 1mm on the 2280 form factor, and when it is paired with the heatsink of the motherboard, both work in tandem to provide best-in-class heat dissipation where possible.
The overall thickness of 3.7mm makes this SSD fully compatible with PS5, and this is one area where we can see Teamgroup targeting the PS5 users, though keep in mind that this series does not have DRAM, and it utilizes the host memory. There are some key factors that Teamgroup has focused on for the PS5 users:
Low-Cost or Cost-Effective Storage
High Capacity Storage
This is a new trend we are seeing from SSD manufacturers, and we can appreciate it for sure as it would ease the life of console users, at least when it comes to storage limits. We saw the same implementation from Kingston and Sabrent, though both vendors have heatsinks and DRAM-based solutions, but that adds to the pricing.
Teamgroup is using 232-layered 3D TLC NAND Flash. I am not sure if this is an in-house design or a third-party design. 4x chips make up a total of 2TB capacity on this SSD. NY18TAA1442512G Y2316 is written on these chips. Teamgroup is using the MAP1602A-F3C controller from Maxio. This controller is for the DRAM-less NVMe SSDs and is fabricated on 12nmm process technology and based on an ARM R5 CPU core. This SSD does not have a DRAM cache, but it is using TLC write caching, which is enabled by default. All components are on one side of the PCB, making it a single-sided design. The PCB is black.
Speaking of numbers, Teamgroup has rated a 2TB variant for up to 7400MB/s in sequential reads and 7000MB/s in sequential writes. The Random 4K reads are rated for up to 650k IOPS, and 660k IOPS for Random 4K writes. Random 4K specifications are on the lower side compared to the likes of Kingston Fury Renegade and Sabrent, but the sequential speeds cover up for them a bit and surpass Sabrent offerings. It is an M-Key type using an M.2 port with a form factor of 2280. Please keep in mind that using this drive on the Gen 3 M.2 port would drop the performance numbers.
This SSD has a TBW rating of 2500 TBW, which is quite impressive. However, the 4TB variant is rated for a mere 3000 TBW, and I was expecting more on that. The 8TB variant has a 6000 TBW rating. None of the Kingston and Sabrent offerings comes closer to this. 2.0 PB, which stands for 2000 TB. This is an impressive figure. The MTBF rating is 1,600,000 hours, which is less than the Kingston drive. On top of all this, Teamgroup is offering a 5-year warranty on this SSD, which shows the manufacturer's confidence in its product. There is also a software utility that you can download from the Teamgroup website and use to monitor the health of the drive and use built-in benchmarks for performance measurement.
Enough chit-chat on what is on the paper. What is the performance on the table? Well, this SSD is quite good when it comes to real-world usage. In our synthetic testing, it has shown a powerful sequential performance however, it was lacking in the Random 4K performance. Overall, synthetic testing shows that this SSD is an all-rounder and can perform quite well. We were amazed at real-world performance as well. We wanted to push this SSD and see how well it can handle the heavy load in the absence of DRAM.
We were operating in a warm environment where the ambient temperature was between 36°C and 37°C. We saw this SSD rocketing to 75°C under heavy load. We made a mixed data set of size 520GB and have it copied on the MP44. Then, we used DiskBench software to copy that folder onto another folder on the same drive. The drive maintained an average speed of 1194 MB/s, which is very good. The lowest it went was 710 MB/s. When this test was done using a 250GB size of mixed data, the lowest was 1510MB/s on write and 1490MB/s on read.
The Teamgroup MP44 is listed at USD 92 at the time of this writing. This is a steal for a 2TB NVMe SSD, given this level of performance with a 5-year warranty. Now, we can see Teamgroup is aiming at users who would want a cost-effective and high-capacity but fast storage solution, and this is where MP44 rises and shines. If you are looking for a high-capacity drive above 2TB, MP44 is your pick, as it would be mine.
Was our article helpful? 👨‍💻
Thank you! Please share your positive feedback. 🔋
How could we improve this post? Please Help us. 😔