Best $5000 Gaming PC?
Review Summary
From packaging to performance to sheer aesthetics, the Origin Neuron (2023) nails every aspect of a phenomenal 4K Gaming PC. Featuring an i9-13900K paired with the RTX 4090, the PC can handle every single AAA title for years to come, along with outstanding synthetic benchmarks. If you don't have the time or the expertise to build your own gaming PC, then it is the best prebuilt PC you can get.
Performance -

10/10

Looks -

10/10

Value -

8.5/10

Features -

10/10

Noise -

9/10
Pros
Excellent 4K Rasterization Performance
Quite Future Proof
Outstanding Productivity Benchmarks
Solid Packaging
Beautiful Looks
Neat Cable Management
Adequate Thermals
iCUE Support
Low Noise
Are you planning to build a top-tier $5000 gaming PC but don't have the technical expertise or the time to build one yourself? If so, Origin has solved your biggest problem with its NEURON build. The Origin Neuron (2023) appears as an embodiment of your gaming desires in a world where gaming exceeds our imaginations, where graphics comes close to reality, and epic gaming battles await your command. Let's step together into a universe of unprecedented performance and let your creativity rise as we begin on an adventure to discover the intricacies of this gaming masterpiece.
Picture a PC that combines elegance and immense power, designed to ignite your passion for gaming. The Origin Neuron attracts both enthusiastic gamers and content creators, encouraging them to push their boundaries. Whether you're exploring magical kingdoms, battling on distant planets, or testing your skills in multiplayer matches, the Origin Neuron keeps you ahead of the game.
Why you can trust Tech4Gamers:

We understand the importance of making informed decisions. That's why our team spends significant time testing every product we review.

Please find out more about how we test.
Having said that, this groundbreaking beast is not exclusive to the realm of video games. It can easily adapt to a creative workspace where your imagination reigns supreme. You can easily make use of its capabilities to create stunning 3D models, edit cinematic masterpieces, and bring your creative thoughts to life. It will help you embrace the power of your imagination to open the door to an astonishing universe of gaming entertainment.
If you are looking to go beyond the usual and embrace a gaming experience that seems personalized to your essence, go no further than the Origin Neuron. Here comes your chance to enter a world where your wildest desires and ambitions may come true, a world where the greatest $5000 gaming PC you could possibly find is the Origin Neuron (2023).
I was fortunate enough to receive an Origin Neuron PC. Notably, this build was equipped with top-of-the-line components, including the RTX 4090 paired with the i9-13900K. I couldn't pass up the opportunity to share my thoughts with you guys with such an impressive build, and after a few months of navigating customs and shipping, it finally arrived. Let me tell you, it did not disappoint. Keep reading to find out what powers this gaming beast and its capabilities.
---
Key Takeaways
The Origin Neuron 2023 is perfect for those looking for a top-of-the-line gaming PC that packs the latest and greatest components to offer unparalleled performance. If you don't have the time or lack the expertise to build your gaming PC, then you should go for it.
You should get the Origin Neuron 2023 if you are a hardcore gamer passionate about high-end PC builds or a professional content creator whose workload demands the most top-tier performance.
You should not get the Origin Neuron 2023 if you are on a budget, can build your custom PC, and don't need such a high-end build.
---
Unboxing The Origin Neuron (2023)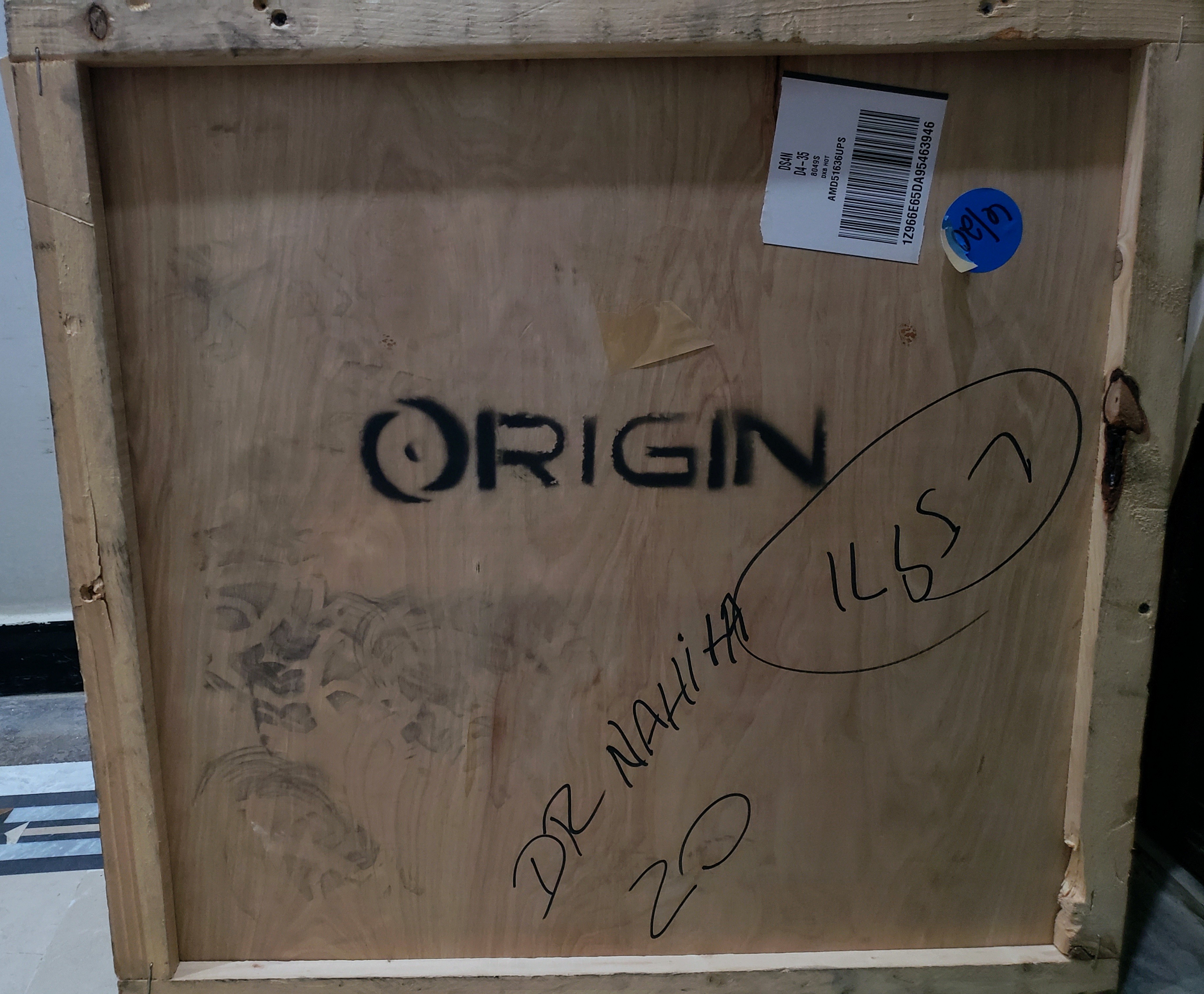 As the moment of unboxing finally came, I couldn't help but feel a surge of excitement. The Origin Neuron was enclosed in a wooden fortress as if it contained a violent beast ready to be released. Consequently, it arrived without a single scratch or damage despite its long voyage through enormous regions. With eager anticipation, I ventured into unboxing this gaming gem from its robust enclosure.
As I uncovered the layers, it became evident that ORIGIN had spared no effort in safeguarding their remarkable creation. Starting with the deliberate intricacy of the wooden box, despite its laborious opening process, their commitment to a secure delivery was undeniable. As the Neuron 5000D Airflow emerged from its protective casing, it gleamed with potential, having weathered the journey unblemished. Its flawless condition suggested a craftsmanship akin to the work of skilled gaming artisans.
My heart skipped a beat as I realized how far ORIGIN had gone to make this unboxing experience one to remember. The process of setting up the Neuron can be likened to orchestrating a harmonious symphony of cutting-edge technology. In addition, the seamless integration of every component resulted in a meticulously crafted masterpiece, showcasing a gaming marvel that wanted to be unleashed. In the end, the Origin Neuron unpacking experience was nothing short of exciting.
ORIGIN's diligence in safeguarding its valuable cargo came off well, keeping the PC unscathed by the risks of its journey. Furthermore, from the secure wooden package to the immaculate state of the build, it was clear that ORIGIN's dedication to perfection went from conception to delivery. As the Neuron 5000D Airflow found its proper position in my gaming setup, I couldn't help but feel like I'd begun on a magnificent journey, equipped with a gaming machine that was genuinely unrivaled in terms of both functionality and safety.
Aesthetics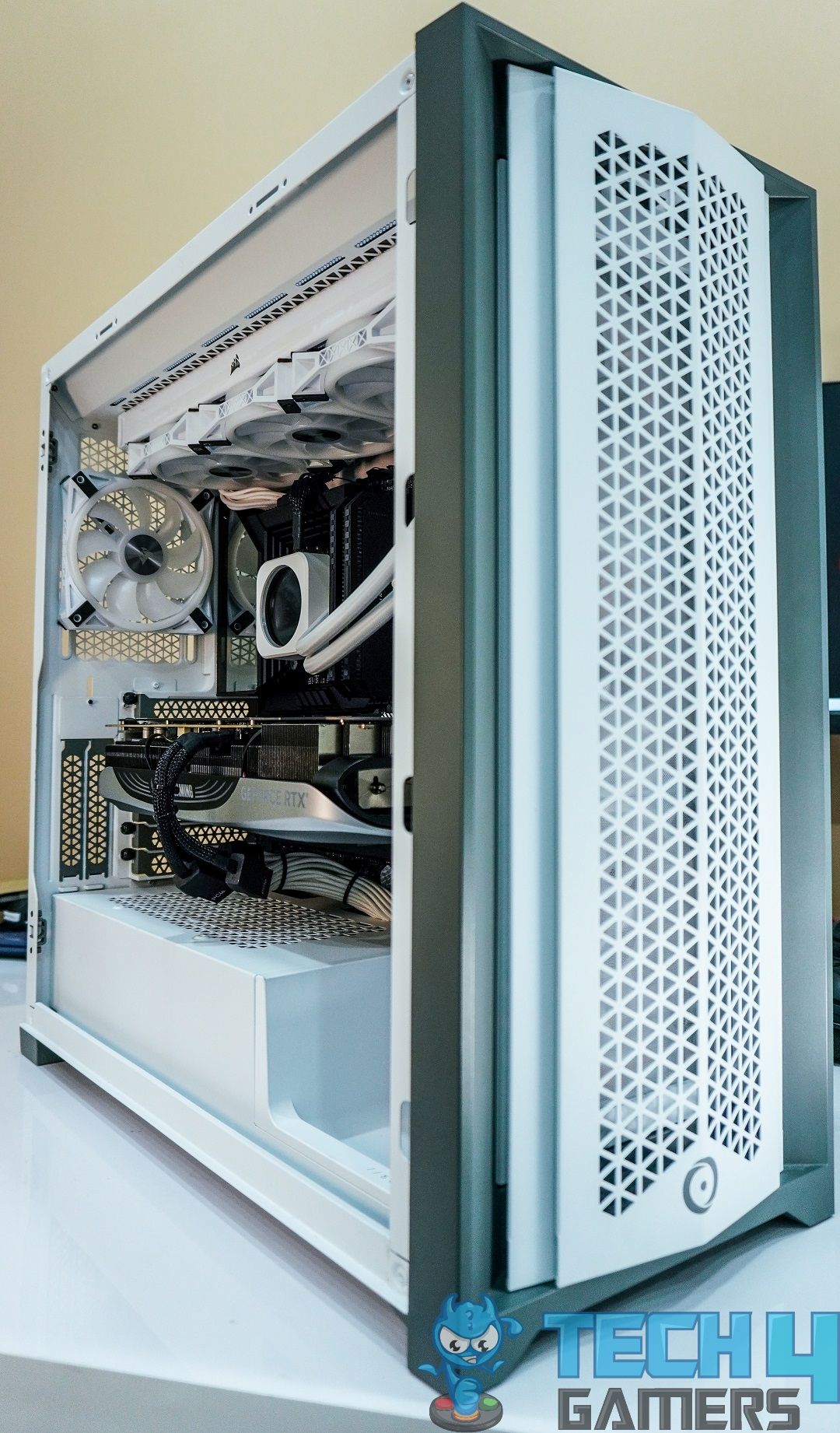 When I first set eyes on the Origin Neuron, it was like seeing a future sanctuary of gaming grandeur. Right away, this gaming PC's designs were genuinely outstanding. Most of you would be taken aback by its pure beauty and sophistication. Moreover, the decision to go with the one in white was brilliant, as it emitted a mesmerizing charm.
The CORSAIR 5000D AIRFLOW case's design demonstrated the level of attention that went into every detail. Firstly, the redesigned steel front panel beckoned to a world of better airflow, offering a quieter and cooler gaming experience. Secondly, the tool-less tempered glass side panel served as a doorway to an exotic universe, enabling me to see the inner workings of this technological behemoth easily.
The front panel looks beautiful with its perforated triangular design.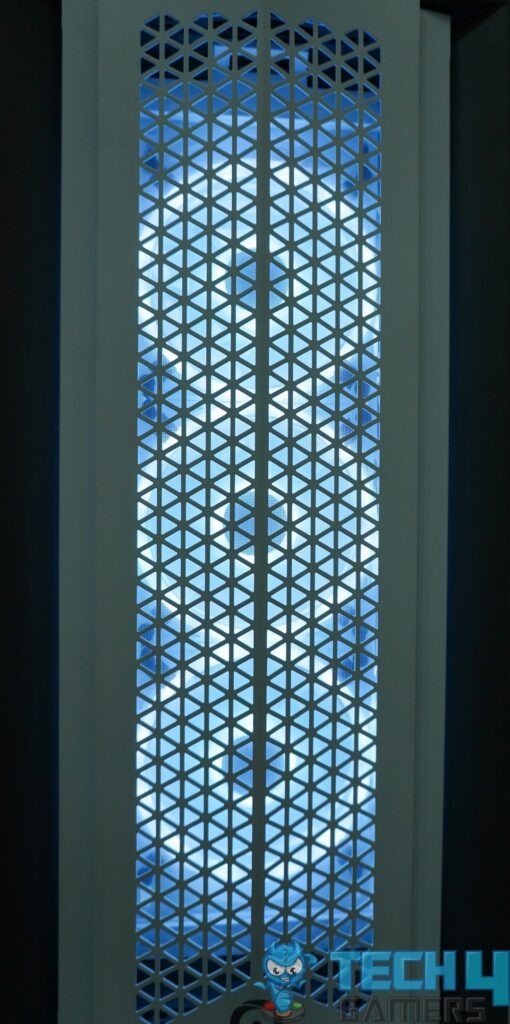 As I loomed around the enormous interior, it became clear that it was designed to house many fans and radiators, providing the groundwork for improved ventilation and lower temperatures. Additionally, multiple dust filters protected this gaming masterpiece from potential risks of dust and dirt, maintaining its lifetime. Please take a moment to admire the breathtaking and remarkable design of this gaming masterpiece.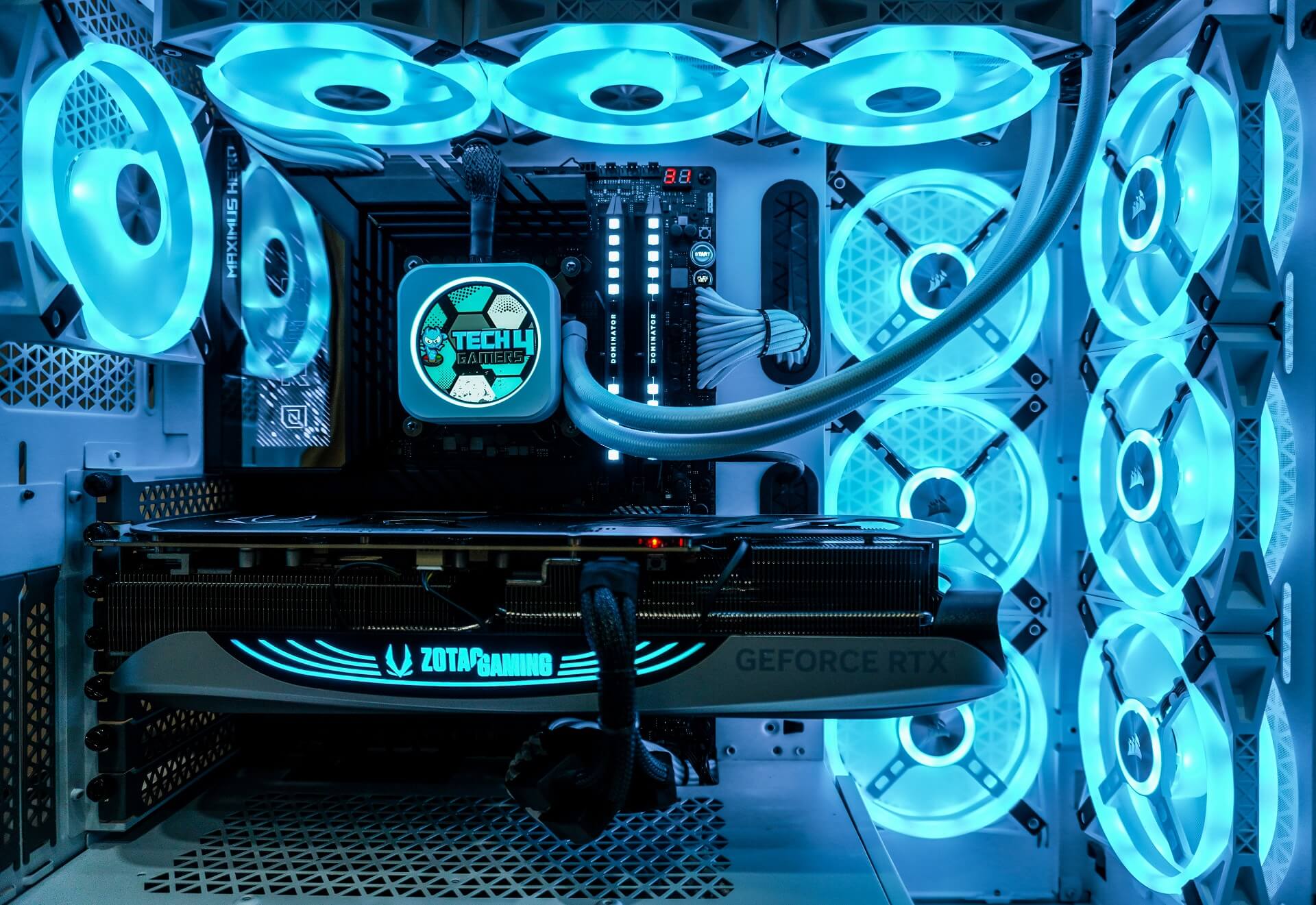 But it was the customizing choices that actually distinguished this gaming marvel. The flexibility to choose between HD UV glass printing and laser etching for the side panels was fascinating. As a result, I seized the opportunity to personalize my Neuron build by matching its design to my website's distinctive blue and white color scheme. The end product was stunning, and it appeared to be an alienating technology that was both fascinatingly futuristic and intimately familiar.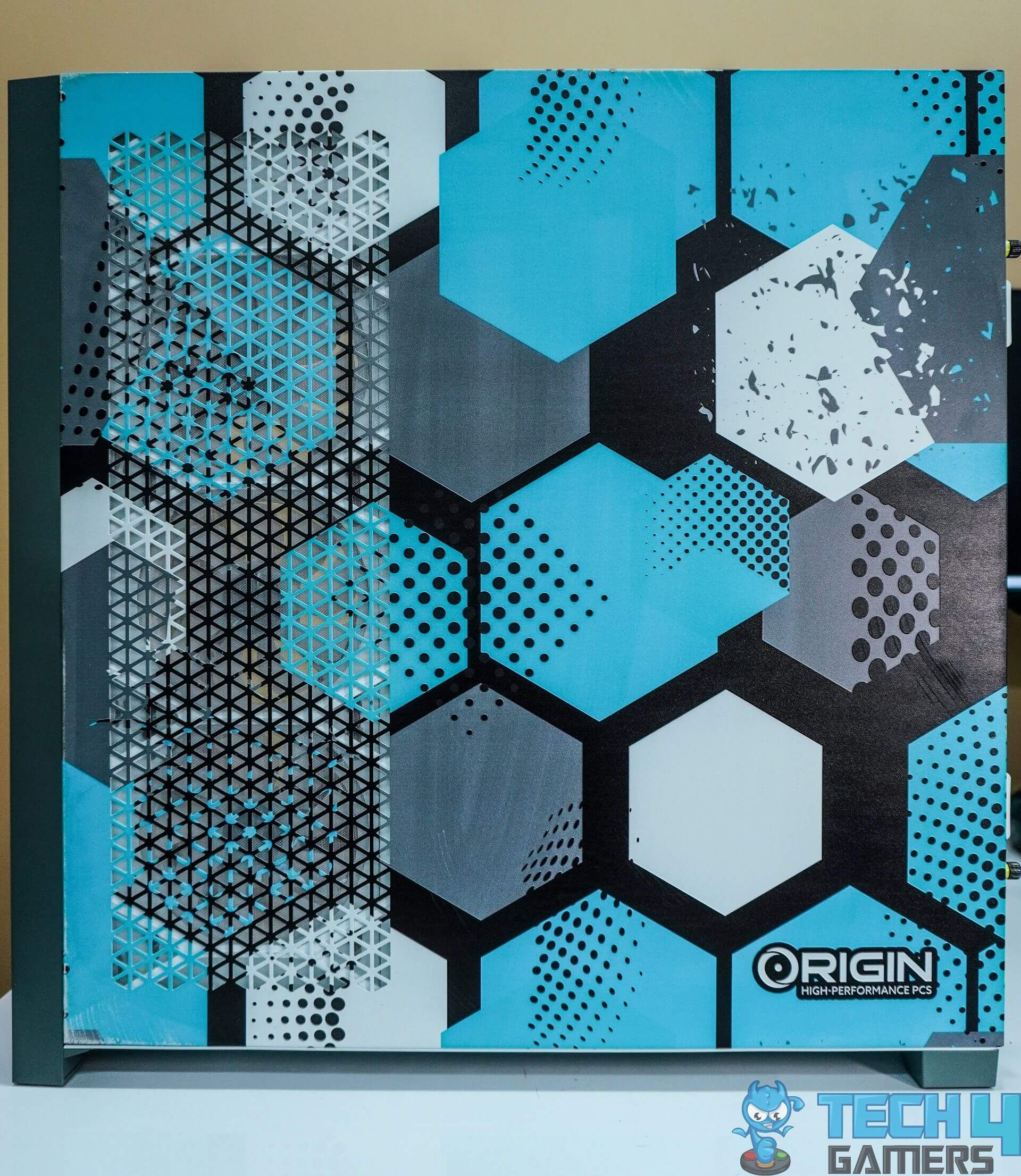 It was a piece of art, meticulously built and infused with the spirit of our style and vision. Consequently, this PC was more than simply a gaming powerhouse; it was a technological symphony that blended aesthetics and performance into an otherworldly experience. It is quite easy to spot the distinct Tech4Gamers visual style, particularly with its vibrant RGB lighting effects that would add a noticeable pop of color to any gaming setup. Moreover, the ten CORSAIR ML120 fans, whispering gently like a gentle breeze, displayed the pinnacle of unsurpassed performance and silence.
A solid contender for the best white gaming PC!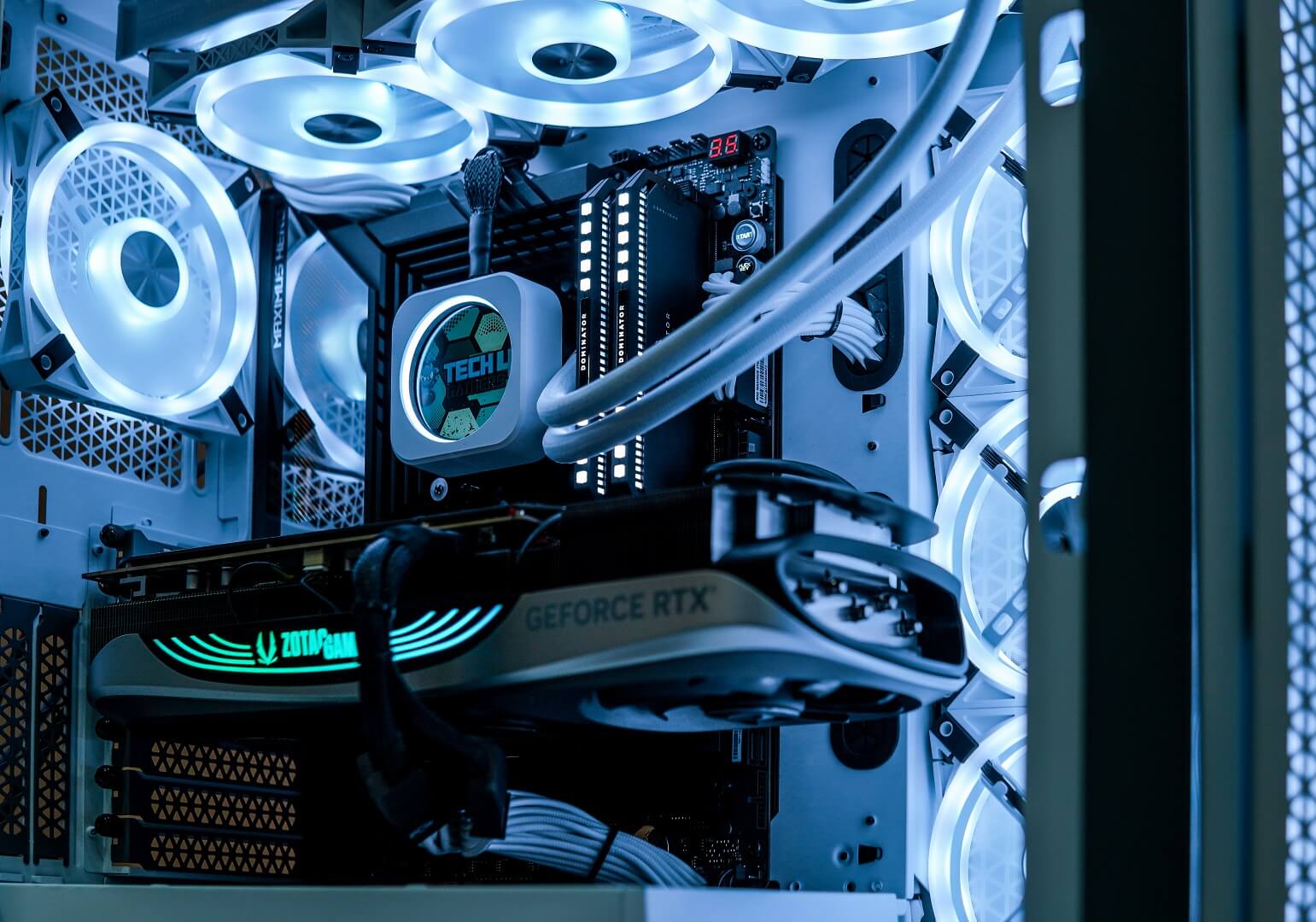 Even after months of usage, I can't take my eyes away from this magnificent work of art. Every curve, every line, and every color seemed thoughtful and planned. Above all, the blue and white color palettes of our website blended smoothly with the Neuron PC. Last but not least, witnessing this gaming PC for the first time with my own eyes was an experience I'll never forget—a firsthand encounter with a work of art that transcended the borders of gaming and creativity.
Cable Management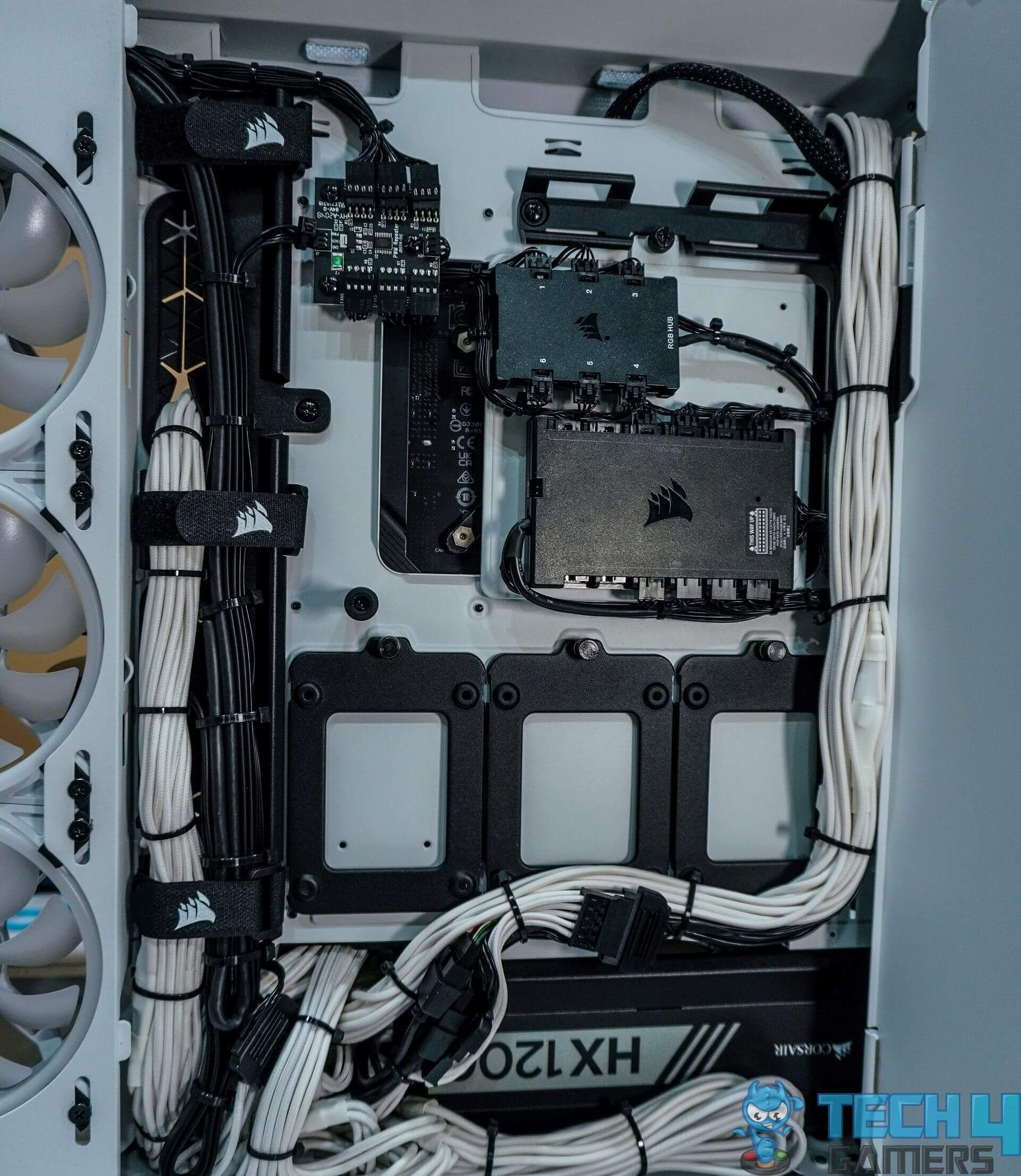 The Origin Neuron is an unparalleled masterpiece in the field of cable management, a symphony of organization performed by the skilled professionals of ORIGIN PC. As I explored the inner sanctuary of this gaming masterpiece, many things surprised me. Firstly, every wire was precisely placed and secured with cable ties, providing an appealing show of precision and order. There were no tangled cables or jumbled bundles to be discovered, simply a smooth tapestry of connection that spoke volumes about the quality of this PC's build.
The wires were so well arranged that accessing, relocating, or modifying them seemed like an effortless endeavor. Moreover, ORIGIN PC's attention to detail shined through, ensuring that even the most technical components of this complex setup were handled elegantly. It demonstrated its dedication to offering a great user experience, allowing gamers to concentrate on their gaming experiences without any worries of wire entanglement.
With 10 fans and 3 controllers, one may expect a maze of connections to hide behind the scenes. Despite this, everything was meticulously organized. Additionally, extensions, which are notorious for wreaking havoc in the heart of a cable ecosystem, seemed to play in harmony inside this perfectly created symphony of connections. Leaving behind nothing but amazement and admiration.
And the actual brilliance of this flawless cable management became clear when it was time to close the deal—quite literally. The case's side panel could be closed with ease, which is not often possible in complicated configurations. But here, owing to the ORIGIN PC team's creativity and talent, it felt easy to do, safeguarding the priceless things inside. The Origin Neuron stood out as a paragon of excellence in a world where cable management is sometimes disregarded or underrated.
It was proof that, when done well, cable management could raise the whole gaming experience to unprecedented heights. Arguably, no one could handle wires better than the professionals at ORIGIN PC, who had created a symphony of wires that left me speechless. To conclude, the Neuron is a maestro in the field of cable management, a genuine monument to the passion and skills of the artisans behind this excellent gaming PC.
Origin Neuron Specifications
Let's go over the specifications because the Origin Neuron offers the highest-end components you can choose.
Core i9-13900k
The Origin Neuron leverages the unrivaled power of the Intel Core i9-13900K CPU in the arena of computational capability, where performance reigns supreme. Firstly, this CPU is a beacon of sheer performance, rising to the top of the charts in both single-core and multi-core workloads and leaving all competitors in its trace. The i9-13900K beckons if you desire the ultimate processing power, a force that transcends constraints and provides the very apex of processing prowess.
Moreover, this processor juggles tasks with smooth accuracy, excelling at managing numerous duties and embracing multi-threaded workloads with unrivaled efficiency, thanks to its 24 cores and 32 threads. The i9-13900K is the CPU of choice for ambitious gamers and creative virtuosos, the fabled CPU that wields an excess of power, ripping through virtual worlds and producing content with astounding speed.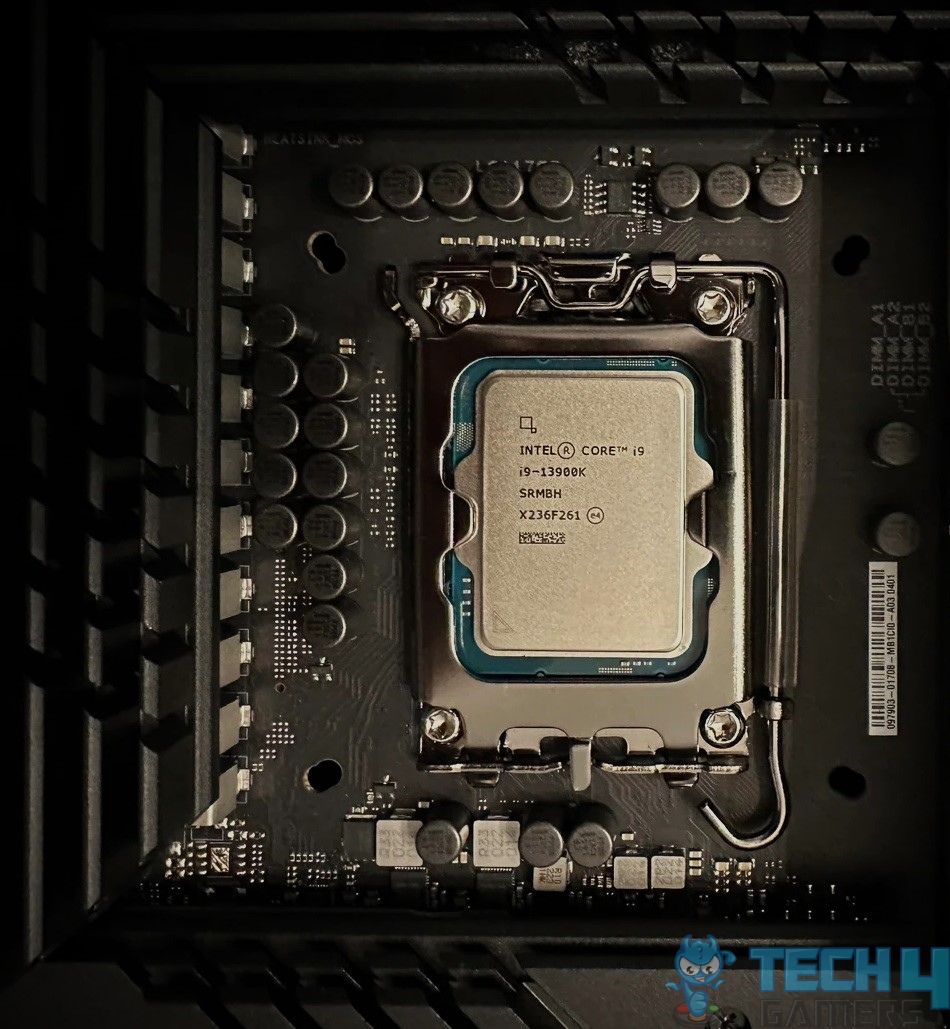 As it embraces the newest DDR5 and PCIe 5.0 technologies, the Origin Neuron becomes the vessel for this CPU of dreams, opening the door to a new potential of computing performance. It's an expedition into the vast beyond, increasing your PC's performance ceiling to new heights. Moreover, the Neuron basks in performance advantages, thanks to the unique Raptor Lake architecture, with Performance and Efficiency cores working in tandem to maximize every computation activity.
The i9-13900K is the strong force powering Intel's revival, reclaiming its crown from the competitors. It brings life into the heart of the Neuron 5000D Airflow, running at 3.0 GHz and a boost frequency of an astounding 5.8 GHz. However, the price paid for this CPU's brilliance is a max TDP of 250W.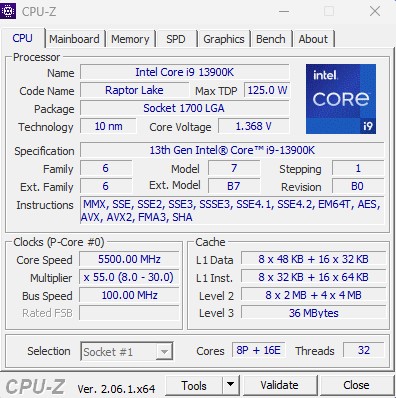 When every second matters, the i9-13900K rises to the occasion, providing the absolute, positively quickest speeds conceivable. It emerges as the obvious winner inside the confines of digital battlegrounds and creative applications like Adobe Premiere—a symphony of force admired and performance commended. There are no restrictions or bounds when you have the Neuron by your side—only limitless options and an experience that leaves all competitors in its wake.
ASUS ROG Maximus Z790 Hero
The ASUS ROG Maximus Z790 Hero DDR5 motherboard is an engineering and technological masterpiece. Firstly, as the foundation of this gaming powerhouse, the motherboard has an amazing set of features that leave no space for compromise. With a remarkable maximum memory capacity of 128GB DDR5, this motherboard is eager to embrace the future of computing. Additionally, it unleashes the potential for lightning-fast data transfers and multitasking, allowing you to push the limits of performance without any concern.
The ASUS ROG Maximus Z790 Hero DDR5's PCIe slots provide you with a world of options. Firstly, you can leverage the full power of these cutting-edge components with 2 x PCIe 5.0 x16 slots. Moreover, it has 1 x PCIe 4.0 x16 slot. The motherboard even won the Best High-End Motherboard For Core i9-13900K award. Featuring a 20+1 VRM design, the ASUS ROG Maximum Z790 Hero is unmatched in sheer performance.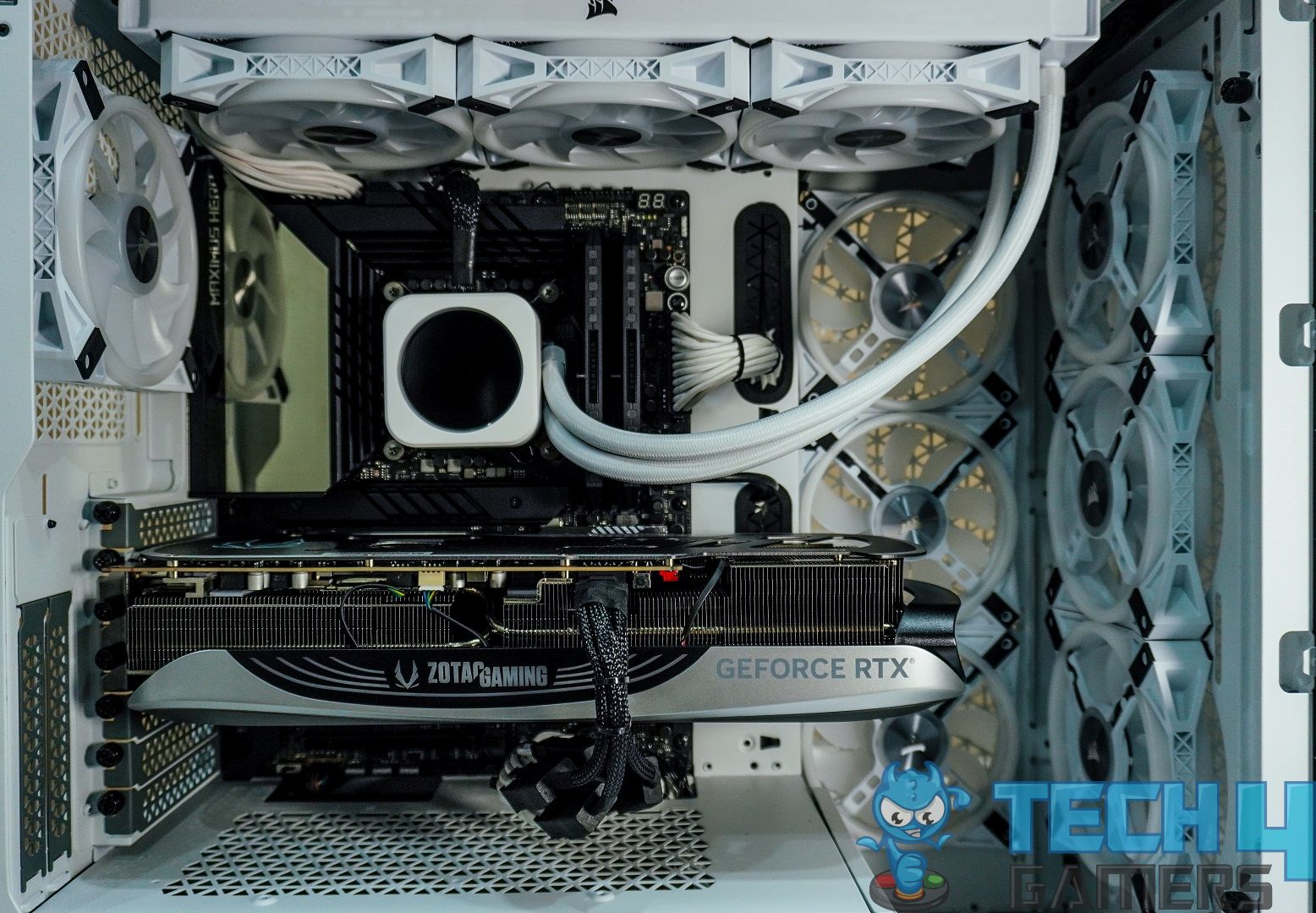 But this motherboard's abilities do not end there. Secondly, it uses the most recent M.2 technology and has M.2_1, M.2_2, and M.2_3 slots. This enables you to complete your Neuron with lightning-fast storage solutions, allowing you to use the capabilities of NVMe SSDs fully. The ASUS ROG Maximus Z790 Hero DDR5 makes no compromises when it comes to connectivity.
For instance, it has Wi-Fi 6E with 2×2 Wi-Fi 6E and covers a wide frequency range of 2.4/5/6GHz, ensuring that your gaming and content production efforts remain connected and uninterrupted. Additionally, Bluetooth v5.2 compatibility expands your connection possibilities even further, allowing for smooth interaction with other devices.
The motherboard also has an OLED display.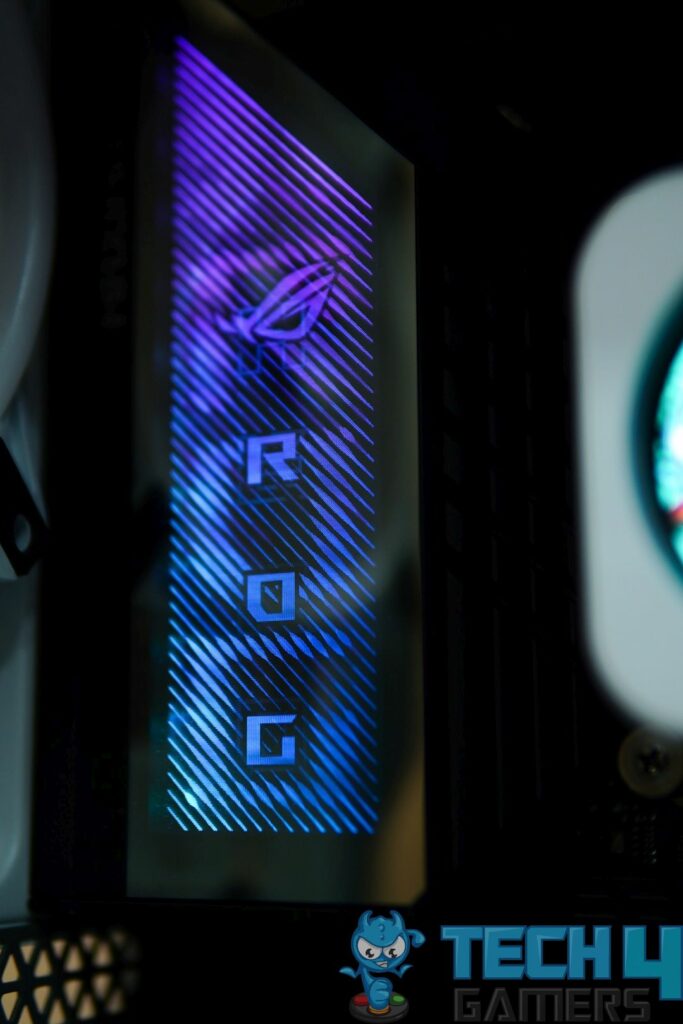 In terms of audio, the ROG Supreme FX 7.1 Surround Sound High Definition Audio CODEC ALC4082 shines, providing an immersive and crystal-clear audio experience. With a flagship-class audio system at your disposal, every gaming moment and imaginative endeavor will come out with brightness and clarity.
Take a look at the rear I/O: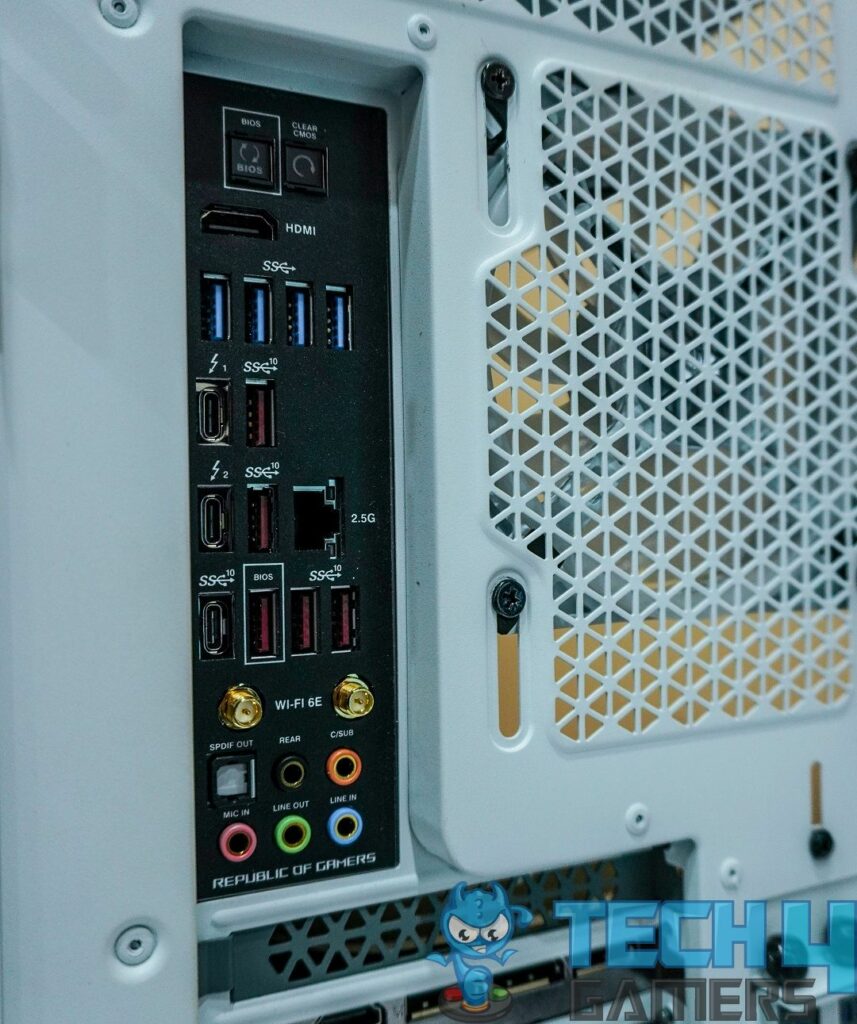 Ultimately, the ASUS ROG Maximus Z790 Hero DDR5 motherboard appeals to both gaming enthusiasts and creative virtuosos, delivering an unmatched combination of both performance and aesthetics. Above all, it leaves no stone neglected, from the blazing-fast 40 Gbps connections to the profusion of next-generation capabilities, including PCIe Gen 5, Thunderbolt 4, and numerous USB ports. This motherboard is a monument to the future, incorporating cutting-edge technologies while being reasonably priced.
Corsair 5000D Airflow White
For the PC case, we have the Best Quiet PC Case With Good Airflow, the Corsair 5000D Airflow White. It is more than just a PC case; it's a symphony of cooling perfection and eye-catching elegance. Firstly, Corsair's winning formula, scaled up from their earlier 4000 series, is evident in every detail. Secondly, from the moment you lay eyes on its elegant appearance, you know you're in for something special. The clean lines and easy cable management set the stage for a build that is both organized and visually stunning.
Moreover, the cooling capability is where this case truly shines. It boasts a high-airflow front panel that delivers a torrent of cooling to your system, ensuring that no component is left overheating. Additionally, the inclusion of two CORSAIR AirGuide fans with anti-vortex vanes concentrates airflow with precision, taking cooling to the next level. But this case doesn't stop there—it opens up a world of possibilities for liquid cooling enthusiasts. With room for up to 10x 120mm or 4x 140mm cooling fans and multiple radiator options, including up to 360mm in front or side and a 360mm push/pull in the roof, the 5000D AIRFLOW invites you to explore the depths of cooling potential.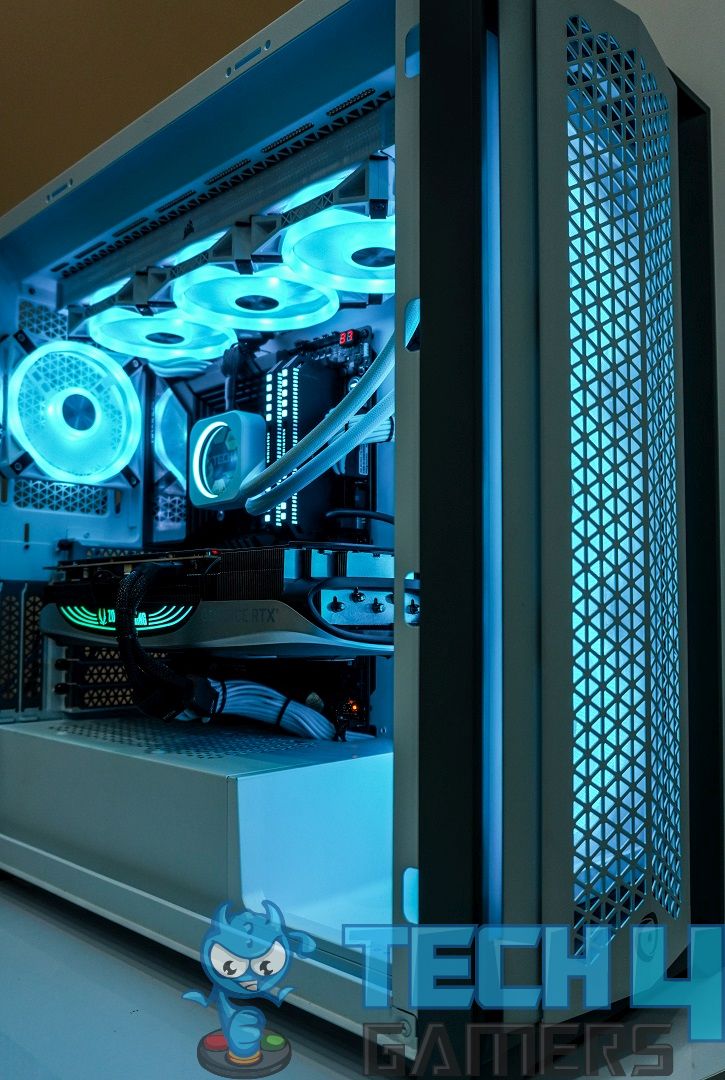 The brilliance of its engineered interior is truly unparalleled. A PWM fan repeater puts you in control, allowing you to adjust the fan speed to your preference with ease. Additionally, reduce the fan speed when you crave silence or crank it up for maximum performance, all from a single 4-pin PWM header on your motherboard. Moreover, the seamless integration of up to 4x 2.5IN SSDs and 2x 3.5IN HDDs ensures your storage needs are met without sacrificing precious space.
But where this case truly excels is in cable management. Behind the motherboard, a spacious 25mm of room awaits, providing the perfect sanctuary for all those cables. Furthermore, you can conceal them with a hinged steel door, and your build transforms into a clean, cable-free wonderland. With Corsair RapidRoute cable management in the hands of professional builders at Neuron, the cooling potential reached new heights.
Take a look at the front I/O: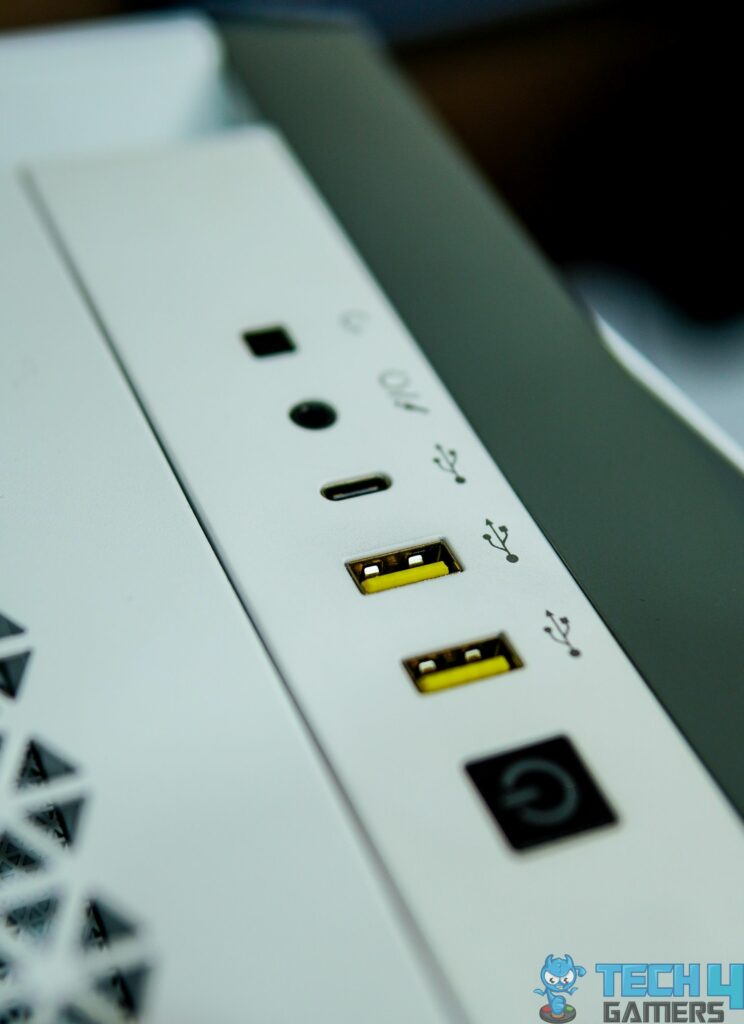 1 x 3.1 USB C
2 x USB 3.0
1 x Headphone Jack/Mic
Here is how it looks with the customized back panel removed: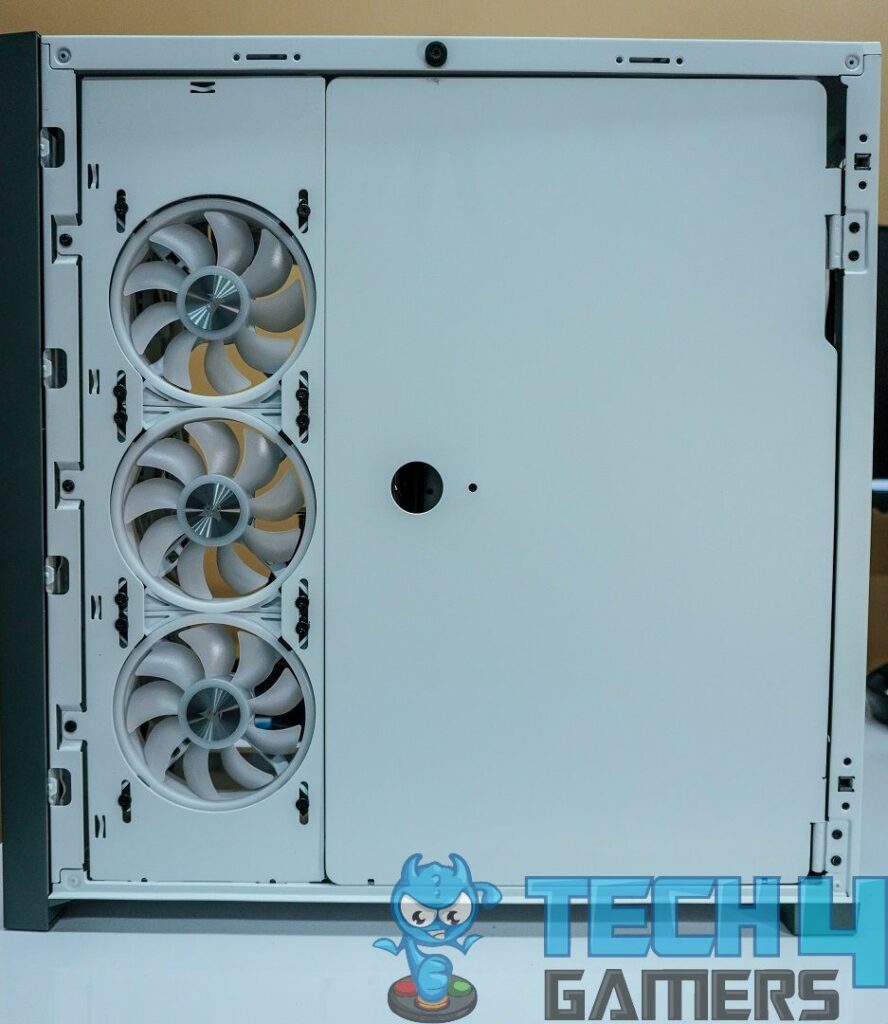 When it comes to temperatures, the CORSAIR 5000D AIRFLOW case leaves no room for compromise. Improved airflow is the key to achieving lower temperatures, and this case takes it to heart. In conclusion, the CORSAIR 5000D AIRFLOW is a PC case that redefines cooling perfection and elevates aesthetics to an art form. In addition, from easy cable management to impressive cooling capabilities, it beckons builders and gamers alike to embark on a journey of unrivaled performance and visual magnificence. With this case as the foundation of your build, the possibilities are endless, and your system will shine like a beacon of technological brilliance.
Zotac GeForce RTX 4090 Trinity OC
In the world of gaming, where victory is determined by the speed of intelligence and the accuracy of action, the Origin Neuron rises to the peak of performance, powered by the immense power of the ZOTAC GAMING GeForce RTX 4090 Trinity OC. Moreover, this gaming monster, which incorporates NVIDIA's next-generation GeForce RTX 40 Series technologies, ushers in a new age of high resolutions and frame rates that blur the boundaries between reality and fiction.
With the GeForce RTX 4090 at its heart, the Neuron transforms into a portal to virtual worlds of unparalleled beauty and immersion. Firstly, it exploits the full power of Ray Tracing, projecting realistic lighting and visuals onto the canvas of your game environment, thanks to NVIDIA DLSS 3 and the ultra-efficient Ada Lovelace architecture. Every frame comes alive with the beauty of the RTX 4090, from the sweeping expanses of faraway galaxies to the delicate intricacies of fiction worlds.
It is not only the gamers who stand to benefit but creators as well. Secondly, because of this graphics powerhouse's computing capabilities, creating 3D models and editing content becomes smooth and flawless activities. Workflow acceleration reaches new heights, enabling even the most ambitious concepts to come to life with unprecedented simplicity.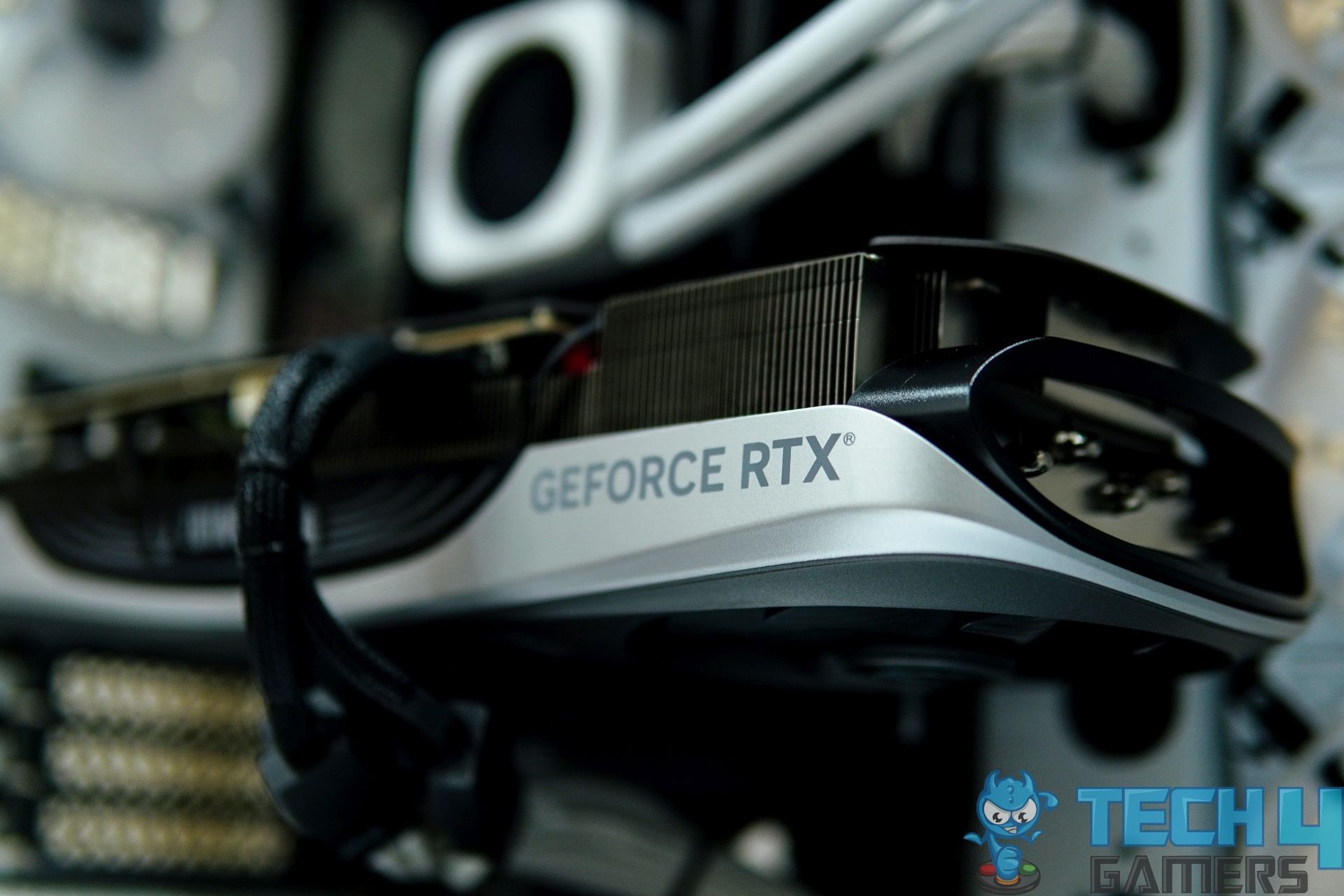 With a boost frequency of 2535 MHz and a core clock of 2235 MHz, the ZOTAC GAMING GeForce RTX 4090 Trinity OC delivers a torrent of performance, pushing the Neuron to its boundaries. Additionally, with a whopping 24GB of GDDR6X VRAM, the possibilities are endless, providing enough space to build and explore enormous gaming worlds.
However, power without control is nothing, and ZOTAC's IceStorm 3.0 Advanced Cooling takes center stage here. It tames the RTX 4090's ferocious power, ensuring that every second of your gaming session is accompanied by cool, whisper-quiet efficiency. With features like FREEZE Fan Stop and Active Fan Control, it protects thermal equilibrium, guaranteeing that the Trinity OC continues to offer blazing FPS in the most recent releases.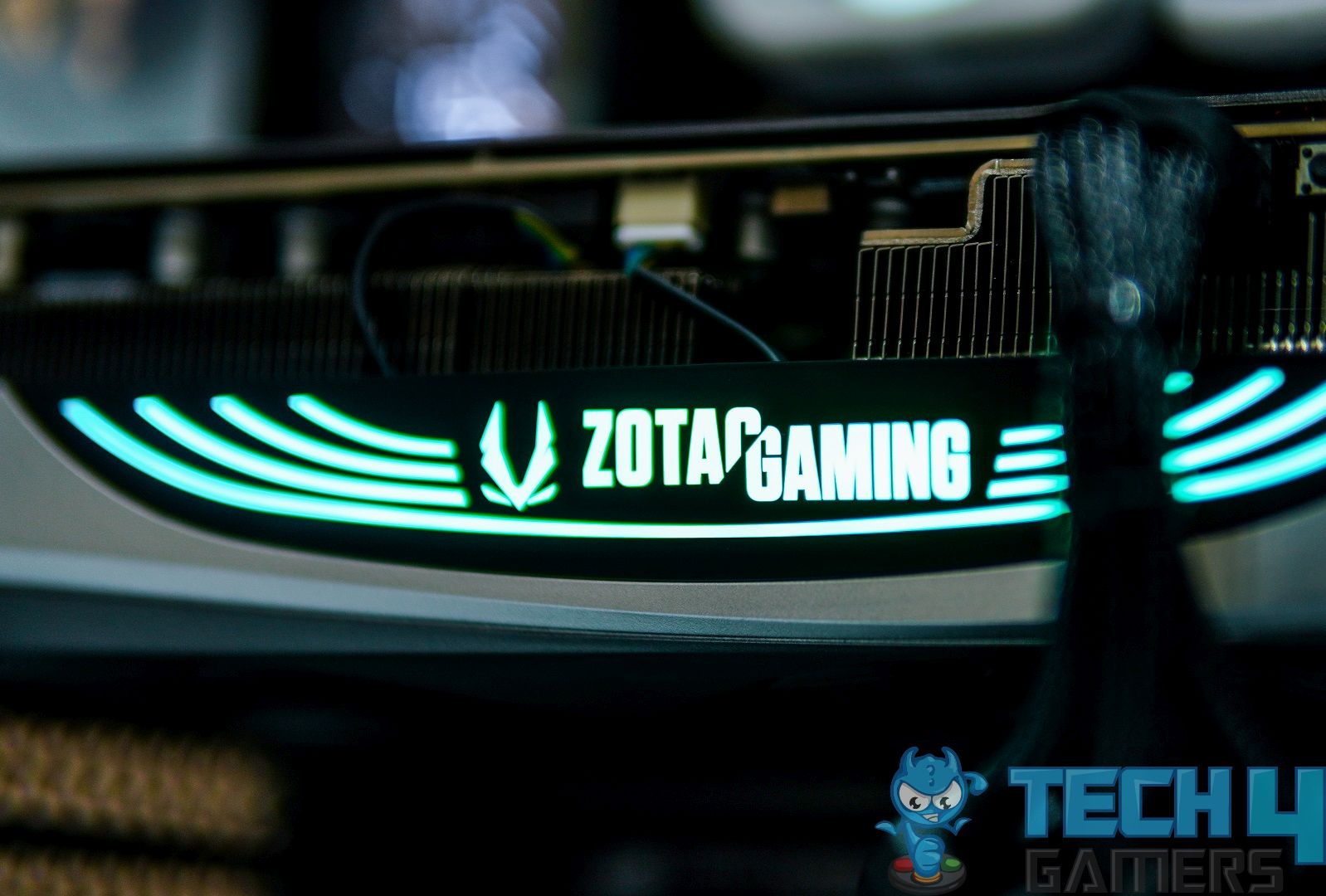 As the Neuron 5000D Airflow takes on the formidable foes in a virtual battlefield, SPECTRA 2.0 RGB Lighting lights its route, throwing a fascinating glow across its metal backplate. It is compatible with external LED strips, boosting your gaming environment to a world of visual beauty. Moreover, the all-new Firestorm Utility is ready to assist in unlocking the real potential of this gaming behemoth, providing an avenue to customization and control.
The heatsink is colossal; that's why the card has perfect temperatures.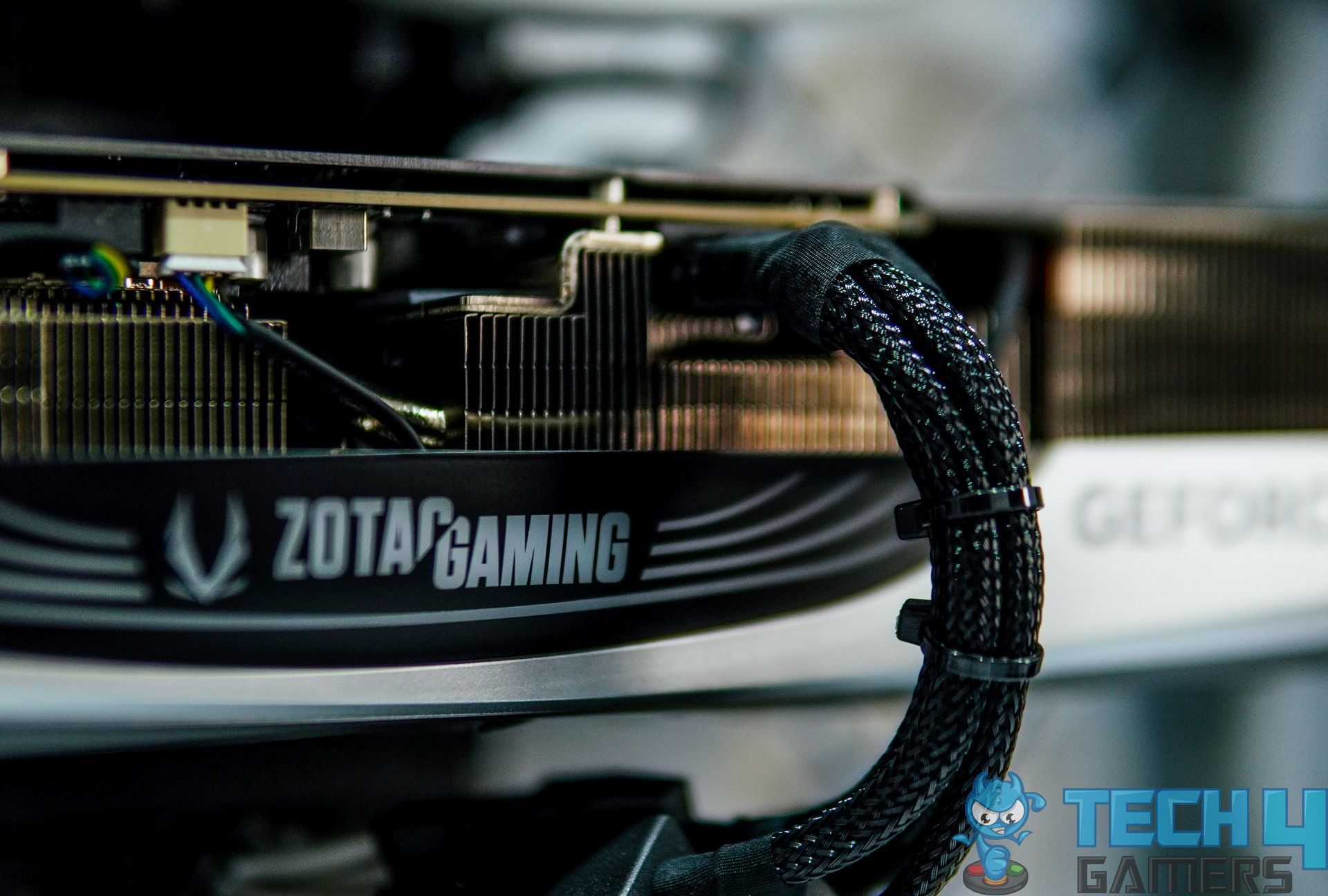 There is no doubt that the newest RTX 4090 graphics card bestows unmatched power on the Origin Neuron as it stands before you. It is more than just a gaming PC; it is a portal to the worlds of unparalleled beauty and power beyond measure. In conclusion, with this, I could experience this era of extraordinary gaming performance, where the Neuron reigns supreme, and enjoy the might of the GeForce RTX 4090, the digital titan's heart.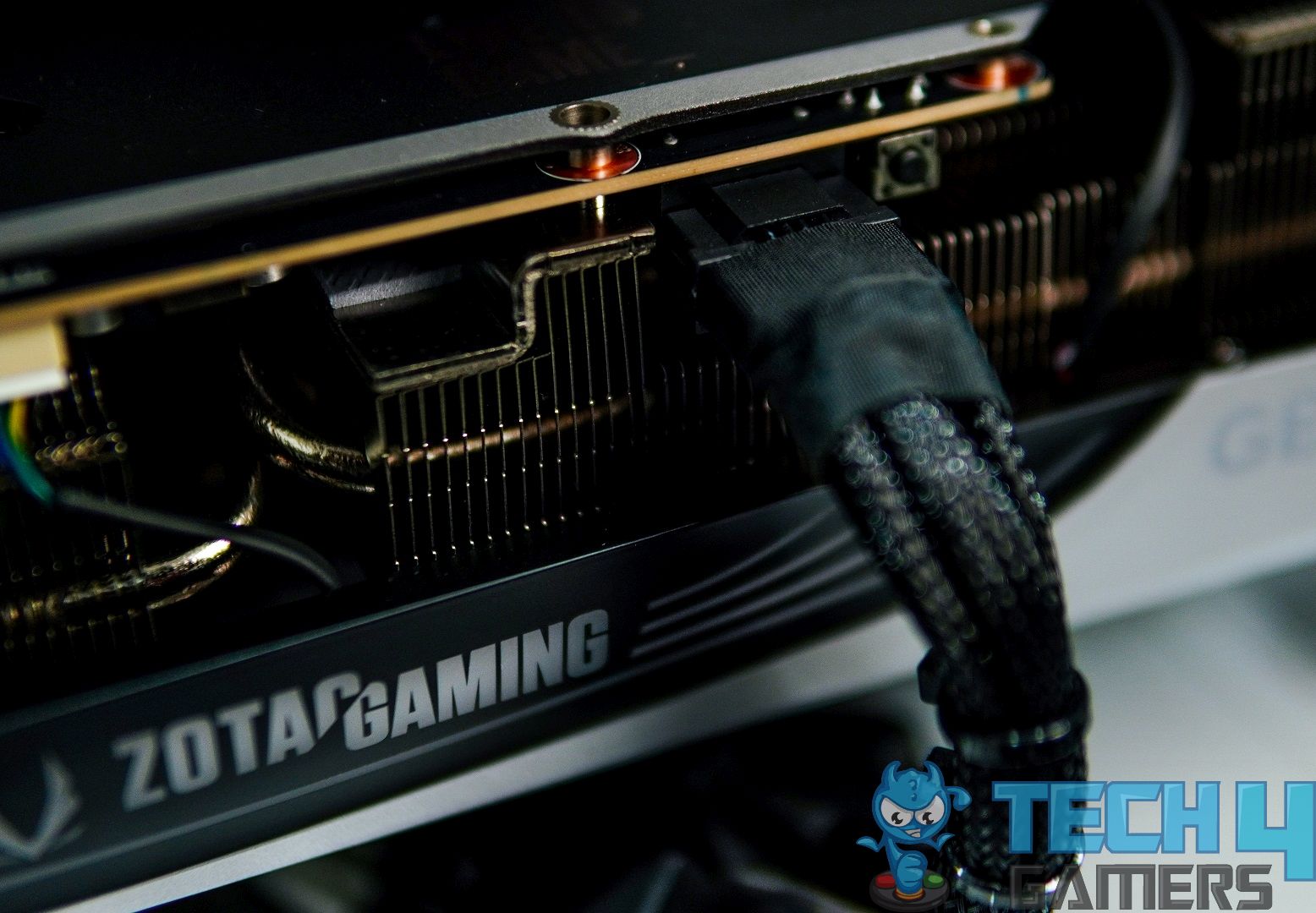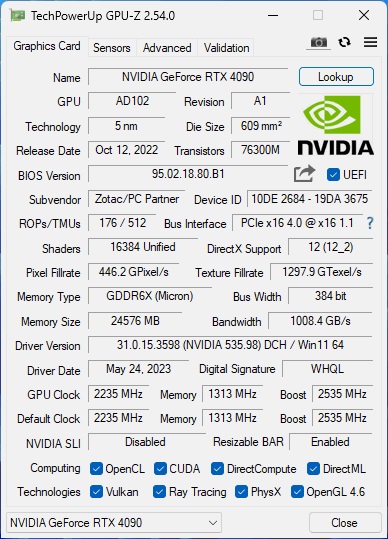 Corsair Dominator 2x16GB 32GB 6000MHz CL40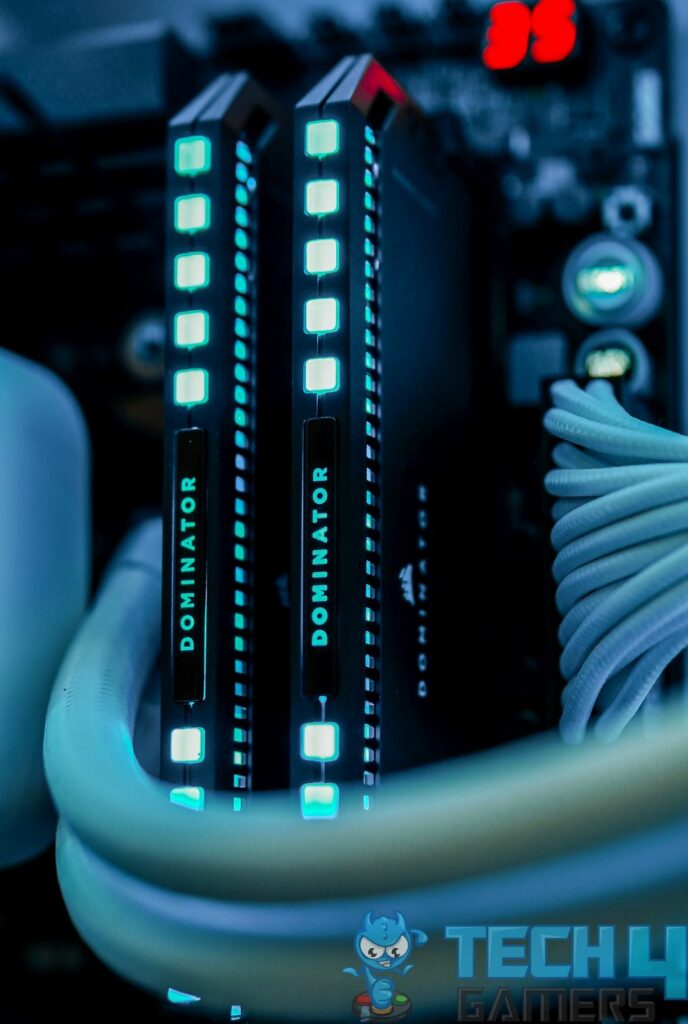 The CORSAIR 5000D AIRFLOW stepped into the future of computing with the CORSAIR Dominator Platinum RGB DDR5 Memory, a true powerhouse designed to push the limits of performance and elevate your system to new heights. Firstly, as a memory module optimized for the latest generations of processors, it delivers higher frequencies and greater capacities than ever before, enabling your system to power through complex tasks with unprecedented speed.
Moreover, in the era of many-core processing, DDR5 technology ensures that your high-end CPU gets data quickly and effortlessly, unleashing the full potential of your system's processing power. Whether you're engaged in intense gaming sessions, creating content, or tackling multiple tasks simultaneously, the Dominator Platinum RGB DDR5 memory ensures that your PC effortlessly handles it all.
With built-in voltage regulation and iCUE software control, overclocking becomes a breeze, providing a stable and finely-tuned output that maximizes performance. Additionally, say goodbye to tedious manual adjustments of performance settings; with iCUE, you can save your own XMP profiles and easily customize settings by app or task, delivering greater efficiency tailored to your needs.
Here are the infamous CAPELLIX LEDs.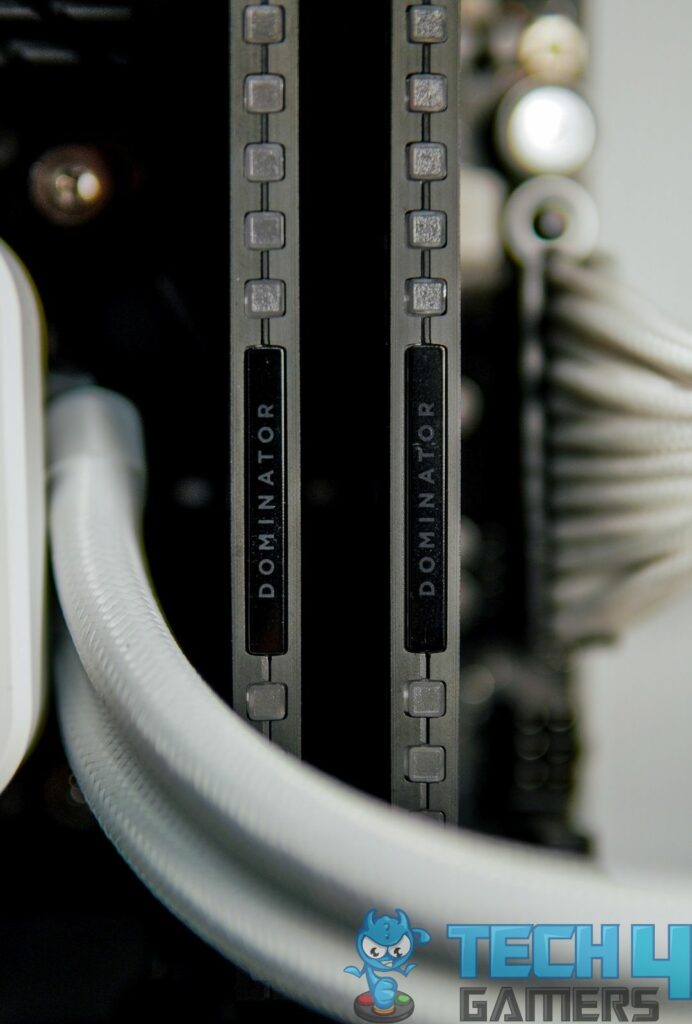 The Dominator Platinum RGB kit is not just about performance; it is a spectacle of memory excellence. Firstly, ideal for users seeking the best of both worlds—unparalleled performance and a touch of RGB flair—it enhances any build with its well-executed RGB lighting and sleek aesthetic. Corsair has set the bar high, bringing competition and innovation to the forefront. Furthermore, its performance matches its captivating appearance, if not surpassing expectations.
Featuring an anodized aluminum heat spreader, the 32GB Dominator Platinum RGB DDR5 memory boasts an astonishing speed of 6000MHz, coupled with impressive timings of 40-40-40-77. Additionally, running at a voltage of 1.1V, this memory module ensures optimal performance while maintaining energy efficiency.
In conclusion, the Corsair Dominator Platinum RGB DDR5 RAM kit is a must-have for any discerning gamer or content creator who seeks not only peak performance but also an aesthetic touch of RGB elegance. Above all, it is a masterpiece of memory engineering, bringing out the best in your system and complementing any build with its mesmerizing RGB display. Although this performance gem comes at a premium, it's unparalleled performance and captivating looks make it a worthy investment for those who demand nothing but the best for their gaming or creative endeavors.
Samsung PM9A1 1TB And 2TB Gen4 SSD
For storage, there are two SSDs. One is the Samsung PM9A1 2TB for games and files, while the OS lies the Samsung PM9A1 1TB. Both SSDs are of the same model, that is, the PM9A1. As such, their specifications are pretty much the same as well. Both have the same 7000 MB/s sequential read speed with 1000K IOPS and 850K IOPS of Random Read and Radom Write, respectively. However, the 2TB variant has slightly higher Sequential Write speeds of 5200 MB/s, while the 1TB offers 5100 MB/s.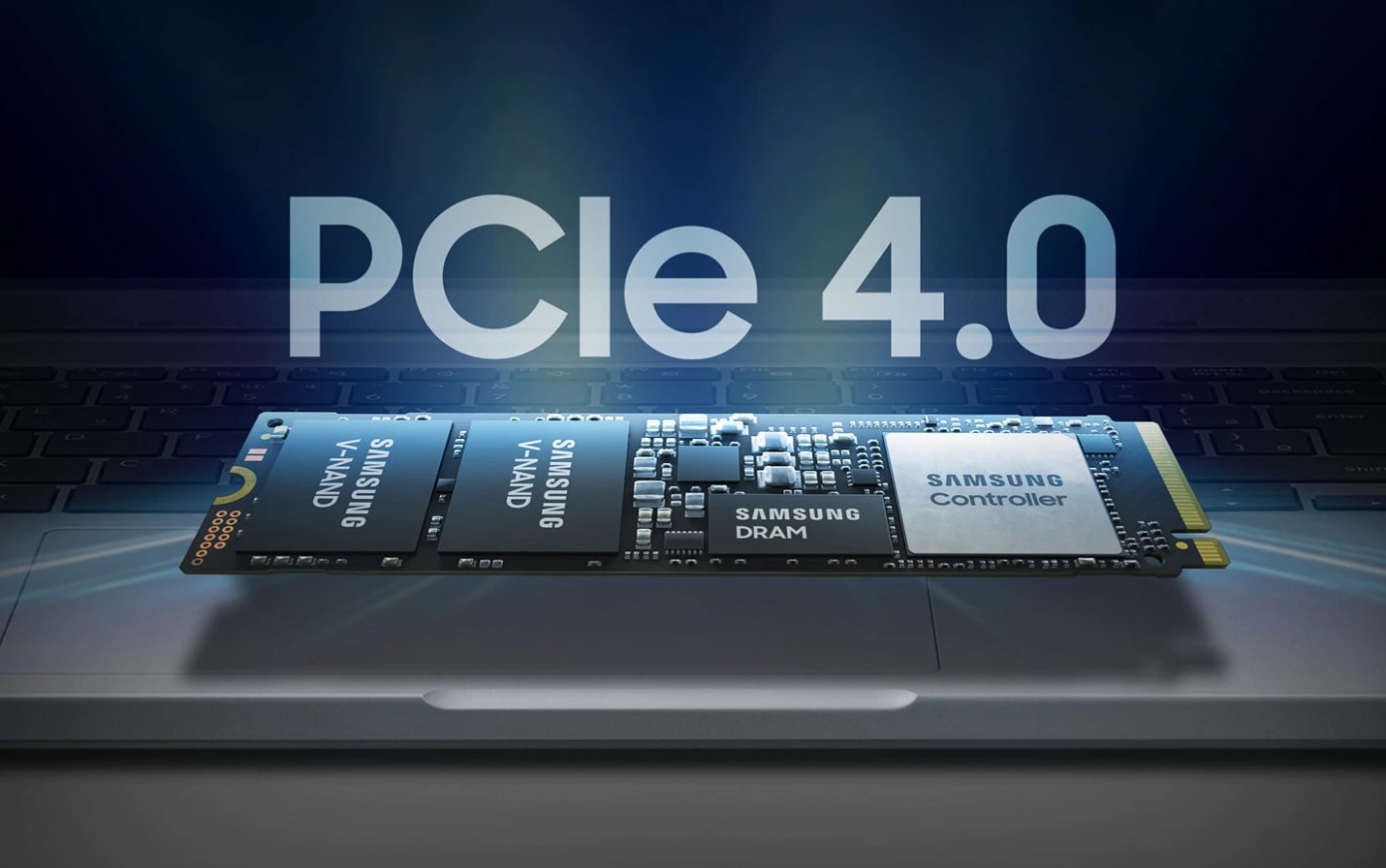 Corsair RM1200x Series PLUS GOLD
The CORSAIR RM1200x SHIFT 80 PLUS GOLD PSU is a power efficiency and cable management miracle. Firstly, with its groundbreaking patent-pending side cable interface, this fully modular power supply sets a new standard in simplicity, ensuring that all of your connections are within easy reach, as can be seen in the Origin Neuron 2023. Secondly, cable management has never been easier, making the tedious task of cable management a thing of the past.
The RMx SHIFT Series PSUs are ATX 3.0 compliant and meet the high reliability and power efficiency requirements of the ATX 3.0 standard. But these power supplies go above and beyond the ordinary, including PCIe 5.0 12VHPWR GPU connectors designed to support the latest graphics cards like the NVIDIA GeForce RTX 40 Series. Moreover, the RM1200x SHIFT PSU was designed with the future of gaming and content creation in mind, and it delivers steady power to fuel your aspirations.
Furthermore, the power supply is entirely modular, using CORSAIR Type 5 Gen 1 micro-fit PSU cables. It said goodbye to unnecessary cable clutter, where PC builders at Neuron only connected the wires that my system required while also being benefit from a smaller footprint. With this PSU at the heart of my build, space becomes an asset, and the system's interior becomes clean and tidy.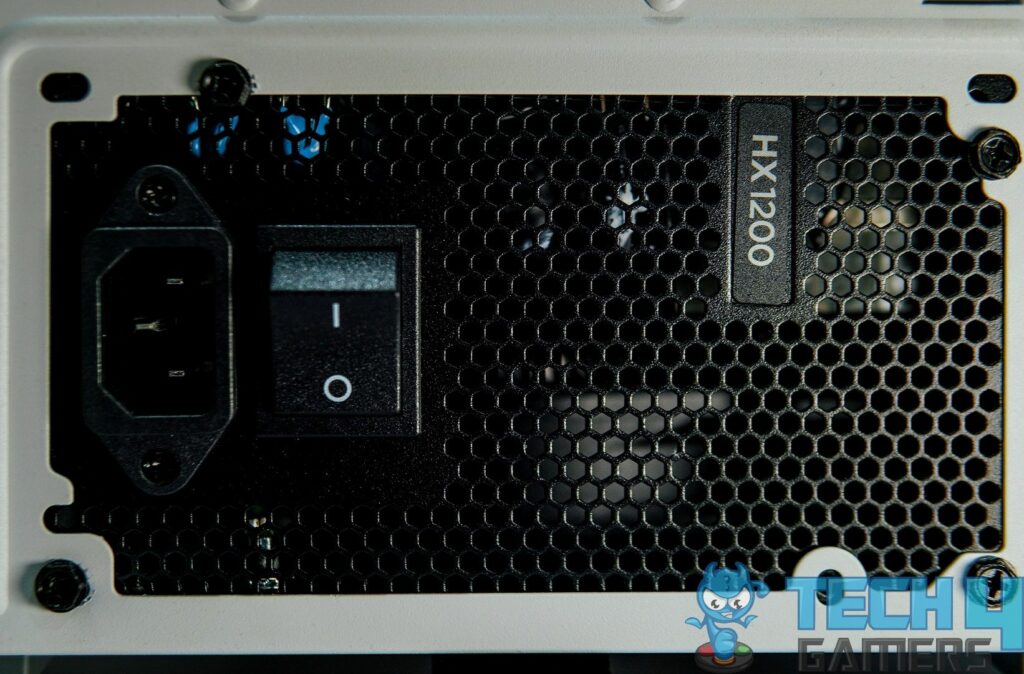 The low-friction, fluid dynamic bearing 140mm fan with Zero RPM mode makes keeping my system cool and silent straightforward. When my system is not under high stress, I enjoy the peace of mind of almost silent operation, all while preserving excellent cooling efficiency. Additionally, the RM1200x SHIFT is a beacon of power-saving expertise, with consistent power output at up to 90% efficiency and Cybernetics certification for lower power consumption, lower noise, and cooler temperatures.
This power supply is built to last with 100% Industrial-grade, 105°C-rated Japanese electrolytic capacitors. The essence of the RM1200x SHIFT PSU is unwavering power and dependability, which distinguishes it as a cornerstone of stability in any high-performance system. Moreover, the CORSAIR RM1200x SHIFT 80 PLUS GOLD PSU exemplifies power efficiency and cable management innovation. Its fully modular design and side cable interface make installation and organization simple, which speeds up the building process.
Additionally, this PSU satisfies the current demands of every gaming and content creation with its consistent power delivery and proficiency, making it the ideal solution for those seeking peak performance with low noise and robust power usage. In conclusion, you will appreciate the RM1200x SHIFT PSU's power and luxuriate in the newfound convenience of cable management, all while enjoying a system that runs cool, silent, and efficiently—the ideal companion for any adventurous PC builder.
Corsair iCUE H150i ELITE CAPELLIX LCD
Introducing the CORSAIR H150i Elite CAPPELIX XT LCD Display CPU Cooler – a remarkable innovation that delivers exceptional performance, captivating RGB lighting, and a mesmerizing LCD display to provide an unbeatable cooling experience. Firstly, this custom liquid cooling system has been meticulously designed to keep the CPU cool and operating at its best, taking cooling to a whole new level. The H150i Elite CAPPELIX XT offered a new level of customization to my NEURON PC, allowing me to personalize the performance, cooling, and appearance of my system.
Secondly, the LCD display is the highlight of this cooler, offering custom graphics that enhance the look of my Origin Neuron while also providing real-time performance tracking. Moreover, I experienced my PC come to life with vibrant RGB lighting that perfectly complements my personalized Tech4gamers graphics. But this cooler is not just pretty; it delivers a remarkable performance as well. Additionally, you don't have to compromise on performance to avoid thermal throttling. I enjoyed the power of a low-noise pump head that ensures every last MHz is squeezed out of my Intel Core i9-13900K CPU.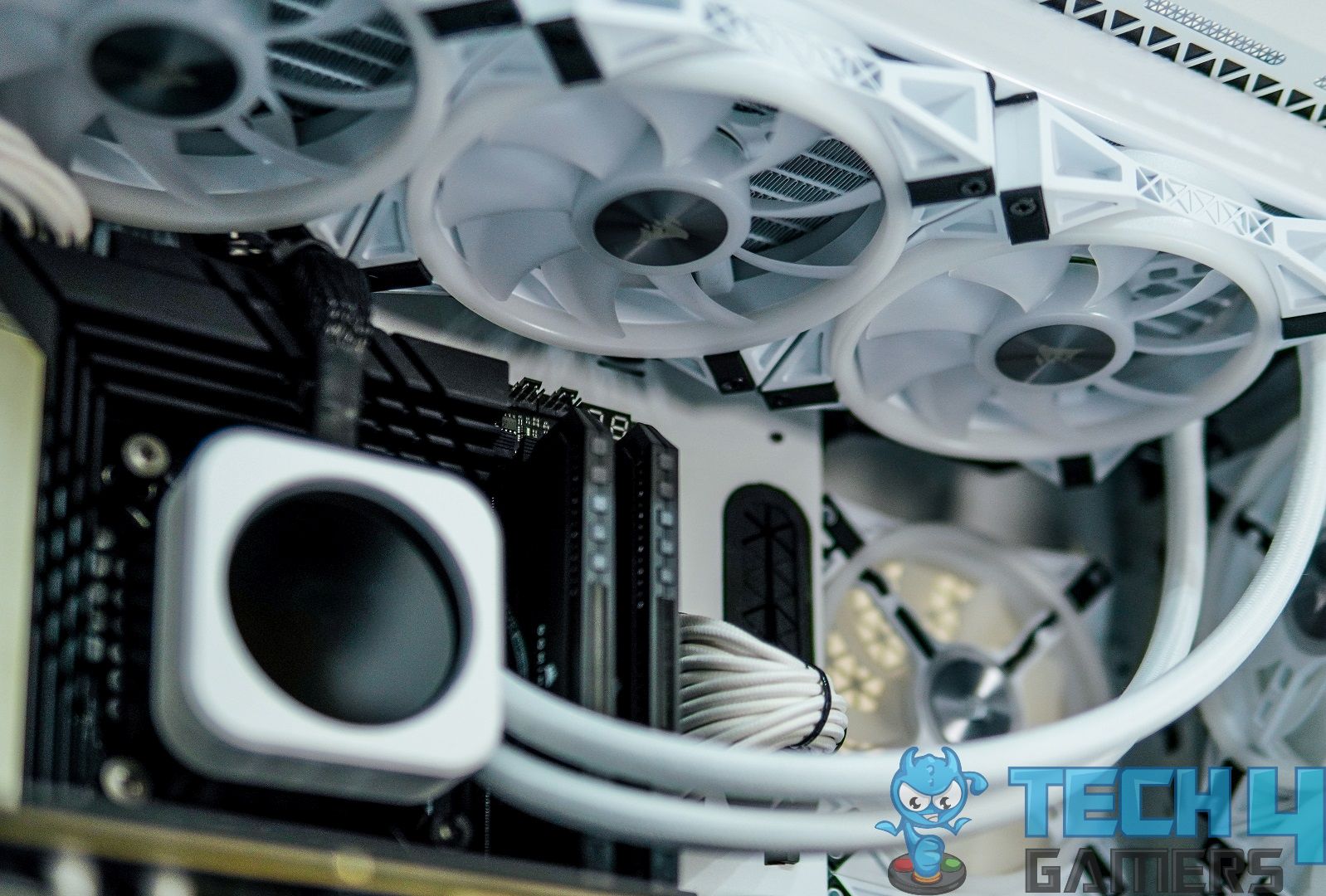 The all-new CORSAIR ML RGB ELITE magnetic levitation fans, equipped with eight RGB LEDs per fan and AirGuide technology, channel airflow with precision for extreme CPU cooling performance. Furthermore, silence reigns supreme with Zero RPM cooling profiles in CORSAIR iCUE software, allowing fans to stop entirely at low temperatures, eliminating fan noise when your system is not under heavy load. The optimal cold plate design, paired with a high-density stack of 128 micro-skived fins-per-inch, guarantees highly efficient cooling at all loads, ensuring my CPU remains cool under any circumstances.
Consequently, this means that I can enjoy high-performance computing without worrying about my CPU overheating or experiencing any performance issues. In conclusion, the CORSAIR H150i Elite CAPPELIX XT LCD Display CPU Cooler sets a new standard in CPU cooling and personalization. It seamlessly combines powerful performance with vibrant RGB lighting and a personalized LCD display, providing me with an unparalleled cooling experience that reflects Tech4Gamer's unique style and creativity.
The LCD can be customized to show a variety of images and effects.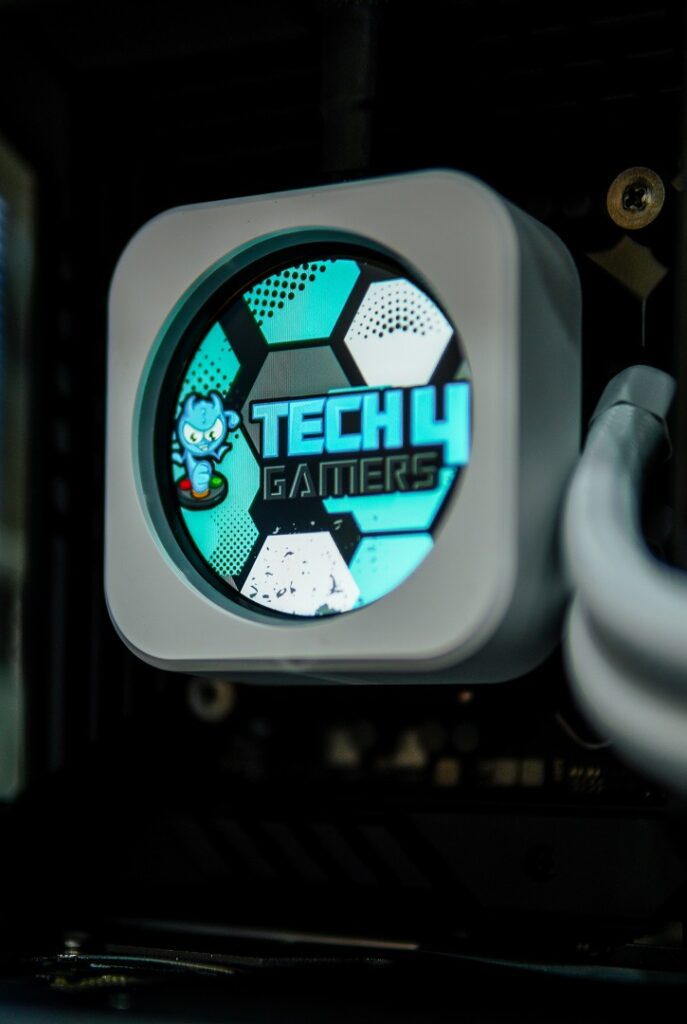 Ultimately, with this cooler at the heart of your system, I not only experience top-notch cooling but also transform my PC into a canvas of my imagination, an artistic expression of both performance and personality. I could finally embrace the future of CPU cooling, which helps elevate my NEURON PC to a realm of top-notch cooling excellence and personalized aesthetics.
Origin Neuron (2023) Benchmarks

Let's go over the most critical section of this review, the benchmarks
Gaming Benchmarks
Our goal was to judge the rasterization performance the most. As such, you will only find RT and DLSS enabled in a few games.
A Plague Tale Requiem
Graphics: Ultra
DLSS: Off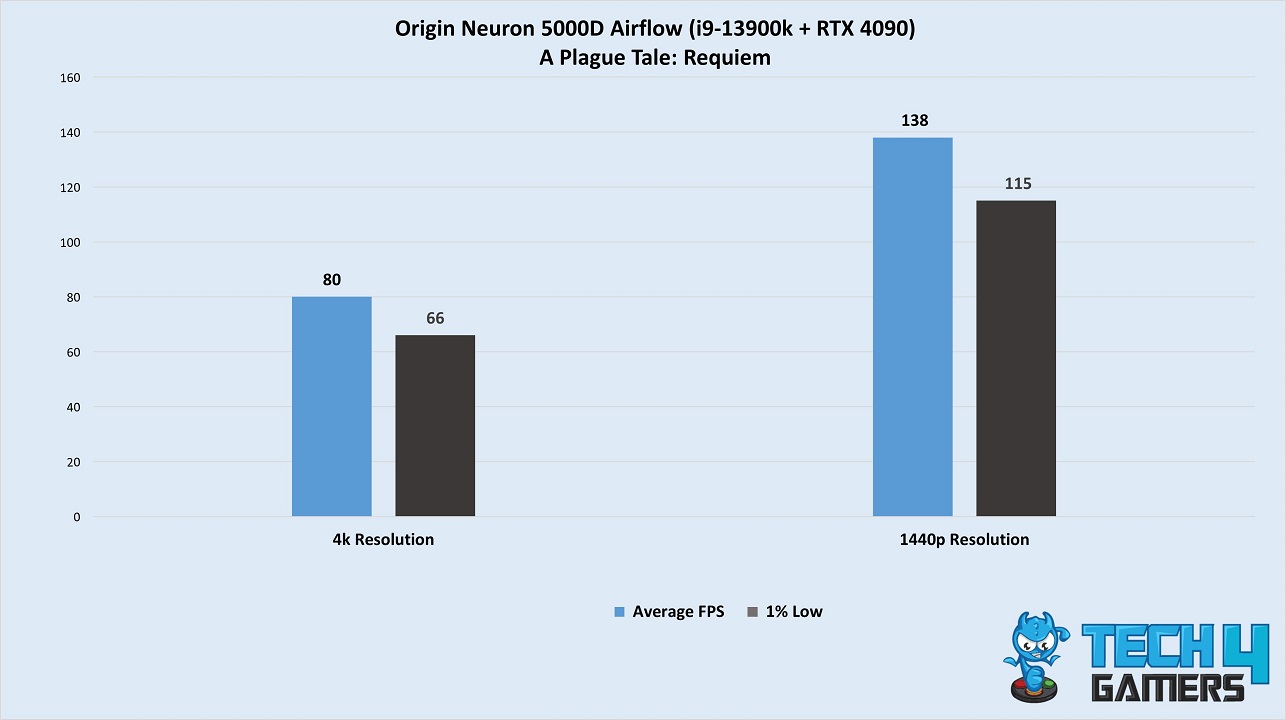 Assassin's Creed Valhalla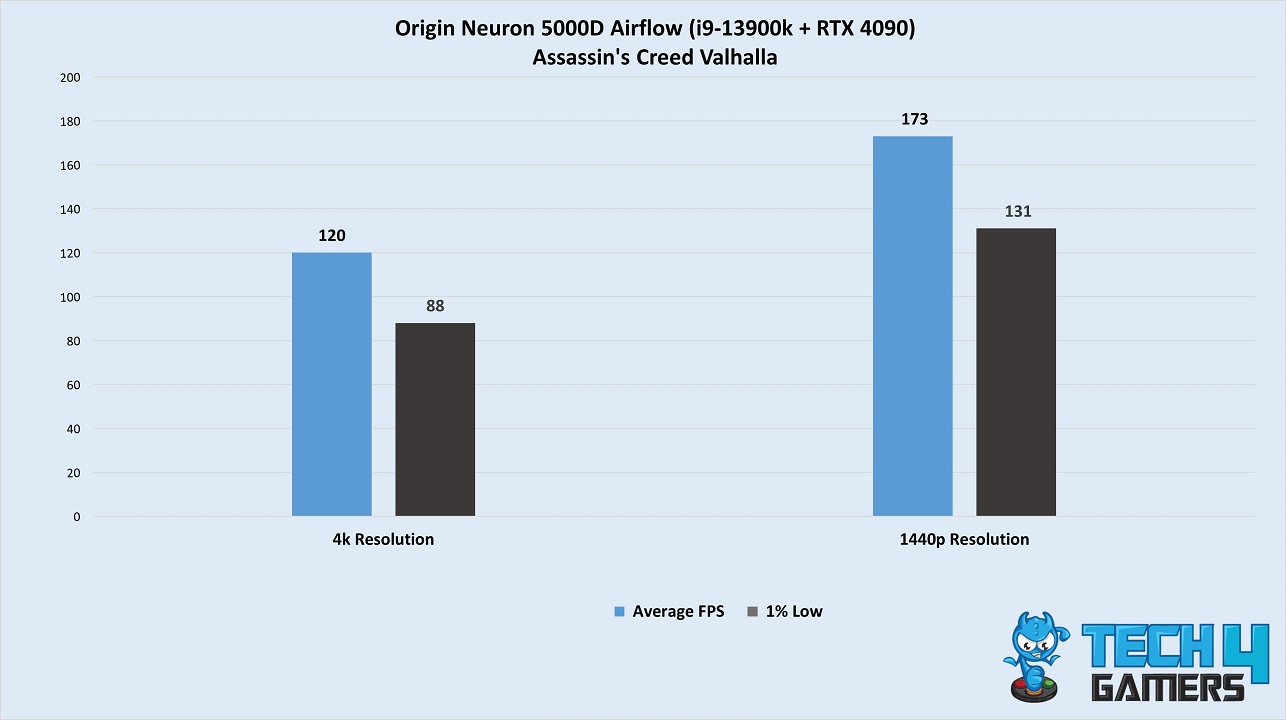 Call Of Duty Modern Warfare 2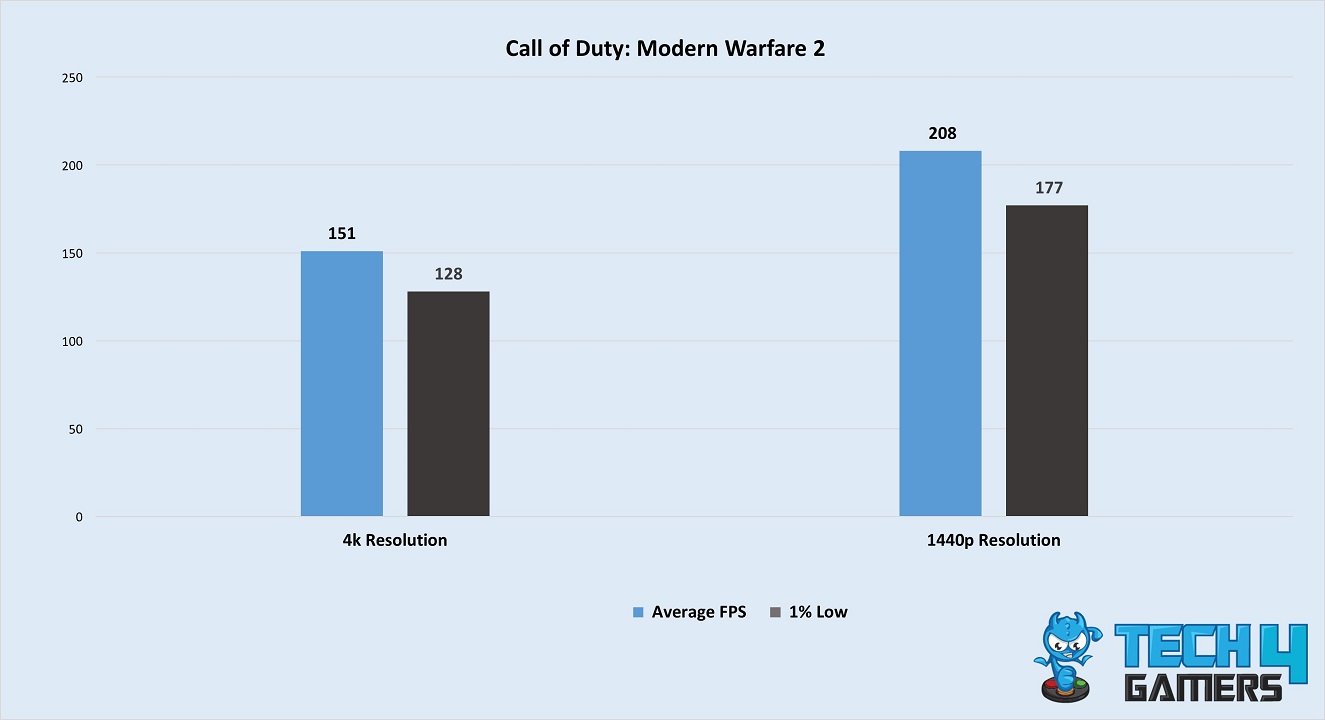 Cyberpunk 2077
Graphics: Psycho
RT: Psycho
DLSS (1440p): Off
DLSS (2160p): Quality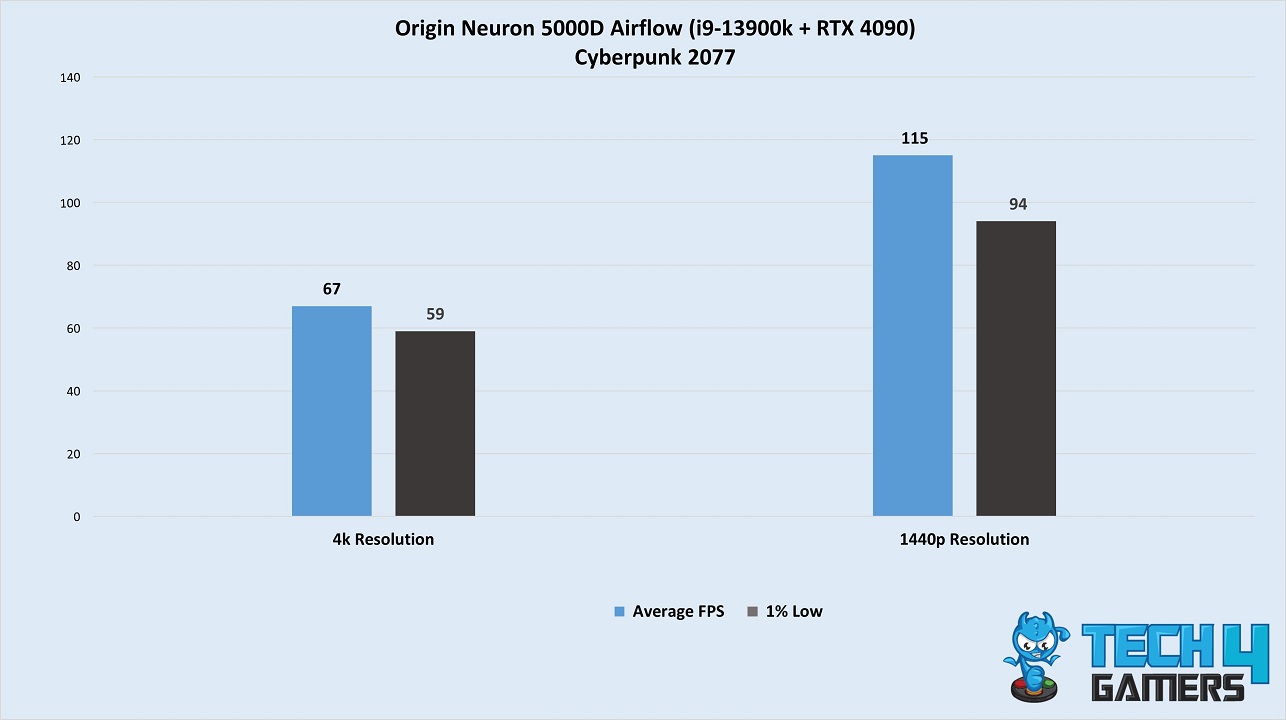 Far Cry 6
Graphics: Ultra
RT: On
FSR: Off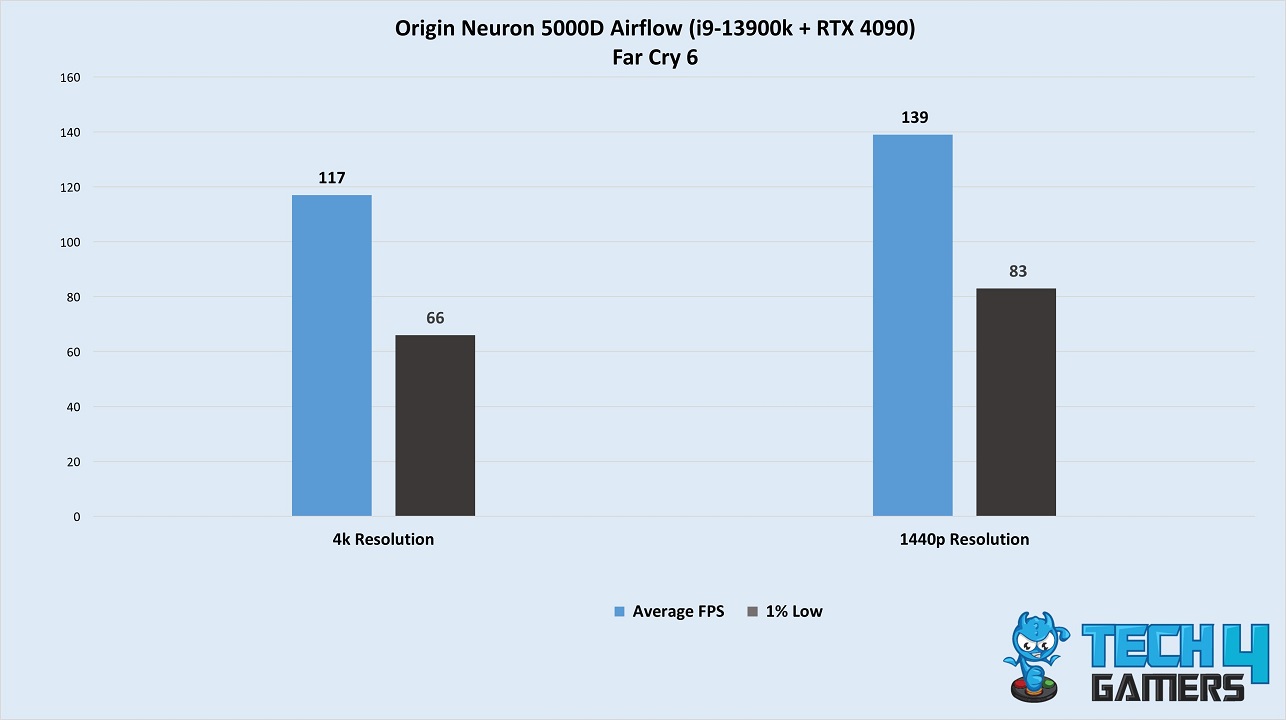 Forza Horizon 5
Graphics: Extreme
TAA: On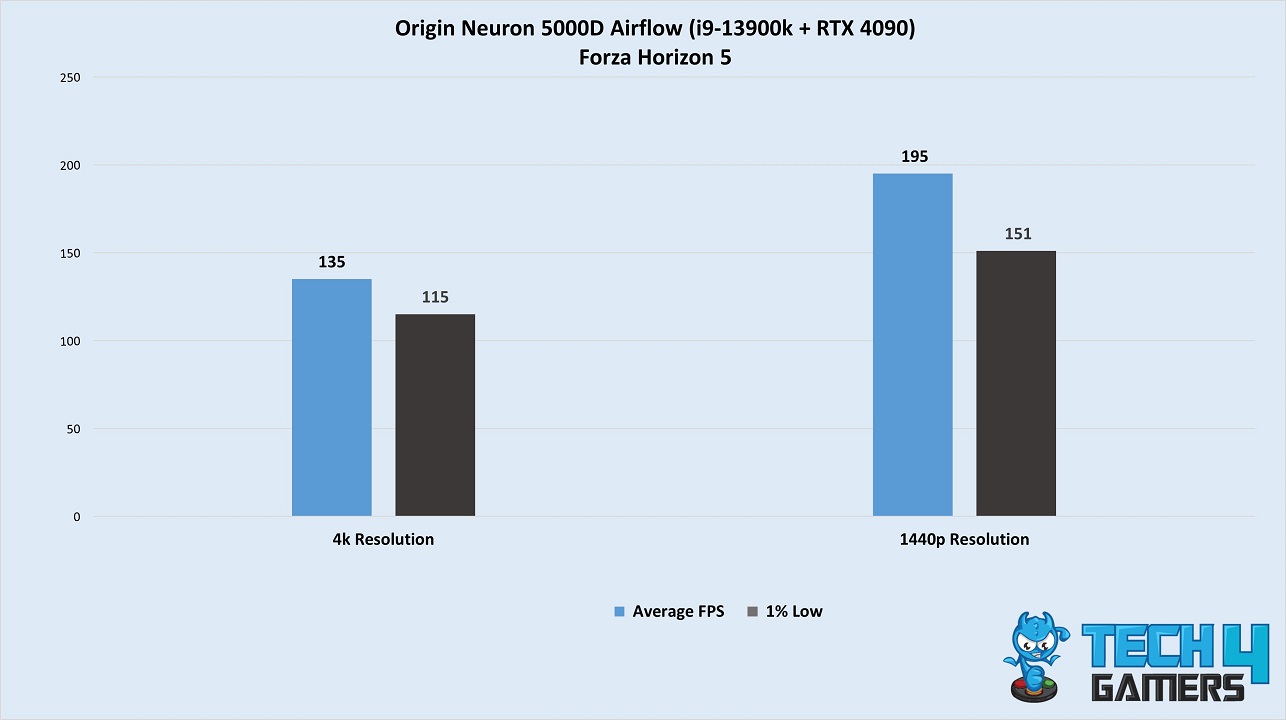 God Of War
Graphics: Ultra
DLSS: Off
Hogwarts Legacy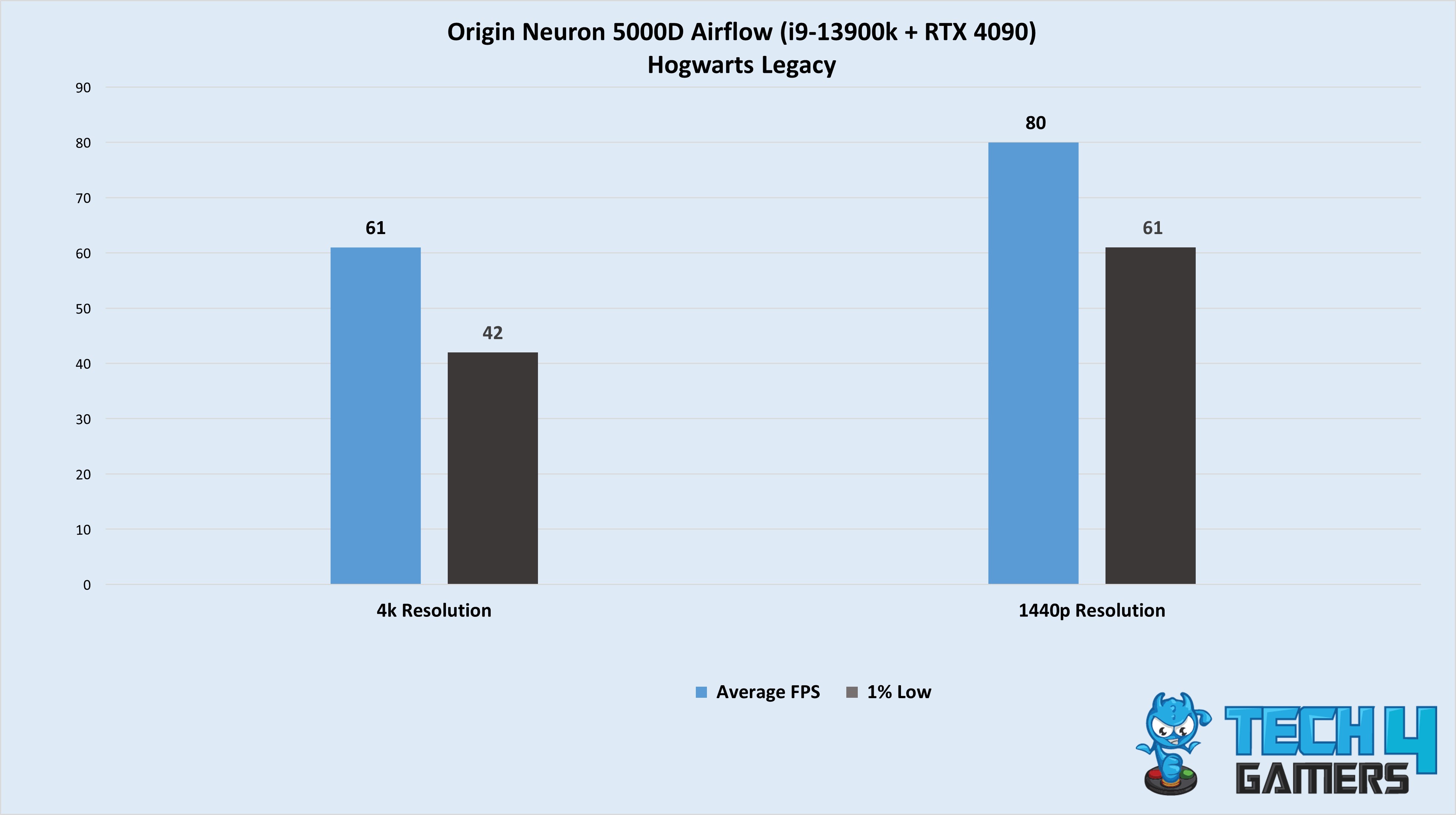 Marvel's Spider-Man Remastered
Graphics: Very High
RT: Very High
DLSS (1440p): On
DLSS (2160p): Off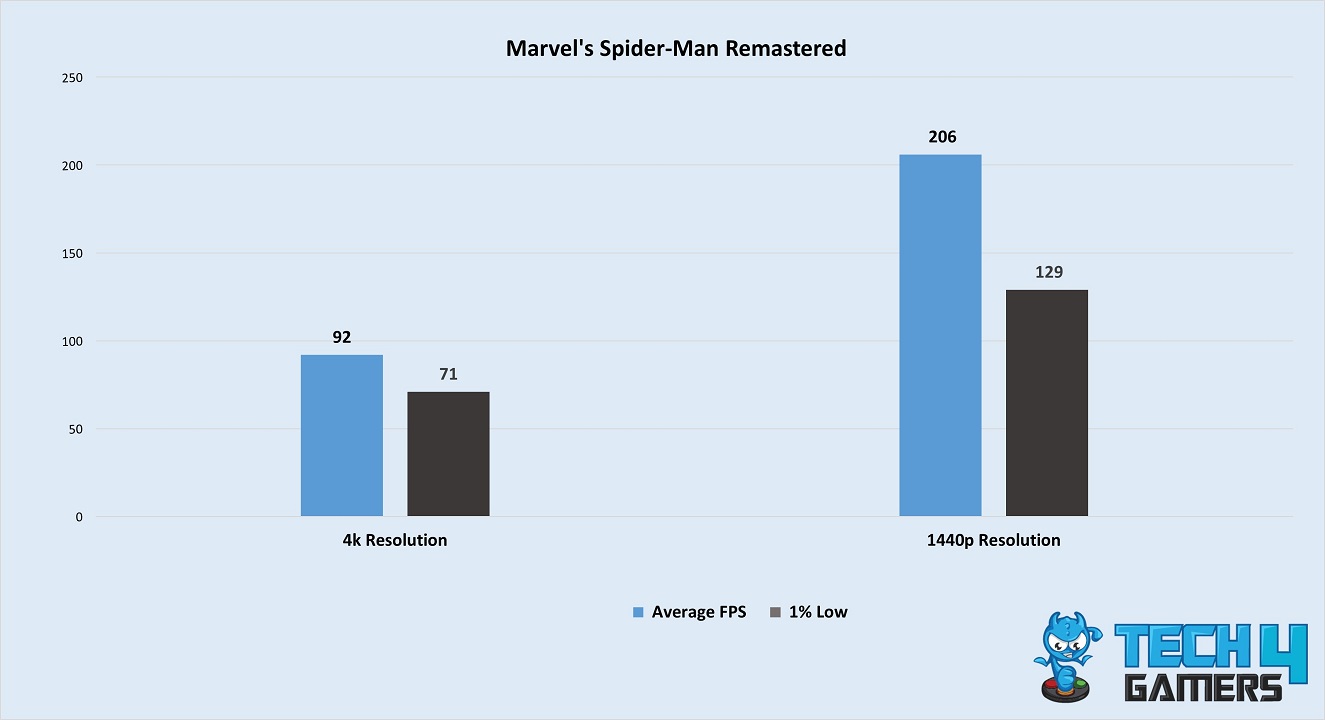 The Last Of Us Part I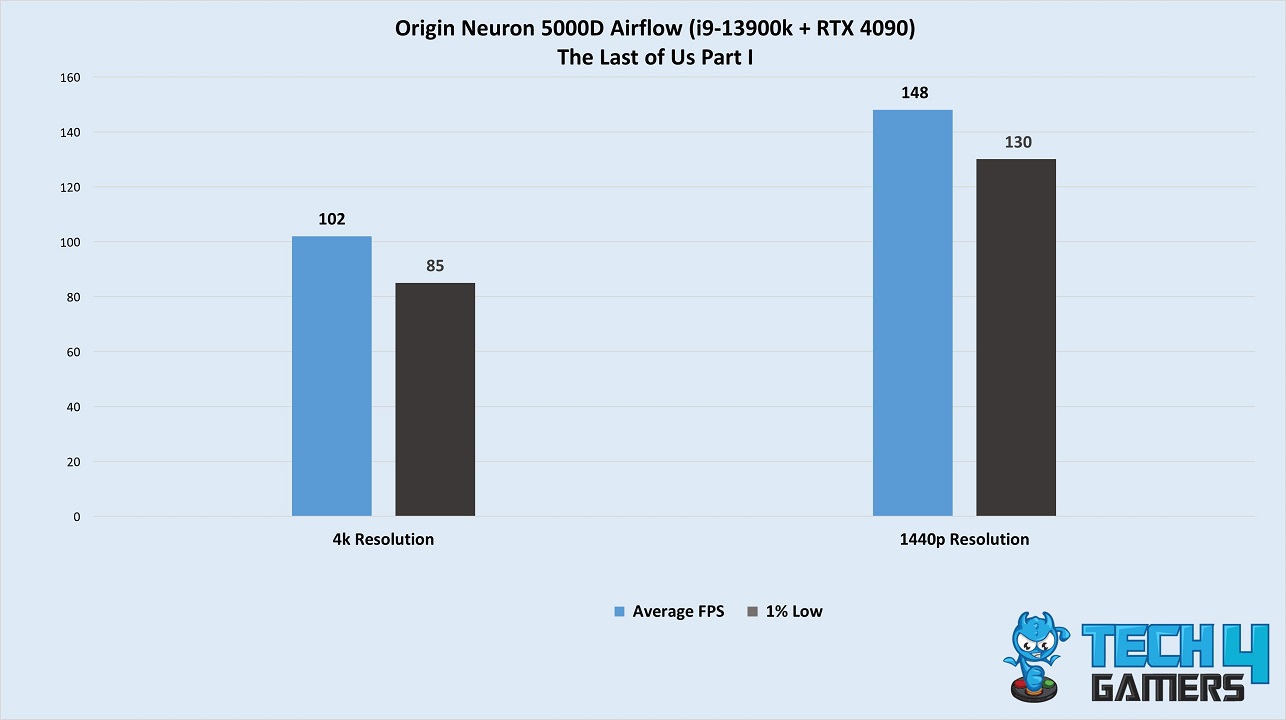 Valorant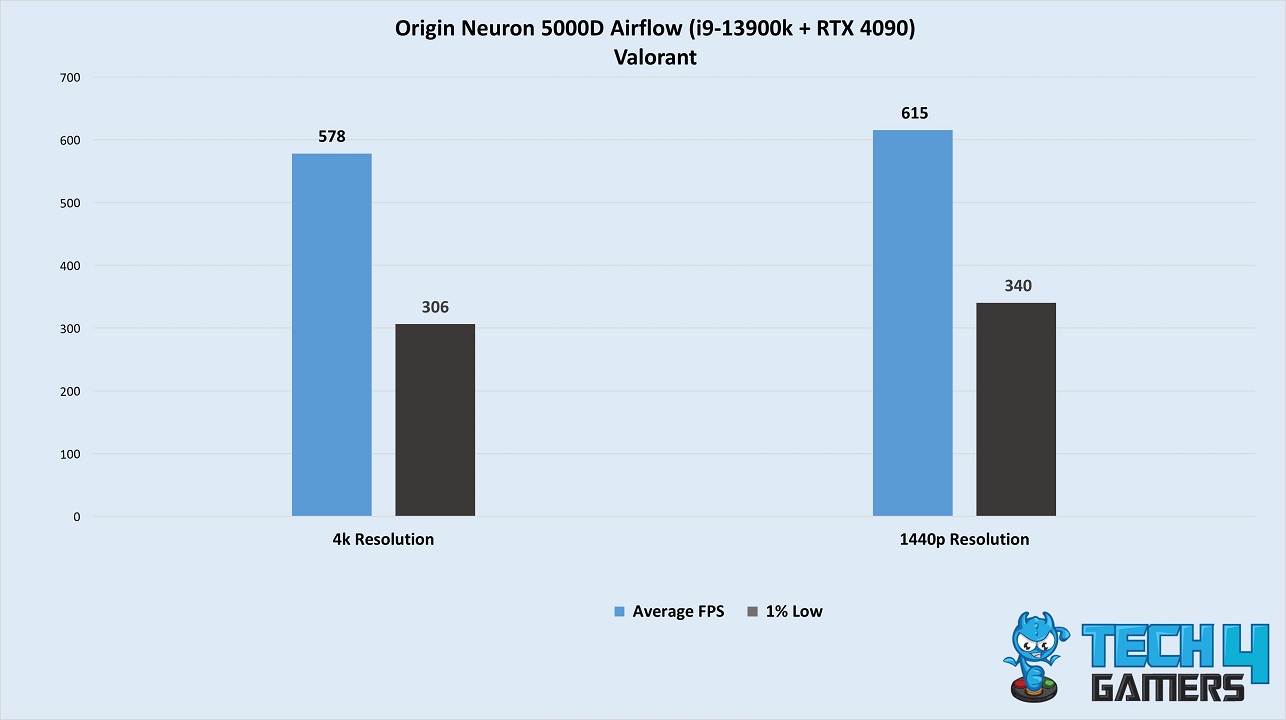 Synthetic Benchmarks
The PC also nails productivity workloads.
Cinebench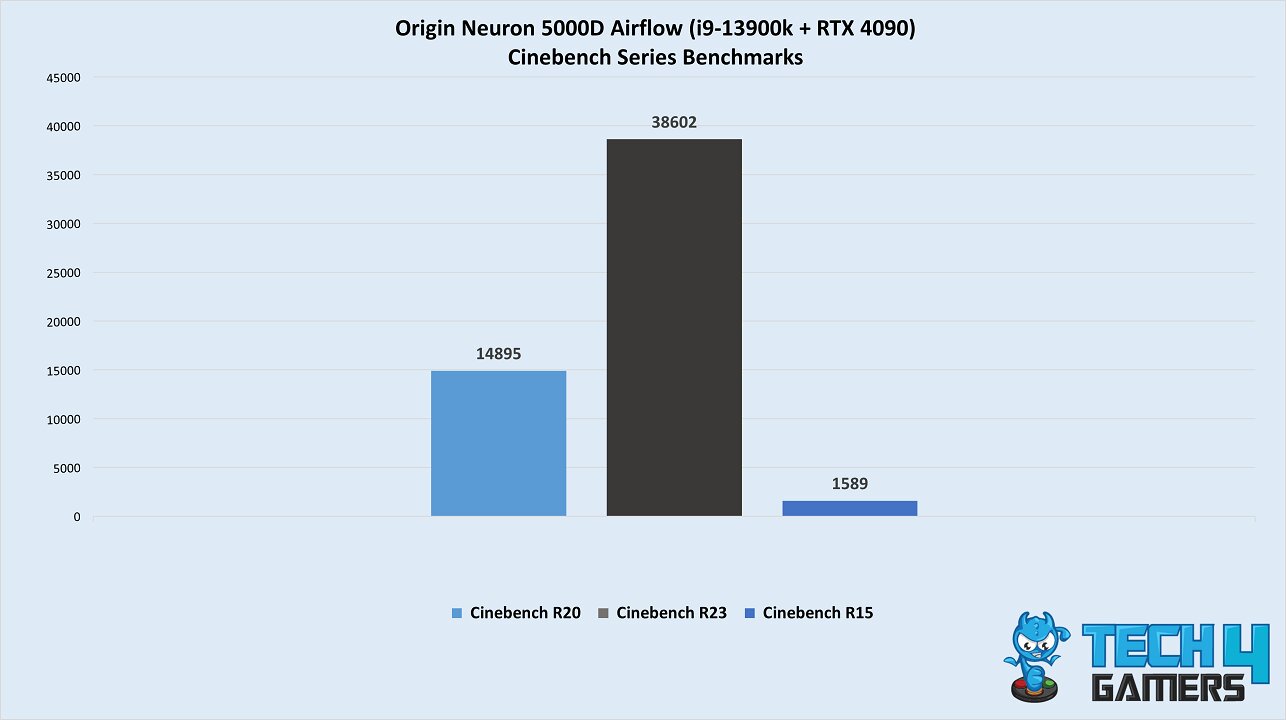 TimeSpy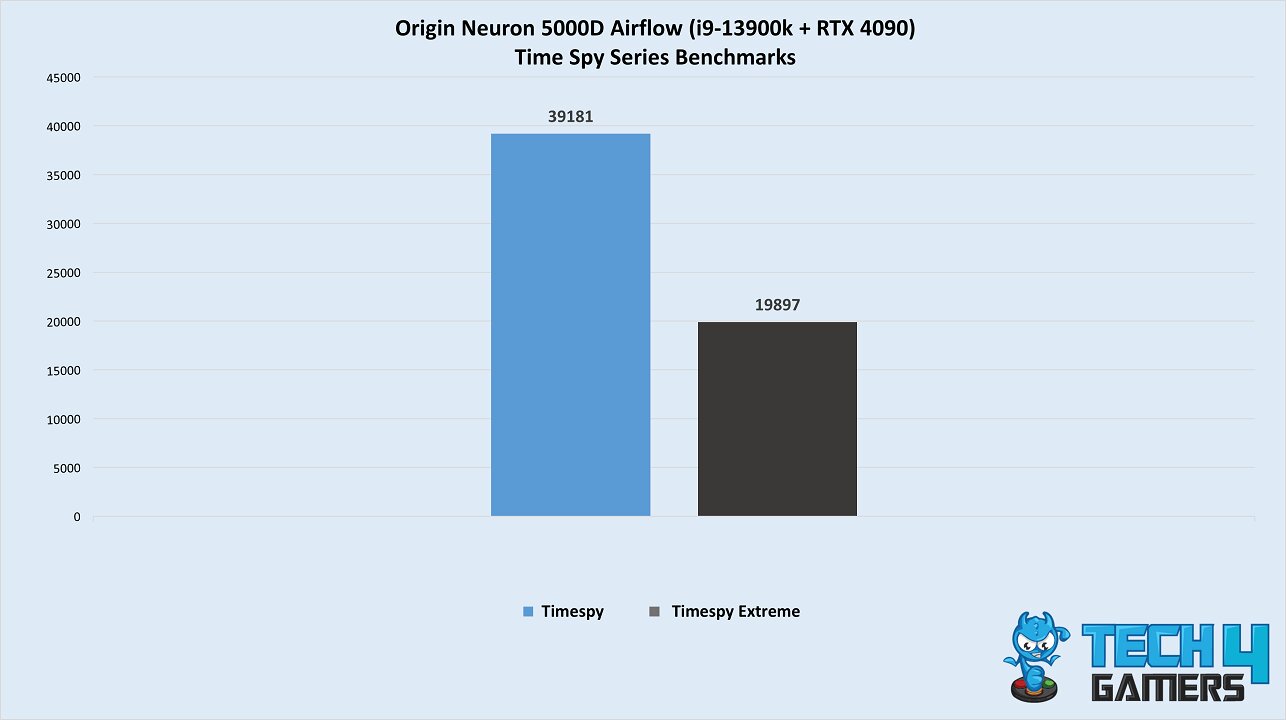 AIDA64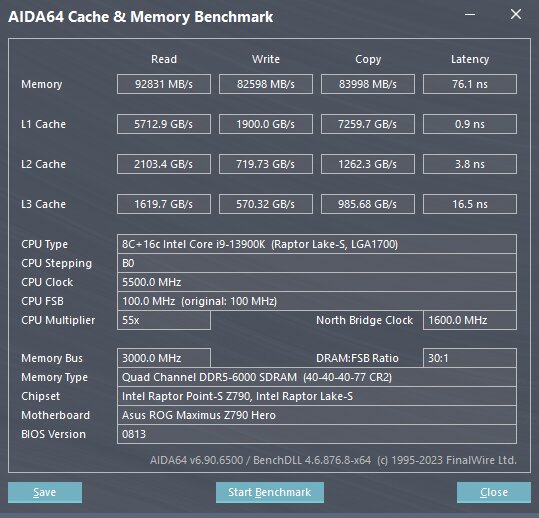 CrystalDiskMark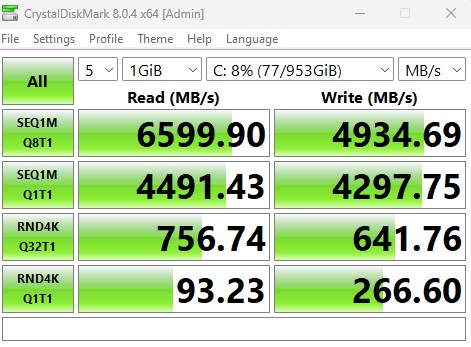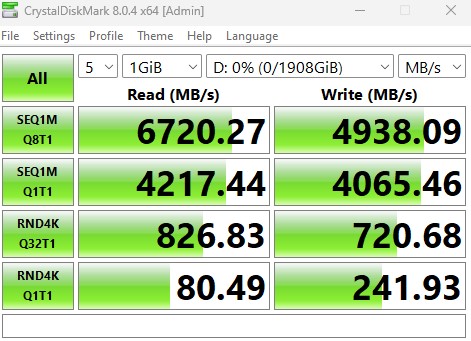 Temperature
Specifically designed for airflow, the Corsair 5000D Airflow knocks it out of the park regarding air cooling. Combined with the Corsair iCUE H150i ELITE CAPELLIX LCD, I had very high expectations from the thermal performance of this build, and I have to say, I was not disappointed. Take a look below at the idle and the average gaming thermals: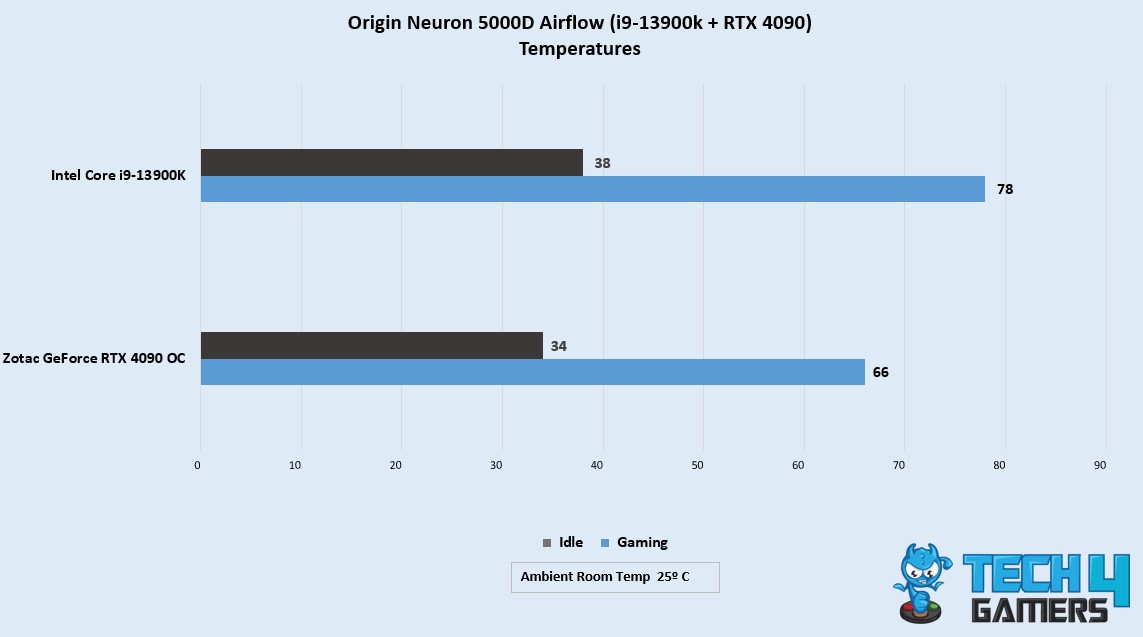 These temperatures are undoubtedly impressive; the H150i Elite has knocked it out of the park by keeping the mighty i9-13900K under 80°C. However, if you still think the temperature is much, you can always undervolt it for better thermals at a negligible performance difference.
iCUE Support
With CORSAIR being the parent company, Origin PCs, including the Neuron 5000D Airflow, are rigged with iCUE support from top to bottom. As such, you can customize every RGB aspect of the build straight from iCUE. Furthermore, you can also monitor different components, including all CORSAIR hardware (which are plenty). Since the chassis is CORSAIR 5000D Airflow, it has the LIGHTING NODE CORE included, which can be used to synchronize and customize the RGB effects of the CORSAIR QL 120 RGB fans.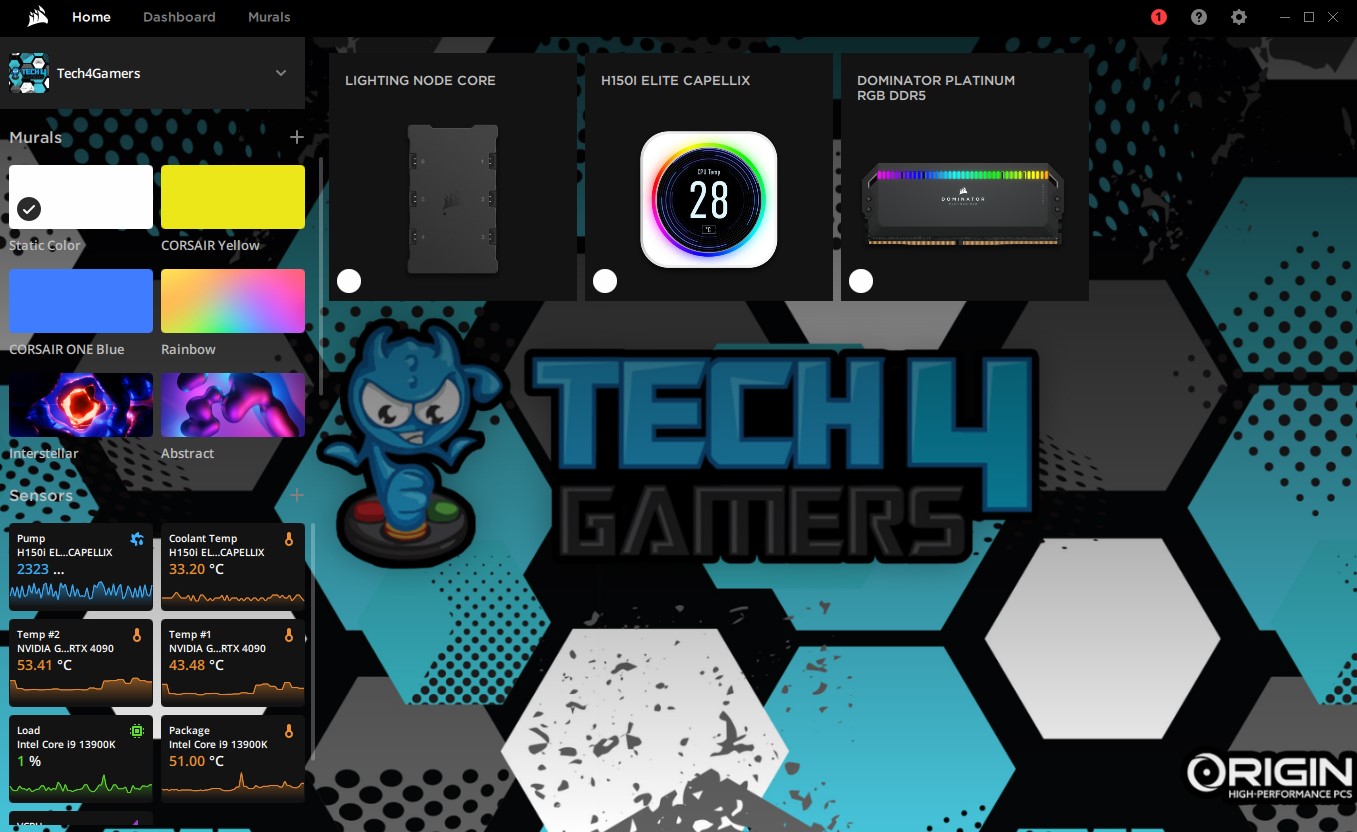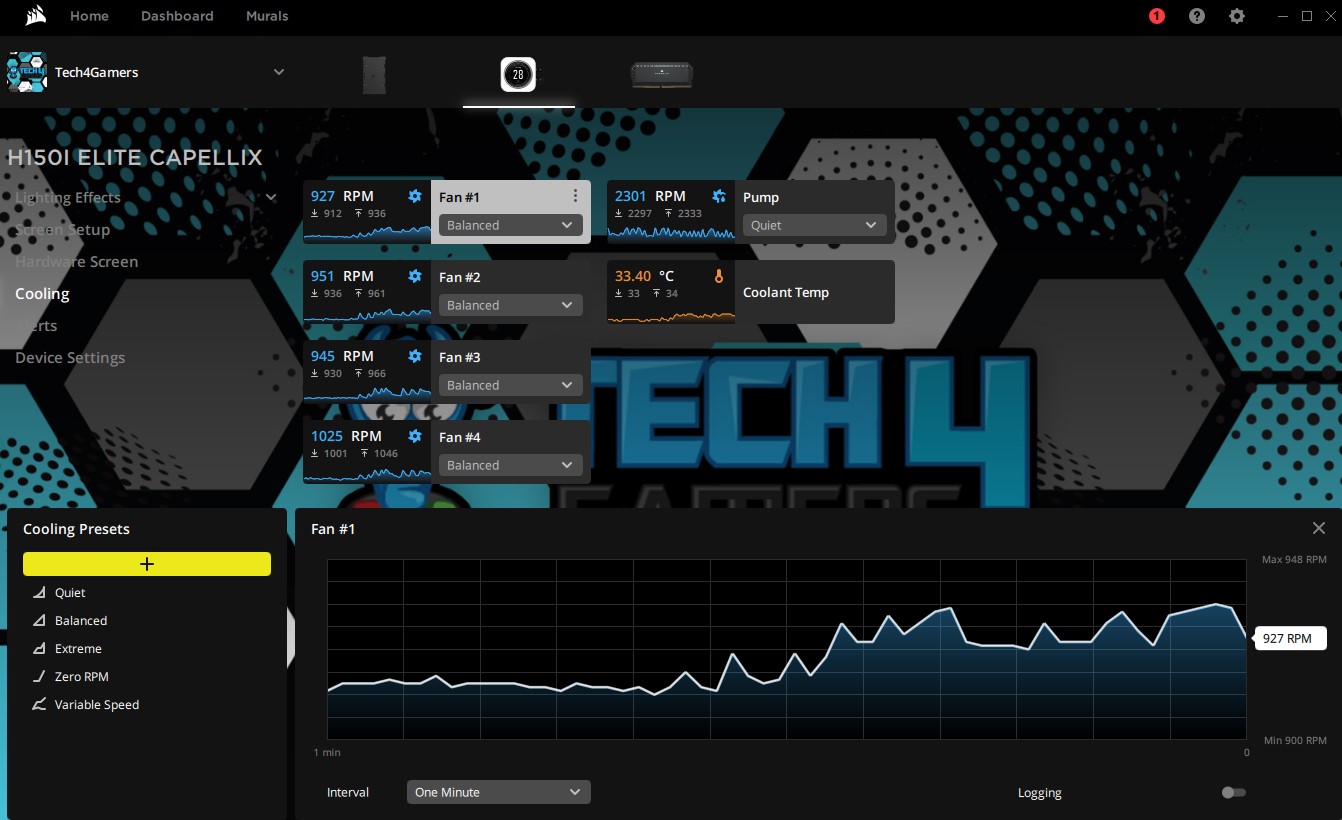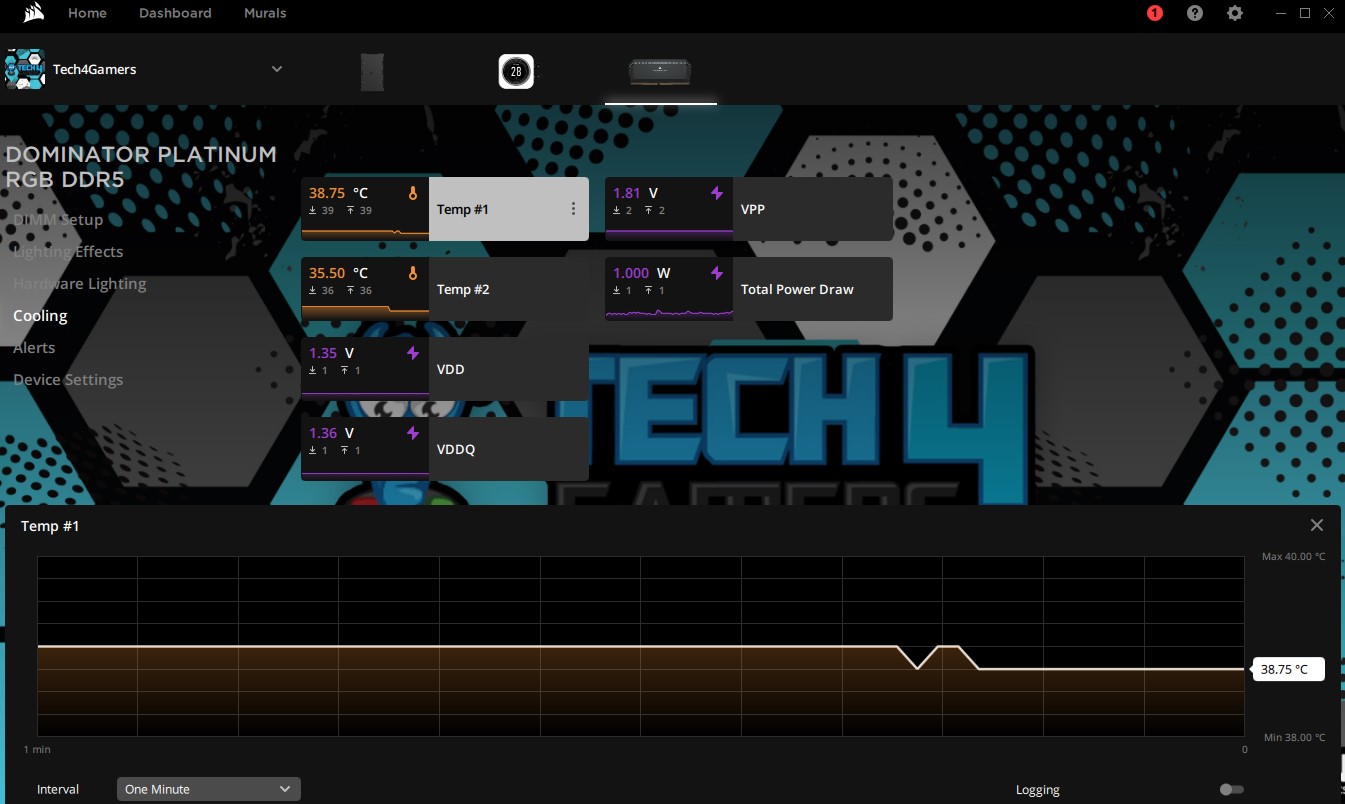 Gaming For Years to Come
The NEURON PC is a powerful computer that is built to last. It is equipped with the latest PC components available in the market, making it capable of handling any applications you need. Whether you are into gaming or resource-intensive creative software, this PC can handle it with ease. What sets the NEURON apart is its upgradability. To give an illustration, its motherboard is designed to support upcoming Intel 14th-generation processors, which means that you can upgrade your system without having to overhaul everything.
In addition, its high-quality power supply enables you to confidently upgrade to the next generation's latest flagship GPUs as they are released, keeping your graphics performance at the forefront of innovation thanks to the enormous power of 1200W. The NEURON is not just a PC for the present, but it is a system that is forward-thinking and future-ready. Its top-of-the-line components will keep you ahead of the curve, delivering unmatched performance and reliability. With this PC, you are ready for whatever the future holds, feel easy in the knowledge that your system is built to last, and excel in the ever-evolving world of technology
Final Verdict
After going through every aspect of the Origin Neuron (2023), it is clear that this gaming PC is a true powerhouse, meticulously crafted to cater to enthusiasts. If you're searching for a top-tier $5000 gaming PC and lack the technical expertise or time to build one, the Neuron 5000D Airflow by Origin is undoubtedly a compelling solution.
From the moment it arrived in its secure wooden crate, the attention to detail and commitment to safeguarding this high-end machine was evident. The Neuron's aesthetics took center stage upon unboxing, with the stunning Corsair 5000D Airflow White case stealing the show. Its sleek and customizable RGB effects and immaculate cable management showcased Origin's dedication to a visually appealing and organized interior.
Under the hood, the Neuron 5000D Airflow boasts an impressive lineup of components representing gaming performance's pinnacle. The mighty Intel Core i9-13900K, paired with the ZOTAC GeForce RTX 4090 Trinity OC on the ASUS ROG Maximus Z790 Hero motherboard, the rig is nothing short of a dream PC for many. Of course, the benchmarks attest to the Neuron 5000D Airflow's incredible performance, where it shines in every game and application, providing a seamless and immersive gaming experience. The system's ability to handle 4K Ray Tracing gaming cements its status as a top-tier gaming PC.
The Origin Neuron is an outstanding gaming PC with top-notch performance. Whether you're a serious gamer looking for the best gaming experience or a high-end PC performing exceptionally well, this build has covered you. With easy customization options from Origin and secure packaging, it's the perfect solution for gamers who want a hassle-free, top-tier gaming PC without the need to build it themselves.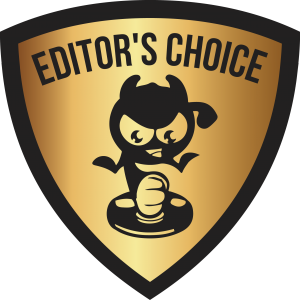 Learn more about Tech4Gamers Awards.
Was our article helpful? 👨‍💻
Thank you! Please share your positive feedback. 🔋
How could we improve this post? Please Help us. 😔