Millions of gamers and content creators were looking forward to the official launch of the RTX 400 series, which replaces Nvidia's 30 series. The graphics cards from the 4000 series have the brand new Lovelace architecture, DLSS 3, and 3rd gen ray tracing features. If you are a competitive gamer or content creator, you might be wondering which GPU comes out on top in the head-to-head battle between the NVIDIA RTX 4080 vs NVIDIA RTX 3090. Well, let us go through their features, specs, and benchmarks to find out.
---
Key Takeaways
The RTX 4080 graphics card is NVIDIA's next-gen GPU in its highly acclaimed RTX series and comes with the upgraded Ada Lovelace architecture.
NVIDIA RTX 4080 offers slightly better FPS compared to the 3090, but not by much.
While the DLSS and architecture in RTX 3090 is older, the performance is almost similar to the 4080 when gaming on 4K resolution.
---
Comparison Table
Let us begin the face-off between the RTX 4080 vs RTX 3090 with a comparison between the two
| Technical Specs | RTX 4080 | RTX 3090 |
| --- | --- | --- |
| GPU | AD103-300 | GA102 |
| Architecture | ADA Lovelace | Ampere |
| GPU Cores | 9728 | 10496 Cuda Cores |
| Thermal design power (TDP) | 320 W | 350 W |
| Manufacturing process technology | 4 nm | 8 nm |
| Base clock speed | 2205 MHz | 1395 MHz |
| Boost clock speed | 2505 MHz | 1695 MHz |
| Memory Capacity | 16 GB | 24 GB GDDR6X |
| Memory speed | 22.4 Gbps | 19.5 Gbps |
| Bandwidth | 716.8 GB/s | 936 GB/s |
| RT Cores | 76 | 82 |
Detailed Specifications
With the technical specifications for both GPUs out of the way, let us dive deep into the in-depth specs to determine which option would suit your needs the most. Also, you might want to check out our RTX 4090 vs RTX 3090 guide.
RTX 4080 Specifications
Release Date: September 20, 2022
Launch Price: 1,199 USD
GPU Name: AD103
Architecture: Ada Lovelace
Process: 4 nm
Cuda Cores: 9782
Transistors: 45,900 million
Die Size: 379 mm²
Base Clock: 2205 MHz
Boost Clock: 2505 MHz
Memory Capacity: 16 GB
Memory Cock: 22.4 Gbps
Memory Bus: 256 bit
Memory Bandwidth: 716.8 GB/s
TMUs: 304
ROPs: 112
SM Count: 76
Tensor Cores: 304
RT Cores: 76
L1 Cache: 128 KB (per SM)
L2 Cache: 64 MB
Features
DirectX: 12 Ultimate (12_2)
OpenGL: 4.6
OpenCL: 3.0
Vulkan: 1.3
CUDA: 8.9
Shader Model: 6.6
Design
Slot Width: Triple Slot
TDP: 320 W
Suggested PSU: 700 W
Outputs: 1x HDMI 2.1 – 3x DisplayPort 1.4a
Power Connectors: 1x 16-pin
Board Number: PG139 SKU 360
RTX 3090 Specifications
Release Date: Sep 1st, 2020
Launch Price: 1,499 USD
GPU Name: GA102
Architecture: Ampere
Process Size: 8 nm
Transistors: 28,300 million
Die Size: 628 mm²
Number of CUDA Cores: 10496
Base Clock: 1395 MHz
Boost Clock: 1695 MHz
Memory Capacity: 24GB GDDR6X
Memory Clock: 1219 MHz (19.5 Gbps effective)
Shading Units: 10496
TMUs: 328
ROPs: 112
SM Count: 82
Tensor Cores: 328
RT Cores: 82
L1 Cache: 128 KB (per SM)
L2 Cache: 6 MB
Features
DirectX: 12 Ultimate (12_2)
OpenGL: 4.6
OpenCL: 3.0
Vulkan: 1.3
CUDA: 8.9
Shader Model: 6.6
Design
Slot Width: Triple-slot
TDP: 350 W
Suggested PSU: 750 W
Outputs: 1x HDMI 2.1 and 3x DisplayPort 1.4a
Power Connectors: 1x 12-pin
Board Number: PG132 SKU 10
Both GPUs more than hold their own in multiple departments, which is a massive reason gamers have been keeping close tabs on them. The 16 GB version of the RTX 4080 boasts 9728 CUDA Cores and gets its support from the ADA Lovelace architecture with an impressive 76 billion transistors in the 4nm mode of the TSMC.
If you find this terminology confusing, there is no need to worry. Just keep in mind that a higher quantity of transistors usually means quicker processing rates. While the RTX 4080s specs and features are spectacular, you may be surprised to learn that the RTX 3090 trumps it as far as CUDA Cores are concerned, clocking at 10,496, which is seven hundred more than Nvidia RTX 4080.
Similar Guides: RTX 4080 Vs RX 6950 XT
The RTX 3090 also edges the 4080 with its sizeable memory of 24 GB. So, while the RTX 4080 is a next-generation graphics card, the 3090 challenges it on multiple fronts and sometimes even exceeds it.
RTX 4080 VS RTX 3090: Features
Now, let us go through the variety of features offered by these graphics processing units to determine which one has the upper hand.
Deep Learning Super Sampling
Currently, the DLSS 3 requires a graphics card from the RTX 40 series. Many games that have DLSS 3 have become publicly available recently, with Microsoft Flight Simulator and A Plague Tale: Requiem being the most popular ones.
What's more, loads of DLSS 3 games are coming soon, making the RTX 4080 a worthwhile GPU for many. While the previous-gen super sampling of RTX 3090 looks great as well, RTX 4080 takes the lead in this area because of its DLSS 3 compatibility.
Memory And Architecture
The Nvidia RTX 4080 boasts 16 GB GDDR6X memory, while the RTX 3090 has a 24 GB memory size, which is surprising when you consider the former is a next-generation GPU. The RTX 3090 also gets the upper hand over RTX 4080 for its slightly higher memory bandwidth of 936 GB/s. Architecture is where the RTX 4080 reigns supreme with its revamped ADA Lovelace architecture compared to the 3090 GPU's Ampere architecture.
G-Sync
The primary purpose of the G-Sync technology is the same, is to eliminate screen tearing and minimize stuttering caused due to misaligned refresh rates and frame rates. G-Sync makes this possible by syncing your monitor's or TV's refresh rate with the GPU's framerates, offering a seamless gaming experience.
Unlike FreeSync, which is free to use, display manufacturers require certification and a license from Nvidia in order to incorporate G-Sync in their displays. It is also worth keeping in mind that the G-Sync technology can only work if you have a GPU by Nvidia.
This technology also edges over Freesync because of its better reliability and overall performance, thanks to Nvidia's high standards. Both RTX 4080 and RTX 3090 are G-Sync compatible.
RTX 4080 Vs RTX 3090: Key Advantages
If you closely analyze the specs, features, and performance when determining the winner of RTX 4080 VS RTX 3090, you will notice a recurring theme of both cards having the edge over the other in different areas. So, before we start talking about the benchmarks of these GPUs, let us look at the advantages both offer.
The biggest advantage the RTX 4080 has over the 3090 is its next-gen ADA Lovelace architecture. While the 3090's Ampere architecture isn't bad or outdated by any means, it may not be the best option for those who want to future-proof their gaming rig.
In addition, RTX 4080's DLSS 3 compatibility is another advantage you may want to consider when choosing a GPU. While some rumors suggest that older GPUs like the 3090 may get DLSS 3 support down the line, there haven't been any confirmations so far.
Now, let us look at the key advantages the RTX 3090 has to offer:
Slightly better bandwidth of 936 GB/s compared to the 4080's 716.8 GB/s.
The 24 GB GDDR6X of the RTX 3090 easily trumps RTX 4080's 16 GB capacity.
With the key advantages out of the way, it's time to take a look at the gaming benchmarks of the RTX 4080 and 3090.
Gaming Benchmarks: 4K
There have been plenty of cases when a graphics card has superb specs on paper, but its actual performance is subpar. While the RTX 4080 has been hitting home runs after home runs, how would it fare against the RTX 3090 at 4K max settings? Well, we put these GPUs to the test at 4k and 1440p resolutions in order to determine their performance in five different games.
Also Read: RTX 4080 Vs RTX 3080
The benchmark tests you will see down below were performed by Benchmark Lab on Youtube. Here is a look at their rig:
CPU Cooler: AIO – Arctic Freezer 420mm
Motherboard: ASUS ROG STRIX Z 690
Processor: Intel Core i9 13900K 5 GHz
RAM: 32 GB (2 x 16 GB) Gskill Z Trident DDR 5 – 6200 Mhz
SSD: Samsung EVO 970 500gb.
Power Supply: EVGA SuperNOVA 1000 G5
It is abundantly clear to see that the rig is more than enough to run both graphics cards. Plus, since a 1000 W power supply is being used, the GPUs can take advantage of the extra capacity and utilize supplemental power from the supply.
Cyberpunk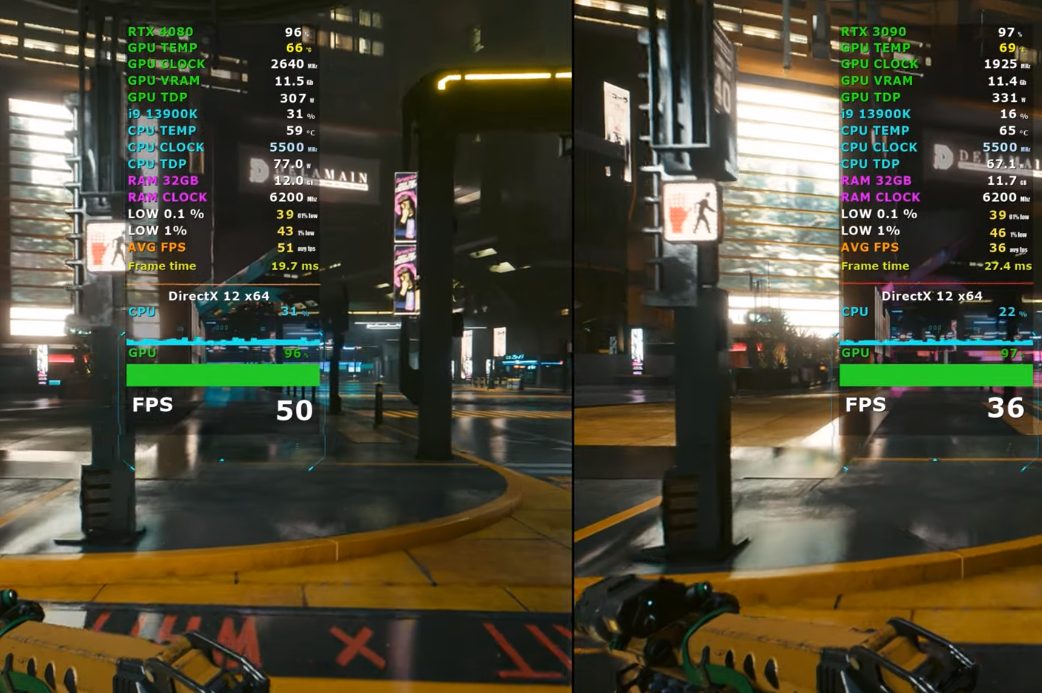 In CD Projekt RED's Cyberpunk, the next-gen RTX 4080 delivers an average of 51 FPS compared to the RTX 3090's 36 FPS in ultra-high definition. While this may seem a bit low, especially to competitive gamers, the incredible resolution is definitely pleasing to the eyes. The RTX 4080 also runs slightly cooler than the 3090, with a low frame time of 19.7 ms.
Watch Dogs Legion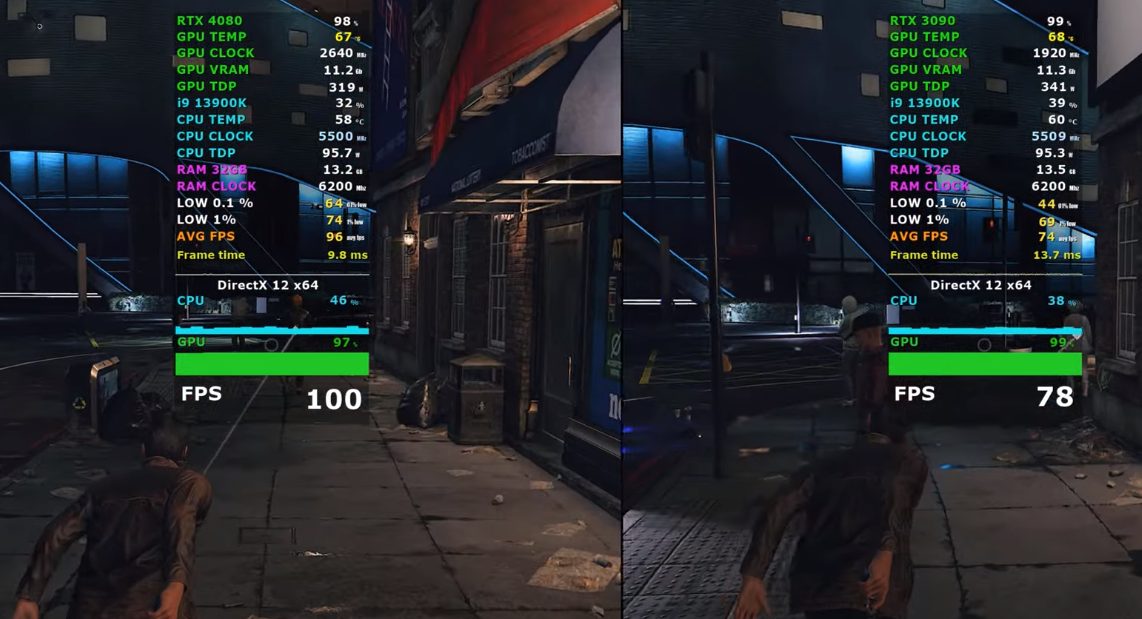 Ubisoft's third installment of its critically acclaimed Watch Dogs franchise became a fan favorite upon its release. RTX 4080 maintains an average of FPS 100 FPS during the gameplay, surpassing the 3090 in this area once again.
The CPU temperatures were almost the same during the gameplay, with the 4080 maintaining around 58°C and the 3090 running at 60° C.
Horizon Zero Dawn
RTX 4080 comes out on top again in the FPS battle, maintaining an average of 111 frames per second in comparison to the 80 FPS average by RTX 3090. As far as the temperatures go, both cards fare pretty well, with the 4080 only being cooler by 1 percent.
It would be fair to say that the FPS is the only prominent difference between the two GPUs, and both cards make this game look equally amazing on 4k resolution.
Spiderman
Playing Spiderman on 4K is a mindblowing experience whether you're using the RTX 4080 or 3090. The former has the upper hand in vital areas like framerate and frame time.
Otherwise, the benchmarks are almost similar and suggest that if you already have an RTX 3090, replacing it with the RTX 4080 just for games like this is not necessary unless you want the slightly higher FPS.
Red Dead Redemption 2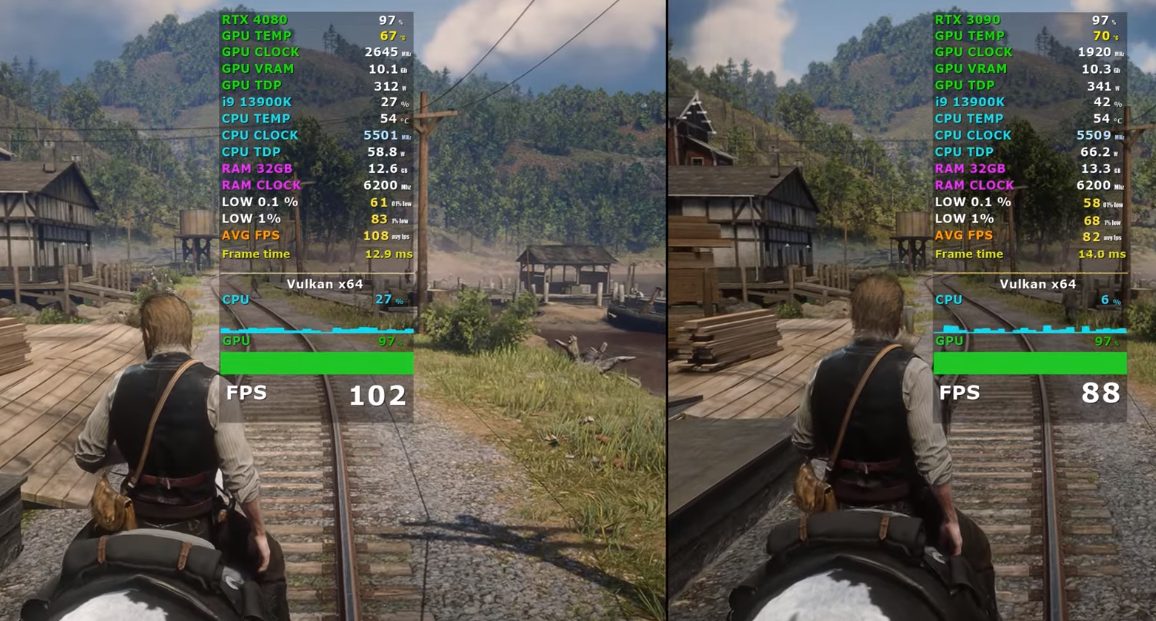 Rockstar's Red Dead Redemption 2 is on almost every gamer's list of best games, and for a good reason. Its fantastic storytelling, breathtaking visuals, and superb gaming mechanics make you want to 100% this game in one sitting. If you're planning to play RDR 2 on your PC, you will be glad to know that the game will run flawlessly on RTX 4080 and RTX 3090 GPUs.
The 4080's superior 102 FPS and high GPU clock give it the edge over the 3090, but that doesn't mean in any way the game runs poorly on RTX's previous-gen GPU. If anything, only a trained eye may be able to tell the performance difference between the two.
Gaming Benchmarks: 1440p
If the GPUs from the NVIDIA RTX 40 and 30 series can handle games on 4k seamlessly, they are sure to run them on 1440p as well. The question, however, is who performs better. Will the RTX 4080 maintain its supremacy in the FPS department, or will the 3090 get the upper hand here? To determine this, we put the GPUs to the test once again.
The benchmarks tests for the 1440p resolution were conducted by The Spy Hood, who uses this rig:
CPU Cooler: MSI MAG Core Liquid C360 and Liquid Cooler.
Motherboard: Gigabyte Z790 AORUS Master.
Processor: Intel Core i9 13900K.
RAM: 64 GB (4 x 16 GB) DDR 5 – 600 Mhz.
Power Supply: SUS ROG Thor Platinum 2 1200 W.
Similar to the rig used for conducting the 4K test, this one is also more than capable of handling games at the highest resolutions. But, for the purpose of this section, we will only look at the benchmarks for 1440p resolution.
Spiderman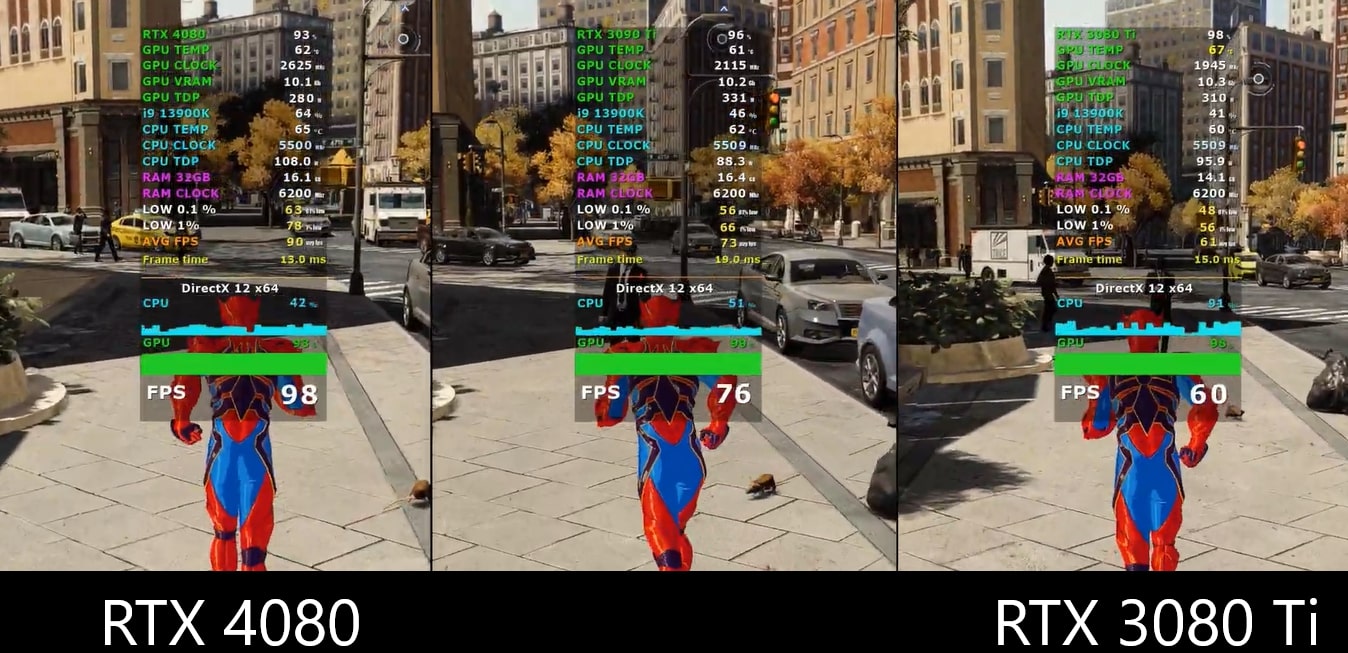 Spiderman is a visually stunning game, whether you're playing on glorious 4k or 1440p. While the RTX 4080 wins the FPS battle here against the 3090, the latter does pretty well with its 120 FPS average.
Cyberpunk

First-person shoot em ups like Cyberpunk are best played on high FPS, and thankfully, both RTX 4080 and RTX 3090 perform really well in this area. The 4080's average 151 FPS is slightly better than the 3090's 116 on 1440p resolution, but both run seamlessly, providing you with an immersive gaming experience.
Horizon Zero Dawn

Playing Horizon Zero Dawn on 1440p resolution is an absolute treat, whether you have an RTX 4080 or RTX 3090. While the former has an FPS advantage over the latter, the margin is pretty small and will most likely not be visible to the untrained eye.
Also Read: RTX 3080 Vs. 3080 Ti
Watch Dogs Legion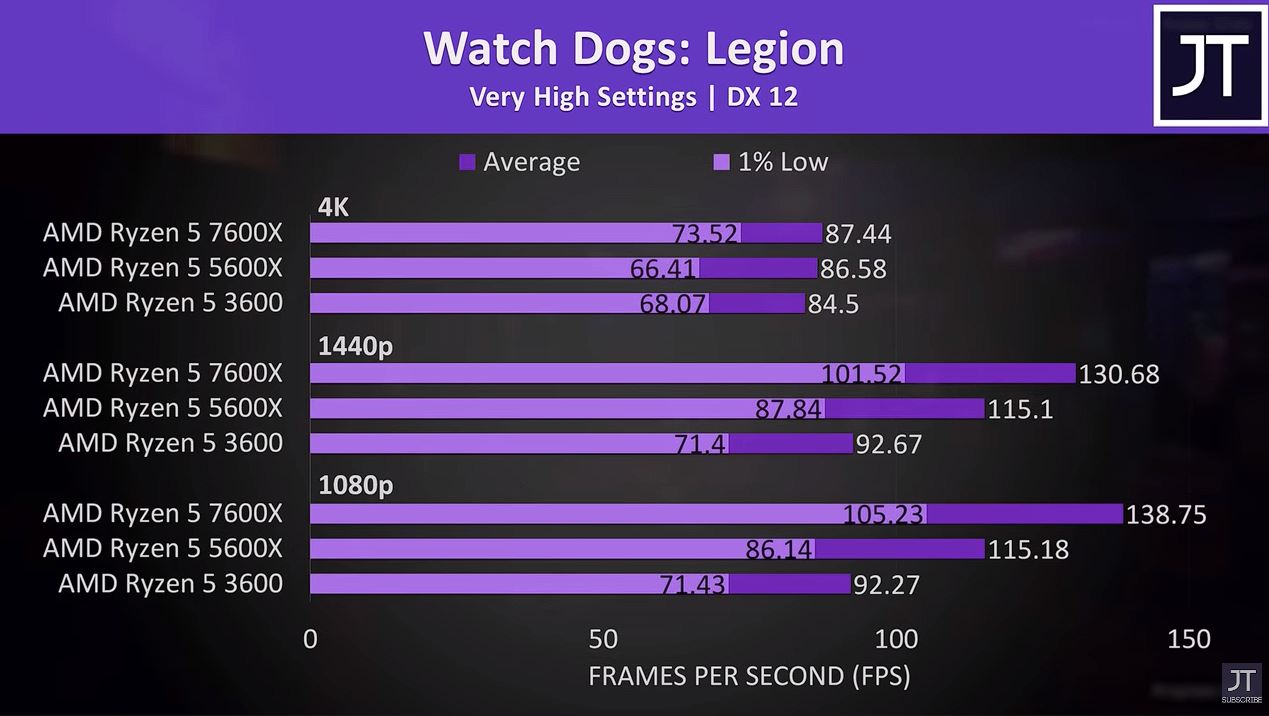 Watch Dogs Legion looks and plays pretty well on 1440p resolution. While the 30 FPS difference between the 4080 and 3090 won't make too much of a difference, it would be best to go for the former if you think that added FPS will give you a competitive advantage.
Red Dead Redemption 2

Red Dead Redemption 2 looks sublime, no matter which resolution you're playing it on. While 4K undoubtedly offers the best visuals, the 1440p resolution is not far behind and offers more FPS. In this gameplay test, the RTX 4080 maintained an average of 161 FPS, which is just a bit higher than the 3090s 135.
Overall Gaming Performance
After testing the RTX 4080 and 4090 on multiple resolutions and a variety of demanding titles, it is clear to see that RTX 4080 performs better due to its higher FPS and low temperatures. That doesn't mean in any way that you should ditch your 3090 for the 4080 GPU.
If anything, it would be ideal not to upgrade so quickly, especially considering that the FPS and temperature differences are minimal, and the graphics look more or less the same.
Power Consumption
The 4k benchmark tests for the NVIDIA 4080 and 3090 suggest that both GPUs use almost the same amount of electricity. This essentially means that you do not have to worry about either option resulting in a higher bill than the other.
Pricing And Availability
Nvidia received a fair bit of criticism after it announced the RTX 4080's price of 1,199 USD. That said, the card's overall performance is tremendous thanks to the improved FPS, lower temperatures, and better power consumption. Plus, the addition of 4th generation tensor cores and DLSS 3 will surely provide an immersive gaming experience.
However, a new RTX 3090 doesn't come cheap either. As a matter of fact, it came with a hefty price tag of 2000 USD when it was released. This was mainly because of the chip shortage during the pandemic. Now that things are better, you can find an RTX 3090 for 1000 USD and even lower from different third-party sites.
RTX 4080 Vs. RTX 3090: Which One Should You Go For?
While the RTX 4080 has fantastic specs and benchmarks on paper, the RTX 3090 is no slouch and more than holds its own in this face-off.
If you love gaming on 4K and want the highest possible FPS, the RTX 4080 should be your go-to option.
That being said, the difference in FPS between the 2 GPUs is not much, as suggested by the benchmarks, which means that you don't need to splash the cash for a next-gen GPU unless the extra frames are absolutely important to you.
At the end of the day, it all comes down to personal preference. If you have the budget and want a GPU with the latest architecture and best performance, the 4080 will be the best choice, without a doubt.
FAQs
How much improvement can I expect from RTX 4080 compared to RTX 3080?
The RTX 4080 is definitely a worthy option for gamers and content creators, but its price tag may be quite hefty for some.
Is 4K Gaming Possible With RTX 3090?
Yes, you can game on 4K ultra-high definition with your RTX 3090 GPU. While the FPS may be slightly lower than the newer 4080, the difference is almost negligible.
Which GPU Should I Choose To Future Proof My Gaming PC?
If you want to future-proof your rig, it would be best to get the latest GPU, making the RTX 4080 a worthwhile option, especially because of its ADA Lovelace architecture.
Was our article helpful? 👨‍💻
Thank you! Please share your positive feedback. 🔋
How could we improve this post? Please Help us. 😔
[Comparisons Expert]
Abdemanaf is a skilled creative writer who has been honing his craft since 2011. While initially working in different fields, he found a passion for technology and has been exploring the tech world since early 2015. Over the years, he has developed an in-depth knowledge of the latest tech trends and product offerings by various companies.
Abdemanaf's writing reflects his analytical mindset and ability to think critically. He has a knack for breaking down complex technical information into easily digestible pieces, making his articles engaging and accessible to readers from all backgrounds. In February 2022, he joined Tech4Gamers as a blog and product comparison writer, where he has been able to hone his skills further.
As a writer, Abdemanaf is dedicated to staying up-to-date with the latest technological advancements and trends, enabling him to provide readers with the most relevant and accurate information. He is always eager to learn more and is constantly seeking new challenges to improve his skills.
Get In Touch: [email protected]