Best DDR5 RAM?
Review Summary
The XPG Lancer RGB 32GB DDR5 kit delivers exceptional performance, rivaling binary DDR5 kits. Its impressive overclocking capabilities, dual-platform support, and error correction function make it an excellent choice for enthusiasts. Priced at USD 169.99, it offers compatibility with popular RGB sync technologies and features a sleek design with a CNIC-milled aluminum heat spreader.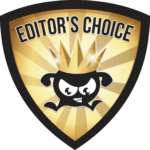 Value -

8.5/10

Performance -

9.5/10

Quality -

9.5/10

Features -

9/10
Pros
Operates at 7200MT/s CAS34
Brushed Aluminum Heatspread
Balanced Height
Intel XMP 3.0 Profile
AMD EXPO 1.0 Profile
Excellent Performance
Limited Life Time Warranty
RGB Lighting
Overclocking Headroom
Extreme Performance Gear, aka XPG, is a brand to reckon with. XPG is a brand of ADATA and is aimed at the gamer community. XPG carries multiple product lines, with memory and storage being the primary product series from the manufacturer. They also carry PC Cases, PSU, PC Cooling products, and peripherals. I am looking at the XPG Lancer RGB 32GB DDR5 kit.
This series of memory kits has multiple configurations available for the users. They are high-performance memory kits, and I am saying this after testing the DDR4 and DDR5 kits from XPG. The kit I am taking a look at operates at 7200 MT/s, which is the highest speed in this series with CAS34. This kit has a 2x16GB capacity.
---
Key Takeaways
The XPG Lancer RGB 32GB 7200MT/s CAS34 DDR5 Kit is an excellent jack-of-all-trades DDR5 RAM that packs top-notch performance, beautiful looks, good overclocking, and premium build quality.
The XPG Lancer RGB 32GB 7200MT/s CAS34 DDR5 Kit is for hardcore gamers who want the best of the best DDR5 performance, along with support for both Intel and AMD platforms.
The XPG Lancer RGB 32GB 7200MT/s CAS34 DDR5 Kit is not for those on a tight budget.
---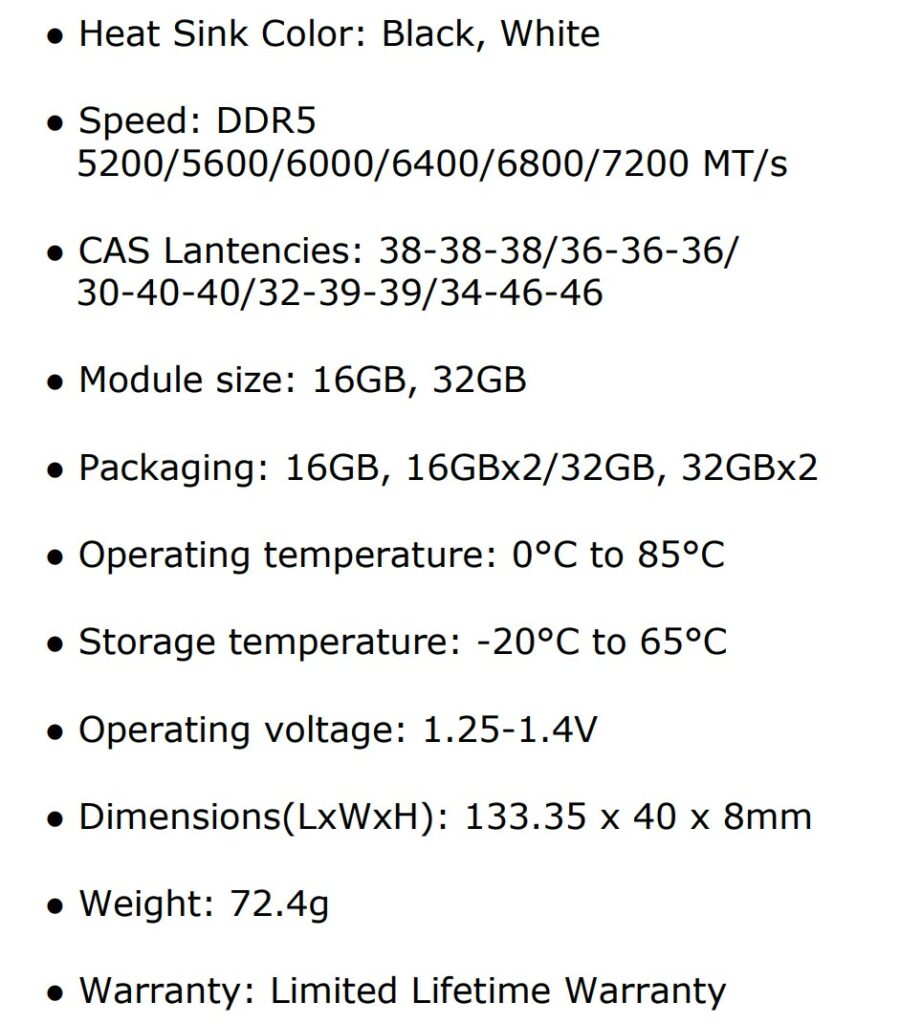 I am showing the specifications of the kit above. This kit has a tested speed of 7200MT/s with tested timings of 34-46-46-116 at 1.40V. XPG has also programmed the AMD EXPO profile and operates at the same speed and timing. These kits have a dimension of 133.35x40x8mm. The height of this kit is 40mm, which sits between the high and low profile design. This is a U-DIMM design, which is obvious. 7200MHz at 1.40V indicates that this kit might have a good headroom for overclocking. I will see to that later in the relevant section.
Packing Box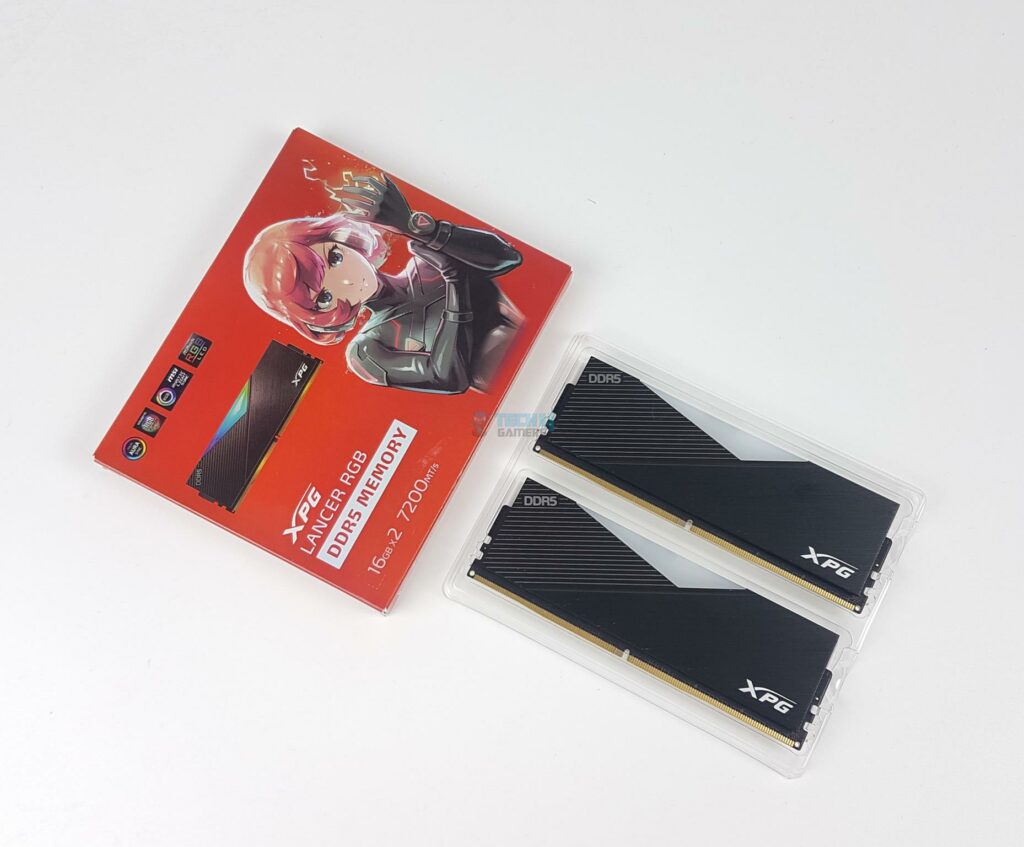 XPG is using the same red color packing box that we have seen on their Lancer RGB 32GB kit at 6000MHz. That kit was tested earlier. The outer box is made of a paper-board material and is colorful, indicating the XPG theme. There is a transparent shell inside with both modules nicely tucked in between. This kit is compatible with:
ASUS AURA SYNC
GIGABYTE RGB FUSION 2.0
MSI MysticSync
ASRock PolyChrome
Design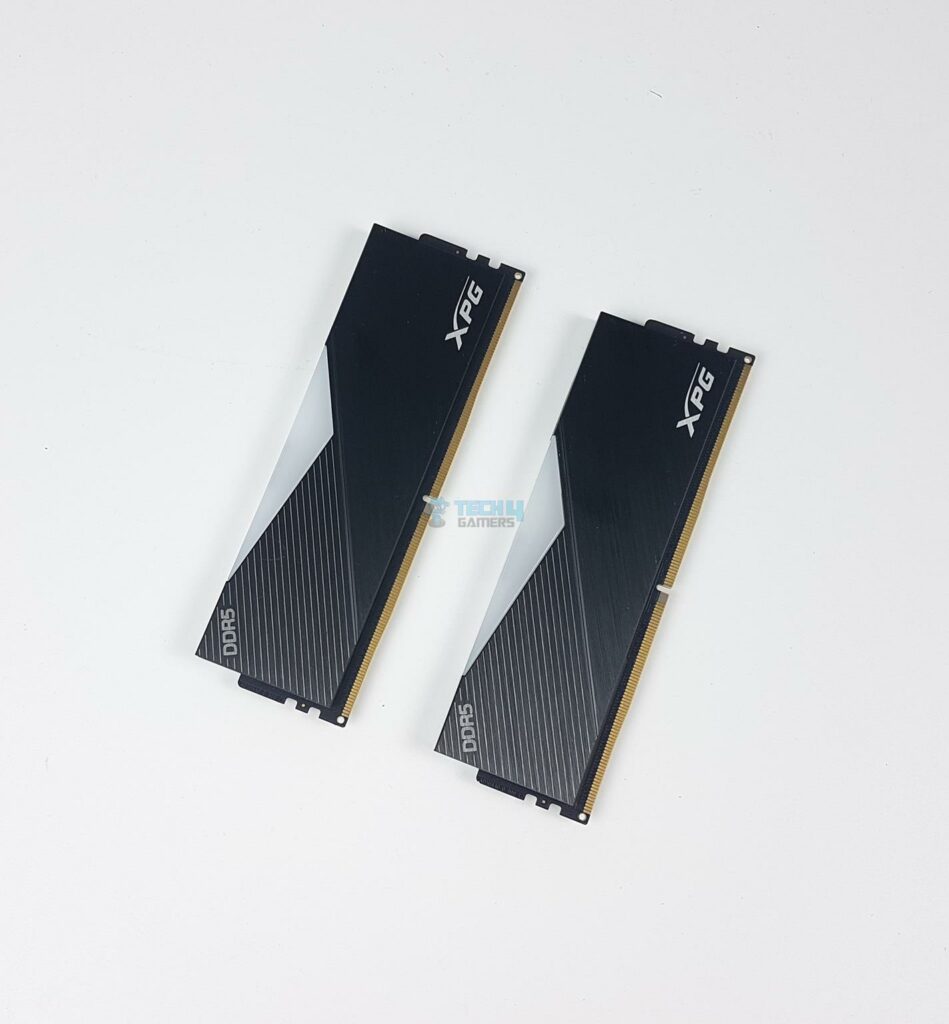 XPG means business for the gaming community with their gaming-oriented products. Their high-performance DDR5 kit is the Lancer series along with the Caster line of desktop memory kits. The Lancer series is available in RGB as well as non-RGB configurations. This series has the following speeds:
5200MT/s
5600MT/s
6000MT/s
6400MT/s
6800MT/s
7200MT/s
We can see that 7200M/s is the highest speed that this series offers and we are testing exactly this kit. These kits are available in the following capacities:
1x16GB
2x16GB
1x32GB
2x32GB
There is no non-binary configuration available at present.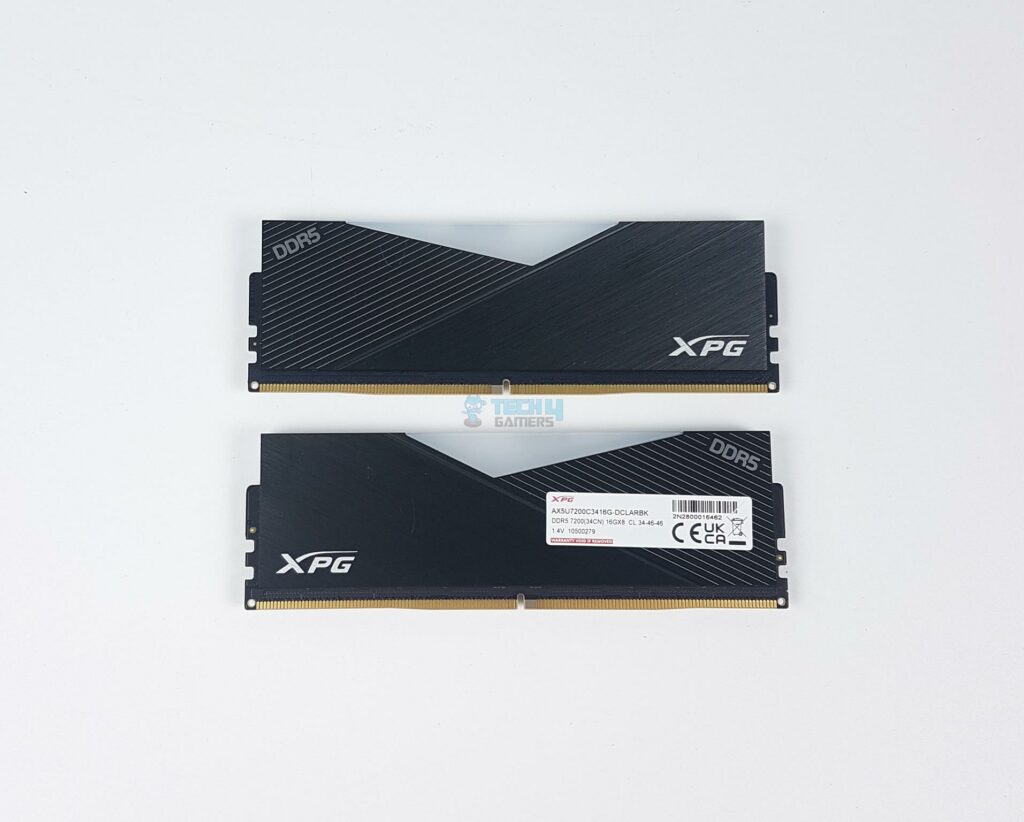 The above picture shows the front and back sides of the modules. The heat spreader is made of CNIC-milled aluminum. From the texture, it seems like a brushed aluminum finish on both modules. There is an XPG branding towards the lower right side and DDR5 text on the upper left side. The left side of the heat spreader has a line pattern. The diffuser is also visible on the sides, which is a nice touch, and the overall geometrical layout is well-synced.
The backside has a similar layout. There is a label, removing which would void your warranty. The part number of this kit is AX5U7200C3416G-DCLARBK. A serial number, along with the speed, timing, and voltage ratings, are also printed. This kit is an unbuffered DIMM with a 288-pin layout. Each module has 1Rx8, meaning a single rank design using 8 modules. These kits are made in Taiwan. These kits have on-die ECC, which comes in handy for real-time data correction.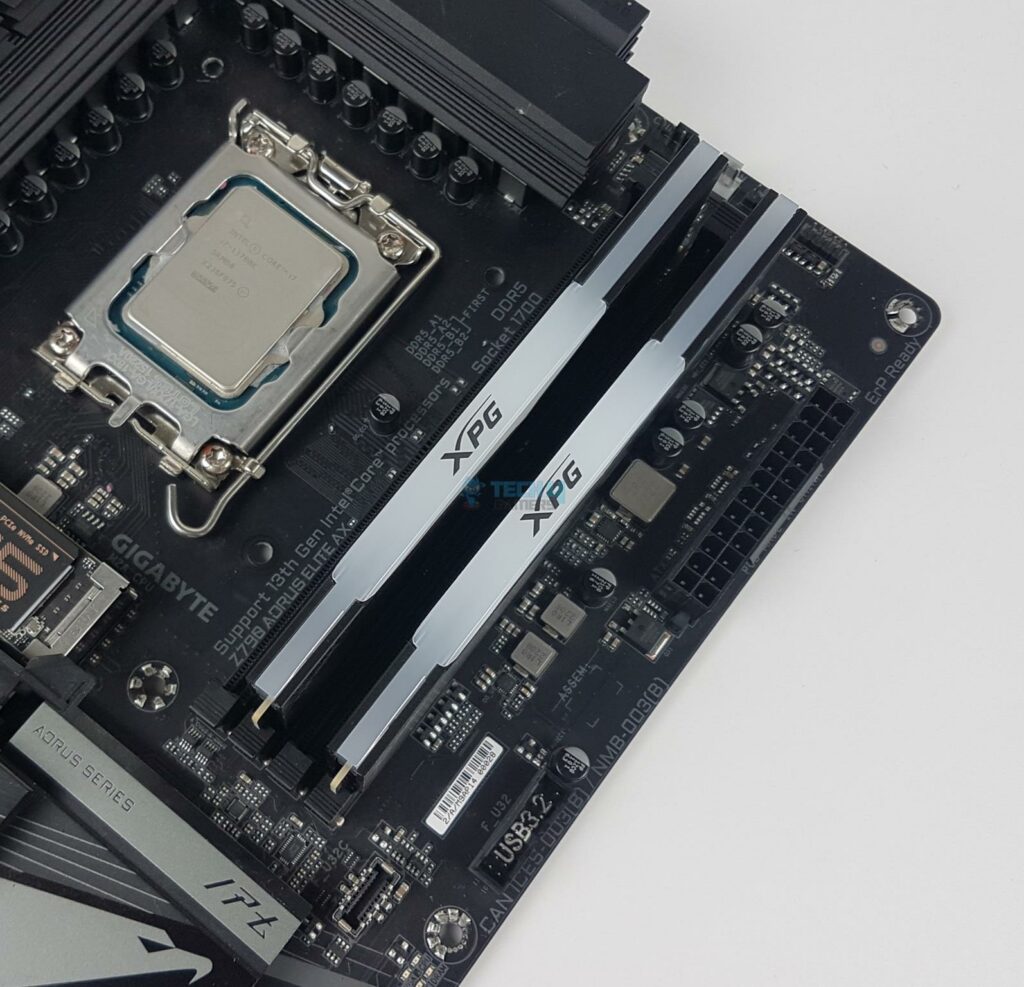 Looking at the top view of these kits, you can see that the thick diffuser is running across the entire length of the modules and it is not obstructed on either end, which is a wise move. There is XPG branding in the center. I would have preferred clean RGB lighting without any branding, but that is my personal opinion and has nothing to do with the performance of the drive. The diffusers get darker on both ends of each module; hence, the color diffusion would have light and dark backlit colors.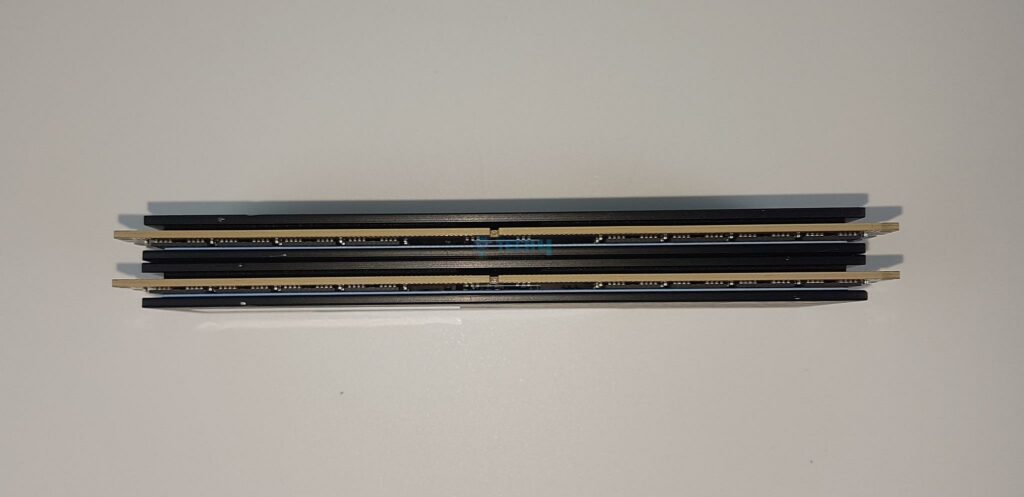 XPG is using a 10-layer PCB design. The PCB is black in color, which is standard on these DDR5 modules. One side of each module has active circuitry with PMIC and ICs. The opposite side is not populated and has a padding of the same thickness to make the PCB sit in between the heat spreader evenly.
There are 4x memory chips on the left of the integrated PMIC chip and 4x memory chips on the right side of this controller. This gives a 16GB capacity overall in 1Rx8 using a 2G x 64-bit design.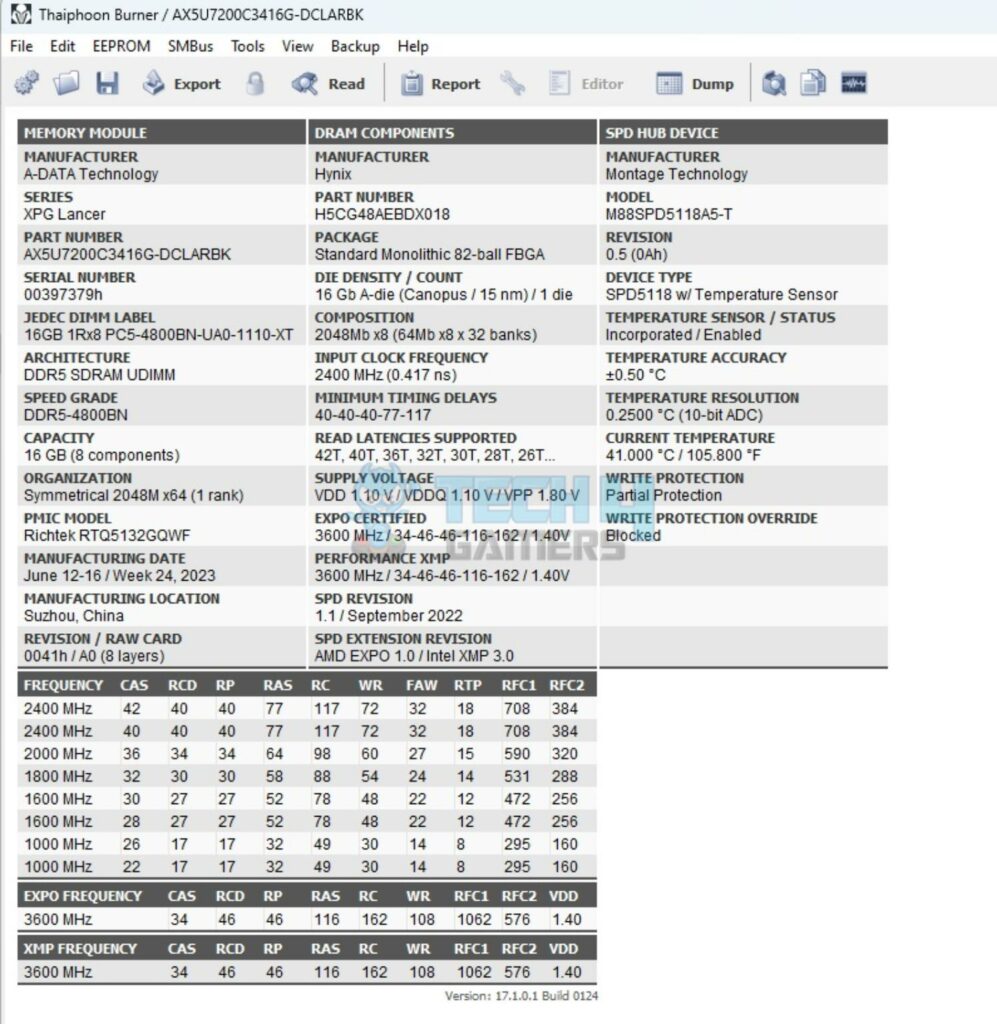 Thaiphoon burner run shows A-DATA as a manufacturer of this kit under the XPG Lancer series. Memory chips are from Hynix, having a part number H5CG48AEBDX018. This is an A-die kit from XPG. The PMIC controller is from Richtek (RTQ5132GQWF). This is the same controller we saw on the CORSAIR DOMINATOR TITANIUM First Edition white and T-Create Exper Desktop Memory kits. This kit is manufactured in the 24th Week of 2023.
This kit has a single Intel XMP Revision 3.0 and an AMD EXPO 1.0 profile programmed. Both profiles have 3600MHz / 34-46-46-116 / 1.40V. The SPD device is from Montage. It has a model of M88SPD5118-A5T. Temperature sensors are integrated and have ±0.50ᵒC accuracy.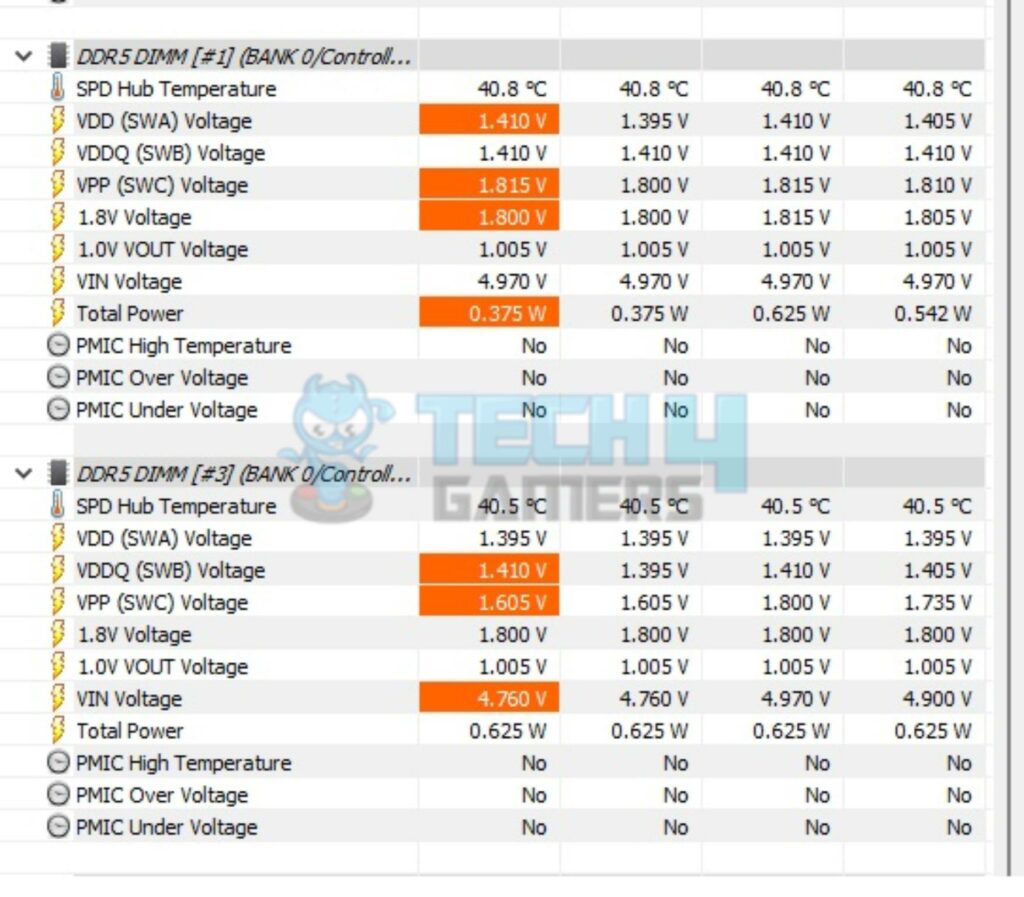 I am showing the HWInfo64 run above. You can see that this software is reading the temperature from both modules.
Testing
We are using the mentioned configuration for RAM testing:
Intel i7 13700K [Stock, Auto]
GIGABYTE GeForce RTX 3060 VISION OC Rev.2 [For Display]
be quiet! Straight Power 11 850W Platinum PSU
Open-air bench
Other kits are:
We are thankful to our sponsors for this test bench. The following software has been used for the testing:
AIDA64 Engineer
SiSoftware Sandra Suite
Performance Test
3DMark Time Spy
Super Pi
BIOS Run
The XPG Lancer RGB DDR5 kit has one Intel XMP profile and one AMD EXPO profile. Both have the same data, which is 7200MT/s, 34-46-46-116, 1.400V. This kit conforms to JEDEC 4800MHz SPD operating at 40-40-40-77 timings and 1.100V voltage. I have tested the kit with the XMP1 profile on the Intel platform.
CPU-Z and AIDA64 SPD Readouts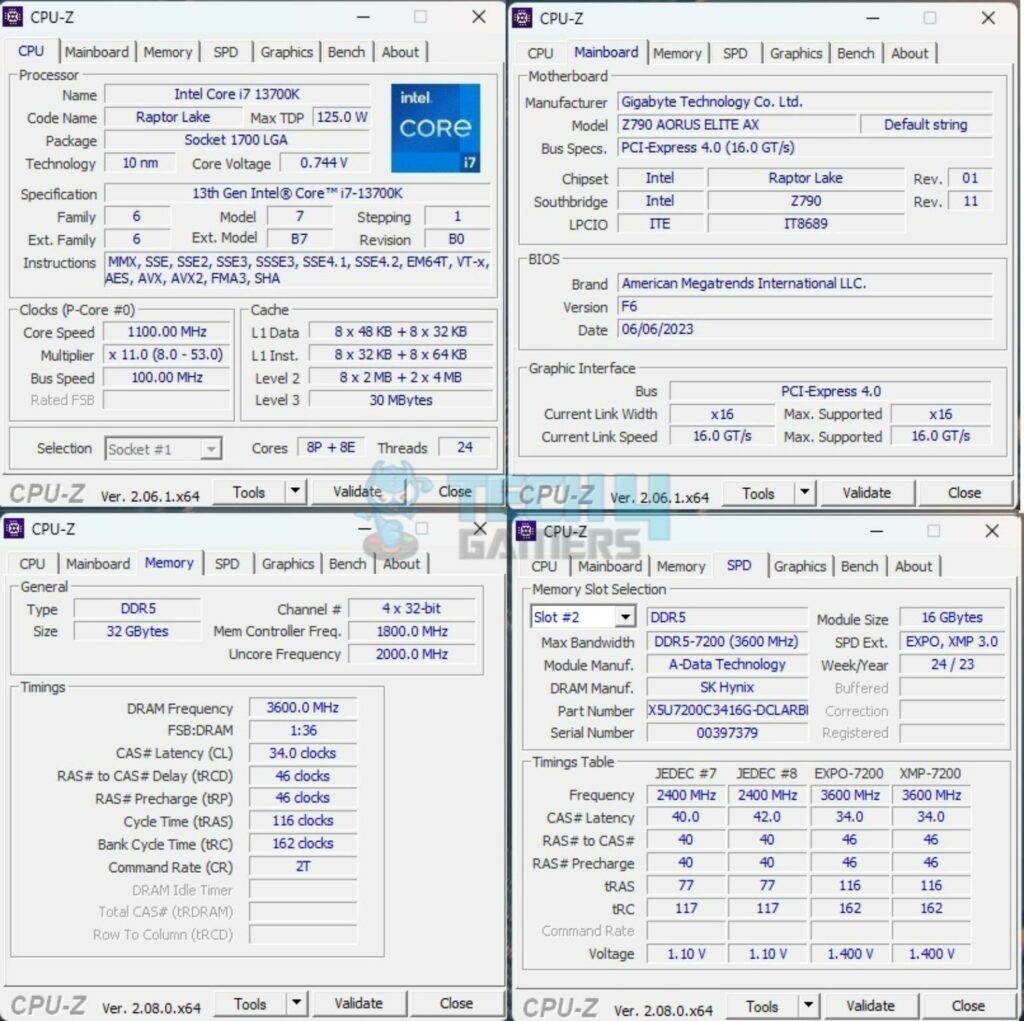 The above is a CPU-Z screenshot. It confirms that the kit is running at 720MT/s at 34-46-46-116 timings. Looking closely, you will notice that the software is reporting the kit to be in quad-channel configuration. The reason for that is with DDR5 kits, we have two channels per module, with each being 32-bit wide.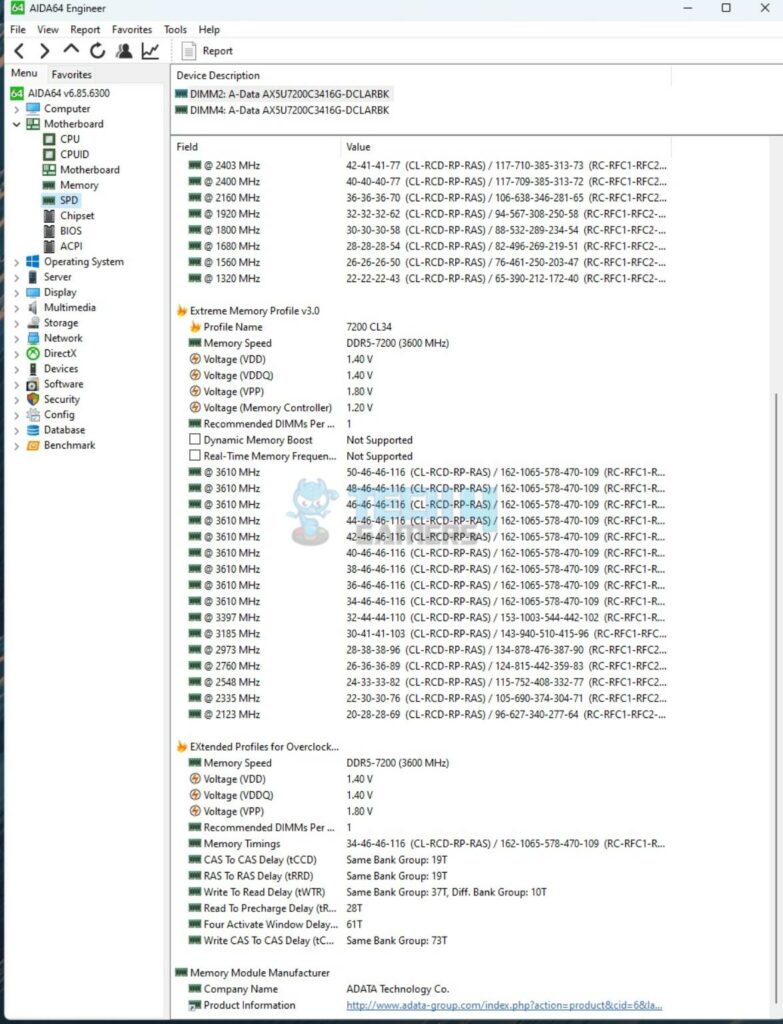 The above is the SPD readout as taken from the AIDA64 Engineer edition. It shows both XMP and EXPO profiles and their programmed variables.
Results
This is our fifth kit in the graph operating at 7200MT/s. The other kits are:
Kingston FURY RENEGADE RGB DDR5 32GB 7200MHz CAS38
V-Color xPrism RGB DDR5 32GB 7200MHz CAS34
Corsair Dominator Titanium White DDR5 32GB 7200MHz CAS34
T-Create Expert DDR5 32GB 7200MHz CAS34
However, there is a catch. The Teamgroup kit is non-binary, while the other three are binary kits. I will focus on the comparison among the binary kits.
AIDA64 Engineer
Let's start taking the results one by one, starting with AIDA64 Engineer.
All four binary kits operating at 7200MT/s are offering a comparable performance.
We can see that the XPG Lancer RGB kit is going neck-to-neck against the V-Color xPrism kit. In the Read operations, the XPG kit comes at the third slot behind the Kingston and V-Color kits. In memory Write operations, the XPG kit comes at the second number since V-Color has a marginal lead. In memory copy operations, both kits are neck-to-neck again, with only a 12-score difference between both, but XPG comes in the first slot. XPG Lancer RGB DDR5 7200MHz CAS34 kit has performed admirably well in the latency department as well. This is a good overall performance from the XPG kit.
Other Benchmark Software Results
Now, I will discuss the result from the other 4 benchmarks, starting with the SiSoft Sandra Software.
We are seeing a comparable performance by all four binary kits by all means. The XPG kit comes in at the second slot, sitting between the CORSAIR and V-Color kits. I am seeing a similar result in the Performance Test result, where XPG comes in at the second slot. In Super PI, I would call it a draw between the xPrism and XPG kits. This kit can be seen on the second slot in the Time Spy CPU score, sitting closely with the V-Color kit. I am impressed with the overall performance of the XPG kit, and we are not yet finished with this kit as the overclocking is next.
Overclocking
I was not impressed with the Corsair Dominator Titanium and Teamgroup T-Create Expert Desktop Memory kits since both are poor overclockers. This is the third 7200MT/s tested kit on my test bench, and I wanted to see if this kit has the headroom for the overclocking or not. The XPG Lancer RGB kit did not disappoint. I was able to push this kit to 7800MHz on a 4-DIMM board. Everyone's mileage would be different; hence, it is important to know the configuration on which the overclocking is done.
| | |
| --- | --- |
| Memory Frequency Multiplier | 7800MHz |
| Timings | 34-44-44-96 |
| Gear Mode | Auto |
| VDD A0 | 1.50V |
| VDDQ | 1.50V |
| VPP | 1.80V |
| VCCSA | 1.40V |
| VDDQ CPU | 1.50V |
| VDD2 CPU | 1.50V |
Results
This kit was pushed to 7800MHz for a stable operation at 1.50V. Here are the results from this overclock.
In the AIDA64 Memory benchmark, we are seeing a marginal boost in scores compared to the stock run. There is a performance boost of 3.93% in the Copy benchmark. There is a performance boost of 7.41% in the Write benchmark. There is a performance boost of 7.48% in the Read benchmark. The latency was further improved with this overclock since we did not touch the tested timings. It came down to 57.4ns from 60.6ns. We are seeing a performance boost of 1.8% in Time Spy CPU Scores with this overclock. The overall gain is quite good.
Should You Buy It?
Buy It If
If you need a DDR5 kit: The XPG Lancer RGB DDR5 kit operating at 7200MT/s using 34-46-46-116 timings is a high-performance kit, and we have seen this kit giving a tough time to the V-Color kit in our testing. Look no further if you are looking for a high-performance DDR5 kit.
If RGB Lighting is your game: The XPG Lancer has RGB lighting effects and is compatible with the RGB sync technology of motherboard manufacturers. You will be dazzled by its diffusion.
If you are looking for support for both platforms: The XPG Lancer kit comes with Intel XMP 3.0 and AMD EXPO 1.0 profiles. One can get a single kit that can work on both platforms.
Don't Buy It If
If RAM Clearance is an issue: This kit has a height of 40mm, which could give some air coolers a run for their money if they overhang the DIMM slots. I had to adjust the height of the front fan to be quiet! Dark Rock Elite cooler using XPG Lancer kit. However, for the majority of air coolers with a front 120mm size fan, there would not be a clearance issue.
Final Words
Lancer RGB DDR5 kits from XPG are high-performance memory products that offer a top-notch performance in quite some style and RGB lighting. I have tested the highest speed kit from XPG in the Lancer RGB series operating at 7200MT/s, CAS34. This kit has performed very well in our testing, and you can find this kit among the top three contenders in our graphs. These kits have a dimension of 133.35x40x8mm (LxHxW). Each module has a brushed aluminum-made heat spreader with a style lining pattern.
The overall execution is well-synced and well done. The kit has Intel XMP 3.0 and ADM EXPO 1.0 kit. This kit has a good overclocking headroom that one can use to gain more performance without spending more bucks. This kit is a binary one, meaning each memory chip has a 2GB size. This kit has an onboard error correction function as well. XPG has used Hynix A-die in this kit and offers a limited lifetime warranty on this kit. The only thing I can see as a caveat is a bit high price tag compared to some other DDR5 kits operating at 7200MHz CAS34 on NewEgg.
Was our article helpful? 👨‍💻
Thank you! Please share your positive feedback. 🔋
How could we improve this post? Please Help us. 😔
[Hardware Reviewer & Editor]
Meet Nauman Siddique, a highly experienced computer science graduate with more than 15 years of knowledge in technology. Nauman is an expert in the field known for his deep understanding of computer hardware.
As a tech tester, insightful reviewer, and skilled hardware editor, Nauman carefully breaks down important parts like motherboards, graphics cards, processors, PC cases, CPU coolers, and more.
15+ years of PC Building Experience
10+ years of first-hand knowledge of technology
7+ years of doing in-depth testing of PC Hardware
A motivated individual with a keen interest in tech testing from multiple angles.
I majored in Computer Science with a Masters in Marketing
Previously worked at eXputer, EnosTech, and Appuals.