The "which one's better" debate continues, and the contenders are none other than NVIDIA and AMD. The two rivals are in a never-ending battle of one-upping each other, and it only gets more interesting with this NVIDIA RTX 4080 vs AMD Radeon RX 6950 XT comparison.
Read: Best RTX 4080
Most believe that RX 6950 XT was late to the party, and it's true when you consider the fact that most of its next-gen architectural improvements are just around the corner. AMD's RDNA 2 architecture goes head to head with NVIDIA's Ada Lovelace. The only problem is AMD is soon to launch a new series of cards with RDNA 3 architecture.
Most of what NVIDIA achieves through software optimization with its Ada Lovelace architecture is achieved using hardware brute force by AMD on its RX 6950 XT GPU. However, in the world of technology, it has been proven time and again that software optimization can trump hardware improvements on any given day.
Which one should you go for? Should you even upgrade at all if you have one of the predecessors of these cards? You're sure going to find a clear answer to that when you read this complete comparison.
Also Read: RTX 3080 vs RTX 4080 – Should You Upgrade
---
Key Takeaways
NVIDIA RTX 4080 is better than AMD RX 6950 XT in terms of clock speeds, the number of cores, Ray Tracing tech, AI-based frame generation, and RAM type.
AMD RX 6950 XT contains the company' RDNA 2 architecture which is soon to be upgraded to RDNA 3, so buying RX 6950 XT right now could be a little questionable for now.
RTX 4080 has proven to be better than RX 6950 XT, even in AMD-optimized game titles.
RX 6950 XT from AMD proves to be better than RTX 4080 when you take into account TMUs, ROPs, and even the RT core count.
---
RTX 4080 Vs RX 6950 XT Specifications
It all begins on the spec sheet where you can clearly see the architectural and feature-based differences of the two cards. So, before we get into our detailed RTX 4080 vs RX 6950 XT comparison, let's take a look at the spec sheets of both cards.
| | | |
| --- | --- | --- |
| Technical Specs | NVIDIA RTX 4080 | AMD RX 6950 XT |
| GPU | AD103-300 | Navi 21 |
| Architecture | ADA Lovelace | RDNA 2.0 |
| GPU Cores | 9728 | 5120 |
| TDP | 320 W | 335 W |
| Process Size | 4 nm | 7 nm |
| Base Clock | 2205 MHz | 11860 MHz |
| Boost Clock | 2505 MHz | 2310 MHz |
| Memory Size | 16GB | 10 GB |
| Memory Speed | 22.4 Gbps | 18 Gbps |
| Bandwidth | 716.8 GB/s | 576 GB/s |
| RT Cores | 76 | 80 |
That's an overview of the most fundamental specifications that give you a basic idea of how one card fairs against the other. Let's go into more details about their specifications to have a better understanding of their power, efficiency, and potential performance.
NVIDIA RTX 4080 Specifications
Release Date: September 20, 2022
Launch Price: 1,199 USD
GPU Name: AD103
Architecture: Ada Lovelace
Process: 4 nm
Cuda Cores: 9782
Transistors: 45,900 million
Die Size: 379 mm²
Base Clock: 2205 MHz
Boost Clock: 2505 MHz
Memory Capacity: 16 GB
Memory Cock: 22.4 Gbps
Memory Bus: 256 bit
Memory Bandwidth: 716.8 GB/s
TMUs: 304
ROPs: 112
SM Count: 76
Tensor Cores: 304
RT Cores: 76
L1 Cache: 128 KB (per SM)
L2 Cache: 64 MB
Features
DirectX: 12 Ultimate (12_2)
OpenGL: 4.6
OpenCL: 3.0
Vulkan: 1.3
CUDA: 8.9
Shader Model: 6.6
Design
Slot Width: Triple Slot
TDP: 320 W
Suggested PSU: 700 W
Outputs: 1x HDMI 2.1 – 3x DisplayPort 1.4a
Power Connectors: 1x 16-pin
Board Number: PG139 SKU 360
AMD RX 6950 XT Specifications
Release Date: May 10, 2022
Launch Price: 1,099 USD
GPU Name: Navi 21
Architecture: RDNA 2.0
Process: 7 nm
Steam Processors: 5120
Transistors: 26,800 million
Die Size: 520 mm²
Base Clock: 1860 MHz
Boost Clock: 2310 MHz
Memory Capacity: 16 GB
Memory Cock: 18 Gbps
Memory Bus: 256 bit
Memory Bandwidth: 560 GB/s
TMUs: 320
ROPs: 128
Compute Units: 80
Tensor Cores: NA
RT Cores: 80
L0 Cache: 32 KB per WGP
L1 Cache: 128 KB (per array)
L2 Cache: 4 MB
L3 Cache: 128 MB
Features
DirectX: 12 Ultimate (12_2)
OpenGL: 4.6
OpenCL: 2.1
Vulkan: 1.3
CUDA: 8.6
Shader Model: 6.7
Design
Slot Width: Triple Slot
TDP: 335 W
Suggested PSU: 700 W
Outputs: 1x HDMI 2.1 – 2x DisplayPort 1.4a
Power Connectors: 2x 8-pin
So, the differences between the two GPUs should be pretty evident at this point. They both have some great technologies to boast, but we can't ignore the fact that the RTX 4080 is the newer one out of the two and hence contains more advanced components.
It won't be wrong to assume that RTX 4080 is the better one on paper since all the specifications are clearly ahead of RX 6950 XT's specifications. There are more cores working at the center of RTX 4080, and the cores inside RX 6950 XT are not even close. You have 9728 cores providing the much-needed power to team green's 4080, whereas only 5120 shading units are powering team red's 6950 XT.
Of course, you can't ignore the more efficient and powerful GDDR6X RAM on RTX 4080 compared to GDDR6 RAM on 6950 XT. The process size used for making the two processors is also different, with RTX 4080 using the 4 nm process compared to the 7 nm process on RX 6950 XT.
The good news is that both companies preferred to go with TSMC as the foundry for their processing technology. There is a stark difference in the clock speed of both GPUs, with the base clock of RX 6950 XT limited to 1860 MHz, whereas the base clock on its counterpart is 2205 MHz. NVIDIA doesn't come easy on boosted clock speeds either, with recommended boost clock speeds of 2505 MHz compared to 2310 MHz on RX 6950 XT.
It's not all a losing game for RX 6950 XT on the AMD side. There are certain aspects of this GPU that are better than what's found on NVIDIA's RTX 4080. These specs include TMUs, ROPs, and sub-processor count, which are 320 for 304, 128 for 112, and 80 for 76 on RX 6950 XT vs RTX 4080, respectively.
AMD RX 6950 XT Vs NVIDIA RTX 4080 – Architectural Differences
There are some clear differences between the two GPUs based on their architecture and basic computing technology and processes. Let's take a look at them one by one.
Ada Lovelace Vs RDNA 2
So, the first difference you notice between the two cards is of their architecture. Of course, they are two different cards from different companies, so they are bound to have different architectures. However, the differences go much deeper than just a few basics.
With Ada Lovelace, you are getting a lot of technologies that have matured over the course of time. For example, on RTX 4080, you have the tensor cores. Not just that, you have 304 of those tensor cores that are crucial in the AI performance of the card. On the other hand, you have RT cores on both GPUs, with AMD taking the lead with 80 RT cores compared to 76 on NVIDIA's RTX 4080.
They have both used TSMC's processing technology, but NVIDIA has chosen to go with 4 nm technology compared to 7 nm on RX 6950 XT. The use of this technology alone sends a clear signal that you'll have more transistors on team green's GPU, and it's true because RTX 4080 has 45,900 million transistors handling dense logical processes compared to 26,800 million transistors on AMD RX 6950 XT.
Ada Lovelace enables the use of AI for its DLSS3 upscaling. The purpose of this technology is to use AI to insert more frames into the scheme, so you get more fluid graphics performance while gaming. RDNA 2 from AMD, on the other hand, is still relying on FSR 2 for the same purpose. However, it is more hardware-oriented.
TMUs, ROPs, And SM Count
The performance of a GPU relies on many different components. It's an entire pipeline through which the data passes before you get what you see on your screen. While it passes through the pipeline, the different components of the GPU work parallel to each other to give you the best results.
TMUs are texture mapping units, which means the card that has more of these units will be able to give you better texture information at a faster rate. Surprisingly, you have 320 TMUs on RX 6950 XT vs 304 on RTX 4080 from NVIDIA.
You can say the same about ROPs, referring to the rendering operations pipelines. They are the last section of the graphics processing pipeline and can hugely impact graphics performance, especially when the difference between the ROPs of two cards is significant. AMD RX 6950 XT has 128 ROPs compared to 112 on RTX 4080. Yes, the difference is there, but with such a huge lead in CUDA cores, it doesn't seem that such a small ROPs difference on RTX 4080 can bring down this card's performance at all.
Memory Type And Bandwidth
NVIDIA has been sticking GDDR6x for some time, but we haven't seen AMD making the same move. The difference between the two memory types is definitely there, with GDDR6x being more efficient and offering better data transfer rates. It's clear from the fact that the bandwidth of the GDDR6 RAM on AMD RX 6950 XT is 576 GB/s, whereas NVIDIA's RTX 4080's GDDR6x RAM can offer you up to 716.8 GB/s of bandwidth.
The memory clock difference is also there, with RTX 4080 delivering 22.4 Gbps compared to 18 Gbps on RX 6950 XT. There is no difference in memory capacity as both offer you 16GB of VRAM. The BUS width is also the same at 256-bit, but you can clearly see that the difference between GDDR6 vs GDDR6x makes NVIDIA's memory a better option for gamers looking for no compromise in gaming performance.
Main Advantages
Let's discuss the main differences between NVIDIA RTX 4080 vs AMD Radeon RX 6950 XT. It should be pretty clear to any reader here by reading the above specifications and architectural differences that RTX 4080 definitely has some advantages to offer over the AMD RX 6950 XT GPU. Here are some of the main advantages:
You get a better process size at 4 nm on RTX 4080 compared to 7 nm on RX 6950 XT.
The use of GDDR6x RAM on RTX 4080 improves its memory performance over the GDDR6 RAM on RX 6950 XT in many ways, i.e., clock speed, memory bandwidth, etc.
Ray Tracing technology is much better on RTX 4080 because it has dedicated RT cores combined with AI support from DLSS3.
GPU base and boost clock speeds are much better on RTX 4080 at 2205 MHz and 2505 MHz compared to 1860 MHz and 2310 MHz on AMD RX 6950 XT.
Does it give you the impression that RTX 4080 is a much better choice in every way? Yes, it does look like that from these specifications. However, we recommend you don't reach a final verdict unless you see these gaming benchmarks.
RTX 4080 Vs RX 6950 XT – Gaming Benchmarks (4K)
Before you decide to buy any of these cards, it is important to know that they are high-end gaming cards meant mainly for the most graphics-heavy games on the market today. For this reason, we'll be conducting this test at 4K resolution because we believe that's the kind of performance they are supposed to deliver at such a high price point.
We are taking these gaming benchmarks from Mark PC on YouTube, and the rig that's powering the PC for these tests is as follows.
CPU: INTEL Core i9-12900k
RAM: 2x16GB DDR4 3600MHz G.Skill
SSD: Samsung 980 Pro 1 TB
Cooler: CoolerMaster MasterLiquid PL360
Motherboard: MSI B550-A ProSeries
Power Supply: 850 Watt NZXT C850 PSU
CPU Case: Lian Li Dynamic XL ROG
So, the rig has everything that can easily power these GPUs, from an 850 W power supply unit to a 12th Generation Core i9 processor, along with 32 GB of RAM and plenty of cooling. It is important to mention here that both GPUs are 16 GB versions. So without any further due, lets dive into NVIDIA RTX 4080 vs AMD Radeon RX 6950 XT gaming benchmarks.
God of War
Testing the two GPUs with God of War has given us clear results as to which one is better out of the two. RTX 4080 is giving a consistent performance and keeping the FPS count above 100 for the most part, which is not the case with RX 6950 XT, which is struggling even to come close to 100 FPS.
Considering the Low 0.1%, things look even more bleak for RX 6950 XT with numbers as low as 2 FPS. You'd wonder if playing a game at that FPS if you are really playing a game or watching a slideshow. The performance gain with RTX 4080 is real, significant, and something that can definitely make gamers decide in favor of this GPU.
That's nearly a 40% improvement in performance if you choose to side with team green. What's even more amazing is how RTX 4080 is maintaining a temperature identical to that of RX 6950 XT despite offering you 40% boosted FPS performance. There is nothing to say in favor of RX 6950 XT, even if you talk about CPU usage. They are both drawing the same amount of power from the CPU.
With everything considered, it is clear that RTX 4080 is the better GPU for anyone who is a fan of God of War.
Cyberpunk 2077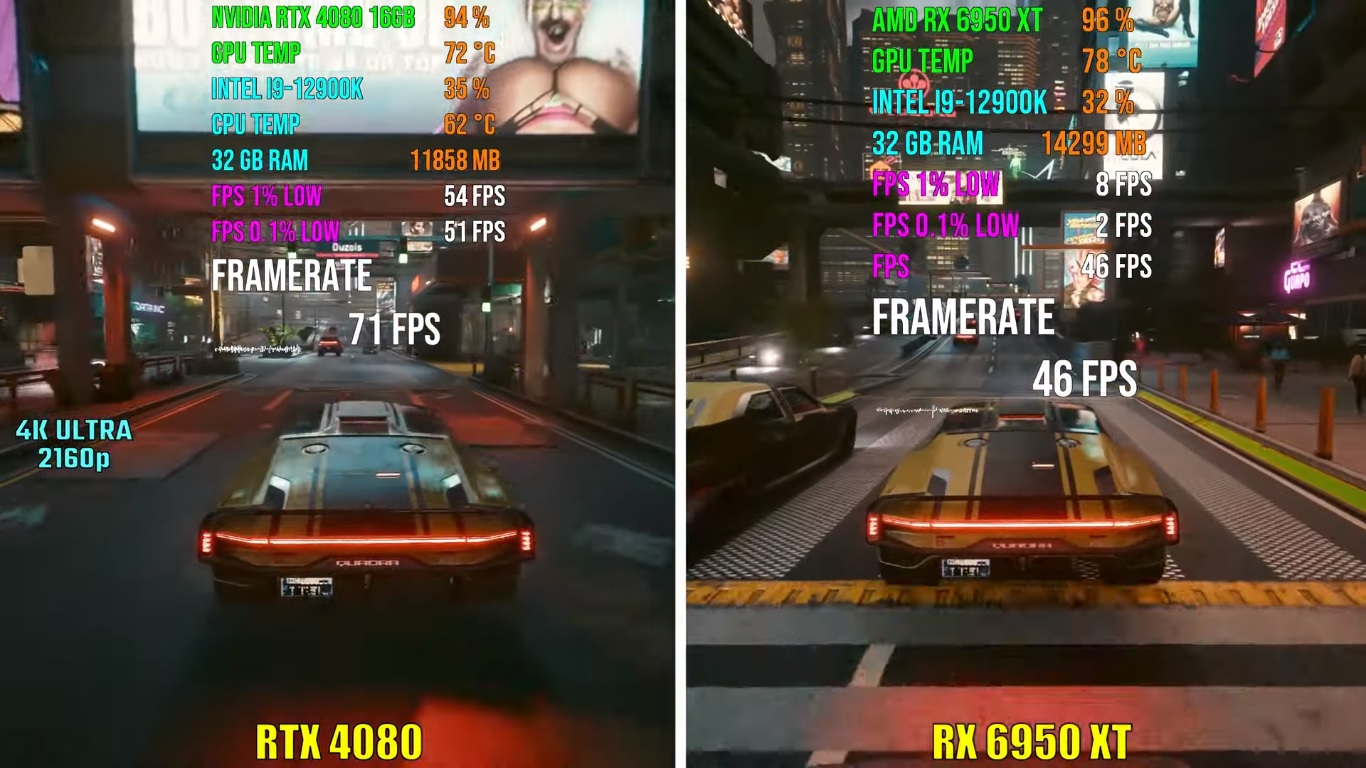 So, the first thing we have to know about Cyberpunk 2077 is that this game isn't optimized for either card. As a result, we were already hoping to see some underwhelming FPS performance. Furthermore, it is clear that no card had the upper hand over the other based on the game's optimization for a particular platform.
We find both cards to be a bit disappointing in this gaming benchmark, with none of the cards even getting close to 100 FPS. Do keep in mind that the settings in the game are maximum, with 4K as the base resolution. Yes, it was expected for both cards to be challenged, but RTX 4080 still manages to bring something to the table with its frames staying in the 70 FPS range for the most part.
RX 6950 is having trouble even throwing 50 FPS on the screen in addition to another shocking 2 FPS on Low 0.1%. At one point, we are forced to say if RX 6950 is even trying. Well, it seems from the GPU temperatures that it is more than trying to play this game at its maximum graphics settings.
The temperatures on the AMD GPU are as high as 78-degrees Celsius, whereas NVIDIA GPU is doing just fine at 72-degrees Celsius. It's not difficult to announce a winner in this particular benchmark. We know NVIDIA RTX 4080 is much better than RX 6950 XT on paper, but the performance given by RX 6950 XT seems even more underwhelming than the difference on the spec sheet.
Assassin's Creed Valhalla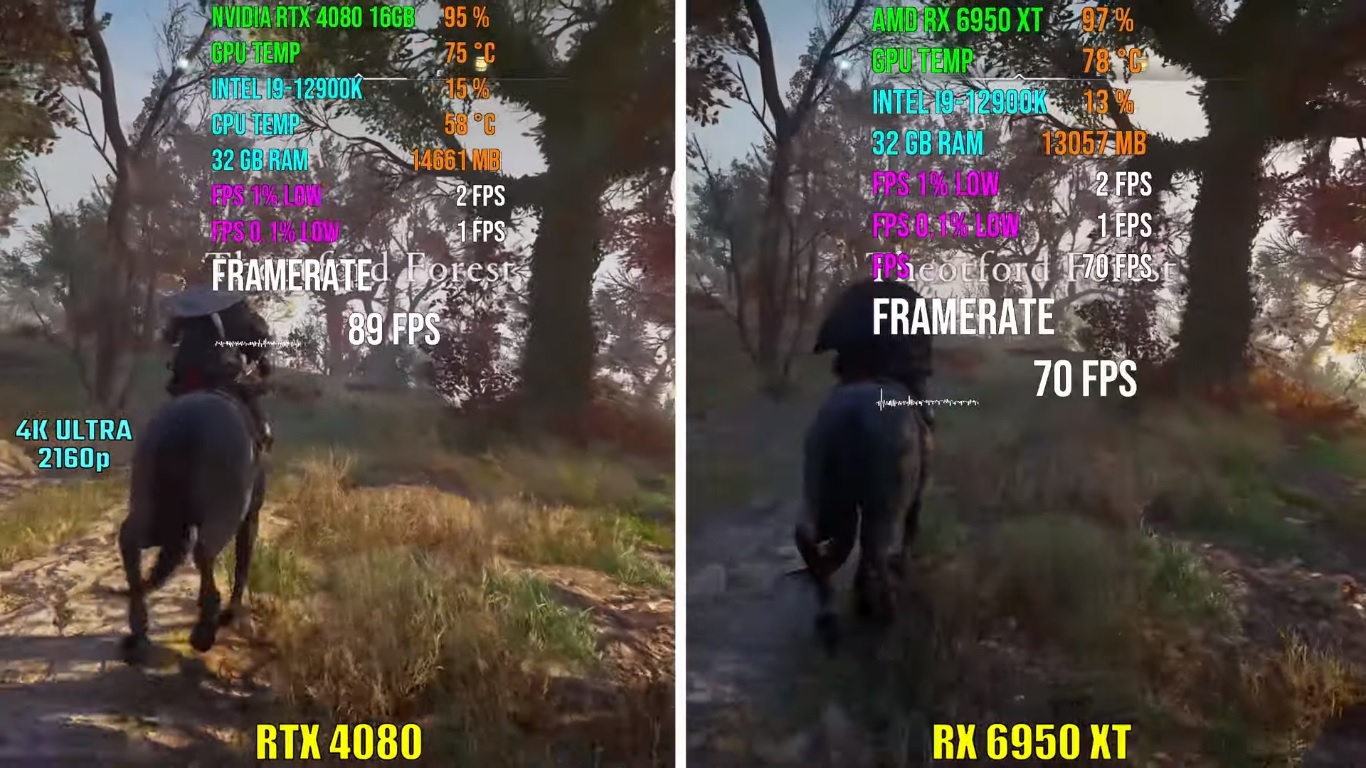 Here's something you should know about before getting into the benchmarks of this game. Assassin's Creed Valhalla is unique in that it has been optimized for AMD GPUs. It isn't some random claim but clearly stated on AMD's own website. Could this game offer some respite to team red in terms of performance scores? Let's see.
The gap between the two GPU's performances in this game is pretty narrow. However, it's difficult to claim if it's due to RX 6950 XT's optimized performance of RTX 4080's sudden dropped scores. RTX 4080 remains the strong contender in this benchmark, too, but there are some awful sights here to behold. For example, the Low 0.1% for RTX 4080 fell to 1 FPS for the first time in our benchmark testing.
On the whole, NVIDIA manages to stay in the vicinity of 90 FPS, sometimes even trying to embrace that 100 FPS mark, but failing to do so. On the other hand, you have RX 6950 XT giving you close to 70 FPS and a Low 0.1% of 1 FPS. Quite a shame that this 1 FPS score from AMD isn't shocking at all.
The GPU temperatures didn't protect AMD from more beating, either. While the difference isn't huge, it does attract a lot of criticism for your card when you are at 77-degrees Celsius playing a game optimized for your platform and your competitor is at 75-degrees Celsius.
It's quite astonishing how NVIDIA is able to manage this temperature despite running more cores, throwing in AI-generated frames, etc. Perhaps, it's the combination of a better 4 nm process and improved VRAM technology.
Watch Dogs Legion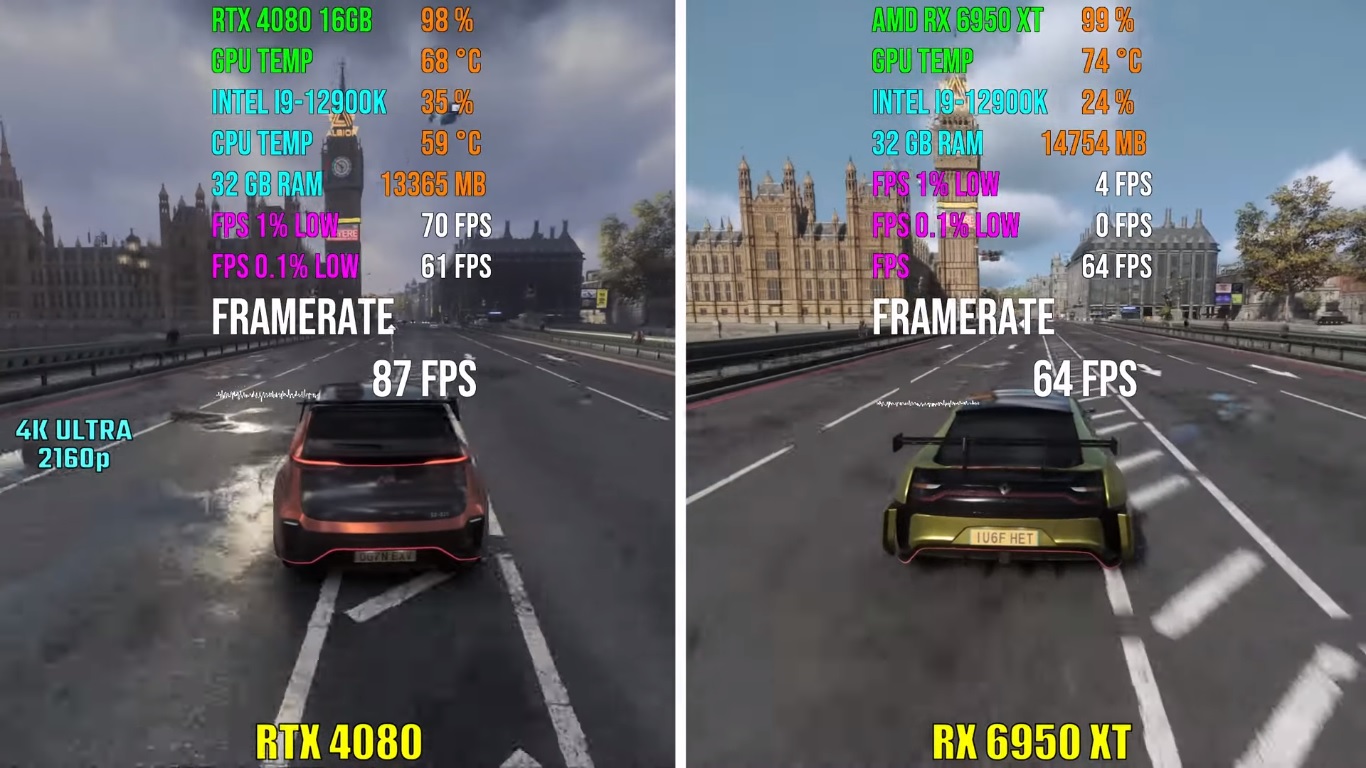 Will you be able to get close to 120 FPS on the latest games with 4K settings when you are using two of the best graphics cards on the market? Well, that question remains unanswered, but with more benchmarks, it should become clear to you that RTX 4080 is the much more suited contraption for 4K gaming.
Watch Dogs Legion benchmarks prove yet again that NVIDIA is better optimized and built for 4K games. It is giving us 87 FPS compared to 64 FPS on AMD's GPU. This performance remains consistent throughout the test, with team green getting quite close to 90 FPS at some points but team red not even making it close to the 70 FPS mark.
Are you ready for another shock? Well, the temperature difference is huge in this test, with RTX 4080 keeping it cool at only 69-degrees Celsius compared to 75-degrees Celsius on AMD RX 6950 XT. The temperatures are going up and down a bit, but they are in this proximity for the most part.
Here's something that will definitely give you the shock of your life: the Low 0.1% score on AMD RX 6950 XT is 0. Yes, that's not a typo. You couldn't blame this performance on anything other than the card itself. No amount of disparity in the motherboard and processor type should ever cause the frames to drop to zero.
The CPU usage at nearly 40% is quite the same on both cards. Therefore, we can claim yet again that NVIDIA RTX 4080 is the better card out of the two if you would like to play some Watch Dogs Legion.
Red Dead Redemption 2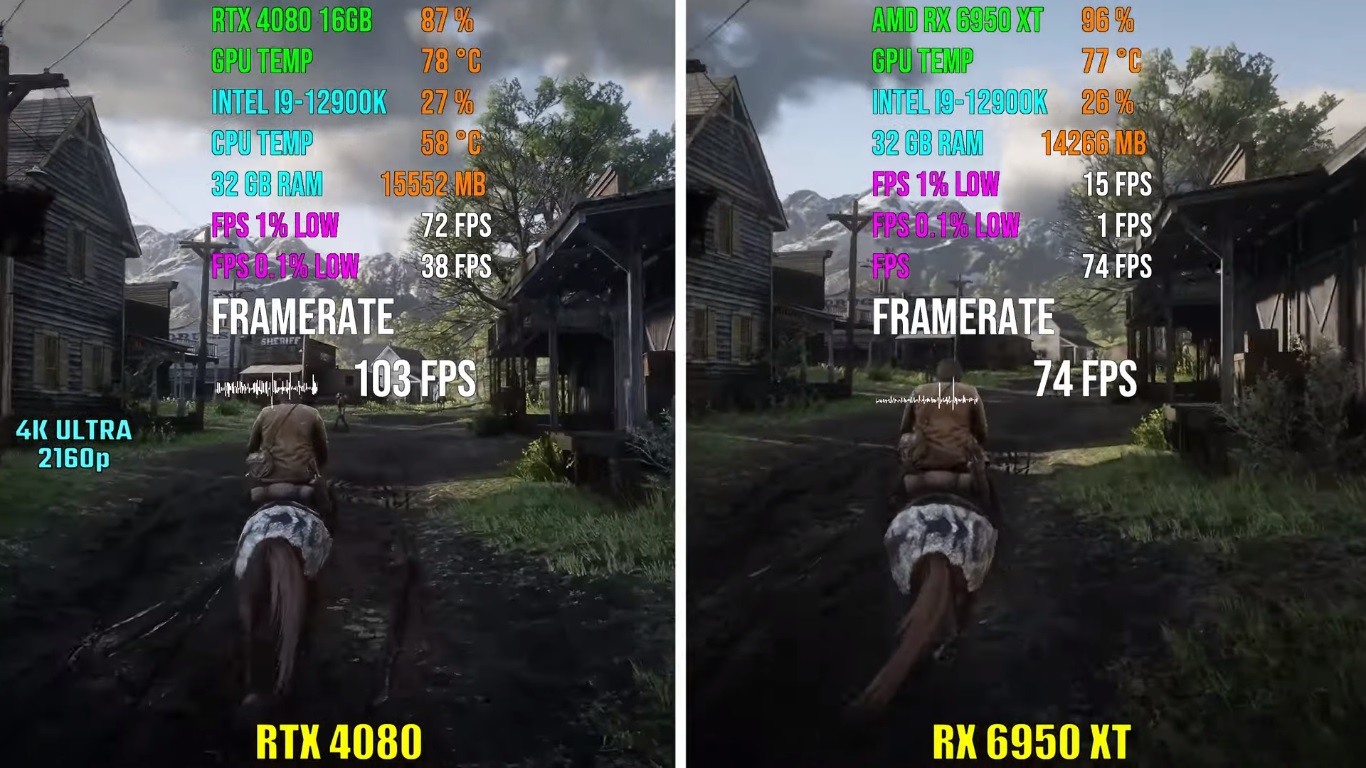 The next game chosen for our NVIDIA RTX 4080 vs AMD Radeon RX 6950 XT benchmark can clearly show you that we were not trying to favor a particular card at all. Until now, it's the second game that's optimized for AMD GPUs, and it says clearly on their website. The show of power in terms of numbers isn't telling that story though.
The performance isn't bad from either card, and that has to be said here. AMD RX 6950 XT maintains an FPS above 70 pretty consistently throughout the test. It's also one of those rare occasions wherein the temperature on NVIDIA GPU is higher, but only by a couple of degrees. That's easy to ignore and really doesn't make any difference.
NVIDIA RTX 4080 is consistently good in this test. The frames go above 100 FPS at some points but don't sustain this position for long. However, the 90 FPS mark was quite consistent for the card throughout the test. It certainly blows AMD out of the water in this test in terms of Low 0.1%, which are as low as 1 FPS yet again for team red.
Doom Eternal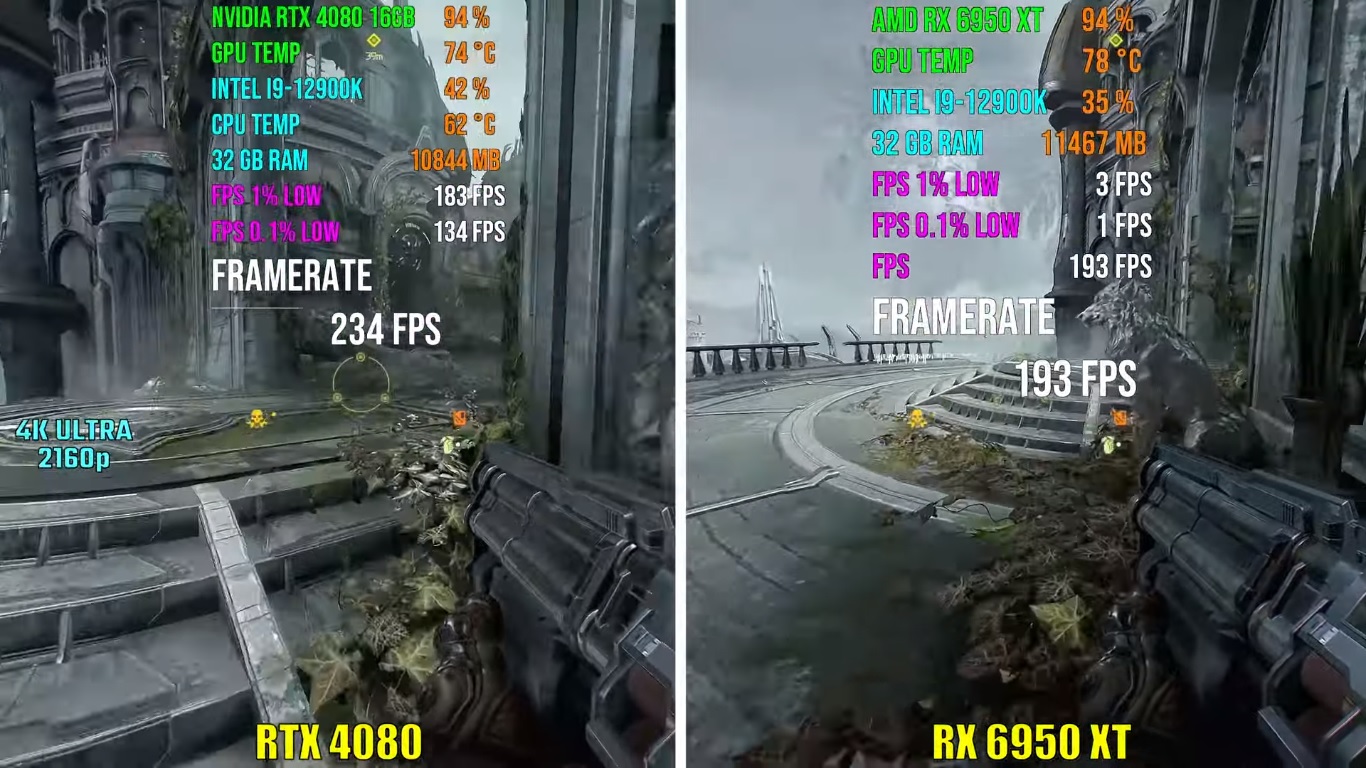 Doom Eternal came out 2 years ago, and it is not the most graphics-heavy game in any way. So, you can already expect the results to be quite pleasing to the eye. The real contest here is which card can give you the performance that's more pleasing to the eye.
In terms of their frame production performance, they both hit it out of the park in this game. AMD RX 6950 XT remained close to 200 FPS throughout the test but was more consistently around 190 FPS. On the other hand, NVIDIA RTX 4080 is soaring high in that department, with the frame rate going as high as 270 FPS at times.
The game might just feel more fluid than life itself when the frame production is flawless. However, despite throwing out such great numbers, the card is hardly taking a hit on the power supply. It's barely heating at 74-degrees Celsius. The same can be said for AMD RX 6950 XT as well, but its temperature is a bit higher at 77-degrees Celsius.
It's quite surprising to see NVIDIA making use of some CPU power in this test. The CPU usage is higher than 50%, which is quite unprecedented but also a breath of fresh air because low CPU usage only creates fears of bottlenecking.
The Low 0.1% rating in this test for RTX 4080 is 145 FPS, and the Low 1% is as high as 182 FPS. That's a huge contrast with AMD's GPU, whose Low 0.1% has hit rock bottom with 1 FPS.
Horizon Zero Dawn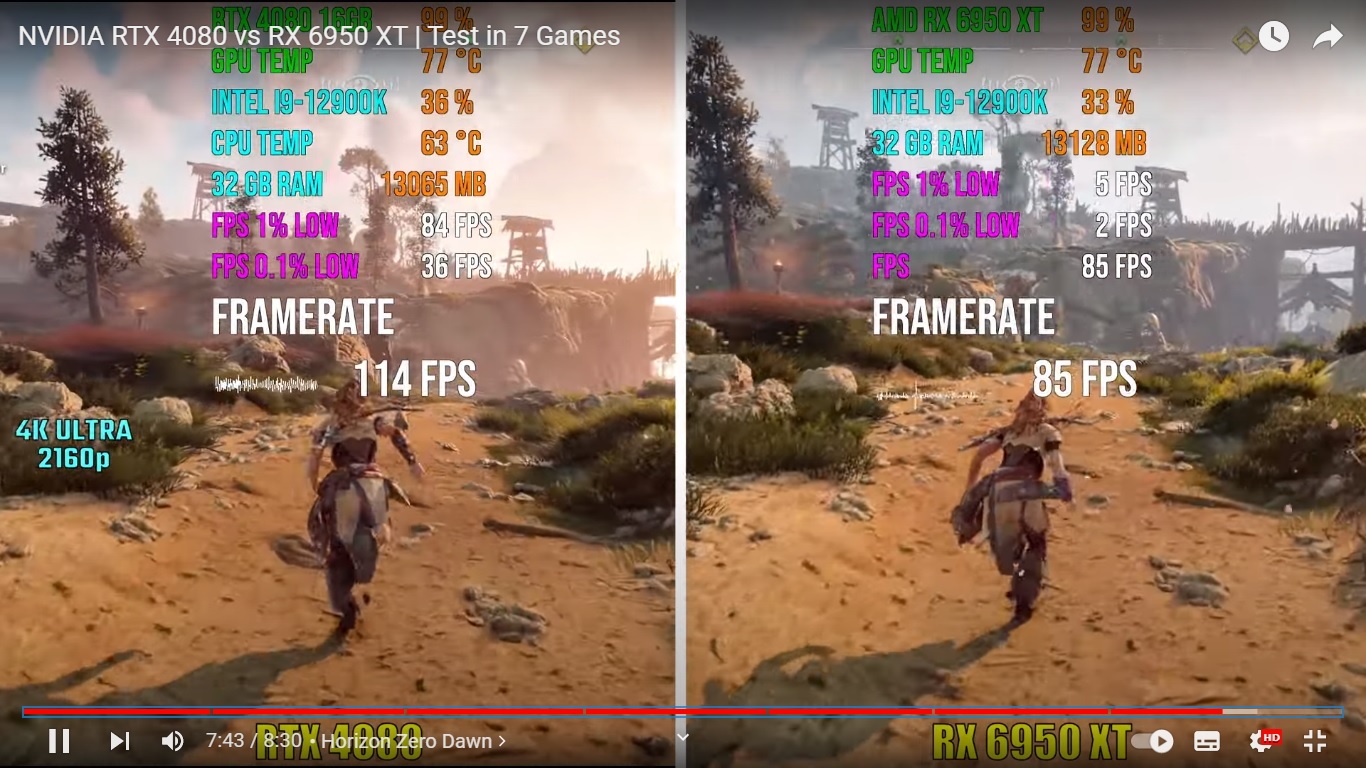 Did we just test another game that's optimized for AMD GPUs? Is there any way we could have made it fairer for the team red? The 4K performance with maximum graphics settings on Horizon Zero Dawn gives us some interesting results. AMD RX 6950 XT has gone past 80 FPS quite easily on this test.
However, this raises the question of whether AMD can only give you more than 80 FPS in 4K resolution when the game is optimized for its GPU. Even if that's the case, you can't ignore that NVIDIA is still doing better on the other side, throwing a whopping FPS average of 114 on the screen to give you a fluid gaming performance.
It's most certainly making use of some CPU power here, but the temperature management is ideal here. The temperature on the NVIDIA GPU is in the range of 75-degrees to 77-degrees Celsius. The AMD GPU is maintaining the same temperatures, so that's finally some respite for team red due to an AMD-optimized game.
Overall Gaming Performance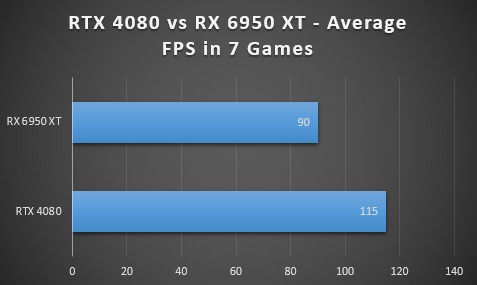 When we look at the overall gaming performance based on the production of frames, it is clear that NVIDIA RTX 4080 has the upper hand. It was able to outperform AMD RX 6950 XT in every single game.
There are many reasons for that improved performance, one being the fact that RTX 4080 was launched many months after AMD RX 6950 XT. There are many performance improvements on paper that give RTX 4080 an edge over its AMD counterpart.
Yes, you will always be debating the price of the cards with others, and people will always talk about value for money, but it's already enough value when you are outperforming a card in every single game.
The 0.1% Lows on AMD RX 6950 XT were extremely disappointing. We can't ignore the fact that out of all the games we checked, three of them were AMD-optimized. In other words, AMD had a level playing field and the chance to bring the competition closer. However, that never happened in our benchmark tests.
You also have to take into account the fact that the launching price of both cards shows a difference of no more than $100. In a way, you are getting more value out of the NVIDIA GPU. To put the performance improvement in numbers, you are getting close to 30% better overall performance from NVIDIA RTX 4080 in just about every game you play.
Heat Management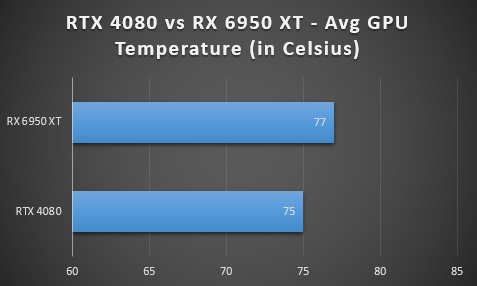 When it comes to NVIDIA RTX 4080 vs AMD Radeon RX 6950 XT heat management, the average temperature on NVIDIA GPU remained close to 75-degrees Celsius. AMD RX 6950 XT wasn't too far away, with 77-degrees Celsius as the average temperature. This is the average temperature on both GPUs in the 7 games we tested.
You should have a clear idea of how Nvidia has been able to keep its temperature low. It has used many technologies that allow it to keep temperatures low. For example, the use of 4 nm technology certainly ensured that the GPU remained cool despite the heaviest operations.
It is also quite clever from NVIDIA that it has dedicated RT cores and Tensor Cores for two different tasks. NVIDIA RX 4080 also has GDDR6x memory that is supposed to be more efficient.
Is there any benefit to you if the temperatures of a particular GPU are lower? Well, yes. You benefit from lower electricity bills and a small expense on cooling your PC. However, in this particular, both GPUs were able to keep things calm and cool, so you won't have to spend on any additional cooling than what was already used in the test.
Pricing And Availability
The starting price of these GPUs isn't very different. People had something to brag about when NVIDIA first came out with cards that cost people more than $1000. However, the RX 6950 XT has definitely changed that opinion as well.
Yes, the price of the card has come down with time, but it was also launched for $1100, which is quite unprecedented from AMD. If you go with the manufacturer's version, you will be able to get NVIDIA RTX 4080 for $1200. However, just like always, the ASUS version of the card is the most expensive out there.
If you go with the ASUS ROG Strix GeForce RTX 4080 version of the card, you can prepare to spend close to $1550 on the card. The availability of NVIDIA cards can always be questionable due to their use in crypto mining.
The 16GB RX 6950 XT is easily available for as low as $800 on Amazon. The MSI version of the card is among the affordable options, whereas the Sapphire version could prove to be quite expensive, going as high as $1030. Yet again, the ASUS version takes the cake by offering you the card at a little above $1100.
RX 6960 XT Vs RTX 4080 – Which One To Get?
Define a pricing point that you are most comfortable with, and you'll probably get your answer right away. However, if you are someone who doesn't care about budget when it comes to prime gaming performance, you would definitely want to go with the NVIDIA RTX 4080 graphics card.
It has outperformed AMD RX 6950 XT in every way in our benchmarks. You can easily expect to get a performance of boost of up to 30% in all the games you play at 4K. This brings us to the next important point i.e., 4K gaming. If you are not into 4K gaming yet, an $800 version of AMD RX 6950 XT would be the perfect deal for you.
While RX 6950 XT saves you money, it does come with the drawback of RDNA 2 architecture and no availability of AI-based upscaling, both of which are supposed to get a big boost with the new lineup of AMD GPUs. Hopefully, our NVIDIA RTX 4080 vs AMD Radeon RX 6950 XT battle will help you make the right decision.
FAQs
Does AMD RX 6950 XT have RDNA 3 architecture?
No, this card is based on RDNA 2 architecture.
Will I get AI-based frame upscaling with RX 6950 XT?
No, the frame upscaling on RX 6950 XT is hardware-based, which is not as good as DLSS3 on NVIDIA RX 4080.
Is AMD RX 6950 XT as big as NVIDIA RX 4080?
No, AMD RX 6950 XT is smaller than RX 4080 from NVIDIA. The length of RTX 4080 is 310 mm whereas RX 6950 XT is 267 mm long.
Was our article helpful? 👨‍💻
Thank you! Please share your positive feedback. 🔋
How could we improve this post? Please Help us. 😔