So, NVIDIA has finally made the big announcement of its new 4000 series of graphics cards, and the comparisons have already begun. No doubt you'll see some significant improvements in the NVIDIA RTX 4080 graphics card over the RTX 3080, but they are not enough to push in the direction of one of these cards. For most users these days, it comes down to the value they get for their money. That's where this RTX 4080 Vs RTX 3080 comparison comes in to make your life easier.
Also Read: Nvidia RTX 4080 vs AMD RX 6950 XT
The more you know the better; that's how it works if you are looking for maximum value for the money spent. To start off, the main architecture is completely different and new since RTX 4080 comes with Ada Lovelace architecture compared to Ampere on RTX 3080. Another major shift is the process node, that's now 4nm and based on TSMC. In other words, more transistors in a smaller area.
To be precise, the new GPU from NVIDIA has nearly 46 billion transistors, translating to over 60% more efficient space utilization. There's a lot more to discuss in this comparison, but first, let's dive into the technical specifications to see how they compare with each other on paper.
---
Key Takeaways
NVIDIA RTX 4080 is the next generation of RTX series GPUs from the manufacturer that contains the new Ada Lovelace architecture.
The use of 4nm process has allowed NVIDIA to put 45,900 million transistors on its new RTX 4080 graphics card compared to only 28,300 million on RTX 3080 due to the use of 8nm process.
Surprisingly, NVIDIA RTX 3080 has a better memory bandwidth of 760.3 GB/s compared to 716.8 GB/s of RTX 4080.
In most 4K gaming benchmarks, RTX 4080 consumed less power than RTX 3080 and remained below 70-degrees Celsius despite offering nearly 40% boost in FPS.
---
RTX 4080 Vs RTX 3080 – Specifications
Let's take a look at the basic specifications of these two cards because that's the starting point for anyone who wants to buy a new GPU.
| | | |
| --- | --- | --- |
| Technical Specs | NVIDIA RTX 4080 | NVIDIA RTX 3080 |
| GPU | AD103-300 | GA102-200 |
| Architecture | ADA Lovelace | Ampere |
| GPU Cores | 9728 | 8704 |
| TDP | 320 W | 320 W and 350 W |
| Process Size | 4 nm | 8 nm |
| Base Clock | 2205 MHz | 1440 MHz |
| Boost Clock | 2505 MHz | 1710 MHz |
| Memory Size | 16GB | 10 GB |
| Memory Speed | 22.4 Gbps | 19 Gbps |
| Bandwidth | 716.8 GB/s | 760.3 GB/s |
| RT Cores | 76 | 68 |
This should give you a basic understanding of where these two graphics cards stand head to head in terms of their fundamental specifications. However, here are some more detailed specifications so you can look deep into their design, power, and features.
RTX 4080 Specifications
Release Date: September 20, 2022
Launch Price: 1,199 USD
GPU Name: AD103
Architecture: Ada Lovelace
Process: 4 nm
Cuda Cores: 9782
Transistors: 45,900 million
Die Size: 379 mm²
Base Clock: 2205 MHz
Boost Clock: 2505 MHz
Memory Capacity: 16 GB
Memory Cock: 22.4 Gbps
Memory Bus: 256 bit
Memory Bandwidth: 716.8 GB/s
TMUs: 304
ROPs: 112
SM Count: 76
Tensor Cores: 304
RT Cores: 76
L1 Cache: 128 KB (per SM)
L2 Cache: 64 MB
Features
DirectX: 12 Ultimate (12_2)
OpenGL: 4.6
OpenCL: 3.0
Vulkan: 1.3
CUDA: 8.9
Shader Model: 6.6
Design
Slot Width: Triple Slot
TDP: 320 W
Suggested PSU: 700 W
Outputs: 1x HDMI 2.1 – 3x DisplayPort 1.4a
Power Connectors: 1x 16-pin
Board Number: PG139 SKU 360
RTX 3080 Specifications
Release Date: September 1, 2020
Launch Price: 699 USD
GPU Name: GA102
Architecture: Ampere
Process: 8 nm
Cuda Cores: 8704
Transistors: 28,300 million
Die Size: 628 mm²
Base Clock: 1440 MHz
Boost Clock: 1710 MHz
Memory Capacity: 10 GB
Memory Cock: 19 Gbps
Memory Bus: 320 bit
Memory Bandwidth: 760.3 GB/s
TMUs: 272
ROPs: 96
SM Count: 68
Tensor Cores: 272
RT Cores: 68
L1 Cache: 128 KB (per SM)
L2 Cache: 5 MB
Features
DirectX: 12 Ultimate (12_2)
OpenGL: 4.6
OpenCL: 3.0
Vulkan: 1.3
CUDA: 8.6
Shader Model: 6.6
Design
Slot Width: Dual Slot
TDP: 320 W
Suggested PSU: 700 W
Outputs: 1x HDMI 2.1 – 3x DisplayPort 1.4a
Power Connectors: 1x 12-pin
Board Number: PG132 SKU 30
Let's briefly discuss the performance of RTX 4080 vs RTX 3080 based on their specifications on paper. NVIDIA RTX 4080 is the better GPU in just about all areas since it has just been launched i.e., 2 years after the launch of RTX 3080. Not to mention, it is the next generation of graphics cards in the RTX series from NVIDIA in the literal sense of the word.
Looking at the CUDA cores, which are the main cores at work in any NVIDIA graphics card, you can see a clear difference with RTX 4080 having over 1000 more cores than its RTX 3080 counterpart. TMUs, which are always important when comparing two GPUs, are also higher for RTX 4080 at 304 compared to 272 for RTX 3080.
The part of the specifications to get your attention almost instantly is the number of transistors, which is much higher for RTX 4080 compared to RTX 3080, thanks to the 4 nm process, allowing TSMC to fit 45,900 million transistors on a die size of just 379 mm². The die is much bigger on the 8nm processor from Samsung allowing for only 28,300 million transistors to support the processing tasks on RTX 3080.
What you really need to pay attention to is the number of tensor cores on both. Keep in mind that tensor cores are directly responsible for making AI-oriented processing possible on the new GPUs, so a higher number of these cores means better AI and machine learning performance. You will get 304 tensor cores on your RTX 4080 compared to 272 on your RTX 3080.
On paper, the emulation, control, and production of lighting effects should be better on the newer NVIDIA GPU due to its higher RT cores. RTX 3080 isn't bad with 68 RT cores, but you are surely getting some extra performance from RTX 4080 with its 76 RT cores. Is there a difference between the two? Most definitely! The only topic to debate that remains after this on-paper performance is value for money.
Something that's definitely going to catch you off-guard is the power draw of these cards. More cores, bigger memory, faster processing, etc., should mean more power needed, right? Well, no! Looking at a TDP of 320 W on both GPUs should definitely make you think for a moment, but then again, better technology is usually synonymous with more efficiency.
We are sure you will get the answer to that question too as you continue reading further.
Features
While there is a lot to talk about when the topic involves two NVIDIA GPUs from two different generations. However, let's specifically discuss the most highlighting features of these processors and see if these features make one better than the other.
Ada Lovelace Vs Ampere
That's NVIDIA's way of saying you are old and your technology is slow. It's one thing to be on a previous version of the same technology while completely another to be a generation behind others. So, if you have the RTX 3080, you are on the Ampere architecture, whereas Ada Lovelace is the next best thing, quite literally on NVIDIA GPUs.
The difference between the two process nodes is clear from the number of transistors and die size. You have nearly 61% more transistors on RTX 4080 than RTX 3080, so it produces more power per mm² than its predecessor. The efficiency of this architecture is clear from the fact that it still uses the same 320 W to perform better.
The use of 4 nm technology has definitely given NVIDIA that extra room to spread more wings in terms of sheer performance. Also noteworthy here is the base clock and boost clock speeds of the processor, with RTX 3080 attaining a maximum of 1710 MHz after the boost, whereas RTX 4080 attains 2505 MHz after overclocking. Interestingly, even the base clock speeds of 2205 MHz on RTX 4080 are much higher than the boosted clock speeds of RTX 3080.
CUDA Cores And Tensor Cores
The primary performance of any GPU from NVIDIA depends on its CUDA cores, which are at the core of all the computations being done inside the processor. All the data that flows into the processor and flows out of it is processed by these cores. How many of these cores you have on your GPU really matters.
While a small difference can be ignored, it's quite a big one in the case of RTX 4080 vs RTX 3080. You have 9728 shading units on RTX 4080 compared to 8704 on RTX 3080. The difference in the number of CUDA cores is near 1000 cores, with RTX 4080 having the lead. Combined that power with higher TMUs and ROPs on RTX 4080, and you have a beast of a graphics card that's incomparable for now.
Also, there are 304 tensor cores on RTX 4080 compared to 272 on RTX 3080. The same difference lies in the number of RT (Ray Tracing) cores that max out at 68 on the RTX 3080 GPU, whereas RTX 4080 has 76 of them. The impact of these cores is on DLSS and the realism of lighting in the games. Don't forget that DLSS3 uses AI to insert frames into the final output to give you a higher frame rate.
Just so you get an idea, you have 2nd Gen RT cores on RTX 3080 and 3rd Gen RT cores on RTX 4080. Also, the tensor cores on RTX 3080 are 3rd Gen, whereas the tensor cores on RTX 4080 are 4th Gen. The difference is clear as day.
Memory Speed and Technology
The difference in memory is clear, too, with RTX 4080 coming with 16 GB of GDDR6X memory. On the other hand, the memory size on RTX 3080 is only 10 GB, but you have to give it to the predecessor here for having a 320-bit memory bus compared to a 256-bit memory bus on the successor.
Does that make any difference? Well, at least on paper, you will see some difference if you look at the specs closely. Did you notice the memory bandwidth? Yes, RTX 3080 is offering you a better memory bandwidth of 760.3 GB/s, whereas RTX 4080 has a maximum memory bandwidth of 716.8 GB/s. We can say that the increments in other areas, such as tensor cores, RT cores, CUDA cores, etc., can easily make up for this difference.
Key Advantages
If you have already made up your mind to go for the upcoming RTX 4080, then you won't regret it. When all you want is better performance and you could care less about the price you pay for that better response time and low latency, RTX 4080 is definitely a good choice.
Here are some main benefits that you will enjoy if you go from RTX 3080 to RTX 4080.
Much higher clock speed with a base clock of 2205 MHz and a boost clock of 2505 MHz compared to RTX 3080's 1440 MHz and 1710 MHz on the base and boost clock respectively.
A higher number of tensor cores and RT cores on NVIDIA RTX 4080.
The better memory size of 16 GB on RTX 4080 compared to 10 GB on RTX 3080.
All-new Ada Lovelace architecture on RTX 4080 built with 4nm technology offering 3rd Gen RT cores and 4th Gen Tensor cores.
It looks like a clean sweep for NVIDIA RTX 4080, but can it continue to shine in the gaming benchmarks? Let the show begin.
RTX 3080 Vs RTX 4080 – Gaming Benchmarks At 1440p
It's happens quite often that a graphics card seems great on its spec sheet but not so impressive in real-world (read real-game) performance. Will the same happen to RTX 4080, which has been hitting it out of the park against RTX 3080 in just about every aspect?
We test both at 1440p and 4k resolutions to test their extremes in 5 different games. Let's see which ones walks away the winner and which one bites the dust.
These NVIDIA RTX 4080 vs NVIDIA RTX 3080 benchmark tests were conducted by Benchmark Lab on YouTube. The rig that they are using to perform these tests is as follows:
CPU Cooler: AIO – Arctic Freezer 420mm
Motherboard: ASUS ROG STRIX Z 690
Processor: Intel Core i9 13900K 5 GHz
RAM: 32 GB (2 x 16 GB) Gskill Z Trident DDR 5 – 6200 Mhz
SSD: Samsung EVO 970 500gb
Power Supply: EVGA SuperNOVA 1000 G5
The rig being used here is clearly sufficient to support both cards. The power supply is 1000 W, which means that extra capacity for the GPUs to use some supplemental power directly from the power supply.
Who could complain about the 13th Generation Core i9 processor supported by 2 sticks 16 GB DDR5 RAM? So, let's dive right into the tests.
Spiderman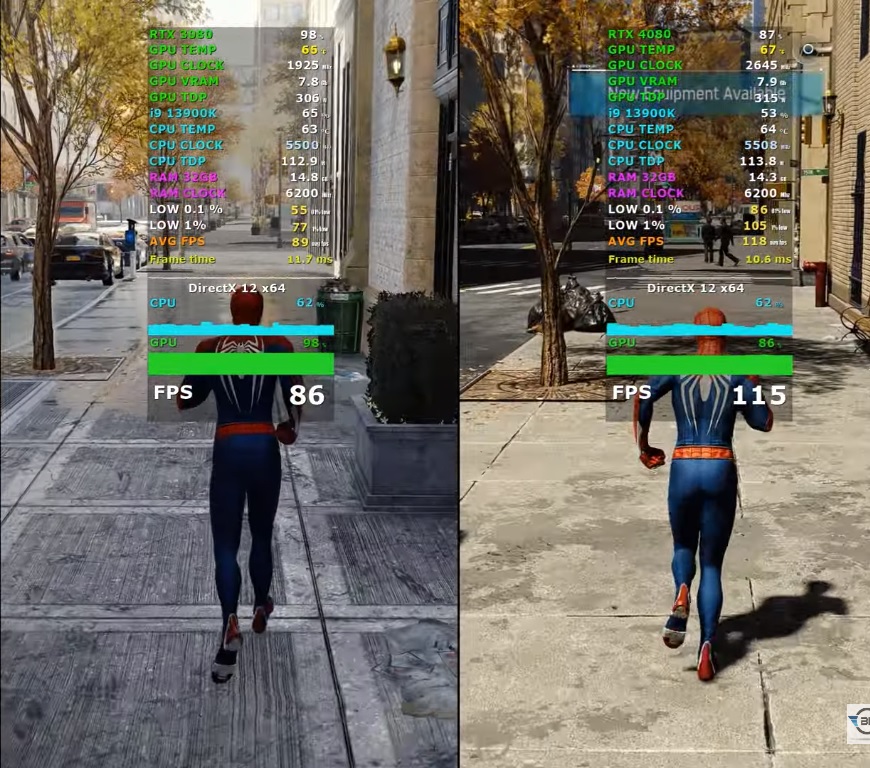 Let's start with a fun game. We are seeing a clear difference in the performance of the two cards while playing this game. The average frames per second being produced by RTX 3080 is 85 whereas RTX 4080 is quite impressive, keeping the average frames at 112.
The new Ada Lovelace architecture built on 4nm process node is clearly showing how stupendously optimized and efficient this setup is as the differences in the temperatures is not significant at all. The temperature remains in the range of 65-degrees Celsius to 68-degrees Celsius, which is quite impressive.
Also, RTX 4080 isn't drawing any more power from the motherboard which would alarm the existing RTX 3080 users. A TDP of just 312 W on RTX 4080 compared to a TDP of 305 W goes to show what the next generation of technology brings to the table.
The overall performance improvement is great for anyone who jumps ship and goes with RTX 4080. In terms of FPS, an improvement of nearly 31% is worth it for a lot of gamers out there. Not to mention, you won't be spending any extra money on cooling or pushing your energy bills any higher.
Cyberpunk 2077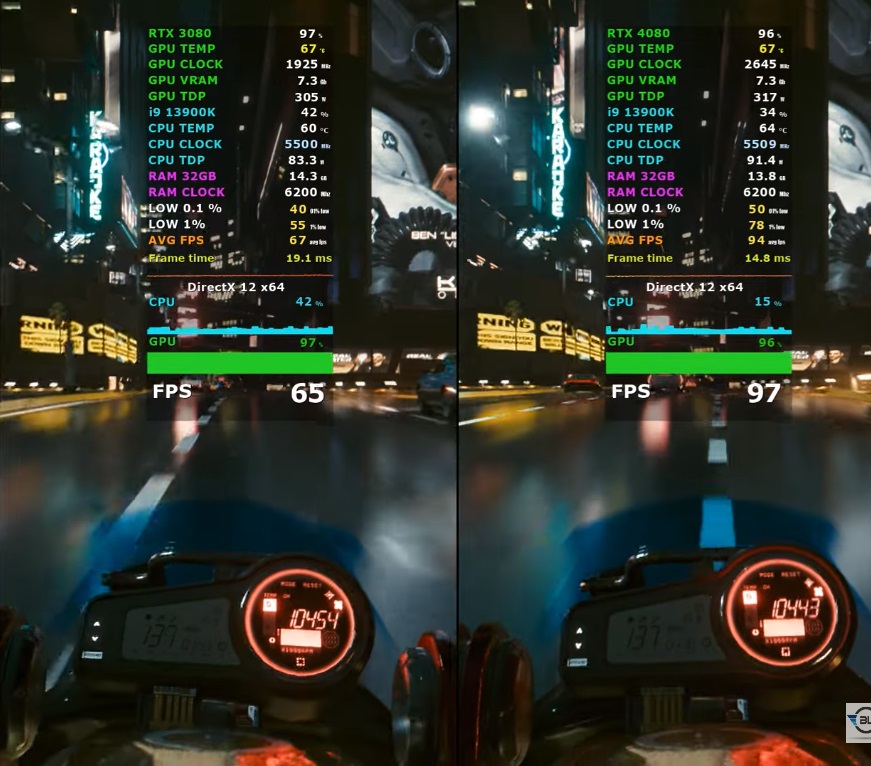 A game from CD Projekt that many have fallen in love with. There should be no doubt in your mind about how heavy this game can be on GPUs. The RTX 4080 graphics card from NVIDIA continues to impress as it delivers a higher FPS performance compared to RTX 3080.
The average FPS of 95 might not be the most impressive, but the RTX 4080 is getting attention with how cool it is while delivering this performance. A GPU temperature of 66-degrees Celsius at times compared to RTX 3080, whose temperature is leaping over 67-degrees Celsius, is surely a sight to behold.
Yes, it is drawing more power from the motherboard but is it really that big of a difference when its TDP is hovering around 315 W compared to RTX 3080's 307 W? Taking into account the FPS performance from both, you can expect your RTX 4080 to deliver 42% improved performance over RTX 3080 when you play Cyberpunk 2077.
It might seem a bit disappointing that 0.1% Low on RTX 4080 is 54, but mind you the game is running on maximum graphics settings and Ray Tracing is also on. At the end of the day, RTX 4080 wins this head to head battle too.
Witcher 3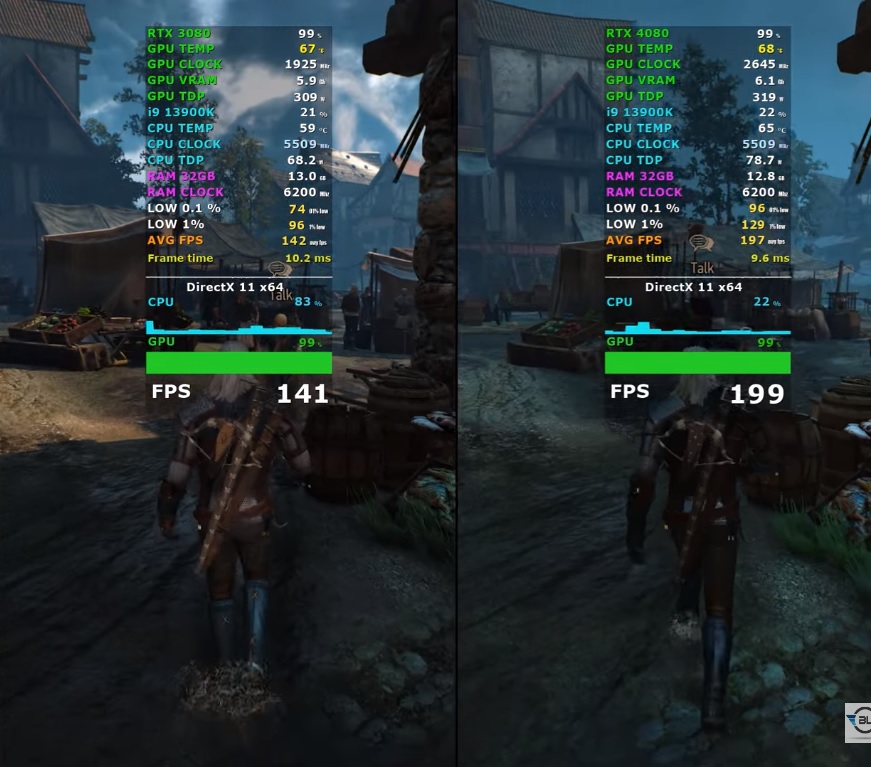 Things are going a little wild in this test as the average FPS on RTX 4080 is 199. Could you expect anything better? RTX 3080 isn't far behind at 141 average FPS but 1% LOW is clearly the big difference between the two cards, with RTX 4080 maintaining it at 129, whereas RTX 3080 is quite down below at 96.
What we have continuously been convinced and compelled to admire is the efficiency with which RTX 4080 operates. While you do pay a higher price for a good FPS improvement, the real difference is in the efficiency department, which is clearly evident from the temperatures on the GPUs. There are virtually no temperature differences despite the big difference in performance.
Why isn't there a big difference in the temperatures on these GPUs? Well, because RTX 4080 is efficiently managing everything with a TDP of 314 W whereas 3080 is drawing 308 W power from the motherboard. A great technological improvement is clearly to be seen here.
It's also quite fascinating to notice that RTX 4080 is putting less load on other computer components, such as the CPU and RAM. What will really blow your mind is that the clock speeds of RTX 4080 are way above 2600 MHz, which is above the advertised boost clock speed even on the official NVIDIA website.
Diablo RE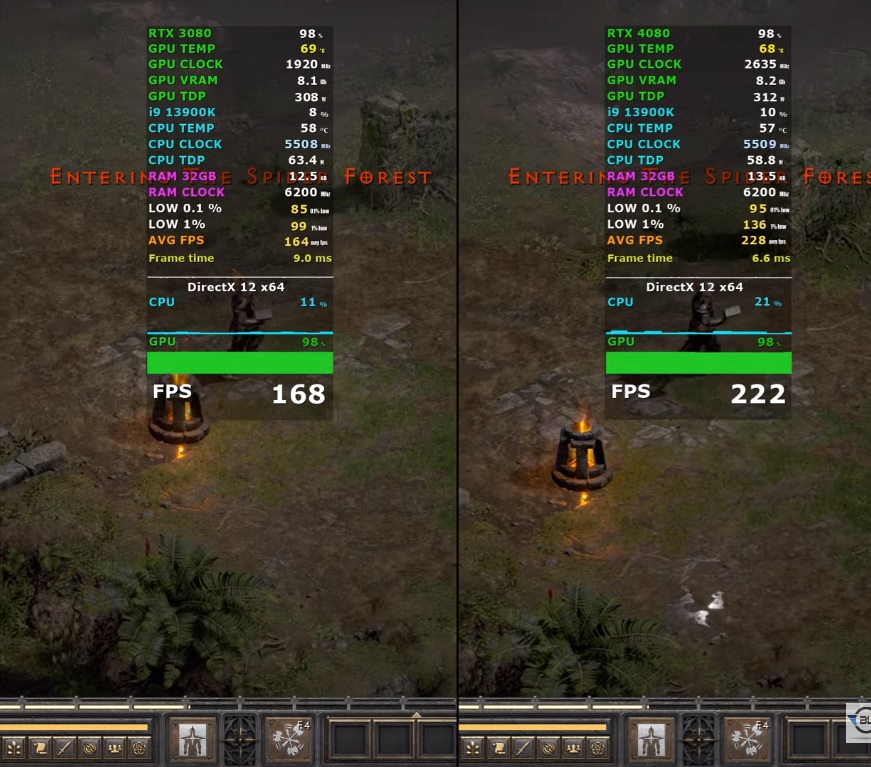 Diablo 2 is a classic game with a cult following. How much its fans are in love with it should be evident from the fact that it was remastered more than 2 decades after its official release. The FPS performance is out of the park in this game, but RTX 4080 is doing something special by maintaining an average FPS of 228.
It can be said here that the game isn't that heavy on GPUs in terms of its graphics but max settings on even games that are 5 years old can often cause the latest GPUs to stat coughing. That's not the case for RTX 3080 and RTX 4080 because both are pretty cool in running this game. We're getting 69-degrees Celsius on both but with 61 more frames on average on RTX 4080.
The power consumption is fairly equal to RTX 4080, being at 316 W, i.e., 10 W above RTX 3080 in consuming power from the motherboard. The CPU temperature is a tad bit higher on RTX 4080, but it being at 58-degrees Celsius, you shouldn't even look at it twice when playing.
Horizon Zero Dawn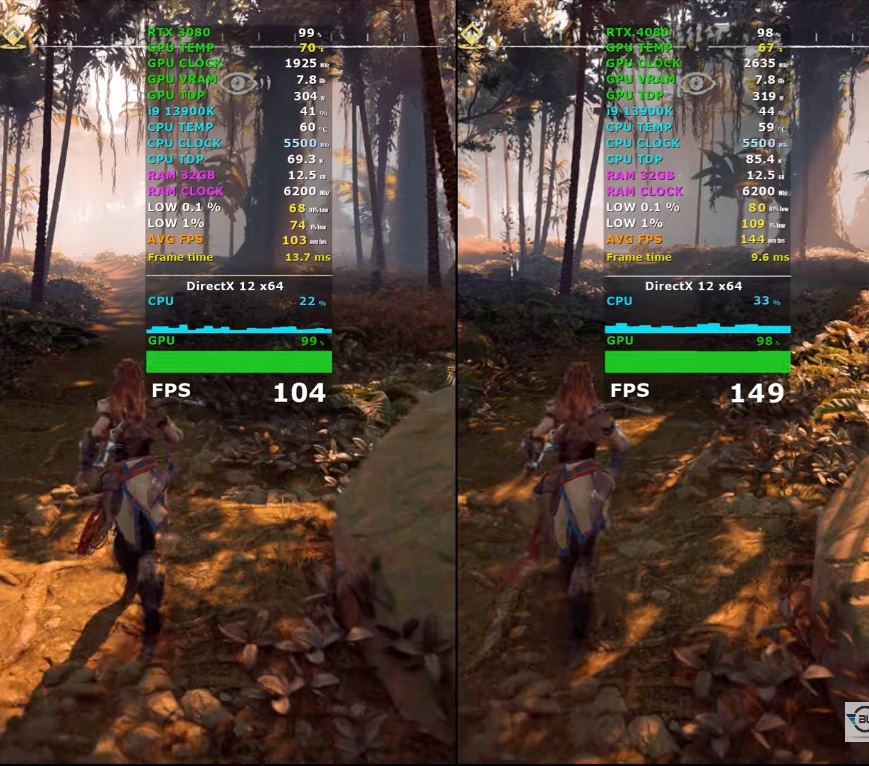 Visually, we have to agree that RTX 4080 is delivering a much pleasing view with some very realistic lighting. The difference in frame production is also quite huge, with RTX 4080 offering nearly 43% improved performance, keeping the frames per second close to 150 FPS.
That's exactly what people are referring to when they talk about value for money. You spend more but for what? In this case, you get better FPS, and additionally, your GPU is cooler than its predecessor. The temperature of 59-degrees Celsius on RTX 4080 despite the fact that it is using 319 W power from the system compared to 304 W from RTX 3080 is nothing but astonishing.
RTX 4080 is using a bit more power from the CPU, but for as long as the CPU isn't overheating, this should never be a problem. In this case, the CPU temperatures is 58-degrees Celsius, which is nothing to be worried about ever.
RTX 3080 Vs RTX 4080 – Gaming Benchmarks At 4K
If you are talking about NVIDIA, which is the company most well-known in the world for its graphics cards, and then you want to know the performance of its best GPUs, you have to make them go through some real testing. That's where 4K gaming benchmarks come in.
All of the following games were tested in 4K, and in this particular one, our tester was Benmark Vn.
Operating System: Windows 11
GPU: RTX 4080 vs RTX 3080
CPU: Intel i9 13900K (Base 2.2 GHz | Boost 5.8 GHz)
Motherboard: Z790
RAM: DDR5 Ram Desktop Corsair DOMINATOR PLATINUM RGB 32GB (2x16GB) DDR5 5600MHz
SSD: 2xSAMSUNG 970 EVO M.2 2280 1TB
Power Supply: ASUS ROG THOR – 1000P2 GAMING PLATINUM – 1000W
Yet again, the specifications are sufficient to support both cards. A 13th generation Intel Core i9 processor, with DDR5 32GB RAM and 1000 Watts of continuous power, we couldn't have asked for anything better.
Forza Horizon 5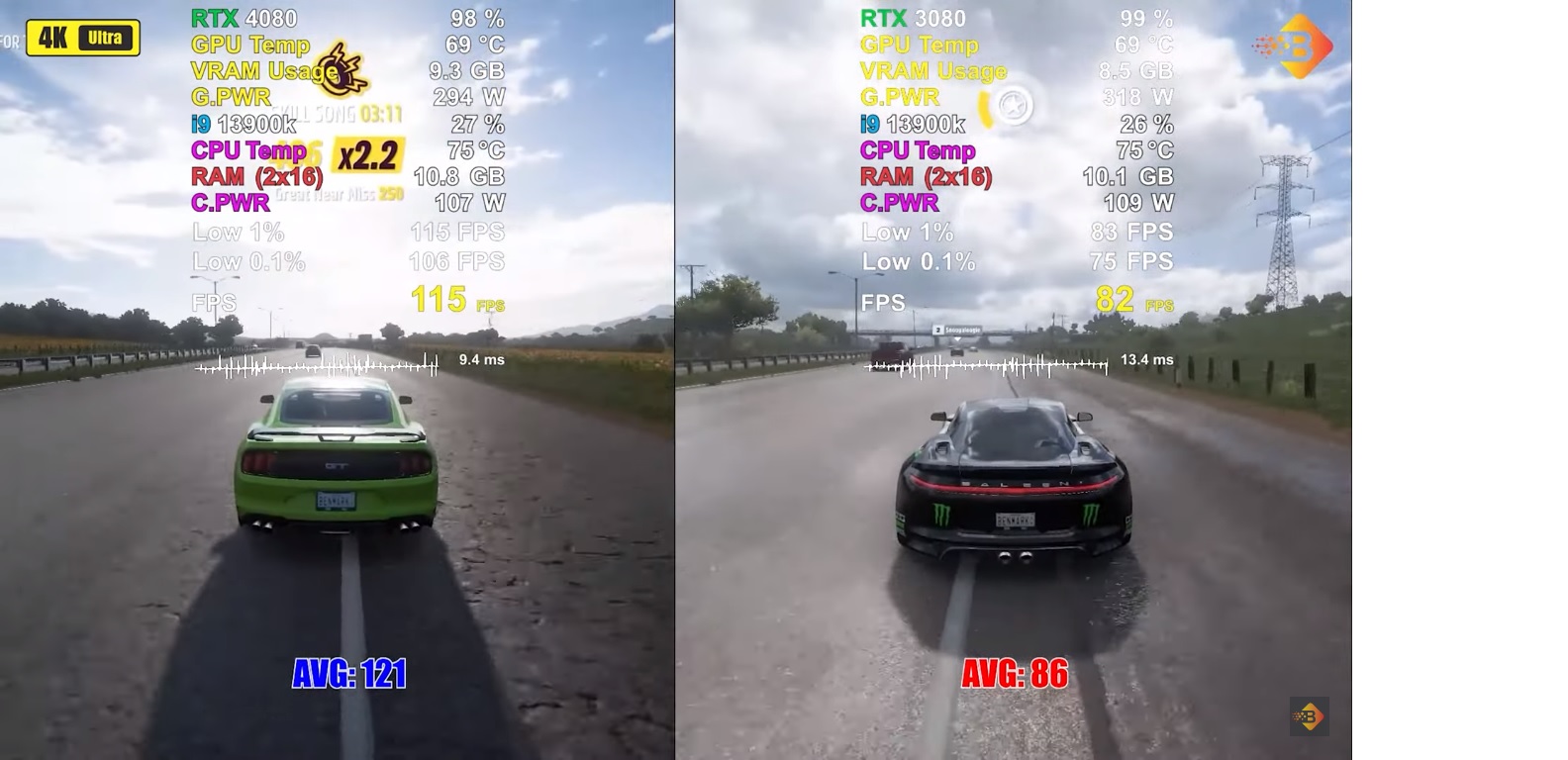 RTX 4080 is doing magic in the 4K tests as we continue to see it is not only a better performer but also a more efficient option out of the two. So the average FPS on RTX 4080 is 121, whereas it's 86 FPS on RTX 3080. The difference is clear, but it's even more prominent visually.
The temperatures on the GPUs are going up and down but remaining in the safe zone at all times. We notice the temperature not going above 70-degrees Celsius or even touching this point. If RTX 4080 can produce 121 FPS for this temperature, it's definitely a worthy upgrade for many.
Another surprise awaits us in the power consumption department, where RTX 4080 is using less power than the RTX 3080 GPU. The GPU power usage by 4080 is only 293 W and continuously staying below 300 W during the test. On the other hand, power consumption on RTX 3080 GPU isn't coming down below the 300 W mark. Instead, the power consumption stays in the vicinity of 315 W.
God of War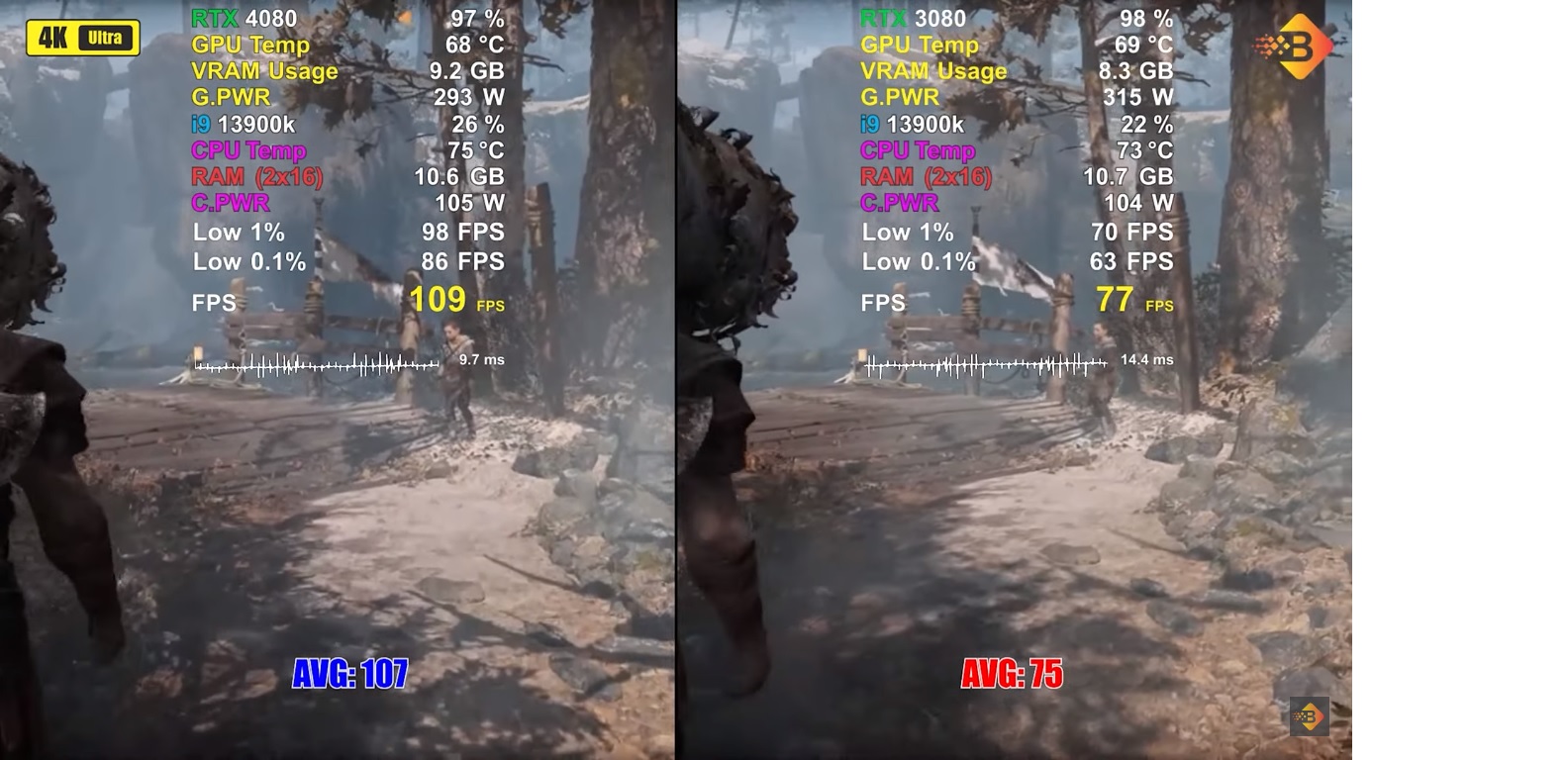 The Low 0.1% FPS in this test for RTX 4080 is 86 FPS, which is still much higher than the average FPS of 75 on RTX 3080. It's a clear win for RTX 4080 not only in this department but also when we consider the temperatures on the GPUs. The temperature on both GPUs is 69-degrees Celsius, and what makes this number so astonishing, you may ask?
So, if you compare 75 FPS to 107 FPS on the two GPUs, what you get is 42% more performance in terms of frame production on RTX 4080 without one degree higher on the GPU. Now, if that's how much improvement you are getting in terms of graphics performance when you upgrade to RTX 4080, it must mean you'll be burning more watts right?
Well, that's not what we are seeing in this test. It's actually the opposite of that. You have RTX 4080 drawing hardly 300 W power from the system, whereas RT 3080 is drawing 317 W power for a show that's not as pleasant and interesting as that put on by its successor.
Grand Theft Auto V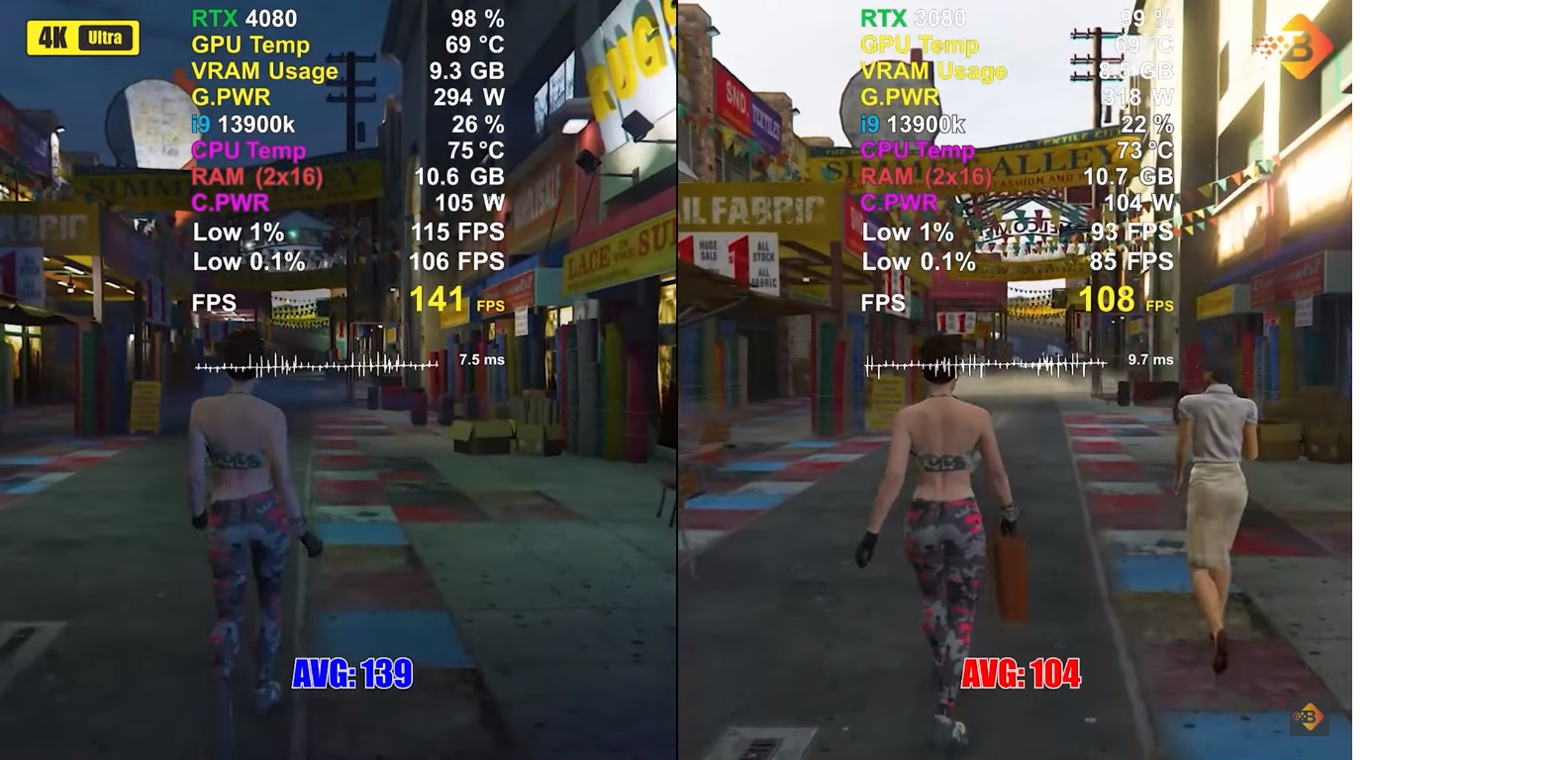 You know how these numbers continue to go up and down as you play the game. In this test, the numbers are moving like normal but what gets our attention almost instantly is that the GPU temperatures, despite being similar, go below the 69-degrees Celsius mark more times on RTX 4080. What it means is that if you had to be nitpicky, you'd pick RTX 4080 over RTX 3080.
There is a clear winner between the two in terms of how they are producing the frames. The higher count on tensor cores, CUDA cores, SMs, and clock speed, are definitely playing a huge part in allowing RTX 4080 to produce frames at a 34% improved rate. Do you think that's the kind of performance you wanted from your graphics card? Don't forget we are testing the two in 4K settings.
So, how much power is each card consuming? That's 297 W on RTX 4080 and 310 W on RTX 3080. You can easily decide which one is more efficient based on these numbers.
Spider-Man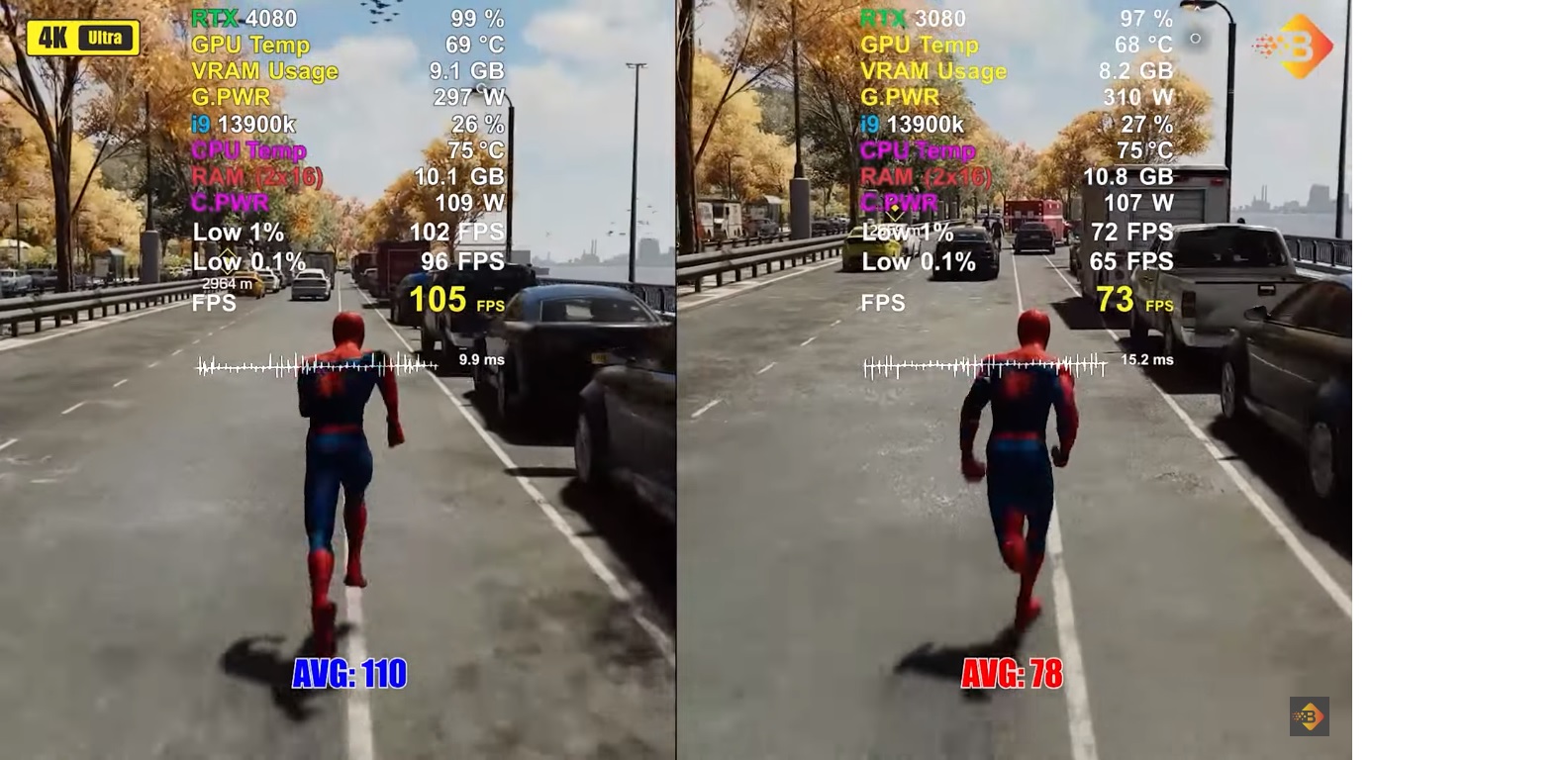 The average FPS is already great on RTX 4080 but we love the fact that its 1% Low is above 100 FPS, which means you can expect consistently high performance from this GPU. Will the performance see a dip as you continue to play the game at 4K? Well, when GPU temperatures are as low as 69-degrees Celsius, you don't have to fear a dip in performance at all.
In fact, both GPUs are going a great job of keeping the overall temperature of all the components inside the case pretty normal. The CPU temperature moving in the vicinity of 73-degrees Celsius is a clear sign that none of the components in the rig are under any undue stress.
In terms of TDP, yet again, RTX 4080 is giving us a pleasant surprise by keeping it below 300 W for the most part. On the other hand, the consumption graph remains above 300 W for RTX 3080–in fact, as high as 318 W at some points in the game.
Assassin's Creed Valhalla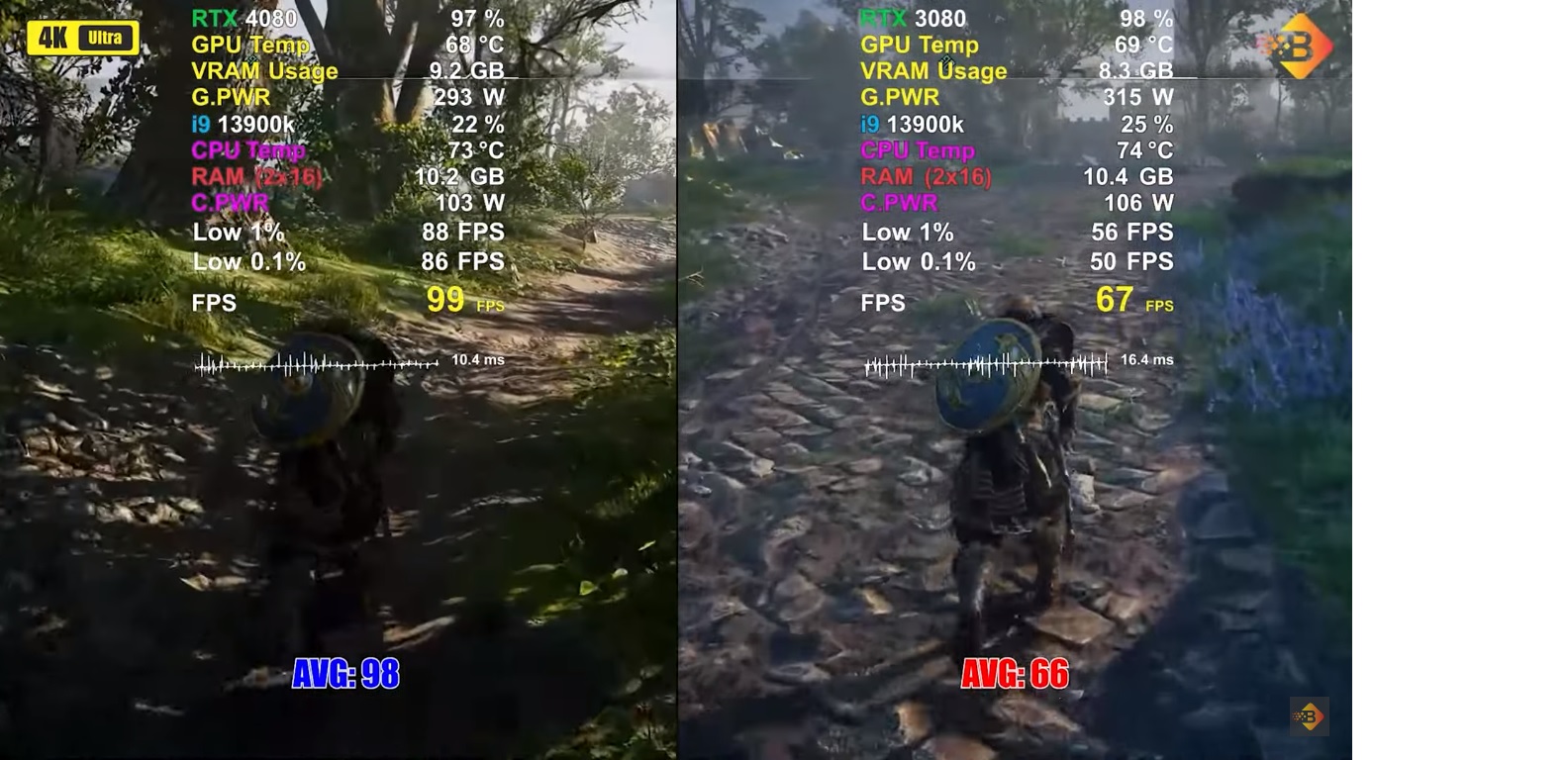 There are no upsets in this test as RTX 4080 continues to deliver stellar performance. Even though the FPS on both cards isn't the best, but maximum graphics settings and 4K resolution, it's quite a feat that RTX 4080 is nearly touching the 100 FPS mark. The more impressive part is how RTX 4080 is maintaining very consistent numbers in 0.1% and 1% Low tests.
The difference between the average FPS and 0.1% Low isn't huge, giving us a smooth, neat, and hiccup-free gaming performance in this test. Somehow, NVIDIA has been able to keep its GPUs below the 70-degrees Celsius mark. Even the power draw is quite impressive at 295, while RTX 3080 continues to draw up to 318 W from the system.
As a result of this test, we can say that if you play Assassin's Creed Valhalla and go from your existing RTX 3080 to RTX 4080, you will see nearly 50% improvement in frame production.
Overall Gaming Performance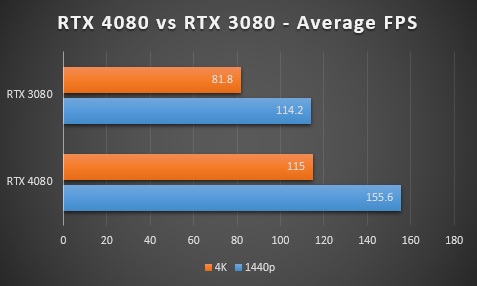 It was clear from the tests that RTX 4080 was leagues ahead of RTX 3080 in terms of the frame production performance. What RTX 3080 did in terms of graphics performance at 1440p was equal to what RTX 4080 was able to deliver at 4K settings.
The difference didn't decrease when we went from 1440p to 4K. RTX 4080 was able to maintain a good lead when running games at 4K. It's average FPS performance based on 5 very heavy games remained at 115, whereas RTX 3080 dropped down to 81.8 FPS on average.
If you are interested in knowing what kind of improvement you will be paying for when you go with RTX 4080, just keep in mind that it will be in the whereabouts of 41% over RTX 3080.
Thermal Efficiency And Power Consumption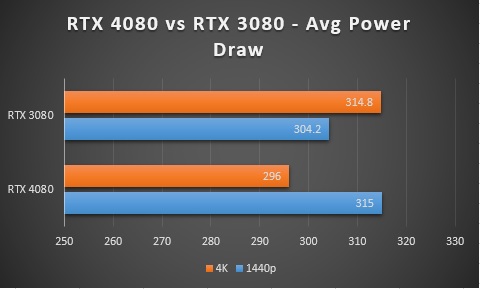 There are many things to consider before you decide to buy a graphics card. You can't just look at its spec sheet and say it's the best. The real-world performance matters the most, and it seems that the higher graphics settings you pick, the more you will benefit from RTX 4080.
The higher temperatures on RTX 4080 in the 1440p settings could be a result of improper setup. However, you can't ignore the fact that it is still well within the TDP advertised by NVIDIA.
Things become quite interesting at 4K when RTX 4080 completely outshines RTX 3080 by drawing in much less power in just about all the games. In other words, you'll experience less overheating inside the case, and there will be no fear of paying huge energy bills.
The TDP that RTX 4080 has maintained through the tests also shows that you don't have to go overboard with the power supply on your computer.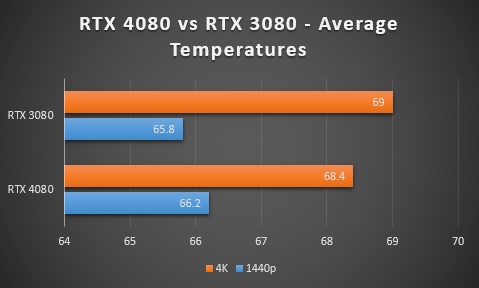 The temperatures on both GPUs remained in the optimal range. What it means is that you can't go wrong with either option if you are seeking longevity. They are both built to last and high temperatures are the biggest enemy of any computer component.
The difference in temperatures for either GPU wasn't huge when compared to 4K and 1440p gaming. In fact, it was evident from the tests that RTX 4080 is much more efficient and cooler than RTX 3080 when you are playing games at 4K.
It continued to impress us by remaining below 70-degrees Celsius, which was also the case with RTX 3080. It can be said without a doubt that power efficiency on both GPUs is great, and you might not have to spend on a big cooling system to keep these GPUs from overheating.
Pricing And Availability
It is true that NVIDIA got a lot of heat from the fans of its graphics cards when it announced the price of RTX 4080 to be at 1,199 USD. That's a huge price difference when you compare it to the launch price of RTX 3080, which is only 699 USD.
There is no doubt about the improvements in the performance that you will experience when you go for RTX 4080. You will have better FPS, improved power consumption, and maybe lower temperatures on the GPU. The DLSS3 combined with 4th-gen tensor cores and 3rd-gen RT cores can definitely give you a realistic gaming experience.
However, you will have to prepare to pay double the price of what you paid for RTX 3080. There's another big problem though. The availability of RTX 3080 is also questionable, with most variants of the card labeled as "unavailable."
This has caused the price of those few RTX 3080 available on the market to go up. So, don't be surprised if you see some fancy variant of NVIDIA RTX 3080 listed at 1050 USD or even as high as 1299 USD on Amazon. While NVIDIA lists the price of RTX 4080 as 1,199 USD, you will find some variants, such as the ASUS ROG Strix with 16 GB of RAM and boosted clock at 2625 MHz, to be listed for as high as 1,549 USD.
Should You Upgrade?
There is a lot to consider here. Firstly, you want to see which one is good on paper. Secondly, you want to see the features that you mostly need. Thirdly, you will have to see the gaming benchmarks to find out which one will suit your gaming needs. If you aren't playing the latest titles as of yet, why would you buy a card for them?
Also, take into account the fact that based on our tests, you are getting a little more than 40% improved FPS performance on RTX 4080 at both 1440p and 4K settings, along with better power consumption and lower temperatures. However, that performance boost is available to you for a cost that's 70% higher than what you'd pay for NVIDIA RTX 3080.
At the end of the day, take the price of each GPU into account, consider their gaming benchmarks, know your current needs, and then make a move. We hope our RTX 4080 vs RTX 3080 comparison helps you make a well-informed decision.
FAQs
How much improvement can I expect from RTX 4080 compared to RTX 3080?
That depends on your rig, the graphics settings in your games, etc. However, you should generally expect a 40% better FPS performance with RTX 4080 over RTX 3080.
Do RTX 4080 and RTX 3080 have different memory types?
YNo, they both have the same memory type i.e. GDDR6X.
Does RTX 4080 have the same pin connector as RTX 3080?
The RTX 4080 comes with a 1 x 16-pin connector, whereas the RTX 3080 GPU has a 1 x 12-pin connector.
Related Comparisons & Articles
Was our article helpful? 👨‍💻
Thank you! Please share your positive feedback. 🔋
How could we improve this post? Please Help us. 😔