Should You Buy It?
Review Summary
The Enermax Revolution D.F. X 1050W PSU combines performance and features for gaming enthusiasts. With 80 PLUS Gold certification, it ensures high efficiency and energy savings. The inclusion of Japanese capacitors and an innovative self-cleaning mechanism enhances reliability. Furthermore, the ARGB side panel offers customizable lighting with an RGB control button for easy adjustments. It adheres to Intel ATX 3.0 benchmarks, guaranteeing a stable power supply during demanding tasks. While temperature concerns exist, the PSU's competitive pricing, modular design, and future-ready features make it an attractive choice for gaming PC builds.
Build Quality -

8/10

Value -

9/10

Performance -

7/10

Future Proofing -

7.5/10
Pros
Capable and Efficient Platform
Tight Voltage Regulation on 12V Rail
Great Price-to-Performance-ratio
Top-of-the-line Quality Components
Cons
Inadequate Voltage Ripple Performance
After a lengthy hiatus, Enermax, an important contributor to the gaming industry, has reintroduced itself to enthusiasts. Specializing in developing high-performance computer PSUs and cooling solutions, they have now presented us with their new PSUs. Specifically, the new Enermax Revolution D.F. X 1050W, which is part of the Revolution PSU series that ranges from 850W to 1600W. Importantly, it is the company's latest ATX 3.0 PCIe 5.0-ready PSU.
Why you can trust Tech4Gamers:

We understand the importance of making informed decisions. Our product reviews are based on dedicated hands-on testing by our team of experienced hardware experts.

Find out more about how we test.
Enermax was kind enough to include a native 600W 12VHPWR cable, as well as an additional 600W 12VHPWR adapter cable for use with multiple GPUs in the package. Additionally, there's an ARGB side panel and Enermax's innovative Dust-free Rotation technology that offers a self-cleaning function. Thus, if you're in the market for a new component PSU, Enermax's latest offerings are definitely worth considering.
Here at Tech4Gamers, we had the opportunity to review one of the models from this new lineup. Today, our focus is on the 1050W unit. Hence, the pressing question is: is it worth investing in the new DFX series? If you're curious about my perspective, continue reading.
---
Key Takeaways
The Enermax Revolution D.F. X 1050W offers a balance of performance, efficiency, and aesthetics. It caters to a wide range of PC configurations, ensuring stable and reliable power delivery while incorporating RGB lighting and innovative features like DFR technology.
The things I liked about the Enermax Revolution D.F. X 1050W are its Japanese Capacitors, Compact Design, Dust-Free Rotation Technology, Performance and Compliance, and Price Point.
The thing I did not like about the Enermax Revolution D.F. X 1050W is its somewhat average Voltage Ripple Performance, considering its PCIe-5.0 ready PSU.
The Enermax Revolution D.F. X 1050W is a perfect fit for Gaming Enthusiasts, Energy-Conscious Users, Looking For Future-Proof PSUs Users, and Budget-Conscious Users.
---
What Is Inside the Revolution D.F. X 1050W Box?
The Enermax packaging is strikingly colorful and vibrant. Prominently, it showcases the product's key features, such as ATX 3.0, PCIe 5.0 compatibility, 80 Plus Gold certification, and the use of Japanese capacitors, all of which are highlighted in the top right corner. Flipping to the back of the box, you'll find a repetition of some of the vital information presented on the front. Additionally, there are detailed diagrams that demonstrate the cables, connectors, and power delivery specifications.
Inside the box, Enermax has ensured the PSU is well-protected, sealing it in bubble-wrapped plastic. The accompanying cables come cluttered inside a pouch that has a feather-like texture. As an added touch, a sticker is included within the package. For those who might not be fans of RGB effects, this sticker can be applied to the power supply, giving it a unique charm.
Which Cables Are Included With the Revolution D.F. X 1050W?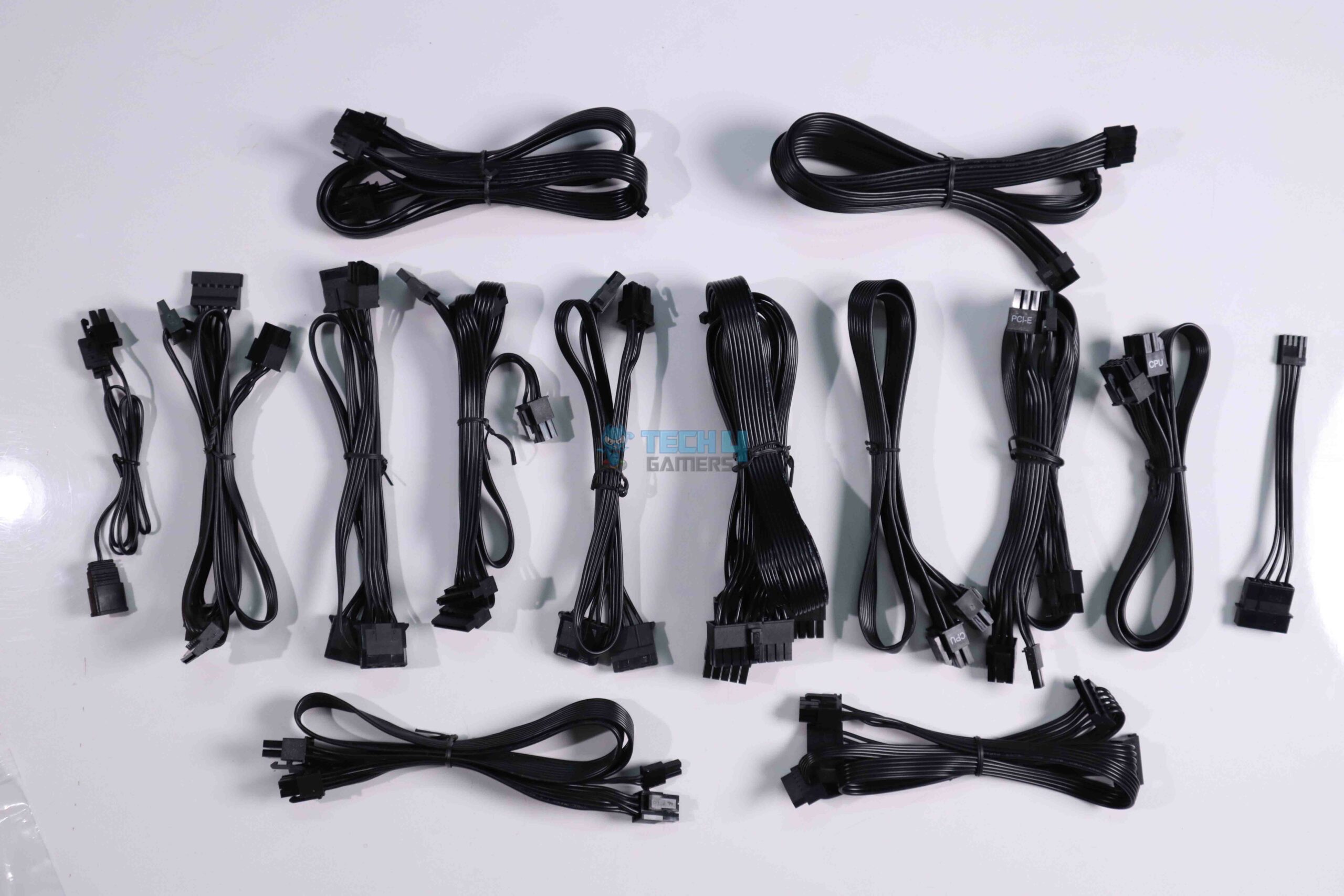 Here is the list of all the cables that are provided with the PSU, along with their specifications:
Motherboard 24 (20+4) pin
1 [ 1x 65cm ]
CPU 4+4 Pin
2 [ 1 x 60cm ] [ 1 x 70cm ]
12VHPWR 12+4 pin
1 [ 1x 60cm ]
PCIe 6+2pin
4 [ 2 x 65/15cm ]
2xPCIe 8pin-12VHPWR

Splitter Cable

1 [ 1x 60cm ]
SATA
12 [ 3 x 45/15/15/15cm]
4P Molex
6 [ 2 x 50/15/15cm ]
2 x SATA + 4p Molex
–
FDD
1 [ 1 x 10cm ]
The cables boast a flat finish and are sleeved, which aids in simplifying the process during the building phase. Following Enermax's guidelines, it's advised to use one's fingers to grasp both ends of the cable firmly. When connecting, it's essential to align the cable so that its axis runs parallel to the port's axis. It's crucial to ensure that the cable is inserted straight and securely, with no gaps. Additionally, any bends should be avoided within 40mm downwards from the plug.
12VHPWR Cable and Adapter
With the release of PCIe 5.0, the industry-standard 600mm 12VHPWR cable can now deliver up to 600W of power to the latest graphics cards through the 12VHPWR connector without overloading the card's single rail +12V architecture. Notably, the Revolution D.F. X 1050W goes further by including a second 600mm adapter cable. This cable is equipped with two 8-pin PCIe connectors for the PSU side and a 12VHPWR connector for the GPU side, offering users the flexibility to build their systems as they prefer.
What Are the Highlighted Features of Revolution D.F. X 1050W?
| | |
| --- | --- |
| 80 PLUS EFFICIENCY | Gold |
| MODULAR | Fully modular |
| CABLE TYPE | Black flat |
| TOTAL POWER (W) | 1050 |
| INPUT VOLTAGE (V) | 100-240 |
| INPUT CURRENT (A) | 13-6.5 |
| INPUT FREQUENCY (HZ) | 47-63 |
| FAN SIZE (MM) | 12 |
| OPERATING TEMPERATURE (°C) | 40 |
| MTBF (HOURS) | >100K |
| PROTECTION | OCP, OVP, UVP, OPP, OTP, SCP |
| DIMENSION (D X W X H), (MM) | 140 x 150 x 86 |
How Does the Revolution D.F. X 1050W Look Like?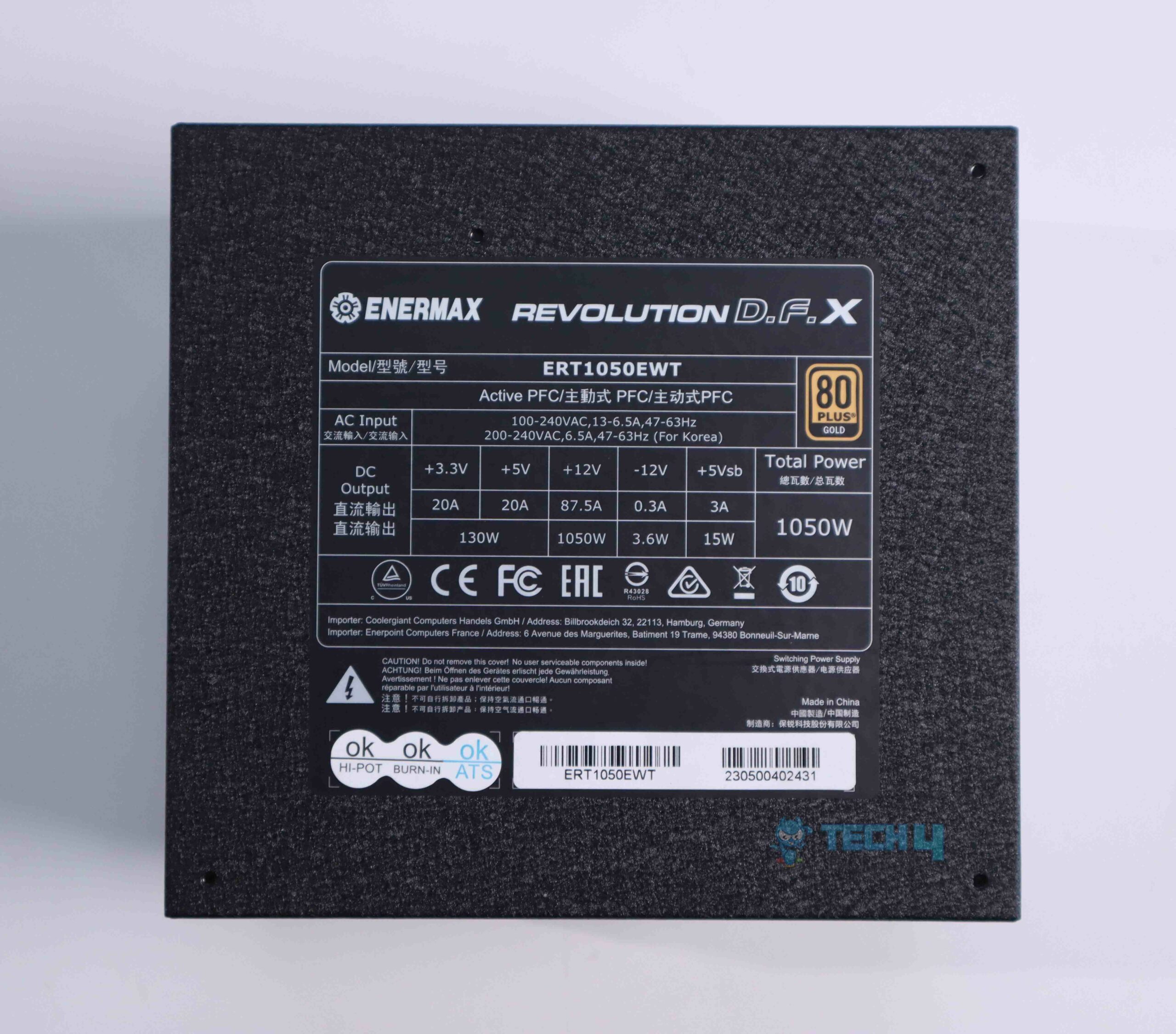 Measuring 140 x 150 x 86 mm in dimensions, the Revolution D.F. X 1050W stands out as one of the most compact 1050-watt full modular PSUs available in the market. As a result, this compact size simplifies the installation process in the majority of standard cases. The PSU weighs a total of 1367 grams and is coated with a vermiculated black paint finish.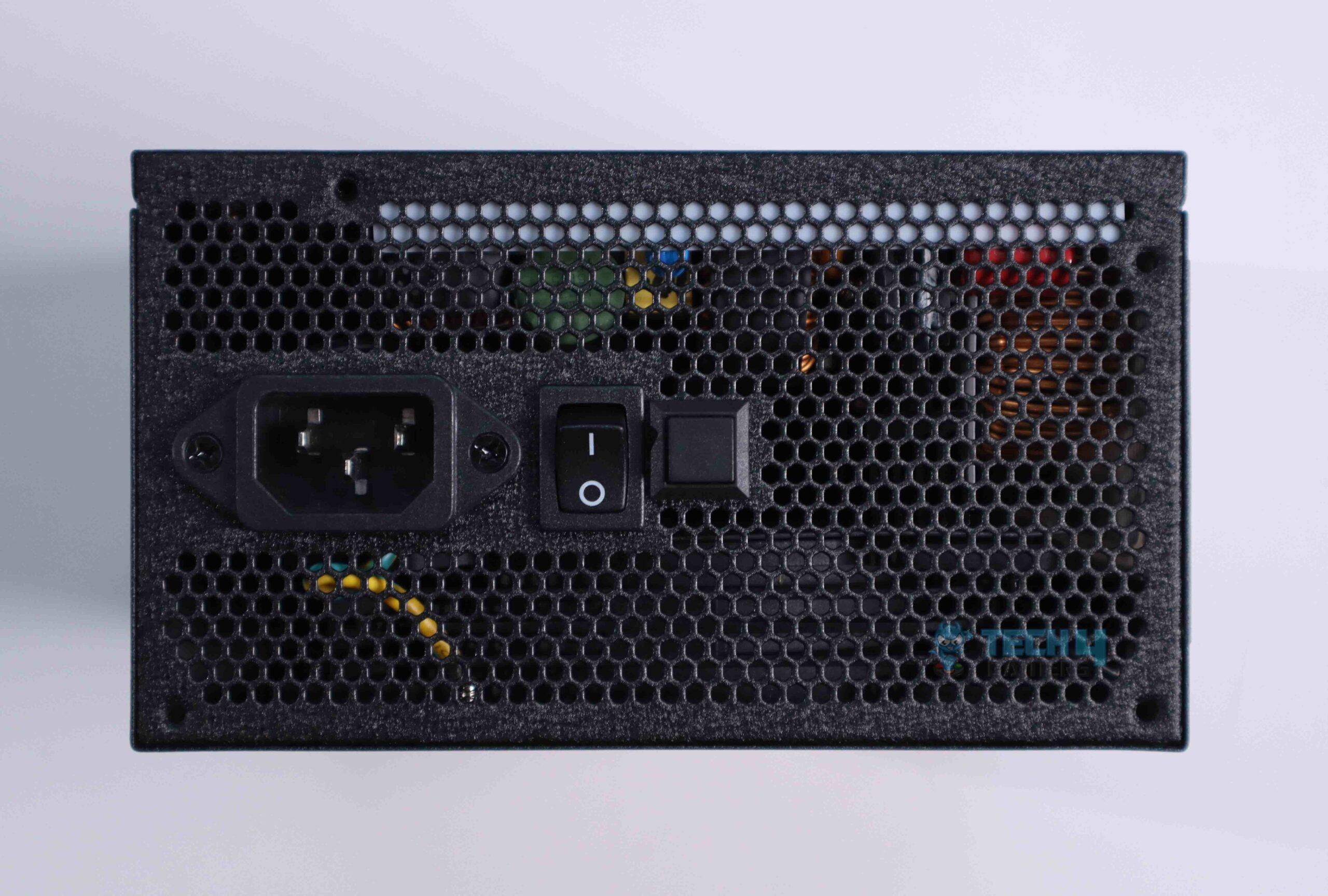 On the rear, you'll notice a ventilation grill with openings, where you will also find the power cable connector and toggle switch.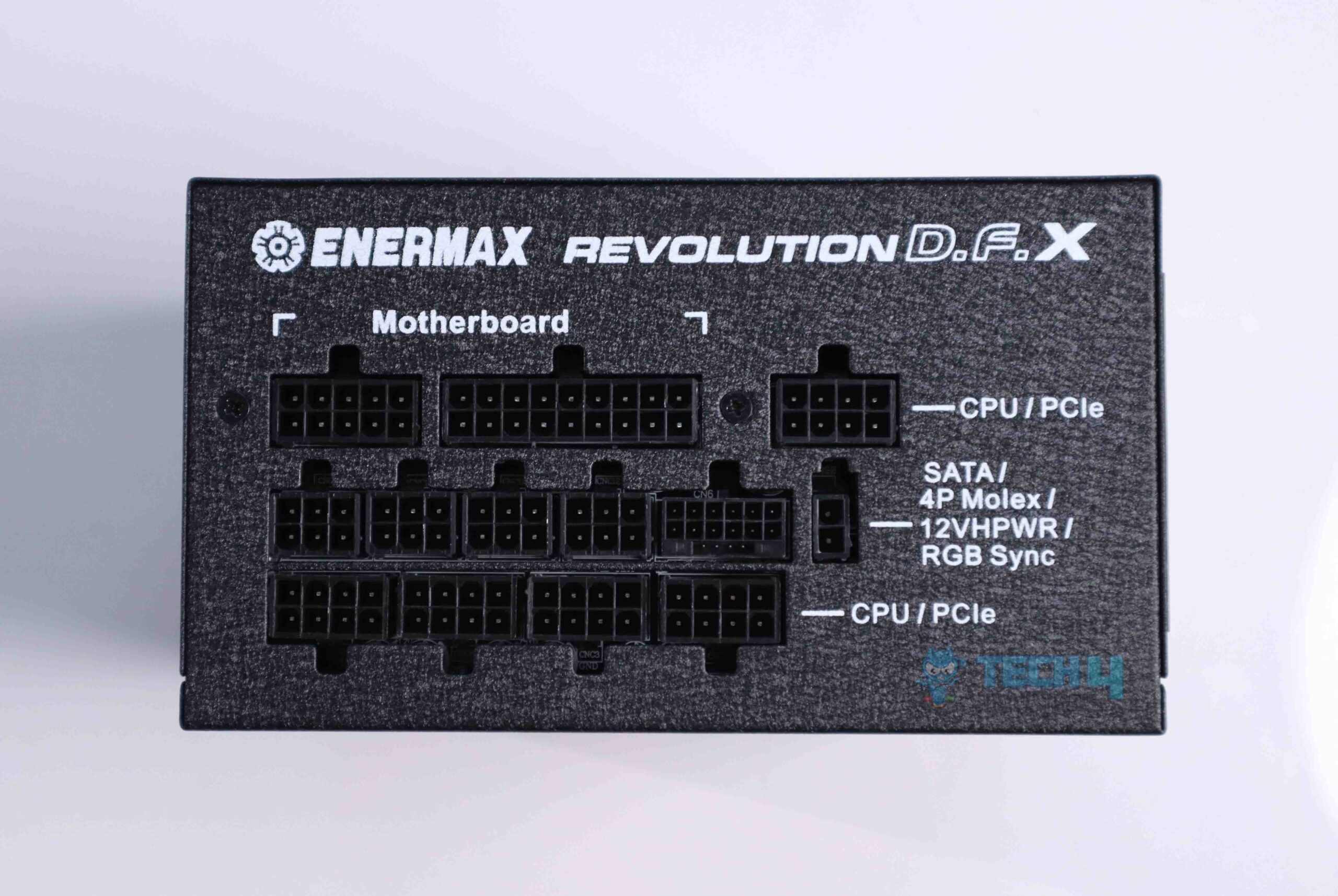 To enhance user convenience during the building phase, the unit's modular bay is clearly labeled, and the layout is neatly structured.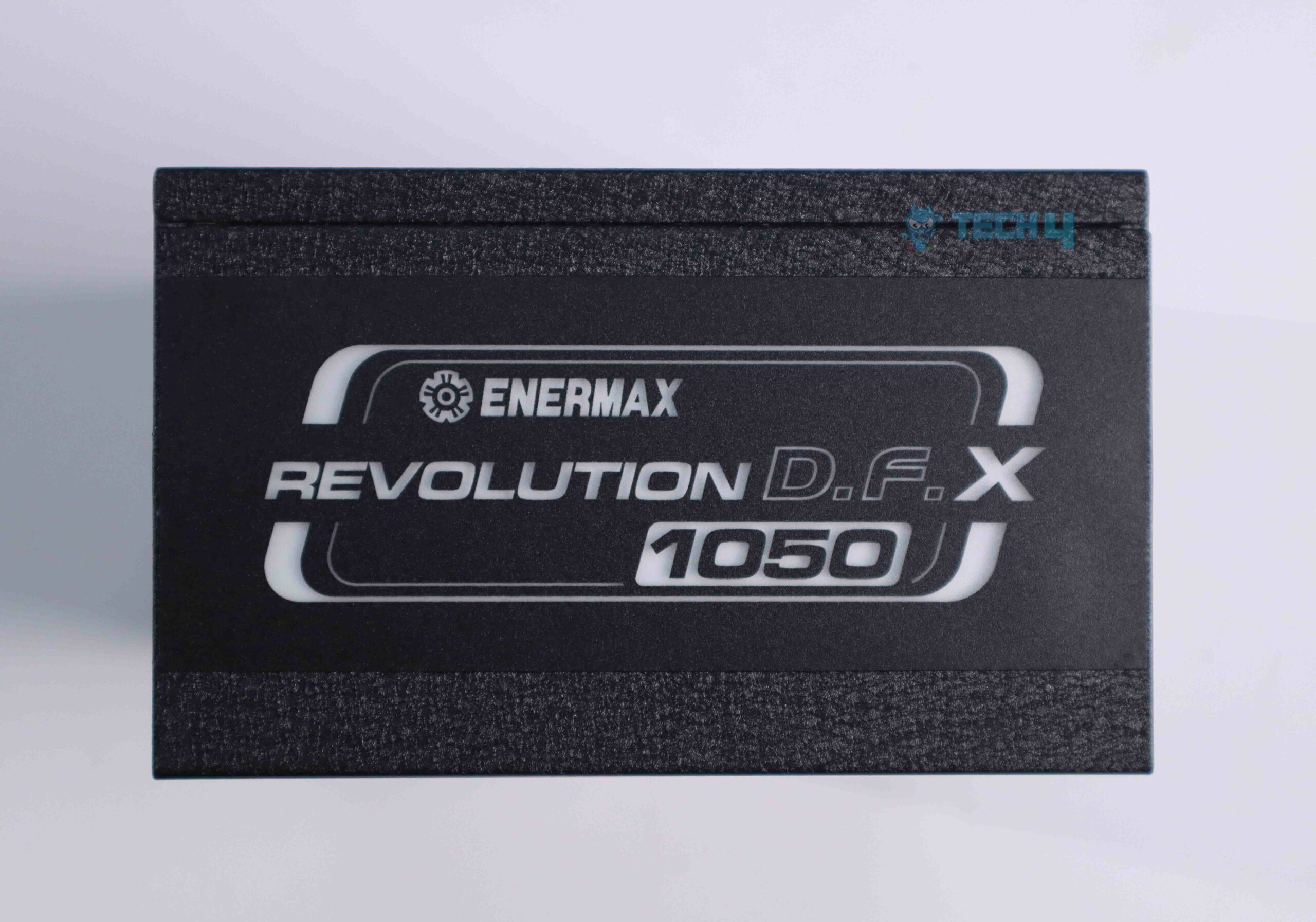 Notably, the PSU possesses two distinct sides: the left side is plain black and can be customized using the included colorful sticker. In contrast, the right side features a somewhat translucent plastic side that allows the PSU's RGB light to shine through. The build quality is commendable, and the neutral colors make it adaptable for use in various themes, even if the sticker is applied. Furthermore, this design choice is less of an issue since many modern chassis are designed to hide PSUs for aesthetic purposes.
How Does the RGB Lighting Work in Revolution D.F. X 1050W?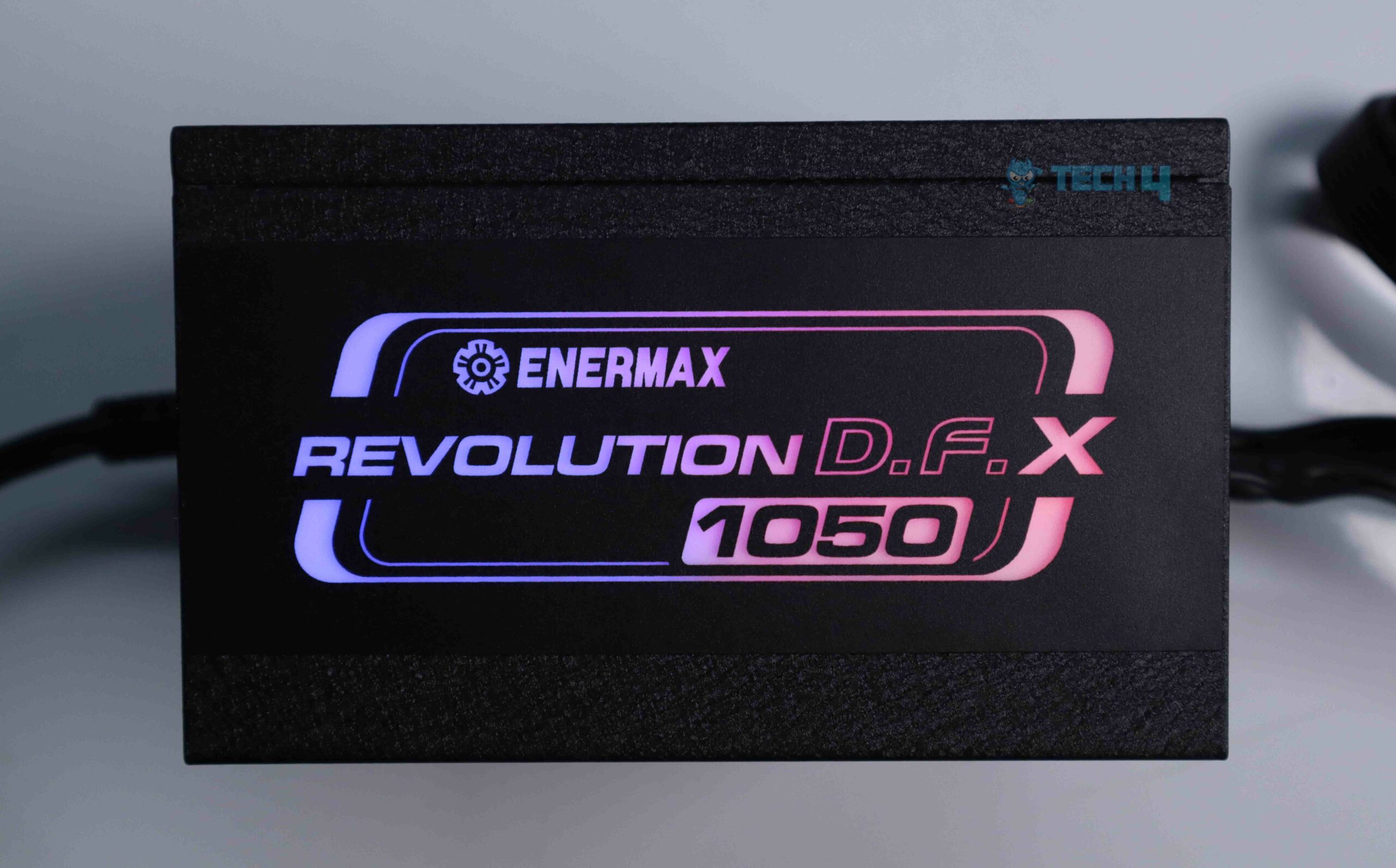 As I highlighted earlier, one of the notable design choices for the Revolution D.F. X 1050W features is that one side panel of the PSU is ARGB. Distinctively, it comes with 14 built-in lighting presets, setting it apart from other ATX 3.0 PSUs. For those who prefer a synchronized lighting effect, there's compatibility with various motherboard software solutions.
For users who'd like a more subdued look, the RGB can be turned off manually using the RGB control button. Conveniently, this button is located right next to the power switch. Not only does the button allow for the lights to be turned off, but it also provides quick access to the 14 unique lighting presets. Consequently, this means that the RGB lighting effects can be activated automatically, eliminating the need for any additional software installations.
What Does the Revolution D.F. X 1050W Claim?
The Revolution D.F. X 1050W strictly adheres to Intel ATX 3.0 specifications. This latest specification includes allowing for a power excursion of up to 200%. Enermax claims that this feature ensures a stable supply of power to your graphics cards, even during extended gaming sessions or demanding overclocking tests. Additionally, it boasts a loading efficiency of 70% and a power-on time of less than 200ms. Moreover, with its 80 PLUS Gold certification and efficiency of over 90% under standard loading, it helps reduce unnecessary power usage and saves energy.
I will be testing all these claims in the later sections to determine their accuracy.
What Is Inside the Revolution D.F. X 1050W?
Teardown & Component Analysis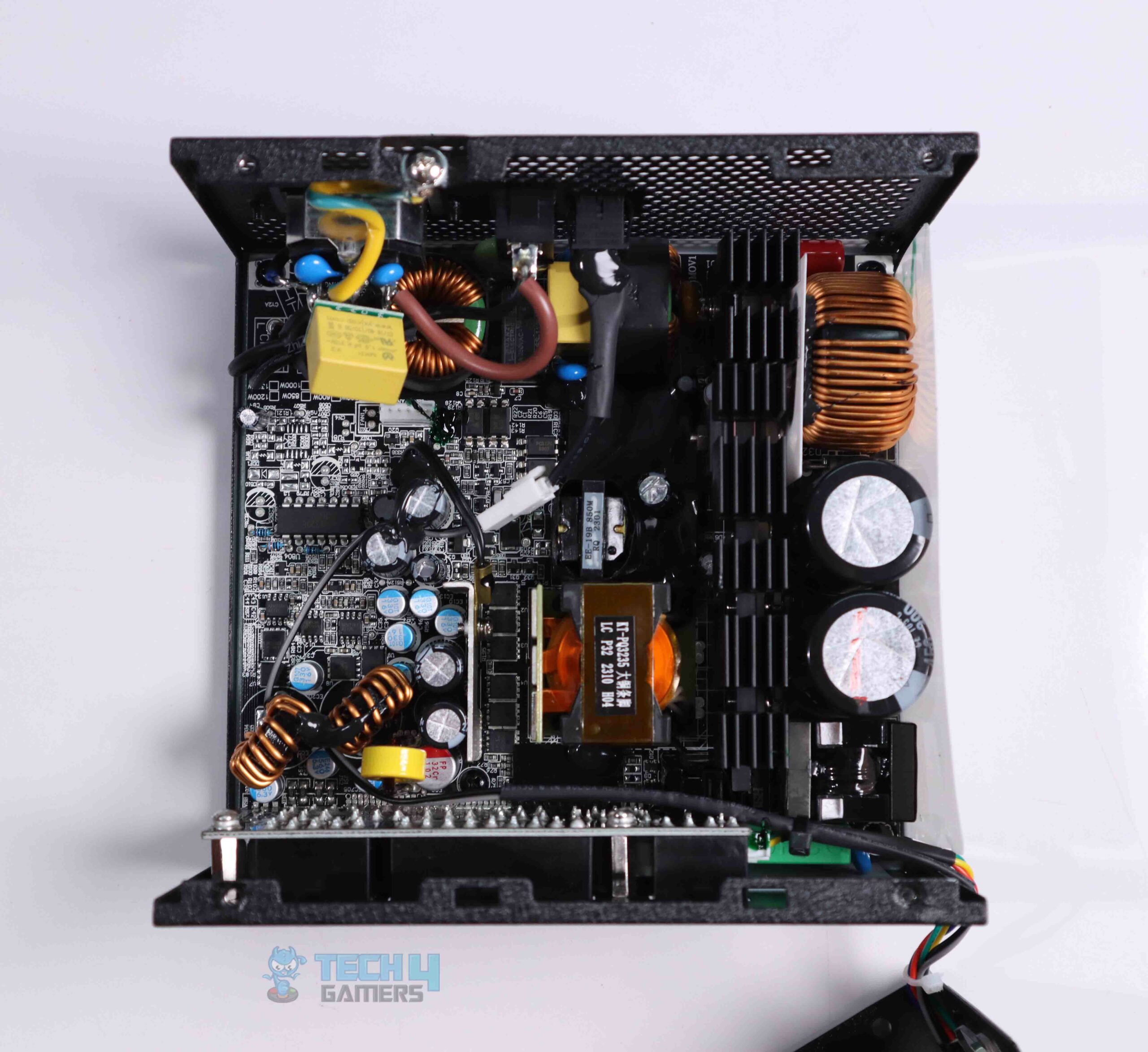 In contrast to other well-known brands such as Corsair, Asus, Gigabyte, and many more, Enermax opted to reduce costs by adopting a platform provided by SANR/Casecom. It's intriguing because we don't get to see these types of platforms very often. This half-bridge LLC resonant converter + DC-DC topology has high output efficiency and stable voltage regulation. Generally speaking, Aerocool and Kolink PSUS, both of which are well-known for their high-price-to-performance designs, have been known to feature several of these platforms in the past.
Similarly, Enermax has a reputation for utilizing platforms from lesser-known OEMs, but with a crucial condition: they use only top-of-the-line quality components. This approach keeps costs relatively low while delivering a high price-to-performance ratio. By combining these factors, they elevate what would be a merely adequate platform to an exceptional quality one. The result is outstanding PSU performance at a relatively lower cost compared to competitors.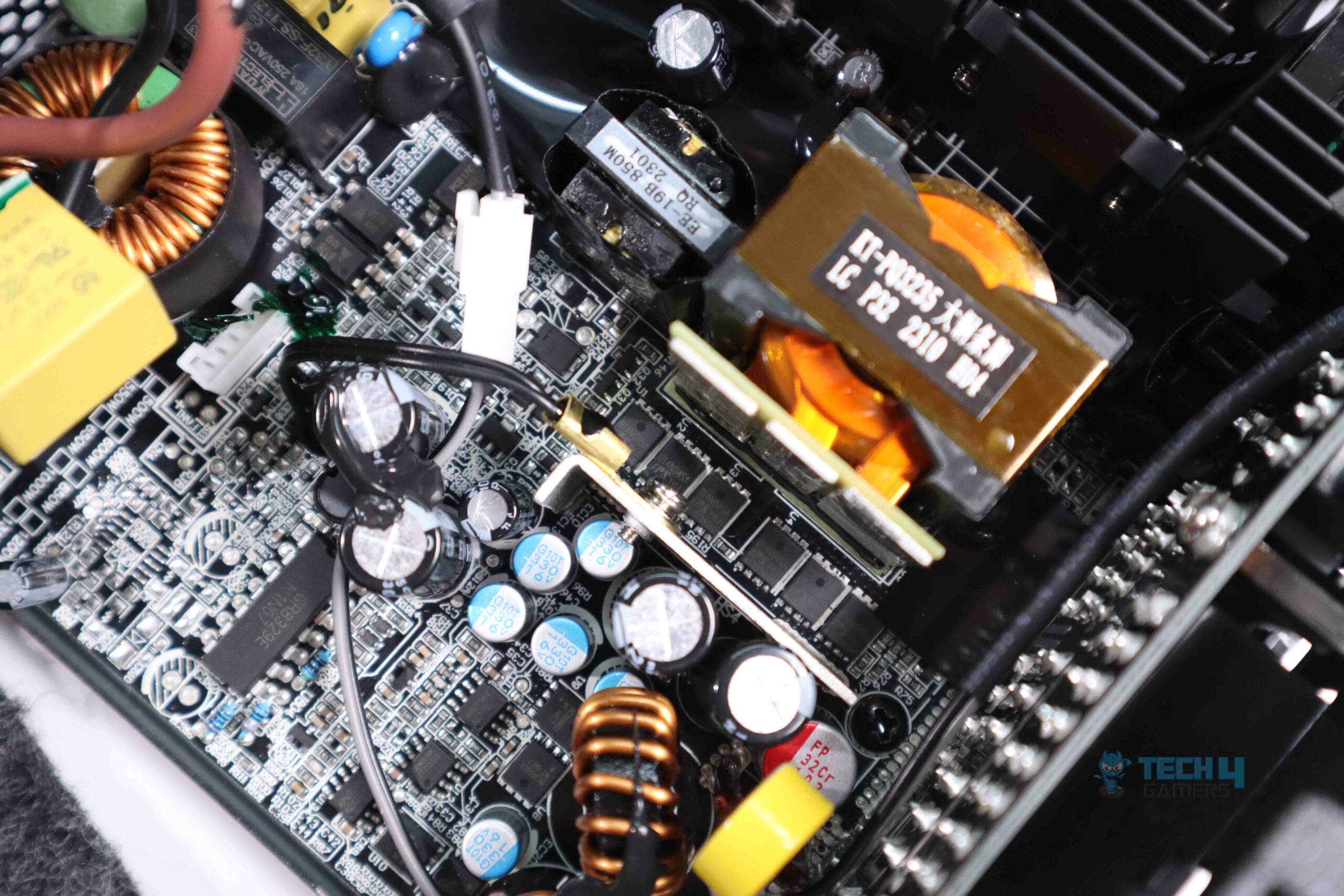 12V MOSFETS are all soldered on the top of the PCB, along with a small heatsink.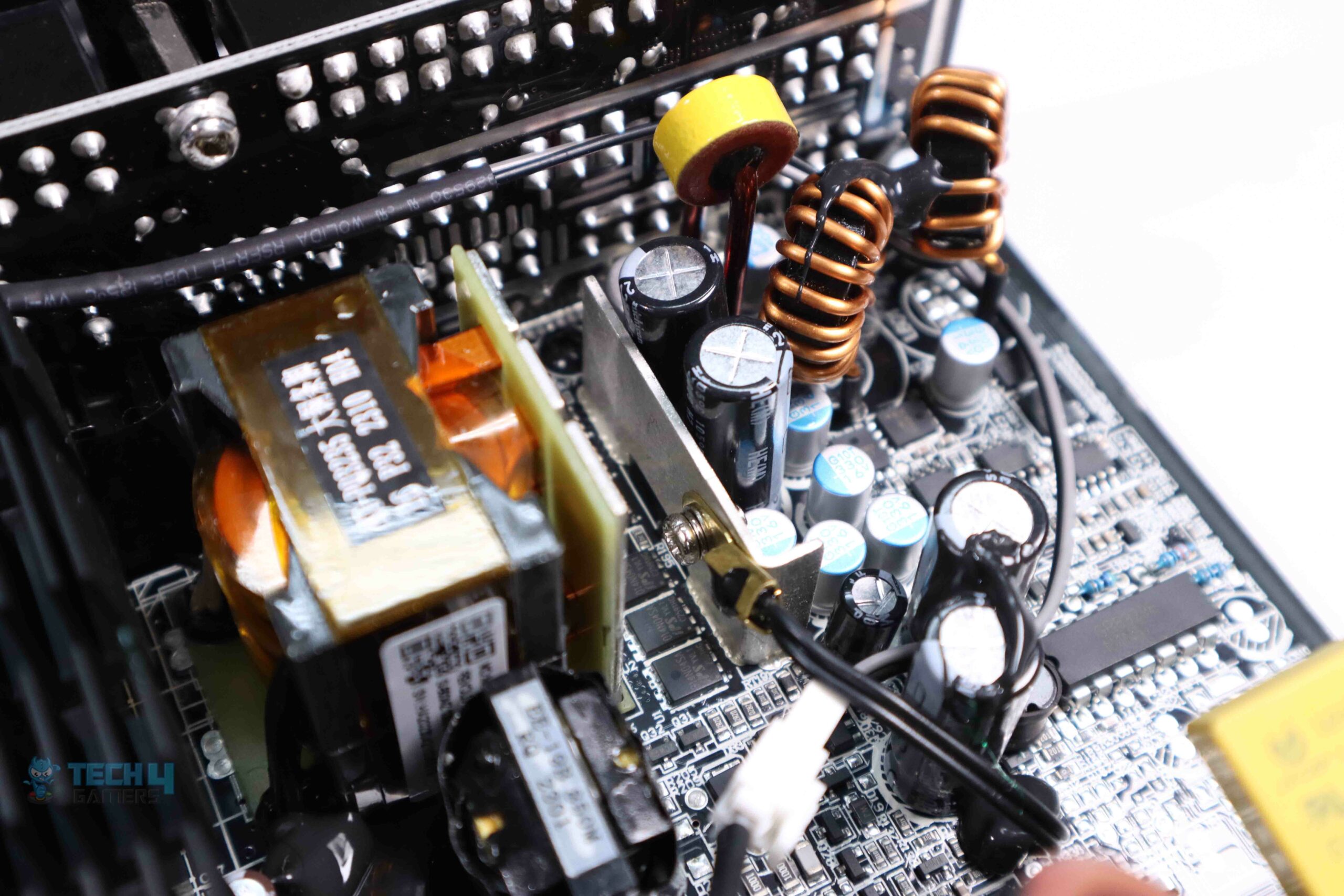 The temperature sensor is directly mounted on the 12V MOSFET's heatsink, which is a really good sign.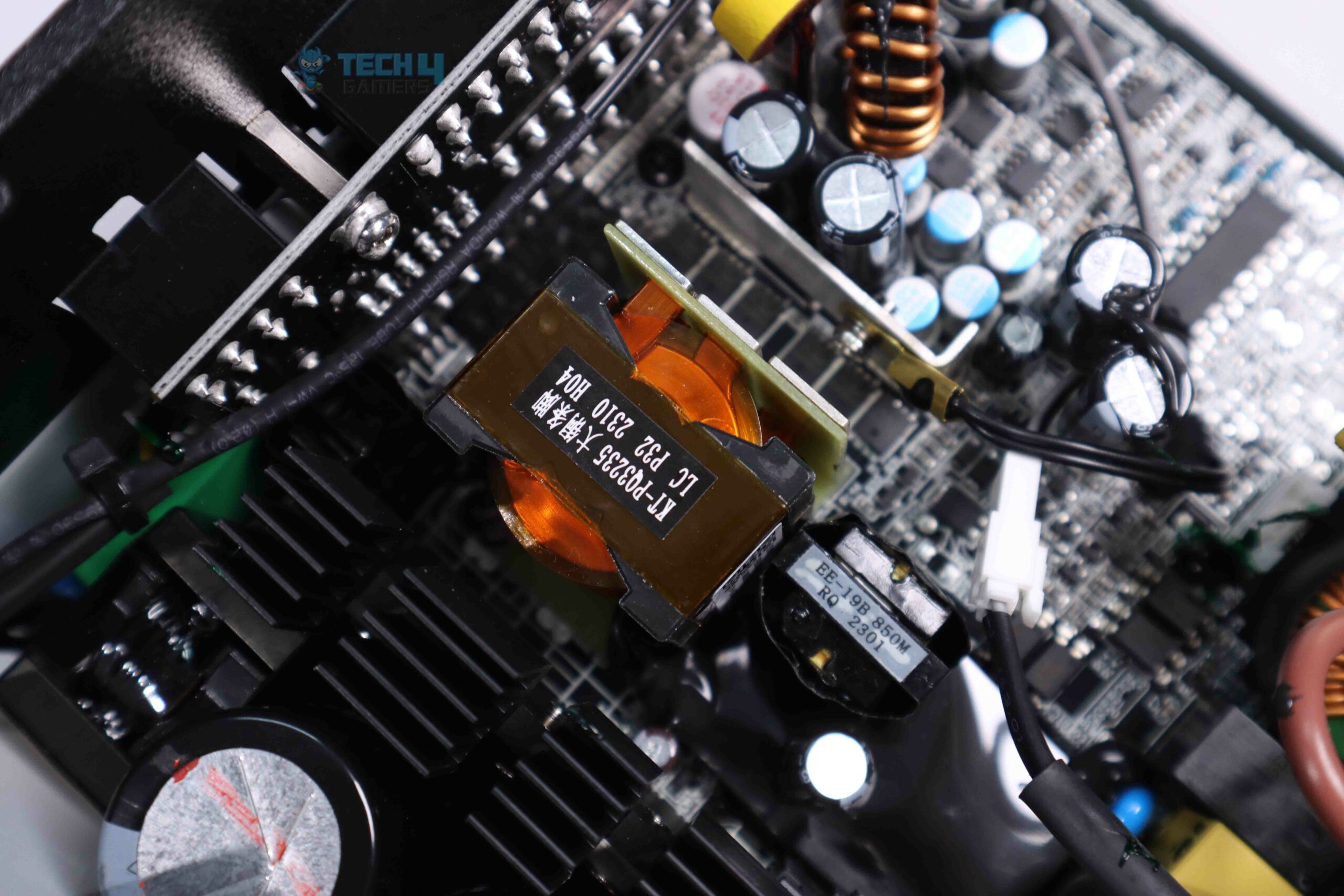 Beefy Transformer with large solder tabs to minimize any losses.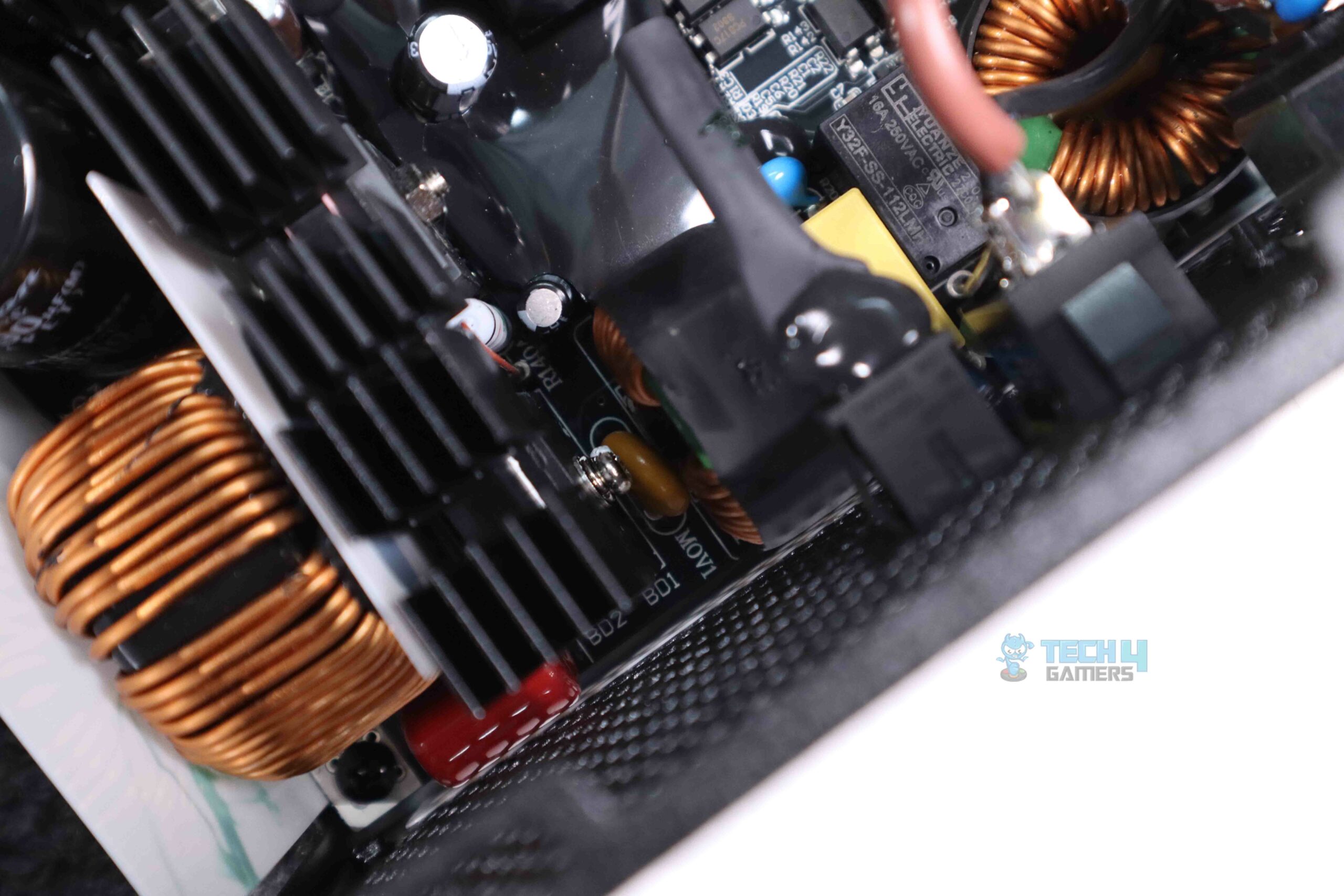 A tiny glimpse of MOV for protection against power surges.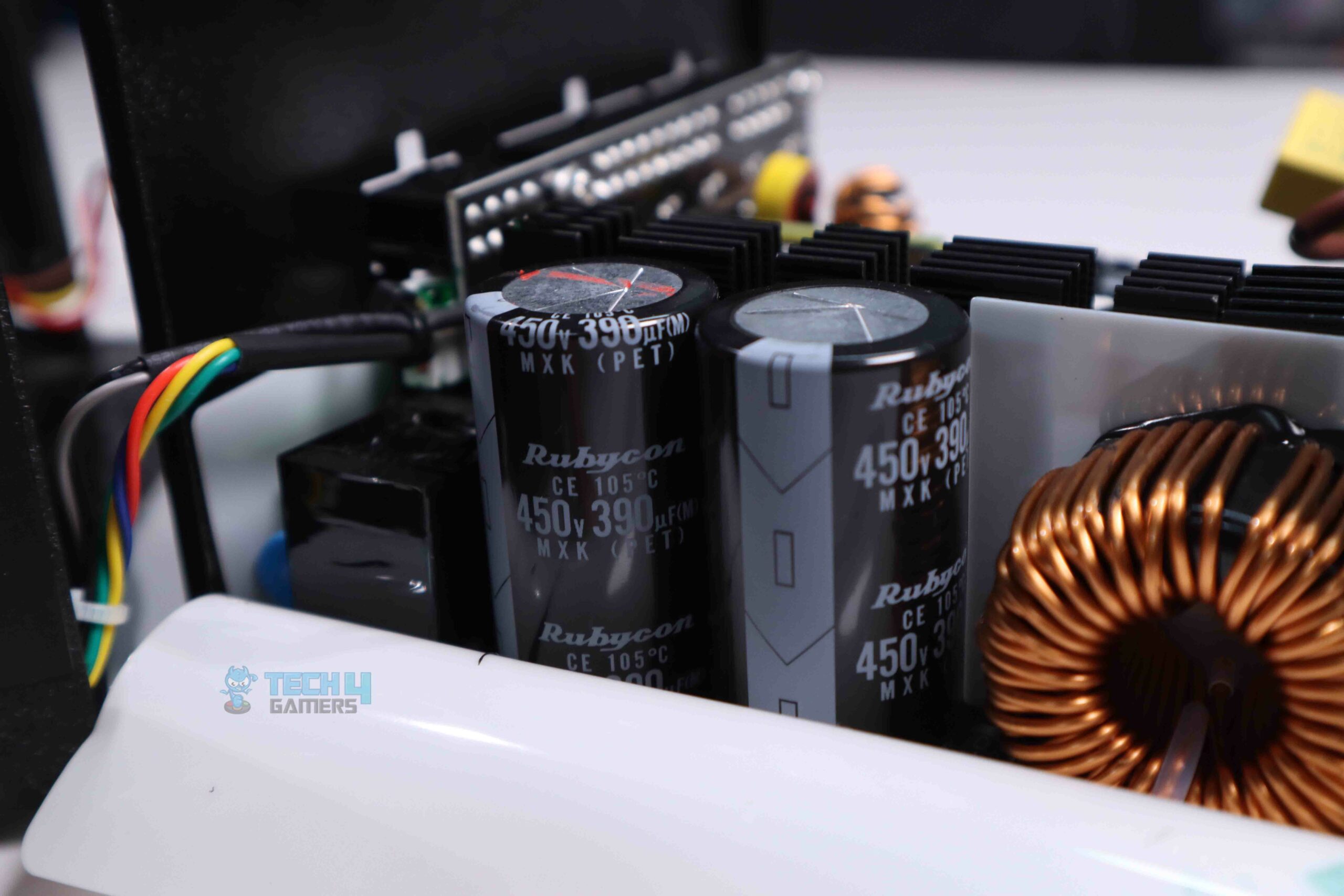 The REVOLUTION D.F. X features 100% top-of-the-line 105C rated Japanese capacitors from Rubycon 450V 390uF each, to provide extremely stable and reliable power output for years.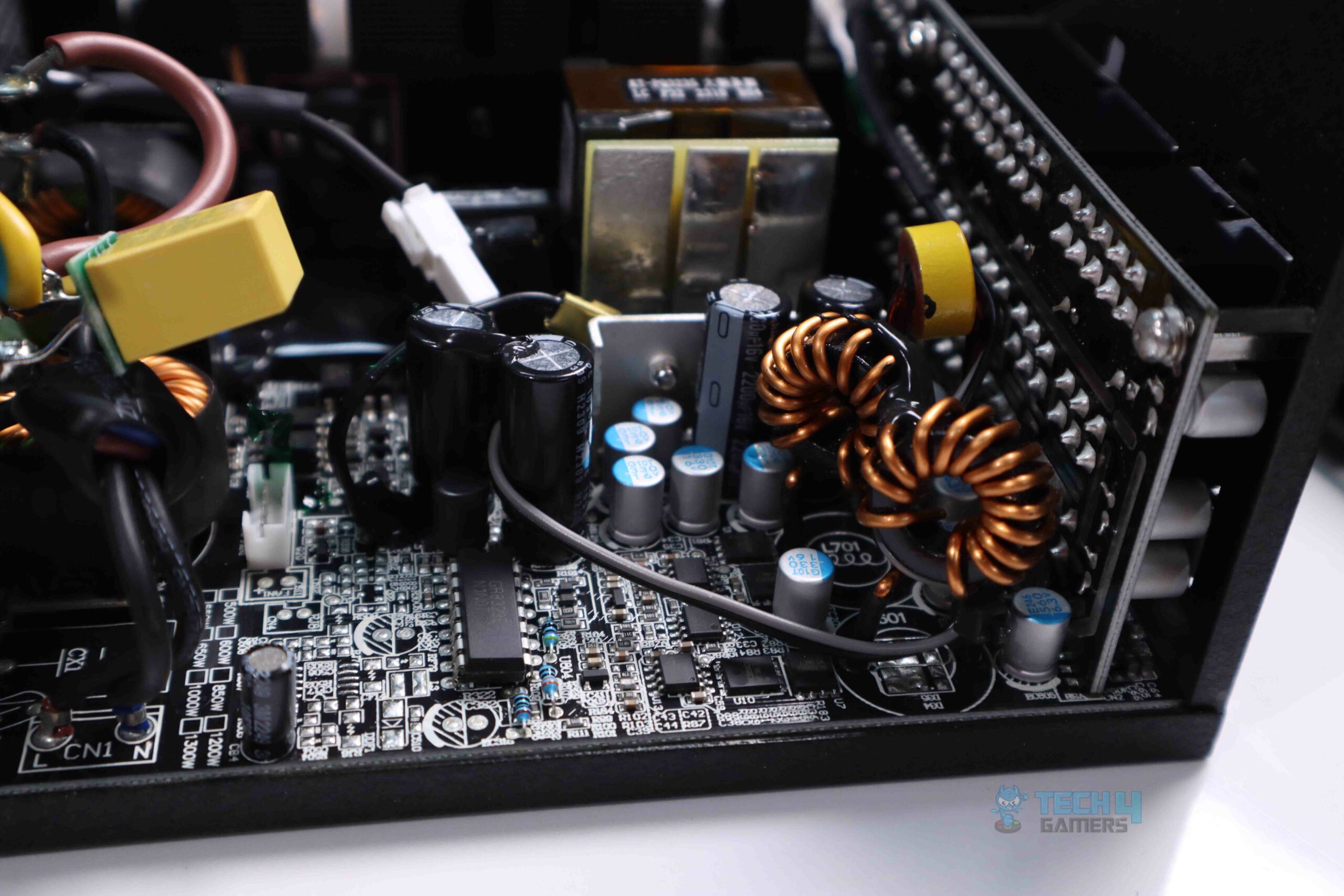 Ultimately, better regulation, lower noise and output ripple, more efficiency, and more effective thermal management are the outcomes of the Revolution D.F. X's use of cutting-edge LLC and Synchronous Rectifier (SR) architecture. In addition to this, it also features heavy-duty industrial-grade protections, including OCP, OVP, UVP, OPP, OCP, and SCP.
Dust-Free Rotation Technology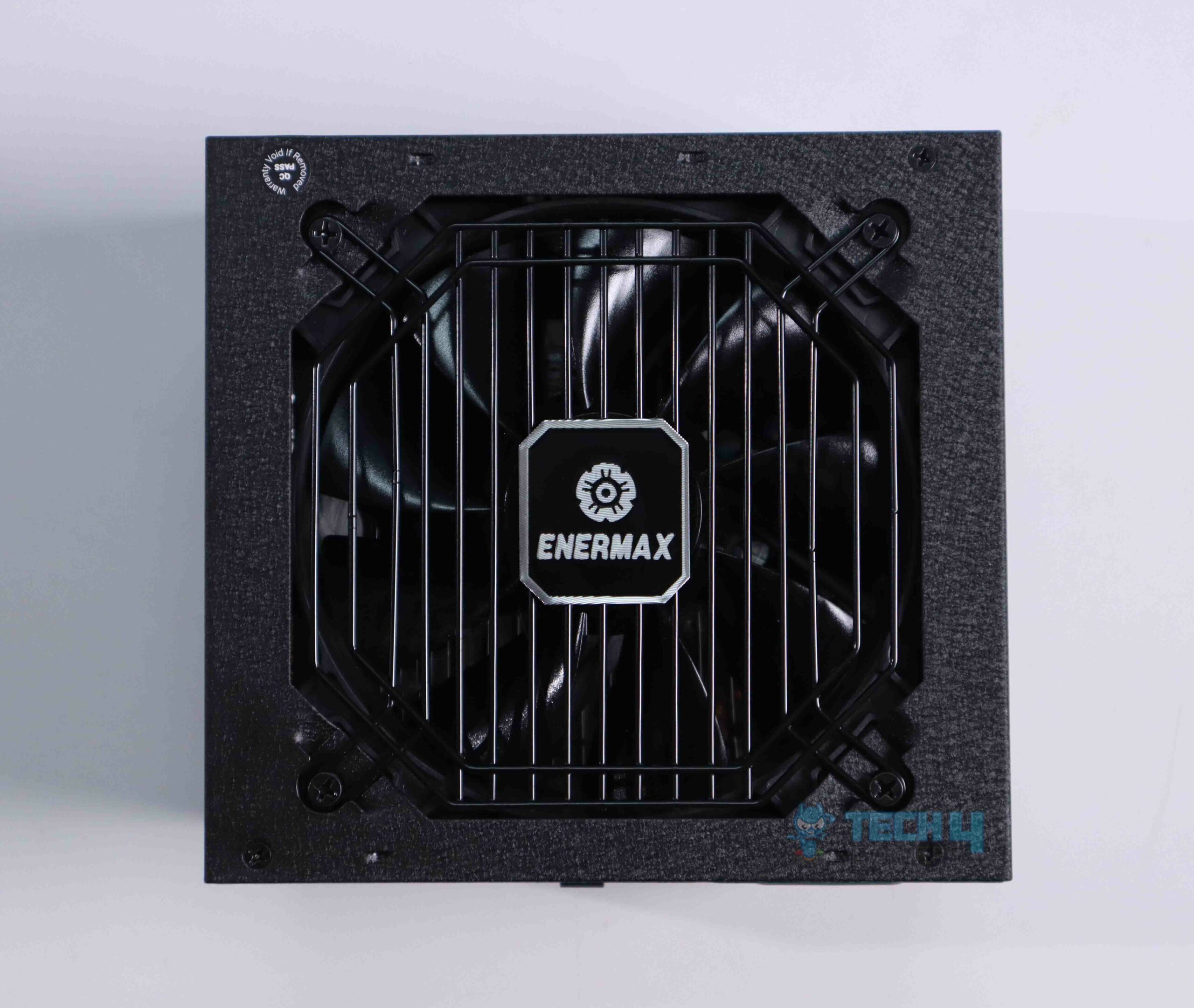 The Enermax Revolution D.F. X 1050W PSU features an innovative cooling system designed to maintain optimal performance and minimize dust accumulation. It employs a 120mm Fluid Dynamic Bearing (FDB) fan with a maximum speed of 2,100 RPM and a lengthy lifespan rated for 100,000 hours of use. What sets this cooling solution apart is its "self-cleaning mode," where the fan's rotation direction is reversed for approximately 10 seconds at startup. This innovative feature helps get rid of and remove accumulated dust, ensuring a clean state and consistent power supply over time.
Additionally, Enermax's air guard design enhances cooling efficiency, reduces fan noise, and directs airflow over a cable-free PCB equipped with high-quality Japanese capacitors. The high-pressure blade design enables the fan to generate remarkable air pressure and flow rates while maintaining a whisper-quiet operational level. Furthermore, the semi-fanless technology allows the fan to be entirely switched off at light loads, resulting in an ambient noise level of 0 dB(A) for silent operation. This includes a 6-pole motor and three 3-phase fans that have been meticulously fine-tuned for several critical factors: low noise levels, highly efficient operation, and minimal vibration.
How Did We Test the Revolution D.F. X 1050W?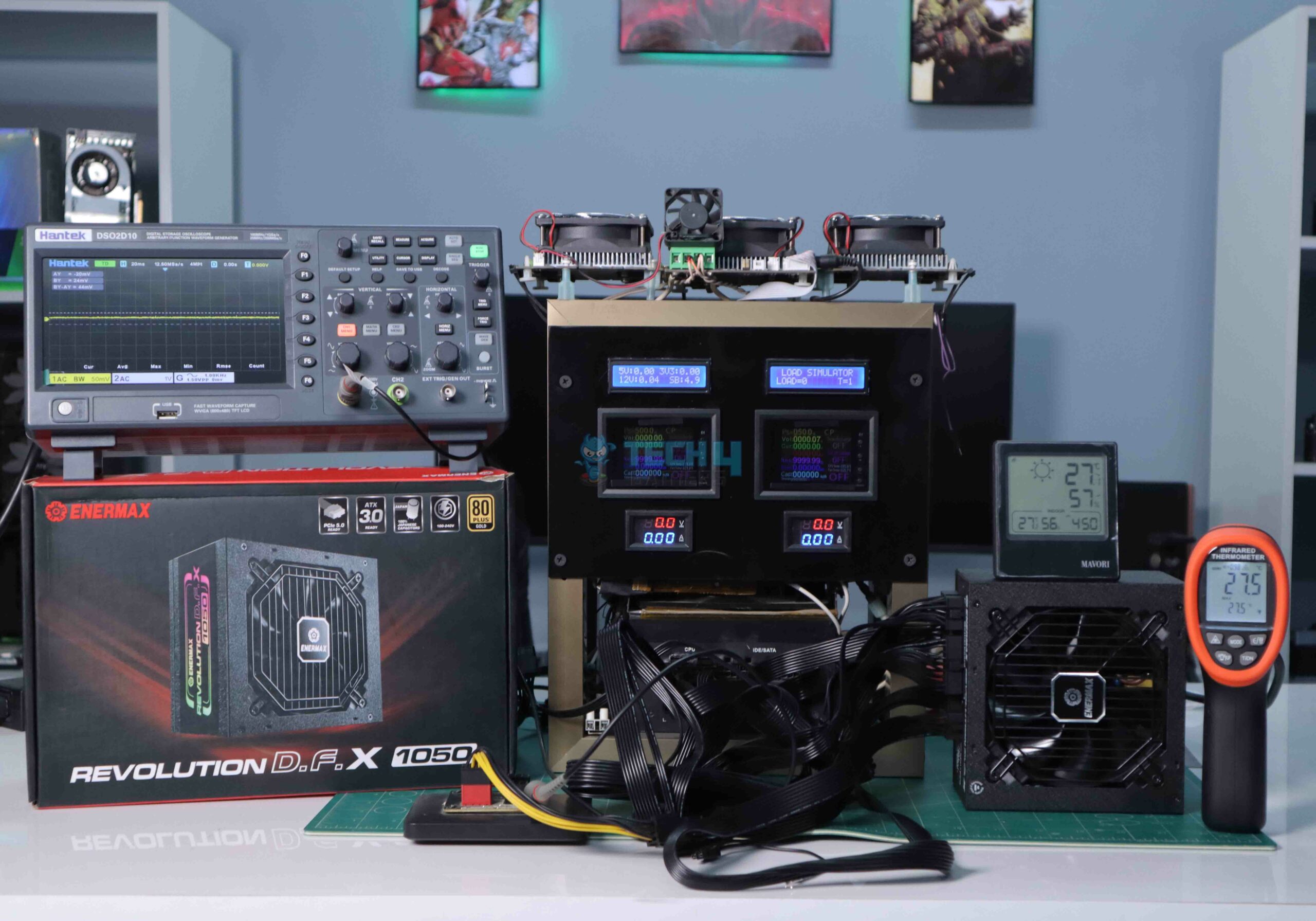 At Tech4Gamers, we stand apart by taking a hands-on, practical approach to evaluating PSUs. Instead of relying solely on certifications or synthetic load testing, we put PSUs to rigorous real-life stress tests. Having said that, our custom PSU load tester, designed with high-density power MOSFET modules similar to those in reputable SunMoon/Chroma load testers, allows us to assess PSU performance accurately.
Our focus is on understanding the diverse demands and challenges that PSUs encounter in gaming systems. We evaluate aspects such as voltage regulation, efficiency, temperature performance, and noise levels to provide comprehensive insights into a PSU's capabilities. This approach empowers users to make informed decisions when selecting a PSU for their specific gaming needs, whether it's for a high-performance rig or a budget-conscious build.
PSU Load Testing
12V & Minor Voltage Rails Regulation
Loading up 12V rail at 20%, 50%, 80%, 90% & 100% and keeping minor rails that are 5V & 3.3V at constant 25W combined (as minor voltage rails don't get that much stressed due to the fact that they are mainly responsible for powering HDD, SSDs, RAMs and other minor components on the motherboard and such components require less power compared to 12V rail which is responsible for powering the most demanding & power hungry components such as CPU & GPU)
| | | | |
| --- | --- | --- | --- |
| Load | 12V | 5V | 3.3V |
| 20% | 11.96V | 5.05V | 3.33V |
| 50% | 11.92V | 5.05V | 3.33V |
| 70% | 11.89V | 5.05V | 3.32V |
| 90% | 11.87V | 5.04V | 3.32V |
| 100% | 11.87V | 5.03V | 3.30V |
12V voltage regulation is very tight overall. Enermax has chosen a very capable platform for their DFX PSU lineup, which should be necessary considering it's an ATX3.0 compatible PSU.
PSU Efficiency & Temperature
PSU efficiency is crucial as it directly relates to wasted energy, both in Watts and heat. Wasted wattage numbers will have a huge impact on your yearly electricity bills, and wasted heat will contribute to the overall life expectancy of your PSU's internal components, especially Capacitors.
| | | |
| --- | --- | --- |
| Load | Power Factor | Efficiency |
| 20% | 0.918 | 92% |
| 50% | 0.969 | 93% |
| 70% | 0.979 | 92% |
| 90% | 0.982 | 92% |
| 100% | 0.987 | 91% |
Voltage Ripple Performance
This test will evaluate how well a PSU performs in minor or extreme overclocking conditions. Better voltage ripple performance equates to an extremely well-built PSU with premium-quality components. PSUs' output voltages are in DC (Direct Current). Technically, this DC signal should have an absolute 0 (zero) frequency (i.e., 0mV), but because this DC is getting generated from various steps whose main source signal is AC. Hence, there's always some presence of AC voltage signal, called Voltage Ripple. Higher voltage ripples can significantly reduce the lifespan of electrolytic capacitors, as it can give you a tough time and many BSODs if you're overclocking your system.
| | |
| --- | --- |
| Load | Voltage Ripple |
| 20% | 14mV |
| 50% | 18mV |
| 70% | 24mV |
| 90% | 32mV |
| 100% | 38mV |
Voltage Ripple performance is average. A PSU having the latest ATX specs should perform better in this test. Though this should be a concern for those who want to push their system to maximum & stable overclocking, the Enermax Revolution D.F. X 1050W PSU does offer a competitive price-to-performance ratio and comes with various other appealing features.
Temperatures
In general, the thermal performance of the PSU is satisfactory. Nevertheless, it's worth noting that the area at the back where the transformer is located experienced a notable increase in temperature, reaching approximately 54 degrees. This observation is somewhat concerning, especially considering that the testing was conducted at an ambient temperature of 26 degrees. While this temperature at the hottest part of the body is a bit worrying, it's not excessively high.
12VHPWR Cable Performance On Max Load
12VHPWR cable sustained the load of 600W without breaking a sweat at the voltage level of 11.9V.
Should You Buy the Revolution D.F. X 1050W?
Buy it if?
You are looking for a budget-friendly PSU for your latest PCIe 5.0 Compatible GPUs:
The Revolution D.F. X 1050W comes at a competitive price of $179.99. The main reason behind this low price is the platform that they have used from OEM, but with their top-of-the-line components, they were able to achieve a compelling price-to-performance ratio. Despite its competitive pricing, it offers a respectable balance of performance and features, making it an attractive option for those aiming to build or upgrade their gaming systems without breaking the bank.
You want silent fan operation and don't want to get annoyed with the noise of continuous fan spin:
The Enermax Revolution D.F. X 1050W PSU is an ideal choice if you prioritize silent and passive fan operation in your system. This PSU incorporates advanced technology that allows it to operate silently and keeps the fan entirely switched off until the load exceeds 20% or the temperature exceeds the limit. Thanks to its semi-fanless technology, which is especially beneficial for tasks like web browsing or light office work, where silence is desirable.
Don't Buy it if?
You don't want to buy it if you're an extreme overclocker:
If you're an enthusiast who enjoys pushing your system to the absolute limits through extreme overclocking, the Enermax Revolution D.F. X 1050W PSU may not be the ideal choice for you. The main reason for this consideration is its voltage ripple performance, which falls within the average range for users seeking the utmost stability under extreme conditions. In extreme overclocking scenarios, particularly when pushing components to their maximum capabilities, having a low voltage ripple is crucial for stability in which this PSU falls short.
Bottom Line
Ultimately, if you're in the market for a reliable and competitive PSU that offers a blend of performance and innovative features, the Enermax Revolution D.F. X 1050W is a solid choice. This PSU is well-suited for a variety of user profiles, including gaming enthusiasts, energy-conscious users, and those looking for future-proof components without breaking the bank. The inclusion of a 120mm fluid dynamic bearing fan, 105C-rated Japanese capacitors from Rubycon, and a unique Dust Free Rotation (DFR) feature contribute to its appeal.
The PSU also adheres to the latest ATX 3.0 standards, offering stable power delivery even during demanding tasks. Furthermore, Enermax offers a competitive pricing structure for the REVOLUTION D.F. X series, making it accessible to a wide range of users. Retail prices range from $149.99 for the 850W model, $179.99 for the 1050W version, and $199.99 for the 1200W model. Moreover, there are plans to release higher-capacity 1350W and 1600W versions by the end of the year. Additionally, the PSU comes with a warranty that can extend up to ten years, although the duration may vary by region.
Read more of our best PSU recommendations for GPUs:
Was our article helpful? 👨‍💻
Thank you! Please share your positive feedback. 🔋
How could we improve this post? Please Help us. 😔
[Hardware Reviewer]
After many years of exploiting various pieces of hardware, Abdul Hannan now serves as an editor at Tech4Gamers. He's been in the PC hardware reviewing industry for almost a decade, and his staff of passionate geeks and reviewers is second to none.
Abdul Hannan is constantly seeking new methods to improve the performance of his computer components since he is an ardent overclocker. He is well-known for providing the most extensive and unbiased analysis of the newest and greatest hardware for PC gaming, including everything from GPUs to PSUs.