The RTX 3090 Ti vs RTX 3090 are two exceptional combatants facing off in the vast arena of graphic perfection. With their unmatched performance and innovation promises, these graphics powerhouses have sparked enthusiasm among enthusiasts and gamers.
Key Takeaways
When I played rigorous gams at 4K, The RTX 3090 Ti outperforms the RTX 3090 by 7.0% in terms of FPS, creating a more vivid and fluid gaming environment.
In my power efficiency test, the RX 6950 XT surpasses the RTX 3090 Ti by a remarkable 19.13%, showcasing its energy optimization for peak performance.
The RTX 3090 exhibits its cool expertise in temperature regulation, with an 8.9% cooler temperament than the RTX 3090 Ti.
The RTX 3090 Ti claims to be priced at $1,999, whereas the RTX 3090's initial MSRP was $1,499.
RTX 3090 Ti Vs RTX 3090: Comparison Table
| | | |
| --- | --- | --- |
| Specs | RTX 3090 Ti | RTX 3090 |
| Architecture | Ampere | Ampere |
| GPU Name | GA102 | GA102 |
| Process Size | Samsung 8nm | Samsung 8nm |
| No. of transistors | 28,300 million | 28,300 million |
| Base Clock | 1560 MHz | 1395 MHz |
| Boost Clock | 1860 MHz | 1695 MHz |
| GPU Memory | 24GB GDDR6X | 24GB GDDR6X |
| Memory Bus Width | 384 bit | 384 bit |
| Memory Bandwidth | 1,008 GB/s | 936.2 GB/s |
| TDP | 450W | 350W |
| RT Cores | 84 | 82 |
| CUDA Cores | 10752 | 10496 |
| TMUs | 336 | 328 |
| Release Date | Jan 27th, 2022 | Sept 1st, 2020 |
| Price | 1,999 USD | 1,499 USD |
| Best Variants | 5 BEST RTX 3090 Ti Graphics Cards | Top 7 BEST RTX 3090 Graphics Cards |
Architectural Differences
Architecture: The NVIDIA Ampere architecture of these cards is high-performance graphics processing architecture designed for AI workloads.
Clock Speeds: Regarding the base clock, the RTX 3090 Ti beats the RTX 3090 by 11.8%, while in the boost clock, it exceeds 9.7%.
VRAM: The substantial 24GB GDDR6X memory is offered by the RTX 3090 and RTX 3090 Ti, enhancing your gaming capability. But compared to the RTX 3090, the RTX 3090 Ti offers 7.7% more bandwidth.
TDP: The RTX 3090 Ti has about 28.6% higher TDP than the RTX 3090, highlighting that it is more power-hungry.
Advanced Technologies: Regarding technological advancements, Nvidia offers DLSS 2.0, Resizable BAR, G-SYNC, and RTX Video Super-Resolution with these cards.
RTX 3090 Vs RTX 3090 Ti: Benchmarks At 4K
Now that you have the necessary background information let us explore their gaming performance in great detail. We will put them through several tests at 4K resolution to determine the full degree of these GPUs' performance capabilities in modern games.
Testing Rig
Cyberpunk 2077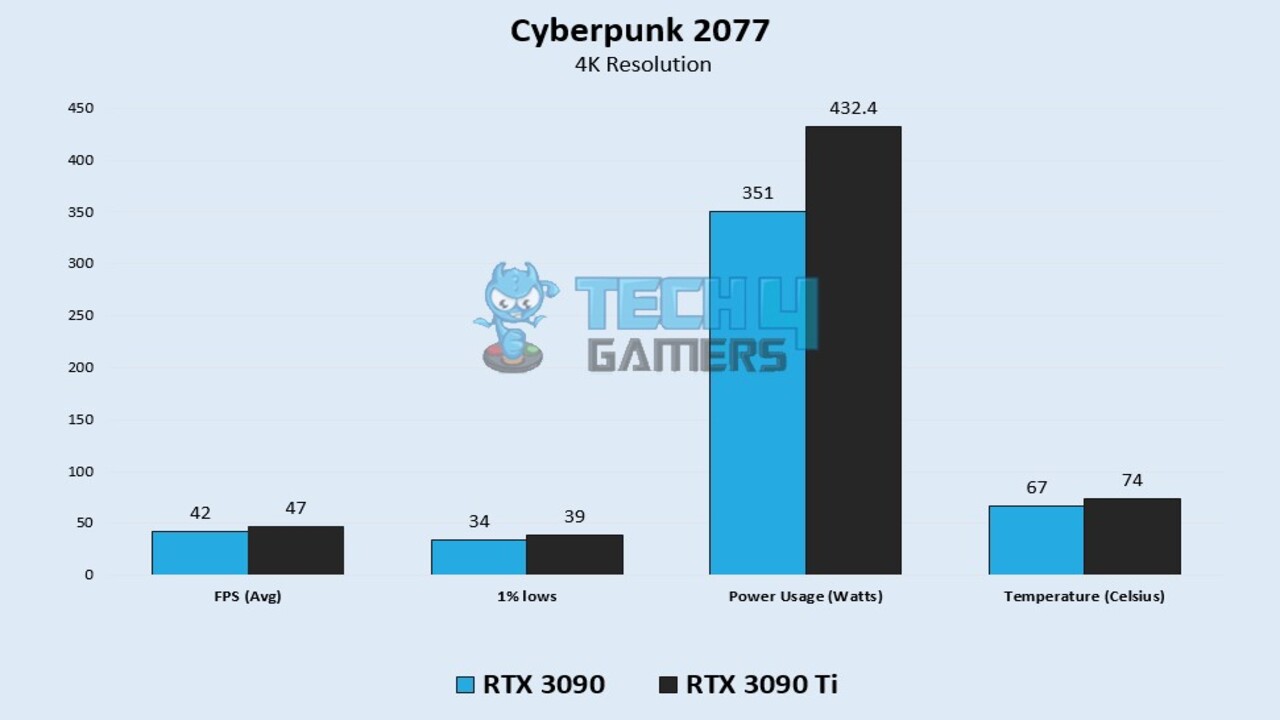 As I played the game, I witnessed the superiority of the RTX 3090 Ti. It outperformed the RTX 3090, with an average frame rate of 47 FPS compared to 42 FPS.
The RTX 3090 Ti has outstanding stability, outperforming the RTX 3090's performance of 34 FPS and attaining 1% lows of 39 FPS while retaining its calmness.
I've personally tested it, and the RTX 3090 stays cool at an average of 67°C under intense conditions, with the RTX 3090 Ti consistently reaching 74°C.
The RTX 3090 works with a power efficiency of about 351W, significantly less than the RTX 3090 Ti's usage of about 432.4W, demonstrating its efficiency.
God Of War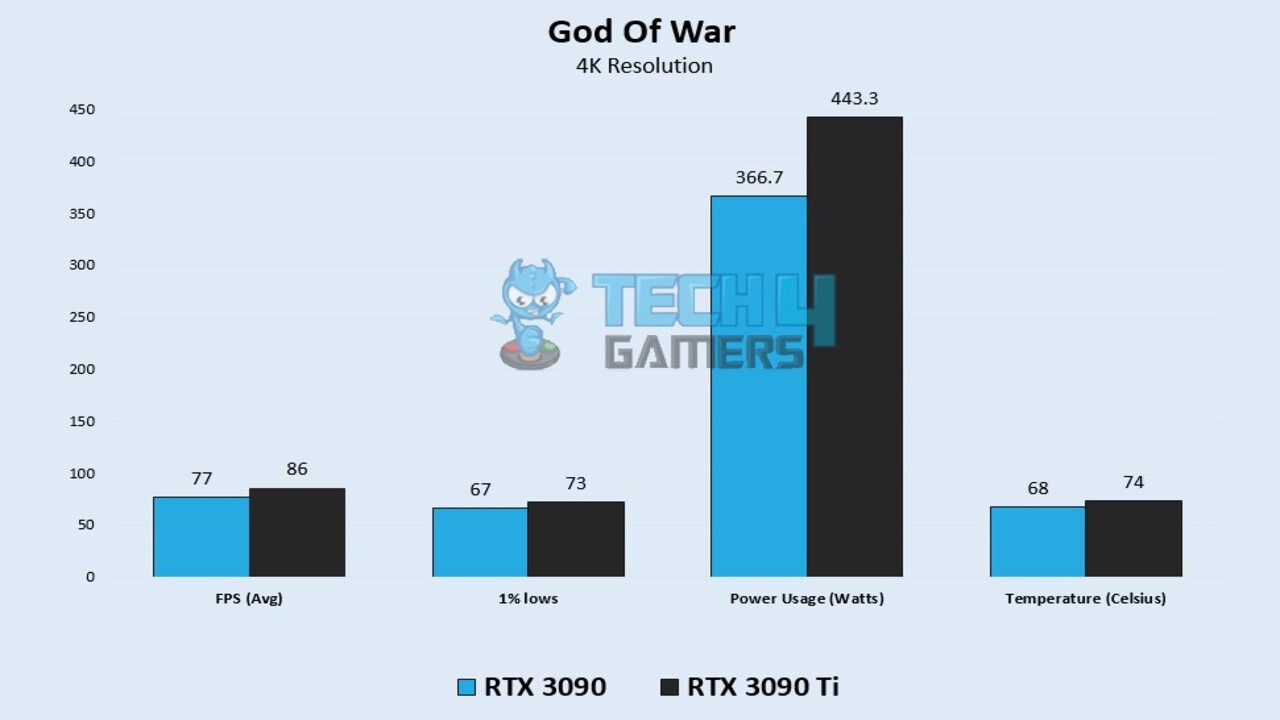 The RTX 3090 Ti readily displays its superiority as it outperforms the RTX 3090 with an outstanding average frame rate of 86 FPS, beating the latter's 77 FPS.
At 1% lows, the RTX 3090 performs without faltering, exhibiting great stability and achieving an astonishing 73 FPS, outpacing the RTX 3090 Ti's 67 FPS.
The RTX 3090 embraces better cooling capabilities, keeping ideal temperatures that elegantly surpass the RTX 3090 Ti's 74°C, gently hanging around a cool 68°C.
In my test, the RTX 3090 consumed 366.7W, which was noticeably lower than the RTX 3090 Ti's 443.3W, showcasing its impressive efficiency.
Forza Horizon 5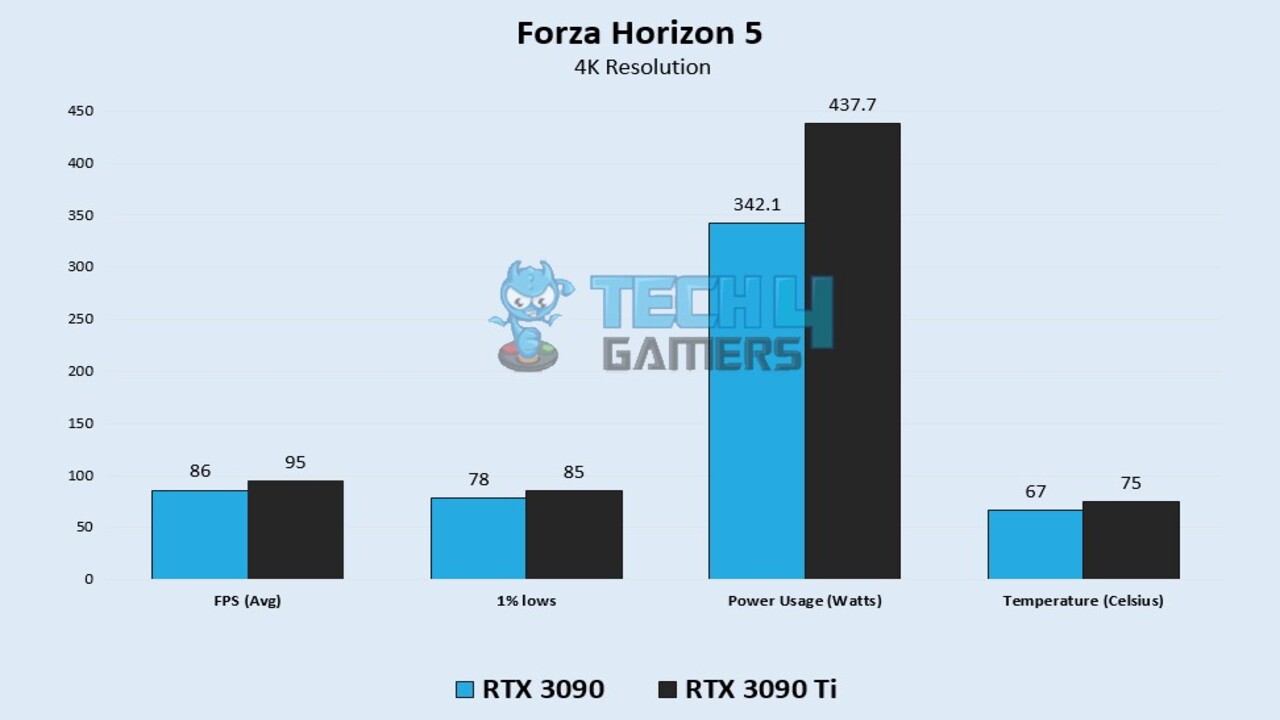 The RTX 3090 Ti embarks on a magical journey, showcasing its enchanting 95 FPS in Forza Horizon 5, a notable upgrade from the RTX 3090's 86 FPS.
The RTX 3090 Ti exhibits its unshakable strength with elegance, delivering 1% lows at an astonishing 85 FPS. This beats the 78 FPS of the RTX 3090 while remaining calm and collected.
During this gameplay, the RTX 3090 maintained a cool 67°C temperature, radiating peace, while the RTX 3090 Ti ran hotter at 75°C.
The RTX 3090 uses a minimal 342.1W of electricity, which is a cautious use of power. This contrasts with the RTX 3090 Ti, which draws around 437.7W, demonstrating the skill of energy effectiveness.
Hitman 3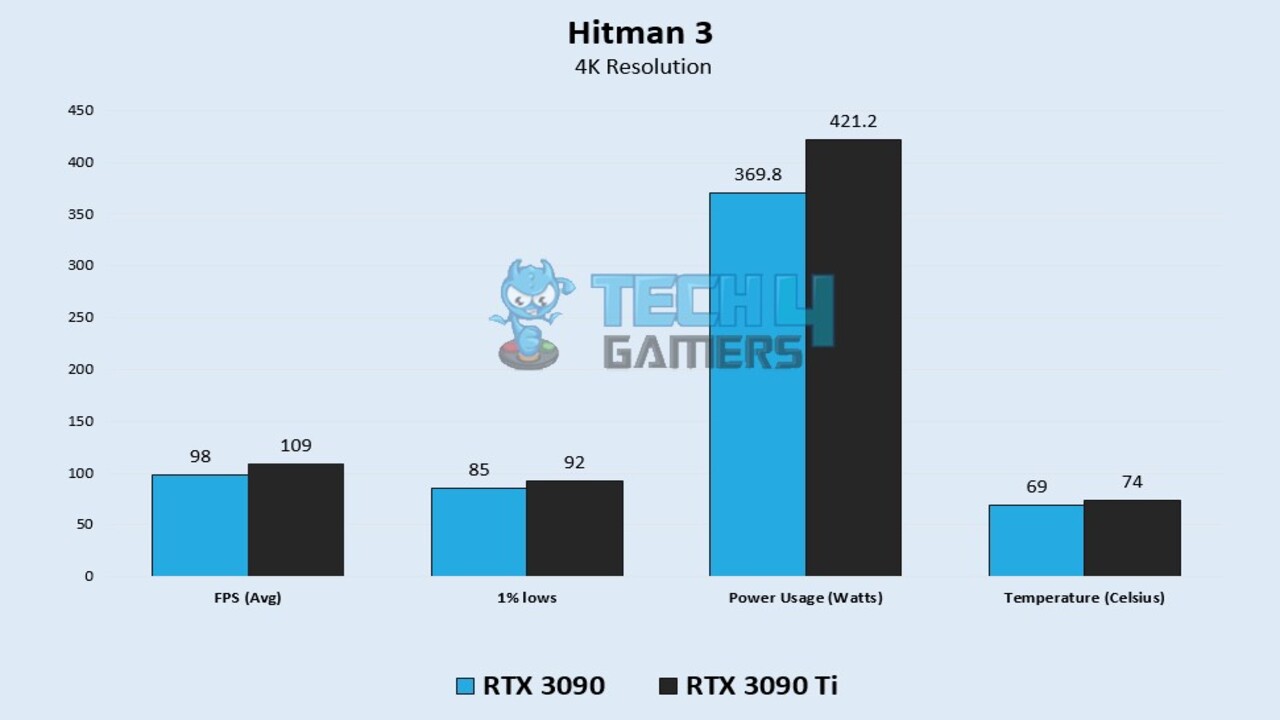 I observed the RTX 3090 Ti's captivating performance in Hitman 3. It outshined the RTX 3090, delivering an impressive 109 FPS on average, a clear visual upgrade from its 98 FPS predecessor.
The RTX 3090 Ti leaps triumphantly over the RTX 3090, maintaining 1% lows at 92 FPS, showcasing unwavering composure.
The RTX 3090 keeps its cool at 69°C, outperforming the RTX 3090 Ti's 74°C, creating a serene atmosphere for performance.
In this game, the RTX 3090 drew approximately 369.8W, and when I tested the RTX 3090 Ti, it consumed about 421.2W, demonstrating its higher power requirement.
Ghostwire Tokyo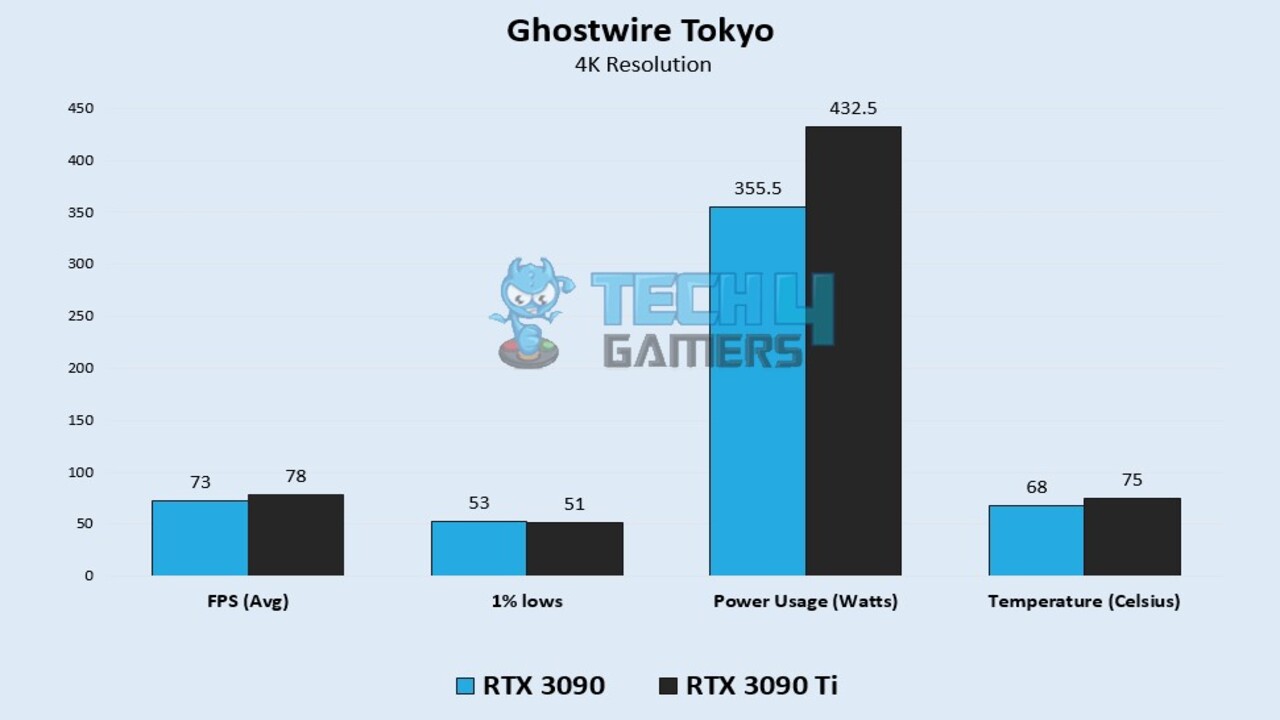 The RTX 3090 Ti surpasses the RTX 3090's 73 FPS in Ghostwire Tokyo, achieving an impressive 78 FPS with a stunning display for captivating gaming experiences.
The RTX 3090 Ti hit 53 FPS, with the RTX 3090 maintaining 51 FPS consistently in the 1% low performance.
The RTX 3090 Ti stays hotter at 75°C while demanding 432.5W for stunning visuals.
In contrast, the RTX 3090 maintains a cool 68°C and manages power carefully at 355.5W, balancing performance and efficiency.
Microsoft Flight Simulator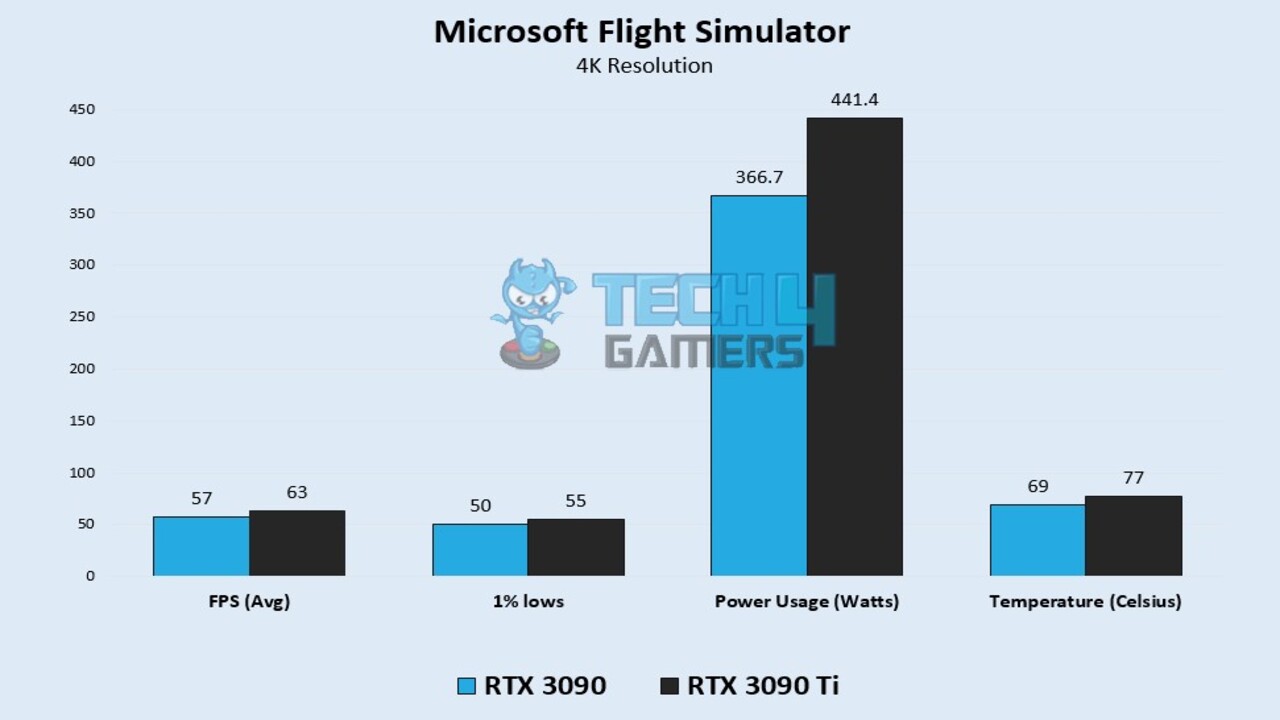 The RTX 3090 Ti takes center stage, showcasing its remarkable capabilities in a captivating journey. It delivers an impressive 63 FPS average, outperforming the RTX 3090's 57 FPS.
Meanwhile, the RTX 3090 maintains its reputation with a stable 50 FPS at the low 1% performance, while the RTX 3090 Ti excels at 55 FPS.
The RTX 3090 maintains a cool 69°C while outperforming the RTX 3090 Ti, which reaches 77°C.
Regarding power usage, the RTX 3090 consumes 366.7W compared to the RTX 3090 Ti's 441.4W, highlighting its efficiency.
Red Dead Redemption 2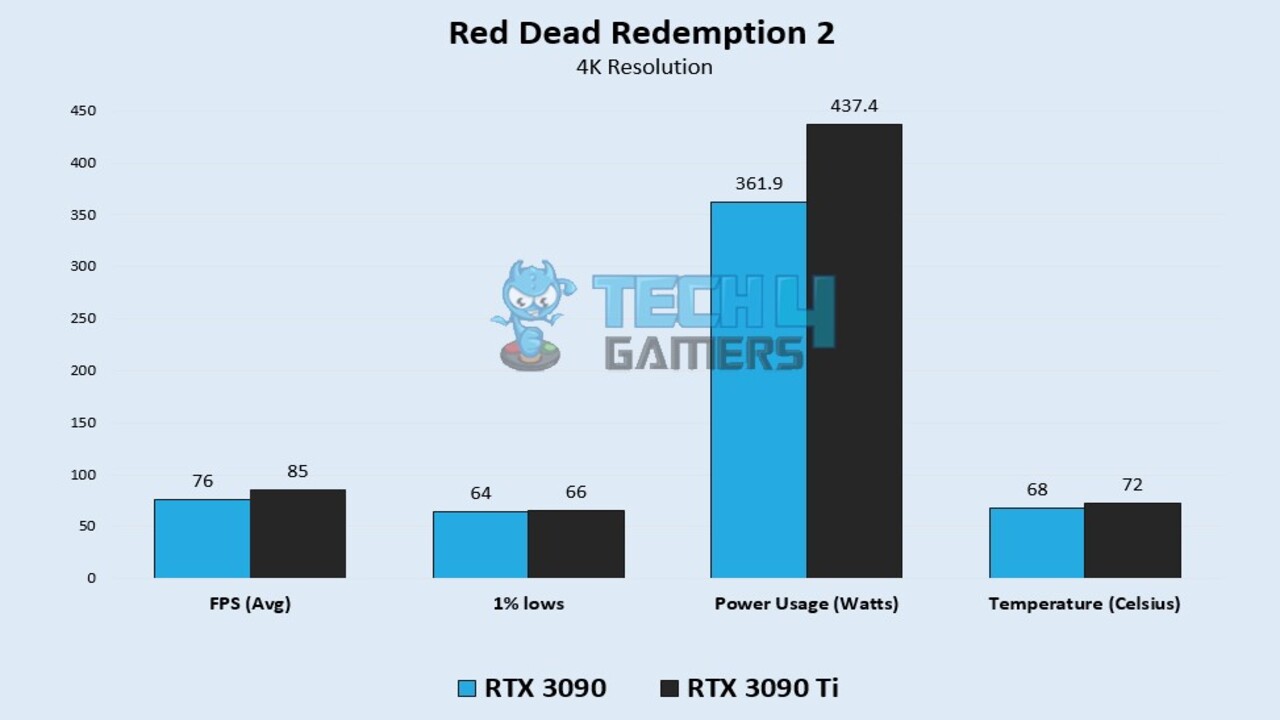 I saw the RTX 3090 Ti outperform the RTX 3090 in Red Dead Redemption 2, reaching an outstanding 85 FPS compared to its 76 FPS.
The RTX 3090 Ti delivers flawlessness at 66 FPS, while the RTX 3090 maintains stability at 64 FPS, creating an immersive visual experience.
The RTX 3090 impressively maintains a cool 68°C, outshining the RTX 3090 Ti's still respectable 72°C.
I've tested it firsthand: the RTX 3090 consumes 361.9W, but the RTX 3090 Ti devours 437.4W, showing its relentless hunger for power.
Overall Gaming Analysis
In this journey, we'll go into the core of gaming performance, examining complexities and separating the RTX 3090 Ti vs RTX 3090's experiences into their component parts. Join us as we investigate their average frames, power, efficiency, and more, emphasizing their influence on the gaming industry.
Average Performance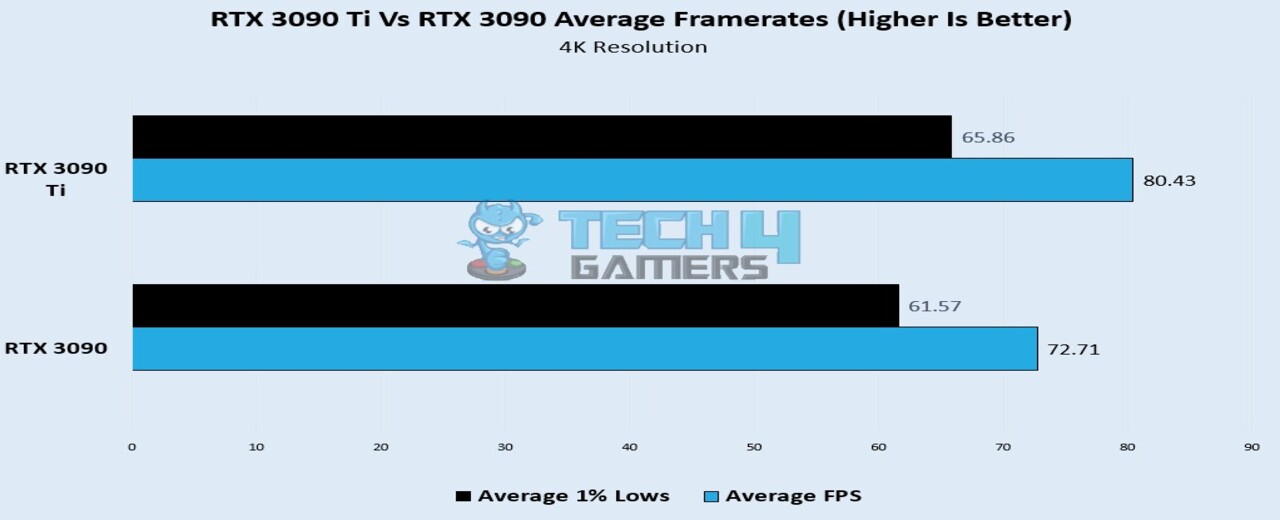 I achieved an average FPS of 80.4 with the RTX 3090 Ti, surpassing the RTX 3090's 72.8 FPS by about 7.0% in my firsthand experience.
The RTX 3090 Ti, a tough rival, boosts the experience with a notable 65.8 FPS, while the RTX 3090 retains its calm with an average of 61.5 FPS in 1% lows.
Temperatures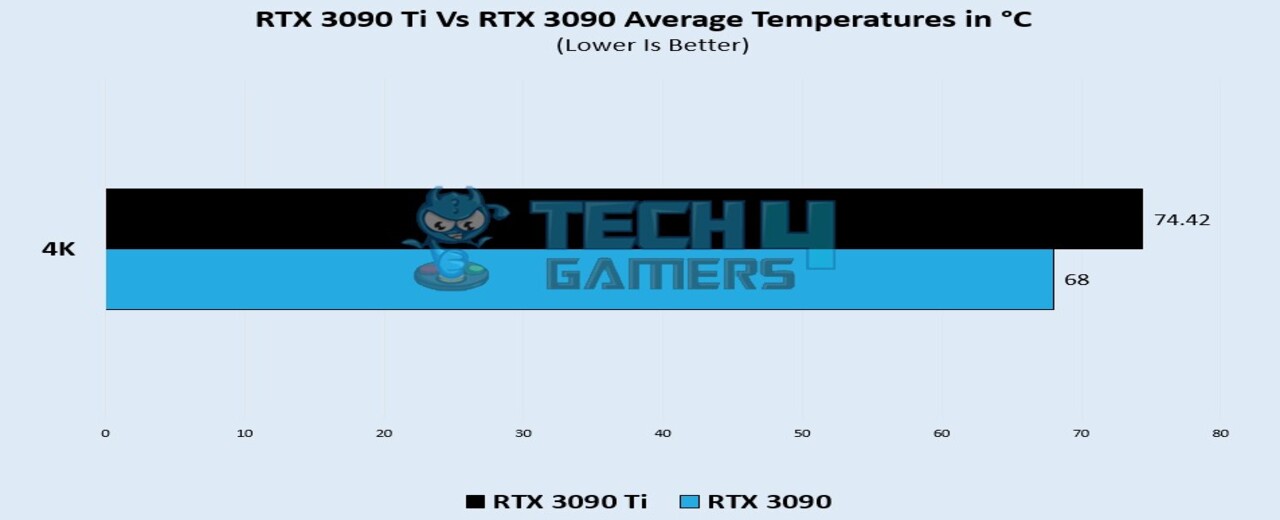 The RTX 3090 stays 8.9% cooler than the RTX 3090 Ti. It runs at an average temperature of 68°C, while the latter reaches 74.4°C.
Power Consumption
A GPU's average power consumption is a key indicator of its performance-per-watt excellence.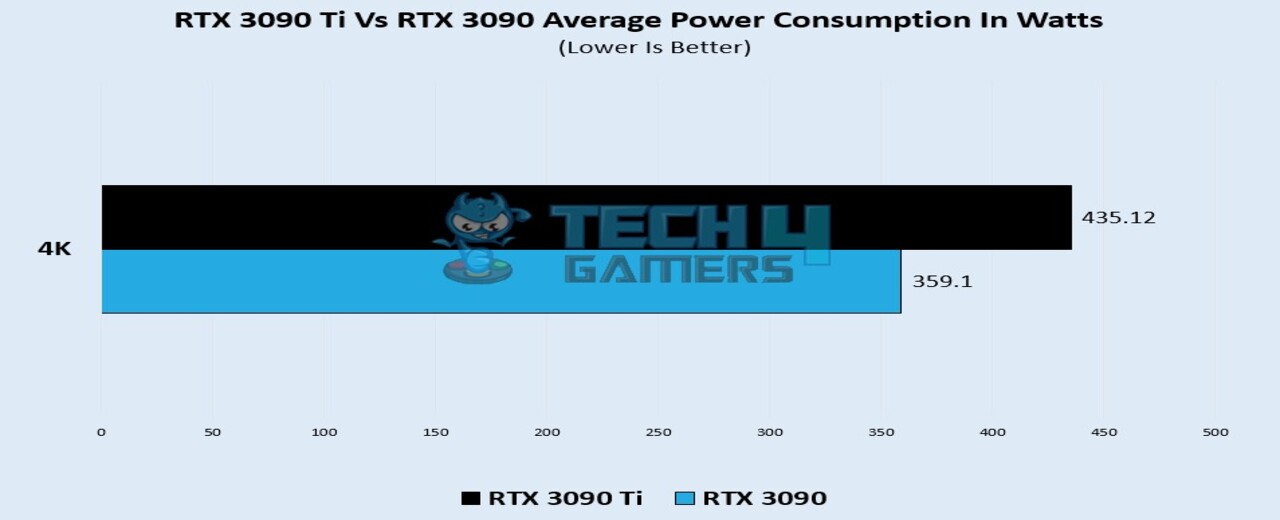 The RTX 3090 Ti uses a mean of 435.1W of electricity on average, but the RTX 3090 gracefully uses a mean of 359.1W, representing a significant 19.13% decrease in power usage.
Pricing And Availability
The RTX 3090 Ti attracts attention, with prices ranging from $1,799 to higher for different variants. However, it has limited availability despite being released over a year ago. The RTX 3090 Ti reaches out to individuals who desire unrestrained performance and are at the cutting edge of innovation.
The RTX 3090, in comparison, follows a slightly more approachable road and has a price range between $1,299 and $1,699 for different manufacturers.
Which One Would I Recommend?
Your priorities will determine whether you choose the RTX 3090 Ti or the RTX 3090. I recommend the RTX 3090 Ti if you're a passionate enthusiast or gamer looking for the ultimate performance, state-of-the-art ray tracing, and advanced machine-learning capabilities.
However, if you are constrained by budget and seeking a GPU with lower operational costs, I suggest opting for the RTX 3090. It delivers commendable performance and offers superior power efficiency compared to the RTX 3090 Ti.
Pros And Cons
GPU
Pros
Cons
RTX 3090 Ti

Enhanced Performance
Ray Tracing
Shading

Power consumption
Price
Availability issue

RTX 3090

24GB Memory
Fast
SLI compatibility

Power Draw
1 HDMI 2.1 port
Availability issue
Frequently Asked Questions
What about compatibility with current technology and games?
In order to ensure compatibility with the most recent games and cutting-edge techniques like hardware raytracing and variable-rate shading, both GPUs support DirectX 12 Ultimate.
Who should consider using the RTX 3090 Ti?
For enthusiasts, gamers, and content producers who want cutting-edge performance, powerful ray tracing, and machine learning capabilities for projects like AI and 3D rendering, the RTX 3090 Ti is the perfect choice.
Who may benefit more from the RTX 3090?
Users looking for a well-rounded alternative with competitive gaming performance, outstanding ray tracing, and significant memory capacities for creative work and gaming might choose the RTX 3090.
---
More From RTX 3090:
More From RTX 3090 Ti:
Was our article helpful? 👨‍💻
Thank you! Please share your positive feedback. 🔋
How could we improve this post? Please Help us. 😔
[Wiki Editor]
Ali Rashid Khan is an avid gamer, hardware enthusiast, photographer, and devoted litterateur with a period of experience spanning more than 14 years. Sporting a specialization with regards to the latest tech in flagship phones, gaming laptops, and top-of-the-line PCs, Ali is known for consistently presenting the most detailed objective perspective on all types of gaming products, ranging from the Best Motherboards, CPU Coolers, RAM kits, GPUs, and PSUs amongst numerous other peripherals. When he's not busy writing, you'll find Ali meddling with mechanical keyboards, indulging in vehicular racing, or professionally competing worldwide with fellow mind-sport athletes in Scrabble at an international level. Currently speaking, Ali has completed his A-Level GCEs with plans to go into either Allopathic Medicine or Business Studies, or who knows, perhaps a full-time dedicated technological journalist.