Besides acquiring high-performing processors, RAM sticks, and motherboards, selecting a powerful GPU allows you to have a proper package that eliminates the chances of having any bottlenecks. Keeping this in mind, two of the most powerful GPUs that we will compare are AMD Radeon RX 6700 XT vs. Nvidia GeForce RTX 3070.
---
Key Takeaways
RX 6700 XT is cheaper than RTX 3070. Its price has reduced below MSRP as time passed. Its price makes it a bargain, considering its high performance and less power consumption.
RX 6700 XT has more VRAM (12 GB vs 8 GB), core clock and boost clock (2321 MHz and 2581 MHz over 1500 MHz and

1725 MHz), and memory clock ( 16 Gbps over 14 GBps)

than RTX 3070.
But, RX 6700 XT has less memory bandwidth (

384 GB/s over 448 GB/s) and memory interface (192-bit over 256-bit), which increases the data transference in RTX 3070, making it better performing.

RTX 3070 gained more FPS than RX 6700 XT in almost all the games except for a few AMD-optimized titles.
The mining value of RTX 3070 ($0.38) is more than RX 6700 XT ($0.26), and both have decreased drastically over time.
Laptops for RX 6700 XT aren't fully powered, while RTX 3070 laptops are. The spec difference and variety are also bigger in RTX 3070. There is only one laptop available for RX 6700 XT.


---
Although RTX 3070 falls on the higher end in terms of price, the performance it offers justifies its high price tag. To break the suspense, RTX 3070 launched with an MSRP of $499, but it is currently being sold for not less than $537.
This doesn't mean that the RX 6700 XT performs poorly. With the price that it arrives with, it does the job more than effectively. It was launched with an MSRP of $479 and is now being sold for a much lesser price, for $439. This price makes it a great bang for the buck since it is a high-performing card when it comes to gaming. However, it is important to remember that PC parts have been so expensive recently, and this has also affected the prices of GPUs.
MSRP is expected to increase with new graphic cards. However, this is not the case for a few of AMD's GPUs since the price has been plummeting below MSRP to this day. In contrast, the price of Nvidia GPUs is rising, leaving the MSRP price point way below. Therefore, if you are on a tight budget, going for RX 6700 XT is a viable and the most suitable option.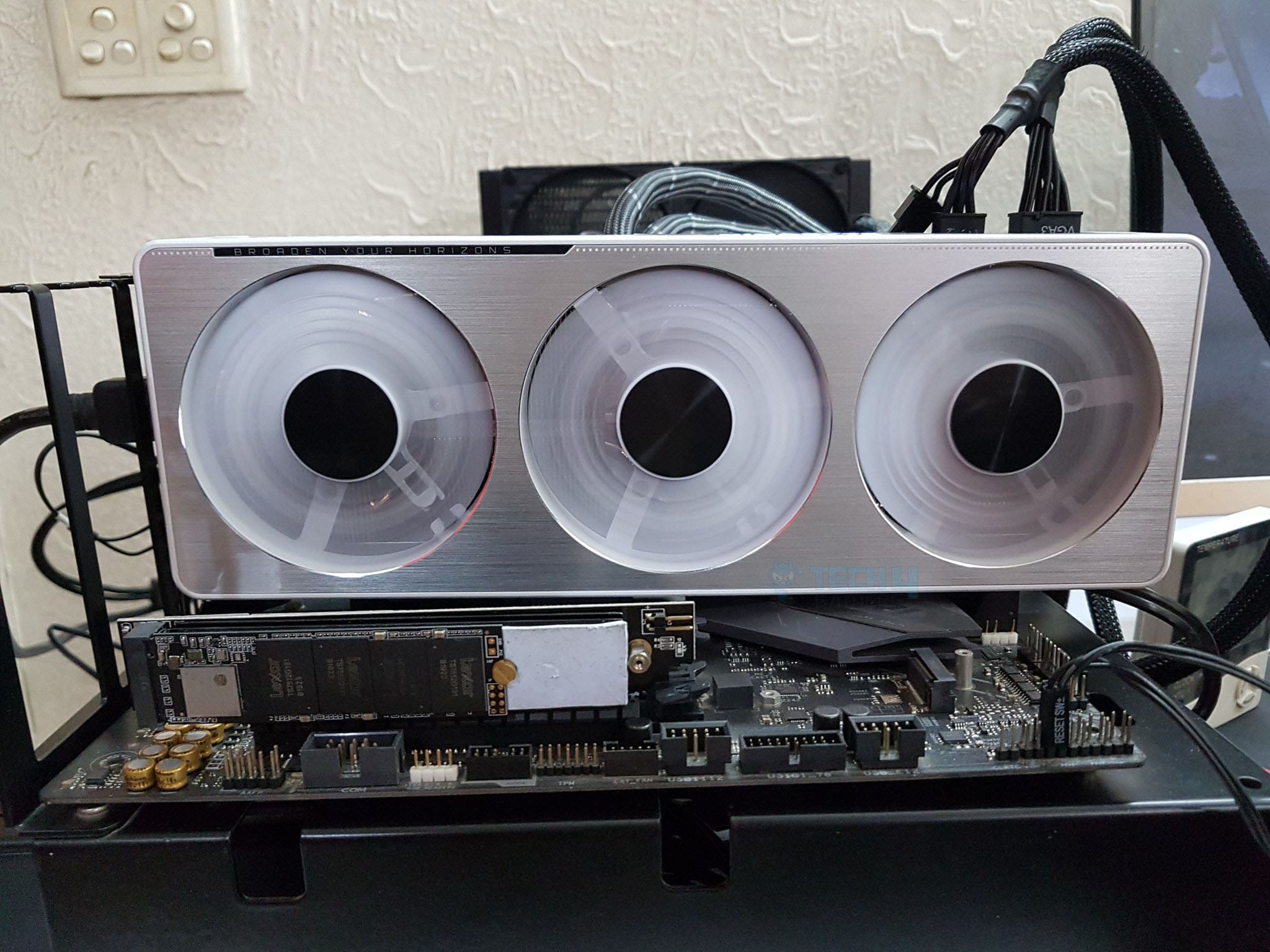 If you can stretch your budget, acquiring the RTX 3070 won't disappoint you. But before jumping to any conclusions, you must be informed about the in-detail comparison between the hardware capabilities and the performance analysis of the two graphic cards. For that, let's dive deeper, starting from none other than a direct comparison between both of their specification.
RX 6700 XT Vs. RTX 3070 Specifications
| Name | AMD Radeon RX 6700 XT | NVIDIA GeForce RTX 3070 |
| --- | --- | --- |
| Node | TSMC 7nm | Samsung 8nm |
| Architecture | Ampere | Ampere |
| CUDA Cores | 2,560 | 5888 |
| Core Clock | 2321 MHz | 1500 MHz |
| Boost Clock | 2581 MHz | 1725 MHz |
| Memory | 12 GB GDDR6 | 8 GB GDDR6 |
| Memory Clock | 16 Gbps | 14 Gbps |
| Memory Bandwidth | 384 GB/s | 448 GB/s |
| RT Cores | 40 | 46 |
| Memory Interface: | 192-bit | 256-bit |
| Transistors | 17.2 billion | 17.4 billion |
| TDP | 230W | 220W |
| Power Connector | 1 x 12 pin | 1 x 12 pin |
| Launch Year | March 18, 2021 | October 29, 2020 |
| MSRP | $479 | $499 |
| Current Price | $439 | $537 |
Both RX 6700 XT and RTX 3070 are top-notch graphic cards, but they have several differences. Let's start off with the VRAM. RX 6700 XT has 12 GB DDR6 memory, whereas RTX 3070 consists of 8 GB DDR6 memory. Although VRAM allows GPU to store highly detailed textures and provide a smoother experience, it doesn't always equate to higher FPS in games.
Clock Frequency And Memory Bandwidth
Similarly, RX 6700 XT has a much higher core clock and a boost clock than RTX 3070; this is when it gets interesting. RX 6700 XT performs impressively with faster processing due to its increased speed. However, it lags in the area of memory bandwidth since it only has 384 GB/s compared to the RTX 3070, which has a staggering bandwidth of 448 GB/s.
If you're not familiar with the concept of memory bandwidth, it is the factor that determines how fast data is moved from the VRAM to the computer cores. In this case, RTX 3070 has a higher memory bandwidth which makes up for its comparatively lower VRAM since data is transferred at a faster rate. Typically, anything above 3 GB/s is considered impressive for gaming.
Memory Interface And CUDA Cores
The memory interface is another factor that plays a vital role in calculating the memory bandwidth, which determines the maximum memory of the entire card. The higher the memory interface, the faster the data is transferred to and from the GPU. The increased memory interface on RTX 3070 also levels the field with RX 6700 XT, which has a higher VRAM.
To clarify, 192-bit falls on the lower side for a high-end GPU. However, the higher memory clock makes up for it. Similarly, CUDA cores are way higher in RTX 3070 than in RX 6700 XT. CUDA cores help in solving complex calculations to provide a smoother experience. This comes in handy when the GPU is set to perform rendering operations, gaming, and even mining.
Ray Accelerators And RT Cores
Similarly, higher Ray accelerators (in AMD) and RT cores (in Nvidia) allow users to provide better lighting and shadows in ray tracing by performing operations with extraordinary efficiency. The difference in RT cores between the two graphic cards isn't much, but comparing it to their previous models is impressive.
RX 6700 XT's predecessor, RX 6600 XT, had 32-ray accelerators. Similarly, RTX 3060 had only 28 RT cores. This is an impressive upgrade for both of these graphic cards. RTX 3070 is a great card since one of the best cards of the previous generation of the RTX series, RTX 2080, also had 46 RT cores.
Power Consumption
RX 6700 XT consumes 150 to 200 W while gaming, but the peak value reaches around 230 W. When idle, it consumes 7W on a single monitor, with the values exceeding 33 W on a multi-monitor setup. The highest recorded spike was 321 W, which is very high compared to its normal consumption, but it is typically rare.
Now, let's see the power supply we can get for RX 6700 XT. Adding all the numbers of the motherboard, high-end CPU, and other components, we are left with around 615 W. Therefore, the minimum requirements would be 600 W or power supply, and recommended to get at least 750 W. Needless to say, if you want to go for overclocking, you may get 800 W or above. However, do keep in mind that overclocking can damage the GPU. Also, make sure to learn how to remove GPU from the motherboard if you're thinking about replacing it.
While gaming, RTX 3070 consumes from 200 W to 220 W, with the maximum recorded spike being 243 W. In an idle state, it consumes only 9 W per monitor. On average, a gamer plays for 8.5 hours per week and consumes 220 watt-hours per hour, which equates to consuming 1.87 ki kilowatt-hours weekly.
Now it is reasonable to wonder what power supply would be the best for RTX 3070. The minimum requirement is 600 W, while it is recommended that you have at least acquire a 650W power supply. However, the best option would be to get a 700W power supply or above to be on the safe side. Also, make sure to check out our guide on the idle GPU temperature.
Benchmarks Test On 1080P
In order to analyze the performance gap between the two powerful graphic cards, it is reasonable to put them to the test, just like how we did in our RTX 3080 vs. 3080Ti guide. The best way to do so is to play multiple games that demand high graphics. The following benchmarks are taken from the Device Lab.
It is important to note that some games are AMD-optimized while some are Nvidia-optimized. Therefore, some titles will run better on RX 6700 XT despite the difference in performance due to the nature of optimization.
Testing Rig For RX 6700 XT Vs. RTX 3070
Processor: Intel Core i9-10900K

Motherboard: GIGABYTE Z490 GAMING X AX (LGA1200, ATX)

CPU Cooler: Noctua NH-D15

Storage: SSD 970 Evo M.2 NVMe, MZ-V7E1T0BW, 1 Tb

RAM: Patriot Viper Steel [PVS416G360C7K] 32 GB (8*4)

GPU (RX 6700 XT): Palit RTX3070 JETSTREAM OC 8GB

GPU (RTX 3070): GigaByte Radeon RX 6700 XT Gaming OC 12GB 1815Mhz
First and foremost, the processor used by Device Lab is Intel's Core i9-10900K, which can handle the most powerful graphics cards without any bottlenecks. This CPU is paired with the Gigabyte Z490 GAMING X AX motherboard, which ensures voltage stability. Also, make sure to check our guide on the best CPU coolers for i9-10900k.
This beast of a CPU tends to get hot while hardcore gaming is in process. Therefore, maintaining a lower temperature is essential for it to function effectively, and that is where Noctua NH-D15 comes in.
This cooler has a maximum speed of 1500 RPM with a maximum static pressure of 2.11 mmH₂O and a maximum airflow of 140 CFM while only using 1.56W of power at 0.05A with the 12V DC.
Then, if the CPU wasn't enough to run even the heaviest of the games, the 32 GBs of 3600 MHz RAM seals the deal. It is crucial to note that Intel's Core i9-10900K supports up to 4600 MHz of RAM, so 3600 MHz meets the basic requirement and works perfectly fine.
It is also worth noting that this RAM uses a quad-channel memory configuration, where 8 GBs of RAM are placed in four slots. This is not quite different from a dual-channel configuration. Therefore, the performance will be similar to 32 GB of dual-channel memory.
All of this is paired with 970 Evo 1TB of SSD, which ensures that the system boots up within seconds without any unnecessary delays. Finally, the RX 6700 XT is from Palit with the OC edition, and the RTX 3070 is from Gigabyte, also in an OC edition.
Red Dead Redemption 2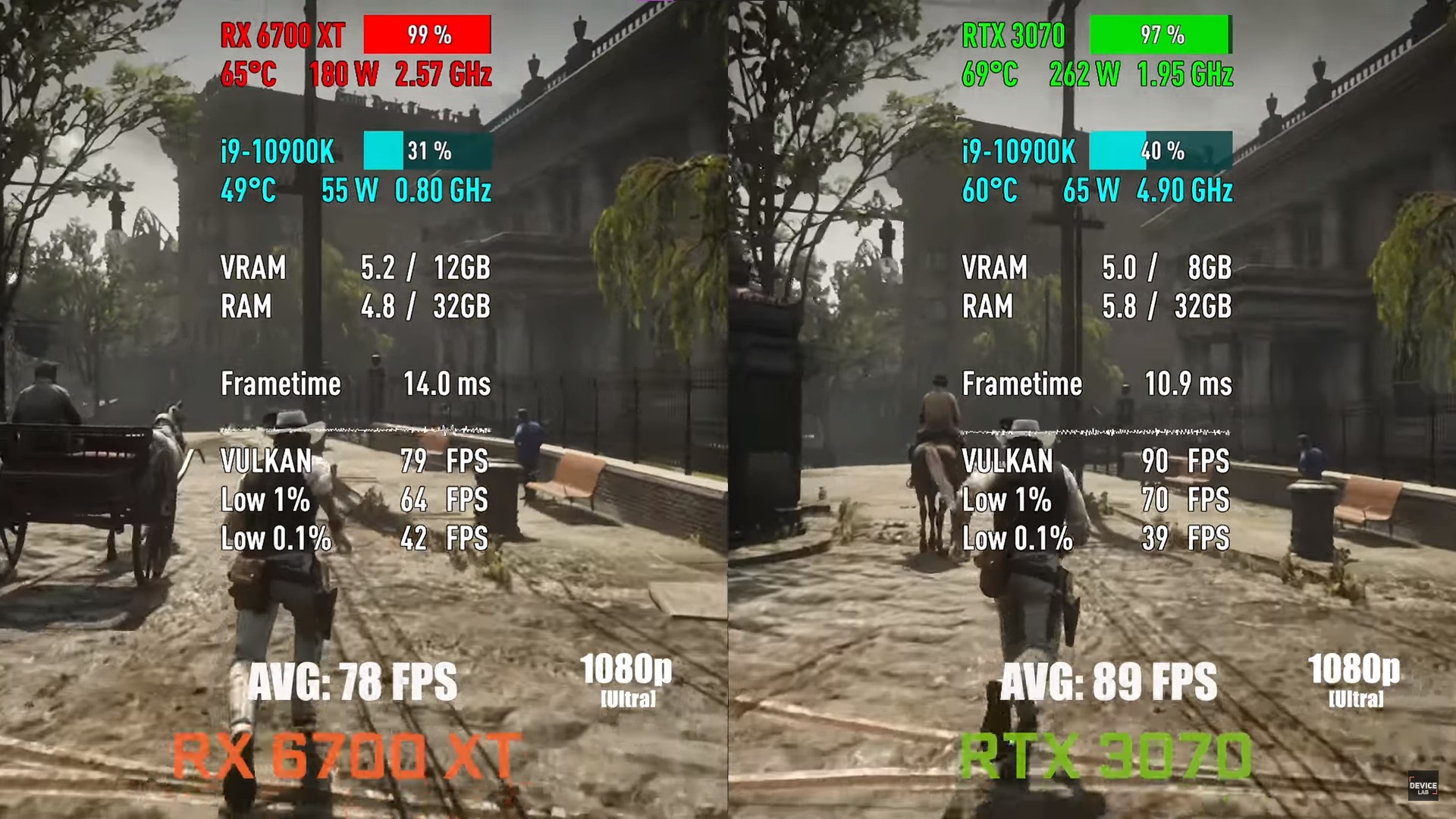 Starting the testing off with one of the most demanding and challenging games, Red Dead Redemption 2. It is demanding because it consists of enormous terrains with high-quality textures. It is challenging because it requires a powerful system to work with and its performance optimization isn't above par.
This is why it performs poorly, even on the most powerful graphics cards. However, when it comes to FPS, both the RX 6700 XT and the RTX 3070 manage to run above 60 FPS. RX 6700 XT scored an average FPS of 78, whereas the RTX 3070 scored 89 FPS, gaining 11 FPS over RX 6700 XT.
The RTX 3070 took the lead in this game regarding FPS, but you might wonder about the temperatures of both graphic cards. To your surprise, both cards are extremely effective at maintaining impressive temperatures, reaching around 65°C on RX 6700XT and around 69°C on RTX 3070.
Regarding power consumption, RX 6700 XT takes the lead as having less power consumption than the RTX 3070. It consumes only about 175 W, whereas RTX 3070 consumes around 265 W of power, a difference of almost 100 W. It is worth noting that the power in RTX 3070 fluctuates drastically while it remains almost stable throughout on the RX 6700 XT.
In terms of VRAM utilization, Environment-rich and vegetation-laden areas are typically the most areas that demand the most VRAM. Keeping this in mind, both RX 6700 XT and the RTX 3070 exceed up to 5.5 GB of VRAM, depending on the atmosphere the player is taken to. The RX 6700 XT starts at 5.0 GB, while the RTX 3070 starts at 4.8 GB.
PlayerUnknown's Battlegrounds (PUBG)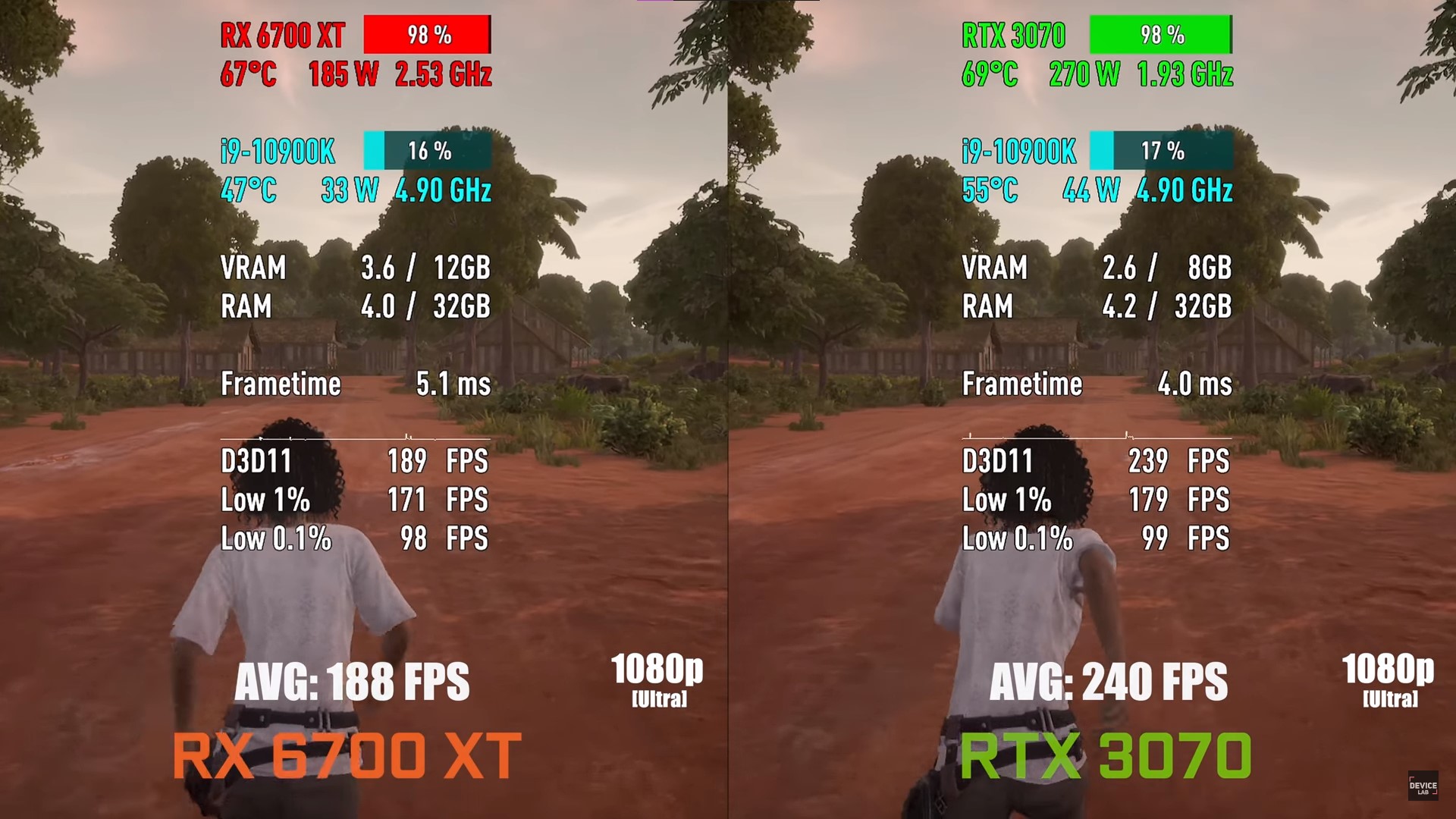 Next, we have a battle royale game requiring less VRAM than the previously reviewed Red Dead Redemption 2. It is still demanding regardless of the VRAM consumption due to its large terrain requiring high-texture rendering and densely used vegetation. The FOV is kept at the default setting, which is 90, since changing it to a higher value significantly decreases FPS.
Speaking of FPS, both the RX 6700 XT vs RTX 3070 performed very well and achieved a lot of FPS. However, the difference in the FPS among these graphic cards is astonishing. RX 67000 XT attained an average of 188 FPS, whereas the RTX 3070 obtained a staggering 240 FPS. It is a difference of not 10s or 20s of FPS but a whopping 52 FPS.
This may not be a problem for many people since both RX 6700 XT, and the RTX 3070 achieved more than 144 FPS. Nevertheless, having a higher FPS gives a feeling of having less input lag, a crucial factor that plays a vital role, especially for competitive multiplayer games like PUBG.
Keeping the FPS in mind, the question about temperatures between the two GPUs rises, and so so does the temperature itself. Surprisingly, the temperatures rose to around 69°C on the two cards, which is the highest yet for a game on this list. The rising temperatures could be because PUBG is a GPU-intensive game.
Looking at the power consumption for both graphics cards, we get a similar result from the one conducted for Red Dead Redemption 2. RX 6700 XT steadily oscillated around 185 W. On the contrary, RTX 3070 wavered around 270 W depending on the character's location in the game.
Coming back to the aspect of VRAM, we see something interesting. RX 6700 XT hovers at around 3.5 GB, while RTX 3070 remains at around 2.5 GB. Both of these graphic cards remain steady without any abrupt fluctuations. Although, what's interesting is that the RTX 3070 outperforms RX 6700 XT in terms of FPS while consuming less VRAM.
Microsoft Flight Simulator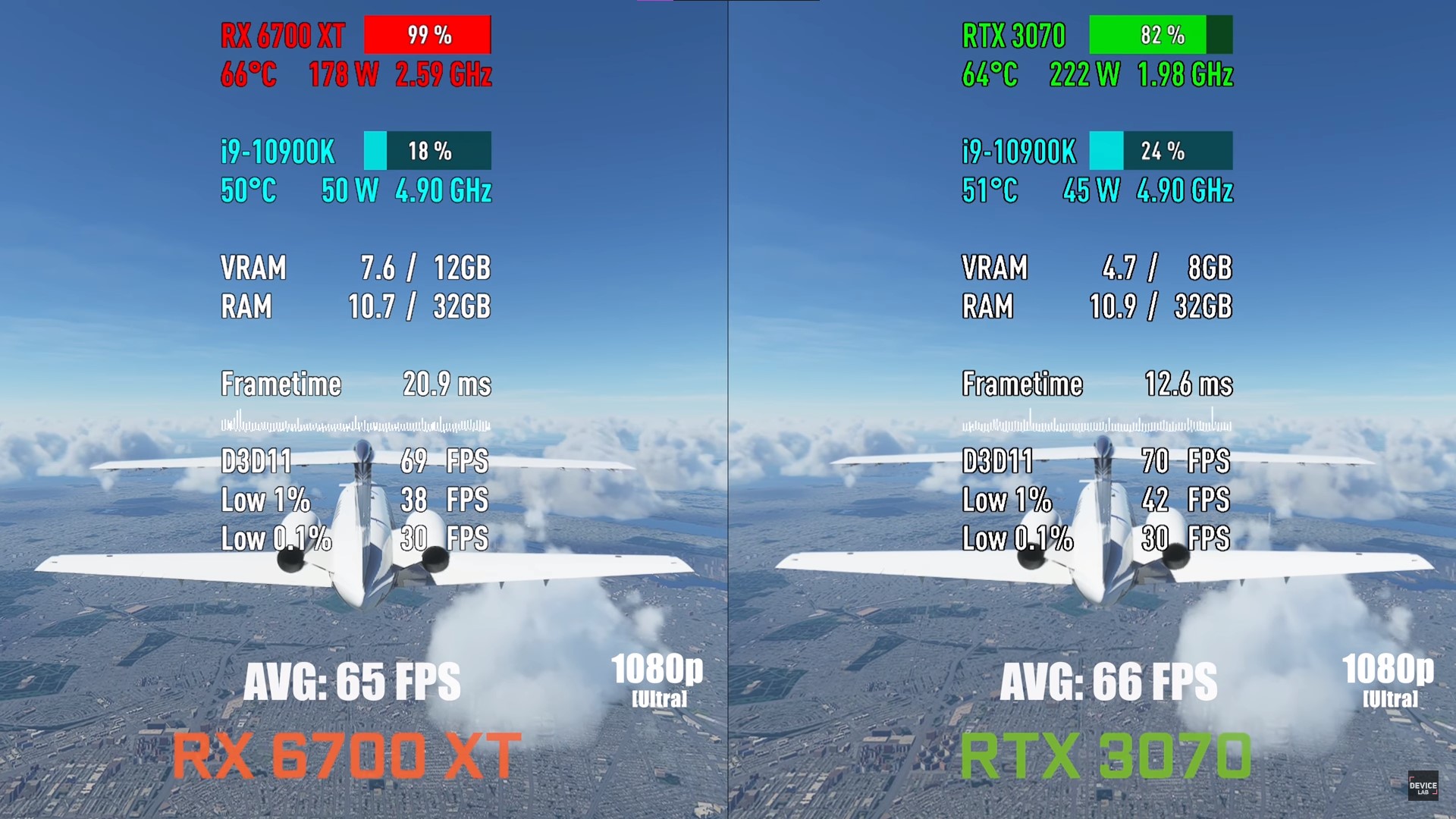 The next game is notorious for being one of the most demanding and highly optimized. Microsoft flight simulator uses real-time data of the entire world with the help of AI and satellites and allows players to fly over any of the places. Since this game is based on real life, the graphics must be highly realistic and above par.
On 1080P, the average difference in FPS is insignificant between the two cards. RX 6700 XT scored an average FPS of 65, while RTX 3070 obtained an average of 66 FPS. It is compelling to see how both these graphic cards barely exceeded 60 FPS, which clarifies how much a powerful GPU Microsoft flight simulator requires.
With a game that clenches on the GPU to barely give 60 FPS, it is natural to wonder how high the temperatures would rise. Strikingly, the temperatures on both GPUs remained at about 65°C. This shows that both cards are very efficient at maintaining low temperatures on 1080p ultra settings.
Comparing the power consumption in these powerful graphic cards, the gap is narrower than both of the games reviewed above. RX 6700 XT stays at about 178 W, whereas RTX 3070 had huge fluctuations. The power oscillated from 200 W to 232 W in seconds, sometimes even plummeting to 151 W.
Since RX 6700 XT has 12 GB of VRAM, this game allowed it to squeeze out around 7.5 GB of its VRAM. In contrast, RTX 3070 remained at around 4.5 W since its VRAM is already less in number, being only 8 GB.
Hitman 3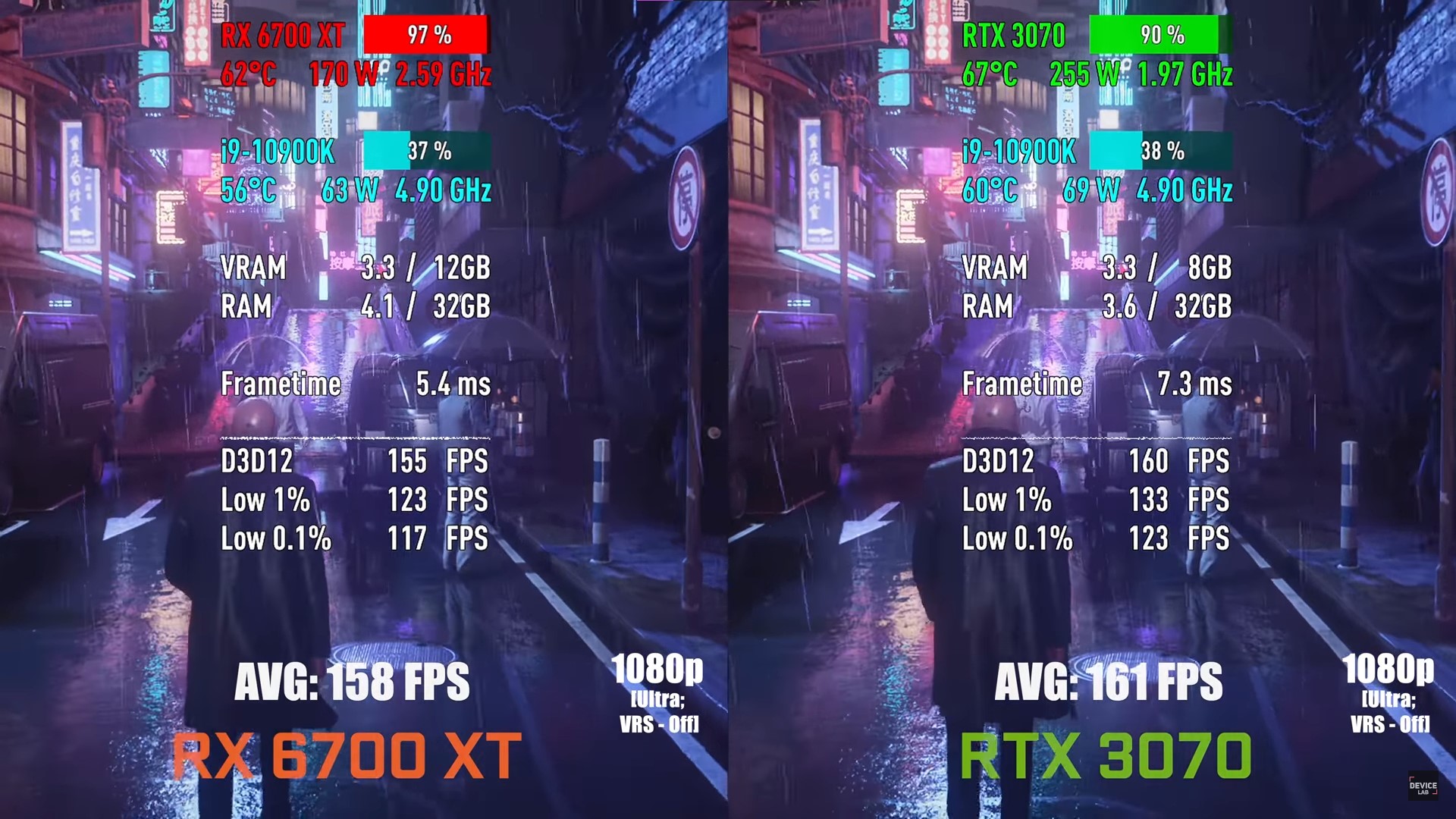 The next game on the list is Hitman 3, known for its vibrant lighting, heavily-populated areas with interactive NPCs, high-definition realistic textures, detail-rich environments, and enormous maps. All these constituents need a powerful GPU to function fully, which makes Hitman 3 another demanding game.
Keeping all of these factors in mind and playing it on Ultra without VRS, the FPS difference won't be much. RX 6700 XT acquired an average FPS of 158 while RTX 3070 obtained 161 average FPS, gaining only 3 more FPS than the RX 6700 XT. In a densely populated area, the temperatures remained at about 62°C on RX 6700 XT and rose to 68°C on RTX 3070.
Moving on to the power consumption, RX 6700 XT consumed around 170 W, with the numbers occasionally going up to 177 W. As for RTX 3070, the power varied from 248 W to even 268 W at times when the environment slightly changed. This makes a difference of around 75 W, making RX 6700 XT victorious again for being less power-consuming.
With regards to the VRAM, a change that was not found in any of the games reviewed above can be noticed. The VRAM stayed consistent on both the graphic cards throughout the entire gameplay, utilizing only 3.3 GBs. It is rather amusing since RTX 3070, which comes with less VRAM, usually utilizes the same VRAM as the RX 6700 XT.
GTA V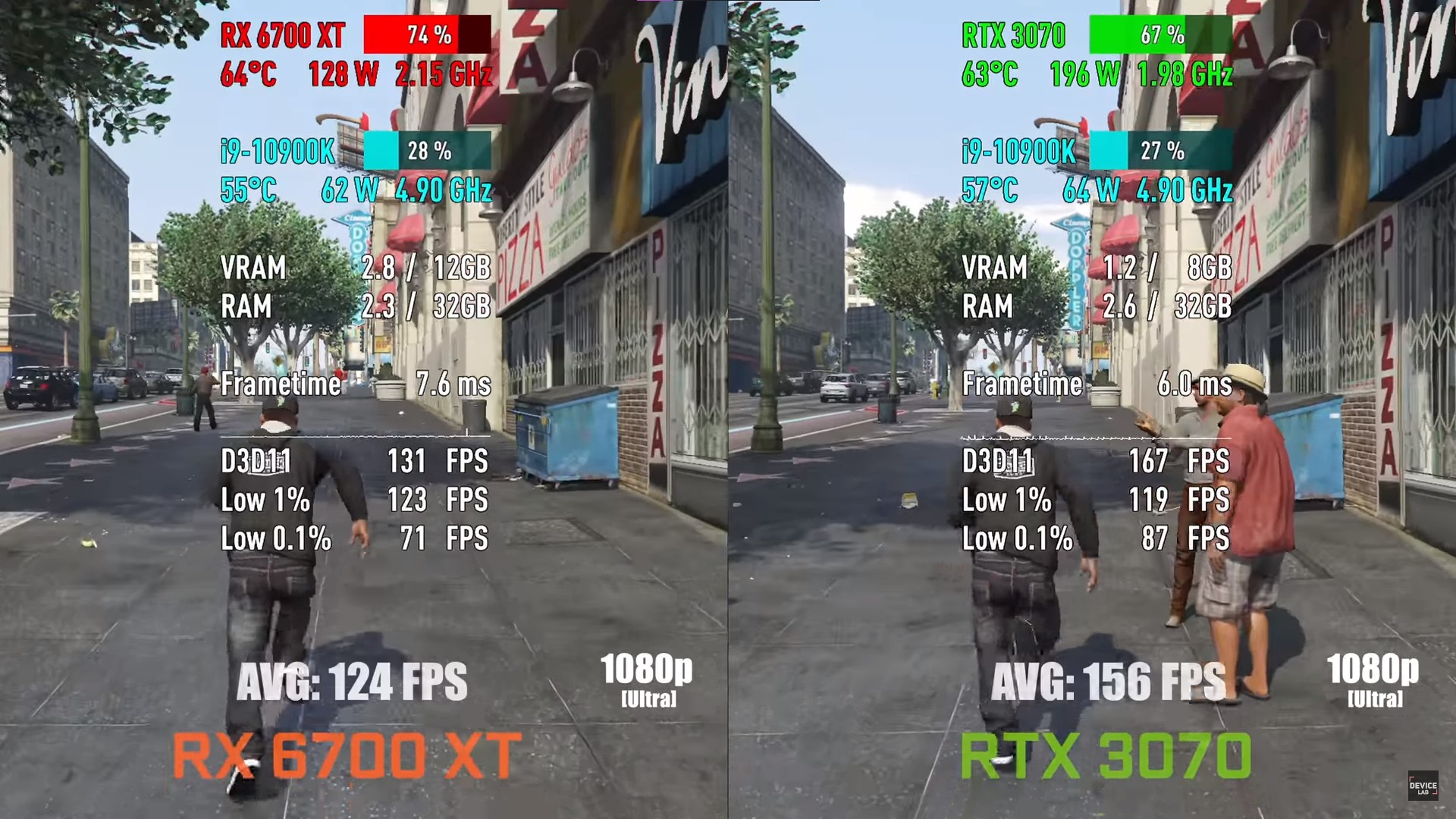 It is time to review a game optimized to such an extent that it can function on even the worst of GPUs on low settings. However, the situation is very different on ultra settings since it becomes very demanding. This gigantic open-world game uses maximum distance scaling with a highly dense population on ultra settings, which makes it all the more demanding.
In terms of power consumption, RX 6700 XT performs quite differently since the values fluctuate more rapidly on GTA V. It varied from 128 W to 138 W within seconds, dropping all the way down to 114 W at times. As for RTX 3070, the values ranged from 171 W to 243 W. This makes a difference of around 62 W among the two graphic cards.
We see a huge difference in the FPS when comparing the two graphic cards. RX 6700 obtained an average FPS of 124 FPS, while RTX 3070 acquired 156 average FPS, a staggering 32 FPS difference between the two cards. This makes GTA V stand in second place on this list for having the largest difference in FPS among the two GPUs.
With this in mind, you might wonder what the temperatures might be. No surprising difference was found since the temperatures stayed at around 64°C on both GPUs, with the values fluctuating depending on the player's location.
Speaking of the VRAM on both GPUs, we get a difference of almost 1 GB. RX 6700 XT maintained a VRAM of 3 GB, whereas RTX 3070 remained at almost 1.8 GB the entire time the game was tested. Conclusively, Nvidia was involved in the development of the game so it gives an edge to RTX 3070.
Fortnite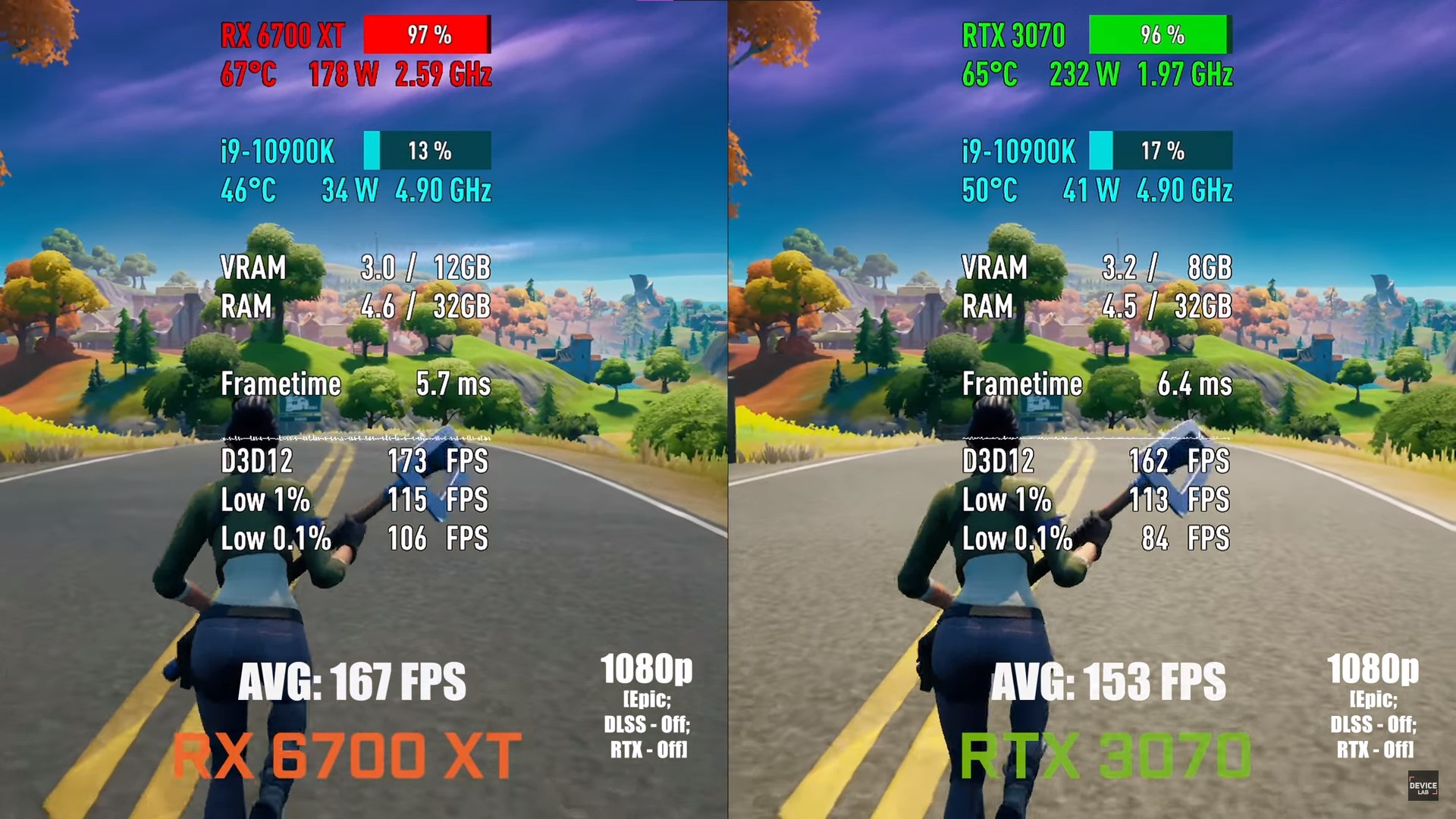 Fortnite is one of the most optimized games that can be very demanding if you decide to ramp up the settings. Although many streamers and professional players choose to play on the lowest settings regardless of how powerful their PC is, the question of knowing whether it will run smoothly at the highest settings is something many players want an answer for.
This test was conducted on DirectX 12 (Beta) and Epic settings. It is also worth mentioning that features such as motion blur, multi-threaded rendering, latency markers, GPU crash debugging, Nvidia reflex low latency on RTX 3070, latency flash, DLSS, and Ray Tracing have been disabled before conducting this test.
Having said that, the result obtained is outrageous, considering how RTX 3070 was taking the lead on all the games tested above. RX 6700 XT achieved a remarkable average FPS of 167, whereas RTX 3070 obtained an average of 153 FPS. This is where RTX 3070 lacked 14 FPS compared to RX 6700 XT.
Since RX 6700 XT provided more FPS, its temperatures rose slightly more than its competitor. The temperature on RX 6700 XT rose to 67°C. However, it gradually reduced to 65°C, which is what the RTX 3070 was staying on for typically the most part.
The power consumption proved to be surprising, given all the tests conducted above. Despite RX 6700 XT scoring more FPS than RTX 3070, it consumed less power, consuming only about 180 W, which is reduced all the way down to 130 W at times as well. In comparison, RTX 3070, as power-hungry as it is, consumed around 230 W.
As for the VRAM, both the graphic cards remained at 3 GB of VRAM, with the values fluctuating between 3.0 GB to 3.2 GB at different locations simultaneously.
Call Of Duty Warzone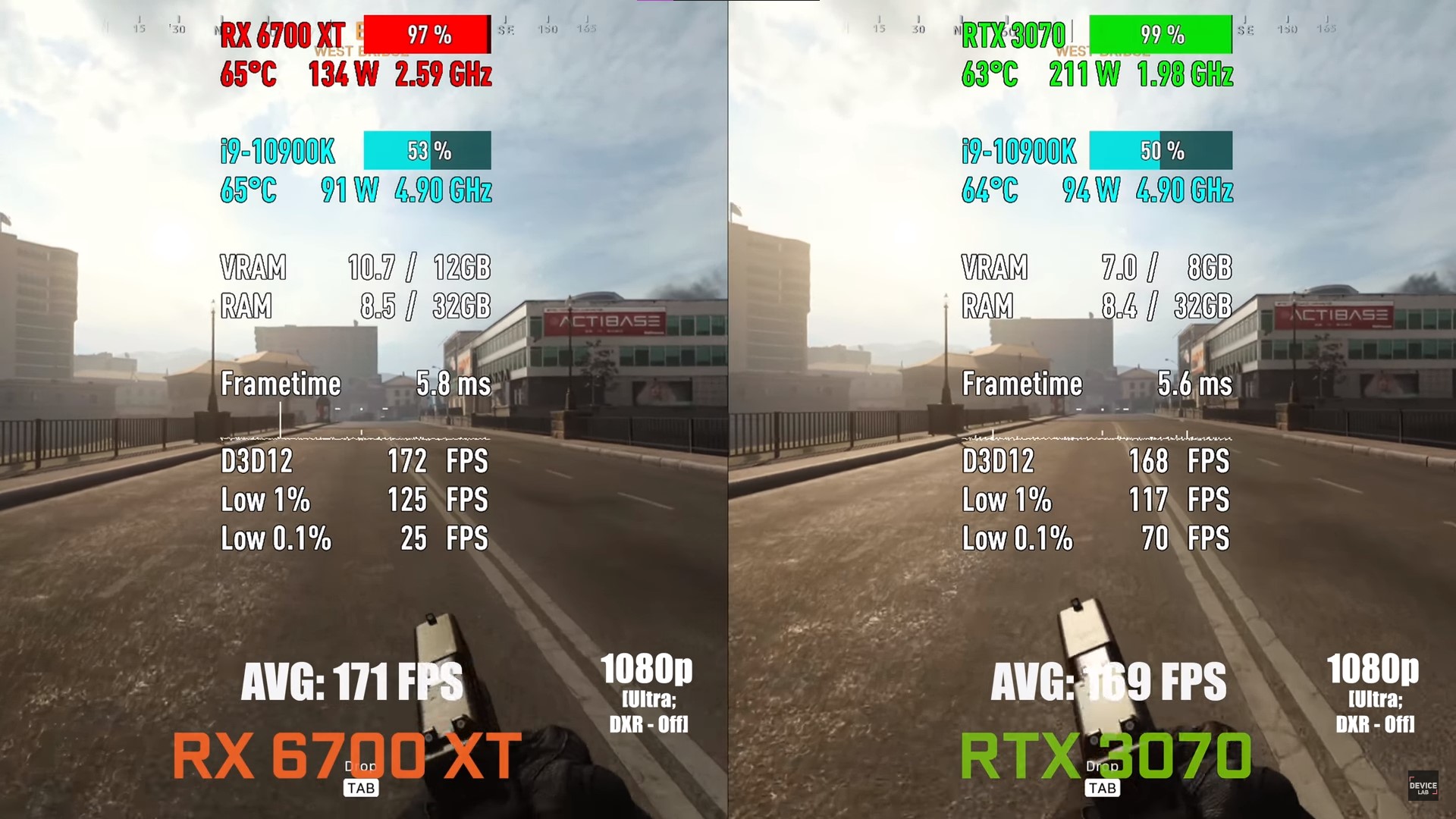 The next title in our RX 6700 XT vs. RTX 3070 guide is a well-known, highly demanding game. Not only does it require a better GPU and RAM, but it also requires a better-performing CPU to avoid any bottlenecks. On the highest settings, Call of Duty Warzone needs an overall highly-performing system to allow it to run smoothly.
The test is conducted when the V-sync, depth of field, world and weapon motion blur, dynamic resolution, and on-demand texture streaming are disabled. Additionally, the filmic strength is set to the default at 1.00 value, and the film grain is set to 0.25. The dynamic frame rate target is set to 67. These factors are disabled because they affect the FPS by putting strain on the GPU.
All things considered, let's start by comparing the average FPS difference between the two cards. Both graphic cards performed insanely well in this area, where RX 6700 XT gained an average FPS of 171, and RTX 3070 scored 169 average FPS. The 1% lows revolved around 120 FPS, which is about a 50 FPS drop on both graphic cards.
Despite this game being CPU and GPU intensive, it didn't affect the temperatures on both RX 6700 XT or RTX 3070. Both the cards remained at about 65°C, with RX 6700 XT not exceeding 66°C and the RTX 3070 remaining at 63°C for the most part. This shows that both graphics cards are very efficient in maintaining rather low temperatures.
Let's move on to the next part of the test, the VRAM. Call of Duty Warzone consumes almost 11 GB of VRAM from RX 6700 XT. On the contrary, It utilizes 7 GB of VRAM from RTX 3070, leaving only 1 GB of VRAM on both graphic cards. It is impressive to see that even with less VRAM, RTX 3070 pulls off almost the same average FPS and 1% lows as RX 6700 XT.
Assassin's Creed Valhalla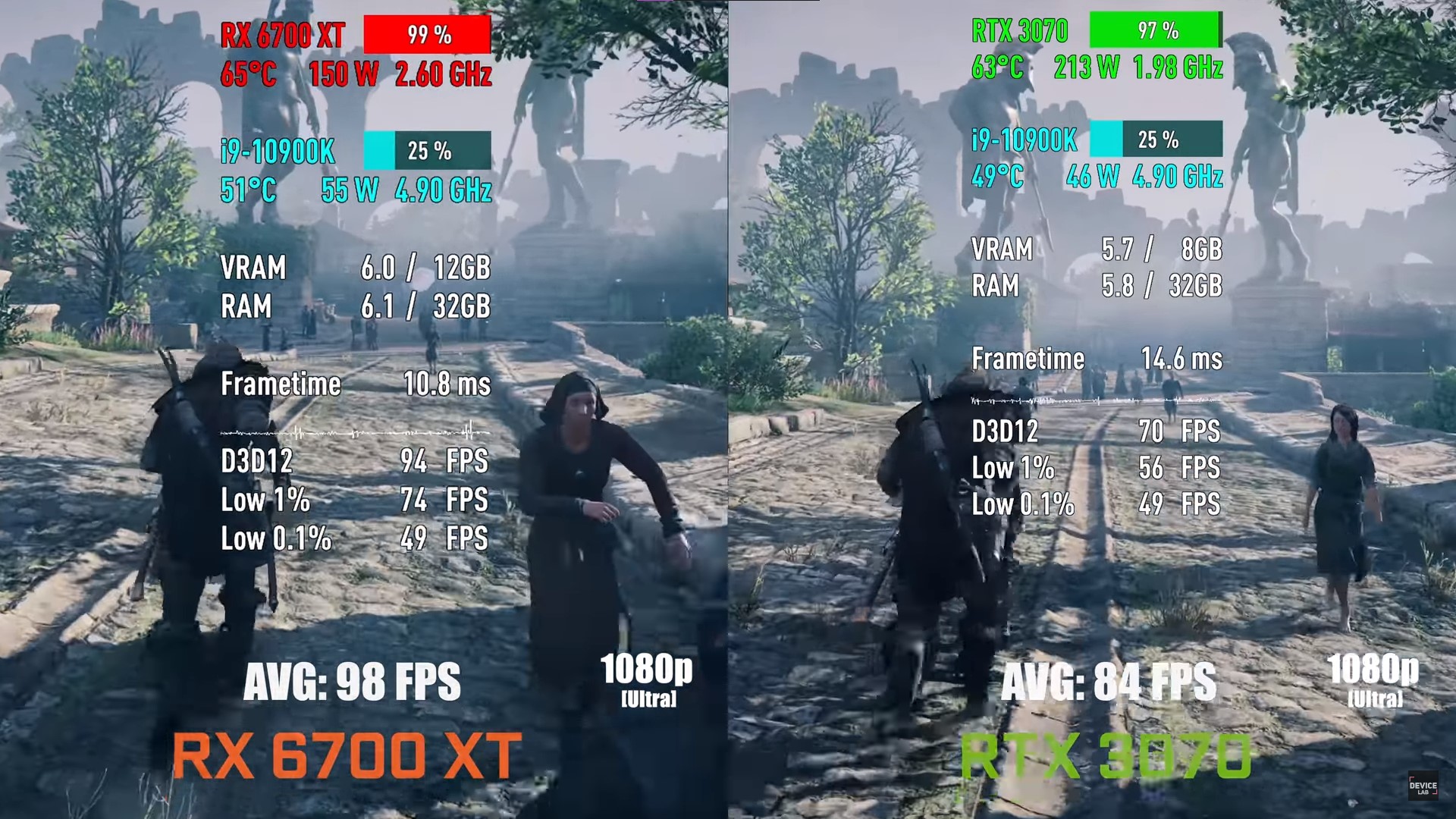 Finally, let's put Radeon RX 6700 XT and GeForce RTX 3070 to the test on the latest game on this list. Before starting, it is important to address that Assassin's Creed Valhalla is a game sponsored by AMD. Therefore, the RX 6700 XT should succeed easily with this game. The test was conducted on the Ultra settings.
After analyzing the FPS, we see the obvious difference between the two cards. As expected, RX 6700 XT scored more average FPS than RTX 3070, gaining an average FPS of 98 over 84 average FPS on RTX 3070. The 1% lows on RX 6700 XT remain at around 76 FPS while it was way below on RTX 3070, about 54 FPS.
The temperatures on both the two powerful GPUs were different than most of the games that were tested above. The temperatures rose to 67°C on RX 6700 XT, remaining at around 63°C on RTX 3070.
As for the power consumption, RX 6700 XT pulled off more average FPS by only consuming around 150 W of power. On the other hand, RTX 3070 ranged from about 200 W to 215 W as the character moved across a certain location on the map.
With regard to the VRAM, the results were pretty similar. Both graphic cards utilized about 6 GB of VRAM, with exactly 6 GB consumed from RX 6700 XT and about 5.8 GB consumed from RTX 3070.
RX 6700 XT outperformed RTX 3070 in this game with impressive results with a huge margin. Was it because Assassin's Creed Valhalla is an AMD-optimized game? Yes, optimization plays an important role, and it gives an advantage to one card over the other, which is exactly what happened in this case.
RX 6700 XT And RTX 3070 On 1440p Resolution
After testing the gaming performance of both cards in 1080p, it is important to know their true capabilities at 1440p resolution. Both graphic cards perform significantly well when it comes to 1440p. RX 6700 XT manages to go way past 100 FPS in 1440p in most of the games tested above, except for a few exceptions.
It barely hit the 60 FPS line in Red Dead Redemption 2, reaching an average FPS of 63 on 1440p. In some cases, it reached an average of only 50 FPS on Microsoft Flight Simulator. As obvious as it is, RTX 3070 outperforms RX 6700 XT in 1440p resolution. To elaborate, it obtained an average of 74 FPS and 64 FPS in RDR2 and Flight Simulator, respectively.
RX 6700 XT And RTX 3070 On 4K Resolution
It won't be fair if we don't ramp the resolution up to 4K. Achieving at least 60 FPS is feasible for this resolution, so the game runs smoothly on a 4K monitor. Keeping this in mind, the games tested above were also tested in 4K resolution to highlight the difference between the two GPUs in higher resolutions. The results are quite impressive.
The temperatures on both cards on 4K resolution barely reached 70 C, even on extremely demanding titles. This shows that both the cards are extremely good at handling temperatures, especially RX 6700 XT, since the card used for this test is dual-fan, whereas RTX 3070, used in this test, has three fans.
Apart from a few games, both graphic cards managed to sneak past the 60 FPS mark and run games ever so smoothly. In all cases, RTX 3070 prevailed with increased FPS in all games than RX 6700 XT. However, in a few titles, the difference was insignificant. For instance, for Hitman 3, the average FPS was 64 RX 6700 XT and 69 on RTX 3070.
In GTA V, RX 6700 XT scored 71 average FPS, and RTX 3070 scored an average FPS of 99. Similarly, RX 6700 XT obtained 75 average FPS in Call of Duty Warzone, whereas RTX 3070 achieved 85 average FPS. A few exceptions include Microsoft Flight Simulator, in which RX 6700 XT obtained only 27 average FPS, while RTX 3070 had only 36 average FPS.
If you plan to play on 1440p, acquiring RX 6700 XT is recommended since it offers great performance and is also comparatively budget-friendly. However, if you have a higher budget and are planning to go for 4K gaming, RTX 3070 is the best option since it gives significantly more frames per second in 4K than 1440p.
Mining Benchmarks
Now that the benchmarks regarding the gaming performance of both cards are out of the way, it is time to put them through another important benchmark test, the mining benchmark. Apart from gaming, graphic cards are commonly used for cryptocurrency mining, where they are utilized to obtain a certain amount of transaction value.
These transactions are carried out by solving difficult algorithms, which are calculated in Mega Hashes (MH/s). The higher the value of the Mega Hashes of a GPU, the more suitable it is for cryptocurrency mining. Since mining rigs require a series of GPUs, miners began to acquire bulks of GPUs, which in turn raised the prices and caused a shortage of GPUs.

RTX 3070 takes the lead on the mining benchmarks when it is held against RX 6700 XT, with a margin of $0.12 per day. This means that RTX 3070 has a greater mining value than RX 6700 XT. However, it is still not recommended to mine on it after considering the prices, which have plummeted drastically.
The mining benchmarks from Nice Hash reveal rather disappointing results. It is disappointing because the values on both of these graphic cards don't even come close to $1. Comparing it to last month on September 12, 2022, the value exceeded $1.58 per day on RTX 3070 and $1.23 per day on RX 6700 XT.
Since mining requires multiple graphic cards instead of one, and it is expensive to set up the entire setup, it is crucial to study all the options available to produce the maximum profit out of your mining rig.
Laptops
In the next part of our RX 6700 XT vs. RTX 3070 guide, we are going to talk about laptops.
Flying to another country but still don't want to miss out on the gaming adventure journey you embark on with your gaming PC? You don't have to worry about that since both cards come in compact sizes for gaming laptops, so you can game while traveling. As obvious as it is, the compact size also equates to a slight reduction in performance.
Difference Between Desktop And Laptop GPU
The laptop variant of RX 6700 XT is named RX 6700 M, making it prominent that it is a 'mobile' GPU. The specifications for both cards are slightly different due to their size.
| | |
| --- | --- |
| AMD RX 6700M | NVIDIA RTX 3070 |
| NAVI 22 7NM | GA 104 8NM GPU |
| 2304 STREAM PROCESSORS | 5120 CUDA CORES |
| 2300MHZ GAME CLOCK | 1290-1,620MHZ BOOST CLOCK |
| 36 RAY ACCELERATORS | 40 RT CORES |
| 10GB DDR6 MEMORY | 8GB DDR6 MEMORY |
| 16 GBps MEMORY SPEED | 14 GBps MEMORY SPEED |
| 320 GB/S MEMORY BANDWIDTH | 448 GB/S MEMORY BANDWIDTH |
| 160-BIT MEMORY INTERFACE | 256-BIT MEMORY INTERFACE |
| RESIZABLE BAR ENABLED | RESIZABLE BAR ENABLED |
| UP TO 135W | 80-125W |
| LAUNCHED JUNE 2021 | LAUNCHED JAN 2021 |
Visibly, the most obvious difference between the desktop and the laptop GPU is the memory. RX 6700 M has a VRAM of 10 GB instead of the 12 GB used in the original RX 6700 XT graphics card. Secondly, the RX 6700 M uses a 160-bit memory interface instead of 192 bit used in the RX 6700 XT. These aspects remain the same for both variants of RTX 3070.
To compare the two, MSI Delta 15 and XMG Neo 15 will be used because they both use the same Ryzen 7 5800H processor and 16GB DDR4-3200 RAM to keep things on an equal level while testing.
Apart from that, the RX 6700 M isn't fully powered on a laptop, and the MSI Delta 15 is the only one that accommodates an RX 6700 M. On the flip side, RTX 3070 can be found on many laptops and is fully powered. This begs the question of whether this comparison boils down to anything. The performance difference will answer this question effectively.
Laptop For RX 6700 XT
Since only one laptop consists of RX 6700 M, we will cover that. This laptop is none other than MSI Delta 15, which arrives with a 15.6 inch 1080p IPS panel with either 144 or 240 Hz display. It consists of a powerful AMD Ryzen 9 5900HX Mobile Processor with 8 cores and 16 threads.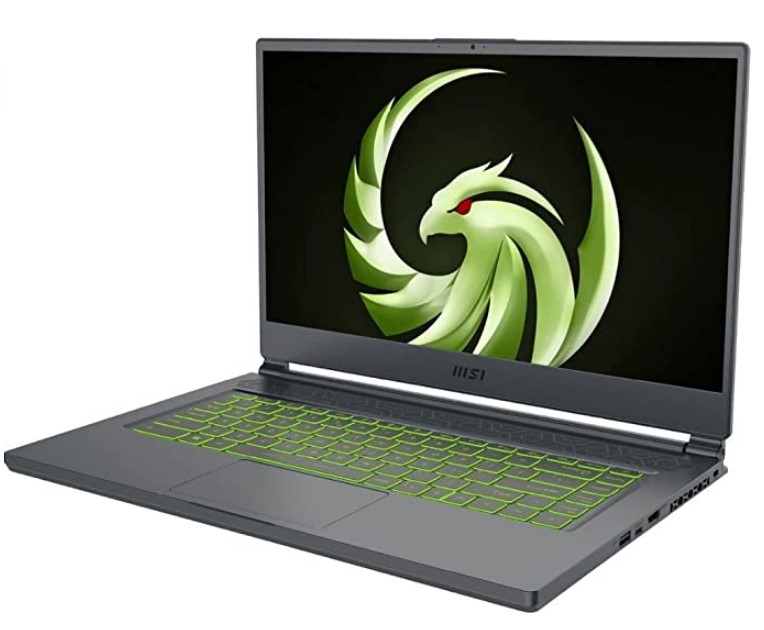 This processor has a clock frequency of 3.3 GHz, which can be ramped up to 4.6 GHz. Besides that, it consists of 16 GB of DDR4 3200Mhz memory, allowing for a smoother dual-channel experience. Additionally, it arrives with 512 GB M.2 NVMe PCIe 3.0 of SSD that ensures that the system boots up within seconds.
As for the obvious main ingredient, it includes an AMD Radeon RX 6700M 12 GB GDDR6 Mobile GPU. This GPU is capable of providing a smooth experience and exceeds 60 FPS in almost every game on ultra settings. The experience is similar to that of a desktop, but it fits in your laptop, so you can game remotely from anywhere.
If that fulfills the internal gaming requirements, its RGB keyboard fulfills the external needs for most gamers. Users have the freedom to customize the vibrant RGB backlight on the keyboard via the MSI Center that suits your style. With a battery of 82 watt-hours, you can use it non-stop for 12 hours.
Even after being packed with all this goodness, it is thin and light, weighing only 1.9 Kg with a thickness of 19 mm. Considering all these features, this laptop comes at $1,699. The laptop isn't cheap. However, considering that it is the only laptop with RX 6700 M integrated into it along with other great components, it is a rare item that deserves a higher price.
Laptop For RTX 3070
As for the laptops for RTX 3070, we get a list of laptops ranging from different prices and performances. The one we will review is a direct competitor to the MSI Delta 15 with RX 6700 M. The Legion 5 Pro Gen 6 arrives with a 2560 x 1600 16″ QHD display with a 165 Hz refresh rate and a 3ms response time.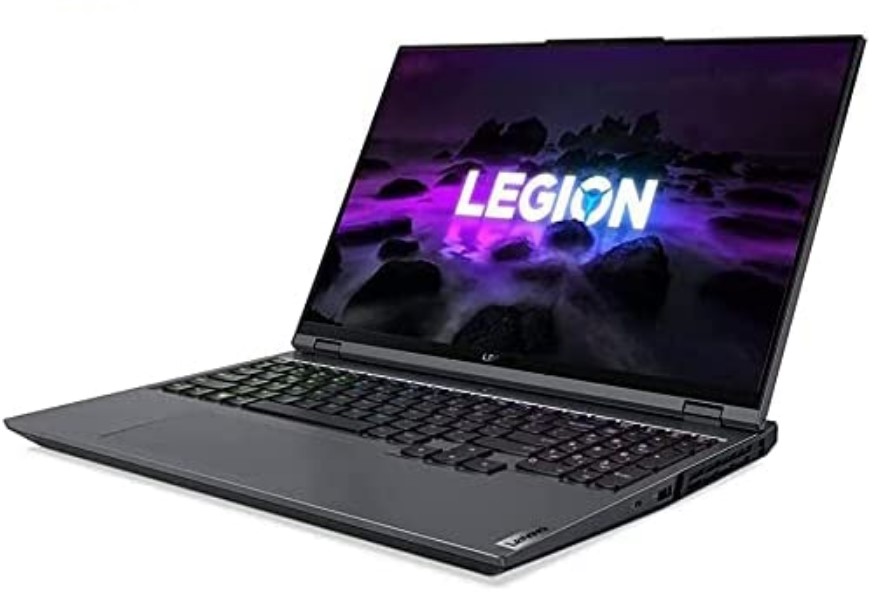 This laptop consists of the AMD Ryzen 7 5800H processor with eight cores, 16 threads, and 16 MB cache, which runs at a base clock of 3.2 GHz unless it is overclocked. In that case, the frequency can ramp up to 4.40 GHz.
As for the memory and storage, this laptop consists of 16 GB of dual-channel DDR4 3200Mhz memory and two 1TB of M.2 NVMe SSDs, which allow for a lightning-fast boot-up. Its 80 W battery ensures that you spend a good amount of time without worrying about its battery while gaming on the NVIDIA GeForce RTX 3070 with 8GB GDDR6 VRAM.
If that wasn't enough for the true gaming experience, this laptop arrives with a full RGB backlit keyboard that is fully extended. Yes, this laptop packs a ten-key keyboard, which is great news for all ten-key lovers.
With these components installed in such a powerful laptop, its weight is bound to increase. Therefore, it weighs 2.59 Kg. Apart from that, it is very aesthetically pleasing since it is completely covered in a stealth grey color with a Y logo engraved at the back of the screen, glowing in RGB lighting.
Who Is This Article For?
This RX 6700 XT vs. RTX 3070 guide mainly caters to people who want an in-depth comparison between RX 6700 XT and RTX 3070, covering almost every aspect that must be considered before purchasing either of the graphics cards. The article starts off with a direct comparison between the two by providing specifications for both graphics cards.
Afterward, the gaming benchmarks test was discussed, which provides an overview of how both cards perform when it comes to gaming in 1080p. Then, we briefly discussed the performance comparison between the two GPUs in 1440p and 4K resolution to provide clarity to the consumer on this subject as well.
Moreover, we discussed both cards' current cryptocurrency mining value to provide valuable insight to the consumer. Lastly, a direct comparison between the laptop variants of the two cards was highlighted to offer clarity on that subject.
Conclusively, purchasing either RX 6700 XT or RTX 3070 requires consideration of budget, gaming, and mining performance. If you're on a tighter budget or want to game on 1080p or even 1440p, RX 6700 XT is the best choice since it offers far more than you pay. If you can stretch your wallet or want to game smoothly on 4K, RTX 3070 would be the best choice.
Why Should You Trust Tech4Gamers?
With over 12 years of experience in the computer technology niche, Tech4Gamers has strived to provide the most valuable information to the readers. Our flawless review team carefully reviews the products and also provides pictures of the products. Then our talented writers beautifully lay down the entire review in terms of the consumer's need.
Besides the in-depth reviews of tech products, Tech4Gamers offers product comparisons and up-to-date tech-related news. This provides consumers clarity regarding any two products they are planning to purchase. The news section keeps you updated on the field of technology and game on a daily basis.
For this reason, recognizable brands, such as MSI, Asus, DeepCool, and Gigabyte, have acknowledged Tech4Gamers for their work and authenticity.
Was our article helpful? 👨‍💻
Thank you! Please share your positive feedback. 🔋
How could we improve this post? Please Help us. 😔
[Comparisons Expert]
Abdemanaf is a skilled creative writer who has been honing his craft since 2011. While initially working in different fields, he found a passion for technology and has been exploring the tech world since early 2015. Over the years, he has developed an in-depth knowledge of the latest tech trends and product offerings by various companies.
Abdemanaf's writing reflects his analytical mindset and ability to think critically. He has a knack for breaking down complex technical information into easily digestible pieces, making his articles engaging and accessible to readers from all backgrounds. In February 2022, he joined Tech4Gamers as a blog and product comparison writer, where he has been able to hone his skills further.
As a writer, Abdemanaf is dedicated to staying up-to-date with the latest technological advancements and trends, enabling him to provide readers with the most relevant and accurate information. He is always eager to learn more and is constantly seeking new challenges to improve his skills.
Get In Touch: [email protected]