A few weeks ago, we put the i5 12600K against the Ryzen 7 5600x and found that the 12600K beat the 5600x in DirectX12 titles and wasn't far behind in other titles. Therefore, even though the two CPUs are identical in price, AMD has some catching up as Intel is clearly ahead in gaming performance while being sold for nearly the same price points. So, today we will be conducting an in-depth Core i5-12600K vs Ryzen 7 5800x battle to see if the competition is more even.
Key Takeaways
To begin with, the Core i5 12600K and Ryzen 7 5800X have been constructed using two different architectures:

Alder Lake-S

and

Vermeer

, respectively.

Furthermore, in 1080p resolution benchmarking, the Core i5-12600K falls slightly behind the Ryzen 7 5800X, with an average FPS that is

0.7%

lower.

Moreover, in terms of thermal performance, there is no noticeable difference between the Core i5 12600K and Ryzen 7 5800X, as both processors produced similar levels of heat during idle and load tests.

To conclude, the Ryzen 7 5800X consumes slightly less power than the Core i5 12600K, with a difference of 1.3% observed during power consumption tests.
Differences
Comparison Table
Technical Specs
Core i5 12600K
Ryzen 7 5800X
Socket

Intel Socket 1700

AMD Socket AM4

Codename

Alder Lake-S

Vermeer

Process Size

10 nm

7 nm

Transistors

Unknown

4,150 million

Frequency

3.7 GHz

3.8 GHz

Turbo Clock

up to 4.9 GHz

up to 4.7 GHz

Base Clock

100 MHz

100 MHz

Memory Support

DDR4-3200 MHz

DDR5-4800 MHz

DDR4-3200 MHz

Dual-channel

ECC Memory

No

No

PCI-Express

Gen 4, 20 Lanes

Gen 4

L1 Cache

80K (per core)

64K (per core)

L2 Cache

1.25MB (per core)

512K (per core)

L3 Cache

20MB (shared)

32MB

Die Size

215 mm²

81 mm²

tJMax

100°C

100°C

Number of Cores

10

8

Number of Threads

16

16

Thermal design power TDP

125 W

95°C

Integrated Graphics

Yes

NA

Release Date

Nov 4th, 2021

Nov 5th, 2020

MSRP

289 USD

449 USD

Best Motherboards

BEST Motherboards for i5-12600K

BEST Motherboard For Ryzen 7 5800X

Best Cooler

Best CPU Coolers for Core i5-12600K

BEST CPU Coolers for Ryzen 7 5800x
Core i5 12600K
Intel always introduces us to three new types of CPUs (i5, i7, i9) in its new Alder Lake Generation. These are divided into two categories, The K variant, and the KF variant. The difference is that the K variant has integrated graphics, while the KF variant does not. So yes, the CPU in question today, the i5-12600K, features an iGpu.
Also Read: Ryzen 5 7600X vs i5-12600K
Performance And Efficiency Cores
Unarguably, the most important factor that differentiates Intel's Alder Lake CPUs from its previous generations and AMD's Ryzen CPUs is splitting cores into two types. Instead of fitting as many full power cores into a CPU as possible, Intel has taken a revolutionary step with its Hybrid Architecture design. They have fit two different core microarchitectures into a single CPU, in their 12th Generation lineup. So the cores are divided into Performance (P) and Efficiency (E) cores that work together.
The Efficiency or E cores are based on Intel's Gracemont microarchitecture, which will also be seen in Intel's latest lineup of Atom CPUs. It shows a great microarchitectural leap over the previous microarchitecture, Tremont. The Efficiency Core features one physical core and one logical core. It delivers a performance boost of about 40% compared to 1 physical core and one logical core of Intel's Skylake CPUs.
On the other hand, the Performance or P cores are based on Intel's Golden Cove microarchitecture. Intel claims Intel's Golden Cove microarchitecture to be the biggest microarchitectural leap in Intel's "Core" family in about a decade.
Intel further claimed that Golden Cove would provide a 19% increase in IPC or Instructions Per Cycle compared to the previous microarchitecture, Cypress Cove. In simple terms, this translates to better performance. The Golden Cove cores will also be used in Intel's latest upcoming generation of Xeon CPUs by the codename of Sapphire Rapids.
Key Differences
| | |
| --- | --- |
| Performance Core | Efficiency Core |
| | Physically smaller, 4 E cores can fit into the space of 1 P core. |
| High-performance core with more power consumption | Offers lower performance and less power consumption |
| Supports hyperthreading (SMT) | No hyperthreading (non-SMT) |
| Optimized for single-threaded tasks | Optimized for multi-threaded tasks |
AMD Ryzen 5800x
AMD took the CPU market by storm in 2020 with its Ryzen 5000 series release, which blew apart Intel's 10th Generation of CPUs in gaming and productivity performance. At the center of it all was the Ryzen 7 5800x. This CPU was priced at around 400$, a 100$ more than its smaller and less powerful brother, the Ryzen 7 5600x.
This 5000 series proved too hot to handle for Intel as even the cheapest chip, the 300$ Ryzen 7 5600x, beat out Intel's i9 10900k in most games and productivity tests. AMD marketed a 19% increase in IPC or Instructions Per Clock over its Ryzen 3000 series, and this promise was indeed fulfilled.
Also Check: i7-11700K Vs i5-12600K
The core reason for such a huge performance boost over the previous generation was at the core of it all. AMD introduced its new Zen 3 architecture with the release of the Ryzen 5000 series. With 32 MB of L3 cache being shared equally amongst the 8 cores instead of being divided into 4 cores each. Therefore, each core can access the L3 cache easily and quickly. This leads to a drastic decrease in core-to-core and cache latency by reducing the communication times to a minimum.
The Ryzen 5000 CPUs are based on TMSC's 7 nm process for the chipsets and GlobalFoundries' 14 nm process for the I/O dies.
The Ryzen 5000 series also proved a good competition when Intel released its 11th Generation Rocket Lake CPUs, with the Ryzen 5 5600x comprehensively beating the i5 11600K in most games. You can read more about Ryzen 5 5600x through our motherboard article.
i5 12600K Vs Ryzen 7 5800x: Gaming Benchmarks
Now let's look at the most important aspect, which is gaming performance while comparing Ryzen 7 5800x and i5-12600k. We've shown and discussed above how AMD's Ryzen 7 series takes the lead over Intel's 10th and 11th Generation of CPUs. But with the release of Intel's Alder Lake CPUs, the tables have finally turned in favor of Intel.
Test Benc

h Specs

For i5 12600K:
Motherboard

: MSI Z690 Unify

Memory

: 32 GB Corsair –

Dominator Platinum RGB 5200 MHz (2×16)

AND

32 GB G. Skill Trident Z RGB 3600 MHz (2×16)
For Ryzen 7 5800x:
Motherboard

: MSI MEG X570 ACE

Memory

: 32 GB G. Skill Trident Z RGB 3600 MHz (2×16)
The two test benches will be sharing the same OS, Windows 11, and Graphics Card, MSI RTX 3080 Gaming X TRIO. They will also be cooled by the same liquid cooler, Corsair iCue H115i Elite Capellix.
Far Cr

y 6

The Ryzen 7 5800x took the edge over the i5-12600K (both DDR4 and DDR5) in Far Cry 6. The DDR5 Memory gives a notable boost to the i5 12600K.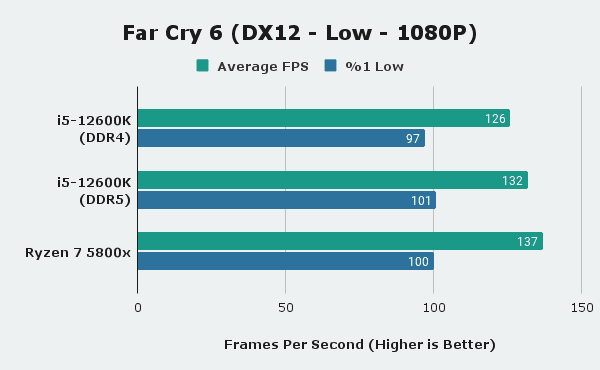 Call Of Duty: Warzone
The two CPUs are pretty much neck and neck in Call of Duty: Warzone, with the faster DDR5 Memory giving no advantage to the i5 12600K.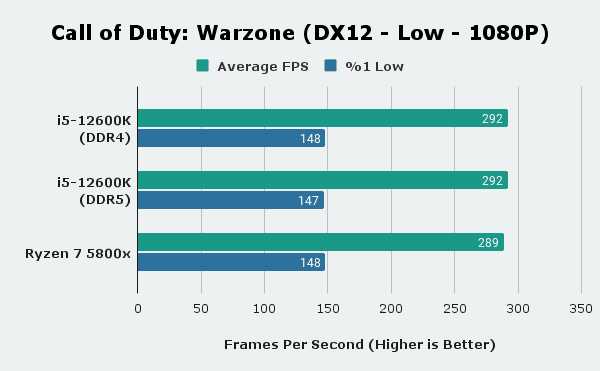 Hitman

3

In Hitman 3, the DDR5 Memory clearly gives an advantage to the i5 12600K. The i5 12600K beats the Ryzen 7 5800x comprehensively, both with DDR4 and DDR5 Memory. The DDR5 Memory gives us a significant boost again.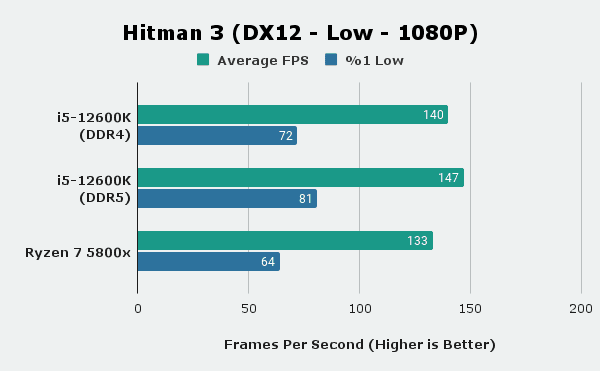 Also Read: Core i5-13600k vs i5-12600k
Cyberpunk 2077
The DDR5 Memory delivers slightly worse performance for the i5 12600K as compared to DDR4, and the Ryzen 7 5800x falls behind both the 12600K systems.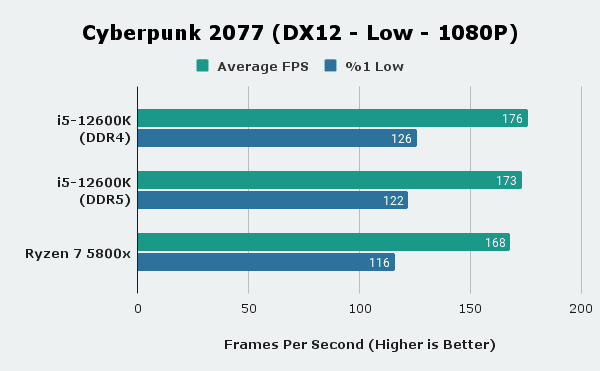 F1 2021
The DDR5 Memory holds the i5 12600K back significantly in the case of F1 2021, and the Ryzen 7 5800x beats both the i5 12600K systems.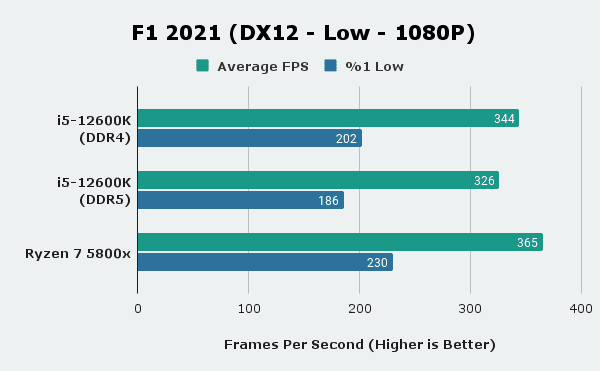 Shadow of the Tomb Raider
Both the CPUs are nearly neck and neck in Shadow of the Tomb Raider, with DDR5 Memory slightly holding back the i5 12600K yet again.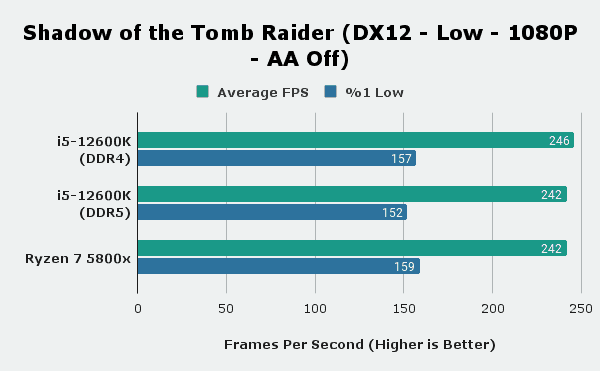 Tom Clancy's Rainbow Six Siege
The two CPUs are again neck and neck, with the Ryzen 7 5800x taking a tiny edge.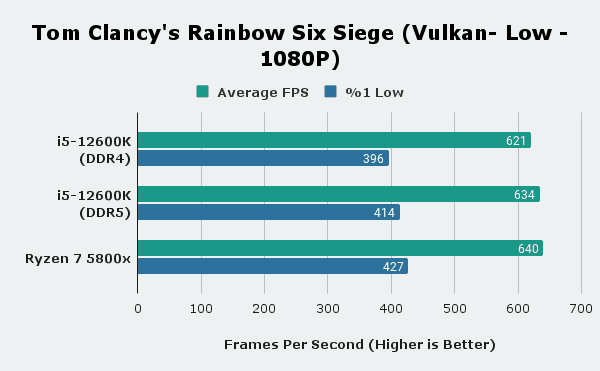 Also Check: Core i7-12700K vs Core i5-12600K
Dota 2
In the aging but highly popular Esports title Dota 2, the two CPUs are, again, very identical in performance. The DDR5 system, however, falls slightly behind. This doesn't come as a surprise, as Dota 2 is based on the Source 2 Engine, which is likely too old to provide any benefits to systems running on DDR5 Memory.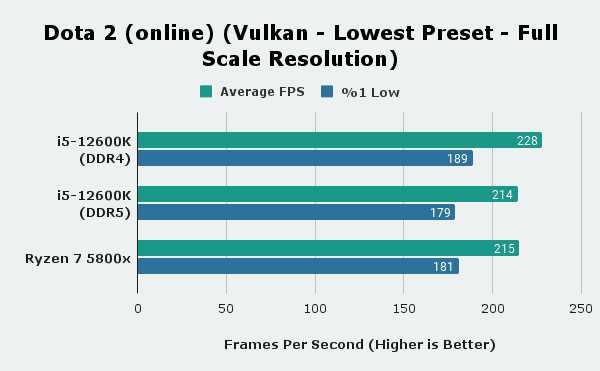 Counter-Strike: Global Offensive
The Ryzen 5800x has a considerable boost over the 12600K in Counter-Strike: Global Offense. The DDR5 Memory hardly makes a difference here. This, again, makes sense considering how dated CS:GO's engine is.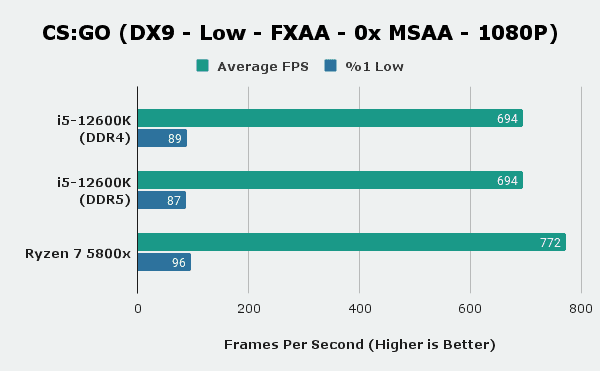 Average FPS Across The 8

Tested Games (CS:GO Not included)

To get a basic idea of the performance difference between the two CPUs, we'll compare the average FPS taken across 8 of the tested games. We will not be including CS:GO since CS:GO is a decade-old game and is not a AAA title. We tested CS:GO since it is a common benchmarking tool and gives us a good idea of single-core performance.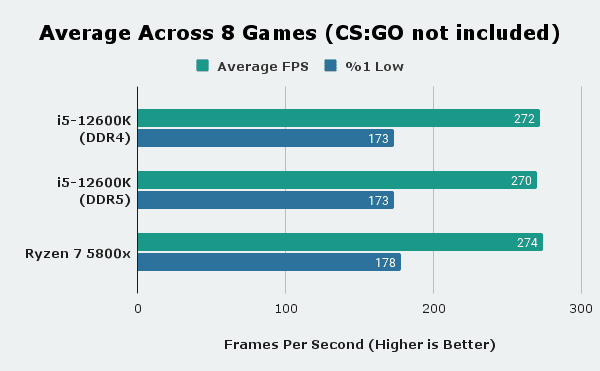 So with CS:GO removed from the frame, where the 5800x had the biggest advantage, the aggregate of average FPS and the %1 Lows are mightily similar for both the CPUs. So in terms of gaming performance, there's no clear winner from i5 12600K vs Ryzen 7 5800x benchmarks.
Also Read: Core i5 12600K vs Ryzen 5 5600X
The DDR5 Memory gives us mixed performances. It held us back in a few games, delivered better FPS in some, and made almost no difference in the rest.
Ryzen 7 5800x Vs i5-12600k: Productivity Benchmarks
We've not seen a clear winner in the gaming benchmarks, so now we'll be looking at some productivity benchmarks and see if we can get a definite winner while comparing Ryzen 7 5800x and i5-12600k.
Cinebench R23 (Single Core And Multicore Tests)
The i5 12600K takes a clear lead over the Ryzen 7 5800x in both single and multicore Cinebench tests. The DDR5 system falls a touch short in this test.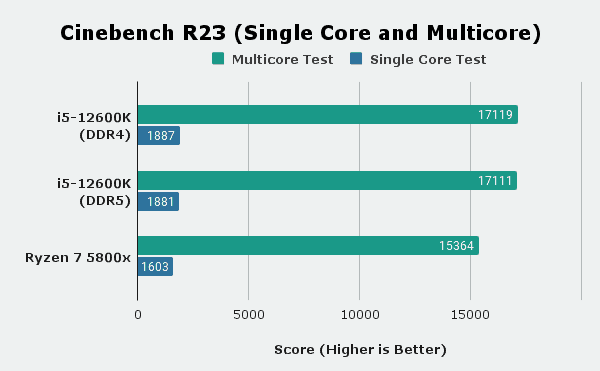 Blender V2.90 Ren

der Test

The i5 12600K paired with the DDR4 Memory beats out both the Ryzen 7 5800x and the i5 12600K (DDR5) in our blender render test.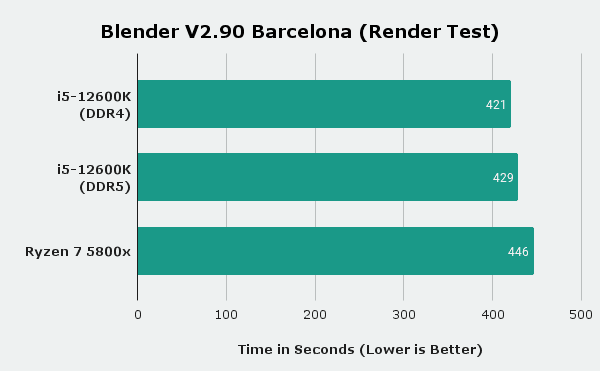 Also Read: i9-12900k vs i7-12700k vs i5-12600k
Adobe Premiere 2021
The Ryzen 7 5800x falls behind the 12600K again, while the DDR5 Memory holds the i5 12600K back. Again, the i5 12600K paired with DDR4 beats both the other systems.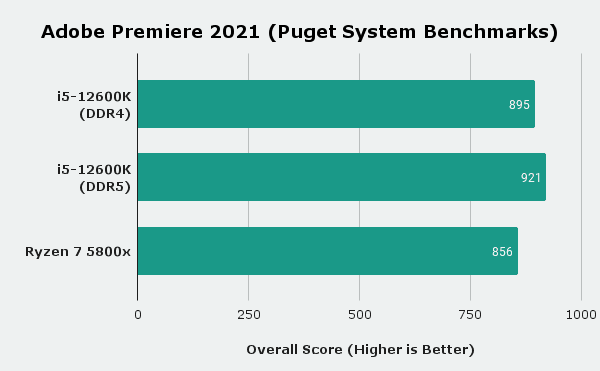 Adobe Photoshop 2021
In our Adobe Photoshop benchmark, the Ryzen 7 5800x wins, with the i5 12600K (DDR5) falling a teeny bit short. The DDR4 counterpart lags behind significantly.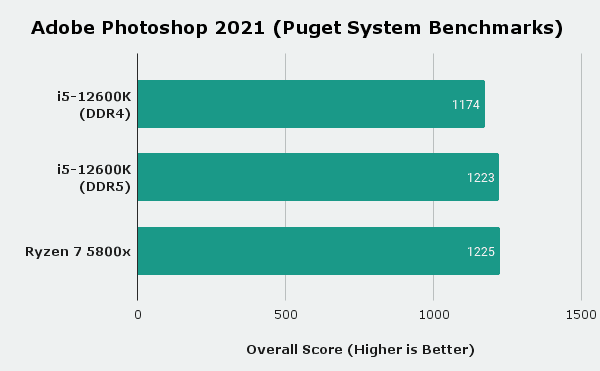 Handbrake 1.4.2 Test
The two CPUs nearly give off the same performance in our Handbrake conversion test, with the i5 12600K taking a slight lead. The DDR5 counterpart scores were slightly higher again.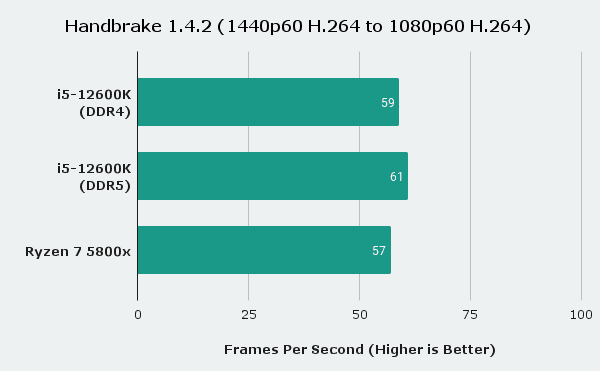 Geek Bench 5
In our Geek Bench 5 test, the Ryzen 7 CPU falls behind comprehensively in multi-core and single-core tests. The i5 12600K gets a major boost with the DDR5 Memory over the DDR4 counterpart.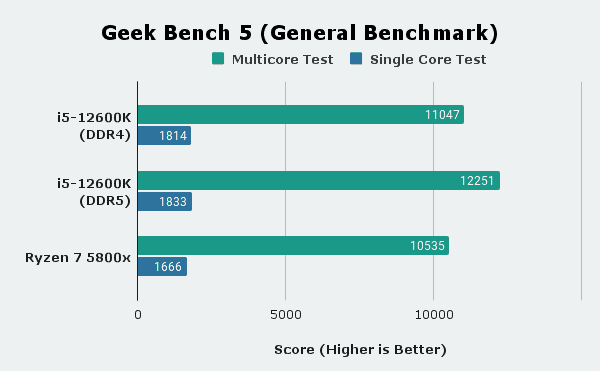 So in productivity benchmarks, we see a clear winner in the i5 12600K. We can conclude that the i5 12600K is much better for rendering-based work in multicore and single-core performance in comparing the i5 12600K vs Ryzen 7 5800x. This doesn't surprise us with the 10 cores and 16 threads on this CPU and the heavy and light tasks being shared among the P and E cores.
Also Check: i5-12600k vs i9-9900k
Temperatures And Power Draw
Let's compare the temperatures and power draws of the two CPUs
under load. We'll use the same test bench as the one used for the gaming benchmarks with the same cooler (Corsair iCue H115i Elite Capellix) for fair testing.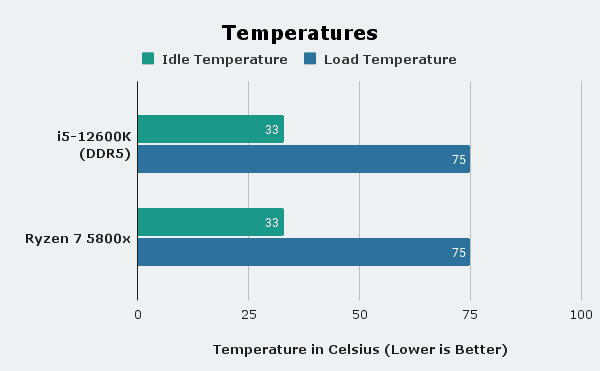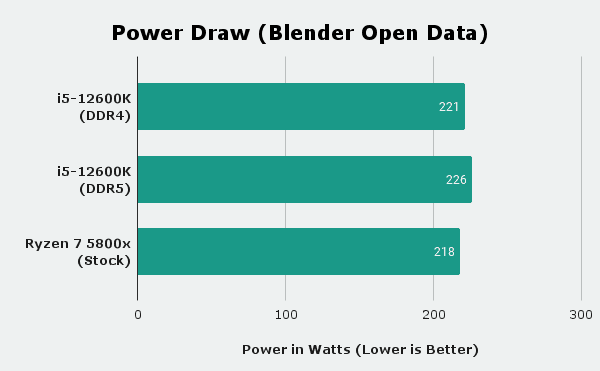 Not much difference in terms of temperatures and power draw. Both the CPUs remained under reasonable temperatures on heavy load and drew around the same amount of power under loads as well.
Final Thoughts
It turns out, the results are remarkably similar, at least in terms of gaming performance. But we have to draw a clear verdict somehow, right!? But before that, we have a few things to discuss.
Productivity Performance
Well, there are a few things to keep in mind, of course. The two CPUs do differ in a few aspects, with the i5 12600K hovering over the 5800x in productivity performance.
Also Read: Ryzen 7 5700X Vs Ryzen 7 5800X
Compatibility
You don't have to spend a premium on DDR4 Memory. Nonetheless, you will have no other choice but to buy a Z690 motherboard if you want to run one of the Alder Lake CPUs in your system, as the cheaper H610, B660, and H670 motherboards are yet to be launched later in 2022.
Prices
When talking prices, the i5 12600K vs Ryzen 7 5800x competition is even. This has only been the case since AMD cut off a whopping 150$ from the price of the Ryzen 7 5800x. Hence, now, it competes with the i5 12600K in price. Also, the Ryzen 7 5800x is older, so it's obvious that you can put together a system with this CPU for a lesser cost.
This fact is further backed up because the prices of Z690 motherboards and DDR5 Memory are absurd at the moment. But if you build a PC with an Intel CPU with DDR4 Memory, you will definitely be paying a reasonable extra sum due to the higher prices of Z690 motherboards. This is just one of the things to keep in mind, though.
Should You Buy i5-12600k Over Ryzen 7 5800x?
So as a final verdict,

we will be recommending the Intel i5 12600K

. Not just on the basis of its improved productivity performance but also the new technologies and upgradability that Alder Lake brings us.

DDR5 Memory is one for the future, and as it becomes more mainstream, it will become cheaper and will likely start outperforming its predecessor, DDR4, in performance.

At the moment, the performance difference is scarce at best. You also get support for Thunderbolt 4, Wi-Fi 6E, and PCIe 5.0.
Our answer will be finalized once cheaper motherboards support Alder Lake CPUs. At the moment, however, it's worth going with Team Blue, nonetheless.
Frequently Asked Questions
Is the i5 12600K better than the Ryzen 7 5800x?
The clash of the i5 12600K vs Ryzen 7 5800x is just about even in gaming performance. However, it's better in heavy workload tasks thanks to its 10 cores and 16 threads. It's also more future-proof as it comes with DDR5 Memory.
Is Intel back in the lead in the CPU market?
Up until the launch of the Alder Lake CPUs, it had been years since Intel had truly "bossed" the CPU market. AMD consistently offering better price-to-performance ratios since its Ryzen CPU lineup launch. At the moment, things have turned in favor of Intel.
Is the i5 12600K good for gaming?
The i5 12600K is a solid gaming CPU in the mid-to-high range and delivers incredible performance in 1080P gaming. It can also handle 1440P gaming if paired with a good enough graphics card.
Are Z690 motherboards and DDR5 Memory necessary?
You will need a Z690 motherboard at present in order to run one of the Alder Lake CPUs. The Z690 motherboards support DDR4 Memory, so DDR5 Memory is unnecessary.
When will we see a new lineup of CPUs from AMD?
AMD is set to launch its Ryzen 7000 series in 2022 with a brand new Zen 4 Architecture and will use the Land Grade Array design for the first time in its Ryzen series. These CPUs will be based on TMSC's 5 nm process and will also bring support for PCIe 5.0. They'll be supporting DDR5 Memory as well. So plenty is expected of AMD to strike back and win the CPU market once again.
---
More From Ryzen 7 5800X
Was our article helpful? 👨‍💻
Thank you! Please share your positive feedback. 🔋
How could we improve this post? Please Help us. 😔
[Comparisons Expert]
Abdemanaf is a skilled creative writer who has been honing his craft since 2011. While initially working in different fields, he found a passion for technology and has been exploring the tech world since early 2015. Over the years, he has developed an in-depth knowledge of the latest tech trends and product offerings by various companies.
Abdemanaf's writing reflects his analytical mindset and ability to think critically. He has a knack for breaking down complex technical information into easily digestible pieces, making his articles engaging and accessible to readers from all backgrounds. In February 2022, he joined Tech4Gamers as a blog and product comparison writer, where he has been able to hone his skills further.
As a writer, Abdemanaf is dedicated to staying up-to-date with the latest technological advancements and trends, enabling him to provide readers with the most relevant and accurate information. He is always eager to learn more and is constantly seeking new challenges to improve his skills.
Get In Touch: [email protected]