Since the launch of Alder Lake late in 2021, the CPU gaming market has certainly turned toward Intel's side. AMD fans impatiently await the Ryzen 7000 series launch, expected to launch later in 2022. This Ryzen 7000 series is going to be AMD's fightback against Alder Lake.
At the moment, however, Intel's 12th Generation chips are being compared against the Ryzen 5000 series, and one of the most interesting competitions is the i7-12700K vs Ryzen 7 5800x. The 12700K is Intel's highest-end i7 chip, and the 5800x was AMD's most powerful Ryzen 7 chip at launch.
5800x Vs 12700K Specifications
Before getting into the specifics, we will be comparing the key specifications between the two chips.
| CPU Name | 12700K | 5800x |
| --- | --- | --- |
| Product Line | Intel i7 Series | AMD Ryzen 7 Series |
| Product Generation | Intel 12th Generation | AMD Ryzen 5000 Generation |
| Core Architecture | Hybrid Core Architecture | Zen 3 |
| Processing Node | TMSC 10nm FINFET | TMSC 7nm FINFET |
| Socket | LGA 1700 | AM4 |
| Supports Motherboard Chipsets | Z690, H670, B660, H610 | X570, B550, X470 B450 A520 A320 |
| No. of Cores (Threads) | 8P (16), 4E (4) = 12 (20) | 8 (16) |
| L2 Cache | 12 MB | 4 MB |
| L3 Cache | 25 MB | 32 MB |
| Base Clock Speeds | 3.60 GHz for P Core 2.70 GHz for E Core | 3.8 GHz |
| Boost Clock Speeds | 4.9 GHz for P Core 3.8 GHz for E Core | 4.7 GHz |
| Base Power Draw | 125 W | 105 W |
| Boost Power Draw | 190 W | Not Advertised |
| Integrated Graphics | Intel UHD 770 | N/A |
| Memory Support | DDR4 up to 3200 MHz DDR5 up to 4800 MHz | DDR 4 up to 3200 MHz |
| PCIe Support | PCIe 4.0 and 5.0 | PCIe 4.0 |
| Launch Price | $470 | $450 |
| Current Price | $375 | $340 |
| Launch Date | Nov 4, 2021 | Oct 8, 2020 |
So the most obvious differences between the two is in the manufacturing process and the core architecture. We will discuss these two and the lesser significant details, as well.
Alder Lake
Intel's 12th Generation chips, codenamed Alder Lake, are based on Intel's Hybrid Architecture design.
Also Read: Intel i7-12700K Vs Ryzen 9 5900X
Hybrid Architecture Design
Intel's Hybrid Architecture design was first implemented in its Ice Lake mobile CPUs, launched way back in late 2019. This Hybrid Architecture involves combining two different microarchitectures into a single CPU die. This means that two different CPU cores will be fit into a single CPU, as well. These two different microarchitectures are Gracemont (for Efficient cores) and Golden Cove (for Performance cores).
Performance Cores
The performance cores (P cores) are high-performance full-sized cores based on the Golden Cove microarchitecture. This Golden Cove microarchitecture succeeds Cypress Cove, which was designed for the 10nm node, but was backported to 14nm in Intel's 11th Generation Rocket Lake CPUs. Intel advertised a 19% improvement in IPC (Instructions Per Cycle) over Cypress Cove.
This essentially means that you can expect these performance cores to deliver roughly 19% better performance over the full-power cores of Rocket Lake. This Golden Cove architecture will also be implemented in Intel's soon-to-launch 4th generation of Xeon CPUs, codenamed Sapphire Rapids.
Efficiency Cores
The Efficiency Cores (or E cores) are based on Intel's Gracemont microarchitecture. Gracemont is the successor to Intel's Tremont architecture, which was the architecture used in Intel's low-power Atom, Celeron and Pentium CPUs. This Gracemont microarchitecture will also be implemented in Intel's 13th Generation chips, codenamed Raptor Lake.
For ease of understanding, we will sum up the differences between the two cores in the form of a table.
Performance Core
Efficiency Core
Based on Golden Cove microarchitecture
Based on Gracemont Architecture
High-Performance core with higher power consumption
Low-Performance core which is more power efficient.
Larger than E cores
Small-sized cores packed in clusters of four
Each P core has two threads
(Hyper-threading)
Each E core has a single thread (no Hyper-threading)
Optimized for Single-Threaded tasks
Optimized for Multi-Threaded tasks
Up to 80 KB L1 Cache
per P core
Up to 96 KB L1 Cache
per E core
Up to 1.25 MB L2 Cache
per P core
Up to 2 MB L2 Cache
per E core
Performance Cores vs Efficiency Cores
In short, the main difference between Performance and Efficiency Cores is that the P cores are meant to handle heavier tasks such as gaming and rendering workloads (foreground tasks), and the E cores are intended to handle the lighter tasks such as browsing (background tasks). It's important to note that while these two types of cores handle different types of workloads, the two cores work in harmony to maximize performance and efficiency.
The performance and efficiency cores are managed by the Task Scheduler in Windows 11 so that the two cores are used for their intended workloads, and also so that the P cores remain parked when there are no heavy workloads running. This greatly benefits us in terms of power efficiency.
Ryzen 5000 Series
AMD's Ryzen 5000 series was launched late in 2020. It was a solid hit back at Intel's 10th Generation lineup, with the Ryzen 5000 chips comprehensively beating out Intel's 10th generation CPUs (Comet Lake) aimed around the same price mark. The Ryzen 5000 series also proved to be too hot to handle for Intel's 11th Generation CPUs codenamed Rocket Lake.
Also Check: i7 12700K Vs i7 12700KF

This Ryzen 5000 series is based on AMD's Zen 3 architecture.
AMD Zen3 Architecture
Introduced with the Ryzen 5000 series, AMD's Zen 3 architecture really packed a punch as AMD took a solid lead against Intel's 10th generation CPUs, as well as its own Ryzen 3000 series.
Zen 3 was based on the same 7nm manufacturing process. This is the second time that AMD has used this process, and the upcoming Ryzen 7000 series will be based on TMSC's more efficient 5nm process.
AMD advertised that, on average, the Ryzen 9 5900x (the most powerful 5000 series chip after 5950x) delivered an improvement of 26% in 1080P gaming performance over the 3900XT (the most powerful 3000 series chip).
So the question arises, how did AMD achieve such massive performance hikes over its Ryzen 3000 series? Well, the answer is the Zen 3 Architecture. AMD improved its core architecture.
Ryzen 7 5800x Vs i5-12700K: Gaming Benchmarks
In terms of gaming performance, as seen above, the i7-12700k performs slightly better in most modern titles; however, the performance increase that the 12700k provides over the Ryzen 7 5800x is nothing significant; the Ryzen 7 5800x puts up a fair fight against the 12700k, falling only slightly behind it in most games.
The difference in performance is expected, given the price gap between the two processors. With the i7 12700k's price being higher than the Ryzen 7 5800x, its performance gains are completely justified.In terms of the one percent lows, the i7-12700k maintains its lead over the Ryzen 7 5800x in most games tested. There are a few exceptions to this, as seen with "Shadow of the Tom Raider" and "Rainbow Six Siege," but the 12700k remains dominant for the most part.
Test Bench
CPU: Ryzen 7 5800x @ Stock
Motherboard: MSI MEG X570 ACE
Memory: G.SKILL Trident Z RGB: 3600MHz 16-19-19-39 (2x16GB)
CPU: i7-12700K @ Stock
Motherboard: MSI Z690 Unify
Memory: Corsair Dominator Platinum RGB: 5200MHz 36-38-38-74 (2x16GB) AND G.SKILL Trident Z RGB: 3600MHz 16-19-19-39 (2x16GB)

The two test benches will be sharing the following components for even results:
Graphics Card: MSI RTX 3080 GAMING X TRIO
CPU Cooler: Corsair iCue H115i Elite Capillex
Power Supply :Corsair RM1000X PSU
Storage: 2 TB SSD
OS: Windows 11
Shadow of the Tomb Raider
In Shadow of the Tomb Raider, the two CPUs are quite neck in neck, with the Ryzen 7 5800x taking a tiny lead.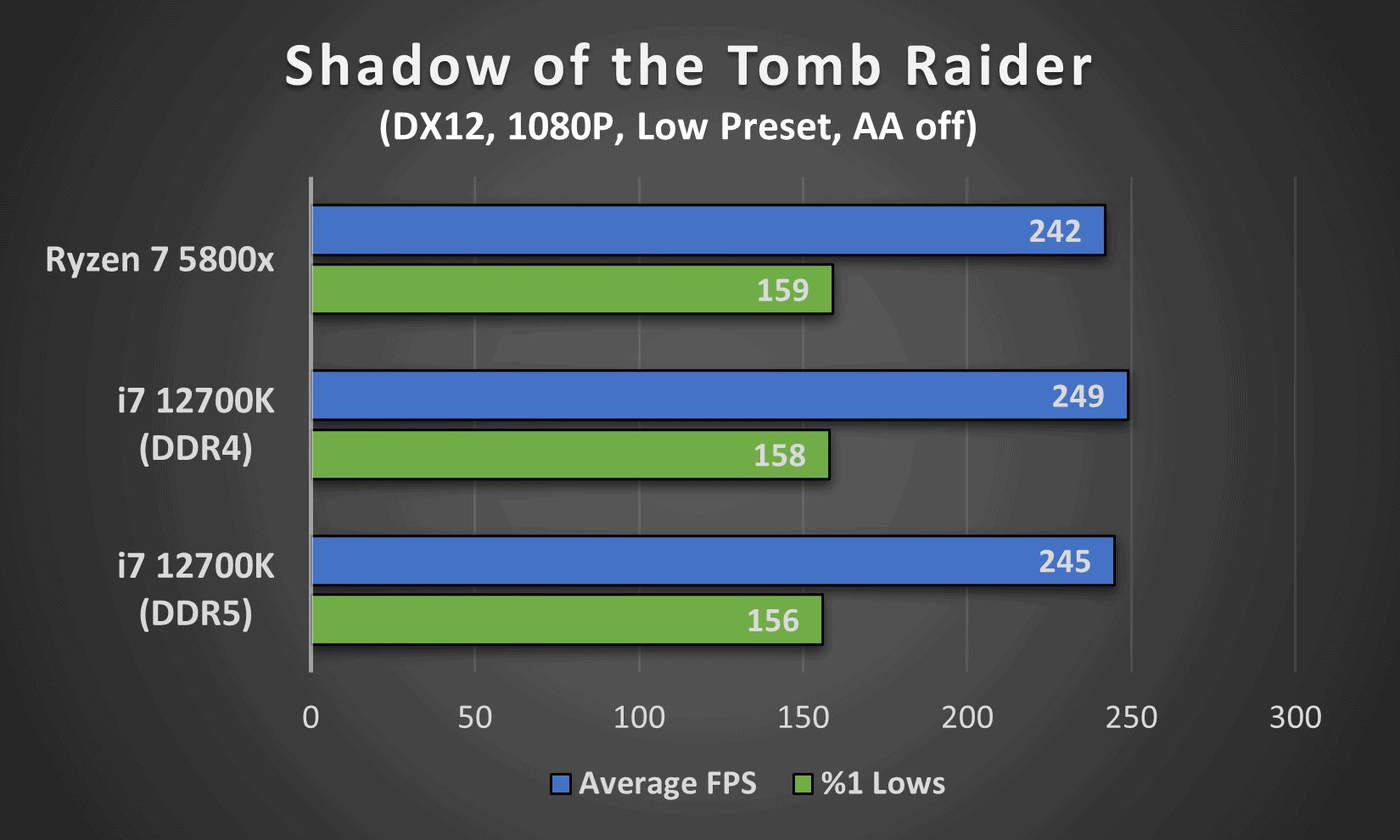 Also Read: Intel i7-12700K Vs i5-13600K
Cyberpunk 2077
In Cyberpunk 2077, the Ryzen chip falls behind by a reasonable distance and also sees a larger gap between average FPS and %1 Lows, meaning worse performance.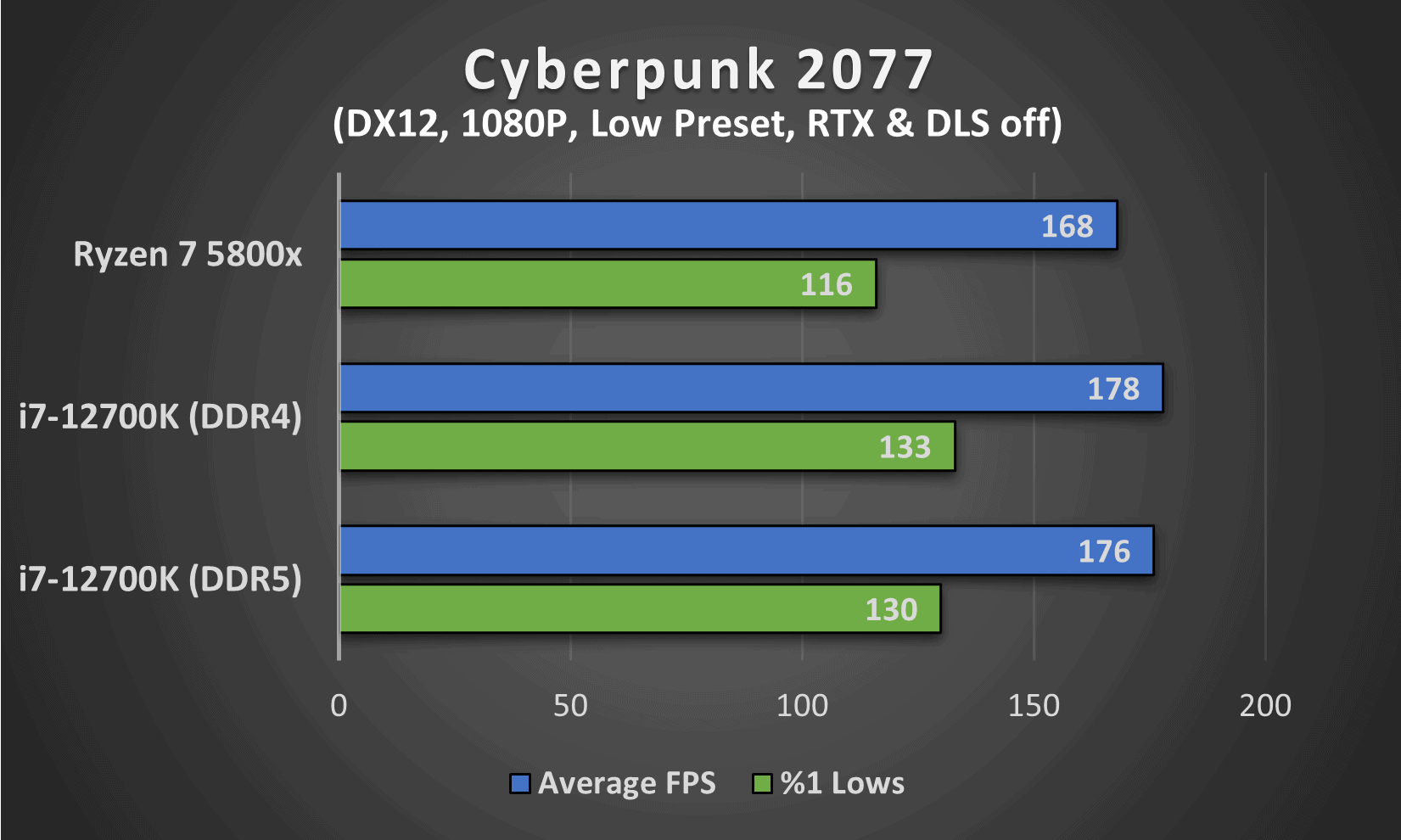 F1 2021
The Ryzen 7, again, falls behind the 12700K, but not by a lot. The DDR5 memory provides no benefit in terms of average FPS, but frame-time is improved as is evident from the %1 Lows.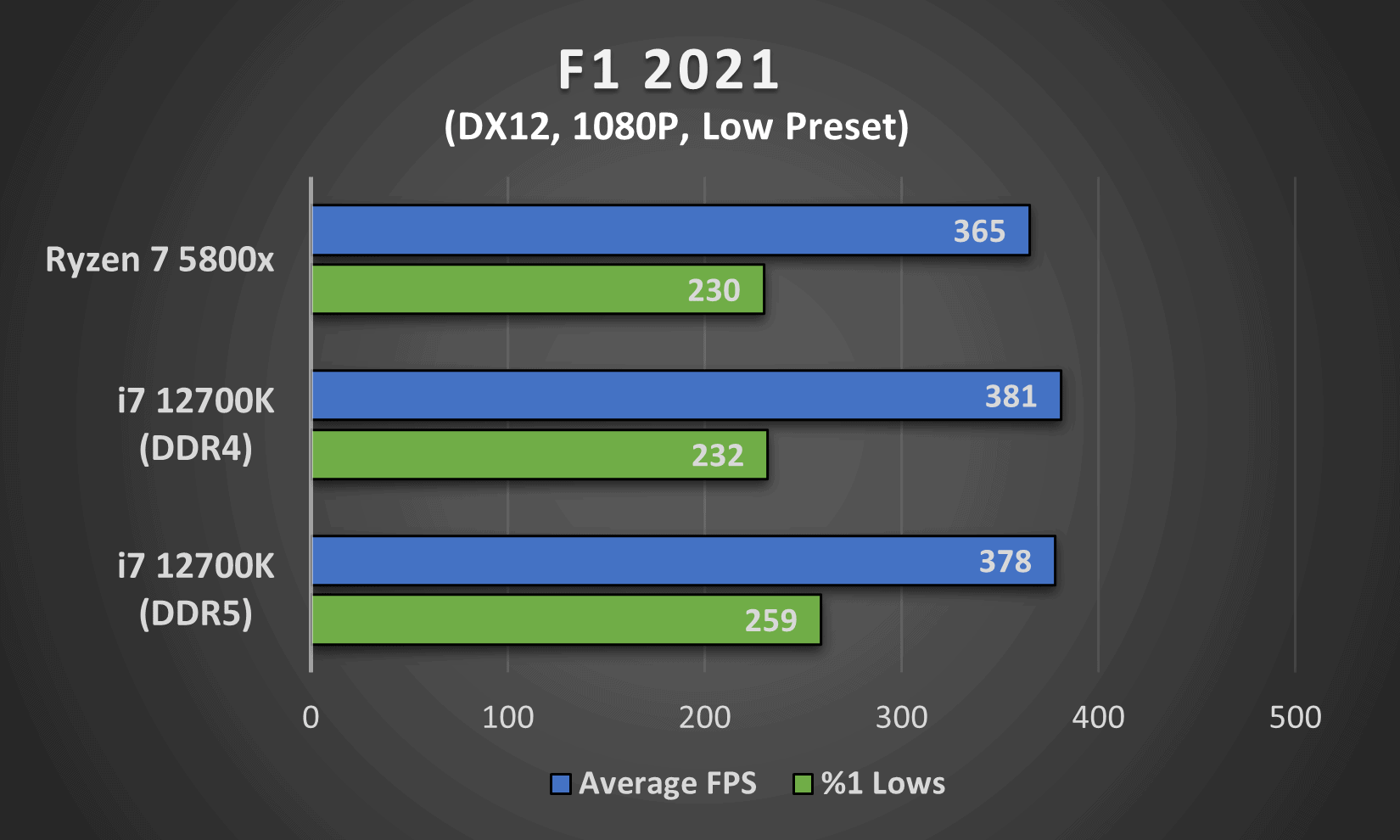 Far Cry 6
In Far Cry 6, the i7 12700K paired with DDR4 memory is almost absolutely in line with the Ryzen 5800x. The i7 12700K, paired with DDR5 memory, gets a significant boost in Far Cry 6.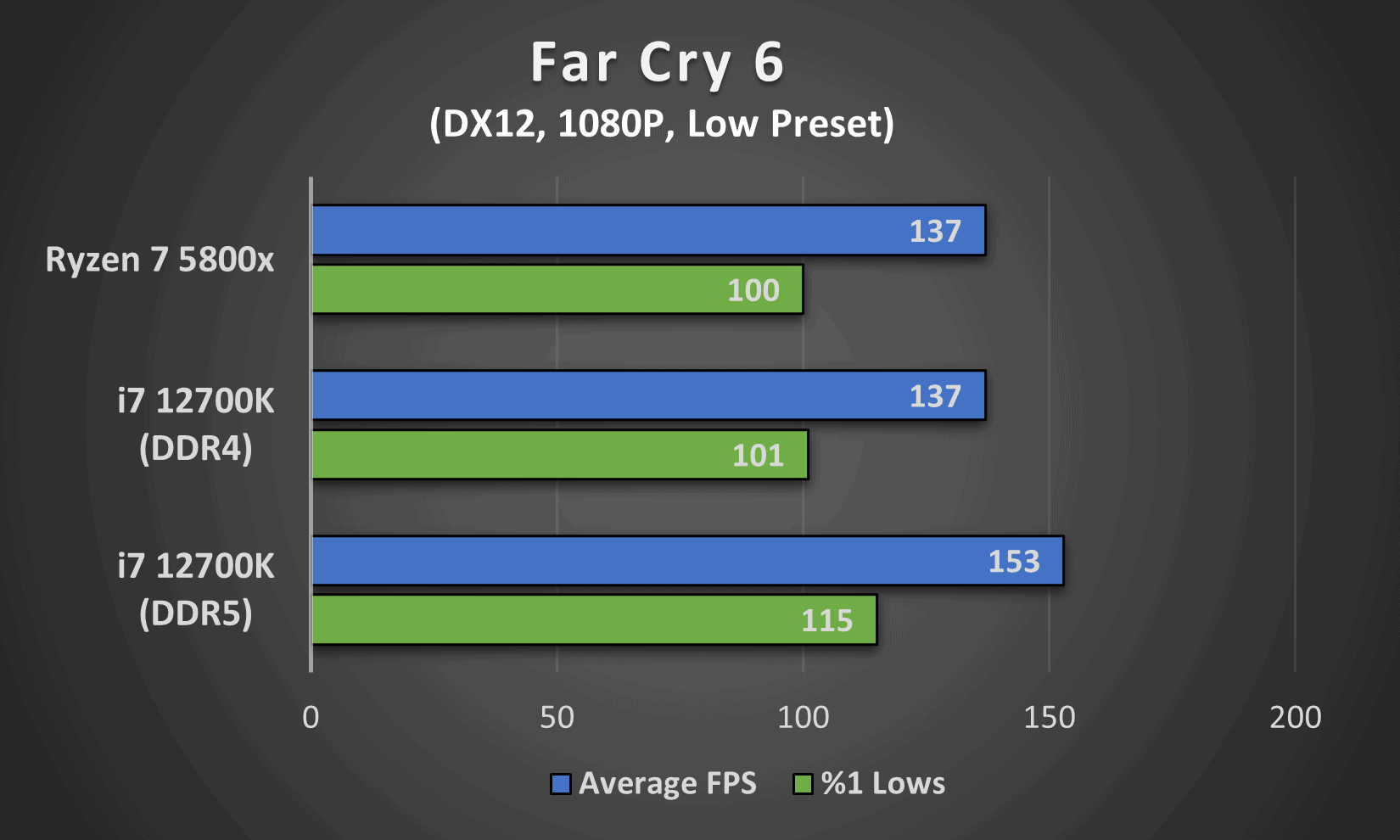 Marvel's Guardians of the Galaxy
Our Marvel's Guardians of the Galaxy sees the Ryzen 7 5800x again being neck in neck with the 12700K, however, it does fall behind in terms of %1 Lows.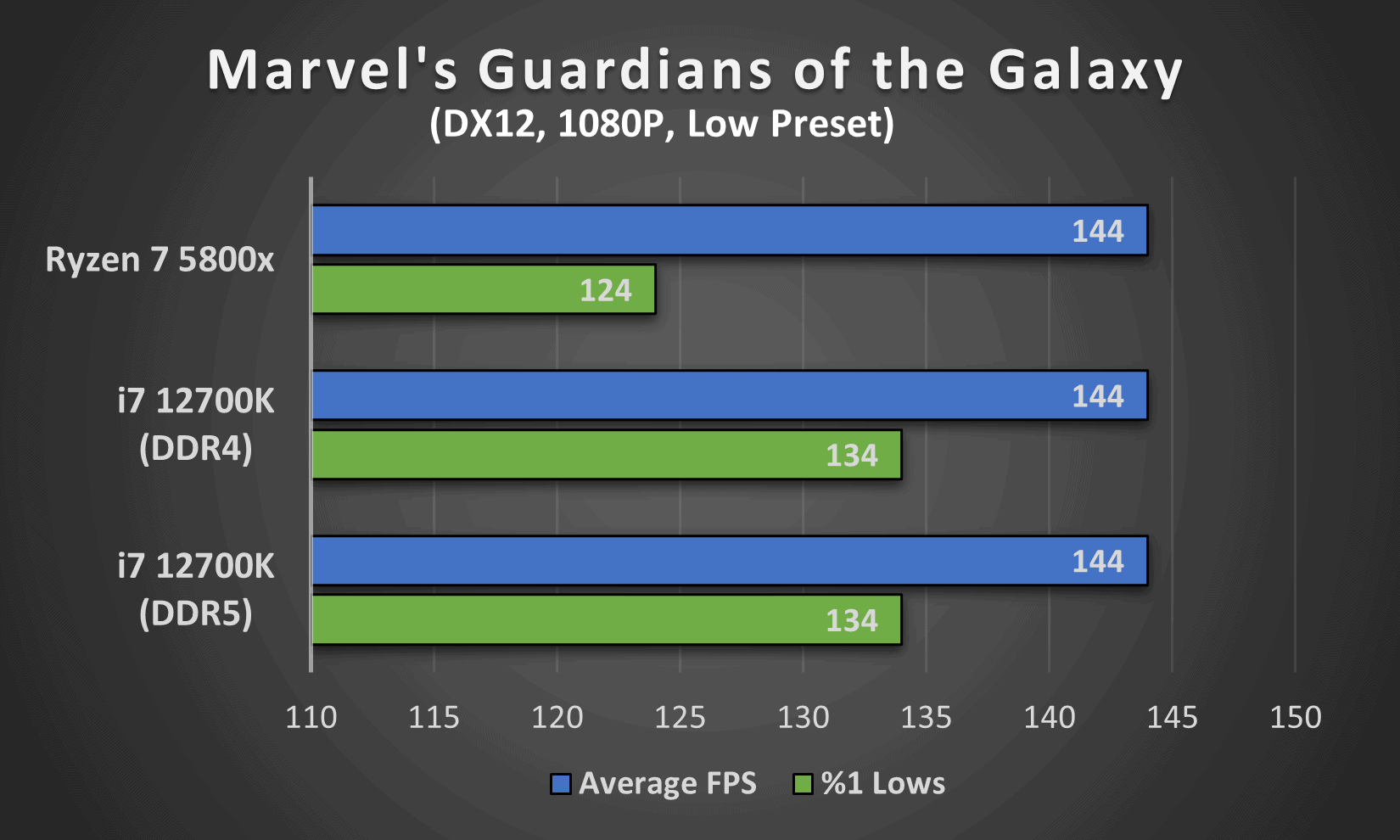 Also Check: Intel i7-13700K Vs i7-12700K
Hitman 3
In Hitman 3, the Ryzen 7 5800x is left far behind compared to the i7 12700K. The DDR5 memory provides no benefits to the 12700K in this test.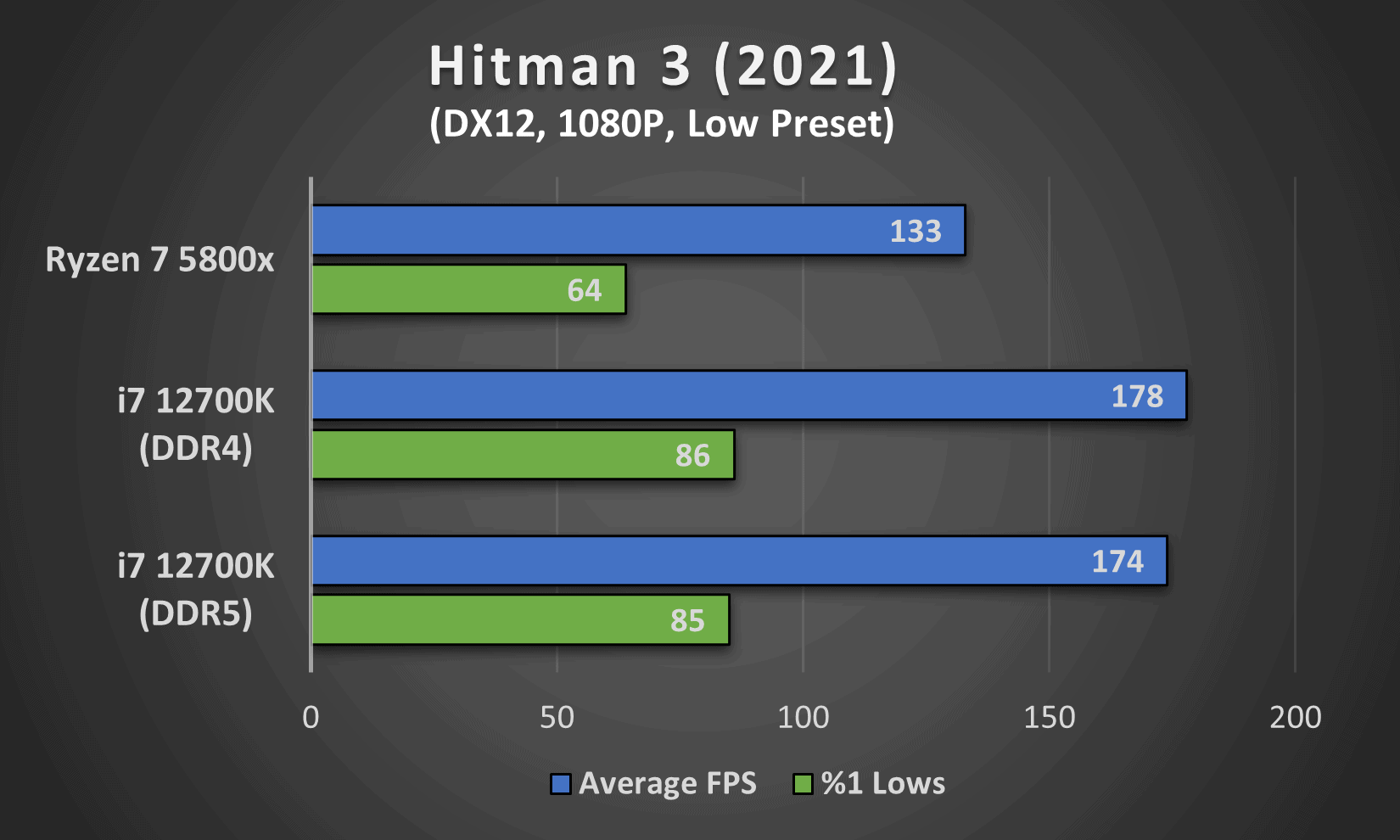 Tom Clancy's: Rainbow Six Siege
In the very popular first-person shooter, the two CPUs are again neck and neck. The i7 12700K gets a slight boost paired with the DDR5 memory.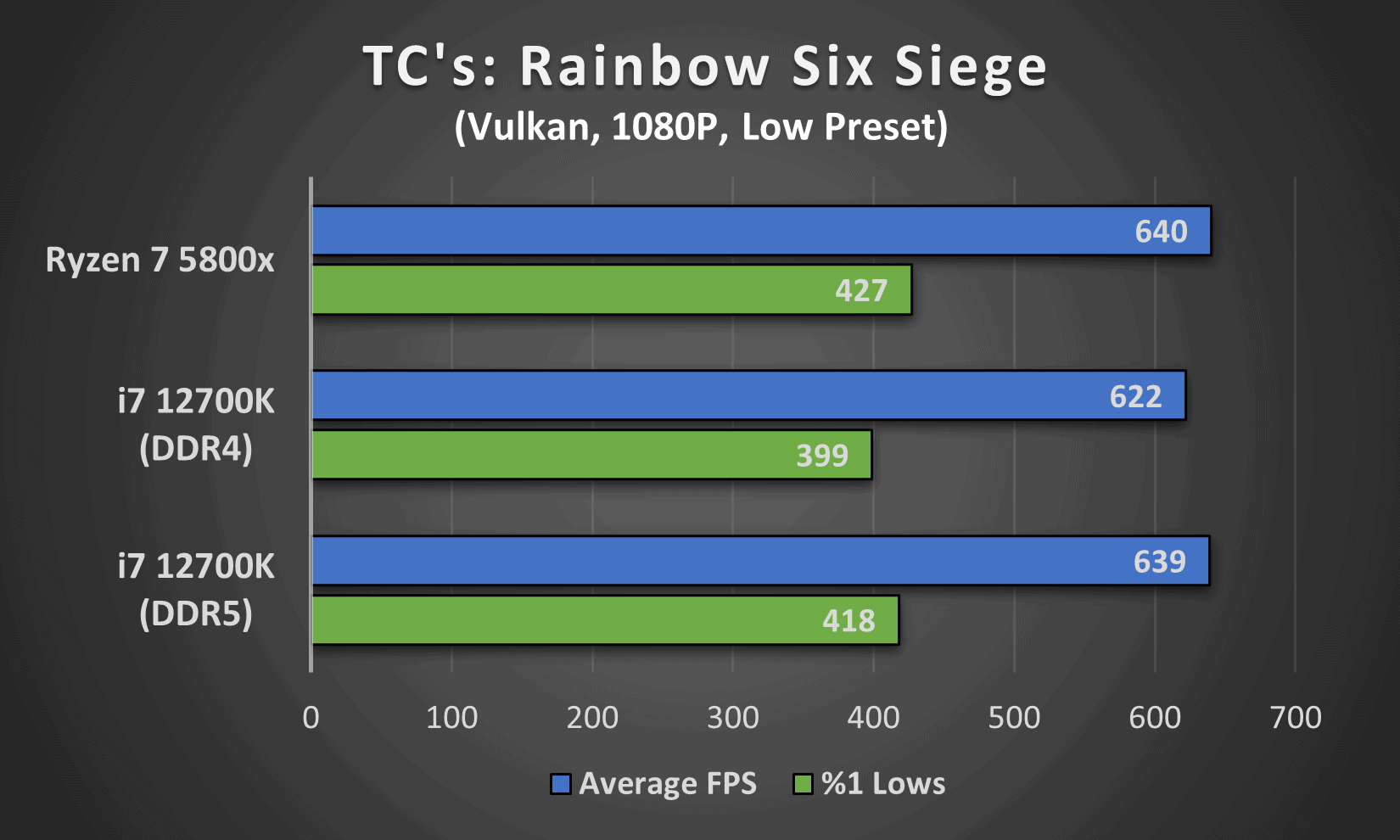 Counter Strike: Global Offensive
The i7 12700K takes a very small lead in our CS:GO benchmark. However, the performance difference is completely irrelevant since both the CPUs are crossing the 750 FPS mark. Therefore, the 12700K vs 5800x competition is even in CS:GO.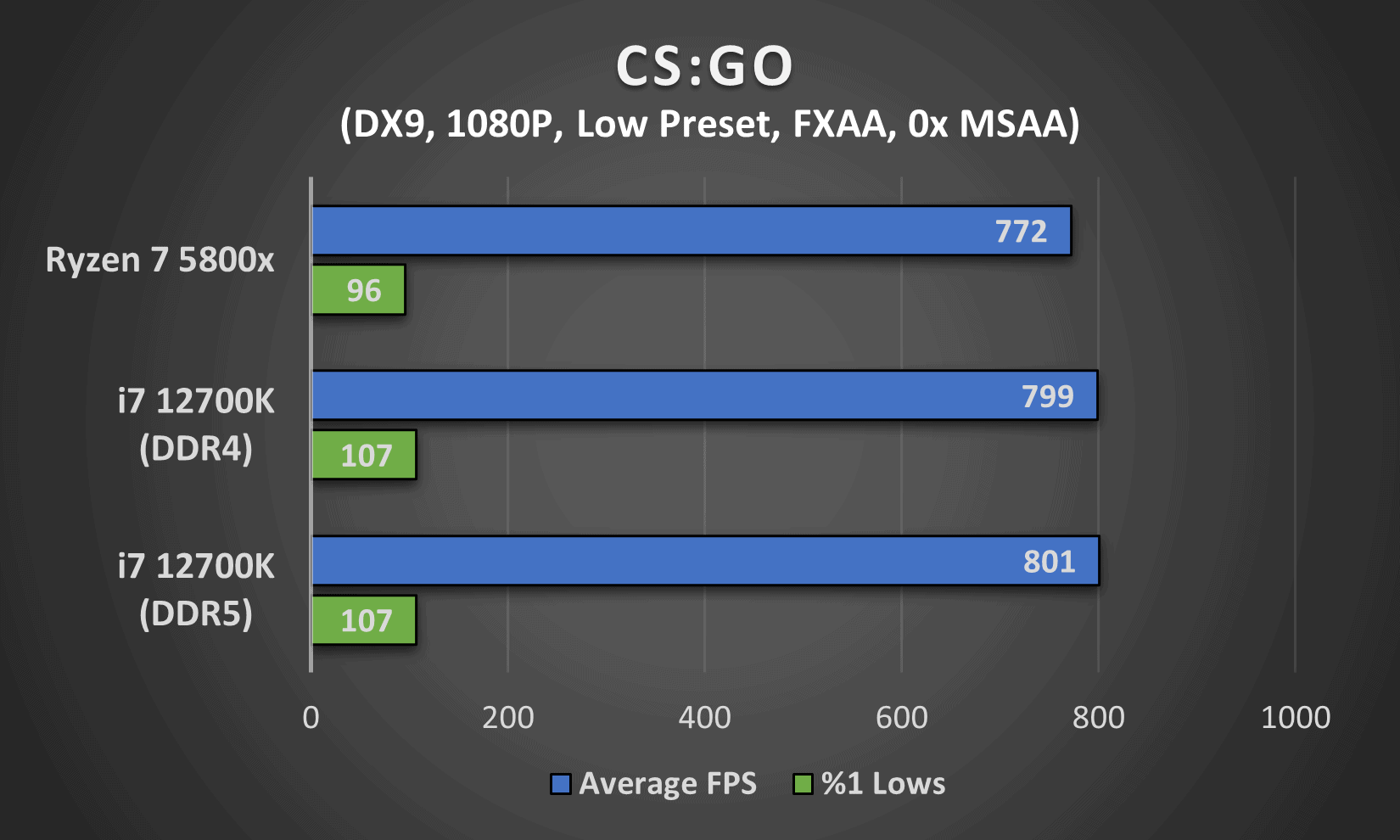 Also Read: Ryzen 7 7700X Vs Intel i7-12700K
DOTA 2
In Dota 2, our Ryzen 7 chip again falls behind slightly. The 12700K sees worse performance coupled with DDR5 memory. This isn't surprising since Dota 2's Source 2 engine likely can't utilize any of the benefits that DDR5 memory offers.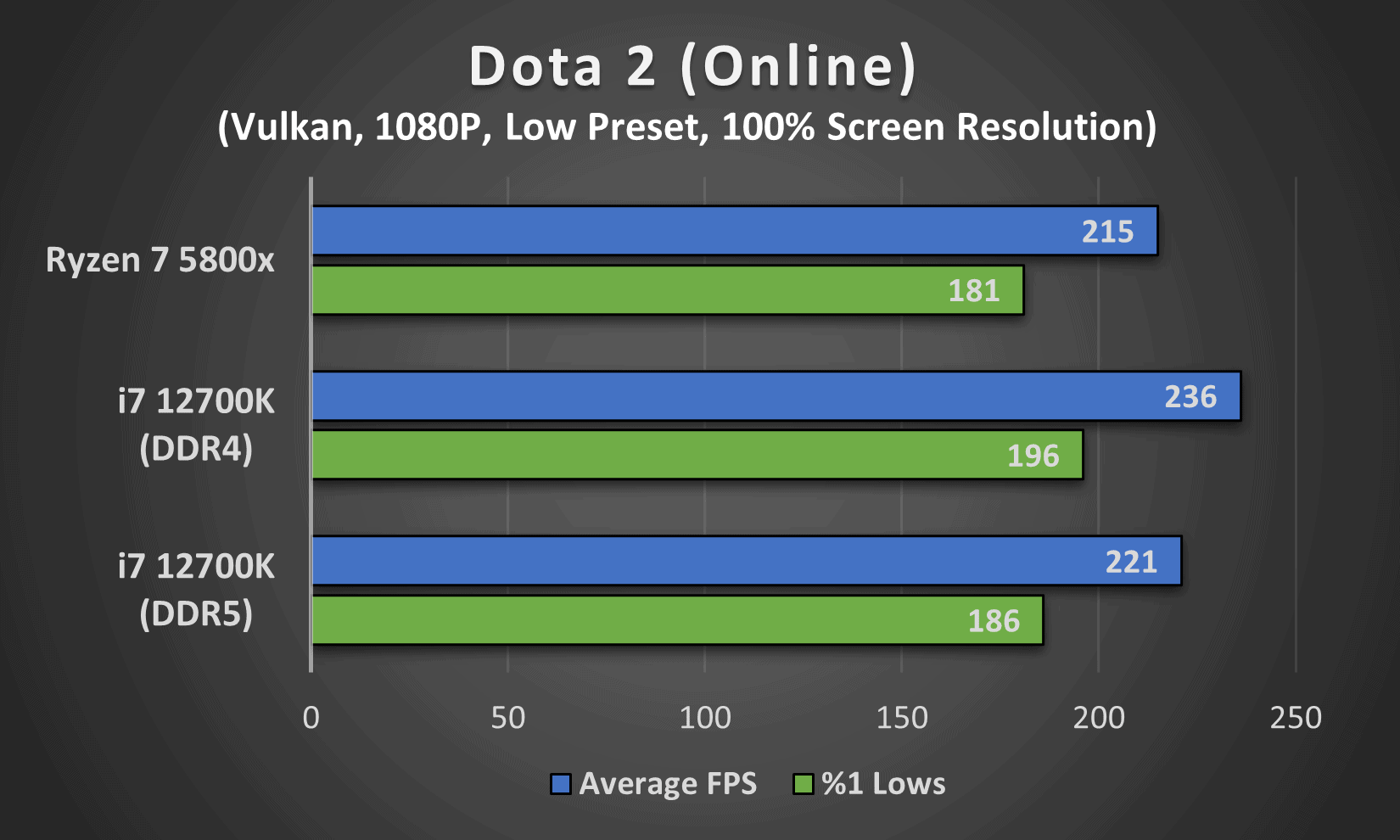 8 Game Average (minus CS:GO)
Deriving an average from the games we've tested (minus CS:GO, which yielded comparable results), we learn that our Alder Lake 12700K only leads the Ryzen 5800x by 4.3% in terms of average FPS. Conclusively, the two CPUs provide very identical gaming performance.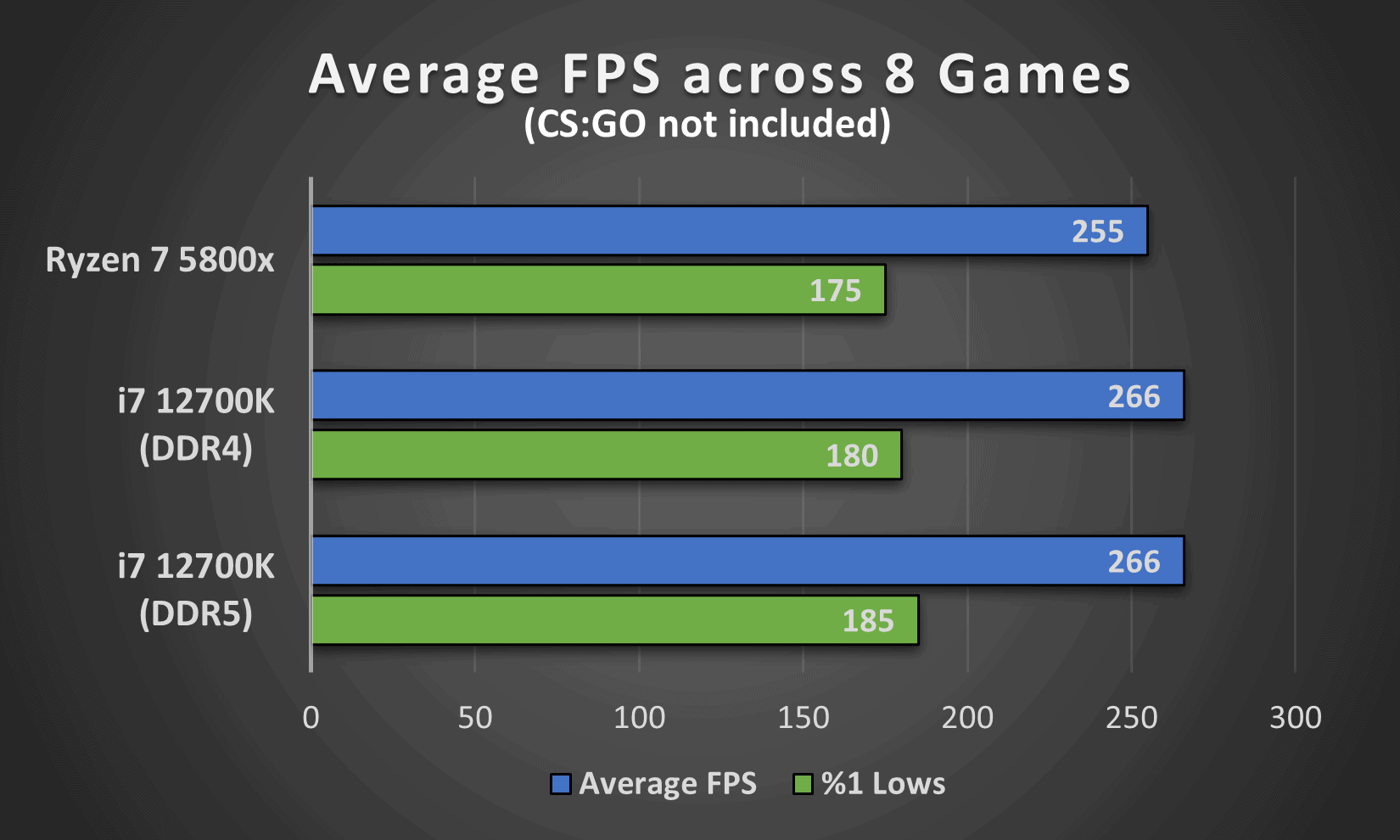 Productivity Benchmarks
Adobe Photoshop 2021
The i7-12700K takes a decent lead in our Adobe Photoshop benchmark with the DDR5 memory showing slightly better numbers.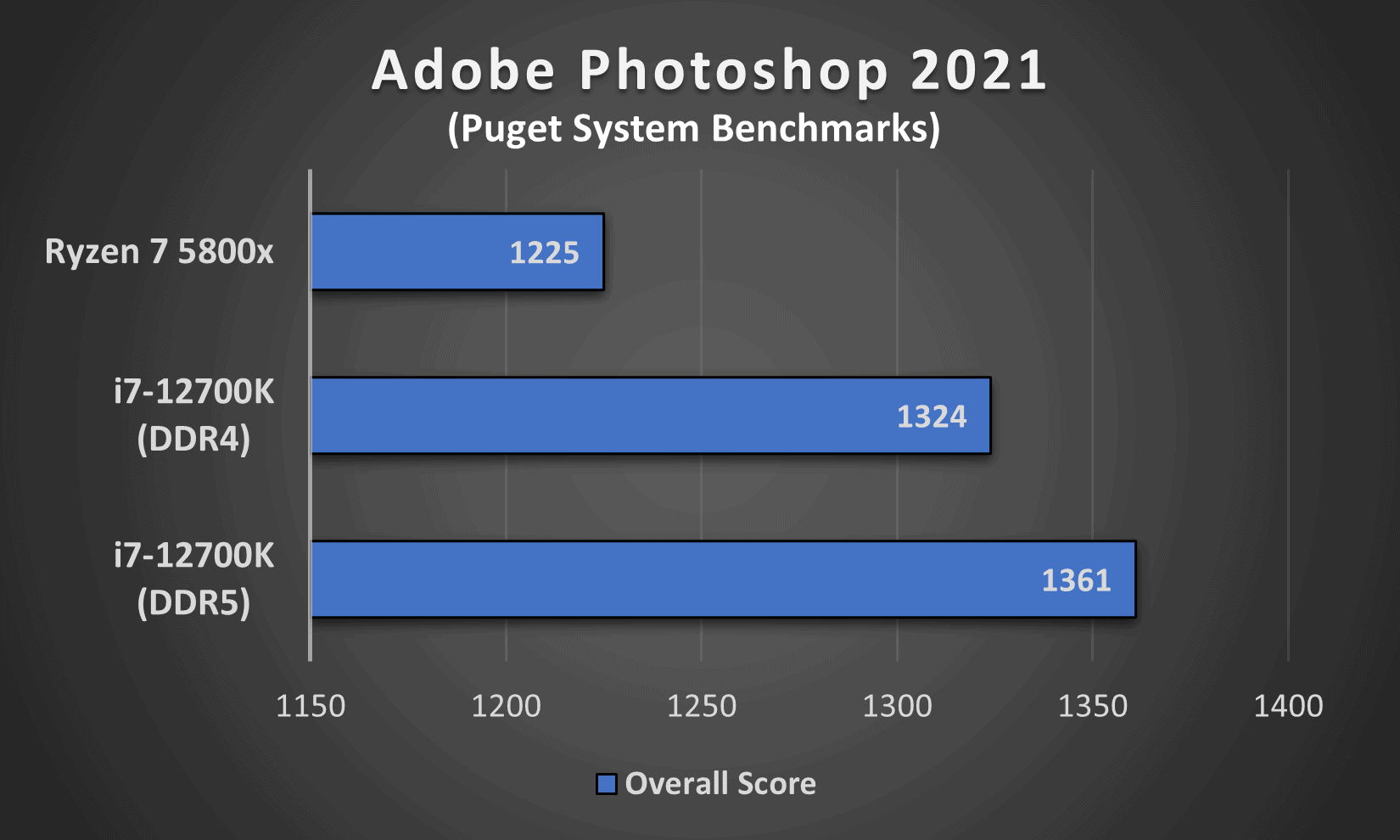 Similar Comparisons: Intel i7-12700K vs Intel i7-11700K
Adobe Premiere 2021
Identical to the Adobe Photoshop test, the 12700K again takes a significant lead over the Ryzen chip. The 12700K coupled with DDR4 memory falls slightly short of the DDR5 system.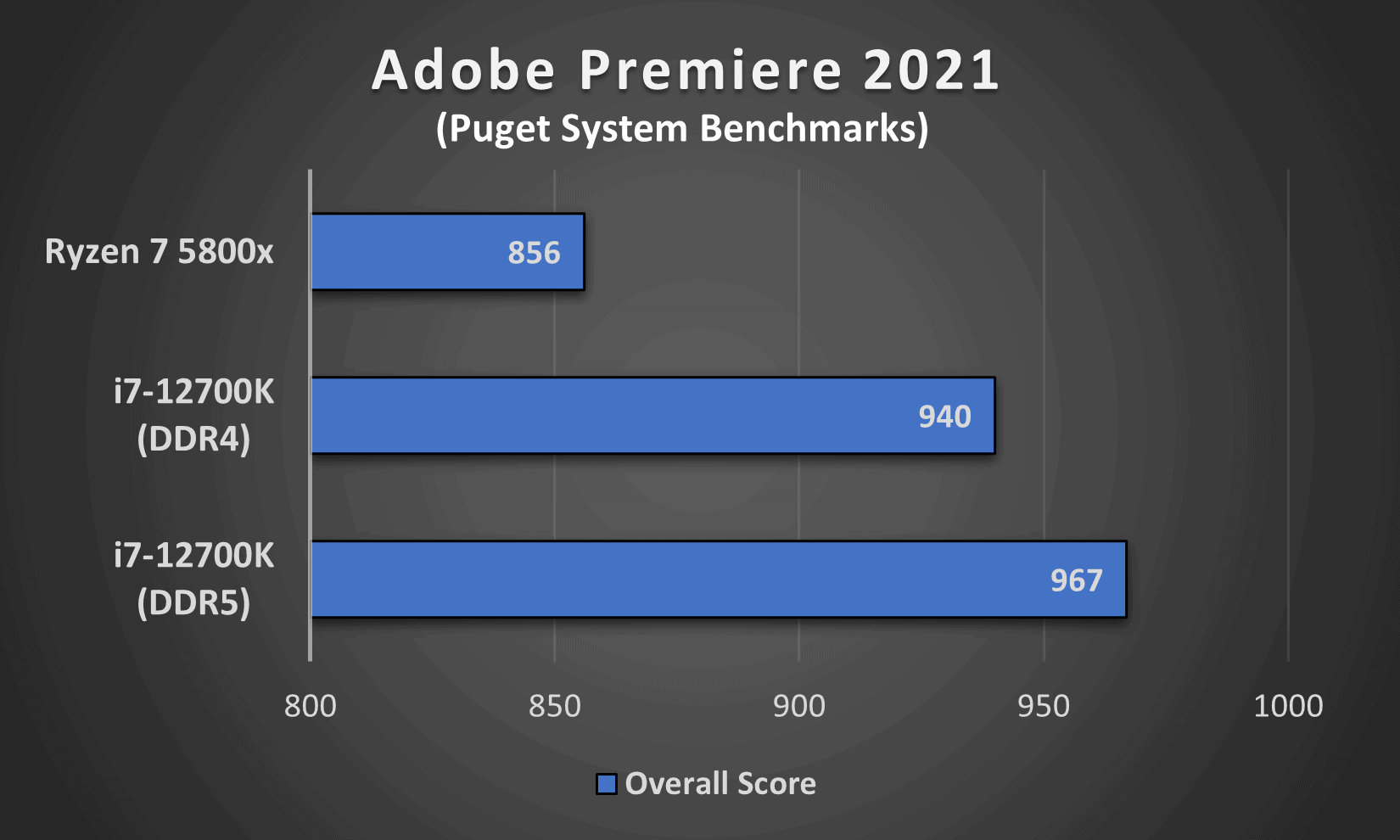 Handbrake 1.4.2
In our Handbrake conversion test, the Ryzen 7 5800x falls significantly behind, again. DDR5 memory doesn't provide any advantages in this test.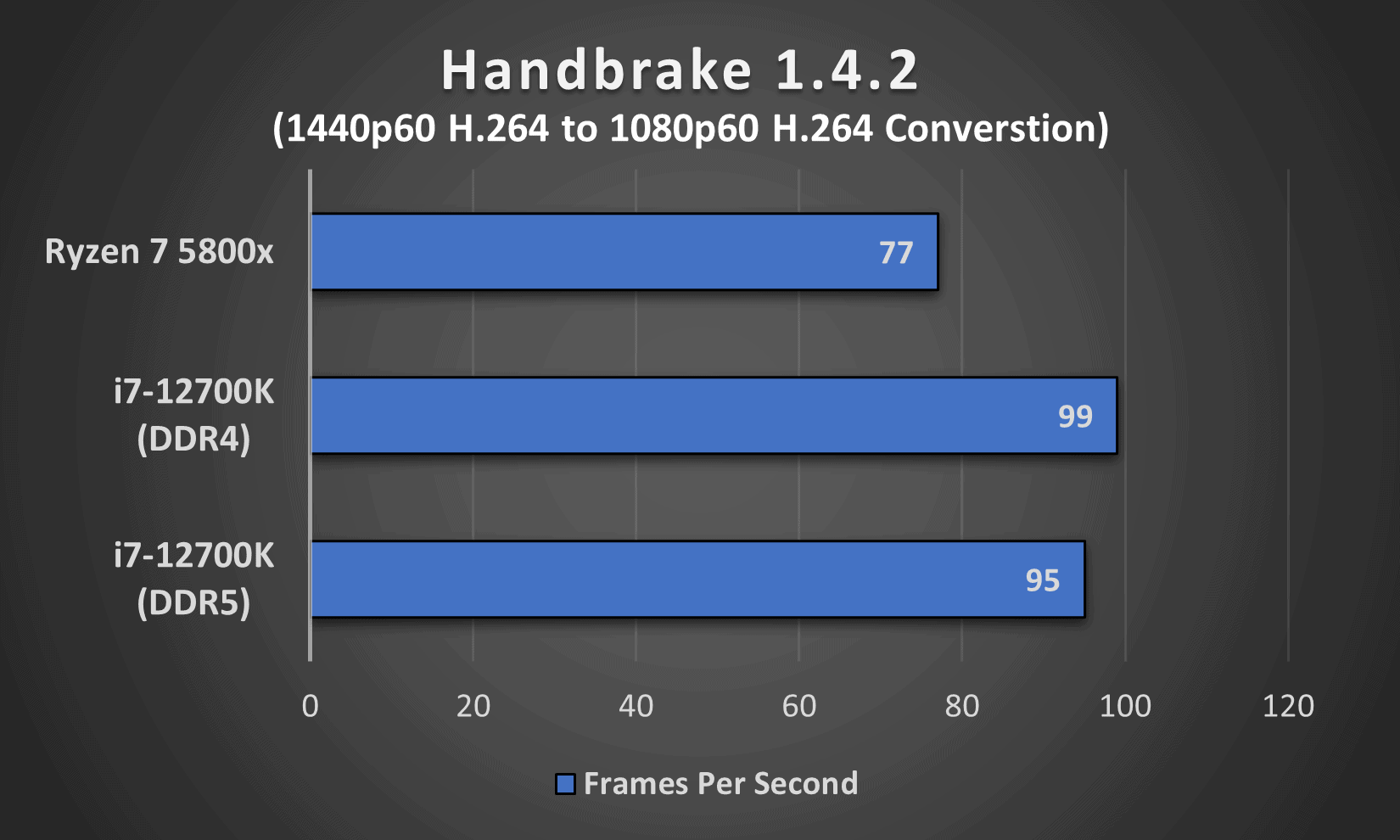 Geek Bench 5
Our productivity tests are following the same pattern at the moment, with the Ryzen 5800x being comprehensively beaten in the Geek Bench test, as well. The DDR5 memory gives us a significant improvement in this test.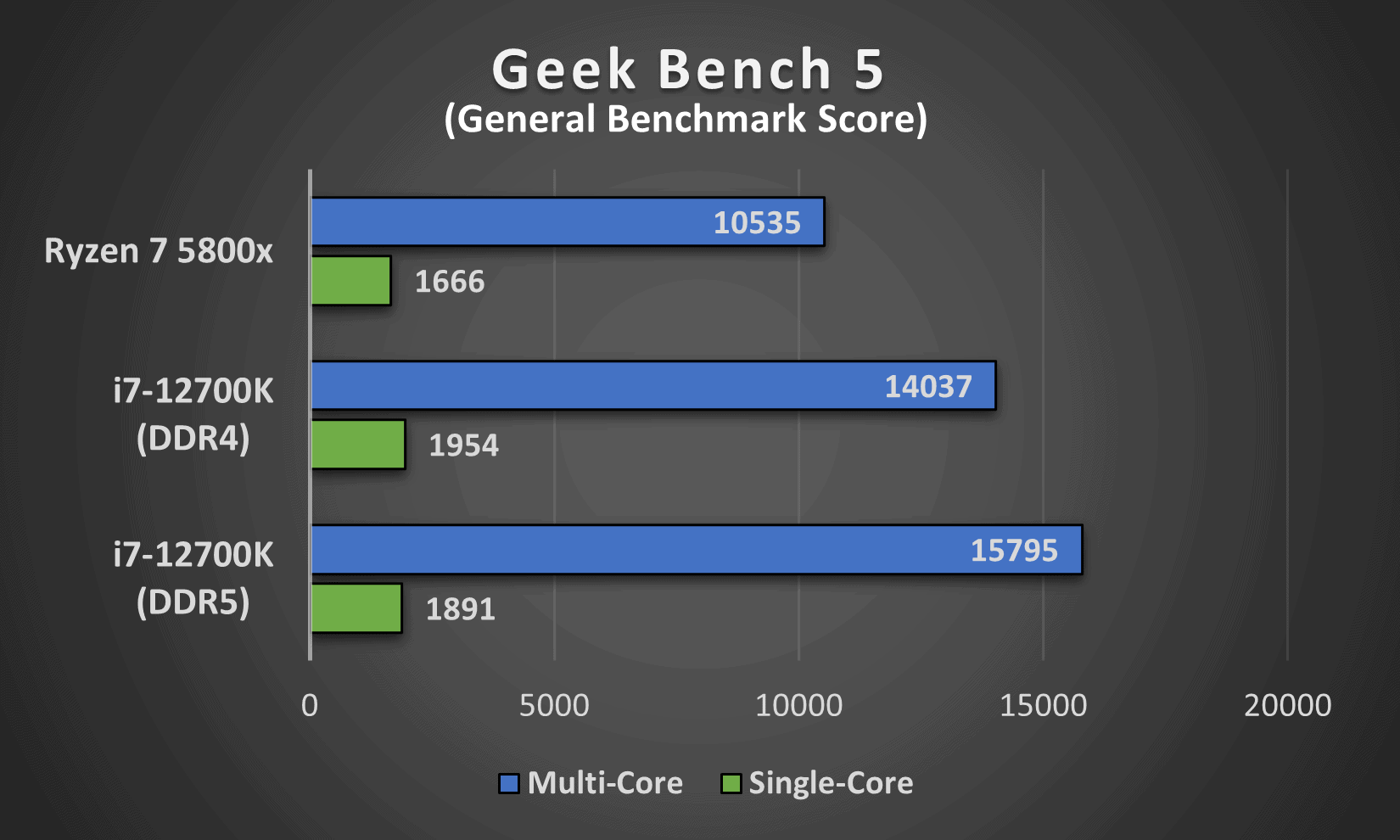 V-Ray Benchmark
Our V-Ray benchmark shows the i7 12700K take a healthy lead over the Ryzen 5800x.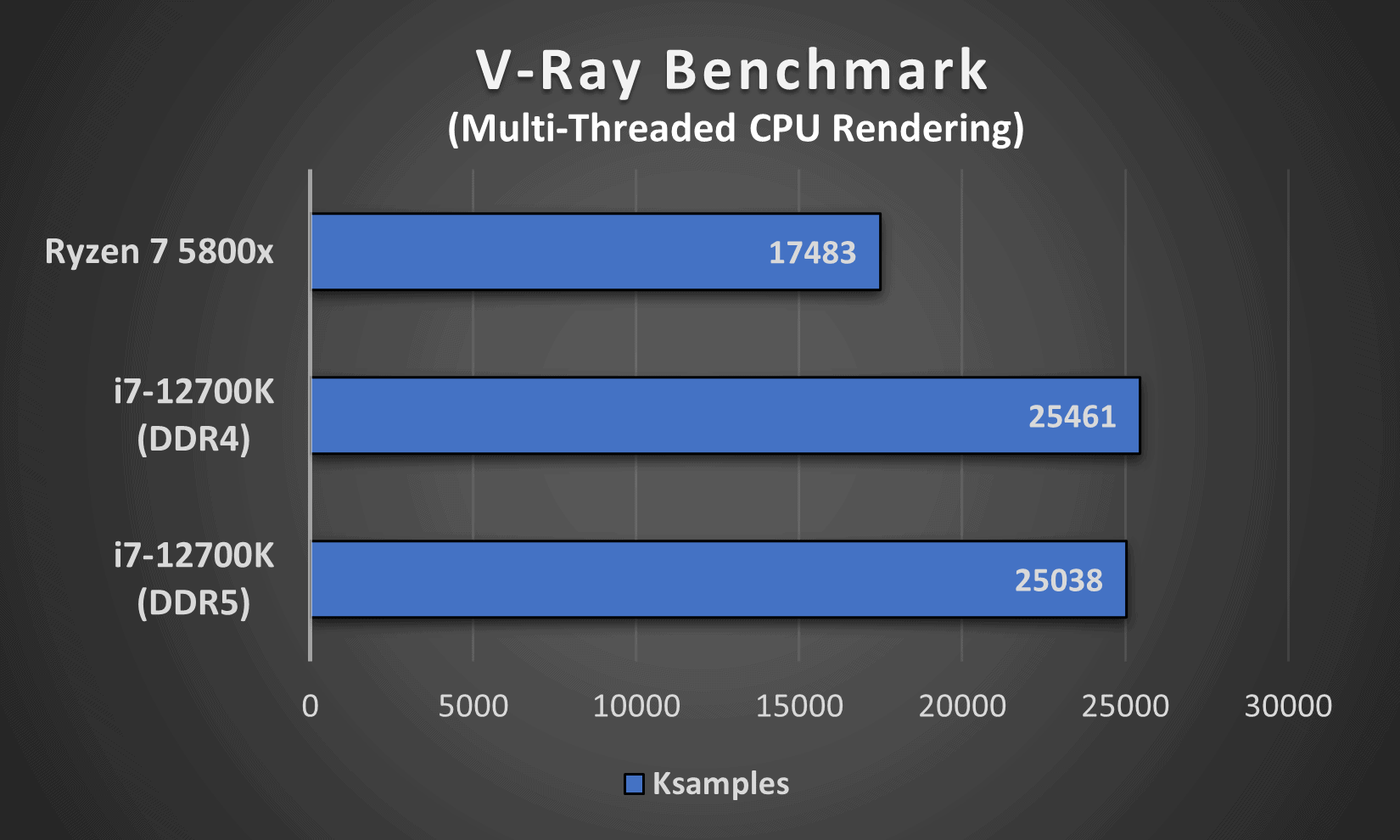 Also Check: i9-12900k vs i7-12700k
Cinebench R23
The i7-12700K is far ahead of the Ryzen chip in both Multi-Core and Single-Core Cinebench tests.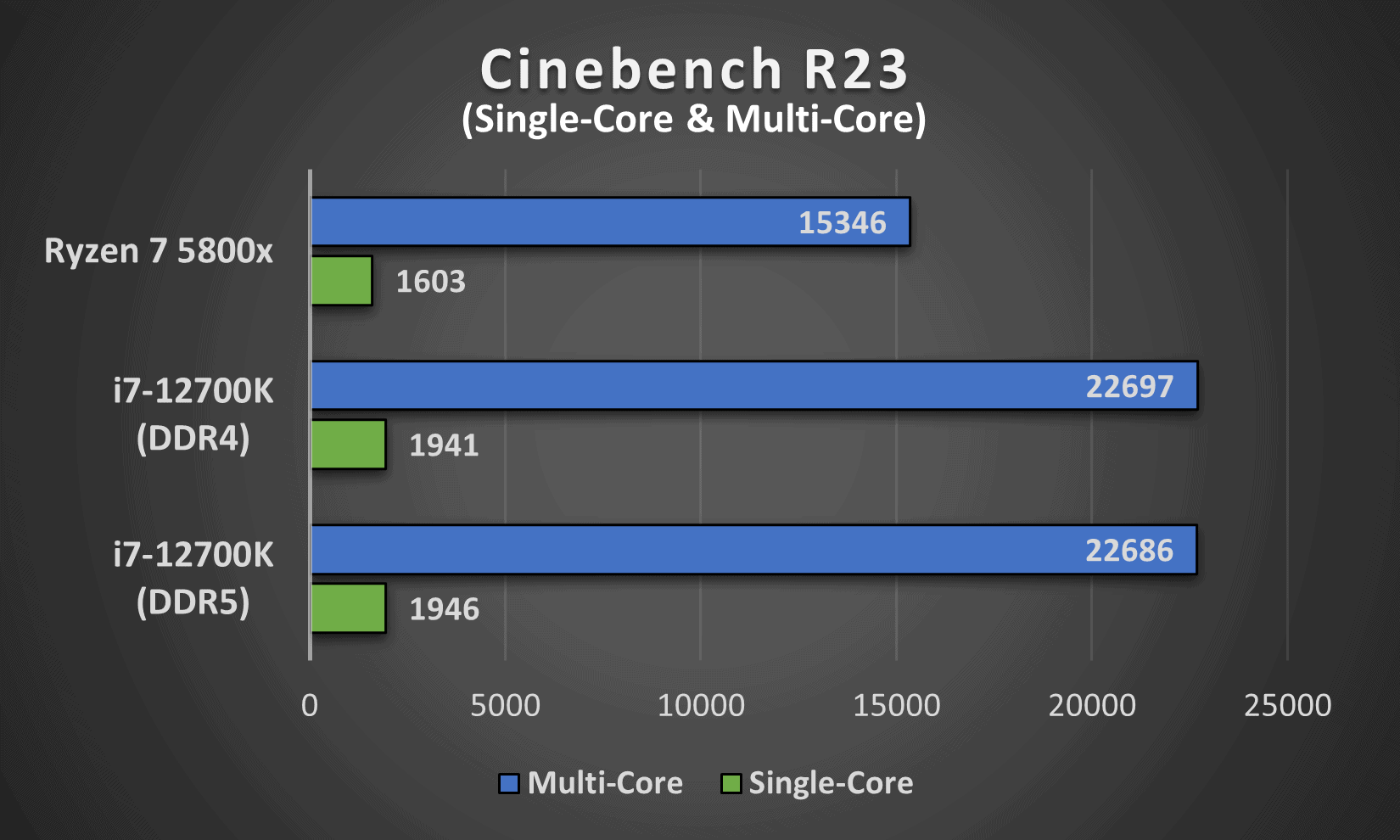 Blender V2.90
The Ryzen 7 5800x takes roughly 50% more time to render in our Blender render test.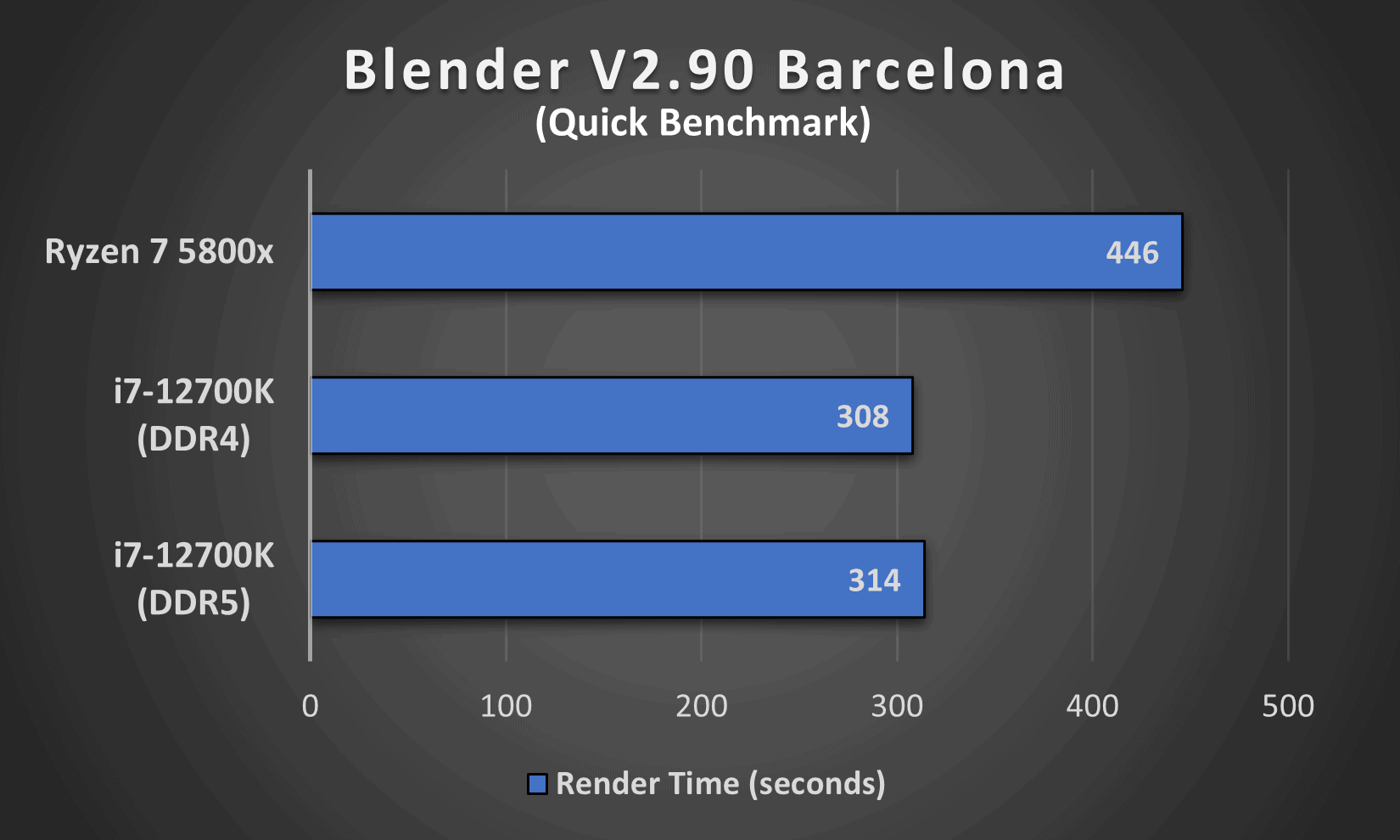 Corona 1.3
The i7-12700K betters the Ryzen 5800x yet again, in our Corona benchmark test.
Chromium Code Compile
Compiling is a CPU-intensive task that relies a lot on the CPU cache. In our code compiling test, the Ryzen 5800x, again, falls very short compared to our Alder Lake i7.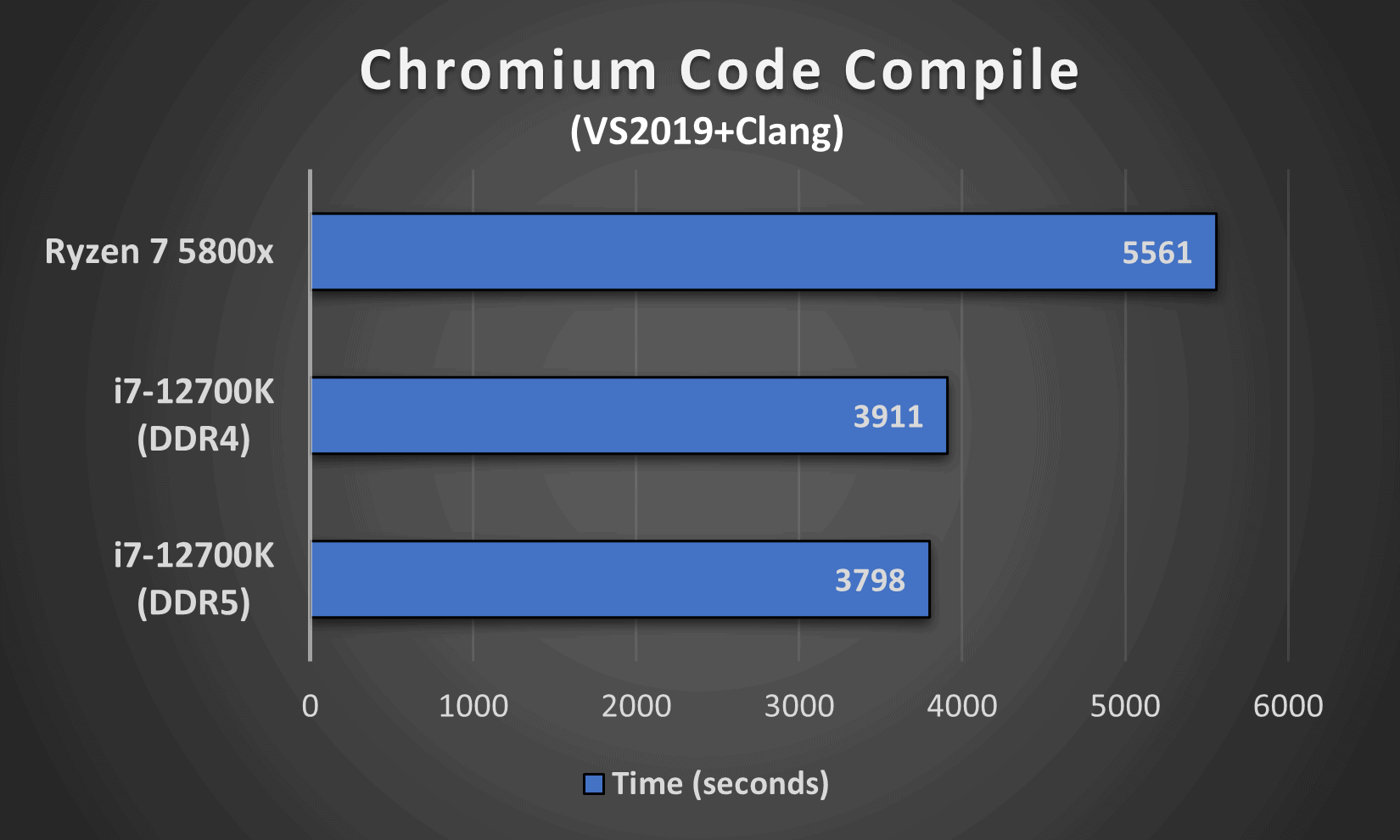 Also Read: Core i7-12700K vs Core i5-12600K
i7-12700k Vs Ryzen 7 5800x At 1440p
With a higher resolution, like 1440p, the performance gap narrows down quite a lot since more of the load is shifted to the GPU. With the games becoming more GPU-bound, a higher resolution leads usually results in lower fps in games.
Even with a higher resolution, the i7-12700k consistently outperforms the Ryzen 7 5800x; however, with this resolution, the fps difference is lower, making it even less noticeable in games.
Temperatures And Power Draw Difference
Let's compare the temperatures and power draws of the two CPUs. This would tell you the comparison fo Intel Core i7-12700k vs Ryzen 7 5800x in which is more hotter, requires cooler, and likewise.
Temperatures
Comparing the idle and load temperatures between the two CPUs, we see that the i7 12700K runs considerably hotter both at idle and under loads.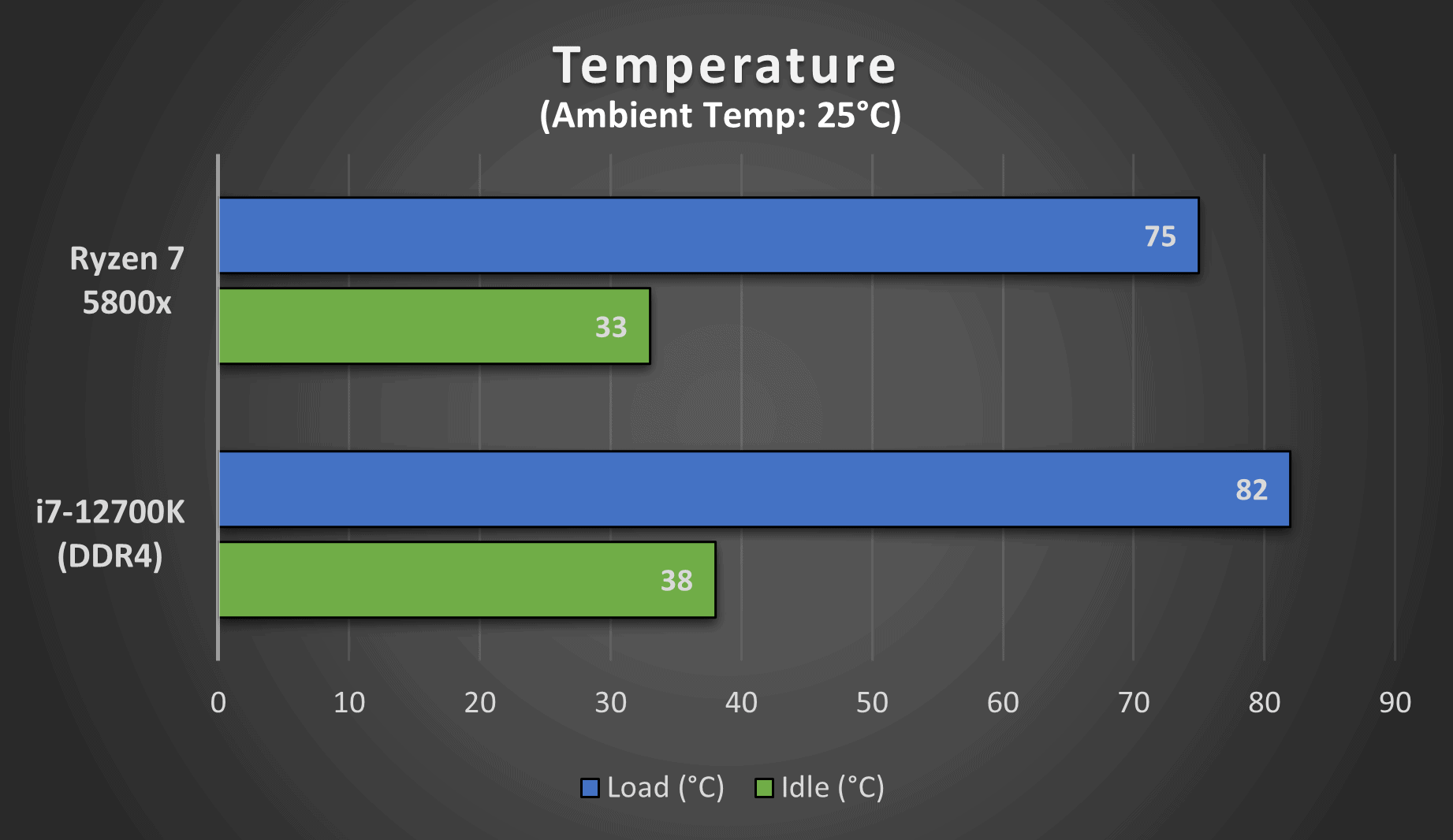 Power Draw
Comparing the power draws between Intel Core i7-12700k vs Ryzen 7 5800x is very important. We see that the i7 12700K draws over a massive 260 watts during our Blender stress testing. The Ryzen 5800x, on the other hand, draws just under 220 watts. The two CPUs have comparable power draws when idle, however, with both CPUs drawing just around 75 watts of power.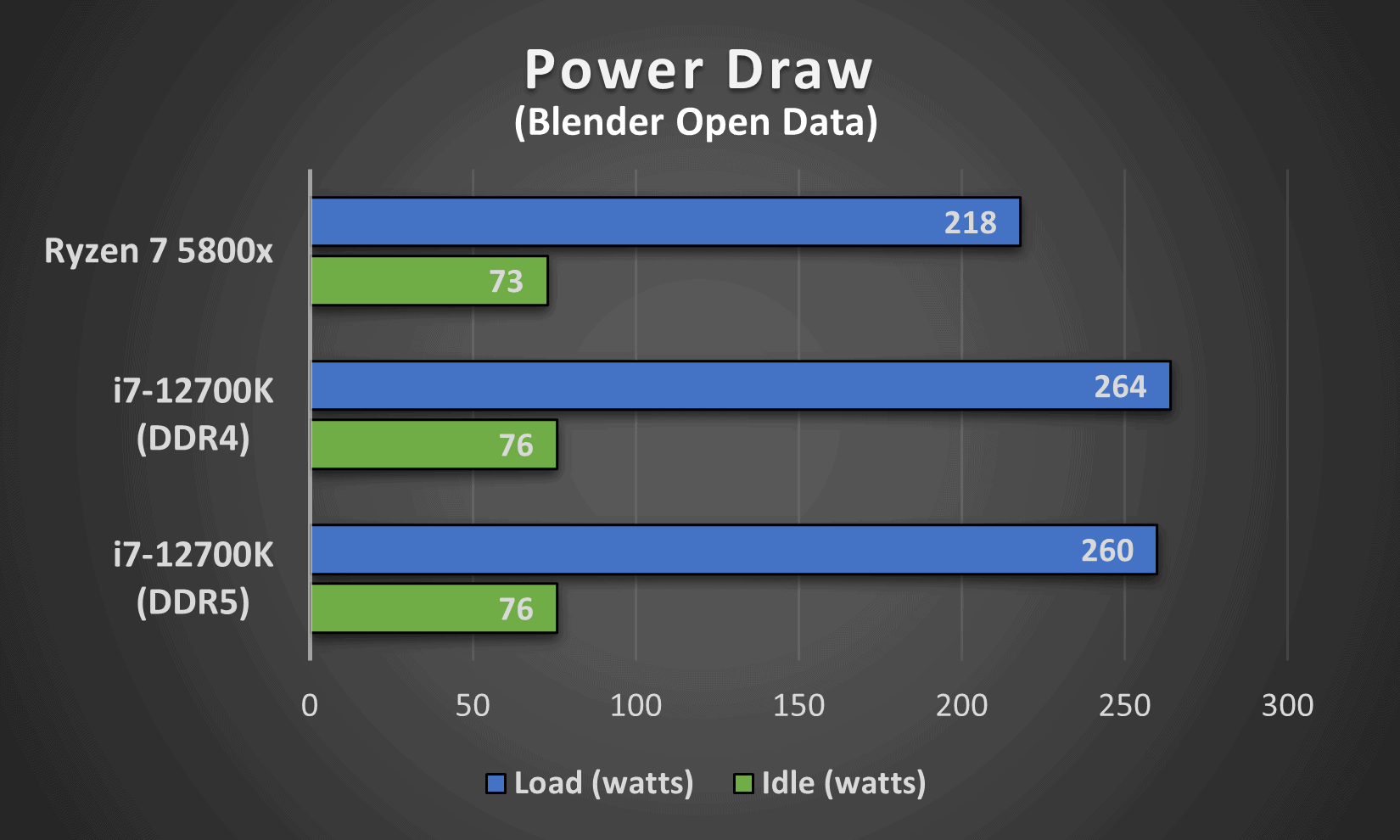 One thing is for sure; you'll need a beefy power supply to provide the Alder Lake 12700K with adequate power.
CPU And Platform Costs
As discussed earlier in our table, the 12700K was launched at $470, while the Ryzen 7 5800x was launched at an MSRP of $440. Following the launch of Intel's Alder Lake chips, however, the first move in AMD's power was to reduce the pricing of their Ryzen 5000 chips since Alder Lake proved a stiff competition.
Consequently, AMD dropped and cut the cost of this CPU by around $100. The 12th Generation 12700K's cost has seen a somewhat significant drop, too. At the moment, the 12700K retails at around $370, while the 5800x is priced at around $345. So their prices are quite similar.
There is also a question of the motherboard and DDR5 memory (Read: Best Motherboard for 12700K). In the case of AMD, you can buy a B550 motherboard for as low as $100, which gives you out-of-the-box support for Ryzen 5000 series and decent I/O capabilities. Similarly, there is also X570, for which we recommend going through B550 vs X570 Comparison.
Also Read: i9-12900k vs i7-12700k vs i5-12600k
You can also upgrade to the 5000 series on an older 3000 series supporting board which is far cheaper. On the other hand, a B660 motherboard with decent I/O capabilities will set you back $140 at the lowest, on which you get no CPU overclocking support either. DDR5 memory isn't a considerable choice since it provides you with little to no benefits in gaming or productivity, as seen in our tests. With that being said, if you opt for DDR5 memory, you will be spending a lot more on your motherboard and the memory itself.
Price-To-Performance Ratio
Now that we're done discussing the performance and prices of Core i7-12700k vs Ryzen 7 5800x, we can compare their price-to-performance ratios.
The i7-12700K gives you vastly better productivity performance, but gaming performance isn't really "significantly better" when compared to the Ryzen chip. Moreover, the 12700K runs much hotter and draws considerably more power.
Hence, the i7-12700K gives you much better price-to-performance for productivity performance, but the honors are quite even in terms of gaming. This is based on the CPU's cost, though, and it's important to keep in mind that a PC with this Alder Lake platform will set you back more as compared to Ryzen.
The Ryzen 7 5800x delivers awe-inspiring gaming performance at a somewhat lower price as compared to the 12700K. It also saves you costs on power, and you don't need a very beefy cooler to support it, as opposed to the 12700K. If you go with i7-12700k though, check out our Coolers For i7-12700k Article.
Productivity performance is quite lackluster, though, and the 12700K took a strong lead in every productivity test and benchmark. So, again, you're looking for a CPU purely for gaming, the 12700K vs 5800x competition is quite even in terms of price-to-performance. But in productivity performance, the price-to-performance ratio is not so impressive.
Verdict i7-12700K Vs Ryzen 7 5800x
Having discussed the important and necessary factors that differentiate 12700K vs 5800x, let us sum things up to help you decide which CPU you should choose.
Why Choose i7 12700K?
The 12700K provides incredible gaming and productivity performance in the mid-to-high range. It also brings us DDR5 support and PCIe 5.0 with the 600 series chipset platform. With that being said, its power consumption is on the higher side and it also runs much hotter, crossing the 80 degrees Celsius mark, despite being cooled by a 280mm AIO cooler.
Similar Comparisons: Core i5-12600k Vs Ryzen 7 5800x
So, in conclusion, the 12700K should be your choice if you want the best productivity performance and also if you want futureproof DDR5 memory, along with PCIe 5.0. If you need a CPU for gaming as well as rendering-based work, the 12700K is, again, the best choice.
Why Choose Ryzen 7 5800x?
The Ryzen 7 5800x is a solid competitor in terms of gaming performance.
It falls slightly short of the 12700K in gaming performance but then its also slightly cheaper.
Productivity performance isn't very impressive compared to the 12700K. It saves you on power consumption and an expensive CPU cooling solution.
Therefore, you should opt for the Ryzen 7 5800x if you're only interested in gaming, and don't have the budget for a more expensive cooler.
Frequently Asked Questions
Is the i7 12700K better than the Ryzen 7 5800x?
The i7 12700K is much better than the Ryzen 7 5800x in terms of productivity performance, and marginally better in gaming performance. The 12700K also gives you DDR5 and PCIe 5.0 support, which the 5800x does not have.
Do I need to buy DDR5 memory for my i7 12700K?
No. DDR5 memory is not necessary for any Alder Lake CPU. Intel's 600 series chipset boards come with either DDR4 or DDR5 support, so you can choose a DDR4 motherboard to run DDR4 memory.
Do I need a Z690 motherboard for my i7 12700K?
No. You can run the i7 12700K on any 600 series chipset motherboard. However, you can only overclock the unlocked 12700K on a Z690 motherboard.
Which AMD CPU competes with 12700K in productivity performance?
AMD's Ryzen 9 5900x is more neck in neck with the 12700K in terms of productivity performance.
---
More From Ryzen 7 5800X
Was our article helpful? 👨‍💻
Thank you! Please share your positive feedback. 🔋
How could we improve this post? Please Help us. 😔