Both the Ryzen 7 5800X vs Ryzen 9 5900x are amazing processors, but one is certainly better than the other. In this battle, we are going to compare both processors in detail to help you make the right decision. If you were looking to compare 5800x with another CPU, you should check out our Ryzen 7 5800x vs Ryzen 7 5700G comparison.
---
Key Takeaways
Regarding gaming, the Ryzen 9 5900x offers higher fps in both 4k and 1080 resolution and does not heat up compared to the Ryzen 7 5800x.
When it comes to rendering and video editing with professional tools, the Ryzen 9 5900x again trumps Ryzen 7 5800x by running 30 times faster.
Ryzen 7 5800x has proven to be more energy-efficient in this test, with 11% less power usage.
The Ryzen 9 5900x has an MSRP of $549, making it costlier than the Ryzen 7 5800x, which has an MSRP of $449.
Both CPUs share a dual-channel DDR4 RAM of 64GB.
---
Comparison Table
Similarities In Specifications
As said earlier, you will find more similarities in these two processors than you will find differences. First off, you can see that they are both built on the same Zen 3 architecture that offers increased performance per cycle over Zen 2 architecture. It also offers better power efficiency and much lower latency in various micro-processes.
They have the same transistors because they are built with a 7 nm process size. The die size of 81 mm² is the same on both CPUs, and they are both manufactured at TSMC foundry. The L1 and L2 cache speeds are identical on both AMD processors, and both support DDR4 RAM.
Also Read: Intel i7-12700k vs Ryzen 7 5800x
We wouldn't consider their base and boosted clock speeds to be different either because the difference isn't significant. In fact, the base clock of 3.7 GHz on 5800x and 3.8 GHz on 5900x shows a negligible difference. The same goes for their boosted clock speeds, max out at 4.7 GHz and 4.8 GHz on 5800x and 5900x, respectively.
The two processors have the same TDP rating of 105 W and tCaseMax temperatures of 95 degrees Celsius. Last but not least, Ryzen 7 5800x and Ryzen 9 5900x will take up the PCIe 4.0 slot in your CPU case. On a side note, always make sure to check the thermal paste on your CPU if it's always running hot. Here's a guide on how you can remove the old thermal paste and apply a new one.
Differences In Specifications
When discussing the differences between Ryzen 7 5800x vs Ryzen 9 5900x, you should focus on the number of cores. That's probably the main and only reason AMD Ryzen 9 5900x is considered a better processor than Ryzen 7 5800x. The other differences either don't exist or are very negligible.
With 5900x, you get an opulent 12-core chip compared to an 8-core chip on Ryzen 7 5800x. Since you are getting more cores on Ryzen 9 5900x, you will automatically get more threads.
The Ryzen 9 5900x processor offers you 24 threads, which means you have 2 threads on each core. On the other hand, you can apply the same formula on Ryzen 7 5800x, and you will get 16 threads on this processor.
The other differences aren't that huge or won't really make you fall for one against the other in any way. For example, Ryzen 9 5900x can go from 3.7 GHz to a boosted speed of 4.8 GHz, whereas Ryzen 7 5800x goes from 3.8 GHz to 4.7 GHz. Ryzen 5800x and Ryzen 5900x offer you a multiplier of 38 and 37, respectively.
Last but not least, you can say the biggest and most important difference between the two for buyers is their prices. AMD Ryzen 7 5800x was launched at a price of $449, whereas AMD Ryzen 9 5900x was launched at a price of $549. Is that price difference enough for you to go for one or the other?
Ryzen 7 5800x Vs Ryzen 9 5900x Benchmarks
So, it's one thing to be better on paper and another to be better in benchmarks. If you want to pick a card to play games, it would be better to look at its real-world performance rather than just believing the spec sheet. It is quite clear from the specifications that Ryzen 7 5800x and Ryzen 9 5900x aren't too different from each other except for the number of cores and threads. Even the clock speeds of the processors are pretty much identical.
Having more cores on Ryzen 9 5900x might look like a great deal but are those cores really going to play a role when you are playing games? Even if they do play a role, are they going to make that much of a difference? You will soon find out when you read the results of the gaming benchmarks for both CPUs.
It is also important to note here that we have brought them head to head, not only on the basis of gaming benchmarks but also productivity-wise. Not everyone is a gamer, so you have to know their performance in terms of productivity before you decide on for your content creation tasks.
Gaming Benchmarks
We've tested the two processors from AMD in 7 different games. In each test, we first looked at their performance at 1080p resolution and then at 1440p. The settings inside the games are kept at their highest possible level. Of course, the GPU plays some role, but since the rig remains the same for both, the final outcome will show which processor is better.
Another important thing to note here is that you won't see any Ryzen 7 5800x vs Ryzen 9 5900x 4K benchmarks because that's when the GPU will take over, and the processors won't be doing that much. So, without further ado, let's get into the gaming benchmarks of the two processors.
Hardware for Gamers from YouTube will make these benchmarks possible for us. The main rig remains the same for both CPUs, and here's what's being used.
Testing System
OS: Windows 10 Pro
CPU 1: Ryzen 7 5800X
CPU 2: Ryzen 9 5900X
GPU: RTX 3090 Manli 24GB
CPU Cooler: AIO Enermax Liqmax III ARGB
RAM: Crucial RAM 16 GB (2×8) Dual Channel 3600 Mhz
Hard Disk: Samsung SSD 970 Evo
Motherboard: MSI Gaming Pro X570
Power Supply: Gigabyte P850GM 850W
Case: Inter-tech C 701 Panorama ATX, Tempered Gl
Case Fans: Miwatt RGB Series
Far Cry 6
1080p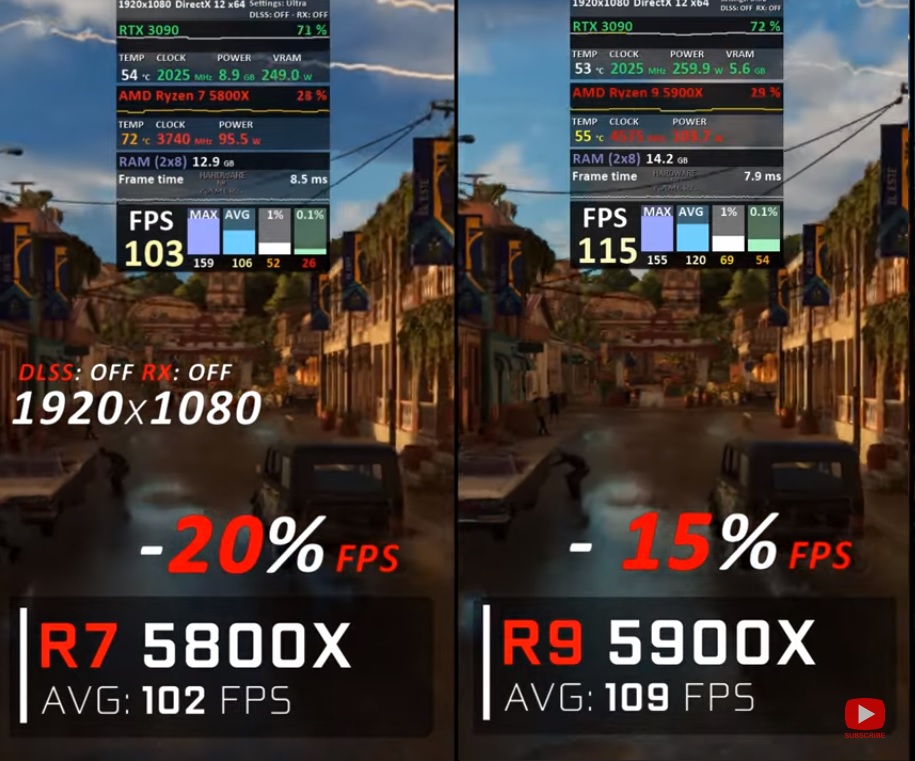 AMD Ryzen 7 5800x does an impressive job by producing 102 FPS on average.
AMD Ryzen 9 5900x is much better as it offers 109 FPS on average.
Temperatures are worrying on Ryzen 7 5800x, going above 72 degrees Celsius.
The temperature on the Ryzen 9 5900x chip is no threat at 55 degrees Celsius.
1440p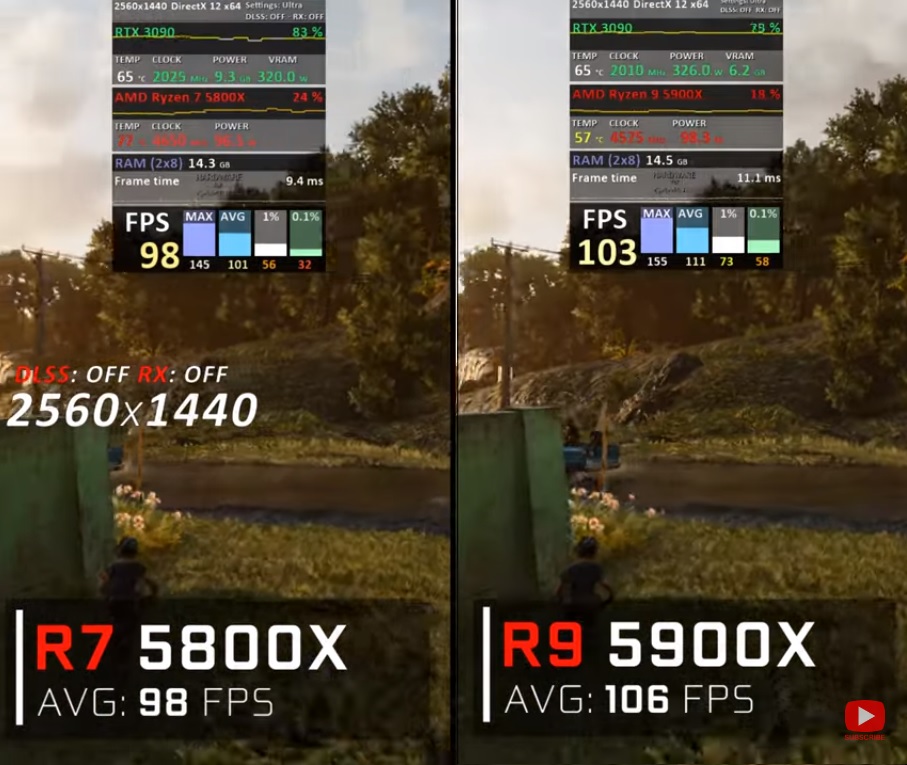 The average FPS from Ryzen 7 5800x continues to linger around 98.
Ryzen 9 5900x is going impressively, offering 106 FPS.
The temperature of 77 degrees on the Ryzen 7 5800x is very concerning.
Ryzen 9 5900x is chilling at 57 degrees Celsius despite producing a better frame rate.
Forza Horizon 5
1080p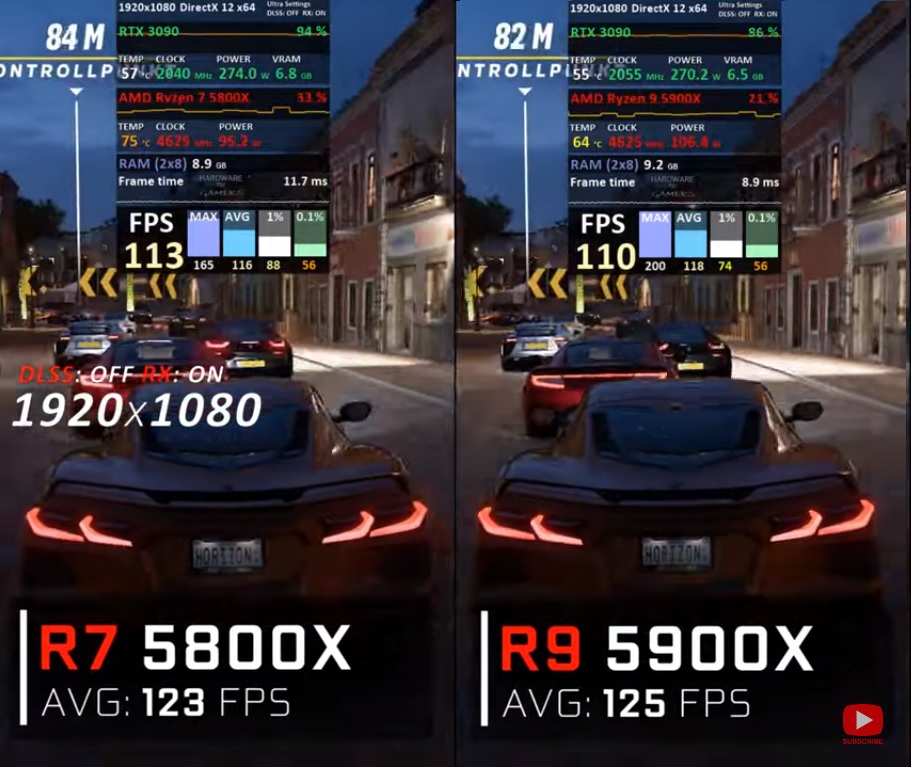 Ryzen 7 5800x is giving Ryzen 9 5900x a run for its money by offering 123 FPS.
Ryzen 9 5900x is only slightly better at 125 FPS.
Temperatures continue to be a concerning factor for Ryzen 7 5800x users.
Low 0.1% is identical on both CPUs, which is a bit disappointing from Ryzen 9 5900x.
1440p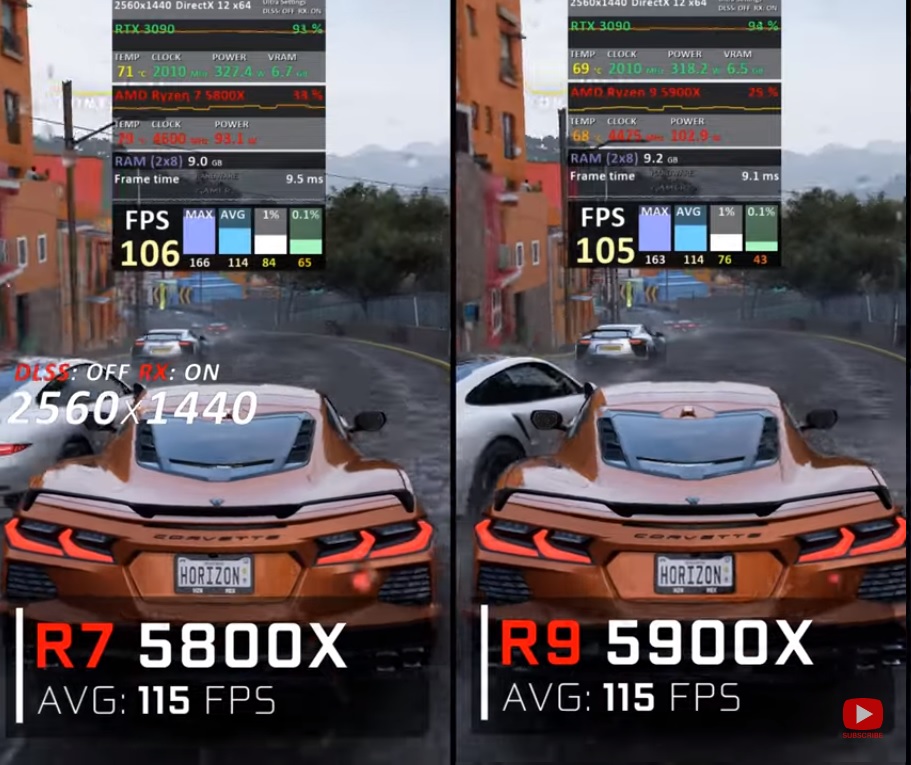 The average FPS of 115 is the same on both processors, technically giving Ryzen 7 5800x an edge.
Even a Low 0.1% is much better on Ryzen 7 5800x at 65 FPS, whereas the same is at 43 on Ryzen 9 5900x.
Surprisingly, 5800x has given 3 more frames than 5900x on the maximum FPS score.
Temperatures on 5800x went beyond 80 degrees Celsius several times, which can be worrying.
Similar Comparisons: Ryzen 7 5800X3D vs Ryzen 9 5900X
New World
1080p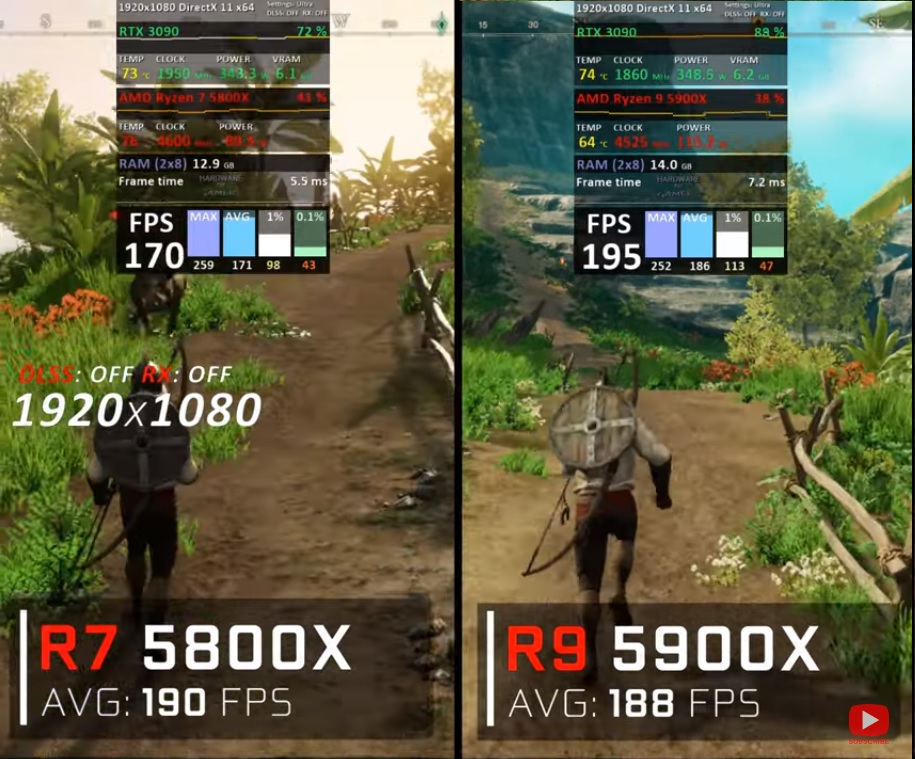 It might come as a shock but 5800x has 2 more frames to offer every second than 5900x.
Reaching a maximum FPS of 259 is phenomenal for the underdog i.e. Ryzen 7 5800x.
Low 0.1% is in the 40s for both CPUs, which is underwhelming for their prices.
Ryzen 7 5800x is running 12 degrees hotter than Ryzen 9 5900x at 76 degrees Celsius.
1440p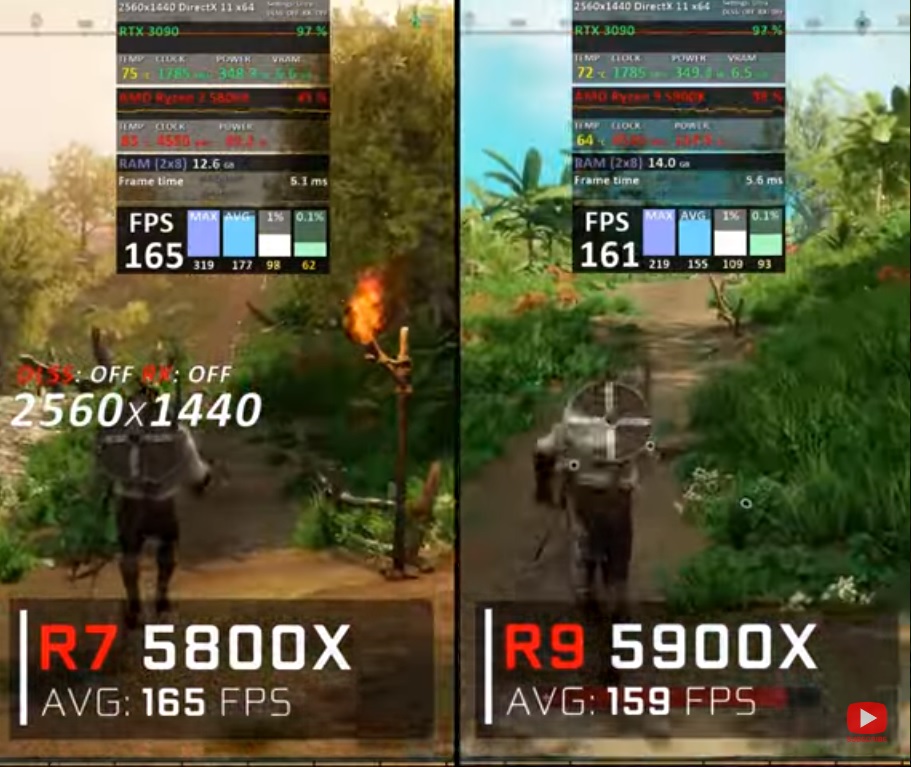 It continued to get worse for 5900x in this test as it scored only 159 FPS against 5800x's 165 FPS on average.
Ryzen 9 5900x did bring some heat back at 5800x with a Low 0.1% of 93, while 5800x was very disappointing with a 0.1% Low of just 62 FPS.
A maximum FPS of 319 on 5800x might seem great, but it's a huge concern considering the Low 0.1% of 62 FPS i.e. too much fluctuation in performance.
A temperature of 83 degrees Celsius on 5800x versus 64 degrees on 5900x gave us a clear picture of how 5800x was performing so well.
Fortnite
1080p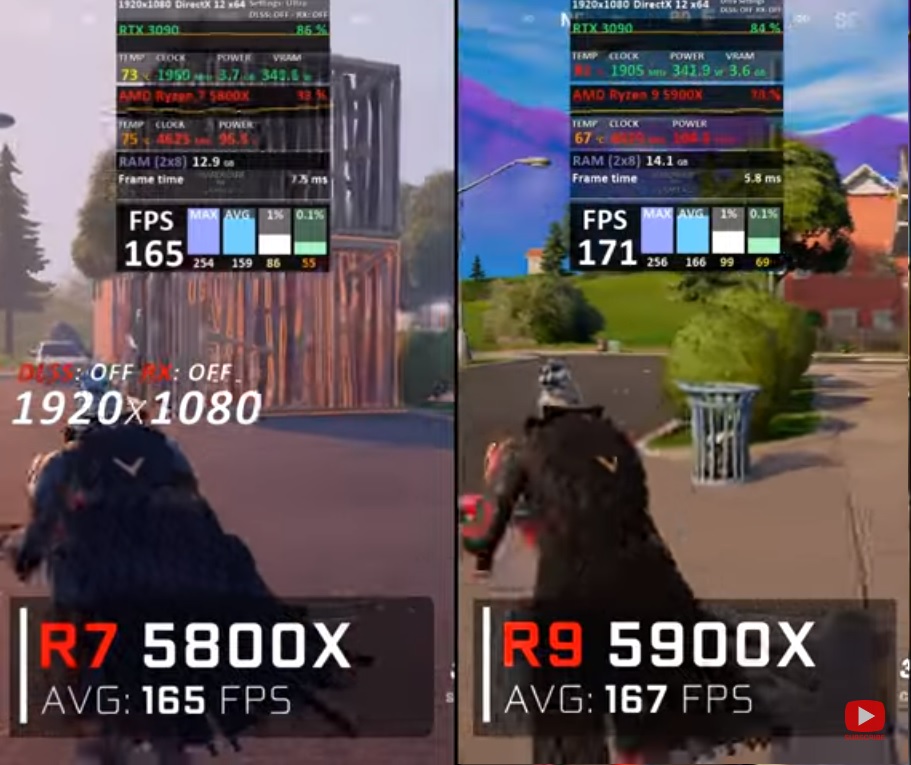 The average FPS on 5900x and 5800x is 167 and 165, respectively, which means no big difference.
5900x is more consistent with a higher Low of 0.1% and Low 1%.
Ryzen 9 5900x is drawing slightly more than 100 W power, and 5800x isn't far behind.
Ryzen 9 5900x is more energy-efficient, operating at 67 degrees compared to 5800x's 75 degrees Celsius.
1440p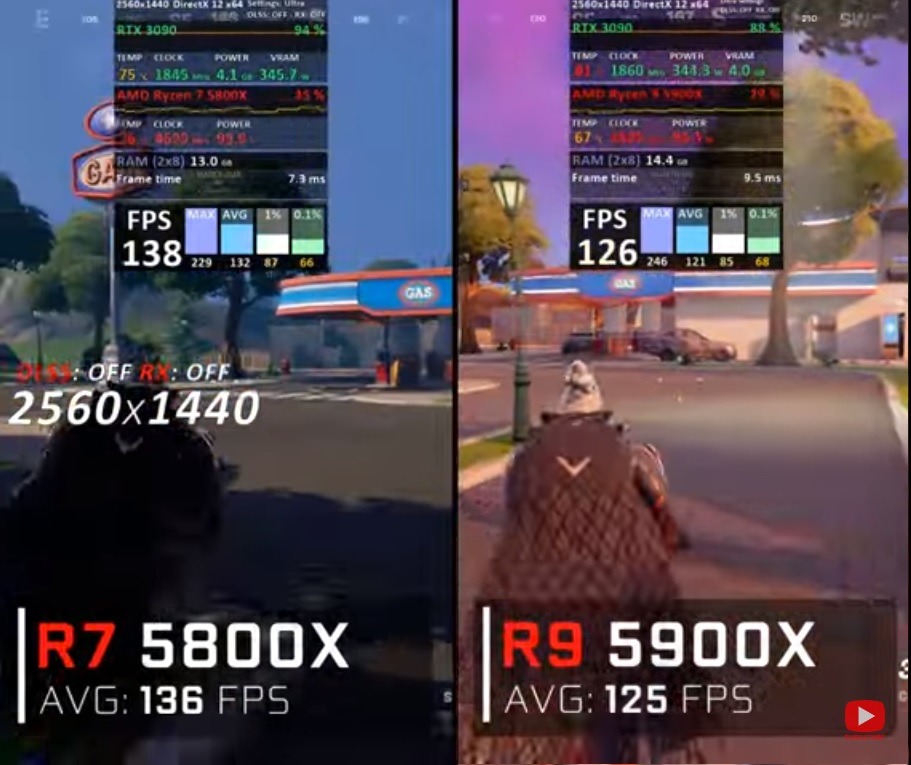 Ryzen 7 5800x just beat Ryzen 9 5900x by producing 11 more frames per second on average i.e. 136 FPS vs 125 FPS
Low 0.1% and Low 1% are also quite similar on both CPUs
Power consumption is quite similar on both processors
The temperature has come out to be a common problem for 5800x in all the games, and nothing has changed in this Fortnite 1440p gaming benchmark either
GTA V
1080p
The higher price of the Ryzen 9 5900x is in question as its performance is very similar to that of 5800x in GTA V.
Both CPUs were able to produce 128 frames every second in this benchmark.
A Low 1% is better on 5800x, whereas a Low 0.1% is better on 5900x but only slightly.
Ryzen 9 5900x is way cooler at 58 degrees Celsius, whereas Ryzen 7 5800x is a bit hot at 75 degrees Celsius.
1440p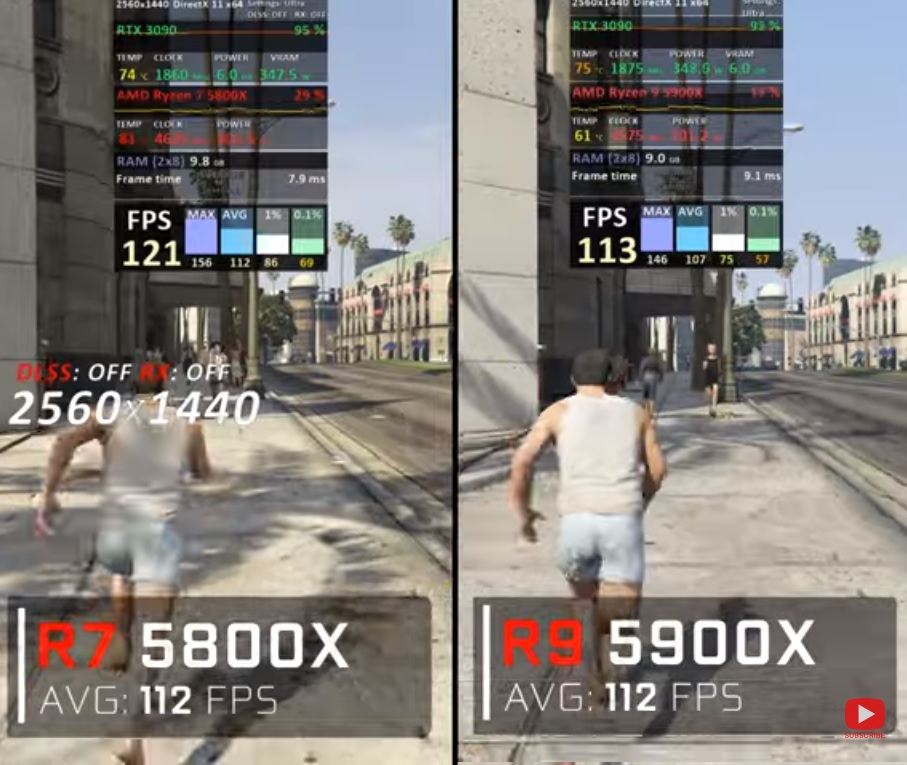 Ryzen 9 5900x wasn't able to make a return, and performances remain similar on both CPUs, even at 1440p.
Low 0.1% and Low 1% are better on Ryzen 7 5800x.
5900x drawing close to 90 W power compared to 5800x's 69 W.
5800x is the clear winner in this test but only falls short by running too hot at above 80 degrees Celsius.
Also Check: Ryzen 9 3900x vs Ryzen 9 5900x
Age Of Empires 4
1080p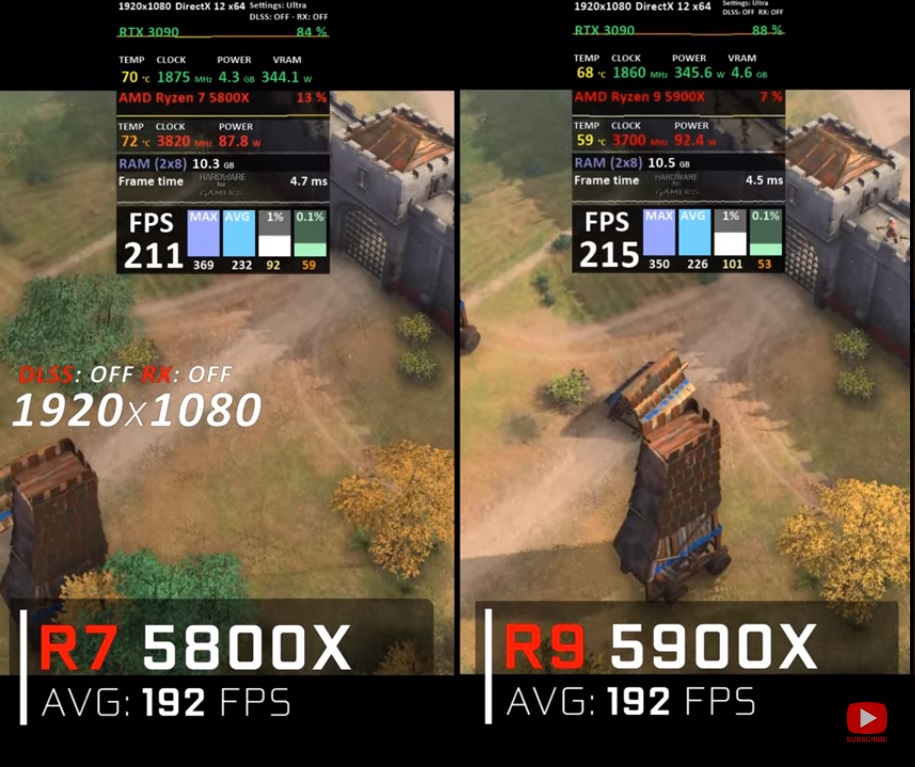 Age of Empires 4 isn't a graphics-intensive game, so overall frame rate production on both CPUs is great.
An average of 192 FPS on both processors is great, but Low 1% and Low 0.1% aren't great.
The power draw is quite similar, with the Ryzen 9 5900x drawing 5 W more at 93 Watts.
Nothing changed on the temperature front as Ryzen 7 5800x is still hotter than 70 degrees Celsius, whereas 5900x isn't even feeling the heat at 59 degrees Celsius.
1440p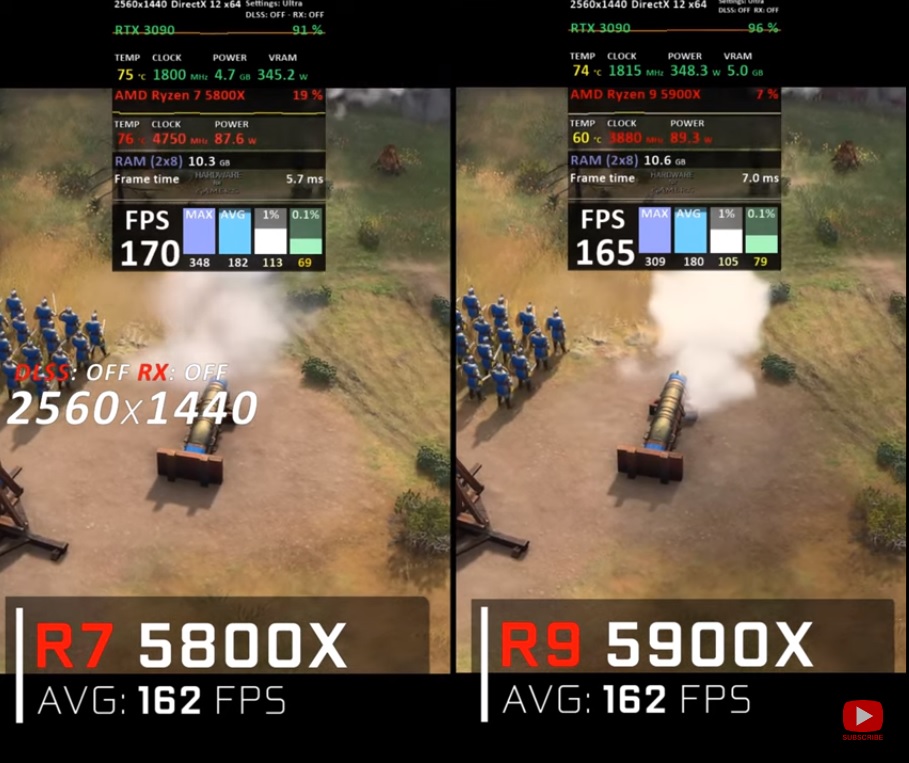 The performance from both CPUs is still great at 1440p as both offer 162 FPS at this resolution.
The power draw is quite identical too.
Low 1% is only 105 on Ryzen 9 5900x compared to 113 on Ryzen 7 5800x.
Ryzen 7 5800x is 16 degrees hotter than Ryzen 9 5900x, which is concerning because the performance and power consumption are similar too.
Hitman 3
1080p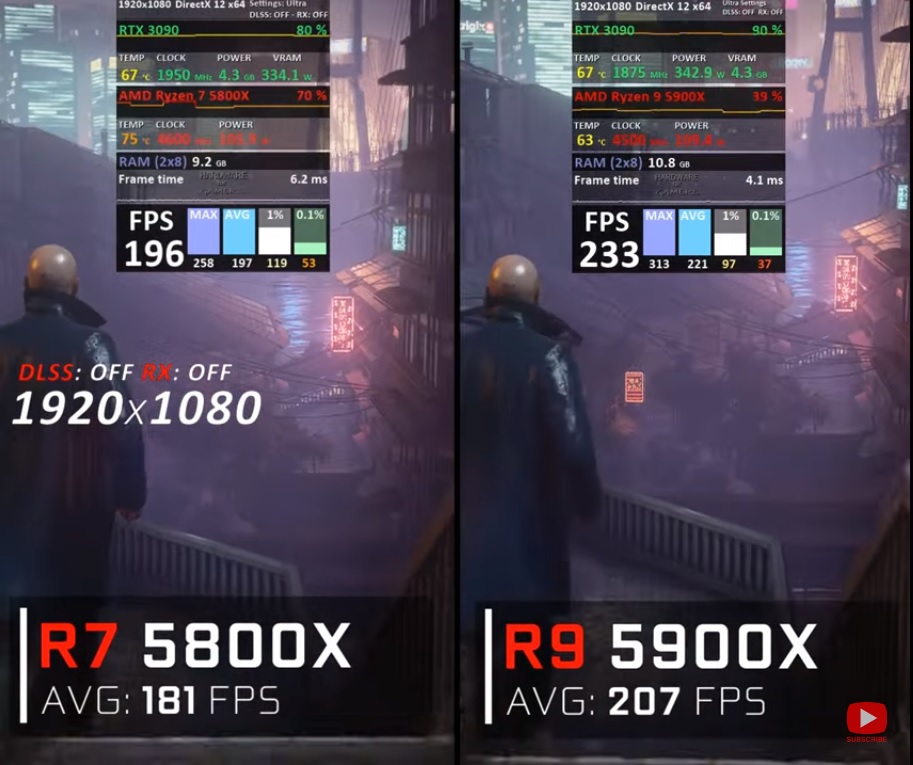 Finally, 5900x redeems itself by offering 207 FPS compared to only 181 FPS on 5800x.
Unfortunately, the Low 0.1% is very disappointing on 5900x at just 37 FPS.
Both processors use similar power from the motherboard.
Yet again, Ryzen 7 5800x is running hotter at 75 degrees Celsius, which is 12 degrees hotter than Ryzen 9 5900x.
1440p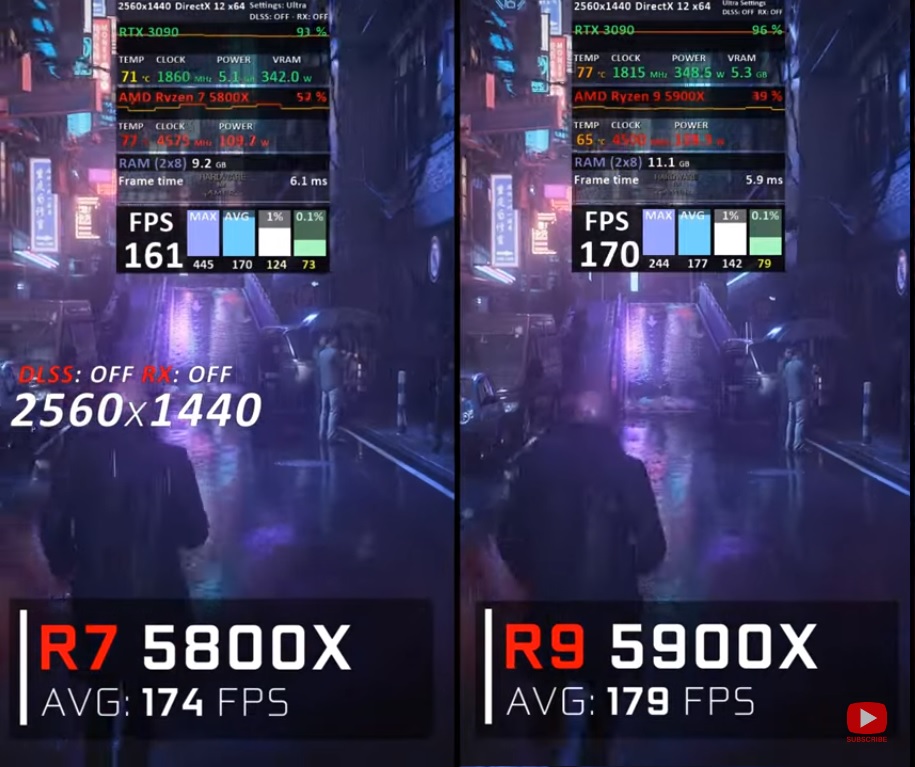 Ryzen 9 5900x is the better performer in Hitman 3 1440p benchmarks by offering 179 FPS compared to 174 FPS on 5800x, which is a very small difference.
Both Low 0.1% and 1% are better on 5900x.
We can't discount anything for 5800x because the power consumption on both CPUs was the same.
Despite a similar power draw, 5900x ran at 65 degrees, whereas 5800x was way hotter at 77 degrees.
Overall Gaming Performance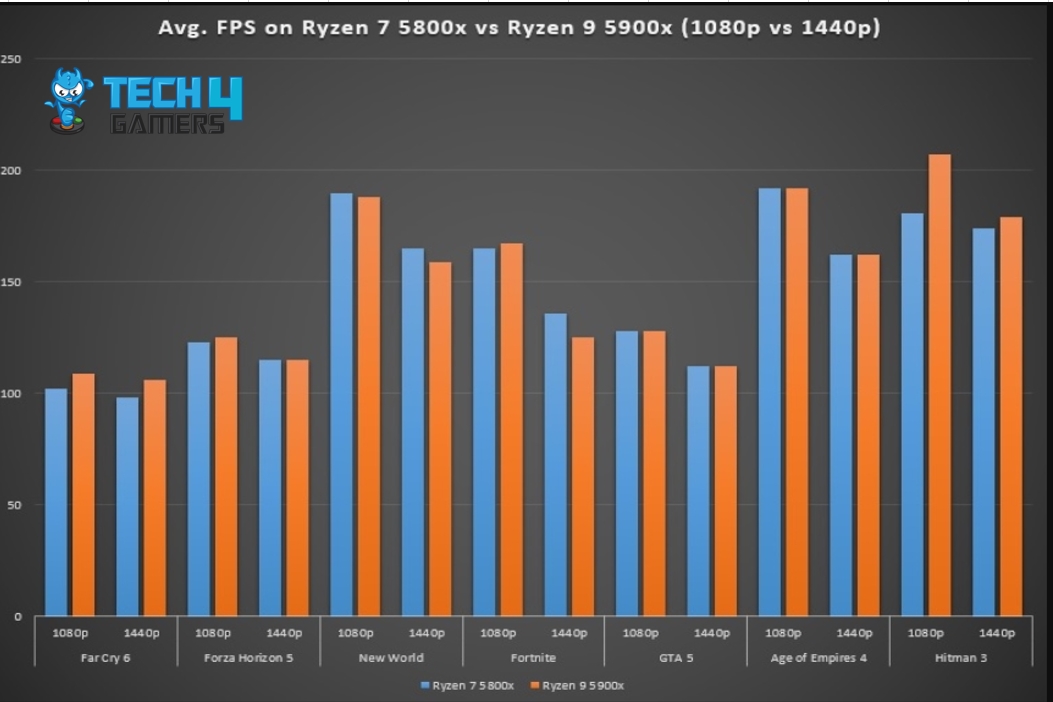 We went deep into the Ryzen 7 5800x vs Ryzen 9 5900x
gaming benchmarks
, and certain things definitely became clearer. Based on the
overall frame production
, we didn't see 5900x doing what most gamers would have expected it to do. The performance of
both CPUs is quite similar
.
What's more interesting and also shocking is that 5800x was able to surpass 5900x in many games. You could put the results of these benchmarks in 3 different categories. First, the results wherein 5900x was only slightly better. Two, the results in which 5800x was as good as 5900x. Three results in which 5800x was the better performer.
Also Read: i9-12900K vs Ryzen 9 5900X
Hitman 3, played at 1080p, was the only instance where AMD Ryzen 9 5900x could justify its higher price and the hype it is surrounded by. New World, GTA V, and Fortnite were among the games in which Ryzen 7 5800x was either better or quite head to head with Ryzen 9 5900x.
If we calculate the FPS averages of all the games played on both resolutions, we come to about 146 FPS for Ryzen 7 5800x and 148 FPS for Ryzen 9 5900x. That's not a big difference if any at all.
Thermal Efficiency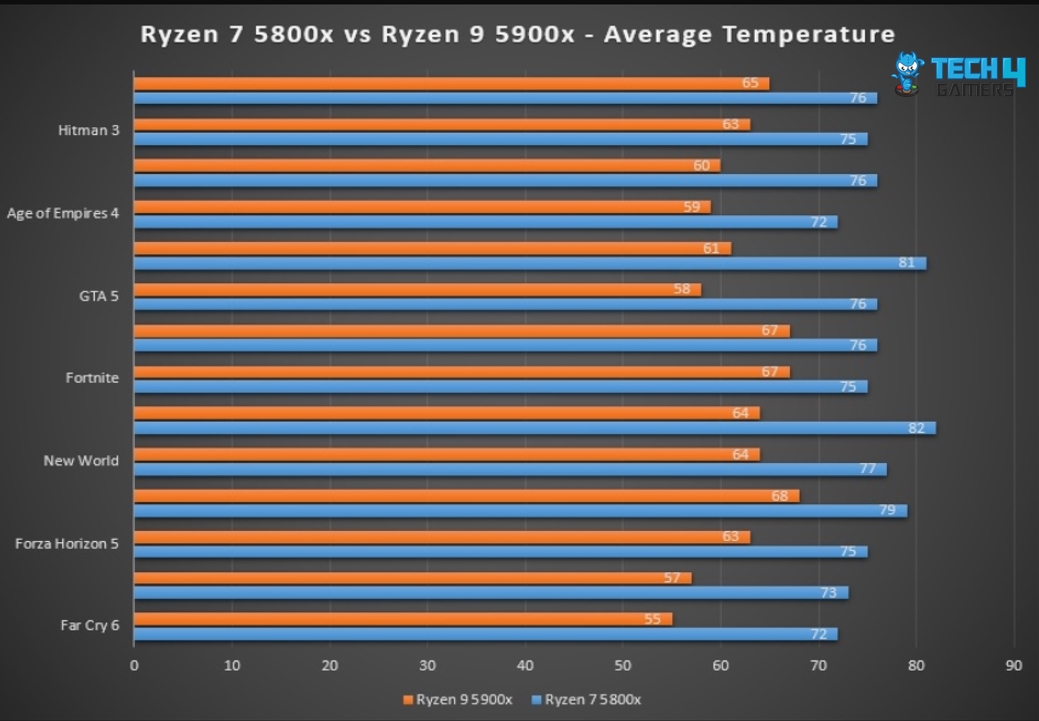 This is where you see a
clear difference in the performance
of the two CPUs. Perhaps, that's what AMD was thinking while launching two different models of its CPUs based on the Zen 3 architecture.
When you look at the production of frames in the 7 games we tested, there isn't much difference. In fact, if you were to compete with your friend who had a 5900x, you would call yourself the winner at the end of such benchmarks. It's not just the price difference, but there is a clear upper hand for 5900x in terms of threads and cores.
Throughout the gaming benchmarks, Ryzen 7 5800x was always hotter, and the temperature difference wasn't small. Upon calculation, we can clearly see that Ryzen 9 5900x was somewhere around 62 degrees Celsius.
On the other hand, Ryzen 7 5800x was close to an average temperature of 76 degrees Celsius after testing the two CPUs in 7 different games at 2 different resolutions. That's nearly 20% hotter in overall gaming performance.
This could turn into you spending more money on cooling your case and CPU, for that matter. At the same time, you'll always have to keep an eye on the temperature of your Ryzen 5800x while playing games, while none of that would be a concern for those who have 5900x.
If you are looking for coolers for your personal computers, you definitely want to check out our page dedicated to CPU coolers.
Productivity Benchmarks
It is clear from the gaming benchmarks that you won't be making a mistake if you go with 5800x for your personal computer. However, if the gaming world isn't for you and you are more about productivity, then it makes sense that we run these two processors through some Ryzen 7 5800x vs Ryzen 9 5900x productivity tests. In case you want to read something about Intel, check heck out this amazing face-off between Ryzen 9 7900x vs Core i9 13900K and their productivity benchmarks.
How would two AMD processors perform against each other in our productivity tests? Let's take a look. We'll use the productivity benchmark tests from PC Benchmark for this section. Here's the setup they are using.
CPU 1: Ryzen 9 5900x
CPU 2: Ryzen 7 5800x
Motherboard: MSI X570 Mobo
RAM: 2×16 GB DDR4 3200 MHz
GPU: Nvidia RTX 3080
Cinebench R20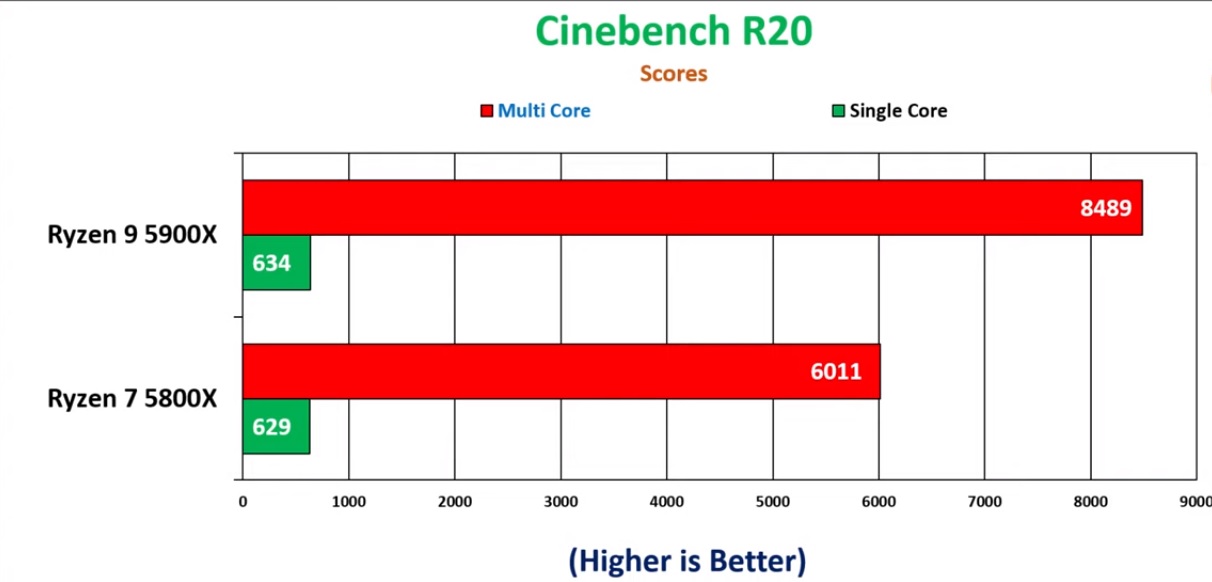 Cinebench R20 is designed to test the powers of a CPU and rank it based on its single-core and multi-core performance.
Single-core performance on Ryzen 7 5800x and Ryzen 9 5900x are quite similar, with the latter being only 5 points higher with a score of 634.
Ryzen 7 5800x has a multi-core score of 6011 compared to Ryzen 9 5900x's 8489.
The improvement in performance for Ryzen 9 5900x is more than 41%.
7-Zip File Manager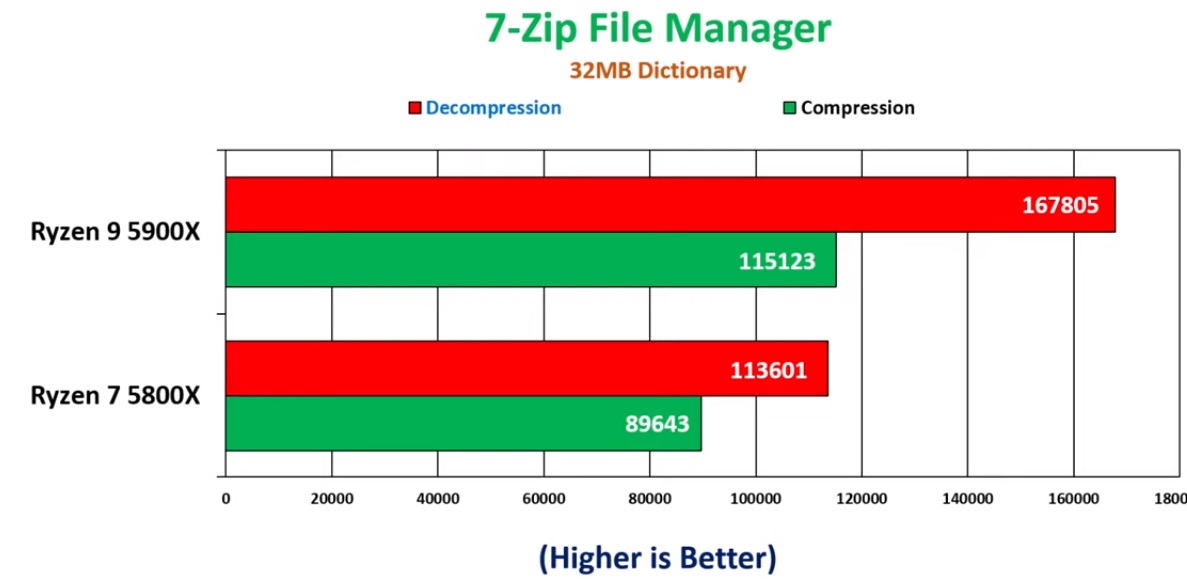 This benchmark will test both AMD CPUs based on how fast they compress and decompress a collection of files that's 32 MB.
Ryzen 7 5800x scores 89643 on compression compared to Ryzen 9 5900x's score of 115123.
The decompression score on Ryzen 7 5800x is 113601, whereas it's 167805 on Ryzen 9 5900x.
Ryzen 9 5900x offers over 28% and 47% performance improvement over Ryzen 7 5800x on compression and decompression, respectively.
Adobe Premiere Pro CC
This test will see how long it takes for each CPU to export a 4K YouTube video, so the one that takes less time wins.
Ryzen 5800x completes the task in 2210 seconds.
Ryzen 5900x takes only 1875 seconds to complete the same job.
Ryzen 5900x is offering a nearly 18% improvement in performing this task over 5800x.
Blender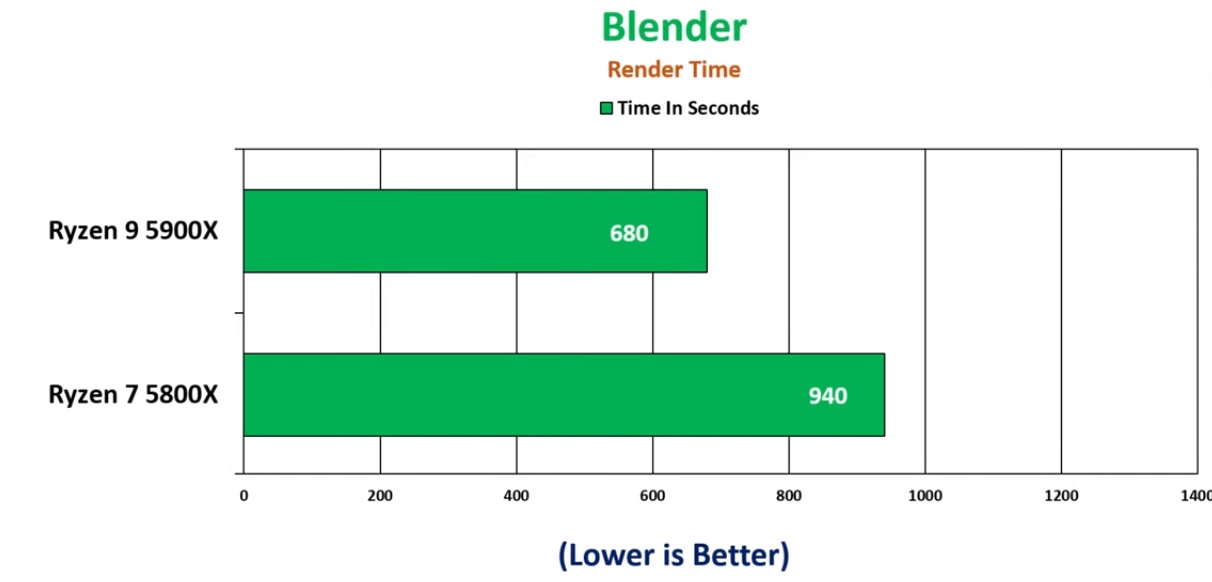 This benchmark will put both CPUs to the test in terms of their speed at rendering a 3D sample, so the one taking fewer seconds will win.
While using Blender on Ryzen 7 5800x, it took 940 seconds to render the 3D sample.
Using Blender on Ryzen 9 5900x allowed us to complete the same task in 680 seconds.
Ryzen 9 5900x has offered us a nearly 28% improved rendering speed over Ryzen 7 5800x.
Similar Comparisons: i7-13700K Vs Ryzen 9 7900X
Corona 1.3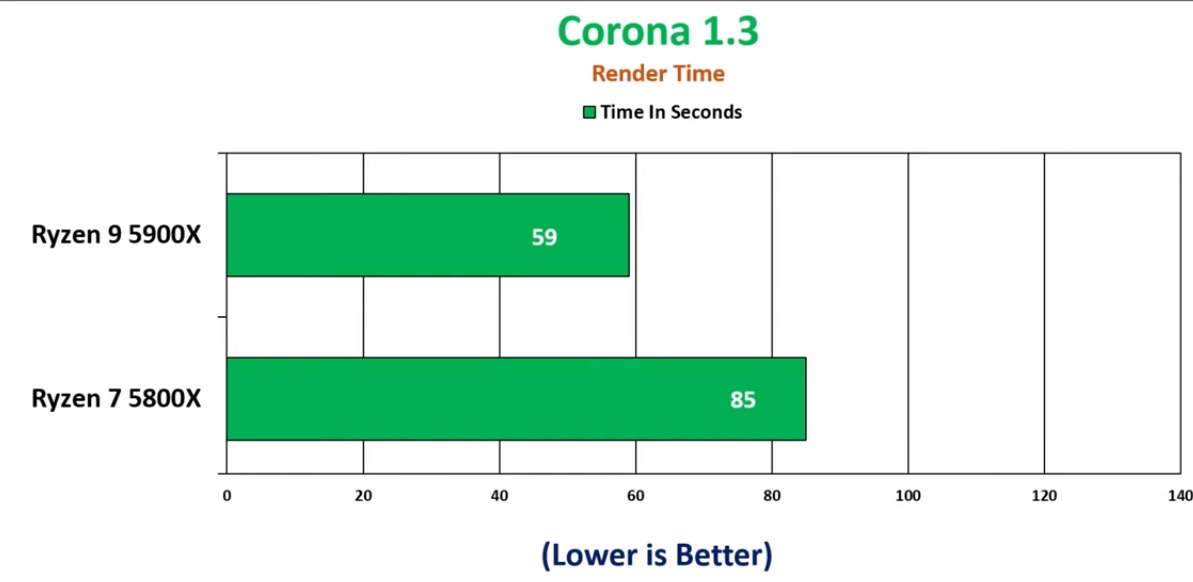 Corona 1.3 is a rendering engine, and people use it for adding realism to their 3D creations.
A rendering task performed on Corona 1.3 with Ryzen 7 5800x as the CPU resulted in 85 seconds of work.
The same computer setup with Ryzen 9 5900x completes the same rendering task in only 59 seconds.
The improved speed tells us Ryzen 9 5900x is more than 30% faster than Ryzen 7 5800x in such rendering tasks.
Handbrake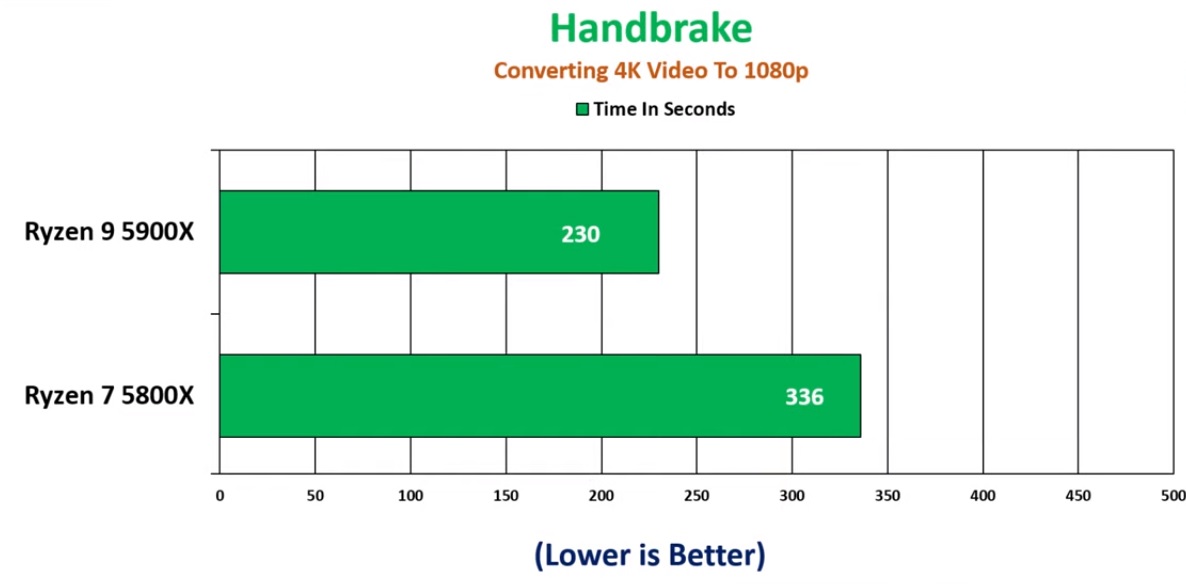 This benchmark test involves converting a 4K video to a 1080p video, so the processor that performs the task faster wins.
AMD Ryzen 7 5800x takes 336 minutes to complete this conversion.
AMD Ryzen 9 5900x takes only 230 seconds to perform this conversion.
AMD Ryzen 9 5900x is nearly 32% faster when converting video than Ryzen 7 5800x.
Power Consumption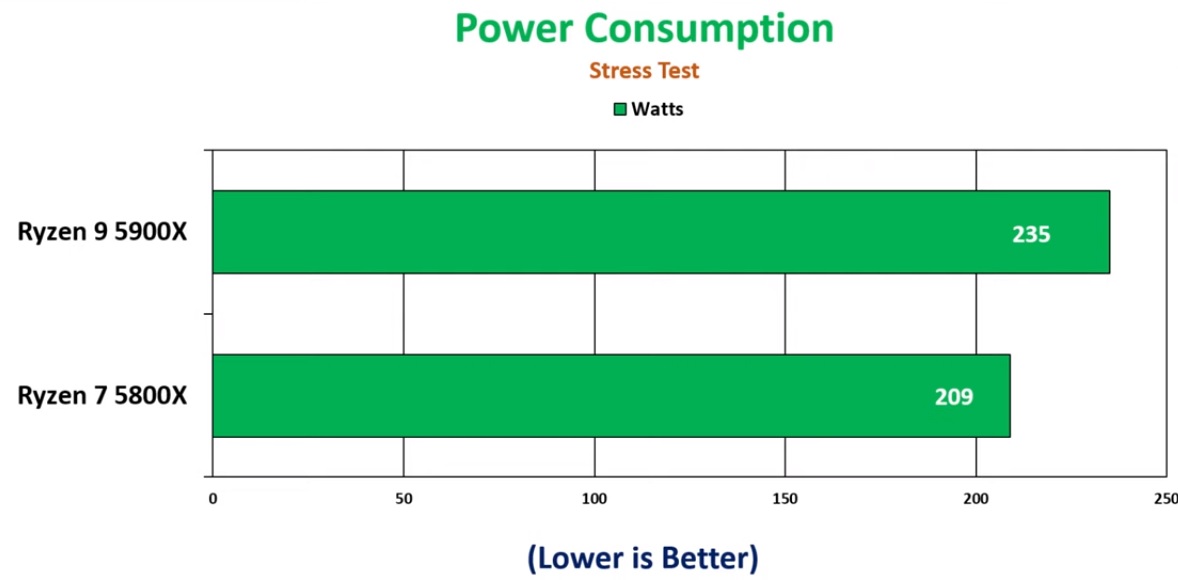 This is a stress test for both CPUs to see which one consumes less power and is more energy-efficient.
In this stress test to check power consumption, Ryzen 7 5800x consumes only 209 Watts.
Under the same stress, Ryzen 9 5900x draws 235 Watts from its motherboard.
Ryzen 7 5800x has proven to be more energy-efficient in this test, with 11% less power usage.
Overall Productivity Performance
These Ryzen 7 5800x vs Ryzen 9 5900x productivity tests proved to be a saving grace for Ryzen 9 5900x, considering the disappointing show it had put up against Ryzen 7 5800x in the gaming benchmarks. These tests proved that there is truth to a processor's performance being better if it has more cores and threads.
The overall performance in all the tests performed favored Ryzen 9 5900x. In some tests, the margins were huge; in others, they were just alright. However, it was a clear win for Ryzen 9 5900x over Ryzen 7 5800x.
There was a little upset, though. It was when we stress-tested both processors, and Ryzen 7 5800x came out as the winner with 11% improved energy efficiency. In simple words, Ryzen 7 5800x was able to take the same amount of stress as Ryzen 9 5900x while consuming fewer watts.
This was the only shocking instance in the productivity benchmarks. Another highlight of these benchmark tests was the multi-core performance of Ryzen 9 5900x in which its multi-core score was 41% better than that of Ryzen 7 5800x. When we consider all the results from these tests, it can be safely said that Ryzen 9 5900x can offer you anywhere from 20% to 50% improved speed and performance over Ryzen 7 5800x in productivity tasks.
Pricing And Availability
The first thing to note in the pricing of the two processors is that Ryzen 7 5800x was launched at only $449, which was $100 less than the price of Ryzen 9 5900x at that time. This price difference showed that Ryzen 7 5800x would be the underdog and that Ryzen 9 5900x had a clear upper hand.
The gaming tests and benchmarks have proven otherwise. Upon checking the prices of both CPUs on Amazon, it was evident that Ryzen 7 5800x was still the cheaper one out of the two. Amazon lists options starting as low as $239. However, the problem that soon became clear after some research was that the Ryzen 7 5800x had become a novelty.
It will be hard to find it on the market right now. If you are able to get your hands on one on any platform, such as eBay, you must prepare to spend anywhere from $230 to $240 on this processor. However, consider yourself lucky if you are able to find one.
On the other hand, you have AMD Ryzen 9 5900x, which is also quite elusive nowadays, but not as much as Ryzen 7 5800x. You can find 5900x in the range of $340 to $360. Some offers are a bit expensive and probably take advantage of the shortage of these processors in the market.
If you can't find this chip and aren't willing to spend more than what you have, you can try Ryzen 5 5600x too. It is an affordable option with great performance. Check out this Ryzen 5 7600x vs Ryzen 5 5600x comparison to know its performance statistics.
Ryzen 7 5800x Vs Ryzen 9 5900x – Which One Should You Pick?
It's always difficult to call one the clear winner over the other due to different people having different uses for their processors. When we looked at the gaming benchmarks, it became clear that Ryzen 7 5800x was the best processor out there for its price, especially considering the fact that it can be found for less than $250.
If you want to build a personal computer on a budget but are hoping for great gaming performance, then Ryzen 7 5800x is your best bet. The difference in performance is negligible, and Ryzen 7 5800x is also better than Ryzen 9 5900x in some games.
The only downside to buying Ryzen 7 5800x is dealing with higher processor temperatures–somewhere in the range of 75 degrees to 80 degrees Celsius at all times while playing games. On the contrary, Ryzen 9 5900x can deliver the same or slightly better performance at lower temperatures.
Now, it's a completely different story when you talk about productivity benchmarks. AMD Ryzen 9 5900x is the clear winner in productivity benchmarks, with performance improvements of up to 47%. Therefore, if you do animation, are a video editor, or like photo editing, you're better off buying Ryzen 9 5900x. In any case, we hope that we helped you with our Ryzen 7 5800x vs Ryzen 9 5900x comparison.
FAQs
Is Ryzen 7 5800x better than Ryzen 5900x?
In our gaming benchmarks, Ryzen 7 5800x was the winner considering its price difference from Ryzen 9 5900x.
Do Ryzen 7 5800x and Ryzen 9 5900x come with CPU coolers?
No, none of these processors from AMD come with a CPU cooler.
Does 5800x get hotter while playing games?
In our tests of 7 games at 1080p and 1440p resolutions, Ryzen 7 5800x continuously ran hotter than Ryzen 9 5900x. The difference in temperatures was easily in the range of 10 degrees to 16 degrees Celsius, with 5800x being on the hot side.
Was our article helpful? 👨‍💻
Thank you! Please share your positive feedback. 🔋
How could we improve this post? Please Help us. 😔
[Comparisons Expert]
Abdemanaf is a skilled creative writer who has been honing his craft since 2011. While initially working in different fields, he found a passion for technology and has been exploring the tech world since early 2015. Over the years, he has developed an in-depth knowledge of the latest tech trends and product offerings by various companies.
Abdemanaf's writing reflects his analytical mindset and ability to think critically. He has a knack for breaking down complex technical information into easily digestible pieces, making his articles engaging and accessible to readers from all backgrounds. In February 2022, he joined Tech4Gamers as a blog and product comparison writer, where he has been able to hone his skills further.
As a writer, Abdemanaf is dedicated to staying up-to-date with the latest technological advancements and trends, enabling him to provide readers with the most relevant and accurate information. He is always eager to learn more and is constantly seeking new challenges to improve his skills.
Get In Touch: [email protected]