Sure, AMD's brand-new Ryzen 7000 Series Processors based on the recently launched AM5 CPU Platform may have stolen the spotlight, but the Ryzen 3000 and 5000 Series CPUs still offer incredible value for money, especially nowadays, keeping in mind the discounted prices of these comparatively older processors.
That being said, for the purpose of this article, we will be focusing our attention with regards towards the Ryzen 9 3900X, based on the relatively ancient Zen 2 Matisse architecture, as opposed to the Ryzen 9 5900X, built upon the Zen 3 Vermeer Platform, with both CPUs having the AM4 Mounting Socket in common.
Both processors mirror each other as far as essential specifications are concerned, with the Ryzen 3900X and 5900X sporting 12x Cores and 24x Threads with 64 MB of L3 Cache and TDPs (Thermal Design Process) of 105W. The 3900X features Base and Turbo Clock Speeds rated at 3.8 GHz and 4.6 GHz respectively, whereas the 5900X adjusts these frequencies to 3.7 GHz and 4.8 GHz accordingly.
The major difference arises in-between the architectures of these top-of-the-line Ryzen processors, where AMD has enabled the Ryzen 9 5900X to rapidly access the L3 Cache since Zen's design algorithm allows the 5900X to access the entire 64 MBs of L3 Cache as a shared pool via 2x CCDs (Core Complex Dies) in an 8x Core, 16x Thread setup accessing 32 MB, basically treating it as a shared pool.
On the contrary, the 3900X used 4x CCDs in a 4x Core, 8x Thread (time-consuming) setup to access 16 MB of L3 Cache. Therefore, Zen 3's Vermeer algorithm effectively halves the latency experienced to access L3 Cache, which plays a significant role in improving gaming performance under real-world conditions, which is where the new Ryzen 9 5900X shines, despite its seemingly similar spec sheet. Not to forget, as explained below, the 5900X sports a noticeable improvement in IPCs (Instruction Per Clock), which negates the newer CPU's slightly lower Base Clock Frequency.
Specifications
Before we talk about which processor is better, let's first take a quick glance at the basic specifications of both the 5900x and the 3900x.
Ryzen 9 3900x Specifications
Number of CPU Cores:

12

Number of Threads:

24

Max Boost Clock:

Up to 4.6 GHz

Base Clock:

3.8 GHz

L2 Cache:

6 MB

L3 Cache:

64 MB

TDP:

105W
Ryzen 9 5900x Specifications
Number of CPU Cores:

12

Number of Threads:

24

Max Boost Clock:

Up to 4.8 GHz

Base Clock:

3.7 GHz

L2 Cache:

6 MB

L3 Cache:

64 MB

TDP:

105W
Related Article: Ryzen 7 3700x vs Ryzen 5 5600x
Differences Within the Ryzen 9 3900x vs Ryzen 9 5900x
Looking at both processors, we can first see that the 3900x is a Zen 2 architecture-based processor. The Ryzen 9 5900x, on the other hand, is a Zen 3 architecture-based processor. There are other differences between the 3900x and 5900x too:
IPC Upliftment
The main difference between both processors exists in the upliftment in the Instructions Per Clock (IPC).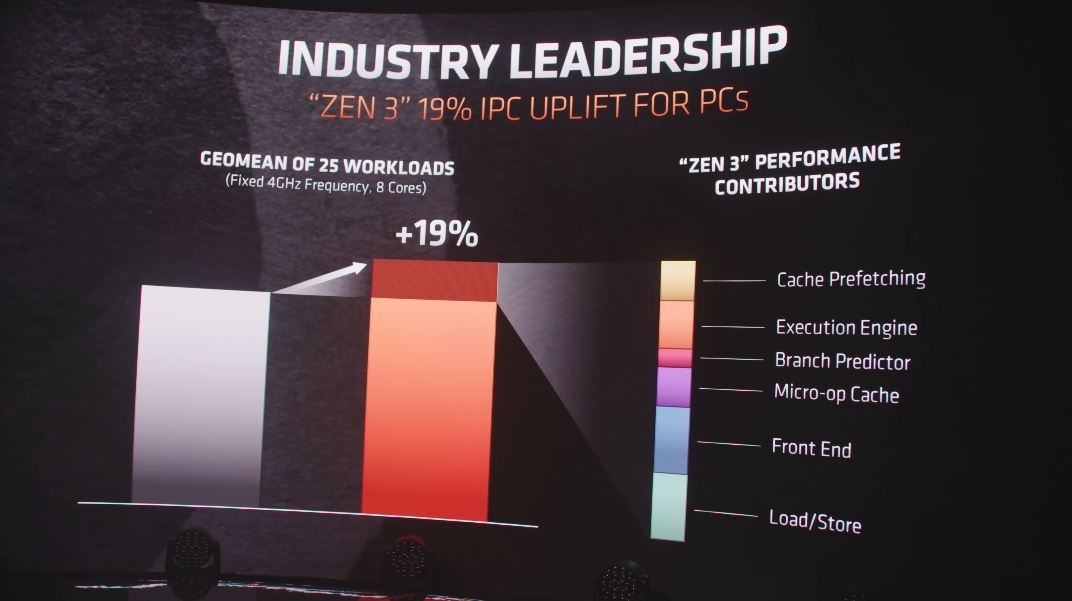 According to AMD, Zen 3 gives a 19% uplift in IPC as compared with Zen 2 processors. The official AMD testers used various ways to measure this performance including cache prefetching, execution engine and front-end among others.
When IPC is concerned, the 5900x delivers a decent 15% greater IPC performance against the 3900x.
This means that with the Ryzen 9 5900x, you're getting greater value for content creation. The Ryzen 9 5900x will also give you better single-threaded performance than the 3900x. Overall, in the Ryzen 9 3900x vs 5900x IPC war, the 5900x comes out as the victor — singlehandedly.
Power Consumption and Thermal Efficiency
The Ryzen 9 5900X and 3900X parallel each other in terms of their TDPs, starting off from a base of 105W and going up to 142W. However, the 5900X may draw up to 200W if enthusiasts adjust frequencies and voltage limits appropriately for AMD's PBO (Precision Boost Overdrive) automated overclocking algorithm or try their luck at Custom Overclocking.
That being said, it's pertinent to mention that AMD bundles their proprietary Wraith Prism Air Cooler with the Ryzen 9 3900X. The Wraith Prism heads the hierarchy of AMD"s lineup of Stock CPU Coolers, which includes but isn't limited to the Wraith Spire and Wraith Stealth as well. Primarily speaking, the Wraith Prism is AMD's only CPU Cooler that incorporates RGB LEDs with extensive lighting controls, courtesy of Cooler Master's software. Nevertheless, the Wraith Prism is compatible with a comprehensive suite of RGB software utilities, such as Asus Aura Sync, Gigabyte RGB Fusion 2.0, MSI Mystic Light Sync, ASRock Polychrome Sync, Razer Chroma, and Biostar Vivid LED DJ, to name a few.
The Ryzen 9 3900X typically peaks around 90 degrees Celsius before it starts to induce thermal throttling. However, it can theoretically run as hot as 115 degrees Celsius before initiating an instant system closure to prevent permanent damage to the CPU's delicate silicon. In contrast, the Ryzen 9 5900X is designed to withstand higher temperatures during regular operation and may frequently range between 85-95 degrees Celsius. Nonetheless, Zen 3 CPUs tend to shut down instantly before they hit 110 degrees Celsius as a precautionary measure.
AMD eventually realized that casual and fanatic gamers alike usually purchase aftermarket CPU Coolers to increase overclocking headroom and sustain lower overall temperatures. As such, the Ryzen 9 5900X signifies the absence of a stock CPU Cooler, forcing prospective buyers to also purchase one of the Best CPU Coolers for the Ryzen 9 5900X if they want to eke out their CPU's full potential.
All in all, the Ryzen 9 5900X may run 10-15 degrees Celsius hotter on average in comparison to the 3900X. Still, AMD assures us that these temperature ranges are entirely in-line with CPUs bearing the Zen 3 architecture. Even so, users will have to factor in the cost of a beefier CPU Cooler for the 5900X, especially if they plan to undertake a few overclocking sessions.
Pricing and Availability
The Ryzen 9 3900X launched for an MSRP of $500 compared to the unusually steep $550 MSRP at the time of the 5900X's unveiling, considering that AMD had also eliminated the presence of the bundled Wraith Prism CPU Cooler. Nevertheless, thanks to Intel Alder Lake CPUs' (initially) aggressive pricing strategy and the soon-to-be-released Ryzen 7000 Series Processors, the Ryzen 3900X can be easily sourced for $360 nowadays, whereas the Ryzen 9 5900X has also witnessed a declivitous reduction in pricing down to less than $390.
That being said, it's vital to remember that the Ryzen 9 3900X and 5900X are fully compatible with a variety of AMD Chipsets, such as the B450, X470, A520, B550, and X570. The 3900X is also compatible with the relatively older X370 and B350 Motherboards via an exclusive BIOS Beta update, with the 5900X going one step ahead to support both these 300-Series Chipsets as well as the entry-level A320 Motherboard.
However, we'd strictly recommend against using either of those high-performance CPUs with the A320, A520, B350, or X370 since you might have trouble while attempting to extract the full performance potential of your processor due to the comparably ancient technologies used by these motherboards, in addition to slightly limited software support.
Buyers should not forget to factor in the cost of a high-performance CPU Cooler if they're planning on picking the Ryzen 9 5900X, which will increase the real-world price difference between the two CPUs to about $50-70, at the very least.
Related: Ryzen 5 3600 vs Ryzen 7 3700x
Ryzen 9 5900x vs
Ryzen 9 3900x
Gaming Performance
One of the most credible ways to compare two pieces of hardware is by doing performance tests. As the majority of the consumers buy high-end processors for gaming purposes, we are going to showcase the performance of the 3900x and 5900x as seen in multiple games. The tests have been conducted by PC Games Benchmarks.
Testing Rig
CPU:

Ryzen 9 3900x and Ryzen 9 5900x
Motherboard: ASUS ROG X570 Crosshair
RAM:

16 GB DDR4 (8×2) 3200 MHz
Graphics Card:

RTX 2080 OC 8 GB
As both processors use the same AM4 socket, the motherboard shall remain the same. The RTX 2080 Graphics Card has been used to reduce bottlenecks between the GPU and CPU.
For cooling, the Corsair H100i 240mm AIO cooler has been used to ensure that there is no form of thermal bottlenecks during the tests. Finally, 16 GB DDR4 RAM has been used, which should be sufficient for the nature of the tests being conducted.
All of the games have been tested at 1080p resolution in order to differentiate the performance gap between both processors.
Battlefield V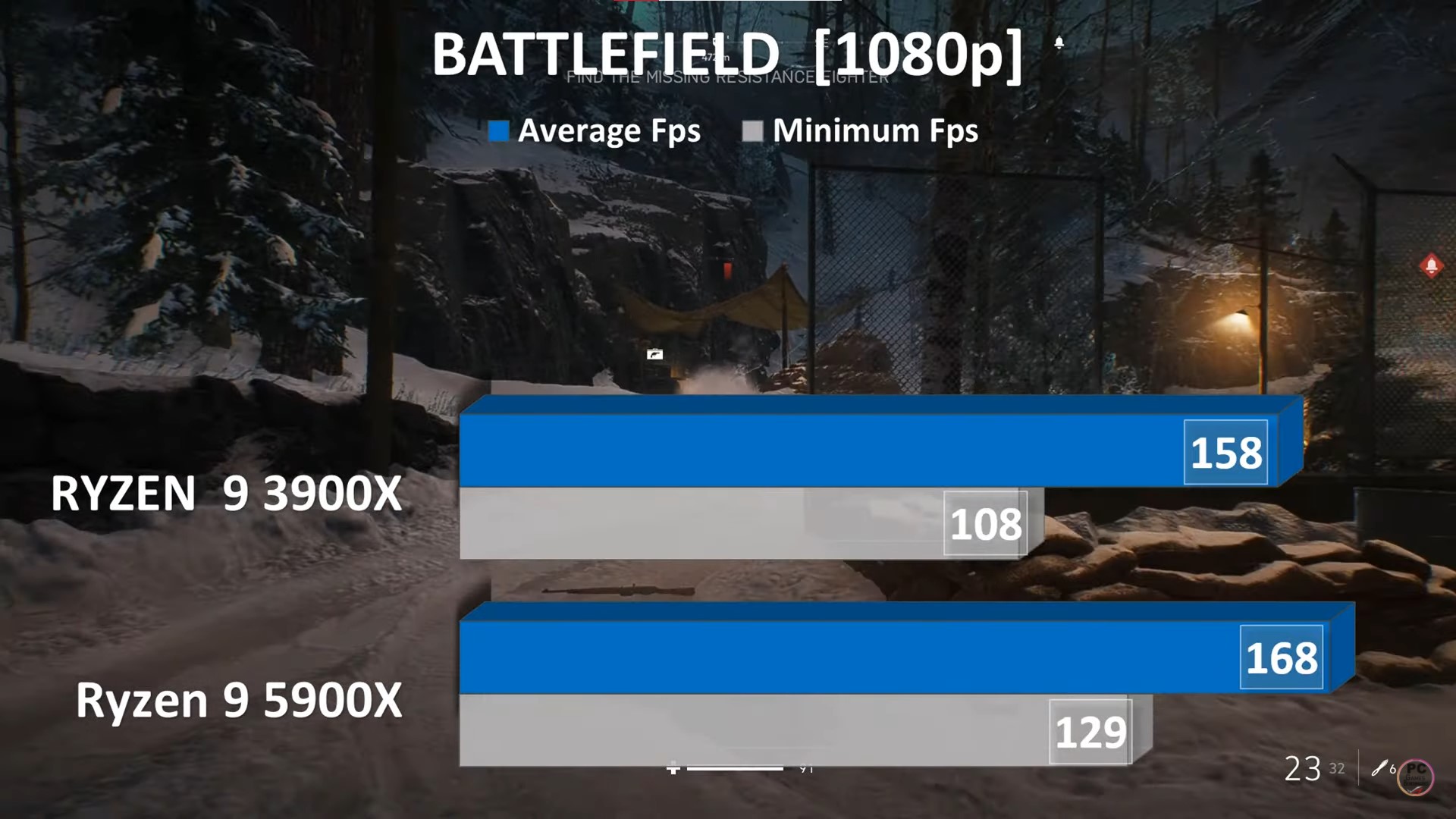 Starting off with Battlefield V, the game is extremely CPU intensive. This means that the CPU is used more than the GPU when playing such a game. We can see that the Ryzen 9 5900x has a higher average and minimum frame rate, which is to be expected. However, the 3900x is still giving the 5900x a run for its money!
With only being ~6% behind the Ryzen 9 5900x, (or being only 10 frames behind), the 3900x shows why it is known as one of the best 1080p processors!
Far Cry 5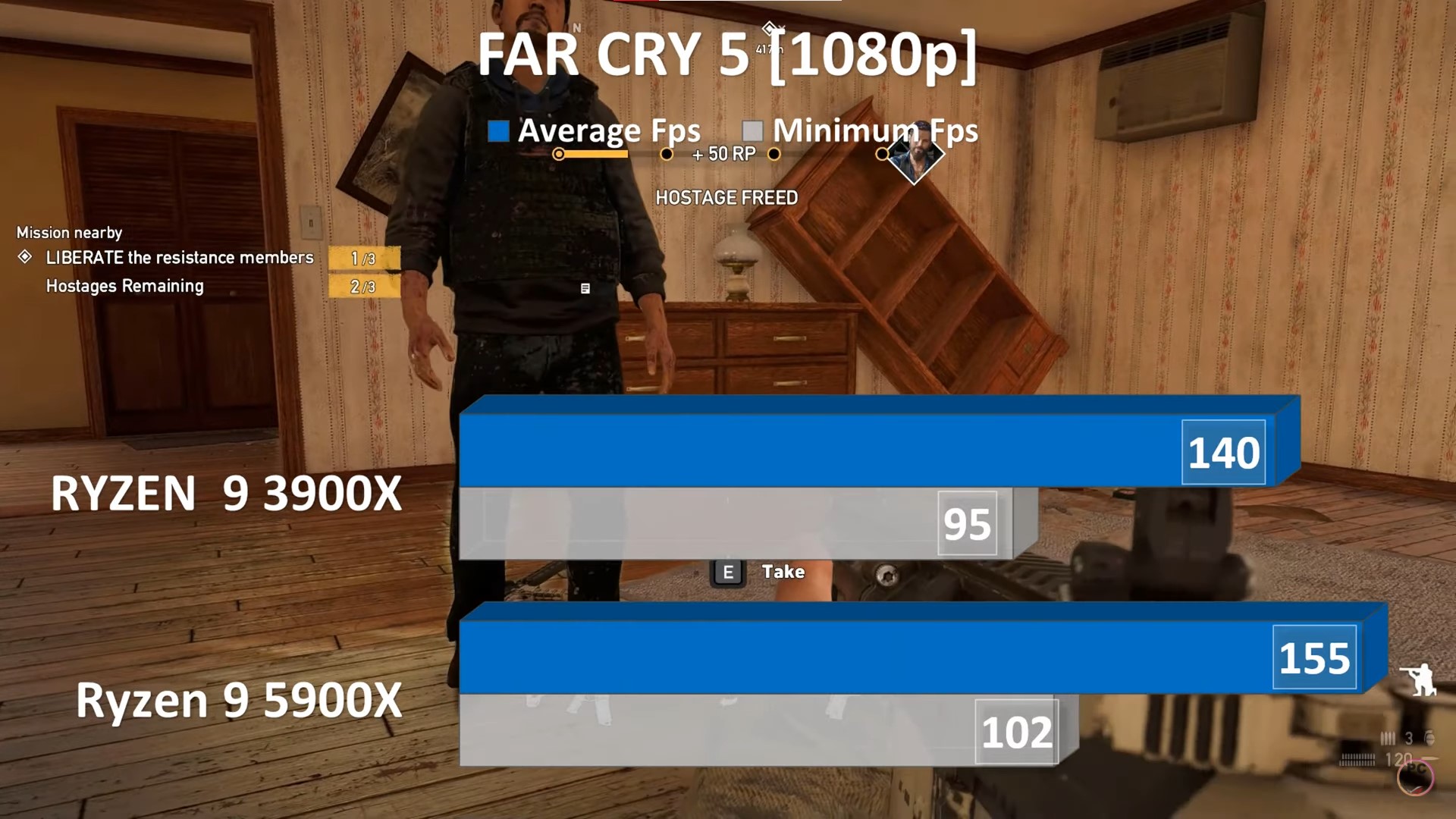 Far Cry 5 is powered by the Dunia Engine due to which it scales through CPU core and thread but does not push it to 100% utilization. Unlike battlefield v, far cry 5 is less CPU intensive.
We still see the Ryzen 9 5900x win over the 3900x. With over 10% greater average FPS seen in the resistance members liberation mission, the 5900x showcases its supremacy once again!
The game stutters a bit when you first go out in the open world. However, once everything has loaded, the same problem doesn't repeat itself. This is truly where the worth of both processors is tested, which you can see through the minimum FPS.
Grand Theft Auto V
Grand Theft Auto V is notoriously famous for being an extremely CPU-bound game. This becomes evident through this particular benchmark test where we see two extreme spectrums at play.
This test is a prime example of exactly how far CPU architecture has come through a generational leap.
What's causing this immense performance difference is how the L3 Cache is most likely being utilized in both processors. Because GTA V's map is extremely detailed, more L3 Cache utilization from the same pool loads the map quicker. This is the reason why the 5900x has a ~82.5% greater average FPS than the 3900x in this particular benchmark.
Metro Exodus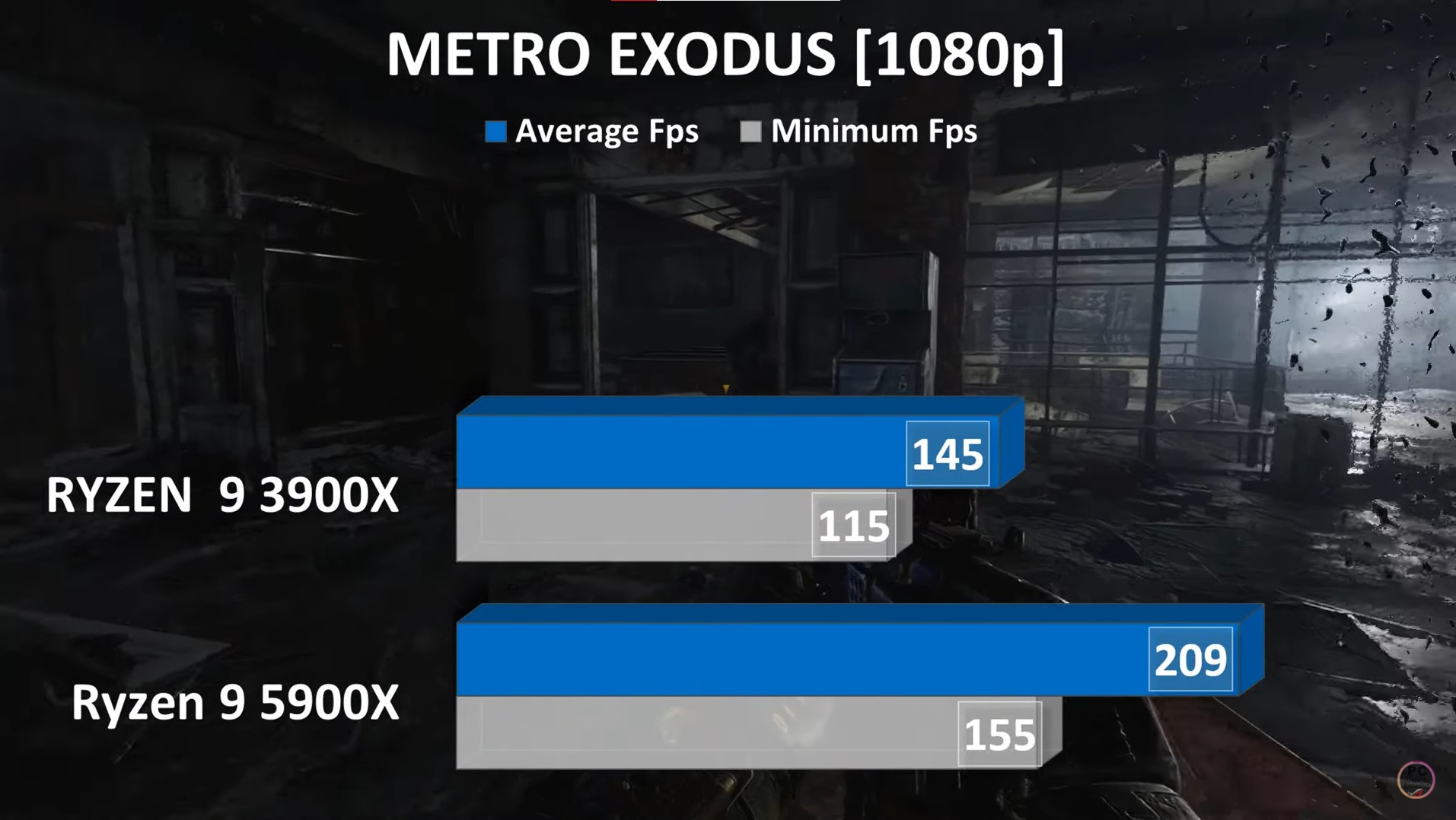 Metro Exodus is an extremely aesthetically pleasing game. Metro Exodus is also more bound by GPU in contrast to CPU like most raytracing games. That, however, doesn't mean this game is not a good benchmark prerogative for CPU testing.
Metro exodus utilizes all CPU cores and threads, however, it doesn't push the CPU nearly as hard as the other games do. Faster single threaded performance for the 5900x is giving the boost in performance that we can see. The Ryzen 9 5900x manages to uplift the performance by a significant 44%.
Consecutively, the 3900x has a more stable FPS with a minimum FPS of 115 and an average of 145. The Ryzen 9 5900x is going to both extremes with this title — it seems.
Tom Clancy's Division 2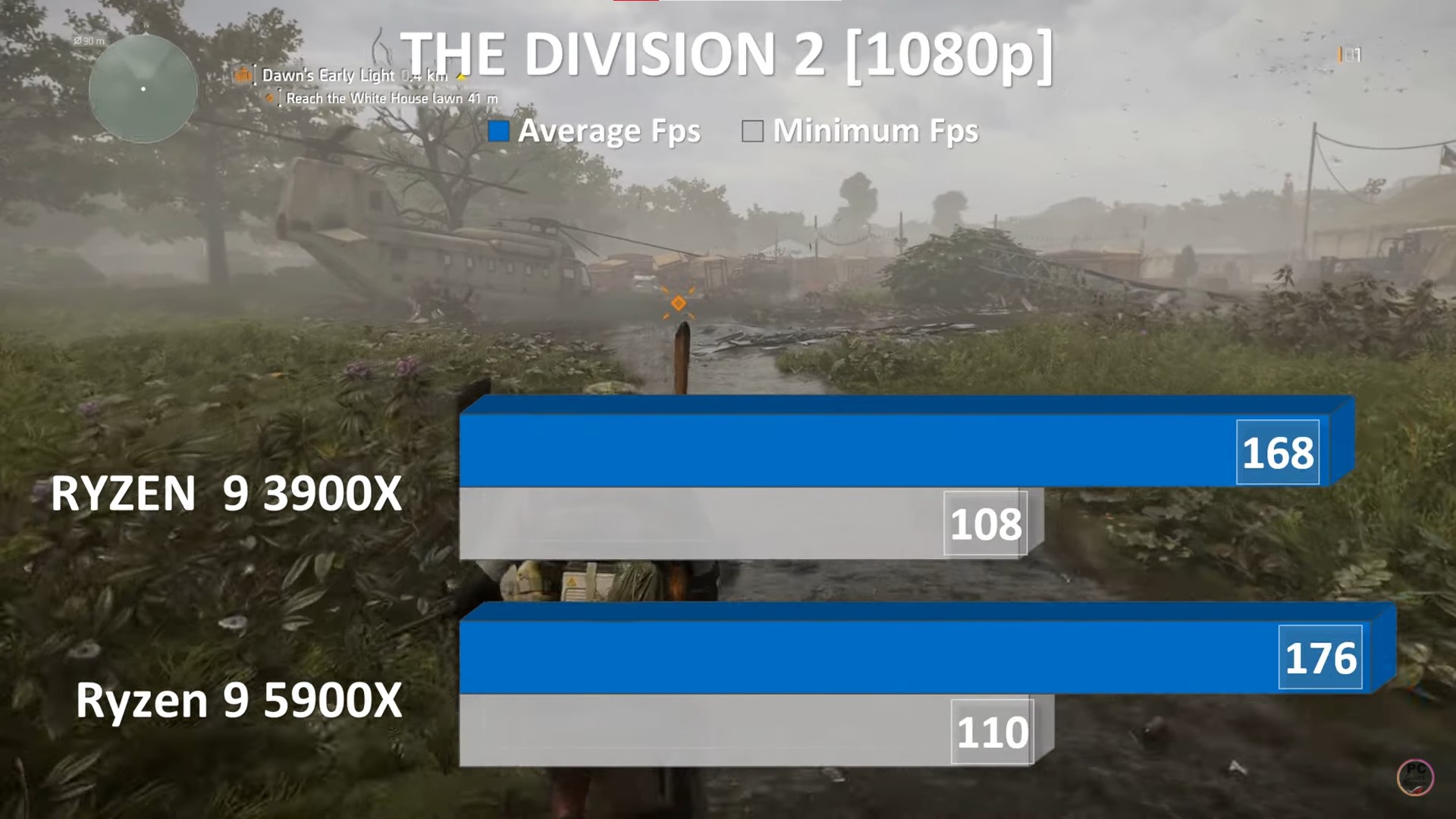 The CPU is stressed a lot by Tom Clancy's Division 2 due to its optimization. This is even more apparent when you're playing the game when using DirectX 11. Division 2 runs on a single core only. That is why we're not seeing a major difference in performance with the 3900x vs 5900x.
With both processors having 12 cores and 24 threads, what's giving the ~5% FPS boost is most likely the CPU boost clock for the 5900x. We also see that minimum FPS for both the 3900x and 5900x are extremely similar. With the prior being at 108 FPS and the latter at 110 FPS.
This massive drop in FPS is because of the loading time of the map. Open-world games are a good way to test CPUs and how they perform in real-world scenarios.
Witcher 3: The Wild Hunt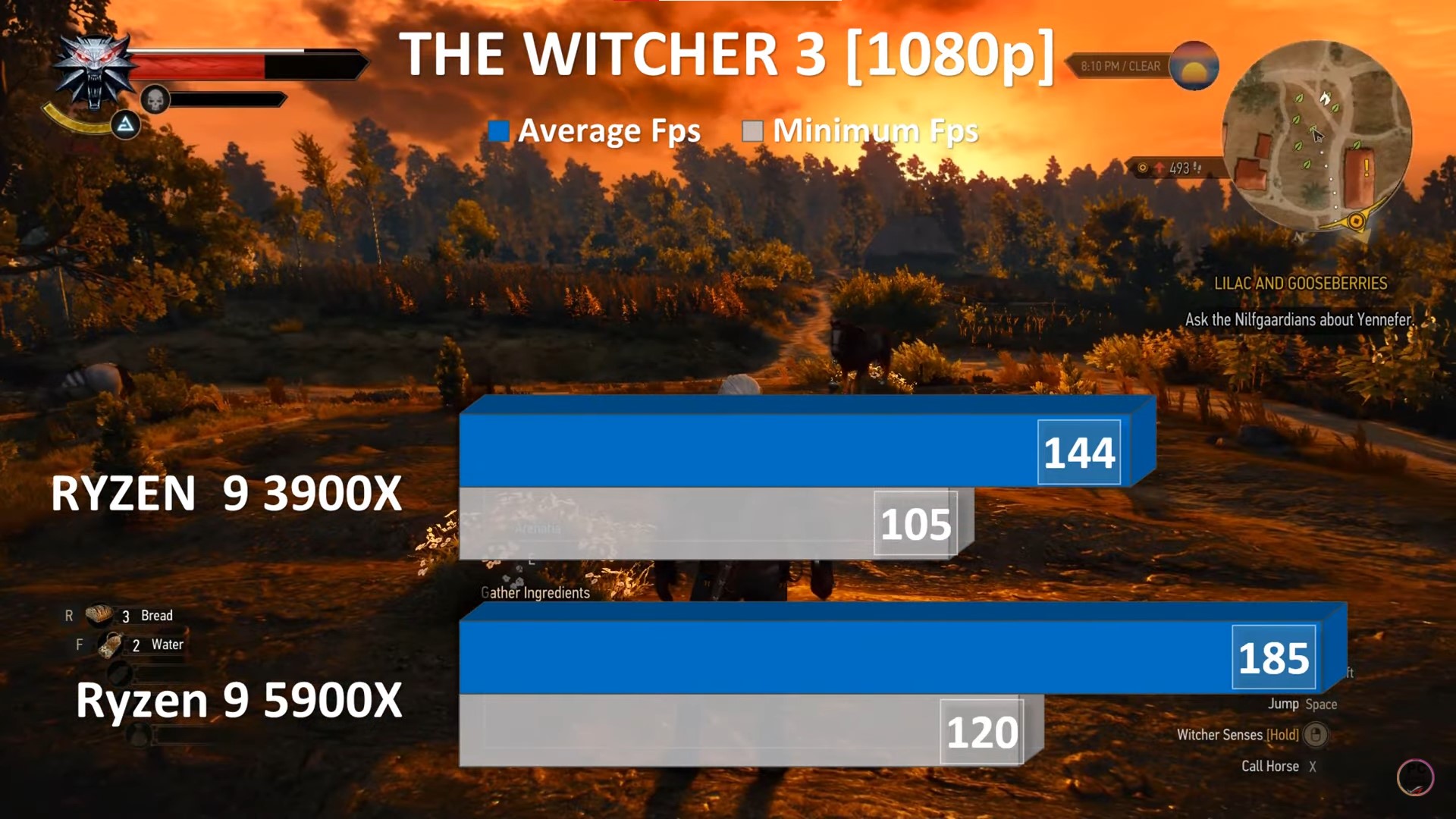 The CPU and GPU specs are the biggest limiting factors in the performance of Witcher 3: The Wild Hunt. It is more GPU intensive; however, it still stresses the CPU out fairly well. The massive world map and outstanding graphics make Witcher 3 stand out in the competition. Although it is a 7-year-old game, it still manages to stress the latest technology out.
With the 5900x, you're seeing a significant performance boost of about ~28%. The difference between the minimum and average FPS for the 5900x is higher than the 3900x. That proves that the 3900x is a more stable CPU while the 5900x is more powerful.
Watch Dogs 2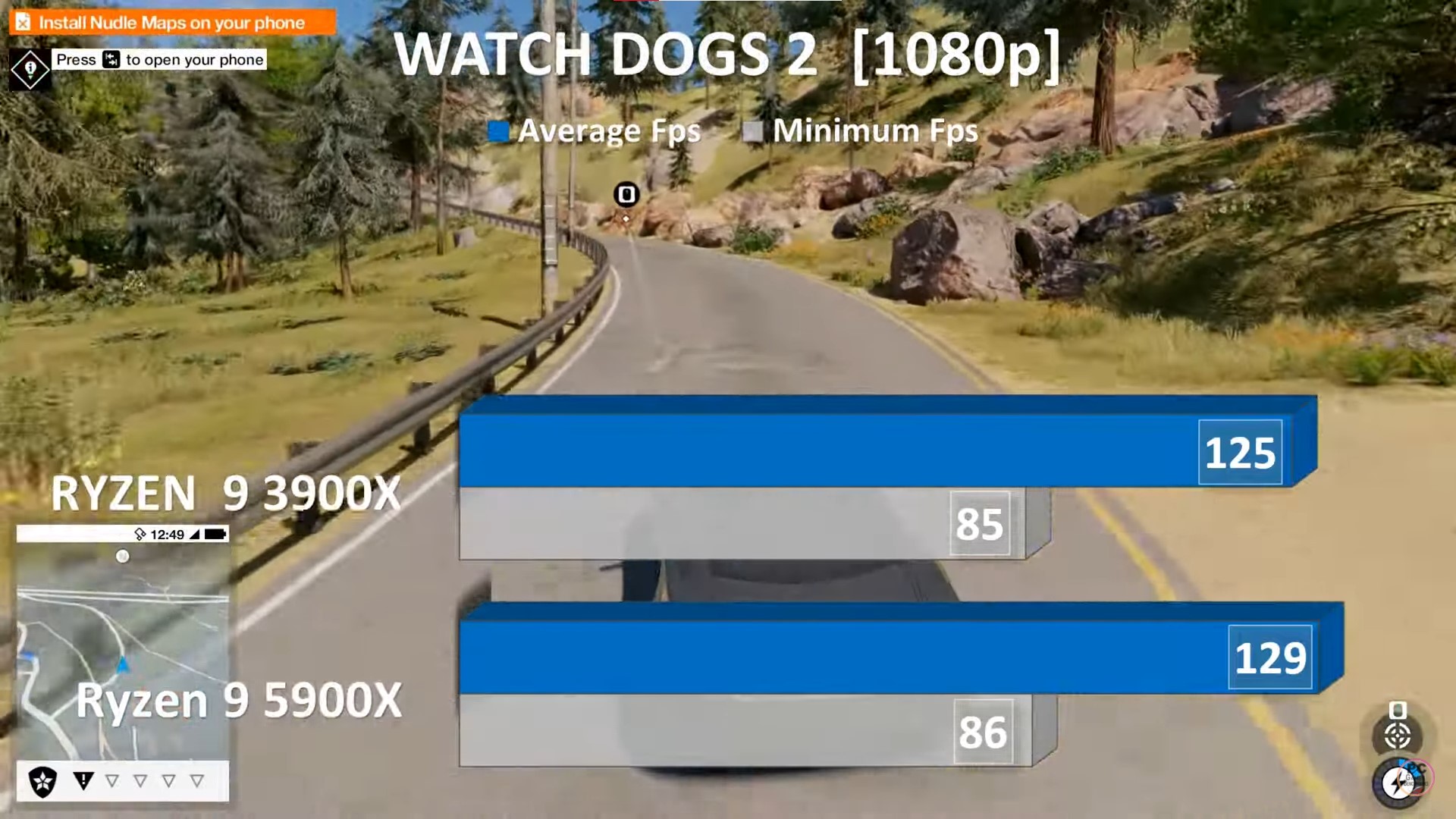 Watch Dogs 2 is a game that drives the count of CPU threads to its limit. The benchmarks clearly highlight the fact that CPU thread count is a major limiting factor to the game's performance.
Both the Ryzen 9 3900x and the Ryzen 9 5900x have 24 threads. This showcases why both processors present similar outputs in Watch Dogs 2. There is barely a 3% difference in performance between both the Ryzen 9 3900x vs Ryzen 9 5900x.
The dips in performance towards the minimum FPS are pretty clear, however. A drastic difference of 40% between the minimum and average FPS should not be taken lightly. These are only 0.1% lows, but the stutter exists.
Ryzen 9 3900x vs. Ryzen 9
5900x in 1440p
Differences within both the 3900x vs 5900x were pretty apparent at 1080p resolution. Is it the same when we talk about 1440p, though? Not really. The more we increase our resolution the more a game becomes GPU bound than CPU bound.
This phenomenon causes a drastic reduction in differences seen at 1080p resolution. In the same titles where the 5900x was drastically faster than the 3900x, the difference reduced just as much.
Let's take Grand Theft Auto V as an example. At 1080p, the 5900x was ~82.5% faster than the 3900x. At 1440p the exact same title showed a difference of only ~12%, with the Ryzen 9 5900x leading.
The conclusion of this argument? It's pretty simple, the higher the resolution, the less CPU bound you to become and the more GPU bound you become. So, which processor should you go for if you're using a 1440p panel? At this resolution, we recommend that you move to the 5900x. This enables you to eliminate any and all bottlenecks and enjoy crisp gaming performance.
The 3900x is more likely to bottleneck in many latest games, while the Ryzen 9 5900x goes down the brim just fine. However, if you're looking for 60 FPS, we advise you to stay with the 3900x and save some money.
Ryzen 9 5900x vs.
Ryzen 9 3900x I
n 4K
It was going from 1080p, to 1440p, to 4K now. This is the premium zone; even the best hardware starts facing problems at 4K. So, which processor would be better; the 3900x or the 5900x? The simple answer is; it depends.
The complex answer depends on why you have a 4K panel. Are you trying to create content? Video editing? Photo editing? For things like that, you'll be wanting the 5900x — solid. You'll be needing a lot of RAM for it too. Here are some of the Best RAM for the Ryzen 9 5900x! For gaming, this gets trickier.
We already discussed how the greater the resolution the more GPU bound a game becomes. It applies for 4K resolution too. The problem, however, is that you might bottleneck your GPU with an older CPU.
Does this apply with a 3900x too? Technically speaking, you could pair a RTX 3090 with a 5900x and not feel any form of bottleneck at all. However, if you want to utilize the L3 Cache from the Ryzen 9 5900x or overclock your processor a lot, you'll definitely want to upgrade.
Simply keep this in your mind; the greater the resolution, the more work the GPU has to do. Workloads remain constant for the CPU — at least for gaming. You'll want the strongest CPU you can get your hands on for content creation and similar things.
Overall Gaming Performance Summary
On average, the Ryzen 9 5900X evinces a real-world gaming performance boost of up to 10-50%, at FHD (1920 x 1080) resolution, with differences being exaggerated to almost 85% in terms of FPS (Frames Per Second) when examining performance in games which are partial to the faster L3 Cache access, such as GTA V, League of Legends, and DOTA 2, to name a few.
However, this performance incongruity is effectively diminished to barely 5-10% at QHD (2560 x 1440) resolution and will be minimized to a negligible extent at UHD (3840 x 2160) and above since the bottleneck has a tendency to shift toward the GPU at these higher resolutions. As such, the GPU acts as a limiting factor, and the CPUs' performance differential will scarcely come into play.
Ryzen 9 3900X vs. Ryzen 9 5900X: Do we deem the upgrade a necessity?
The Ryzen 9 5900X boasts refined tweaks in its Zen 3 architecture (codenamed Vermeer), the most significant of which are the boosts in the number of IPCs as well as real-world gaming performance, thanks to the same amount (64 MB) of L3 Cache that's now twice as fast with regards to access timings/latencies. However, in productivity-based workflows, the Ryzen 9 5900X displays a noticeable yet meagre lead of about 7-8% for single-threaded tasks, and up to 10% for multi-threaded workloads.
AMD has also foregone the inclusion of their Wraith Prism Cooler with the Ryzen 9 5900X, forcing potential buyers to immediately purchase a complementary CPU Cooler as well, to yield every last MHz of the CPU's performance. Speaking of MHz, even though the 5900X features a slightly lower Base Clock of 3.7 GHz, it runs around 5-15 degrees Celsius hotter than the 3900X on average, despite advertising the same TDPs, placing all the more emphasis on the requirement for one of the Best CPU Coolers for Ryzen 9 5900X.
Pricing for the 3900X and 5900X remains in the same ballpark, with the inequality stretching to about a minimum of $50-70, considering the 5900X's $30 higher price tag and the mandatory purchase of an aftermarket cooler. However, AM4 components, in general, are experiencing a steep decline in terms of price points, courtesy of the new AM5 Platform's takeover. Therefore, users should have no trouble purchasing the Best Motherboards for the 3900X and 5900X, alongside relatively cheap (in contrast to DDR5), low-latency/high-performance DDR4 Memory.
The ultimate decision boils down to the type of workflows you intend to undertake. If you're someone who prioritizes competitive gaming at 1080p with a high refresh rate where every frame matters, the 5900X is a no-brainer.
On the other hand, if you're looking for an all-rounder processor, where you value both productive/creative tasks as well as casual gaming (especially at 1440p), you might be better off sticking with the Ryzen 9 3900X if you're able to score more than a $100 of savings, considering you'll only encounter a maximum of 10% of performance inequality in day-to-day applications, and admittedly, a rather noticeable gap of 10-50% in average 1080p gaming, but negligible differences at 1440p or higher resolutions. You can even utilize your monetary savings with respect to the Best DDR4 RAM in an attempt to bridge the performance deficit.
Last but not least, both processors are based on the AM4 Mounting Socket, which AMD will now try to slowly phase out, leaving both the 3900X and 5900X equally vulnerable to future-proofing concerns. That being said, if you can spare the extra capital, we definitely recommend the Ryzen 9 5900X as the Best All Rounder CPU in 2022, compared to the Ryzen 9 3900X. AMD has undoubtedly snatched CPU market share from Intel once again.
Why Should You Trust Our Judgement
With over twelve years of experience in the tech and gaming industry, our dedicated team has been refined consistently to produce a potent group of knowledgeable individuals who are known to relay the most accurate information to our valued consumers, thanks to the extensive research and reviewing we conduct before we publish every piece of journalism.
In addition to this, we have been explicitly featured on a majority of the top-notch gaming and tech brands, such as Gigabyte, MSI, Asus, and DeepCool, just to name a few, as reliable and trusted sources for Hardware and Technology. These and other renowned manufacturers such as Noctua, Thermaltake, Xigmatek, and several others routinely send samples to us, based on which we formulate unbiased reviews to provide our readers with a genuine perspective of the particular product from an objective standpoint.
Subsequently, we instill confidence in our esteemed consumers, who may rely on us to give them the best advice for building, customizing, and modifying their personal gaming computers.
Frequently Asked Questions
What's the difference between the Ryzen 9 5900X and 3900X?
The Ryzen 9 5900X represents AMD's Zen 3 lineup of Vermeer CPUs compared to the Ryzen 9 3900X, which is based on AMD's Zen 2 Matisse architecture. The Ryzen 9 5900X drops the Base Clock Speed by 100 MHz to 3.7 GHz but ups the Turbo Frequencies by 200 MHz to 4.8 GHz. However, the Ryzen 9 5900X launched for an MSRP of $550 compared to $500 for the 3900X, even though the latter came bundled with a Stock CPU Cooler.
Is there a significant performance disparity between the Ryzen 9 5900X and 3900X?
Thanks to the new Zen 3 architecture, the Ryzen 9 5900X can directly access the entire pool of L3 Cache (64 MB), even if it's for a single thread or core. Hence, the 5900X exhibits up to a 10-50% improvement in gaming performance on average, at 1080p, depending upon whether your preferred game is partial to effective L3 Cache utilization. That said, this performance gulf narrows to 5-10% at most, at 1440p. For productive workflows, the Ryzen 9 5900X showcases up to a 7-10% enhancement in real-world speeds for single-threaded and multi-threaded tasks.
Does AMD bundle proprietary CPU Coolers with the Ryzen 9 5900X and 3900X?
As mentioned above, AMD bundled their top-of-the-line Wraith Prism RGB CPU Cooler with the Ryzen 9 3900X, which proved adequate for casual gaming/medium workloads. However, competitive eSports gaming, CPU overclocking, and intensive workflows necessitated an aftermarket CPU Cooler to prevent bottlenecked performance. Therefore, AMD forewent a stock cooler with the Ryzen 9 5900X to cut manufacturing costs, as they realized most potential buyers would go for a High-Performance CPU Cooler (sold separately) anyways.
Also Read: Intel Core i5-12600k vs Ryzen 5 5600x
Was our article helpful? 👨‍💻
Thank you! Please share your positive feedback. 🔋
How could we improve this post? Please Help us. 😔
[Comparisons Specialist]
I'm a passionate computer hardware expert specializing in CPUs and GPUs. With a lifelong curiosity for hardware and extensive hands-on experience, I provide valuable insights, practical advice, and in-depth analysis on these components. Engaging with the hardware community, I exchange knowledge and stay at the forefront of technological advancements.
Get In Touch: [email protected]